This post contains affiliate links, which means we may receive a small commission, at no additional cost to you, if you make a purchase through these links. See our full disclosure here.
With options for every mood, budget, and style, there has never been a better time to invest in luggage than now.
We believe that the best travel luggage in 2021 has to be handsome, practical, and tailored to the needs of today's nomads. Functional design, quality materials, and efficient, customizable packing space are paramount to a successful travel experience, no matter how big or small.
Whether you are looking for a stylish, innovative suitcase that takes you around the world, an adorable designer hat box, or a rugged backpack that doubles as carry-on, we've got a bag for you.
Best Check-in Luggage: Away The Medium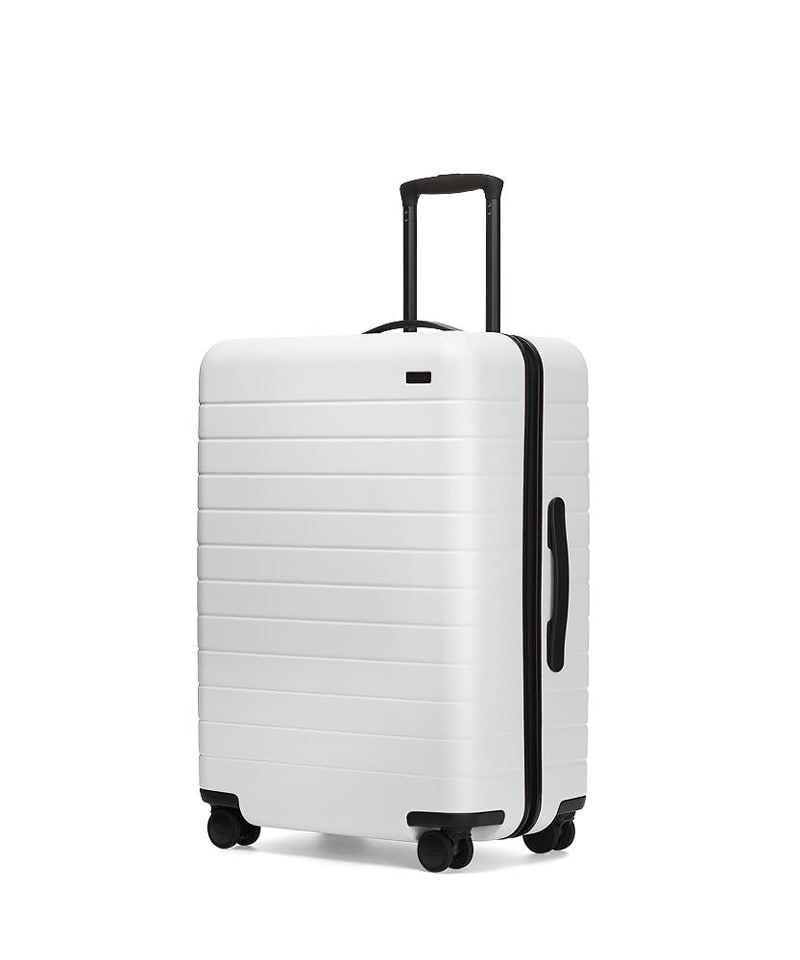 Away didn't become Instagram's favorite luggage brand for nothing. Their high-quality cases are durable, well-priced, and stylishly minimalist, and The Medium is no exception.
With an internal compartment capacity of 68.8 liters (about 2.4 cubic feet), this midsize checked bag fits a ton while still remaining remarkably easy to maneuver. That's entirely attributed to its thoughtful construction with four supersmooth 360-degree spinner wheels, a sturdy telescopic handle, and a flexible polycarbonate shell that's tough, scratch-resistant, and supremely lightweight.
The interior is equally well thought out with a practical clamshell setup for easy, effective packing, plus a removable laundry bag and a built-in compression pad that helps maximize the space.
The suitcase comes in 10 tasteful colors for every mind set and fashion whim – all with a sophisticated matte finish, and also includes contemporary features like TSA-approved combination lock, YKK zippers, and a customizable leather luggage tag.
A great looking case that's built to last a lifetime, Away's medium bag is the perfect check-in luggage!
Best Travel Backpack: Peak Design Travel Backpack 45L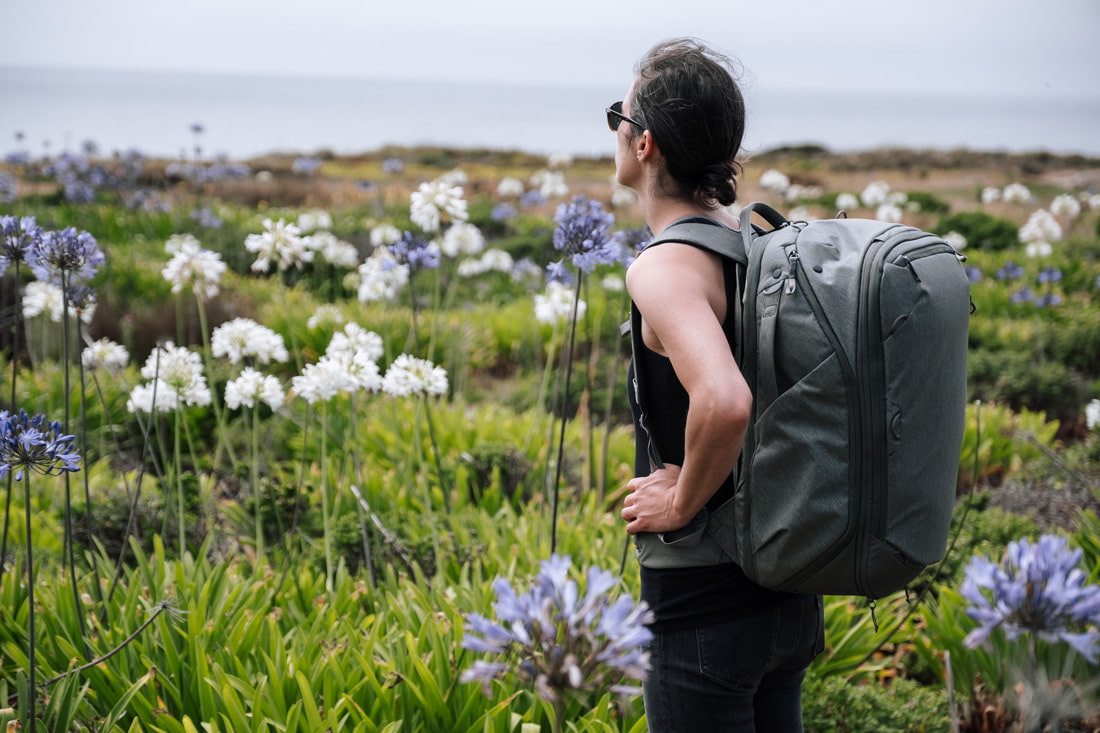 When you travel for a living, like I do, investing in versatile luggage is a must. Of course, you need a quality rolling suitcase for that big trip away or a stylish, practical duffel for weekends on the go, but most of all, you need a bag that adapts to as many situations as possible. That's where the Peak Design Travel Backpack 45L steps in.
Crafted from recycled weatherproof nylon canvas, this bag is exceptionally engineered to protect your gear, maximize storage space, and keep you organized on the road. Its quality is outstanding (think 400D weatherproof material, DWR impregnated, PU-coated interior, and weatherproof, lockable zippers) and so is its versatility. In default 35L configuration, it meets most international carry-on standards, but it also folds down into a 35L daypack, perfect for urban escapes, and expands to haul 45 liters of gear comfortably when you need it.
With its streamlined aesthetics, multiple access points, clever tucked-away straps, and endless carry options, it is by far one of the best backpacks for travel that I have ever used. And I used it a lot, either as a weekender bag for my trips throughout Andalusia, a daypack for short hikes in Sierra Blanca, or as a carry-on bag on flights home.
For added organizational convenience, Peak Design offers a variety of accessories designed to fit neatly within the backpack. These include camera cubes, packing cubes, and tech organizers, all of which are sold separately.
Besides being gloriously customizable, this durable multi-purpose bag is also loaded with separate compartments and thoughtful pockets inside and out.
As far as one-bag travel goes, I can't think of a better piece of luggage for the job than the Peak Design Travel Backpack 45L.
Best Carry-On: Horizn Studios M5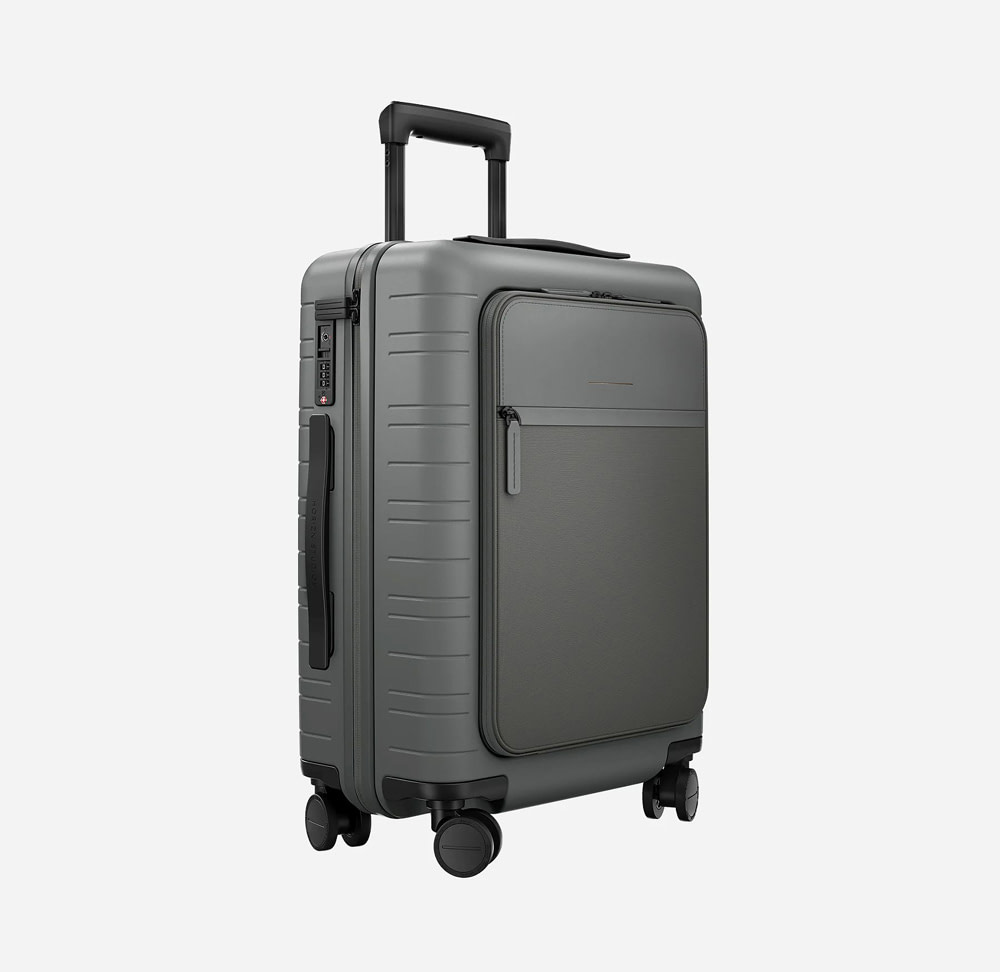 Beautiful design, lightweight construction, and state-of-the-art features put Horizn Studios' Model M at the forefront of the luggage field. And what a field it is these days!
Constructed with aerospace-grade polycarbonate, the M5 is cabin approved on all airlines and comes with a removable smart charger that allows you to power your smartphone up to six times.
It rolls on High-end Japanese 360° spinner wheels, and the easy access front pocket is a game changer. Made from luxurious Vacchetta leather and waterproof nylon, this provides stylish, reliable protection for a 15" laptop and travel essentials, allowing you to quickly reach your gear on the go and hustle through airport security checkpoints faster.
All cabin trolleys include an inbuilt compression pad and a premium laundry bag for improved packing and organization, as well as one-year access to Horizn GO, the brand's signature personal travel assistant, which takes care of all your needs while traveling. Did I also mention the outer shell colors range anywhere from sleek quartz gray to delicious marsala to a shade of green that evokes thoughts of the glistening sea? Hats off to this Berlin-based brand that compromises neither style nor quality!
Best Weekender Bag: Bennett Winch Weekender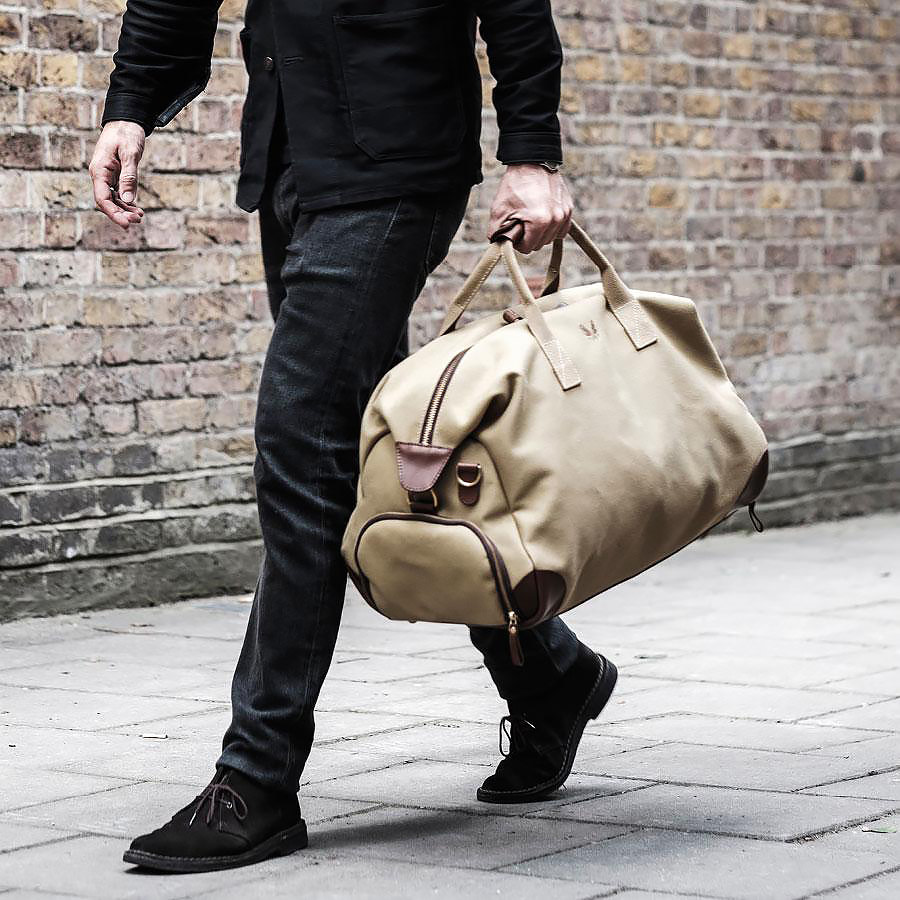 For all those situations where a wheeled suitcase is too much, you need a duffel with just the right balance of style and practicality.
Handcrafted in England using 24-ounce bonded cotton canvas, premium full grain leather, and solid brass hardware, Bennett Winch's signature Weekender ticks all the right boxes – good-looking, splendidly functional, and made to last.
At 55cm x 36cm x 25cm, it's compact enough to carry with your hand, yet roomy enough to fit a week's worth of travel essentials. The cotton-lined interior is no less masterfully thought out, housing a padded laptop sleeve and two waterproof compartments conceived to keep shoes and dirty laundry separated from the rest of your items.
Rugged but refined, spacious but lightweight, classic yet contemporary, this weekender is flawless!
Best Rolling Luggage: G-RO Carry-On Carbon Fiber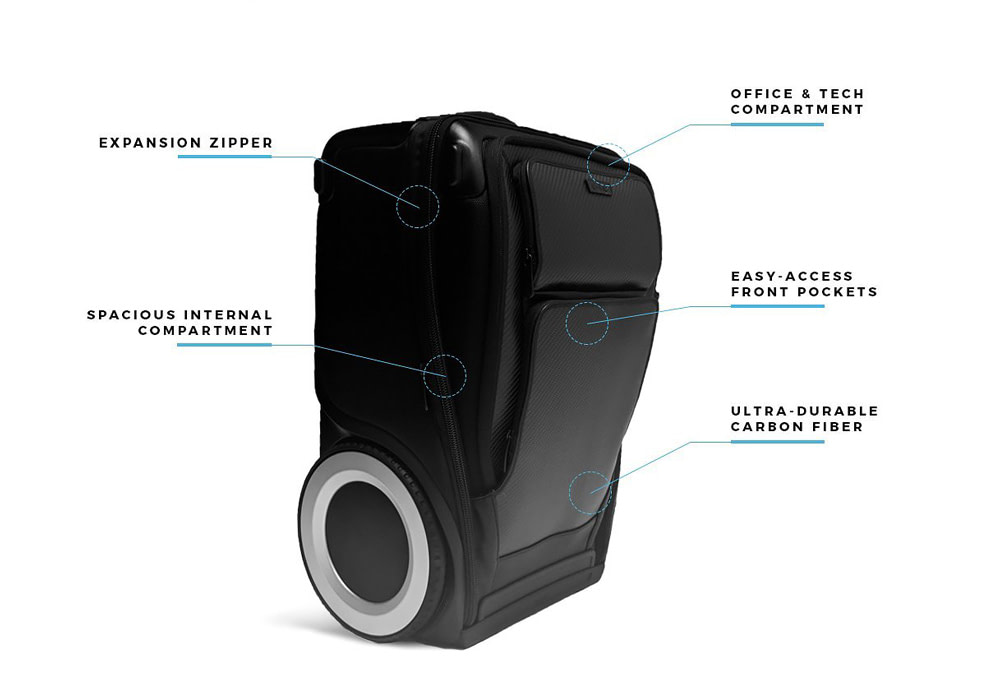 More than 40 years after Bernard Sadow revolutionized the way we travel by inventing the rolling luggage, G-RO is doing it once again with their ingenious, award-winning companion bag.
The G-RO Carry-On Carbon Fiber is a smart, sleek, and strong piece of luggage – but it's not the only one. What sets it apart from the rest, however, is its indestructible GravityRoll Wheel Technology. The suitcase is outfitted with two unique large-diameter wheels designed to cleverly distribute the bag's weight and handle all kinds of challenging terrain (stairs, cobblestones, snowy roads) while also saving precious packable space.
The case is made of high-quality Cordura ballistic nylon, mold-injected aerospace-grade polymers, and luxurious carbon fiber, delivering topnotch durability. The interior is brilliantly compartmented, with quick-access exterior pockets, a padded laptop sleeve, and a removable garment bag.
All these, along with genius features like long ergonomic handles, premium YKK zippers, and a removable 10,000 mAh power bank compliant with FAA smart luggage regulations, make the G-RO the best rolling luggage out there.
Best Spinner: Samsonite Spettro 20″ Spinner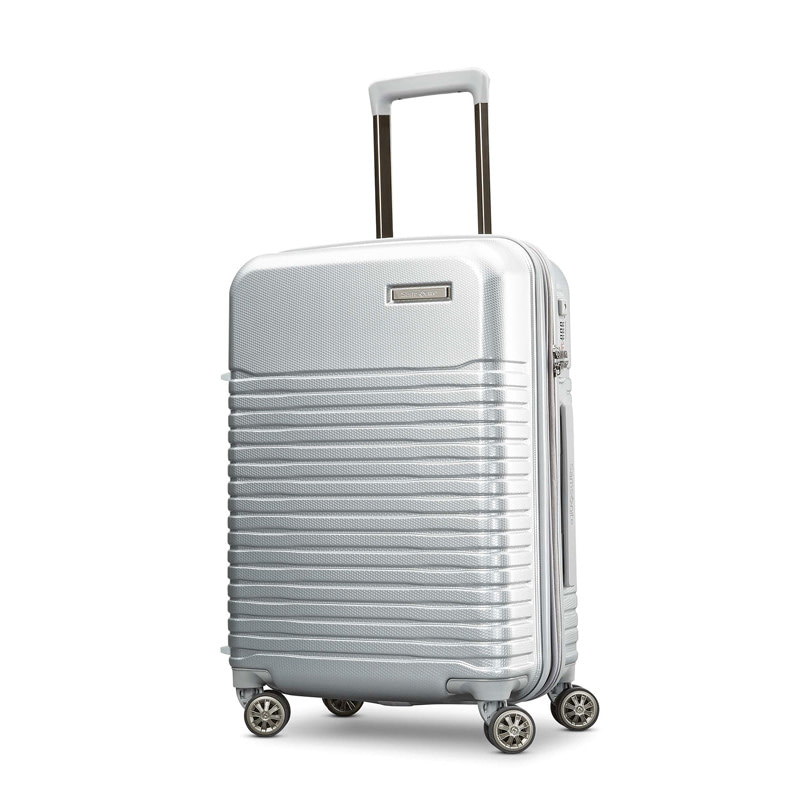 A spinner is a suitcase with four multi-directional wheels. If you want one that packs big, turns heads, and is a breeze to maneuver through airport terminals, the Samsonite Spettro 20″ Spinner is worth your attention and your money.
Made of injection molded polycarbonate and enhanced with a scratch-resistant honeycomb texture, this lightweight, hardside carry-on looks decidedly sexy and protects your belongings better than most. Its spinner wheels provide smooth mobility in all directions, while the two built-in packing cubes, along with multiple zippered pockets, will have you organizing the suitcase like a pro.
Best Garment Bag: Briggs & Riley Carry-On Wheeled Garment Bag
If you're looking for a way to travel wrinkle-free (and who doesn't, really?), you could hardly do better than investing in Briggs & Riley Carry-On Wheeled Garment Bag.
Part of the brand's popular Baseline collection, this rolling checked-size piece of luggage marries hard-wearing toughness with modern sophistication into one of the best garment bags money can buy. It's the perfect size for a two to 4 day trip, and comes with a lifetime warranty that sets it apart from similar products on the market.
The interior layout is beautifully engineered to make the most of the available space, the telescoping pull handle and wheels allow for effortless navigation, and the ballistic nylon outer fabric ensures the bag withstands anything you throw its way.
Whether you're heading out of town for business, weddings, or anything in between, this bag will forever change the way you travel.
Best Hat Box: CALPAK X Oh Joy! Medium Hardcase Hat Box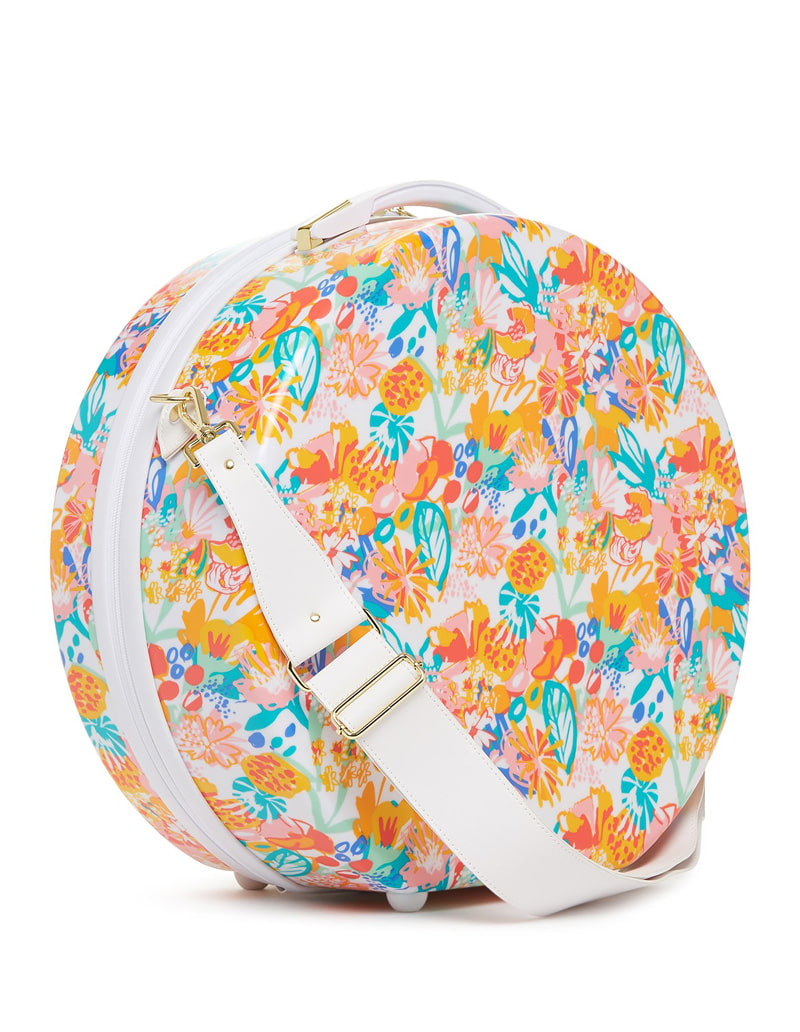 Made popular in the 19th century, hat boxes are having a comeback of sorts. Practical, feminine, and wonderfully decorative, they are among the most stylish and beautiful pieces of luggage.
An ideal accessory for traveling fashionistas, this flowery round container by CALPAK keeps your hats pristine and your style intact while on the road. Created in collaboration with designer Joy Cho, the Oh Joy! Medium Hardcase Hat Box sports the same lightweight, durable hard-shell as the brand's famous suitcases, and is fitted out with zip-around closure, a chic faux-leather top handle, and an adjustable shoulder strap. The roomy, colorful interior is fully lined and features three additional accessory pockets. When not in use, the box makes a delightful home decor piece while storing all your favorite Trillbys and Fedoras.
Best Underseater: Delsey Chatelet Soft Air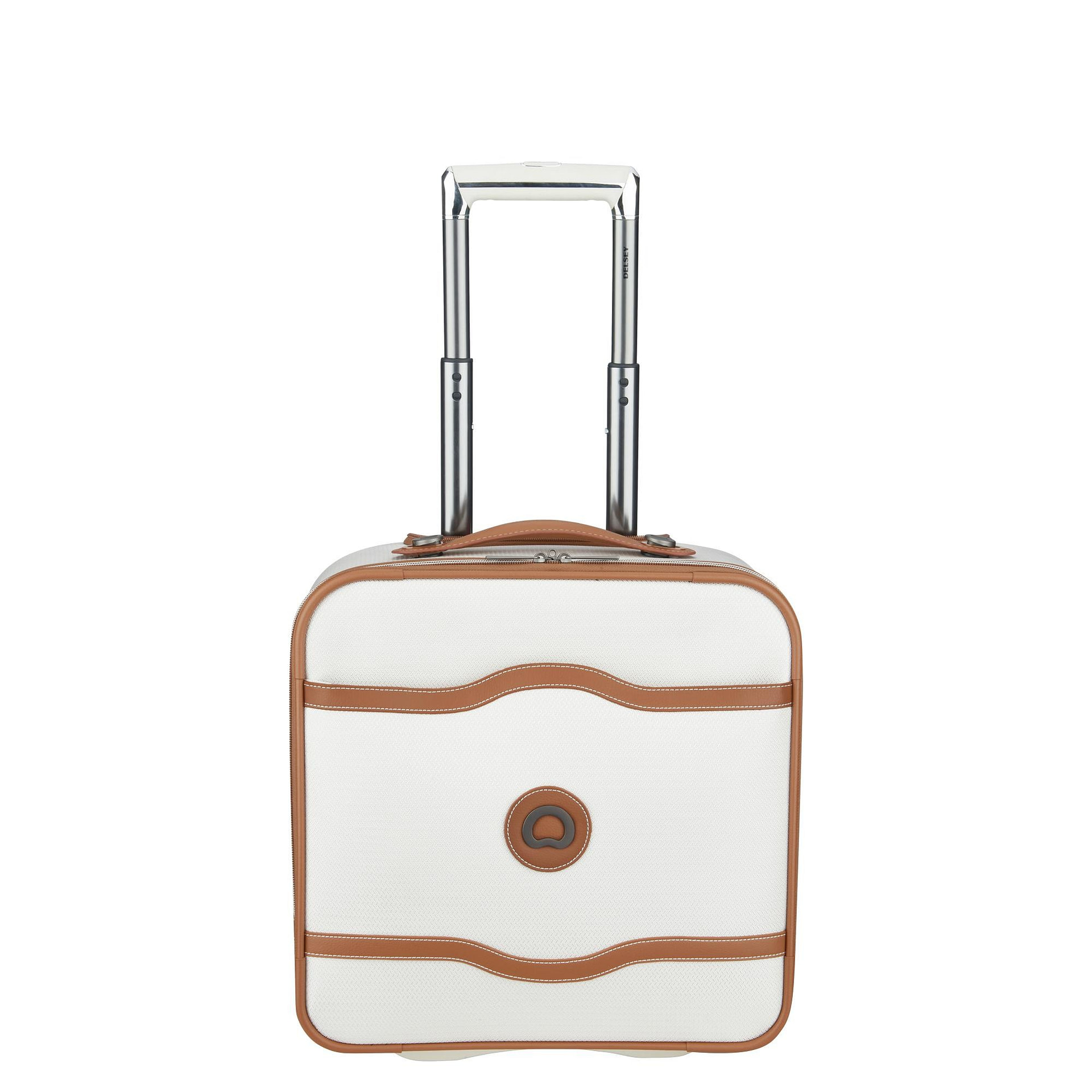 Today is all about traveling in style, but also in comfort. With its polished vintage-chic look and functional design, Delsey's Chatelet Soft Air embodies both, making for a handsome, practical addition to your luggage collection.
Designed to fit under the seat of most airplanes, the 2-Wheel Under-Seater is basically a smaller carry-on wheeled bag, complete with an ergonomic trolley handle and a hidden front pocket for quick access to items on the go. The deluxe interior is spacious enough for a weekend's worth of clothes and refined with elastic straps and shoe pockets for efficient packing.
Best Pet Carrier: Arlo Skye The Pet Carrier
Traveling with your furry friends is never easy, let alone flying with them. The only thing that will smooth the ride – for both of you – is a really really good pet carrier.
Designed with your companion's well-being in mind, this medium soft-sided piece from Arlo Skye is not only airline-approved, but also comfy, lightweight, and easy to move around.
Mesh windows on all four sides allow 360-degree ventilation and visibility, while the removable memory foam mattress keeps your furry friend cool & comfortable throughout the trip. The carrier's back sleeve doubles as a pocket for treats and attaches to the handle of your Arlo Skye suitcase. The foldable design is another highlight, making for easy packing and storage when not in use.