This post contains affiliate links, which means we may receive a small commission, at no additional cost to you, if you make a purchase through these links. See our full disclosure here.
With options for every mood, budget, and style, there has never been a better time to invest in luggage than now.
We believe that the best travel luggage in 2022 has to be handsome, practical, and tailored to the needs of today's nomads. Functional design, quality materials, and efficient, customizable packing space are paramount to a successful travel experience, no matter how big or small.
Just keep in mind, there are different types of luggage for different trips, and no single piece will satisfy all your traveling needs.
Whether you are looking for a stylish, innovative suitcase that takes you around the world, an adorable designer hat box, or a rugged backpack that doubles as a carry-on, we've got a bag for you.
Best Checked Luggage: Away The Large Flex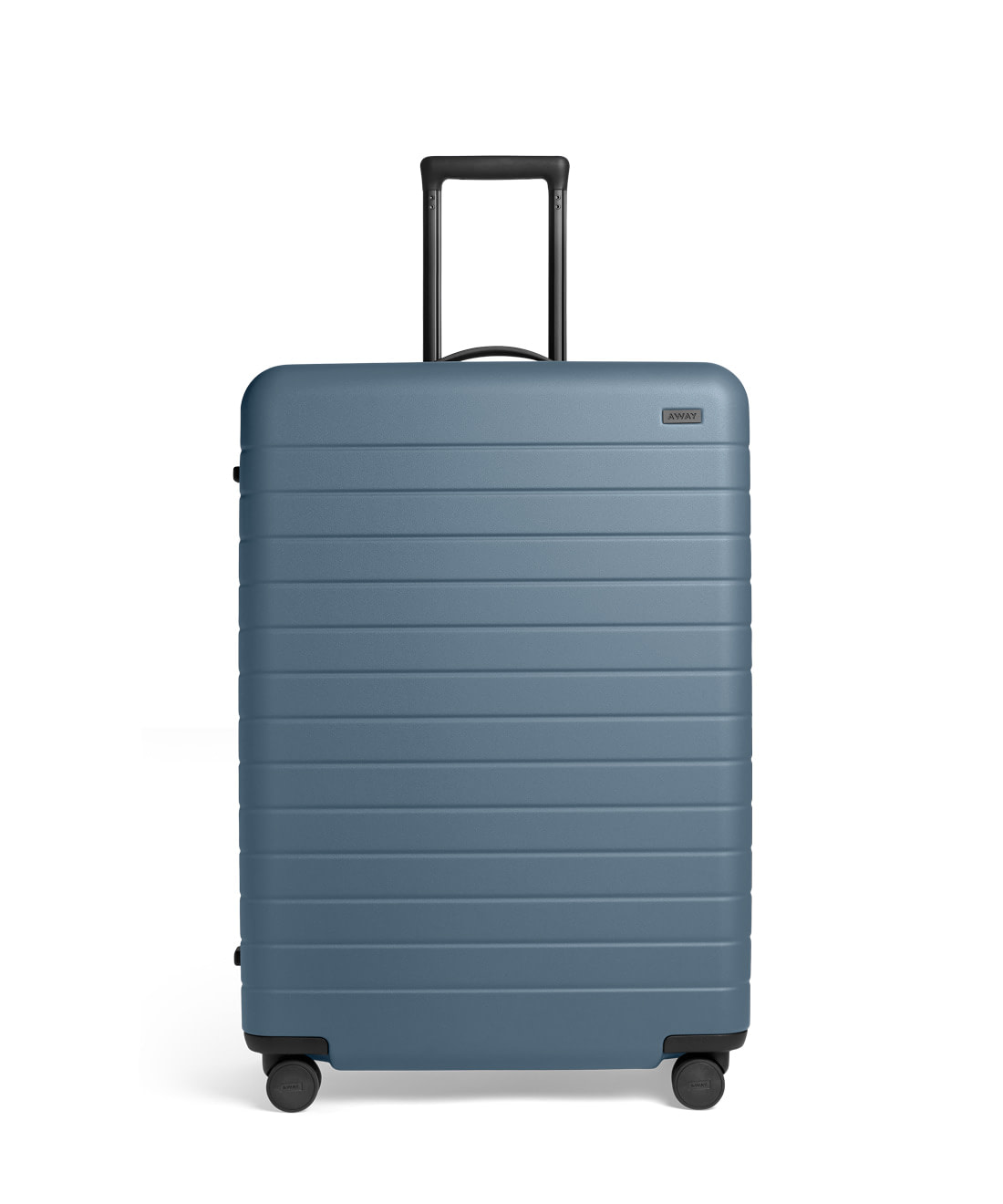 Away didn't become Instagram's favorite luggage brand for nothing. Their high-quality cases are durable, well-priced, and stylishly minimalist – and The Large Flex is no exception.
With an internal compartment capacity of 99.2 L, this large checked bag fits a ton while still remaining remarkably easy to maneuver. That's entirely attributed to its thoughtful construction with four supersmooth 360-degree spinner wheels, a sturdy telescopic handle, and a flexible polycarbonate shell that's tough, scratch-resistant, and supremely lightweight. And as if all these weren't enough, it also comes with a built-in zipper expansion to give you an additional 1.75″ of space.
The interior is equally well thought out with a practical clamshell setup for easy, effective packing, plus a removable laundry bag and a built-in compression pad that helps maximize the space.
The suitcase comes in 4 tasteful colors – all with a sophisticated matte finish – for every mindset and fashion whim, and also includes contemporary features like TSA-approved combination lock, YKK zippers, a customizable leather luggage tag, and a novel underside grab handle for easy lifting at the baggage carousel.
A clever, good-looking case that's built to last a lifetime, Away's large, expandable bag is one of the best checked luggage currently on the market!
Best Carry-On Luggage: Monos Carry-On Pro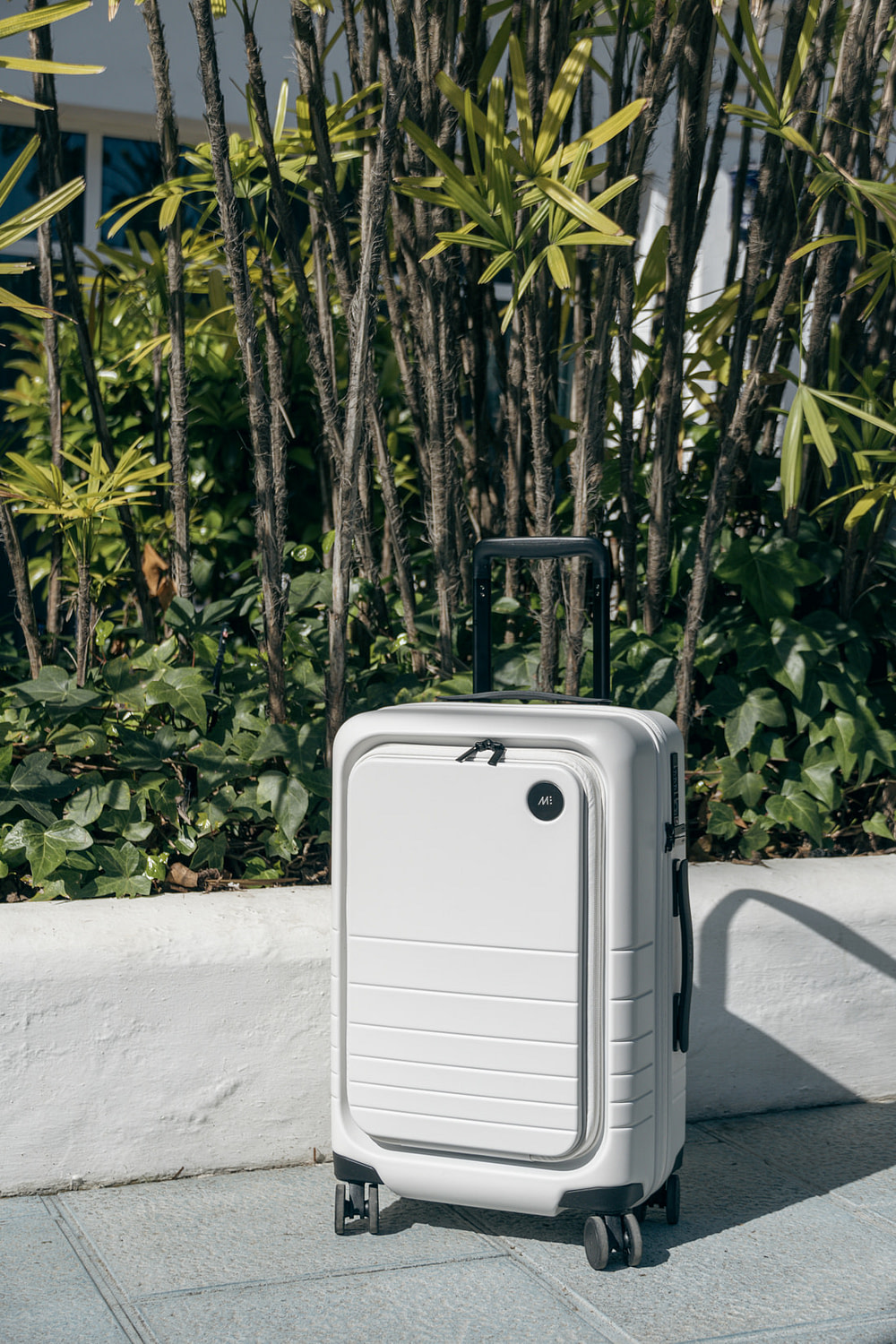 The stylish looks, well-thought-out design, and smart details put this cabin case on top of our list of the best carry-on luggage.
Constructed with aerospace-grade polycarbonate, the Monos Carry-On Pro rolls on high-end Japanese 360° spinner wheels and sports an insanely practical padded front compartment for easy access to a 15″ laptop and other travel essentials.
Lined with soft 350D anti-microbial fabric, the interior includes a built-in compression pad for efficient packing, as well as complimentary laundry and shoe bags for keeping your items organized. A release button cleverly hidden underneath makes the multi-stage telescopic handle more natural to use, and the color-coordinated YKK reverse coil zippers add security while maintaining the case's pristine appearance. Oh, and did I mention that the outer shell colors range anywhere from sleek Desert Taupe to a limited-edition Terrazzo print that brings to mind ancient Venetian palaces?
Best Luggage Set: Samsonite Voltage DLX 2 Piece Set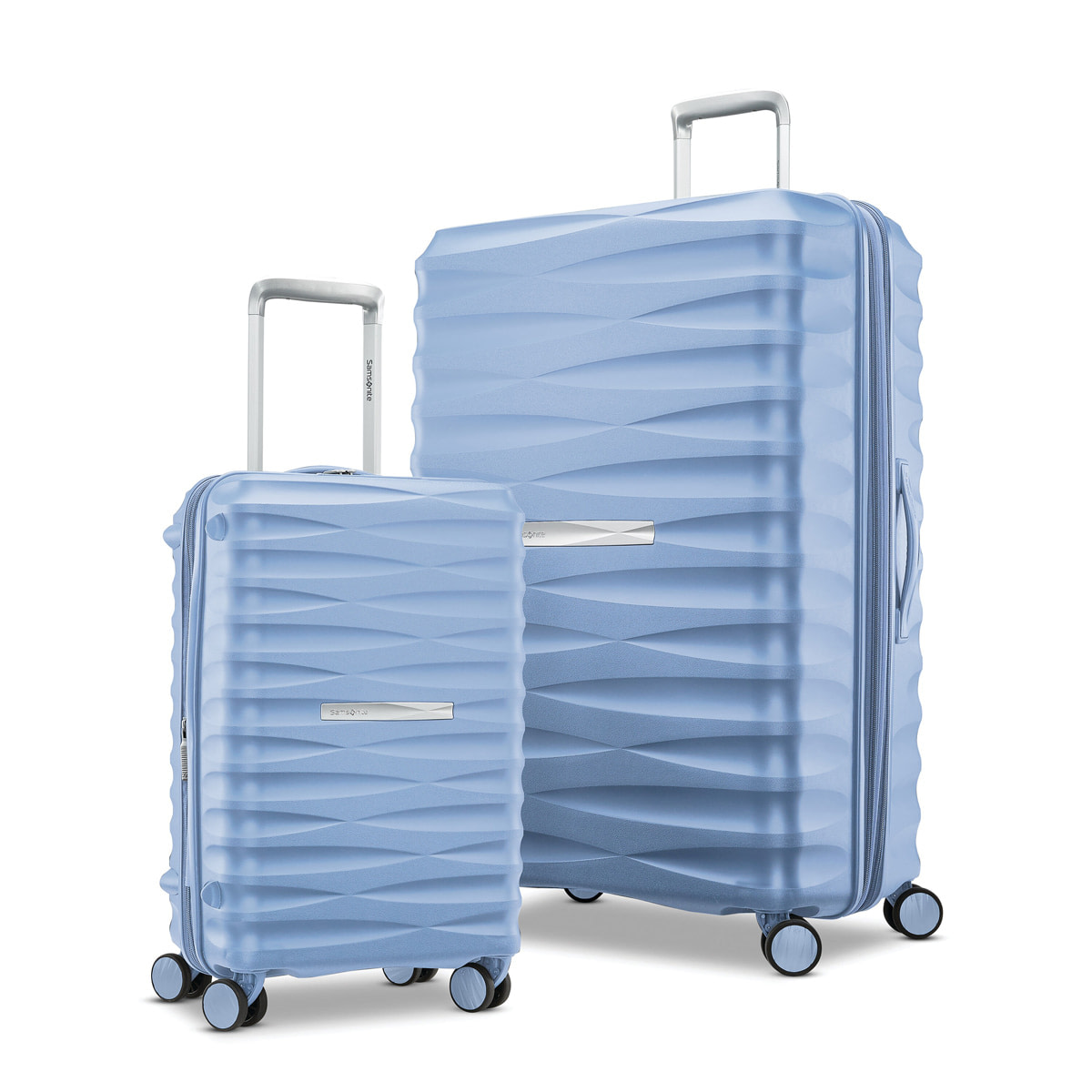 From the brand that builds some of the best luggage sets out there, this pair of architectural suitcases makes a statement wherever it goes.
Whether you choose to use them separately or mobilize the entire collection, Samsonite's Voltage DLX 2 Piece Set will make your life so much easier while on the road.
Crafted from 100% polypropylene, both shells are strong, lightweight, and expandable by 1.0″ for extra packing space. The carry-on features a USB port for on-the-go charging, and both travel bags come with TSA-approved locks for added security and integrated WetPak pockets to keep liquids and toiletries safely packed on the road.
Dual spinner wheels and ergonomic pull handles make travel a breeze, while their spacious, fully lined interiors with elastic cross straps and large mesh pockets increase utility and keep your possessions in place.
Best Weekender Bag: Monos Metro Duffel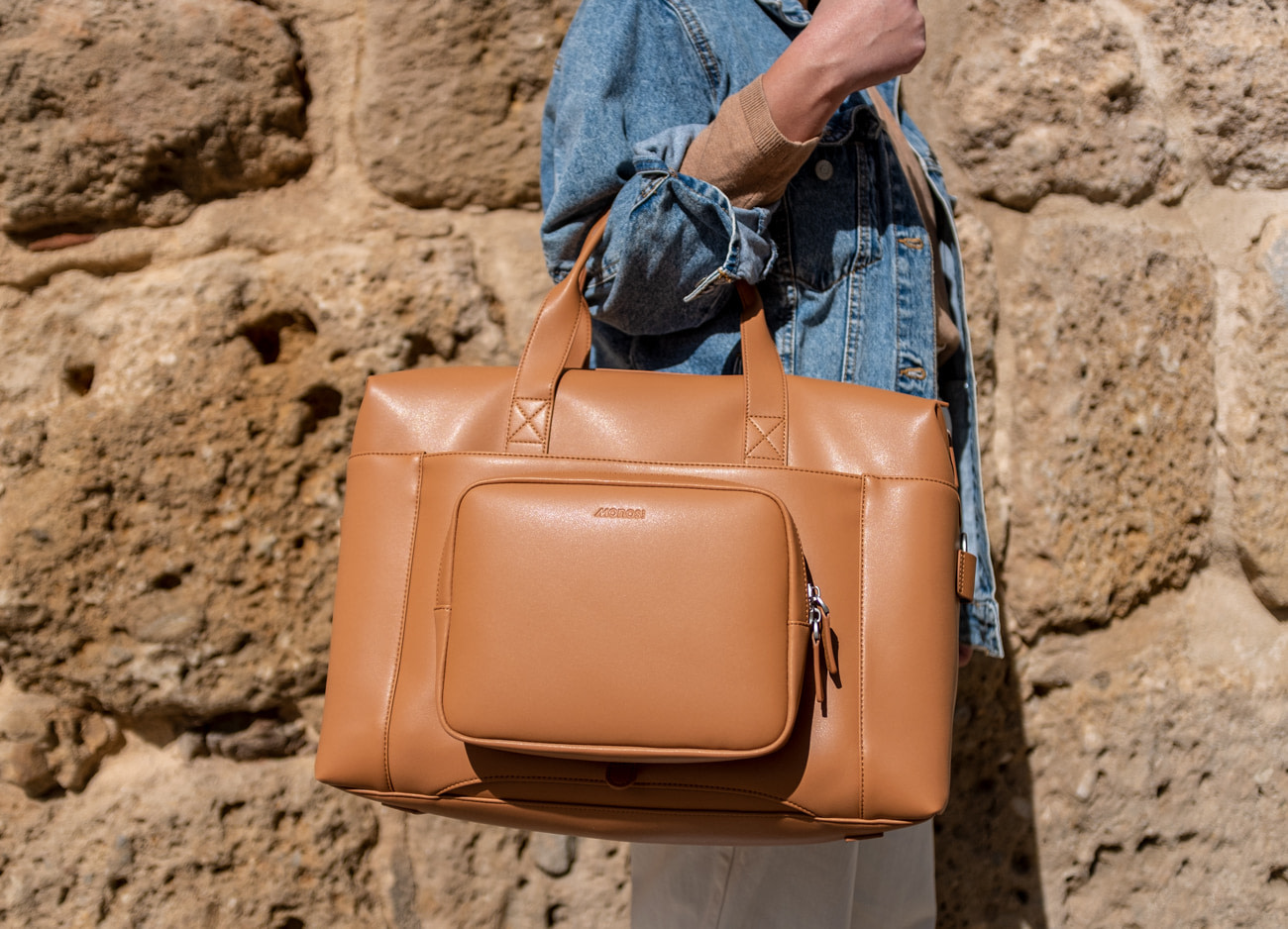 For all those situations where a wheeled suitcase is too much, you need a duffel with just the right balance of style and practicality.
And although there are tons of chic weekender bags to choose from these days, we're partial to this beautiful, sustainable pick from Monos. Crafted in water-resistant vegan leather, the Metro Duffel ticks all the right boxes – good-looking, splendidly functional, and made to last.
At 17.5″ × 10.6″ × 9.6″, it's compact enough to carry with your hand, yet roomy enough to fit a weekend's worth of travel essentials. The interior is masterfully thought out to fit a 15" laptop and keep your items organized to in pockets, while outside, a unique trolley sleeve designed to secure the bag to your suitcase handle converts into a roomy pocket when not in use.
Saving the best for last, the contemporary bag comes with the brand's proprietary QuickSnap Modular Kit System, a sleek pouch that easily attaches (and detaches) to the exterior of any Monos duffel and backpack.
Best Travel Backpack: Peak Design Travel Backpack 45L
When you travel for a living, like I do, investing in versatile luggage is a must. Of course, you need a quality rolling suitcase for that big trip away or a stylish, practical duffel for weekends on the go, but most of all, you need a bag that adapts to as many situations as possible. That's where the Peak Design Travel Backpack 45L steps in.
Crafted from recycled weatherproof nylon canvas, this bag is exceptionally engineered to protect your gear, maximize storage space, and keep you organized on the road. Its quality is outstanding (think 400D weatherproof material, DWR-impregnated, PU-coated interior, and weatherproof, lockable zippers), and so is its versatility. In default 35L configuration, it meets most international carry-on standards, but it also folds down into a 35L daypack, perfect for urban escapes, and expands to haul 45 liters of gear comfortably when you need it.
With its streamlined aesthetics, multiple access points, clever tucked-away straps, and endless carry options, it is by far one of the best backpacks for travel that I have ever used. And I used it a lot, either as a weekender bag for my trips throughout Spain, a daypack for short hikes in the mountains, or as a carry-on bag on flights around Europe.
For added organizational convenience, Peak Design offers a variety of accessories designed to fit neatly within the backpack. These include camera cubes, packing cubes, and tech organizers, all of which are sold separately.
Besides being gloriously customizable, this durable multi-purpose bag is also loaded with separate compartments and thoughtful pockets inside and out.
As far as one-bag travel goes, I can't think of a better piece of luggage for the job than the Peak Design Travel Backpack 45L.
Best Carry-On Backpack: Transit Backpack Plus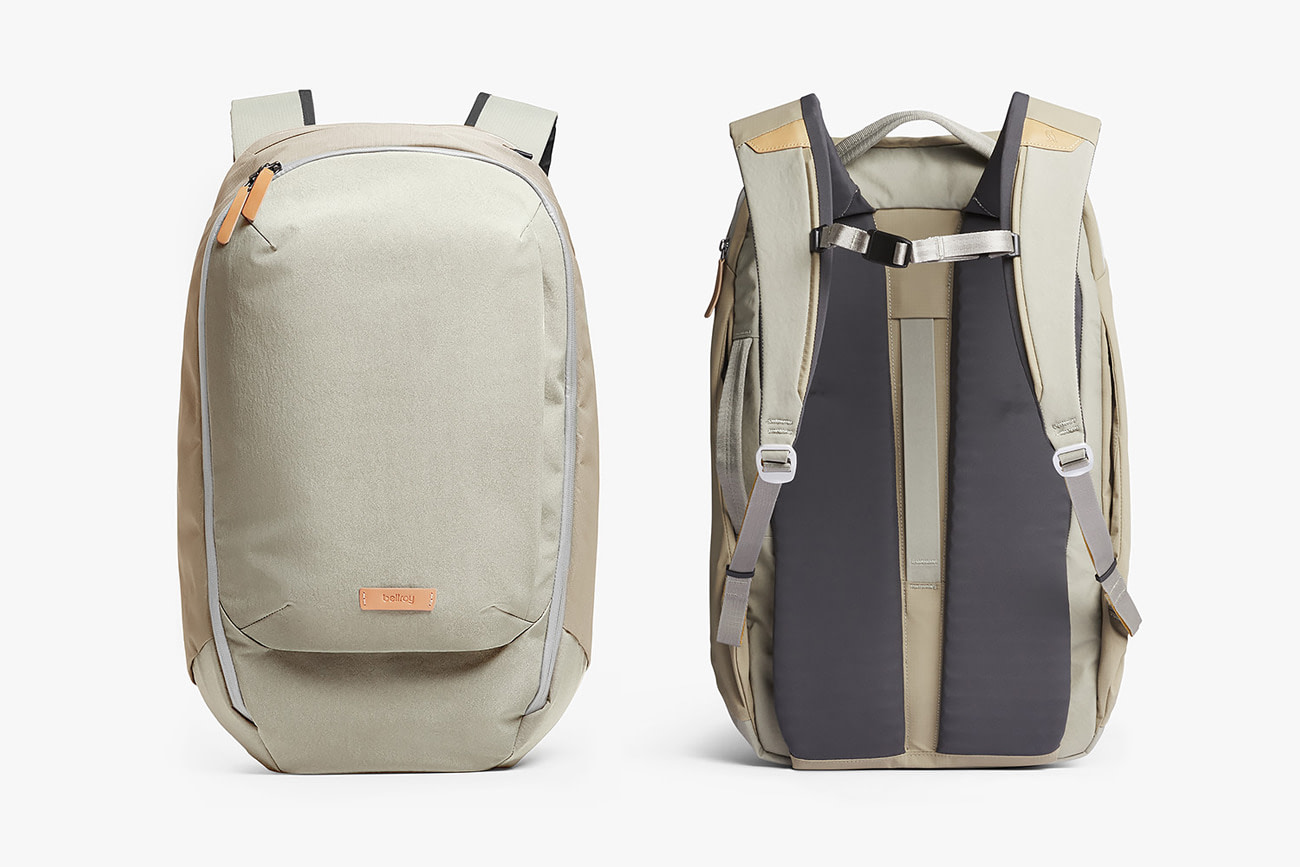 While there are countless well-designed carry-on backpacks to trade up your old suitcase to when you want to travel hands-free, it's hard to argue the quality build and clever features of Bellroy's Transit Backpack Plus.
Made with water-resistant recycled woven polyester and trimmed with environmentally certified leather, this travel bag looks as good as it performs. It offers separate access to tech, a clamshell opening for easy packing, and its ergonomic contoured shape with breathable padding makes for comfortable all-day carrying.
In terms of organization, the carry-on-sized 38-liter pack is thoughtfully outfitted with a place for everything, including a flat mesh compartment for your folded shirts, as well as a handful of invisible external-access pockets for storing your wallet, passport, and water bottle.
Best Garment Bag: Samsonite Armage II Duet Garment Bag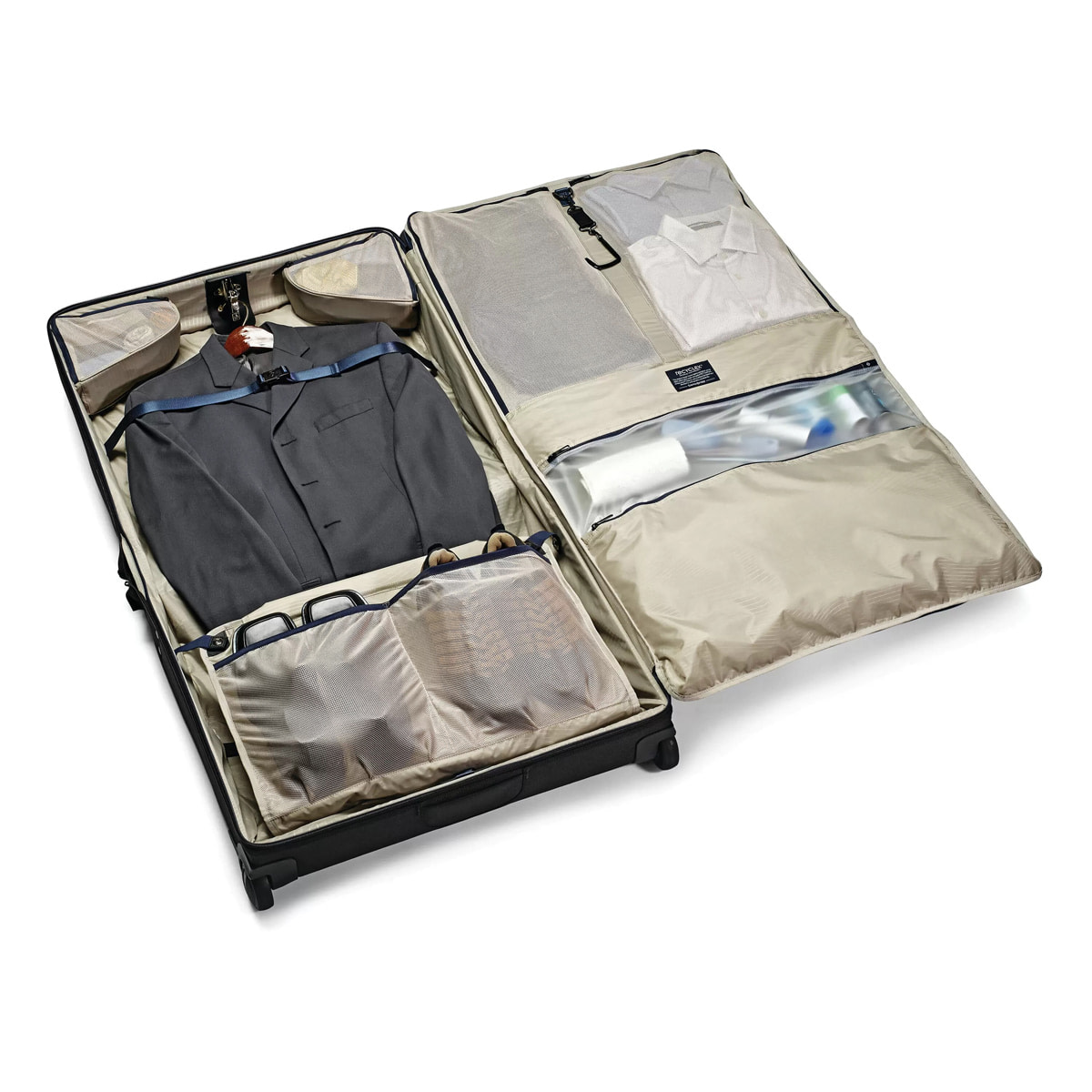 If you're looking for a way to travel wrinkle-free (and who doesn't, really?), you could hardly do better than investing in Samsonite's Armage II Duet Garment Bag.
Made from durable, recycled materials, this rolling medium check-size piece of luggage marries hard-wearing toughness with modern sophistication into one of the best garment bags money can buy. It's the perfect size for a 2 to 4-day trip and comes with oversized wheels that enhance maneuverability while maximizing packing capacity.
With dedicated shoe sleeves, a padded extender panel for longer garments, a water-resistant pocket for toiletries, and grip hangers in two orientations, the interior layout is beautifully engineered to make the most of the available space. And the best part, once you arrive at your destination, you can convert the bag into a hanging wardrobe.
Whether you're heading out of town for business, weddings, or anything in between, this garment bag will forever change the way you travel.
Best Hat Box: SteamLine Luggage Hunter Green Hatbox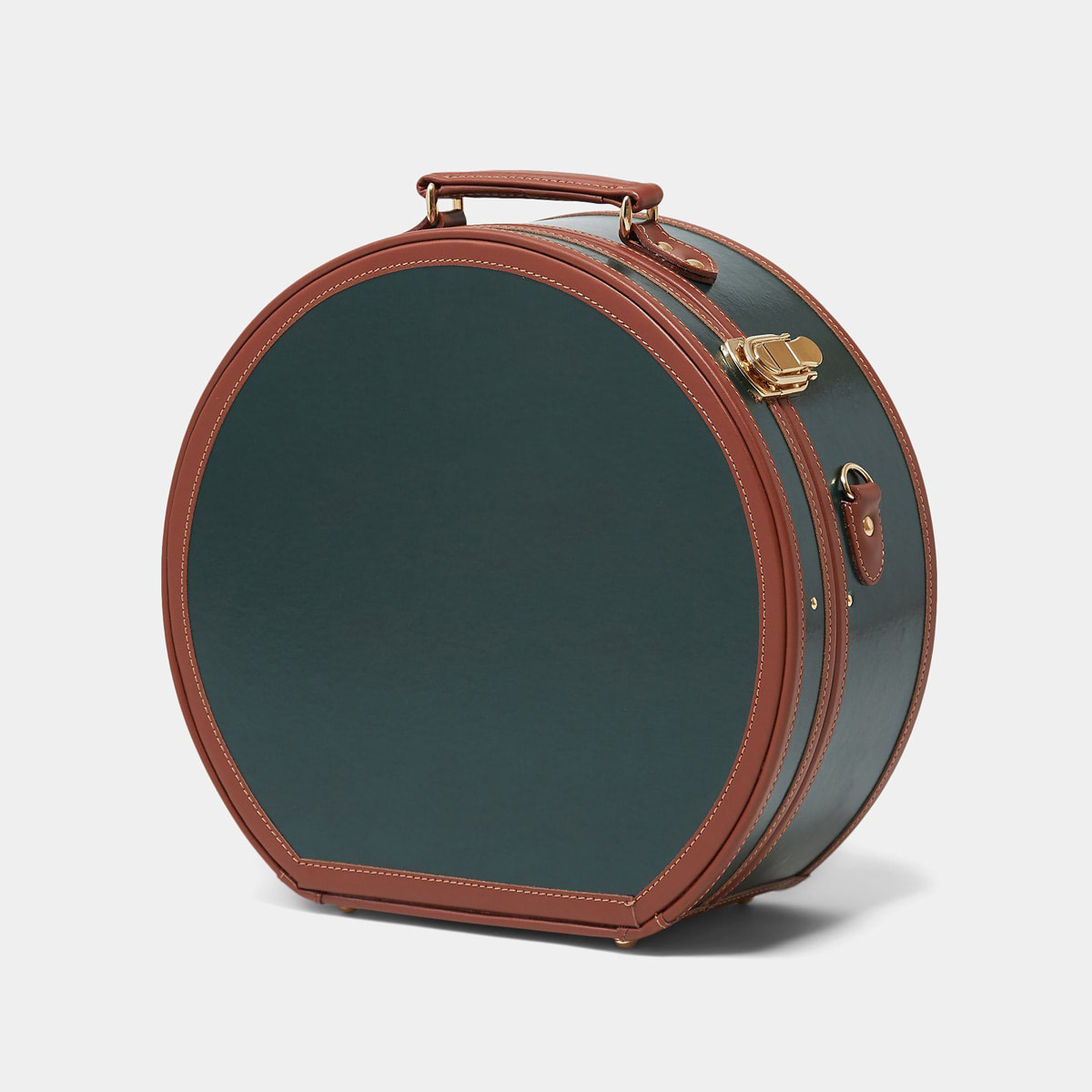 Made popular in the 19th century, hat boxes are having a comeback of sorts. Practical, feminine, and wonderfully decorative, they are among the most stylish and beautiful pieces of luggage.
An ideal accessory for traveling fashionistas, this vintage-inspired caddy from SteamLine Luggage keeps your hats pristine and your style intact while on the road.
Detailed with British brown leather straps and gold stud accents, the Hunter Green Hatbox sports the same lightweight, durable hard-shell as the brand's gorgeous Diplomat suitcases, and is fitted out with two elegant buckle clasps and an adjustable shoulder strap for hands-free carrying. The roomy, luxurious interior is fully lined and features a handy accessory pocket. When not in use, the case makes a delightful home decor piece while storing all your favorite Trillbys and Fedoras.
Best Tote Bag: Bellroy Tokyo Tote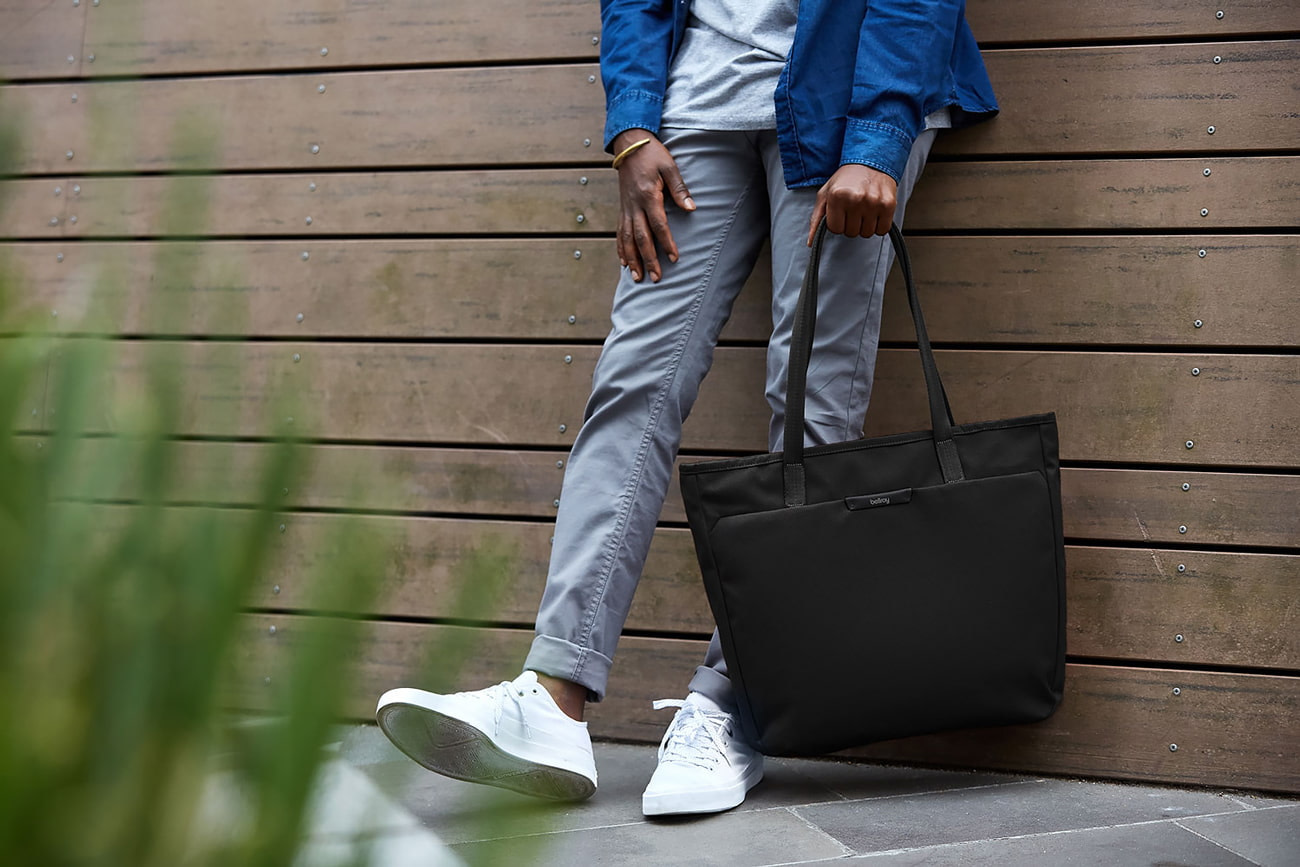 Say hello to your new favorite tote! Whether you're headed to the beach or the office, this stylish, versatile carryall can do both.
Made with water-resistant recycled fabric and detailed with premium, environmentally certified leather details, the Bellroy Tokyo Tote is spacious enough for all your daily essentials. The interior is cleverly designed with a padded laptop sleeve for devices up to 13" and foldable pockets at each end to stash your shoes, umbrellas, or water bottles. An external zip pocket on the front allows for quick access to valuables such as phone and keys, and the strong shoulder straps with non-slip backing make it comfortable to carry all day long.
Best Pet Carrier: Wild One Travel Carrier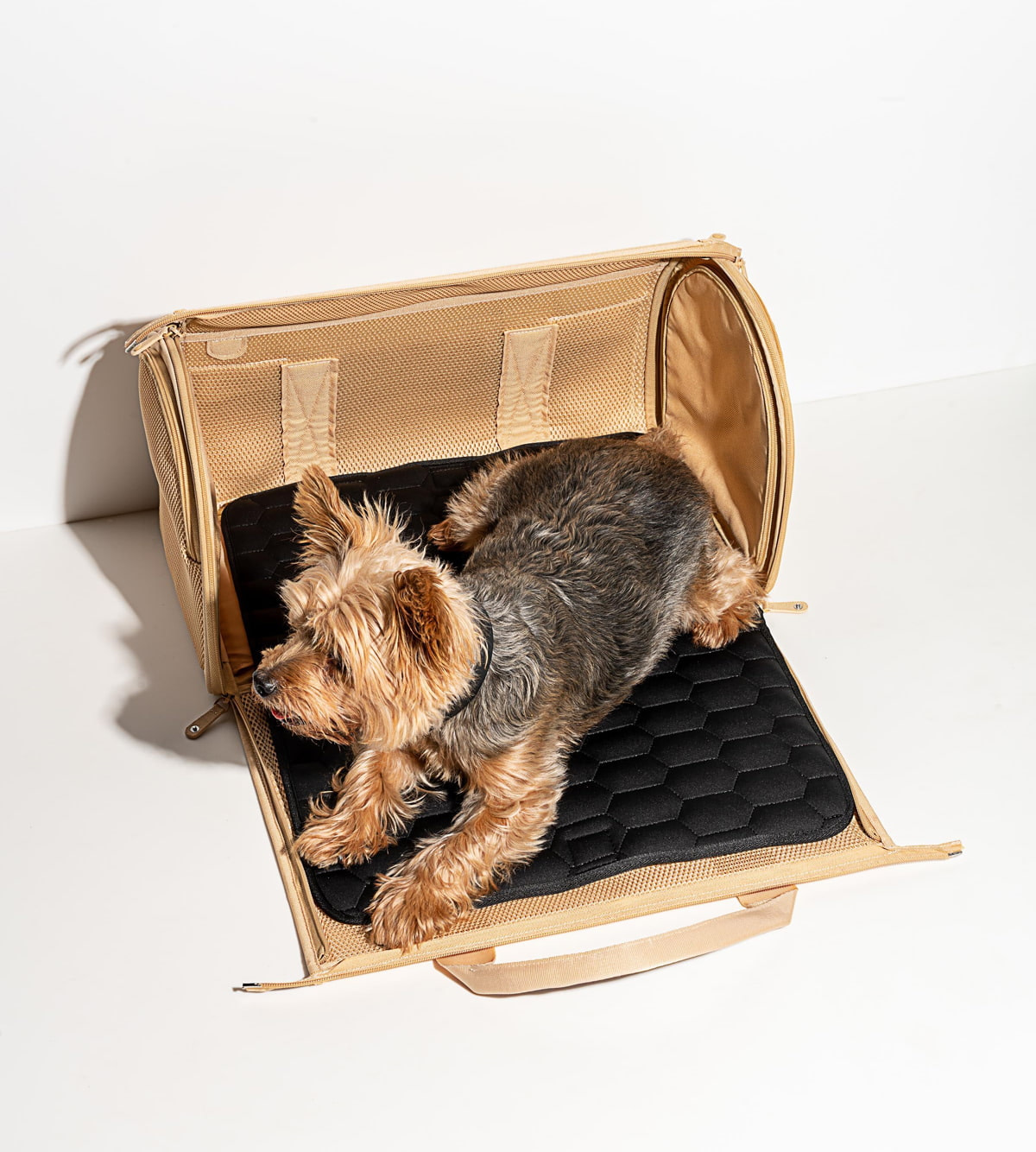 Traveling with your furry friends is never easy, let alone flying with them. The only thing that will smooth the ride, for both of you, is a really, really good pet carrier.
Designed with your companion's well-being in mind, this soft-sided Travel Carrier from Wild One is not only airline-approved, but also comfy, lightweight, and easy to move around.
Breathable mesh windows throughout allow for both ventilation and visibility, while the foldable interior cushion converts into a dog bed, keeping your furry friend cool & comfortable throughout the trip. Once arrived at the destination, the carrier's shoulder strap doubles as a leash.
Best Underseater: Samsonite Ascentra Wheeled Underseater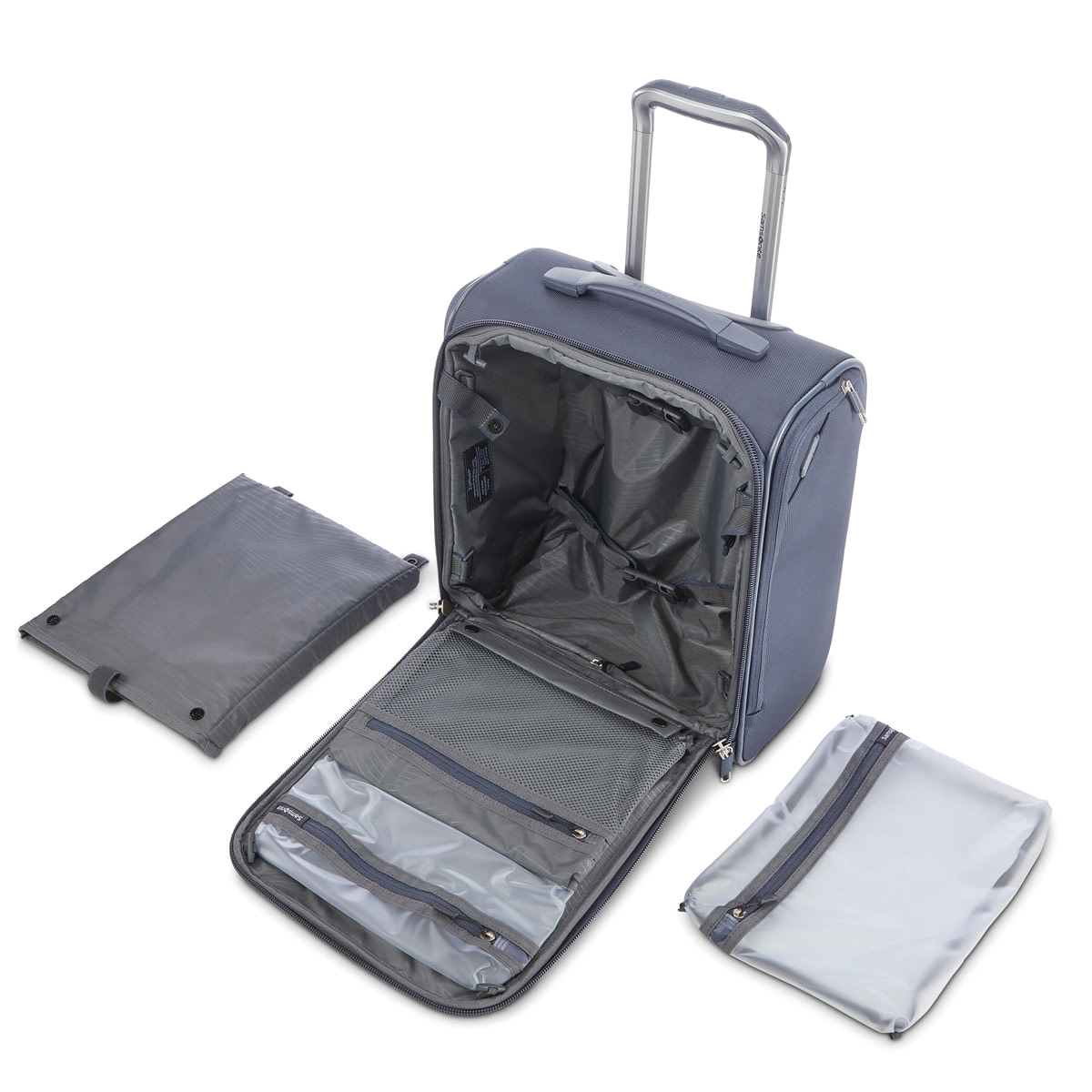 Today is all about traveling in style, but also in comfort. With its functional design and subdued business-ready looks, the Ascentra Wheeled Underseater embodies both, making for a handsome, practical addition to your luggage collection.
Designed to fit under the seat of most airplanes, this bag may be small but it packs a punch thanks to its brilliant organizational features. To name a few, there's a removable padded sleeve for 15″ laptops or tablets, an integrated side pocket with USB cord pass-through and battery pouch for charging your devices on the go, and a removable mesh zipper pocket with attached WetPak which doubles as a divider panel for the main compartment.
The smooth oversized wheels and ergonomic trolley handle with multi-stop adjustments allow for effortless navigation, while the interior lining – made from 100% post-consumer recycled PET bottles – can be removed and washed for a fresh, clean trip every time.