This post contains affiliate links, which means we may receive a small commission, at no additional cost to you, if you make a purchase through these links. See our full disclosure here.
The duffel bag is one of the most indispensable travel items you can own. However, finding one that works for all occasions is quite a challenge. While some are tough enough to withstand the great outdoors, others are smartly designed, with padded laptop compartments, separate shoe pockets, and handy trolley sleeves, to make traveling easier.
Available in a wide range of materials, including classic leather, sturdy weather-resistant nylon, and modern, lightweight fabrics woven from recycled plastic bottles, a great duffel can be anything you want it to be, from a simple gym bag to a rugged gear hauler for adventures. The most stylish designs are ideal for weekend escapes or as a carry-on to accompany your suitcase on more extended vacations; others can be worn as a backpack for maximum convenience, and some are just creatively foldable for extra storage when you need it.
From Patagonia to Peak Design, these are the best duffel bags in 2023. Equally well-engineered but dissimilar in style, you'll want one for every destination.
Peak Design Travel Duffel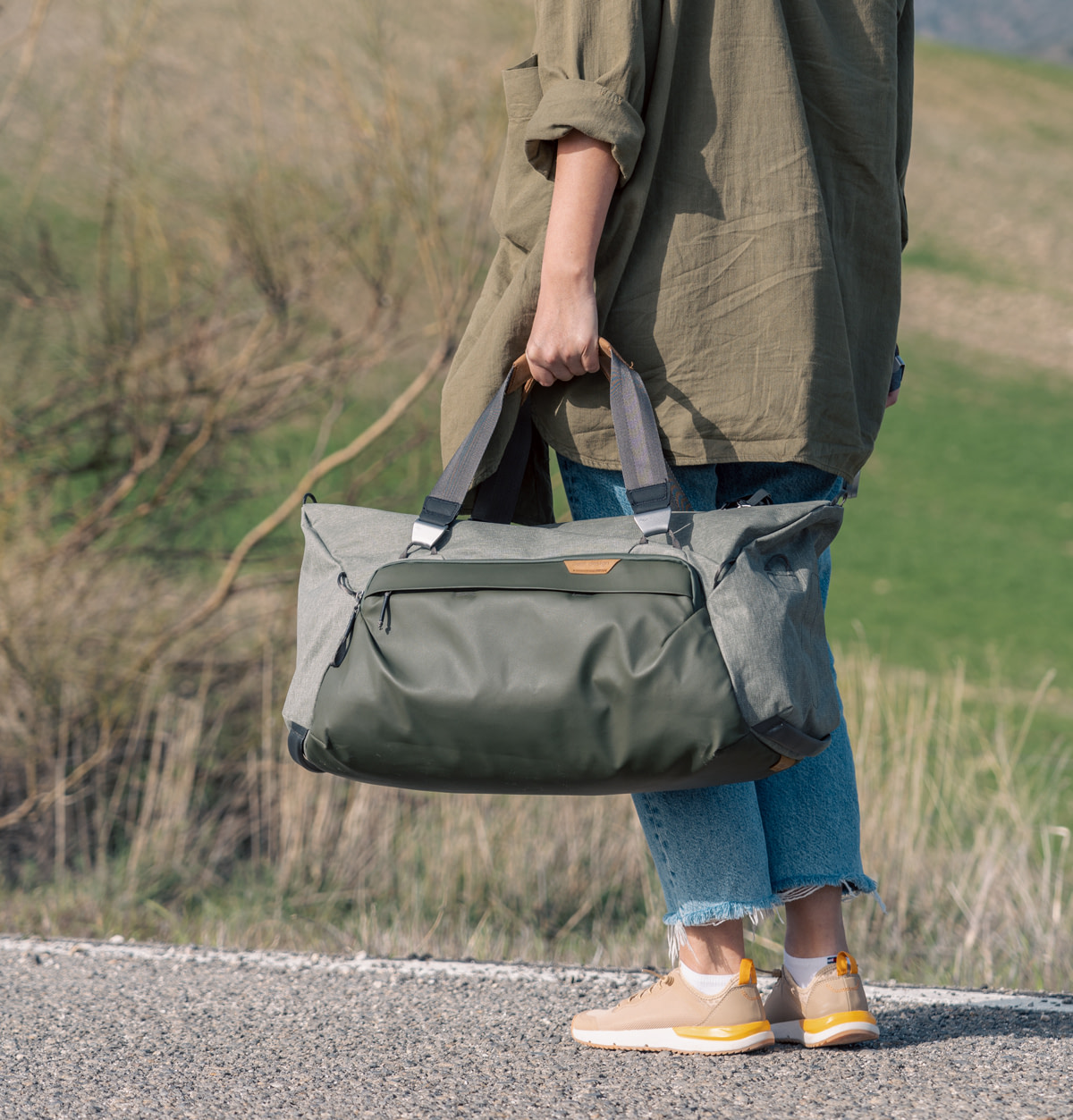 With a spacious interior, diverse carry options, and plenty of useful organization, Peak Design's Travel Duffel has all the right boxes checked. A weatherproof (and recycled) 600D nylon canvas external shell keeps your gear protected while smartly placed pockets inside and out offer room for your smaller essentials. Versatile, good looking, designed to fit in airline overhead bins, and compatible with Peak Design's camera cubes, this well-thought-out travel bag will become your essential carryall, no matter the destination.
Why it made the list: After using it intensely in the last couple of years for all kinds of travels – from road trips and beach outings to local weekend escapes and international flights – I can't sing the praises of this bag enough. It's simple but clever, sturdy but lightweight, and its physics-defying interior holds way more than one would expect. It's also the type of bag that never looks out of place, which makes it one of the most practical pieces of luggage you'll ever own.
Db Roamer Split Duffel 50L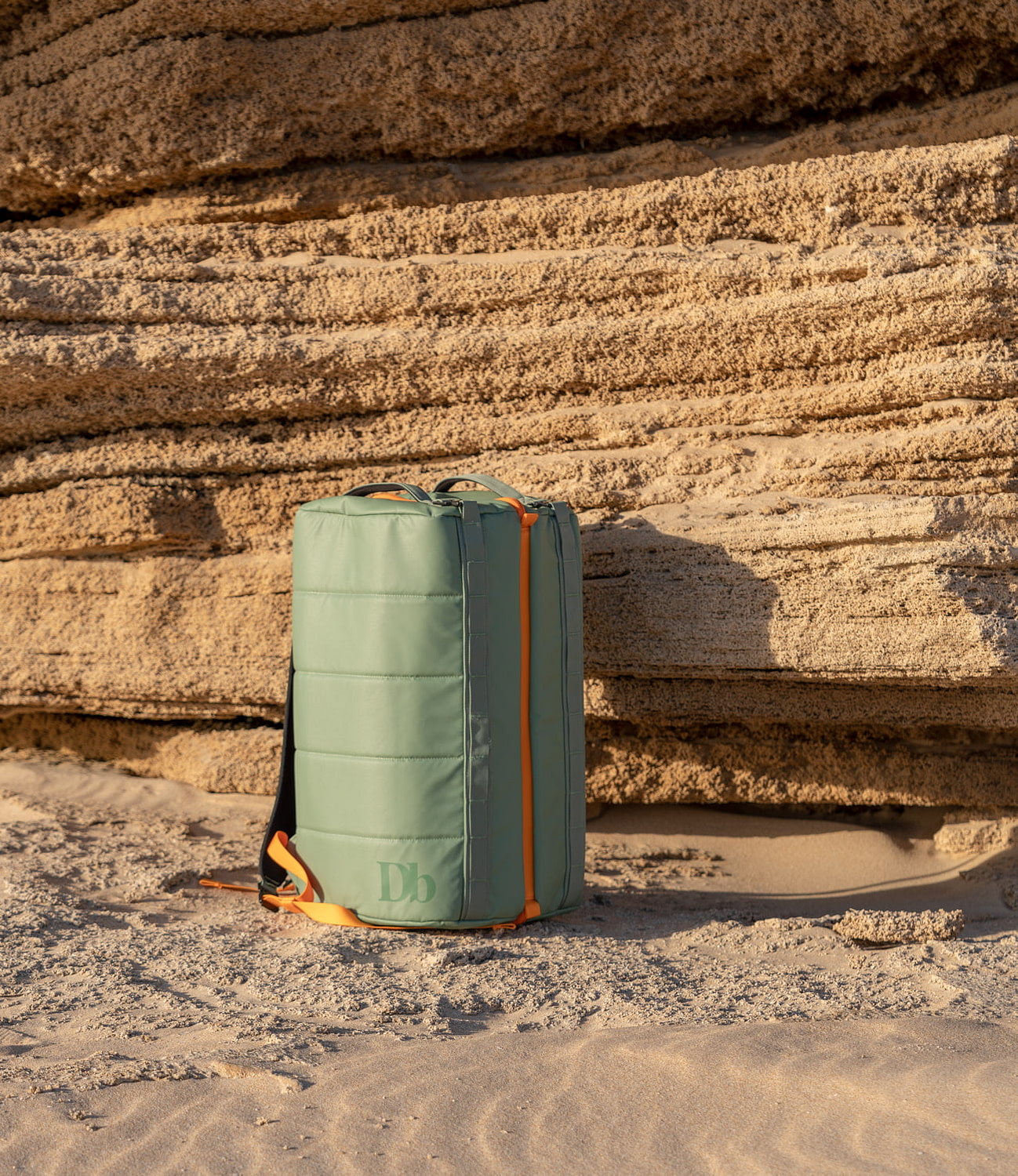 One of the most unique duffels on the list, the Roamer Split Duffel 50L fuses the organization and packing convenience of a suitcase with the portability of a backpack and the casual versatility of a duffel.
Designed in Scandinavia, the bag is made with 100% recycled Nylon 840D and enhanced with an ergonomic carry system with sternum strap. It also sports the brand's signature Hook-Up System, which allows you to attach it to other Db bags, as well as their innovative Rib Cage Technology meant to protect the gear inside without weighing you down. Its most distinctive feature, however, is the split design, with two roomy compartments and a medley of mesh pockets, which makes packing, accessing, and organizing your stuff a breeze.
Why it made the list: Designed to bring a whole new level of comfort and organization to your outdoor pursuits, Db's fresh take on the classic adventure duffel is as cool as it is functional.
Bennett Winch Commuter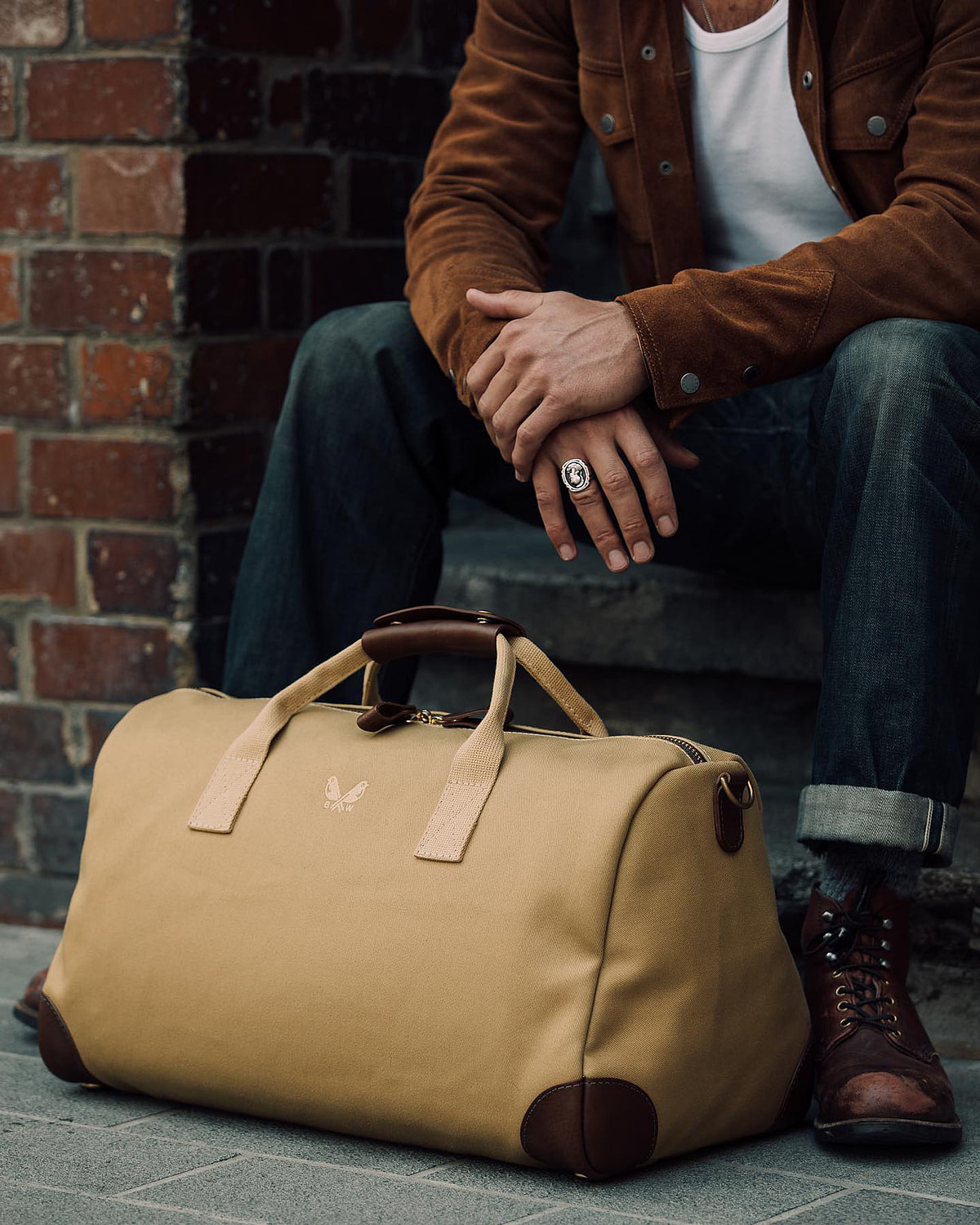 A stylish yet durable choice, the Bennett Winch Commuter combines 24-oz bonded canvas with military-grade webbing and premium leather details into a ruggedly handsome holdall that's easy to fill and go. Lined with 100% British cotton, its interior features a padded laptop sleeve and a detachable, fully waterproof pocket for storing your shoes, gym gear, or toiletries. The sturdy handles and detachable over-the-shoulder strap make it comfortable to carry, while a concealed external pocket provides easy access to your phone and passport when you are on the move.
Why it made the list: The perfect marriage of form and function, this waterproof canvas duffel will get you anywhere in style. With a 32-liter capacity and just the right amount of organization, it is as suitable for commuting as it is for a light weekend away.
Bellroy Lite Duffel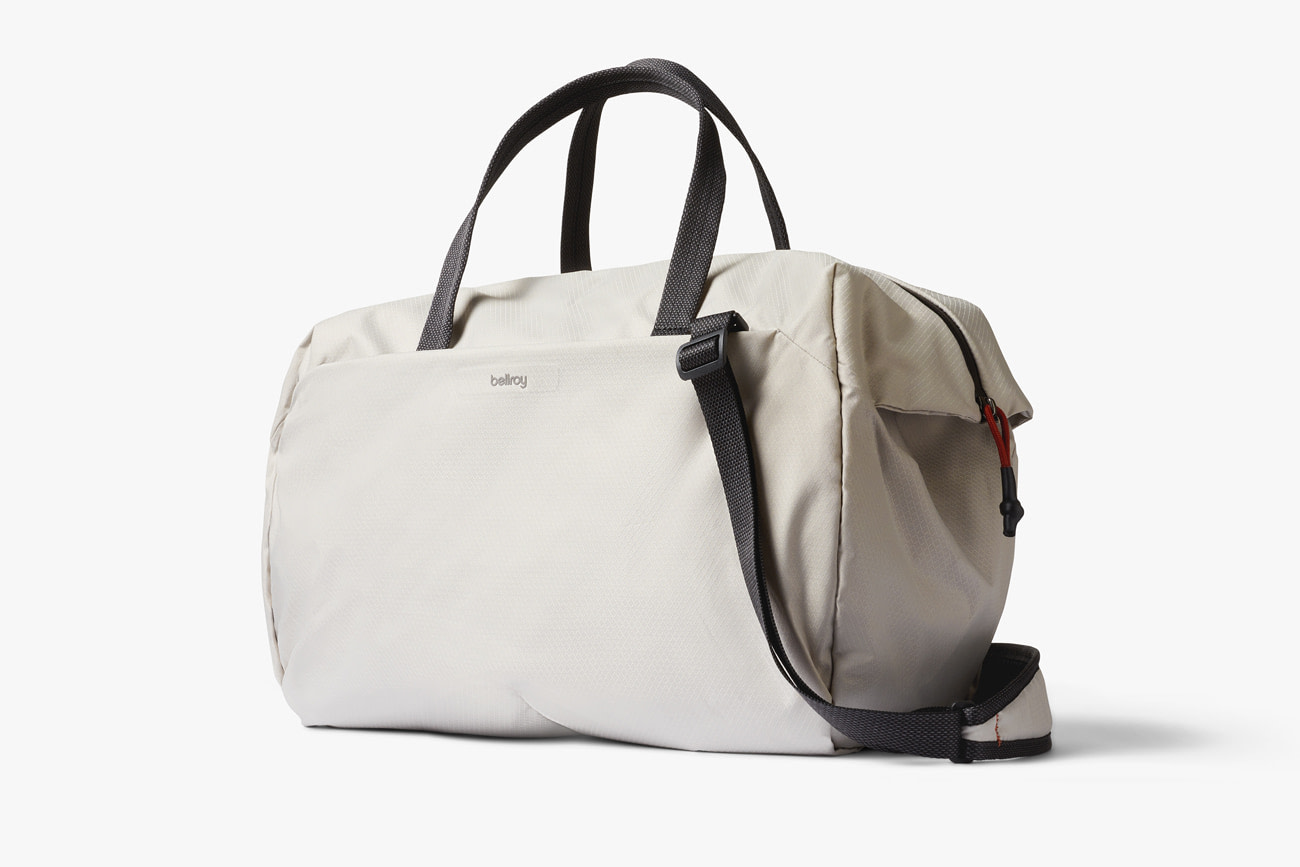 Featuring ultra-lightweight, water-resistant materials woven from recycled PET plastic bottles, the Bellroy Lite Duffel can take whatever you throw at it without weighing you down. While the 30-liter capacity and tasteful aesthetics make it ideal for everyday use and trips to the gym, its durable ripstop construction and clever design features suggest it can be much more than that.
Its cavernous interior, lined with slip pockets of various sizes, has just enough room to pack for a short weekend away. There's also an adjustable and detachable padded shoulder strap that makes lugging your bag over long distances as easy as pie.
Why it made the list: For a lightweight, versatile duffel that's both strong and stylish, it's hard to top this design-forward, 600g (1.3 lb) Bellroy bag.
Paravel Fold-Up Bag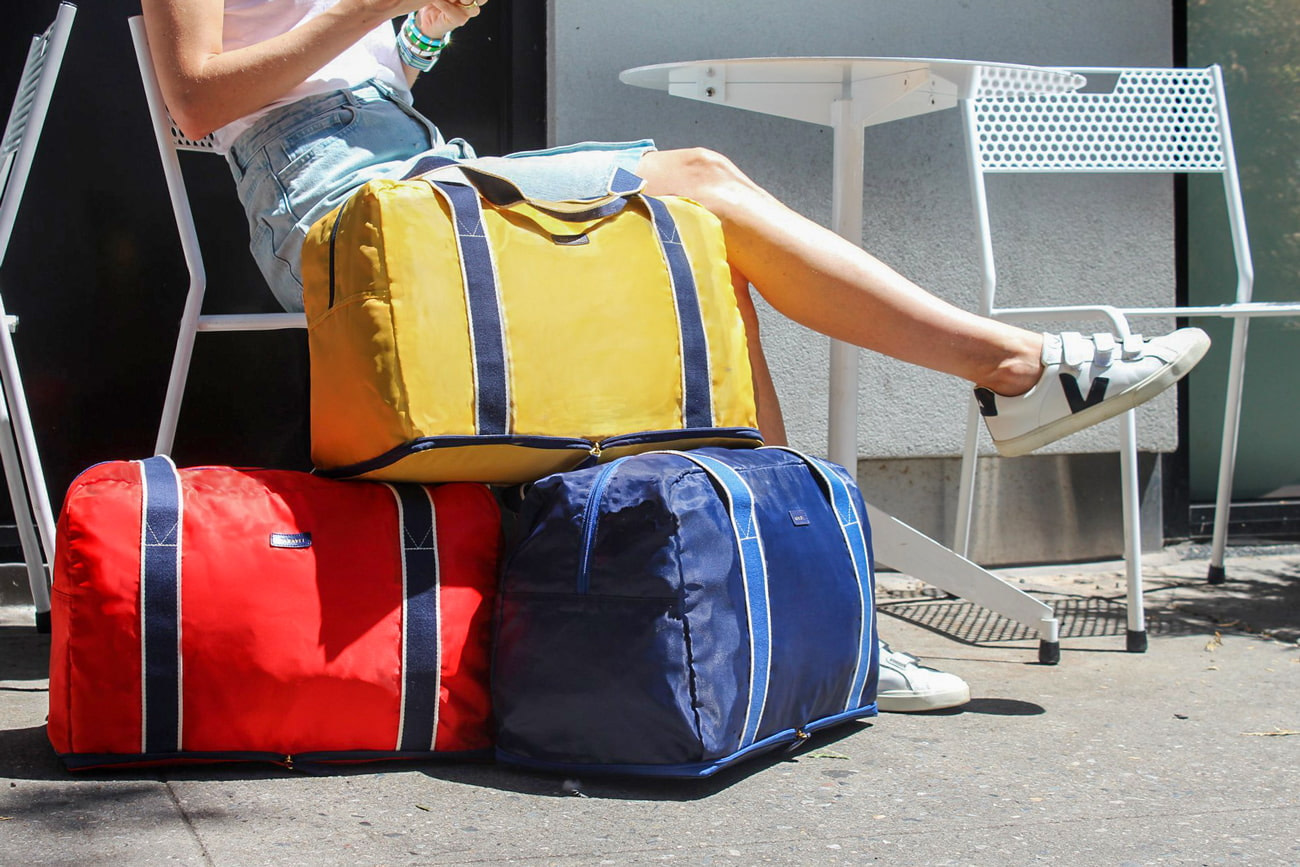 Available in a wide variety of colorways, the Paravel Fold-Up Bag holds a ton in its roomy main compartment and includes a couple of nifty details you won't find in other similar products. For example, it's crafted from the brand's proprietary Negative Nylon, a sturdy yet super lightweight, sustainable material made of recycled water bottles; has a quick-access exterior pocket that converts into a trolley sleeve for sliding onto your suitcase, and can be personalized with a monogram to make it all yours. Of course, the whole thing folds into its own pouch for easy storage when not in use.
Why it made the list: Not only is this duffel super packable, but it sports a sleek, minimalist silhouette perfect for any occasion. Whether used as a gym bag, a carry-on, a weekender, or just as an extra bag for bringing home souvenirs, we bet it will instantly become a staple in your collection.
YETI Crossroads 40L Duffel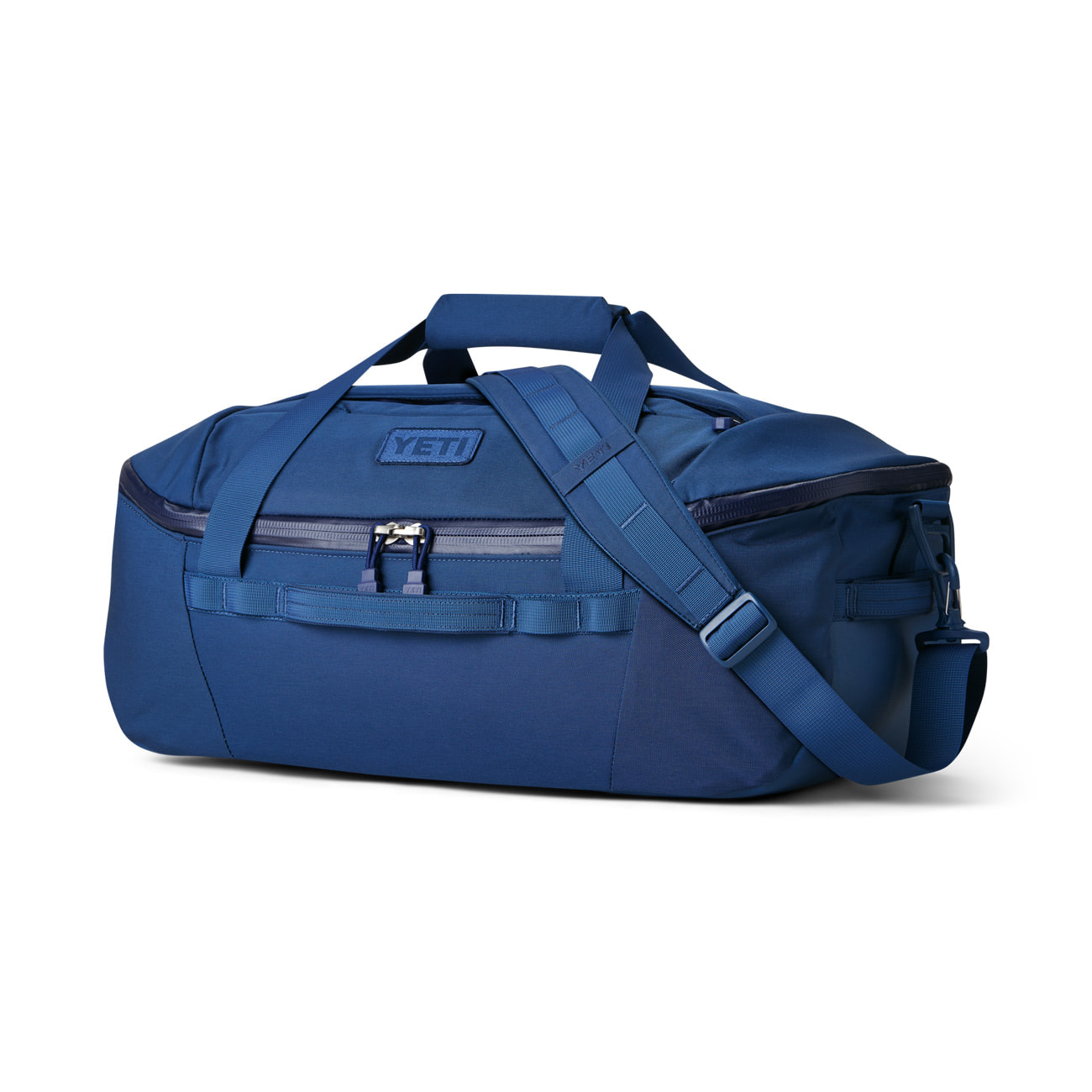 Much like their legendary coolers, YETI's Crossroads 40L Duffel stands out for its rugged construction and thoughtful design. Its unique "Tuffskin Nylon" exterior is abrasion-resistant, water-repellent, and extremely durable, while the interior is equipped with pockets and divider panels for organizing your stuff. Structured foam walls help the duffle keep its shape, and there are also modular compression straps to hold the items in place, either inside or outside. The wide clamshell opening is another plus, as it allows full access to contents.
Why it made the list: Pairing an outdoorsy design with a superior degree of organization, this structured duffel will accommodate whatever adventure you're after. It's made to last, easy to pack, and loaded with features.
Troubadour Embark Compact Duffel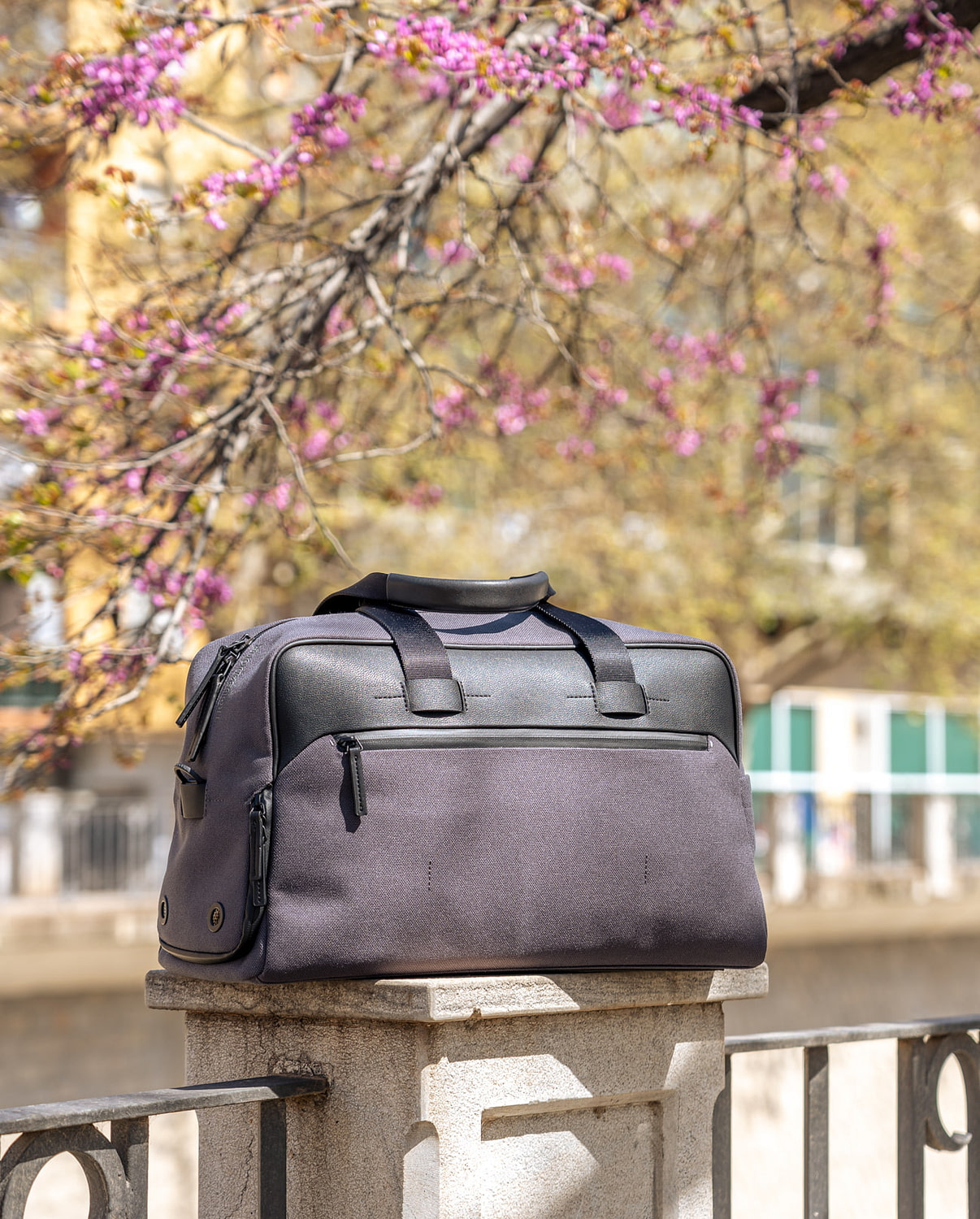 Don't let its professional look fool you: the Troubadour Embark Compact Duffel was made for wear and tear. Crafted from lightweight, waterproof technical fabrics, the bag is tough enough to handle the elements yet plenty polished for work trips and short getaways. Inside, you'll find generous mesh pockets, a padded section for your electronics, and a zippered bottom compartment lined with waterproof, antimicrobial fabric to neatly tuck away a pair of shoes so they won't mingle with the items on the top of your duffel. Other highly functional details include a bottle holder, a detachable shoulder strap for hands-free carrying, and a roomy exterior pocket that converts into a trolley sleeve when needed.
Why it made the list: We like the clean lines and durable construction of this carry-on travel duffel bag. Sized for everyday use and light travel, I've used it to transport anything from my gym kit to my essentials for an out-of-town meeting requiring an overnight hotel stay.
Boundary Supply Errant Duffel
If you dig the functionality and adaptability of their famous Errant backpack, chances are this feature-packed duffel will become your new favorite travel companion.
Sustainably manufactured using premium Bluesign materials, the Boundary Supply Errant Duffel is waterproof, abrasion-resistant, and carry-on-compliant. It's also loaded with intuitive features meant to enhance your travel experience, including stowable, padded shoulder straps, luggage pass-through, and a ventilated wet/dry compartment for separating your shoes or sweaty gym clothes from the clean stuff.
Why it made the list: Its sturdy built, understated styling, and intuitive design details make the Errant Duffel adaptable to a variety of travel situations. You can even transform it into a camera bag by adding one or more of Boundary's compatible cubes.
Filson Heritage Sportsman Bag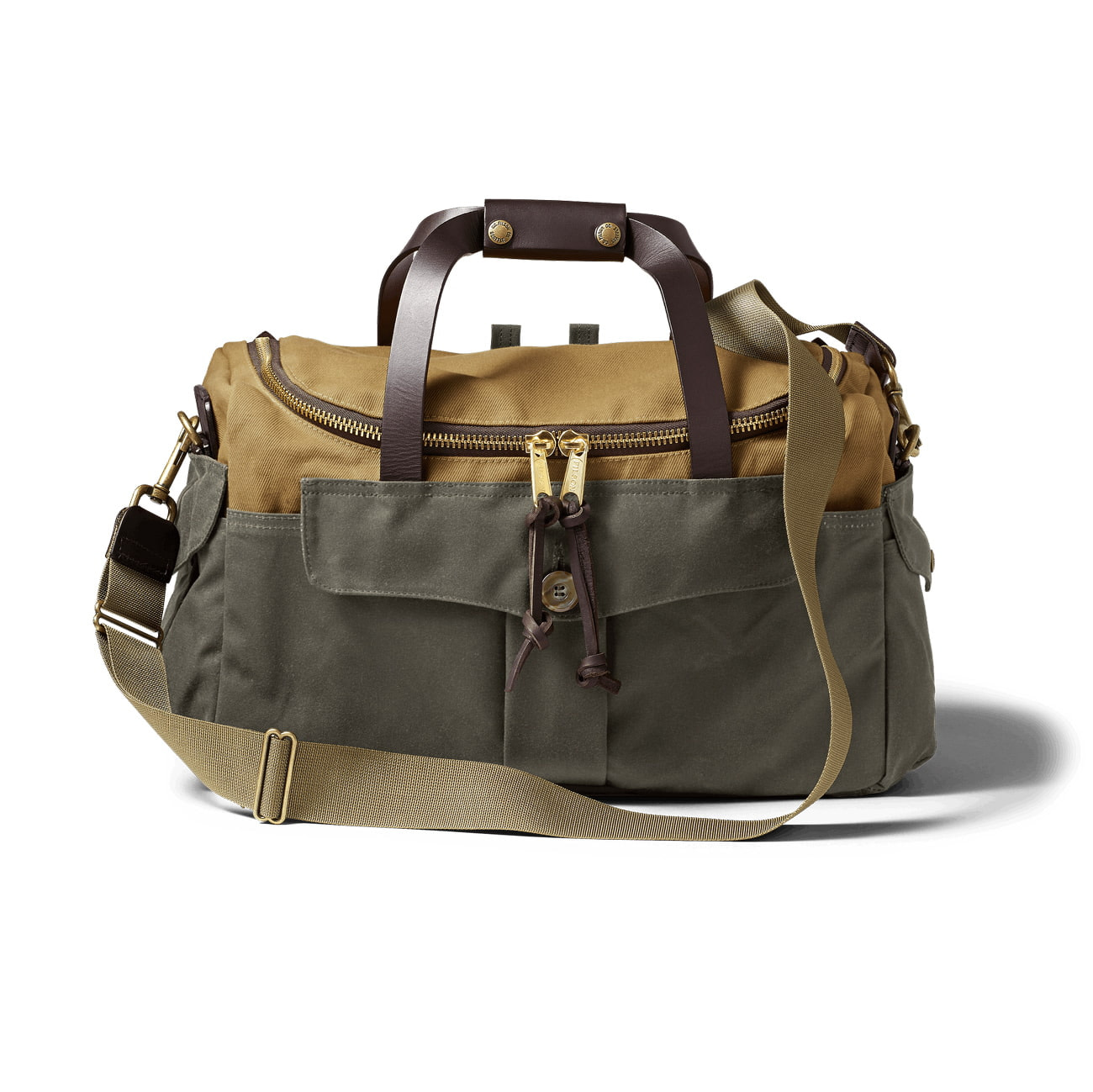 No roundup of the best duffel bags would be complete without a solid option from American heritage brand Filson. Constructed from rugged twill cotton, oil-finish tin cloth, and bridle leather, the Heritage Sportsman Bag is built to endure years of heavy use. A U-shaped solid brass zipper closure allows full access to the interior, where two internal dividers provide customizable organization. The adjustable, removable shoulder strap makes carrying a breeze, while a variety of pockets keep your EDC essentials in place on the go.
Why it made the list: For more than a century, Filson has been creating durable gear that can withstand the most demanding conditions, and the weather-resistant Heritage Sportsman Bag only adds to that long-standing reputation.
Briggs & Riley ZDX Cargo Satchel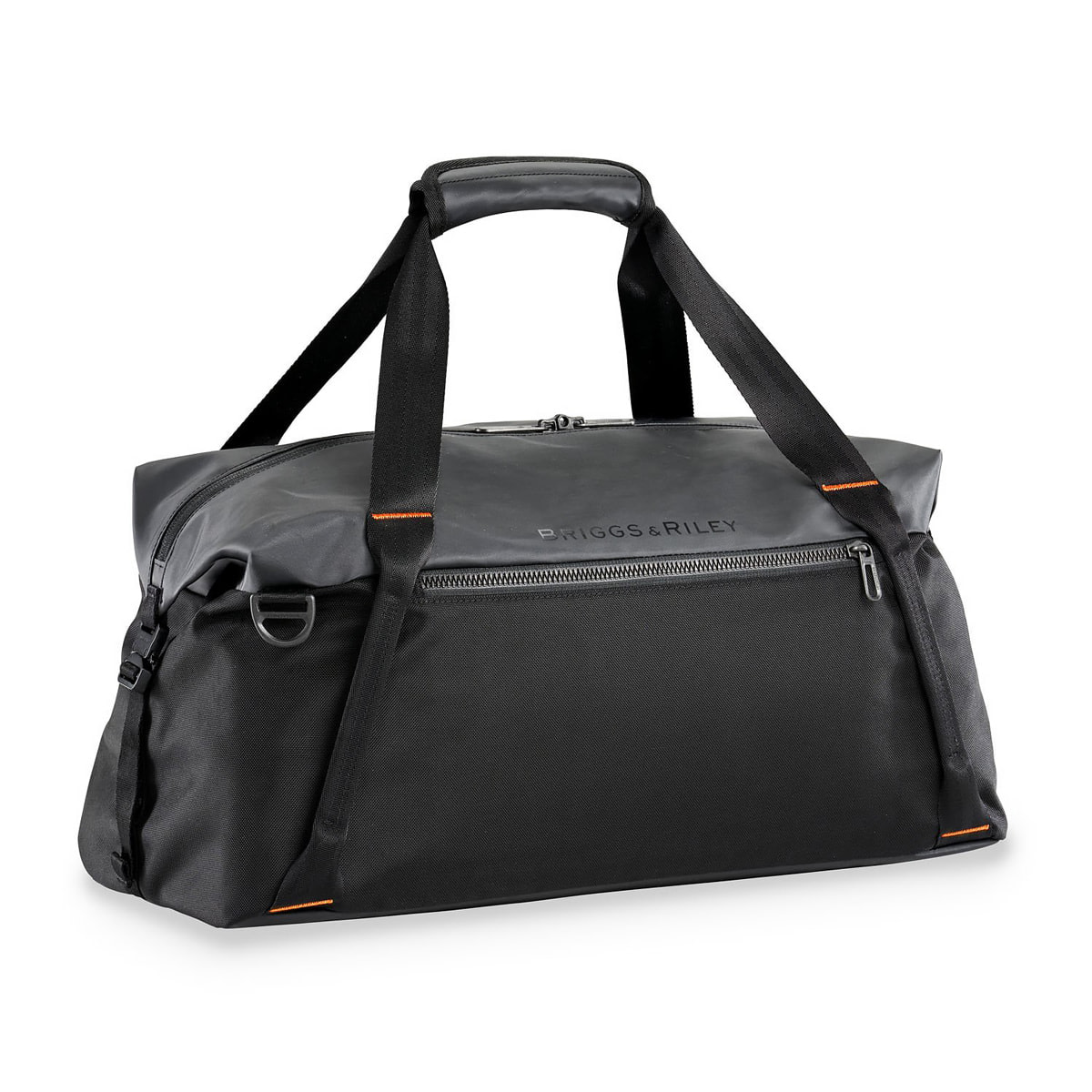 Built from abrasion-resistant ballistic nylon and complete with cinch-down sides for a lower profile, ZDX Cargo Satchel has room for all your travel items while fitting under the airline seat in front of you. It comes with the brand's signature SpeedThru pocket for quick access to items on the go, plus built-in RFID technology, heavy-duty YKK zippers, as well as comfortable top handles & shoulder straps for custom carrying. Its water-resistant material can easily handle a downpour, while the reinforced PVC-coated base protects the bag on wet and dirty surfaces.
Why it made the list: Whether attached to a Briggs & Riley rolling suitcase or used separately, this versatile duffel bag gives frequent travelers exceptional convenience without compromising on style. The carry-on size and streamlined silhouette mean you can bring it on business trips, at the gym, or wherever your travels may take you.
Wandrd HEXAD Carryall Duffel Backpack 40L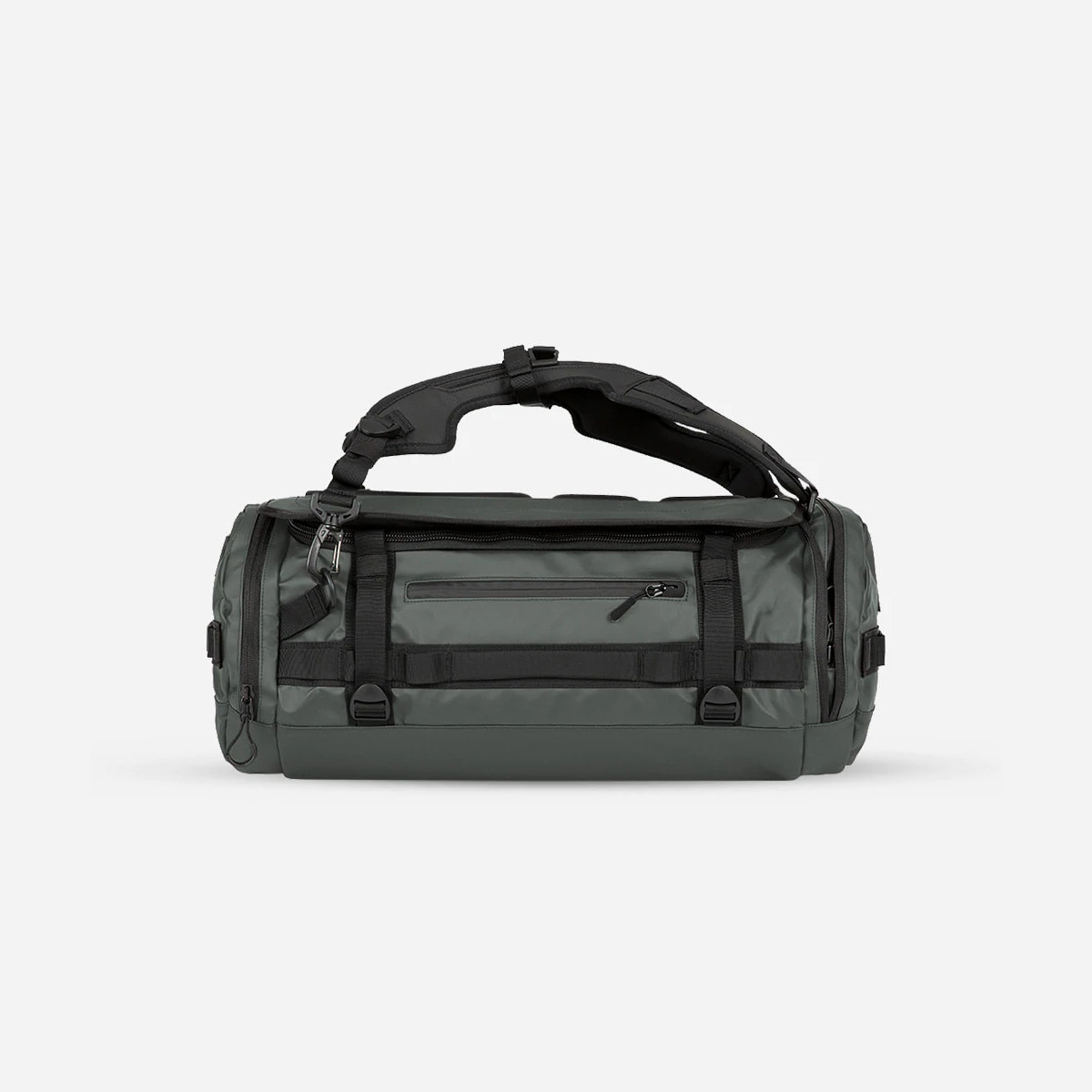 A rugged, beautifully engineered duffel bag that doubles as a backpack, the Wandrd HEXAD Carryall Duffel Backpack is built for adventure. A spacious catchall compartment accommodates everything from clothes to professional equipment, while a padded laptop sleeve, an expandable laundry section, and a RFID-blocking passport pocket keep your essentials where you want them. Made from waterproof tarpaulin and 1680D ballistic nylon, and finished with high-quality YKK zippers, you can rest assured your gear stays protected in any situation.
Why it made the list: This hybrid travel bag is sturdy, versatile, and pretty well organized for a duffel – a winning combination for outdoor explorers. Additionally, the 40L model can be used as cabin luggage, and each product is covered by the company's WANDER MORE WORRY LESS lifetime warranty.
Kovered Humber Holdall
The waxed canvas duffel is a timeless classic, and this handmade style from Kovered is no exception. Made from a combination of waterproof waxed canvas and reclaimed leather, Humber features two fully lined interior compartments, heavy-duty brass fixtures, and an adjustable shoulder strap for easy carrying. A couple of zippered pockets inside and out keep valuables safe and sound, and the leather buckle fastening system adds to the holdall's heritage charm.
Why it made the list: It's a stunning waxed canvas bag that will give you the looks, strength, and quality of the bigger brands, but without the price tag.
Matador Freefly Packable Duffle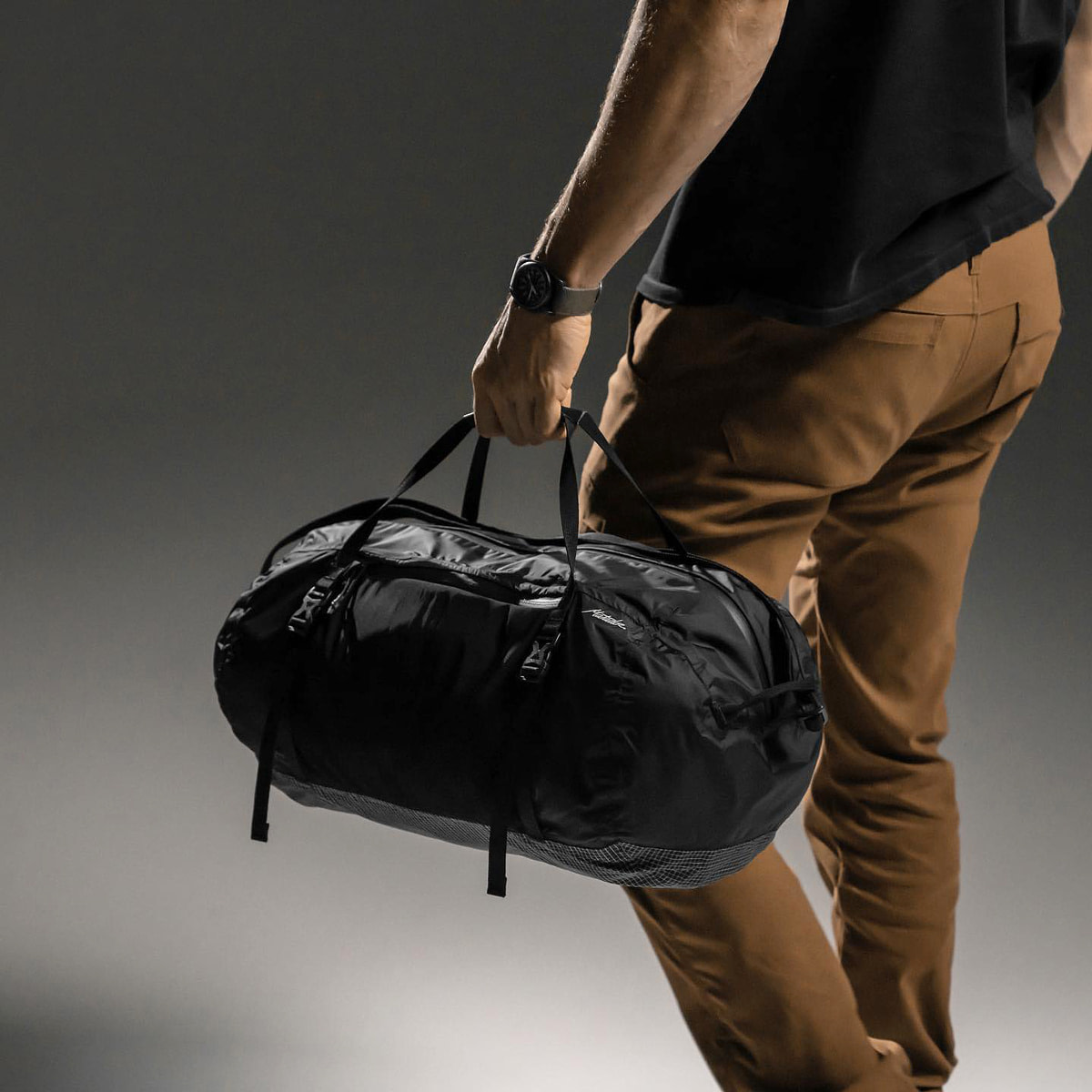 A packable duffel is a valuable traveling companion. And for high-quality packable gear, Matador is hard to beat. Designed to shrink down into a tiny bundle, their Freefly Packable Duffle offers 30 liters of storage when you need it and can be either toted in hand or shouldered like a backpack. As far as durability and weather protection, the bag scores very high with UTS coating, sealed seams, and waterproof YKK zippers complementing the UHMWPE-reinforced Robic nylon.
Why it made the list: While there are lots of great foldable bags on the market, few of them offer the lightweight durability of the Freefly Packable Duffle. Its weatherproof design, coupled with wise features like multipurpose buckle closure compression straps, organizational front & back pockets, and an extra-long main compartment zipper suitable for packing larger equipment, makes this strong, collapsible piece ideal for outdoor adventures.
BÉIS The Hanging Duffle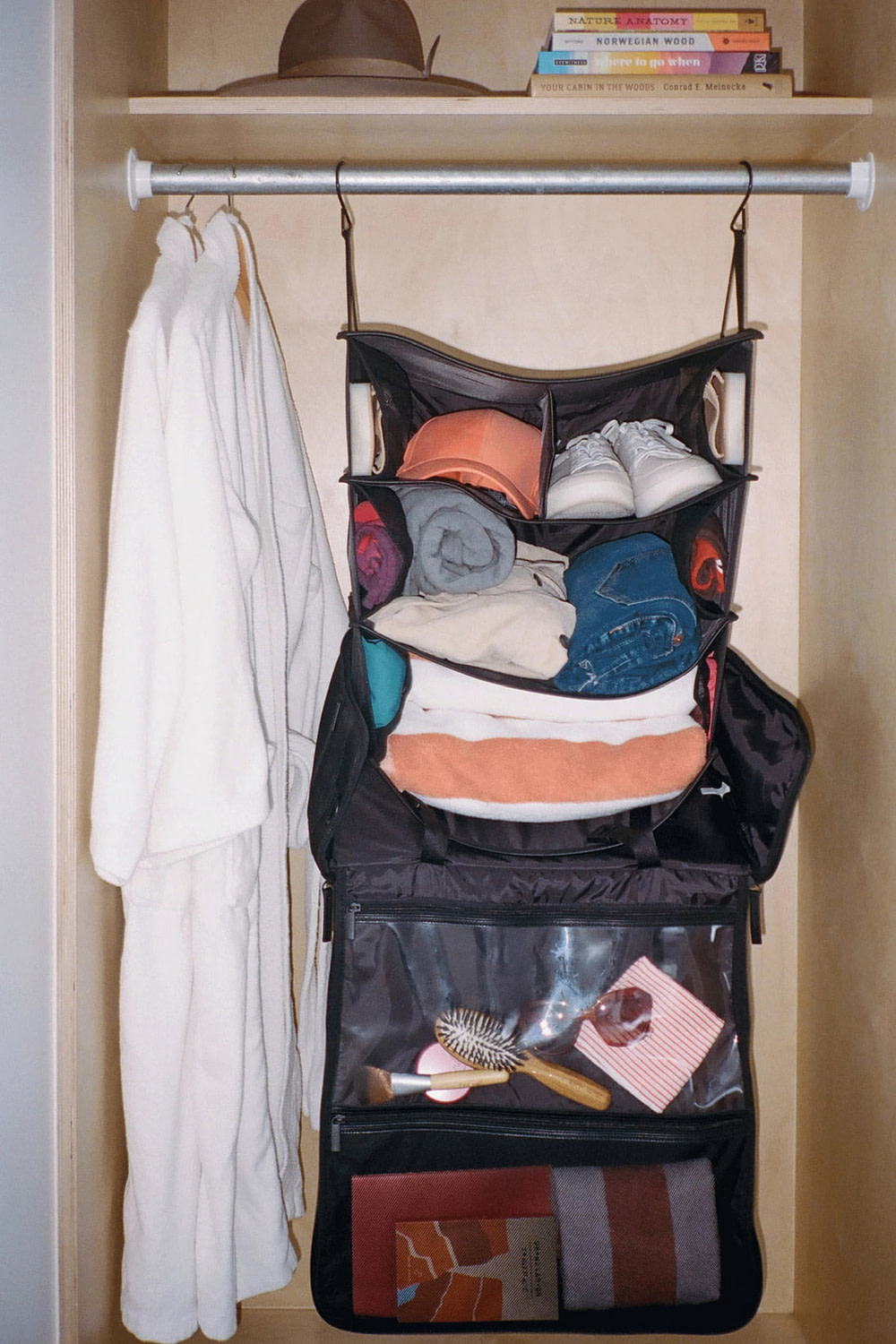 Travel smarter with this innovative, multifunctional duffel bag from BÉIS. A variety of pockets and compartments keep your clothing, shoes, and beauty products in place, while two hooks let you hang the bag in the closet once you arrive in the hotel room. Available in black, easy-to-clean nylon, The Hanging Duffle is finished with an adjustable crossbody strap and a trolley pass-through for convenient portability.
Why it made the list: A bag that you don't have to unpack? Yes, please! The ability to unfold into a hanging closet and lots of separate sections for organizing your staff make this duffel a game-changer.
Cuyana Triple Zipper Overnight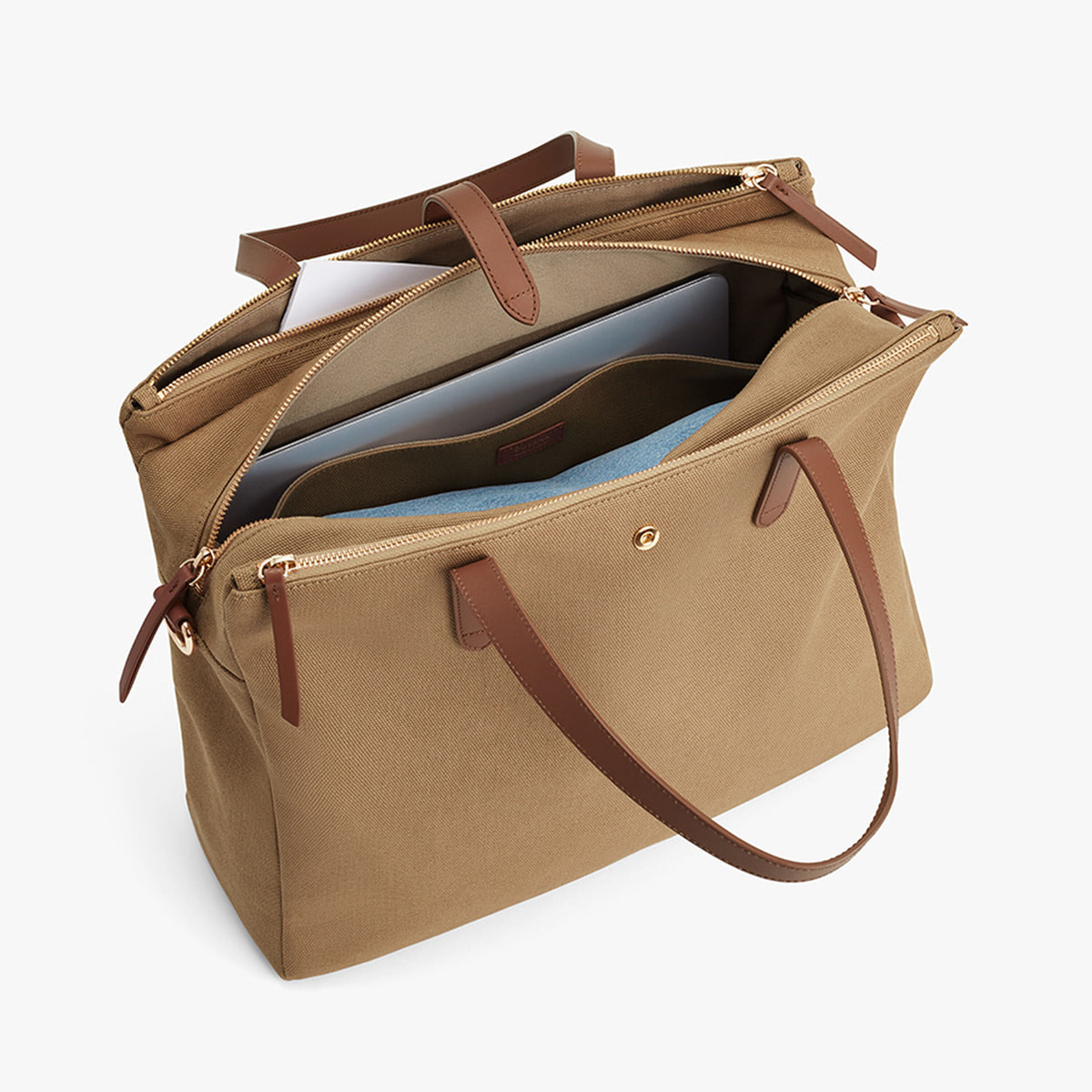 Decidedly chic and roomier than it looks, Cuyana's Triple Zipper Overnight works equally well for business travel, trips to the gym, and even a weekend escapade if you're a light packer. The organic cotton canvas exterior is surprisingly durable and elevated by Italian leather accents, while the inside of the bag is compartmentalized into three zippered sections – including a spacious slip pocket perfect for stashing your shoes – for maximum organization.
Why it made the list: Aside from being extremely stylish, the Triple Zipper Overnight is one of the most well-compartmentalized duffels you'll come across. Plus, travel-friendly details like a luggage handle sleeve and a detachable leather crossbody strap make it an ideal choice for navigating through crowded airports and busy city streets.
Cotopaxi Chumpi 35L Duffel Bag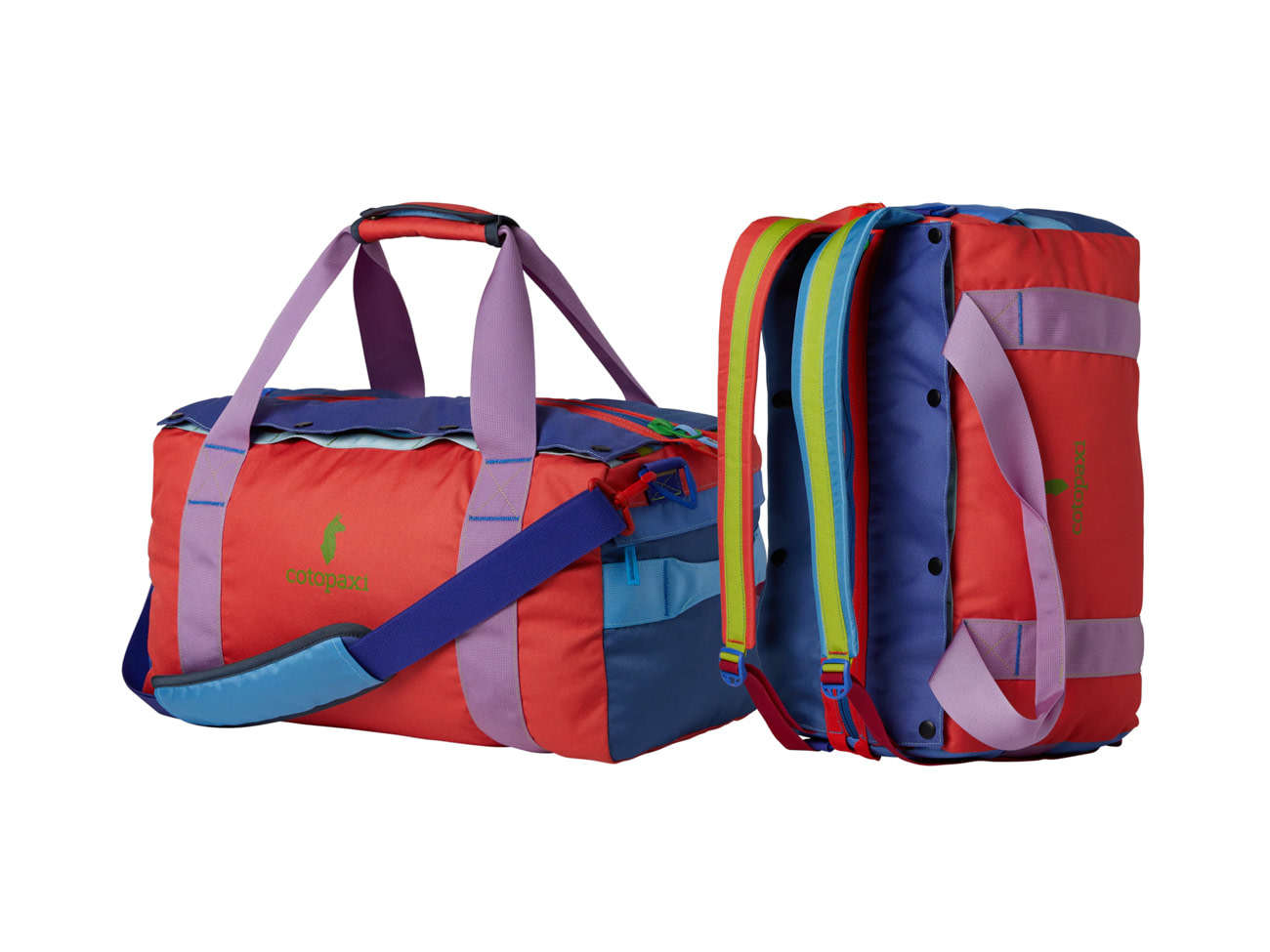 If your style leans more toward sporty than elegant, this colorful 35L Duffel Bag might be right up your alley. Each Cotopaxi Del Dia Chumpi is made with tough, repurposed 600D polyester in a unique color combination, which means no two duffels in this collection are the same. Fitted with a tuck-away backpack, a removable shoulder sling, and an external zippered stash pocket, this is a really practical item that will take you to the gym, on the trail, and into the weekend with ease. Its 35-liter capacity makes it ideal for overnight excursions and daily adventures.
Why it made the list: It's fun, functional, and ethically made. With Cotopaxi's Del Día Collection, you're not buying just another duffel bag, you're buying a thoughtful, waste-saving product that bears the "signature" of the employee who made it for you. Plus, you can choose from endless color combinations or let them surprise you with one and pay less.
Kodiak 45L Denali Duffel
With one large main compartment for your clothes, plus handy pockets for easy access and organization, this sophisticated mid-sized pick from Kodiak is everything you need in a leather duffel bag. Crafted from top-grain buffalo leather, the 45L Denali Duffel boasts a padded laptop compartment, a separate shoe pocket, and all the timeless sophistication a discerning traveler dreams of. Though ideal for road trips and weekend getaways, its overhead-compartment-friendly size and removable luggage strap mean it's perfect for air travel, too.
Why it made the list: Blending classic aesthetics with modern practicality, this long-lasting leather duffel will add a touch of class to any journey.
Topo Designs Mountain Duffel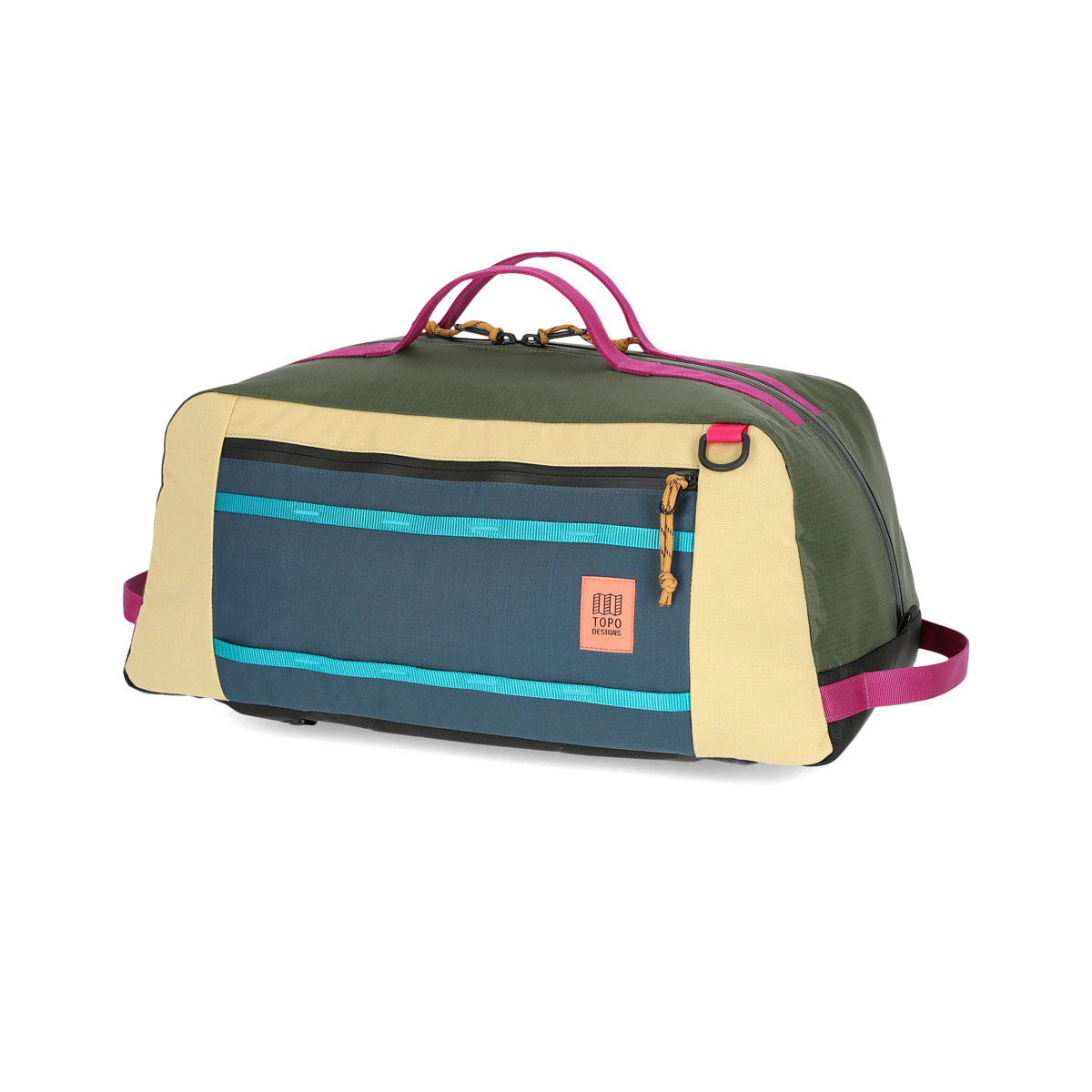 Made of 1000D Cordura nylon, Topo Designs' Mountain Duffel comes with waterproof YKK zippers, heavy-duty plastic hardware, as well as padding along the base and sides for extra carrying comfort and durability. A large mesh interior pocket and dual exterior zippered pockets complement the roomy main compartment for smaller items storage, while a multitude of carry options – including grab handles, stowable backpack straps, and a removable shoulder strap – make it ideal for almost any type of travel.
Why it made the list: Whether held like a duffel or worn like a backpack, this heavy-duty hauler will keep your belongings protected, accessible, and organized. Available in a number of bright colorways, as well as an urban-ready black, it's pretty good-looking, too.
Bric's X-Bag 18″ Boarding Duffle Bag With Pockets
Italian luggage brand Bric's has been making chic, reasonably priced travel bags since 1952, and this carry-on-sized duffel from their lightweight X-Collection continues the tradition admirably.
With a padded laptop/tablet compartment, trolley pass-through sleeve, and lots of organizational features throughout, the 18″ Boarding Duffle Bag With Pockets is as functional as it is stylish. Made from durable satin nylon and accented with stylish gold hardware and Tuscan leather trim, it is one versatile accessory for all life's adventures, from urban exploration and weekend getaways to business trips and flights overseas.
Why it made the list: Lightweight duffel bags are often practical but rarely stylish. This chic carryall is proof that you can have it all.
Patagonia Black Hole Duffel 55L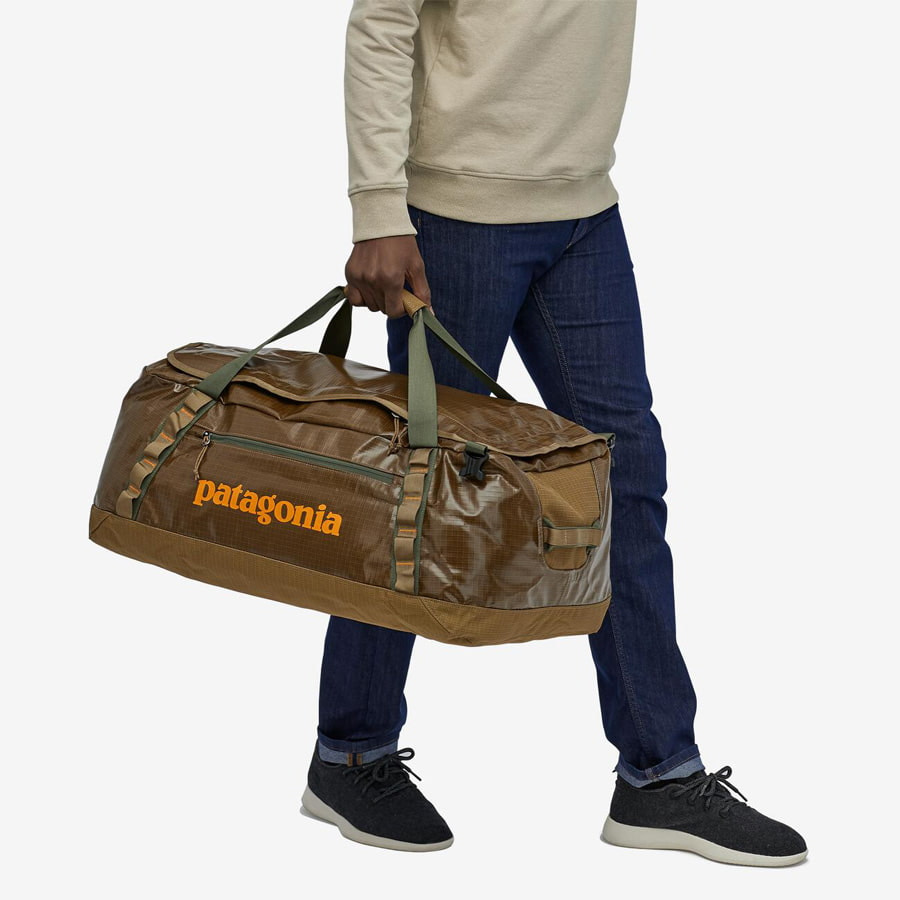 This weather-resistant duffel bag from Patagonia is a perfect selection for when you want a hardwearing gear hauler that's both lightweight and versatile.
Constructed from ultra-durable 100% recycled polyester ripstop with a TPU-film laminate, the 55-liter Black Hole Duffel fits a couple of days' worth of essentials while lending a fun, sporty touch to your excursions. With cleverly designed padded straps, the bag can be carried by hand, across the shoulder, or as a backpack. It comes with a zippered side pocket and an internal mesh compartment for safe storage and easy access to small, necessary items.
Why it made the list: Widely regarded as one of the best duffel bags on the market, this bad boy delivers all-around performance and adventure-ready durability in a comfortable, lightweight design.
United by Blue 55L Carry-On Duffle
Made from 100% recycled polyester, United By Blue's 55L Carry-On Duffle is a must-have for those who care for the environment. This sturdy water-and-stain-resistant bag includes a padded, removable shoulder strap and is compact enough to fall under the carry-on size limit. A choice of pockets keeps your gear organized and your smaller items easy to reach.
Why it made the list: Understated, well-executed, and loaded with convenient pockets, it adapts to just about any travel scenario, whether that involves a short flight, a family road trip, or an outdoor adventure with your friends. And best of all, it's made from recycled water bottles and equipped with a lifetime guarantee.