This post contains affiliate links, which means we may receive a small commission, at no additional cost to you, if you make a purchase through these links. See our full disclosure here.
Germany is a beautiful, varied country with an impressive culture and endless travel opportunities, but, unfortunately, you rarely see it on top of travelers' lists. Why and how this is happening, I have no idea, but I do know that its deep forests, fairy-tale castles, and picture-perfect towns are something that you shouldn't miss. Add to all these some excellent beer, the most beautiful Christmas Markets, and an abundance of activities, and you'll soon wonder why in the world you haven't visited Germany earlier.
The following destinations, with their splendid architecture and unquestionable charm, are hands down the most beautiful places to visit in Germany.
Berlin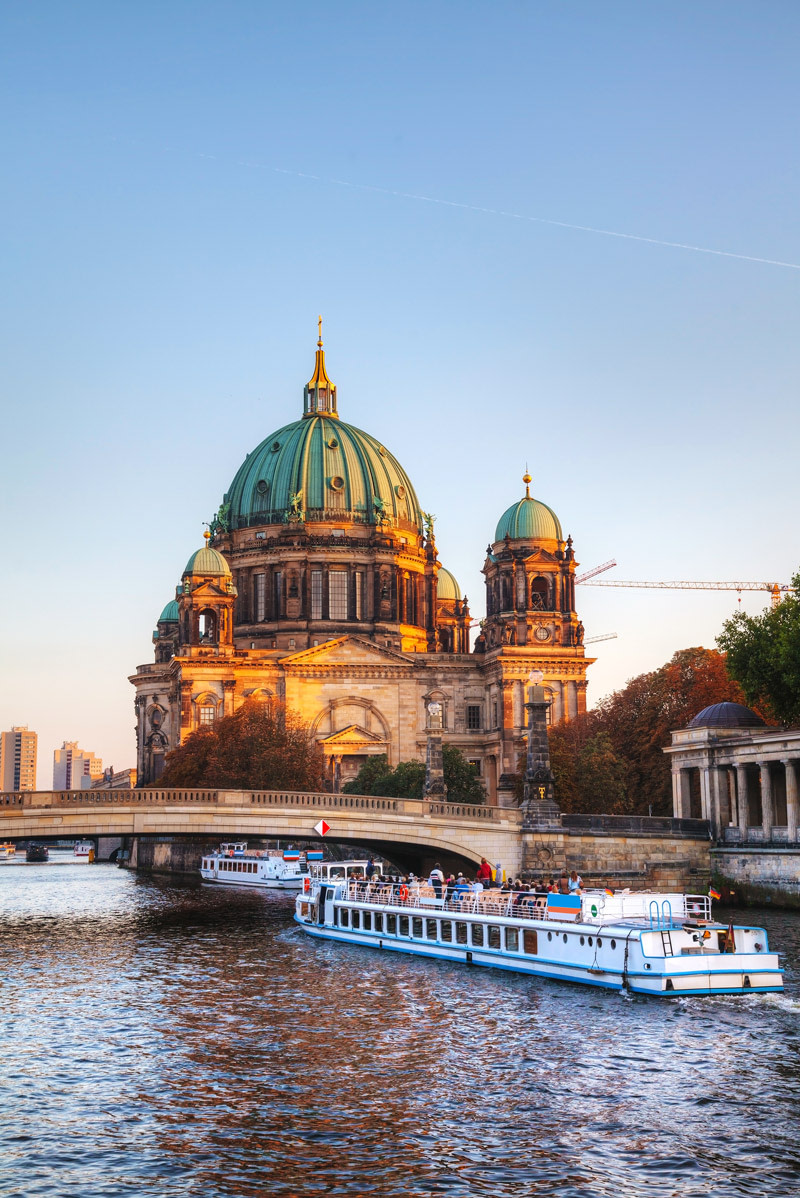 Berlin is one of the most interesting cities in Europe, and certainly the one that has changed the most in the last 20 years. Once the symbol of the Cold War, it has become Europe's capital of cool – a vibrant mix of fashion, design, music, and art.
A cultural city always on the move and a budget traveler's paradise, the German capital has something for everyone, from pulsating nightlife to more than 170 world-class museums, galleries, and philharmonics, and from stately relics that still tell the story of its turbulent past to all the promises of a glittering future.
Enrich your experience in Berlin with a visit to the Museum Island in the Spree River and a stopover at the fabulous East Side Gallery to see paintings by artists from all over the world displayed on the Berlin Wall. Other than that, you can go shopping to Kurfürstendamm, the city's most famous avenue, experience the Berlinese coffee culture in Mitte (the historical center of Berlin), and get a true taste of its tremendous nightlife in the fashionable Friedrichshain area.
If you're visiting the city in winter, you're in for a treat: Berlin hosts some of the best and biggest Christmas markets in Germany. The variety is outstanding and all of them sell high-quality products. You can choose between traditional and alternative, British-inspired and Scandinavian-themed, eco-friendly and designer-oriented – whatever it is that you're into, the city's got you covered!
Where to Stay in Berlin: The perfect location on Friedrichstraße makes Hotel AMO by AMANO the ultimate choice for travelers who want to stay near the center of the action without compromising style and comfort. Rooms are sleek and minimalist, the restaurant serves refined Israeli cuisine, and the sexy ArtDeco bar comes to life during the summer months when it spills out onto an airy patio.
Cologne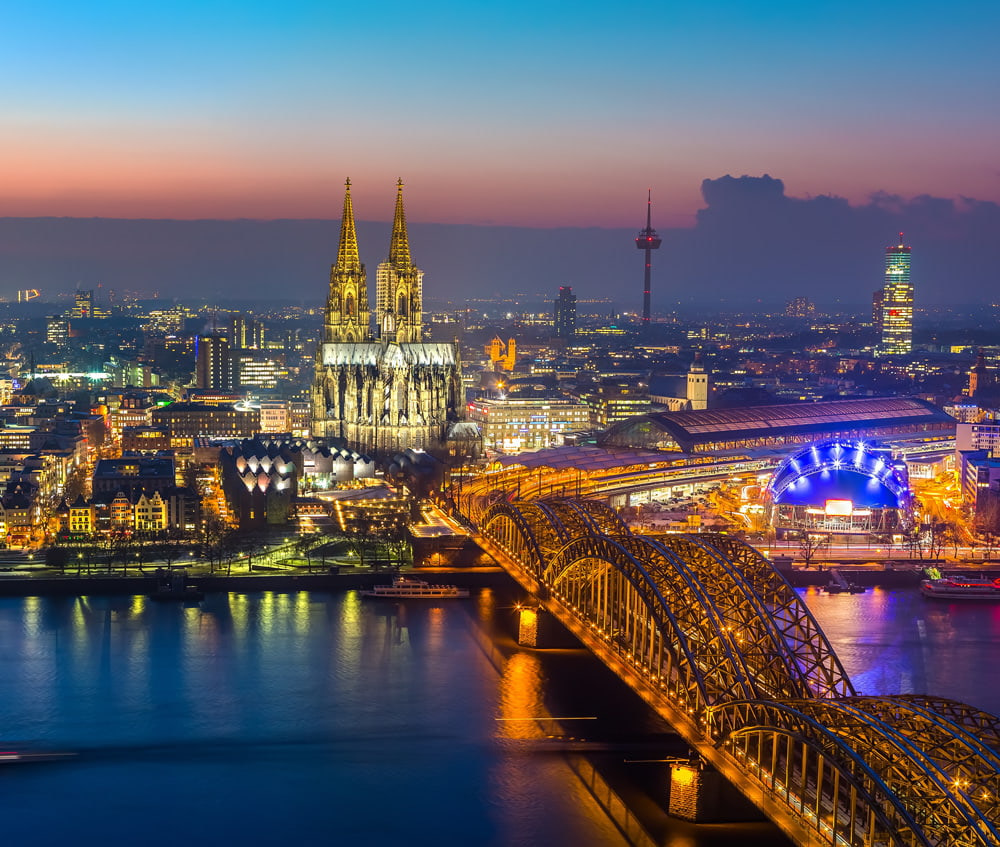 Home to one of the most impressive cathedrals in the world, a thriving art scene, and some of the most high-spirited locals, Cologne makes for a delightful European city break, whether you're looking for culture, entertainment, or pampering thermal baths. It is the fourth largest city in Germany and one of its most libertine destinations, alongside Berlin.
The most beautiful sights in Cologne include its UNESCO-listed cathedral (Kölner Dom); the Hohenzollern Bridge, famous for its love padlocks; the Altstadt (Old Town), with its lovely historical buildings and monuments; as well as the fashionable areas of Agnesviertel and the Belgian Quarter.
If you happen to be in Cologne in November, don't miss the Cologne Carnival. It is widely considered one of the greatest street festivals in Europe, and maybe the world.
Where to Stay in Cologne: Make yourself at home in one of the bright, well-appointed suites at Limehome Cologne Friesenplatz. Located in the elegant Friesenviertel area, this aparthotel has everything you may need, from premium bedding to private kitchenettes, dining areas, and even balconies overlooking the city.
The Romantic Road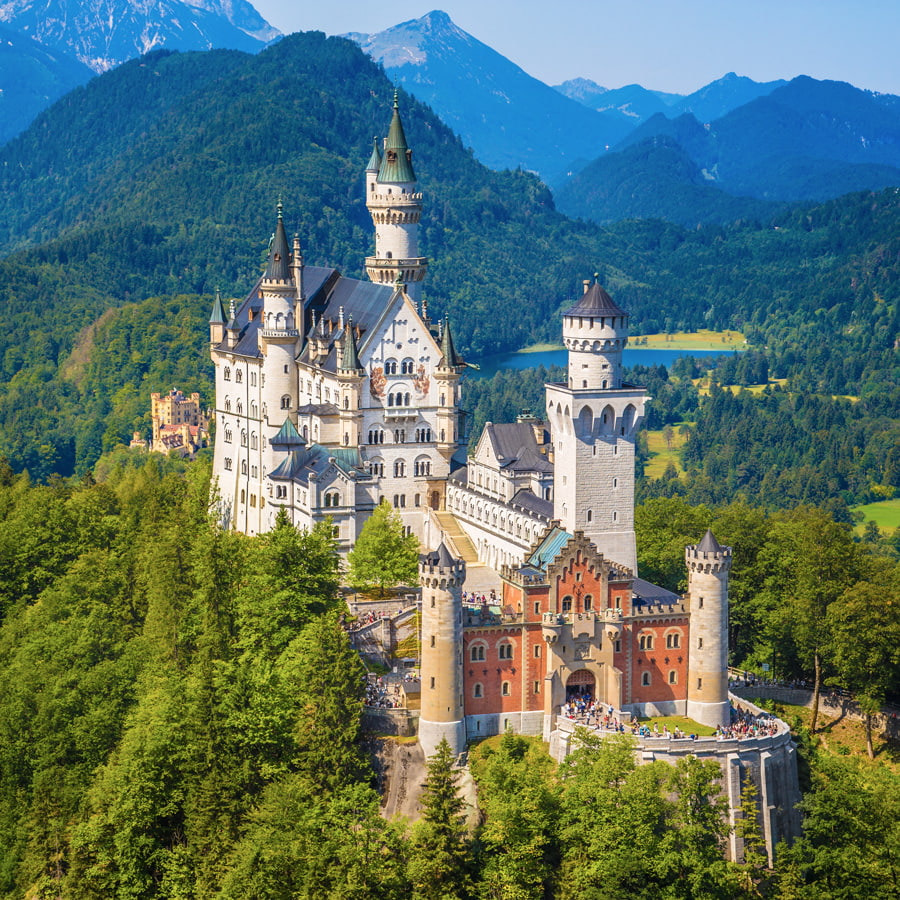 Germany's most scenic drive, the Romantic Road, offers visitors the opportunity to discover the rich culture, picturesque scenery, and medieval character of this fantastic country. Running between Würzburg and Füssen, it leads travelers through Bavaria's most stunning attractions, including the spectacular Neuschwanstein Castle, the baroque city of Würzburg, Rothenburg ob der Tauber – the best-preserved medieval town in the country, and the enchanting Pfaffenwinkel region, famous for its rolling countryside peppered with quaint villages and pilgrimage churches.
Although the route is quite touristy and can get pretty busy during the summer months, it delivers one of the most authentic experiences Germany has to offer, one that combines local hospitality with history, art, culture, and natural beauty.
Where to Stay on The Romantic Road: A delightful family-run property in the Bavarian Alps, Hotel Das Rübezahl boasts romantic, individually styled rooms, a contemporary spa, and scenic views of the Neuschwanstein and Hohenschwangau castles nearby.
Hamburg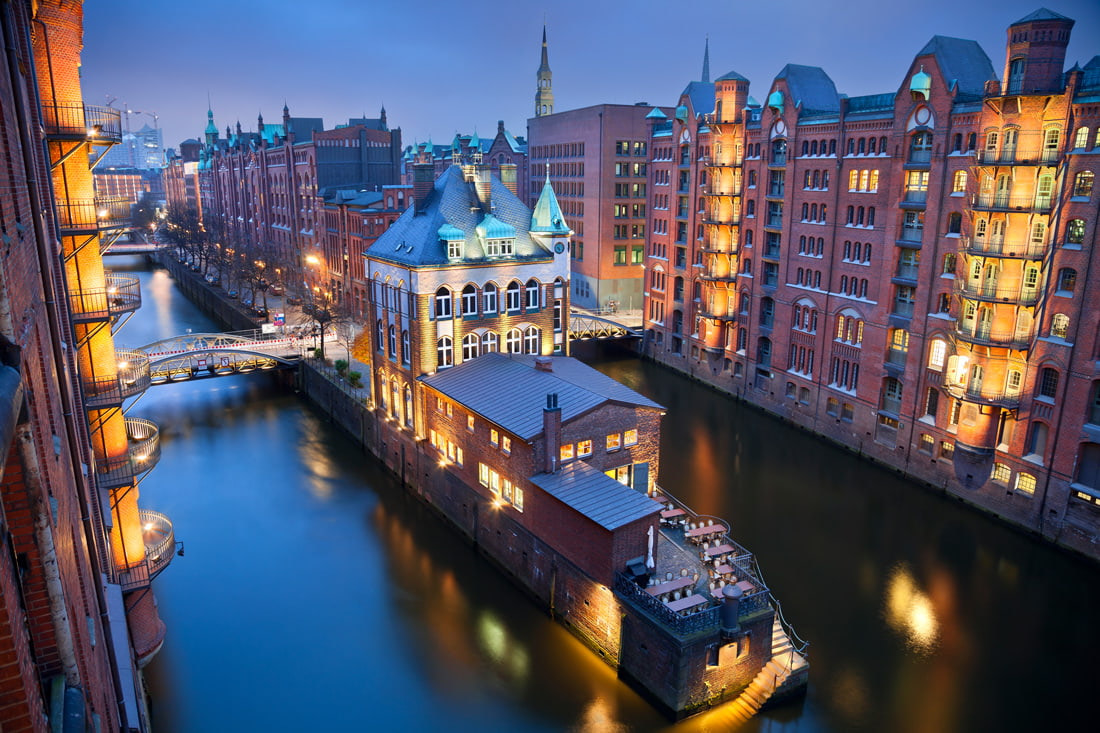 From fascinating historical architecture to striking futuristic buildings to some of the best nightlife in Europe, Hamburg has it all. Nestled on the River Elbe, Germany's second-largest metropolis prides itself on an abundance of parks and green spaces, a treasure-packed historic center, and more bridges than any other city in the world. Fine dining restaurants line the riverbank, museums are bursting with world-class art and naval memorabilia, and its beautiful Town Hall is a marvel of neo-Renaissance architecture.
Those with more contemporary tastes should definitely visit the futuristic HafenCity district, one of Europe's most ambitious inner-city developments. This 2.2 sq km area along Hamburg's port is a striking mix of towering skyscrapers, modern glass facades, and airy promenades, with a shimmering concert hall (Elbphilharmonie) designed by Swiss architects Herzog & de Meuron and its heart.
Otherwise, the UNESCO-awarded Speicherstadt is the largest warehouse district on the planet, a remarkable ensemble of Neo-Gothic brick buildings built on oak piles and interspersed with century-old waterways.
Where to Stay in Hamburg: Aside from its prime location, The Henri Hotel Hamburg Downtown exudes a chic mid-century modern atmosphere throughout. Polished wood floors and handcrafted furnishings add character to the Mad Men-esque rooms, and a small rooftop spa commands views over the city skyline.
Dresden
Dresden, the mighty capital of Saxony, is a city full of life and one of Germany's most prestigious cultural centers. It boasts a wealth of architectural treasures such as the astonishing Zwinger Palace – one of the finest examples of Baroque architecture, the impressive Brühl's Terrace, or the stately Dresden Frauenkirche, a Lutheran church that dominates the city's skyline.
The charm of Dresden lies in its scenic location on the Elbe River, but also in its alluring neighborhoods and glorious green areas. In addition to the charming Altstadt, where most of the city's landmarks are located, this German jewel box city is teeming with lovely spots just waiting to be discovered, such as the charming Baroque Quarter – full of sweet idiosyncratic shops and eye-catching baroque houses; the lively and fashionable Neustadt; or the Großer Garten – Dresden's most delightful park.
Where to Stay in Dresden: Conveniently close to the historic Old Town district, the Dresden Zentrum Hotel welcomes guests in contemporary, streamlined accommodations fitted with all modern comforts. Eclectic, industrial-flavored public spaces, modern coworking facilities, and a rich breakfast buffet round out the experience.
Munich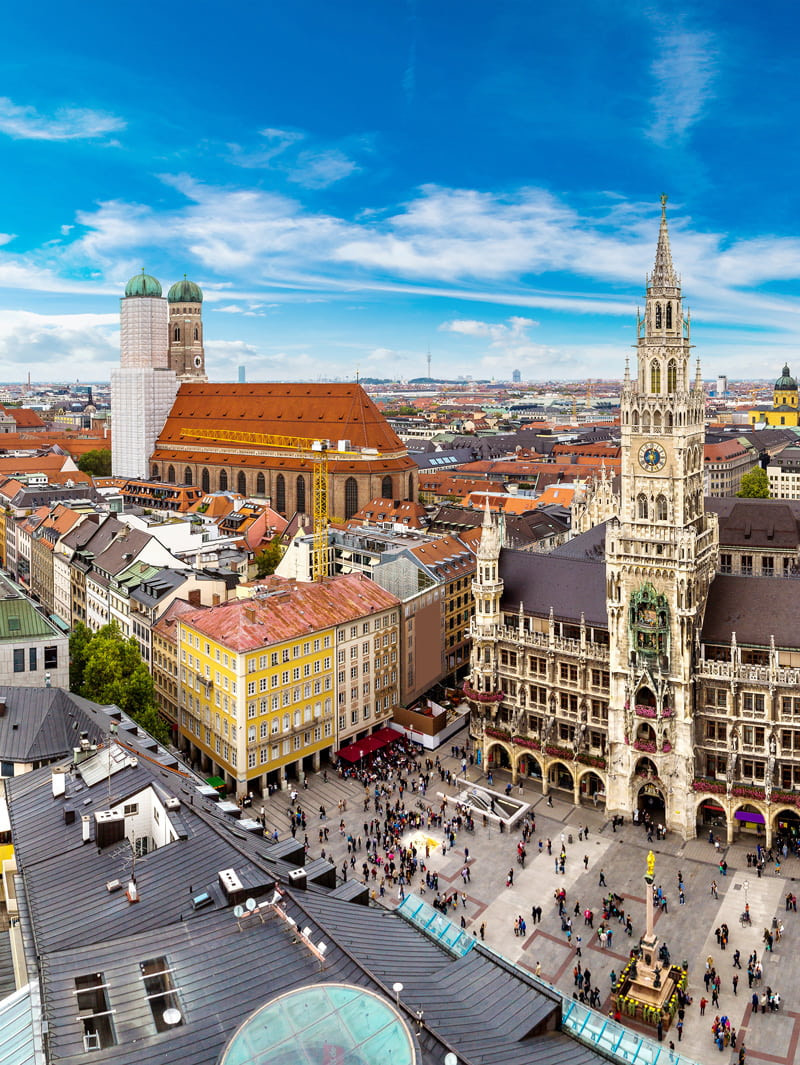 Munich is the capital of Bavaria and one of the most beautiful and livable cities in Germany. Most people know it due to the world-famous Oktoberfest, but its lure goes far beyond the local beer culture.
In the "cosmopolitan city with a big heart", you'll find magnificent architecture, castles, museums, and lovely parks, but also an exuberant atmosphere buzzing with creative energy.
When it comes to what to see and do in Munich, the city has no shortage of sightseeing, fine dining, shopping, and entertainment. Most popular attractions include the Marienplatz – Munich's beating heart; the Deutsches Museum (German Museum), often regarded as the world's largest technological museum; the iconic Hofbrauhaus brewery; and the stunning Englischer Garten (English Garden).
Where to Stay in Munich: With elegant interiors, a cool, furnished terrace, and accommodation for up to 5 guests, this rental apartment in Munich makes for an ideal home base for couples, friends, or families traveling together. Bonus: the famous Augustiner Keller beer garden is a short walk away.
Regensburg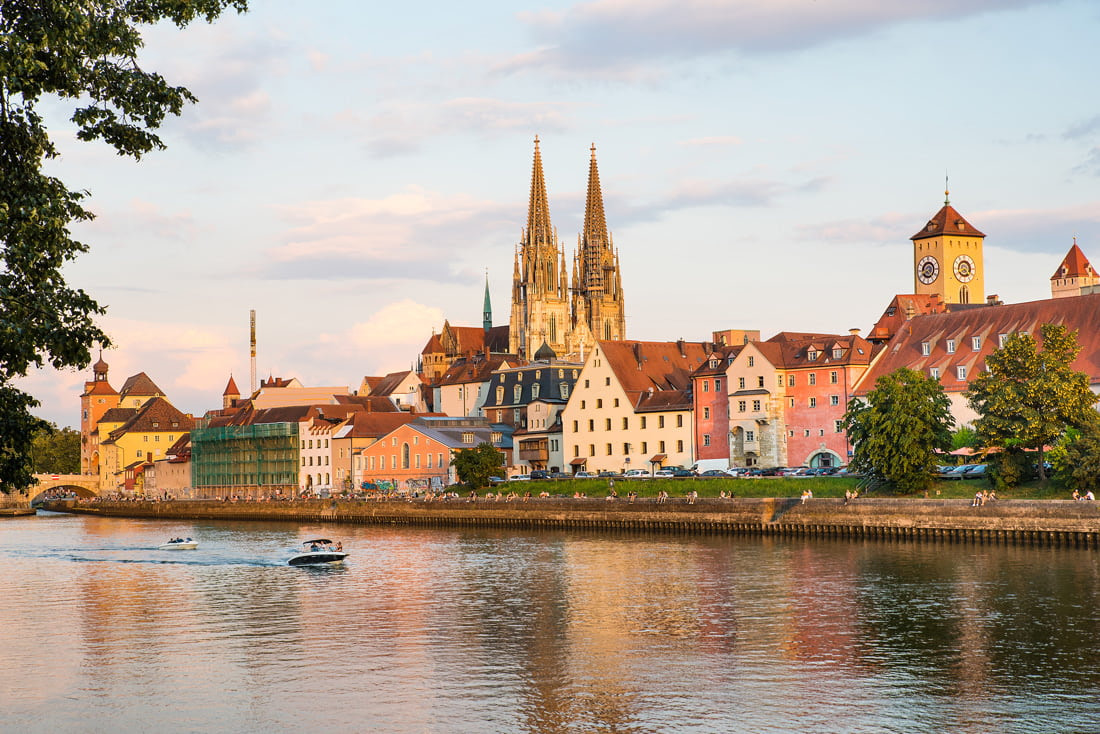 One of Germany's oldest towns, Regensburg is overflowing with medieval charm and vibrant student life. The mighty Danube flows through its center, and narrow winding alleyways crisscross its architecturally fascinating Old Town, now a UNESCO World Heritage Site.
Founded by the Romans as early as 179 A.D., this welcoming mid-sized Bavarian town is a treasure trove for culture and history lovers. Its most remarkable sights are the 310-meter-long Stone Bridge (Steinerne Brücke) over the Danube and the 13th-century Cathedral of St. Peter, whose marvelous Gothic spires dominate the cityscape.
Nevertheless, Regensburg has more bars and pubs per square mile than any other city in Germany, including Wurstkuchl, the world's oldest sausage tavern; and it's a gateway to some great outdoor activities, from cycling to rock climbing.
Where to Stay in Regensburg: For a stylish, reasonably-priced stay in the historic heart of Regensburg, look no further than Arthotel ANA Aurel. Breakfast is served every morning, coffee flows freely, and the hip design honors the city's founder, Roman emperor Marcus Aurelius, blending traditional elements with modern touches.
The Mosel Valley
Lined with picturesque terraced vineyards, half-timbered medieval villages, and hilltop fairytale castles, the Mosel Valley is one of Germany's most staggering sights.
This long and peaceful Rhine's tributary flows for 195 km between Trier and Koblenz, marking one of the country's top white wine-producing regions. This is a wonderful destination to escape the chaos of everyday life, immerse yourself in German culture, and indulge in wine tasting.
Highlights include the wonderful Roman city of Trier, the sleepy village of Beilstein, the elegant Art Nouveau town of Traben-Trarbach, and Cochem – one of the most delightful small towns in Germany, known for its storybook timber-frame buildings, towering castle, and quaint riverfront promenade.
One of the best times to visit Germany's idyllic Mosel Valley is late summer/early fall, when the villages come to life with sprightly harvest and wine festivals featuring street parades, live music, and delicious local produce.
Where to Stay in the Mosel Valley: Nestled on the banks of the Mosel, in Traben-Trarbach, this charming half-timbered resort has all the right ingredients for a soothing getaway in southwestern Germany – comfortable, river-view rooms, state-of-the-art wellness facilities, and a classy restaurant serving innovative regional cuisine.
Görlitz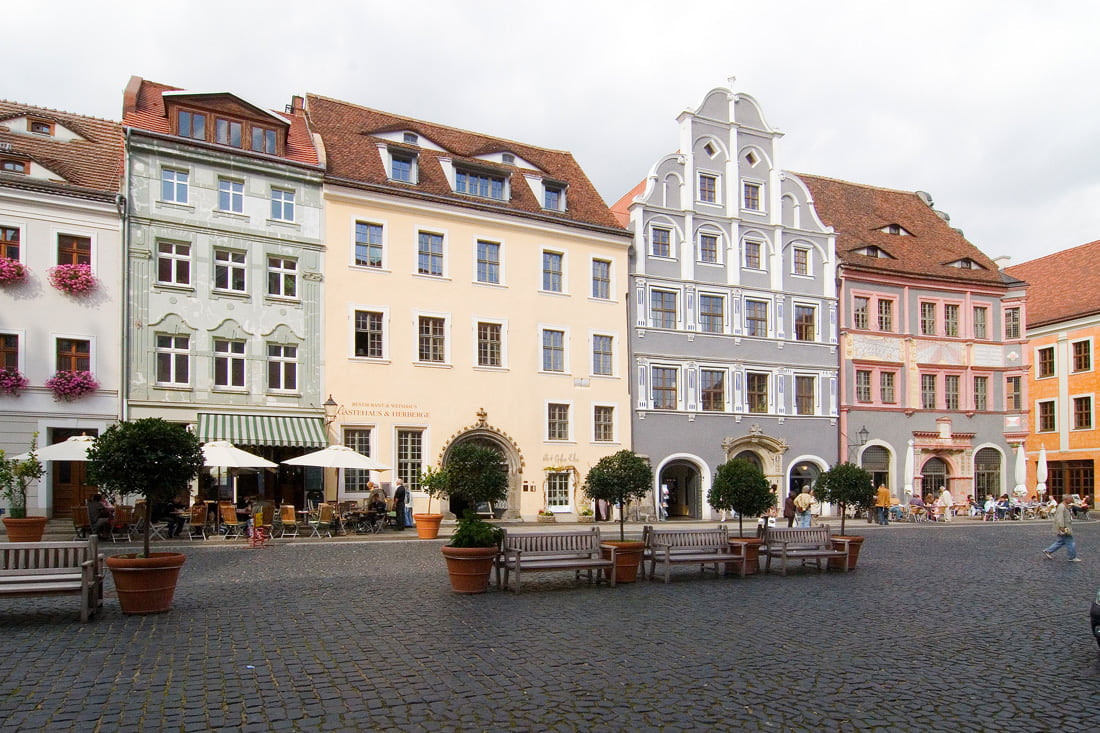 Arguably the most beautiful town in Germany, Görlitz lures visitors with its quiet cobblestone alleys, glorious squares, and fabulous architecture spanning a variety of styles, from Gothic and Renaissance to Baroque and Wilhelminian.
Located in Saxony, near the border with Poland, this is the country's easternmost town, and if you cross the Neisse river via the pedestrian bridge, you can walk right into Zgorzelec, its Polish twin city. The immaculate Old Town packs around 4,000 listed buildings and a colorful array of cafés that spill out onto the sidewalks.
Görlitz's lovely historical sites have been featured in movies like Quentin Tarantino's Inglourious Basterds (2009), The Book Thief (2013), or The Reader (2008).
Where to Stay in Görlitz: The Emmerich has been named one of the best hotels in Germany for a reason. Almost as charming as the city itself, the stylish boutique property is ideally located in the historic district of Görlitz and radiates a warm past-meets-present vibe with tasteful art and colorful designer furnishings set against exposed brick walls.
Bamberg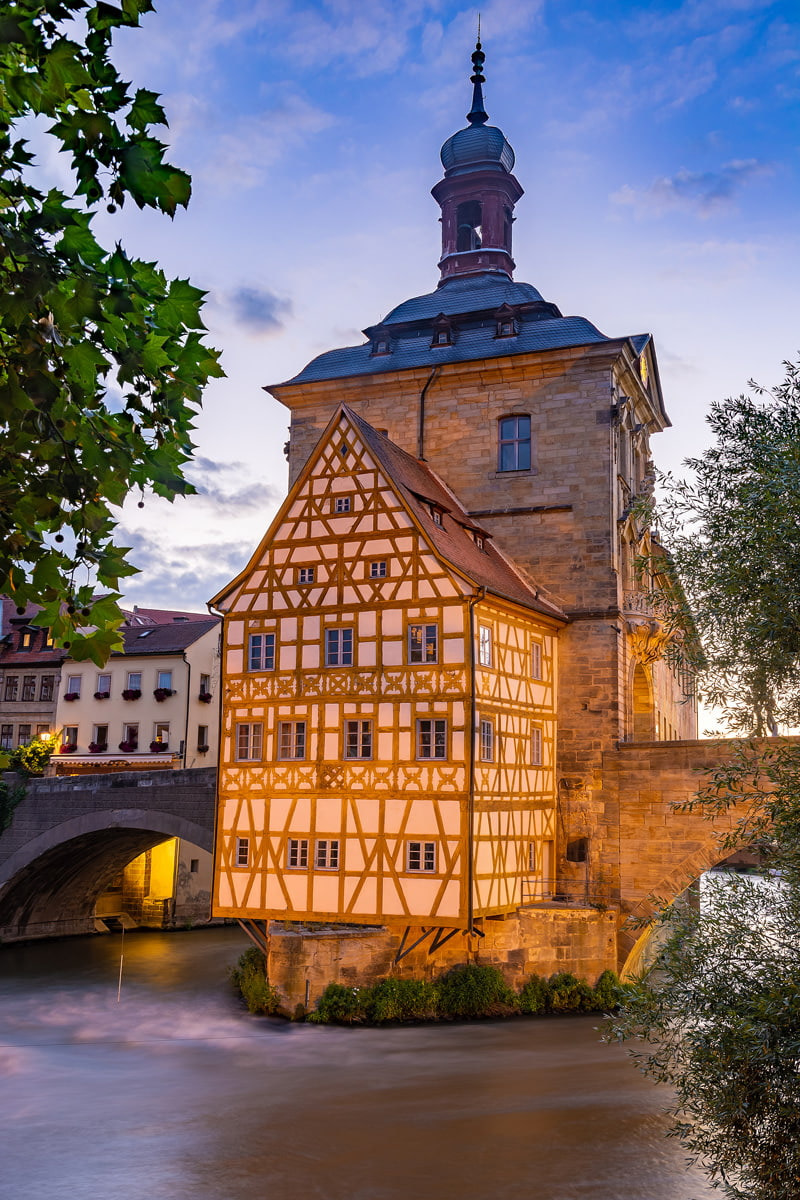 Built on seven hills, the characterful Bavarian town of Bamberg is often referred to as the Rome of Franconia. Its UNESCO-protected Altstadt is a warren of winding cobblestone streets, elaborate mansions, and beautifully preserved half-timber structures, and its beer culture is second to none.
Brightly painted fishermen's houses line the Regnitz river, the City Hall stands on an island, and its ancient 11th-century cathedral is one of the most important in Germany.
Where to Stay in Bamberg: At Hotel Am Dom, rooms are welcoming and up-to-date, breakfast is served in an elegant baroque hall, and its central location in heart of the Altstadt means you're just a short walk to everything.
What's your favorite place in Germany?