This post contains affiliate links, which means we may receive a small commission, at no additional cost to you, if you make a purchase through these links. See our full disclosure here.
Small-town Germany is at its most whimsical in Rothenburg ob der Tauber, a walled medieval jewel in the Franconia region of Bavaria. With its serene setting on a hilltop overlooking a lush river valley and quaint cobblestone lanes flanked by pastel half-timbered houses, it looks like something straight out of a fairytale.
From storybook architecture to year-round Christmas magic and lots of cute little shops in between, here's why Rothenburg ob der Tauber is Germany's prettiest town:
That postcard-perfect old town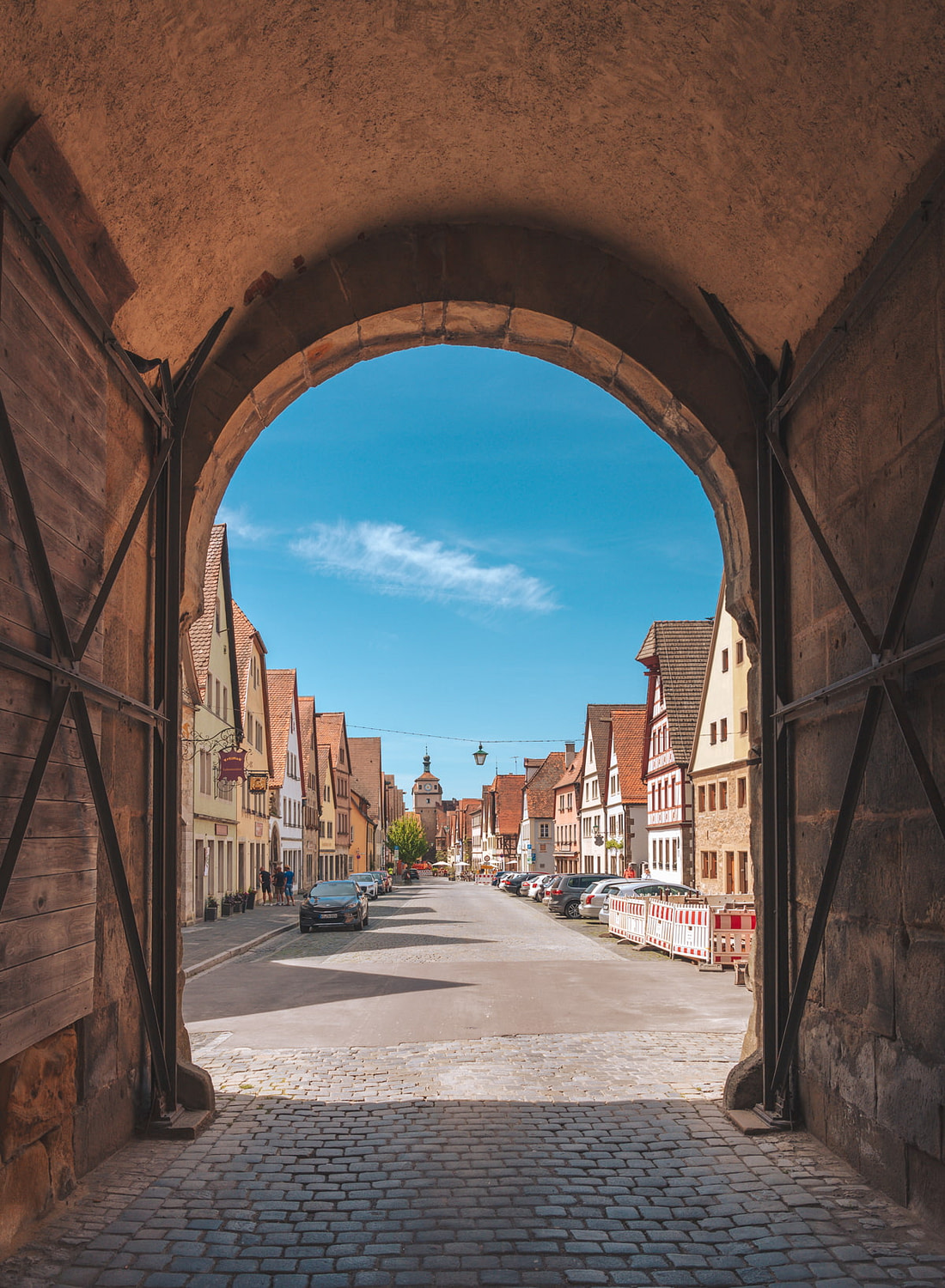 Encircled by intact medieval walls, Rothenburg's old town (Altstadt) is perhaps the most charming spot along Germany's famous Romantic Road.
Within those centuries-old ramparts, narrow alleyways twist and turn between fountained squares and storybook gingerbread houses decorated with ornate wrought-iron signs and vibrant flower boxes. Everywhere you look, pastel facades in shades of lemon, peach, and pistachio pop with vibrancy, and smiling Teddy bears peer out from lace-curtained shop windows.
On hot sunny days, tucked-away, ivy-covered terraces lure passersby with tall steins of frothy Bavarian beer, while Rothenburg's 500-years-old Christmas Market turns the whole town into a winter wonderland during the Advent season.
The wondrous medieval atmosphere
With its half-timbered facades, picturesque cobblestone lanes, and no tasteless sign of modernization in sight, Rothenburg seems to have remained frozen in the Middle Ages. Closed within its defensive walls for several centuries, the town has kept intact its medieval charm, and nowhere is this more evident than at the Imperial City Festival, a weekend of torchlight processions, historical plays, music, dance, fireworks, and knights on horseback marching through the old town streets.
Equally enchanting and devoted to maintaining Rothenburg's medieval magic alive is the Night Watchman's Tour, a fantastic evening activity led by a knowledgable, charismatic guide dressed in period costume who plays the part as he makes his evening rounds. His humorous storytelling helps attendees imagine what life was like in Rothenburg ob der Tauber centuries ago.
A more troubling part of the city's history can be found at the Medieval Crime and Justice Museum, which displays a collection of historical documents, photographs, and tools used for torture and punishment during the medieval era.
The scenic setting along the Romantic Road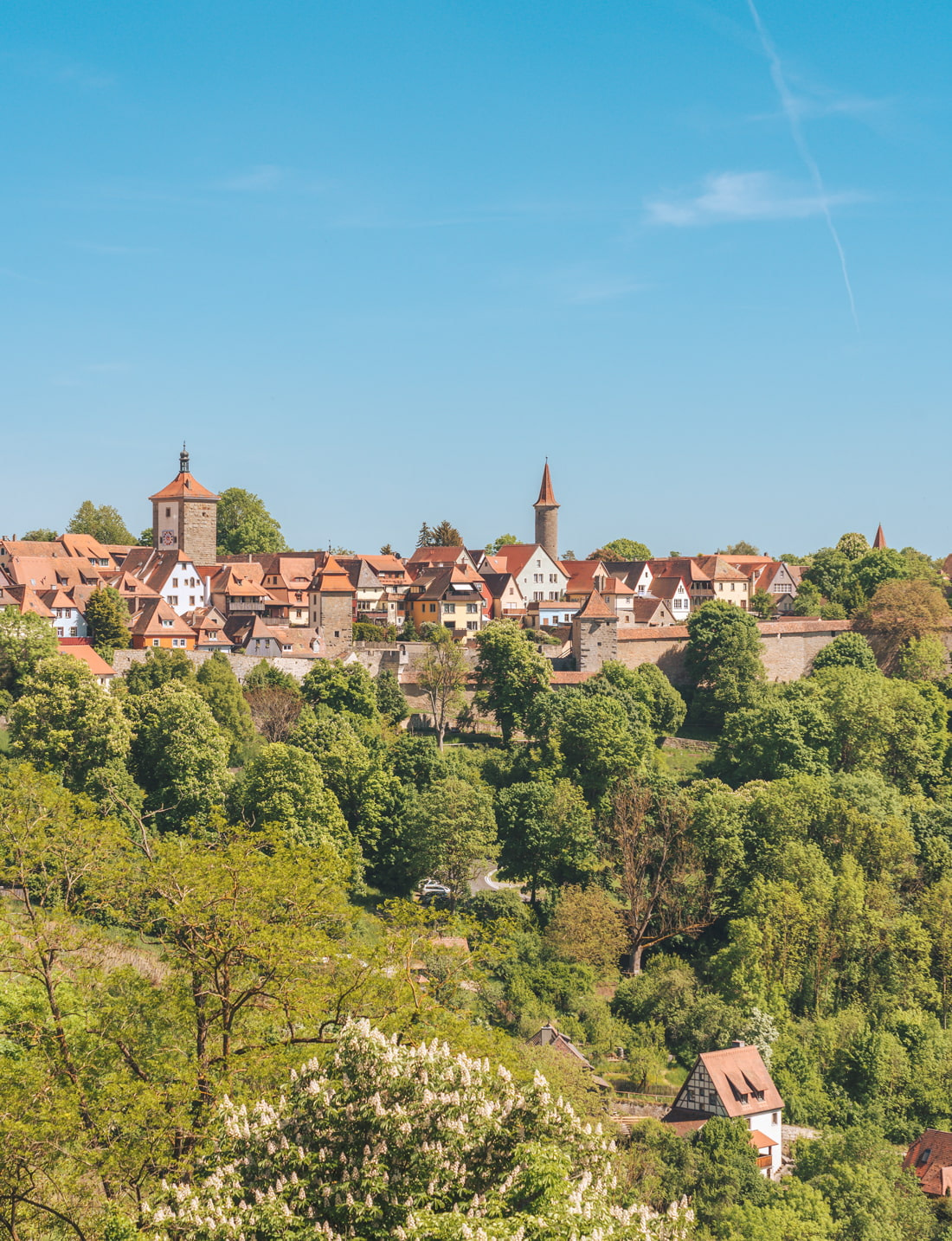 Perched on a plateau above the Tauber Valley, Rothenburg's lofty spires and tightly packed rainbow-colored houses with pointed red roofs rise above the treetops offering scenic views in every direction.
A short trail leads visitors to the Castle Garden, a lovely park with shady trees, manicured flowerbeds, and spectacular views over the Taubel Valley, while more ambitious hiking and biking enthusiasts are welcome to explore the town's lush surroundings dotted with historic mills and vine-carpeted slopes.
The cute, authentic shops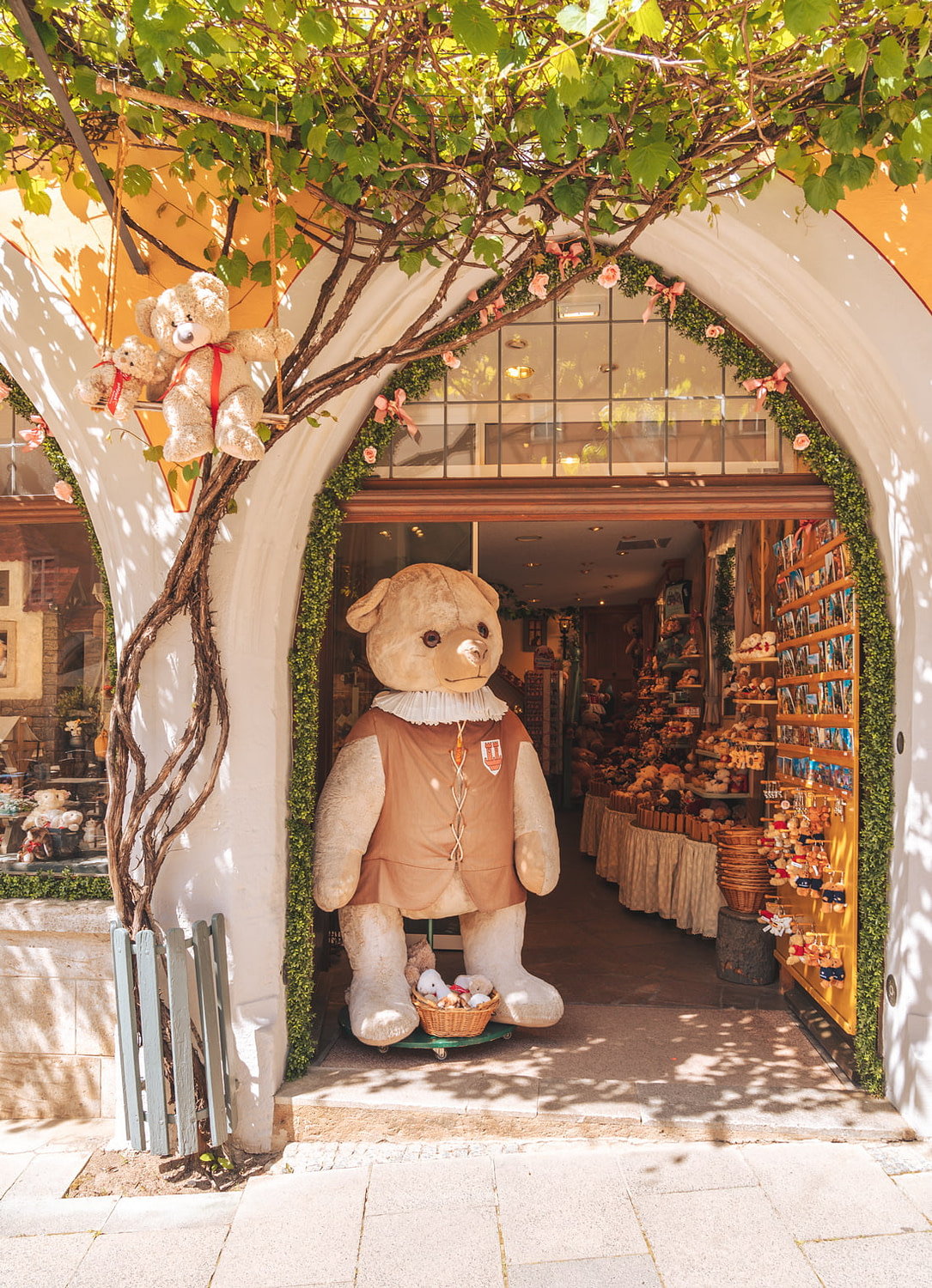 Aside from its striking architecture and genuine medieval flair, Rothenburg ob der Tauber is also a wonderful shopping destination. Many of the quirky, candy-colored buildings lining the old town streets house quaint little shops that keep the local traditions alive. Most of these are independently owned and specialize in original items made in Germany such as wooden toys, ceramic miniature houses, and some of the finest Christmas decorations in the world.
Souvenir hunters will also find a gamut of medieval-themed gifts, as well as original prints and etchings featuring scenes of Rothenburg, while foodies will for sure swoon over the town's pastry shops and dazzling shopfront displays of Franconian wine and sausages.
It's Christmas all year round
Home to Germany's grandest Christmas store, a 500-year-old Christmas market, and the only German Christmas Museum in the world, no other place will get you in the festive spirit quicker than Rothenburg ob der Tauber.
While things get especially exciting around December, when the Reiterlesmarkt transforms the town into a fairytale Christmas scene, there are a couple of festive landmarks that keep the spirit going on year-round. The most magical is undoubtedly the Käthe Wohlfahrt's Christmas Village just off the Market Square, which is open 365 days a year and offers an amazing selection of holiday ornaments.
Displayed on different themes on magical snow-covered stalls, the treasures inside range from intricate Christmas pyramids handcrafted by the woodcarvers from the Ore Mountains to delicate glass ornaments in all shapes and sizes. Adjoining the fabulous store is the Christmas Museum, where visitors can learn about the history of German Christmas traditions through fascinating postcards, cardboard nativity scenes, and Christmas tree exhibits.
Once the holiday season rolls around, Rothenburg's centuries-old Reiterlesmarkt takes over the entire town, filling the streets with music, twinkly lights, and colorful open-air stalls selling everything from Christmas ornaments to Glühwein (mulled wine) and roasted chestnuts.
It might be the quaint medieval atmosphere or that flawless storybook appearance with gingerbread-like houses lining its cubic stone alleys, but this town seems to have been made for Christmas!
There's a photo op at every turn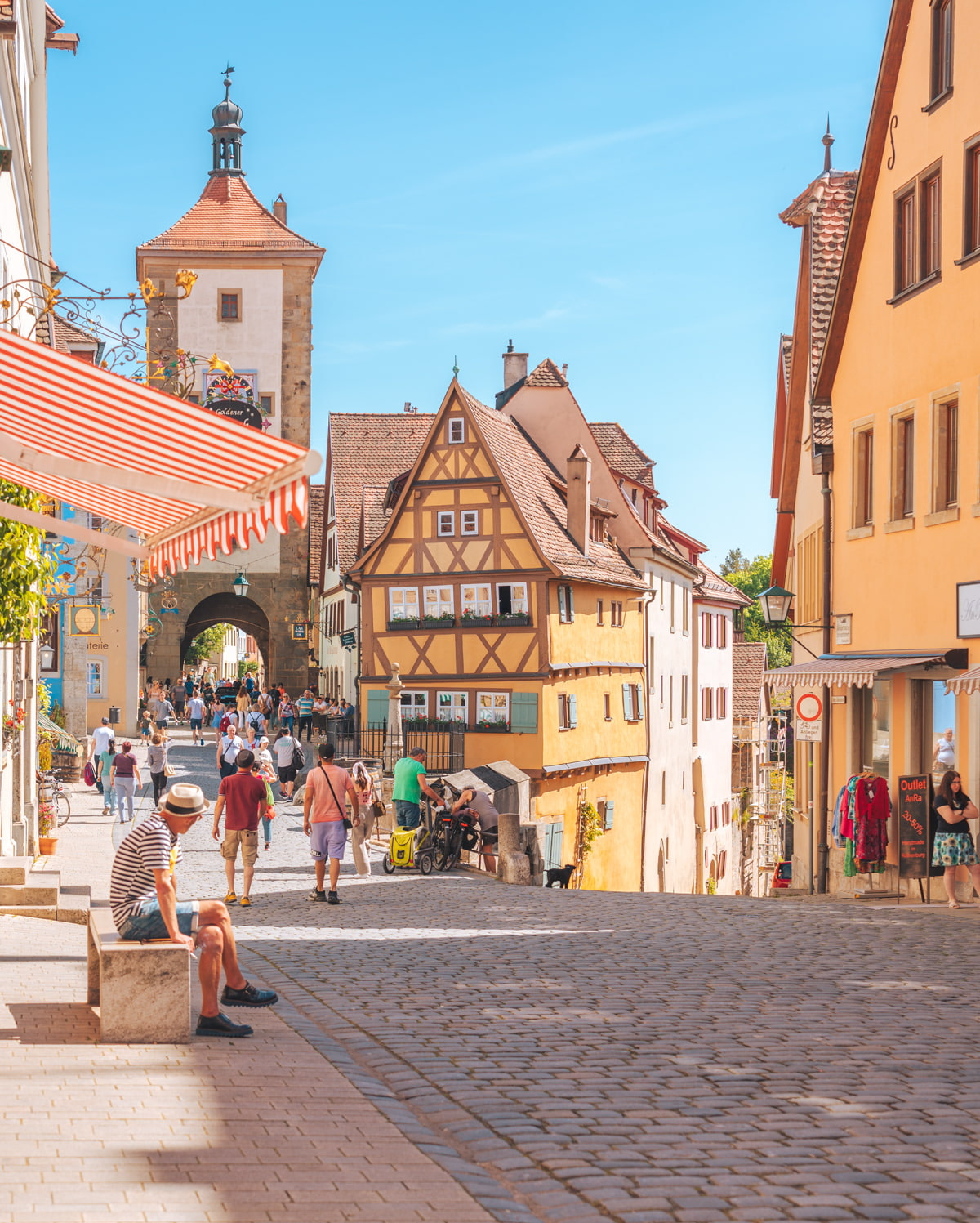 A toyland of pastel houses and crooked, cobbled streets, Rothenburg looks like something out of a Disney movie or an old-world postcard. Ensure your camera/phone is fully charged as this pretty Bavarian town is seriously brimming with photo opportunities.
Down every winding alley and around every corner lays a little pocket of storybook perfection, whether it's an arched vine-clad door, a rhythmic row of gabled roofs basking in the sun, or a scenic section of the medieval walls looming in the distance. No other is as popular as the Plönlein, however. As one of Germany's most photographed squares, there's a perennial stream of tourists fighting for a selfie in front of it, but if you arrive here early enough, you might have the iconic scene all to yourself.
There are tons of Instagram-ready spots and colorful scenes worth capturing around the main square (Marktplatz) and central streets like Schmiedgasse and Herrngasse, while for pristine aerial views of Rothenburg, walk the city walls, go to the Castle Garden, or better yet, climb the 220 steps to the top of the Rathaus (Town Hall).
The town is especially photogenic in winter when the streets are decorated for Christmas and a dusting of snow glistens beneath the warm, old-fashioned streetlights. Nevertheless, the building's sugary sweet pastels are at their best in the bright summer light.
It's full of adorable hotels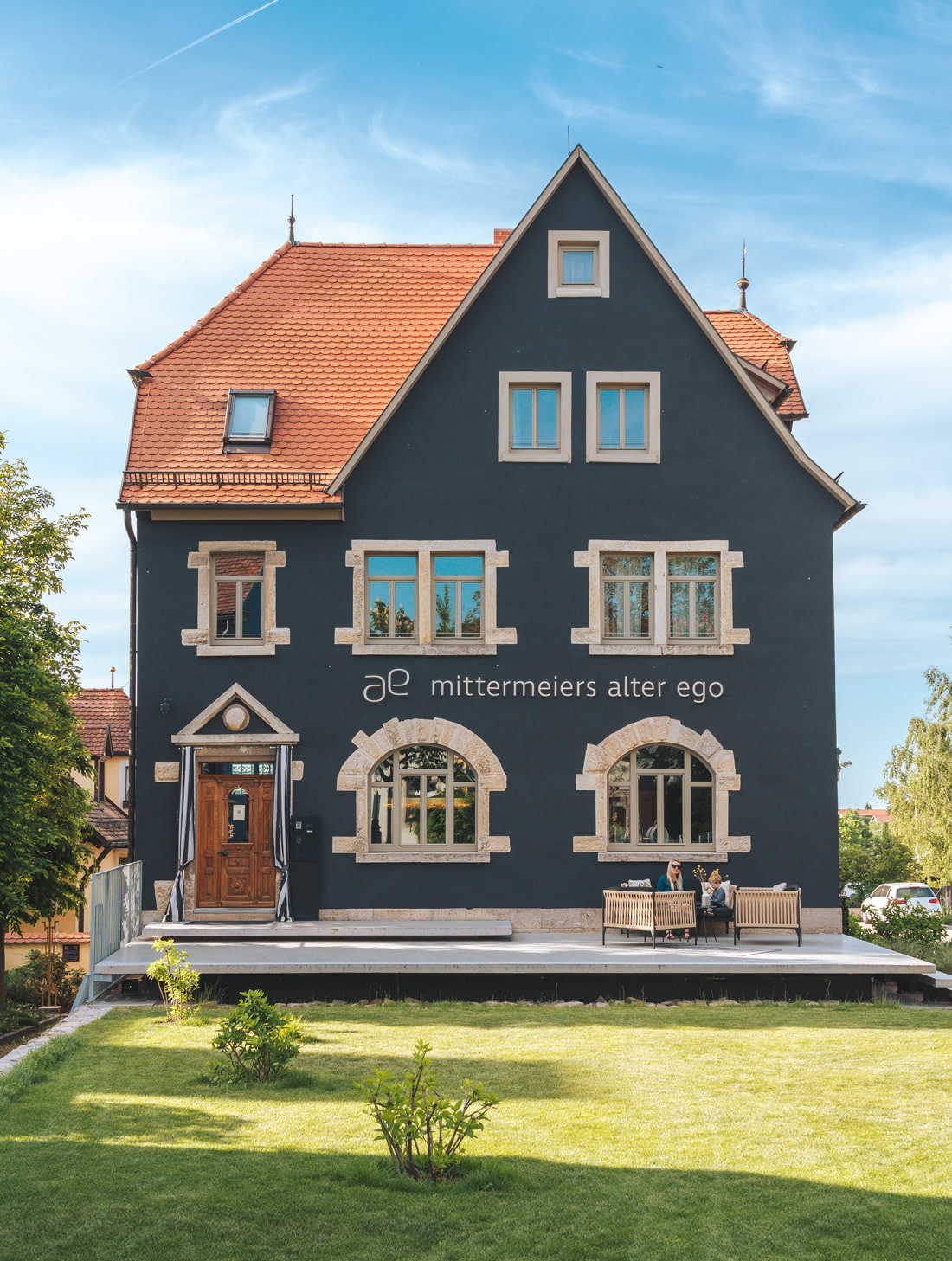 Rothenburg's quaint allure extends into its characterful hotels, many of which will make you feel like you have stepped back in time.
Housed inside the town's historic mansions are sweet and simple family-run inns, cozy guesthouses dressed in traditional style, as well as stylish boutique properties that don't skimp on contemporary luxuries.
A cute example of the latter is Villa Mittermeier, whose highly acclaimed gastronomic restaurant, comfortable accommodation, and tranquil location right outside the medieval walls make it an ideal base for exploring the town's charms. Adjacent to this hotel, sister property Mittermeiers Alter Ego offers an interesting concept that fuses the privacy and informality of a rental apartment with the quality standards of a high-end designer hotel. And although the building may stand out for its gorgeous black wooden facade, the real magic lies inside, where strikingly modern interiors and upscale amenities set the stage for a truly special stay.