If you're looking to visit a country that feels like something from a fairy tale, you'd be hard-pressed to find somewhere more perfect than Germany.
Not only is it dotted with grand, enchanting castles like Neuschwanstein Castle and covered in picturesque landscapes from evergreen forests to meandering rivers, but it's one of the birthplaces of modern folklore thanks to the Brothers Grimm. First published in 1812, Grimms' Fairy Tales are a hallmark of the genre, and the brothers wrote such classic stories as Little Red Riding Hood, Snow White, and Sleeping Beauty.
Magical stories and Germany go hand in hand, and since Germanic landscapes and culture played key roles in inspiring these stories, it stands to reason that you can find tons of fantastical small towns around the country that feel like they've jumped from the pages of a beloved childhood book.
If you're looking for the most classic, storybook-esque towns to visit during your visit to Deutschland, these are the most beautiful small towns in Germany.
Frankenberg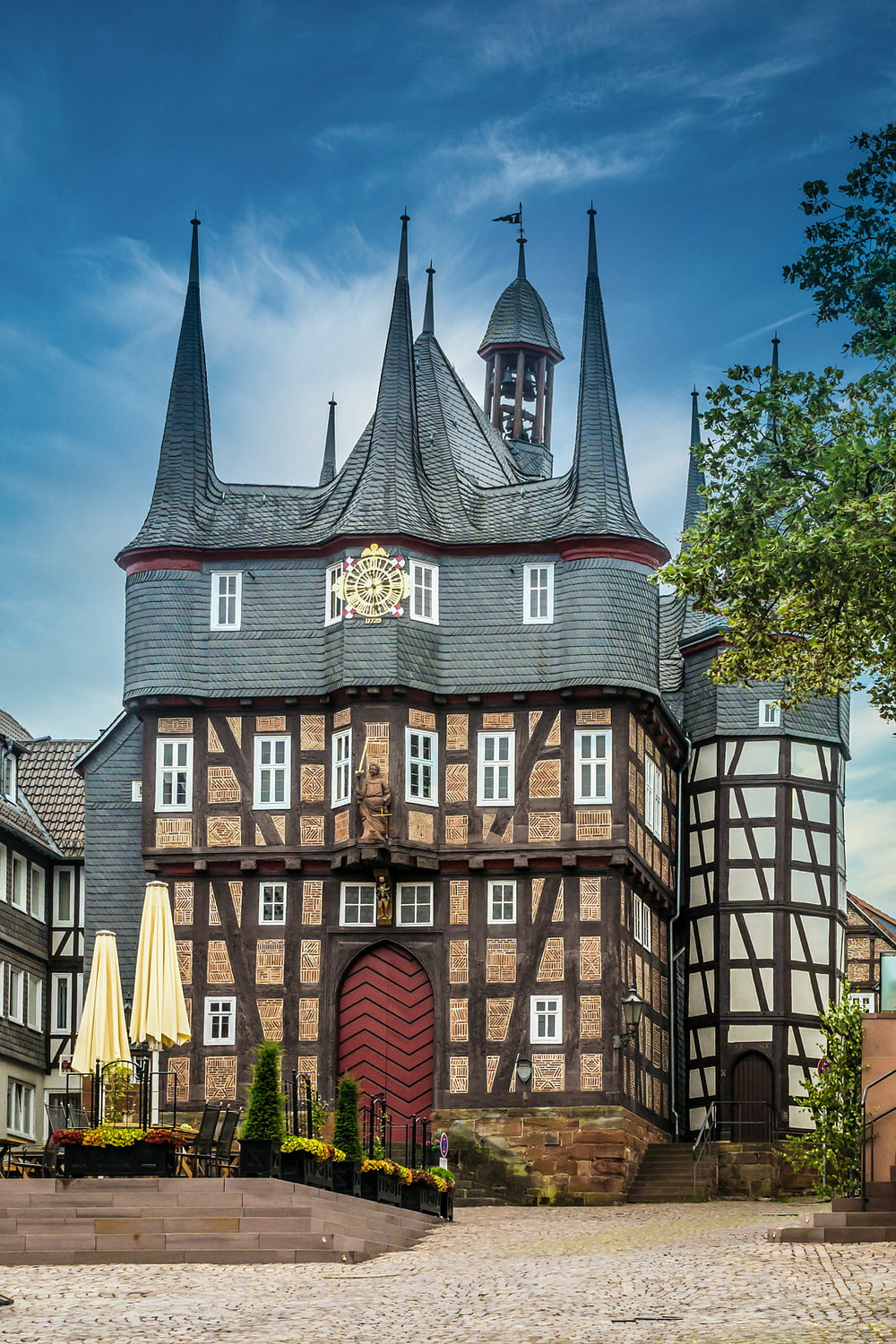 Population: 17,678
Closest Major City: Marburg-Biedenkopf (37.3 km)
Located in the central state of Hesse, the medieval town of Frankenberg dates from 1233, when it was first built at the junction of two major trade routes. Although the town has suffered several bad fires in its history, much of its beautiful historic architecture has either survived or been rebuilt.
One of its stand-out attractions is the Old Town Hall, built with a half-timbered base and crowned with multiple towers. Wandering around, you'll also discover other enchanting buildings like the Gothic Liebfrauenkirche cathedral, the Stone House, and numerous residential buildings with half-timbered designs.
Miltenberg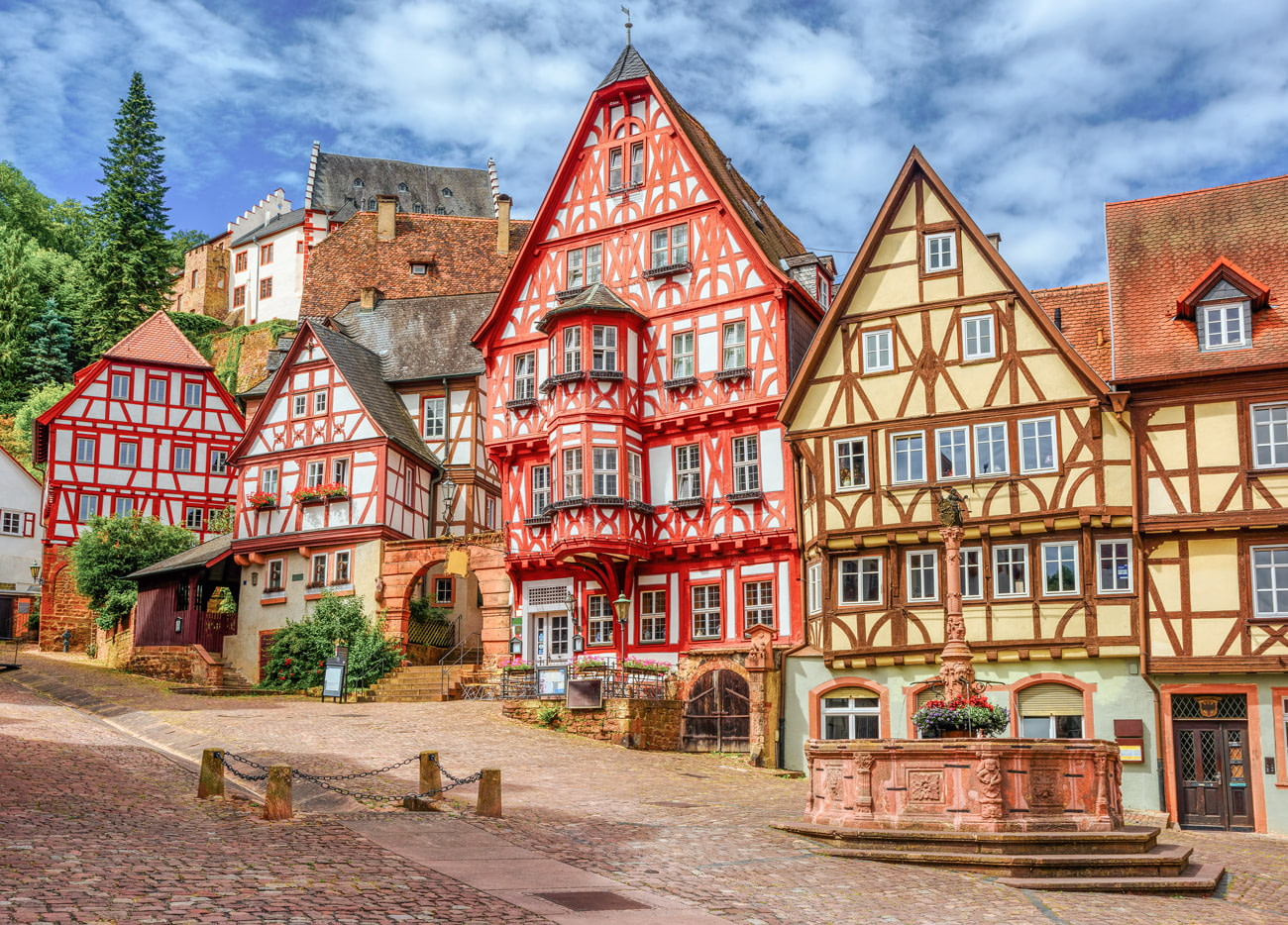 Population: 9,359
Closest Major City: Würzburg (75.9 km)
Becoming popular between 15th and 17th-century Germany due to the overwhelming availability of wood from nearby forests and the expert carpentry of local Germans, half-timbered houses are among the best examples of historic, fairy-tale-esque architecture existing in Germany today. And one of the best towns to see these charming half-timbered houses is the Bavarian town of Miltenberg.
Stretching along the banks of the River Main with a picturesque mountainous backdrop, the preserved town center is home to over 100 medieval half-timbered homes lining the narrow streets, with the oldest dating from 1339. Miltenberg is also one of the best places to view non-reconstructed historic buildings in Germany, as many small towns had to rebuild after World War II. Because of this, you can encounter genuine historic sites like the Zum Riesen, which may be the oldest inn in Germany, and the palatial Mildenburg castle keep.
Dinkelsbühl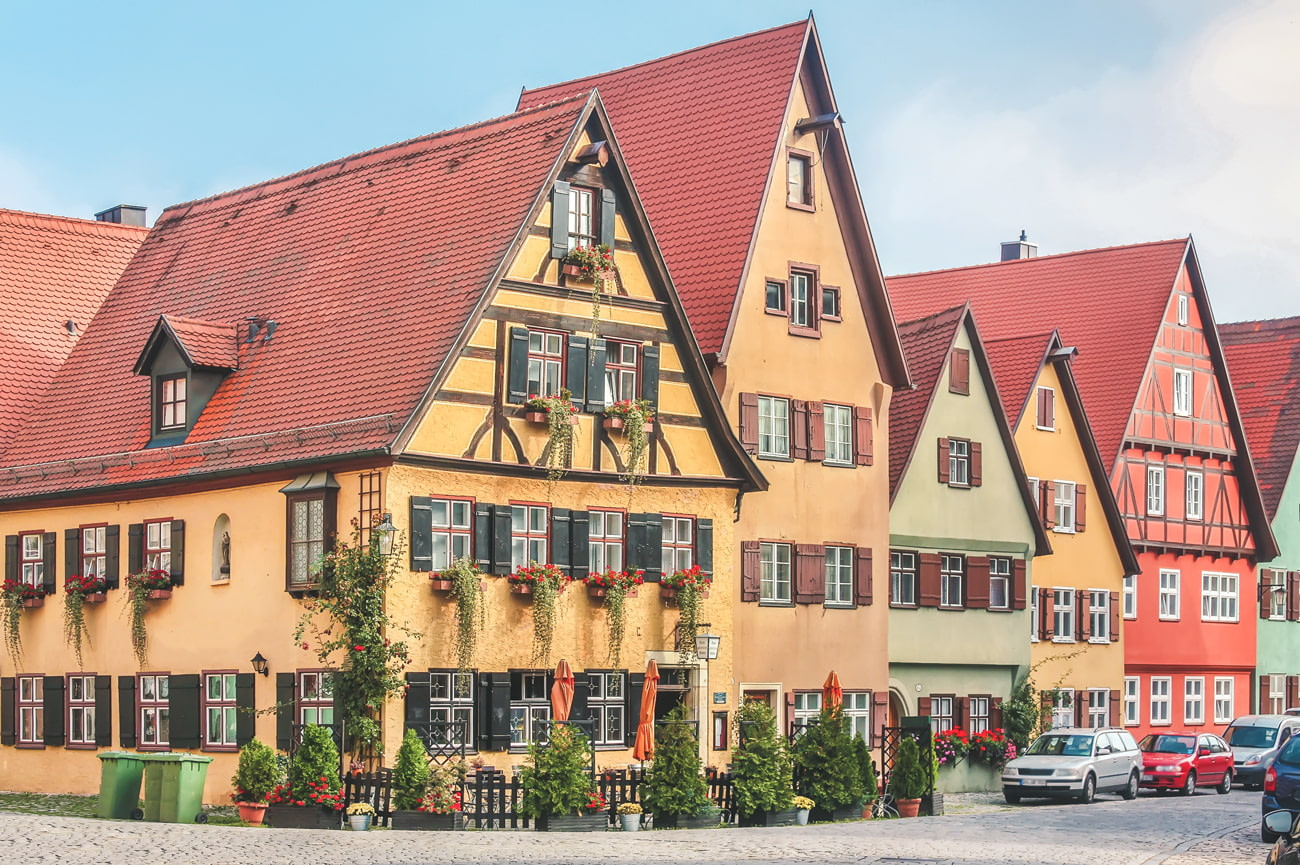 Population: 11,482
Closest Major City: Nuremberg (103 km)
Known for its colorful houses, red-brick buildings, and historic fortifications going back some 800 years, Dinkelsbühl is a popular destination along the 350-kilometer scenic Romantic Road. It's also one of the few medieval walled cities left in Germany. Along the cobblestone streets and narrow alleys of the Old Town District, you'll find vibrantly-painted homes, the gabled houses next to the Weinmarkt, and plenty of half-timbered dwellings.
Marktbreit am Main
Population: 3,700
Closest Major City: Würzburg (29.6 km)
Stroll through streets lined with half-timbered houses in this quaint town in the Lower Franconia district of Bavaria in southeastern Germany. Best known for being the hometown of the man who first identified symptoms of Alzheimer, it has plenty of medieval architecture as well as the ruins of an ancient Roman settlement. One of the best views in town is of a stone house squeezed between several half-timbered homes, spanning a lush creek.
Rothenburg ob der Tauber
Population: 11,025
Closest Major City: Nuremberg (105 km)
If the main square of the northern Bavarian town of Rothenburg ob der Tauber – where two cobblestone roads intersect at a sunshine-yellow and brown half-timbered house with a clock tower in the background – looks familiar, it's because this enchanting scene was the inspiration for Belle's house in the 2017 live-action Beauty and the Beast film.
With streets lined by half-timbered homes, this spot is one of the most popular places in Germany for visitors seeking that classic, fairy-tale town atmosphere. This means it can get crowded, but the stunning views are worth it.
Bernkastel-Kues
Population: 6,506
Closest Major City: Trier (50 km)
Spanning the banks of the Moselle River in the western Rhineland-Palatinate state, the twin towns of Bernkastel-Kues draw the eye with their grey roofs, half-timbered homes, and rustic charm. After roaming the Marktplatz town center to admire the white-and-red houses, you can pay a visit to the hilltop Landshut Castle, which dates from the 9th century. Best of all, this town is in the center of a popular wine-growing region with ample opportunities to go wine tasting.
Cochem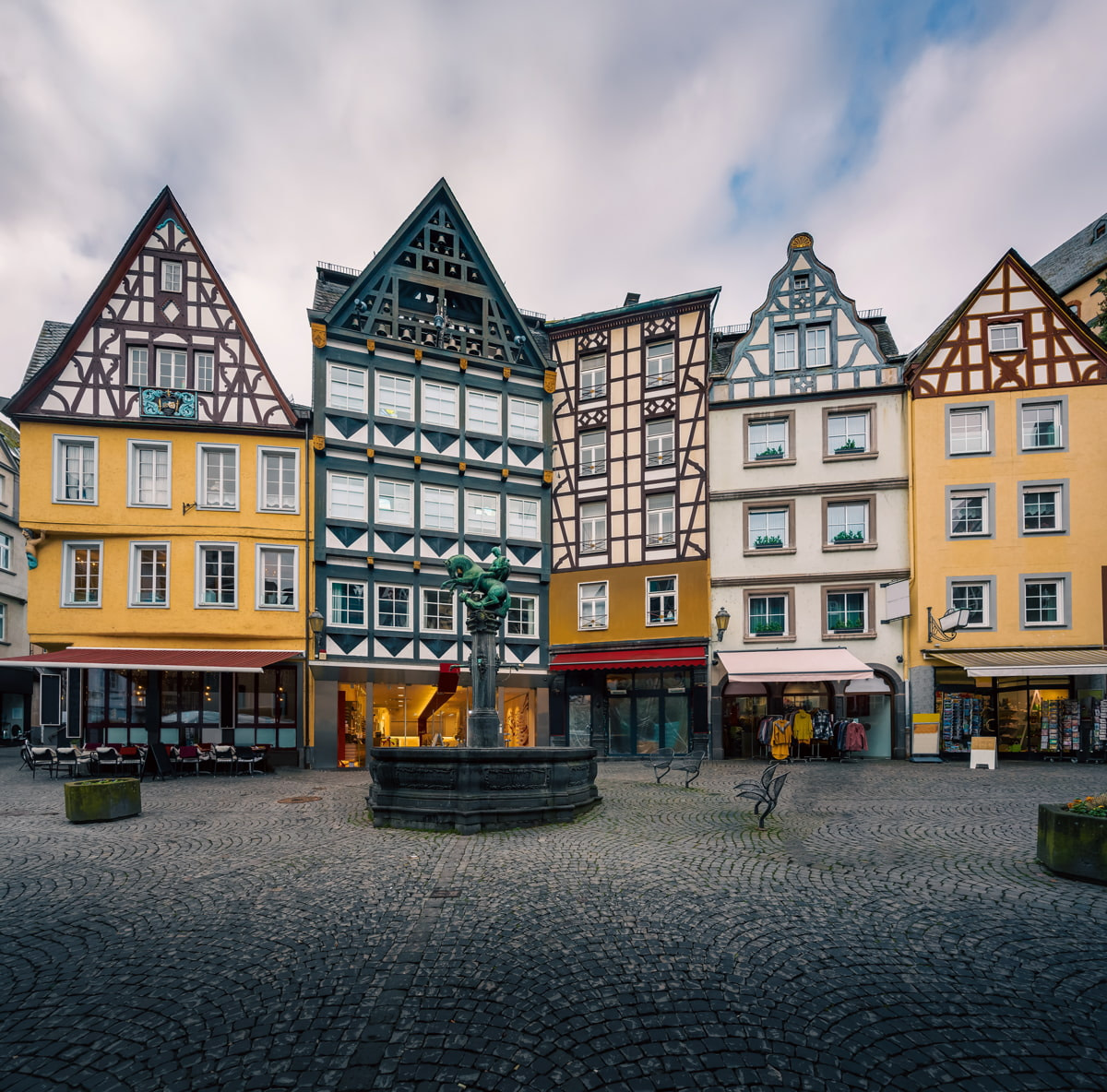 Population: 5,000
Closest Major City: Koblenz (54.4 km)
Is there anything more storybook-esque than a riverside town overlooked by a castle on a hill? That's what you'll find in Cochem, a historic town of multi-colored houses surrounded by lush hills.
Similar to other historic German towns, the Aldstat Old Town area is home to the bulk of the beautiful houses and buildings, but you'll also find medieval city gates, a Cold War bunker, and a beautiful riverside promenade.
Above it all perches the Reichsburg Cochem, a stately medieval castle that dates back to the 12th century. The verdant hillsides surrounding the town are good for more than picturesque views; they're also home to some of the steepest vineyards on Earth. Cochem and the Mosel Valley are other popular wine regions, producing mainly Riesling.
Quedlinburg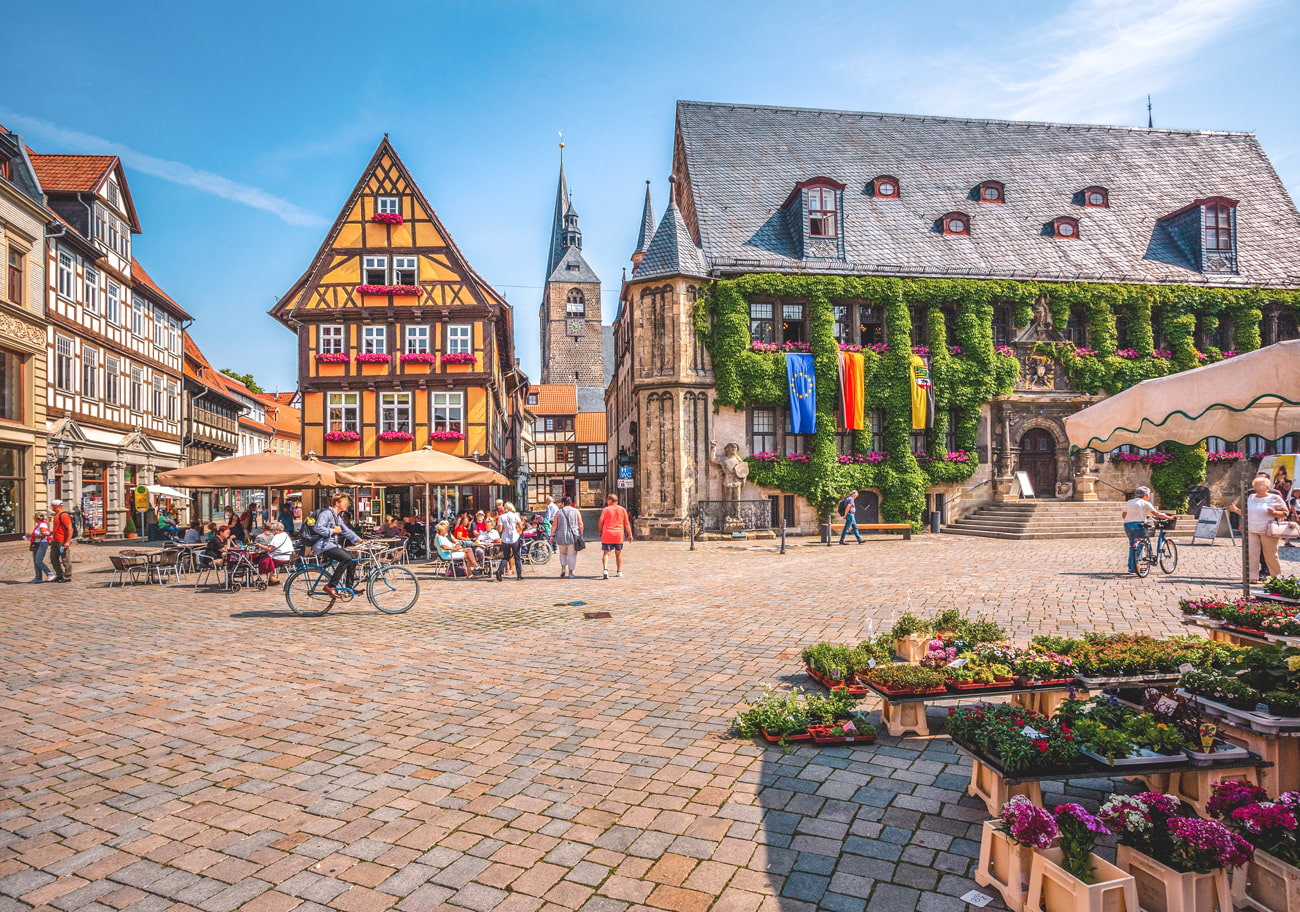 Population: 24,000
Closest Major City: Leipzig (138 km)
Another Germanic town to escape the devastating bombardment of World War II, the medieval architecture and half-timbered houses of this town in northern Germany are so well-preserved and significant that it has been designated a UNESCO World Heritage Site.
Walking the cobblestone streets, the half-timbered homes and other buildings, including the Romanesque Church of St. Servatius, still appear as they did hundreds of years ago. Quedlinburg was also the first capital of Germany, with a history dating back 1,000 years.
Wernigerode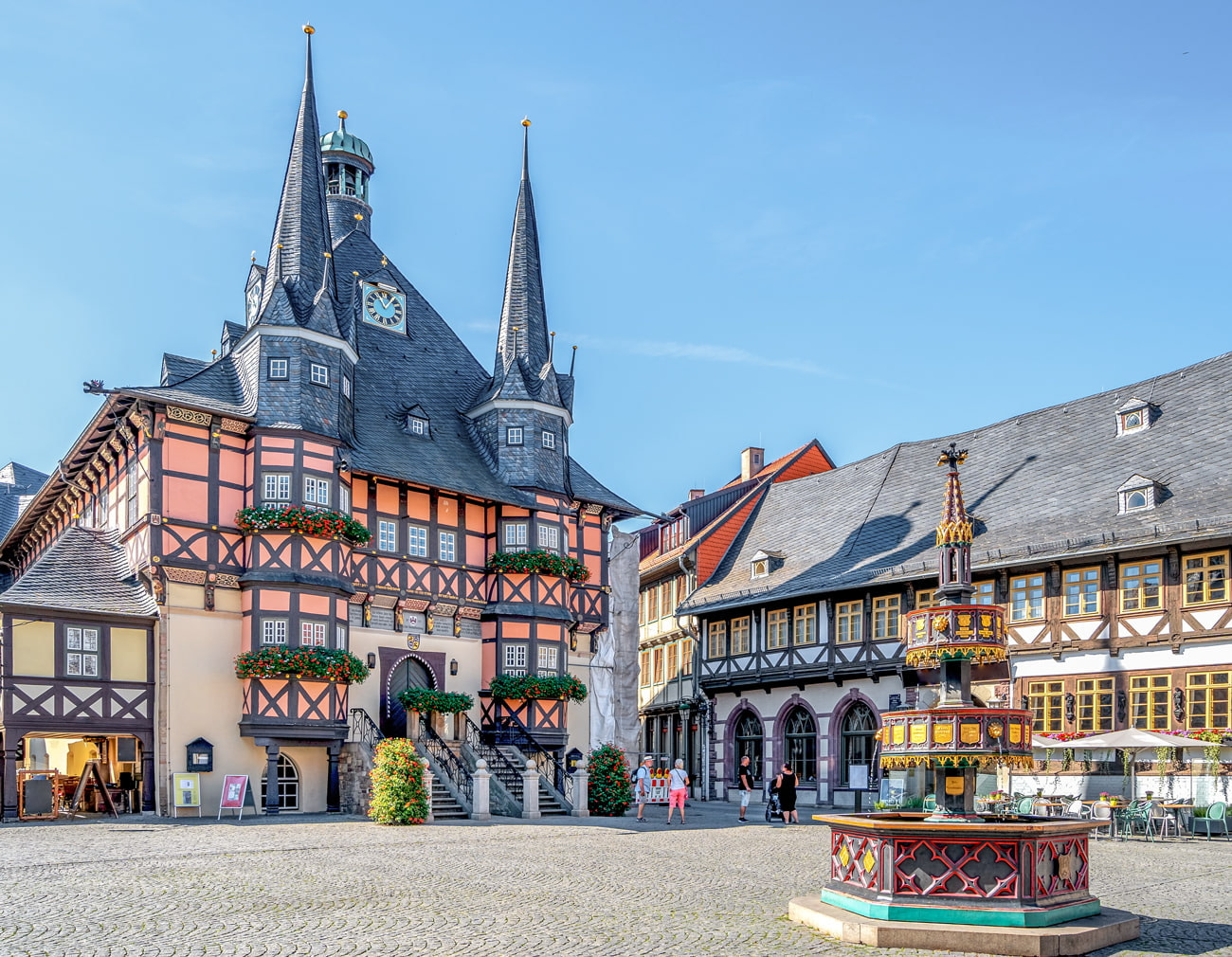 Population: 34,383
Closest Major City: Hanover (119 km)
Known as the Pearl of the Harz for its immaculately-preserved and beautiful half-timbered homes and Gothic architecture, the enchanting town of Wernigerode in the Harz district of Saxony-Anhalt is a must-stop along the German Timber Frame Road, a popular tourism route leading through some of Germany's finest medieval towns.
Overlooked by the stately Wernigerode Castle, one of the town's highlights is the Old Town Hall with its orange walls, dark brown frame, and multi-spired roof.
Bad Wimpfen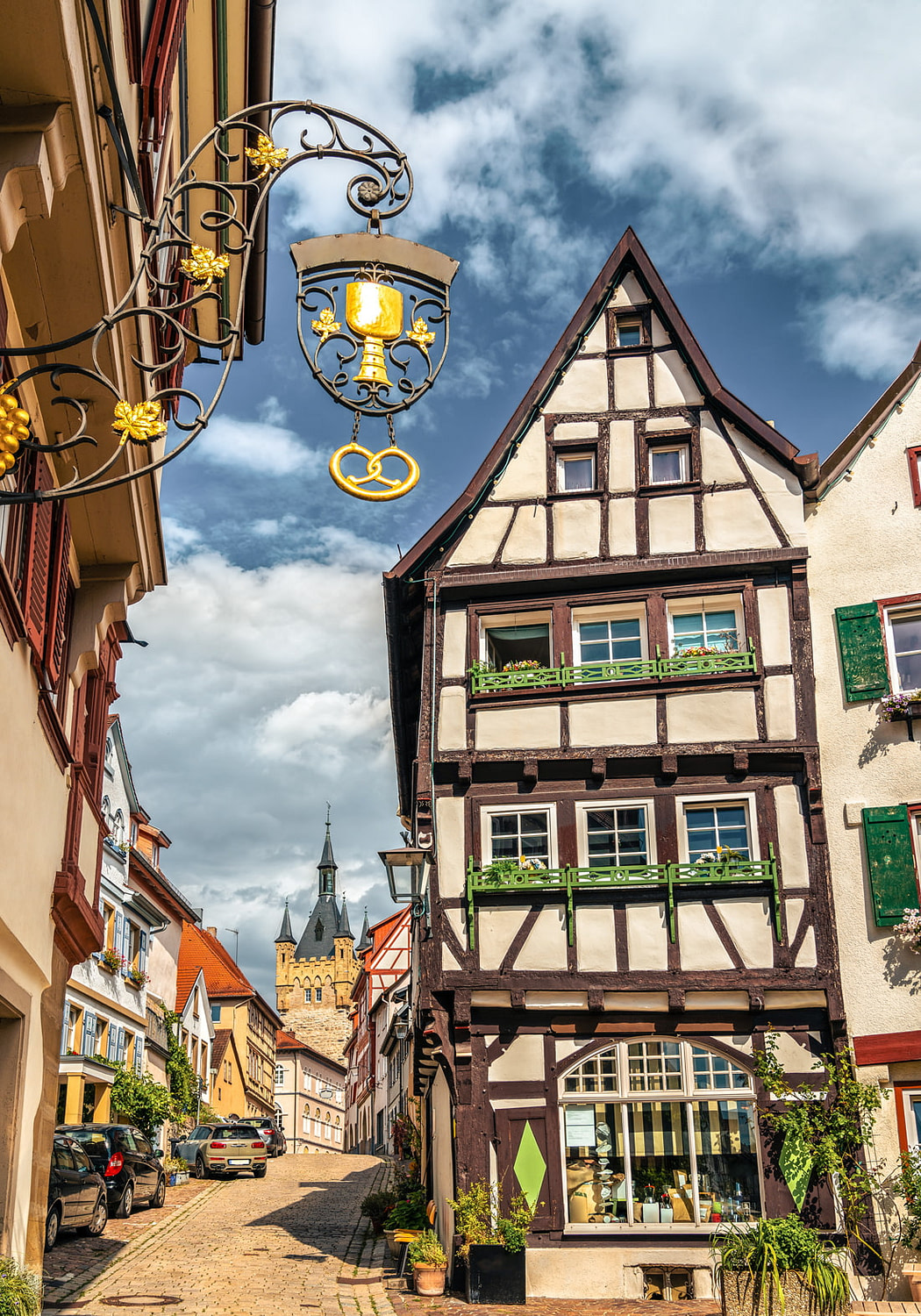 Population: 7,286
Closest Major City: Heilbronn (15.3 km)
Back in the 1800s, people used to flock to this historic spa town and former Roman settlement along the Neckar River for its mineral hot springs. Now, Bad (which means "bath" in German) Wimpfen draws travelers not only for its healing waters, but a wealth of beautiful, old-timey buildings like its fortified Staufian palace, which was once the largest of its kind north of the Alps, and narrow streets and alleys of the traditional half-timbered homes.
Annaberg-Buchholz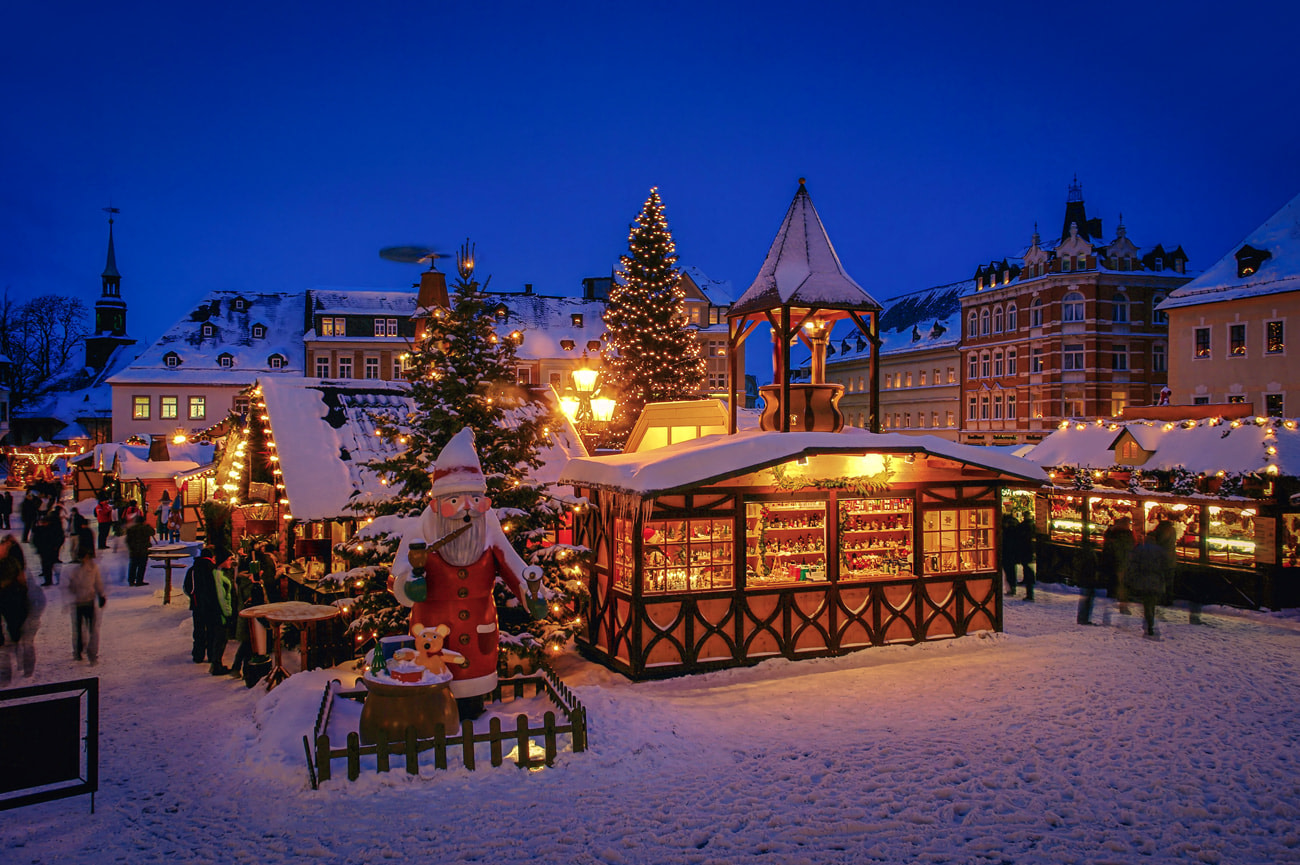 Population: 19,118
Closest Major City: Chemnitz (34.6 km)
Nestled among the Ore Mountains in central-eastern Germany, the elegant city of Annaberg-Buchholz is a beautiful place to visit throughout the year on account of its grand Gothic architecture and scenic mountain location.
But winter is when the town feels most like something out of a storybook with its thick blankets of snow, Christmas decorations, and seasonal skiing. In fact, the Ore Mountains are often called the Land of Christmas, and Annaberg-Buchholz is famous for its magical Christmas market with a giant Christmas tree, wooden booths, and ample holiday entertainment.
Heppenheim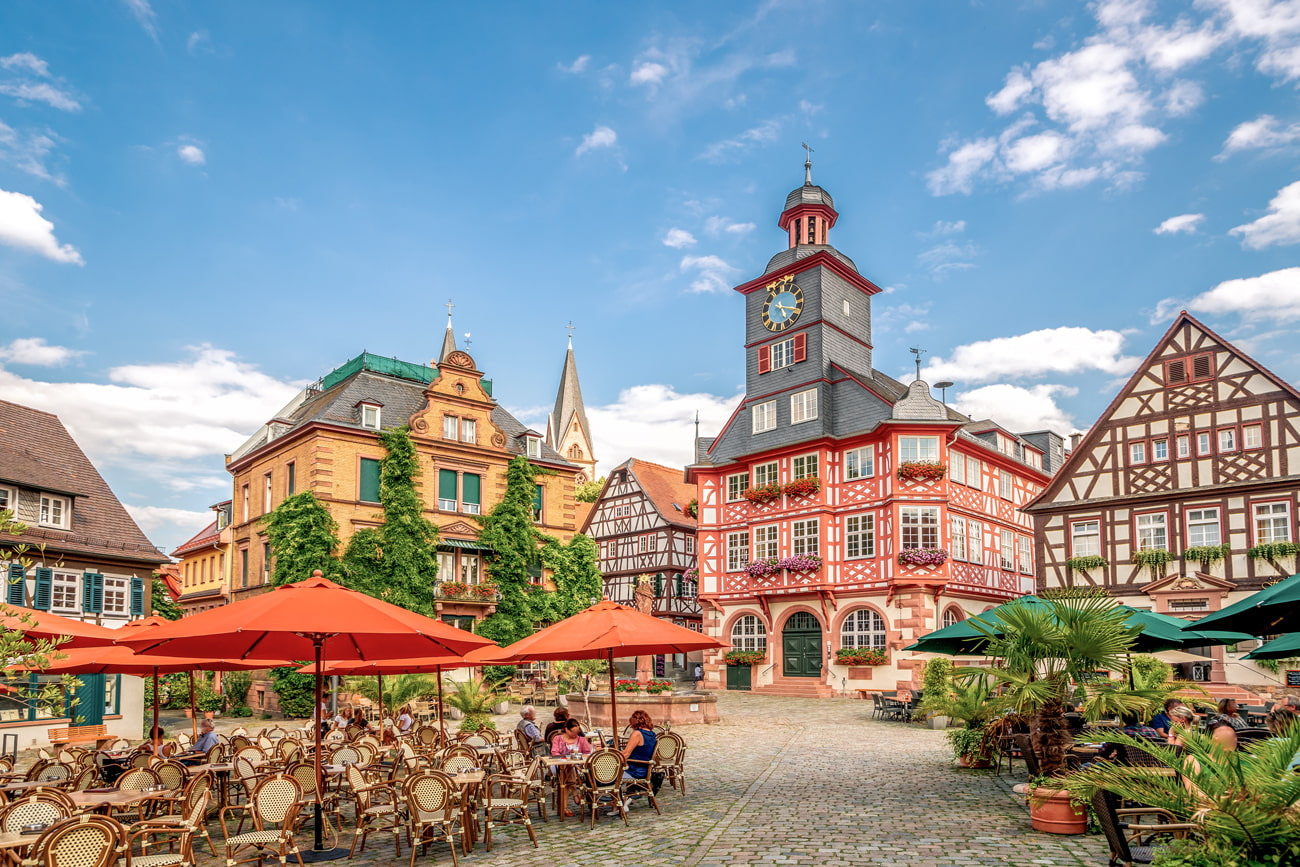 Population: 26,357
Closest Major City: Mannheim (31.1 km)
Surrounded by forested hills and fields of vineyards, the town of Heppenheim in the state of Hesse wows visitors with its colorful, vibrant examples of half-timbered homes and architecture. The marketplace is especially beautiful, overlooked by a grand clock tower and surrounded by stone and wooden buildings.
Along with exploring the historic town core and visiting the 11th-century Starkenburg castle that towers over the town, you can go wine tasting at wineries in the Hessische Bergstraße wine region.
Bacharach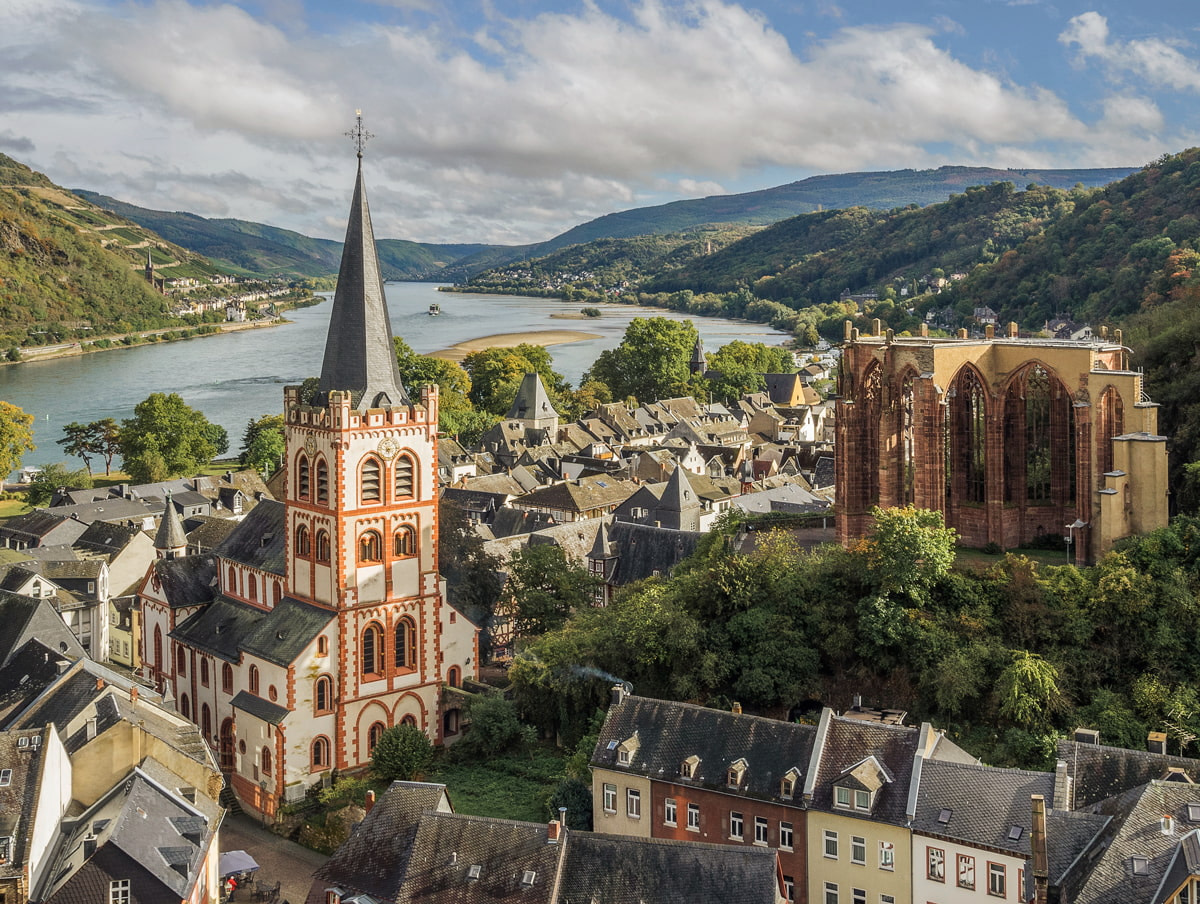 Population: 1,973
Closest Major City: Frankfurt (90.1 km)
If you're looking for a lovely, idyllic town in Germany, it doesn't get better than Bacharach. Hugging the banks of the Rhine and surrounded by lush green hills, this cozy small town dates from the 11th century.
From the top of the Post Tower, you can get the best view of the countryside and important town landmarks like St. Peter's Church and the Wernerkapelle, the ruins of a grand Gothic church. Coolest of all, the 12th-century Stahleck Castle that overlooks the town is a youth hostel, allowing visitors to literally stay in a medieval castle.
Füssen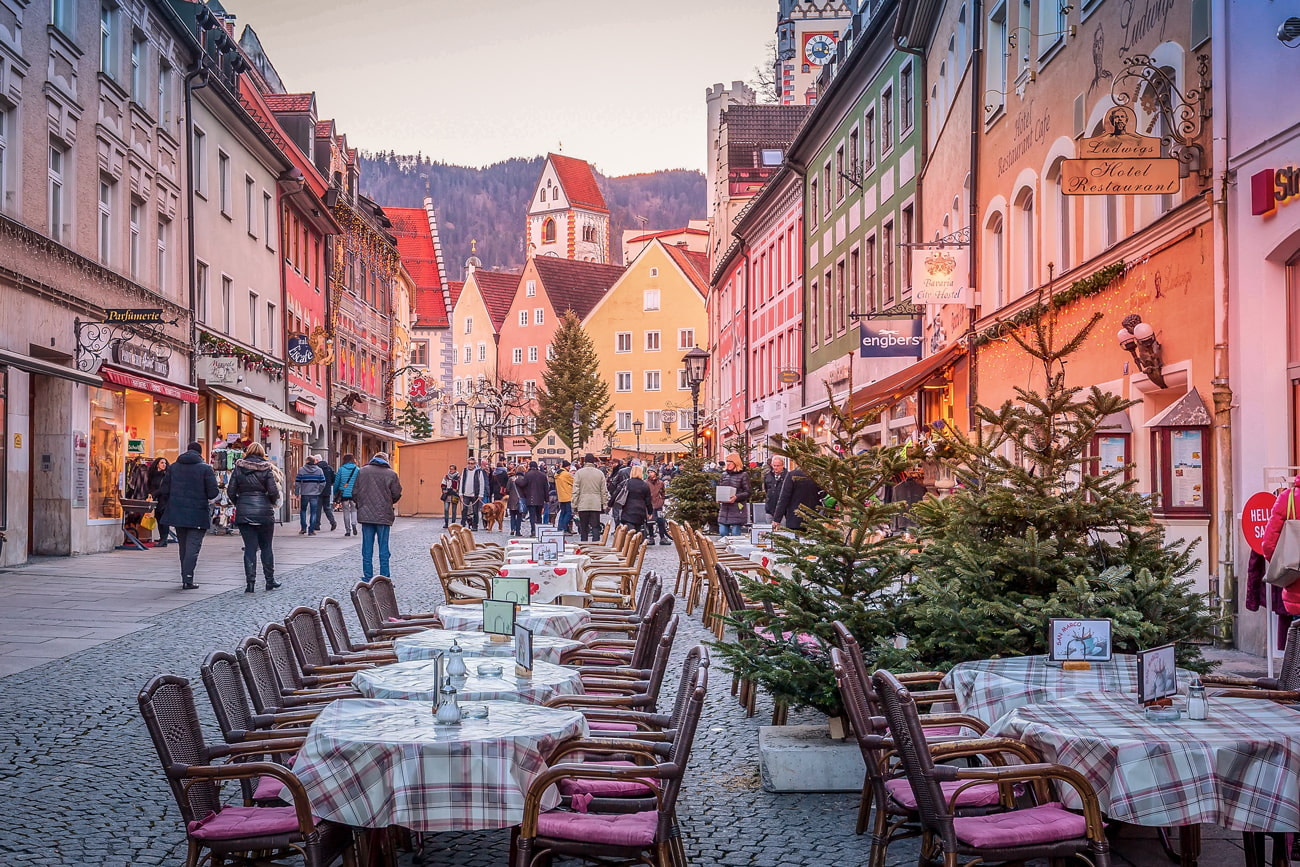 Population: 15,800
Closest Major City: Munich (135 km)
Although Füssen may be best known for being the nearest town to the world-famous 19th-century Neuschwanstein Castle, it's well worth taking the time to see and explore in its own right. Surrounded by mountains and lakes, the intimate mountain town feel is enhanced by narrow streets, colorful buildings, and exquisite Bavarian architecture.
Monschau
Population: 11,686
Closest Major City: Bonn (100 km)
Historic half-timbered homes and stone buildings hug the banks of the meandering Roer River in this medieval town located in western Germany near the border with Belgium. Along with the 1700s-era Red House and its elegant Rococo furnishings and the hilltop Monschau Castle, this picturesque town is known for its Christmas market, which takes place in the historic town center.