This post contains affiliate links, which means we may receive a small commission, at no additional cost to you, if you make a purchase through these links. See our full disclosure here.
Nothing says Christmas in Germany quite like the charming, quintessential Christmas markets that decorate the country during this magical time of year.
Whether you choose to browse the most popular ones or those hidden in some quaint, lesser-known medieval villages, one thing is for sure: visiting a Christkindlmarkt is the ultimate holiday experience!
Christmas markets in Germany usually start in late November and last until around the 23rd of December annually. They're mostly traditional affairs steeped in history and local culture, though in the last few years, more original, alternative options have started to pop up in forward-thinking cities like Berlin, Hamburg, and Cologne.
From traditional handicrafts and quirky ornaments to tasty local delicacies and sweet-scented mulled wine, there's absolutely nothing you can't find in a German Christmas market. Festive shopping aside, they offer visitors an enchanting experience that combines culture with entertainment and holiday cheer in a magical fairytale-like setting.
From Stuttgart to Hamburg, these are the best Christmas markets in Germany in 2022:
Dresden Christmas Market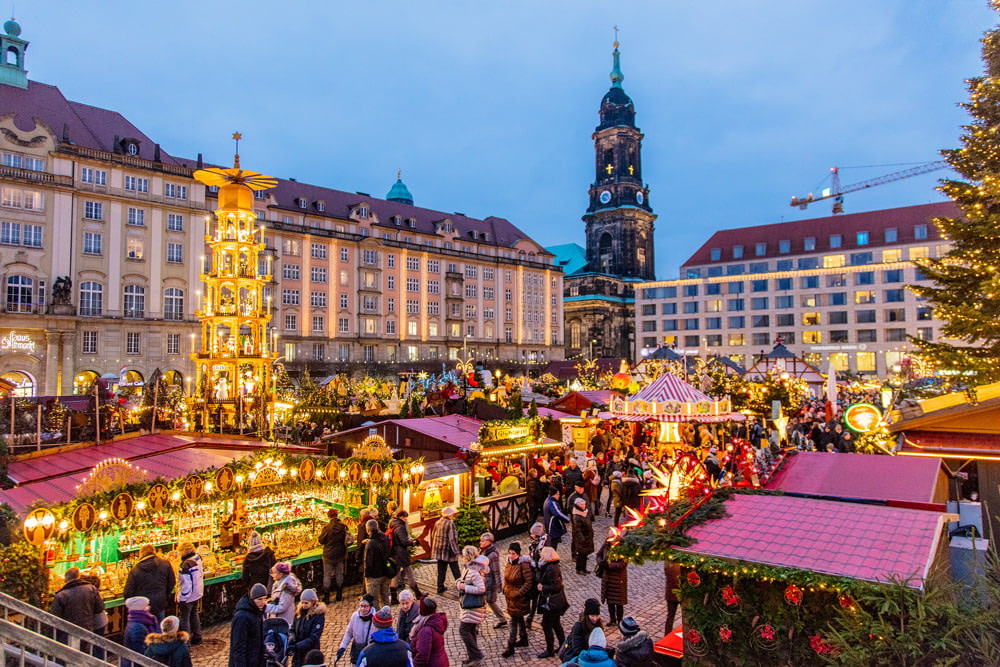 Dates: November 23rd – December 24th, 2022.
With a history that dates back almost 600 years ago, Dresden Christmas Market, also known as Striezelmarkt, is the oldest and certainly one of the best Christmas fairs in Germany. It takes place each year at the end of November in the city's baroque Old Town, with the imposing Church of Our Lady as its backdrop.
Highlights of Dresden's major Christmas Market include the Stollen Festival, the Pyramid Festival, a huge Christmas carousel, and the world's biggest nutcracker. Twinkling lights add to the charming atmosphere, and foodies are spoiled for choice with a variety of Saxon culinary delights.
As for the gifts, no worries, this superb winter attraction features over 230 booths filled with authentic Christmas handicrafts, pottery, candles, handmade toys, wooden ornaments, and many, many more.
Where to Stay in Dresden: Not only is Hilton Dresden located at the heart of the Old Town, where the Christmas market is being held, but you'll have access to hearty German home cooking, onsite parking, and a nice health club complete with indoor/outdoor pools, sauna, and fitness center.
Annaberg-Buchholz Christmas Market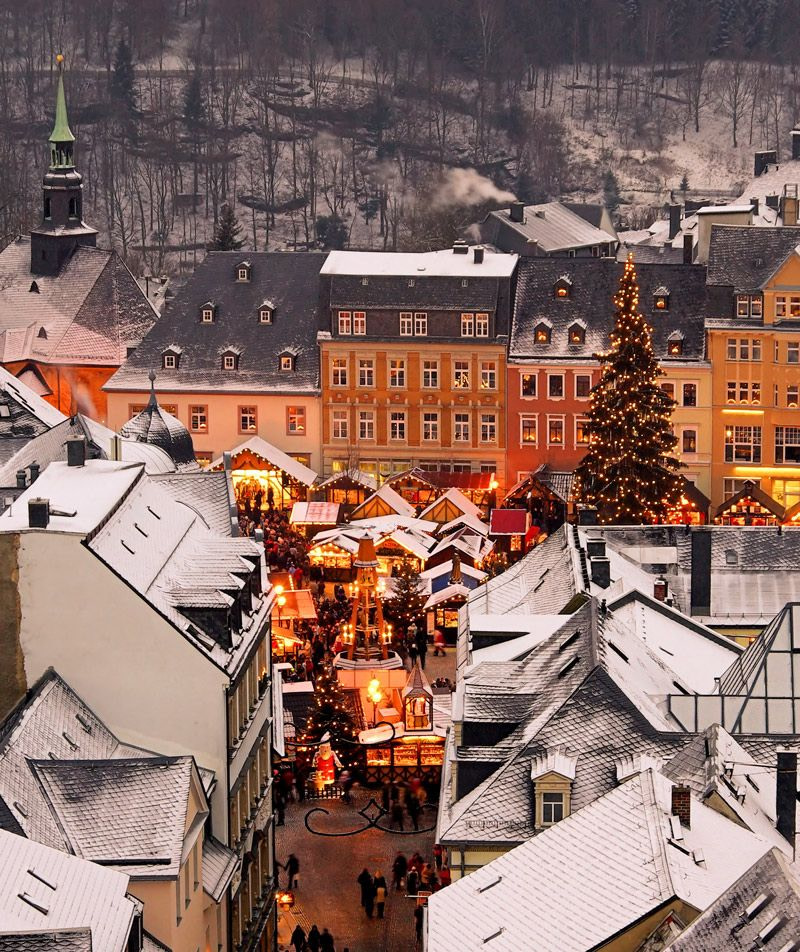 Dates: November 25th – December 23rd, 2022.
Nestled in the charming, beautifully decorated Old Town of Annaberg-Buchholz, this is one of the loveliest and most authentic Christmas markets in Erzgebirge (Ore Mountains), and a perfect destination for visitors in search of a smaller, more intimate winter fairyland.
The event kicks off with the traditional Christmas Pyramid and culminates with the Grand Mountain Parade, which honors the area's centuries-old mining tradition. During these weeks full of merriment and festive atmosphere, visitors have the chance to purchase all sorts of Christmas goodies, from quirky ornaments and decorations to mouthwatering regional foods such as potato pancakes, stollen, chubby sausages, and of course, the ubiquitous Glühwein (mulled wine).
A special feature of Annaberg Christmas Market is certainly the high-quality traditional merchandise on offer, which includes Erzgebirge figurines, fascinating local toys, and handmade lace from Plauen.
Where to Stay in Annaberg-Buchholz: Wolke33 is a spacious, one-bedroom rental apartment located in a historic house on the main Wolkensteiner Straße. Despite its prime location in the center of Annaberg-Buchholz, the space is cozy and quiet and appointed with all modern amenities for a comfortable stay.
Dusseldorf Christmas Market
Dates: November 17th – December 30th, 2022.
Besides being one of Germany's most beautiful Christmas fairs, Dusseldorf Christmas Market promises a hell of a show this year, with a variety of locations throughout the city.
Each address will have its own distinctive theme, ranging from the handicraft fair in front of the Düsseldorf Rathaus (city hall) to the delightfully traditional Altstadt Markt, where the huts are styled to resemble the city's old burgher houses. Obviously, the spectacle will be complemented by picturesque lights, nativity scenes, gingerbread houses, gleaming crystals, and lots of nostalgic stalls selling authentic Christmas goods.
Where to Stay in Düsseldorf: For a classy stay in the center of the city, look no further than Limehome Düsseldorf Stresemannstraße, whose stylish suites feature fully equipped kitchens, modern smart TVs, and laptop workspaces.
Erfurt Christmas Market
Dates: November 22nd – December 22nd, 2022.
Set in the heart of one of the best preserved medieval Old Towns in Germany, Erfurt Christmas Market is among the largest and most atmospheric fairs of its kind in Europe. Top attractions include a spectacular, exquisitely illuminated Christmas tree, an amazing Nativity Scene of human-sized wooden figures, the 12m tall Erzgebirge Christmas Pyramid, and the traditional Christmas floral exhibition held daily in the vaults of Erfurt's Domberg.
Hopefully, the enchanted forest on Domplatz square, already regarded as a local tradition, will be once again a highlight of Erfurt Christmas Market, enticing people of all ages with its handcrafted figures and artistic decors depicting scenes from fairytales. Also, we're looking forward to seeing the beautifully decorated wooden huts fascinating everyone with their marvelous range of handcrafted products, colorful decorations, and regional delights.
Where to stay in Erfurt: Ibis Erfurt Altstadt offers clean, comfortable rooms just a few minutes' walk from the St Mary's Cathedral. This affordable Old Town hotel also boasts onsite parking, a 24h bar, and a hearty buffet breakfast.
Leipzig Christmas Market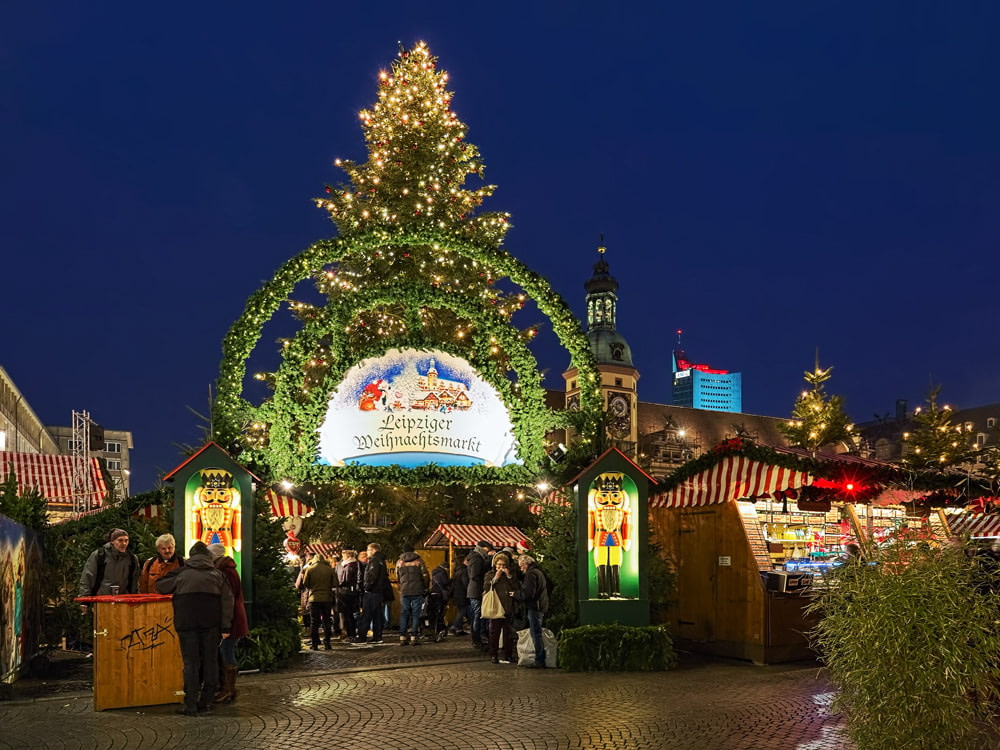 Dates: November 22nd – Dec 23rd, 2022.
Leipzig prides itself with the second oldest Christmas market in Germany, a tradition that dates back to 1458. Located in front of the Old Town Hall, in the city's historic center, Leipziger Weihnachtsmarkt greets visitors with over 250 glowing stalls full of fascinating holiday gifts and delicious foods. It is a magical place bursting with culture, history, and traditions, where the festive atmosphere is maintained by trumpet fanfares and Christmas concerts performed by the illustrious St. Thomas Boys Choir.
Don't miss the unique Finnish Village on Augustusplatz, whose Scandinavian-style tents entice passersby with native delicacies like smoked salmon and Glögi (berries mulled wine), or the historical Christmas Market of "Ancient Leipzig" at the Naschmarkt, which is a showcase of the best local art and craft.
Leipzig Christmas Market is also home to the world's largest free-standing Advent Calendar (857 m2), a lofty Saxon spruce Christmas tree, a 38-meter-high Ferris wheel, as well as the Fairytale Forest, where children can meet Santa Claus.
Where to stay in Leipzig: Travelers looking for an affordable, design-oriented stay in the heart of the city, may want to check out Motel One Leipzig-Augustusplatz. Though compact, its sleek, modern guestrooms come equipped with rain showers, flat-screen TVs, and soundproofing, and there's also a nice rooftop bar overlooking the city.
Nuremberg Christmas Market
Dates: November 25th – December 24th, 2022.
Nuremberg's Christkindlesmarkt is one of the world's most famous Christmas markets, a charming winter fairyland sprinkled with picturesque wooden stalls, old-fashioned carousels, and lazy snowflakes.
The postcard-perfect Nuremberg Old Town comes to life at the end of November each year, when its lovely Christmas stands are tastefully decorated with fresh garlands and red-and-white cloth, while tempting scents of gingerbread and roasted almonds fill the chilly, crisp air.
The products on offer are renowned for their high quality. Neither plastic decorations, nor taped carols are allowed here, so prepare yourself for a truly authentic display of Christmas ornaments, unique toys, and superior handcrafts. The same exigency applies to food, therefore your culinary experience will certainly be something special.
Traditional foods include Nuremberg's spicy gingerbread, the delicious Nuremberg Bratwursts, and all sorts of freshly baked goods. A series of events and celebrations complement the enchanting atmosphere, making the Christkindlesmarkt in Nuremberg – also known as the "Little Town of Wood and Cloth" – one of the best Christmas markets in Germany and an experience not to be missed during your winter holidays.
Where to stay in Nuremberg: With a stay at Brunnen Apartments, you'll be right in the heart of the Mitte district, next to Nurnberg's famous Christkindlesmarkt. Choose between 4 lovingly decorated apartments equipped with all modern comforts, from seating/ dining areas and fully equipped kitchens to free Wi-Fi & toiletries.
Magdeburg Christmas Market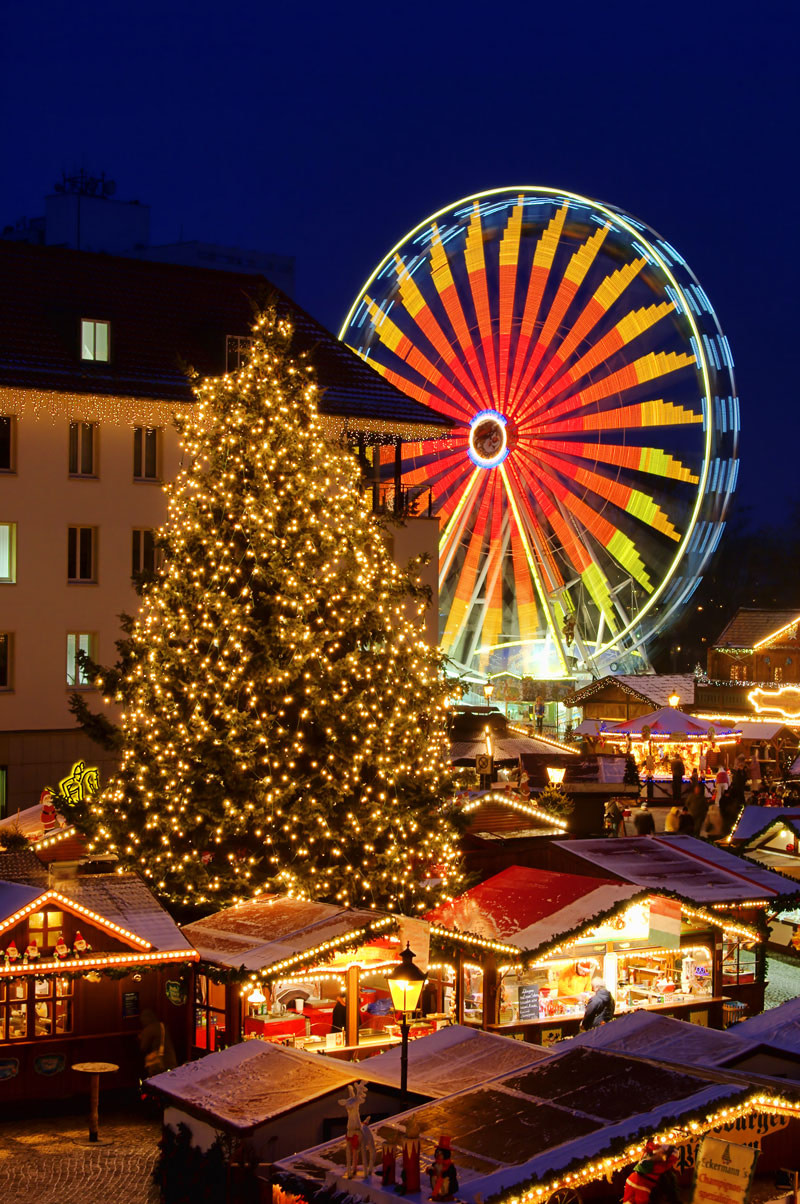 Dates: November 21st – December 29th, 2022.
Although not as popular as the Christmas markets mentioned above, the one in the Saxony-Anhalt's capital still has its fair share of Christmassy charm added to the gorgeous historical backdrop.
The cheerful stalls selling all kinds of seasonal decorations and tasty goodies, the medieval buildings bathed in festive glow, the seductive aromas of candy floss and mulled wine, the magical Christmas music, and the children's fun fairs make Magdeburger Weihnachtsmarkt an ideal Christmas destination.
And it's not just the shopping that draws tourists here each winter, but also the fascinating family-friendly events and the cozy, festive atmosphere that shrouds the Magdeburg Christmas Market every December.
Where to stay in Magdeburg: Fans of quirky accommodation will go wild for this whimsical Hundertwasser-designed property at the Green Citadel of Magdeburg. Aptly named Arthotel Magdeburg, the bright pink building houses colorful rooms and suites featuring playful furnishings, grassy balconies, and funky Dali-esque bathrooms envisioned by the famous Austrian architect.
Berlin Christmas Markets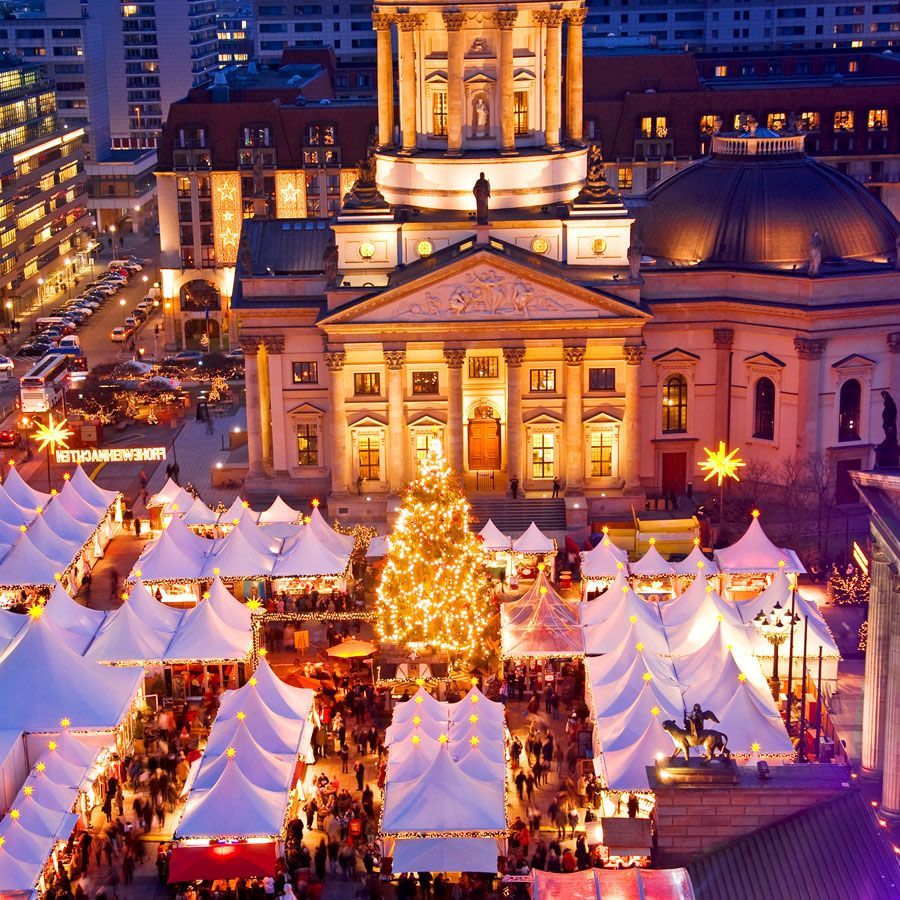 With more than 70 Christmas markets dotted throughout the city between the end of November and New Year's Eve, it's no wonder Berlin has a special glow around Christmas.
Widely regarded as the capital of Christmas markets, the city boasts an incredible variety of fairs, where artists, jewelers, and musicians lure visitors into a wonderful atmosphere. The diverse mix of vendors, the handmade Yuletide decorations, the atmospheric lights, and the many fragrances that spring out from the stalls endow the German capital with tons of festive cheer throughout December, transforming it into a magical winter wonderland.
From the idyllic traditional stalls of Adventsmarkt and Alt-Rixdorfer Christmas Market (on Richardplatz) to the Advent Artist Station at Mexikoplatz and the Finnish Christmas Bazaar at the Finland Centre, the eclectic German capital has a holiday fair for each type of visitor.
Some of the best and most popular Christmas markets in Berlin can be found at the Charlottenburg Castle and next to the Kaiser Wilhelm Memorial Church, both of them featuring gorgeous historical settings, all kinds of traditional local goods, and an intoxicating Christmas vibe.
Also worth visiting are the rooftop Christmas market at Klunkerkranich, the traditional eco-market on Kollwitzplatz, and, of course, the legendary Spandau Christmas Market, with its adorable animals and merry-go-rounds.
For Christmas shopping with a twist, head to the Scandinavian-themed Lucia Christmas Market or stop by Christmasrodeo, a Design Christmas Market teeming with fashion, jewelry, quirky works of art, and delicious street food.
Where to stay in Berlin: Located directly on Alexanderplatz Square, this 4-star hotel makes a great base for exploring Berlin's wonderful Christmas Markets. Marble bathrooms, heated floors, and panoramic views grace the tasteful rooms, while three different restaurants, a wellness center, and a rooftop terrace add to Park Inn by Radisson Berlin Alexanderplatz's appeal.
Frankfurt Christmas Market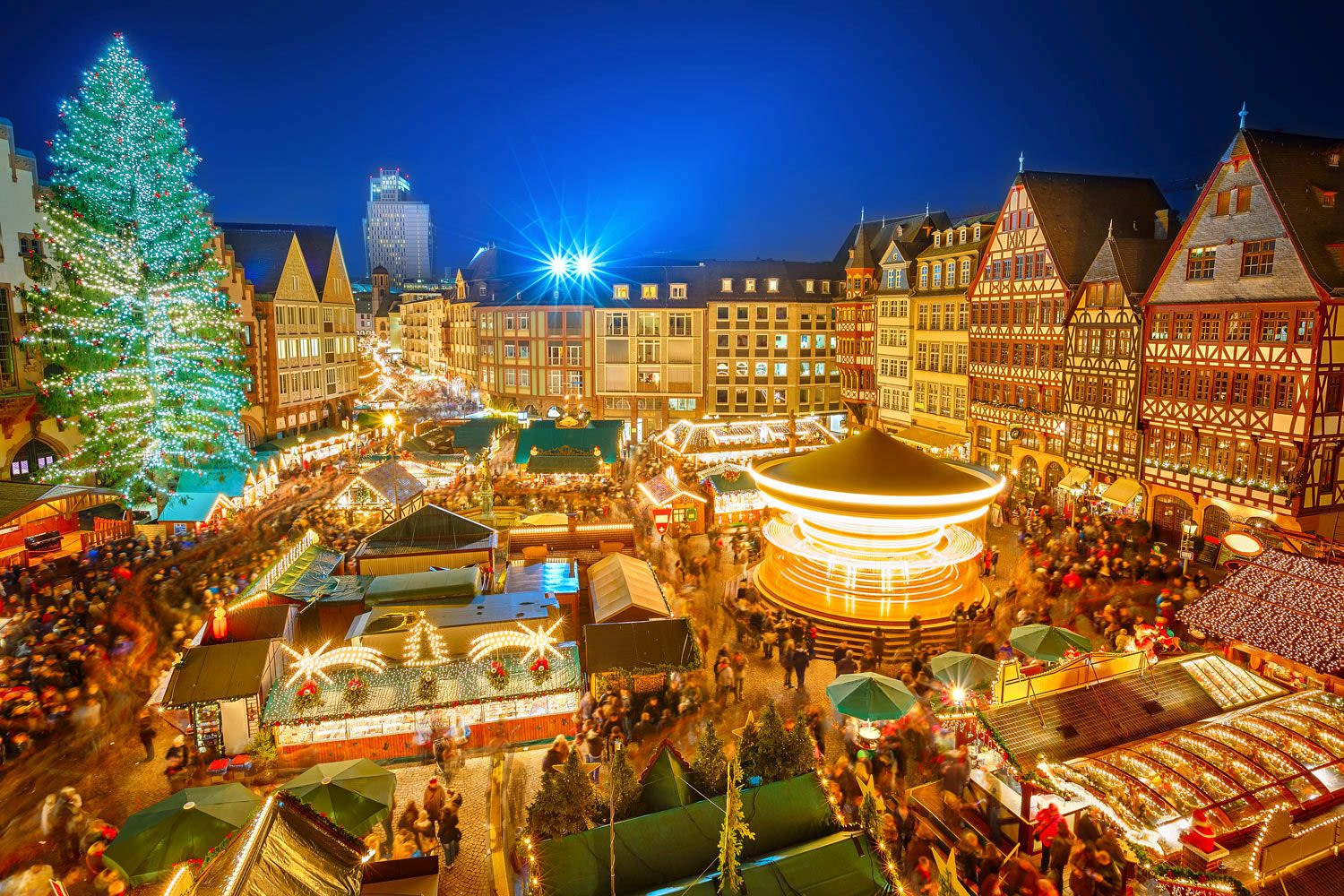 Dates: November 21st – December 22nd, 2022.
Dating back to the 14th century, Frankfurt's Christmas Market is one of Germany's oldest, biggest, and most captivating. It spreads across the city's historic old town, with most of the action taking place around Römerberg, surrounded by traditional half-timbered houses and fairy lights.
In addition to the ever-present mulled wine, baked apples, roasted nuts, and fragrant gingerbread, the Weihnachtsmarkt in Frankfurt is especially famous for its delicious regional goodies, including hot apple wine, small dried plums figurines, and Bethmännchen (traditional marzipan and almond biscuits).
Otherwise, over 200 handsomely decorated stalls sell everything from native arts and crafts to genuine honey-based products. A giant Christmas tree and choirs singing heavenly carols only add to the festive atmosphere.
Where to stay in Frankfurt: If all you care about is having Frankfurt's festive Christmas stalls on your doorstep, you'll be hard-pressed to find a better location than Miramar Hotel. Rooms are basic but do include mini-fridges, coffee/tea facilities, free Wi-Fi, and flat-screen TVs, and there's also a complimentary breakfast buffet served each morning.
Cologne Christmas Markets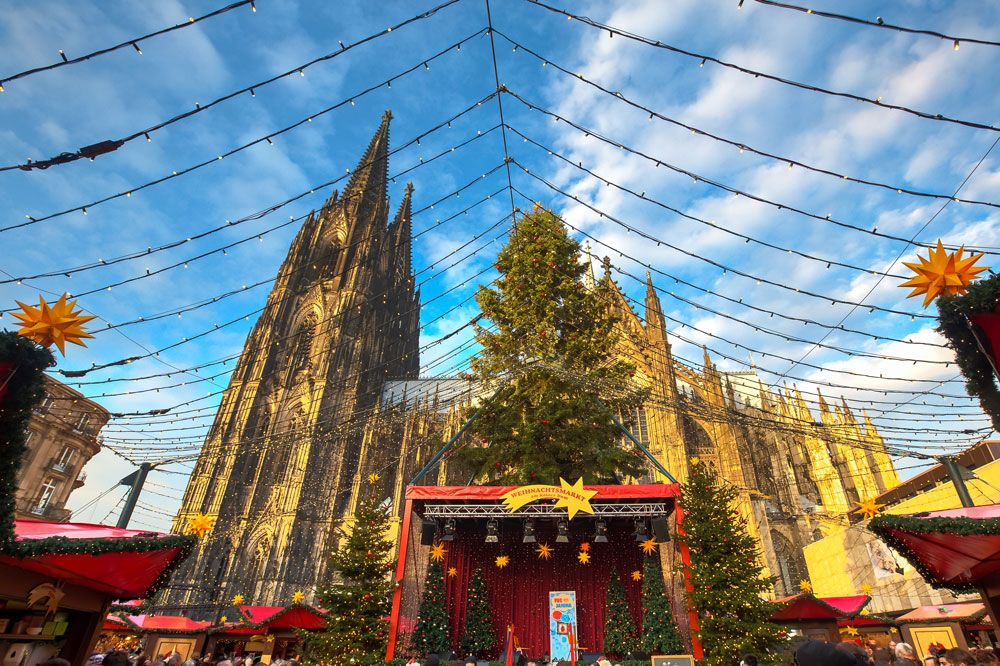 Dates: November 21st – December 23rd, 2022.
Cologne, the city that gave birth to the delicious mulled wine, welcomes its winter tourists into a magical land of Christmas markets. From traditional to glamorous and from the Old Town to the Rhine, each of Cologne's Christmas markets has its own unique charisma.
Probably the most impressive of all is the one set up against the city's spellbinding Gothic Cathedral (Cathedral Christmas Market), where more than 160 stalls full of life and magic seduce visitors with an excellent array of arts and crafts. With the same charm, but another magnificent backdrop, Cologne's Old Christmas Market stands out due to its rustic appeal that perfectly complements the cobbled Alter Markt.
Equally delightful are the tenderly festooned Angel's Christmas Market on the Neumarkt; the maritime-flavored Harbour Christmas Market overlooking the Rhine; the idyllic village-like Christmas Market at Stadtgarten; as well as the hip Christmas Avenue at Bermuda Triangle – Cologne's gay and lesbian Christmas Market.
Where to stay in Cologne: Nestled right opposite the majestic Cologne Cathedral, Excelsior Hotel Ernst immerses guests in a grand and glamorous atmosphere. Expect impeccable service, luxuriously classic rooms, Michelin-starred dining, and a decadent afternoon tea inspired by Pierre Hermé.
Stuttgart Christmas Market
Dates: November 23rd – December 23rd, 2022.
With over 280 wonderfully decorated wooden huts set up in the heart of the city center, Stuttgarter Weihnachtsmarkt is one of the biggest Christmas markets in Germany.
During the Advent season, the Inner City is ablaze with holiday spirit as the squares are bathed in festive lighting, and market stall owners compete for the most beautiful rooftop decor. Christmas concerts take place daily in the Renaissance inner courtyard of the Old Palace, and Stuttgart's town hall is transformed into a gigantic Advent calendar. Old-fashioned carrousels, a fairytale grotto, and the traditional miniature railway drawn by a real steam locomotive will keep children happy while parents shop for gifts and sip on delicious mulled wine.
In addition to the usual gingerbread and roasted chestnuts, the Stuttgart Christmas market offers a variety of Swabian culinary specialties, including Maultaschen – a giant ravioli filled with mincemeat and spinach.
Where to stay in Stuttgart: EmiLU Design Hotel combines attractive mid-century modern aesthetics with top-notch amenities for a special stay right in the heart of the historic center of Stuttgart. Industrial-style lamps and warm walnut wood dress the atmospheric rooms, while a fitness and sauna area provides the perfect place to relax after roaming around the market stalls all day.
Esslingen Medieval Christmas Market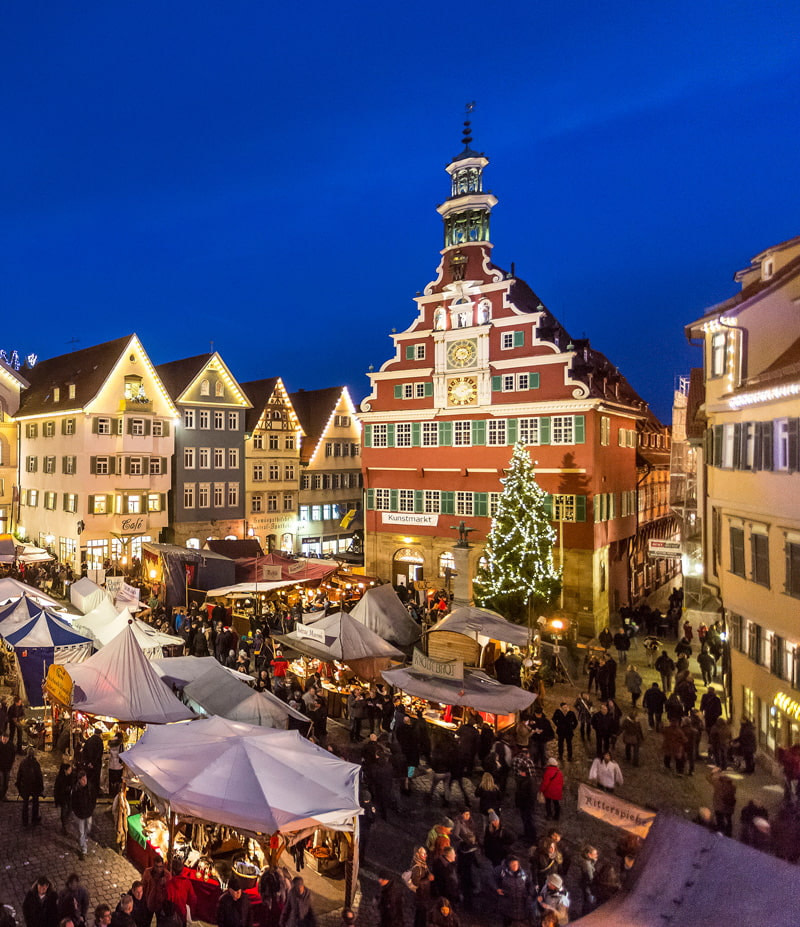 Dates: November 22nd – December 22nd, 2022.
Held in magnificent half-timbered surroundings, Esslingen Medieval Christmas Market takes visitors on a journey back in time with jugglers, fire-eaters, stilt walkers, and merchants wearing historical costumes. Adding to the time-warp feel are archery tournaments, medieval music and dances, as well as unique workshops where one can learn how to smoke and cure food, or watch craftsmen practicing ancient trades.
To fully immerse yourself in the medieval atmosphere, swap your mulled wine for gluhbier (mulled beer) or try the local mead – a honey wine popular in the Middle Ages.
Where to stay in Esslingen: Its comfy rooms, friendly service, and convenient location on the edge of the Old Town make Hotel am Schelztor a wonderful option for visitors to Esslingen Medieval Christmas Market. A delicious breakfast is included with your stay, and paid private parking is available on-site.
Rothenburg ob der Tauber Reiterlesmarkt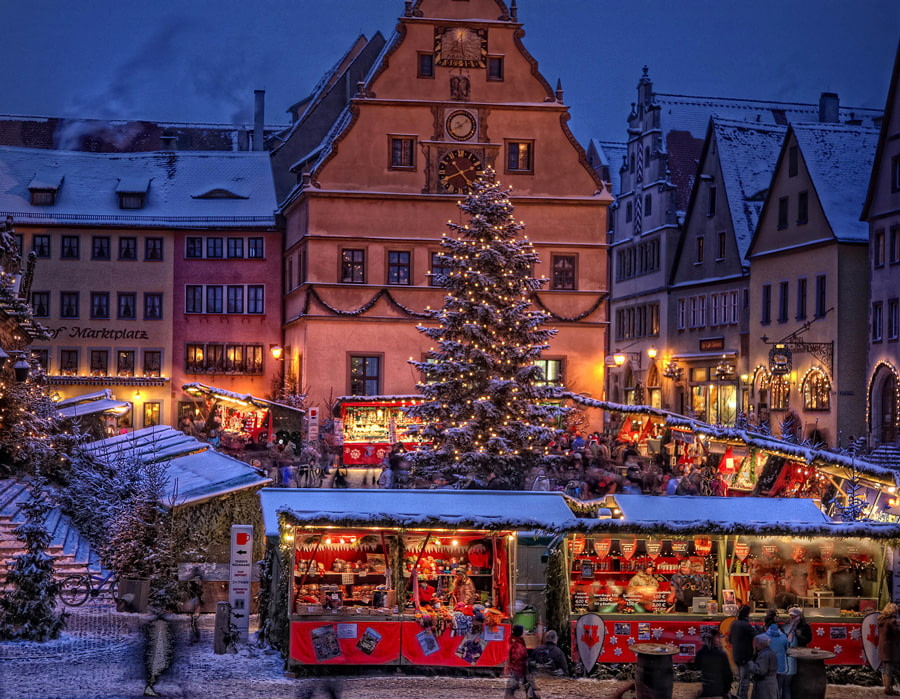 Dates: November 25th – December 23rd, 2022.
You'd be hard-pressed to find a more beautiful Christmas market than that one in Rothenburg ob der Tauber, a storybook Bavarian town with fanciful half-timbered houses, red-tiled roofs, and cozy boutique-lined cobblestone streets. Smack in the well-preserved medieval quarter, the 15th-century Reiterlesmarkt turns the city into a living Christmas card. Pair that with guided torchlight walks, ancient German pastries, and a year-round Christmas Museum full of historical decorations, and you've got what they call Germany's Christmas capital.
Where to stay in Rothenburg: In tune with the town's timeless storybook charm, Hotel Eisenhut welcomes patrons in charmingly traditional surroundings straight out of the Middle Ages. Enclosed within Rothenburg ob der Tauber's ancient walls, its rooms range from modern to traditional, and some offer lovely views over the Tauber Valley.
Hamburg City Hall Christmas Market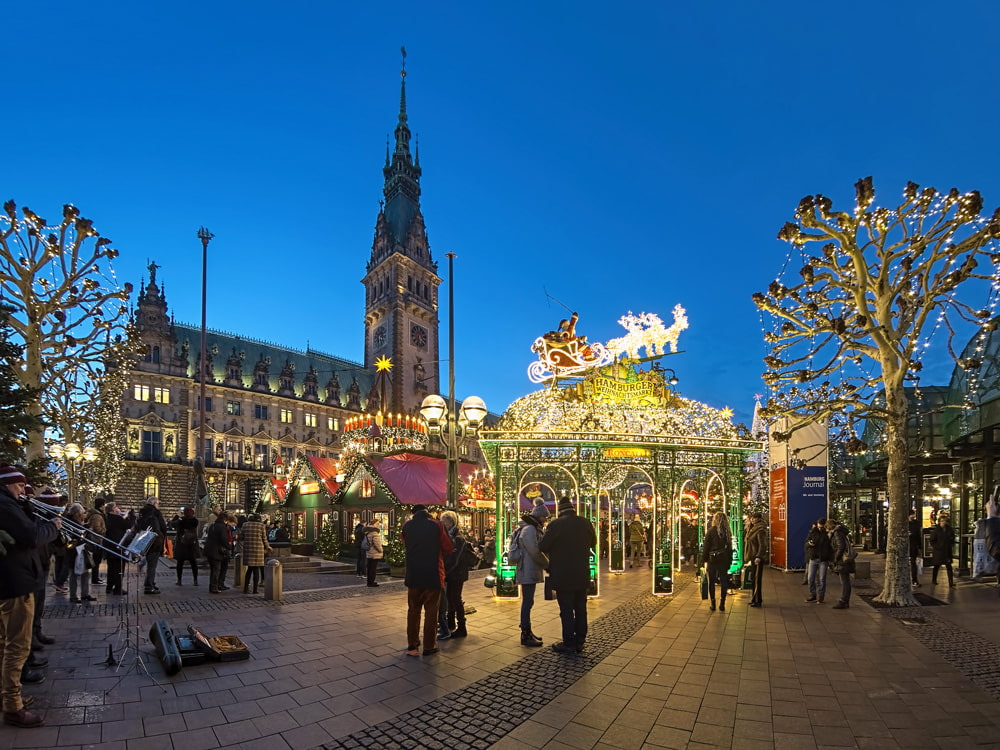 Dates: November 17th – December 29th, 2022 (closed on Dec. 24th and 25th).
Hamburg's edginess is proudly reflected in the city's collection of over 30 Christmas markets, which range from dog-themed to maritime-flavored to the world's first erotic Christmas market.
The largest and most impressive, however, is Weihnachtsmarkt, held in front of the City Hall. Here, masterful craftsmen and artisans from all over the country display and sell their handicrafts in elaborately decorated huts set around a giant Christmas tree. You'll find wood carvings from Tyrol, pottery from the Lausitz region, original Nuremberg gingerbread, and even handcrafted Christmas ornaments from the Erzgebirge region.
Where to stay in Hamburg: Vintage telephones, antique writing desks, and book-laden shelves give Henri Hotel Hamburg Downtown a classy, retro vibe. Equally close to the Mönckebergstraße, Rathausmarkt (town hall market), and the train station, the action at this contemporary boutique property revolves around the eclectic lobby, which serves as a common lounge, front desk, and breakfast area.
Ravenna Gorge Christmas Market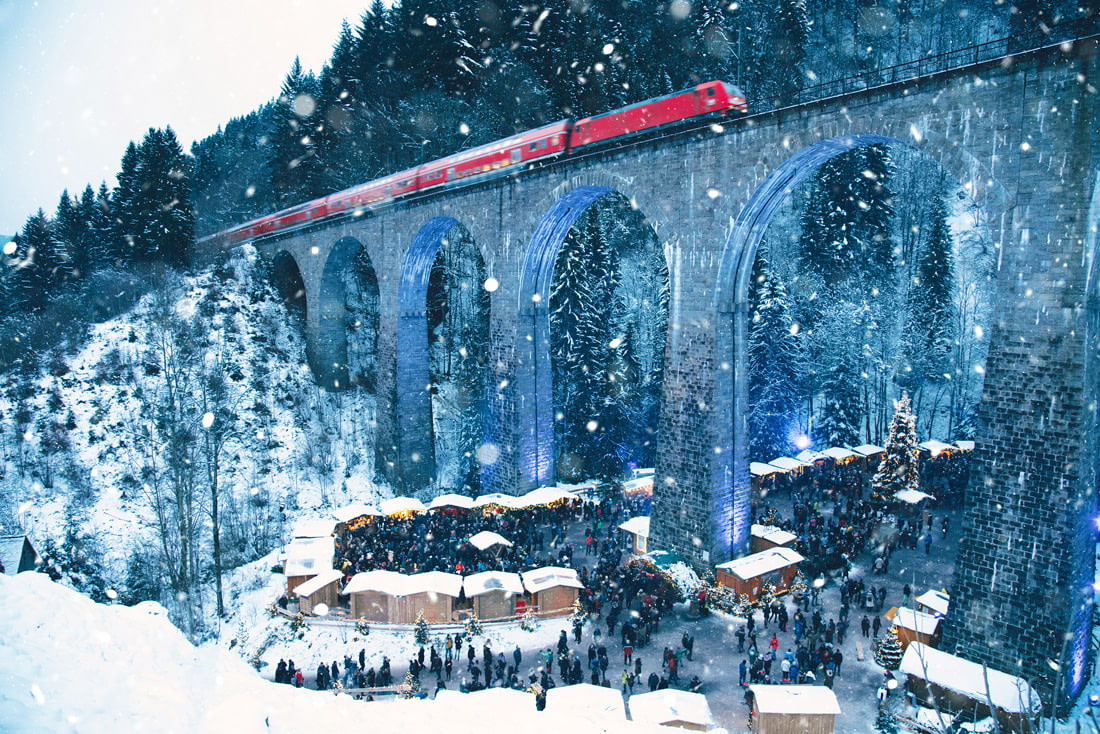 Dates: November 25th – December 18th, 2022 (Friday to Sunday).
Tucked away below the illuminated stone arches of a 130-foot-high railway viaduct, in the middle of the Black Forest, you'll find one of Germany's most unique Christmas markets. The peculiar fair stands out for its dramatic setting in a snowy valley surrounded by steep forested mountains and consists of 40 wooden chalets selling traditional handmade ornaments and tasty food. The dreamlike atmosphere is completed with live piano music and captivating light shows.
The Ravenna Gorge Christmas Market is about an hour by car from Freiburg and will only be open during the Advent weekends. Free shuttle buses take visitors from Hinterzarten and Himmelreich stations to the fair and back.
Where to stay in Ravenna: While you won't find any places to stay in the immediate area, Brugger's Hotelpark at Titisee provides a relaxing escape with a variety of amenities. Situated 6.2 km (approx 9 min by car) from the Ravenna Gorge Christmas Market, it pampers guests with delicious Black Forest specialties, its own private lake beach, and a fabulous 1,200 m² spa area complete with a Finnish sauna, Turkish steam bath, and indoor swimming pool.
What's your favorite Christmas market in Germany?