This post contains affiliate links, which means we may receive a small commission, at no additional cost to you, if you make a purchase through these links. See our full disclosure here.
As weight restrictions are becoming the norm worldwide for carry-ons, those in the know are increasingly seeking the lightest weight luggage on the market. Thankfully, many brands are taking note; many new models of travel packs, trolleys, and weekenders are produced with their weight in mind, giving you more opportunity to pack however you'd like. A lightweight bag can really come in handy, particularly for minimalist and single-bag travelers, especially those needing to tote dense equipment like cameras and other tech.
If you're on the hunt for the best lightweight carry-on luggage, read on to find some of the premier pieces on the market.
July Carry On Light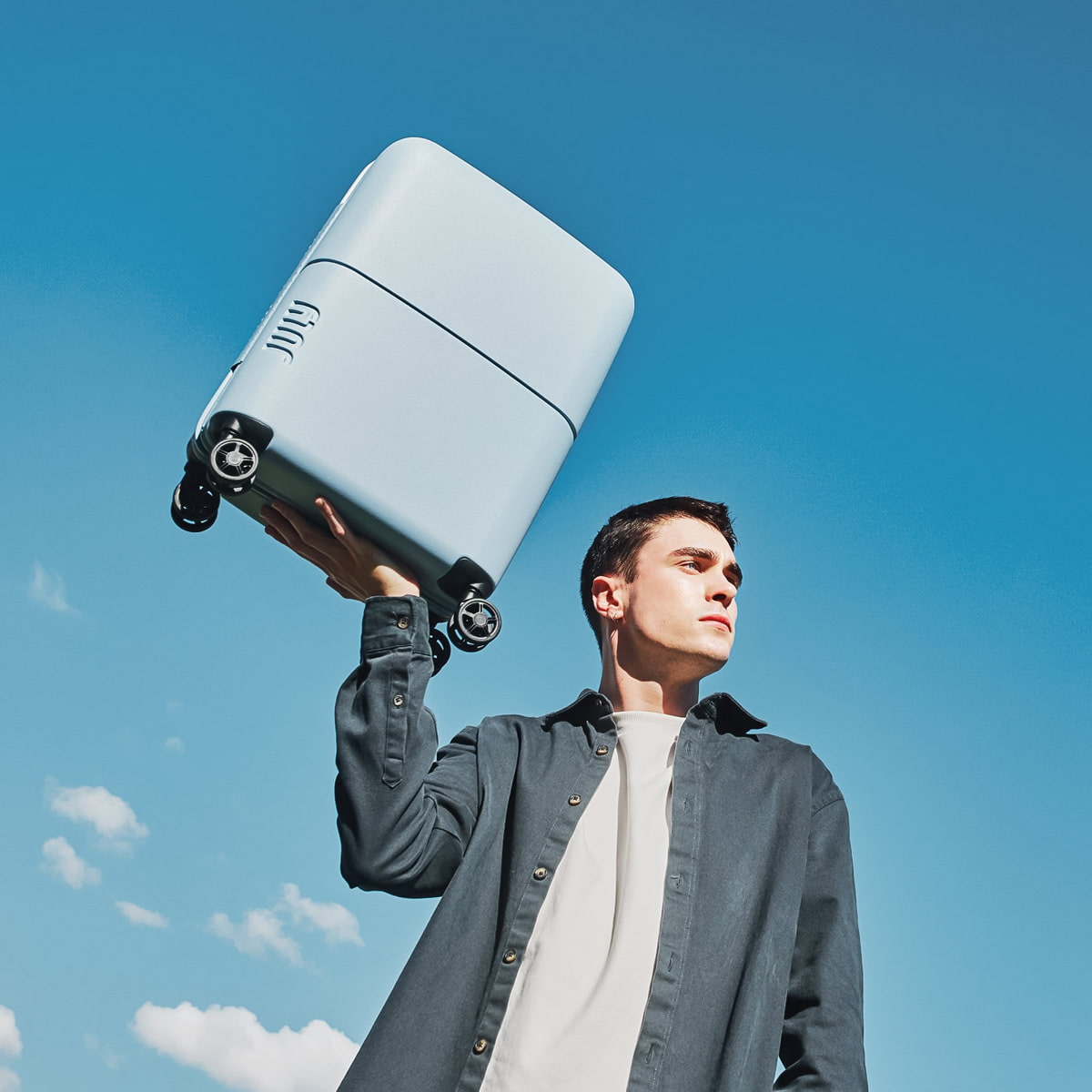 Dimensions: 21.25″ x 14.25″ x 7.5″ (54 x 36 x 19 cm)
Weight: 3.9 lbs (1.8 kg)
Straight from Australia's capital of cool, July's Carry On Light checks all the boxes of today's travelers. It's got a tough German polycarbonate shell, simple yet effective organization, cloud-like lightness, and a clean, contemporary design that's easy on the eyes. In fact, at just 1.8 kg (3.9 lbs), it is the lightest rolling suitcase in the world.
Available in a multitude of Millennial-inspired colors, including Sand, Forest, and Shadow Lavender, this hard-shell spinner will keep you on-trend during your next adventure. Its silent 360° double spinner wheels travel smoothly on all surfaces, and you can also personalize your case with a custom print that promises to last as long as your luggage. Last but not least, a dual-bar 3-stop telescopic handle and TSA-approved lock add to its utility.
Rimowa Essential Lite Cabin U
Dimensions: 19.6″ x 13.7″ x 7.8″ (50 x 35 x 20 cm)
Weight: 4.4 lbs (2 kg)
Rimowa's lightest suitcase yet, the Essential Lite Cabin U, only weighs 4.4 pounds – far under the industry median for a piece of luggage this size – so you still have plenty of wiggle room within even the strictest airline's weight requirements. Rounding out the design are all of the same premium trappings you'd expect of the legendary German brand: ball-bearing mounted ultra-quiet wheels, an extendable T-bar-shaped handle, and their signature leather luggage tag.
While a Rimowa suitcase is undoubtedly an investment, they are the inventors of the polycarbonate suitcase and arguably still execute them the best. If your only rubric is quality, the lite Cabin U might be the best lightweight luggage under five pounds on the market today.
Ramverk Carry-on Parhelion Orange
Dimensions: 21.6″ x 14.5″ x 8.2″ (54 x 37 x 21 cm)
Weight: 7 lbs (3.2 kg)
After years of reviewing luggage, I am convinced that polycarbonate strikes the perfect balance between lightness and protection. If that's what you're looking for, the Db Raverk Carry-on is an easy recommendation. We like its sporty, contemporary silhouette in this fresh Parhelion Orange, but every taste has color options.
Whatever shade you go for, this good-looking and comfortably lightweight cabin case is ready to roll thanks to its silent 360° Japanese Hinomoto wheels and custom-designed 3-stop telescopic trolley handle. On top of that, it's built with recycled materials and features internal mesh pockets and a 16" laptop compartment for efficient packing. We also love that all pieces in the Raverk luggage range have been thoughtfully shaped to be nestable within one another, making storage easy when not in use.
Travelpro Maxlite 5 Softside Expandable Luggage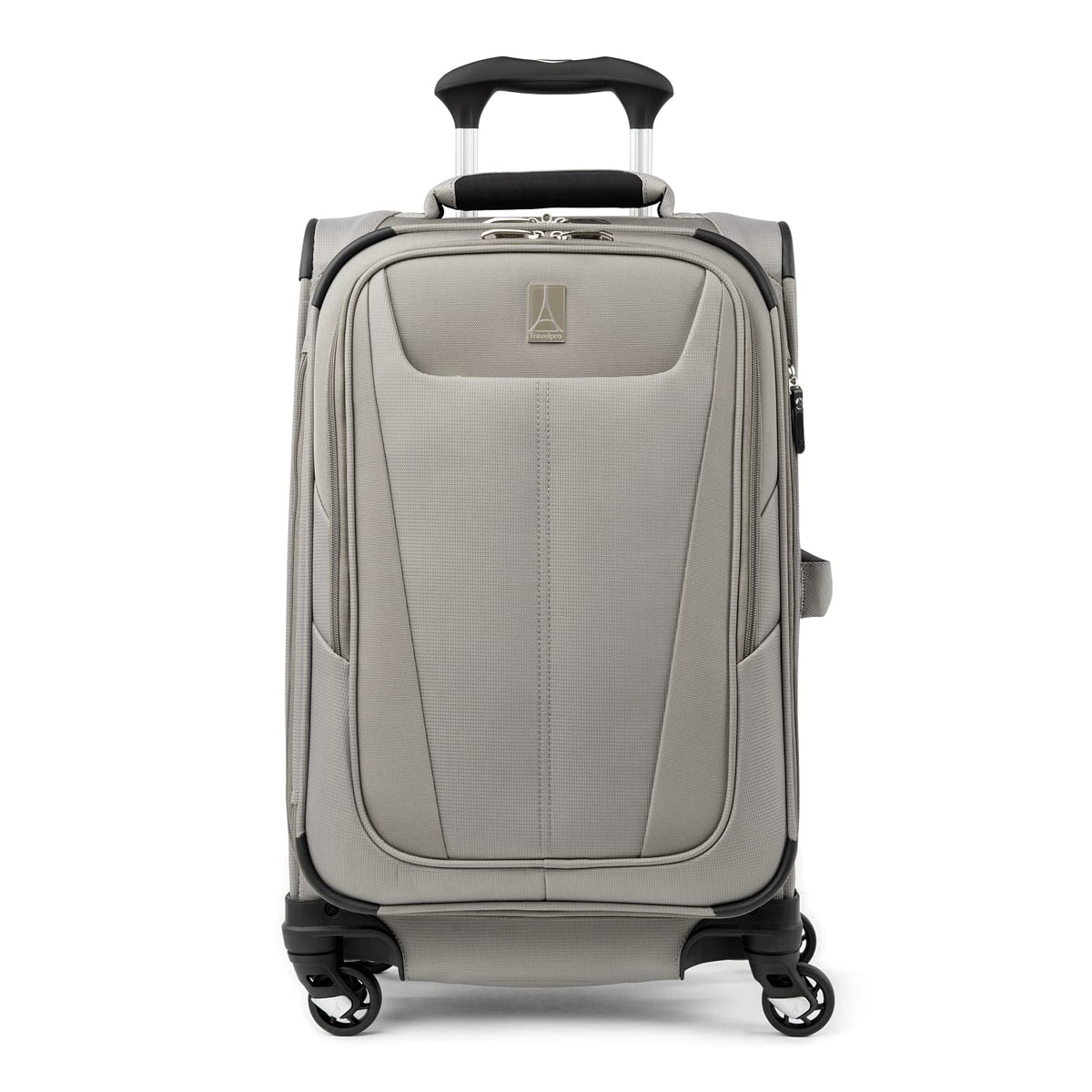 Dimensions: 23.5″ x 14″ x 9″ (59.7 x 35.6 x 22.9 cm)
Weight: 5.4 lbs (2.4 kg)
It may seem counterintuitive, but soft-sided luggage may be the better bet for frequent travelers, as polycarbonate suitcases are more prone to show the wear and tear they endure. Enter the Travelpro Maxlite 5, a super affordable and dependable rolling trolly crafted from a stain and water-resistant material. Though it's only five and a half pounds, it has a whopping 46 liters of packing space; if you need more room, it expands an extra two inches, just in case. Bonus: unlike most hard-sided trolleys, the front pocket has many organizational features to keep your essentials at hand.
Bellroy Transit Backpack Plus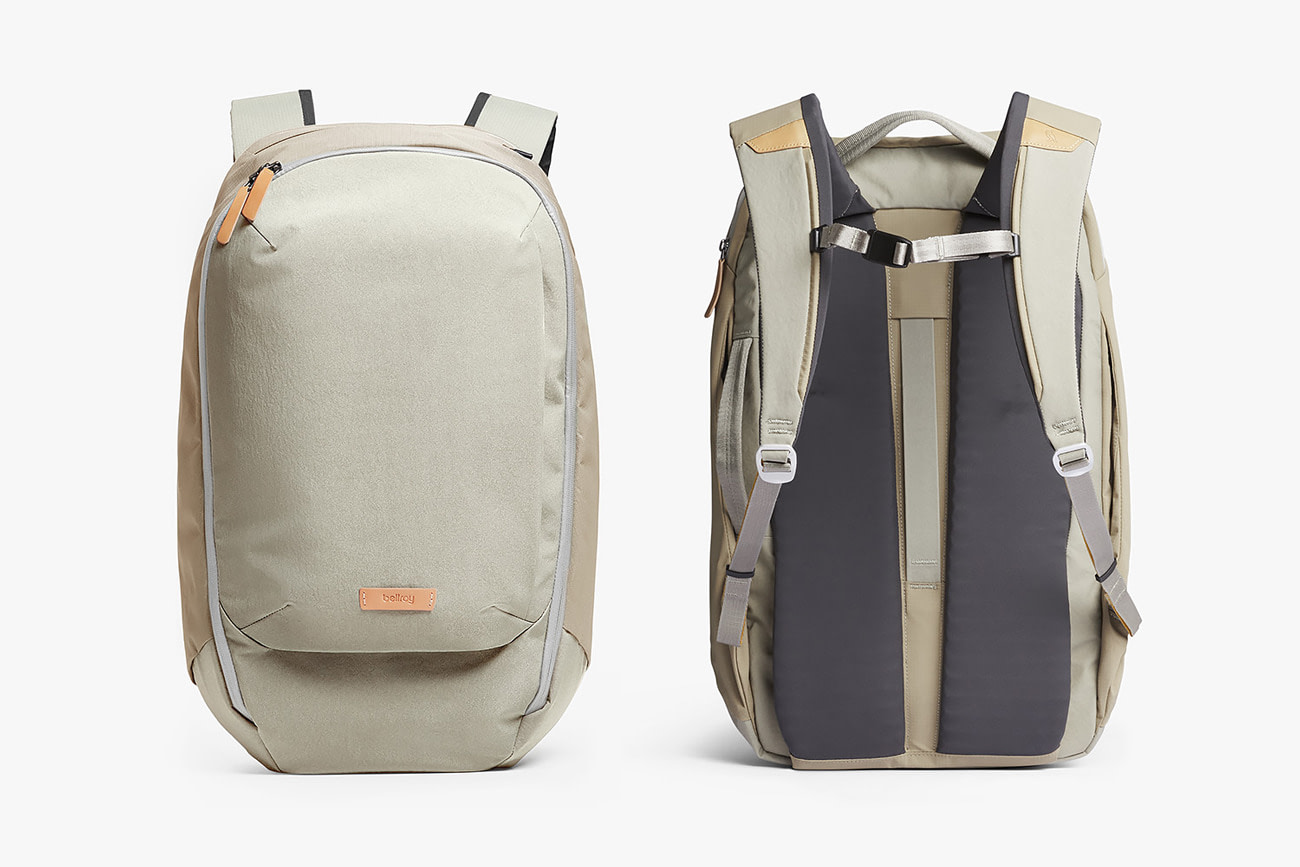 Dimensions: 21.6″ x 14.9″ x 9.4″ (55 x 38 x 24 cm)
Weight: 3.3 lbs (1.5 kg)
While there are countless well-designed carry-on backpacks to trade up your old suitcase to when you want to travel hands-free, it's hard to argue the quality build and clever features of Bellroy's Transit Backpack Plus.
Made with water-resistant recycled woven polyester and trimmed with environmentally certified leather, this travel bag looks as good as it performs. It offers separate access to tech, a clamshell opening for easy packing, and its ergonomic contoured shape with breathable padding makes for comfortable all-day carrying.
In terms of organization, the carry-on-sized 38-liter pack is thoughtfully outfitted with a place for everything, including a flat mesh compartment for your folded shirts, as well as a handful of invisible external-access pockets for storing your wallet, passport, and water bottle.
Rollink Flex Vega Collapsible Carry-On Suitcase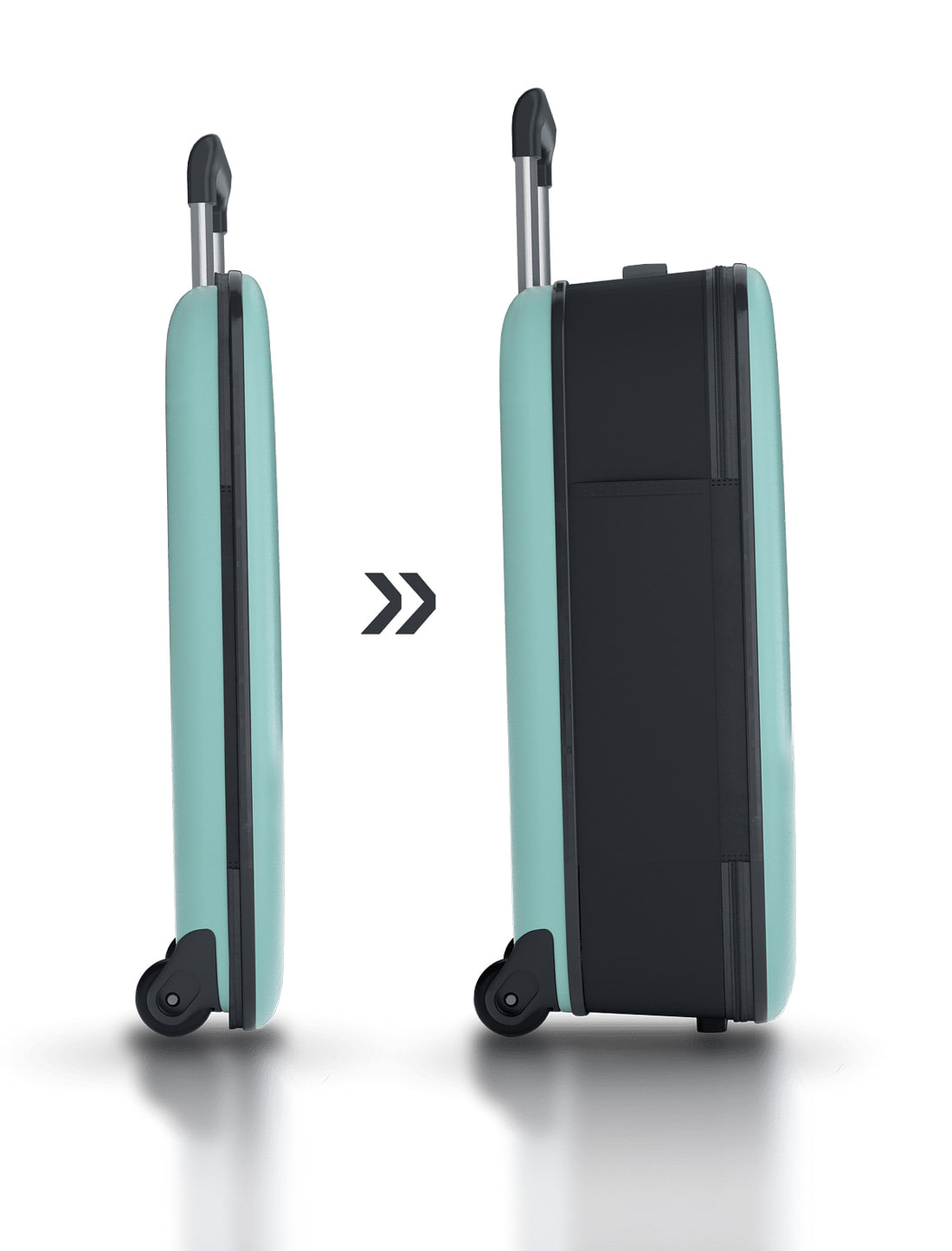 Dimensions: 22″ x 14″ x 9″ (55.8 x 35.5 x 23 cm)
Weight: 5.1 lbs (2.3 kg)
If your apartment is short on storage, you've likely struggled with storing your luggage when you're not on the road. Thankfully, the Flex Vega Collapsible Suitcase from Rollink may solve this problem perfectly with the world's first collapsible suitcase. Its unique design allows it to expand into a sturdy, rolling suitcase with a polycarbonate shell that protects your belongings and rolls effortlessly but stows diminutively as a duffel or a travel pack might. And no matter your style, it comes in enough colors that there's bound to be one that suits you.
Bric's B|Y Ulisse 21″ Expandable Spinner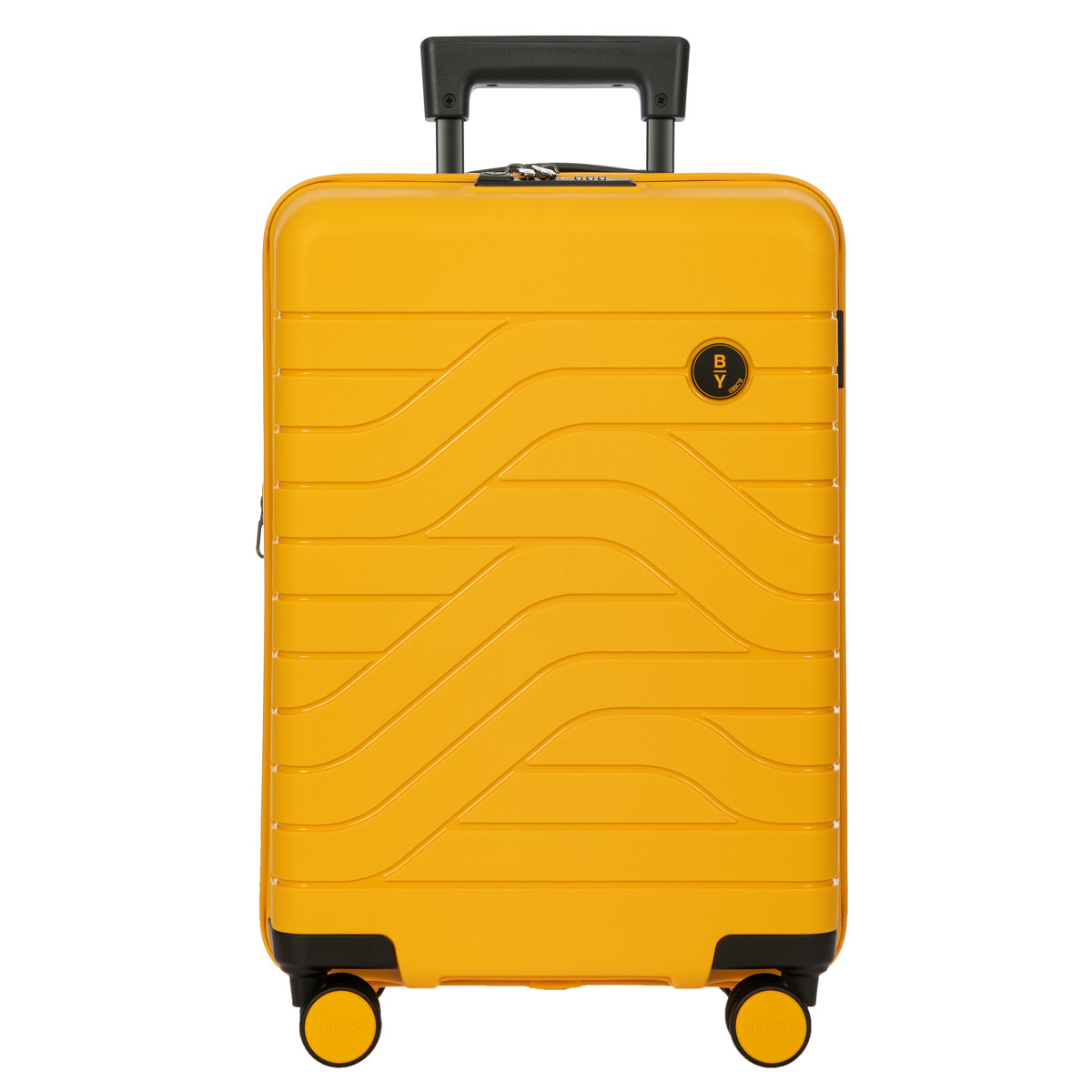 Dimensions: 21″ x 14″ x 9″ (53.3 x 35.5 x 23 cm)
Weight: 5.9 lbs (2.6 kg)
If you require a slick, sophisticated trolley without the heavy price tag, the Ulisse 21″ Expandable Spinner from Bric's will suit you perfectly. Its unfettered design invokes the best qualities of cosmopolitan living and is embossed with a pattern inspired by city streets. Though it has a generous capacity of up to 45 liters encased in a hyper-durable frame, it weighs less than five pounds; this is partially due to the use of polypropylene, known for being much lighter and less brittle than most of its counterparts.
Samsonite Proxis 22 x 14 x 9 Carry-On Spinner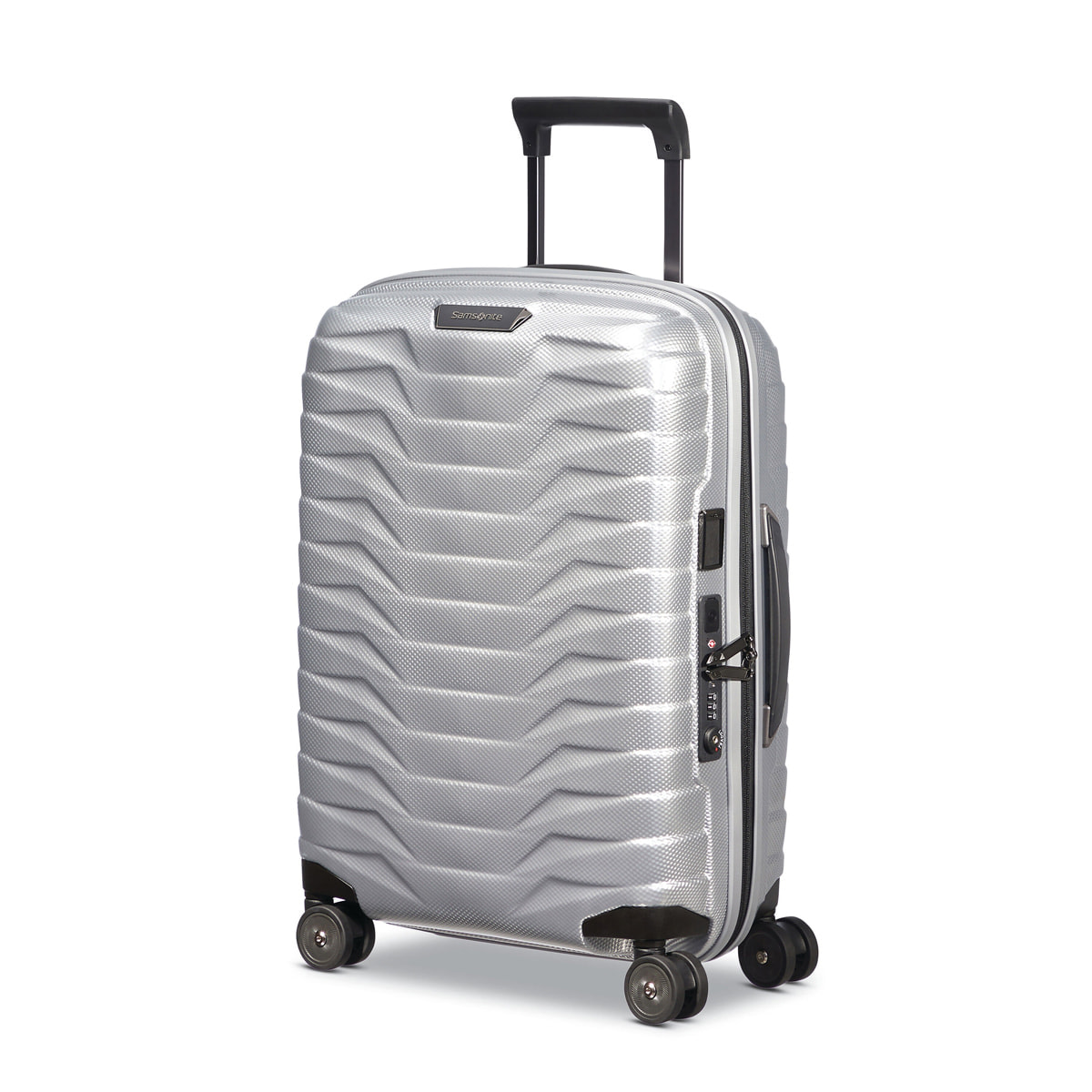 Dimensions: 23.6″ x 16.3″ x 9.3″ (60 x 41.4 x 23.6 cm)
Weight: 4.7 lbs (2.1 kg)
Samsonite created their own proprietary material to craft the Proxis Carry-On Spinner, making it one of their most lightweight suitcases to date. Called Roxkin, this revolutionary, multi-layered shell provides resiliency without brittleness, so it pops right back into shape even if it happens to get dented. While it's small enough to adhere to even some of the most strict baggage size requirements, it has a vast amount of smartly organized packing space. It even has a USB charging port to keep you connected on the go.
Briggs & Riley Widemouth Cabin Spinner
Dimensions: 15.5″ x 14″ x 8″ (40 x 35.5 x 20.3 cm)
Weight: 6 lbs (2.6 kg)
Its compact design, excellent build quality, and unconditional lifetime guarantee make the Briggs & Riley Widemouth Cabin Spinner one of the best lightweight suitcases for quick plane trips. Part of the thoughtfully engineered Rhapsody Collection, the bag features a durable dirt-and-moisture-resistant exterior along with smart organization in the form of a Speed-Thru pocket for quick access, a padded laptop sleeve, an RFID-blocking security pocket, and convenient shoe pouches. The main compartment has room for a change of clothes and opens wide for full access to contents.
Peak Design Travel Backpack 30L
Dimensions: Standard: 20.9″ x 13.4″ x 7″ (53 x 34 x 18 cm) / Extended: 20.9″ x 13.4″ x 7.9″ (53 x 34 x 20 cm)
Weight: 3.17 lbs (1.44 kg)
Whether you're a beginner or an old pro at single-bag travel, the Peak Design Travel Backpack 30L is sure to impress. It's designed specifically to maximize your packing space while remaining within the size requirements for a carry-on so you can feel completely unfettered out on the road.
Unlike many of its competitors, this backpack features a unique expandable design, with clever tuck-away shoulder straps, 360-degree grab handles, and an optional hip belt accessory, making it a cinch to carry to any destination. After a year of regular use, its stellar organization and suitcase-like packing capabilities, along with the sleek and durable construction, led us to conclude that this might just be the best carry-on bag for international travel.
It Luggage Lite Duo-Tone 22″ Softside Carry-On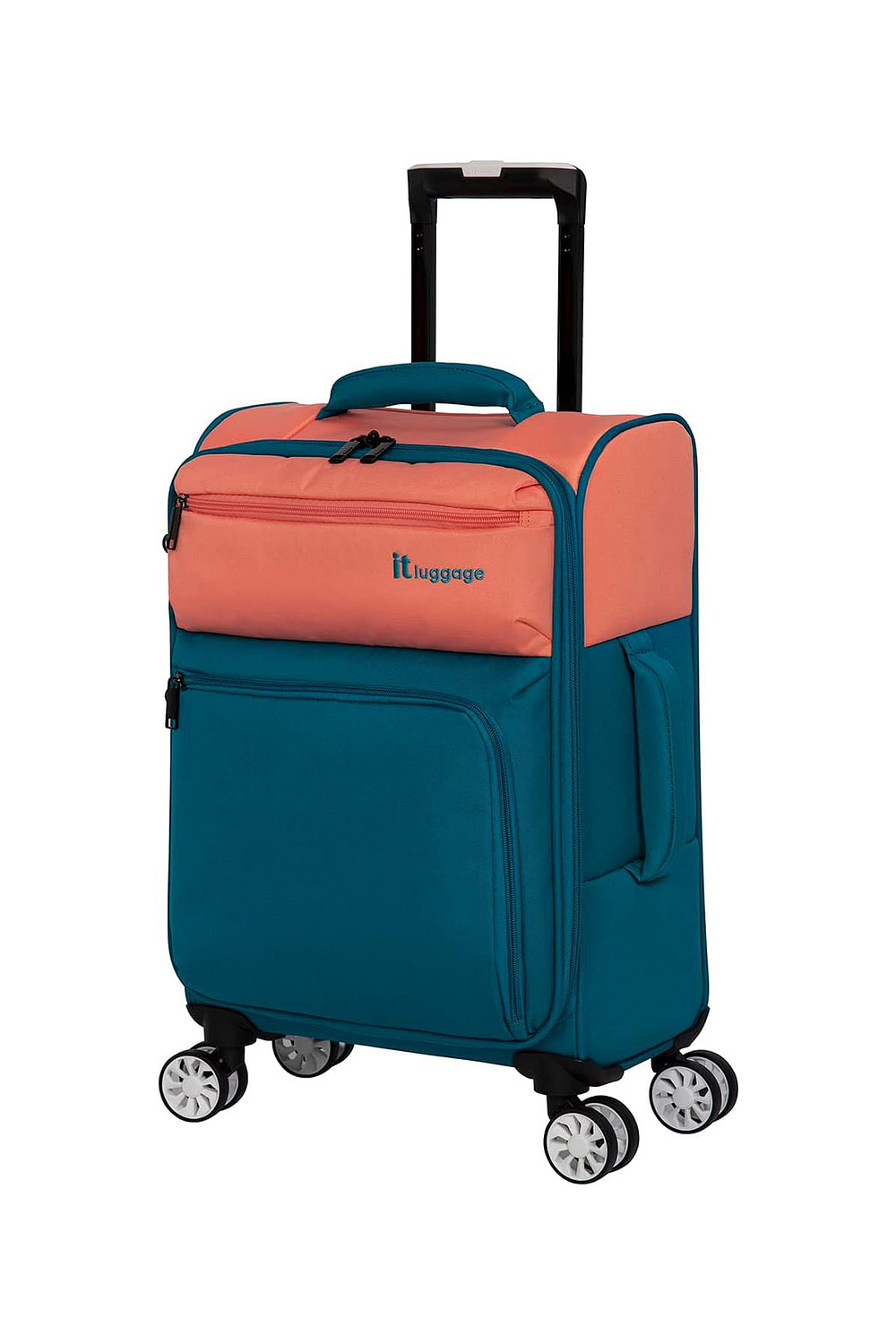 Dimensions: 22.4″ x 14″ x 9″ (57 x 35.5 x 23 cm)
Weight: 5.1 lbs (2.32 kg)
Not only is this softside cabin bag from It Luggage a great value purchase, but it's among the lightest carry-on luggage out there. Designed in the UK, it's made of long-lasting polyester in an eye-catching two-toned design and comes with an 8-wheel spinner system and a robust yet lightweight aluminum trolley system for breezing through the airport. Two zippered easy-access front pockets keep essential travel items on hand, and a TSA-approved lock makes your trip worry-free.
Hartmann InnovAire Global Carry-On Spinner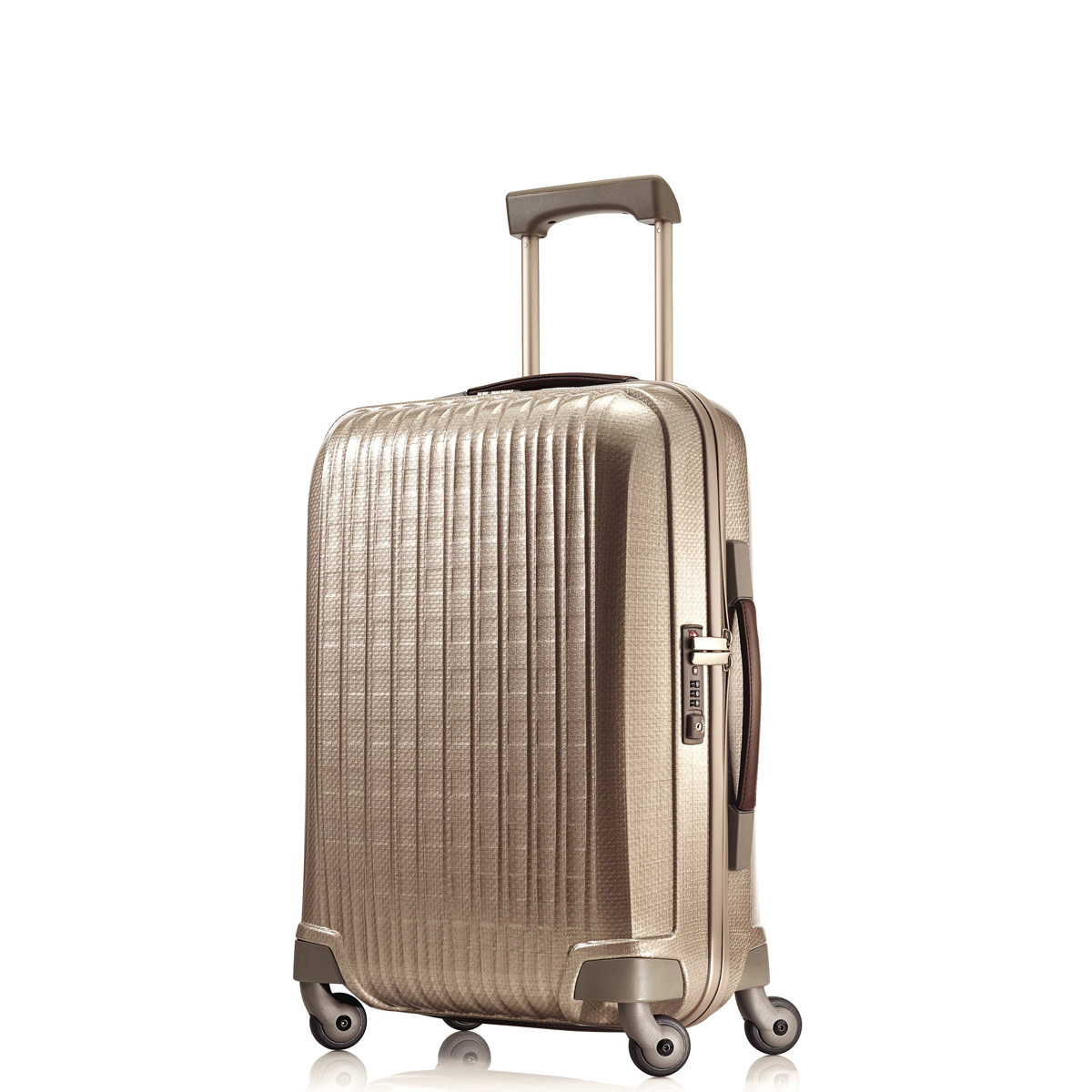 Dimensions: 21.7″ x 15.7″ x 7.9″ ( 55 x 40 x 20 cm)
Weight: 4.5 lbs (2 kg)
From smooth gliding wheels to a TSA security lock, the Hartmann InnovAire Global Carry-On Spinner has plenty of great features, but its true magic lies in its revolutionary construction – it's made with Curv®, a woven, self-reinforced polypropylene material known for its lightweight qualities and unparalleled shock impact performance. The leather handles are a luxurious touch, and the elemental color palette (think Graphite, Earth, and Ivory Gold) will make you stand out from the crowd.
DELSEY Paris Clavel Carry-On 19″ X-Small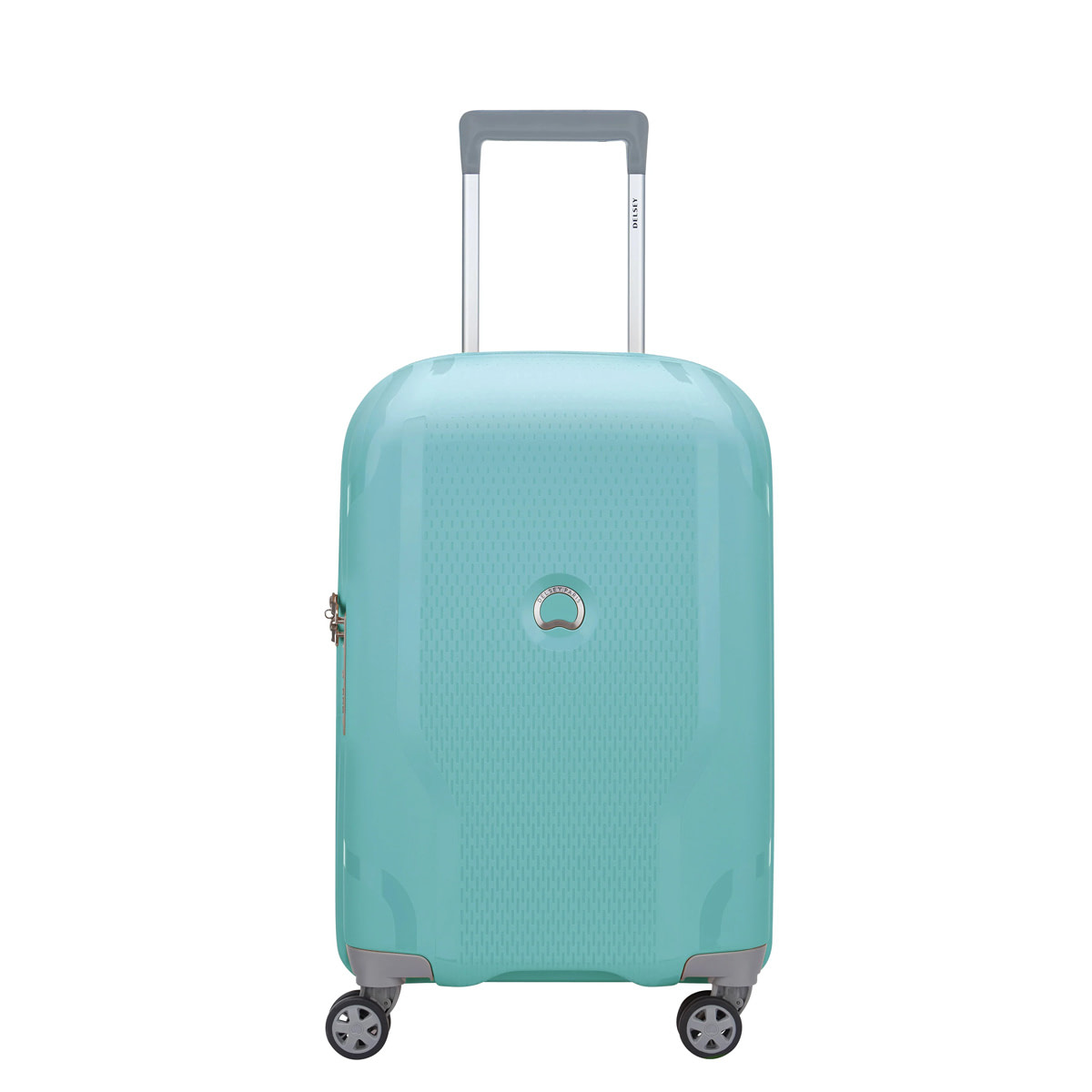 Dimensions: 21″ x 13″ x 9″ (53.3 x 33 x 23 cm)
Weight: 5.3 lbs (2.4 kg)
This ultra-lightweight luggage piece from DELSEY Paris is a frequent flyer's dream. Winner of the 2020 Red Dot Design Award, it packs all the features you require in an elegant design that you can lift with one hand. The brand's patented intrusion-resistant zip closure system provides peace of mind, while the 360° wheels ensure excellent maneuverability even when the suitcase is full. Inside, you have two packing compartments with tie-down straps and zippered mesh divider to hold everything in place.
The Hugger Backpack 30L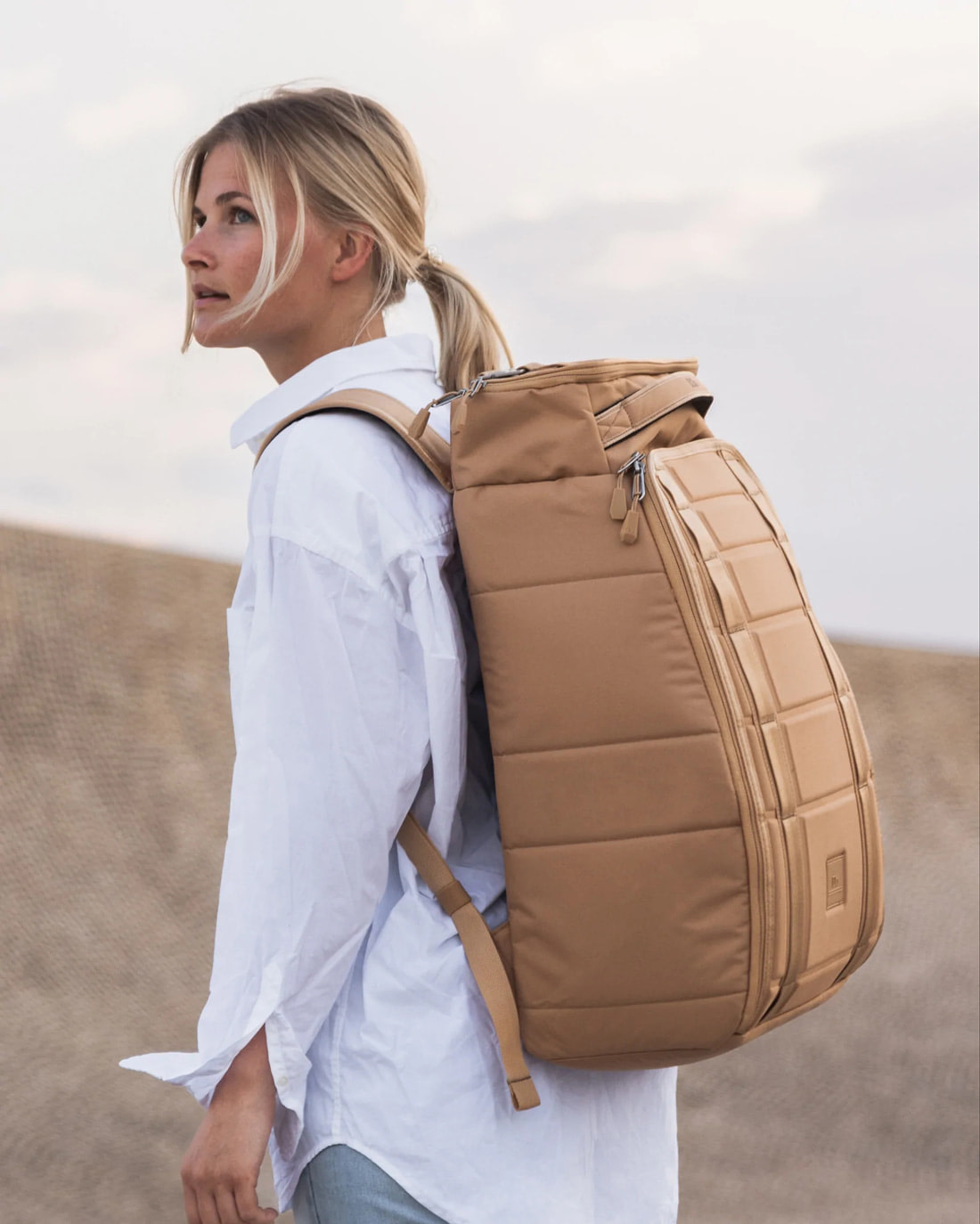 Dimensions: 21.7″ x 11.2″ x 6.8″ (55 x 28.5 x 17.3 cm)
Weight: 3.1 lbs (1.4 kg)
Though designed for traveling in the snow, those exact details that make Db's backpacks so durable in the Arctic can protect your belongings anywhere. Of them, the Hugger 30L Backpack is a midsized option that can even pass as an underseat bag on some airlines.
Despite the rigid internal boning that helps it to keep its shape – even when it's empty – it still only weighs about three pounds, leaving you plenty of leeway even for heavy tech items like drones, cameras, and your laptop. The outer shell is water and impact resistant to give you extra peace of mind for all of your expensive tech. As airline size requirements vary wildly from one airline to another, its size and versatility make the Hugger Backpack 30L one of the best lightweight carry-on luggage for international travel.
Quince Carry-On Hard Shell Suitcase – 21″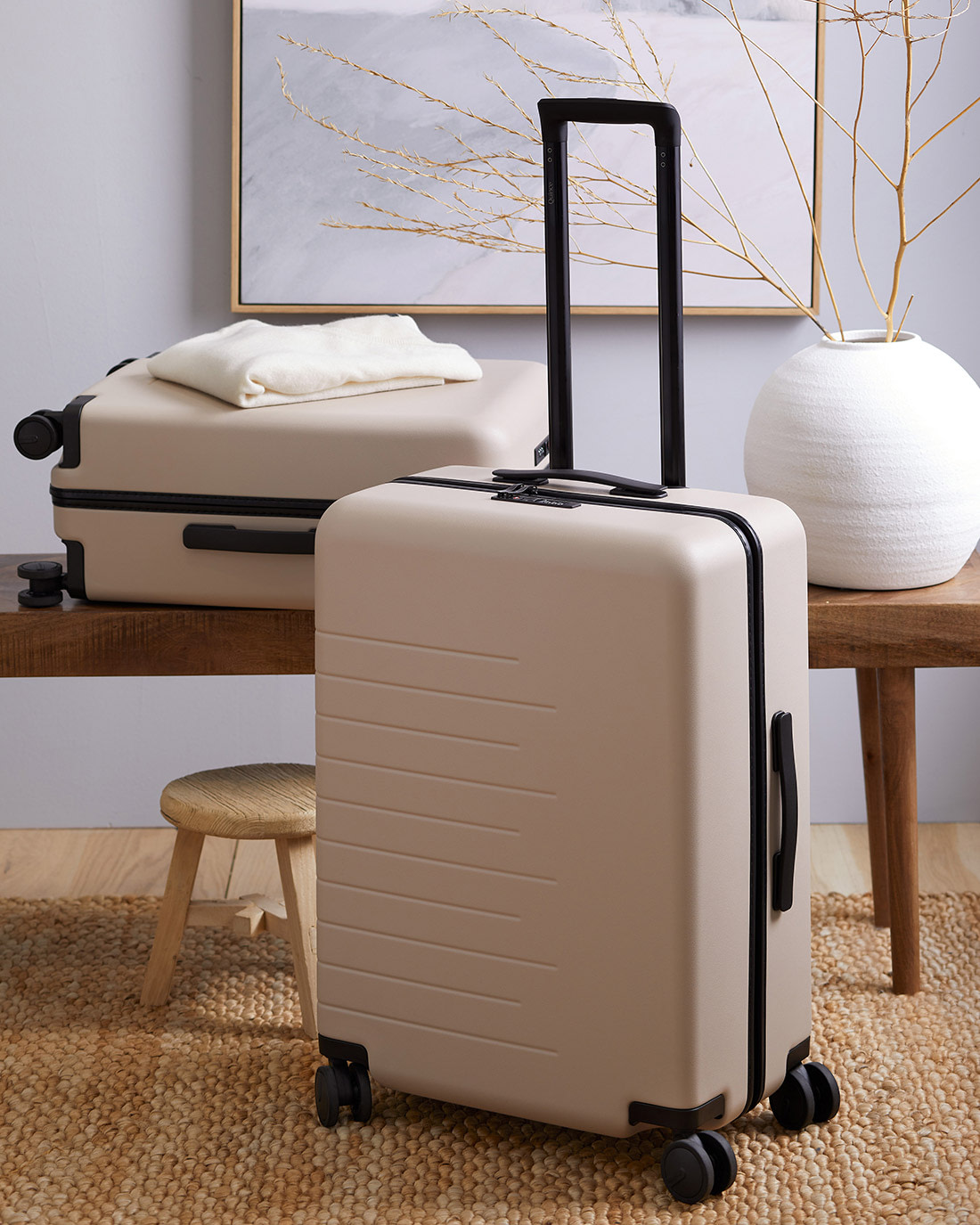 Dimensions: 22.8″ x 15.6″ x 9.8″ (58 x 40 x 25 cm)
Weight: 6.7 lbs (3 kg)
With a sleek & study hardshell exterior, smooth swiveling wheels, and a well-designed interior – all for half the price of an Away valise – it's no wonder the Quince Carry-On Hard Shell Suitcase 21″ sells out like hotcakes. In fact, its standard features are on par with (or even better than) some of the best carry-on luggage pieces out there – think durable YKK zippers, TSA-approved lock, and Japanese Hinomoto wheels. The design is simple and understated; a rubber-lined telescopic trolley handle enhances maneuverability, and its compression panels and removable laundry bag make this ultra-light suitcase a breeze to pack.
Dagne Dover Landon Carryall Bag
Dimensions: 16.5″ x 11″ x 9″ (42 x 28 x 22.8 cm)
Weight: 2 lbs (0.9 kg)
Because it's made from durable premium neoprene, the Dagne Dover Landon Carryall Bag can maintain its crisp appearance while remaining super light. Integrated into the design are several interior mesh pockets, an exterior pocket for a phone or passport, a luggage handle, and laptop sleeves. You can use the included mesh zipper pouch and shoe bag to separate your items further. The latter, along with the dust bag and lining, are made with a revolutionary fabric called Repreve (a type of recycled polyester). Because it is made from discarded plastic bottles, each Landon purchased helps to keep our oceans clean.
Horizn Studios Circle One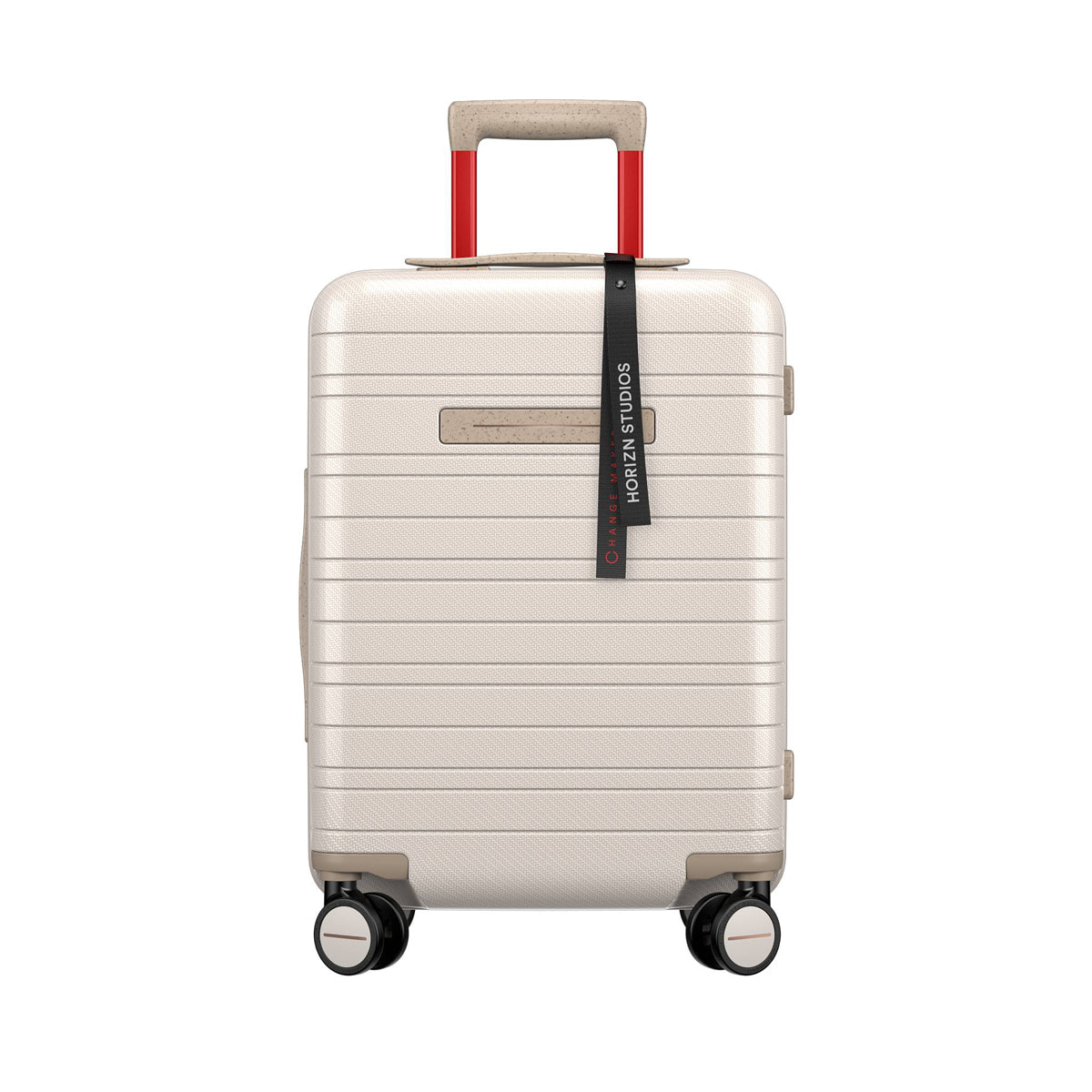 Dimensions: 21.6″ x 15.7″ x 9″ (55 x 40 x 23 cm)
Weight: 5.9 lbs (2.7 kg)
Mixing high performance with stylish design and eco-friendly practices is what German-based luggage brand Horizn Studios does best. Nevertheless, their avant-garde Circle One suitcase takes sustainability to a whole new level with its 100% plant-based, biodegradable hard shell and recycled components.
Designed always to be repaired and never replaced, the luxurious case is made from BioX, a patented fiber-composite that makes it lighter than aluminum and more durable than polycarbonate. Its handles are infused with seeds and nutshells, and both the lining and zippers are recycled. Combine these with an Extended Care option that includes a five-year warranty and a worldwide carbon-neutral pick-up and shipping service, and you have the world's most sustainable luxury luggage piece.
And to make sustainability more accessible to future generations, for every customer under the age of 30, Horizn Studio is offering a 30% discount.
American Tourister Stratum XLT Spinner
Dimensions: 19.5″ x 13.4″ x 8.6″ (50 x 34 x 21.8 cm)
Weight: 6.3 lbs (2.8 kg)
From the legendary luggage brand American Tourister comes one of the most versatile pieces of luggage on the market: the Stratum XLT carry-on. Though it's made from ABS rather than polycarbonate, it still weighs under seven pounds and boasts even more durability than many of its hard-sided competitors. The shell is imprinted with a corrugated design that improves its structural integrity and helps mask any minor dings or scratches it might collect during your many adventures.
Bellroy Classic Weekender 35L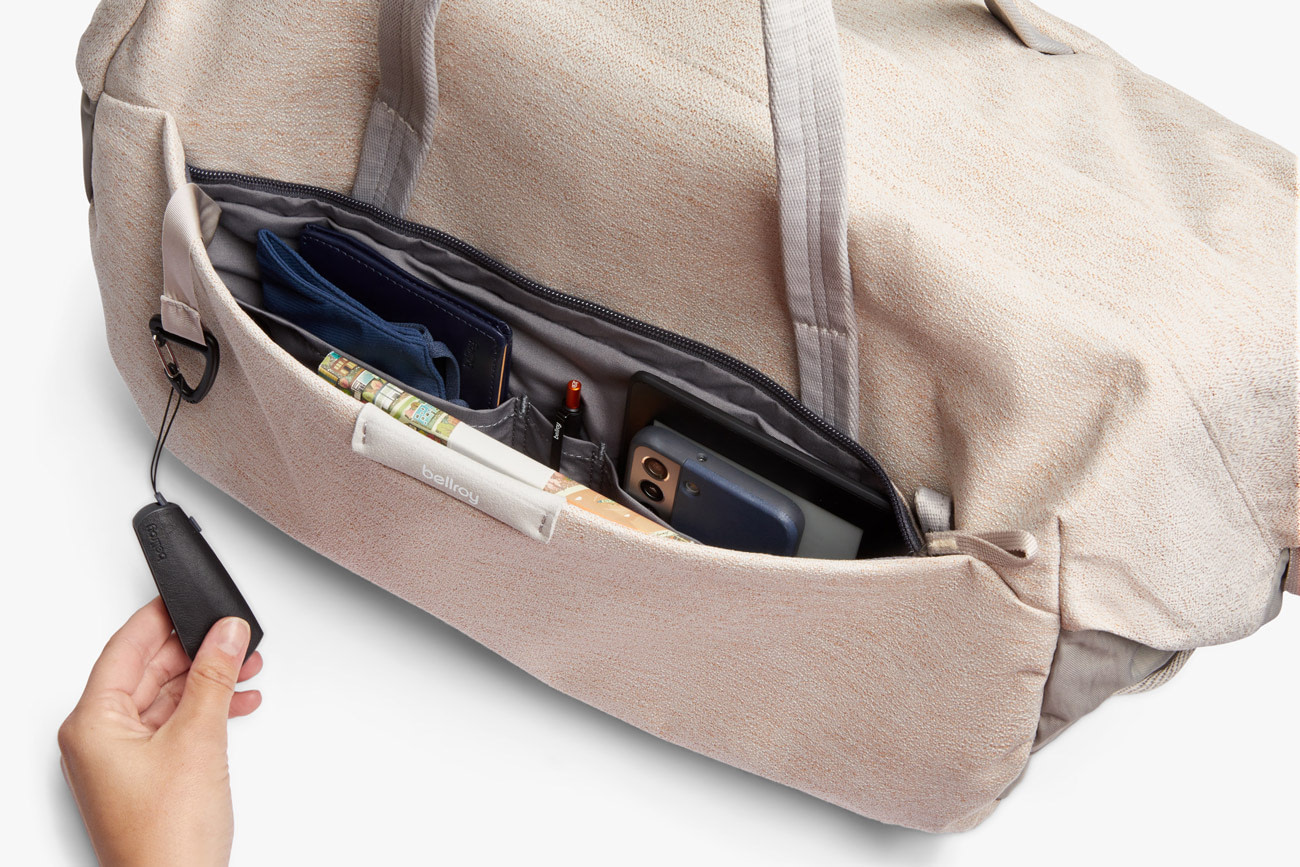 Dimensions: 16.5″ x 14″ x 9.8″ (42 x 38 x 25 cm)
Weight: 1.69 lbs (0.77 kg)
From quick getaways to expeditions around the world, Australian brand Bellroy explicitly designed the Classic Weekender 35L to keep your belongings perfectly organized and easy to retrieve. Aside from being one of the best weekender bags we have reviewed so far, it also has all the makings of a great lightweight carry-on.
Specialized pockets inside and out hold and protect items like keys, documents, and small gadgets. At the same time, a luggage handle pass-through, a detachable padded shoulder strap, and a wide zippered opening make using it feel effortless. Like most Bellroy products, this lightweight duffel is made of premium recycled materials and trimmed with their signature eco-friendly leather.