This post contains affiliate links, which means we may receive a small commission, at no additional cost to you, if you make a purchase through these links. See our full disclosure here.
As travelers, testing out travel bags comes naturally to us. However, when you do it the old-fashioned way, like packing them in a pinch and rushing to the airport, dragging them through the unapologetic cobblestones of Europe under the scorching sun, all while trying to find that perfect light, background, and angle to photograph them at work under the disapproving stares of passersby – things rarely go smoothly and hardly ever go as planned. But, you see, that's the adventure of it all. We do this, so you don't have to. And, we kinda like it.
This past year, for instance, we've been busy testing our way through a mountain of old and new suitcases, backpacks, and duffels, trying to find the best carry-on luggage to buy for 2023. After evaluating over 39 pieces based on a combination of style, performance, and functionality, here are the ones that made the cut.
Monos Carry-On Pro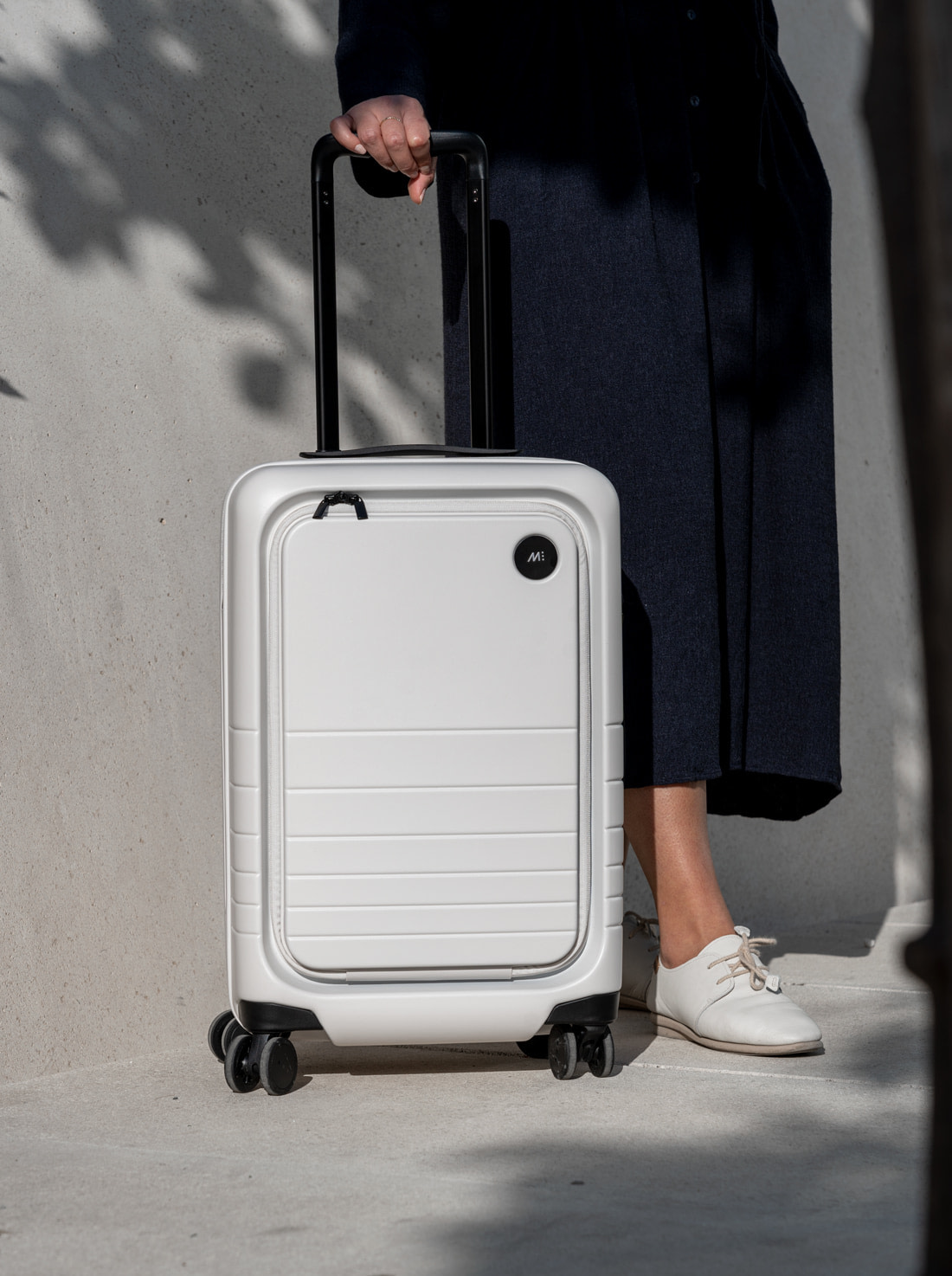 Best for: City breaks, weekend trips, business travel, frequent flyers, those traveling with a laptop
Best feature: The front pocket
Dimensions: 22″ × 14″ × 9″ (55.8 x 35.5 x 22.8 cm)
Material: Aerospace-grade German polycarbonate
Weight: 7.8 lb (3.53 kg)
Volume: 36 L
The Monos Carry-On Pro is one of the best cabin suitcases we've tried. I've taken it with me on pretty much every trip since I've had it, either as my sole carrier for short city breaks throughout Europe or as an added carry-on bag on longer vacations. It has become a permanent fixture on my travels and the one that I always compare other bags in the same category to. And speaking of comparison, apparently, Monos vs Away is a thing.
In my experience using both brands for years, Vancouver-based luggage manufacturer Monos is far superior in nearly all departments. While their hardshell polycarbonate suitcases – in this case, the pocketed carry-ons – share many similar features, the Monos Carry-On Pro rolls smoother, feels sturdier, looks sleeker, and offers smarter storage than its competitor.
My favorite feature is the built-in front compartment, which, unlike that of its competitors, is made from the same durable polycarbonate as the rest of the bag's exterior and comes in very handy for protecting, organizing, and quickly accessing my laptop, phone, and documents on the go.
The suitcase's build quality is beautiful, as is the simple, minimalist aesthetic, and the 360° Hinomoto wheels perform like a dream on a variety of surfaces. The interior is one of the best I've ever packed my clothes in, featuring various compartments and extra anti-microbial bags for organizing all my stuff, plus an effective compression system that allowed me to fit four days' worth of summer essentials easily.
I have the Carry-On Pro in matte white, and not only are scuffs less noticeable than on darker colorways, but the bag looks great, pairs with most outfits, and is easy to clean (most marks will miraculously come off with the provided eraser).
I find Monos' attention to detail a notch or two above the competition – the YKK zippers are color coordinated to match the bag's exterior; the interior is wrapped in a luxurious, waterproof fabric that's also anti-microbial, and the telescopic handle is constructed from high-grade aluminum and features an underneath release button for a more ergonomic experience. While these small details may not seem like a big deal, for me, they do make every trip feel like first class.
👍 HIGHS
Thoughtful internal organization
Great heavy-duty handle
Chic, minimalist look
Top-quality materials throughout
👎 LOWS
Will not fit in all overhead bins
According to several internet reviews, darker shades are more likely to show scuffs
---
Nomatic Navigator Carry-On 37L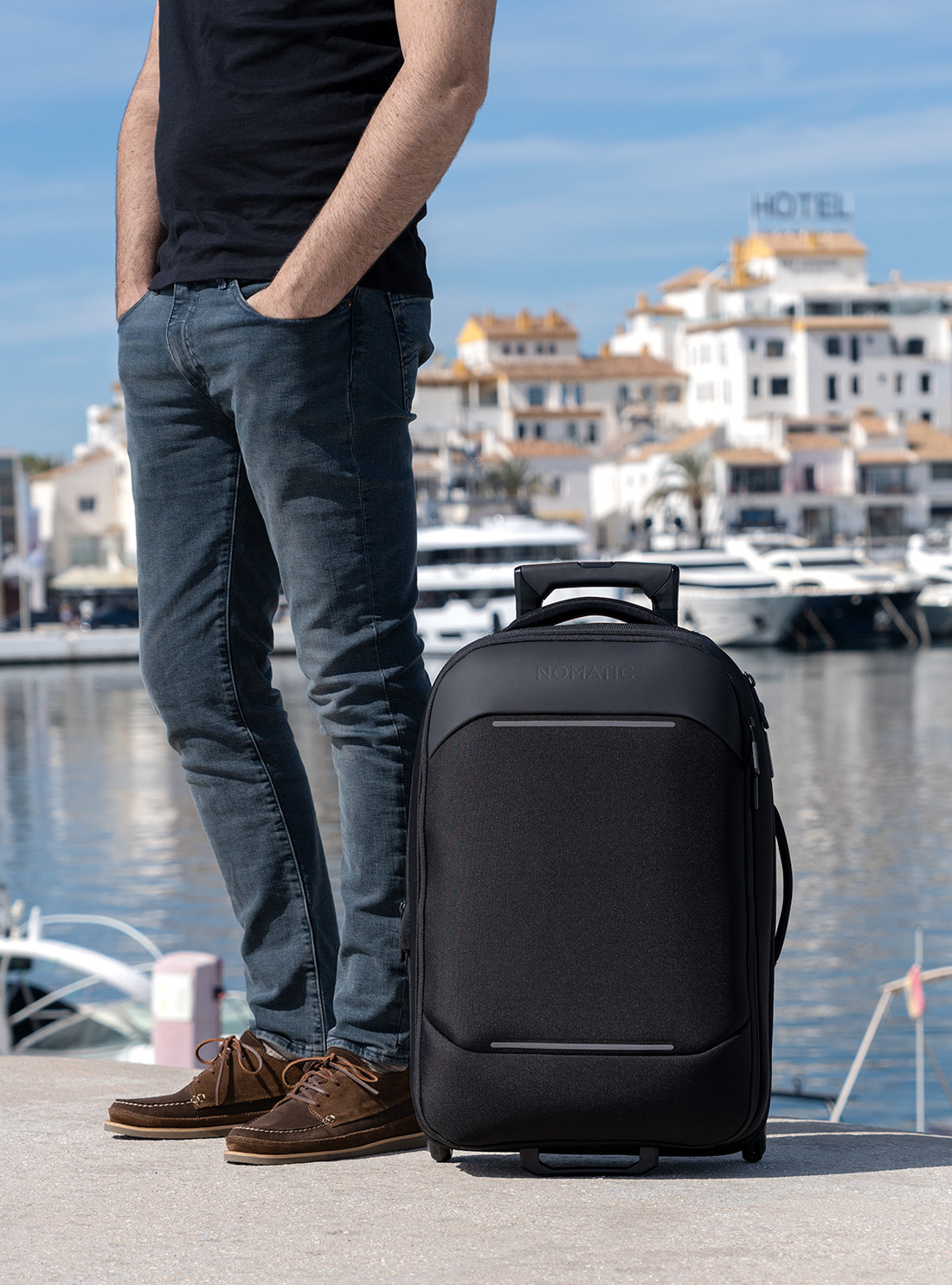 Best for: Traveling professionals, business flyers, organization wizards
Best feature: Its stellar organizational capabilities
Dimensions: 22″ × 14″ × 9″ (55.8 x 35.5 x 22.8 cm)
Material: 100% Makrolon polycarbonate shell + durable, water-resistant fabric
Weight: 7.8 lb (3,5 kg)
Volume: 37 L Standard | 45 L Expanded
Upon unboxing the Nomatic Navigator Carry-On, the first thing that stood out was its sleek appearance. It is one of the few bags that look much better in person than they do in the photos, and the quality is beautiful. From the water-resistant YKK zippers down to the smooth-rolling oversized wheels, everything feels premium and works lovely. The aluminum handle is more durable than many suitcases, and the four exterior grab handles are a well-thought-out addition.
I haven't tested out its water resistance yet (there are more than 300 sunny days per year where I live), but the outer fabric seems extremely durable, and I love how it firmly wraps around the frame for a clean, streamlined look.
Aesthetics aside, the bag was built with function in mind. This becomes immediately clear as soon as you unzip the main compartment, which splits wide open for easy packing, but it's intentionally divided into two unequal halves. The bigger side has room for shoes and most of your clothes and comes with crossed straps to keep them more compact. The smaller one, lined with zippered pockets, is perfect for accessories and lighter items like t-shirts, summer dresses, and undergarments. This section is approximately half the size of the other, but that's only because the other half is occupied by the carry-on's unique tech compartment. Now, this is where things really start to get interesting. Accessible from the front, not only is this 16.5″ x 12.5″ front area padded, but it holds a 17″ laptop and comes with practical pockets for documents and accessories like tablets, cords, cables, and external batteries.
👍 HIGHS
Streamlined, professional appearance
Built to last
RFID-safe pocket
The expansion feature increases the capacity to 45 liters by unzipping it
Protective ABS honeycomb interior panel
Reflective bars for nighttime visibility
👎 LOWS
While beautiful, the black exterior fabric shows dust and dirt easily (a lint roller will do the trick, though)
Although I haven't found this to be a problem, it's a two-wheel suitcase, which means you'll have to drag it behind you rather than roll it next to you
It's only available in black
---
Bric's Bellagio 2.0 21" Carry-On Spinner Trunk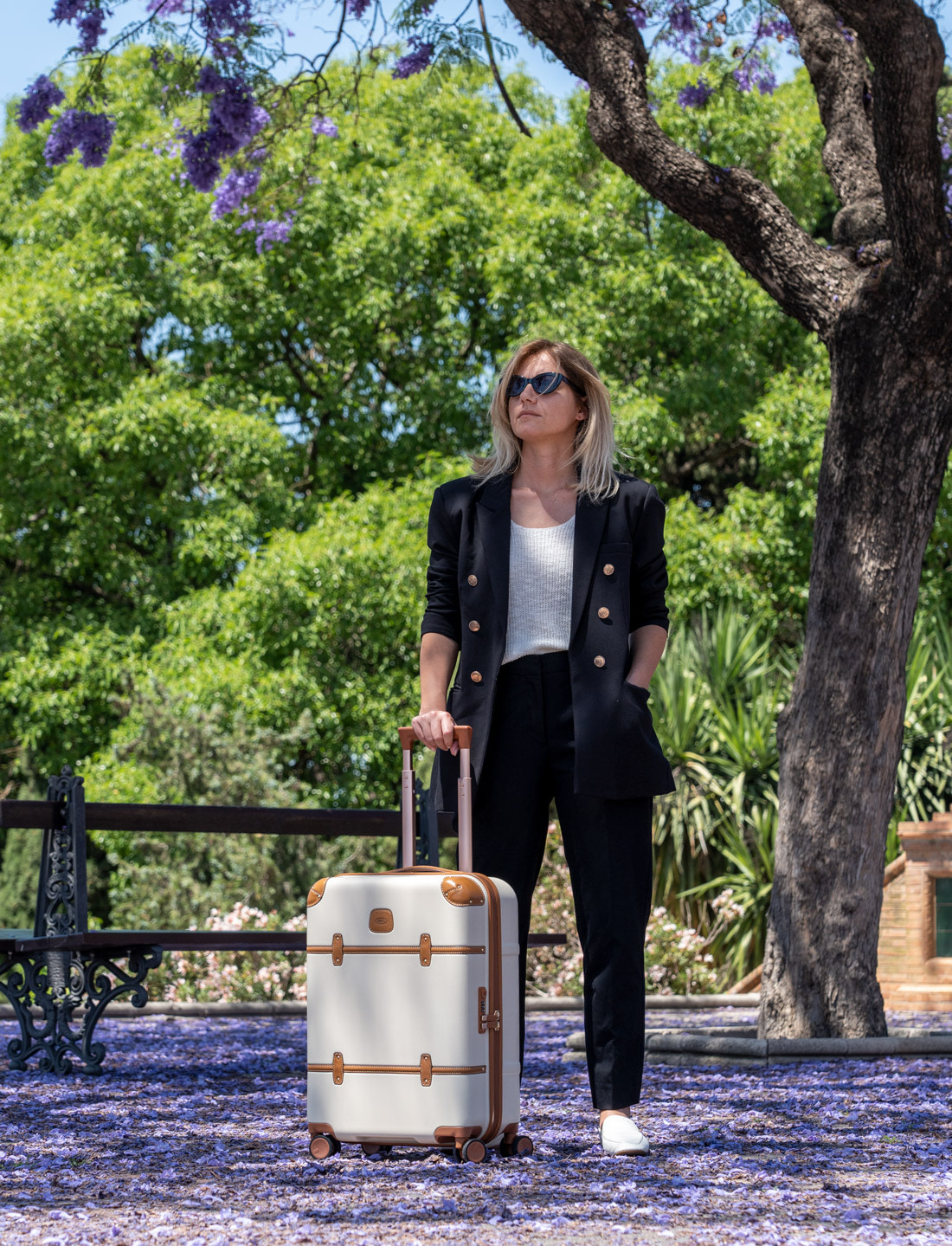 Best for: Stylish travelers, international trips
Best feature: The high-end, vintage appeal
Dimensions: 21.7″ x 15″ x 7.9″ (55 x 38 x 20 cm)
Material: Polycarbonate with Italian leather trim
Weight: 7.1 lb (3.2 kg)
Volume: 40 L
Leave it to the Italians to make luggage poetic. An iconic retro-inspired silhouette detailed with full-grain Tuscan leather trim, the Bric's Bellagio 2.0 21" Carry-On Spinner Trunk truly evokes the nostalgic allure of travel's golden era. The stitching is flawless, the subtle gold metal accents give it a luxurious feel, and I love the timeless cream and cognac color combo. Simply put, it's one of the most stylish cabin cases you can buy. But, as I was happy to discover during testing, it is much more than that.
Inside and out, there are a number of delightful details to talk about. To start with, the suitcase is crafted from lightweight, scuff-resistant polycarbonate and rolls smoothly on 4 enlarged Hinomoto wheels. On the same practical note, at 21.7 x 15 x 7.9 in, it is one of the few hardcase suitcases we have tested that complies with even the strictest carry-on size restrictions.
Extra security comes in the form of a two-way water-repellent zip closure with TSA-approved locks, and the adjustable handle feels sturdy while providing a comfortable grip, though I would have expected it to be covered in the same beautiful leather that enwraps the top grab handle and adorns the rest of the shell.
Another feature I'm a fan of is the bag's interior, lined in a matching – and seductively soft – satin nylon and complete with roomy zip pockets for all the essentials. Both clamshell halves are designed to keep items tidy and in place – there's a built-in compression pad on one side and a zippered compartment on the other.
👍 HIGHS
Lightweight yet sturdy shell
Compact enough to fit in most airline overhead bins
High-quality, water-resistant zippers
The contrasting Italian leather trim really sets it apart
👎 LOWS
It comes at a price
No side handle
A leather-wrapped telescoping handle would have been nice
---
Carl Friedrik The Carry-On Pro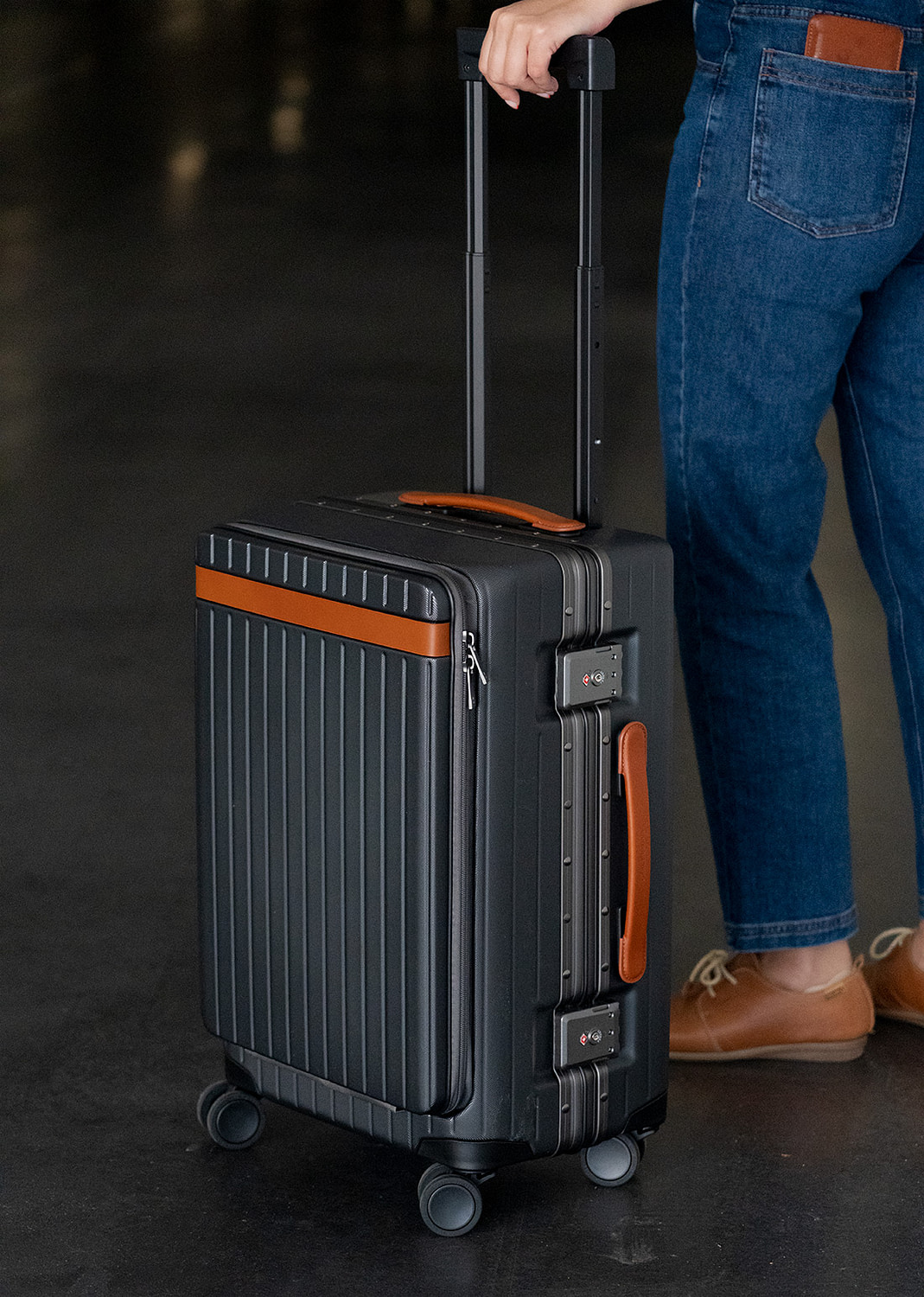 Best for: Pro travelers, professionals on the go, jet-setters with a penchant for quality and craftsmanship
Best feature: The spacious, flexible front pocket
Dimensions: 21.7″ × 15″ × 9.6/10.6″ (55 x 38 x 25/27 cm)
Material: Polycarbonate, vegetable-tanned Vachetta leather
Weight: 9.5 lb (4.3 kg)
Volume: 43 L
While Carl Friedrik is better known for crafting quality, minimalist-looking leather products, their foray into the polycarbonate luggage world is equally compelling. We recently got the opportunity to test out the 43 L Carry-on Pro, and it definitely ticks all of the boxes.
Made from polycarbonate, with handmade Italian leather details and a strong aluminum frame, the suitcase feels solid, well-built, and high-end. The textured gunmetal exterior pairs beautifully with the cognac Vachetta leather and makes this roller catch the eye in a subtle, stylish way, with no ostentation whatsoever. The hard-shell front pocket is a game changer, and it fits so much more than it looks like it can. Both the aluminum locking mechanism and silent Japanese wheels are a pleasure to use. The interior is simple, well-designed, and satisfyingly spacious, making it easier to travel carry-on only.
I love a product that I can trust, and that's exactly what the Carl Friedrik Carry-On Pro is: an elegant, premium piece of luggage that can easily withstand the demands of frequent travel. I'd even go as far as saying its sleek, understated styling, coupled with all those robust features, make it one of the best carry-on luggage for men.
👍 HIGHS
Superb built quality
Contemporary, heritage-inspired style
The aluminum frame and locking mechanism are far superior to a zipper
Lifetime warranty
Free 100-day trial
👎 LOWS
The telescopic handle feels a bit sub-par
Heavier than others on the list
The size might not be for everyone
---
Sterling Pacific 35L Cabin Travel Case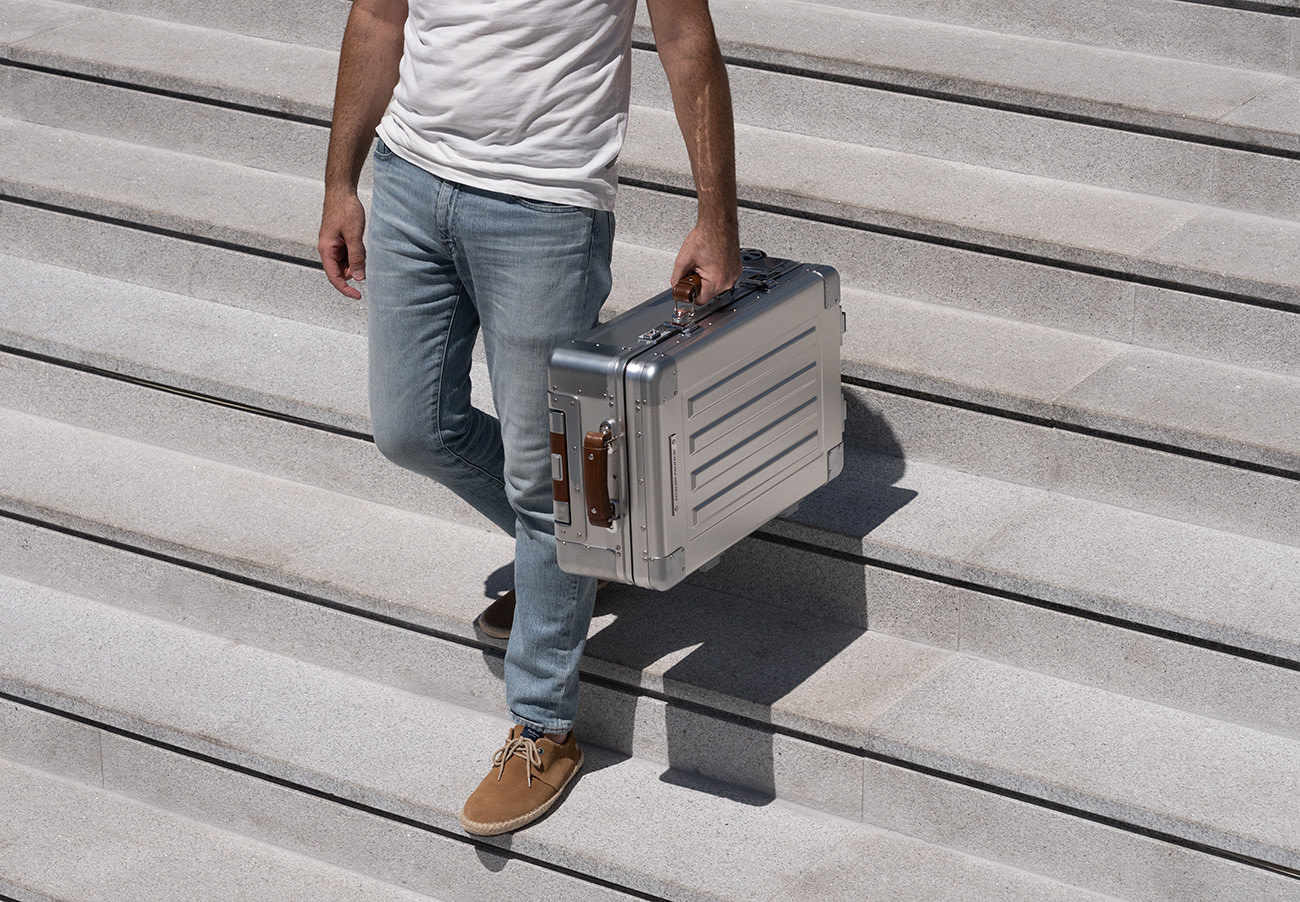 Best for: Elite world travelers looking for a statement luggage piece that will last forever
Best feature: Its stunning aesthetic
Dimensions: 22.5″ × 14″ × 8.5″ (57.1 x 35.5 x 21.9 cm)
Material: Aluminum, Italian full-grain leather
Weight: 11.5 lb (5.22 kg)
Volume: 35 L
You know those cakes that look too good to eat? That's what I felt about the Sterling Pacific 35L Cabin Travel Case when I first opened up the package and carefully slipped it off of its tailor-made sleeve. The look reminds me of the classic travel trunks of yesteryear but with a retro-futuristic edge. In fact, it's the kind of piece that makes a statement in any decade.
Fashioned exclusively from aircraft-grade aluminum and tanned Italian leather, this suitcase is a work of art, almost too beautiful to use. I say almost because it would be a shame not to. With smooth, extra-large wheels, a TSA-approved, double combination latch lock system, and one of the sturdiest full-aluminum telescoping handles I've ever used, its performance lives up to its looks.
While not to everyone's taste, the dual-thru axle wheels will prevent the bag from rolling away and withstand wear and tear better than its spinner counterparts. Another feature that makes this luxurious carry-on unique is the 80/20 split design (instead of the usual 50/50), which I find easier to pack, especially if you want to squeeze in a few larger items. Finally, the full-grain Italian leather around the handles adds yet another dimension of refinement to this gorgeous investment piece, which (sorry, Rimowa) might just be the finest aluminum luggage piece there is.
👍 HIGHS
Spectacularly built
Rugged, sexy design
No plastic parts
Lifetime Warranty & Repair Service
👎 LOWS
The investment price tag
The two-wheel design might need some time to get used to
It's the heaviest suitcase we've tested
---
Peak Design Travel Backpack 30L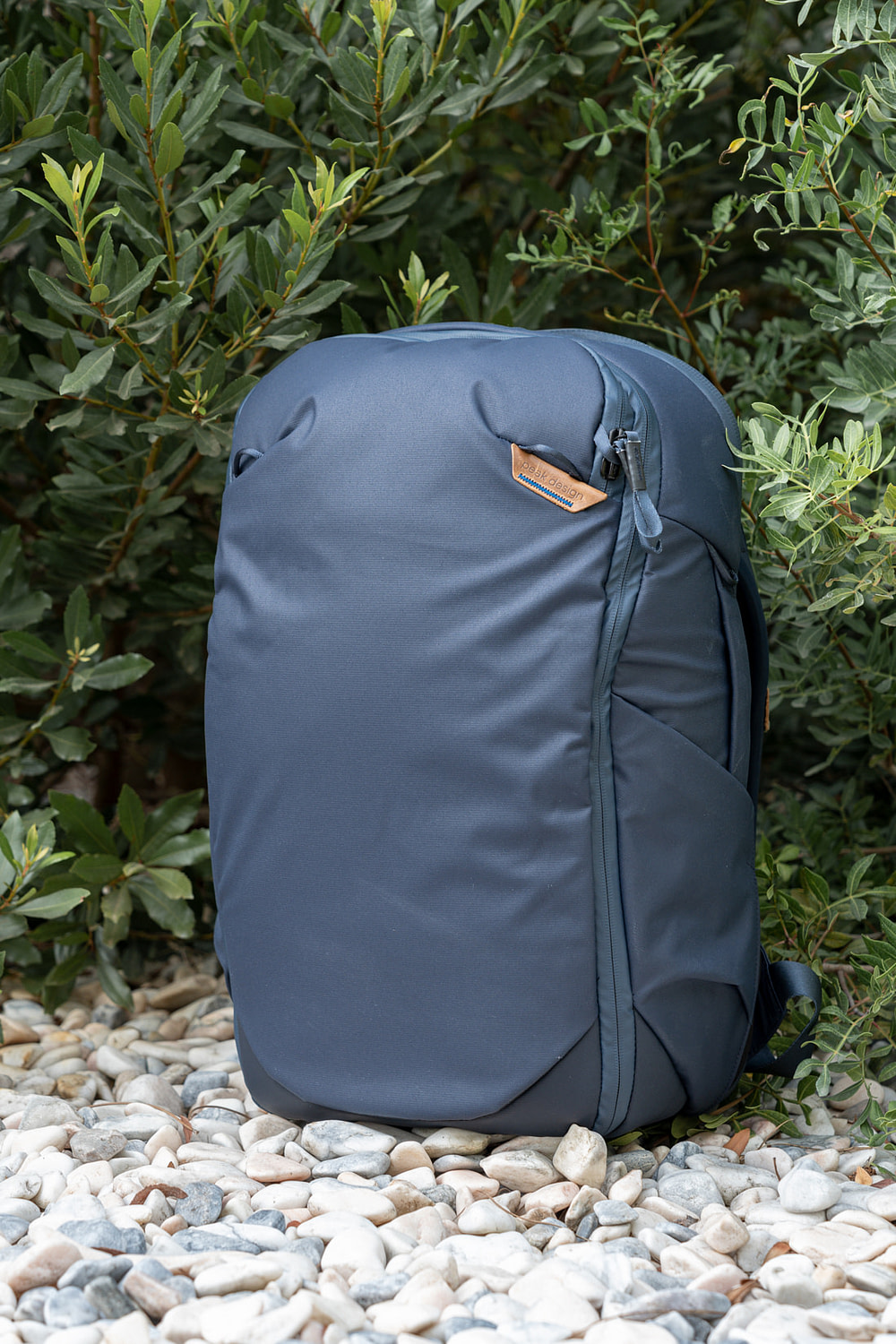 Best for: One-bag travel, flying with your camera gear
Best feature: The well-thought-out design
Dimensions: Standard: 20.9″ × 13.4″ × 7″ (53 × 34 × 18 cm) | Expanded: 20.9″ × 13.4″ × 7.9″ (53 × 34 × 20 cm)
Material: Weatherproof 100% recycled nylon canvas
Weight: 3.17 lb (1.44 kg)
Volume: 27 L Standard | 33 L Expanded
As much as I love wheeled carry-ons, there are times when bringing them along just isn't a good idea. Take our last trip to Lisbon for example – because our accommodation was right in the heart of the Alfama, and parking in the area is quite tricky, we had to walk with our luggage up several hills covered in uneven cobblestones. For these occasions and many others, nothing beats using a backpack as a carry-on.
My go-to pick is currently the Peak Design Travel Backpack 30L, a scaled-down version of their iconic 45L Travel Backpack, which we have used for a few years now and still consider it to be the best backpack for air travel, particularly for those who don't mind toting around a larger model on their shoulders.
This one, on the other side, is the perfect size to fit everything I need for a 3-day trip without having to check any luggage. More than that, it's a beautifully engineered piece of gear laden with innovative features – think stowable shoulder straps, a full clamshell opening for easy packing, and countless organizational pockets.
Over the last few months, I've used the pack as both a personal item and a cabin bag on low-cost airlines like Vueling and Ryanair. What's really fascinating, however, is the fact that it also works great as an everyday carry for work, touring a new destination, and even photo shoots around town. Though advertised as a 30L backpack, it actually expands from 27L to 33L to give you extra space when you need it and keep things minimal when you don't.
Besides the clever, functional design and rugged construction, one of the things that make PD backpacks stand out is the fantastic shoulder strap system, and this one is a joy to carry with its well-padded shoulder straps that swing around their rivets easily and stow away neatly under magnetic flaps. Equally important for me is the 30L's sleek, minimalist profile, without any visible zippers and loose straps dangling around, as well as the structured, cushioned sides that help protect my valuables when traveling.
All in all, the new 30L version is everything I want in a carry-on backpack – rugged, expandable, versatile, and very good-looking. I have the pack in Midnight, and while it looks really sleek, dirt and dust are more visible than on the lighter Sage fabric on the 45L, which, even after years of use, doesn't show any wear and tear. Nevertheless, the exterior is generally easy to clean with a damp washcloth.
👍 HIGHS
Expands from daypack to carry-on bag
Meets international carry-on size requirements
Rugged construction
Tons of organizational features keep your belongings organized and easily accessible
Separate laptop/tablet compartment
Multiple carry options
Some of the best-designed shoulder straps of all the backpacks we've tried
👎 LOWS
It only fits Peak Design camera cube when fully expanded
Lacks the side and front access found on the 45L
Black & Midnight fabrics show dust and dirt easier
---
Horizn Studios M5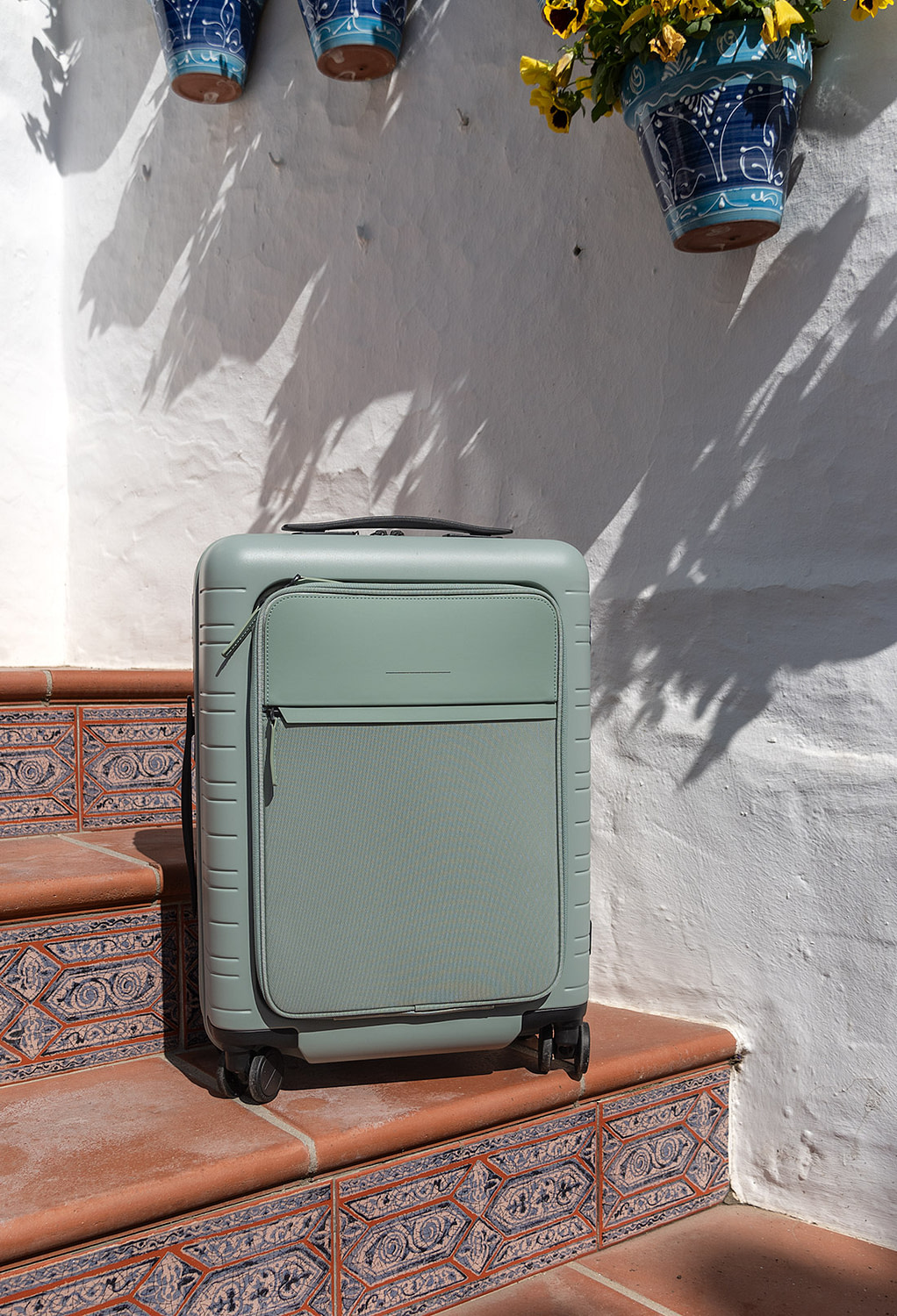 Best for: Tech-savvy, style-driven, eco-conscious travelers flying with a laptop or not
Best feature: The removable power bank
Dimensions: 21.6″ × 15.7″ × 9″ (55 x 40 x 23 cm)
Material: Signature aerospace-grade German polycarbonate, partially recycled
Weight: 7.9 lb (3.6 kg)
Volume: 33 L
The best deal
This is German engineering, and it shows. From the aesthetic to the choice of materials to the finishing touches, everything in the Horizn Studios M5 reflects the brand's superior quality.
The shell is made with a blend of virgin and recycled polycarbonate, which means it's durable but also lightweight, and is complimented by a water-resistant front pocket with room for a 15" laptop and then some. While this is not hard-sided, it is still very practical, providing enough protection (I've never had a problem in 3 years), and it also expands a bit, which is nice.
Just like the laptop compartment, the removable smart charger is a feature I never knew I needed, but now I'm fully embracing. Cabin-approved for all airlines and equipped with two USB-charging ports, the M5's 10,000 mAh power bank has been a lifesaver on many occasions over the years. The shock-resistant 360° Japanese wheels and ergonomic telescoping handle combine to offer excellent maneuverability, and the TSA-approved combination lock keeps everything secure up in the air and beyond.
The interior is lined with a luxuriously soft, water-resistant nylon fabric in a coordinated color and includes a compression pad, strong, wide adjustable straps, and a zippered laundry bag, which can also come in handy for storing toiletries.
The M5 is my go-to carry-on case when flying budget airlines, and not because it doesn't look first-class – it absolutely does! – but because it's compact enough to fit in all overhead bins while still providing ample space for a few days' worth of essentials.
Despite having traveled with this suitcase all across Europe, miraculously, there aren't any scuffs or scratches. In fact, it is still in such good condition it sits proudly in a corner of my living room alongside its big brother, the H7.
👍 HIGHS
Glorious built quality
Cool, contemporary design
Smart design features
Lifetime warranty
Responsibly made
👎 LOWS
Expensive
The front laptop pocket is not as protective as a hard-side one
---
Solgaard Carry-On Closet Large
Best for: Up to 7-day trips
Best feature: The removable shelving system
Dimensions: 22.4″ × 14.6″ × 9.6″ (57 × 37 × 24 cm)
Material: Polycarbonate with aluminum frame
Weight: 8.1 lb / 9 lb with shelf (3.7 kg / 4.1 kg with shelf)
Volume: 46 L
The best deal right now: 10% off with code SPRINGTRAVEL10
One of the things I dislike most on a trip is having to unpack and repack my bags every time I change locations. That's why when Solgaard sent me the Carry-On Closet Large for review, I was beyond excited. I knew the bag's main selling point is the retractable shelving system, but I was pleasantly surprised to find that there's much more to it than that.
Constructed from unbreakable polycarbonate, with a lightweight aluminum frame, frictionless 360-degree wheels, and a TSA-approved lock, this rugged suitcase is sure to keep your belongings safe and secure en route. Moreover, the waterproof, scratch-resistant shell comes with reinforced corners and opens/closes with 2 metal latches instead of a zipper. All these features add to the bag's durability and security, but also to its weight.
Solgaard's patented built-in shelving system makes the suitcase easy to pack, organize, and unpack your belongings. This removable "closet" comes with 6 expandable mesh shelves where I was able to place T-shirts, dresses, undergarments, and toiletries for a week in France, plus a compression strap that held everything in place. Once arrived in the hotel room, I found it really easy to pull the shelves out and hang them on the clothing rack.
I've only used the Carry-On Closet Large with the shelving unit, but the case is just as effective without it thanks to its practical butterfly design with two spacious main compartments, a compression feature with mesh zip pockets, and a drawstring bag for shoes or dirty laundry.
Last but not least, the bag is made from 229 plastic bottles that have been recovered from the ocean, and comes with smart details like a USB charging port, a TSA-approved, three-digit combination lock, and a comfortably soft grip handle.
👍 HIGHS
Rugged and durable construction
Sustainably made
Versatile
Clever features
👎 LOWS
It may be too large for international overhead bins
On the heavier side
Doesn't include a battery for the charging port
---
LEVEL8 Gibraltar Full Aluminum Carry-On 20"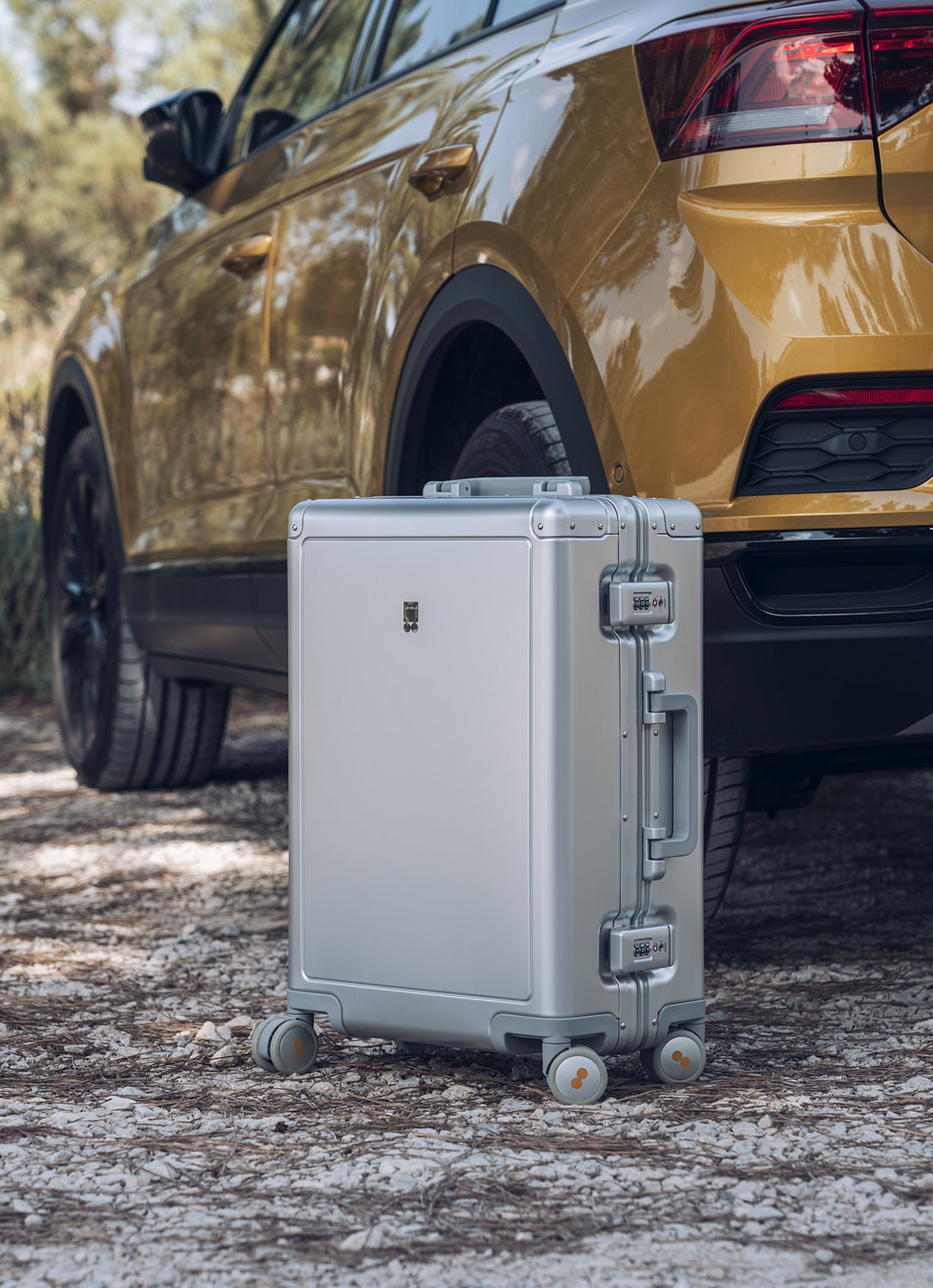 Best for: Frequent travelers, air business trips
Best feature: The smooth, ultra-quiet 360° wheels
Dimensions: 22" × 15" × 8.5" (55.88 × 38.1 × 21.59 cm)
Material: Aerospace-grade aluminum magnesium alloy
Weight: 10.14 lb / 4,6 kg
Volume: 36 L
The best deal right now: 10% off using the code ST10
When I first got my hands on the LEVEL8 Gibraltar Aluminum a few months back, I had my doubts about how well an aluminum suitcase nearly three-quarters the price of its competitors would feel and perform, but I was pleasantly surprised. Not only is the construction sturdy and strong, but the matte, minimalist design looks striking. The aircraft-grade aluminum-magnesium alloy already means the bag is significantly robust, but the crash-proof metal corner guards and zipperless locking-latch design take protecting your belongings to a whole new level.
We're also digging the meticulous design details that have gone into this brushed metal carry-on, from the smooth, slow-release handles to the rubber-coated dual-bearing wheels. And while on the subject, I can probably say that this sleek cabin suitcase has some of the quietest, smoothest, most durable wheels of all the rolling carry-on bags we've tested, allowing effortless maneuverability in all directions even when fully loaded.
The four-stage telescopic handle is pleasantly sturdy and feels comfortable to hold, and there's also a side handle that makes it easy to pick it up horizontally or lift it in and out of overhead bins. The interior fabric is not as luxurious as I would have expected, but the unique removable dividers make packing easy and intuitive. I wish I'd seen a more elaborate compression system, but the complimentary 4-piece packing cube set makes up for it somehow. Also, the brand claims that their removable dividers design with ZERO obstructions maximizes storage capacity, and I tend to believe them since my aluminum carry-on was able to hold about five days' worth of clothes on an earlier trip to Romania.
👍 HIGHS
Sleek, professional look
Extremely durable
Backed by a lifetime warranty
The zipperless locking-latch design provides safety and easy access
👎 LOWS
Heavier than your polycarbonate suitcase
It will inevitably earn scratches, dings, and dents over the years
---
Bellroy Lite Duffel
Best for: Impromptu overnight or weekend trips, whether you get there by plane, car, or train
Best feature: The light weight
Dimensions: 10.62" × 17.71" × 8.84" (27 × 45 × 25 cm)
Material: Recycled diamond-patterned ripstop
Weight: 1.32 lb (600 g)
Volume: 30 L
You know a bag is truly worth it when you carry it on repeat, no matter the destination. One of those pieces for me is the Bellroy Lite Duffel. It miraculously packs a weekend's worth of clothes (plus a pair of shoes, a large toiletry bag, and my Dyson airwrap styler) into a stylish, little package that's comfortable on my shoulder, easy to lift into overhead bins, and also folds down for storage when I'm not using it.
I've always been a fan of Bellroy's clever design and materials, and this multi-functional baby is yet another triumph. Made with a special water-resistant ripstop fabric created from recycled plastic, it's oh-so lightweight but impressively strong.
The first thing I noticed about the Lite Duffel, besides the lack of weight, of course, was how the soft, flexible shell managed to retain its structure, even when empty – a quality I would not have expected to find in a bag that you can roll or fold up into your luggage. But I guess that's what good design does, it makes the impossible possible. That means that the bag will look equally good whether you just throw your gym gear in or fill it to the brim with a weekend's worth of essentials.
And speaking of design brilliance, I am impressed with how much I could fit into this small duffel, plus how easy it was to wear. The full-length zipper opens from both ends for ultra-wide, unobstructed access to contents, while its classic barrel shape and padded shoulder strap make it a breeze to haul around.
And then there's the organizational layout – tons of internal slip pockets and a quick-access zip compartment on the front make it easy to access and keep an accounting of all those tiny bits of gear. If that's not enough, you can always combine it with packing cubes.
Long story short, the Bellroy Lite Duffel is the type of bag I'd be most inclined to take on road trips, although I can't see why it wouldn't be excellent as a carry-on bag for the airplane.
👍 HIGHS
Stylish, lightweight, and durable
Surprising organization for a duffel bag
Can be folded into luggage when not in use
👎 LOWS
The shoulder strap could use some more padding
There's no laptop/tablet sleeve
It's not a suitcase
---
Béis The Carry-On Roller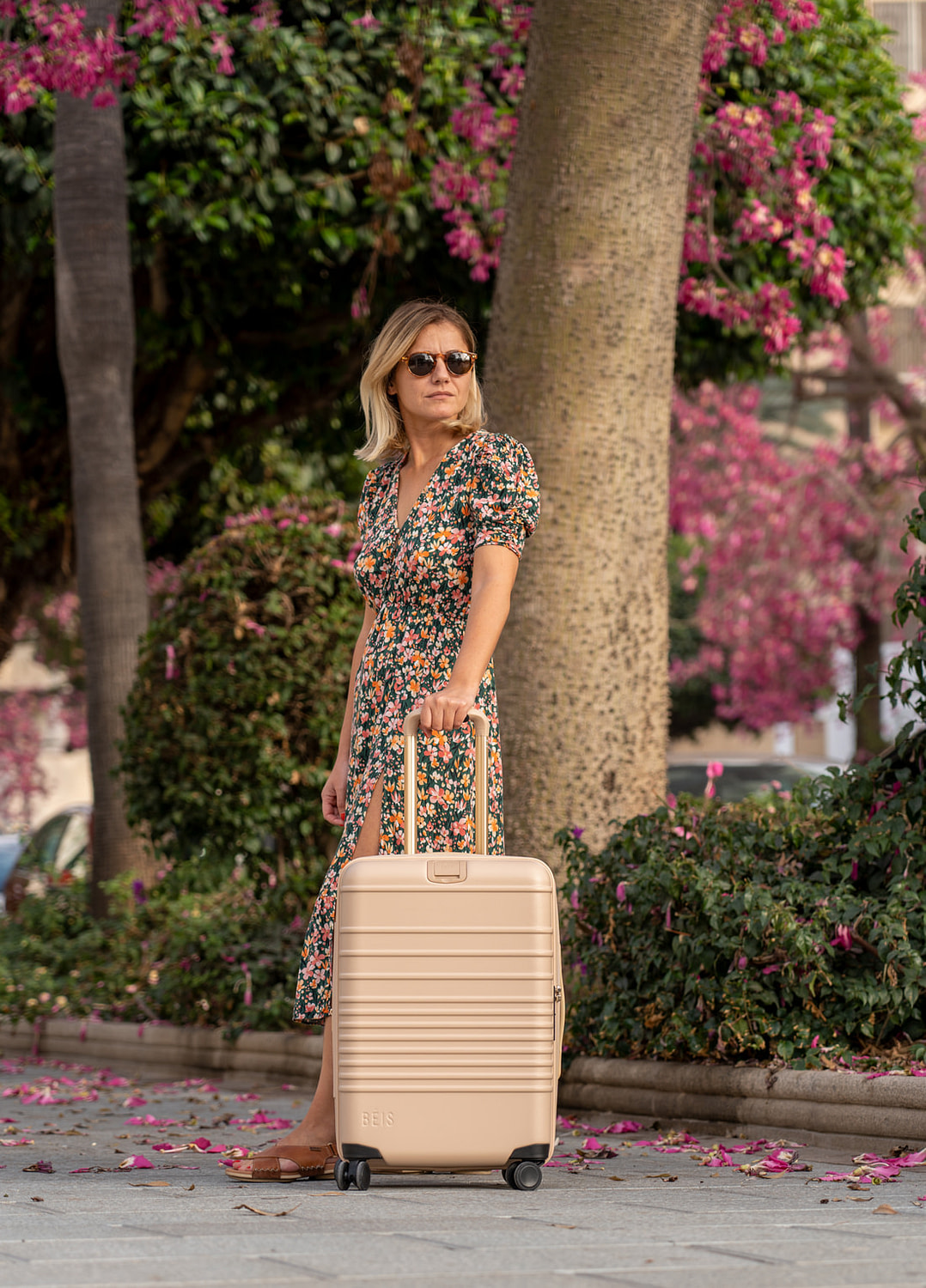 Best for: Overpackers on weekend getaways, minimalists on up to a week-long trips
Best feature: The cushioned handle
Dimensions: 22.83″ × 15.75″ × 9.84″ (58 × 40 × 25 cm)
Material: 100% Virgin polycarbonate
Weight: 8.36 lb (3.79 kg)
Volume: 49 L Standard | 61 L Expanded
I purchased the Béis Carry-On Roller in Beige a couple of weeks ago, and while I haven't had the chance to take it on a flight yet, I did manage to test its functionality, weight, storage, and comfort indoors and on several trips around town, as well.
Featuring a matte polycarbonate body detailed with bold gradient stripes, color-coordinated zippers, and spinner Hinomoto wheels, this bag is both chic and durable. I wouldn't say the quality is on par with the other (pricier) suitcases on this list, but it does have some cool bells and whistles that make it stand out – namely, a built-in weight-limit indicator that turns red if you're over the 50-pound restriction, a retractable bag attach strap, a zippered expansion feature, and my favorite handle: with a soft cushioned handlebar for comfort.
With an almost 50-liter capacity (without expansion), the case is quite big. That is both a good and bad thing – good because you can really fit a lot of stuff inside, and bad because it might not be accepted as carry-on luggage by all airlines. This being said, the suitcase is perfect for overpackers or those headed on longer trips. It also has an impressively well-organized interior where you'll find multiple zippered pockets, a pair of compression straps, drawstring bags for dirty shoes and clothes, and a detachable divider. This makes packing and locating items a breeze. However, the zippers don't seem as robust and don't run as smoothly as I would have expected.
Even with some minor drawbacks, the Béis Carry-On Roller is a great piece of carry-on luggage with many clever features and good looks to match.
👍 HIGHS
Chic, durable exterior
Generous capacity
Lots of unique features
Practical, well-organized interior
Expands up to 2" for extra packing space
👎 LOWS
Exceeds most European carry-on size limits
The handle felt a little loose during our tests
Interior zippers are not the greatest
---