This post contains affiliate links, which means we may receive a small commission, at no additional cost to you, if you make a purchase through these links. See our full disclosure here.
If you thought hands-free styles belong in the classroom, or the '90s, our handpicked list of the best backpacks in 2021 will prove you wrong.
Gone are the days when a backpack was only meant for carrying your stuff. Today's designs are stylish, practical, and smarter than ever, with features that cater to every lifestyle and activity you can think of.
But with so many options offered to you, choosing the right backpack for your needs becomes the hardest part. There are ultra-durable adventure packs constructed for rugged outdoor use, models geared specifically toward hiking or biking, innovative rucksacks for photographers, and even hip designer pieces that will transform you into a style icon.
Below, we've ranked the best backpacks within each category. They protect your travel essentials, abound in cool, unique features, and are designed to fit everything, from laptops and camera gear to your picnic essentials.
No time to read it all? Here's a shortcut.
Best Backpack in 2021: Peak Design Everyday Backpack
Want a sleek, clever, multifunctional bag that fits seamlessly into all environments? Look no further than Peak Design's Everyday Backpack!
Not only is this pack weatherproof and comfortable to wear, but its aesthetic versatility is hard to match. It also scores high on organization, with a series of endlessly configurable FlexFold dividers designed to keep contents well-ordered inside. Even better, this updated version comes with even more (and larger) pockets than its predecessor, plus improved zippers and shoulder straps, as well as a brand new 100% recycled outer fabric.
Add expandable external pockets, an adjustable 15" laptop sleeve, and a choice of carrying methods, and you've just found the best backpack for everyday use. I've been using this for quite a while now and am constantly finding more reasons to love it!
Best Backpack for Travel: Monos Metro Backpack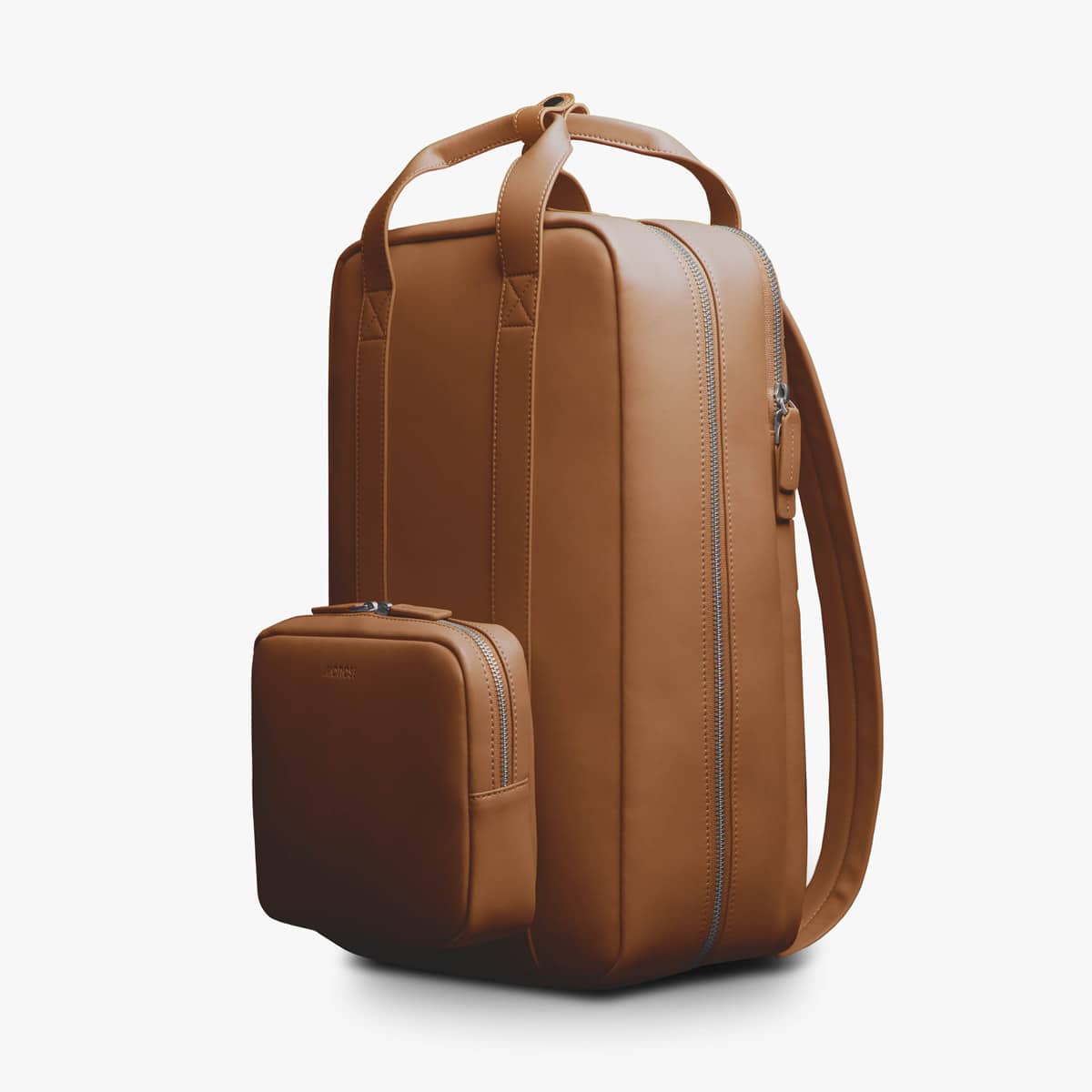 Cut from water-resistant, ultra-microfiber vegan leather, the Monos Metro Backpack mixes reliable toughness with a surprising amount of organization, all within a stylish, structured silhouette that goes effortlessly from work to weekend.
The clamshell opening gives you full access to the roomy main compartment for efficient clothes packing, while thoughtful pockets and compartments organize documents, electronics, and other accessories. There's even a stretchable, waterproof privacy section designed to keep your shoes and wet bathing suits separate from the rest of your contents. The bag's smartest feature, however, is the detachable front Dopp kit, which functions as an independent pouch for your essentials while on the move.
Is this one of the best backpacks for travel? We definitely think so.
Best Backpack for Everyday Carry: Bellroy Classic Backpack Premium Edition
If there's one brand that understands the meaning of functional simplicity, it's Bellroy.
Wrapped in a lightweight, water-resistant fabric made from recycled plastic bottles, and adorned with classy sustainable leather details, their Classic Backpack – Premium Edition is one of the slickest, best designed EDC backpacks you can buy in 2021.
Its chic, understated design is enhanced with lumbar support and contoured straps for all-day carrying comfort and packs in all your favorite organizational features, including a protective laptop sleeve, a padded iPad / A5 document pocket with pen slip, a soft-lined sunglasses pouch, and an easy-access exterior pocket for small essentials.
Best Backpack Under 100: Topo Designs Rover Pack Classic
Whether your adventure takes you across snow-capped mountains or to the coffee shop around the corner, this brightly colored Topo Designs backpack is a companion you can rely on.
Handmade in Colorado using nearly indestructible 1000d Cordura fabric, the Rover Pack Classic is built to withstand whatever you throw at it. It has a cool old-school look and a lightweight design, and stores your essentials securely within a spacious main compartment with inner laptop sleeve and two handy external pockets for quick access to must-haves.
Best Backpack for Women: Bellroy Melbourne Backpack Compact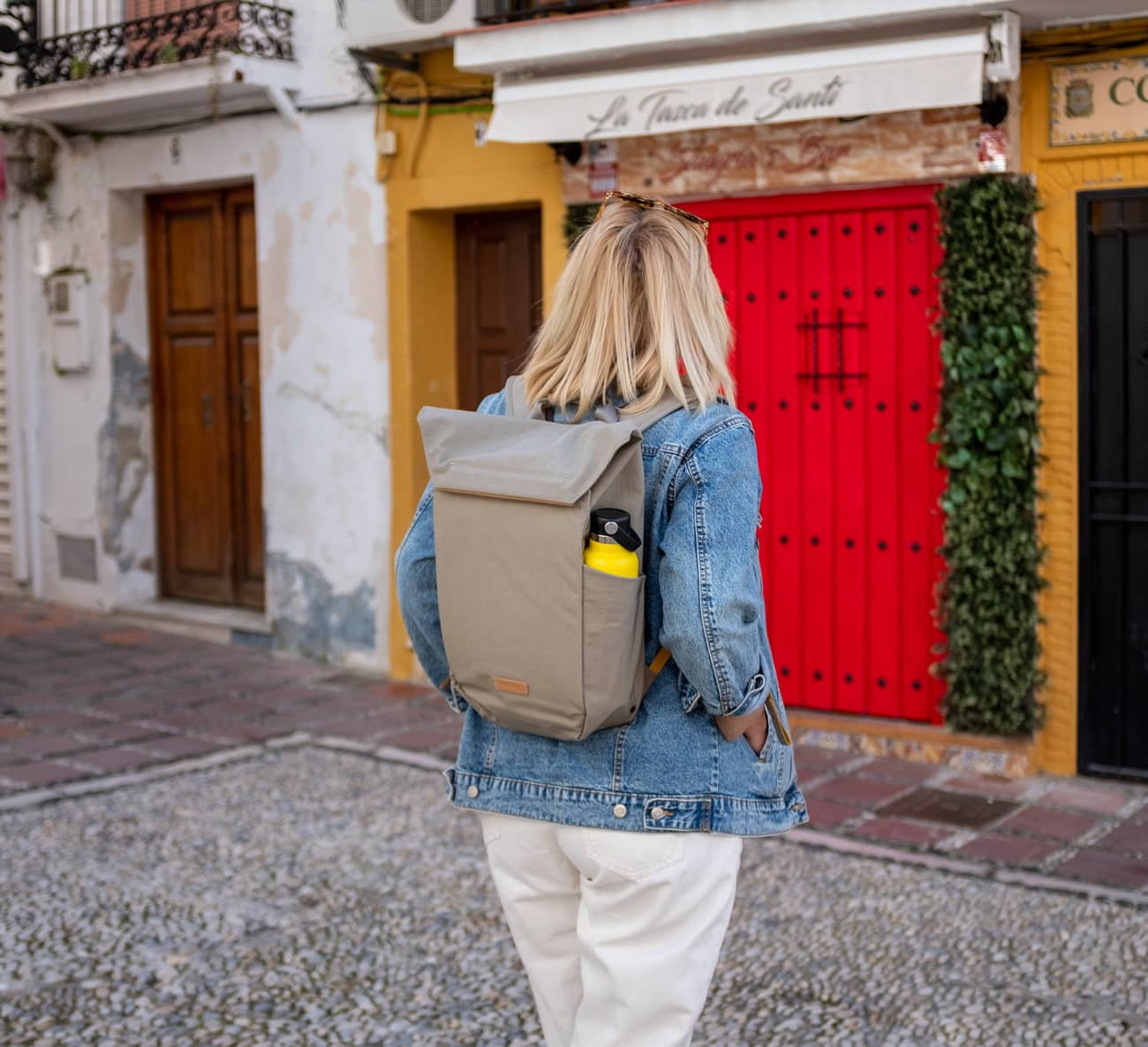 A 12L pack perfect for everyday carry, Bellroy's Melbourne Backpack Compact brings comfort and style to your commute thanks to its padded back panel, contoured shoulder straps, and smart, contemporary design.
The fold-top and side zipper provide intuitive one-hand access to contents, while a variety of pockets offer useful organization within. There's a 13" laptop-specific sleeve, an A5 document slip pocket, and a couple of low-profile external side pockets for your sunglasses and water bottle, to name a few.
Otherwise, the backpack is decked out in durable, water-resistant recycled fabric with premium, eco-tanned leather trims and features a wise magnetic fold top that adds both convenience & aesthetic intrigue. Its versatile style and ideal weight & size make it one of the best backpacks for women, and we can't recommend it enough.
Best Backpack for Men: Nomatic Navigator Backpack 15L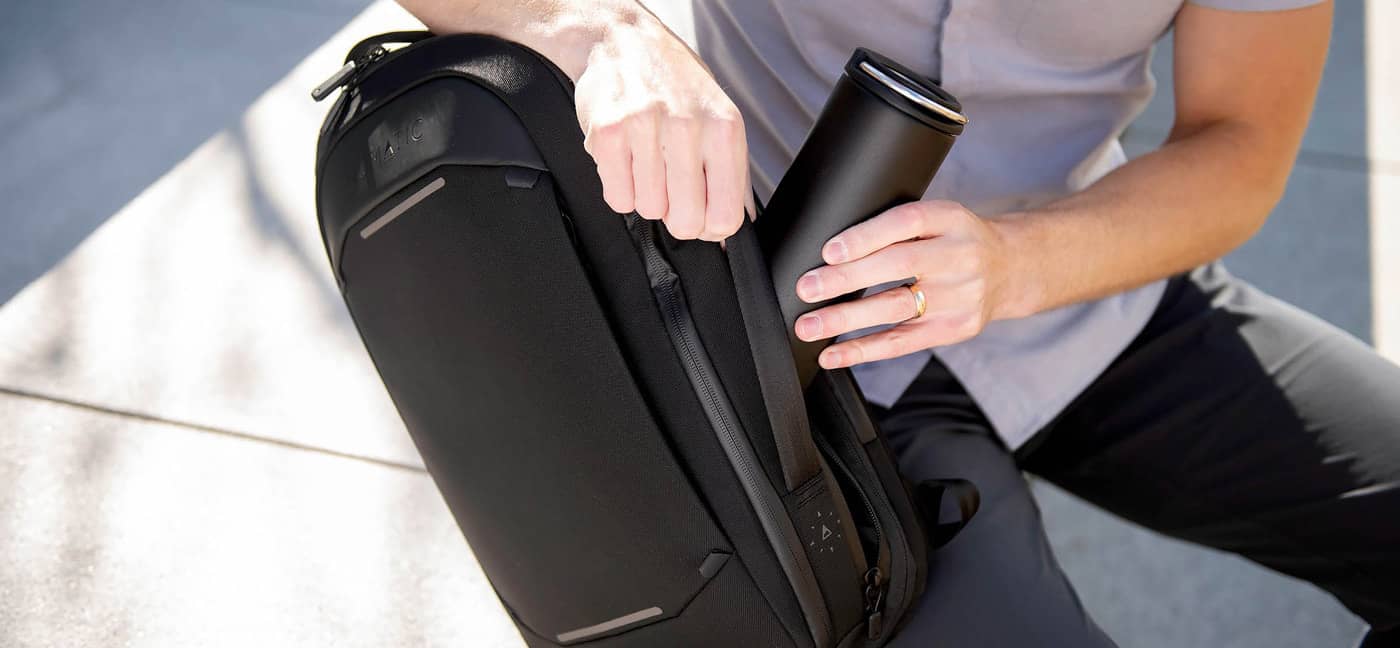 This Nomatic backpack is no joke. Engineered with tough, water-resistant materials, it stands out for its streamlined, functional design suitable for commuting or daily use.
While not huge, the main compartment fits more than you might think thanks to its expandable capacity and a choice of well-designed pockets and sleeves for organizing your daily gear. The Navigator Backpack 15L also comes complete with a separate laptop and tablet pocket, reflective bars for visibility in the dark, and a foam-formed back panel for comfort and breathability.
Best Smart Backpack: Solgaard Lifepack Backpack
Stay organized and productive on the go with Lifepack, the world's first travel backpack with an integrated lock and solar-powered USB bank.
Conceived with mobile workers in mind, this neat, weather-resistant bag acts as a mobile office, complete with a solar-powered USB charger, Bluetooth speakers, a microphone for conference calls, and a drop-resistant laptop pocket. It also has an ingenious layout with a "workzone" and a "lifezone", so you can keep your work items and personal belongings separated, and comes with anti-theft features like secret pockets and an integrated/retractable cable lock.
Best for Style: Horizn Studios Chiado Backpack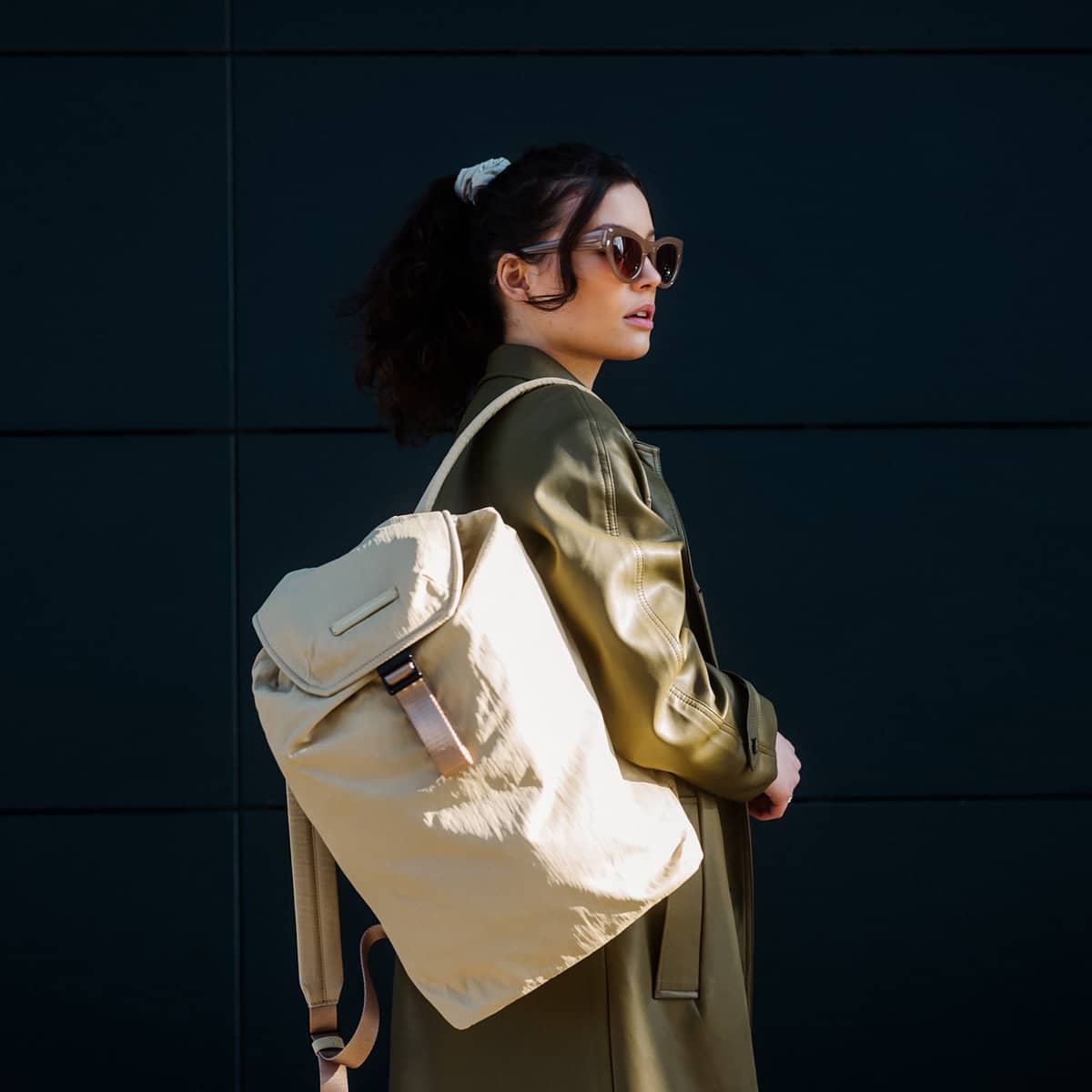 We can't get enough of this stylish backpack from Horizn Studios. Made from water-resistant, 100% recycled materials, it's lightweight, soft to the touch, and sleeker than most, all while holding everything you need to make it through the day.
Inspired by Lisbon's most elegant neighborhood, the Chiado Backpack opens through a drawstring top into a luxuriously lined interior with a secret pocket for phone or keys. The separate laptop compartment makes for easy access to your device, and there's also a strap on the back to secure it to your rolling luggage when traveling.
Best Backpack for Work and Travel: Samsonite NuRoad 17.3″ Convertible Backpack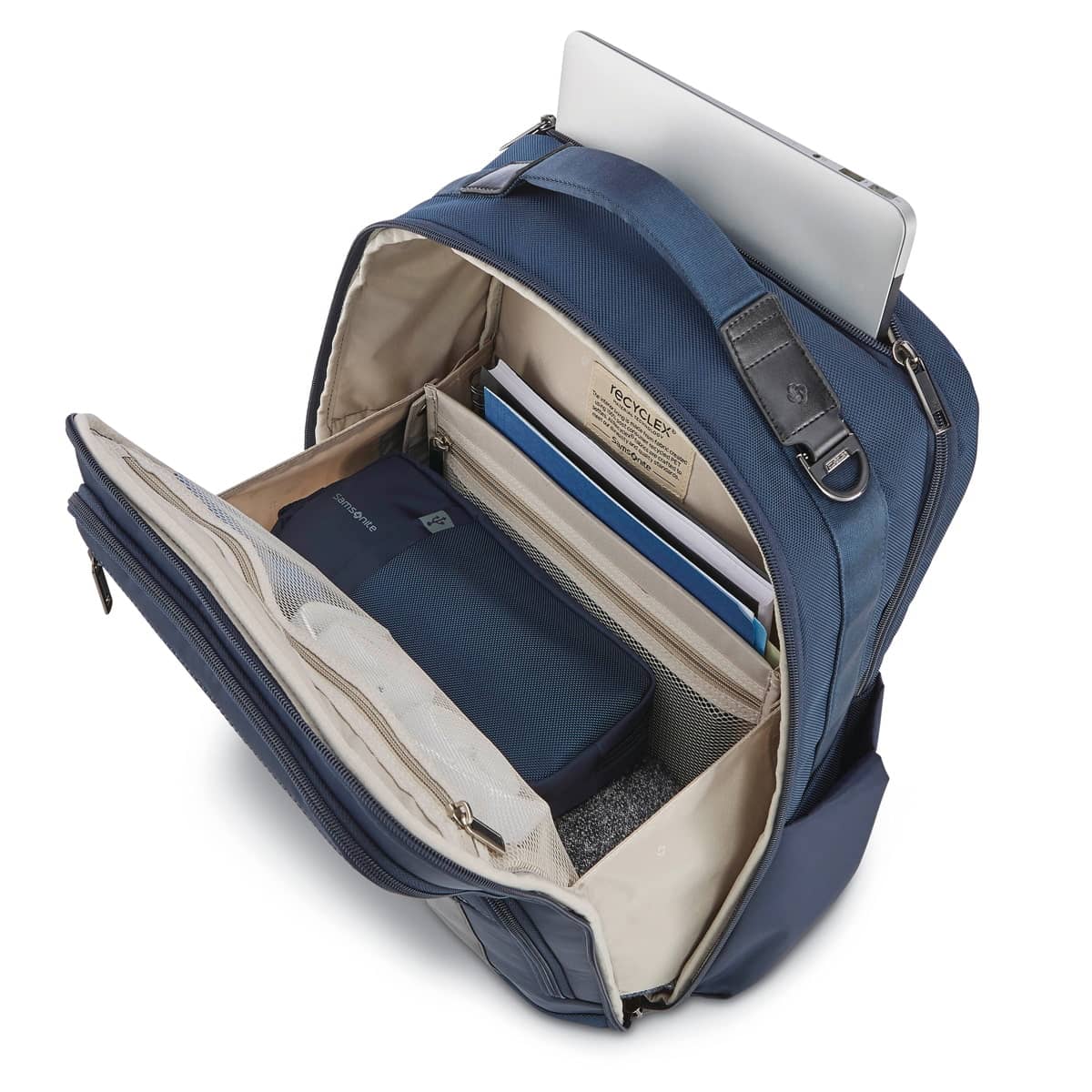 Whether you need it for short trips, city tours, school, or commuting to work, this highly functional hybrid backpack from Samsonite is a versatile must-have.
Crafted in a combination of nylon and polyester with a water-repellent coating, the NuRoad 17.3″ Convertible Backpack is durable, lightweight, and offers an array of storage features. It fits a 17.3″ laptop, a standard tablet, and even a weekend's worth of clothes if necessary. A luggage trolley sleeve adds ease to travel days, and a mix of cleverly designed straps and handles allows for 4 different carry options.
Best Commuter Backpack: Troubadour Explorer Apex Backpack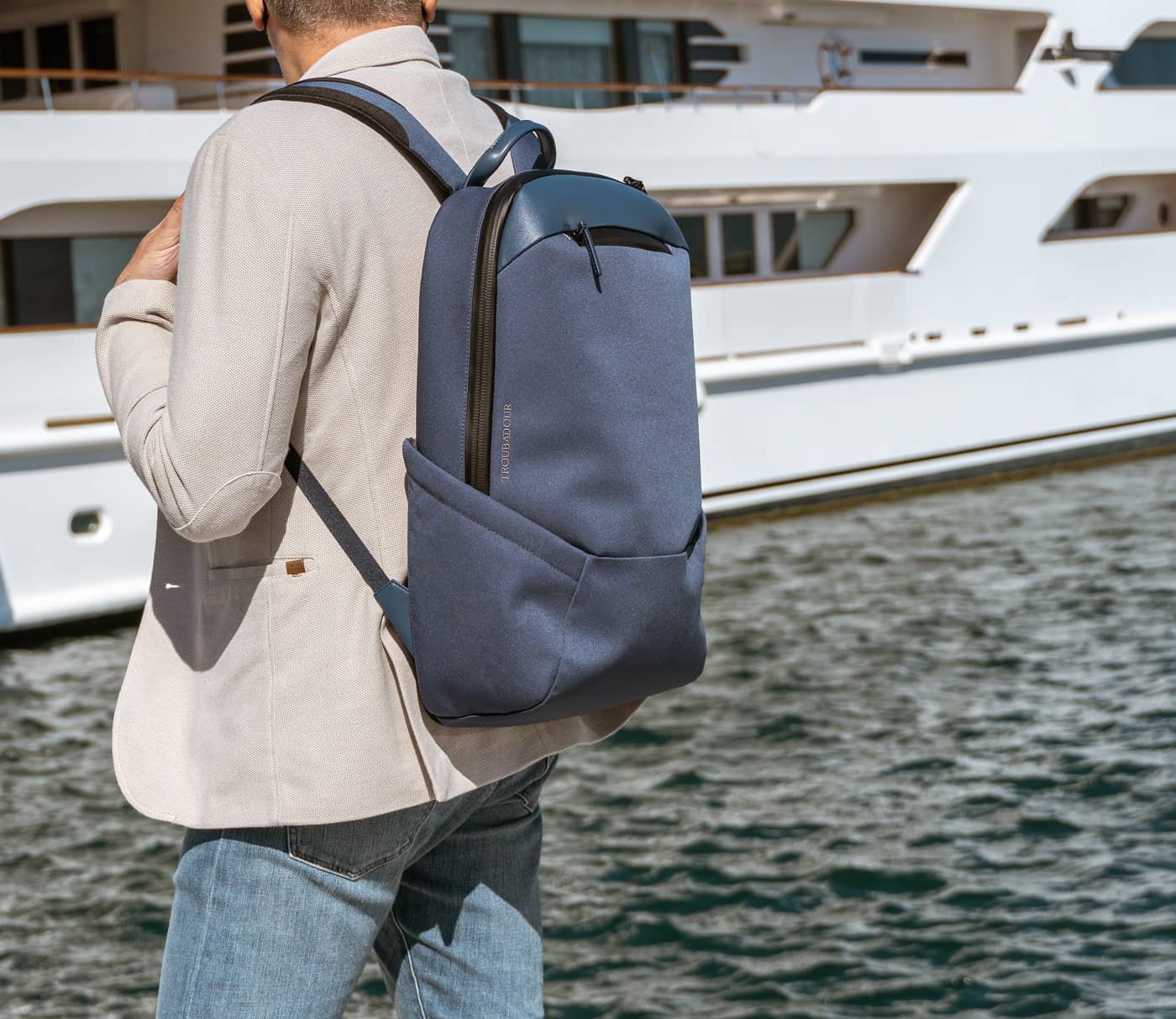 From British bag manufacturer Troubadour, the Explorer Apex Backpack impresses with its technical construction and stylish, minimalist aesthetics.
Weaved in a lightweight, waterproof fabric and complete with padded shoulder straps, this professionally looking rucksack was designed for seamless transitions from work to the mountain top and then back for drinks with friends in the city.
Versatile and contemporary, it sports a spacious inner compartment perfect for a change of clothes, as well as a padded section for a 16-inch laptop and pockets for all your organizational needs.
Best Carry-On Backpack: Peak Design Travel Backpack 45L
Although designed with traveling photographers in mind, Peak Design's Travel Backpack 45L has all the perks of a great carry-on: expandable storage, 360° grab handles, and a suitcase-style opening for easy packing, to begin with.
Storage is plentiful and practical courtesy of a zippered dividing panel that separates the bag into two compartments, as well as endless interior/exterior pockets fitting everything from passports, lenses, and toiletries to your laptop and tablet.
When not used for carrying camera gear, the backpack has room for a week's worth of clothing. Plus, its brilliant design allows it to expand from 35L to 45L while prioritizing convenient access to contents with intuitive weatherproof zippers throughout.
Throw in the weatherproof 100% recycled 400D nylon canvas shell, clever tuck-away shoulder straps, and lifetime warranty, and you have one of the best carry-on backpacks around.
Best for Travel and Photography: Wandrd All-New PRVKE
If you're after a versatile camera backpack to accompany you on your photography outings near and far, look no further than Wandrd's All-New PRVKE.
Fashioned from heavy-duty, water-resistant tarpaulin and ballistic nylon, and complete with weather-resistant zippers, quickdraw side access, and pockets for days, this pack will keep your valuable photography equipment safe, dry, and neatly organized.
The clamshell opening allows for easy packing and the expandable rolltop design adds to the bag's water-resistant properties while also giving you an extra 5 liters of space when the situation calls for it. For comfort, you've got padded back panel and shoulder straps, as well as an adjustable & removable sternum strap. The removable camera cube is a fantastic feature as it allows you to adapt the backpack to any loadout and travel scenario.
Best Expandable Backpack: Series 2 Medium Expandable Knack Pack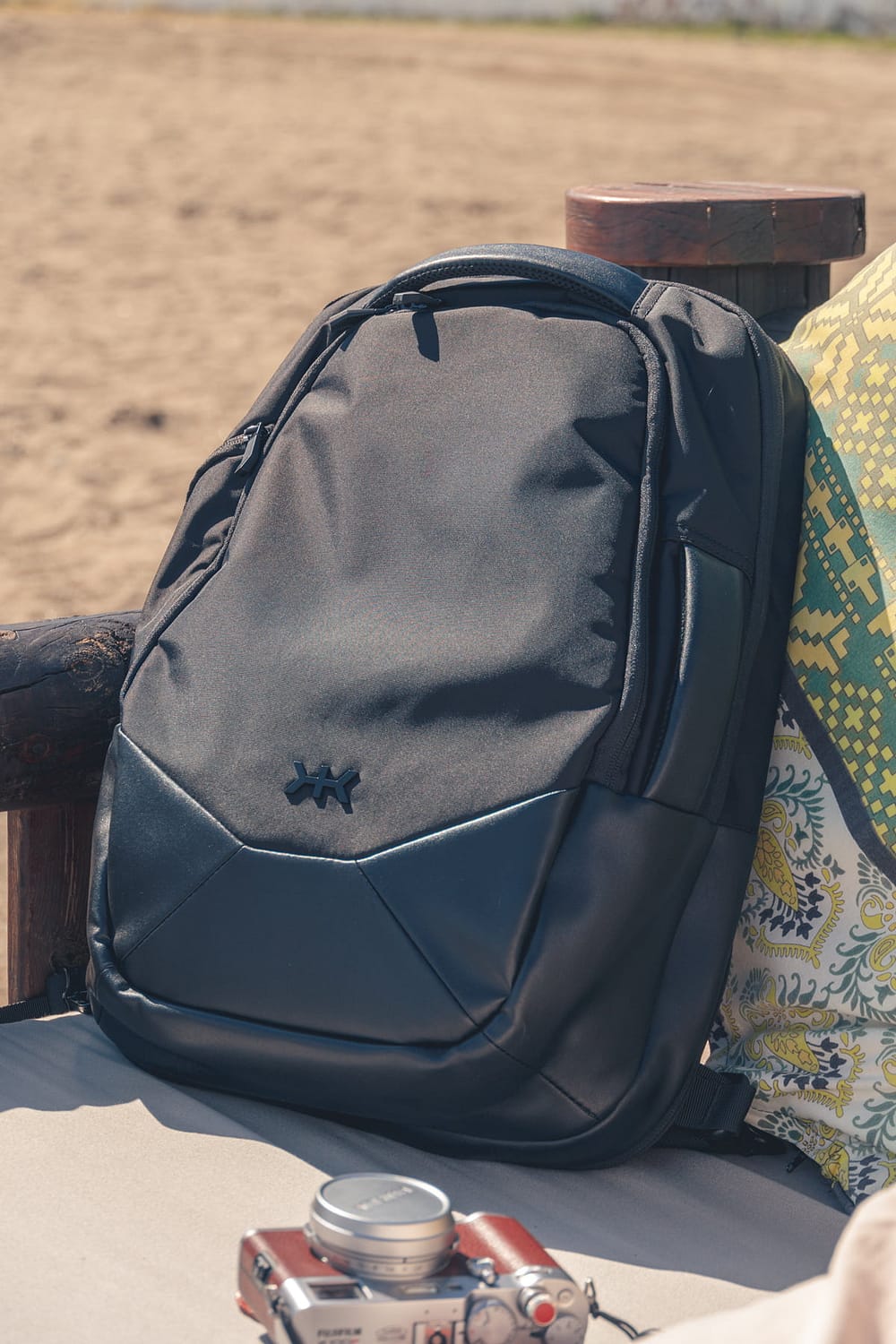 With a neat, ergonomic design and tons of smart features, it's hard to find a better expandable backpack for trips both short and long than this versatile piece of luggage from Knack.
Thanks to its intelligent design with a secret packing compartment, the Series 2 Medium Expandable Knack Pack is able to almost double its capacity (17L to 31L) and go from day pack to full-size travel bag in no time. Convenient organizational features like a padded side laptop sleeve, an easy-access front triangle pocket, and dedicated compartments for gadgets, water, and sunglasses keep all contents in place, while the stain-resistant, antimicrobial fabric lining provides long-lasting freshness.
Constructed with ultra-durable, water-resistant, and good-looking materials, this multi-purpose backpack is as suitable for daily commuting as it is for weekend adventures.
Best Small Backpack: Away The Small Zip Backpack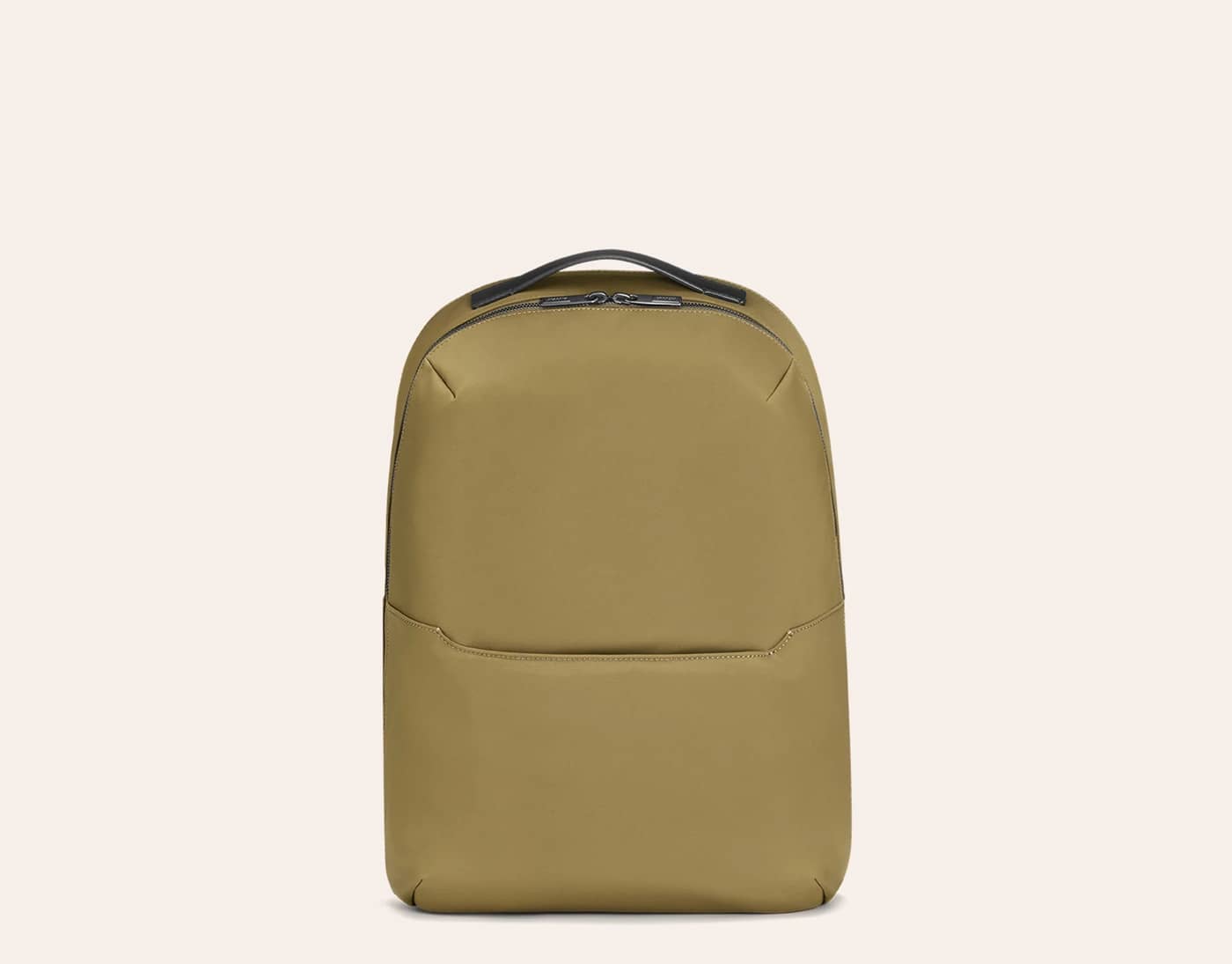 Away has proved that functionality and aesthetic aren't mutually exclusive, and their Small Zip Backpack confirms it. Chic enough to take you from client meetings to evening drinks, it's fitted with a padded 15-inch laptop sleeve and a front zip pocket for quick access to small items like phone, passport, or sunglasses.
Mixing water-resistant nylon with leather detailing, this premium backpack is both sturdy and sophisticated. A breathable mesh back panel adds extra comfort and the trolley sleeve comes in handy during air travel.
Best Ultralight Backpack: Matador Freerain24 Waterproof Packable Backpack
Any high-quality, water-resistant backpack will do a decent job in keeping your belongings safe and dry through rain or snow. Matador's Freerain24 2.0, however, does this and more.
At only 6 ounces, it is the most packable waterproof backpack on the market, folding down from a 24-liter daypack to a ridiculously small package that fits in the palm of your hand. The ultra-light design, weight-distributing shoulder straps, detachable storage bag, and completely waterproof rolltop main compartment make it an excellent companion for most travelers, from city sightseers to festival-goers to outdoor enthusiasts.
Best Backpack for Cycling: Chrome Industries Barrage Night Cargo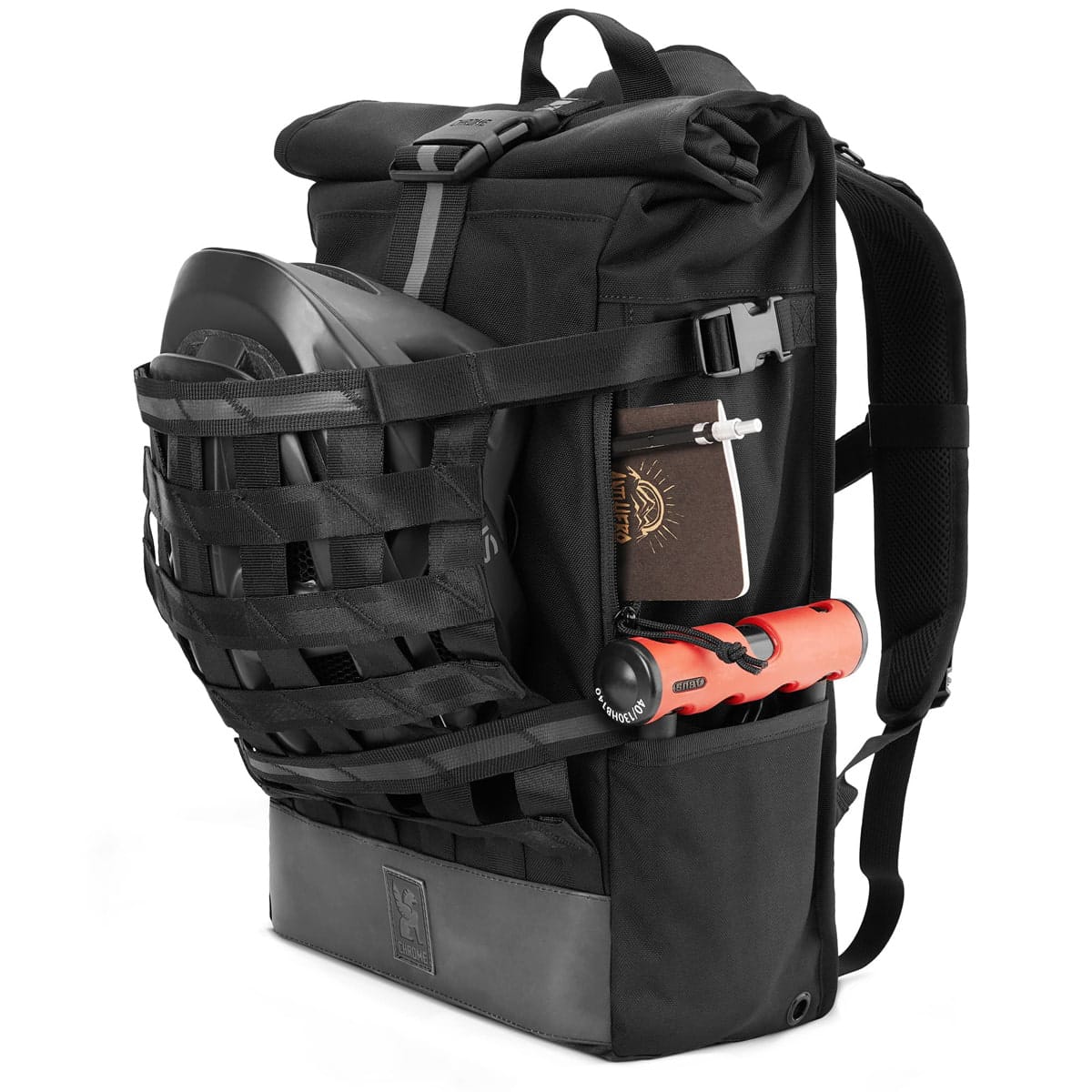 For a cycling backpack that will last a lifetime, reach for this unique, rugged model from Chrome Industries.
Made from super-tough 1050d nylon, the Barrage Night Cargo Backpack keeps contents dry in the rain thanks to its rolltop opening and waterproof inner lining. The exterior features a cargo-style net for storing your helmet, shoes, and kit, and there are also external pockets for water bottles and other easy-to-reach items. The ergonomically contoured EVA foam back panel promotes carrying comfort and breathability, a 15-inch laptop compartment adds everyday practicality, and a reflective panel provides enhanced night visibility.
Best Laptop Backpack: Timbuk2 Custom Division Laptop Backpack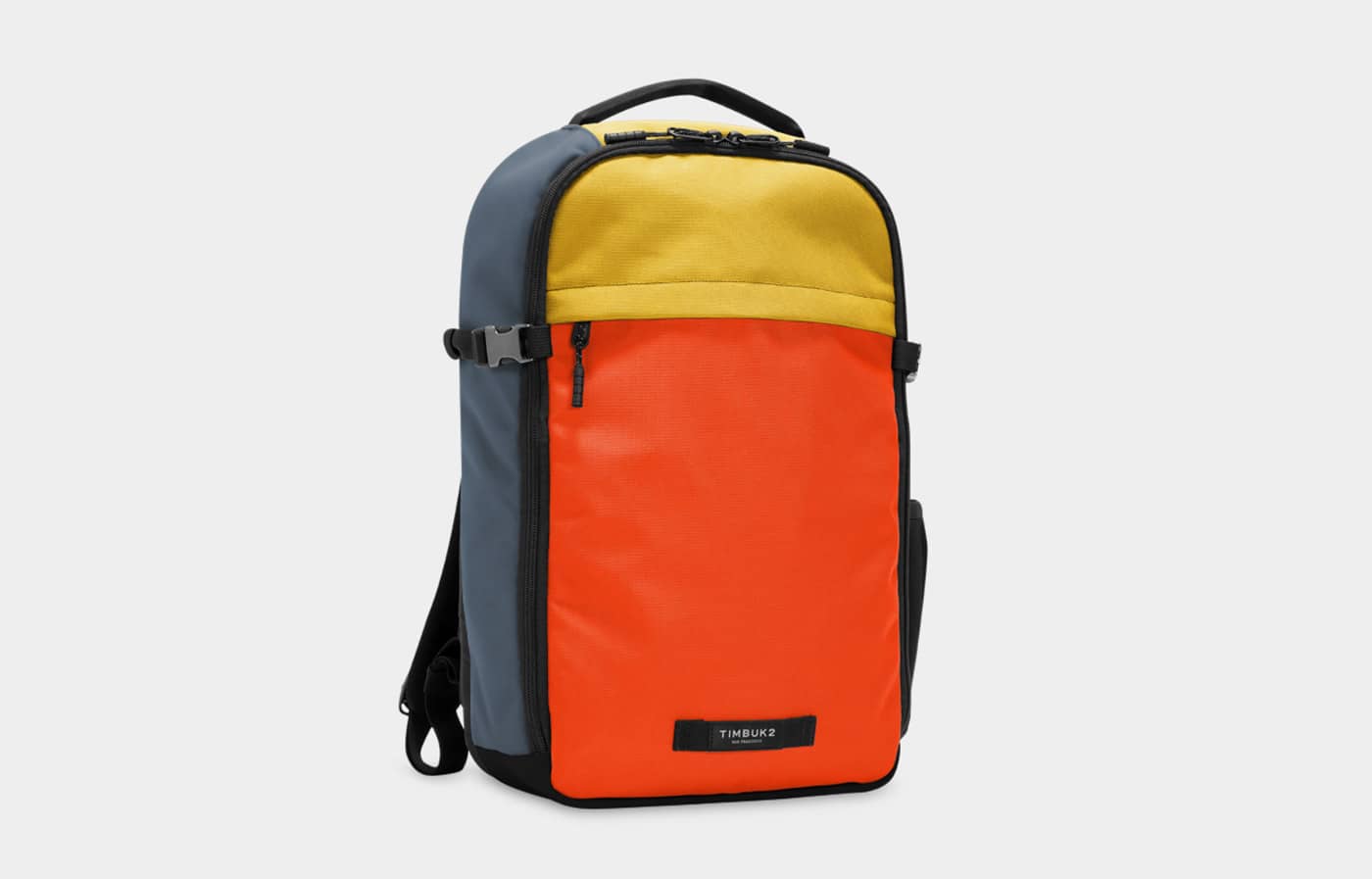 There are plenty of ways to carry your laptop nowadays, but if sturdiness, practicality, and organization are high on your list of priorities, this customizable laptop backpack from Timbuk2 is hard to beat.
Aside from a rear-access padded laptop sleeve, it boasts tons of other internal/external pockets for keeping things orderly on the go. There's even a side pocket for your water bottle, as well as an organizer panel for neatly storing work supplies or other daily essentials. The adjustable compression straps are a nice touch, and so is the ventilated back panel, or the reflective zipper pools & tape.
The Custom Division Laptop Backpack is conveniently lightweight and can be customized to your liking in a range of colors, which makes it an excellent choice for both the office as well as for day-to-day use.
Best Tactical Backpack: Goruck GR1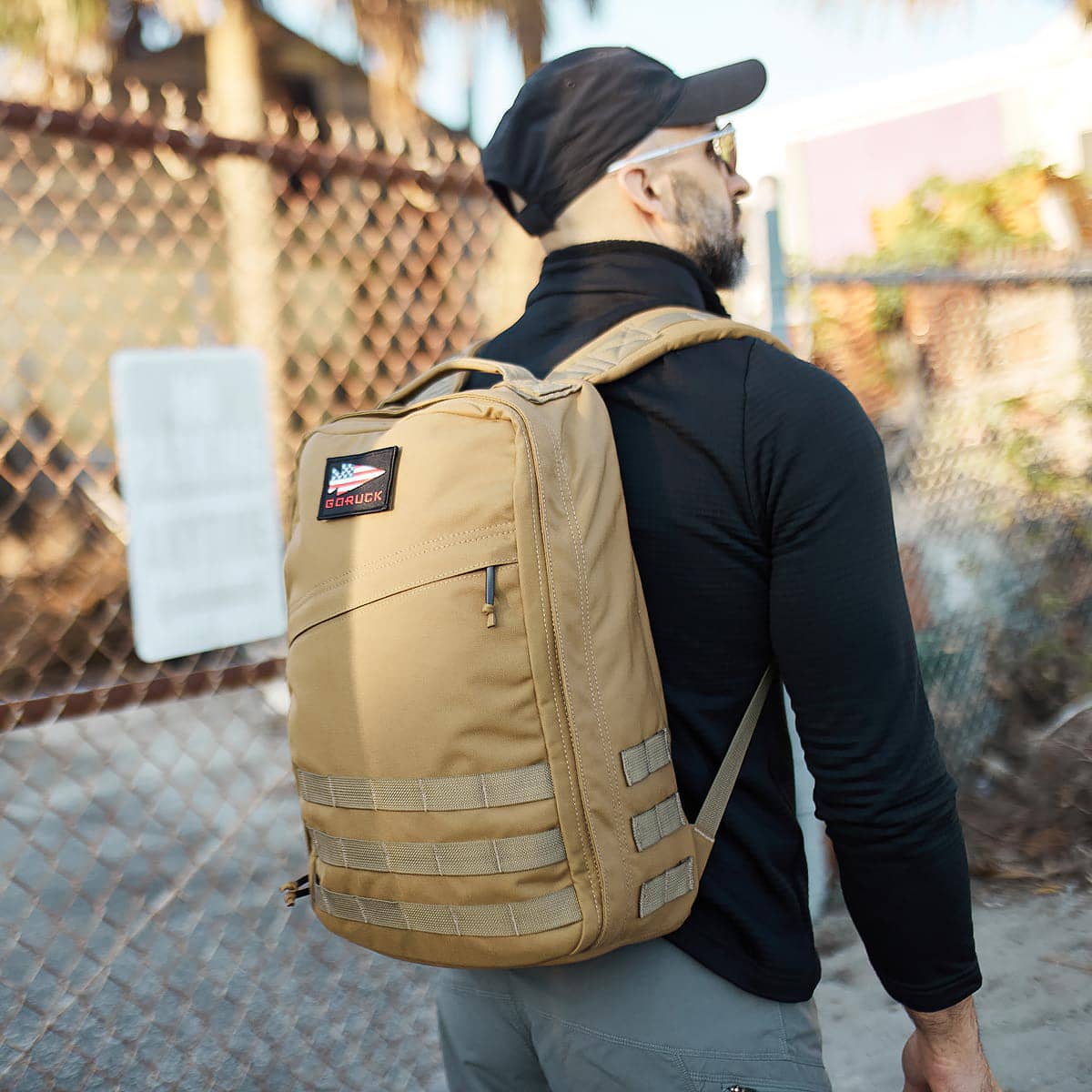 You can't talk tactical backpacks without mentioning Goruck. Highly efficient, surprisingly good looking, and engineered to endure the harshest environments, the GR1 takes you from city streets to warzones with ease.
Made from Special Forces-grade material, this badass tactical backpack is nearly indestructible without compromising on appearance. With a bombproof laptop compartment and multiple interior and exterior pockets of varying sizes, it packs everything you need into a carry-on size piece that will fit under your seat, which makes it great for travel.
Best Leather Backpack: Bagllet Handmade Leather Backpack
Forget sacrificing style for utility! Handmade in Kiev using genuine leather in a gorgeous sandy beige hue, this Bagllet backpack is the epitome of urban cool, inviting exploration of the world's grand boulevards, its narrow cobblestone alleyways, and storied backstreets.
Enriched with roomy zipped pockets and adjustable straps, this versatile bag is just as useful to stylish jetsetters on a weekend break as it is to preppy professionals toting their laptops to work. And the best part, it can be customized as you wish. Need a pocket the size of your laptop? No problem!
Best Backpack for Hiking: Matador Beast28 Ultralight Technical Backpack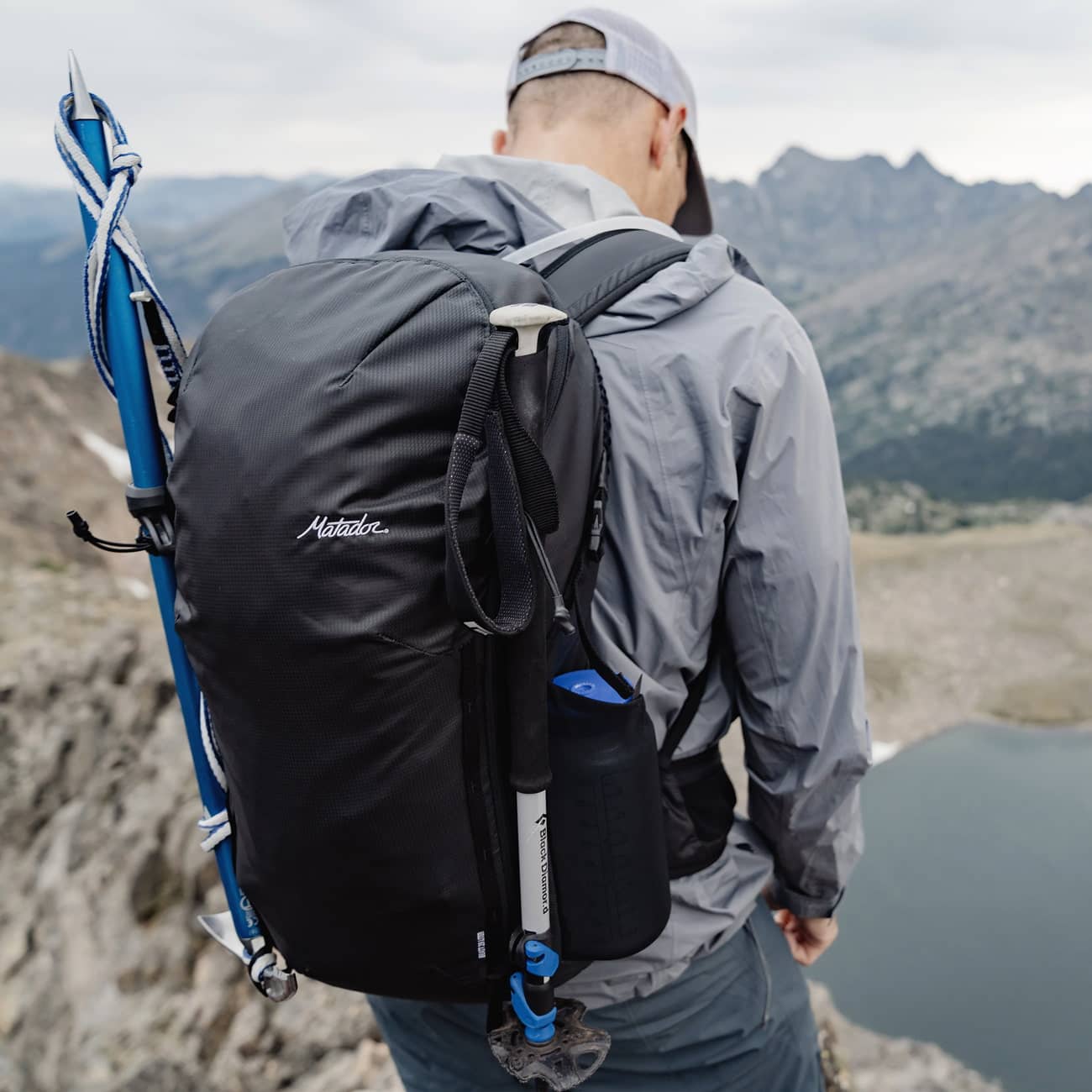 Matador is known for making some of the coolest packable travel gear out there, and the Beast 28 is no exception.
Lightweight, rugged, and loaded with functionality, this really is a wonderful hiking pack. It boasts a flexible frame suspension system, breathable mesh shoulder straps and back panel, and, most importantly, it packs into itself when not in use. Plus, outdoor enthusiasts will love the plethora of practical hiking features, including daisy chains, gear loops for alpine tools, and a hydration bladder pocket that doubles as a laptop sleeve.
At 28 liters, this hiking backpack is the perfect companion for a full day out, whether that means climbing a mountain, cycling through the countryside, or trekking in the woods. It also comes in a smaller 18-liter size, perfect for women or those who like to carry less.
Best Backpack for College: Topo Designs Daypack Heritage Canvas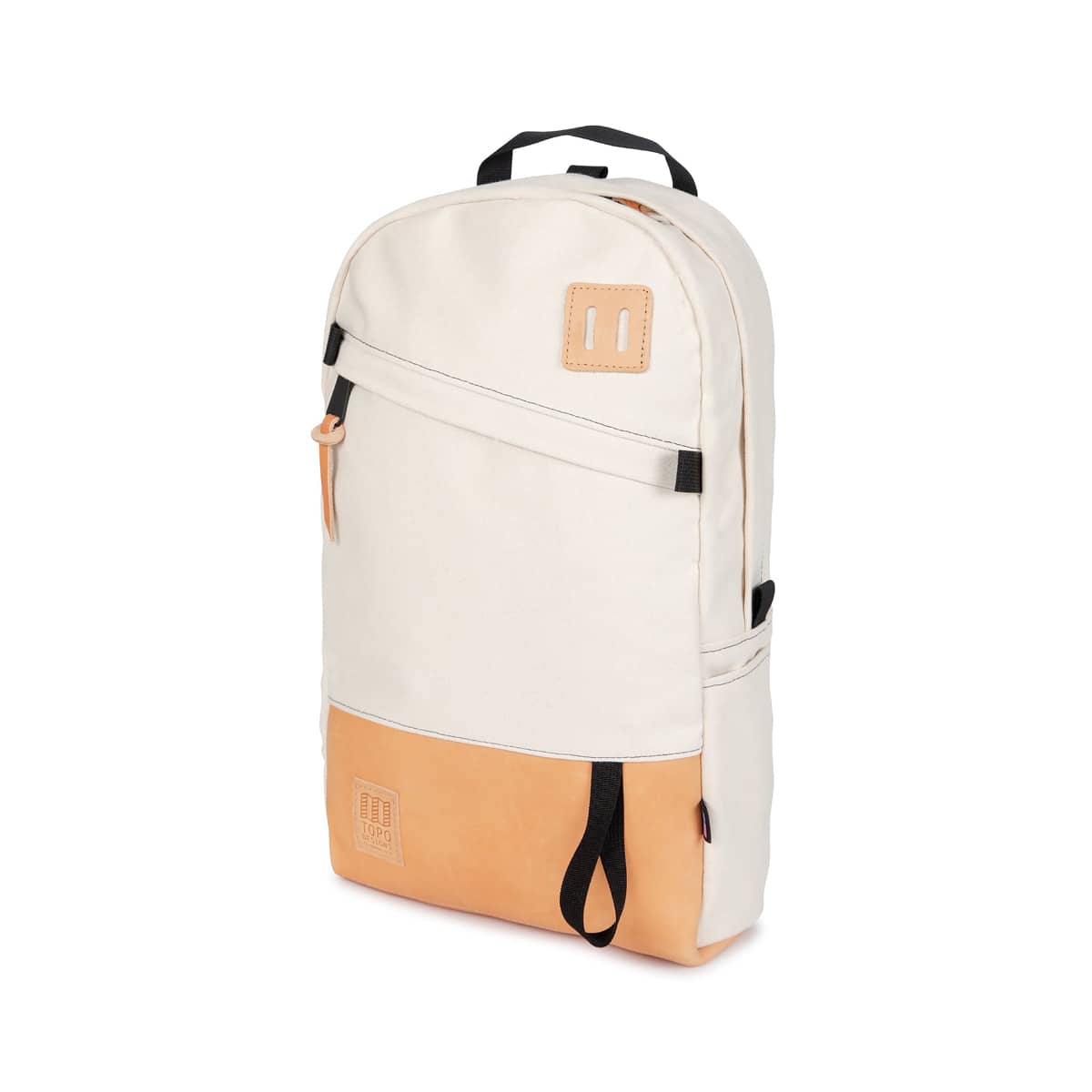 While you could certainly take this Topo Designs backpack out on the trail, it's also perfectly suited to tote your belongings around campus.
Made in the USA, the Daypack Heritage Canvas is wrapped in a durable cotton canvas with a water repellent finish and has a spacious main compartment for books, gym clothes, and other school supplies. Pair that with head-turning looks and an internal organization panel with laptop sleeve, and you have an effortlessly cool college backpack that'll not only get you through your school days, but life as well.
Best Camera Backpack: NOMATIC Camera Pack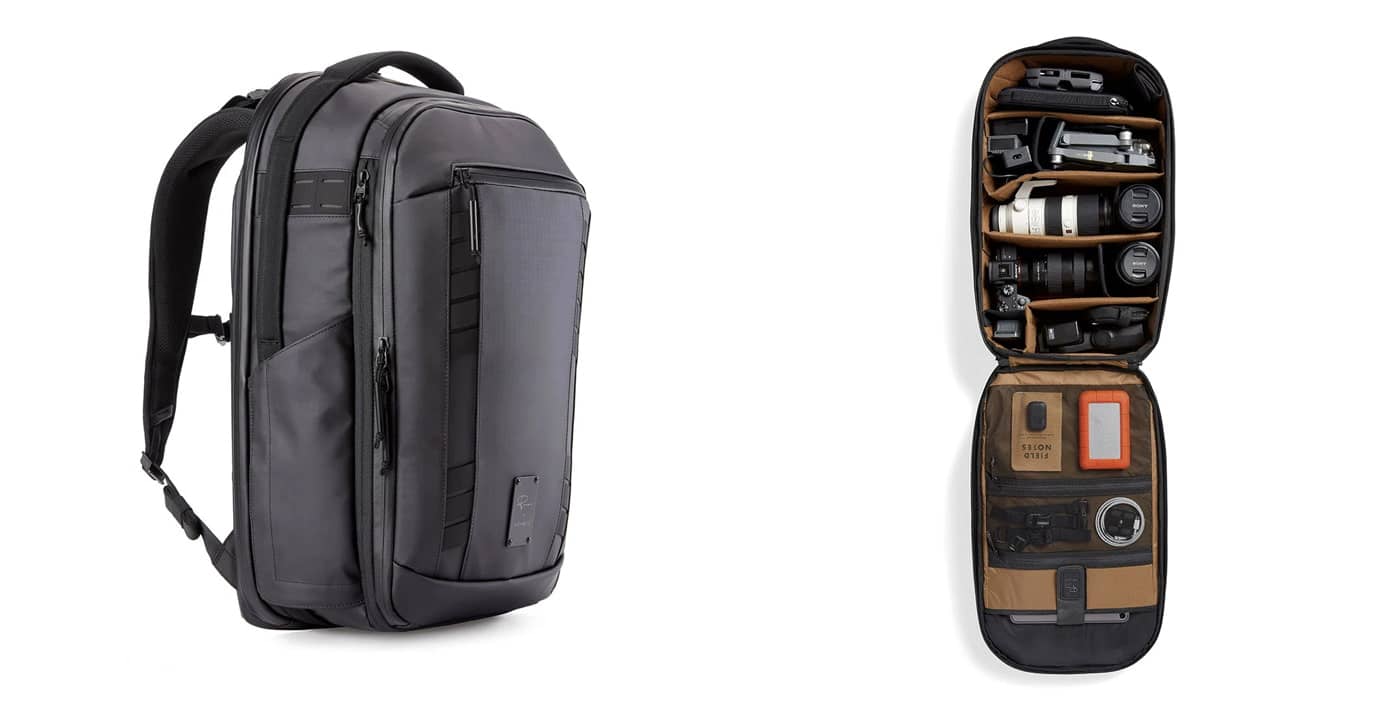 Urban photographers looking for a sleek, wildly functional camera carry solution should definitely check out The Camera Pack from NOMATIC.
The result of a collaboration between one of the best backpack brands out there and celebrity photographer & filmmaker Peter McKinnon, this unique piece stands out from the crowd with its expandable design (35 L to 42 L) and customizable storage options. Made of durable, water-resistant materials, the bag has dedicated clothing and camera gear compartments and comes with thick shoulder pads, aluminum stays, and adjustable tension straps for comfortable carry.
The inside is gloriously versatile with customizable dividers, compression strap, as well as various pockets for gear and small items. Equally well-designed, the pack's external features include a 15" laptop sleeve, a roomy easy-access pocket, tripod storage, and a magnetic water bottle pocket.
Best Anti-Theft Backpack: XD Design Bobby Pro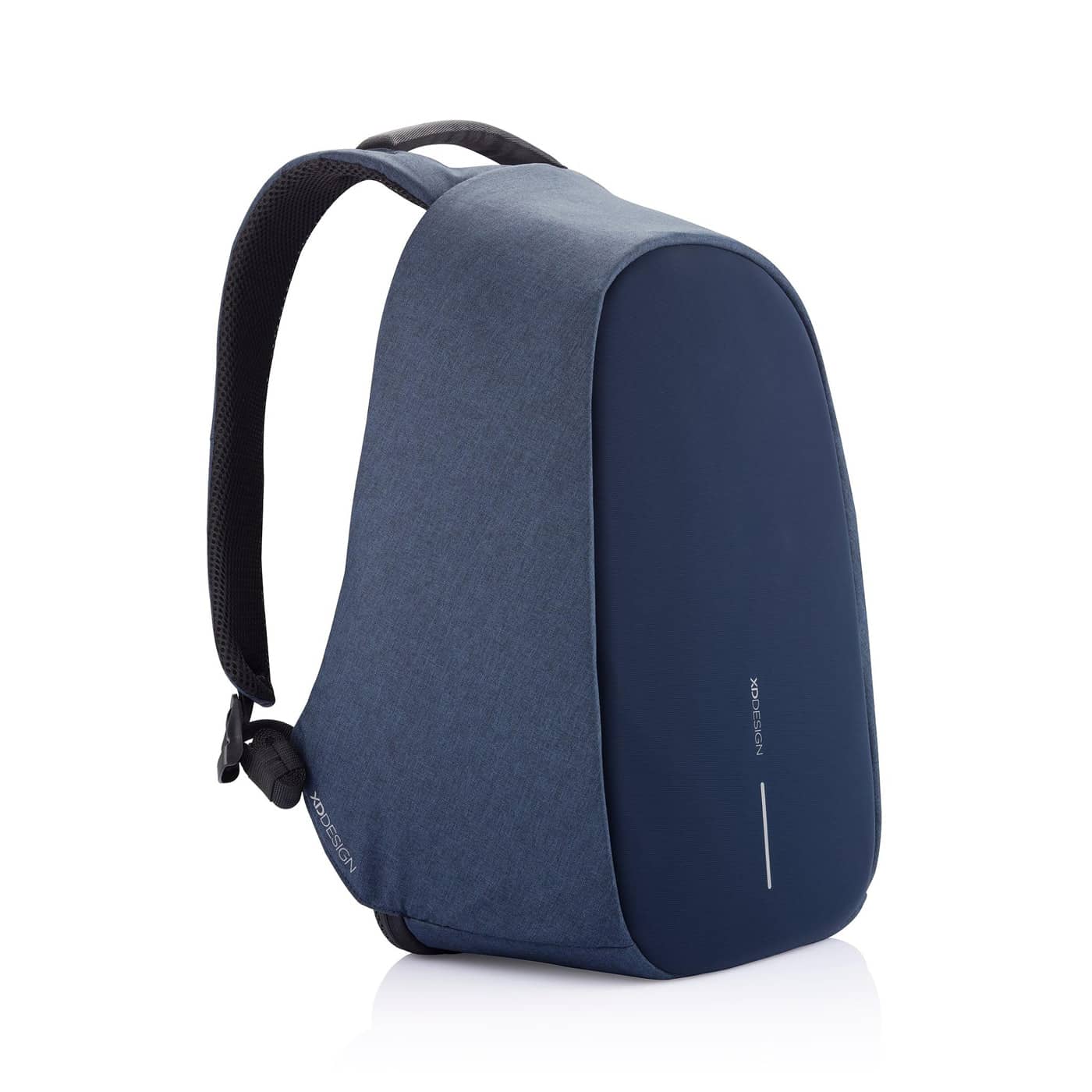 Hidden RFID-protected pockets, cut-proof outer fabric, and lockable zipper for the main compartment make XD Design's Bobby Pro the safest anti-theft backpack on the market.
Not only that, but this sleek, sporty bag is also water-repellent, looks good, and holds a decent amount of stuff, including a laptop up to 15,6″ and a tablet up to 12,9″. It even comes with an extensible key chain and a fidlock system on the shoulder strap for bottle and phone holders. The internal dividers allow for different organizing options and the integrated USB charging port powers up your devices on the go.
If you're looking for an anti-theft backpack that's cool, lightweight, and comfortable – all without making a hole in your pocket, this is it!
Best Fishing Backpack: Wild River Tackle Tek Nomad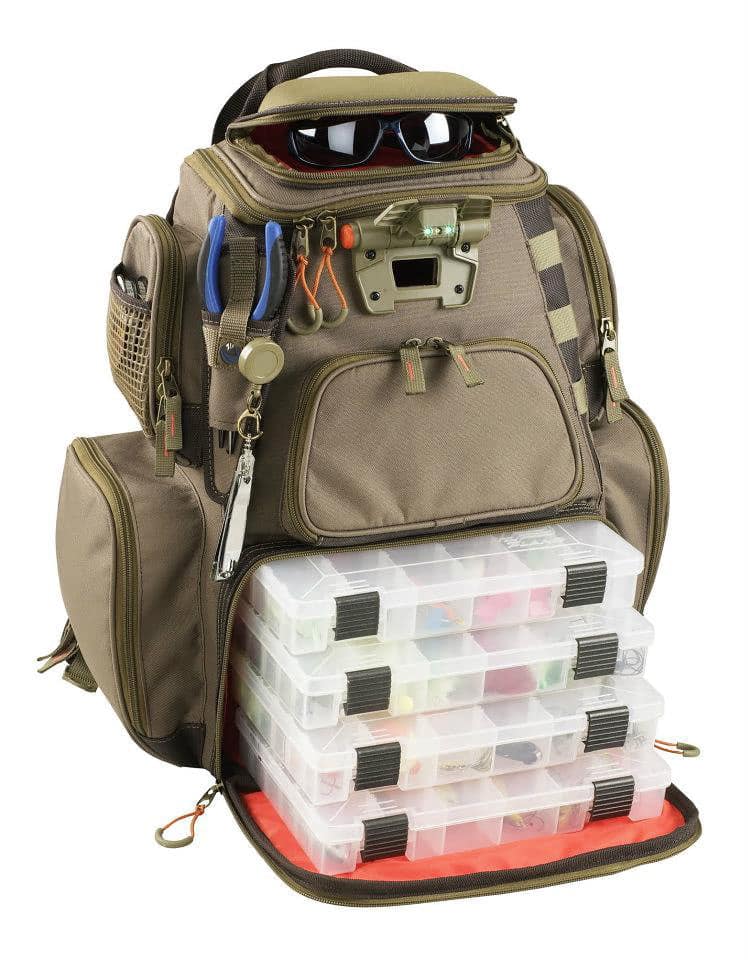 With an integrated LED light system, a front pouch that converts into a work surface, and ample storage space with plenty of compartments, the Tackle Tek Nomad sets a new standard for fishing backpacks.
This soft tackle bag by Wild River is big, durable, and extremely versatile, with unrivaled organizational capabilities. Aside from the main compartment, it features four side pockets, sunglass holder, and tray storage. Added bonuses include a protective rain cover, wide padded shoulder straps, a removable pile holder, and web loops for securing smaller tools.
Best Picnic Backpack: VonShef 4 Person Picnic Backpack with Blanket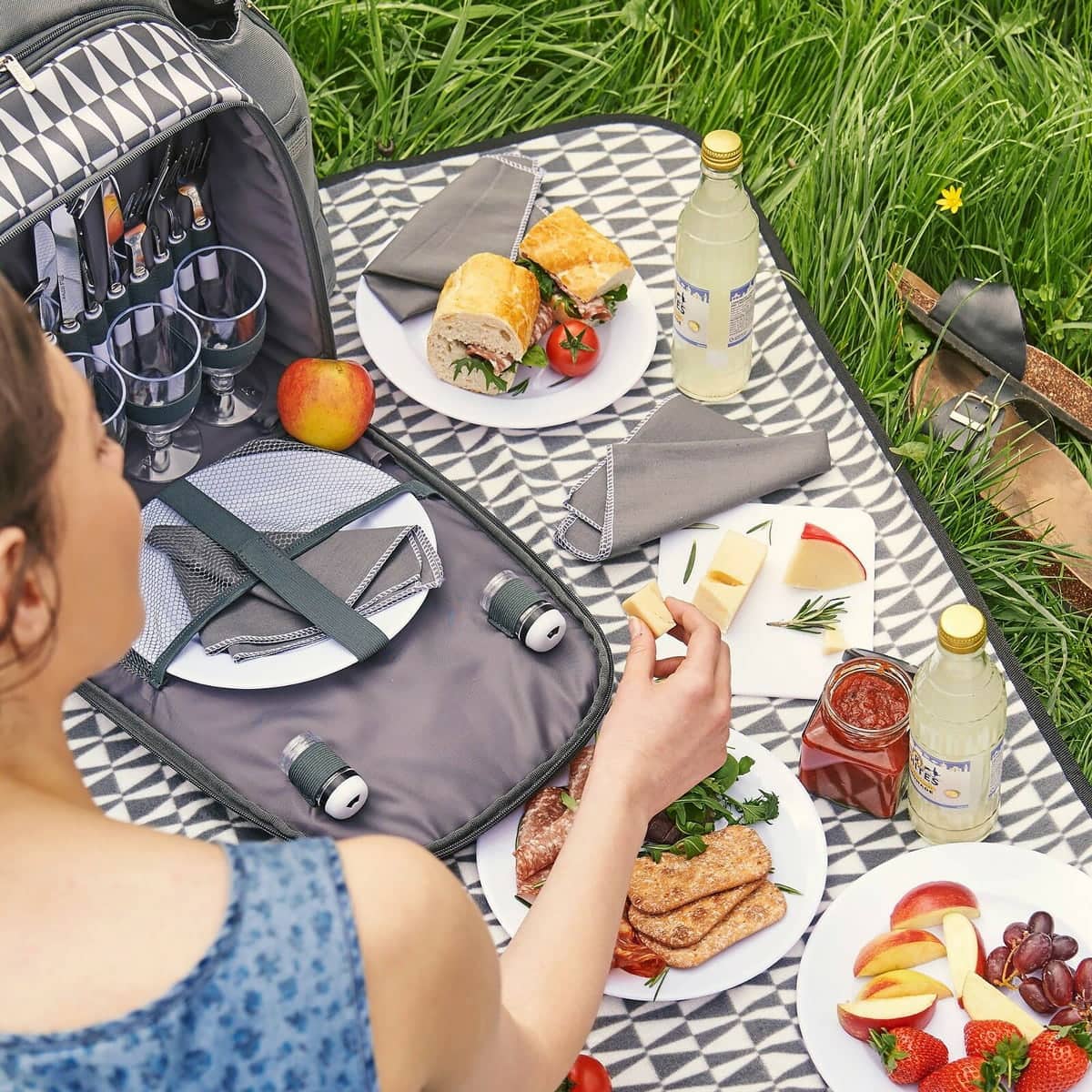 Equipped with a dining set for four and an extra-large, hardwearing blanket, this picnic backpack from VonShef has everything you need for a memorable alfresco meal with friends and family.
Made from 600d polyester, with a waterproof outer layer and elegant tan leather detailing, the pack is both durable and good looking. It also features an integrated water bottle holder, sturdy straps & carrying handle, as well as handy picnic accessories like salt and pepper shakers, bottle opener, and a chopping board. The best part, however, is its insulated aluminum foil-lined compartment, which keeps food chilled for longer.
---
Please note that not all these are hands-on product reviews. While we do own and use many of the items listed, others are thoughtful recommendations based on hours of research, opinions from fellow travelers, and personal preferences. Design, as always, was an important ranking factor for us, but we took into consideration a lot of aspects, including sturdiness, versatility, and performance.