This post contains affiliate links, which means we may receive a small commission, at no additional cost to you, if you make a purchase through these links. See our full disclosure here.
If you thought hands-free styles belong in the classroom, or the '90s, our hands-on review of the best backpacks in 2023 will prove you wrong.
Gone are the days when a backpack was only meant for carrying stuff. Today's designs are stylish, practical, and smarter than ever, with features that cater to every lifestyle and activity you can think of. But with so many great options available, knowing which one is the right fit for your needs becomes the hardest part.
While it's virtually impossible to try out every product ever made, we've road-tested more backpacks than we can count over the last few years, evaluating everything from comfort and style to features and durability. We've gone through ultra-durable adventure packs constructed for rugged outdoor use, got our hands on some stylish, versatile backpacks for work and travel, and packed our gear in the coolest, most innovative camera bags out there.
To make your shopping experience easier and hassle-free, we've selected, tested, and ranked the best backpacks within each category.
No time to read it all? Here's a shortcut.
Best Backpack in 2023: The Ramverk 21L Backpack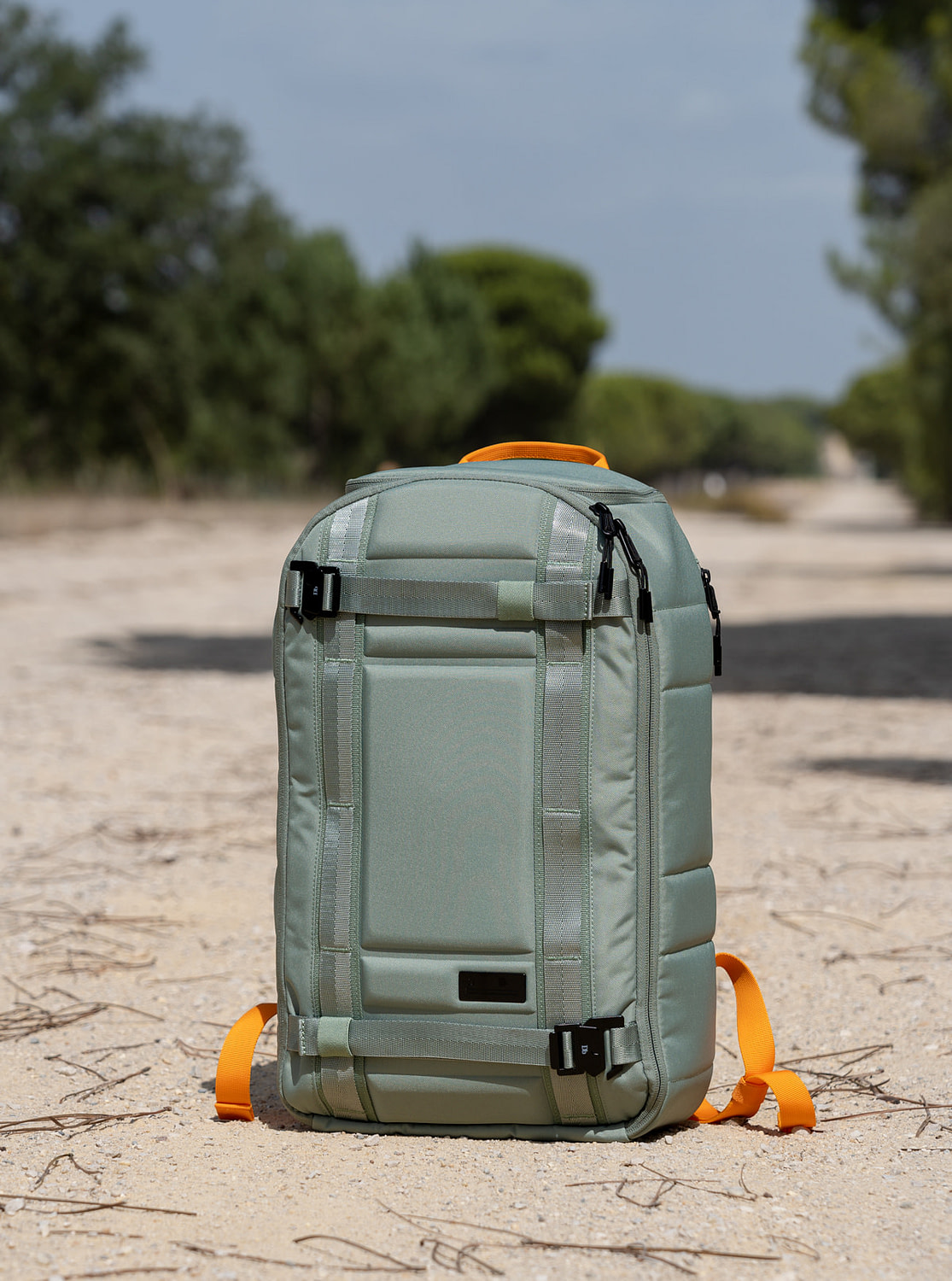 Best feature: Its versatility
Dimensions: 18.8″ x 11.2″ x 5.7″ (48 x 28.5 x 14.5 cm)
Weight: 2.2 lb (1 kg)
Volume: 21 L
Material: 100% GRS-recycled fabric
The Ramverk 21L Backpack has all the Db features we know and love in a compact size ideal for everyday carry. Think quality, hard-wearing materials, the patented Hook-Up system, which allows it to be connected with other roller bags in the range, as well as Db's innovative Rib Cage Technology designed to protect the items inside without adding extra weight.
I prefer front-loading backpacks to top-loading ones, and this one opens flat like a suitcase, with a large main compartment on one side and divided mesh pockets ideal for tech and small accessories on the other. There's a separate zippered pocket roomy enough for a 16" MacBook Pro in the back and a pretty deep, quick-access one on top.
To wrap this up, this versatile backpack does a bit of everything: when combined with Db's camera insert, it makes a great photography bag with room for other stuff too, and I have many times used it as a carry-on backpack in addition to other luggage pieces when flying smaller European planes that have limited space in the overhead bins. Otherwise, it's robust enough to take out with me on outdoor adventures and stylish enough to be worn when strolling around the city in search of the next best coffee shop.
👍 HIGHS
Full-frontal opening for easy packing & access
Aesthetically pleasing
Comfortable to wear
Carry-on approved
👎 LOWS
No water bottle pocket
Additional side access would have been nice
---
Best Backpack for Women: Bellroy Melbourne Backpack Compact
Best feature: The compact design
Dimensions: 15.75″ x 11.02″ x 6.2″ (40 x 28 x 16 cm)
Weight: 1.5 lb (700 g)
Volume: 12 L
Material: Recycled nylon
Small, stylish, and lightweight, Bellroy's Melbourne Backpack Compact is my favorite pack for a day out. It has traveled with me all over Europe for the last three years, and based on the quality of its materials and how well it is built, I have a feeling I'll be using it for a very long time.
The Lunar version that I have is decked out in durable, water-resistant recycled fabric with premium, eco-tanned leather trims, but the bag is also offered in black, navy, and several interesting leather-free variants. Although the color I own handles heavy use very well, I do feel it has darkened a bit over the years. It's still in perfect condition, though, with no visible stains or wear marks.
One of the reasons I opted for the Melbourne Compact in the first place, besides the good looks and compact size, was its accessibility. The main compartment is easily accessed via a unique side zipper and a wise magnetic fold top, both of which add to the bag's minimalist, clutter-free aesthetic and provide intuitive one-hand access to contents on the go. However, the pack's great accessibility comes with a price: the top flap tends to pop open when the backpack is tightly packed. This can be a major problem, especially in crowded places, so I usually place my scarf or spare sweater on top in an attempt to protect my camera and other precious items.
Other than that, I love Melbourne's padded back and shoulder straps, which make for a comfortable wearing experience, as well as its light-colored, well-appointed interior. My iPad fits perfectly in the laptop sleeve, and there are enough smaller pockets to keep my wallet, keys, and other accessories in place.
👍 HIGHS
Slim, compact design perfect for smaller frames
Great accessibility
Durable, water-resistant recycled fabric
Fits a 13" laptop
👎 LOWS
The magnetic fold top is not particularly secure
It may be too small for some users
---
Best Backpack for Men: Bellroy Transit Workpack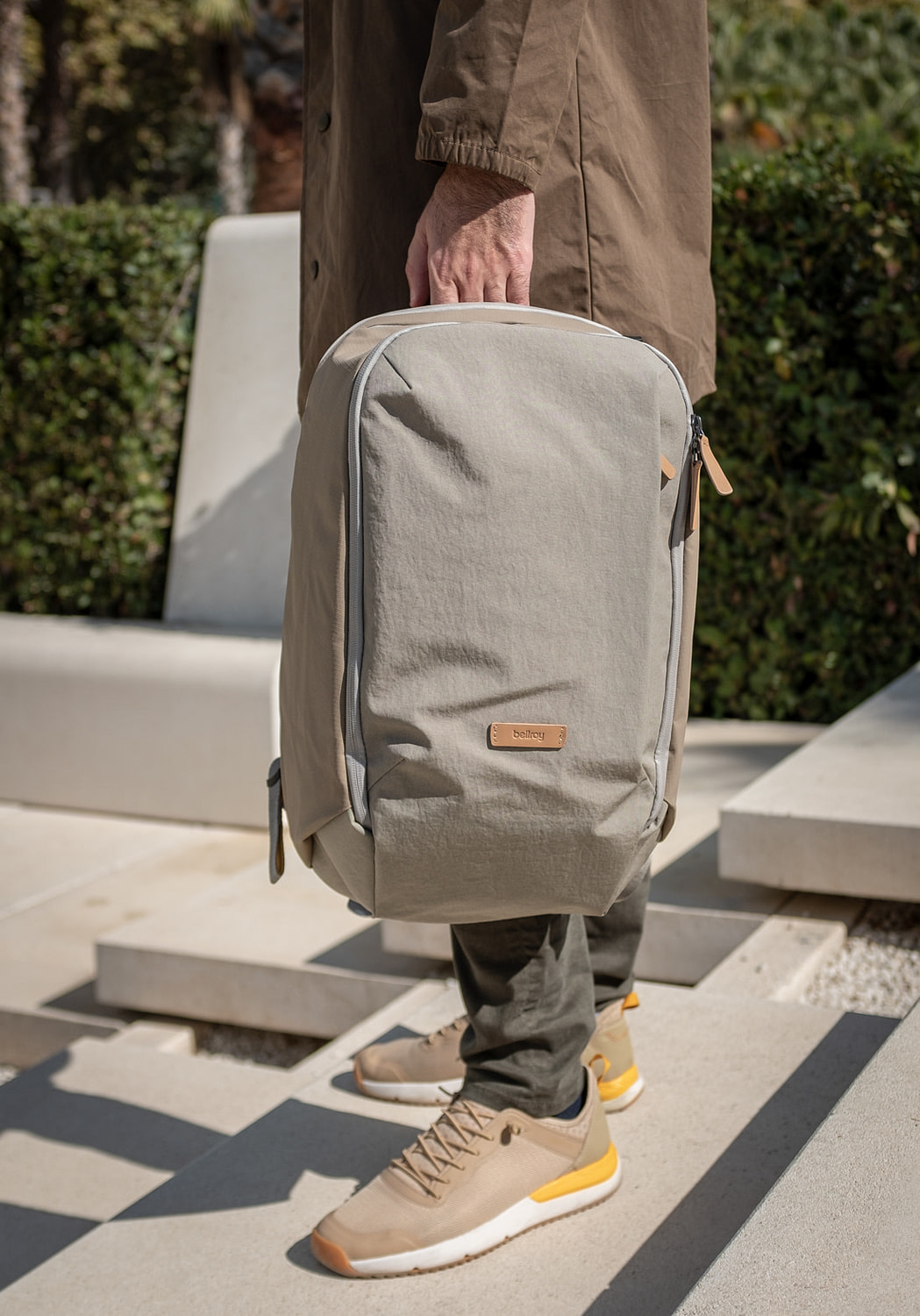 Best feature: Its versatility
Dimensions: 19.69″ x 12.6″ x 7″ (50 x 32 x 18 cm)
Weight: 1.87 lb (850 g)
Volume: 20 L
Material: 100% recycled nylon
If there's one brand that understands the meaning of functional simplicity, it's Bellroy. We're avid fans of their well-designed products and ingenious materials, so when the Transit Workpack landed on our doorstep, we were really excited to unbox and start testing it right away. It did not disappoint.
While the backpack comes in different colors and materials, our review refers to the Lunar colorway made from the brand's Baida Nylon. This means lightweightness, water resistance, and a sleek, streamlined look, all of which concur in making it one of the best backpacks for work and travel.
I find the 20-liter size ideal for work commutes, going to the gym, or carrying day trip essentials. There are lots of thoughtfully placed pockets to keep things organized, including a top sunglasses pouch lined with soft fabric and a front quick-grab pocket with enough room to accommodate a light windbreaker. My favorite, however, is the separate laptop compartment, which is padded, suspended, and holds devices up to 16″.
Perhaps just as important as the layout is the bag's carrying comfort, and here it's ensured by the padded shoulder straps and contoured, breathable back panel. It's true that it looks a little too big on me (I kinda look like a turtle with it on my back), but I'm 5.4″ (163 cm), and most of them do, so I wouldn't trade it in. However, this led me to conclude that as a daypack, the Transit Workpack is better suited for a larger-framed person, which is precisely why we chose it as the best backpack for men. Apart from that, it feels very comfortable and stable on my shoulders. Despite months of regular use, it's still in fantastic condition thanks to the durable, water-resistant woven fabric and water-repellent YKK zippers.
👍 HIGHS
Full-zip clamshell opening for easy accessibility
Clean aesthetic
Lots of pockets keep small items separated
Lightweight
👎 LOWS
Looks big on smaller frames
Some reviewers have complained that water bottle pockets are a little small, but they work just fine for us, and we really love how they blend into the design
---
Best Camera Backpack: Peak Design Everyday Backpack 20L
Best feature: The thoughtful, feature-rich design
Dimensions: 18.01" x 12.9″ x 6.6″ (46 x 33 x 17 cm)
Weight: 3.66 lb (1.66 kg) / 4.43 lb (2.01 kg) with dividers
Volume: 17 to 20 L
Material: 400D double poly-coated DWR-impregnated nylon canvas
Out of all the camera backpacks we've tested, we often find ourselves coming back to the Peak Design Everyday Backpack. Why? It's the right size, it's comfortable to wear, and comes packed with more thoughtful design details than can be covered in this review.
The exterior is durable enough to withstand the elements and has a clean, modern aesthetic, while the inside houses a ton of smart pockets, including laptop and tablet sleeves. I love that I can customize it according to the day's packing needs (thank you, Peak Design's origami FlexFold dividers!), but most of all, I love that I don't need to open the top flap to reach my camera (or stow it away) while on the move – I just flip the backpack around my body and access the main compartment from either side of the bag. It's that easy.
👍 HIGHS
High-quality materials throughout
Highly customizable
Clever stretchy side pockets
Three ways to access the main compartment
Zippers are weatherproof and work beautifully
Integrated luggage handle pass-through
Laptop compartment is adjustable
Outer fabric is 100% recycled and bluesign® certified
👎 LOWS
None. I can't think of one thing that I dislike about this backpack. Not even one!
---
Best Travel Backpack: Tortuga Travel Backpack 40L
Best feature: The comfortable harness system
Dimensions: 21.7″ x 13.8″ x 7.9″ (55 x 35 x 20 cm)
Weight: 4.5 Lb (2 Kg)
Volume: 40 L
Material: Recycled polyester & ripstop polyester
Tortuga is one of the most recognizable names when it comes to travel backpacks. Their well-thought-out pieces are tailored to modern travelers, offering not only comfort and durability but also great organization. Continuing the tradition, their latest Travel Backpack 40L, which I recently tested, is an engineering feat with a fantastic harness system, convenient suitcase-style packing, and a wealth of organizational features.
Though made with recycled materials, the pack's build quality is no joke. It features lockable, water-resistant zippers, top-notch hardware, and its SHELL200 fabric is both lightweight and resistant to wear and tear. Although we haven't tested this new material's durability over a long period of time, it feels extremely robust, and after being unexpectedly caught in a downpour while wearing it, I can personally attest that it keeps your gear dry in wet conditions.
To get a sense of how it behaves as a one-bag travel solution, I packed the Tortuga Travel Backpack to the brim and headed off to Barcelona for a week of sightseeing and coffee shop-hopping. This gave me plenty of opportunities to test the pack in different scenarios, including as a carry-on and a daily carry. While it didn't excel in every situation, at the end of the trip, it emerged as our favorite backpack for travel, with the strongest points being its brilliant organization and how comfortable it is to wear even when fully loaded.
Packing the bag was easy and pleasant thanks to its clamshell design that lets it split open for full access to the main compartment. Tortuga's built-in, well-padded tech section is another highlight. Situated close to your back and lined with soft fleece, it's home to both tablet and laptop sleeves, plus extra room for accessories. Likewise, the front travel organizer compartment comprises many pockets and a Kindle sleeve to keep your items tidy and easy to find.
My boyfriend is a huge fan of carry-on backpacks, but for me, the idea of bearing the weight of all my travel essentials on my back just doesn't sound very appealing. However, I really wanted to try one, and I'm glad I did. Not only was I able to fit a week's worth of essentials inside the Travel Backpack 40L, but the load felt incredibly comfortable on my shoulders thanks to its thickly padded straps, height-adjustable harness, and removable hip belt.
👍 HIGHS
Great built-in organization
Durable, recycled materials
Carries heavy loads with ease
Carry-on compliant
Waterproof
👎 LOWS
Too big to use as a day pack
Comes with a hefty price tag
---
Best Backpack for Content Creators: The Ramverk 32L Pro Backpack
Best feature: The integrated rib cage construction
Dimensions: 19.8″ x 11.8″ x 8.2″ (50.5 x 30 x 21 cm)
Weight: 4.2 Lb (1.94 Kg)
Volume: 32 L
Material: 100% Recycled waterproof coated nylon
The team at Db sent us their Ramverk 32L Pro to try out not long ago, and while we haven't used it long enough to be able to attest to its durability just yet, everything we've experienced thus far has been excellent. Not only does it look sleek and smooth, but the build quality and choice of materials seem to be fantastic. And there's plenty more to love, like a separate, easily accessible laptop compartment, a spacious soft fleece-lined top pocket, or the removable waistbelt.
We've long been fans of the brand's unique rib cage technology, and this new release continues that tradition in a 32L size. This makes the bag's structure rigid enough to preserve its shape and stand up on its own, but more importantly, it helps protect the contents without adding excess weight.
The Ramverk Pro is billed as a photography backpack, but its heavy-duty construction, clamshell opening, carry-on size, and versatile packing make it our favorite backpack for content creators overall.
👍 HIGHS
Sturdy & stylish design
The roomy main compartment adapts to various packing needs
Fits any Db camera insert
Separate, padded laptop compartment
Quick-access top pocket for essentials
👎 LOWS
No water bottle pocket
You need to take it off your back to access your gear
---
Best Everyday Carry Backpack: Urth Arkose 20L Modular Backpack
Best feature: The smart organizational layout
Dimensions: 18.1″ x 11″ x 5.9″ (46 x 28 x 15 cm)
Weight: 1.98 lb (900 g)
Volume: 20 L
Material: Weatherproof 600D recycled nylon
I've used Urth's Arkose 20L Modular Backpack for about a year now, and I have to declare it my favorite everyday carry backpack yet. It's stylish, lightweight, and sustainable, and I just love its split-level design and streamlined minimalist aesthetic. It's also the one that best adapts to my current everyday needs.
My Sony Alpha 7 IV and 24-105mm G lens fit perfectly in the lower compartment when paired with Urth's camera insert, while the upper storage space is great for clothing or other personal items. And that's barely scratching the surface in terms of organization as this discreet everyday pack comes with a total of 12 storage zones, including padded laptop/tablet sleeves, a stylus pen insert, and recessed zippered pockets on both sides of the bag. The YKK zippers run smoothly, and the fact that I'm able to fold the backpack flat and pack it into a suitcase in order to use it once I arrive is a dream come true.
Of course, there is room for improvement, but the Arkose 20L is an excellent choice for anyone in the market for a stylish everyday backpack that doubles as a camera bag.
👍 HIGHS
Made with sustainable materials
Stylish
Lightweight
Pockets for everything
Doubles as camera backpack
👎 LOWS
Shoulder straps don't stay adjusted to the right length
Back panel doesn't offer much breathability
---
Best Backpack for Style: Bennett Winch Backpack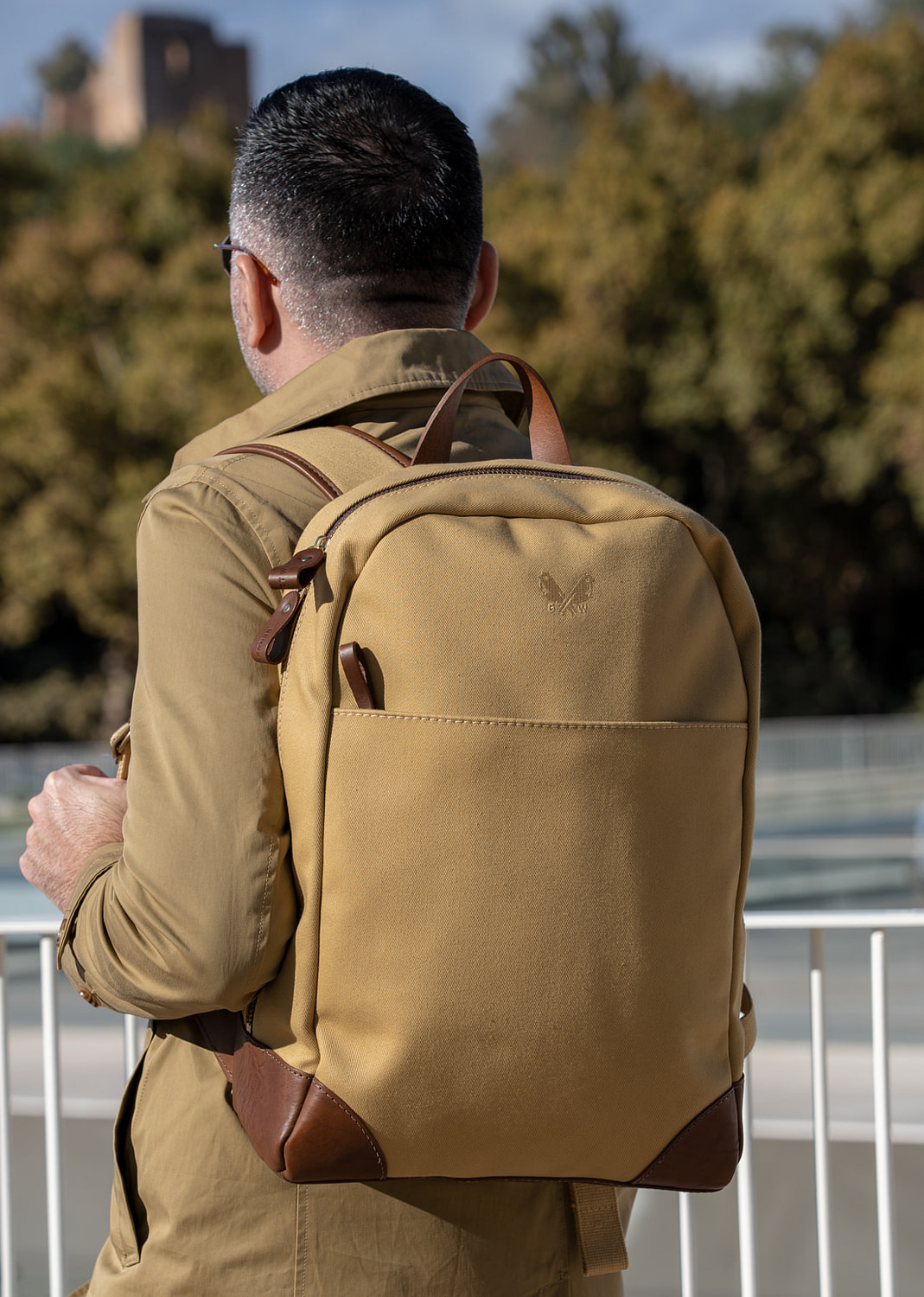 Best feature: The quality of the materials and craftsmanship
Dimensions: 17.7″ x 11.8″ x 5.5″ (45 x 30 x 14 cm)
Weight: 2.8 lb (1.3 kg)
Volume: 22 L
Material: 24oz British dyed and bonded waterproof cotton canvas
The Bennett Winch Backpack is stunning. From the 24oz bonded canvas down to the golden solid brass hardware, it looks and feels like a piece of art. The one we've tested comes in a sand beige shade with chocolate brown leather details for that coveted heritage feel that gets even better with age.
However, beyond the stylishly rugged appearance and supreme quality, we were thrilled by its functionality. This refined backpack has a generous main compartment, a concealed external pocket for small EDC essentials, a padded laptop/tablet sleeve, and a detachable waterproof compartment ideal for gym gear, shoes, or toiletries. The YKK golden brass zips move like a dream, and the two-way main fastening runs the length of the bag, facilitating access and packing. At first glance, the shoulder straps may seem a bit thin, but don't let that put you off; they're designed for comfort, distributing the weight of what's inside nicely.
The bag's capacity sits right in the sweet spot – small enough for daily outings yet large enough to be useful for travel and commuting. I found it easy to fit everything I needed for an overnight trip inside without making the backpack feel too boxy and had no problems taking it on board some of the strictest airlines as carry-on luggage.
The only thing to note is that this level of quality and craftsmanship comes at a cost – the Bennett Winch is one of the most expensive items in our review guide.
👍 HIGHS
Classy looking
Detachable waterproof compartment
Wide mouth opening
Repairs are free for life
👎 LOWS
On the heavier side
Expensive
---
Best Affordable Backpack: Topo Designs Rover Pack Classic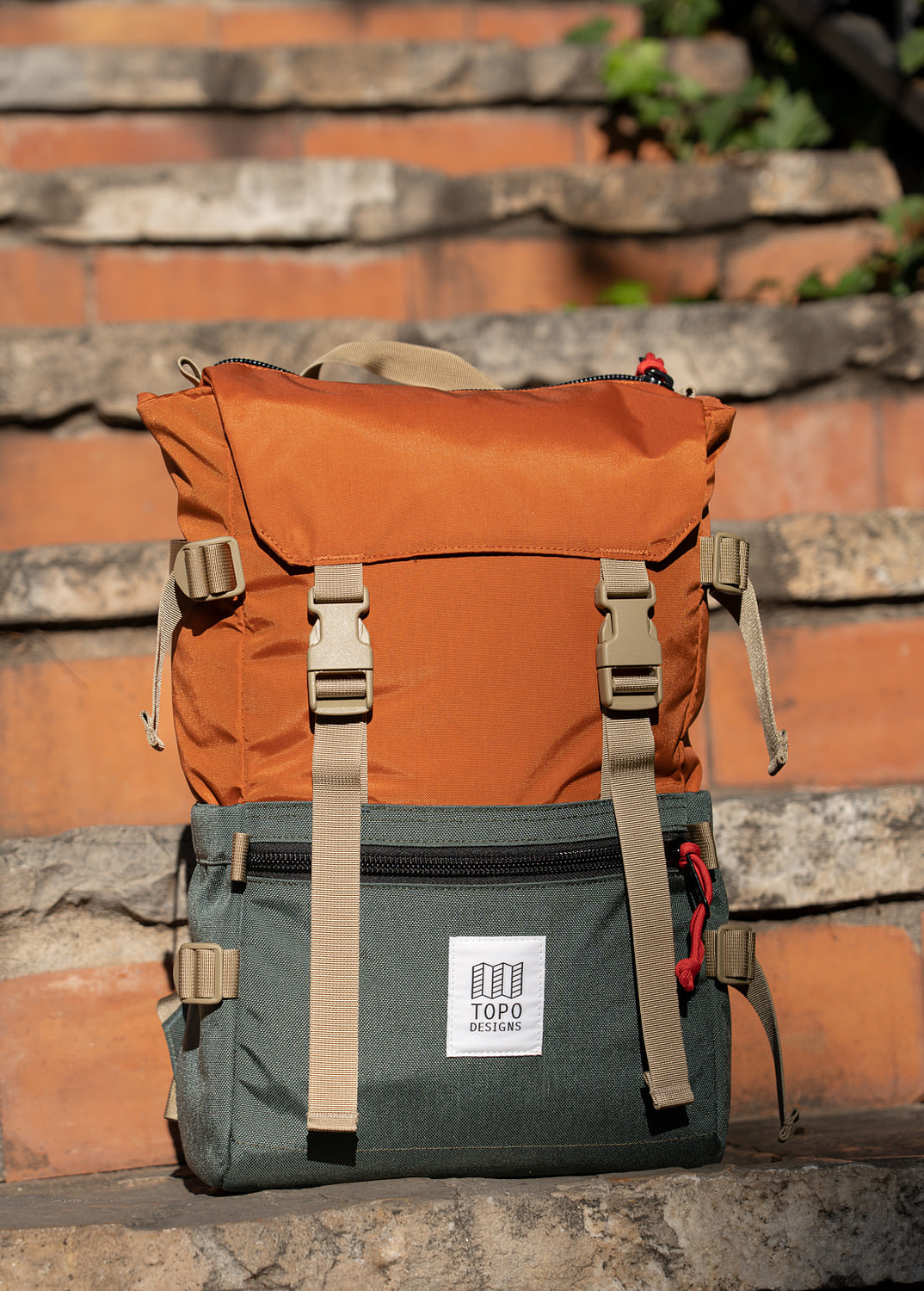 Best feature: The durable, heavy-duty construction
Dimensions: 17″ x 11″ x 4.5″ (43 x 27.9 x 11.4 cm)
Weight: 1.418 lb (643 g)
Volume: 20 L
Material: 1000D recycled nylon
I have quite a collection of backpacks hanging on my office walls, but the Topo Designs Rover Pack Classic sits the closest to the door. That's because it's the first one I grab whenever I need something uncomplicated and reliable for simple outings like going to the grocery store, a picnic in the park, or a short hike in the nearby hills.
Inspired by the retro-looking rucksacks of old, this simple backpack comes in the coolest of the cool color combos and has just the essentials: an internal laptop sleeve, easy access front pockets, and a straightforward harness system. The shoulder straps are lightweight and comfortable. Although I've never used them, it's nice to know that you can count on a pair of compression straps to attach various items, such as a tripod or a jacket, to the side of the bag.
Also, the backpack's bright yellow interior lining is not only fun but also helpful for finding stuff easily, and I really like that the main compartment is a big, open space because it allows me to quickly pack and go.
👍 HIGHS
Rugged, recycled materials
Good value
Cool retro vibe
15″ laptop sleeve
Lightweight
Quick-grab exterior pockets
👎 LOWS
Not the most accessible main compartment
Laptop sleeve could use more padding
Loose straps hanging around
---
Best Backpack for the Office: Troubadour Apex Compact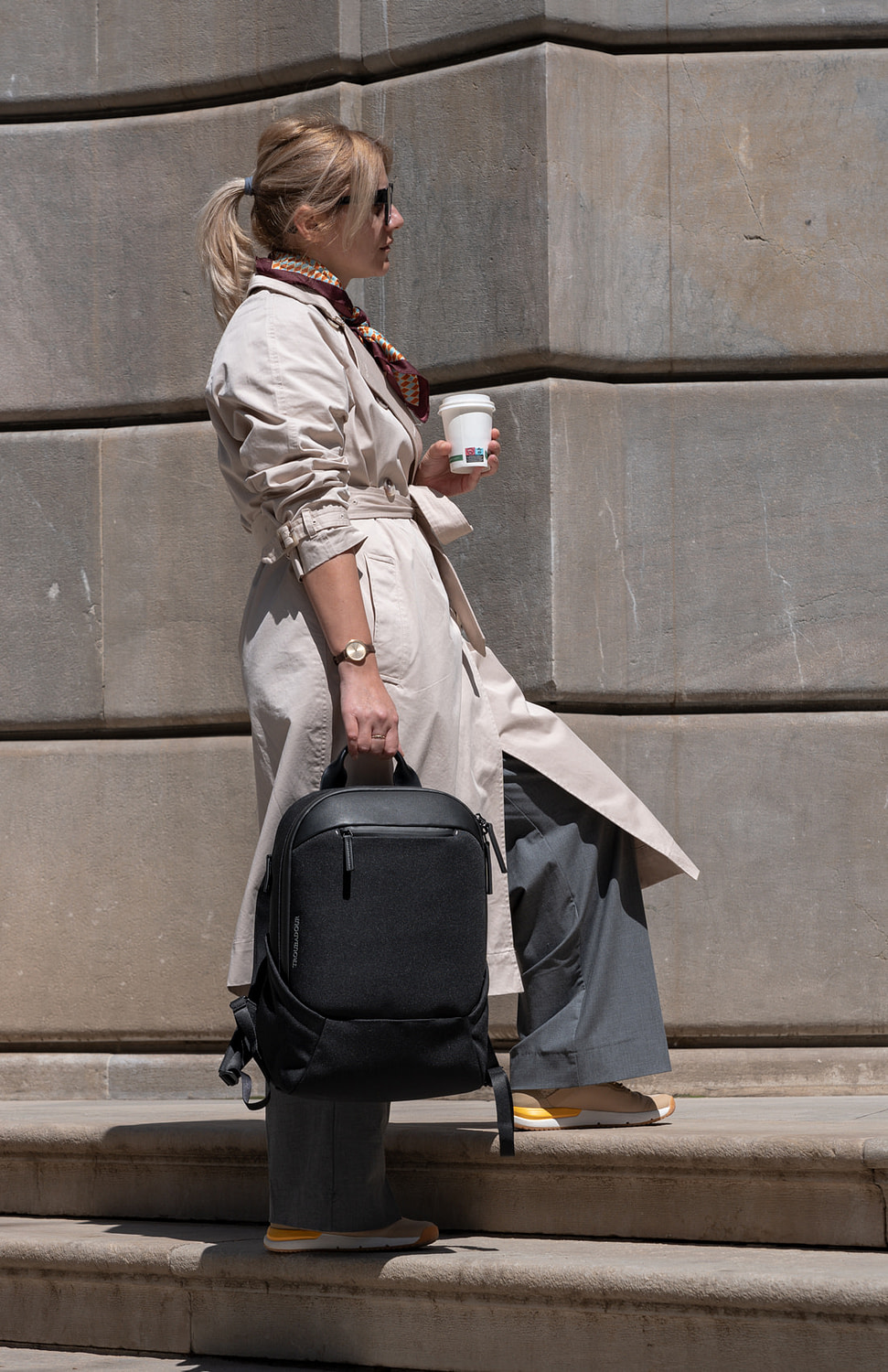 Best feature: The premium, waterproof recycled materials
Dimensions: 16" x 11.5" x 5.5" (41 x 29 x 14 cm)
Weight: 2 lbs (900 g)
Volume: 16 L
Material: Recycled polyester fabric
Troubadour has always been able to strike the delicate balance between style and performance, so when I needed a great backpack for work, their Apex Compact seemed like the perfect fit. It's a stylish, understated bag with practical organizational pockets, small enough to ensure comfort throughout the day yet large enough to hold a laptop and other work essentials. The overall quality is outstanding, and I love that it's made from recycled materials.
I often leave the house carrying both my laptop and tablet, so the Apex Compact's external laptop compartment, which is surprisingly roomy, comfortably padded, and complete with separated laptop and tablet sections, fits me like a glove.
And the thoughtful design details don't stop there. The shoulder straps and back panel are ergonomically designed and padded with memory foam for a comfortable carry all day long, and I really appreciate that my gear stays dry and clean thanks to the waterproof fabric, lining & zippers. The interior lining is also antimicrobial to eliminate odors and bacterial buildup.
👍 HIGHS
Compact and comfortable
Professional looking
Intuitive pockets and compartments
Luggage sleeve
👎 LOWS
Front pocket is quite small
Limited color choice
---
Best Carry-On Backpack: Peak Design Travel Backpack 45L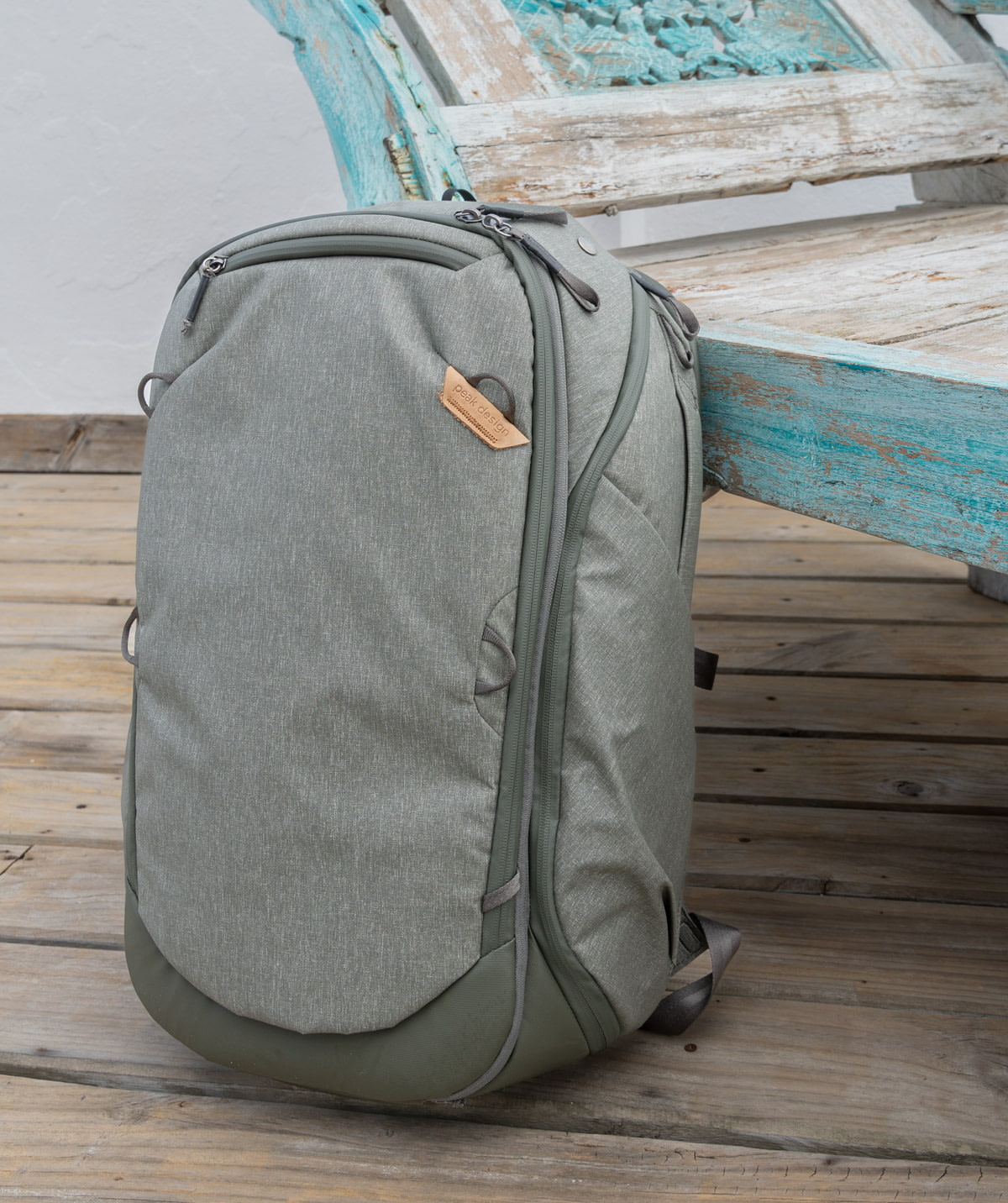 Best feature: The smart design
Dimensions: 22" x 13" x 9.5" (56 x 33 x 24 cm)
Weight: 4.5 lb (2.05 kg)
Volume: Standard: 35 L / Compressed: 30 L / Extended: 45 L
Material: Weatherproof 100% recycled 400D nylon canvas
Although designed with traveling photographers in mind, our extensive testing has shown that Peak Design's Travel Backpack 45L has all the perks of a great carry-on: expandable storage, 360° grab handles for pulling the bag out of overhead bins, and a suitcase-style opening for easy packing, to begin with.
The exterior weatherproof 100% recycled 400D nylon canvas has held up extremely well over time, and I can't help but highlight the pack's brilliant design, which allows it to expand from 35L to 45L while prioritizing access to contents with intuitive weatherproof zippers throughout.
Storage is plentiful and practical courtesy of a zippered dividing panel that separates the bag into two compartments, as well as endless interior/exterior pockets fitting everything from passports, lenses, and toiletries to your laptop and tablet.
When not used for carrying camera gear, the backpack has room for a week's worth of clothing, which makes it an excellent option for one-bag travel. Even better, it works great with Peak Design's dedicated travel accessories and packing cubes and meets international max carry-on standards in the default 35L configuration.
👍 HIGHS
Weather-resistant materials
Innovative harness system
Minimalistic look
Unique compression system
Accessible main compartment
Lockable zippers
👎 LOWS
Big and heavy for a day pack
---
Best Versatile Backpack: Tropicfeel Nest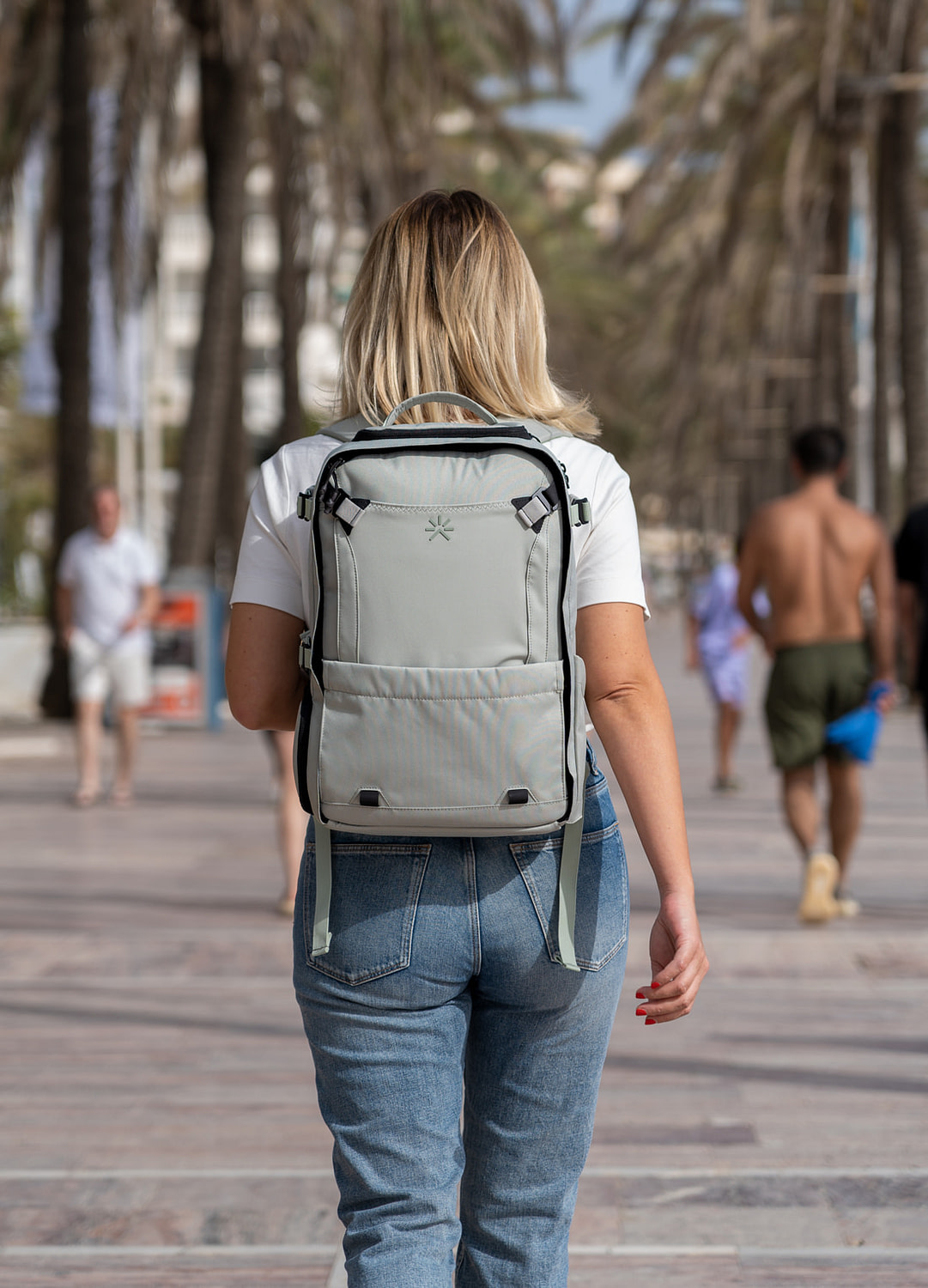 Best feature: The clever packing options
Dimensions: 18" x 11" x 5.5" (45.5 x 28 x 14 cm)
Weight: 2.43 lb (1.1 kg)
Volume: 16 to 30 L
Material: Recycled polyester & nylon
Here at Travel Away, we're big fans of Tropicfeel's versatile, sustainably-made travel shoes, so we had high hopes when their latest backpack found its way into our hands. Let me start by saying it didn't disappoint.
Crafted from recycled, water-repellent materials, the Nest is a great little backpack for daily carry. But there's more than meets the eye. Its lightweight nature, breathable back panel, and comfortable shoulder straps make it a joy to carry, while a separate laptop compartment fits up to a 16" device.
Nevertheless, what makes it particularly unique is its clever modular design; it can be combined with a variety of organizational add-ons and expanded from 16L to 30L to suit a multitude of travel scenarios. My favorite is the Kangaroo extension, which expands from the bottom of the backpack, giving you an additional 4 L to store shoes, wet items, or whatever you want to keep separate from the rest of the contents. Another great feature is the Spider Net System, a detachable divider ideal for adding outside storage to the pack. And if you still need more space, you can opt for TropicFeel's Smart Packing Cube 5 L (or even the 10 L), which fits perfectly within the pack's front pocket.
To sum up, the Tropicfeel Nest backpack is almost as functional and versatile as the brand's famous all-in-one travel shoes. Would I buy one in every color as I have with the Sunset sneakers? Probably not, but I will surely make the most of this one.
👍 HIGHS
Highly versatile
It transitions easily from daypack to travel pack
Well-ventilated back panel
Easy-access protected side pocket
Secret compartment on the back
👎 LOWS
Water bottle pocket is too tight
The materials aren't its strong point, but we do appreciate the sustainable approach
---