This post contains affiliate links, which means we may receive a small commission, at no additional cost to you, if you make a purchase through these links. See our full disclosure here.
Some of them are just too fun to miss, others add extra convenience to our experiences, yet others open up new realms in the world of technology. You've guessed it: we're talking about travel gadgets!
These smart tools that have forever changed the way we experience the world are life-savers for today's travelers. They solve some of the most annoying travel problems, keep our stuff organized on the go, and make the best travel gifts for nomads on the go.
Here are 27 cool travel gadgets ready to make your trips safer, easier, or simply more enjoyable.
World's Smallest Travel Steam Iron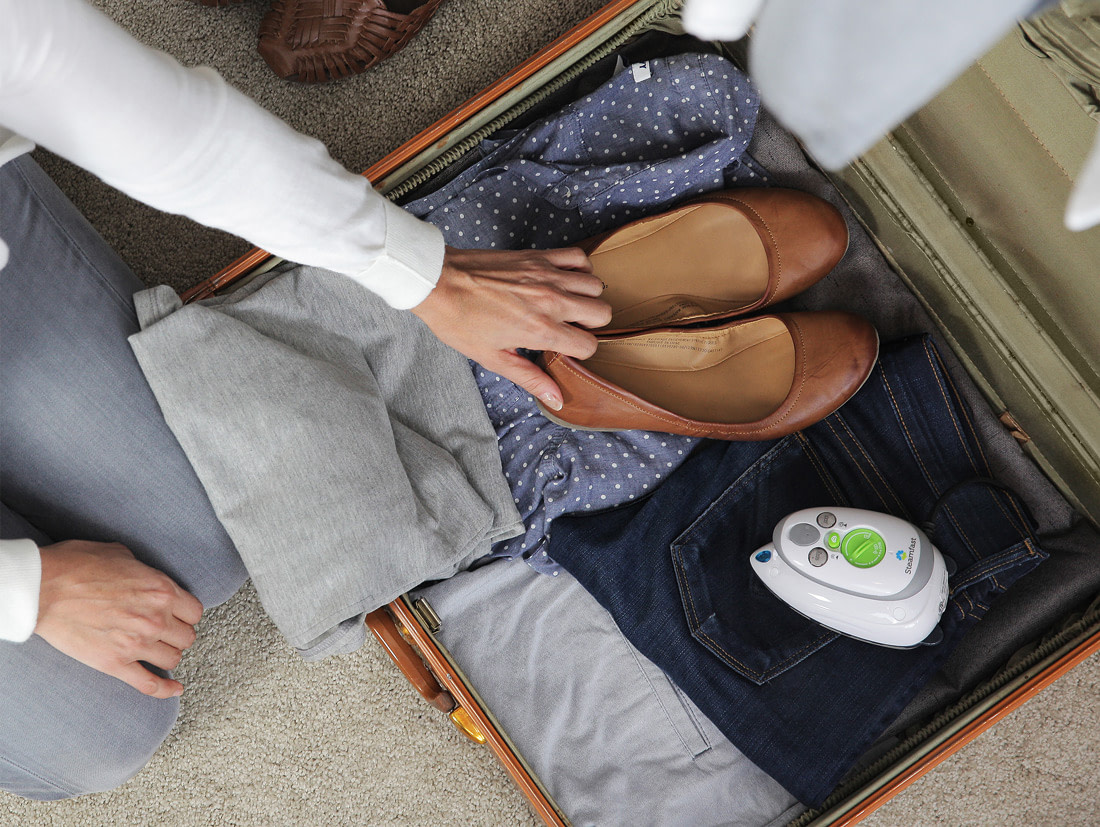 Featuring a 420-watt motor and three fabric heating levels, this mini travel steam iron is the smallest of its kind in the world. The compact device is about the size of a computer mouse and can be extremely useful for business travelers who are on the road and need to remove the inevitable wrinkles from packed clothing.
Smart Carry-On Suitcase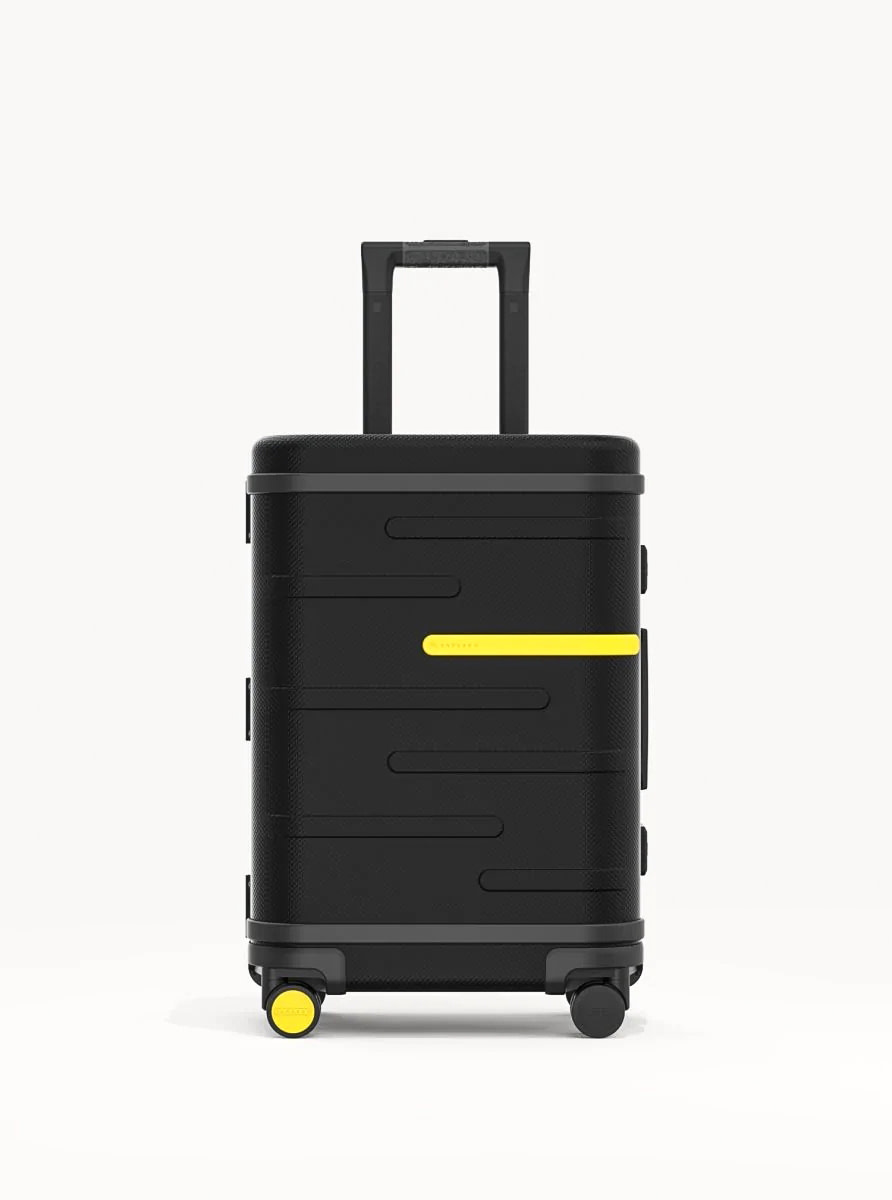 Finding the best carry-on luggage for your next vacation depends on a number of factors, including your personal style, design preferences, and needs. For those who want to look and feel like James Bond, Samsara is for you!
Made of lightweight polycarbonate and durable aviation-grade aluminum, this futurist Grand Carry-On is sleek, compact, and loaded with tech features. The integrated Apple AirTag technology helps you track your suitcase when you're apart, while the flat top allows you to use it as a portable working surface when traveling. On top of that, the bag comes with smooth-rolling spinner wheels, TSA-approved combination locks, and is made with recyclable materials.
OCLU Action Camera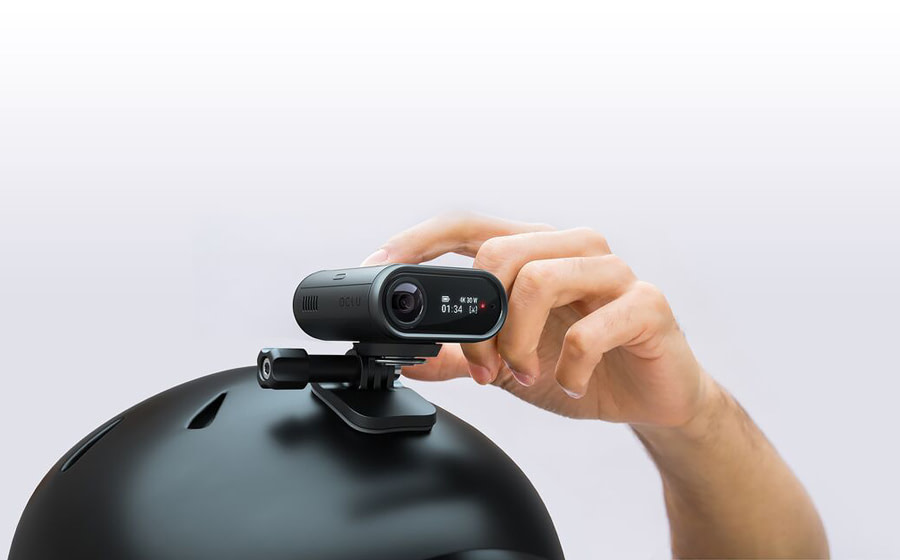 The sleek, aerodynamic design along with its innovative software, state-of-the-art processors, and a myriad of accessories to choose from make OCLU the perfect travel companion for the adventure-inclined.
Aside from delivering high-quality photos and videos in any situation (films in 4k at 30fps or 1080p at 120fps), the award-winning 4K action camera is IPX7 water-resistant and comes with GPS functionality, electronic image stabilization, and a standard tripod screw, which makes it universally compatible. Another cool feature is LiveCut, a unique editing function that lets you delete unwanted content on the fly.
Pocket-Size Washing Machine
Whether you are backpacking through Europe, going on an African safari, or traveling on a budget in South Asia, you are going to love the Scrubba Wash Bag. Equipped with a flexible washboard, this lightweight, pocket-size wash bag will not only help you do your laundry anywhere on the road but also save you money and time.
With only 2-4 liters of water and a bit of washing liquid, you'll have your clothes fresh and clean in less than 3 minutes. So yeah, we think it's pretty safe to say it's one of the best travel gadgets for campers, backpackers, and anyone venturing off the beaten path.
Sandless Beach Mat
Calling all beach lovers! The C-Gear Original Sand-Free Mat is a revolutionary beach accessory that's literally impossible to cover with sand. Initially intended for military uses, this clever sand-free ground sheet is perfect for a fun and stress-free beach outing. Finally, no more annoyingly sticky sand! Now you can make the most of your seaside experience while lounging in the warm sunshine, reading a book, or spreading out a picnic. Use the code TRAVELAWAY10 at checkout and you will get a 10% discount.
Portable Wi-Fi Hotspot & Power Bank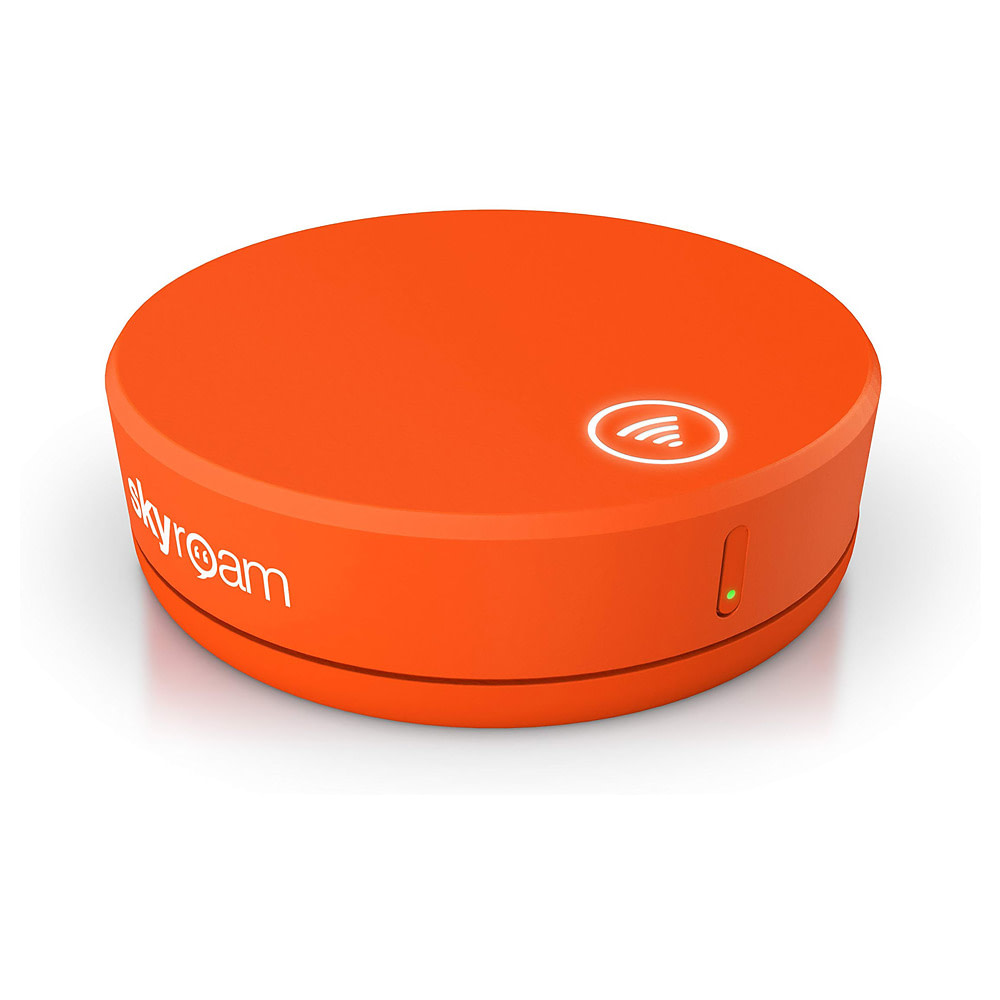 With Skyroam Solis, you don't have to worry about foreign SIM cards or roaming charges when traveling the world.
One of the best mobile Wi-Fi hotspots on the market, this ingenious connectivity gadget offers unlimited 4G LTE service in over 130 countries around the globe. Each device can support up to 5 connections and also works as a portable charger for your phone or tablet while on the move, thanks to its integrated 6000 mAh power bank. A day pass is $9 and gives you unlimited internet access for 24 hours.
Best Travel Drone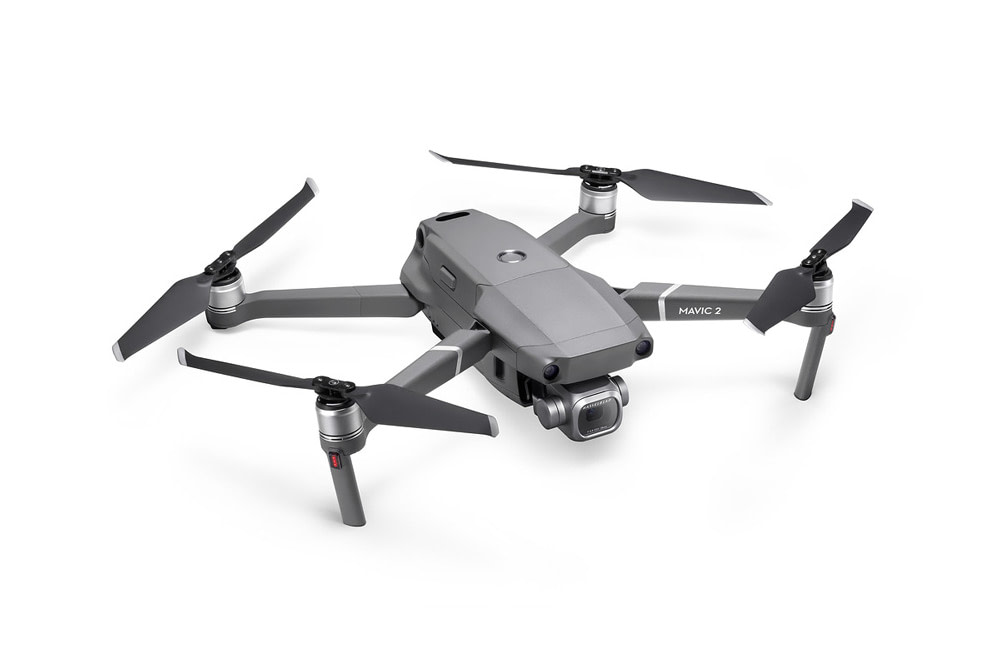 With its 4K Hasselblad camera, intuitive smartphone control, and a staggering 31 minutes of flying time, DJI's Mavic Pro 2 is no doubt one of the best travel drones out there. The compact, foldable device is packed with intelligent features and can fly as far as 4.3 miles away, allowing you to capture the beauty of your surroundings in flawless HD video at 4K/30fps or 1080p/120fps, as well as photographs in 20MP RAW or JPG format.
Perfect for travelers always eager to immortalize and share their adventures on the go, this sleek & silent high-tech flying camera comes with GPS, 10 optical sensors that help it avoid obstacles, as well as copious flight modes, including tripod and selfie settings.
Cool Backpack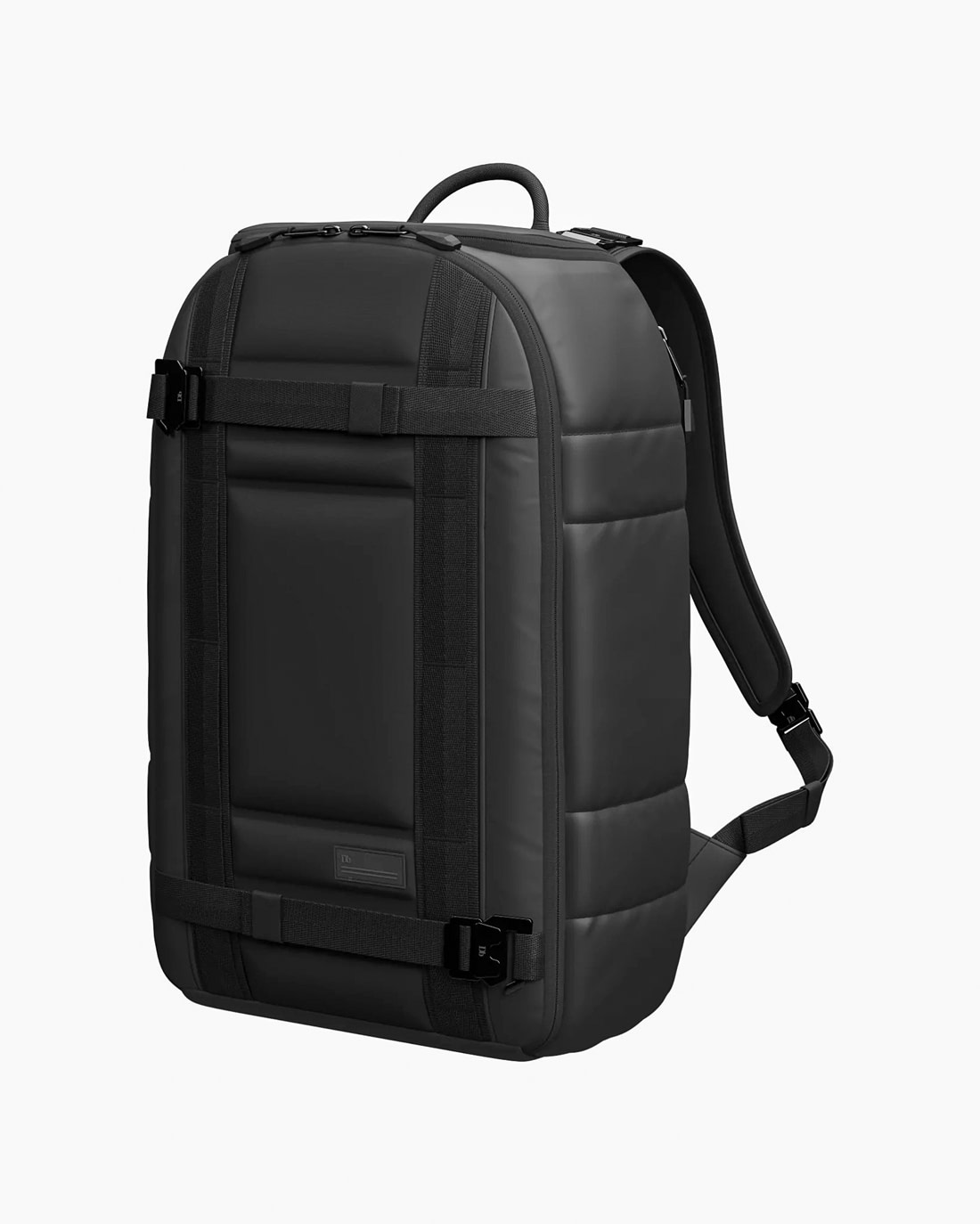 Who says a backpack has to be boring? Crafted from durable, recycled materials, the Ramverk Backpack 21L from Db is as sleek as it is tough, not to mention compact, lightweight, and endlessly functional.
Undoubtedly one of the best backpacks we've tested, it sports a separate laptop section, a handy top pocket for quick access to essentials, and a fully-opening main compartment designed for versatile organization and storage opportunities. When combined with Db's S Camera insert (sold separately), for instance, the daily backpack becomes a practical photography bag with easy access to your equipment. The innovative Rib Cage technology provides structure and protection, while the patented Hook-up system allows it to connect with the brand's roller bags for a seamless travel experience.
3-Axis Smartphone Gimbal
A gimbal is one of the best smartphone accessories you can take along on a trip, and this 3-axis handheld stabilizer from Funsnap does its job exemplary. Designed to reduce shaking when shooting moving footage, Capture 2 takes your vacation photos and videos to the next level with features like auto face tracking, an intelligent zooming wheel, and a variety of time-lapse modes (slow-motion, motion lapse, and hyper-lapse).
The ergonomic handle provides a comfortable grip, which, along with the gimbal's portability and ease of use, makes it a game-changing travel gadget for vloggers and YouTubers who spend a lot of time shooting. Capture 2 is powered by a 4000mAh built-in battery that promises to run for 12 hours in a row, and also supports action cameras like GoPro.
goTenna Mesh
Designed to keep Android or iOS devices connected even when there is no cellular service, goTenna Mesh lets adventurers communicate while off the grid. Made of rugged materials, this slick, pocket-sized device uses Bluetooth-LE to pair with a smartphone, enabling users to share messages and location info instantly within a range of up to 4 miles in open areas.
Compared to the original goTenna, this new and improved backcountry communications tool comes with revolutionary mesh networking technology that allows private 1:1 and group chats or public broadcast messages through other devices to extend beyond the point-to-point range.
Smallest Automated Travel Vacuum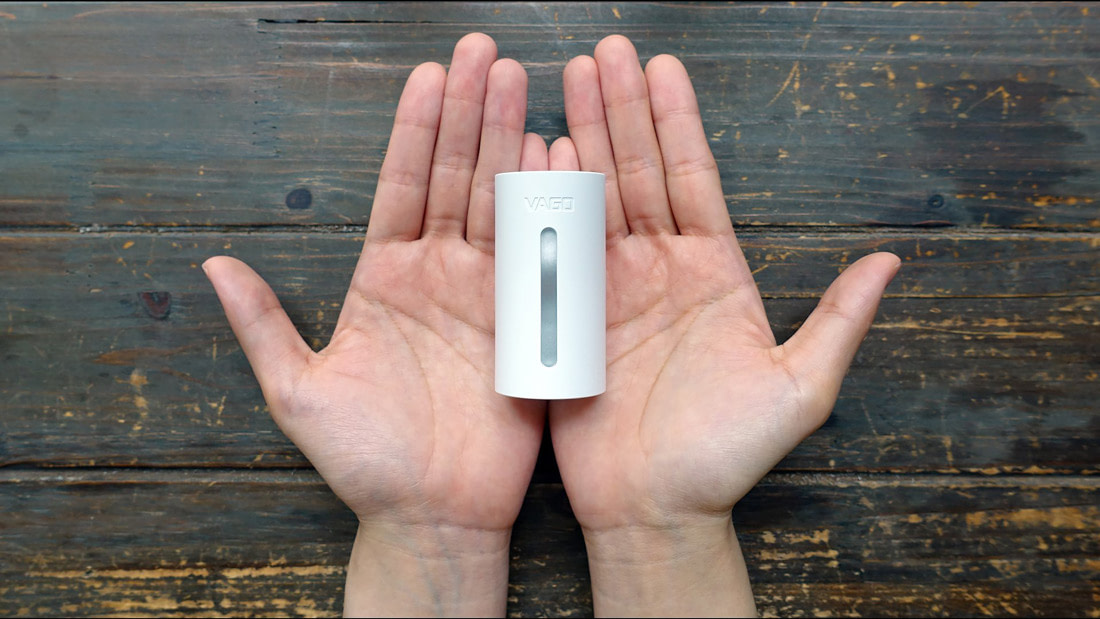 Small, smart, and stylish, VAGO is the ultimate travel packing gadget. Equipped with a pressure-detecting sensor, this automatic vacuum pump removes all the air inside your suitcase, condensing the clothes to half their size, thus leaving plenty of room for souvenirs and other things you may buy on your trip.
It's an essential travel tool, especially if you're adding a bit of shopping to your trip, or traveling somewhere cold and need to bring along some heavy winter wear.
Water Purifier Bottle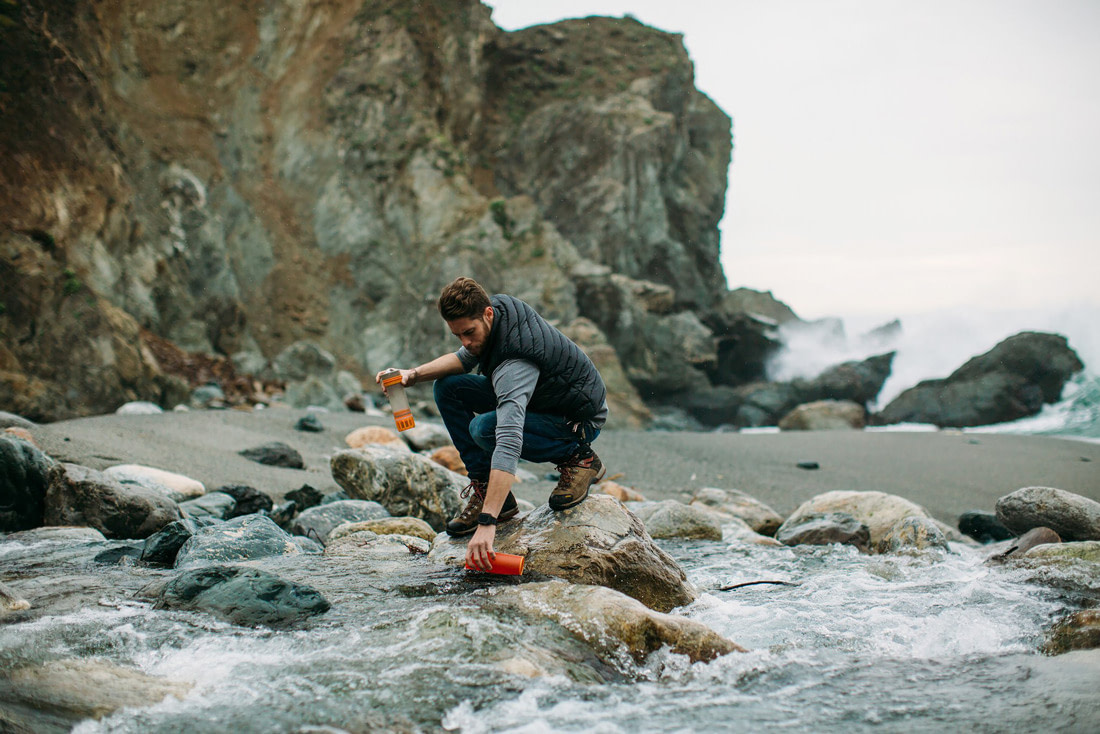 Most of the travelers' health problems are caused by contaminated drinking water, which means a water purification system is a must when traveling abroad. This is especially useful when venturing into remote locations with harsh environmental conditions or destinations such as the Middle East, Central America, Asia, or Africa, which are also known for their unsafe tap water. Fortunately, these days there are many products designed to help in such circumstances.
GRAYL's Ultralight Purifier, for instance, is a state-of-the-art device capable of transforming almost any tap or clear natural water source into pure drinking water in just 15 seconds. Perfect for travelers and outdoor adventurers, each bottle comes equipped with a replaceable purifier cartridge, providing protection against viruses, bacteria, heavy metals, as well as many chemicals. This is an excellent way to get safe drinking water on the go, while at the same time, saving money on bottled water.
Ultraportable Bluetooth Speaker
Allowing people to listen to music anytime, anywhere, a portable speaker is a must-have for any traveler who wants to make the most of the outdoors without compromising on any of the luxuries of the indoors. At only 14 x 8 x 2.8cm, Bang & Olufsen's Beoplay P2 is one of the smallest on the market, but don't let its minuscule size fool you, as sound quality is nothing short of grand.
Smart features such as gesture or voice controls, along with a sleek, minimalist design that's also dust and splash-resistant, plus up to 10 hours of playtime per charge make this easy-to-use portable Bluetooth speaker a reliable travel companion.
Best Tree Tent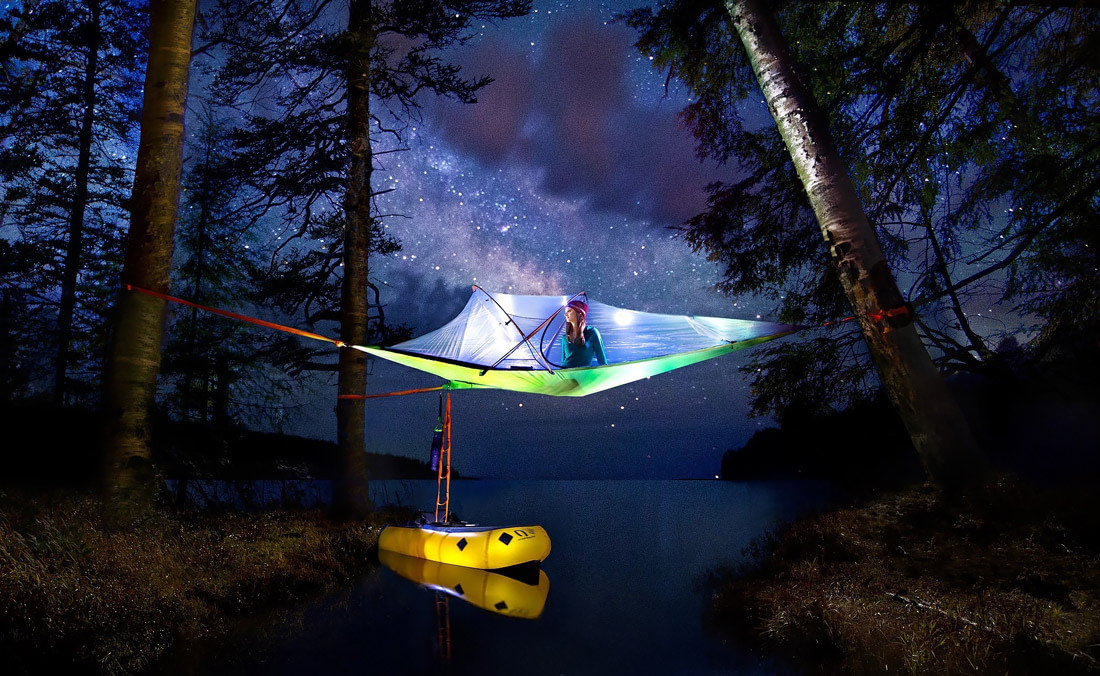 Experience the wilderness like a pro with the Tentsile Connect Tree Tent, a dangling two-person shelter combining the comfort and versatility of a hammock with the security of a tent. Designed for the ultimate arboreal camping experience, this awesome piece of travel gear comes with fold-away doors and a removable rain fly, and can also be attached to other Connects to create one suspended super-camp.
The unique design and sturdy, high-quality materials make this portable treehouse ideal for year-round outdoor adventures.
S'well Teakwood Water Bottle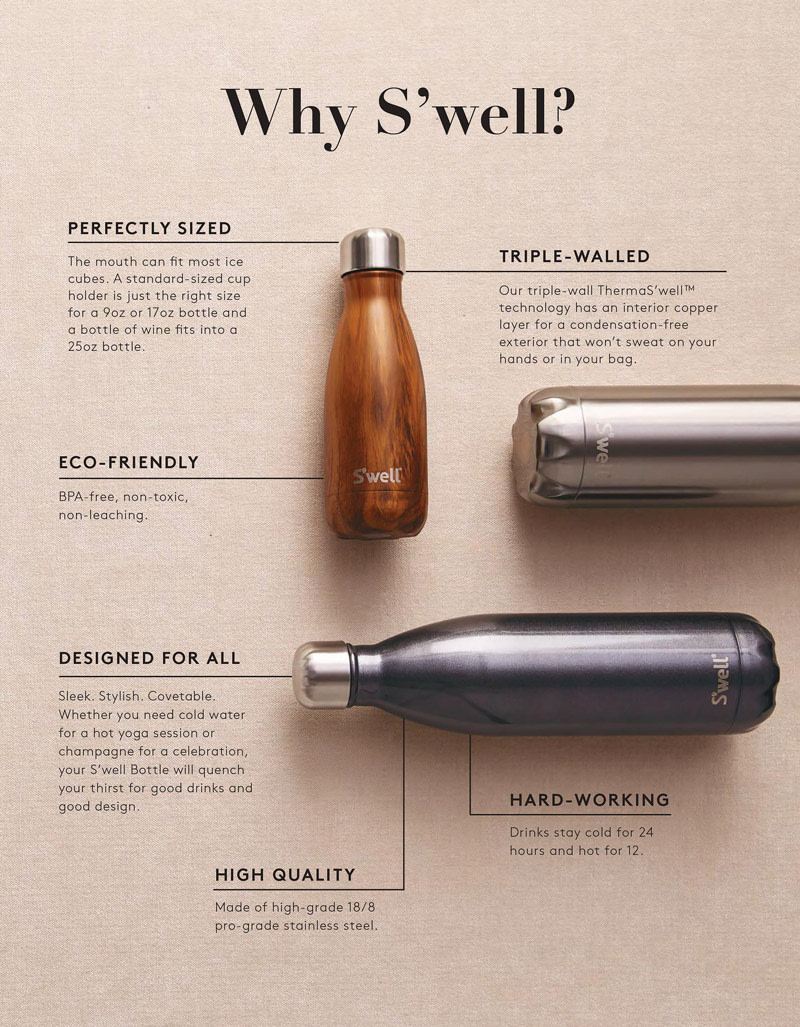 A practical and fashionable travel accessory, the S'well Teakwood Water Bottle makes hydration on the go simple and stylish. Made of BPA-free stainless steel, the sleek, innovative device combines a double-walled, vacuum-sealed design with a handsome matte finish that resembles the look and feel of natural teak, being able to keep drinks cold for 24 hours, or hot for 12 hours. Its wide mouth is a smart touch too, allowing for easy filling, cleaning, and adding ice.
The bottle is unbreakable, toxin-free, and perfectly sized for all your travel plans, be it an outdoor music festival, a hike up the mountains, or that sightseeing city trip you've always dreamed about.
Flask Light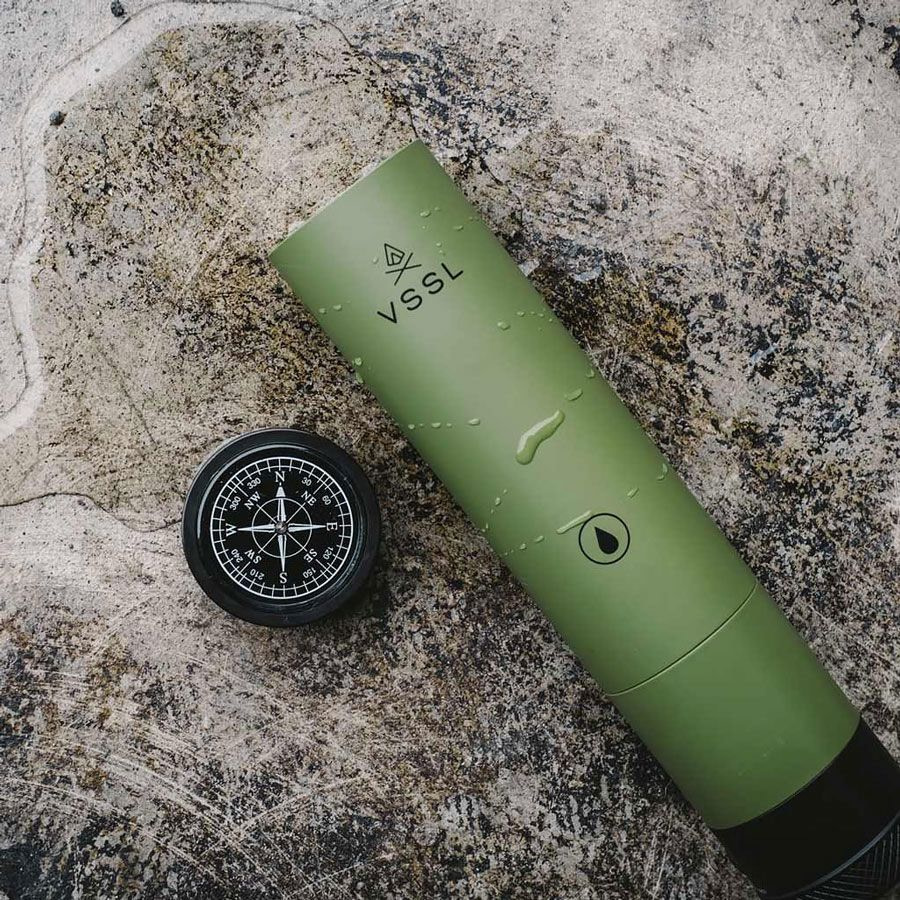 Part flashlight, part booze container, this unique multifunctional tool is one of the best travel accessories for glamping enthusiasts, festival goers, fishing aficionados, and anyone in between.
In addition to holding 10 ounces of your favorite beverage, the VSSL Flask includes 2 collapsible stainless steel shot cups, a bottle opener, a compass, and a powerful LED flood beam flashlight. If you ask me, I'm pretty sure this would also make an inspired Christmas or birthday present for the outdoor adventurer in your life.
Video Recording Sunglasses
Snapchat's fans will fall in love with the company's second generation of video recording glasses. Just like their first product, Spectacles V2 is not just cool and good-looking, but it actually protects your eyes from the sun, too. Its main function, however, is to record snaps of your day and sync them to your Snapchat Memories, which makes it a fun travel accessory, whether you're playing tourist in your own city or heading overseas.
The new camera-enabled eyewear is slimmer, classier, and lets users take photos, in addition to 10-second video clips. Both photos and videos are now in high definition, and you can also record a few feet underwater. Download speeds are three to four times faster, colors are more down-to-earth (onyx black, ruby red, and sapphire blue), and audio quality has been improved thanks to a second microphone. The glasses' bright yellow case, which doubles as a portable battery charger, is now less bulky and splash-proof.
Hi-Tech Foot Warmers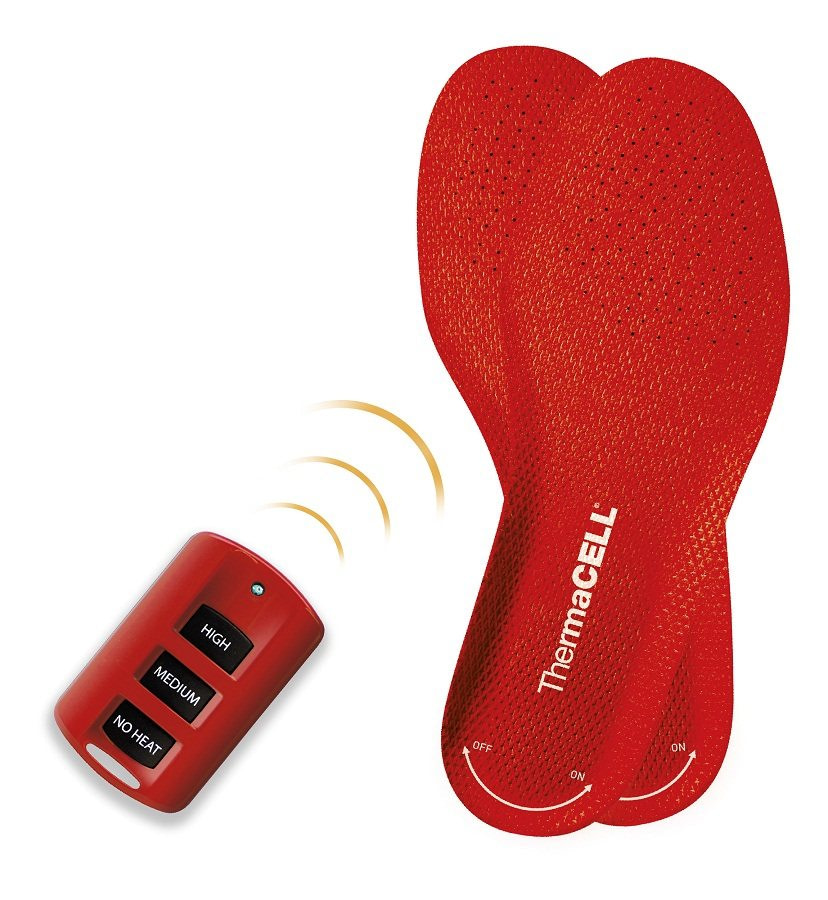 Known for making winter activities as comfortable and enjoyable as a day at the beach, foot warmers are some of the best winter accessories money can buy.
On your next adventure in snow, frost, and freezing temperatures let the innovative ThermaCELL Heated Insoles take your feet' comfort to the next level. Equipped with state-of-the-art thermal technology, these remote-controlled foot warmers will keep your feet warm and dry thanks to a thermostat-driven control system and a water-resistant fabric liner which protects them from moisture.
Female Urination Device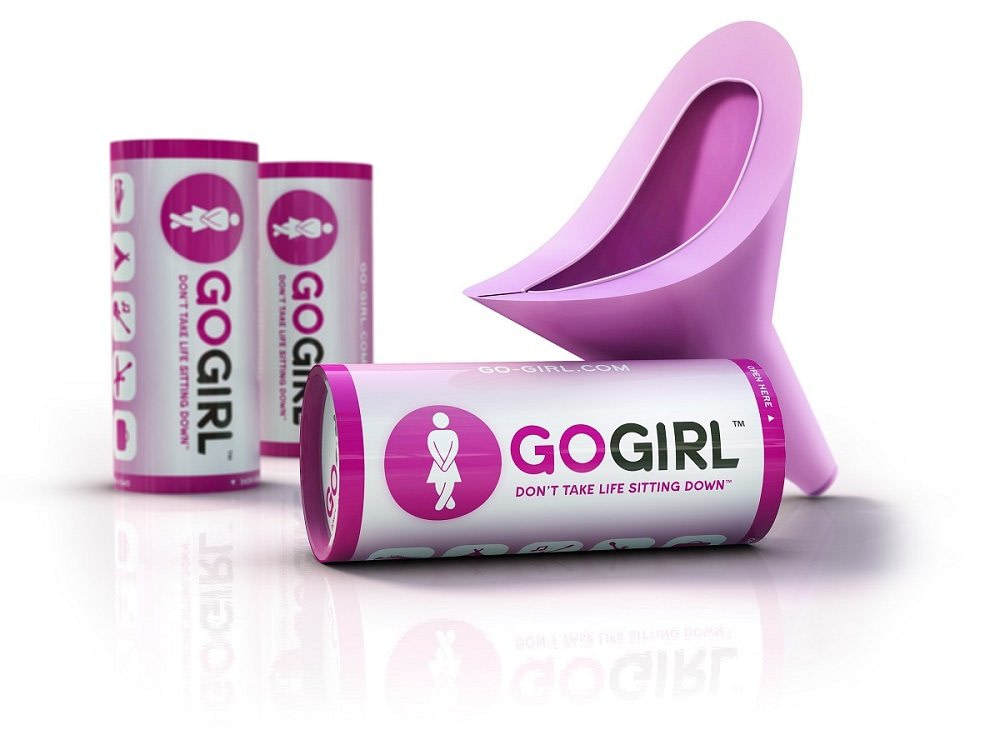 Travel is not always glamorous, especially when seeking to experience the world on a budget. Unsanitary hostel bathrooms, camping sites with poor facilities, and dirty public toilets are just some of the problems travelers have to deal with while abroad.
Well, designed exclusively for women, GoGirl solves many of these issues by allowing girls to pee while standing up. Small enough to fit in a purse, this smart hygiene product made from medical-grade silicone is one the best health gadgets a female traveler can bring along on her great adventures.
Wine Bag
Designed by Jakob Wagner, the Menu Baggy Winecoat is a stylish and practical wine bag ideal for picnics, romantic beach dinners, and other alfresco occasions that require meals away from home.
Despite being easily portable, this hard-wearing, adjustable wine tote is quite fancy, and if you want your wine chilled on the go, there's also room for an ice pack. This could make the perfect gift for wine lovers, too.
Best Multisport GPS Watch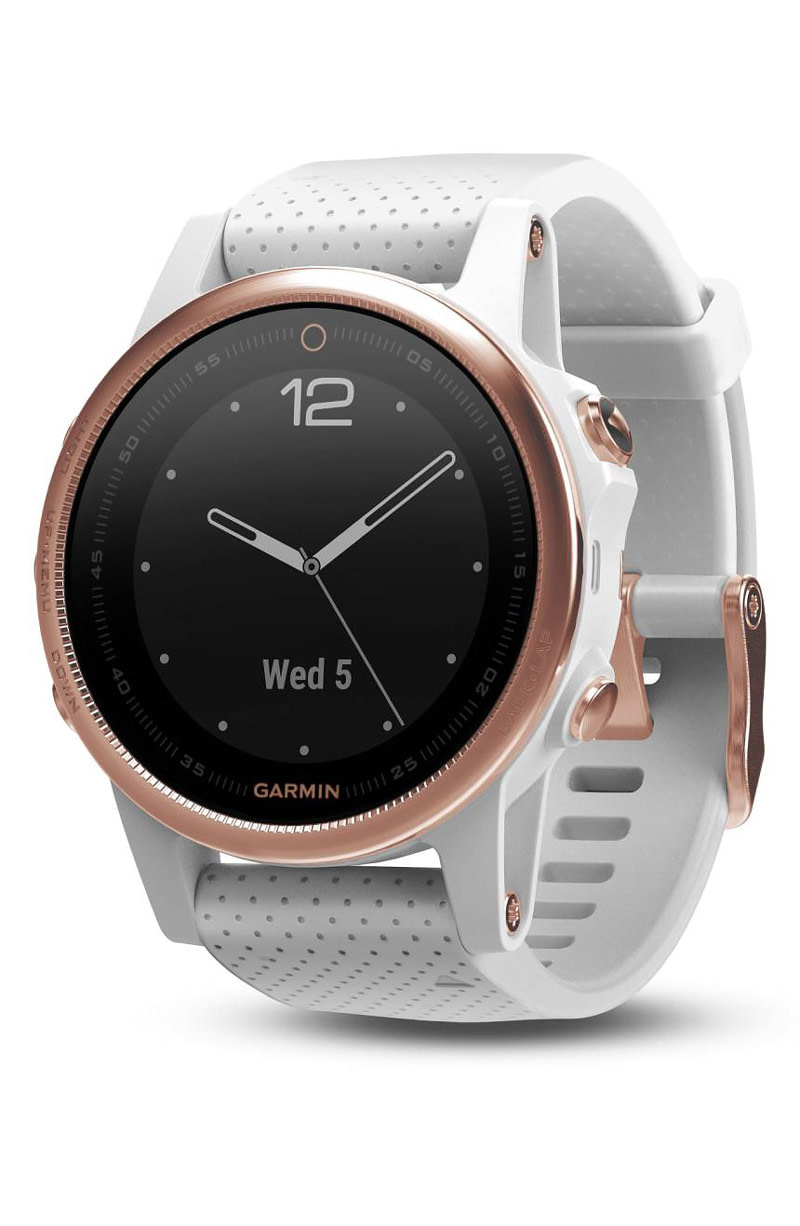 Combine style and adventure with the new Garmin Fenix 5, one of the best multisport outdoor watches on the market.
Complete with a wide range of tracking capabilities, plus built-in GPS and smart notifications, this versatile, lightweight device has you covered whether you're skiing in the Alps, swimming in the Med, or hiking off the beaten path in Nepal. Available in multiple models, with a selection of QuickFit interchangeable bands (in premium leather, metal, or silicone) to choose from.
Personalized Sand Imprint Flip Flops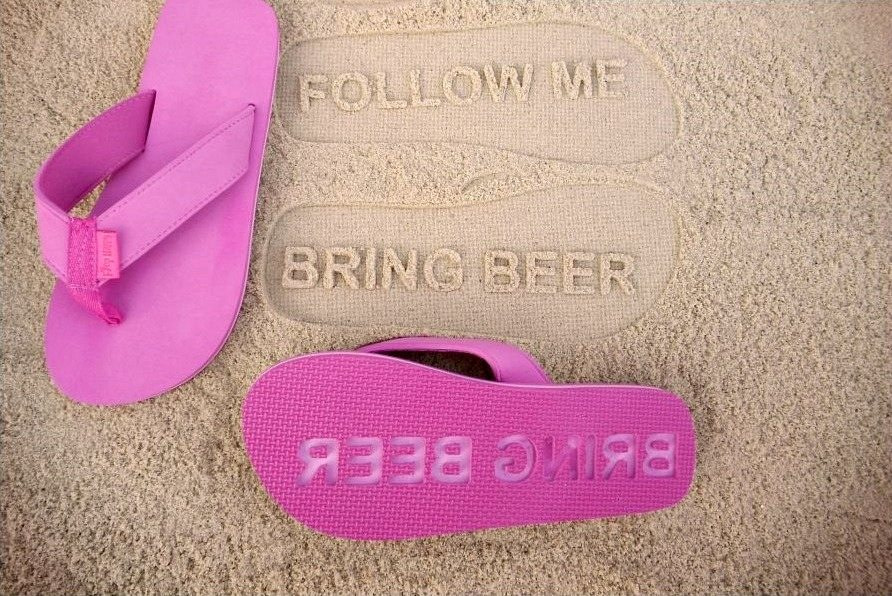 Leave your thoughts in the sand with these fun, original, and affordable flip-flops by FlipSidez. All you have to do is choose your size and color, add a creative text or symbol, and wait for your made-to-order flip-flops to be delivered. You can wear them as a cool beach accessory that will cheer up your friends, give them as a personalized gift, or use them to express your individuality and send messages.
Credit Card Folding Utility Knife
With its sleek design and surgical blade technology with an extra-long 65mm cutting edge, Cardsharp2 is indeed an excellent travel gadget. Ideal for explorers, adventurers, and any well-prepared traveler out there, this stylish 13-gram credit card folding knife is constructed from ultralight polypropylene, making for a sophisticated cooking knife, but also an extremely useful survivor tool when hiking or camping in the woods.
Solar-Powered Inflatable Light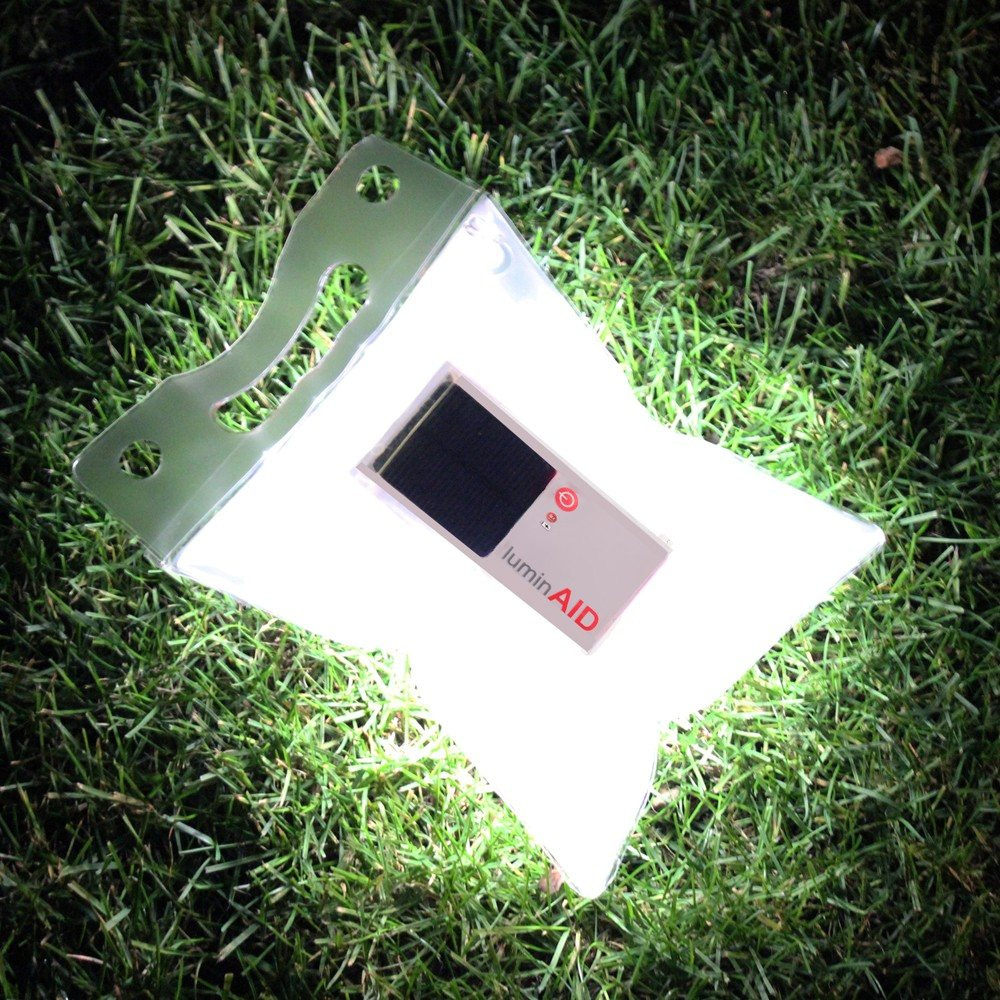 If you're looking for a smart and sustainable source of light for your next adventure, look no further than LuminAID. After 6-7 hours of charging in the sun, this innovative inflatable lamp produces up to 16 hours of LED light. Not to mention it's portable, waterproof, and weighs around 56 grams.
Ostrich Pillow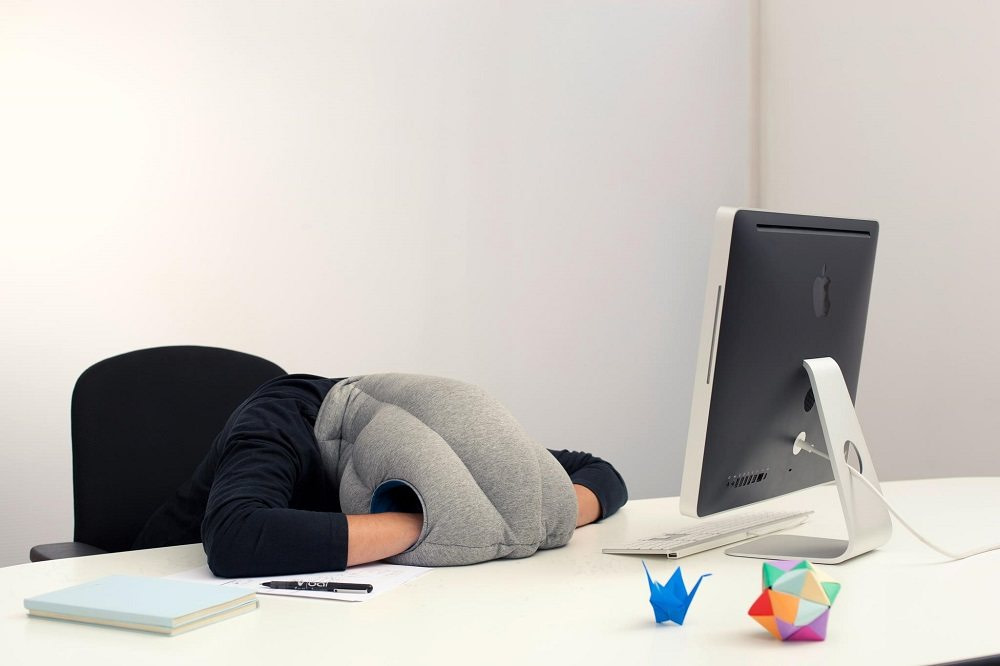 Ostrich Pillow is an extremely useful accessory for when you're on the go and just need a quick nap to refresh and increase productivity.
Envisioned by Kawamura-Ganjavian architecture and design studio, this groundbreaking product prevents jet lag (a common problem for long-distance travelers) by providing you with a micro-sleeping environment. Although it might seem a little weird, its design is fun and intuitive, featuring polystyrene filling and a soft interior that allows you to sleep anytime, anywhere without being distracted by noise, light, and other things going on around you.
Iron Man Charger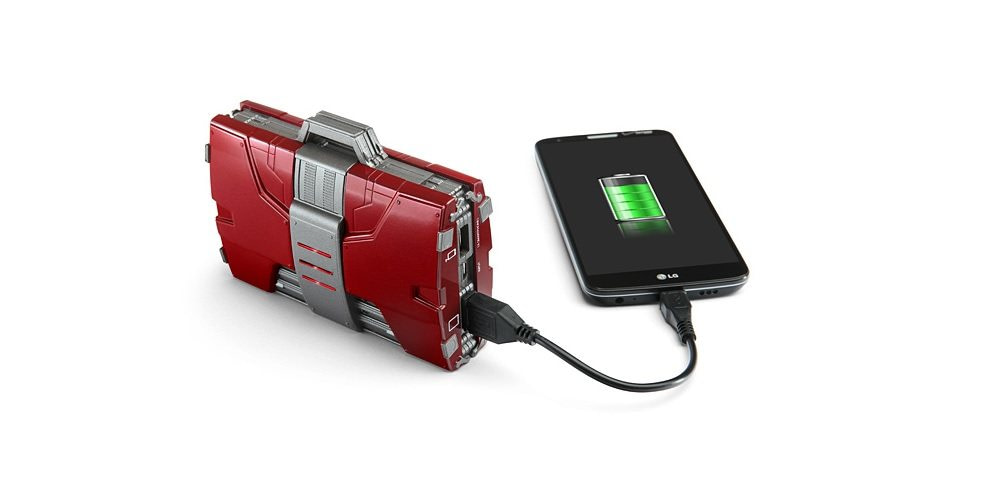 A unique Marvel-inspired gadget, the Iron Man Mark V Armor Suitcase Mobile Fuel Cell comes equipped with an outstanding 12,000 mAh battery capacity, helping you power your mobile devices on the go. The charger is compatible with most smartphones and any other USB-compatible gear, and its two USB ports allow you to charge two devices simultaneously.
Bound to thrill any Iron Man fan, this cool gizmo is actually a 1/4 scale replica of the original suitcase that brings to life Tony Stark's armor in Iron Man 2's Grand Prix de Monaco race track scene.
Smartphone Breathalyzer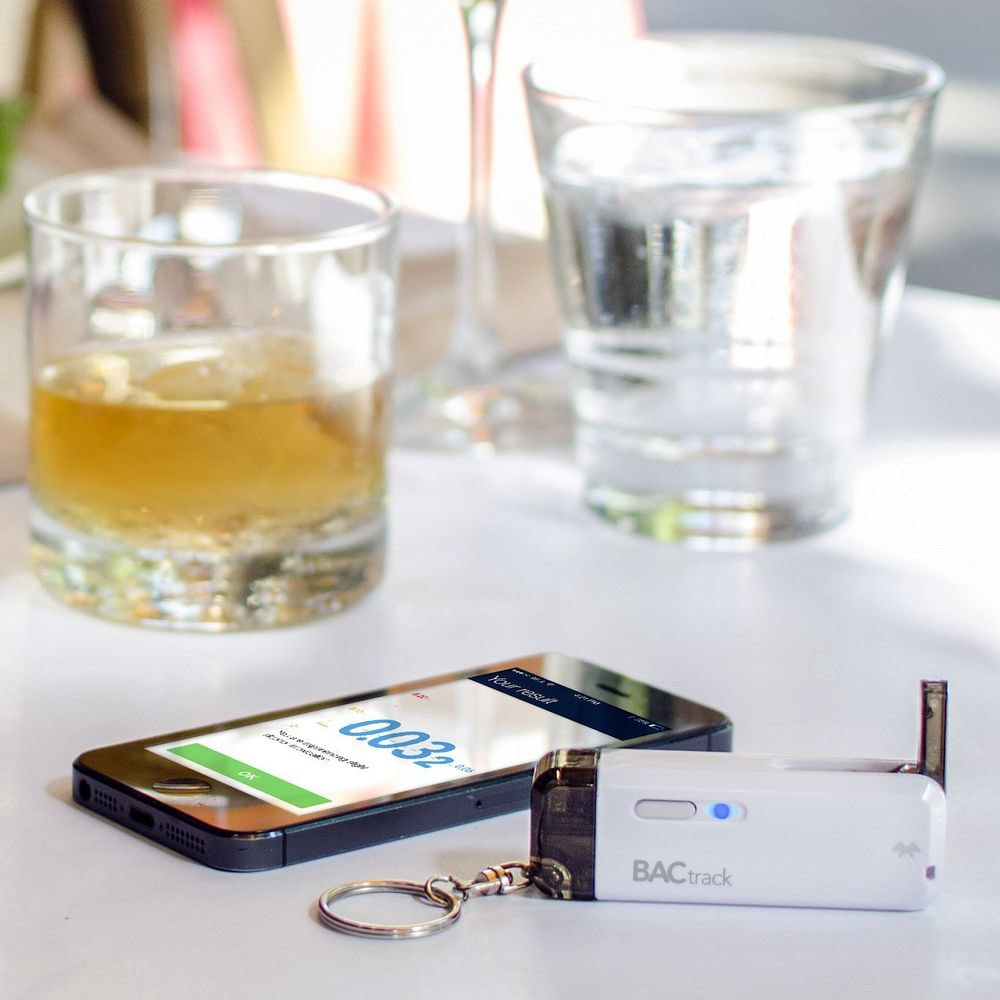 Compatible with iPhone and Android devices, the BACtrack Vio Smartphone Keychain Breathalyzer is a fun and affordable way to estimate your Blood Alcohol Content (BAC). The gizmo is shaped like a USB flash drive and connects to your smartphone via the free BACtrack app. Be aware though, this breathalyzer doesn't have a professional-grade sensor integrated, so don't use it to judge whether or not you are sober enough to drive.