This post contains affiliate links, which means we may receive a small commission, at no additional cost to you, if you make a purchase through these links. See our full disclosure here.
Photographers these days are fortunate enough to have hundreds of specifically designed camera backpacks to choose from.
The best ones come with tough exteriors to protect your gear, multiple access points so you never miss that fleeting photo opportunity, as well as versatile, well-padded interiors that can be customized to fit your precious equipment. And because comfort equals productivity during shooting sessions, they're packed with key features that make carrying heavy loads over long distances a breeze.
Whether you're into shooting landscapes, street life, or action, you'll find a style to suit your needs in our curated edit of the best camera backpacks in 2023.
Peak Design Everyday Backpack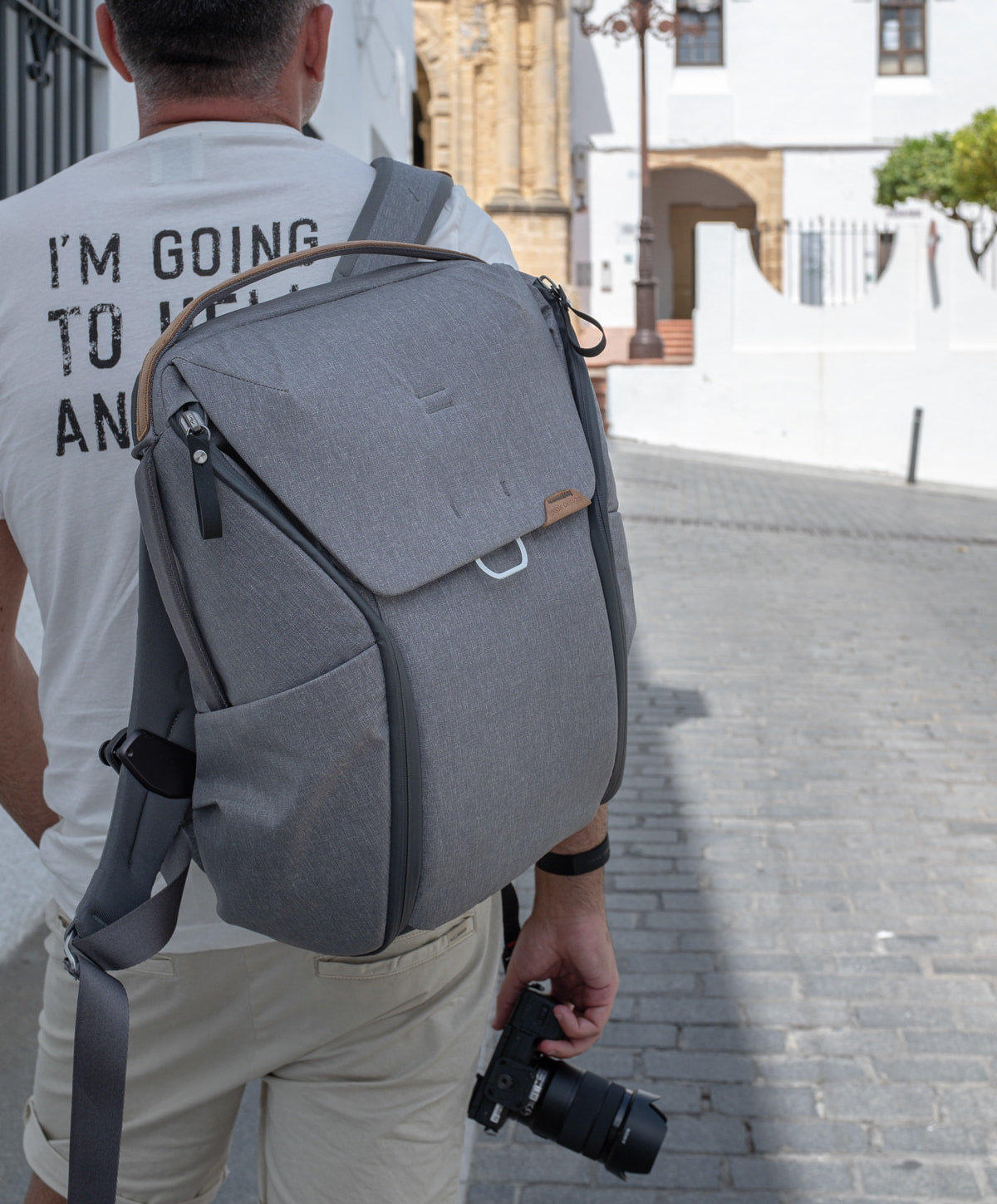 There are camera bags, and then there's Peak Design's Everyday Backpack. Combining epic build quality with thoughtful, innovative touches and clean, urban looks, this stellar pack certainly stands in a league of its own.
Large side zippered panels and an ingenious MagLatch top flap afford instant one-handed access to contents, the latter also making the bag expandable. Inside, 3 configurable FlexFold dividers wrap around your camera bodies, lenses, or drone, keeping everything organized and protected.
The list of original features and cool design touches doesn't stop here, however. The protective 15" laptop sleeve is adjustable and provides additional space for tablets and documents, while tons of stretchy pockets both inside and out house cards, cords, water bottles, and even your tripod. The padded shoulder straps pivot at axial points for optimized comfort and stow neatly beneath a magnetic sleeve when you don't need them, and the 100% recycled 400D weatherproof shell is rounded off with some of the best zippers we've come across.
Db Ramverk Pro Backpack 26L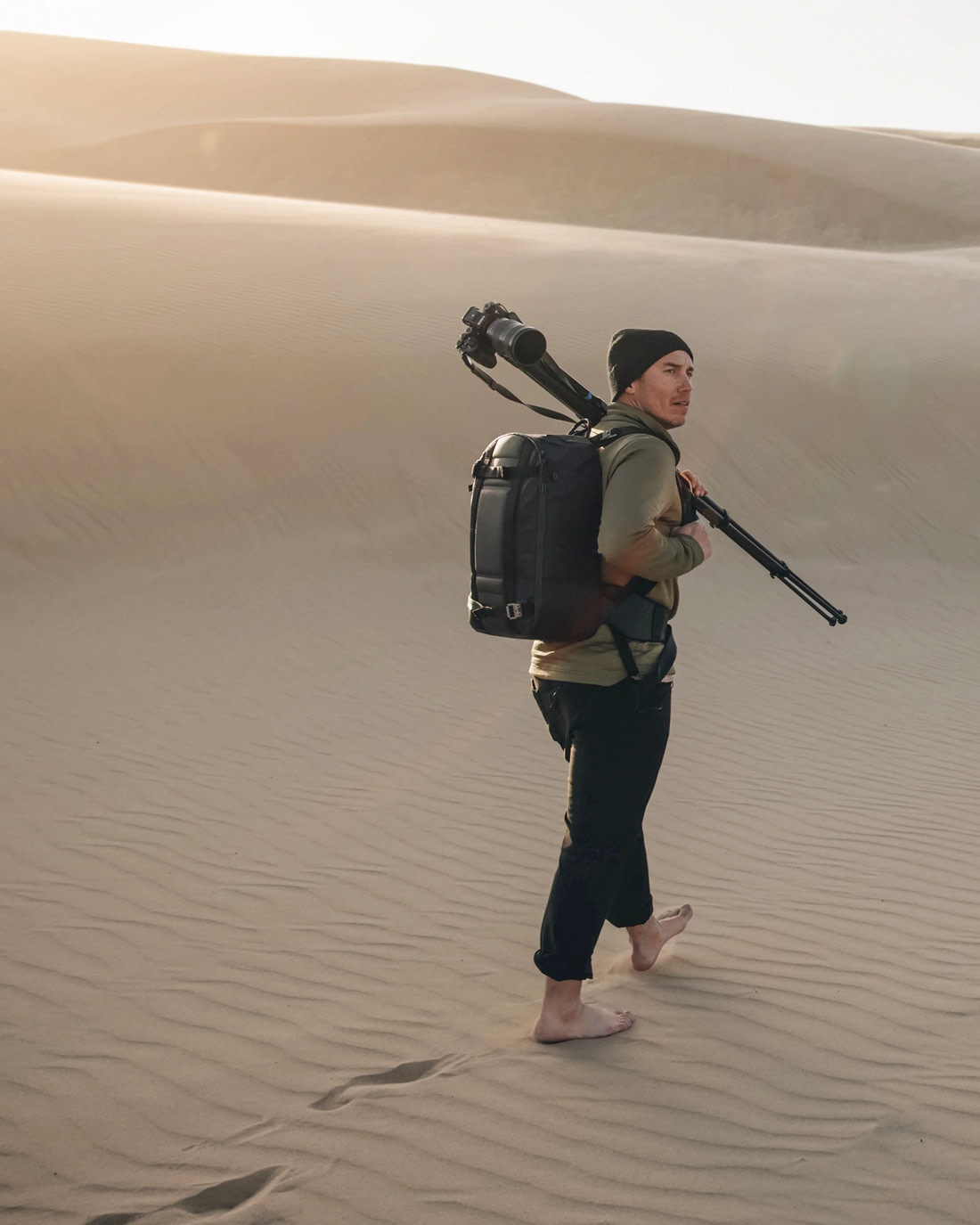 When paired with Db's camera inserts, the Ramverk Pro Backpack 26L becomes a reliable companion for traveling photographers with a sense of style.
At 26L, it fits your DSLR and lenses with ease while remaining decidedly lightweight and carry-on approved, and most importantly, its spacious main compartment opens fully for easy access to your equipment. It also comes with a padded laptop sleeve for devices up to 17″, a quick-access top pocket for on-the-go essentials, and several internal mesh pockets for organizing cables, backup hard drives, and more.
Its patented rib cage construction and camera insert compatibility make it an excellent camera bag for everyday carry.
Nomatic X McKinnon Camera Backpack 25L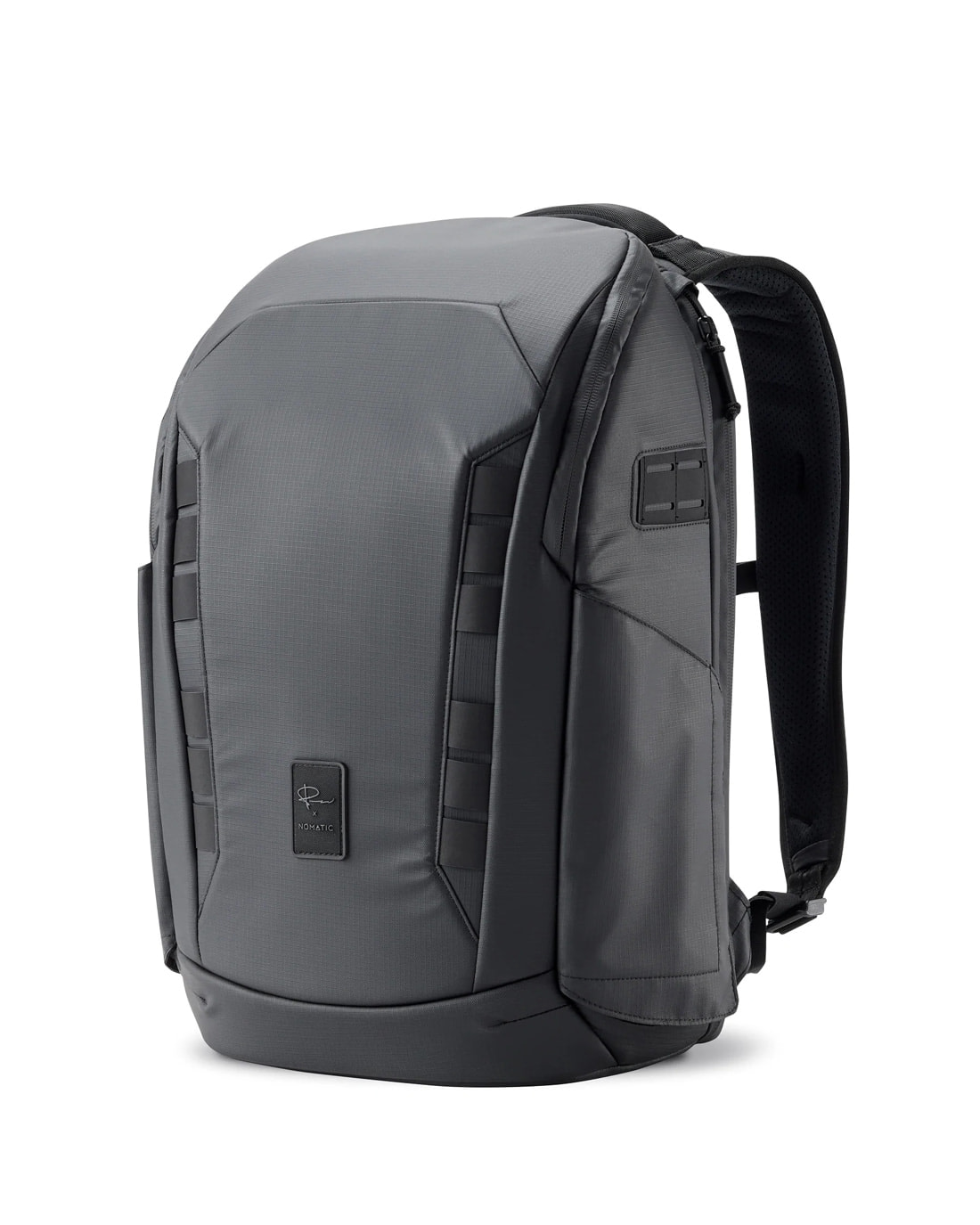 Part of the new Nomatic X Peter McKinnon Everyday Camera Line, this sleek, highly functional backpack stands out for its solid build, customizable interior organization, and excellent device protection.
Ideal for lighter camera setups and even as an everyday bag, the Peter McKinnon Camera Backpack 25L is made with water-resistant tarpaulin and ZOOM zippers and offers both quick top and full back access to contents.
The main compartment includes a removable "ladder system" designed to organize your gear as well as plenty of pockets for small items storage. The back panel has enough EVA foam padding to make daily outings comfortable, and the side-opening laptop compartment houses devices up to 16 inches. Outside are two magnetic bottle/tripod pockets, mounting loops, and a roller luggage pass-through which comes in handy when traveling.
Wandrd All New PRVKE
With its durable construction, cool photography-specific features, and contemporary aesthetics, which are equally at home in the city and in the field, the Wandrd All New PRVKE ticks all the boxes of what makes a great camera carry.
Crafted in tarpaulin and Robic 1680D Ballistic Nylon, it's water-resistant and extremely durable while maintaining a clean, attractive look. The clamshell opening allows for easy packing and quick access to gear, and the new, redesigned back panel and shoulder straps promise unrivaled comfort when on the move.
Add in tons of organizational pockets (including laptop and tablet sleeves), an expandable roll top, and convenient access to equipment via back and side panels, and this is easily one of the best camera backpacks you can buy in 2023.
Boundary Supply Errant Pack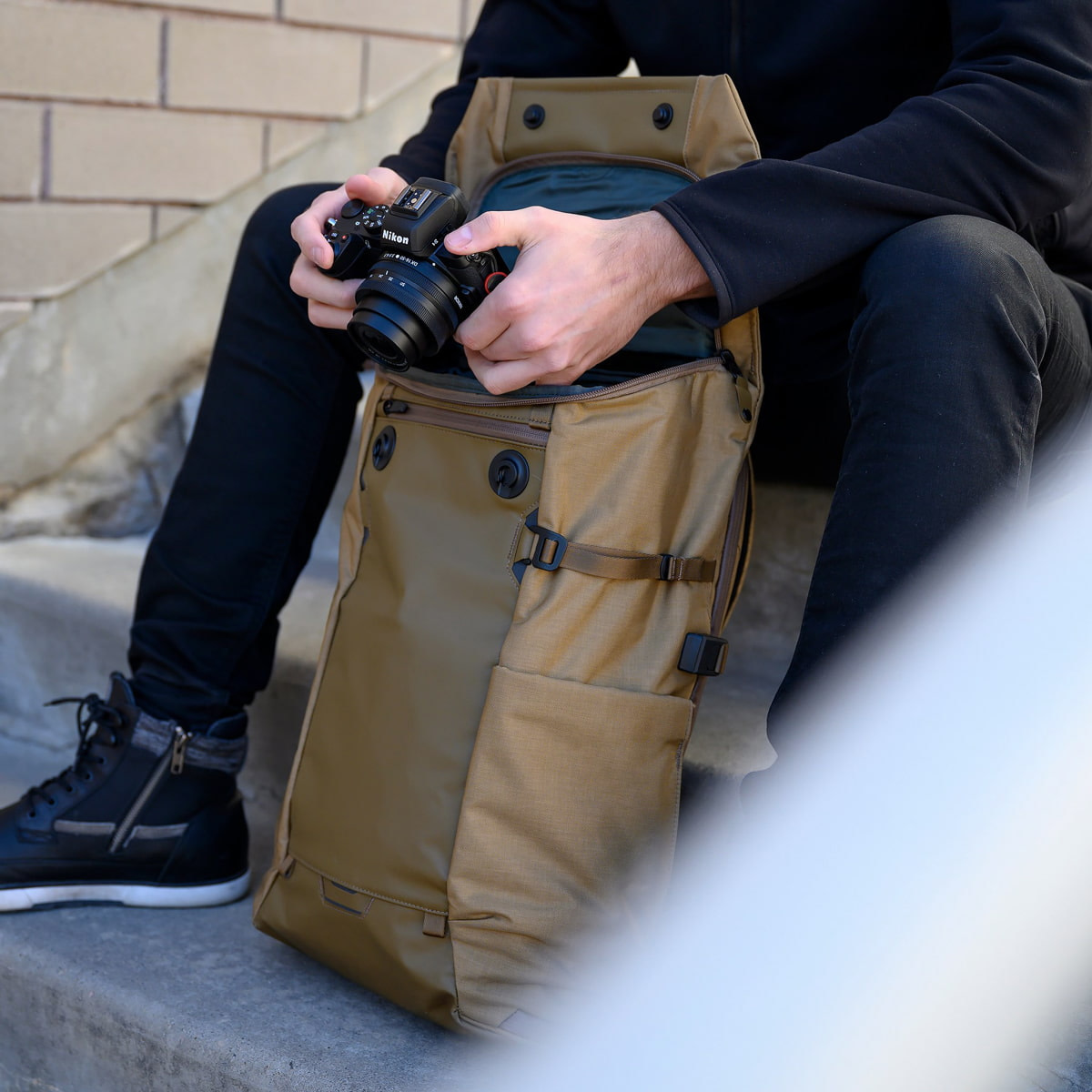 One of the most adaptable camera bags on this list, the Errant Pack from Boundary Supply is an EDC backpack with a twist. Sporting a combination of tough 500-denier nylon Kodra with a durable, water-repellent finish, it's built to last a lifetime, delivering maximum functionality within a stylish, minimal design.
Its clamshell design lets you conveniently access your belongings, and multiple intuitive pockets keep your smaller essentials organized and on hand. There's even a bottom compartment perfect for shoes or wet clothing, as well as laptop and tablet sleeves. The best part, however, is that the Errant is compatible with Boundary Supply's modular accessories, which include two types of camera inserts, among others.
Urth Arkose 20L Modular Backpack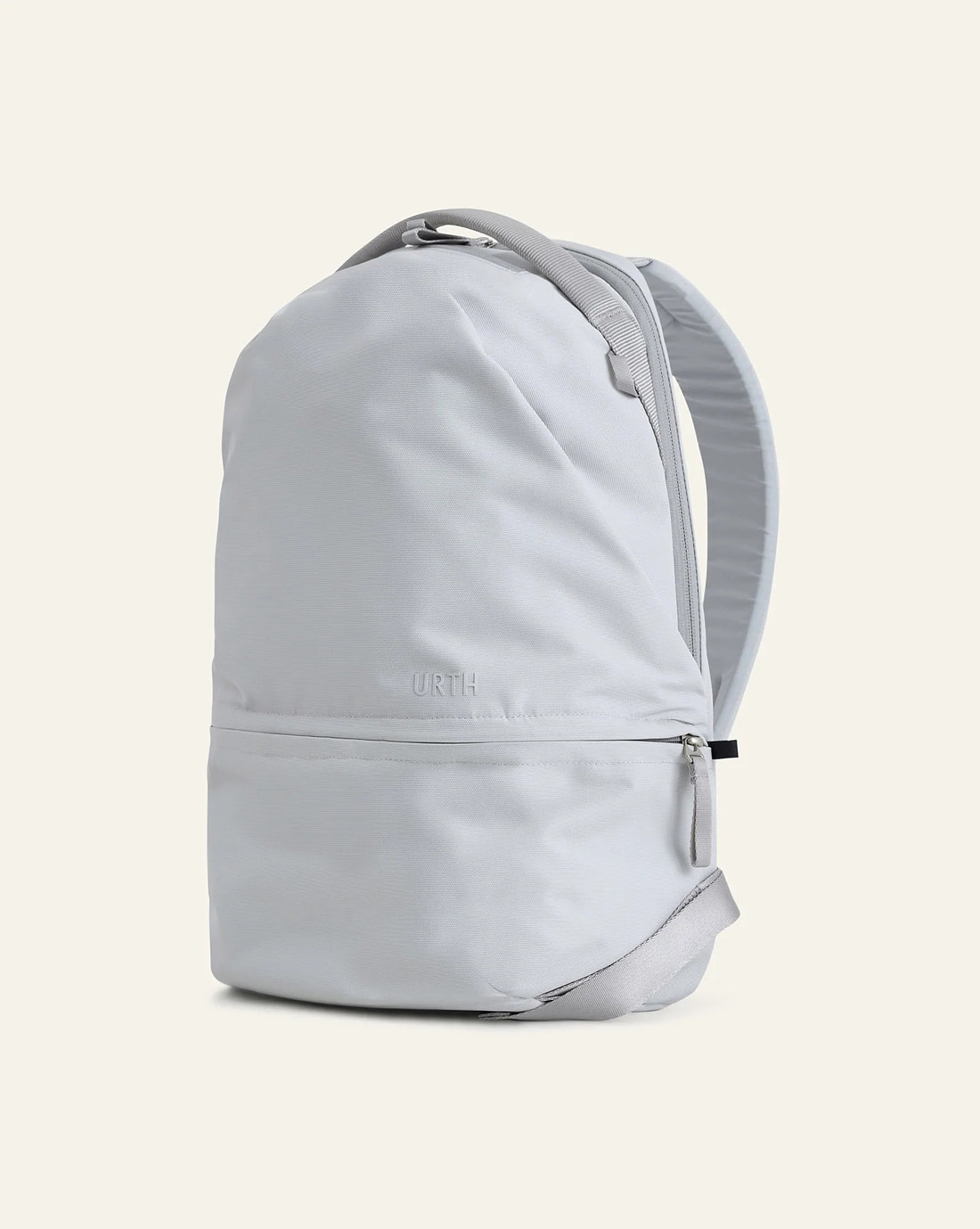 If you're into a minimalist urban aesthetic, look no further than Urth's Arkose 20L Modular Backpack. One of the lightest and most streamlined camera bags on this list, this one weighs only 900g and is constructed with 70% recycled materials. Its stylish 600D nylon shell is weather resistant and the unique "snap in half" design, with top and front zippered openings, allows for quick access to your gear.
The lower compartment is designed to fit the company's Small Camera Insert, which holds a DSLR and one lens, and there are also padded sleeves for a tablet and 15″ laptop. In fact, this discreet photography pack gives you a total of 12 storage zones, including an organization panel for smaller bits like pens, SD cards, and cords.
Shimoda Explore V2 35 Backpack
Want a top-notch camera bag that's ready for anything? Enter Shimoda Explore V2 35, a durable, adventure-ready backpack designed to make your outdoor shooting pursuits as comfortable and effective as possible.
Built with action-oriented content creators in mind, it features multiple access points, stowable side pockets for tripod and water bottle, and strong TPU outside straps for securing skis, helmets, tripods, or other equipment to your pack. The spacious main compartment fits a laptop up to 16 inches while perfectly accommodating Shimoda's innovative Mirrorless and DSLR Core Units.
Height-adjustable padded harness means the Explore V2 35 can be customized to fit a range of back lengths while making carrying heavy loads a breeze, and there's also the option of choosing women-specific straps. Finally, the combination of extra durable, lightweight materials, customizable storage options, and outstanding comfort make this unit the ultimate adventure photography backpack.
Moment MTW Backpack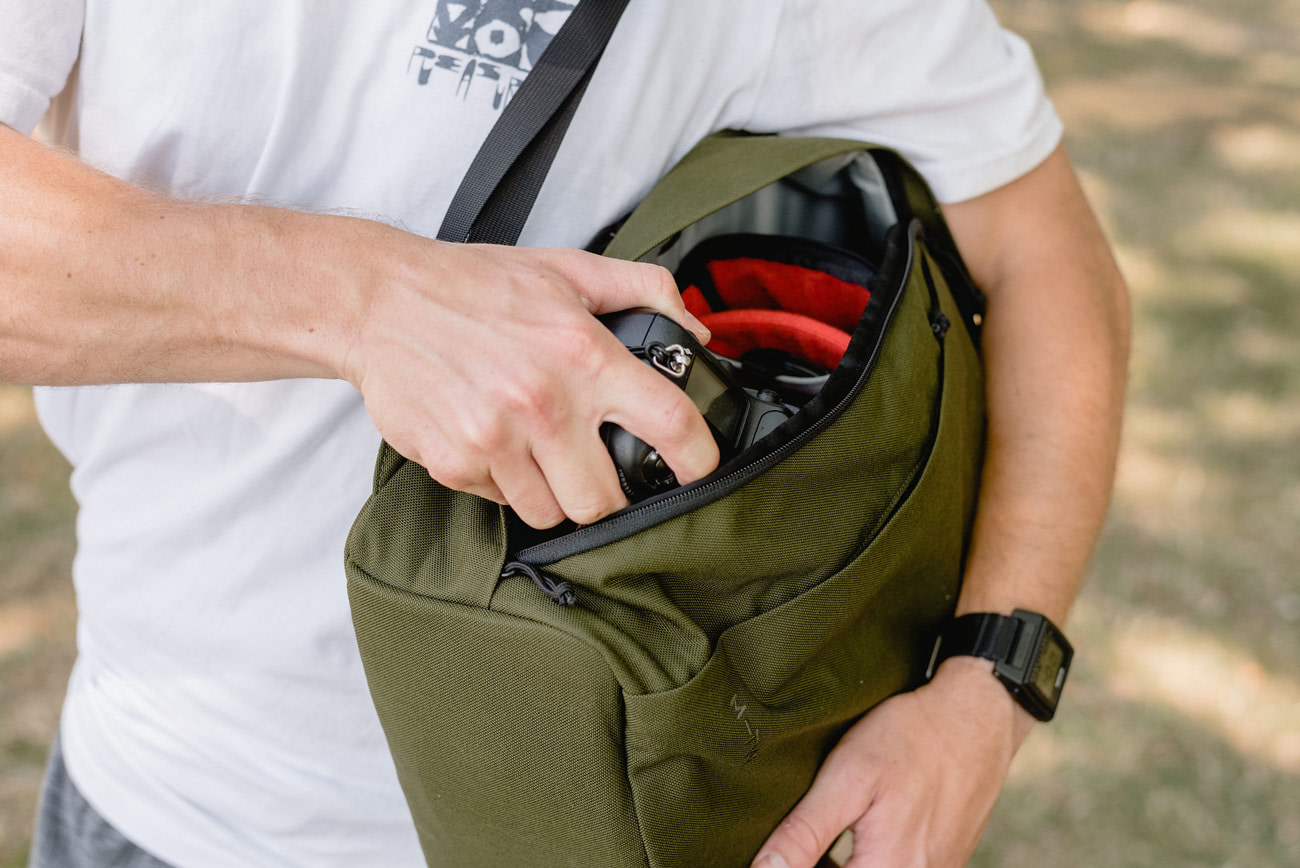 While it doesn't scream "camera bag", Moment's MTW Backpack is a solid bet for minimalists. Available in both 17-liter and 21-liter sizes, it's made with durable recycled Kodra fabric with a double-layer waterproof coating to protect your gear and features a padded sleeve that fits up to a 16" laptop and a tablet.
The side access zip makes it easy to grab your equipment without unloading the backpack, and its padded, comfortable straps are expertly cut to fit both men and women.
The MTW Camera Insert, which fits a mirrorless setup and extra lens, nestles perfectly into this pack, and features like a luggage slip-through back panel and an oversized external water bottle pocket make it a great travel companion.
Brevite The Jumper Photo
For a compact camera pack that gets the job done without breaking the bank or your back, The Jumper Photo by Brevite is hard to beat.
It pairs classic, minimal aesthetics with an uncomplicated design, but that simplicity is its strength. In fact, this backpack's casual styling, available in bold color options like poppy red, powder teal, or lemon yellow, hardly suggests this is even a camera bag at all, minimizing the risk of becoming a target for thieves.
Nevertheless, it has all the needed functionality, including quick side access to your camera, a separate 16-inch laptop pocket, and a luggage pass-through. Removable padded dividers make it easy to organize your photography gear (designed to fit a full-frame camera plus two lenses and a drone), leaving room for a change of clothes in the top section, and there's also a pair of exterior straps for securing your tripod.
This camera daypack is made of 600D Polyester, meaning it's not as robust as others in this list, but it more than makes up for it in lightness. That, coupled with the bag's compact size, makes it ideal for lady photographers, everyday use, and those casual photoshoots around town when you don't want to haul around a super heavy load.
Chrome Industries Niko Camera Backpack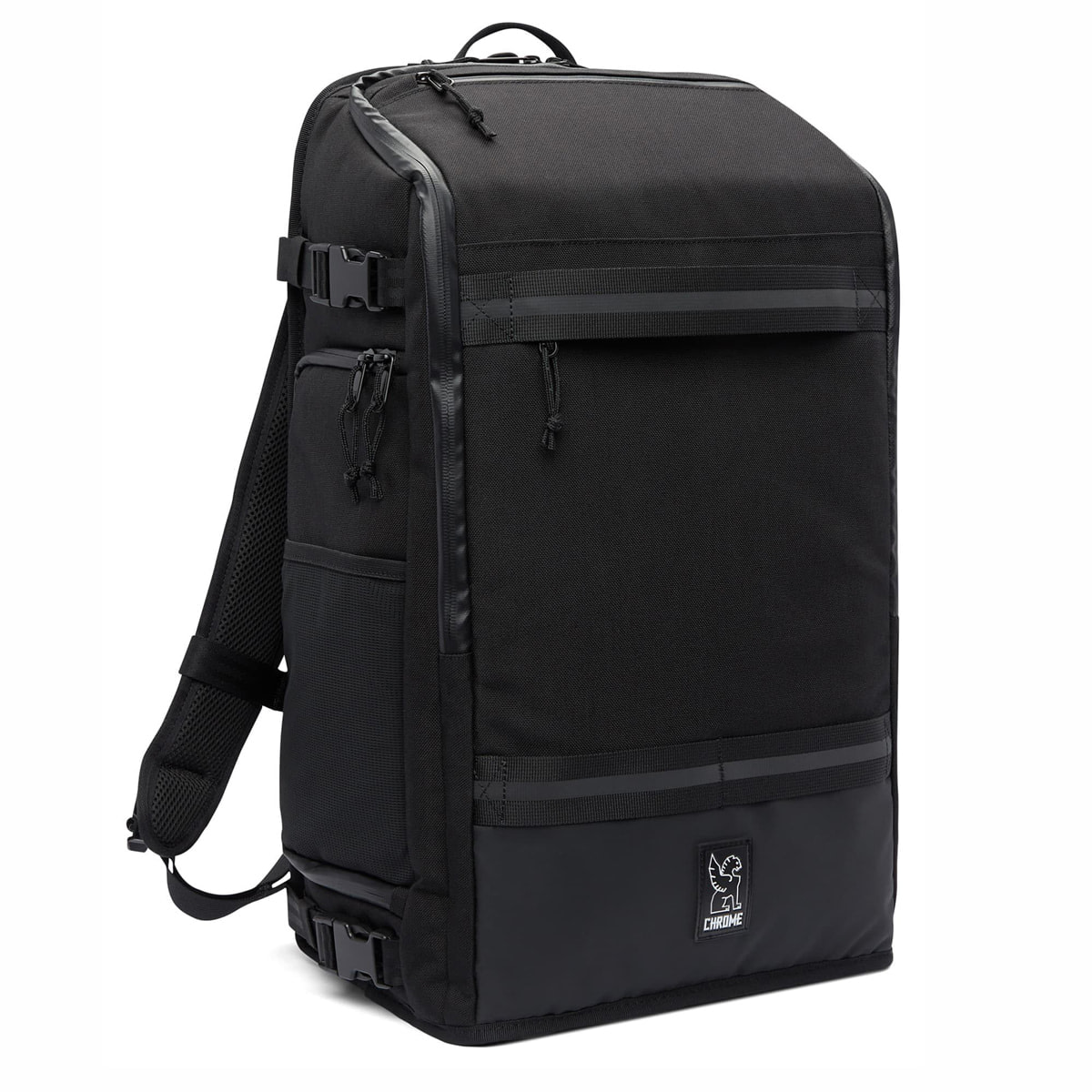 For outdoor photographers and videographers carrying a lot of gear, the third iteration of Chrome Industries' iconic camera backpack is just the ticket.
Crafted from weatherproof 1050 Nylon, this boxy, heavy-dutty piece boasts a side- and top-access main compartment complete with modular dividers for holding a large camera and lenses, as well as padded laptop & tablet sleeves and multiple pockets for organizing your accessories.
Even when fully loaded, the Niko Camera Backpack 3.0 remains extremely comfortable to carry thanks to its EVA foam back panel, quick-release sternum strap, and ergonomic shoulder straps.
PGYTECH OneMo2 Backpack 25L
A capable camera bag for professional photographers, the PGYTECH OneMo2 Backpack packs a bevy of innovative features in a sleek, boxy silhouette ready for wherever your shooting day takes you. Constructed from high-performance PU-coated materials, the bag comes with padded laptop and tablet sleeves, lots of pockets for accessory storage, plus an additional camera cube that doubles as a stand-alone shoulder bag.
Side and top openings provide access to the spacious front compartment for quick camera retrieving, while thick velcro partitions let you customize your gear layout. The pack has a ventilated arc-shaped back panel, as well as adjustable waist and sternum straps, and offers both V-shape and H-shape expansion up to 8 L.
The Tog Bag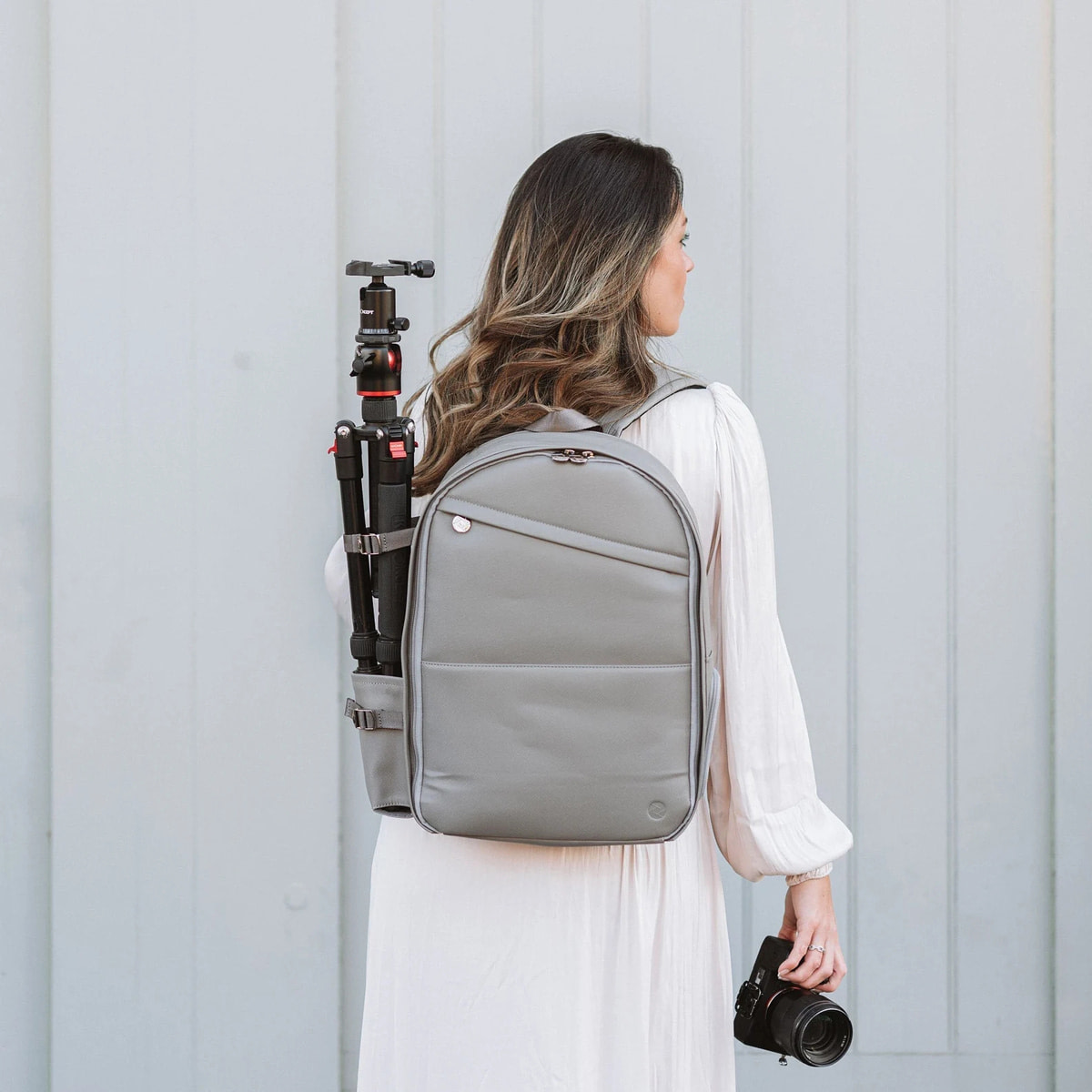 Though a great deal of today's camera backpacks is geared toward men, this one has a simple yet stylish design that will appeal to both genders.
Rendered in vegan leather, the Tog Bag features a hidden 16″ laptop compartment, an external zip pocket for small necessities, and a side pouch to store your tripod or water bottle. The removable velcro dividers make the interior easily configurable, while a side pocket allows easy access to your gear while on the move. If you're looking for a chic, multipurpose women's camera backpack or one that looks more like a discreet day pack than a conspicuous camera bag, this is it!
Lowepro ProTactic BP 450 AW II
A professional camera backpack with an adaptive interior, multiple access points, and attachment loops all over its outer surface, the Lowepro ProTactic BP 450 AW II leaves little to be desired.
The Velcro dividers inside can be arranged to properly fit your specific camera gear, while a rain cover and protective padding throughout ensure your equipment stays safe. At 25 L, the bag can carry everything from your 15-inch Macbook Pro to a couple of DSLRs and lenses to a small drone. Comfort-wise, its lumbar support, hip strap, and structured back panel with ventilated sections will keep you dry and comfortable on the trail.
Hex Backloader DSLR Backpack V2
Perfect for DSLR shooters, this square-shaped option from HEX marries premium construction with a comfortable fit and a unique architecture. The spacious main compartment is positioned in the back and comes with tons of Velcro dividers, giving photographers unlimited customization options.
Meanwhile, the access point at the top of the bag makes it easy to pull out the camera without opening the pack, and the padded section in the front can fit a 15-inch laptop. Last but not least, the Backloader DSLR Backpack is outfitted with padded straps and back panel, YKK zipper pulls, a chest compression strap, and various organizational mesh pouches and pockets.