This post contains affiliate links, which means we may receive a small commission, at no additional cost to you, if you make a purchase through these links. See our full disclosure here.
If there's one type of bag that has remained faithful to adventurers of all kinds over the years, it's the travel backpack.
We used to take it on summer camp and spring break, and now we fill it with laptops, drones, and obsessively organized packing cubes. In short, it seems to have become our go-anywhere, take-everywhere travel essential. After all, nothing beats being able to comfortably carry everything you need for the road over extended periods of time – all while remaining organized and hands-free.
Our favorite backpacks for travel are thoughtfully designed, comfortable to wear, and cover the entire spectrum of uses, so whether you are in the market for a versatile all-rounder, a vessel to carry your photography gear across the world, or a reliable hands-free alternative to your carry-on suitcase, you'll find it in our comprehensive selection below.
From polished to practical, we've scoured the market and compiled a list of the best backpacks for travel in 2023.
Peak Design Travel Backpack 45L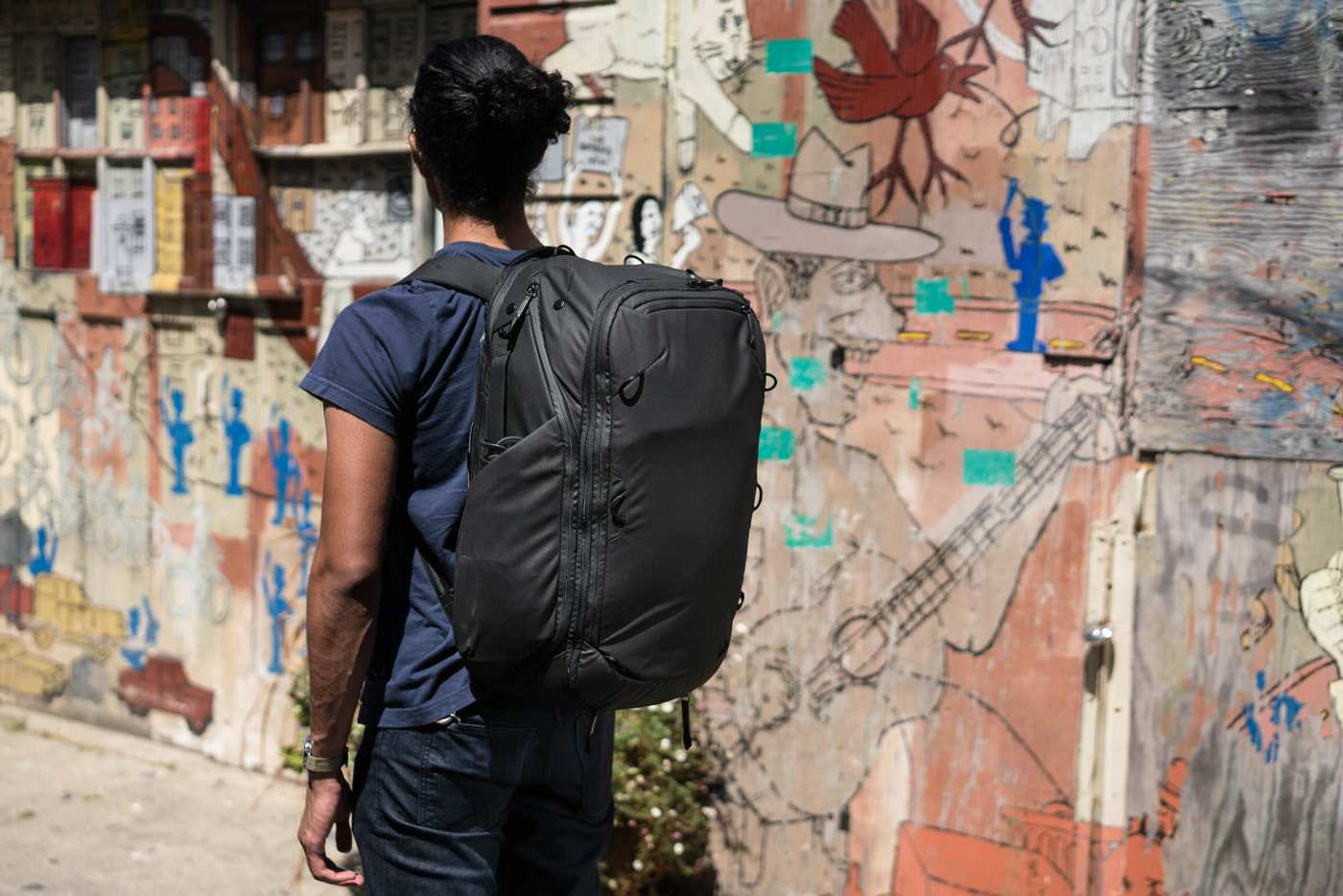 It takes a lot of skill, not to mention a proper blend of form and function, to create the best backpack for travel, and we really don't know who else could've done it better than Peak Design, one of the best backpack brands on the market.
Crafted from 100% recycled 400D nylon canvas, their 45L Travel Backpack is sleek, weatherproof, and conveniently expandable. Though built for modern-day one-bag travel, it makes a great carry-on bag for flying or day pack to take around town when compressed at 35L, yet it becomes a terrific camera backpack for creatives when paired with Peak's smart camera cubes.
But adaptability is not the only reason this backpack is our top choice. A wealth of interior and exterior pockets revolutionize packing as we know it and give the bag huge capacity, while intuitively placed weatherproof zips make access to contents fast and simple. Combine that with premium materials, outstanding attention to detail, and clean aesthetics, and it's easy to see why this is our pick for the best travel backpack in 2023.
Tortuga Travel Backpack 40L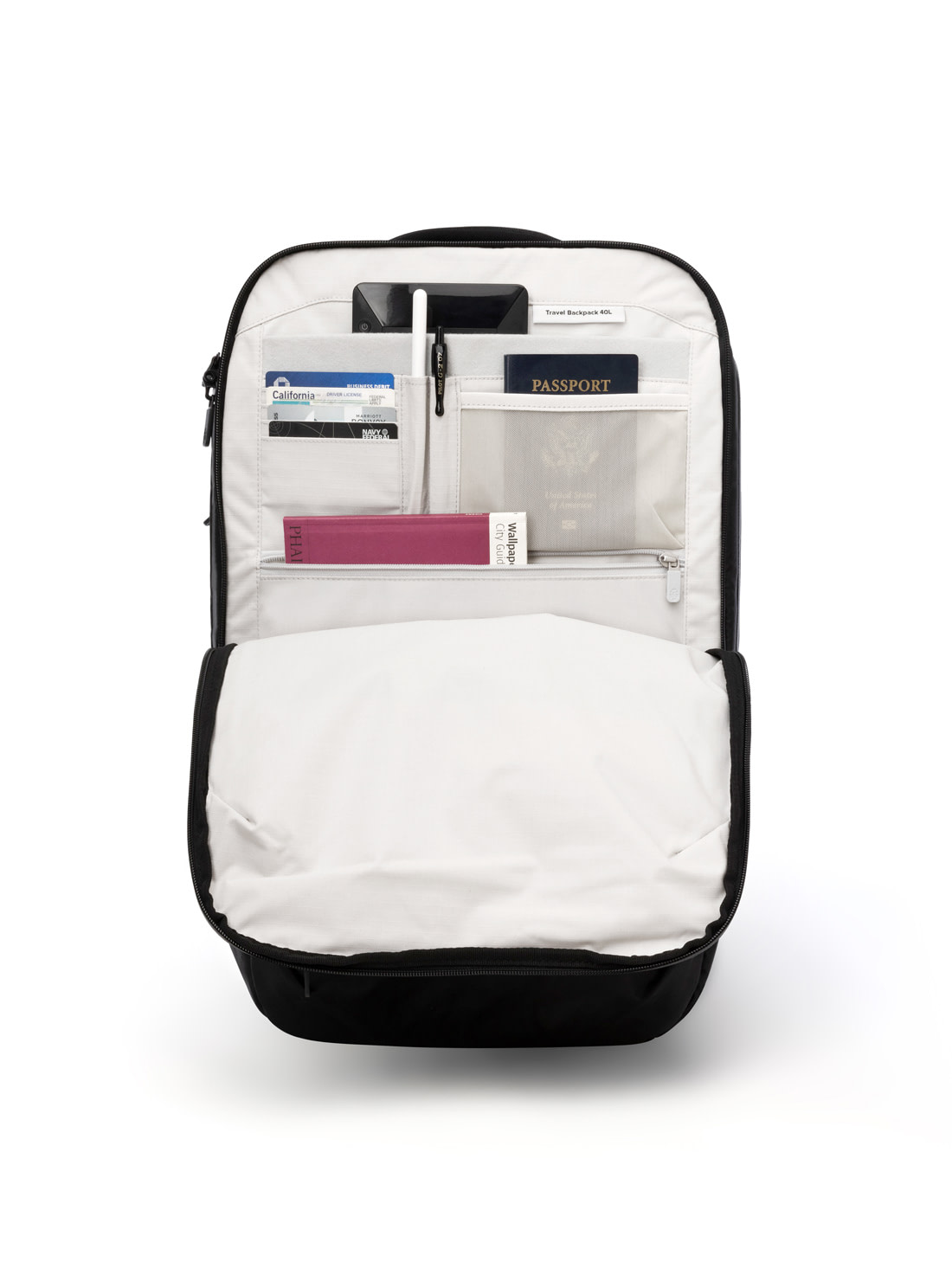 Its good looks, durable construction, and perfect size, along with a series of thoughtful details, place Tortuga's latest travel pack among the best carry-on backpacks out there.
The Travel Backpack 40L is a maximum-sized carry-on travel backpack with tons of internal space, but when it comes to packing and organization, it behaves like a suitcase. Unlike traditional rucksacks, it opens like a book and boasts designated spaces for your clothes, laptop, documents, and other road essentials.
The design is simple and understated, which means you'll probably want to take it on all your adventures, not just that backpacking trip across Europe. And the best part, it's a joy to carry thanks to its thick and comfortable shoulder straps, removable hip belt, and load lifters.
Tropicfeel Shell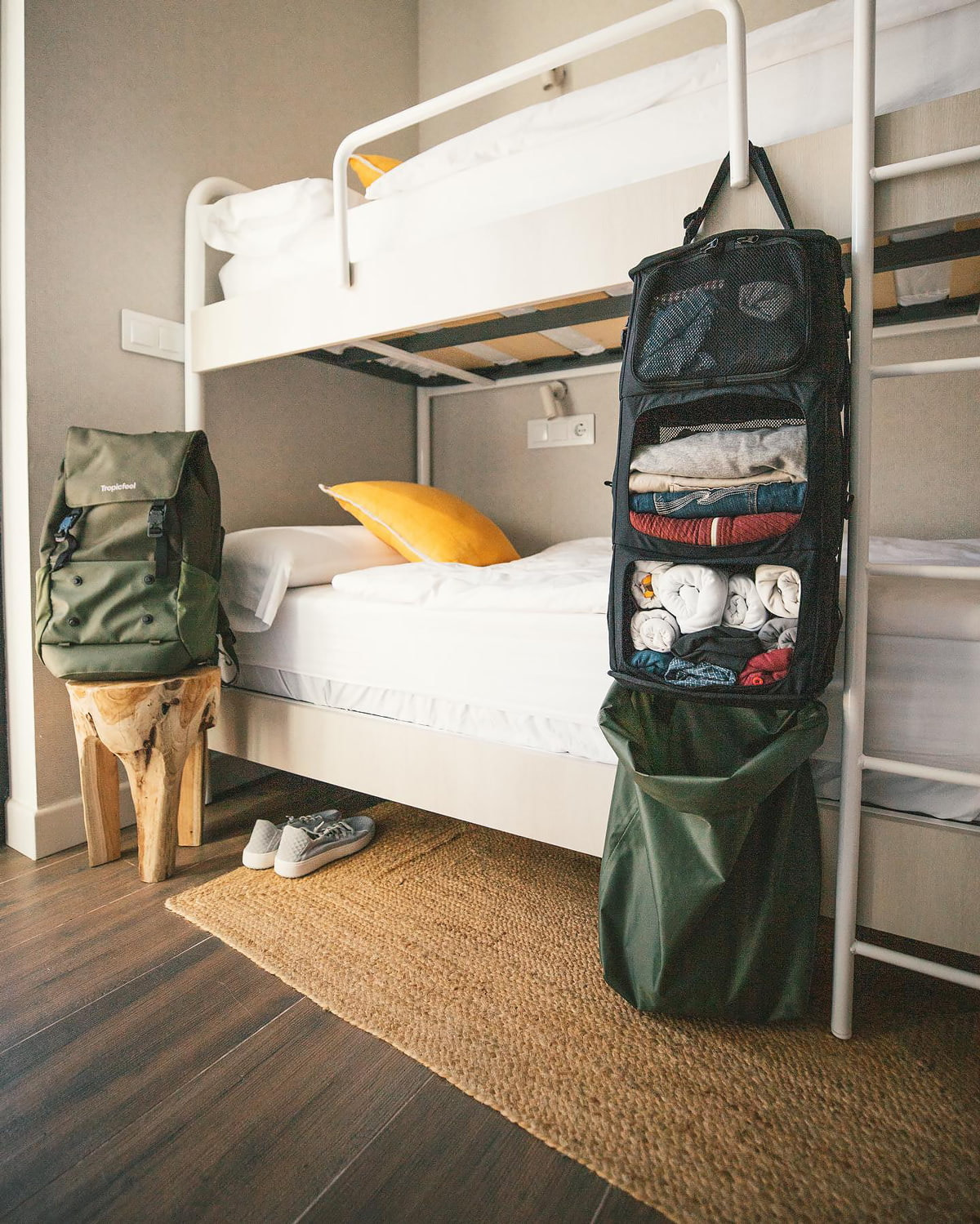 It's never easy to develop new, competitive products in a market where innovation is a fundamental pillar, but the folks at Tropicfeel, a sustainable travel footwear and accessories brand based in Barcelona, have proven that it is not impossible.
Aptly named Shell, their ingenious travel backpack revolutionizes the way you pack with a removable easy-to-access wardrobe, a built-in compression system, and a smart 3-in-1 adaptable design that shrinks and expands creatively to fit whatever size of trip you are planning.
As for the exterior, recycled nylon and polyester combine to ensure its weatherproof nature and tear resistance without compromising on comfort, lightness, or looks.
Db Roamer Split Duffel 50L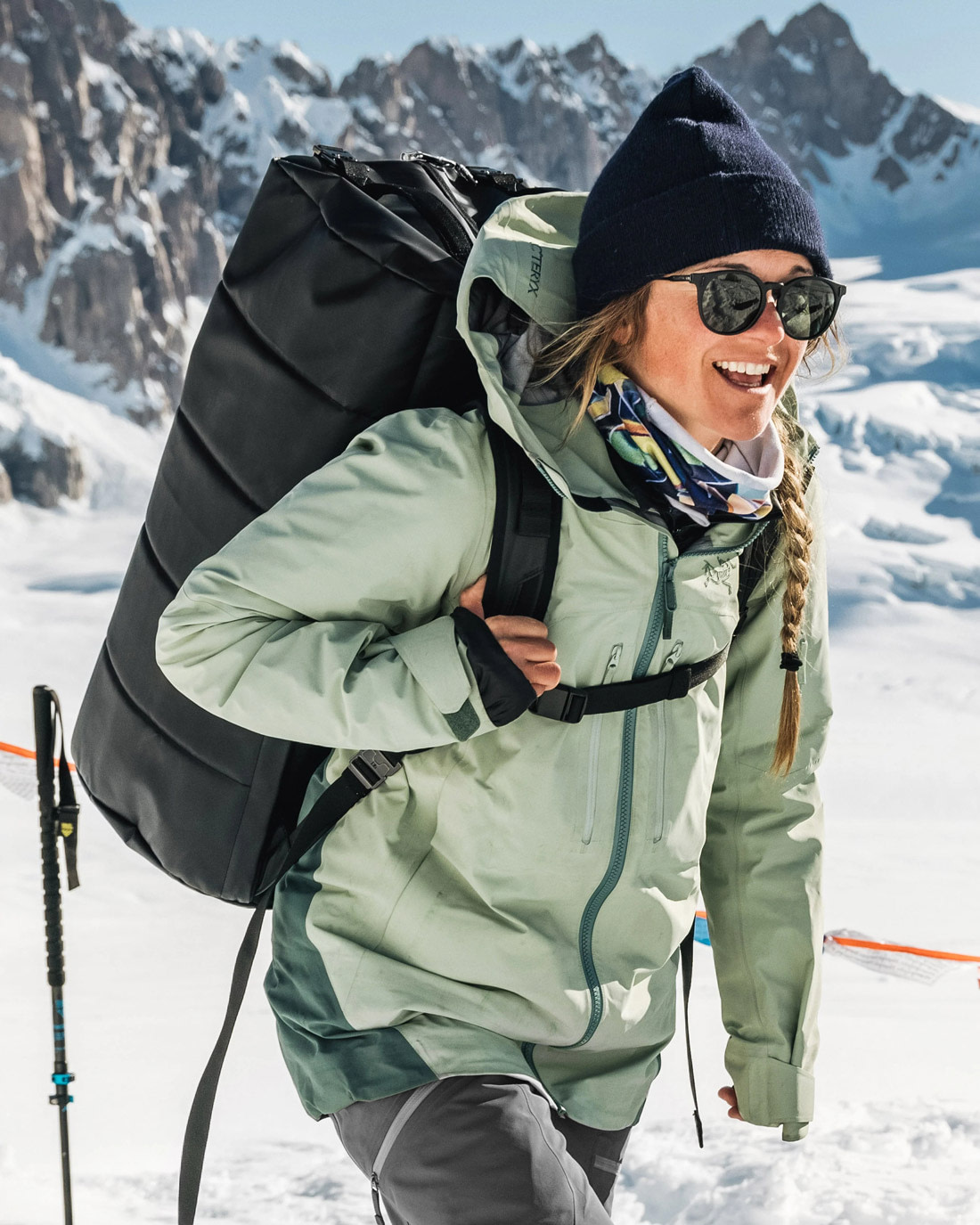 Truly great women's backpacks are a rare breed, but this roomy, cleverly designed piece packs all the right details into a structured, boxy silhouette suited to contemporary tastes.
Fashioned from recycled, water-resistant nylon, Db Roamer Split Duffel 50L keeps everything inside protected, organized, and easy to carry, thanks to its unique, innovative architecture. True to its name, the bag opens like a clamshell, revealing two zippered compartments that offer plenty of room for both clothing and gear. Like all of Db's backpack offerings, this combo backpack/duffel design features the brand's patented rib cage construction of strong and lightweight ABS ribs, intended to provide structure and protection while keeping the weight down.
Though it is unisex, the lightweight, intuitive organization and cool design make it our choice for the best travel backpack for women.
Bellroy Transit Backpack Plus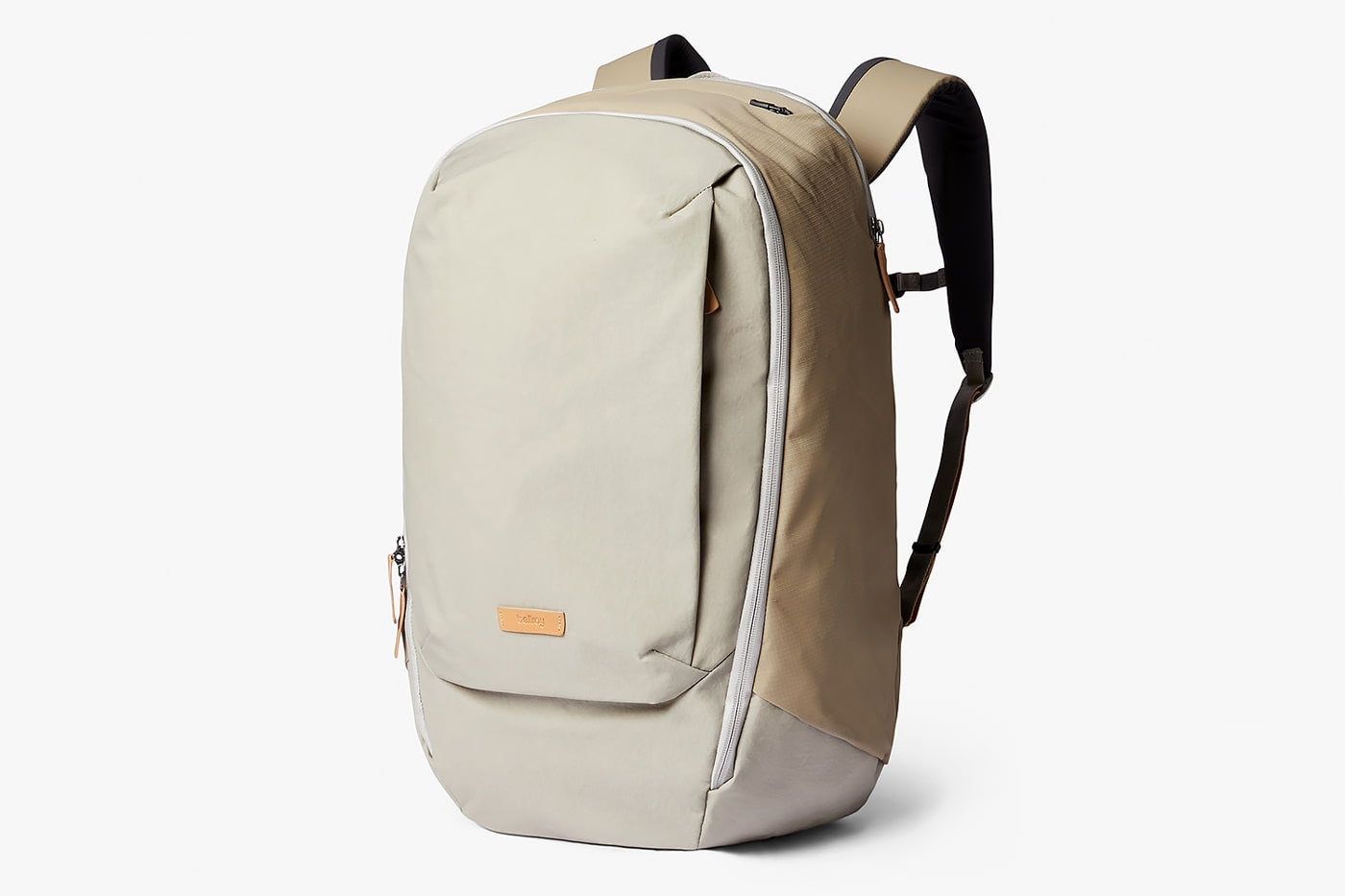 Featuring a stylish, minimal design, a quick-access 15" laptop compartment, and comfortable straps, Bellroy's Transit Backpack Plus is everything you want and nothing you don't.
Crafted in a combination of recycled water-resistant fabric and environmentally sustainable leather, this contemporary backpack is as beautiful as it is sturdy and practical. Pockets for sunglasses, documents, and everything in between make it easy to stay organized on the go, and its padded shoulder straps, hideaway waist belt, and breathable, contoured back panel ensure wear comfort.
Equipped with internal compression straps, the pack has enough room for a long weekend away while meeting carry-on size restrictions.
Nomatic Navigator Travel Backpack 32L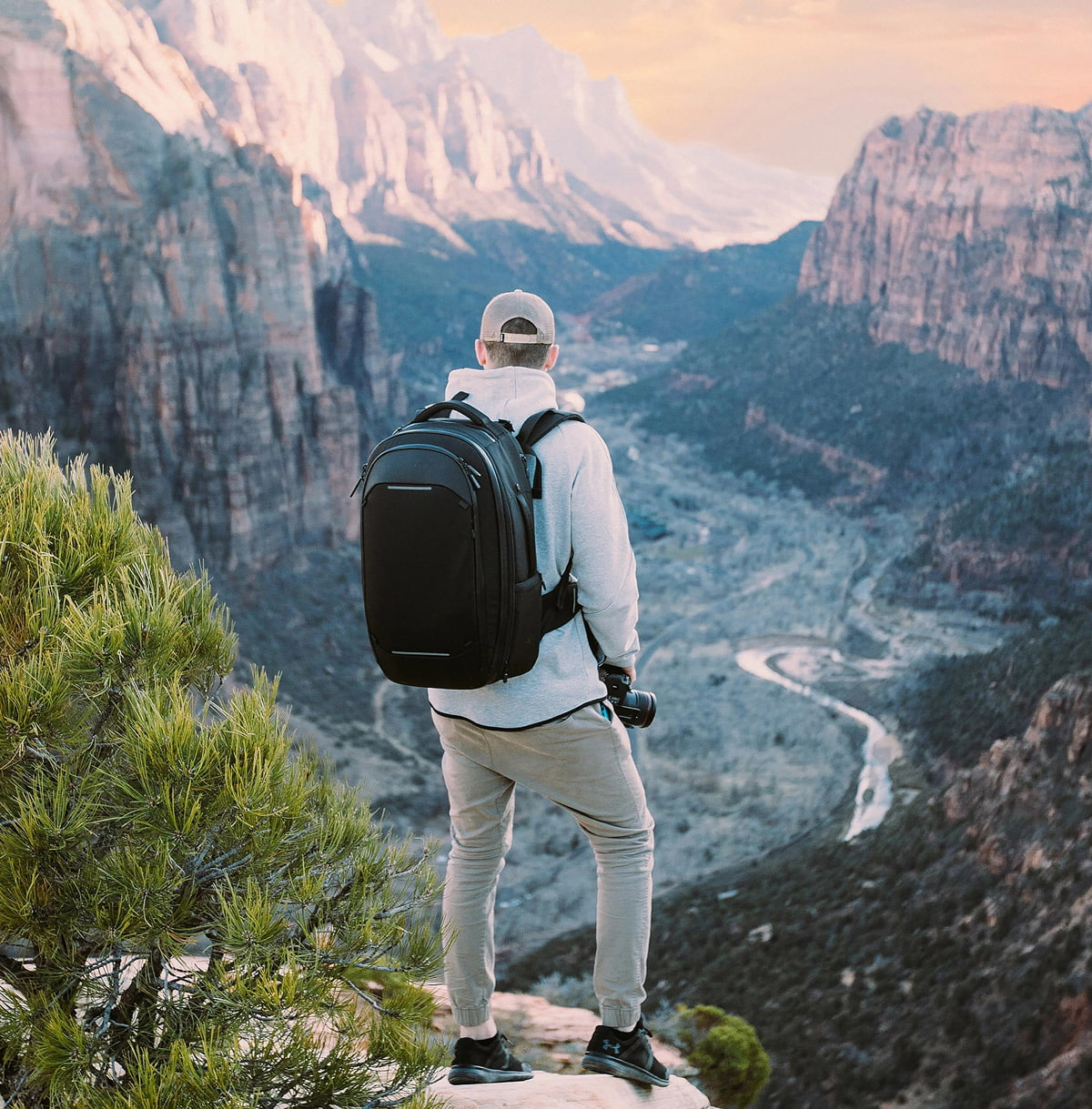 There's a reason Nomatic's packs have become the most funded in Kickstarter's history. This one is sturdy, handsome, and exceptionally well organized, with pockets and compartments for virtually anything, while its smaller brother, the Nomatic Navigator 15L has already secured a spot in our best everyday carry backpacks list.
Designed for 4/5-day trips, the Navigator Travel Backpack 32L expands from 32L to 41L to suit any travel plan and comes packed with cool, thoughtful features such as a sleeve for up to a 17″ laptop, a luggage pass-through, as well as load-lifting straps and an EVA foam back panel for unmatched carry comfort.
The combination of style, quality, and functionality makes this contemporary piece one of the best travel backpacks out there. Oh, and it also comes with a lifetime warranty!
Monos Metro Backpack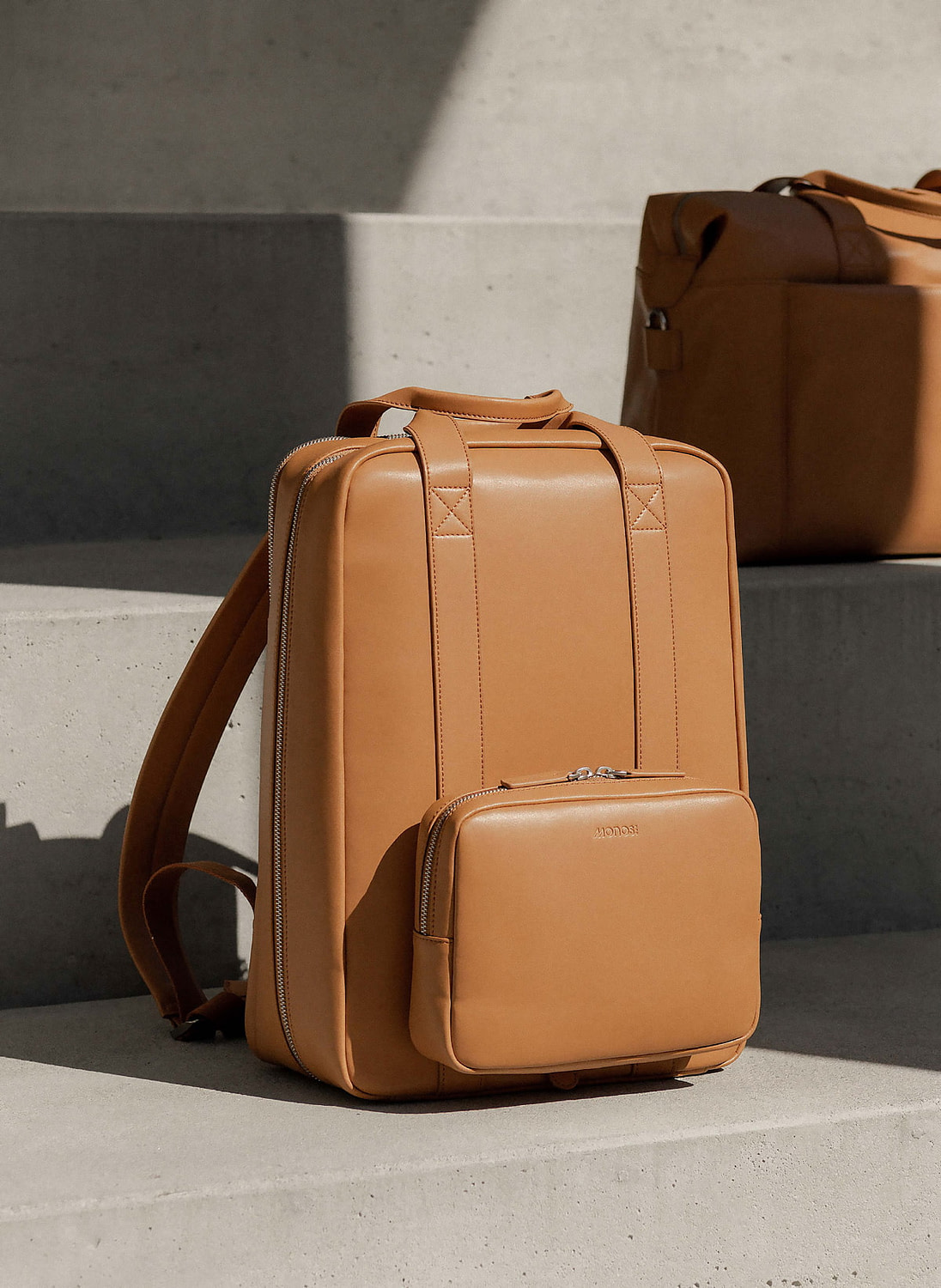 Superb functionality, sustainable materials, and clean aesthetics combine to create the most stylish travel backpack on our list.
Whether rendered in sleek nylon or smooth vegan leather, the Monos Metro Backpack stands out for its slim, structured profile and perfect proportions, which make it not only a wonderful travel companion but one of the best backpacks overall.
Its spacious main compartment has a clamshell design for smooth packing and access to items, while the separate laptop section fits up to 15″ tech devices, minimizing hassle in airport security.
The bag's most marvelous feature is the unique QuickSnap Modular Kit, an independent squared-shaped pouch that can be attached (and detached) magnetically to the outside of the backpack and even used in combination with their chic Metro Duffel.
A built-in trolley sleeve and a stretchable, waterproof privacy compartment for shoes and dirty clothes round out the reasons why we love this luxuriously understated carryall.
Matador SEG42 Travel Pack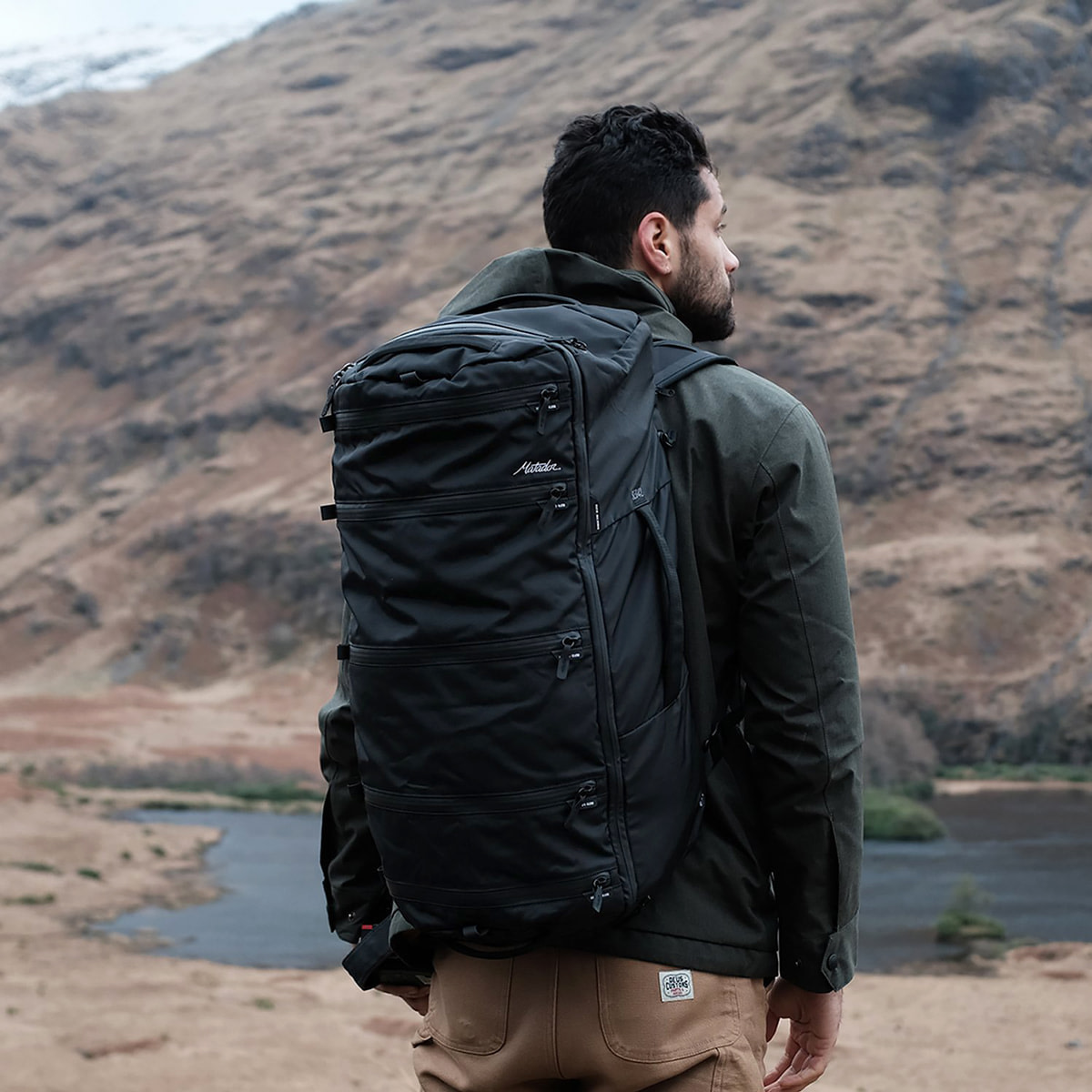 Weighing in just 2.25 lb (1 kg), this 42-liter gear hauler is lighter than most of the bags its size. But that's only one of several features that make Matador's SEG42 Travel Pack unique.
Designed with one-bag travel in mind, this large backpack features an innovative design with an oversized clamshell pocket for shoes or dirty clothes and a built-in packing cube system that makes segmenting, organizing, and accessing your stuff a breeze. Durable, weather-resistant materials ensure it's adventure-ready, while stowable backpack straps allow the pack to be carried as a duffel. Lastly, the external padded laptop sleeve makes it ideal for air travel.
Horizn Studios SoFo Backpack Travel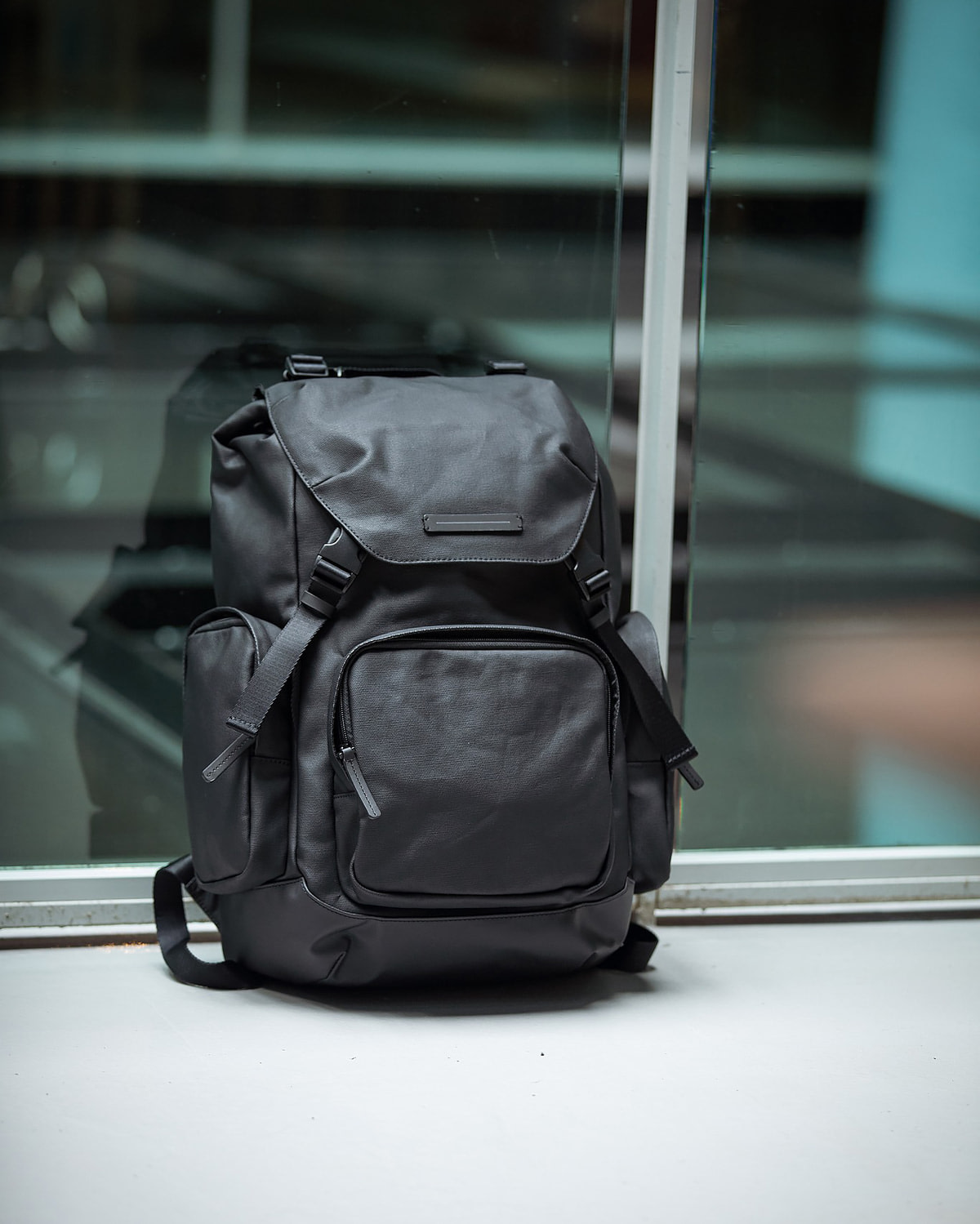 If you're eyeing a sleek allrounder that's equally at home on outdoor adventures and trips around the city, Horizn Studios' SoFo Backpack Travel is hard to beat.
Inspired by Stockholm's hottest neighborhood, this versatile travel bag sports a stylish urban look, backed up by high-quality construction. Engineered from water-resistant waxed canvas, it handles the elements flawlessly and comes with a padded back panel for comfort. Its expandable interior storage compartment, complemented by a padded 15" laptop sleeve and lots of handy inner/outer pockets, can accommodate up to 5 days' worth of travel essentials.
Solgaard Lifepack Endeavor
From the creators of the award-winning Carry-on Closet comes yet another ingenious piece of luggage, the Solgaard Lifepack Endeavor.
Featuring the same stellar closet system, as well as separate zones for work essentials and must-haves, this forward-thinking bag has got your back for wherever life may take you. In addition to the removable, hanging closet, the inside includes drop-proof laptop storage, cable organization, and plenty of room for small gadgets, toiletries, and even a pair of shoes.
An added bonus is the backpack's durable and sustainable SHORE-TEX fabric made from upcycled ocean-bound plastic.
Mystery Ranch Mission Rover 43L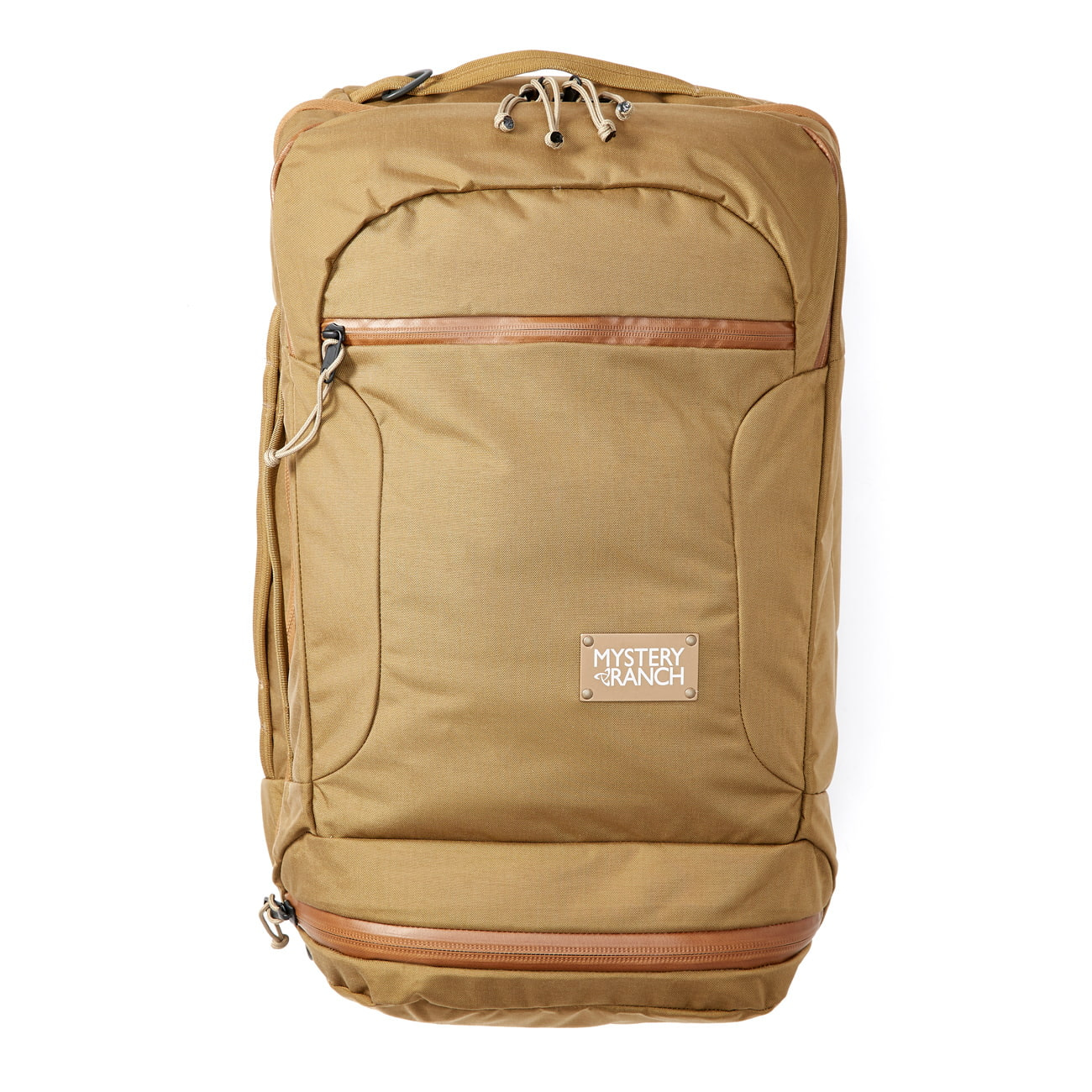 If you're after a pack that shines on the trail, slips into overhead bins, and handles urban environments with dignity, look no further than Mystery Ranch's Mission Rover 43L.
Its rugged 500D Cordura construction means it's built for life on the road, while its zippered clamshell opening makes it easy to pack and access everything quickly. At 43L, you'll find no shortage of storage capacity, and the layout has been carefully thought out to ensure everything, from your laptop to your shoes to your dirty clothes, has its place.
Throw in a variety of carry handles for flexible portability, and you've got an excellent one-bag travel backpack that's ready to go whenever you are.
Topo Designs Global Travel Bag 30L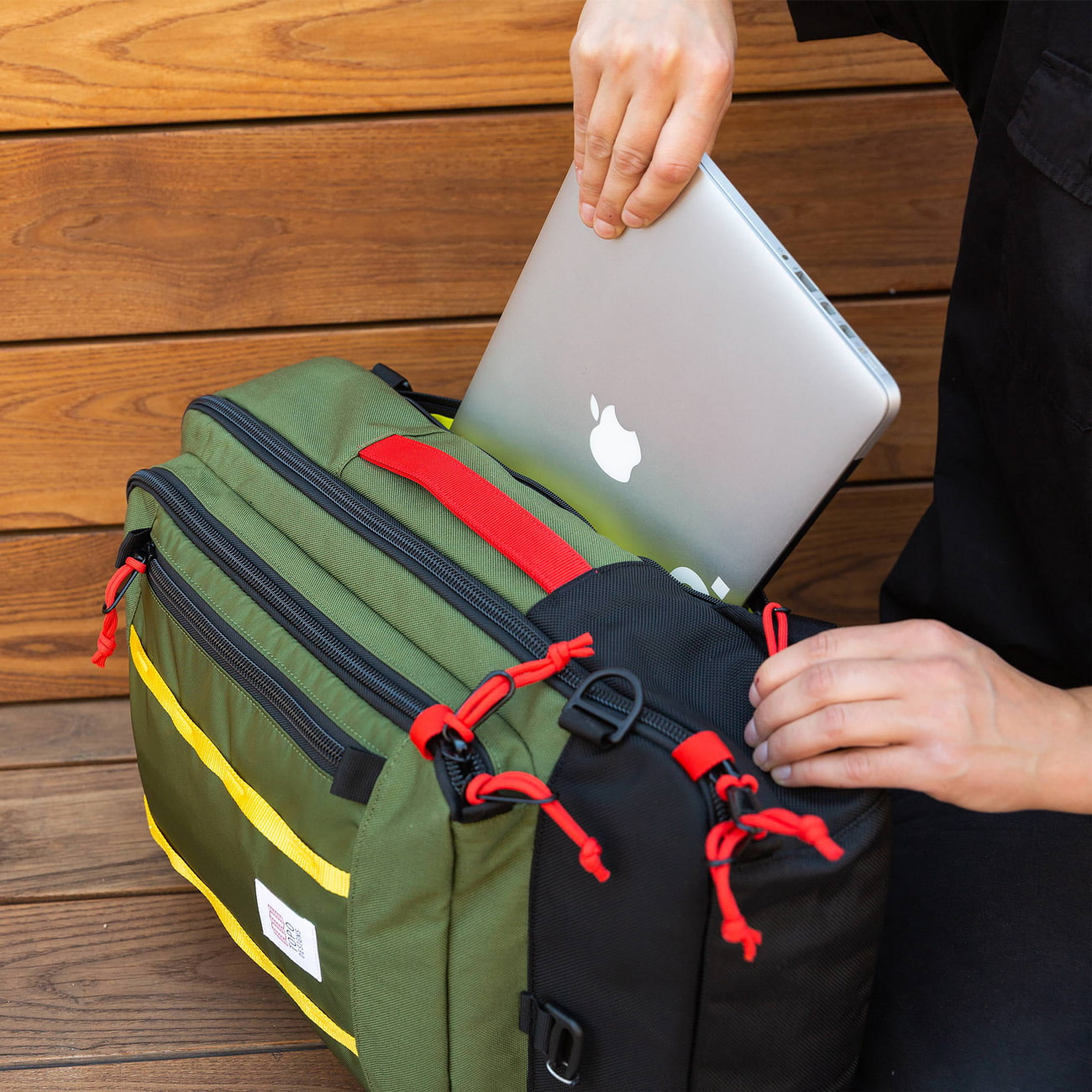 Tough and lightweight, carry-on compliant, and meticulously compartmentalized, Topo Designs' Global Travel Bag 30L was meant to go places – the wilder, the better.
Designed to be carried multiple ways and open completely flat, it's a smart alternative to your wheeled suitcase. A pass-through panel secures the backpack to the handle of your rolling luggage, and there are pockets and sleeves for everything you can think of, from weekend outfits to a 15" laptop.
For the ultimate in travel organization, use the PackFast Attachment Clips to create a modular carry system by fastening your pack to the front of the Travel Bag.
Wandrd All-New PRVKE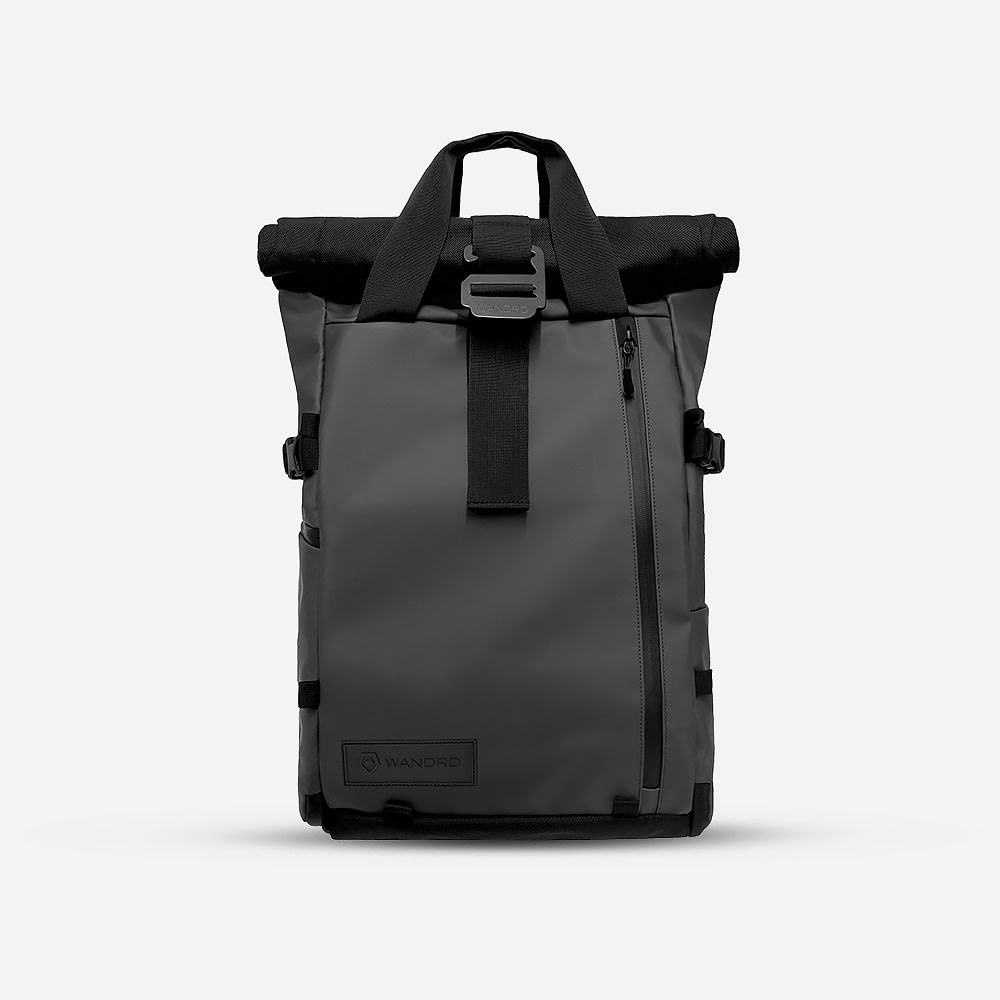 Equipped with tons of organizational pockets, removable camera cubes, and a luggage pass-through strap, Wandrd's All-New PRVKE 41L is ideal for those who plan on traveling with their photography gear, whether around town or to remote spots.
The clamshell opening provides easy access inside, while laptop and tablet sleeves keep your mobile devices neatly stowed and secure. The updated padded straps make sure things are comfortable around the shoulders, and the expandable rolltop provides an extra 5 liters of space when you need it.
On top of that, this camera backpack is waterproof, good-looking, and packed with brilliant travel features like a secure passport pocket, magnetic tote handles, an expandable tripod/water bottle pocket, and even a removable sternum strap for enhanced comfort.
Briggs & Riley ZDX Cargo Backpack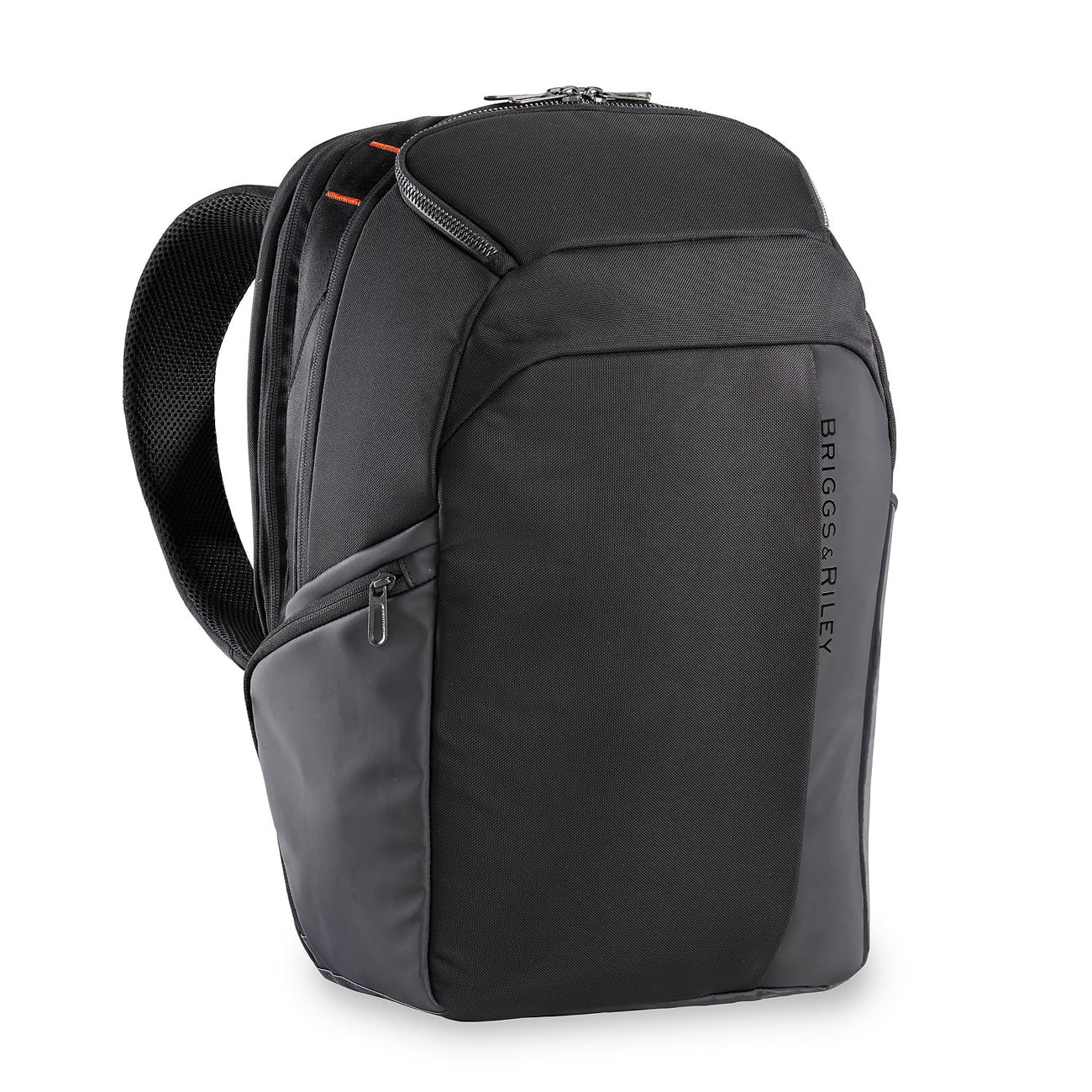 Briggs & Riley's ZDX Cargo Backpack combines clean style, great access, and smart organization into a sleek, versatile companion for business trips. It's constructed from 800D ballistic nylon, which makes it resistant to tears and abrasions, and comes with aerated mesh back padding for optimum airflow and lumbar support.
The roomy main compartment partners with an easy-access laptop section and a large cargo pocket for quick-grab items on the go, to keep your gear safe and in order. A slip-through panel secures the backpack to your roller bag, and the reinforced PVC-coated base provides added durability and protection on wet, dirty surfaces.
Series 1 Large Expandable Knack Pack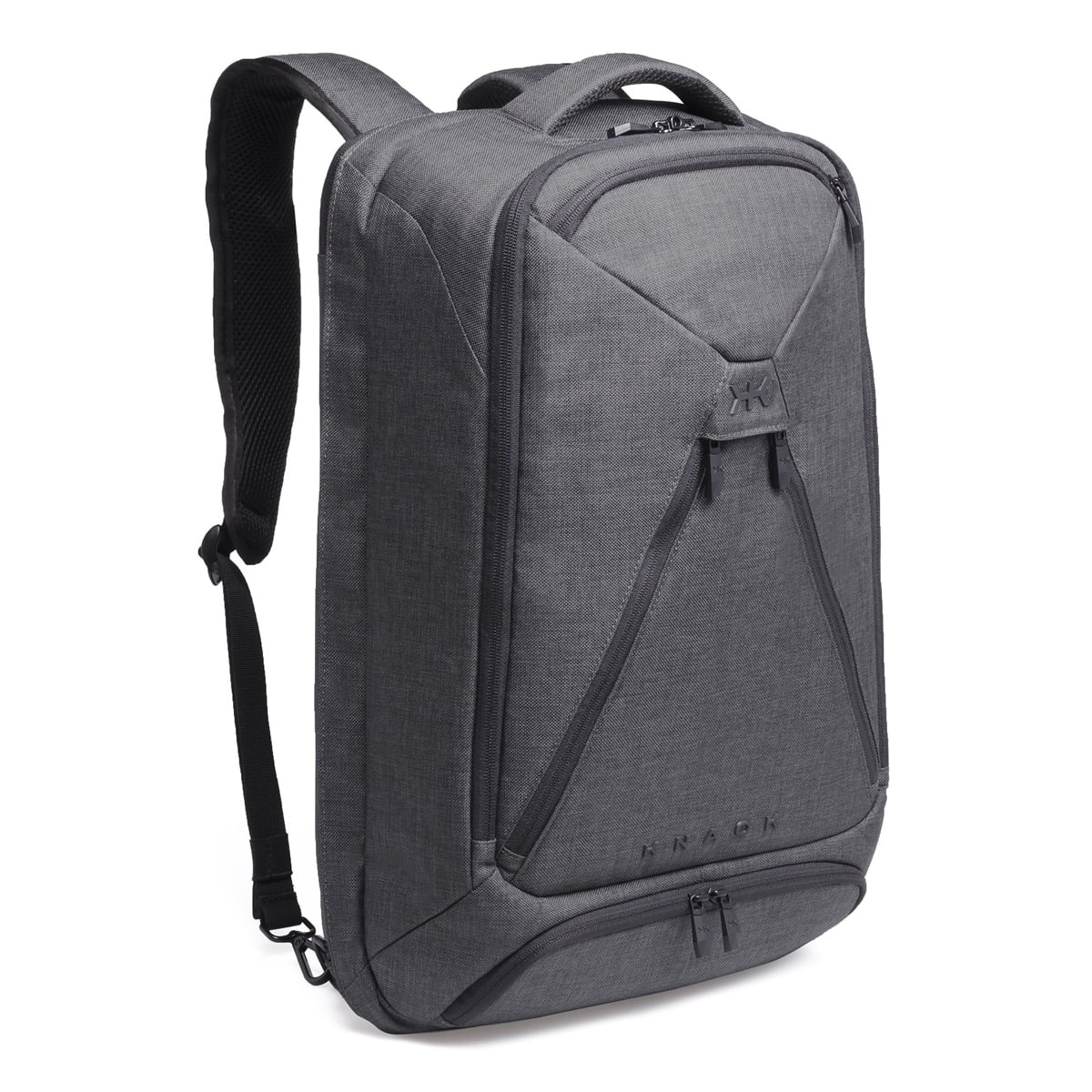 Complete with a 17″ laptop section, lockable zippers, and a molded, comfort-cool foam back panel, the Large Expandable Knack Pack is a great all-rounder.
But the bag's strongest point is the expandable travel compartment, which sports an easy-access suitcase lid and can hold up to 4 days' worth of clothes. The durable water-resistant body fabric keeps items safe and dry inside, multiple pockets organize essentials, and a hidden trolley sleeve lets you slip the backpack over a wheeled case when traveling.
Goruck GR3
If you've ever dreamed of exploring the world with one bag, you'd be hard-pressed to find a better one for the job than the Goruck GR3.
Billed as the largest possible carry-on, this badass tactical pack is jam-packed with features (think tough but silent YKK zippers, Molle attachments throughout, and padded handles & straps), but the highlight is by far the separate bombproof laptop compartment – something Goruck is famous for.
Constructed out of hard-wearing 1000D Cordura Nylon, the GR3 is water repellent and abrasion and tear-resistant, and sports an easy-to-pack clamshell design, ideal for those who like to have full and easy access to the interior.
Cotopaxi Allpa Travel Pack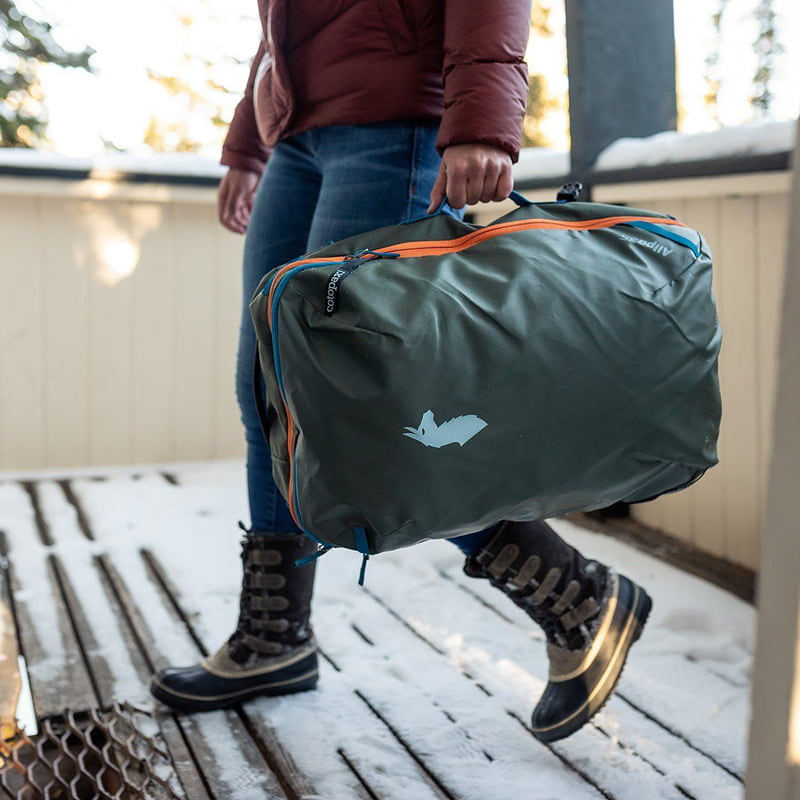 The mix of TPU-coated 1000D polyester and durable 1680D ballistic nylon paneling gives the Allpa Travel Pack a sturdiness that's hard to match.
Designed by Salt Lake City-based outdoor gear brand Cotopaxi, this suitcase-backpack hybrid is theft-proof, waterproof, and carry-on compatible, holding up to 35 liters' worth of stuff. Its clamshell opening makes it easy to pack and unpack, while the adaptable strap design lets you wear it your way, depending on the occasion.
The bag's organizational capabilities are equally delightful, with two zippered mesh compartments, sleeves for your laptop and tablet, as well as a couple of smaller pockets for easy, accessible storage.
Whether you're heading on a short trip or the adventure of your life, the Allpa is one brilliant, multi-purpose travel backpack ready for the road.
Qwstion Backpack Brown Leather Canvas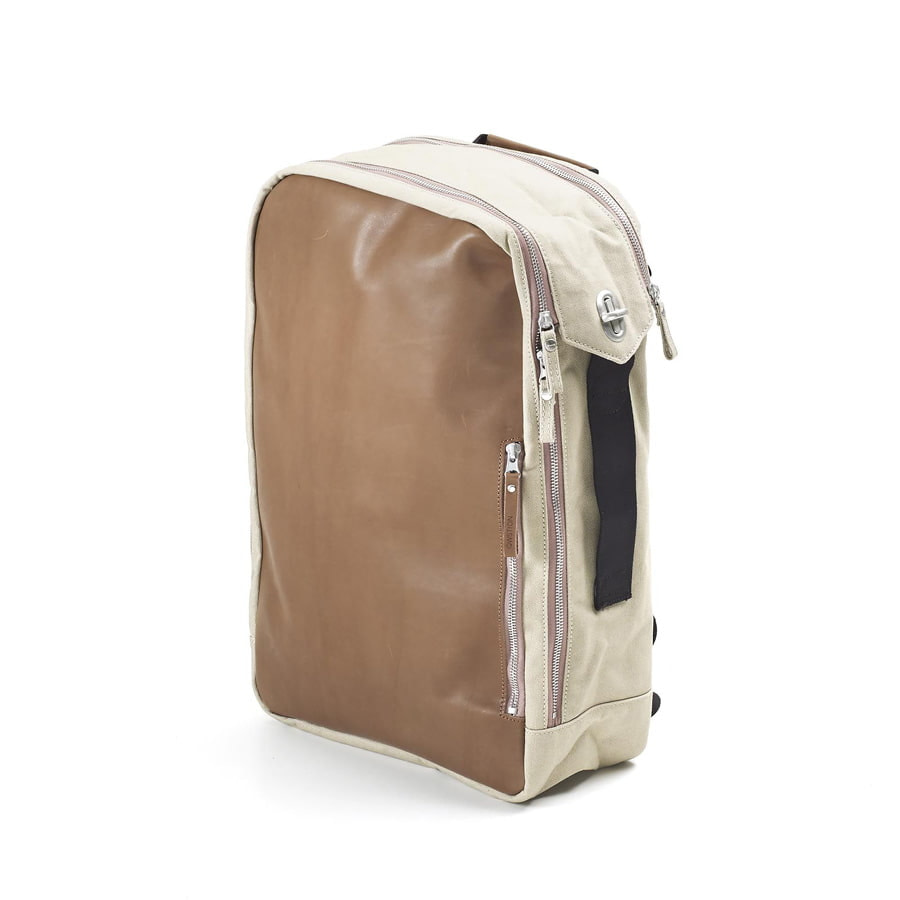 What makes a great urban backpack? Well, for us, it's all about the right balance between quality, design, and sustainability. And this trendy Swiss travel piece delivers just that.
Qwstion's Brown Leather Canvas Backpack is both practical and sophisticated, with its water-resistant cotton canvas exterior, stylish vegetable-tanned leather details, and convenient front pocket for easy access to on-the-go items. Inside, there's a simple, albeit slightly flexible, main compartment for gear and wears, along with padded sleeves for your 15" laptop, iPad, and documents.
Whether you are a light-packing weekend adventurer, a freelancer hopping from co-working space to coffee shop, or just a city slicker, this modernist travel pack has your back, as it fits like a glove into urban environments.