Alfresco lunches, fewer crowds at Florence's top sites, and a wealth of festivals that celebrate the region's bounty make October an excellent time to visit Tuscany. Harvest season is in full swing, the air is filled with the sweet aroma of roasted chestnuts, and the weather, although a little more unpredictable than in September, remains warm and sunny for the most part.
October's slower pace and cooler temperatures make it the perfect time to explore the area's art-filled churches and museums, eat your way around charming food markets, wander the medieval cobblestone alleys of its glorious hilltop towns, and witness the iconic Tuscan landscapes dressed in warm autumn shades. Visiting in mid-fall also means new wine and olive oil tasting, truffle hunting, and an unparalleled chance to imbibe in the local culture.
From delicately infused truffle delicacies to gorgeous autumnal views, here's why October is the best month to visit Tuscany.
The weather is lovely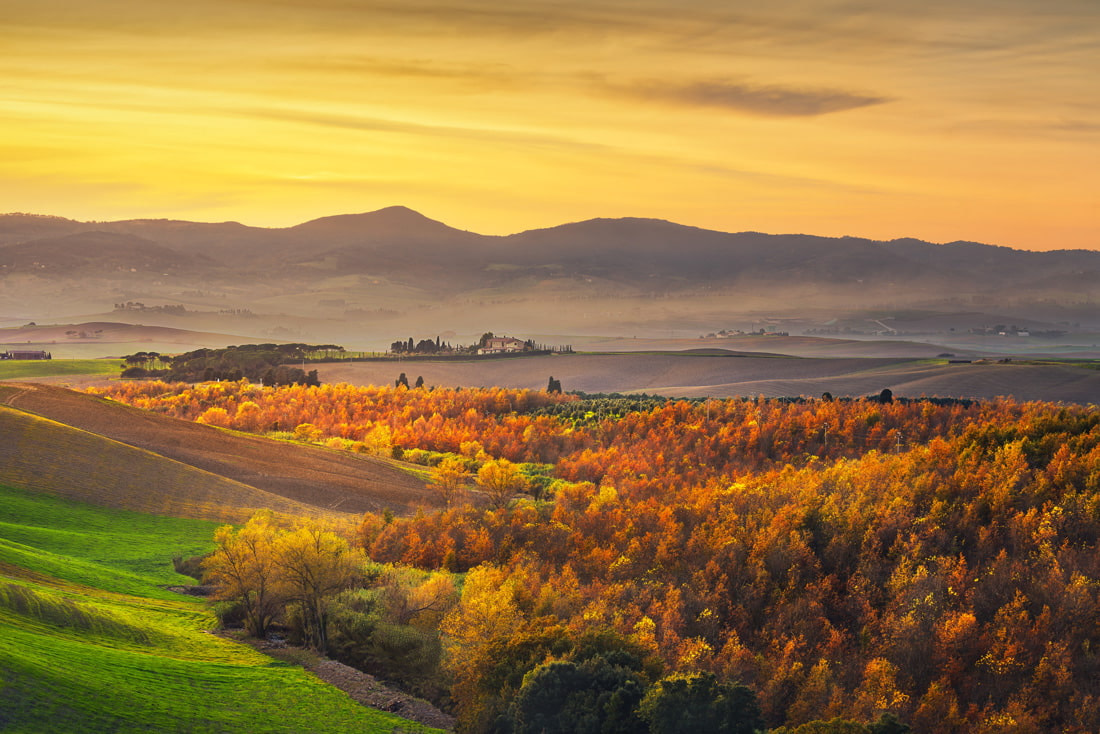 While September can feel like an extension of summer in Tuscany, October is the time when fall really starts to roll in. That means comfortable temperatures for sightseeing, exploring the countryside, engaging in outdoor activities, and even sunbathing on the coast.
You will generally need a sweater or light jacket in the evening, but days remain warm and sunny, with temperatures ranging from 20°C to 25°C, especially in the first half of the month. Rain is not uncommon during this time of year, but there are tons of amazing museums, majestic basilicas, and cozy trattorias to seek shelter in.
There's room to breathe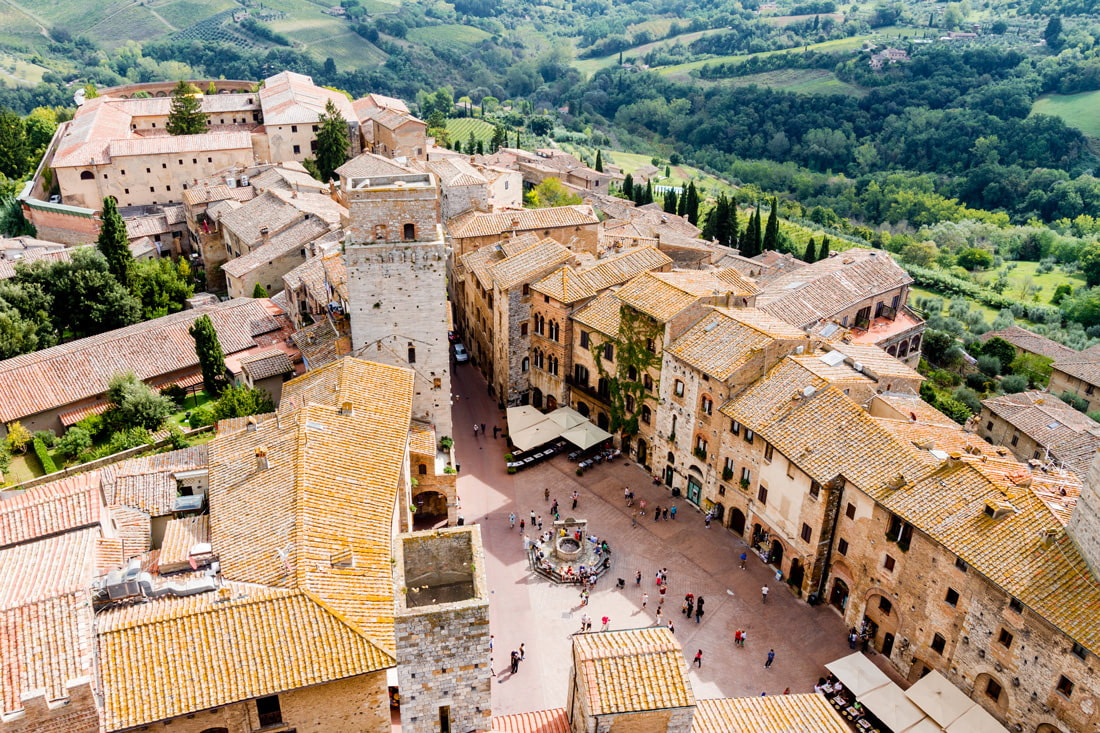 September is still high season in central Italy, but October marks the transition to the Tuscan low season. Hence, if you'd like to visit the region's storied countryside and its quintessential hill towns without throngs of people, now is the time.
The rolling hills of Chianti are bursting in rusty reds and vibrant yellows, Siena's marvelous medieval streets and squares are reclaimed by locals, and delicious sagre (local food/wine festivals) breathe life into the area's charming medieval villages.
Florence's summer crowds start to thin out, classical music performances take over the city's churches and historic opera houses, and the Tuscan capital celebrates its co-patron saint (Santa Reparata) with a medieval procession towards the Duomo. Moreover, on the first Sunday of the month, state-run museums like the Uffizi, Galleria dell'Accademia, as well as Palazzo Pitti and Giardino di Boboli are free to visit.
October is also a wonderful month to bike around the old city walls of Lucca, discover the medieval nooks and crannies of Pienza – the ideal Renaissance town, and stroll along Siena's honey-colored streets, lined with splendid palazzi and sweet-smelling pastry shops.
Fewer tourists also mean lower prices, less time spent in line at major attractions, better photo opportunities, and a superior, more authentic travel experience overall.
It's food lovers' heaven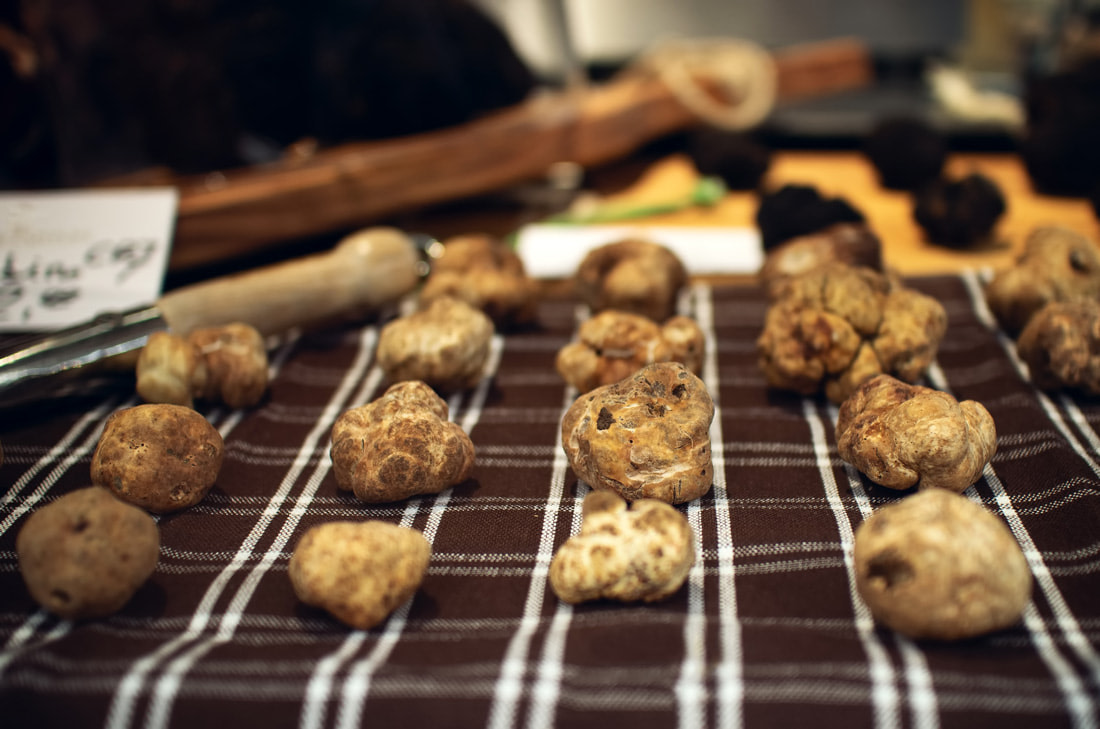 Tuscany is at its most delicious during autumn, no doubt about it. In October, the local markets and surrounding woods are teeming with mushrooms, game dishes feature heavily on restaurants' menus, chestnut stalls pop up across the region, and, by the end of the month, vino novello (young wine) starts to make an appearance on the shelves. Olive harvest runs from September to December and provides a golden opportunity to try the local fett'unta, toasted bread soaked in newly pressed extra virgin olive oil.
This is probably the best time of the year to embark on a foodie trip across Tuscany, discover its rich culinary traditions, and indulge in sumptuous local produce. These being said, foodies may want to swap their gelato for a slice of castagnaccio, warm up with a bowl of thick, hearty ribollita and a plate of pappardelle with wild boar ragu in a cozy trattoria, and celebrate the season in style with some creamy risotto crowned with precious tartufo bianco.
Mid-October marks the opening of the white truffle season, and hunting for them in the hills of San Miniato, between Florence and Pisa, is a classic Tuscan experience not to be missed. Otherwise, there are lots of opportunities to join guided tastings, cooking classes, harvest festivals, and traditional local fairs featuring seasonal delicacies. Whether you're on the hunt for memorable Michelin meals, cucina povera at its best, or the ultimate wine-tasting session, we have the perfect guide to the best culinary adventures in Tuscany.
There's a wealth of festivals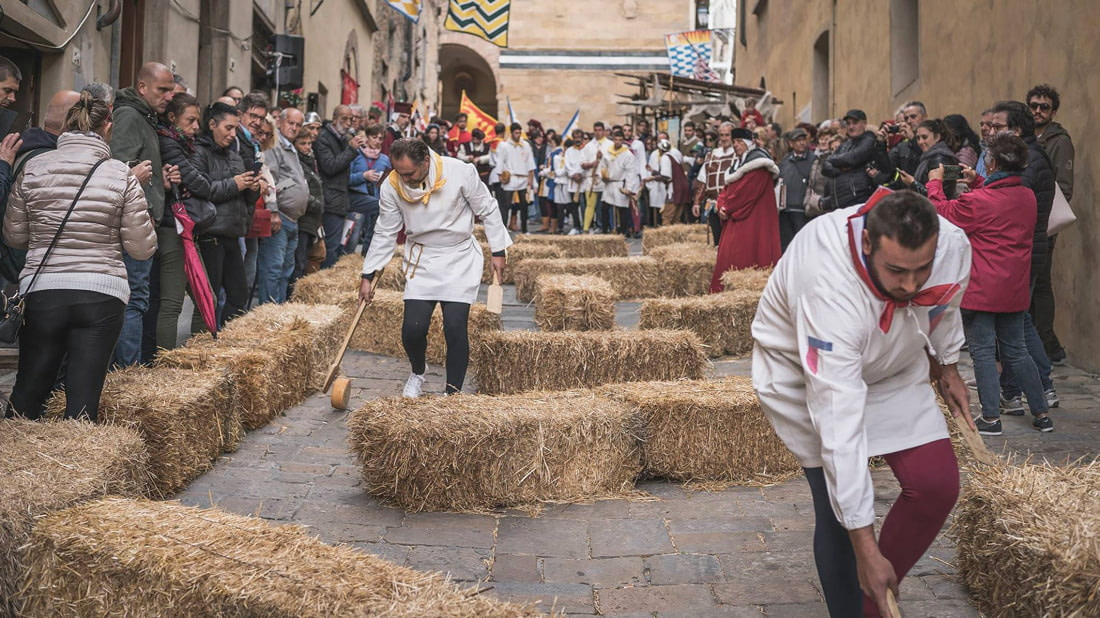 From antique fairs to organic markets to harvest festivals that celebrate the tastes of fall, there's a lot going on in Tuscany in October.
On the last Sunday of the month, the charming walled town of Volterra in the province of Pisa plays host to Volterragusto, a unique gastronomic event dedicated to the area's white truffles, which also includes a historic cheese wheel rolling competition called Palio dei Caci Volterrani.
Meanwhile, Montepulciano's Oil and Autumn Flavours Festival invites participants to enjoy an equestrian show and a guided walking tour among the town's famed olive groves, while Montalcino puts on a spectacular medieval feast complete with historical parades, archery contests, and delicious communal dinners starring authentic Maremma specialties and world-class Brunello di Montalcino by the glass during the annual Sagra del Tordo (Festival of the Thrush).
The local marone chestnut takes center stage at Campiglia d'Orcia Chestnut Festival, and in Piancastagnaio, a medieval village at the foot of Monte Amiata, Crastatone celebrates the end of the chestnuts' harvest with music, dancing, and all sorts of regional specialties made from the sweet local nuts, from castagnaccio (chestnut flour cake) to sweet chestnut polenta.
…And a tapestry of autumn colors
Nature lovers visiting the Tuscan countryside in October can truly enjoy some wonderful scenery. This beautiful region is at its most pastoral in the autumn glow, when the vineyards of Chianti turn into a riot of russet and gold and the winding cypress-lined roads of Val d'Orcia invite scenic fall drives and relaxing biking rides.
Everywhere you look, soft oranges, browns, and yellows melt into one another like in a watercolor painting, creating fantastic photo opportunities. Verdant cypress trees, silver-green olive groves, and rustic terracotta tile roofs complete the picture, while the occasional stone house emerging from the mist adds to the scene's bucolic charm.
The Foreste Casentinesi National Park in eastern Tuscany is one of the best places in Italy to experience fall foliage. One of Europe's largest forests, this leafy gem is home to over 40 species of trees and no less than 650 km of trails. The best time to catch the changing leaves is mid-October through mid-November, when the area's maples, oak, and beech trees blaze into countless shades of autumn.