This post contains affiliate links, which means we may receive a small commission, at no additional cost to you, if you make a purchase through these links. See our full disclosure here.
Traveling carry-on only is wonderful, but sooner or later, we all have to face the truth: having a quality check-in bag is absolutely necessary. And when that time comes – whether it's a big trip overseas, a family vacation, or a winter getaway that requires plenty of gear – it's a good idea to be prepared.
To find the best checked luggage in 2023, our team tried 17 pieces, including some medium-sized, expandable, collapsible, and sustainable picks. We packed them to the brim, took them for a spin across various surfaces, threw them in the trunk of our car for road trips around Spain and Portugal, and even gate-checked a few on multiple flights within Europe.
Not all of them were great, but several well-designed options glided past our tests with ease, offering superior durability, style, and organization, in addition to a smooth ride. We also considered other characteristics, such as weight, value for money, innovative features, and brand reputation.
For those who would rather go big than stay home, here are the best suitcases to check this year, based on our testing.
Monos Check-In Large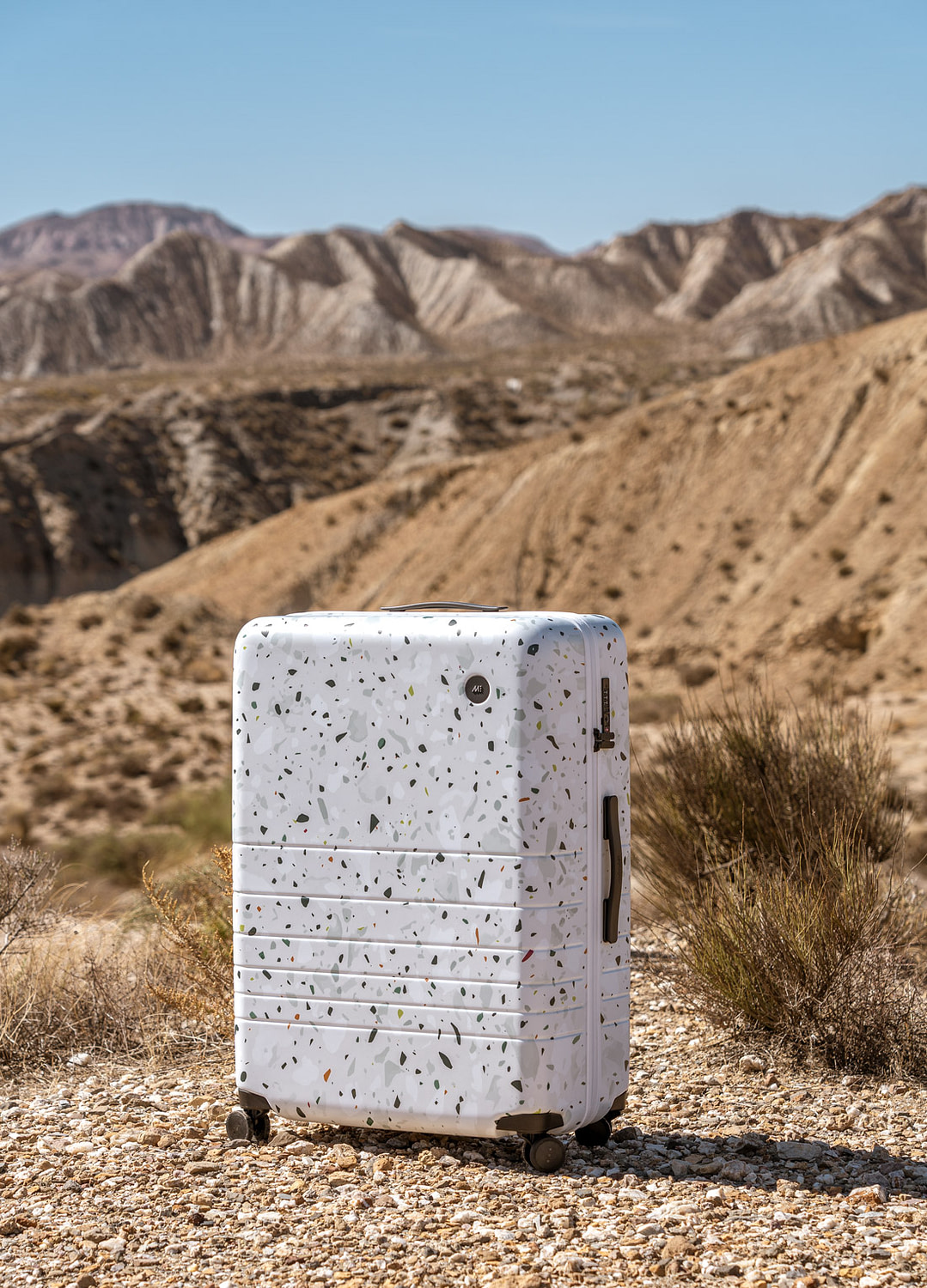 Why we love it: Everything about this suitcase – the way it looks, the way it moves, the way it performs – is fantastic! We couldn't find any weak spots during our tests and firmly believe it surpasses the competition in almost all aspects.
Best for: Long vacations, couples sharing a single suitcase, eco- and design-conscious travelers
Dimensions: 30″ × 21″ × 11″ (76.2 x 53.3 x 27.9 cm)
Material: German Makrolon polycarbonate
Weight: 10.52 lb (4.7 kg)
Volume: 99.2 L
We love a luggage brand that is obsessed with product design and has a wicked attention to detail, and Monos is one of them.
As the name suggests, their Check-In Large is a roomy polycarbonate suitcase designed for longer trips. Like many hardshell checked bags we've tested, it's sleek and minimal, rolls silently on 360° wheels, and comes with a TSA-approved combination lock. Unlike them, however, the Monos Check-In Large sports a unique aluminum telescopic handle with the release button placed underneath. It's one of those small details that make a big difference, and it's not the only one. I am particularly fond of the color-coordinated reverse coil YKK zippers and gaskets – they're high-quality and contribute to the bag's streamlined good looks.
Likewise, the interior is a notch or two above its competitors. It is lined with a luxurious, delicately patterned fabric that's waterproof and anti-bacterial, and sports a pair of pockets large enough to accommodate my shoes and toiletry kit.
On top of this, the suitcase is a sight to behold! I am totally enamored (me and everyone I know) with the chic yet timeless Terrazzo pattern, which is easy to clean and even easier to spot on the baggage carousel. After every use, I wipe down the shell and wheels with a sanitizing wipe and use the Monos Check-In Large as both a storage and decor piece.
Despite its sleek appearance and low weight, the bag is incredibly durable. I've taken it on several car trips around Spain and Portugal and also checked it on a few occasions, and every time it survived with almost no evidence of the journey, let alone damage.
---
MVST C45 Polycarbonate Suitcase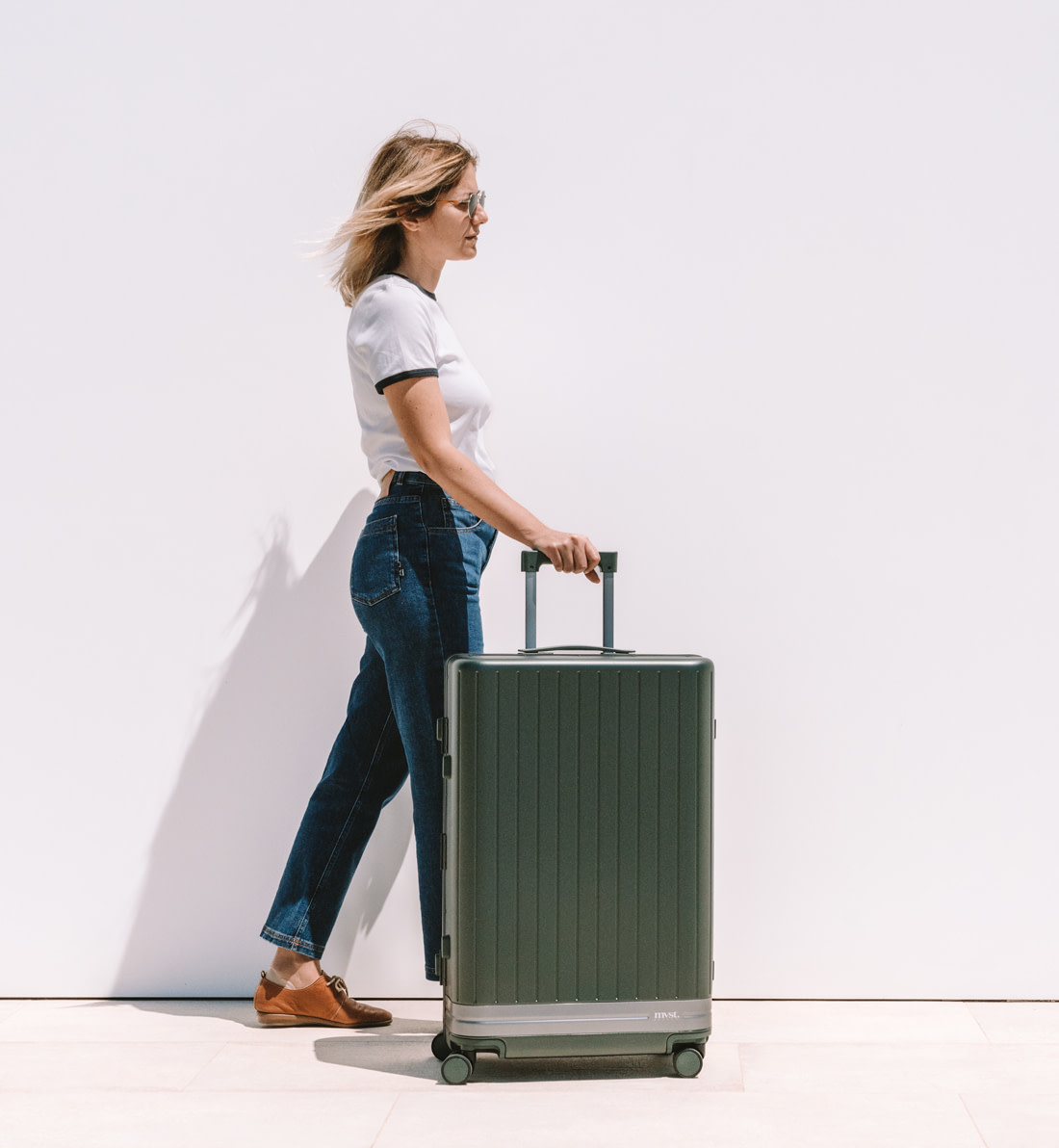 Why we love it: It's a seriously stylish, first-class suitcase at a great price.
Best for: A week away, light packers, international trips
Dimensions: 28.2″ x 18.1″ x 10.8″ (71.62 x 45.9 x 27.42 cm)
Material: Polycarbonate, aluminum
Weight: 11.7 lb (5.3 kg)
Volume: 73 L
When it comes to high-end luggage at an affordable price, MVST Select is hard to beat. Just like their famous Trek Aluminum Suitcase, the C45 looks way more expensive than it actually is. Outfitted with a TSA-approved lock, 360° spinner wheels that roll like butter, and a rigid aluminum frame, this is a seriously classy suitcase with a bunch of great features to boot. The body is 100% polycarbonate with a sleek gloss finish, which keeps its weight down without sacrificing strength and durability.
The C45's zipperless closure, with TSA-approved combo locks, is probably the most satisfying to use of all the alternatives on this list. The aluminum telescopic handle is solid and feels comfortable in your hand, and there are also two practical grab handles for when you need to pick it up from the baggage claim.
Not too big, not too small, the antimicrobial fabric-lined interior fits up to 10 days' worth of travel essentials (even more if you're a packing ninja) comfortably, thanks to a Y compression strap, a detachable compression pad, and four ample pockets, one of which is waterproof.
Don't tell anyone, but this cool medium-size design has already secured a spot on my future list of the best checked luggage for international travel.
---
Nomatic Check-In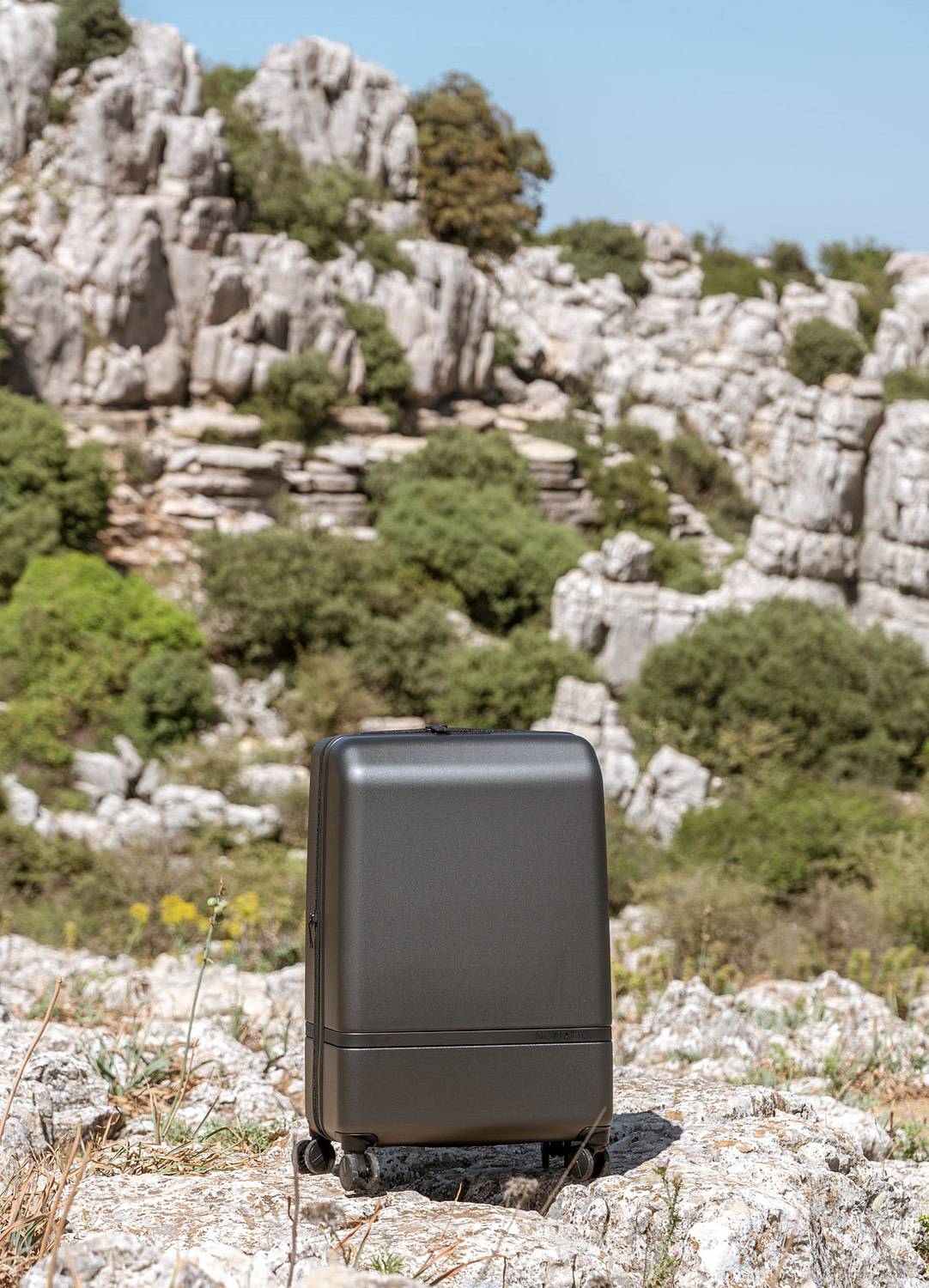 Why we love it: This premium suitcase is built like a tank and offers some of the most interesting packing/organizational features in our lineup.
Best for: 1-2 week journeys, business trips, those who prioritize first-class quality and organization
Dimensions: 29″ x 18.5″ x 9″ (73.66 x 46.99 x 22.86 cm)
Material: Makrolon Polycarbonate
Weight: 12.32 lb (5.58 kg)
Volume: 78 – 90 L
I didn't know what to expect from the Nomatic Check-In, but I was blown away by its build quality. The outer shell is made from ultra-durable Makrolon polycarbonate and has a luxurious leather-like feel to it. It's sleek and streamlined and projects a slightly more sober appearance than the other models we tested.
Right out of the box, you can tell the hardware is top-notch – from the smooth-gliding Hinomoto wheels to the TSA-locking YKK zippers to the ergonomic telescoping handle, everything feels incredibly sturdy.
I also found the interior design of the Check-In Roller to be more functional than that of any other suitcase I have packed. The customizable compression pad is something I have never seen in a suitcase before, but totally love; the magnetic compression system is a breeze to use, and there are plenty of pockets to keep your items organized.
Given my habit of bringing home souvenirs for everyone I know, the zippered expansion was another feature I was happy to see. My only concern is that the bag will no longer meet the airline's weight limit since it's already pretty heavy when empty. On a more positive note, weight equals quality in this case, meaning that if you only settle for the best hardside checked luggage, this is a strong contender.
---
Lojel Voja Large
Why we love it: Sturdy, spacious, and lightweight, this suitcase offers great value for money.
Best for: Traveling families, budget-conscious flyers, month-long getaways
Dimensions: 30.3″ x 21.3″ x 12.8″ (76.96 x 54.10 x 32.51 cm)
Material: Propylene
Weight: 12.1 lb (5.48 kg)
Volume: 112 L
We haven't flown with the Lojel Voja Large yet, but we did subject it to some impromptu durability tests during the photo shoot, including a fall down a flight of wooden stairs in the middle of the forest, and it held up admirably. Nothing broken and no scratches whatsoever. That's because the brand's proprietary polypropylene blend, aside from being incredibly lightweight, provides superior durability and scratch resistance.
The suitcase itself is handsome without feeling pretentious and falls into the modern minimalist aesthetic, which I like a lot. Another thing you'll notice immediately is the bag's unique closing mechanism. Instead of a zipper, you'll find three sturdy locks, one with a TSA combination lock on the side and two other small latches on top and bottom. These are easy to use and feel super secure.
Lastly, I'm impressed with the amount of space inside the Voja. There are also several zipped pockets to keep smaller items organized, as well as adjustable compression straps so you can reduce the volume of your gear and keep it in place.
---
Rollink Flex 360° Large Checked 4 Wheel Suitcase
Why we love it: It's a stylish and sturdy space-saving alternative to traditional hardside checked luggage.
Best for: Seasonal travelers, 10-14 day journeys, anyone living in a small space
Dimensions: 29″ x 20.4″ x 11.2″ (73.66 x 50.9 x 30.48 cm)
Material: Polycarbonate, water-resistant fabric
Weight: 10 lb (4.53 kg)
Volume: 110 L
In a way, I'd wish all my suitcases were like the Rollink Flex 360°, a lightweight, collapsible luggage piece that folds flat for easy storage. I mean, it would have saved me a lot of hassle, plus the cost of the storage box where most of my bulky pieces currently reside.
While it doesn't offer the same impact resistance as a full hard-shell case, this unique bag combines durable polycarbonate with soft water-resistant fabric sections into a practical companion for space-saving travelers.
The yellow is really cool and a bit more subdued than on the website, which is good. I personally like the way it looks (I'd say it has a fresh, youthful vibe), and I was surprised to see it comes with all the bells and whistles that make traveling easier, including a built-in TSA-friendly lock, effortless gliding wheels, and a robust aluminum telescoping handle.
The inside is centered mainly around one main compartment complete with compression straps and 4 rigid velcro flaps that sustain its shape. There's also a slimmer packing section on the opposite side lined with mesh pockets, which I've successfully used for packing both my dress and my boyfriend's suit for a destination wedding. Despite its massive 110 L packing capacity, the Rollink Flex 360° Large Checked 4 Wheel Suitcase ended up as one of the best lightweight checked luggage options in the test.
---
Horizn Studios H7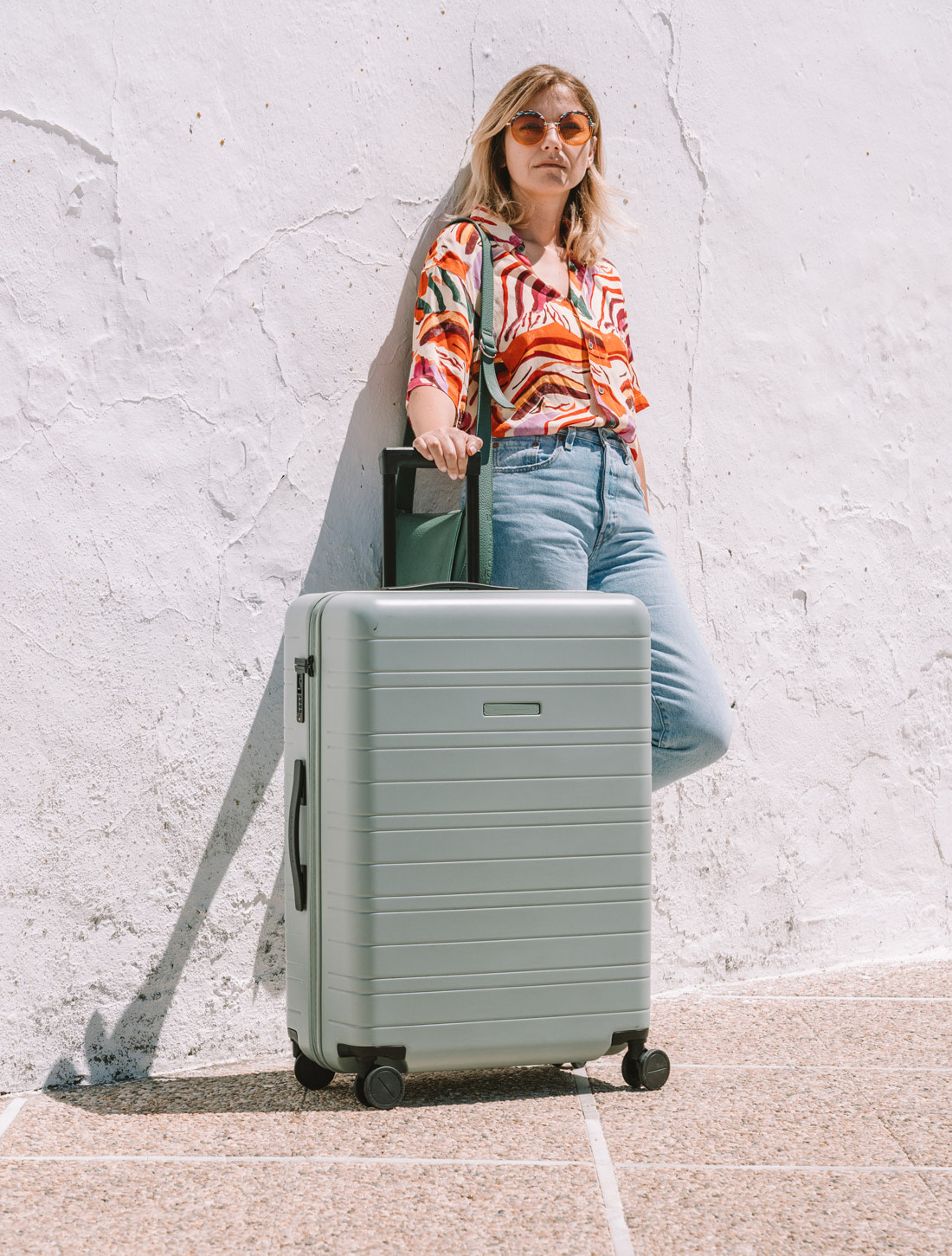 Why we love it: This sustainable high-end suitcase has survived various plane, ferry, and car trips, as well as baggage handlers in several countries, with minimal scratch marks. It's roomy, stylish, and a bit more luxurious than most polycarbonate luggage we have tested. The color-coordinated interiors are a sweet, thoughtful touch.
Best for: Big trips, overpackers, sustainability-focused jetsetters
Dimensions: 30.3″ x 20.4″ x 11″ (77 x 52 x 27.9 cm)
Material: Virgin and recycled aerospace-grade polycarbonate
Weight: 10.36 lb (4.7 kg)
Volume: 90 L
I've tested the Horizn Studios H7 for more than three years now and have also lent the bag to my parents, who took it on a 2-week trip around Greece last summer. Except for a couple of tiny dark color marks here and there, it still looks like new, which is a testament to the craftsmanship and high-quality materials that went into creating it.
I own the H7 Check-In Luggage (90L), which is their biggest suitcase, hence ideal for long trips, family travel, and overpackers like me. Though it is a bit of an investment, I think the quality is totally worth the extra expense.
The wheels and zippers are robust and run very smoothly, and there is a TSA-approved combination lock and an ergonomic multi-stage telescopic handle, both of which enhance the bag's practicality. The outer shell is premium, partially recycled polycarbonate, and while it's lighter and has a smoother, more refined finish than Away, it has proved to be really sturdy. I should also note that the company offers a lifetime warranty that covers all functional aspects of the luggage.
Besides the contemporary, minimalist look, I love that all Horizn Studios luggage is 100% vegan and gets more and more sustainable every year. Both the mesh screens and water-resistant lining inside the H7 are recycled, and the brand even ships carbon neutrally with eco-friendly packaging.
---
Monos Hybrid Trunk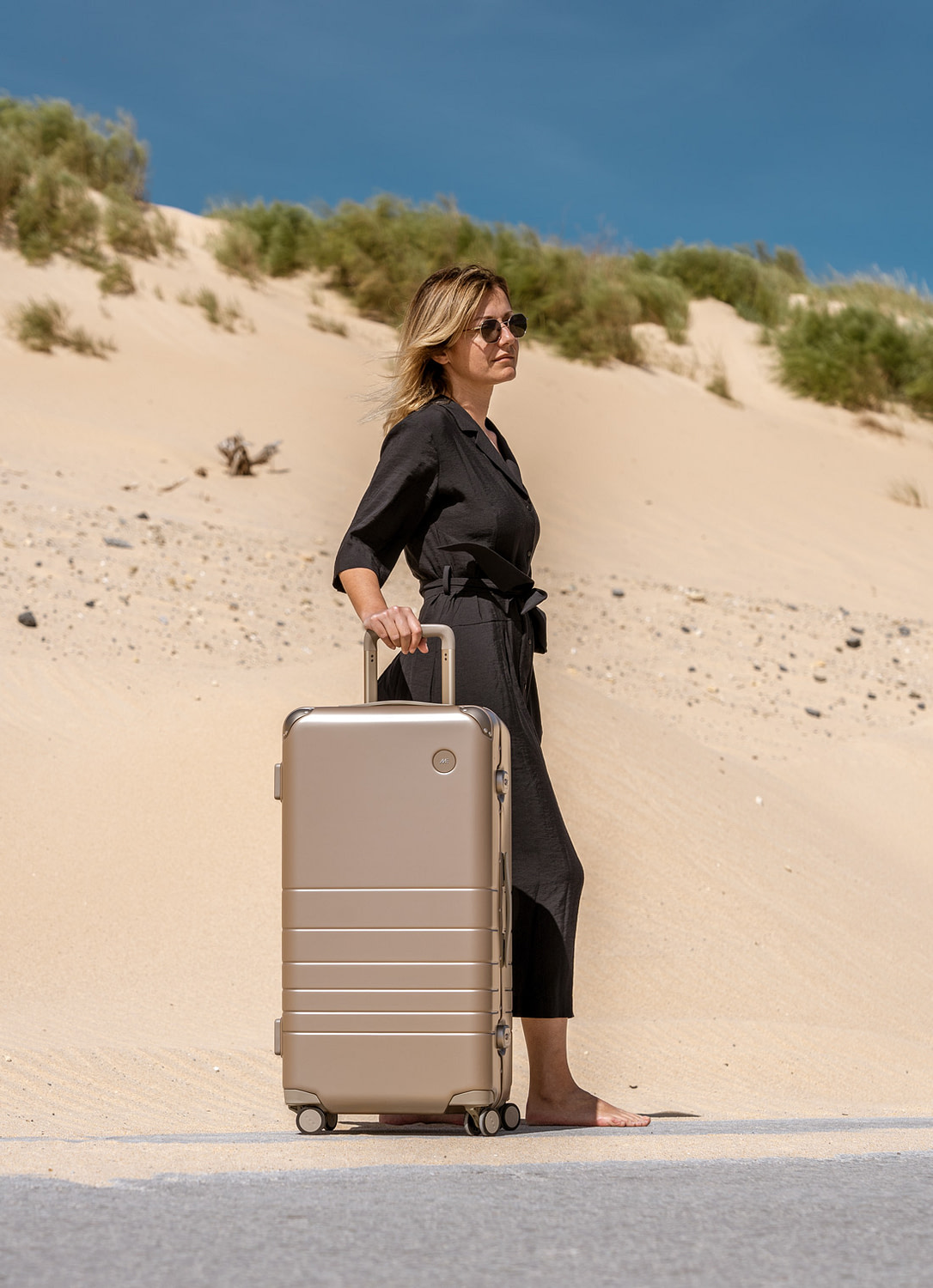 Why we love it: Stronger than a polycarbonate suitcase, yet lighter and more affordable than a full-aluminum one, the Monos Hybrid Trunk is the perfect marriage between the two. It's beautifully engineered and a pleasure to travel with.
Best for: Long-haul journeys, winter travel, making a style statement
Dimensions: 29.9″ x 15.7″ x 14.3″ (75.9 x 39.8 x 36.3 cm)
Material: Aerospace-grade German polycarbonate, high-grade aluminum
Weight: 13.2 lb (5.98 kg)
Volume: 89 L
It's no easy feat for a luggage company to innovate these days, let alone to reinterpret an iconic silhouette, but Monos has nailed it with its contemporary take on the classic travel trunk.
Enhanced with a zipperless aluminum frame and anodized corner guards, their Hybrid Trunk is taller, more durable, and, dare I say, sexier than your average polycarbonate checked suitcase. The design is clean, classy, and gender-neutral, and the brushed metallic finish gives it a luxuriously futuristic edge that has earned me so many compliments. I simply love how it stands out without looking showy or ostentatious!
This suitcase is gorgeous, but don't underestimate its strength and practicality. There's plenty of clever design packed into the Monos Hybrid Trunk: built-in compression panels on both sides ensure you maximize every inch of space, the antimicrobial interior lining keeps contents fresh, and the lightweight polycarbonate shell is virtually unbreakable. I love the zipperless design, as well – it's not just better looking but also quick to open and close, and far more secure than a zipper.
Like with all Monos rolling luggage, the wheels, handle, and interior zippers are top-notch, and while this one's 70/30 compartment design might not be on everyone's taste, it really proved its utility on several occasions (I recall that one time when I got home from Portugal with a 6-piece wine glass set).
---
Level 8 Voyageur Check In 28"
Why we love it: Despite its huge capacity, the Voyageur Check In 28" is still very lightweight and mobile. It's a well-built suitcase made with premium components, and its innovative design features set it apart.
Best for: Long-term travel, winter escapes, family vacations
Dimensions: 29.1″ x 16.6″ x 13.3″ (74.5 x 42.5 x 34 cm)
Material: Germany Makrolon polycarbonate
Weight: 12.4 lb (5.65 kg)
Volume: 99 L
We've been traveling with the Level 8 Voyageur Check In 28" a lot in the last few years. In fact, this might be the most used checked suitcase in our arsenal. It's easy to maneuver, looks cool, fits a ton, and protects the stuff inside thanks to a durable shell crafted from Bayer Makrolon polycarbonate and complete with a micro-diamond finish that minimizes the visibility of scuffs and scratches.
Needless to say, the bag gets a lot of attention, especially given its boxy, sharp-angled look and yellow/ black combo exterior, which was initially my boyfriend's choice, but I am pretty fond of now. And, of course, the ultra-quiet 360° Hinomoto wheels are a delight to use, both across the airport and on the sidewalk.
Surprisingly though, my favorite feature ended up being the wide telescopic handle, something I hadn't had the chance to use before. Made from aluminum alloy, it's more robust than many others and is effortless to use even when the suitcase is fully packed. Another great perk? This innovative handle design maximizes storage space.
Moving on the inside, the Voyageur Check In 28" sports a 60/40 split clamshell opening, which I find very convenient for packing big, bulky items like snowboots, coats, the hair dryer, and even my oversized sun hat. To make packing easier, the bag also has a few extra unique features you don't normally see in most check-in suitcases, such as a built-in plastic pocket for liquids/wet items, a foldable internal divider, and a zipper closure on each compartment.
My only disappointment is that my Level 8 luggage came slightly dented in one corner after a trip to Copenhagen last December. However, that's simply a cosmetic issue (and something that could have probably happened to any piece in this list due to poor handling at an airport) and does not affect its performance whatsoever.
---
Away The Medium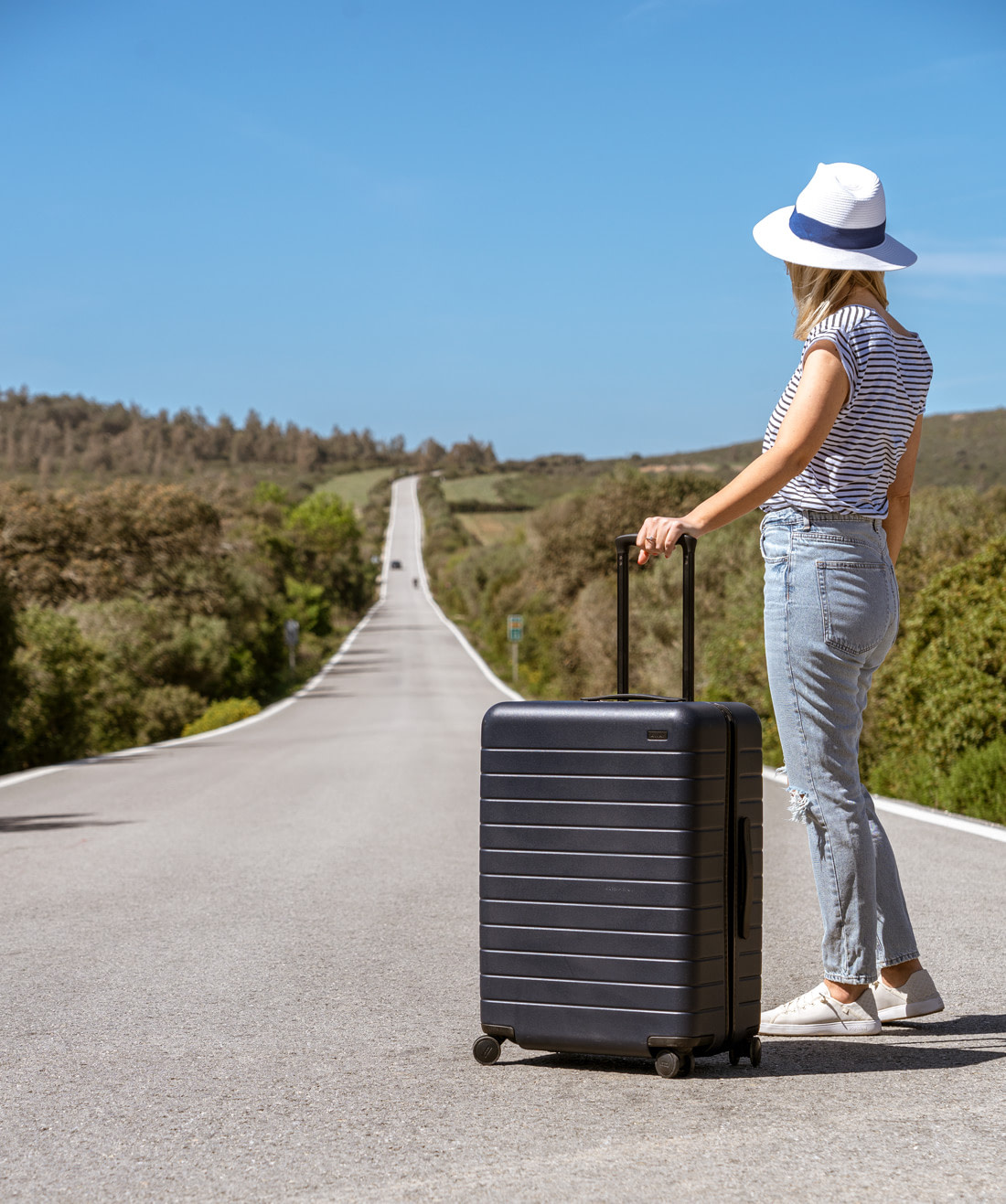 Why we love it: There may be more luxurious or durable products on the checked luggage market, but this is a good-looking, hardwearing hardside suitcase at a fair price.
Best for: One-week trips, long weekends, frequent flyers
Dimensions: 26″ x 18.5″ x 11″ (66 x 46.9 x 27.9 cm)
Material: Polycarbonate
Weight: 9.9 lb (4.49 kg)
Volume: 68.8 L
Not only was Away The Medium my first introduction to hard-sided luggage, but it's the suitcase I packed my whole life in when I moved to Spain 4 years ago. Ever since, I have used it on dozens of trips around the world, and never ever have I been disappointed. It's simple, stylish, and easy to travel with, but most importantly, it has held up like a champ through many international flights, which is basically the whole point of a check-in bag.
The size is perfect for a week-long getaway, and I find the matte texture of the polycarbonate that Away uses more resistant to scratches and abrasion than many. The wheels are smooth and sturdy, and although there aren't many compartments and pockets, the clamshell layout, compression system, and waterproof laundry bag are more than enough for an efficient packing process. The lining is still intact, and I always use the brand's packing cubes to save space and keep my belongings organized. As a final note, I really like the simplicity, medium size, and solid build of this Away suitcase.
---