This post contains affiliate links, which means we may receive a small commission, at no additional cost to you, if you make a purchase through these links. See our full disclosure here.
With travel slowly recovering, new manufacturers entering the market, and top brands rolling out new, updated styles each and every month, there's no doubt 2022 will be a great year for luggage.
Cabin luggage might be the star of modern travel, but there are situations when not even the best carry-on can do the trick. So, when a longer trip comes in, make sure you do it right with a roomy checked suitcase that's strong, stylish, and doesn't slow you down.
The best luggage for checking has to be efficient, meaning that it should provide plenty of space for your travel essentials while remaining easy to maneuver. It should also be robust enough to handle anything that's thrown at it, chic enough to make you feel confident, and comply with the baggage allowance of the airline you're flying with.
Here you have the best checked luggage in 2022:
Best Checked Luggage in 2022: Away The Large Flex
Want a big, beautiful suitcase that will get you around the world without compromising your trip, or your look? No other checked bag out there does a better job of combining style, durability, and value than Away's newest suitcase, The Large Flex.
Lightweight, refined, and basically unbreakable, this contemporary piece of checked luggage includes all the same smart conveniences as The Large, but in addition, it gives travelers an extra 1.75″ of space thanks to a smart built-in zipper expansion.
Crafted from scratch-resistant matte polycarbonate in 4 chic, muted shades, this stylish spinner has smooth wheels, a thoughtful compression system, interior organization, and, like all models, is backed by a lifetime warranty. The beauty of this bag, though, lies in its simplicity – both in design and usage. From its lack of bells and whistles down to the clean, minimalist look, this is what the best travel luggage should look like!
Best Hardside Checked Luggage: July Checked Plus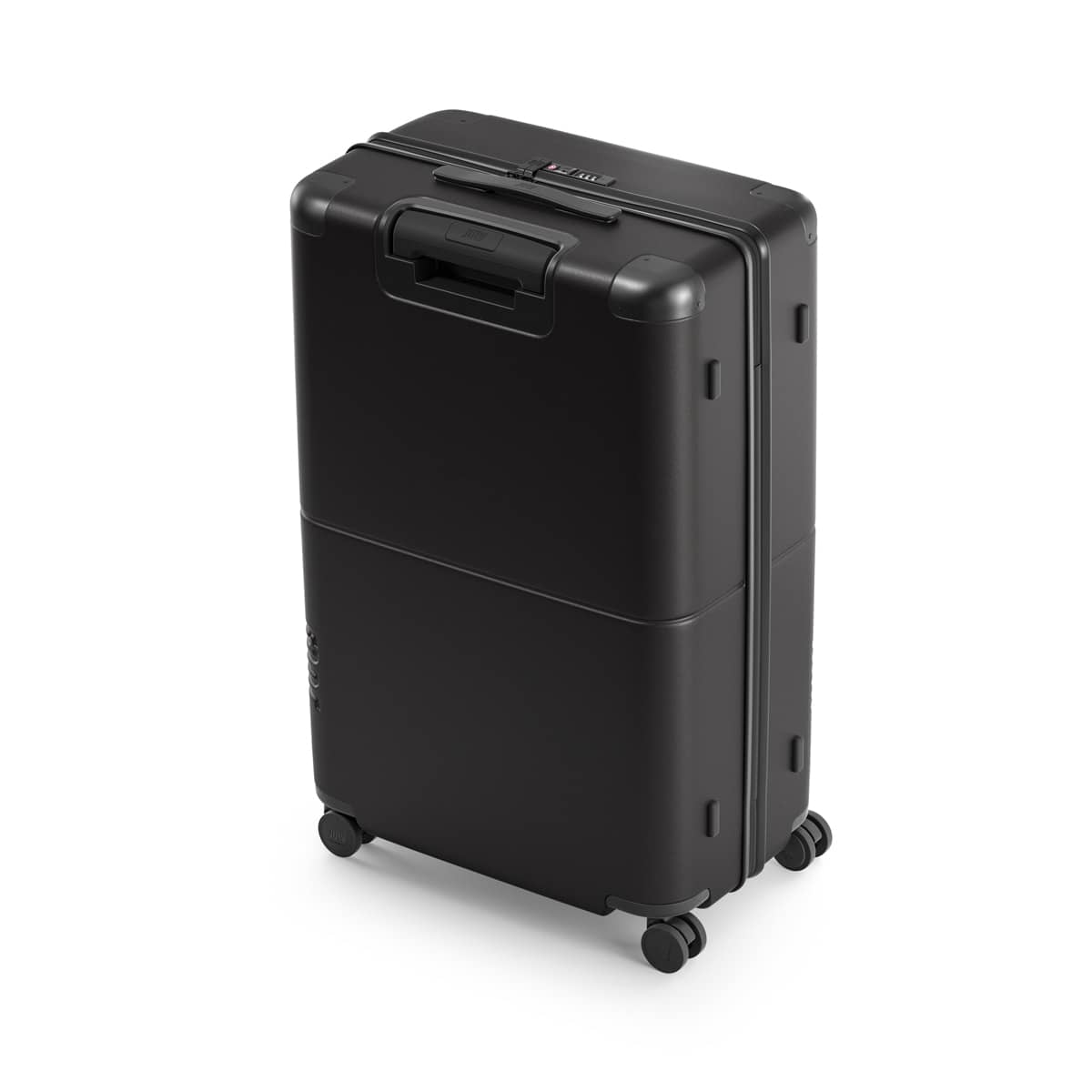 If you want a spacious, stylish hardshell suitcase built to protect contents while staying scratch-and-scuff-free, the July Checked Plus is the way to go. Its aerospace-grade German polycarbonate case is both durable and lightweight, and comes in a unique curved eggshell design with anodized aluminum bumpers for extra protection.
Made for the 21st century, the 110L bag includes a multi-stop telescopic handle with over 20 heights, a TSA lock, and the brand's proprietary butter-soft SilentMoveTM wheels. Its internal compression system maximizes packing space, while a hidden, odor-proof laundry bag keeps worn items separate from the clean ones.
This piece is backed by a lifetime warranty that covers any manufacturing faults and is available in a slew of modern, matte colors that include Sand, Clay, Moss Green, Shadow Lavender, and Marigold Yellow among others.
Best Softside Checked Luggage: Travelpro Maxlite 5 Expandable Spinner
If you're looking for sturdy yet lightweight luggage to check, this 25-inch softside spinner is a winner.
A favorite among airline personnel, Travelpro makes some of the best fabric suitcases out there, and the Maxlite 5 Expandable Spinner is no exception. Designed with frequent travelers in mind, this practical piece features a DuraGuard-coated polyester exterior that's both stain-resistant and water-repellant.
Outfitted with four 360° spinning wheels and strong, thoughtful handles all around the shell, the bag is extremely easy to maneuver and keeps contents neatly organized with two roomy exterior compartments, a full-length interior lid pocket, and a handy side accessory pocket. It also expands up to 2 inches to maximize packing capacity.
Best Checked Luggage for Men: Nomatic Check-In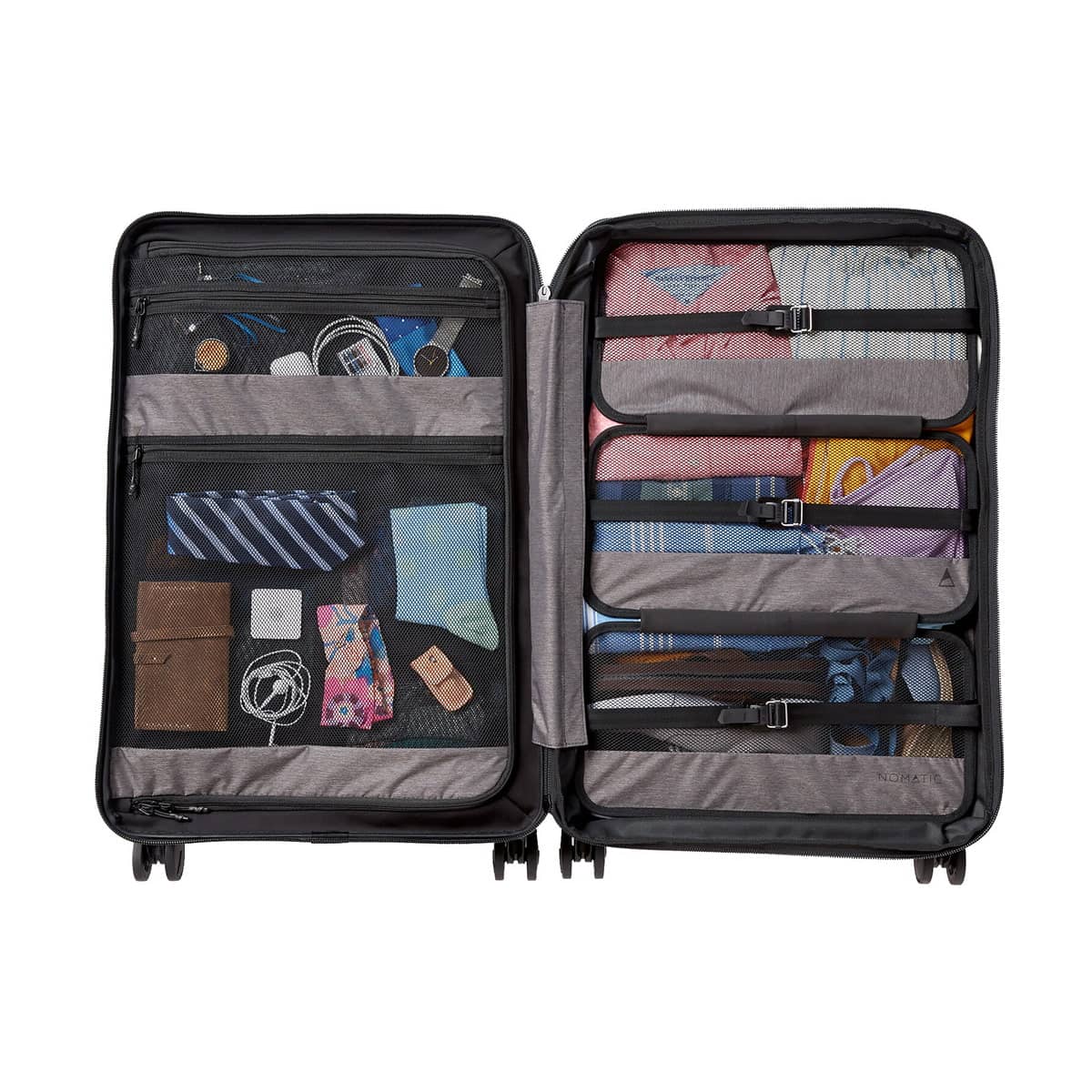 Built from lightweight yet durable 100% Makrolon polycarbonate and complete with an expandable design that increases its volume from 78L to 90L, the Nomatic Check-In makes an ideal piece of luggage for men on the move.
And it gets even better: best-in-class Hinomoto wheels & handles make travel effortless; YKK zippers and TSA lock give you peace of mind; and a custom compression system – with magnetic compression straps, packing cubes, and an innovative folding compression panel – makes packing for business trips a breeze. Mixing sleek looks, unparalleled durability, and amazing interior organization, it is not hard to see why this was our pick for the best checked luggage last year.
Best Checked Luggage for Women: Béis The 29″ Large Check-In Roller
One of the best check-in suitcases for women on the go, The 29″ Large Check-In Roller by Béis rolls smoothly on Hinomoto 360 degree wheels and comes with the brand's famous weight limit indicator to help you avoid extra charges at the airport.
Crafted from 100% virgin polycarbonate, the company's largest suitcase to date is not only lightweight and durable but also effortlessly chic. Its contemporary shell in gray, beige, and black offers 2 inches of optional expansion and is finished with a telescopic handle and a TSA-approved combination lock. The inside provides ample storage space for everything you need while making it easy to stay organized on your travels thanks to thoughtful features like compression straps, pocketed dividers, and a built-in laundry bag.
Whether it's a longer work trip, a girls' getaway on the other side of the world, or your carefully planned honeymoon, this function-meets-fashion checked luggage pick will take you there in style.
Best Checked Luggage for International Travel: Monos Check-In Medium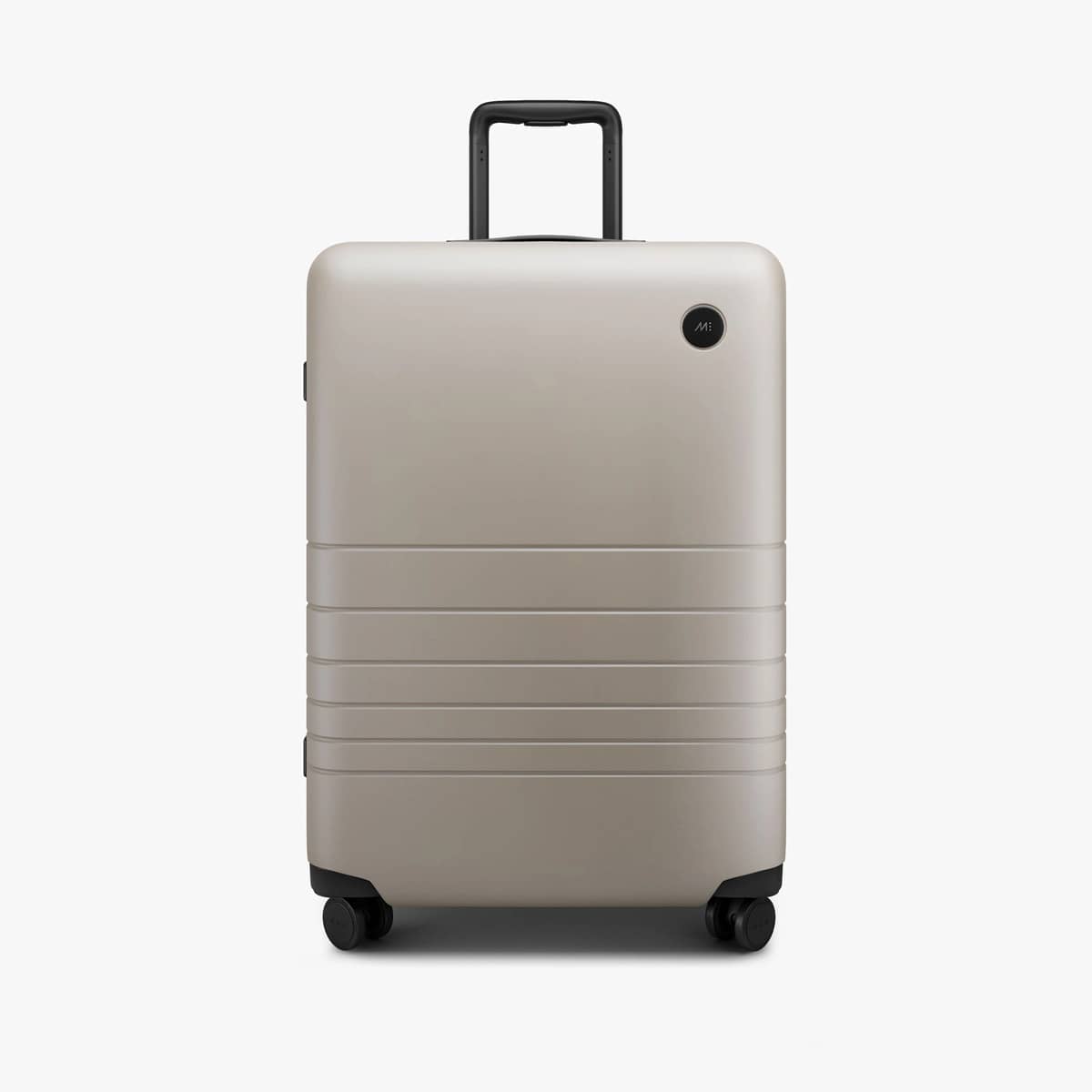 It's no secret that international airlines, especially budget ones, often have more strict rules when it comes to luggage. So, for your next trip abroad, look no further than the Monos Check-In Medium, which combines style, performance, and peace of mind into the perfect mid-size suitcase.
Cut from aerospace-grade German polycarbonate, its sleek, streamlined silhouette is detailed with vegan leather details, color-coordinated YKK reverse coil zippers, and a scratch-resistant matte finish for good looks that last. It also features an integrated TSA-approved lock, best-in-class Hinomoto wheels that make it easy to maneuver through just about any terrain, European cobblestones included, as well as an innovative telescopic handle with the release button underneath for added convenience.
Equally well designed, the interior is lined with luxurious anti-microbial fabric and outfitted with thoughtful pockets and panels for the most efficient packing.
Best Checked Luggage for Frequent Travelers: Horizn Studios H7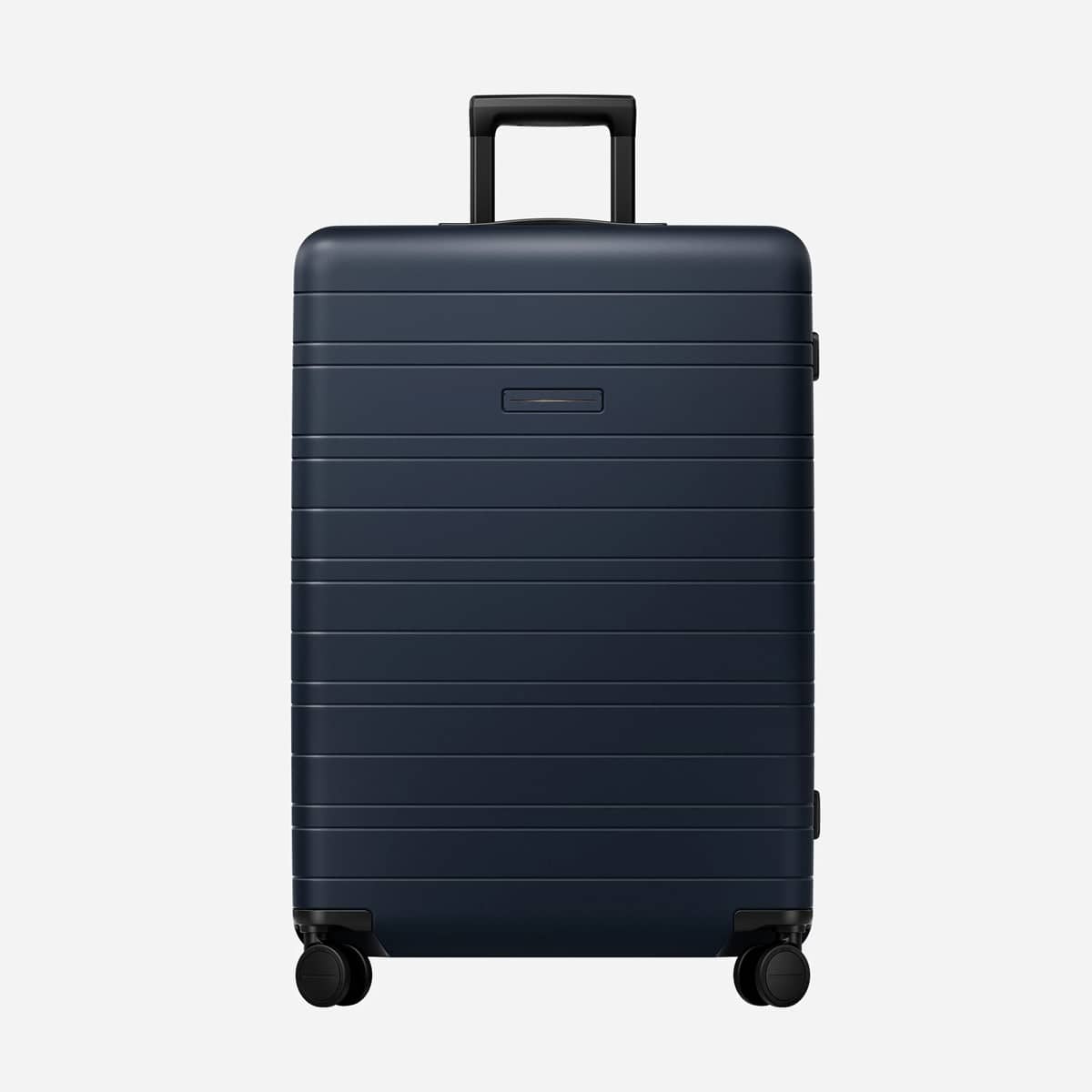 To a large extent, check-in suitcases for frequent travelers need to tick two boxes – durability and ease of use. With its tough polycarbonate construction, multi-stage telescoping handle, and exceptionally smooth 360-degree Japanese wheels, the Horizn Studios H7 provides just that.
Its Aerospace-grade polycarbonate shell offers the ultimate combination of lightweightness, flexibility, and impact resistance, while the integrated TSA combination lock ensures that no one (except for the TSA agents) will be able to break into your luggage.
Add a spacious fully-lined interior, complete with a compression pad and laundry bag, and you have one of the best checked suitcases in 2022. Not only does it offer all the quality and attention to detail you would expect from a German manufacturer, but it's downright beautiful!
Best Aluminum Checked Luggage: Rimowa Original Check-In L Twist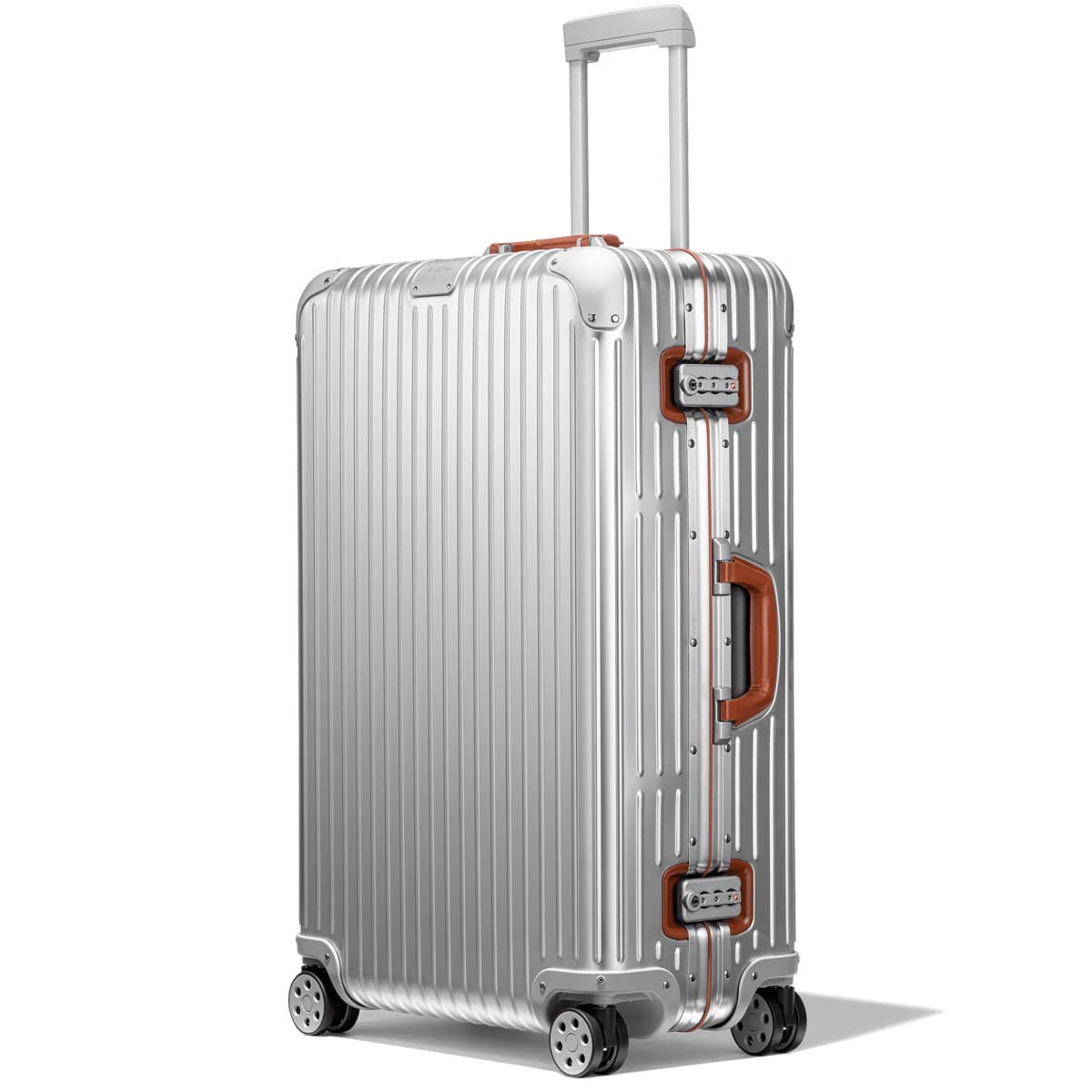 Who else would make the best aluminum luggage if not the brand that started the trend? While still sporting Rimowa's signature grooved aluminum shell, the Original Check-In L Twist sees the addition of elegant brown leather trim on the handles, locks, and seal.
Crafted from high-end anodized aluminum, this large, luxurious suitcase will last a lifetime without getting out of style. Packing is easy thanks to its two evenly split compartments, both with height-adjustable flex dividers, and maneuvering even more so by virtue of its four ball-bearing mounted wheels and stage-free telescoping handle.
Best Checked Luggage for Business Travel: Briggs & Riley Torq Large Spinner
If you travel for work regularly, you'll want to invest in luggage that combines looks, quality, and functionality in equal measure.
Our pick for the best suitcase for business travel, Briggs & Riley's Torq Large Spinner performs admirably on all levels. Not only does its 3-layer Makrolon polycarbonate outer shell exude professional vibes, but it's lightweight, scratch-resistant, and will last for many years to come. The bag relies on four double swivel wheels that will have you breezing through airports, conference centers, and hotel lobbies, and handling couldn't be more convenient thanks to the aircraft-grade aluminum telescoping handle that adjusts to your ideal height.
Complete with cinch-down garment panels and a mesh lid pocket, the fully lined interior fits all your professional outfits and makes it easy to compartmentalize your smaller belongings. There's even a built-in mesh suiter with a removable, adjustable foam roll bar designed to keep your suits/shirts wrinkle-free and meeting-ready.
Best Checked Luggage for Organized Travelers: Solgaard Check-In Closet
An unbreakable polycarbonate shell and a removable built-in shelving system make this large check-in suitcase a dream come true for organized packers who like everything in its place.
The Check-In Closet is the larger, checked-luggage version of the best-selling Carry-on Closet from sustainable luggage company Solgaard. Just like its baby brother, it's waterproof, scratch-resistant, and smooth-rolling, but most importantly, it makes packing easy and efficient (and unpacking even more so) thanks to its 5 collapsible shelves that can be hung from a closet rod once you arrive at your destination.
We're also fans of the case's one-hand pinch opening mechanism and the brand's ethical ethos. For every product sold, they remove one pound of plastic from the ocean and use it to make the interior lining for their luggage.
Best Checked Luggage for Millennials: Level8 Voyageur Check In 26″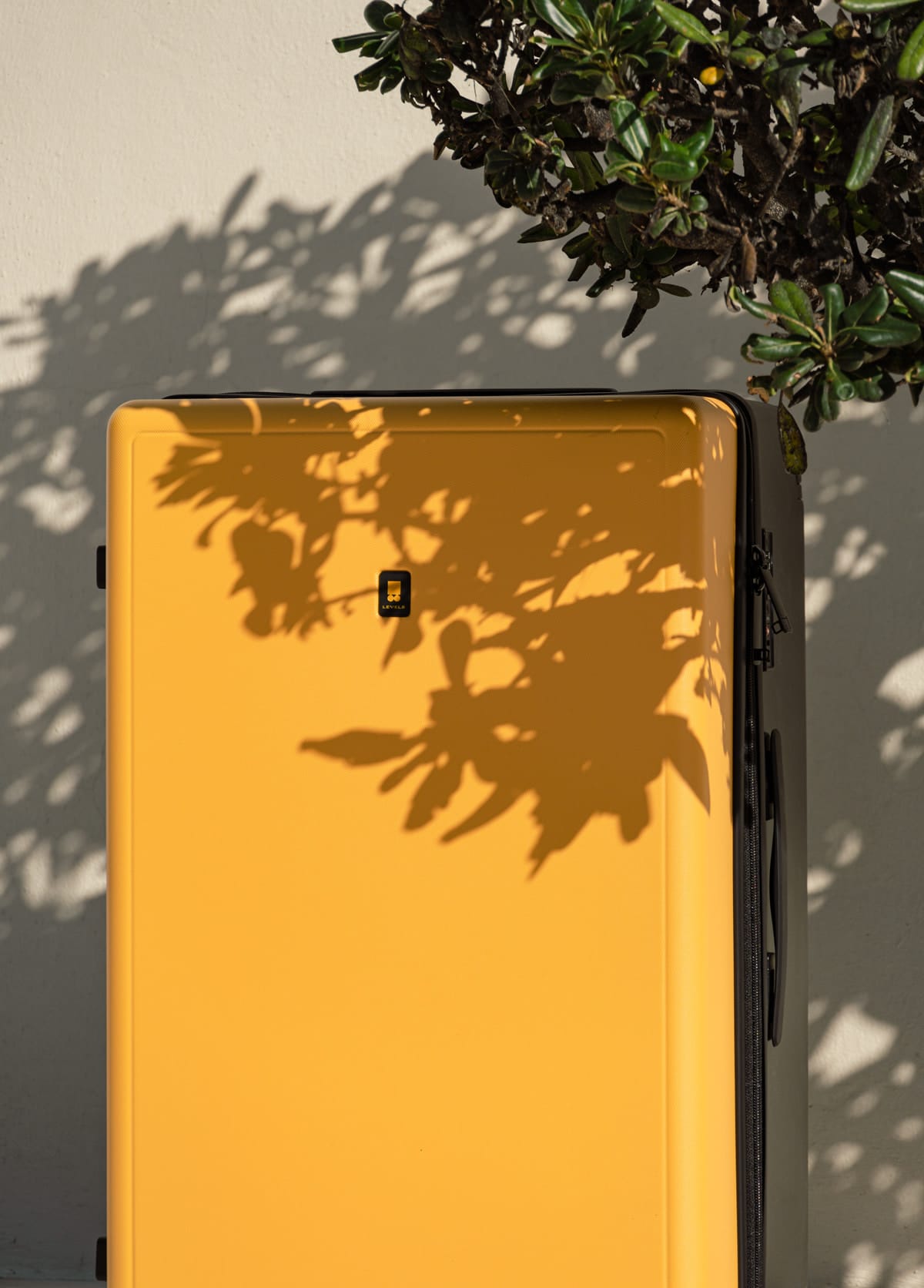 Why settle for boring luggage when you can stand out with this bright, sunny suitcase from Level8?
Constructed with impact-resistant Germany Makrolon polycarbonate, the Voyageur Check In 26″ is strong, lightweight, and creatively functional. Weighing in at just over 11 lbs, it's surprisingly roomy and can fit all your essentials for a two-week vacation. It's also extremely easy to maneuver thanks to the four smooth & quiet 360° wheels with anti-shock design and its unique wide handle designed to increase both stability and packing space.
For convenient, organized packing, this modern case has two roomy compartments and a pair of zipper pockets for small items. There's even a wet section so you can stash those soaked bathing suits and keep your other items dry.
Best Affordable Checked Luggage: American Tourister Upland 29″ Spinner
Having trouble finding affordable checked luggage made with quality materials? Well, here it is! At just a little over $100, American Tourister's Upland 29″ Spinner boasts an injection-molded polypropylene shell that's strong yet lightweight.
Aside from protecting your belongings while in transit, this fairly priced hardside roller is easy to maneuver through busy airport terminals thanks to its ergonomic telescoping handle and multi-directional wheels. Inside, there are two separate packing compartments with room for all your travel essentials, as well as tie-down straps for keeping them secure and neatly packed in transit.
Best Durable Checked Luggage: YETI Crossroads 29"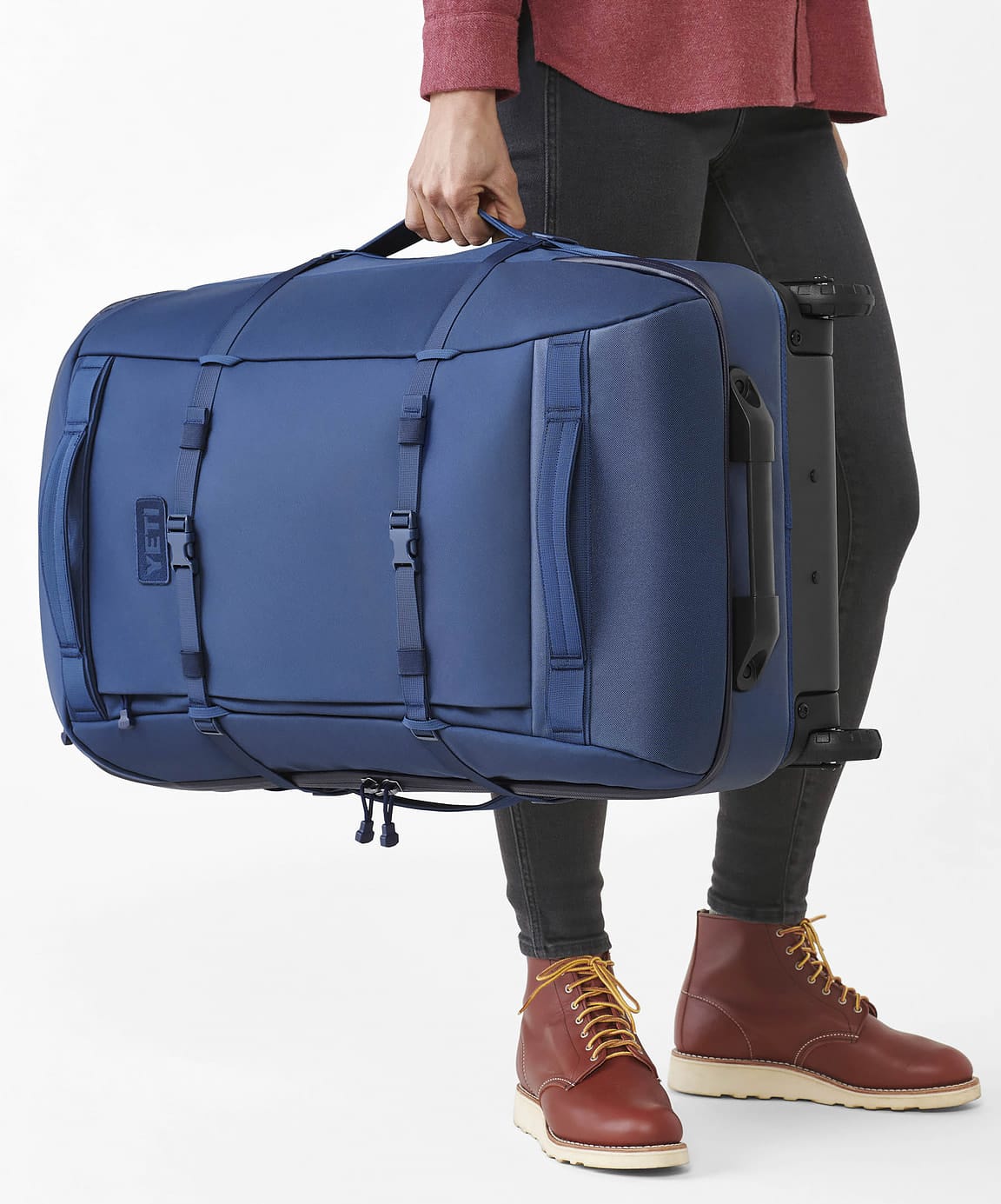 Constructed from YETI's durable Tuffskin Nylon, with a hard polycarbonate back, this wheeled travel bag is ready to withstand anything that comes its way, let alone airline abuse.
Durability aside, the Crossroads 29" is packed full of practical features such as modular compression straps, packing cubes, as well as zippered pockets and gear loops throughout. At 80L, it packs a ton inside while still remaining remarkably easy to maneuver thanks to its removable wheels and 2-stage telescoping handle. If there's one ultimate checked bag for extreme adventures, this is it!
Best Designed Checked Luggage: Db The Strøm 90L Rollerbag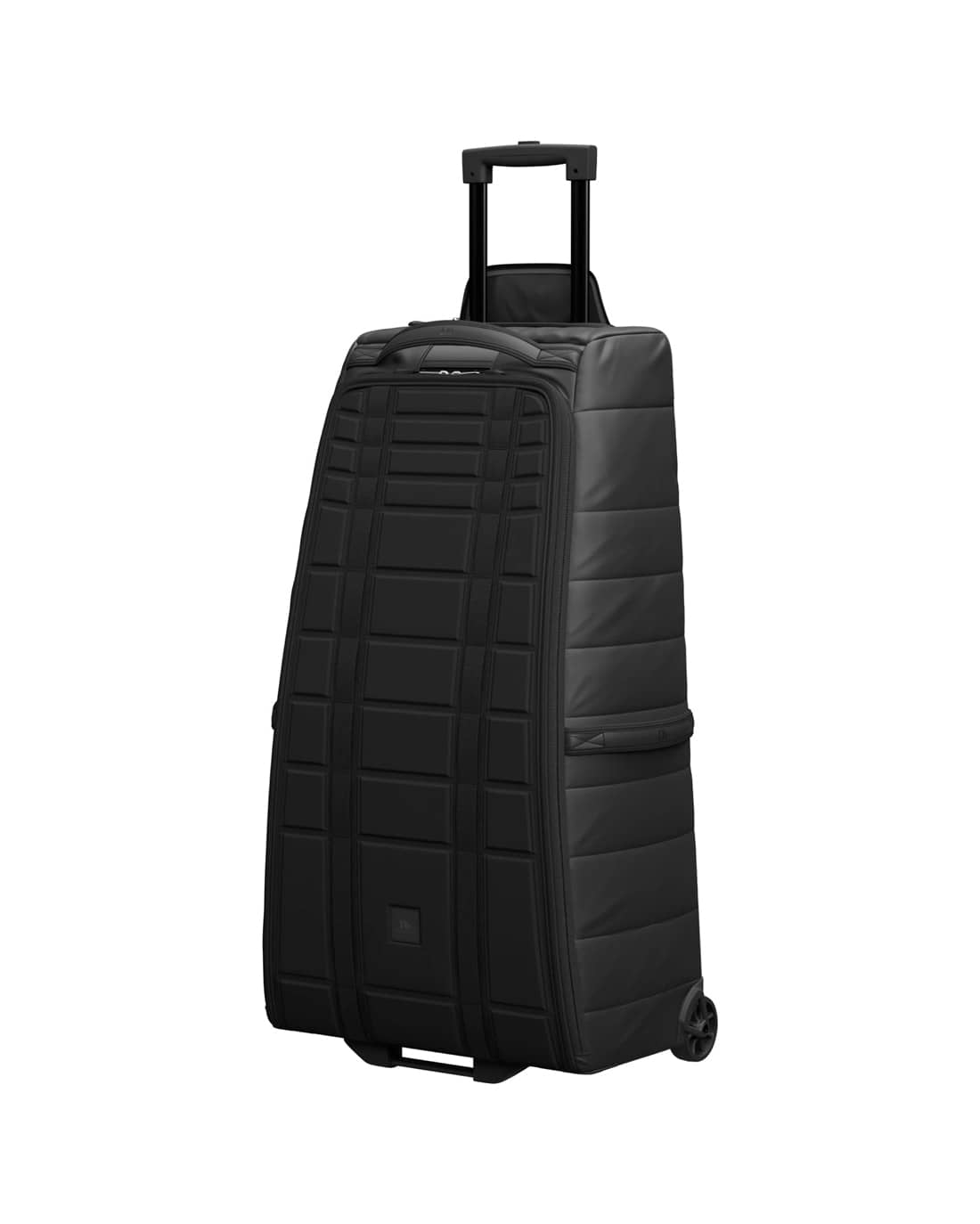 With its unique rib cage construction inspired by the human anatomy and an ingenious hook-up system that lets you bundle multiple products into one single unit, the Db Strøm 90L Rollerbag is the ideal check-in luggage for design-savvy adventurers.
Lightweight and sturdy, this massive bag on wheels revolves around one main compartment that holds all your gear and gives full access to it. Wraparound mesh pockets make it easy to organize small items inside, while big wheels and a two-stage retractable handle allow for smooth navigation.
Best Checked Duffel Bag: Briggs & Riley ZDX 27" Medium Wheeled Duffle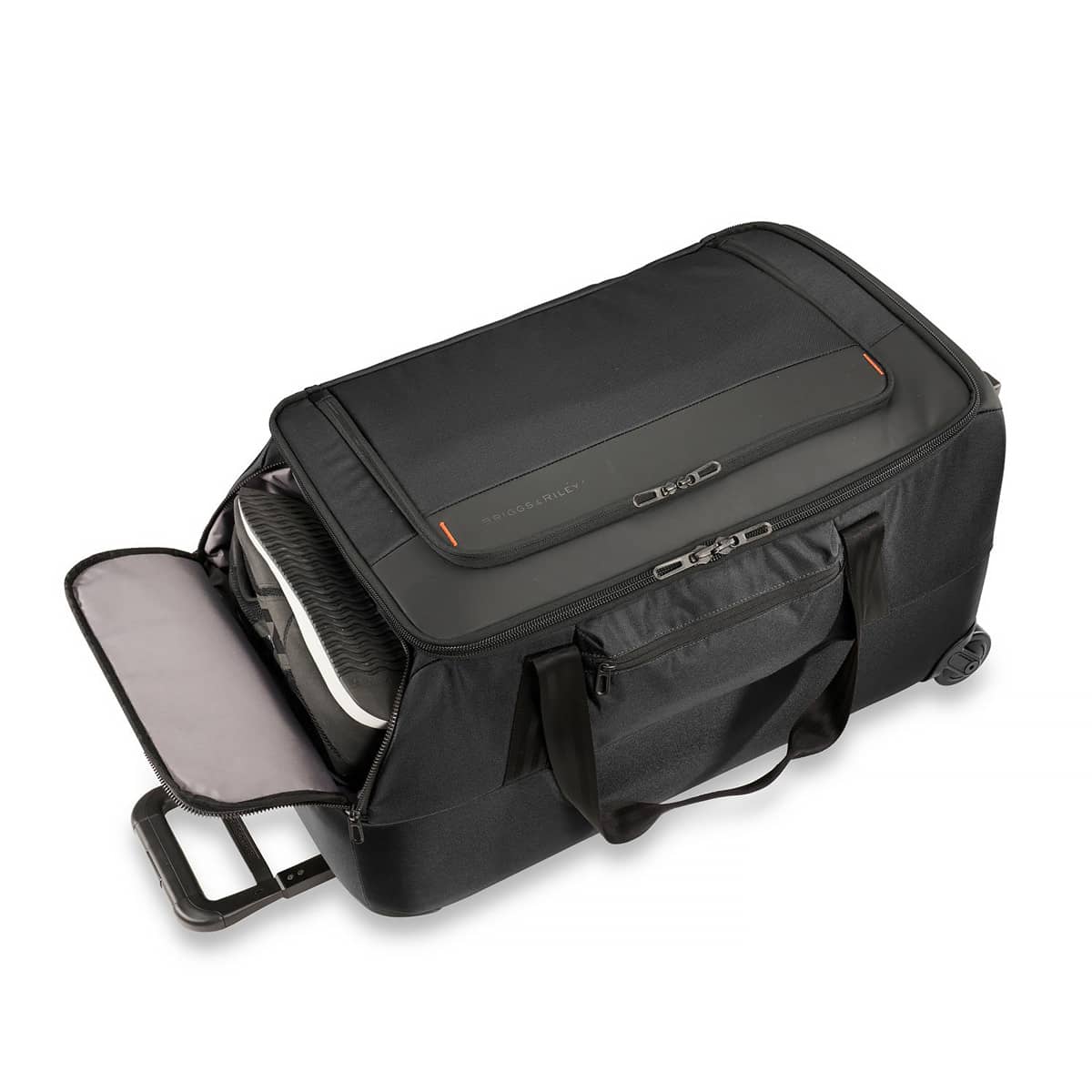 Combine the packing capacity of a duffle bag with the convenience of rolling luggage, and what you get is this fantastic piece from Briggs & Riley.
Made from ultra-resistant ballistic nylon, with reinforced, low-profile corner guards and self-repairing YKK zippers, the ZDX 27" Medium Wheeled Duffle can withstand all the rigors of travel. Its lightweight honeycomb frame folds for compact storage, and the two low-profile wheels make transporting stress-free.
The brand's patented Outsider handle ensures more packing space and wrinkle-free clothes, and a separate PVC-lined pocket keeps dirty stuff away from the rest of the contents. Extremely durable and refreshingly large, this is a bag to literally crisscross the globe with!
Best Checked Luggage for Sustainable Travel: Paravel Aviator Grand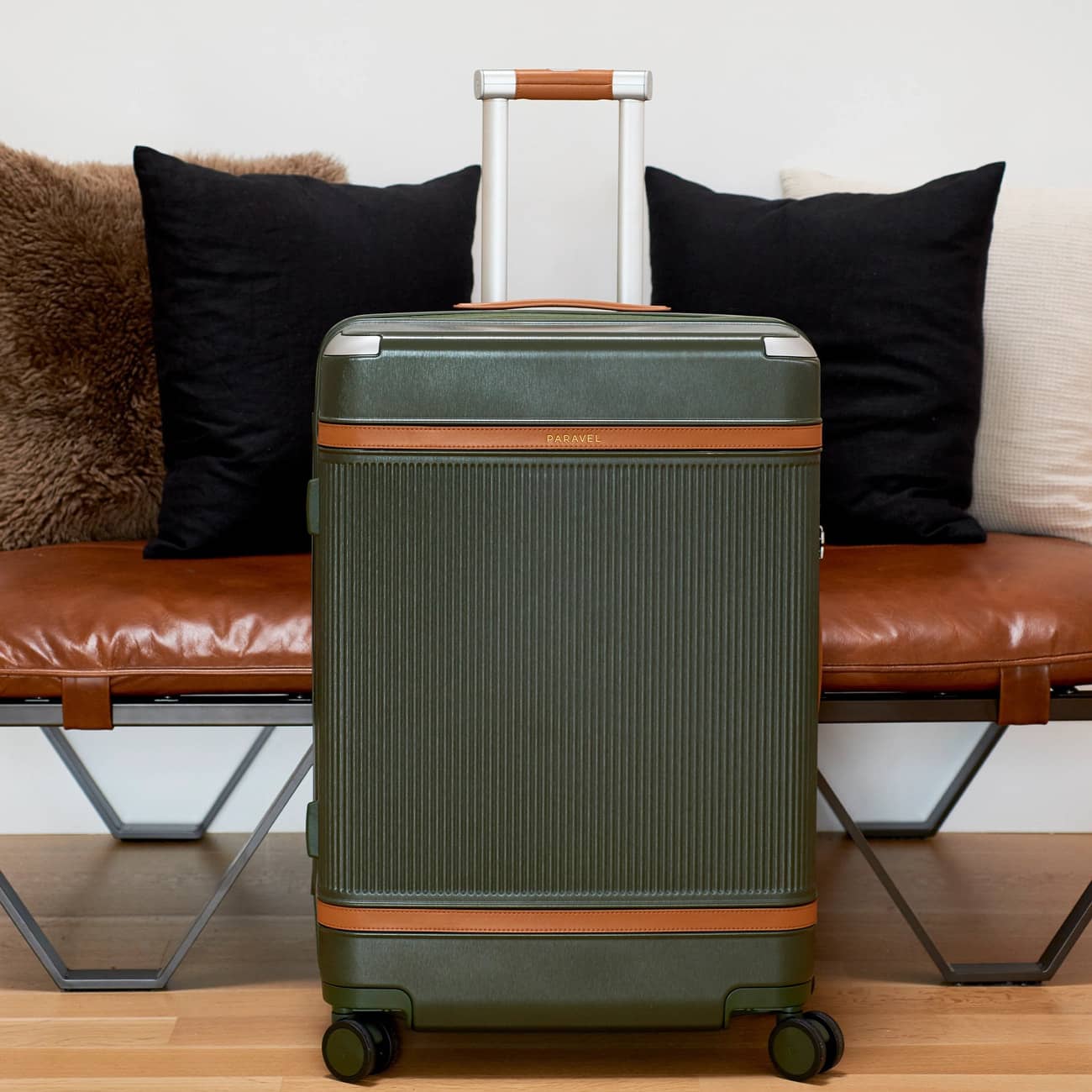 Paravel is a game-changer when it comes to sustainable luggage. Not only are they offsetting the carbon emissions generated from the bags' production and shipping, but their stylish suitcases are made using eco-friendly materials.
A check-in version of one of our favorite carry-on bags, the Aviator Grand has all the cool features we love about the original, including its durable, smooth-rolling wheels, TSA-approved lock, and timeless good looks. Sustainability-wise, the suitcase boasts recycled zippers, a telescopic handle made from recycled, aircraft-grade aluminum, and a soft, silky lining woven with fibers sourced from 21 plastic water bottles.
Though not the largest checked piece on the list, its interior is roomy enough to fit 8-10 days' worth of clothes and accessories, and includes smart details like a compression board and a removable laundry bag. Lastly, the ultra-chic recycled polycarbonate body trimmed with classy vegan leather details will make every trip feel like a glamorous getaway.
Best Checked Rolling Trunk: RIMOWA Essential Trunk Plus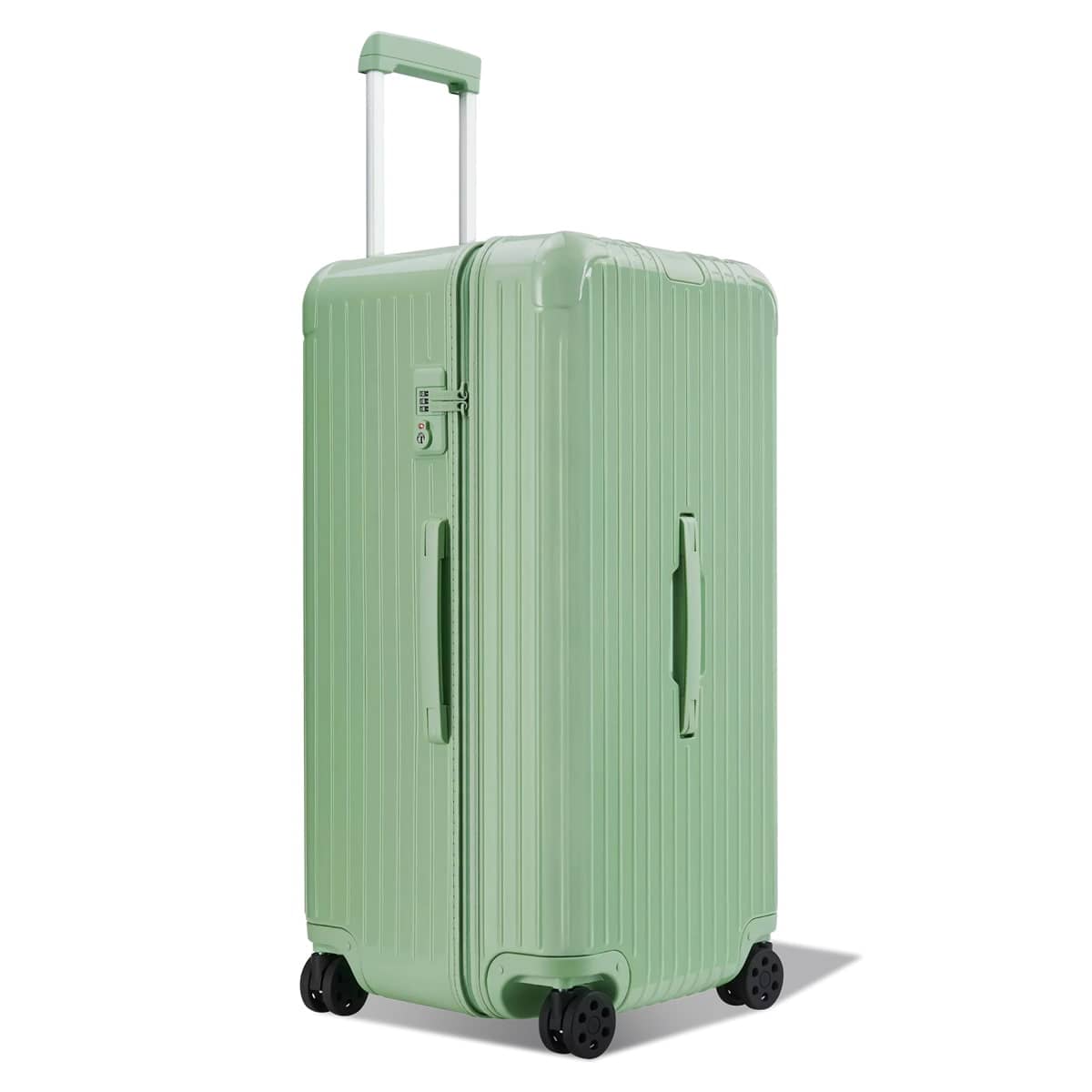 Strong, chic, and unmistakenly classic, this extra-large check-in suitcase is a stellar option for long trips, family travel, and overpackers. For a bag of its size though, it's surprisingly lightweight, which only adds up to its convenience.
Part of Rimowa's first-ever polycarbonate luggage line, the Essential Trunk Plus has a sleek, minimalist look with a ribbed matte or glossy-finished shell in bold, contemporary colors like Mango Orange, Bamboo Green, and Berry. A height-adjustable flex divider keeps packing items nice and tidy inside, while the TSA-approved lock secures your belongings, giving you peace of mind.
And the good news doesn't stop here – as expected from a company of this caliber, this rolling trunk is packed with high-end elements, from a highly adaptable stage-free telescoping handle to the patented Multiwheel technology, which enables the case to glide smoothly alongside you.
Most Stylish Checked Luggage: Hartmann Luxe II Long Journey Spinner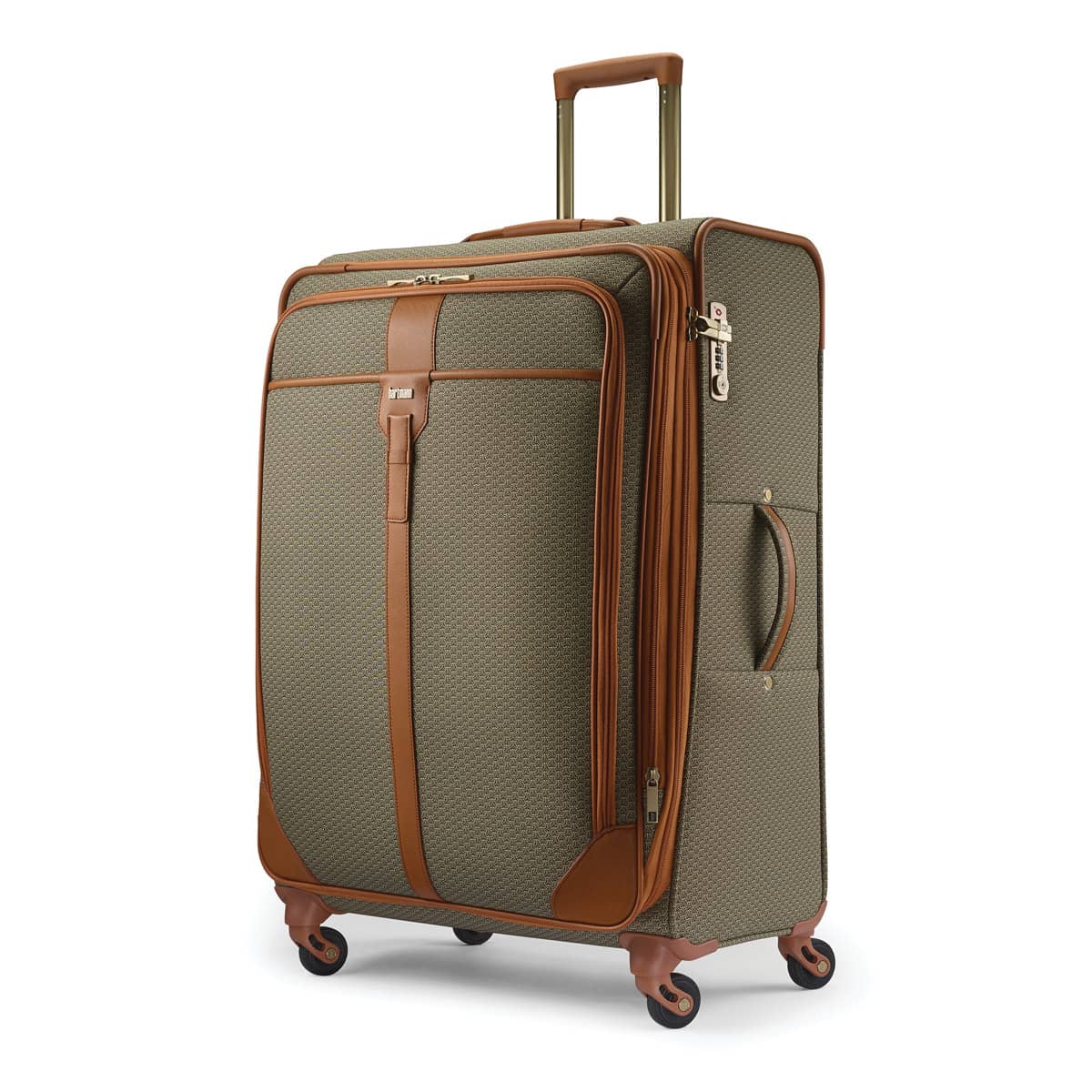 Just because you're wheeling around a bigger suitcase doesn't mean you should ever sacrifice style!
Born in Milwaukee, USA, Hartmann has been crafting refined, high-quality luggage pieces for discerning travelers since 1877, and the Luxe II Long Journey Spinner is no different. Rendered in an elegant polyester fabric with classic trim and brushed bronze & gunmetal metal finishes, this nostalgic-looking softsided design is just as good at protecting your belongings as it is at elevating your travel look. It glides on four smooth-rolling 360-degree wheels and comes with an integrated trolley handle with multiple stops for breezy movement through the terminal.
The expandable interior has a conveniently deep main compartment with elastic cross straps for neat organization, and there is also a selection of zipped exterior sections to keep your important items handy.
Best Lightweight Checked Luggage: Delsey Clavel 30″ Expandable Spinner Upright
For a lightweight checked suitcase that looks first-class, the Clavel 30″ Expandable Spinner Upright from Delsey is a strong contender.
Winner of a Red Dot Design Award, this bag is made from lightweight and durable polypropylene and has a uniquely secure zip closing system to keep your belongings safe. It is also equipped with a TSA-accepted combination lock, silent-running, double spinner wheels, and three carry handles for easy lifting. The expandable interior features two main packing compartments, plus a zippered mesh divider and tie-down straps to hold your clothes in place.
Best Large Checked Luggage: Bric's Capri 32″ Spinner Expandable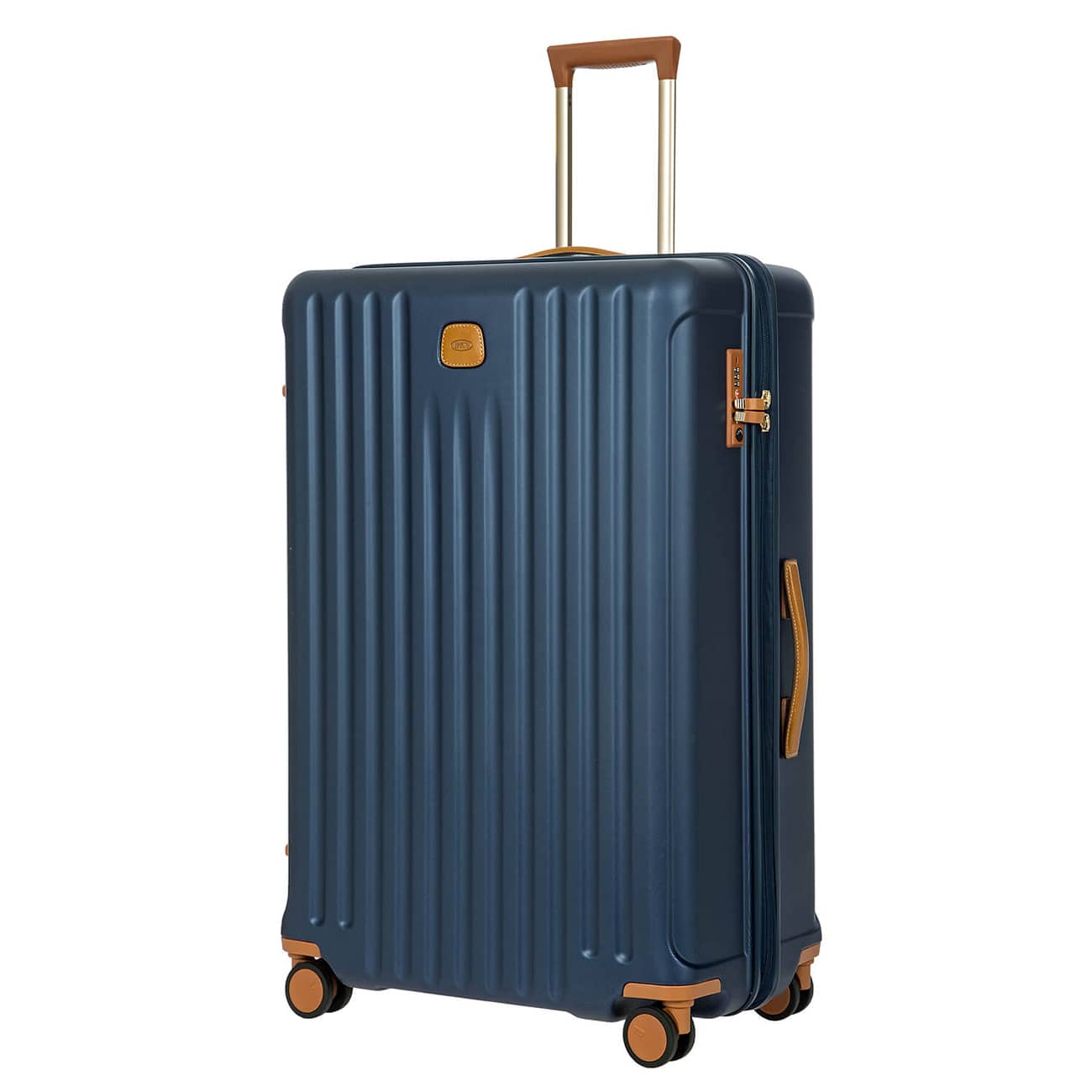 The ideal size for big-family trips or long-term travel, Bric's Capri 32″ Spinner Expandable features a lightweight & durable polycarbonate construction, with top-quality 360° wheels, an adjustable trolley handle, and a built-in TSA lock.
Its elegant outer shell has a classic, almost vintage-like, feel and is adorned with genuine Tuscan leather details for a subtle dose of style and sophistication. Inside you'll find fully-lined double-deck compartments, two zippered pockets, as well a zippered panel that secures your belongings en route while providing additional, easy-access storage.
Last, but not least, the bag expands up to an extra 1.5 inches of packing capacity thanks to its adjustable zipper design.
Best Medium Checked Luggage: Samsonite Stryde 111 Large Glider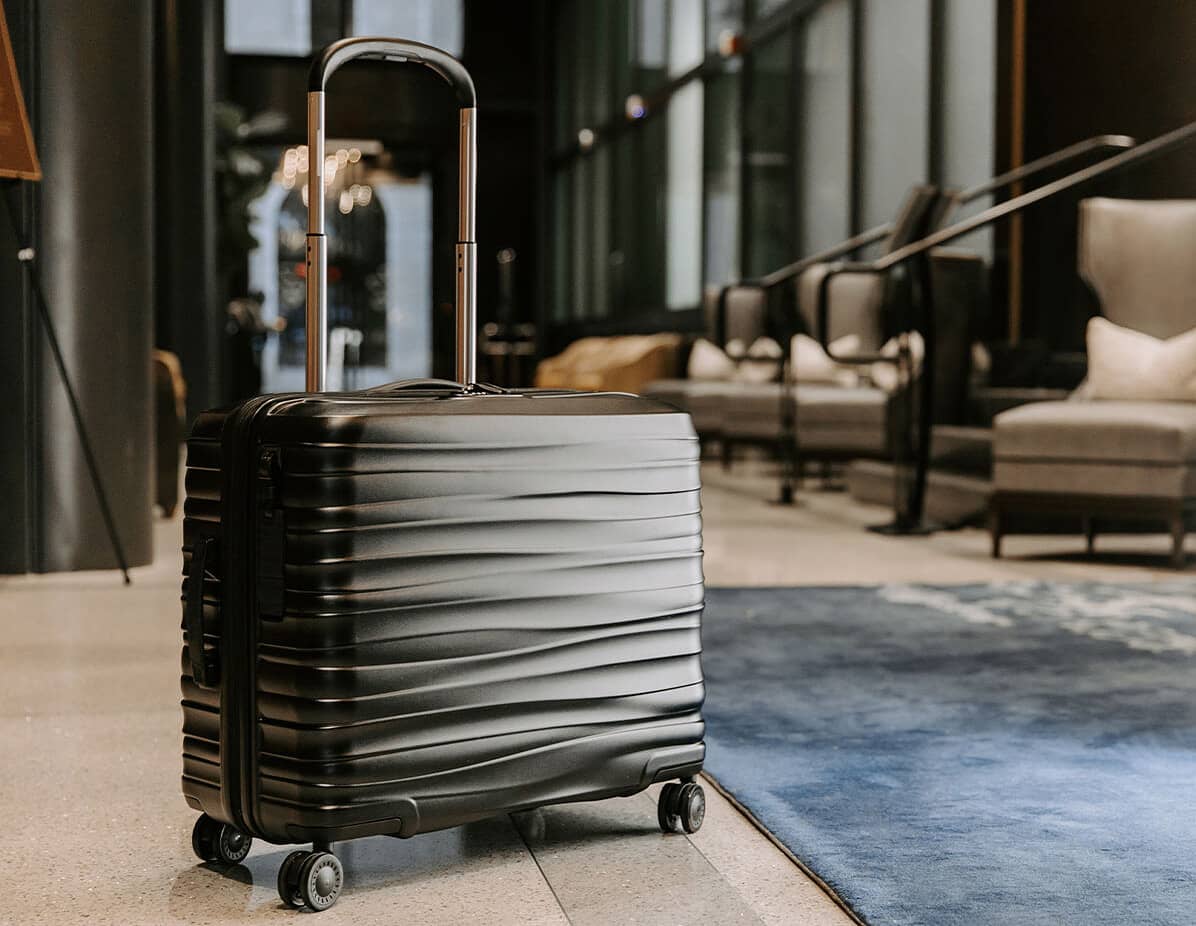 For those trips that require more than a carry-on, but not your entire wardrobe, the Samsonite Stryde 111 Large Glider is a smart, practical option. Through its unique design and innovative details, this medium-sized suitcase is bound to revolutionize the way you travel.
Engineered horizontally, it stands out primarily for its wider body whose lower gravity center allows for better maneuverability, but gets extra points for its great packing organization. With multiple removable packing cubes, plus a shoe bag, a toiletry kit, and even a fully detachable, padded trifold garment carrier, it really has a place for everything you need to bring along. Other design features that set it apart include a magnetic ID tag, integrating VisionGuide LED lights on both sides of the handle, and an interior lining fabric woven from 100% post-consumer recycled plastic bottles.
Best High-End Checked Luggage: Steamline Luggage Hunter Green Diplomat Check-In Spinner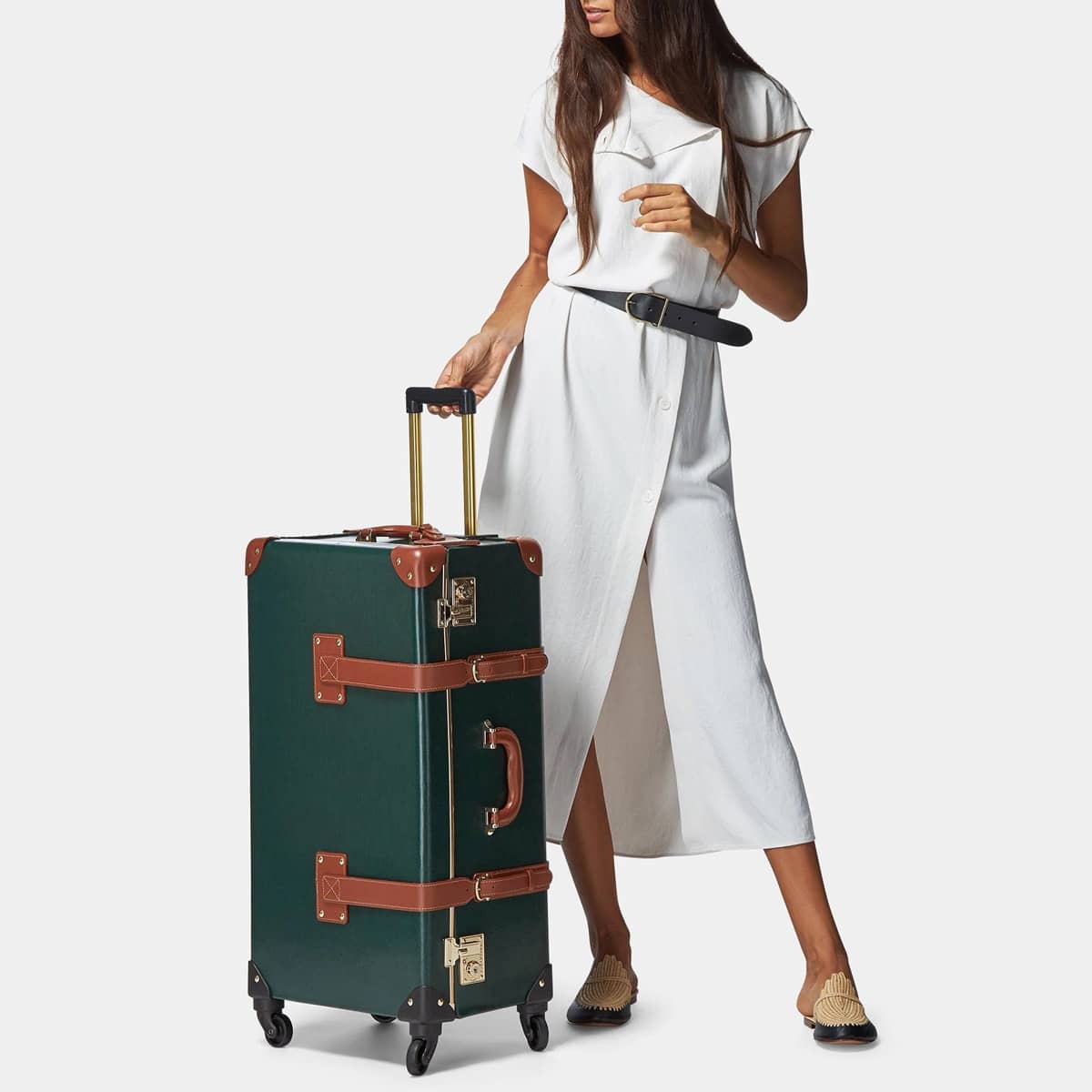 Part of Steamline Luggage's elegant Diplomat collection, The Hunter Green Check-In Spinner fuses premium materials with innovative features in a vintage trunk-inspired silhouette that's sure to make a style statement wherever it lands.
Wrapped up in luxurious green leather and adorned with gold hardware and rich brown leather straps, this glamorous suitcase may evoke a sense of old-world adventure, but its retractable trolley handle, silent-glide wheels, TSA lock, and padded, satin-lined interior ensure it's made for the modern streets. The ample interior features a sleek equestrian-inspired lining in tans and cream, a removable door-hanger washbag, and zippered lid compartments to keep your belongings organized when on the go.
Best Checked Luggage for Suits: Tumi Alpha 3 Extended Trip Expandable 4-Wheel Packing Case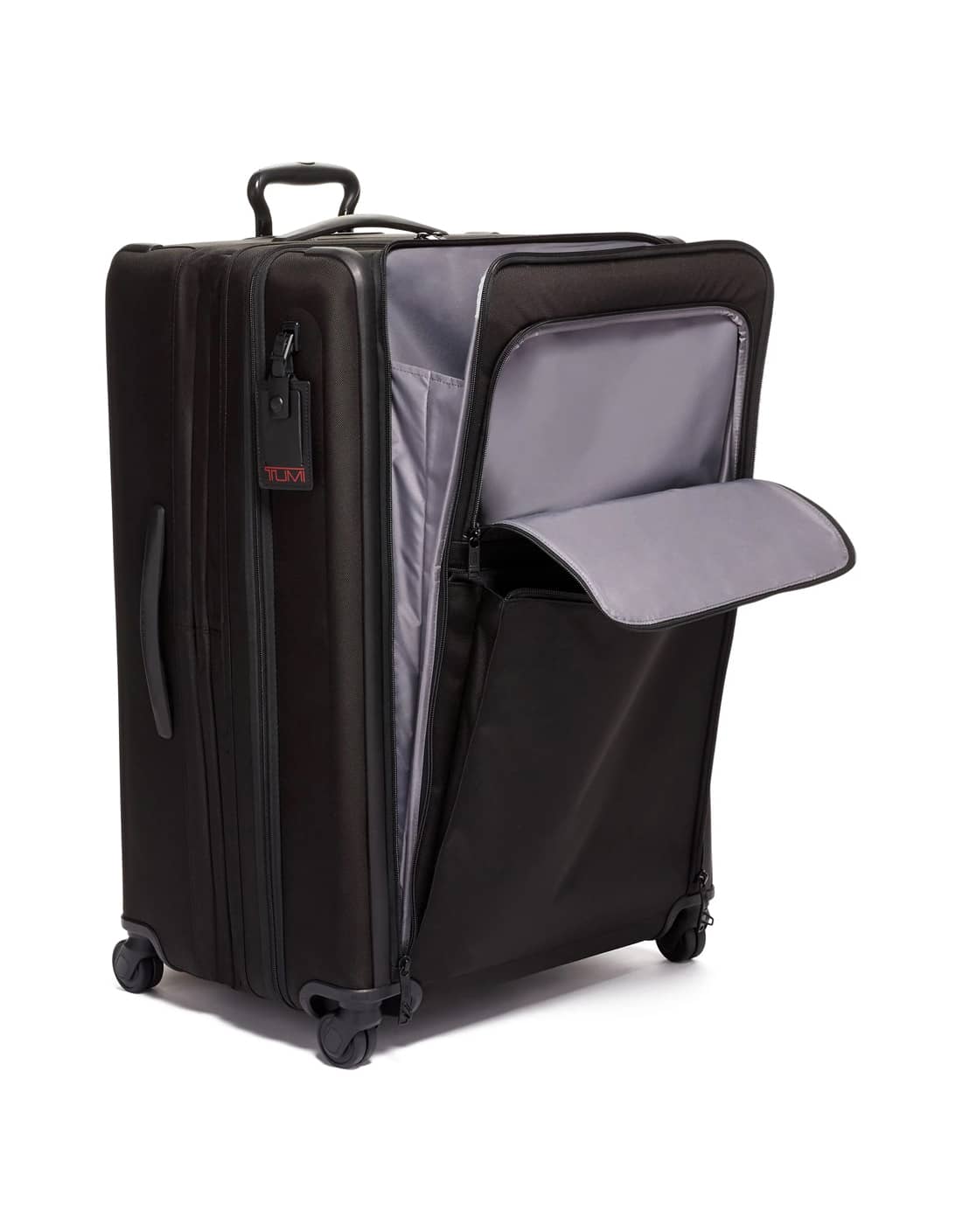 With a removable garment sleeve, a constellation of handy pockets, and an ingenious expansion system that allows for up to 2″ (5 cm) of additional space, the Alpha 3 Extended Trip Expandable 4 Wheeled Packing Case is the ideal checked bag for traveling with suits.
Made from TUMI's patented, ultra-durable FXT ballistic nylon, this sophisticated soft check-in piece will have you covered for years of trips yet to come. The meticulously organized interior holds everything from a suit to bulky shoes to unexpected souvenirs, while exterior zip pockets keep essentials easy to reach. A 3-stage telescoping handle along with top and side carry handles and four multidirectional wheels make for smooth rolling through the airport and down busy city streets.
Function and sturdiness aside, this premium expandable suitcase is generously sized for shared packing or long-haul trips, whether for business or pleasure.