This post contains affiliate links, which means we may receive a small commission, at no additional cost to you, if you make a purchase through these links. See our full disclosure here.
There are as many types of everyday backpacks as there are uses for them, so whether you're looking for a stylish commuter bag to keep your work essentials organized, a durable rucksack that doubles as a hiking pack, or the perfect carry to haul your camera gear around town, you'll find it here.
The best everyday backpack is the one that fits your daily needs and looks good while doing it. Wearing comfort, lightness, and durability are crucial, and so are key features like a padded laptop sleeve or water-resistant materials designed to keep your gear crisp and dry during commute showers. Smart pocketing and a versatile clean-cut silhouette that glides effortlessly from office to brunch also help.
Below are our carefully curated picks for the best EDC backpacks in 2023.
DB The Ramverk 21L Backpack
Stylish, durable, and easily accessible, the DB Ramverk 21L Backpack makes a valuable everyday companion. It has a full frontal zip opening for easy access to its spacious main compartment, as well as a convenient top pocket for keeping your essentials close by. The interior is lined with mesh pockets for organizing cables and accessories, and you can hold up to a 16″ MacBook Pro in the separate padded laptop compartment.
The contemporary, clean-cut silhouette keeps the bag minimal and versatile, while the robust rib cage construction protects the gear inside without weighing you down. It comes in several different colors and fabrics, though we are partial to the Sage Green model, which looks great everywhere it goes and is made with 100% GRS-recycled materials. Pair it with DB's customizable CIA camera insert, and you've got yourself a handsome, heavy-duty camera backpack!
After testing tons of backpacks, we have chosen the DB Ramverk 21L as our top pick for the best backpack in 2023.
Peak Design Everyday Backpack Zip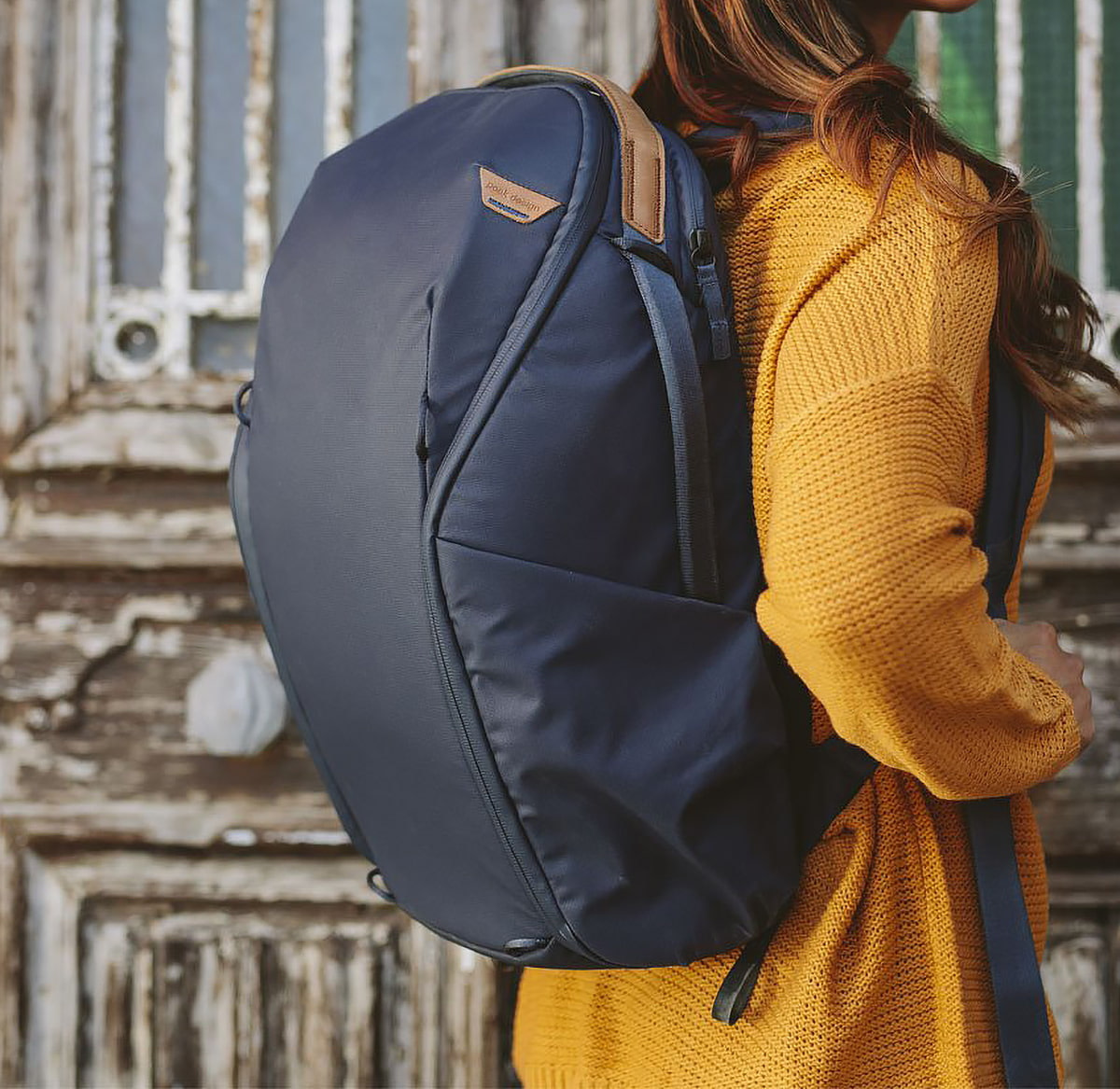 For a well-designed EDC backpack that also doubles as a photography bag, you can't look past the Everyday Backpack Zip.
Peak Design's bags are known for their emphasis on smart, functional design, and this streamlined everyday/camera carry is a testament to that. For one, it's made from a waterproof 100% recycled 400D nylon canvas that'll keep your belongings dry and protected, and features a clever wrap-around zipper for effortless access to your gear from the top and sides.
Then there's the clever internal organization with customizable flexible dividers, which allows the bag to adapt to a variety of loads, from spare clothes to camera equipment, work essentials, and most things in between. That ultra-clean aesthetic and street-smart colorways mean it will also blend into any environment.
Bellroy Classic Backpack Premium Edition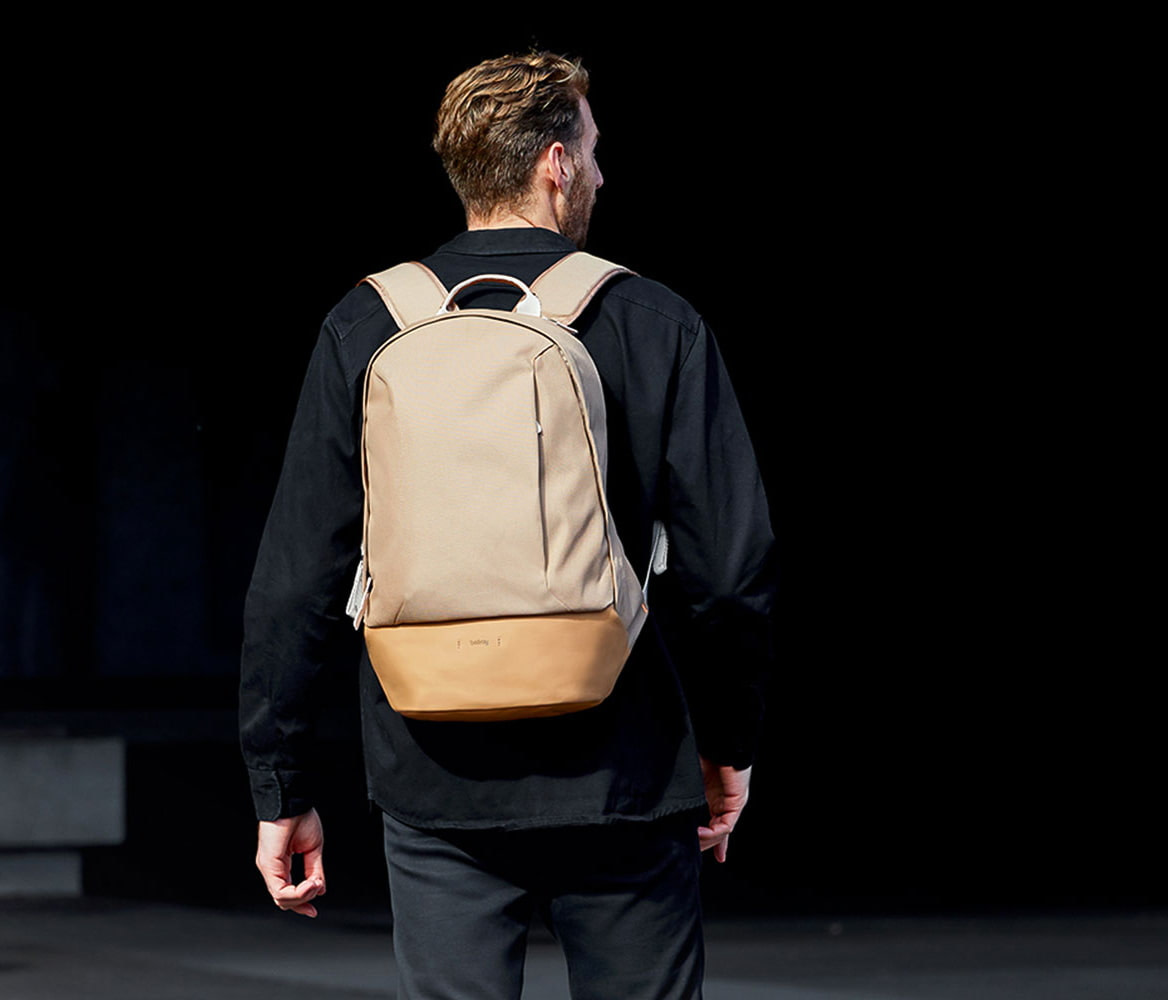 Wherever the day takes you, this contemporary Bellroy backpack keeps your essentials safe and your style on point with its quality construction, practical design, and understated styling.
Designed with urban adventurers in mind, the Classic Backpack Premium Edition is durable, lightweight, and packed with intuitive features such as a padded laptop sleeve, organizational compartments for notepads and pens, and a uniquely contoured fit that hugs the body for ultimate comfort on the go. It's also meticulously crafted from sustainably sourced fabrics and trimmed with matching environmentally certified leather details for a sleek, refined look.
If you are looking for the best everyday carry backpack to get you through a day's commuting or exploring in style, this is easily a strong contender!
Tropicfeel Nest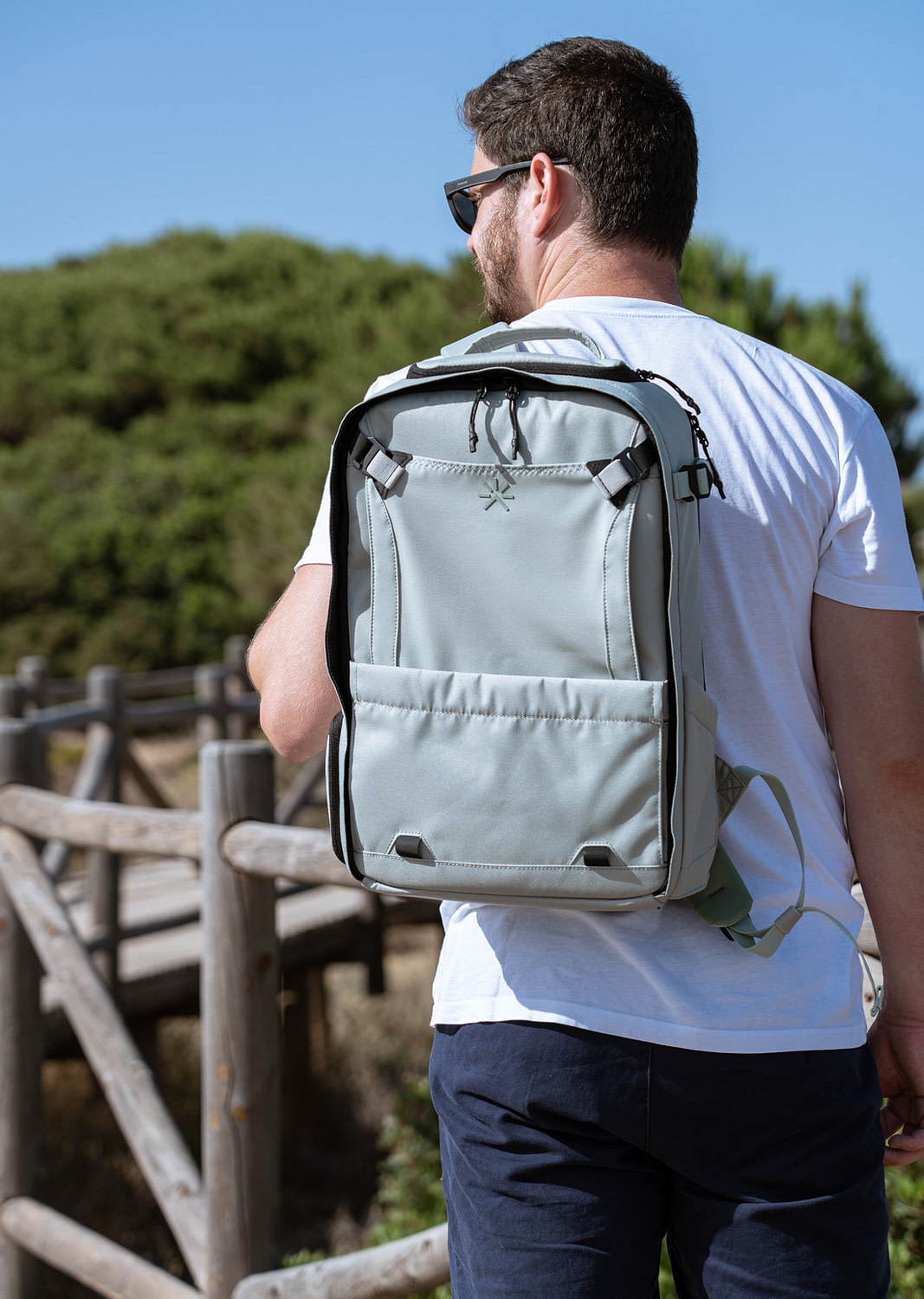 Tropicfeel is known for its insanely versatile travel shoes, but the Nest backpack proves that the innovative Barcelona-based brand can do more than just sneakers. With its modern, understated looks, weatherproof construction, and endless organization, this multifunctional pack makes an outstanding carry solution for busy days on the go.
Made with sustainable, weatherproof materials, it expands from 16L to 30L thanks to a clever, modular design with a series of adaptable organizational add-ons. For instance, the 10L Smart Packing Cube is a space-saving must-have designed to keep your extra items compressed and neatly organized in the front pocket when traveling. Otherwise, pair the Nest with the customizable camera compartment, and you've got a veritable photography bag, or enhance its functionality with a portable wardrobe meant to integrate inside the backpack.
Lightweight, discreet, and comfortable to wear, this all-arounder will work well in nearly any setting. It comes with a full front opening for easy access to the main compartment, as well as tons of smart pockets for your lunch, laptop, shoes, and other necessities.
Nomatic Navigator 15L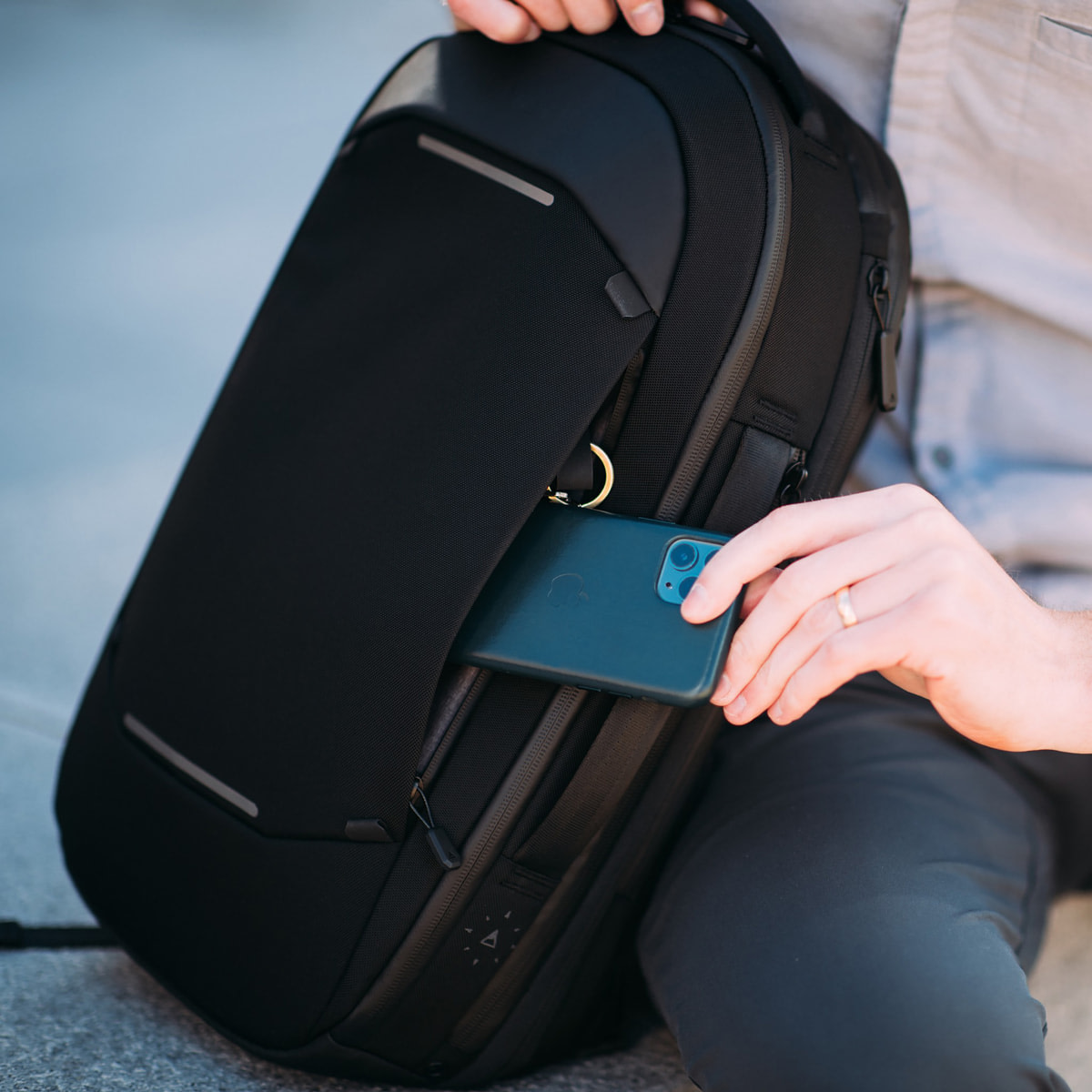 Brimming with modern flair and functionality, Nomatic's Navigator Backpack 15L is ideal for your tech-laden daily commute. Complete with padded compartments and tons of well-thought-out pockets for all your gizmos, this is as organized as backpacks can get.
The slick, water-resistant exterior suits work and play alike and comes with external carry straps and reflective bars for nighttime visibility. Three external carrying handles enable versatile handling, while the foam back panel makes it comfortable to carry no matter how heavy the load.
And, as if that wouldn't be enough, two external quick-access pockets, a roller luggage pass-through, and the 4-liter expansion capability transform this backpack into the perfect travel companion, or carry-on bag for that matter.
Solgaard Shore-Tex Daypack
A sleek, urban EDC backpack made entirely from recycled ocean plastics, Solgaard's Shore-Tex Daypack addresses the needs of today's travelers and professionals with a drop-proof laptop section and secret pockets for hiding your passport, cards, and money.
The clean, lightweight design, along with the comfy shoulder straps and back support, make this sustainable pack a versatile option for managing your daily grind or taking on short trips. A water-resistant bottom keeps your gear safe on wet sidewalks, while the expandable side pockets are perfect for storing water bottles and accessories. Both the interior and the exterior are made with the brand's revolutionary SHORE-TEX fabric, which means 5 lbs of plastic are pulled from the ocean for the construction of each item.
Urth Arkose 20L Modular Camera Backpack
A custom-designed camera insert transforms this compact everyday backpack into a camera bag in a flash. Made from weatherproof recycled nylon, the Urth Arkose 20L Modular Camera Backpack is durable, lightweight, and stylishly minimalist – a sought-after combo for traveling creators these days.
The interior is horizontally divided into two zones – the upper section, fitted with a variety of nooks and crannies, has plenty of room for your daily essentials, while the lower compartment is designed to snugly fit the camera insert when needed. Individual sleeves for laptop and tablet keep your electronics organized and protected and two external zipped side pockets blend in discreetly for a sleek, streamlined look.
GORUCK GR1 1000D Slick 21L
A limited-edition collaboration between GORUCK and San Francisco-based retailer Huckberry, the GR1 1000D Slick 21L is city-ready, easy to pack, and as bombproof as they come.
Inspired by military rucks, this tactical EDC backpack has an ultra-durable 1000-denier CORDURA body that's built to withstand a lifetime of use and abuse, plus a bombproof laptop compartment and a full clamshell opening for easy packing. Thanks to its compact size and minimalist design, the pack looks equally at home on commutes, at work, or out in the wild. Each product is made in America and backed by a full lifetime warranty.
Horizn Studios SoFo Backpack City
Crafted in Horizn Studios' signature recycled water-sealed cotton canvas, this urban-ready backpack champions the brand's commitment to sustainability while adapting to a variety of everyday carry needs.
The main compartment is expandable, making the SoFo Backpack City great for daily excursions and commutes alike, and there's a roomy pocket for quick-grab items. The rear pocket hidden in the breathable mesh padding on the back is a smart, unique feature I'd love to see on more backpacks in the near future, and I also like the seamless side pockets and separate exterior-access laptop compartment, which makes security checkpoints a breeze when traveling.
The waterproof base and lining mean this slimmed-down version of the SoFo Backpack Commute is just as durable as the original, while thoughtful details such as a luggage strap and breathable mesh padding enhance comfort and practicality.
XD Design Bobby Pro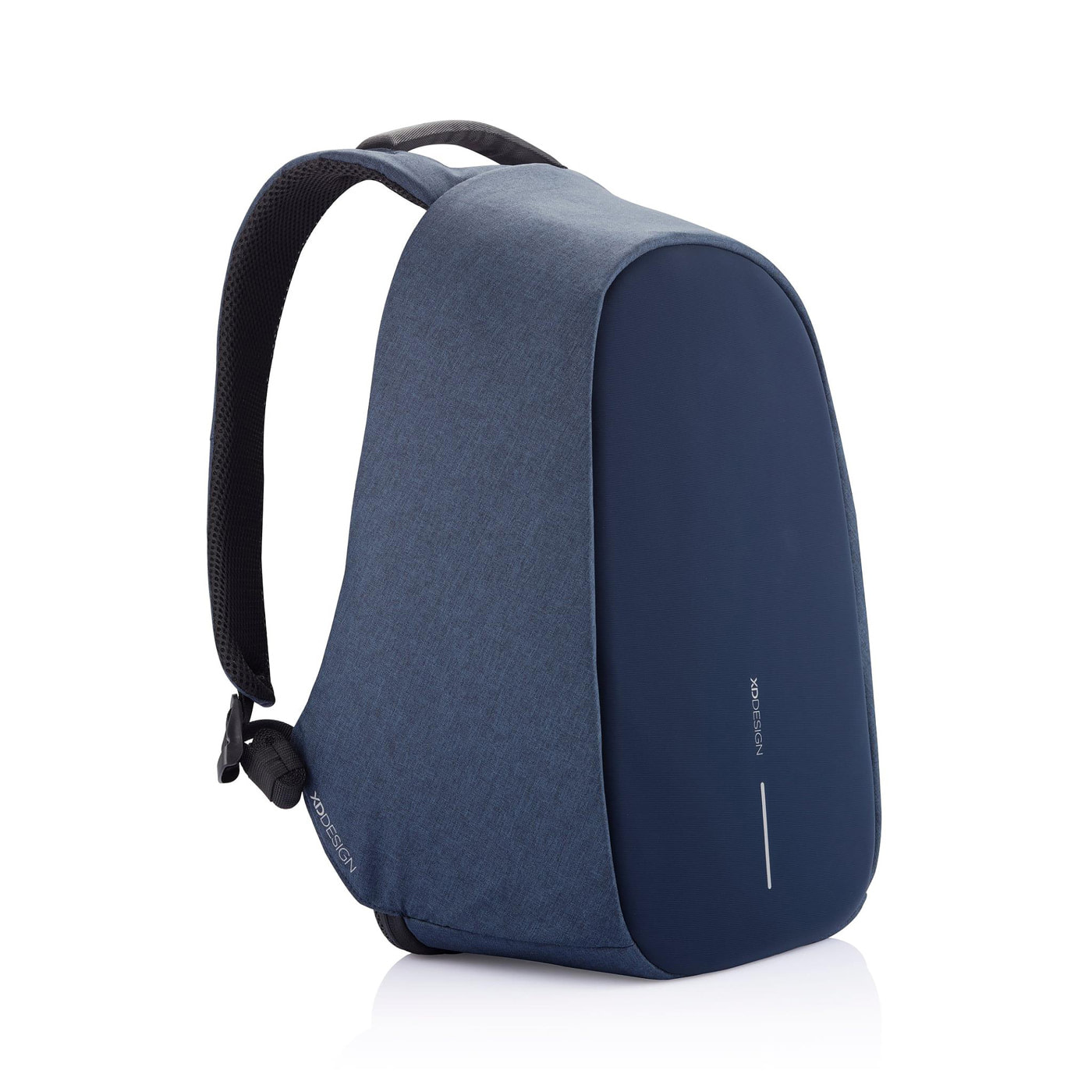 Hidden RFID-protected pockets, cut-proof outer fabric, and a lockable zipper for the main compartment make XD Design's Bobby Pro the safest anti-theft backpack on the market.
Not only that, but this sleek, sporty bag is also water-repellent, looks good, and holds a decent amount of stuff, including a laptop up to 15,6″ and a tablet up to 12,9″. It even comes with an extensible key chain and a fidlock system on the shoulder strap for bottle and phone holders. The internal dividers allow for different organizing options and the integrated USB charging port powers up your devices on the go.
If you're looking for an anti-theft backpack that's cool, lightweight, and comfortable – all without making a hole in your pocket, this is it!
Troubadour Apex Backpack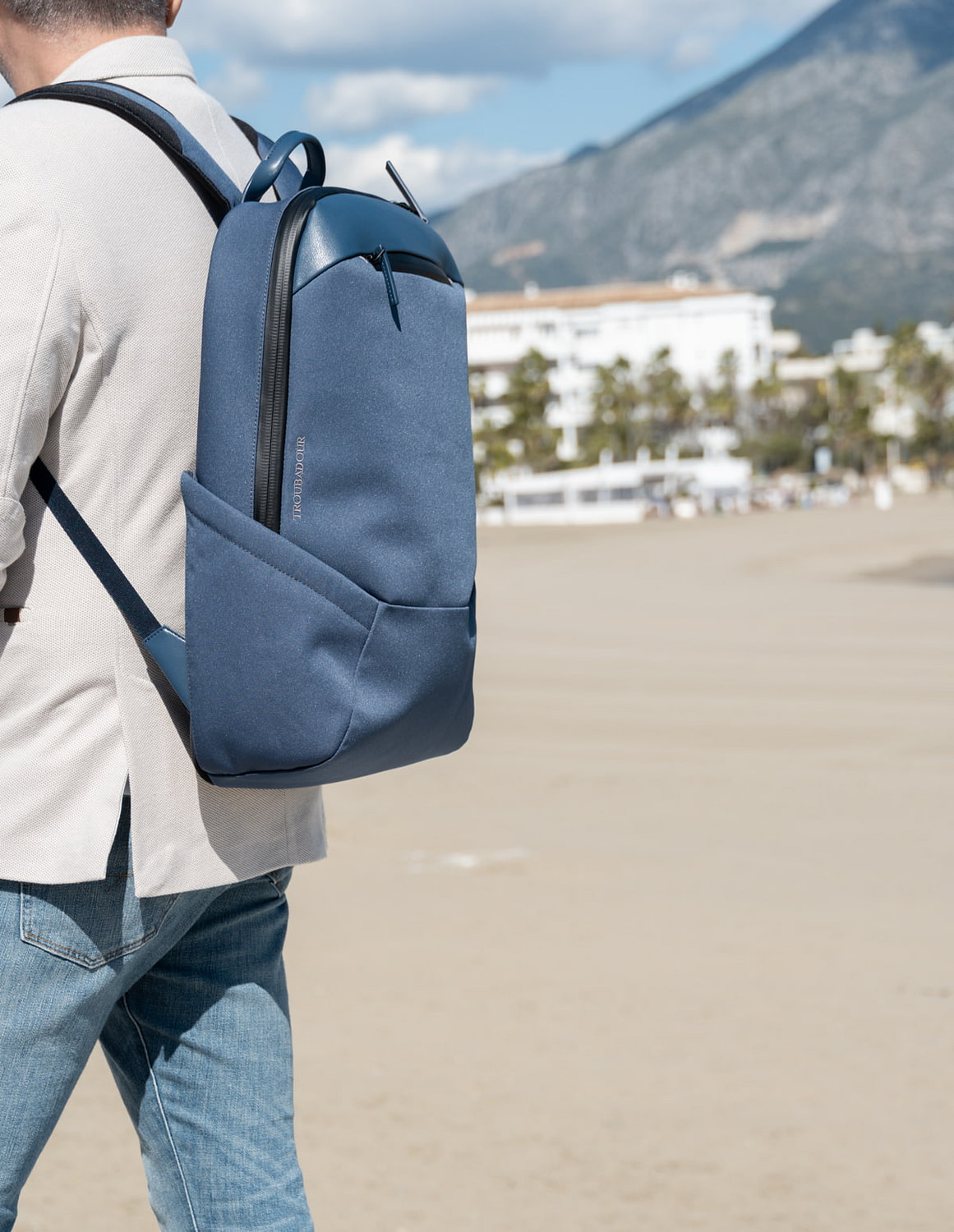 Here's proof that you can wear a backpack with a suit and still look like a total gentleman!
With a clean, lightweight design, multiple organizational pockets, and a convenient trolley sleeve for slipping onto the handle of your rolling suitcase, the Apex Backpack will seamlessly take you from work to weekend and anywhere in between.
Complete with a padded laptop section, the 25L interior can fit all your work essentials, as well as a change of clothes, while the ergonomic padded shoulder straps and breathable back panel make the bag comfortable to carry around. Sustainability-wise, it's crafted from waterproof technical fabrics made from recycled plastics and trimmed with vegetable-tanned leather.
For the perfect balance of style and function, look no further than this sleek EDC pack from Troubadour.
Topo Designs Daypack Classic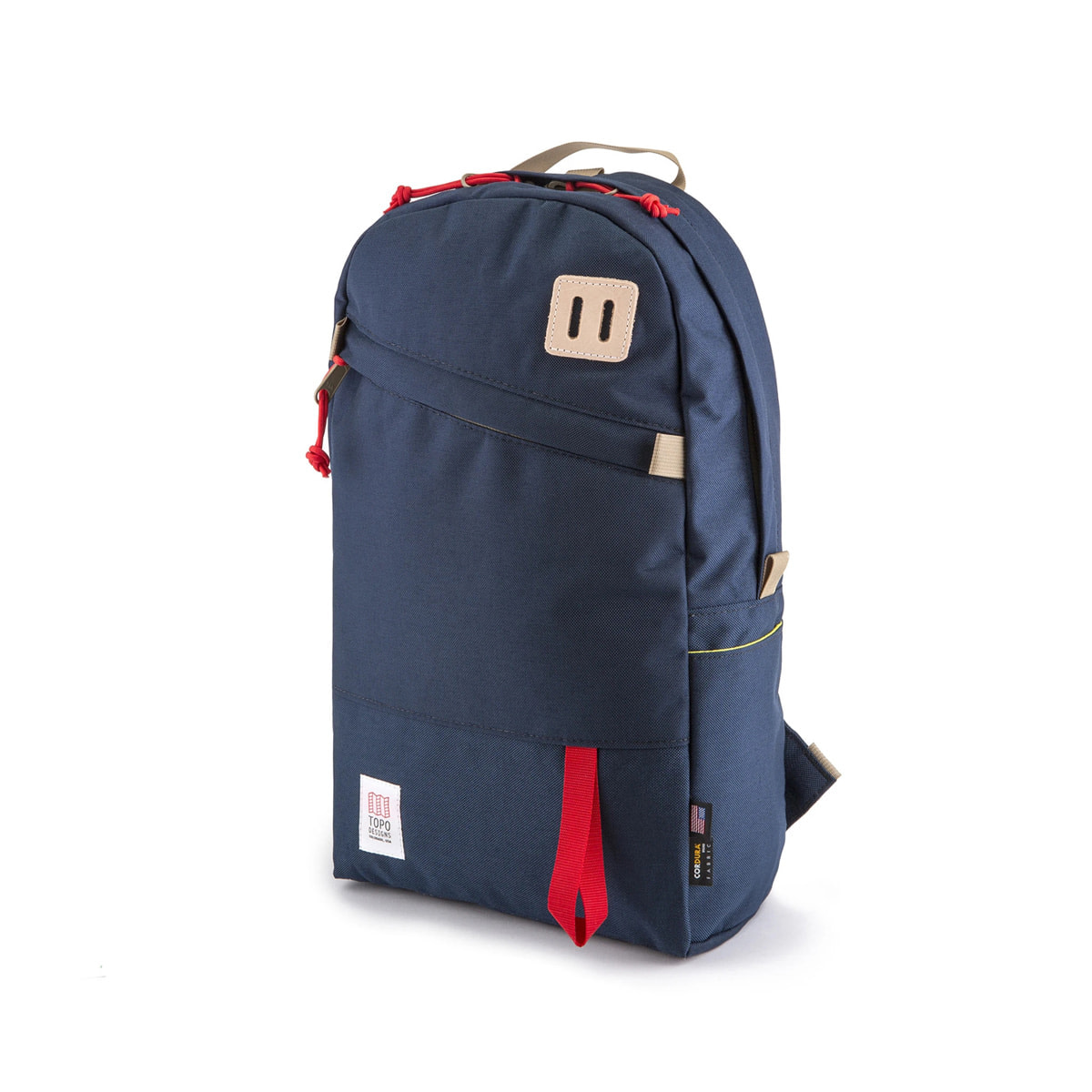 Colorado-based Topo Designs are experts in durable, handsome outdoor gear, and their Daypack Classic combines contemporary functionality with nostalgic charm into a stylish, streamlined silhouette perfect for everyday use.
Wrapped in strong 1000D Cordura fabric, with smooth, heavy-duty YKK zippers and coated packcloth lining, this versatile pack is built to last. It's also comfortable to carry (thanks to its padded back & shoulder straps) and efficiently compartmentalized into separate sections & pockets for your laptop, water bottles, and other day-to-day essentials. Whether on the trail, on your commute to work/class, or when jet-setting across the world, this classic style is sure to be a trusted companion!
Hook & Albert Black Leather Backpack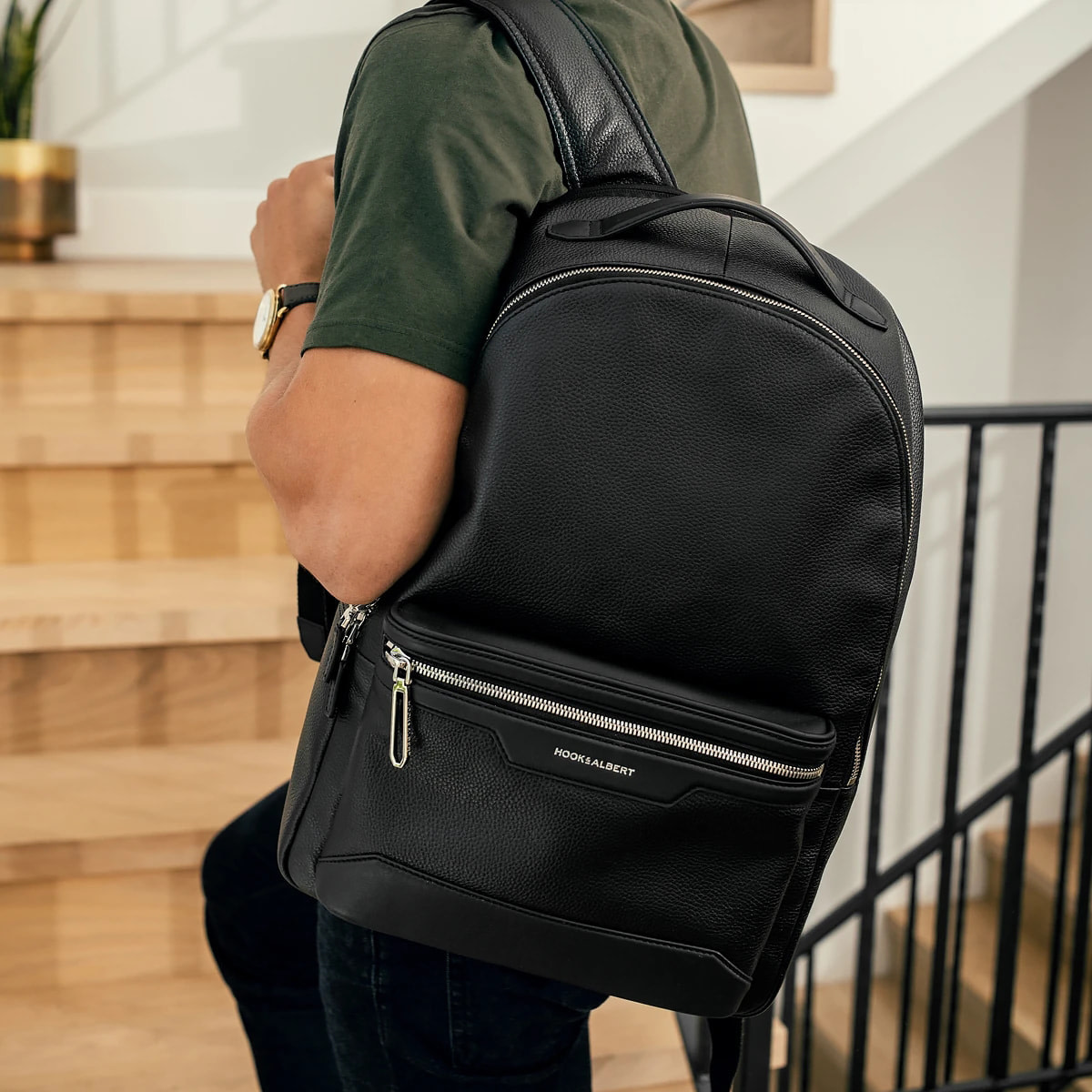 Leave it to Hook & Albert to find the perfect balance between function and style! Crafted from top-grain pebbled leather and finished with premium hardware, their Black Leather Backpack could easily replace your beloved briefcase.
In addition to its supremely stylish looks, this contemporary bag boasts a flexible interior that can expand by 35% when needed, as well as a handy front zip pocket for easy access to everyday essentials. Add in a separate padded laptop compartment and enough interior organization to keep things neat, and you've got one of the most elegant everyday carry backpacks on the market.
Wandrd All New Prvke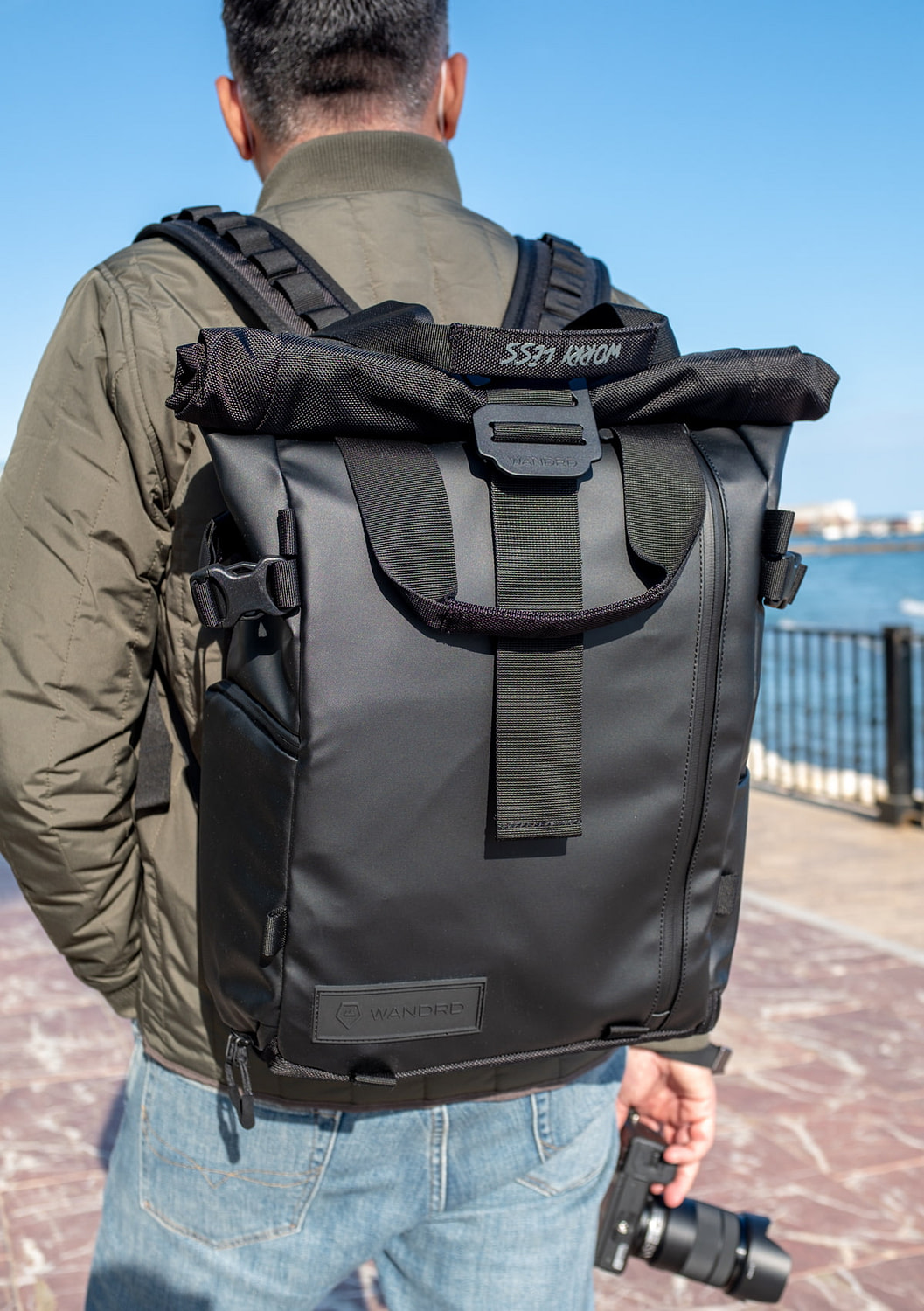 Just because it's one of the best camera backpacks out there doesn't mean it can't be used as an EDC carry. Or at least that's the case of Wandrd's All-New Prvke, a rugged, multifunctional hauler that doesn't trade sleek styling for practical features.
The combination of waterproof tarpaulin and Robic 1680D ballistic nylon means it can take a beating, while oodles of pockets and slots, including padded sleeves for a 16-inch laptop and a 12.9″ tablet, keep you organized on the go. The expandable roll-top offers an extra 5 liters of space when needed, and a handy clamshell opening facilitates both access and packing.
Further photography-friendly features include quick side camera access, SD card organization, and removable, customizable camera cubes (sold separately). Otherwise, a luggage pass-through, a wealth of intuitive external pockets, and extra padding for added comfort make this cool, innovative backpack a versatile option for travel and outdoor adventures.
Chrome Industries Barrage Night Cargo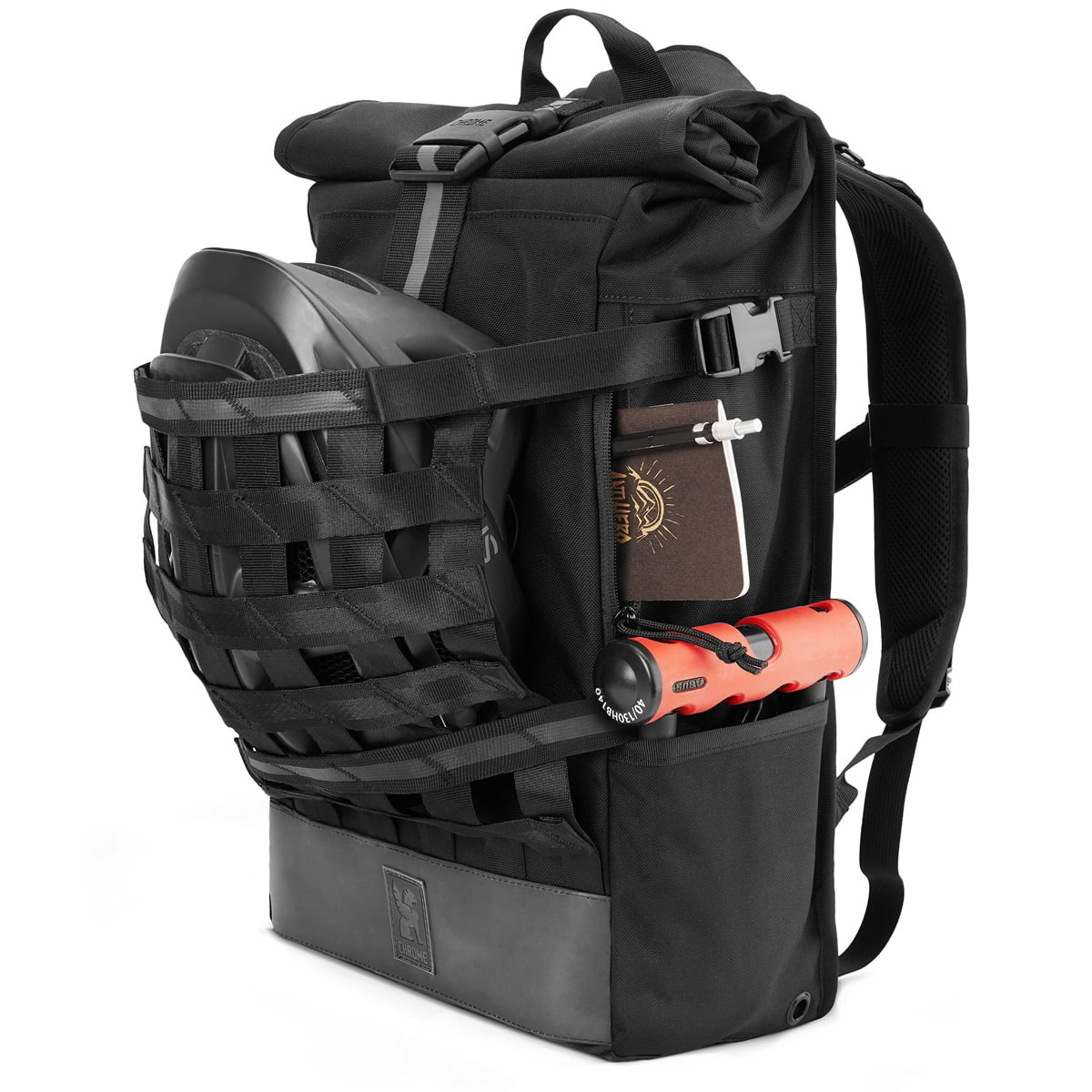 For a cycling backpack that will last a lifetime, reach for this unique, rugged model from Chrome Industries.
Made from super-tough 1050d nylon, the Barrage Night Cargo Backpack keeps contents dry in the rain thanks to its rolltop opening and waterproof inner lining. The exterior features a cargo-style net for storing your helmet, shoes, and kit, and there are also external pockets for water bottles and other easy-to-reach items. The ergonomically contoured EVA foam back panel promotes carrying comfort and breathability, a 15-inch laptop compartment adds everyday practicality, and a reflective panel provides enhanced night visibility.
Everlane The ReNew Transit Backpack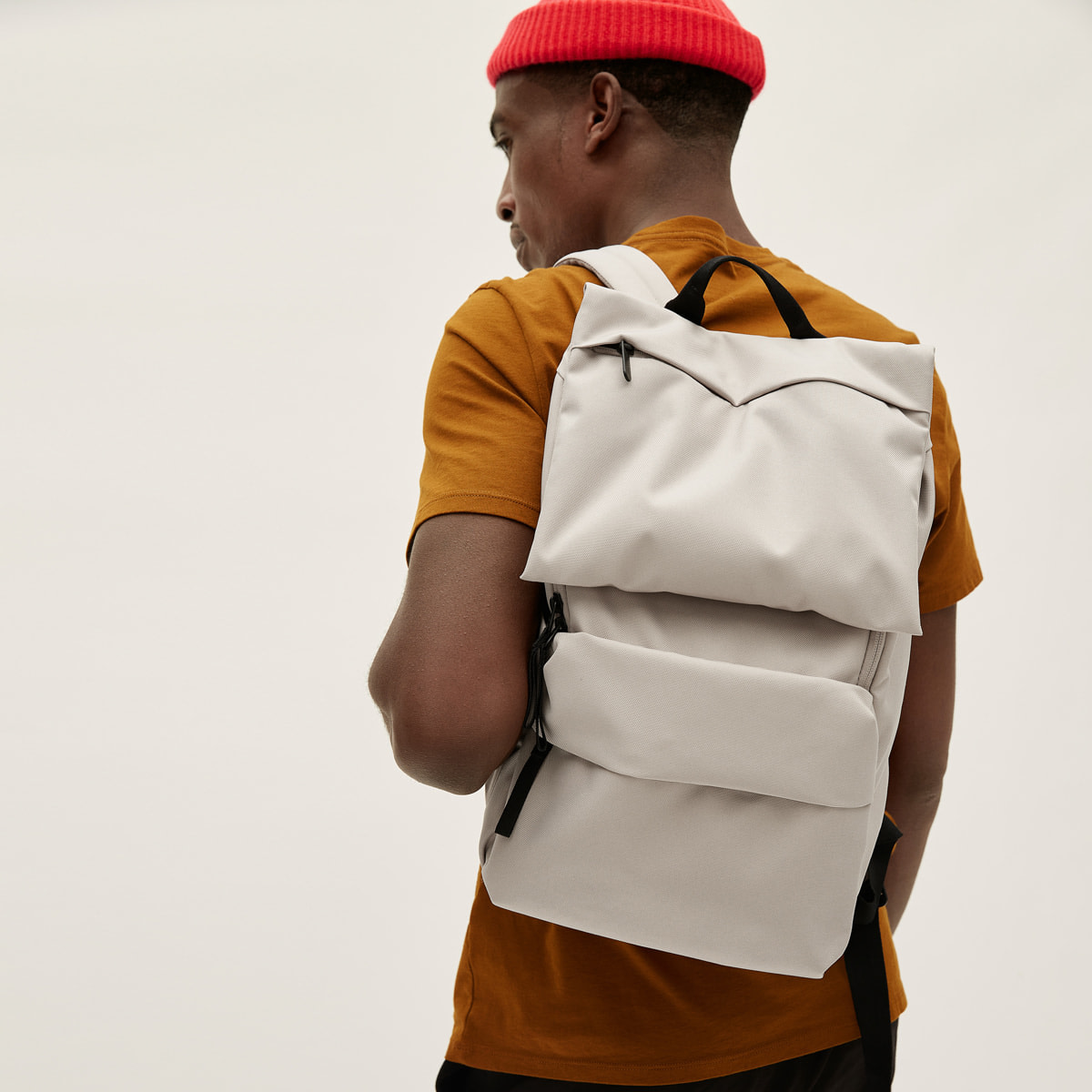 Made from recycled plastic bottles, The ReNew Transit Backpack by Everlane is not only sustainable but also functional and versatile. At 27L, it's roomy enough to hold all your in-flight or small trip essentials yet still convenient to carry around town or during your travels.
The minimal design doesn't mean it lacks valuable features, though. A luggage handle pass-through strap is there to facilitate airlane travel, and you'll also find a fair amount of pockets, including an exterior 15″ laptop compartment, two water bottle pockets, as well as inserts for documents and magazines. Oh, and the under $100 price tag doesn't hurt either!
Herschel Retreat Backpack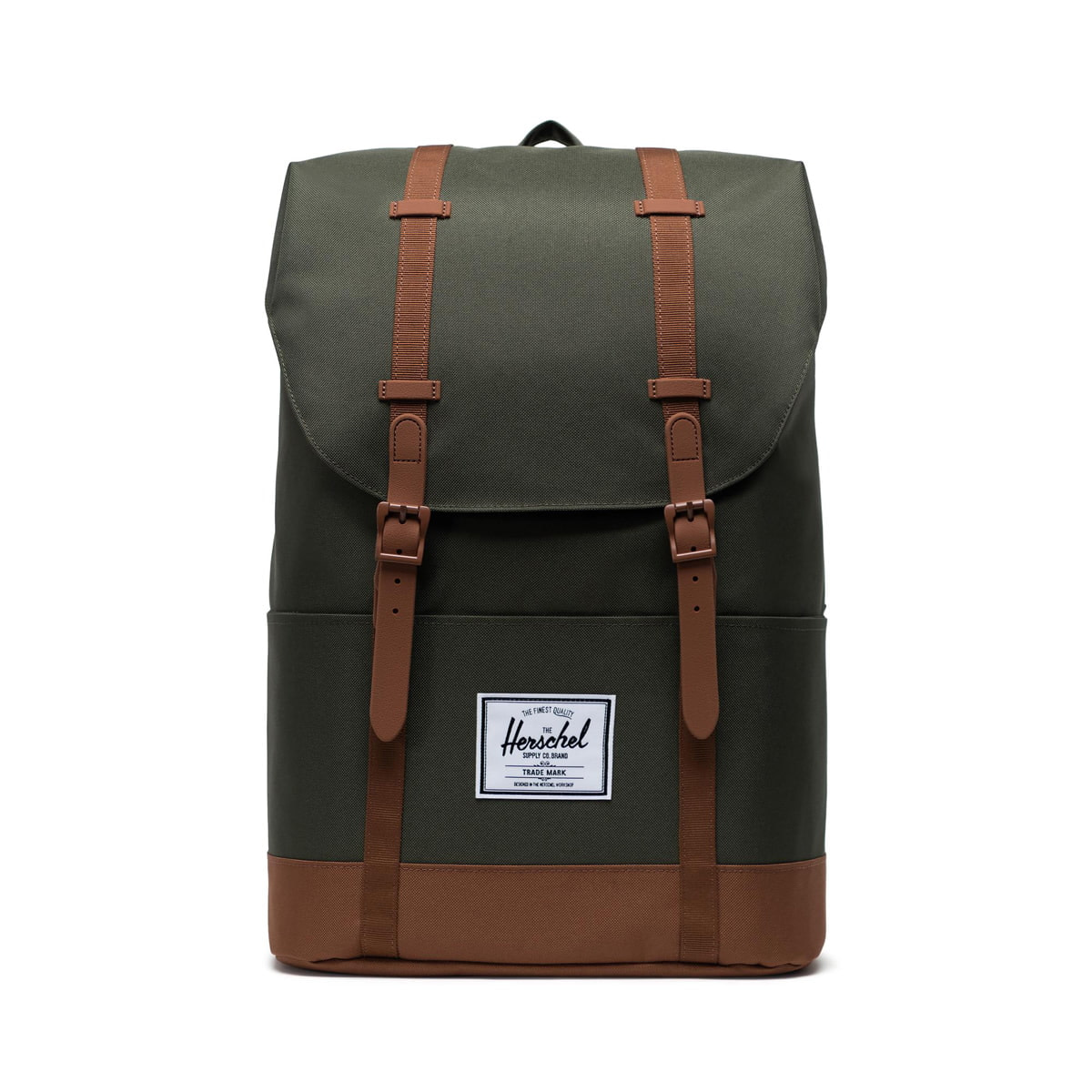 A sustainable, streamlined take on an iconic style, the Herschel Retreat Backpack is made exclusively with 100% recycled materials and offers just enough functionality to get you through the day-to-day, whether that's commuting to your job, sightseeing, or taking off on a weekend road trip.
A padded, fleece-lined laptop sleeve provides safe storage for devices up to 15 inches, and dual water bottle pockets ensure proper on-the-go hydration wherever the journey may take you. Accented with the brand's signature logo patch, this mid-volume pack exudes a chic, sporty vibe that effortlessly completes any outfit. Additional features include a magnetic strap closure and a front storage sleeve.
The Crossroads 22L Backpack by Yeti
Sporty meets utilitarian with this ultra-durable pack from Yeti. Featuring the brand's signature Tuffskin Nylon, a lightweight, abrasion-resistant, and water-repellent nylon fabric, the Crossroads 22L Backpack is tougher than most of the everyday carry items in this list, yet perfectly sized for city jaunts or hanging out on campus.
The design revolves around functionality and organization, with a roomy, wide-opening main compartment, a flip-top vault pocket, and multiple stash pockets for quick access to smaller items. Side zip entry points ensure contents are always within reach, and there's also a 360-degree padded laptop section that fits most 15-inch devices. The exterior compression straps help maintain a slim profile when carrying bulky items.
Series 2: Medium Expandable Knack Pack
An EDC backpack that can do anything? Yes, please! This one features a durable, water-resistant exterior, a pocket-laden main compartment, and an expandable travel section that provides an extra 11 L of space for clothes, shoes, and other trip essentials.
Designed to transition between your urban pursuits and your next vacay, the Series 2: Medium Expandable Knack Pack is a versatile, reliable option; it can be carried as a tote or briefcase thanks to its stowable shoulder straps and leather-trimmed top and side carry handles.
But where this bag really shines is in its internal organization. The separate, expandable packing section accommodates 2 to 3 changes of clothes, while the front compartment is cleverly laid out with pockets for everything, from pens and sunglasses to keys and business cards. Lockable zippers, stain-resistant antimicrobial fabric, and a fleece-lined tablet sleeve keep your gadgets and other necessities protected in the main compartment, and there's also a padded side computer pocket for laptops up to 15″.
Samsonite NuRoad 17.3″ Convertible Backpack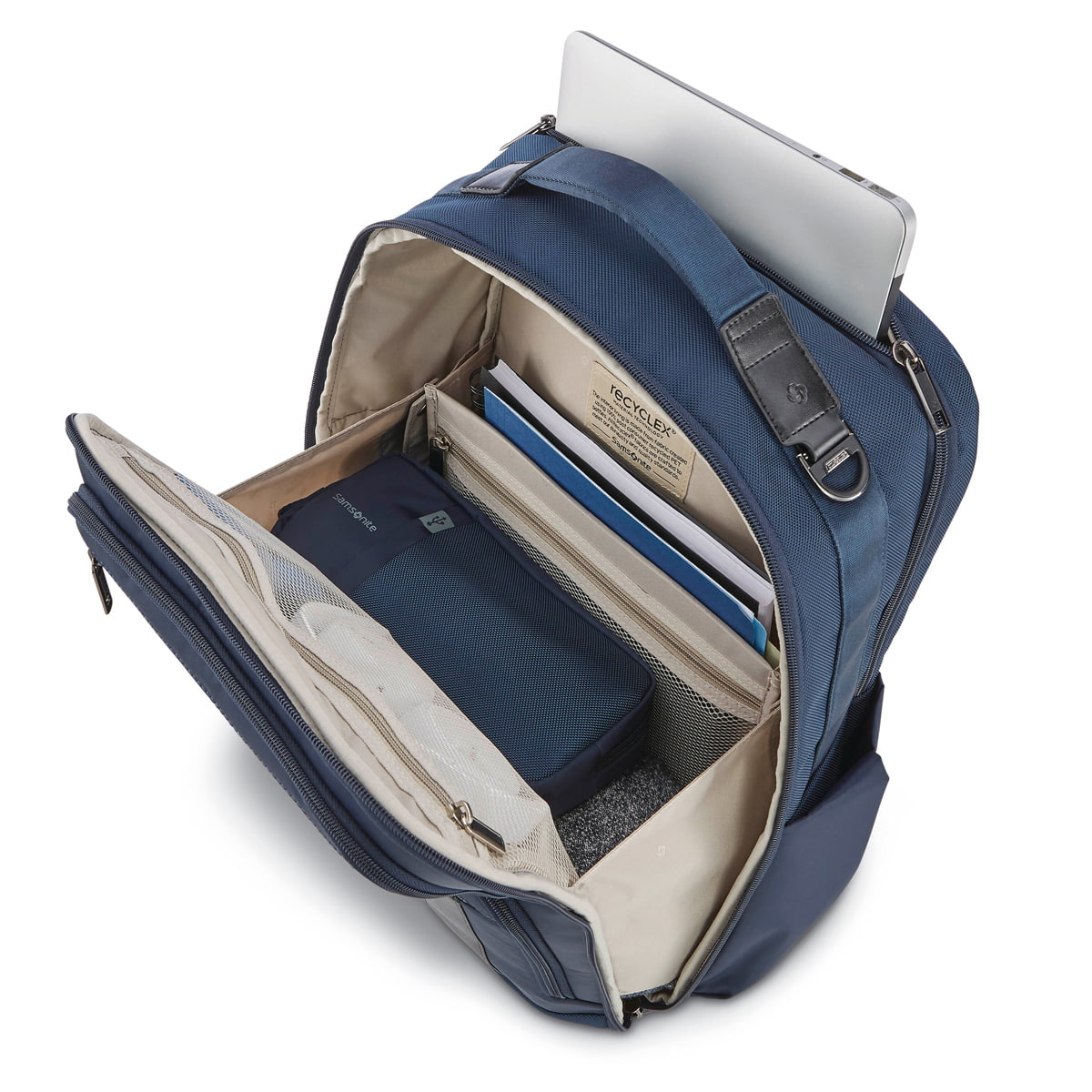 Whether you need it for short trips, city tours, school, or commuting to work, this highly functional hybrid backpack from Samsonite is a versatile must-have.
Crafted in a combination of nylon and polyester with a water-repellent coating, the NuRoad 17.3″ Convertible Backpack is durable, lightweight, and offers an array of storage features. It fits a 17″ laptop, a standard tablet, and even a weekend's worth of clothes if necessary. A luggage trolley sleeve adds ease to travel days, and a mix of cleverly designed straps and handles allows for 4 different carry options.
Rains Rolltop Rucksack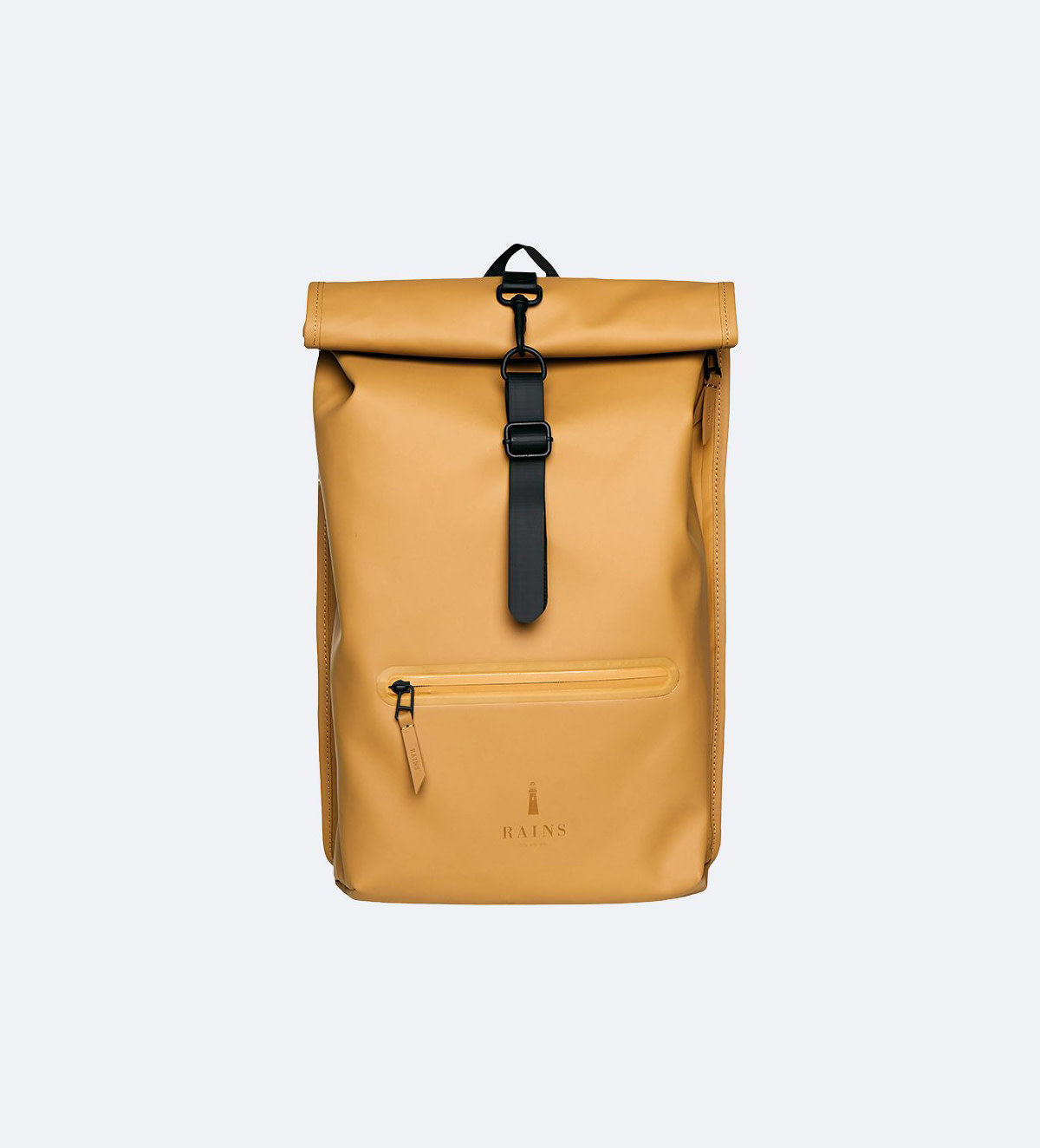 Anchored in Scandinavian minimalism and complete with a smooth matte finish, a waterproof backpack has never looked so stylish!
Modeled on classic cycling backpacks, the Rolltop Rucksack from Rains combines the brand's signature waterproof fabric and a roll-top closure for maximum weather protection. The exterior features an easy-access front pocket and a loop for a bike lock, and there's also a laptop compartment with side access for quick retrieval of your device without having to open the bag.
Moving inside, the 18L main compartment is roomy enough for the rest of your daily essentials. The adjustable shoulder straps, chest strap, and padded backside add comfort and convenience.
Aer Day Pack 2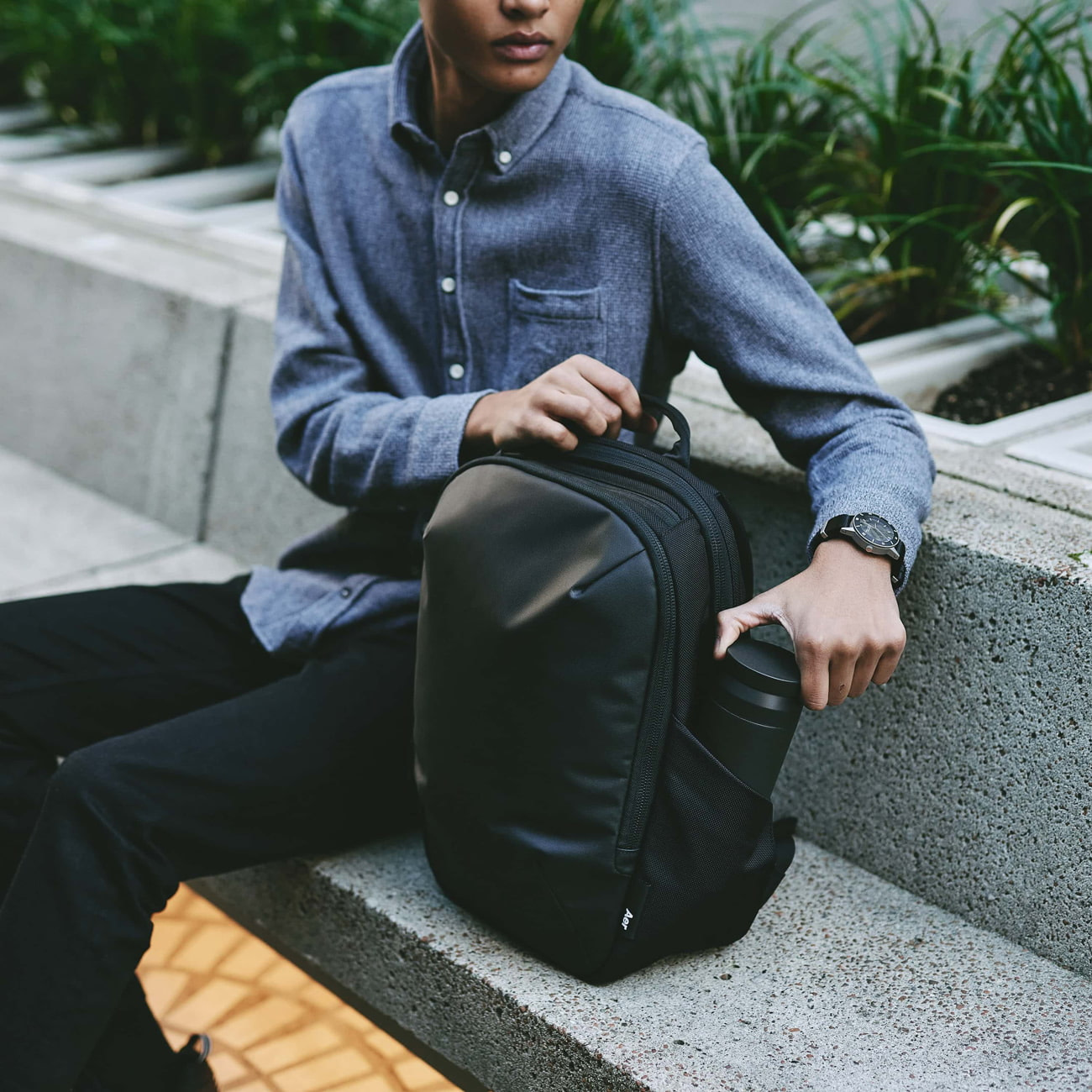 This small EDC backpack makes the most of its 15 L volume with a clever design that provides maximum interior space.
Part of the brand's new work collection, the Aer Day Pack 2 features a structured, self-standing body for easy access to contents and has room for all your 9-to-5 essentials thanks to its sublime organization. A dedicated 16″ laptop compartment and countless thoughtfully engineered pockets keep your tech organized, while an exterior, expandable sleeve allows easy access to a water bottle.
Rendered in a combination of 840D nylon and 1680D Cordura fabric with a robust, weather-resistant carbonate polyurethane coating, this bag will handle whatever you throw at it, all while remaining understatedly cool and super comfortable to wear.
The North Face Daypack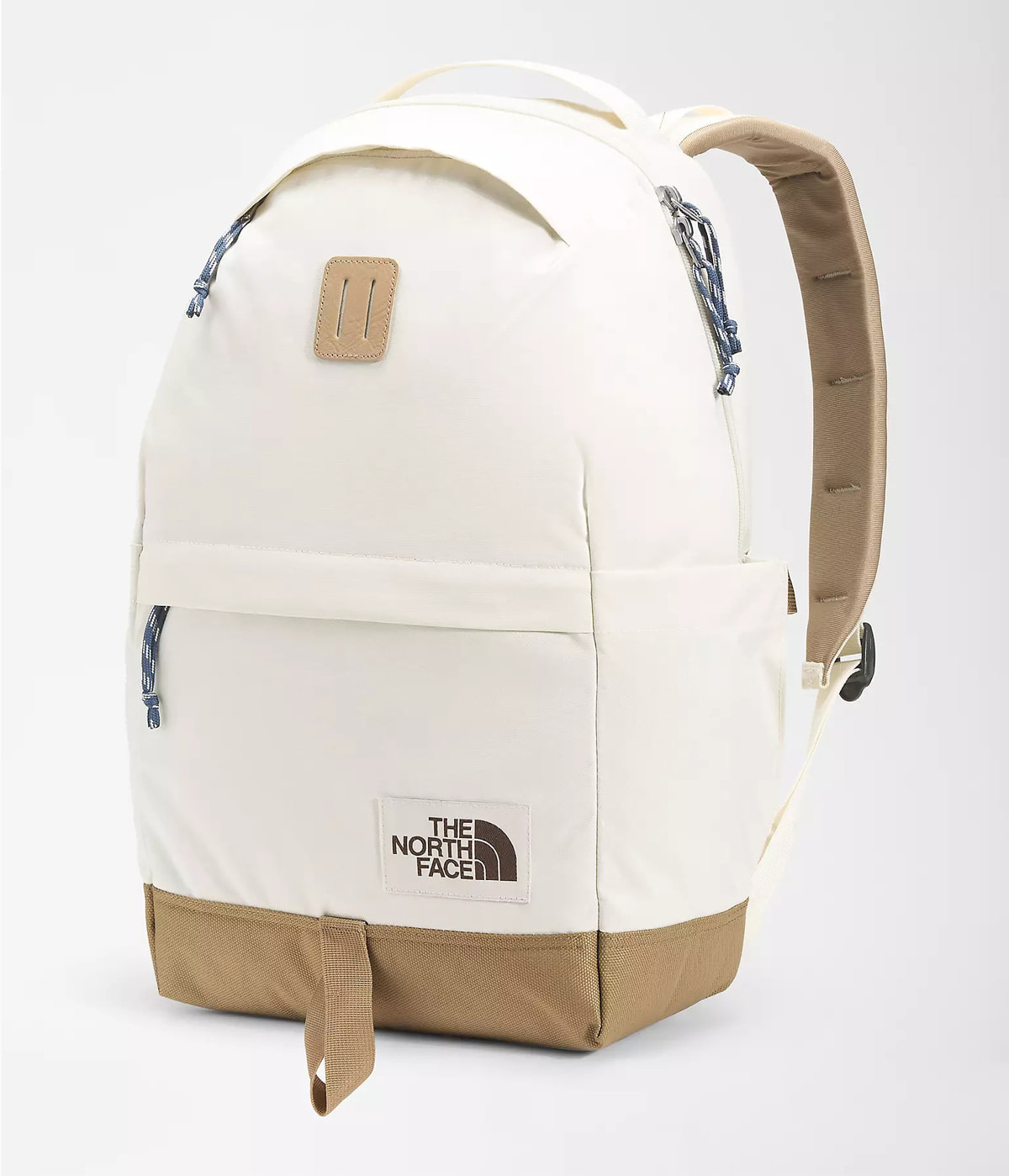 Constructed from durable recycled fabrics and complemented by a water-repellent finish, The North Face Daypack has everything you want in an everyday backpack and nothing else.
A laptop sleeve protects your device from scratches and minor impacts; a padded back panel and shoulder straps offer carrying comfort, and external secure-zip pockets keep valuables safe. Pair that with handsome heritage-inspired looks and an affordable price tag, and you've just got yourself the perfect go-anywhere, do-anything bag.
Timbuk2 Custom Division Laptop Backpack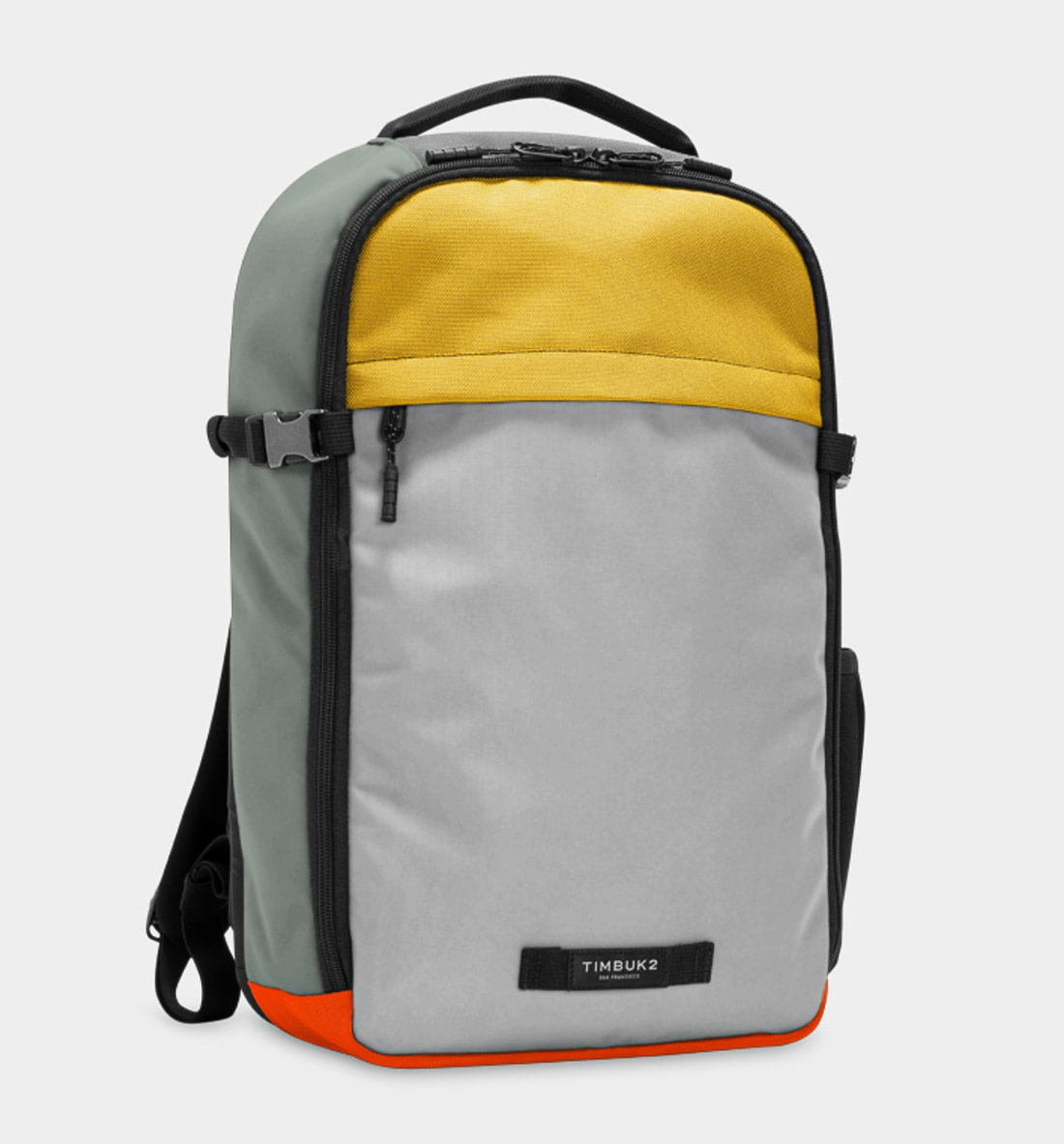 Want a backpack that you can personalize as you wish? With its clean lines and customizable design, this Timbuk2 piece might be the everyday backpack of your dreams.
But aside from letting you mix and match colors and materials to suit your style, the Custom Division Laptop Backpack is notable for its superb organization, including a rear access laptop pocket, side water bottle pouch, and even an internal organizer for pens, cables, phones, and other small items.
The durable Cordura shell enhanced with an airmesh back panel, comfy padded straps, and a luggage pass-through is proof that this work pack is not only built for the office but also for the road.
Away The Everywhere Zip Backpack
Away has proved that functionality and aesthetic aren't mutually exclusive, and The Everywhere Zip Backpack confirms it. Chic enough to take you from client meetings to evening drinks, it's fitted with a padded 15-inch laptop sleeve and a front zip pocket for quick access to small items like phone, passport, or sunglasses.
Mixing water-resistant nylon with leather detailing, this premium backpack is both sturdy and sophisticated. A breathable mesh back panel adds extra comfort, and the trolley sleeve comes in handy during air travel.