Dreamy whitewashed enclaves, quaint fishing villages jutting into the sea, and ancient hilltop settlements hemmed in by protective walls – the bewitching towns of Puglia are worth getting lost in their unforgettable mazes to experience mainland Italy at its sunniest, purest, and most laid-back.
The sun-bleached heel of Italy's boot dazzles with sparkling turquoise seas, rolling silver-green olive orchards, and captivating white towns where life still revolves around the main piazza and the seasons.
Tucked in the extreme southeastern tip of the country, this is a region of simple charms, renowned mainly for its agricultural bounty and delightfully rustic cuisine, but its glorious landscapes peppered with whimsical trulli and spectacular coastline lapped by the blue Adriatic Sea might just give Tuscany a run for its money in the near future.
From Salento's art-filled Lecce to the shimmering città bianche of Valle d'Itria, these are the most beautiful towns in Puglia:
Alberobello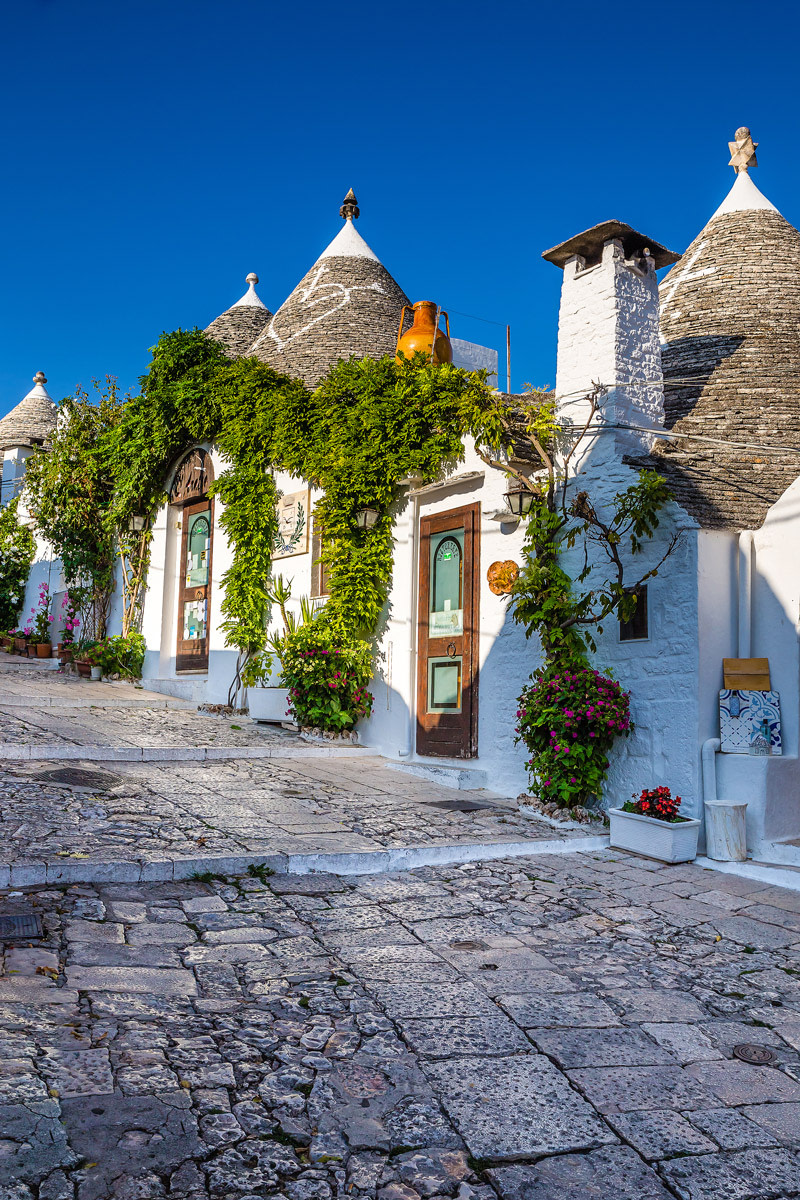 With its maze of hilly cobblestone paths lined with charming conical-roofed trulli, the white town of Alberobello in the Province of Bari seems straight out of a children's storybook. Made out of local limestone, these ancient peculiar structures protected by UNESCO house everything from bars and boutiques to churches, museums, and B&Bs, giving the town's historic center a whimsical fairytale look.
Needless to say, this typical Apulian town, with its harmonious low-rise architecture enriched by tiny piazzas and scenic countryside views, is just as picturesque outside the trullo-packed districts of Monti and Aia Piccola.
Polignano a Mare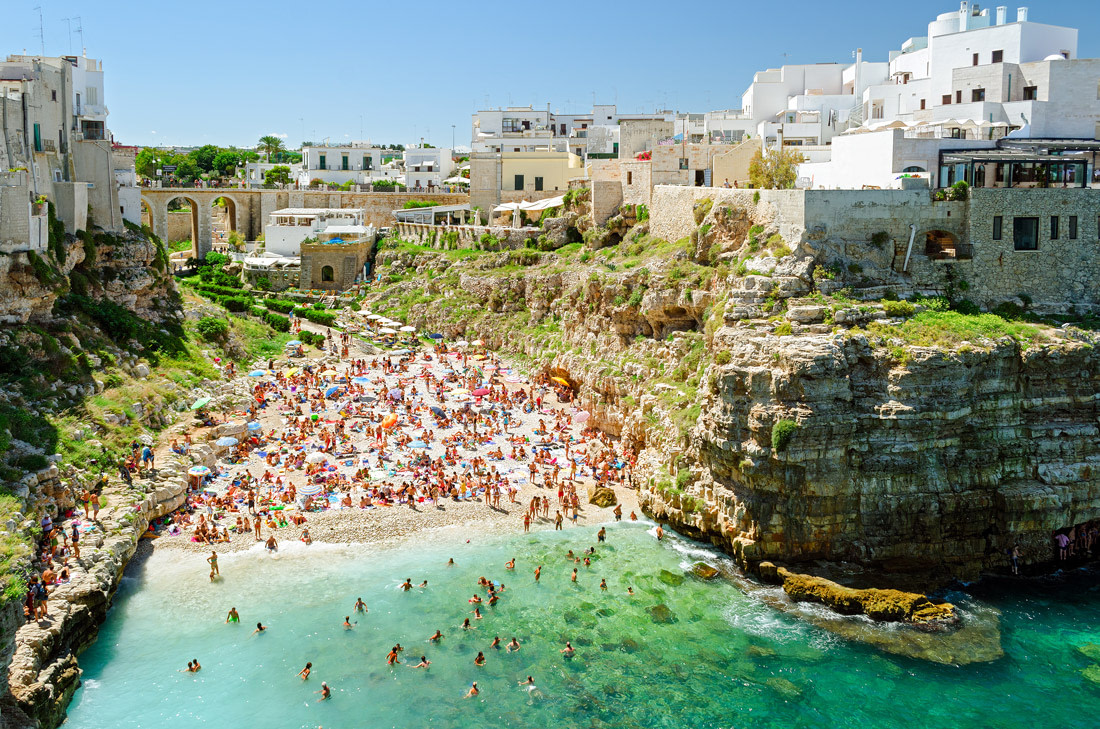 Perched dramatically on the edge of a craggy ravine on the Adriatic coast of Puglia, Polignano a Mare is prettier than a postcard. The idyllic seaside town hugs a little Blue Flag beach sheltered by two cliffs, and its centro storico – an atmospheric maze of winding streets, sun-bleached buildings, and old churches – reveals intriguing glimpses of the sparkling blue sea at every turn.
Thanks to its spectacular setting, surrounded by crystal clear waters and half-submerged sea caves, Polignano a Mare is widely famous for the Red Bull Cliff Diving World Series, which takes place here each summer.
Ostuni
One of the most attractive towns in southern Italy, Ostuni is a gleaming white jumble of houses, churches, and charming piazzas spread over a hilltop surrounded by quaint countryside and endless olive groves.
La Città Bianca, as it is locally known, is home to a spellbindingly beautiful fortified old town packed with medieval architectural treasures and dazzling views of the Adriatic coast. And while the old-world allure is what primarily draws visitors here, Ostuni is no stranger to chic hotels, hip cafés, and excellent restaurants, either.
Otranto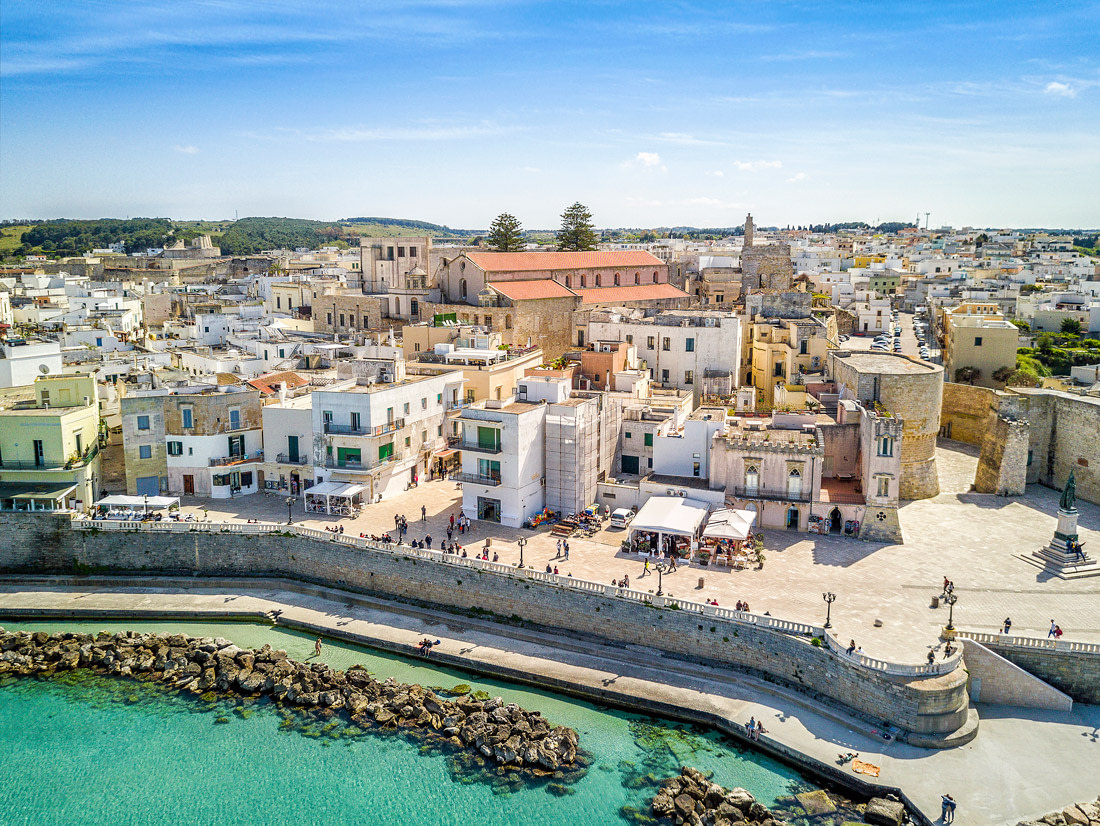 Tucked away in Italy's heel, in the province of Lecce, the picturesque seaside town of Otranto means different things to different travelers.
Art and history enthusiasts come here to admire the gorgeous 12th-century mosaic floors of its Romanesque cathedral; gourmets for the seafood restaurants lining the scenic waterfront promenades; and incurable romantics to get lost in its postcard-perfect old quarter crisscrossed by narrow travertine-paved alleyways. In the height of summer, however, everybody fights for beach space along its handsome 10 km-long coastline kissed by dazzling aquamarine waters.
Lecce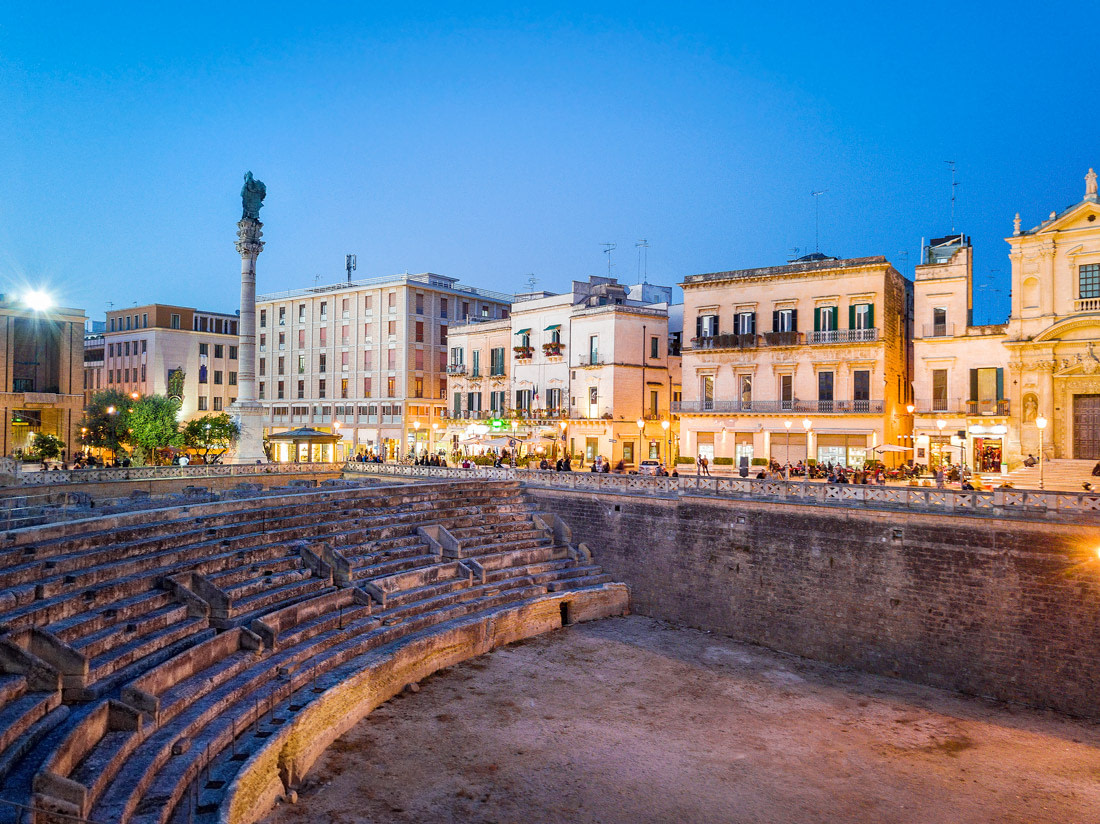 Masterpieces of Baroque architecture stand alongside charmingly crumbling balconies in Lecce, one of the most handsome cities in Italy, let alone Puglia.
At the heart of "Florence of the South", as it is often dubbed, stands a half-buried 2nd-century Roman amphitheater, and everywhere else, elaborately decorated churches and palaces built in local honey-hued stone form a splendid backdrop for the evening passeggiatta or other alfresco pursuits.
Good looks aside, this Baroque gem in Puglia's Salento peninsula is a pleasantly relaxed university town with an enjoyable nightlife scene, hip shopping, and countless restaurants serving hearty cucina povera (traditional peasants' food).
Monopoli
Though lesser known than Alberobello and Ostuni nearby, Monopoli is a delightful coastal town replete with ancient churches and winding alleys lined with whitewashed façades. Adding to the charm of its tangled medieval old town is a lovely cathedral, an old fishing port, and a series of fortified seafront walls.
A golden sandy cove with crystalline waters, it's no wonder the beach of Monopoli is one of the most popular along the Apulian coast.
Vieste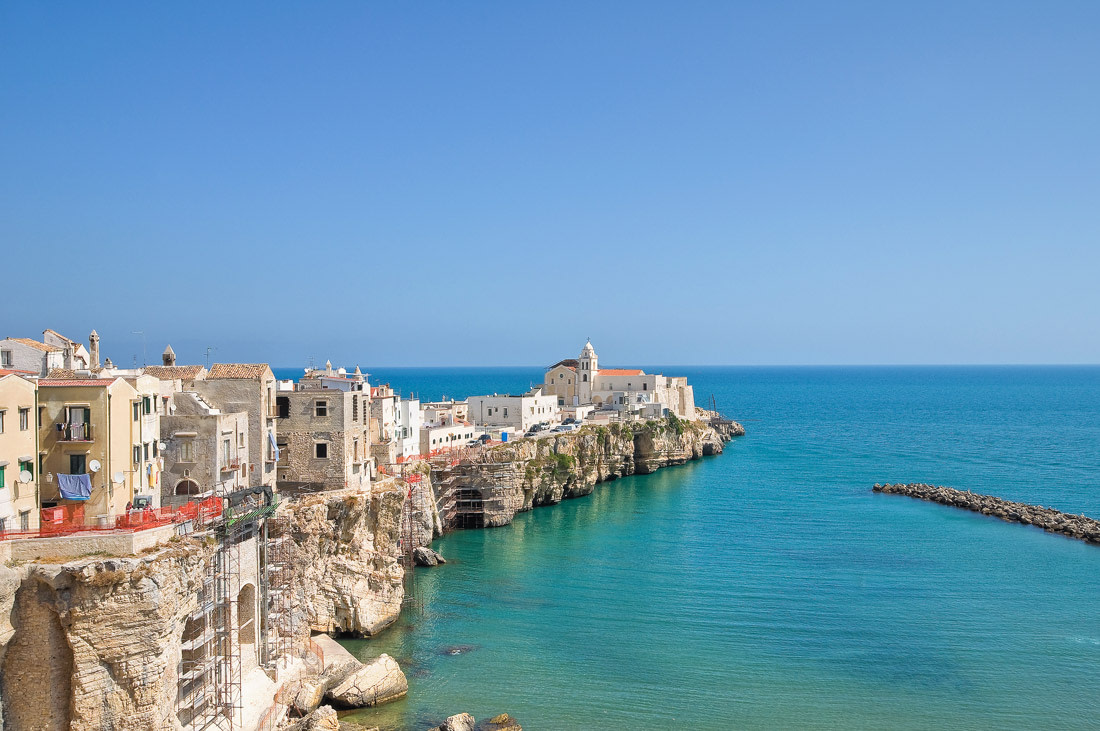 The easternmost town of the Gargano peninsula, Vieste enjoys a jaw-dropping position on a promontory that juts out into the azure waters of the Adriatic Sea. Whitewashed limestone walls encircle the town, and there's a wide sandy beach extending on each side of its iconic 25m limestone monolith, known as Pizzomunno.
Vieste's splendid coastline is lined with sea caves, grottoes, and secluded sun-drenched coves waiting to be explored. Otherwise, the resort has the same labyrinthine historic core of pretty cobblestone streets, colorful piazzette, and blanched buildings with flower-filled wrought-iron balconies.
Trani
Located about 40 km north of Bari, on the Adriatic coast of Puglia, Trani stands out for its stylish cosmopolitan feel and marvelous pink-hued cathedral by the sea. Colorful fishing boats share the space with gleaming white yachts in the well-equipped harbor, while medieval buildings and palazzi decorate the polished limestone streets of its elegant old town center.
The lovely coastal town is also home to wonderful waterfront bars, restaurants, and public gardens, as well as chic shopping boutiques and lots of lively festivals.
Locorotondo
Listed as one of I Borghi più belli d'Italia (most beautiful small Italian towns of historical interest), off-the-radar Locorotondo is mainly famous for its white, lightly sparkling wines. Still, the humble hilltop town in the heart of the Valle d'Itria is a delightful place to wander around, with its round-shaped historical center of quiet ivory streets and typical white cummerse townhouses bedecked with pots of fuchsia geraniums and intricate ironwork.
An equally enchanting sight, the countryside surrounding Locorotondo is dotted with tranquil vineyards, olive groves, and Hobbit-like trulli homes.
Martina Franca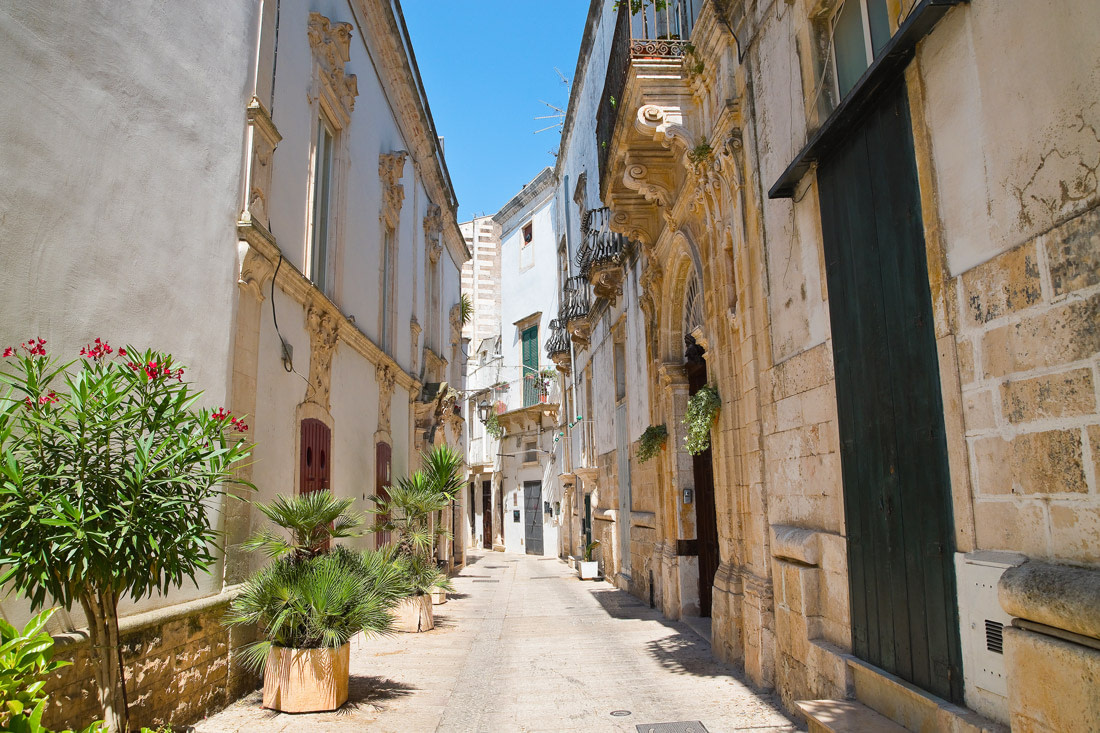 One of Puglia's most beautiful towns, Martina Franca in the province of Taranto is overflowing with elegant Baroque architecture and delightful trattorias specializing in exquisite cold cuts (capocollo).
Surrounded by defensive stone walls and eye-catching Baroque & Renaissance gates, its Instagram-worthy centro storico is an alluring mix of narrow twisting alleys and dazzling white houses interspersed with sunny open piazzas, centuries-old palazzi, and exquisitely ornate basilicas.