This post contains affiliate links, which means we may receive a small commission, at no additional cost to you, if you make a purchase through these links. See our full disclosure here.
Whether you're looking for high street chains, exquisite designer boutiques, or quirky vintage finds, shopping in Europe is a fashionista's dream come true, but also a challenge for the uninitiated.
Unless you shop like a pro or have a smart plan that will enable you to save lots of time, money, and energy, the chic outlet shopping villages that dot the outskirts of the Old Continent's most fashionable cities are your best bet for finding great high-end pieces at affordable prices.
An excellent alternative to the big, bland malls, outrageously expensive fashion houses, and crowded flea markets, these clusters of outlet designer stores, restaurants, and cafés make for the perfect destinations for your European shopping break. Plus, they offer incredible discounts, a stylish and relaxed ambiance, and unmatched facilities such as luxury coach service or personal style consultants. No wonder Europe is so damn well-dressed!
Bonus: If you want to skip the famous long queues in Europe (especially during summer or sales seasons) and shop from the comfort of your own home or hotel room, we picked some of the best online outlet shopping sites in Europe. From sporty to luxury, they offer worldwide shipping along with irresistible discounts 365 days a year:
Bicester Village, London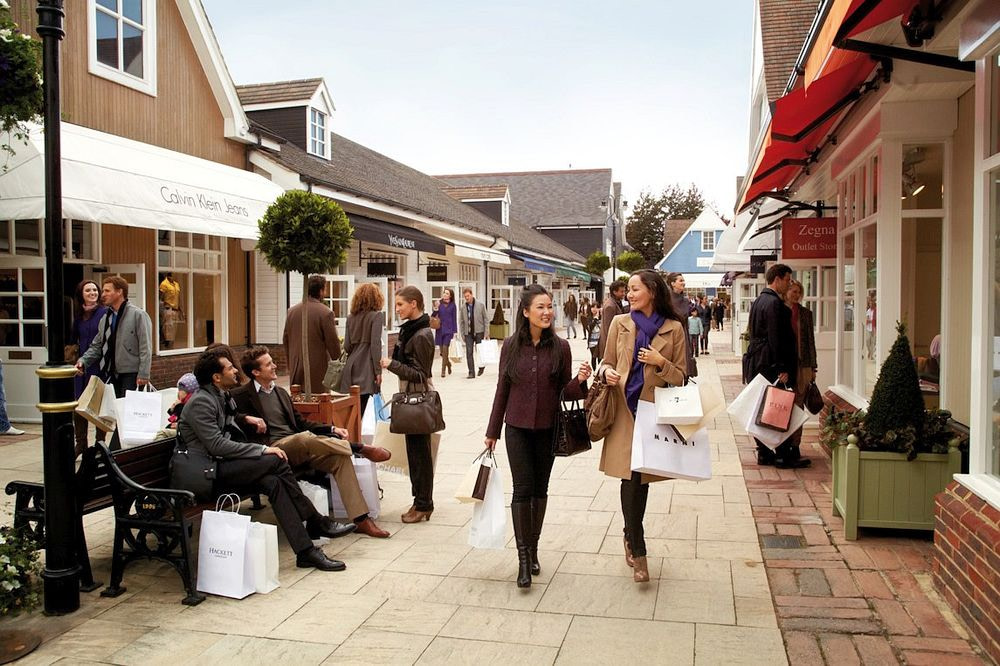 An easy day trip from London, Bicester Village combines designer outlet shopping with the laid-back atmosphere of the picturesque Oxfordshire countryside. With its unparalleled guest services, excellent collection of stylish cafés and restaurants, and more than 130 fashion and lifestyle boutiques, it's no wonder this Chic Outlet Shopping Village near Bicester is one of England's premier luxury retail destinations.
Attractions range from prestigious brands such as Burberry, Diane von Fürstenberg, and Ralph Lauren to up-and-coming British designers, all of them offering amazing discounts (up to 60 percent off).
To get there, visitors can take advantage of the facility's exclusive chauffeur service or their convenient Shopping Express, which takes shoppers daily from central London to Bicester Village.
McArthurGlen Designer Outlet Malaga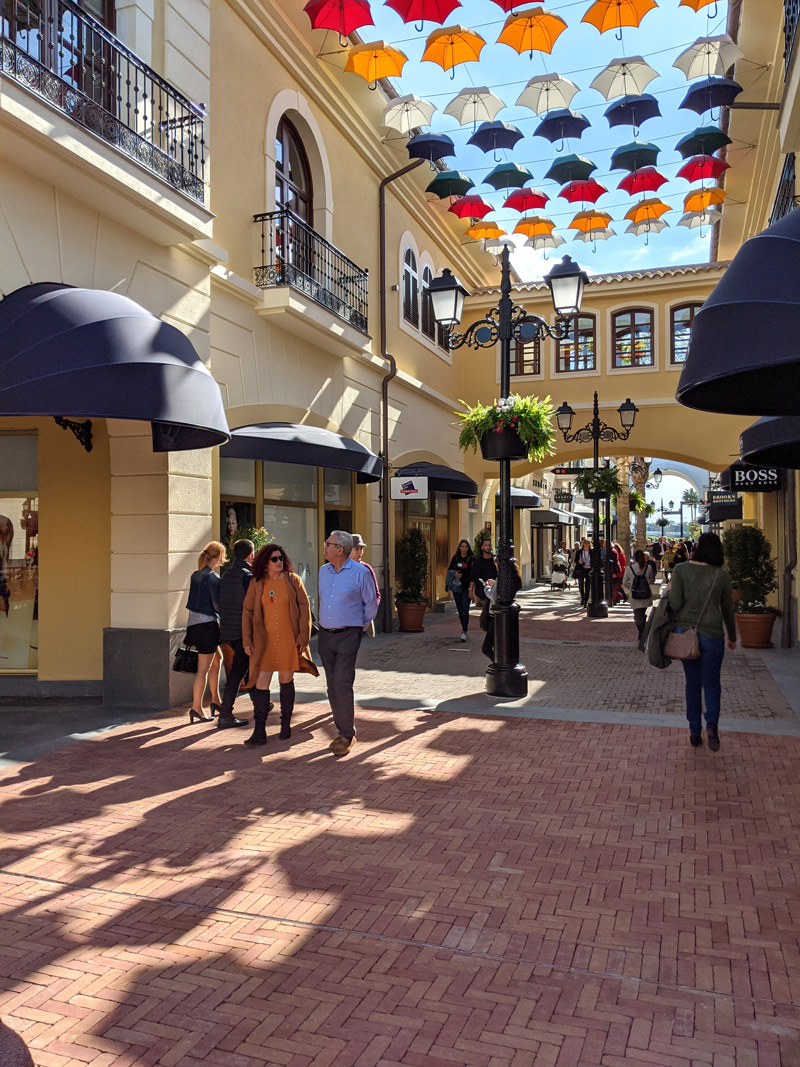 Established in February 2020, McArthurGlen Designer Outlet Malaga elevates the concept of destination shopping to new heights with its elegant architecture, carefully curated selection of brands, and delicious discounts of up to 70% throughout the year.
Sunny plazas and beautiful paved alleys lined with palm trees, flower pots, and antique street lamps make shoppers feel like wandering through a glamorous Mediterranean village. A handful of outdoor cafés serve tapas and drinks while you people watch and take in the atmosphere.
From iconic sportswear shops (Adidas, Puma) and premium denim labels (Levi's, Diesel, Pepe Jeans) to esteemed Spanish shoe retailers (Pikolinos, Camper, Callaghan) and top designer brands from around the world (Tommy Hilfinger, Karl Lagerfeld, Escada, Polo Ralph Lauren), there really is something for anyone and everyone at Malaga Designer Outlet.
Kildare Village, Dublin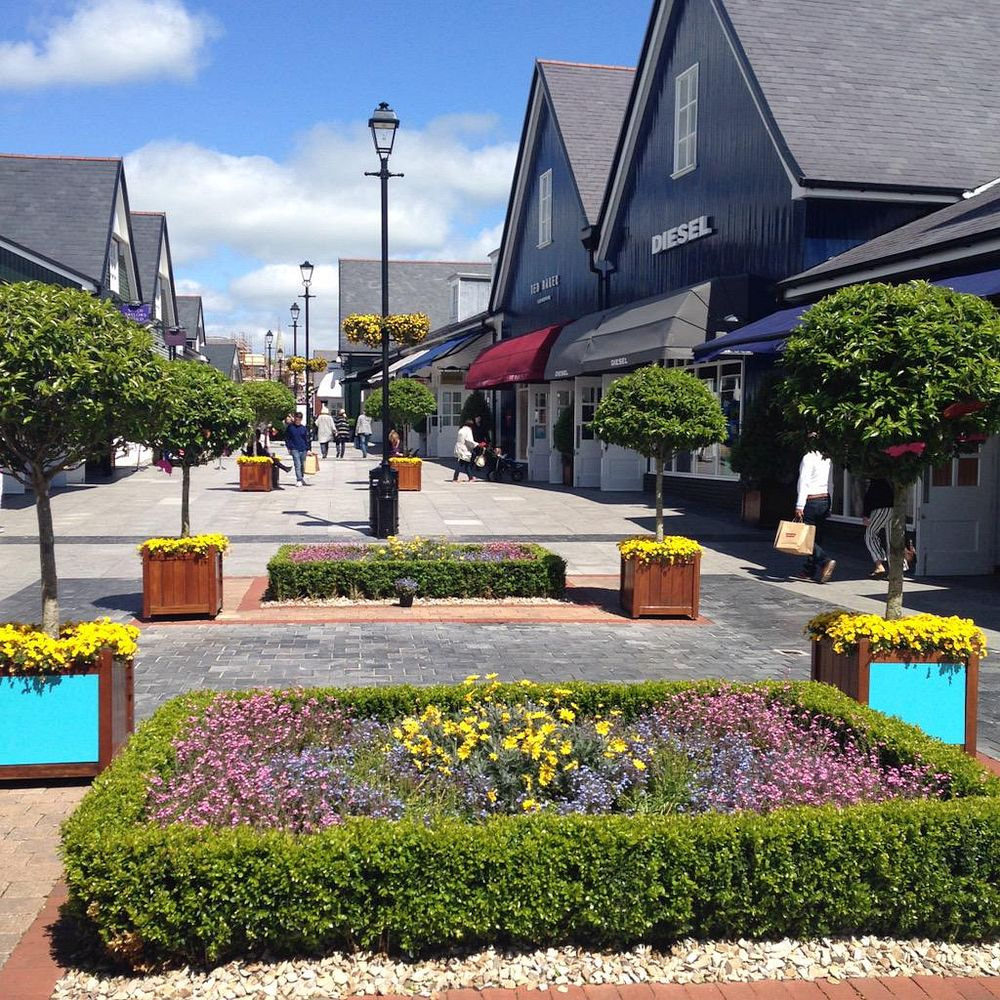 Situated about one hour's drive from Dublin, just off the M7 motorway, Kildare Village is the largest outlet shopping mall in Ireland.
Designed to resemble the region's stables and stud farms, this outdoor shopping heaven offers a unique selection of Irish and international brands along with a Starbucks café, an organic creperie, and a modish Italian restaurant.
Savings of up to 60% are available year-round, and so are services such as free parking, tax-free shopping for visitors from outside the EU, complimentary shuttle bus, and their signature Shopping Express.
La Vallée Village, Paris
Ideally located within Disneyland Paris, La Vallée Village has a distinctive rural French feel, adding to the already charming and relaxed atmosphere that characterizes all Chic Outlet Shopping Villages by Value Retail.
This pretty hamlet is brimming with upscale designer boutiques, luxury home décor stores, esteemed jewelry shops, and gourmet chocolate. Featured brands include Armani, Burberry, Celine, Valentino, Dolce & Gabbana, and much more, all offering huge discounts and deals.
La Roca Village, Barcelona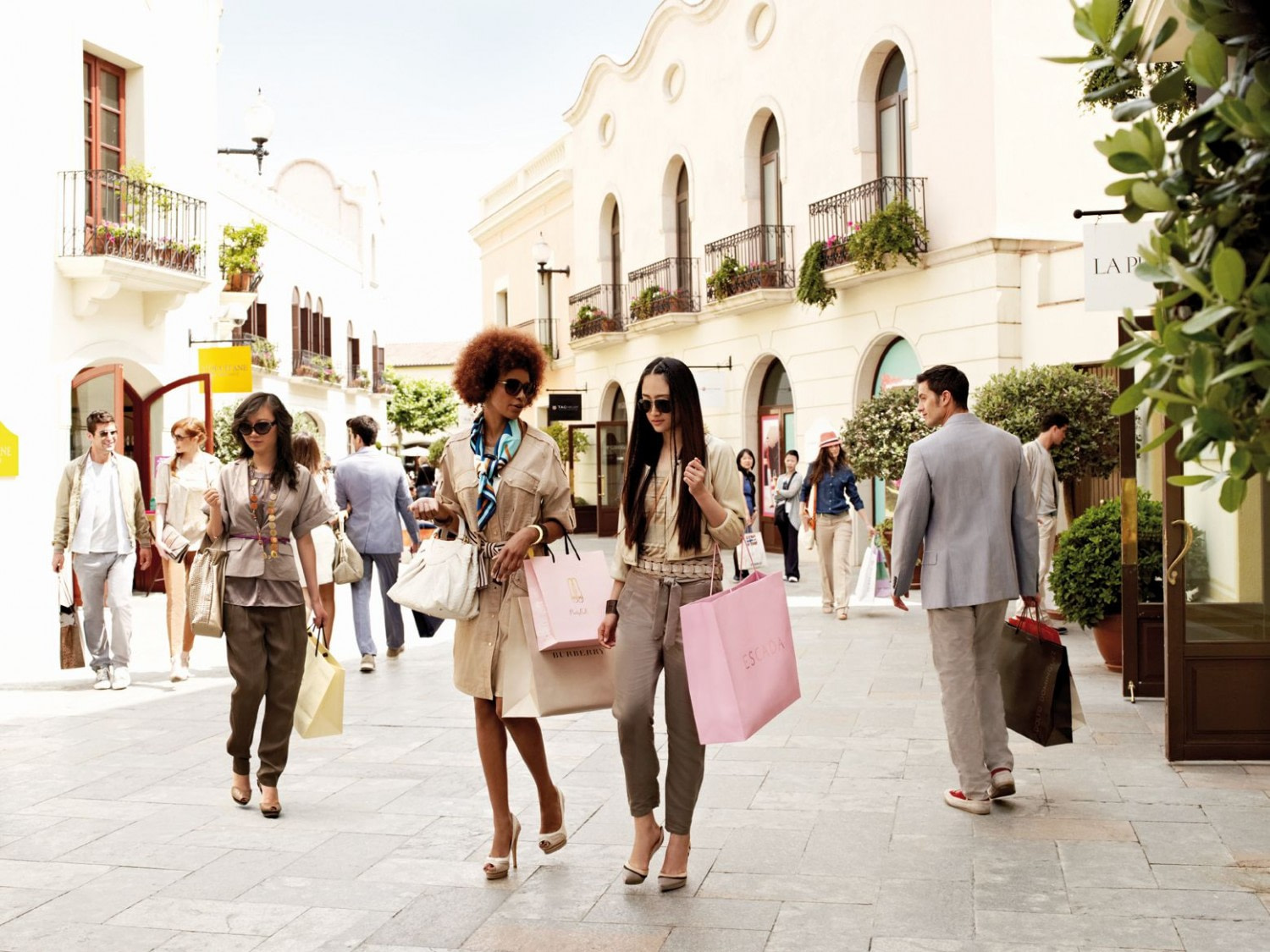 An outdoor shopping heaven only 35 km away from colorful Barcelona, La Roca Village plays host to over 100 luxury boutiques and stores selling everything from clothes and accessories to cosmetics and home essentials.
The outlet's beautiful Catalan-inspired architecture and its world-class boutiques showcasing collections from prestigious local and international designers make for a truly memorable shopping experience. Add to all these a relaxed, cosmopolitan vibe, unbeatable prices, and a handful of trendy cafés and restaurants, and what you'll get is one of the best shopping destinations in and around the City of Gaudí.
Torino Outlet Village
A sleek 50,000-square-metre retail facility on the outskirts of Turin, Torino Outlet Village boasts over 80 upscale shops, along with cafés, restaurants, and a modern kids' playground. Designed by Claudio Silvestrin Architects, the open-air center is marked by a striking 111-meter-high obelisk and laid out on two pedestrian streets lined with trees and designer boutiques offering top Italian and international brands. You will find everything from fashion and beauty to household goods, all at discounts of up to 70 percent.
The Village is open every day from 10 AM to 9 PM and provides top-notch services like valet parking, personal shopper, chauffeur, and business lounge. There is also a daily shuttle bus service from the city center.
Wertheim Village, Frankfurt
Nestled in the quaint wine-growing region of Tauber Valley, at the junction of Germany's Castle Route and the Romantic Road, Wertheim Village is an outdoor Franconian-style shopping center with handsome half-timbered buildings that house over 110 designer outlet boutiques. Needless to say, you'll enjoy significant discounts on everything, from fashion to beauty to homeware.
Ingolstadt Village, Munich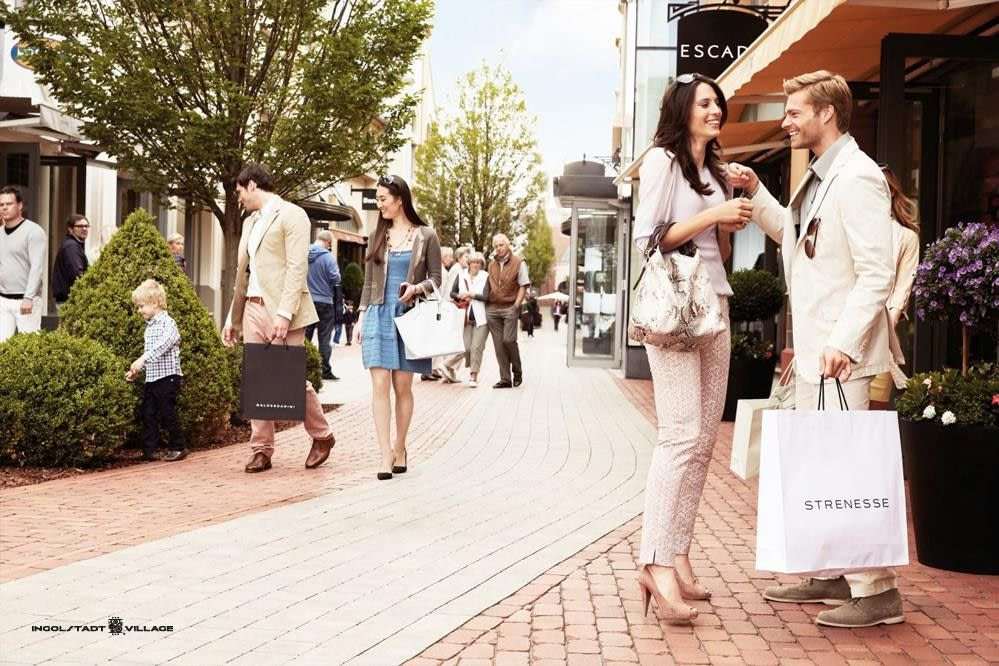 Perfectly positioned in the heart of Bavaria, between Munich and Nuremberg, Ingolstadt Village attracts shoppers from far and wide with its distinctive 19th-century industrial architecture and curated portfolio of high-end fashion brands at discounted prices.
This classy outlet shopping mall has around 130 boutiques selling everything, from Versace, Roberto Cavalli, and Tom Tailor to jewelry, watches, and stylish home accessories. Eating options range from authentic Thai cuisine to hearty Bavarian fare to delectable Lindt chocolate specialties.
Valdichiana Outlet Village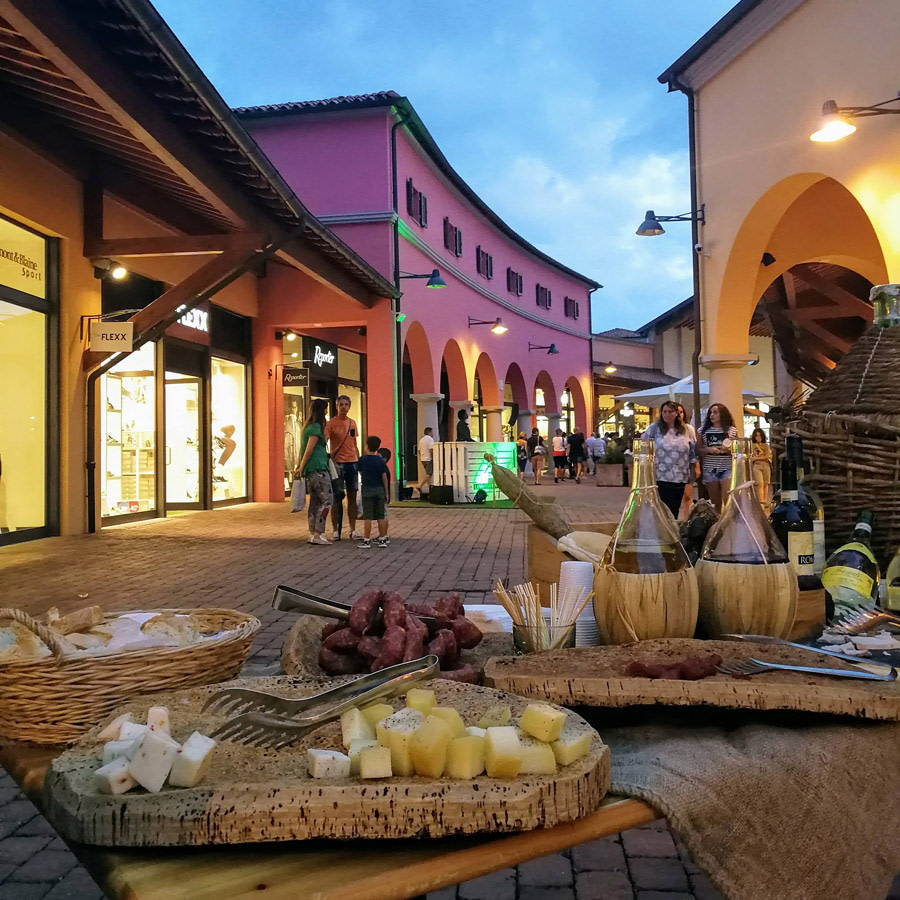 Pretty piazzas, typical porticoes, and warm terracotta-hued buildings create a captivating backdrop for shopping sprees at Tuscany's Valdichiana Outlet Village. Inspired by the local architecture, this classy alfresco mall is teeming with designer shops offering year-round savings on world-famous fashion and homeware brands. Food and drink options range from cafés and gelaterie to restaurants serving delectable Italian classics, while facilities include free Wi-Fi, playgrounds, and a beauty center.
The establishment is mainly a showcase of prestigious Italian labels (think Bata, Bassetti, or Sartoria Rossi), but there are also plenty of renowned international brands – such as Guess, Nike, U.S. Polo Assn., Timberland, or Tommy Hilfiger – to fulfill every customer's taste and needs.
Valdichiana Outlet Village is tucked away in the small Tuscan town of Foiano della Chiana, in the province of Arezzo, and is open daily (10 AM – 8 PM) from June through September.
Maasmechelen Village, Brussels, Antwerp, Cologne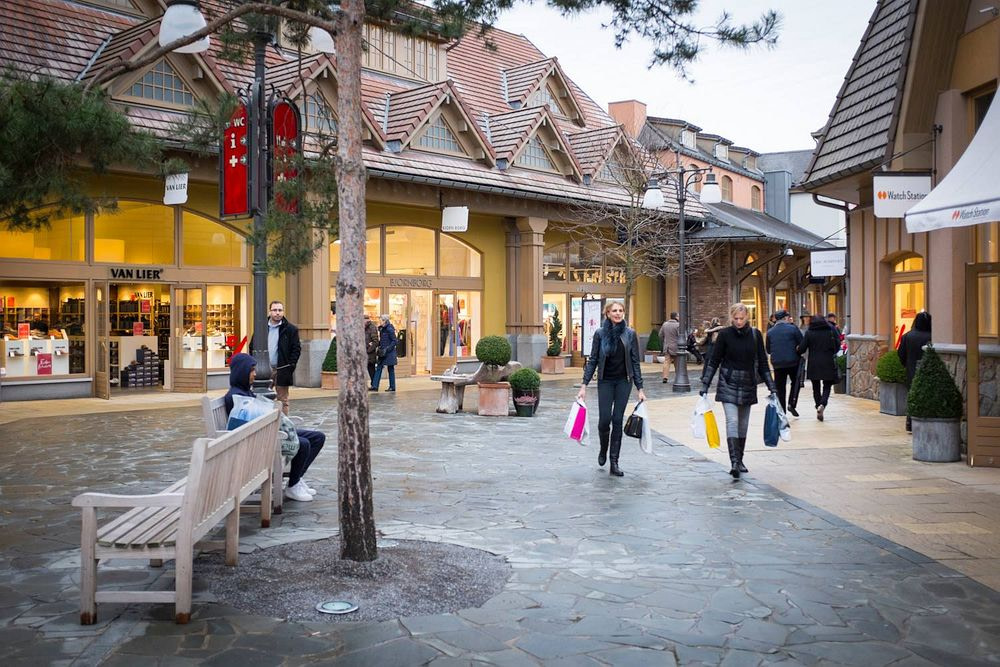 Strategically located at the intersection of Belgium, Germany, and The Netherlands, Maasmechelen Village is equally easily accessible from Brussels, Antwerp, Düsseldorf, Cologne, and Maastricht. Moreover, the high-end designer discount outlet is home to more than 100 luxurious boutiques offering top local and international brands at bargain prices all year round.
Retail items on offer range from upmarket designer clothing to top-of-the-line home décor (Ralph Lauren Home), state-of-the-art electronics (Bang & Olufsen), and luxury Belgian chocolate (Neuhaus, Leonidas).
Maasmechelen Village is a short drive from Liège (Belgium) and Maastricht (The Netherlands). Additionally, the Shopping Express coach provides transportation from downtown Brussels every day.
Fidenza Village, Milan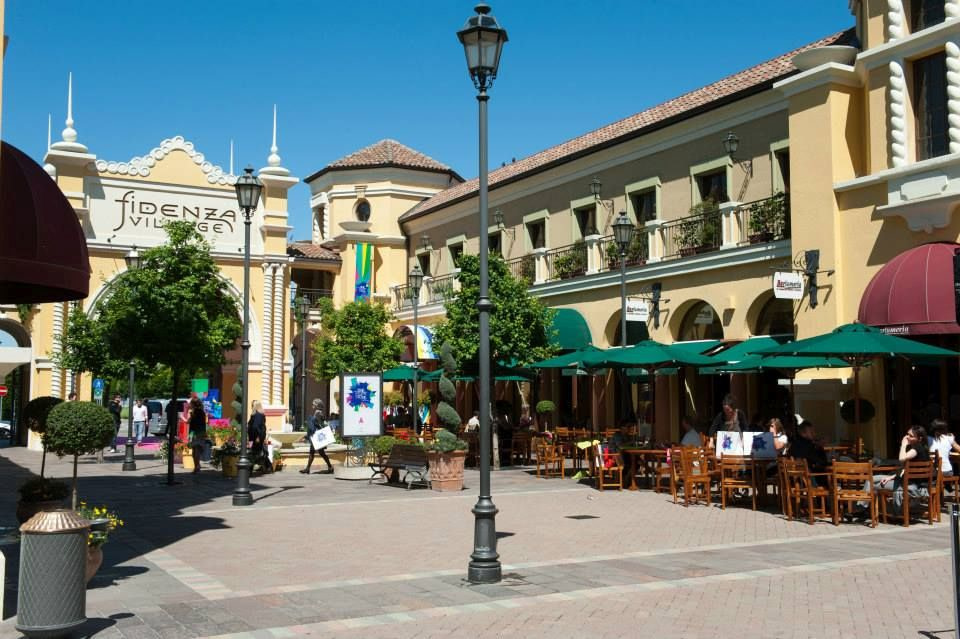 Though following the same European village-style layout of all Chic Outlet Shopping Villages, Fidenza Village in Emilia Romagna is quintessentially Italian, standing out for its inspiring architecture that pays tribute to the region's rich artistic and musical heritage.
The delightful outdoor shopping mall is a cluster of quaint piazzas, Verdi theatrical stage sets, and elegant pedestrian lanes lined with the best fashion labels and promising young designers. As expected, the food and drink are decidedly Italian, and the experience is enhanced by luxury travel services such as chauffeur transport or bespoke shopping packages that include food tastings, spa pampering, and admission to various museums.
Fidenza Village is within a one-hour drive of both Milan and Bologna.
Las Rozas Village, Madrid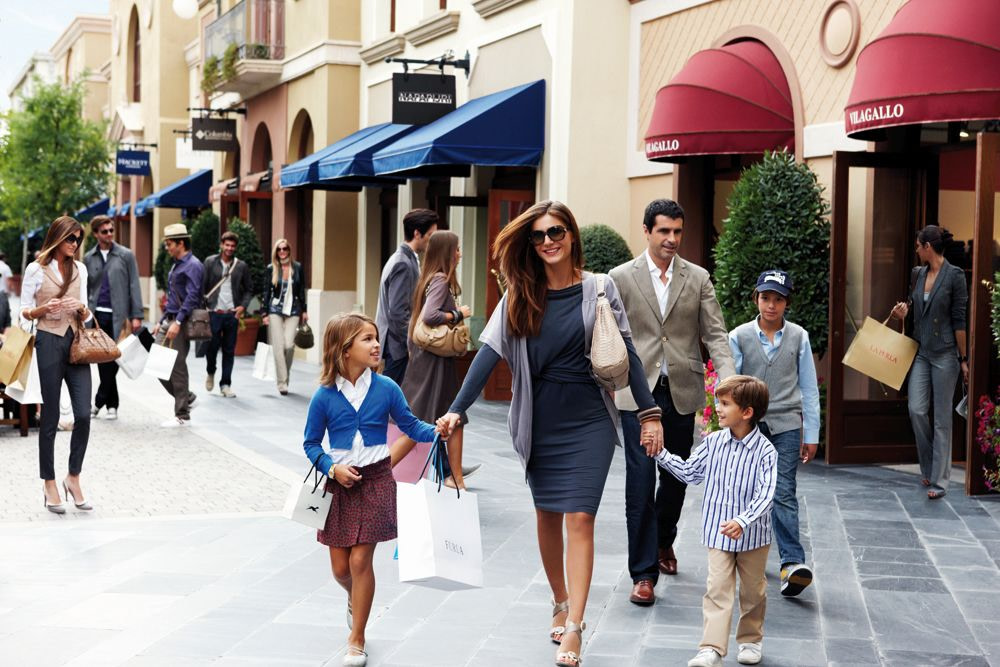 Designed for the smart, discerning shopper, Las Rozas Village near Madrid boasts a tremendous selection of stores and designer outlet boutiques with savings of up to 60% off the recommended retail price.
Its architectural style is a mix of various Spanish and international building traditions, with lots of Neoclassical features, charming plazas, and elegant pedestrian boulevards lined with fashionable cafés, gourmet restaurants, and high-end shops.
All in all, this is the perfect place to indulge in a day of retail therapy while out and about in Spain's vibrant capital.