What Mother Nature has done with Santorini is both unforgiving cruelty and a work of art. Born out of the largest volcanic eruption in human history, the Cycladic island is a postcard come to life. Its lunar landscapes and bluer-than-blue waters look as if they came straight out of heaven, and the views seem almost mythical.
Then there's the architecture, an amazing feat of human ingenuity and craftsmanship. Every twist and turn here is a photo shoot opportunity, whether it's a cascade of pastel-hued houses bathed in the glow of sunset, the ubiquitous dreamy cobblestone courtyard draped in bougainvillea, a sleepy alleyway lined with cubic sun-bleached homes carved into the rock face, or a crisp, blue-domed church perched above the cobalt Aegean Sea.
Here's a look at Santorini's most beautiful villages, in all their whitewashed Cycladic glory:
Oia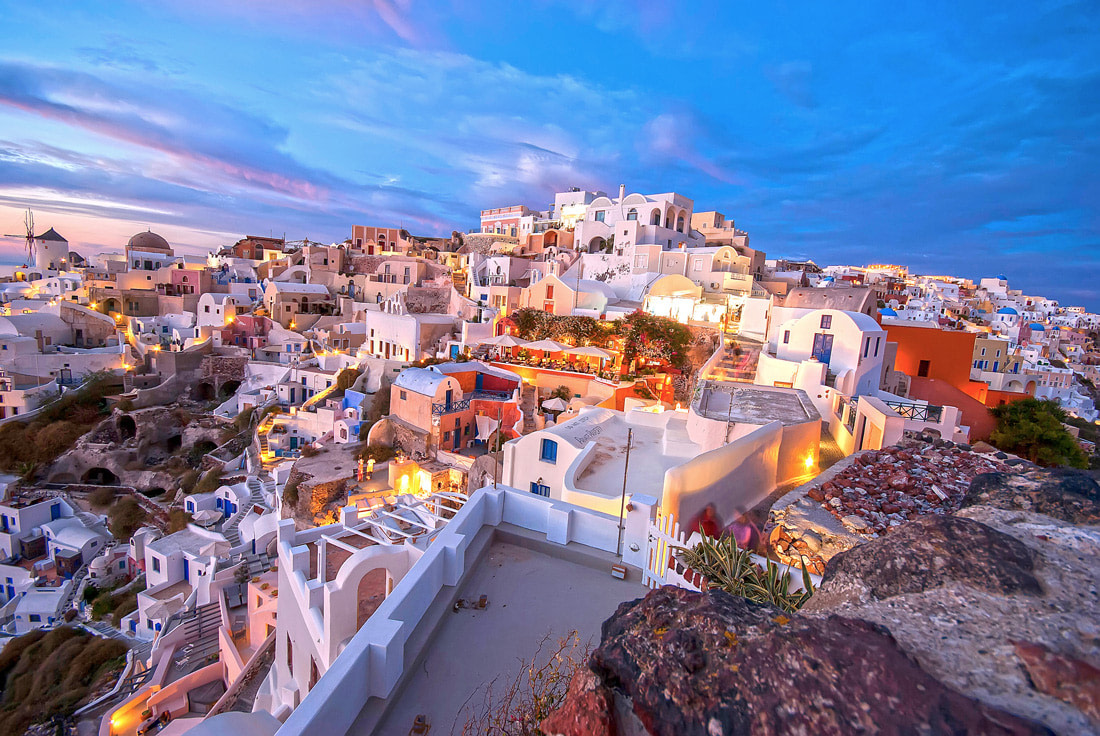 Oia is arguably the most beautiful village in Santorini. Home to magical sunsets, chocolate-box architecture, and delightful art galleries, it is also its most frequented destination.
Clinging to the rim of the caldera, on the northern tip of the island, this whitewashed marvel is worth visiting for the views alone. Sun-bleached cube-shaped houses tumble down to the glittering blue Aegean Sea, bright bougainvillea drapes the crisp white walls, and endless stairways snake their way through a postcard-perfect cascade of whites and pastels.
If you can tear yourself away from the view, take a stroll along its narrow cobblestone lanes lined with quirky little craft shops or, better yet, descend the 300 steps down to the striking fishing port of Ammoudi for a refreshing swim and a traditional alfresco meal in one of the fish tavernas along the water's edge.
Emporio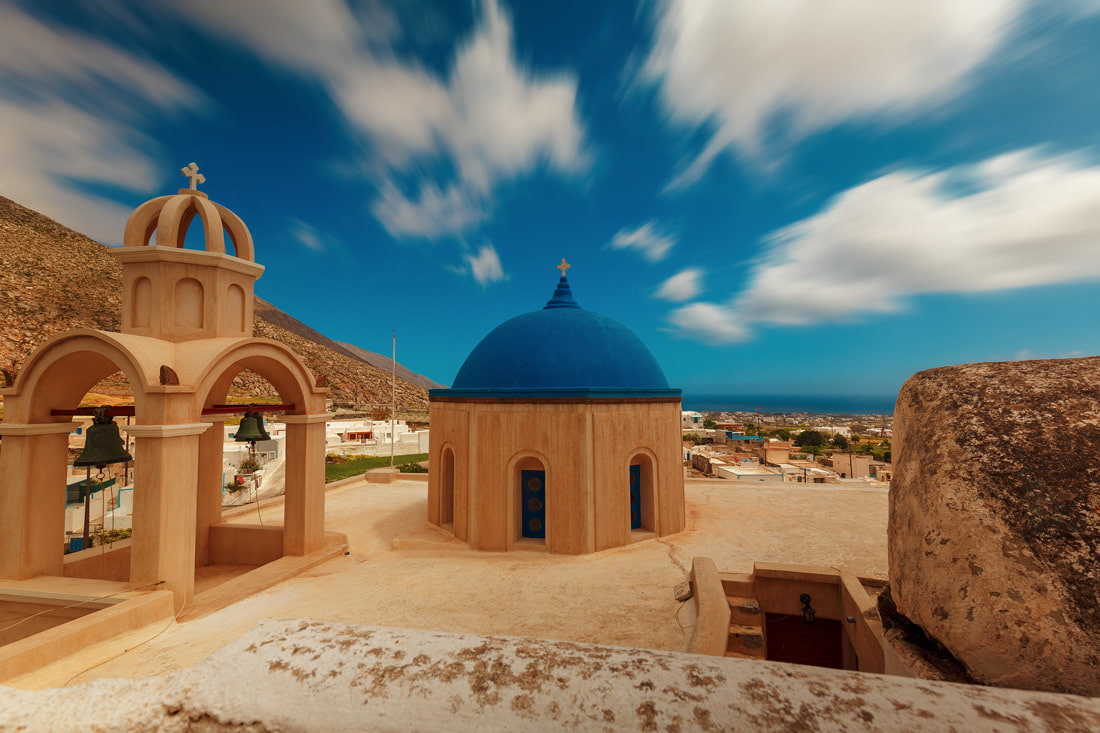 Nestled in the foothills of Mount Prophet Elias, 12 km south of Fira, Emporio is all tiny stone-built houses and slim, meandering alleys leading up to a fortified Venetian castle. Cycladic blue-domed churches and flowery courtyards dot the medieval landscape and 8 old, abandoned windmills guard over this peaceful settlement from the ridge of the nearby Gavrilos hill.
Though the largest village on the island, Emporio has managed to retain its traditional character. The architecture in the well-preserved Kastelli (castle) area is particularly unique, with tightly packed houses, steep staircases, and arched needlelike alleys that seem to lead nowhere. The rounded corners and irregular, flowing shapes of the structures give the entire place a whimsical Gaudiesque feel.
Megalochori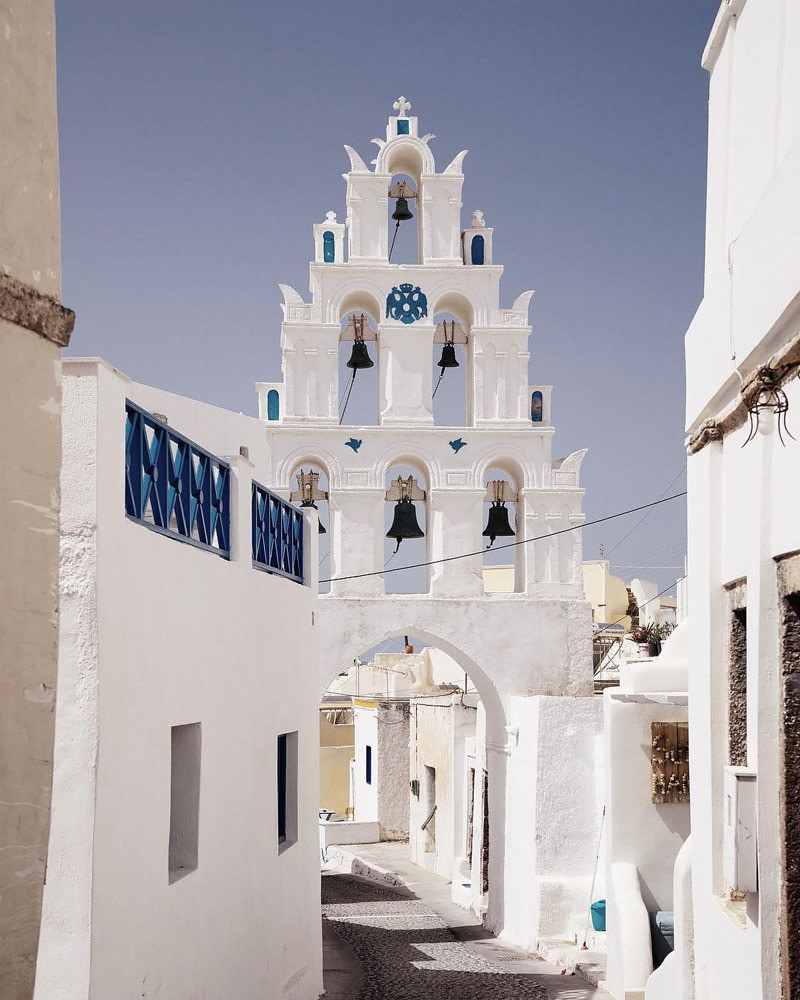 You'd be hard-pressed to find a more quaint village in Santorini than Megalochori. Stately neoclassical mansions, time-honored wine canavas, and typical white Cycladic houses jostle for space along stone-cobbled pathways, while its location on a hill further inland keeps it blissfully away from the tourist trail.
Wonderful marble-clad churches and peculiar bell towers add to the town's architectural legacy, and so do the high walls, solid wooden doors, and ubiquitous inner courtyards characterizing the area. Its tiny central square, shaded by trees and decked out in colorful bougainvillea, makes for a nice place to take a break, enjoy a slice of village life, and indulge in authentic Greek specialties at one of the quaint taverns.
Home to fertile vineyards and a couple of world-famous wineries (Boutaris, Gavalas, Venetsanos) offering tours and delicious wine tastings, Megalochori is also a wonderful destination to learn about Santorini's winemaking history and tradition.
Imerovigli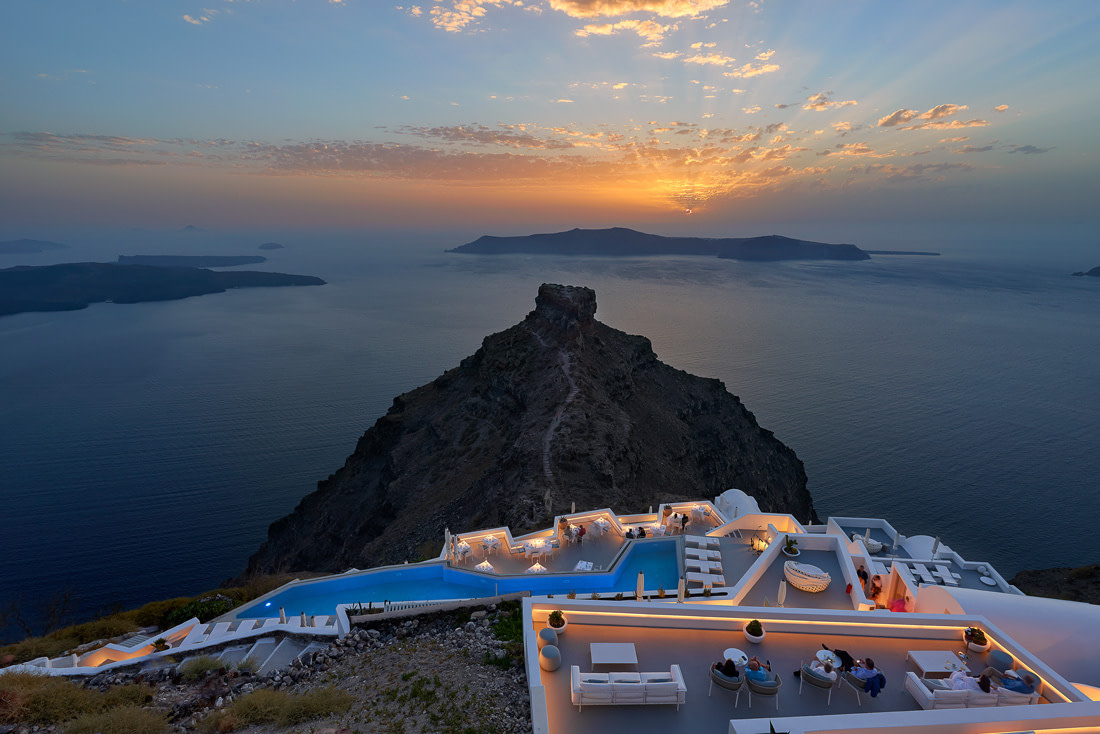 Perched at the highest point of the caldera's rim, Imerovigli is arguably the best place in Santorini to watch the sun go down over the iconic volcanic crater. Just like Oia, it is praised for its sensational Aegean views, hypnotizing sunsets, and delightful abodes carved into the cliff face, but it's considerably quieter and more laidback.
The village is conveniently located about 2 km from the island's capital, Fira, and plays host to beautiful sea-view churches, striking hotels with quintessential cave rooms, as well as a handful of gourmet restaurants. It is also known for Skaros, a rocky headland that was once the largest fortified settlement in Venetian Santorini and offers some of the island's best hiking.
Pyrgos
With its traditional whitewashed buildings, ruins of neoclassical mansions, and picturesque blue-domed churches, it's a treat to wander the narrow winding paths of Pyrgos.
Subdued, authentic, and refreshingly devoid of tourists, the village is wrapped amphitheatrically around a hill crowned by the well-preserved remnants of a Venetian castle. Its privileged position in one of the highest spots of Santorini provides incredible panoramic views of the whole island all the way to pastel-tinted Oia.
Pyrgos' fortress-like architecture is at its most magical on Good Friday, when the entire town is lit up with thousands of tin lanterns during the solemn evening procession.