This post contains affiliate links, which means we may receive a small commission, at no additional cost to you, if you make a purchase through these links. See our full disclosure here.
The attire of both passengers and crew has undoubtedly changed since the glory days of aviation. Compared to the mid-20th century, you rarely see travelers decked out in their finest, with athleisurewear dominating air travel fashion. But though we may have traded our heels and oxfords for the latest trendsetting sneakers, the allure of designer luggage sets will never go out of style.
You've surely seen them. The ladies in their long camel coats and men in crisp suits toting a set of iconic luggage while effortlessly navigating the airport as if it were their second home. If you had the perfect matching set of luggage – meaning that it would be durable, functional, and fit your personal aesthetic – you could join them. If you're unsure where to begin looking, below you'll find several options to start your search, some of which are surprisingly affordable.
Paravel Aviator Set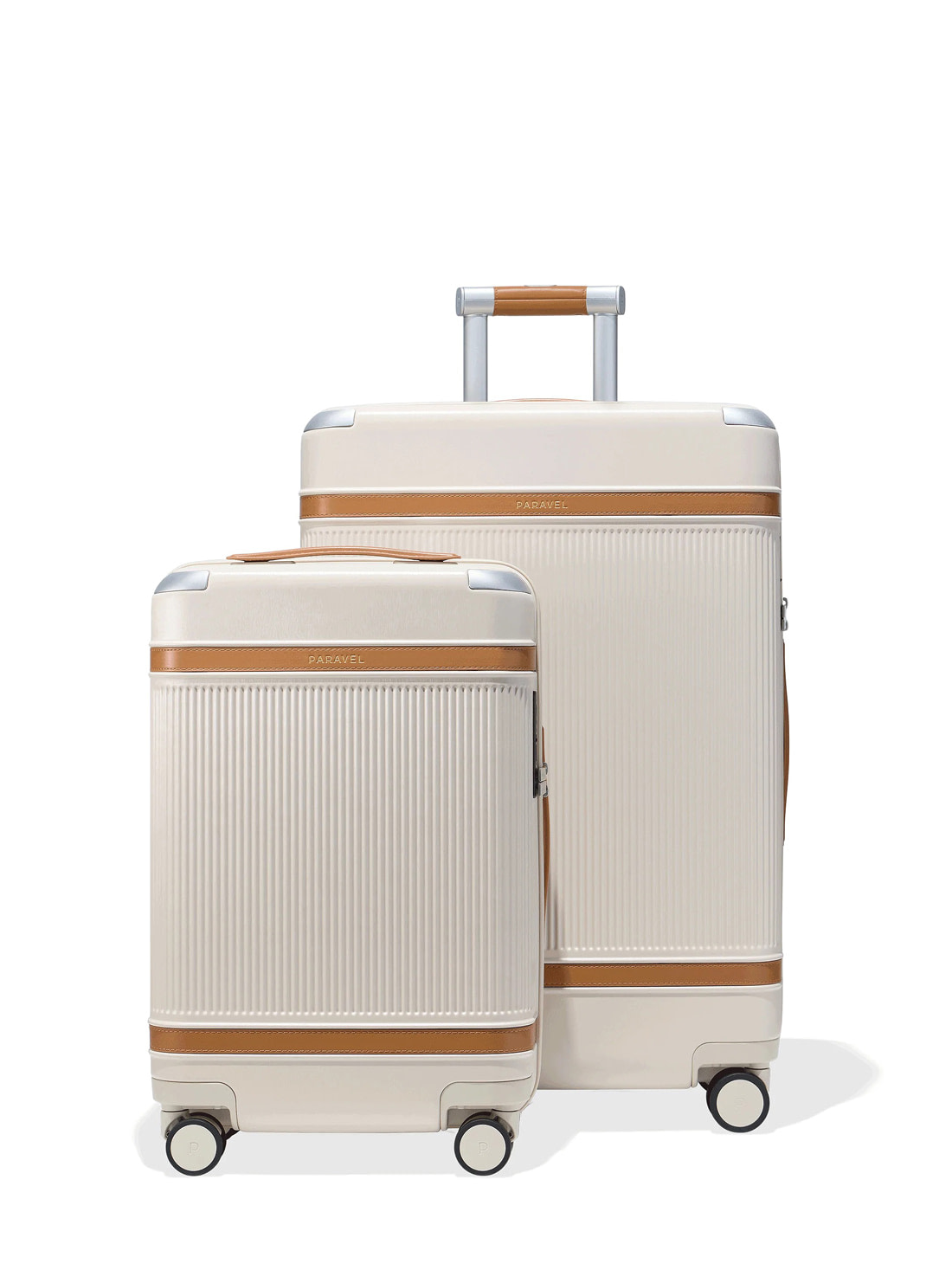 Combining two pivotal suitcases from their flagship line, Paravel's Aviator Set is a highly functional duo with elevated features. Elements like the integrated compression panels and dynamic shoe pouches make Paravel's customers die-hard fans, so even if you already have a luggage set, you may want to consider an upgrade.
As a brand, Paravel focuses on sustainability in manufacturing while utilizing a design language inspired by classic commercial aviation, as seen in its corrugated shells and polished trim. Bonus: this pair is entirely carbon neutral, a rarity for luxury luggage sets. Paravel makes the lining from upcycled plastic, so your purchase will keep 36 used water bottles out of the ocean or a landfill.
19V69 Italia 3-Piece Vintage Hardside Luggage Set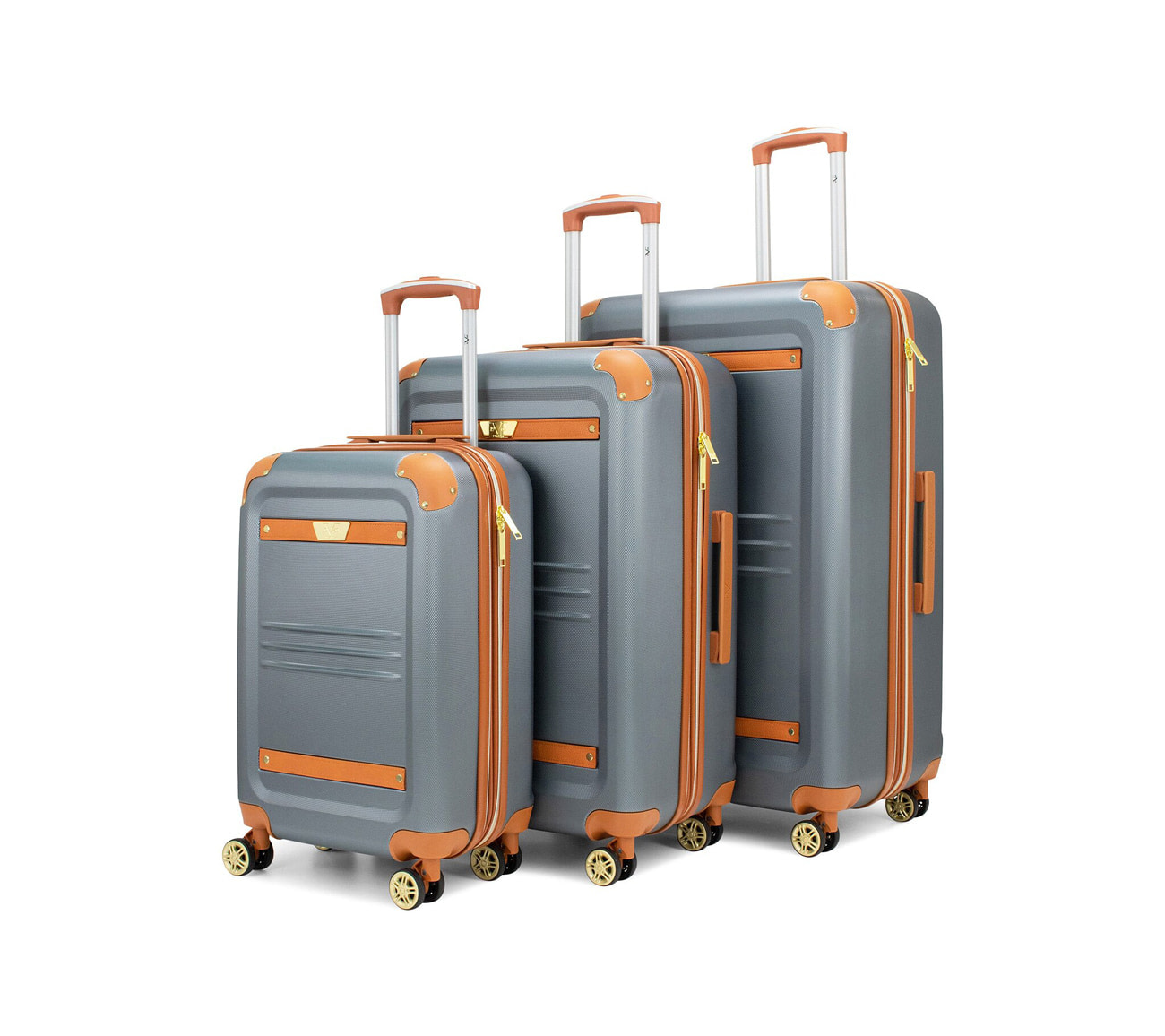 Despite the retro aviation-inspired look, 19V69 Italia's 3-Piece Vintage Hardside Luggage Set has all the modern features you need for years of traveling.
Each set includes one carry-on and two checked-sized trolleys with telescoping handles and heavy-duty spinner wheels. Inside you'll find all the accouterments to organize your belongings: pocketed dividers, compression straps, and zippered pouches for your most essential items. And despite the resemblance, these are crafted from super-lightweight ABS.
Champs 2-Piece Vintage Luggage Set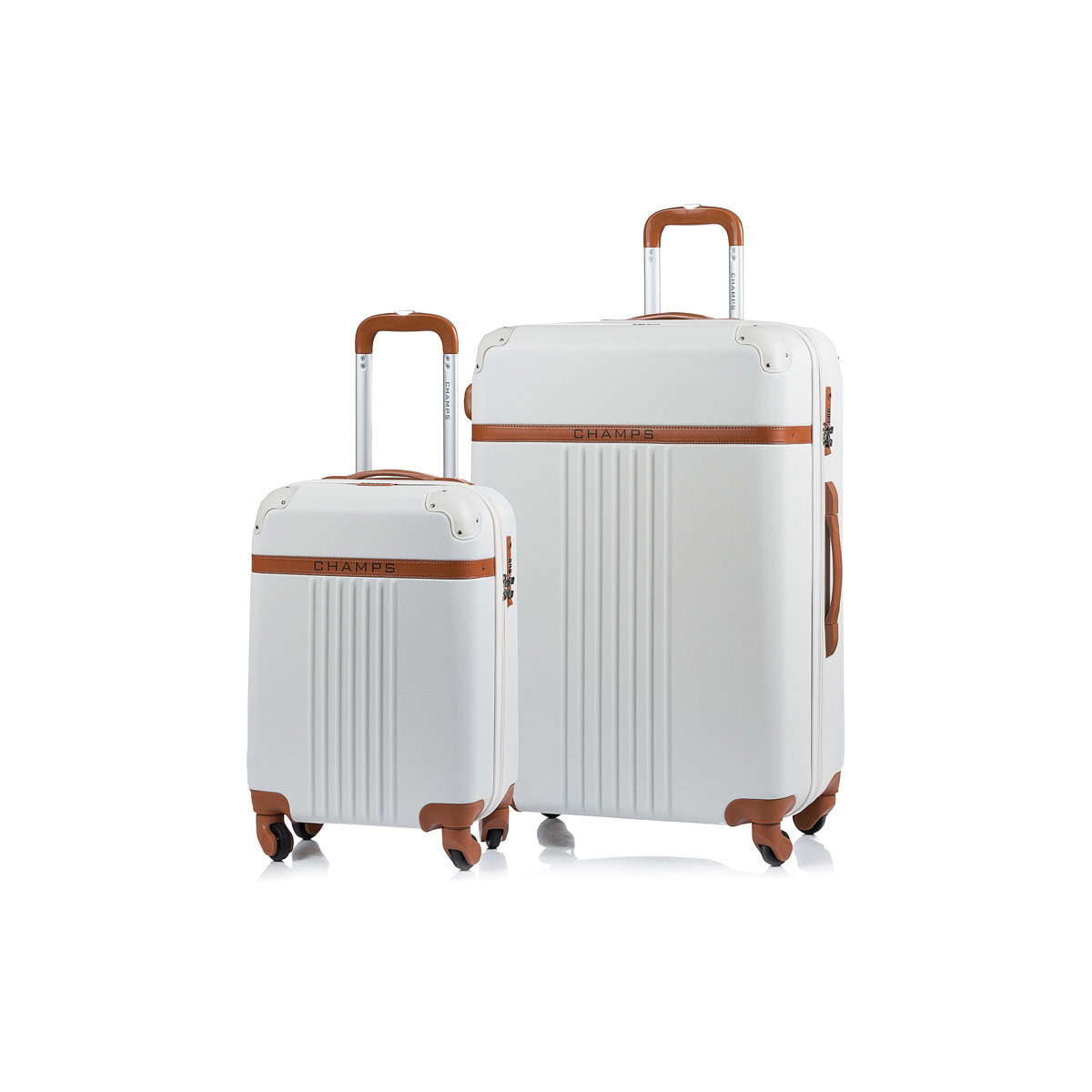 The Champs 2-Piece Vintage Luggage Set is a smart option for holiday travelers who can't bear to lose quality design for functionality. For instance, they matched the vegan leather trim to the plastic hardware of the wheels and handles to give it a unified look, increasing the stately aesthetic. But this doesn't mean sacrificing utility: they have reinforced corners to prevent denting, a cross-hatched finish to resist scratches, and TSA-approved locks for extra peace of mind.
Bric's Bellagio 2-Piece Luggage Set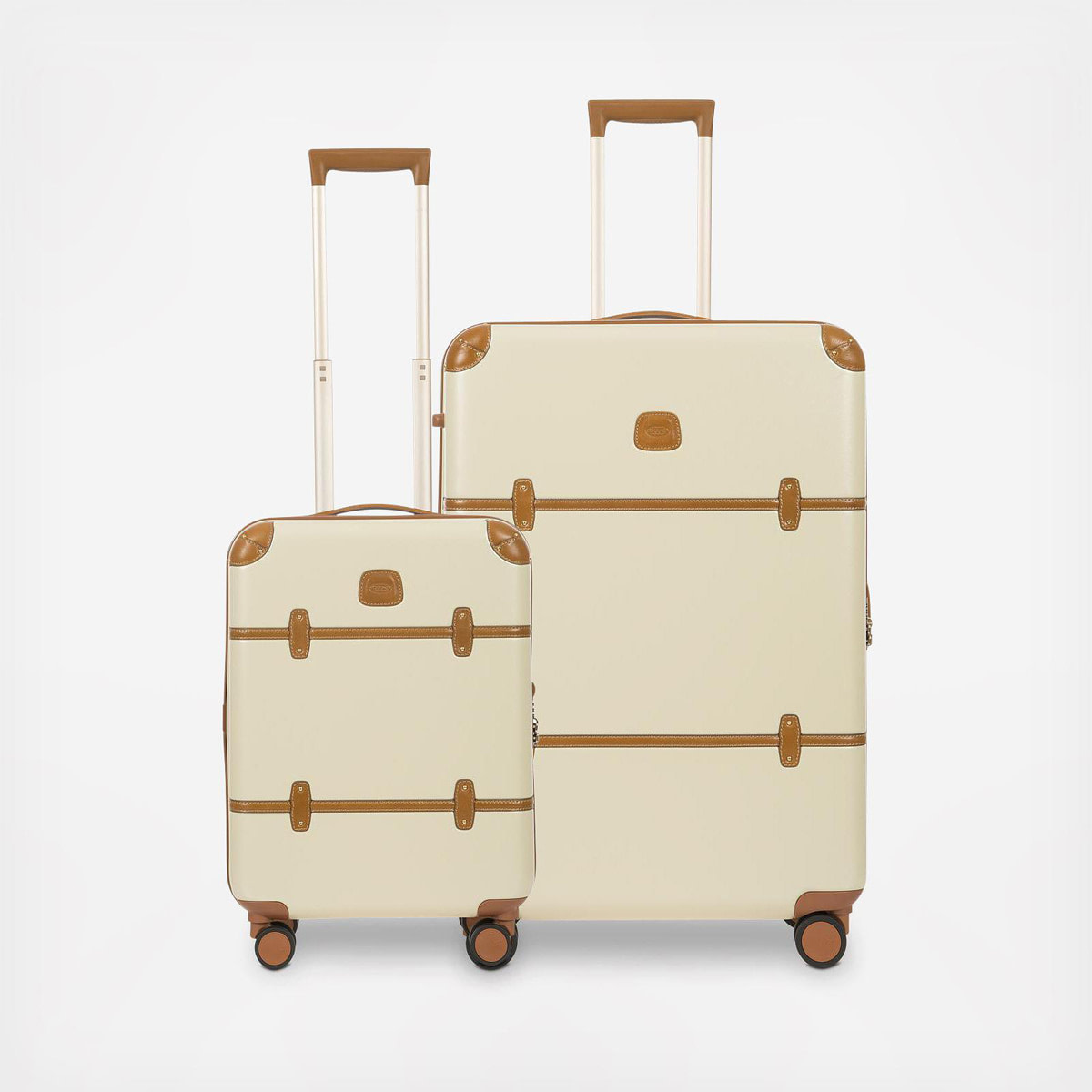 Epitomizing the brand's ethos of beautiful, functional travel products, the Bric's Bellagio 2-Piece Luggage Set will indulge the luxurious tastes of the most rigorous travelers. The set includes a carry-on and a checked bag, each with a durable polycarbonate shell trimmed in Tuscan leather and fitted with Hinomoto wheels. These thoughtful details add to an overall classic and endlessly envy-inducing aesthetic.
Bennett Winch Cargo Full Set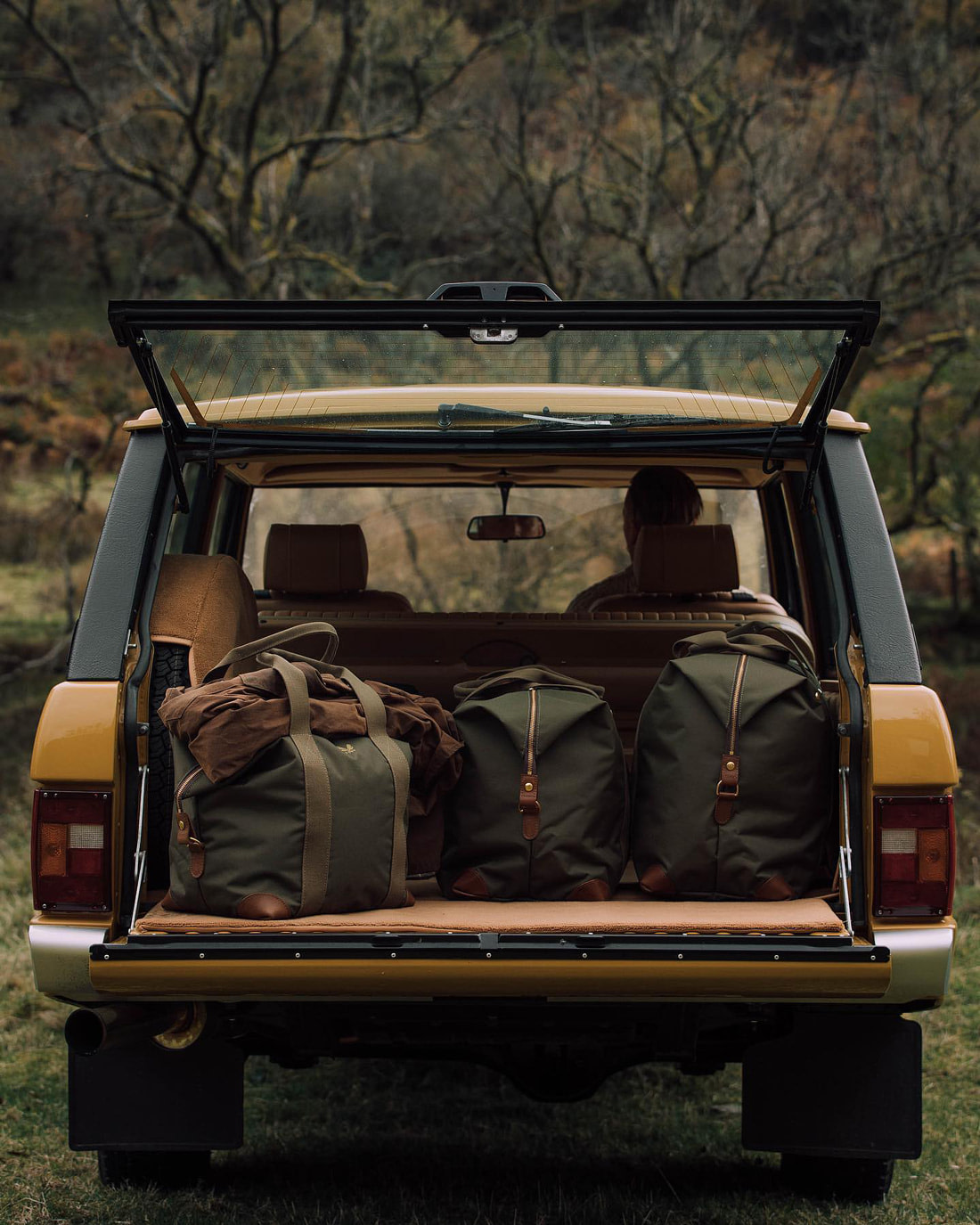 Ideal for the avid road tripper, the Cargo Full Set from Bennet Winch can carry heavy loads for a lifetime. With a combined capacity of 260 liters and nearly indestructible construction from 600 denier nylon, military-grade cotton webbing, and industry-standard YKK zippers, these carry your gear through even your most rigorous adventures. While these durable bags will definitely appeal to anyone who values utility, the vegetable-tanned leather trim and London welded brass hardware will also indulge those with finer tastes.
Badgley Mischka 3-Piece Snakeskin Expandable Luggage Set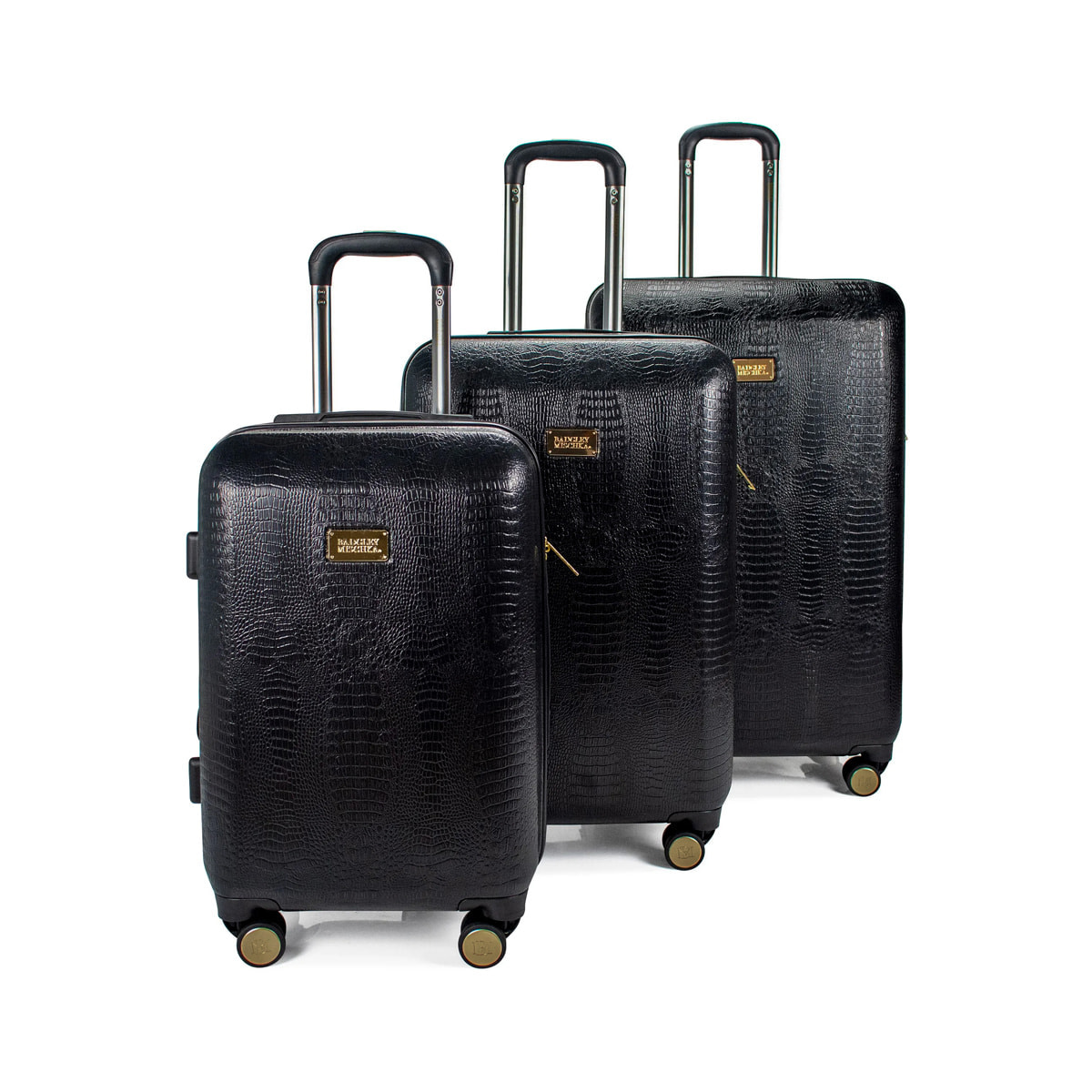 Like the rest of the brand's offerings, Badgley Mischka's 3-Piece Snakeskin Expandable Luggage Set looks ultra-luxe and maybe just a little too much (in the best possible way).
While the snakeskin-pattern embossed polycarbonate shell implies elegance, the gold brand plate and hardware give it a personality that appeals to those with more eclectic sensibilities. Though the palette is universal, this set implies a certain femininity, albeit a versatile one. This is the designer luggage set for women who need bags to accompany them just as easily on a business trip as they can on a weekend in Vegas.
FPM Milano Bank Luggage Collection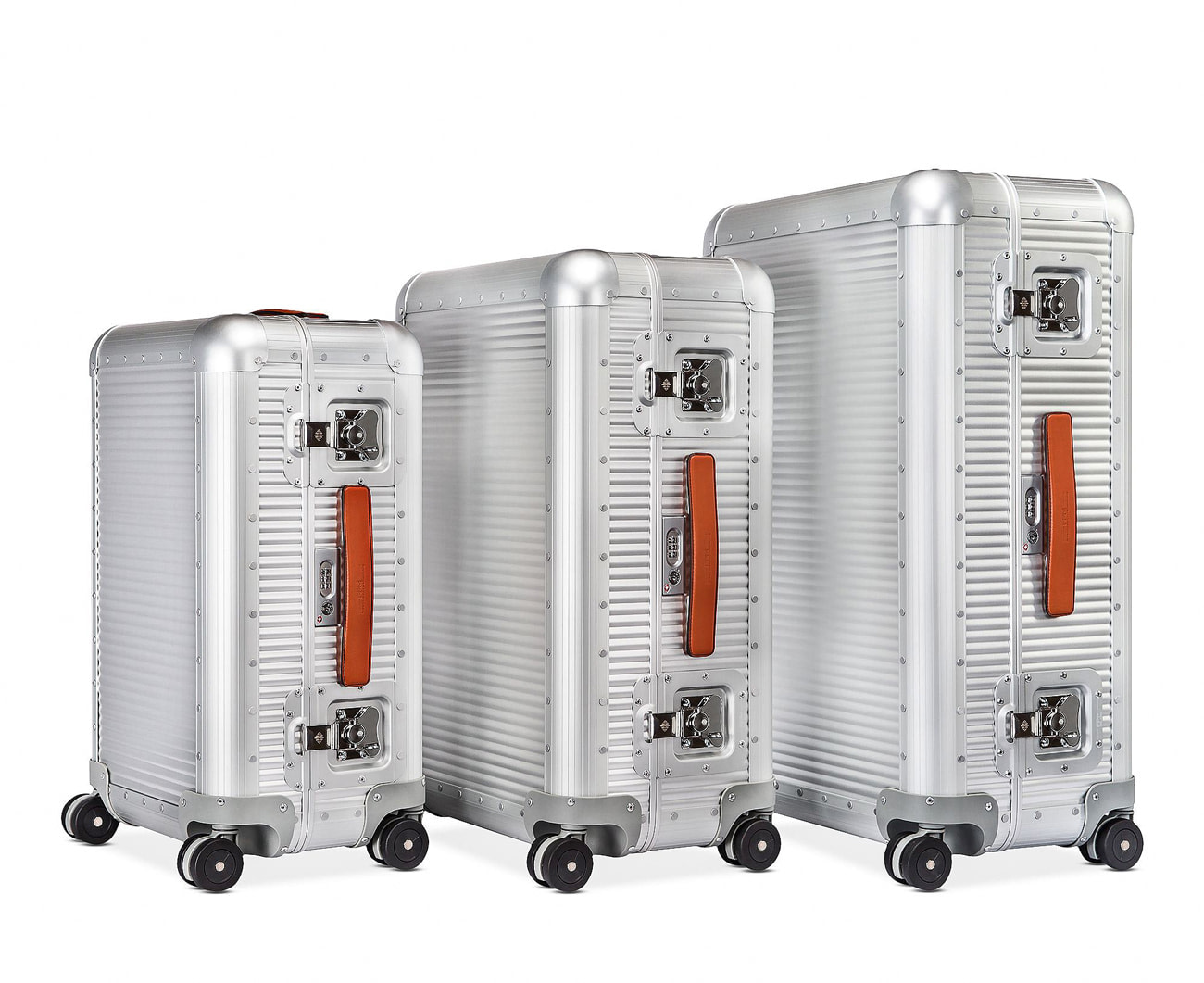 If you're looking for heavy-duty protection for fragile gear, the FPM Milano Bank Luggage Collection has got you covered no matter how much stuff you have. You can put together your own luxury designer luggage set by simply choosing the ones you need from the four sizes available. They range in size from the small vanity case – or camera case, if you prefer – to the giant check-in trunk.
FPM Milano has designed the Bank Collection to be nearly indestructible, but despite the industrial feel, they're not without thoughtful and contemporary details. The handles and internal compression straps are made from premium Italian leather, and each one comes with a TSA-approved combination lock, just in case.
MKF Collection by Mia K 4-Piece Mykonos Luggage Set
Perfect for influencers, Instagramers, or anyone else who travels with a lot of clothes and accessories, the 4-Piece Mykonos Luggage Set from the MKF Collection by Mia K has you covered.
The smallest piece, a diminutive train case, is perfect for those toting fragile makeup, small tech gear, or jewelry that could be damaged in a soft-sided personal item. And it's fitted with four rubber feet at its base, so it sits securely on top of your carry-on when you're racing through the airport to catch your flight.
Each piece in this hardside luggage set is embossed in a slick geometric pattern that provides both intrigue and stability, and the subtle brand plate affixed to the front is finished to match the rest of the hardware.
Urecity Vintage Luggage Set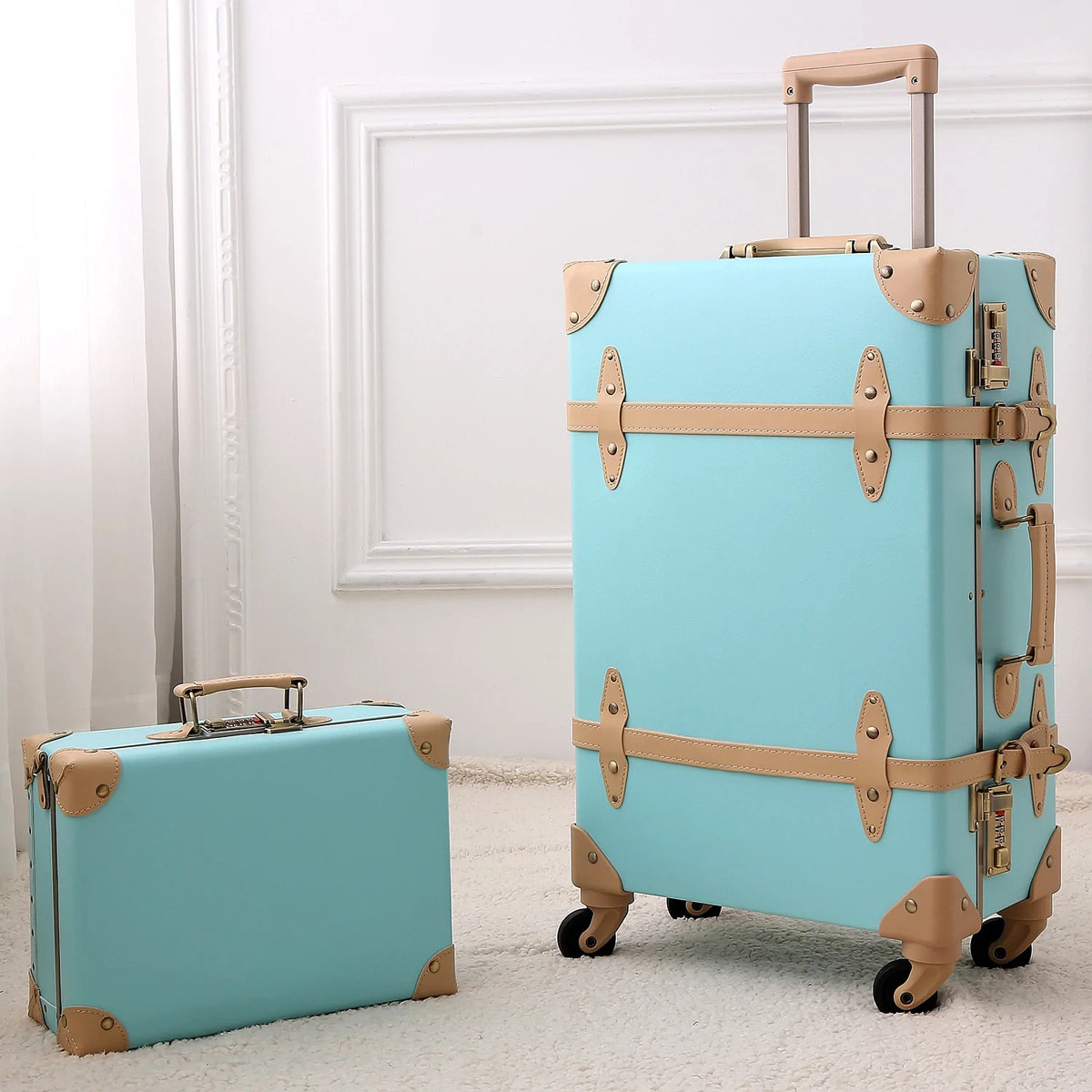 Affordable suitcases with a cult following, Urecity's Vintage Luggage Set offers a unique design at an affordable price. Though they have a distinctive retro look, these chic bags are crafted from modern materials; they have polycarbonate and vegan leather shells fitted with an aluminum frame.
The insides are trimmed immaculately with stain-resistant nylon in contrasting colors with functional pockets and divider panels. Included in this cute luggage set is one large trolley and a 12-inch train case that makes the perfect personal item.
Vince Camuto 2-Piece Capri Softside Luggage Set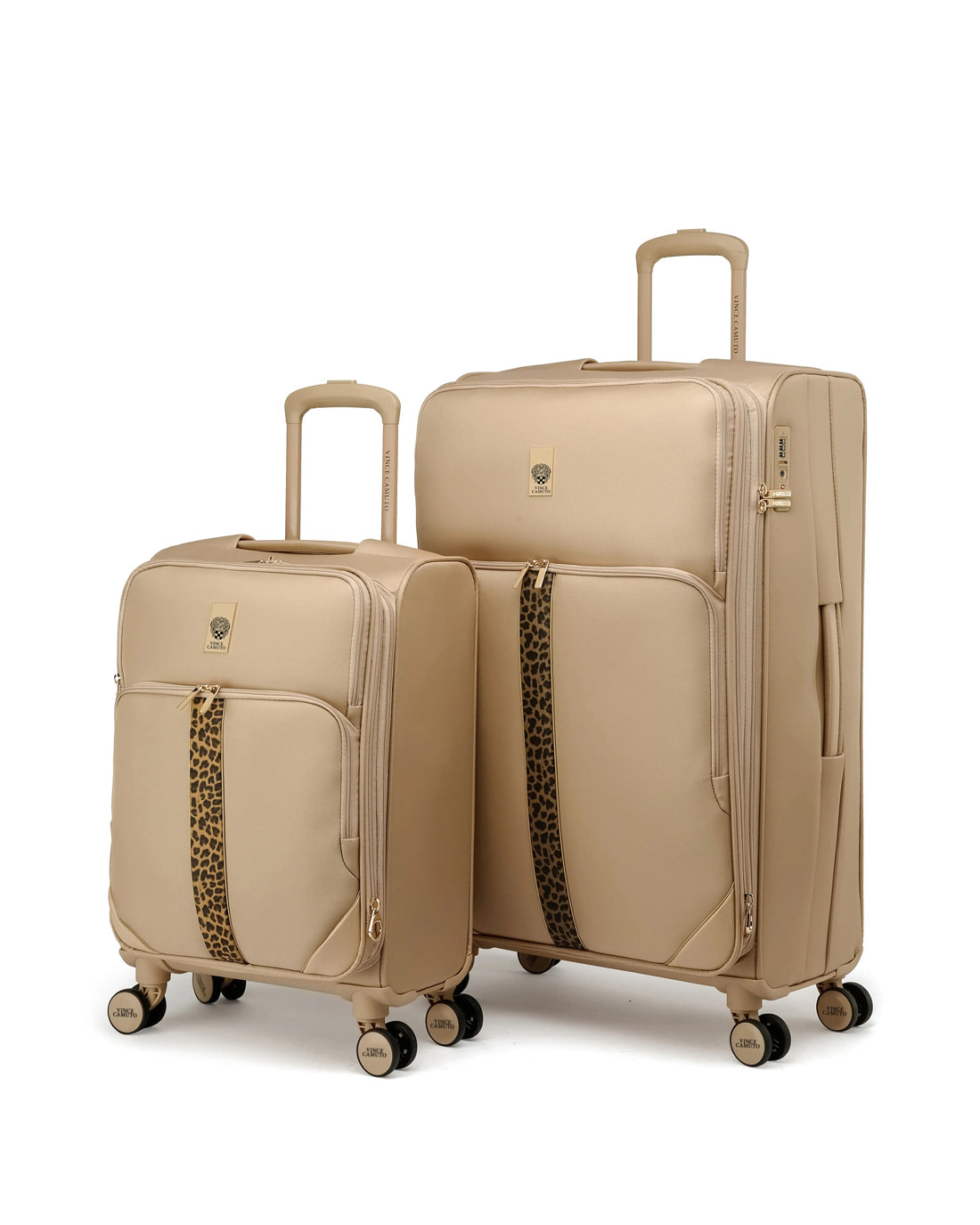 Elegant without being basic, the 2-Piece Capri Softside Luggage Set from Vince Camuto has clean lines and functional storage. Softsided luggage is suited to those who need extra organization, and this luggage set executes that beautifully with three front pockets each on both the carry-on and the checked bag. And to set your bag apart, it's adorned with a leopard print stripe down the front, and uniquely, the wheels bear the Vince Camuto logo.
Champs Vintage II 3-Piece Set
Perfect for maximalists and shopaholics, the Vintage II 3-piece set from Champs may look like it's from yesteryear, but it definitely has contemporary functionality. The set contains two checked bags and one carry-on; the latter has an integrated USB port and an external battery pocket to keep your devices charged on the go.
All of them are crafted from shatter-proof polycarbonate and come with a 2" expansion feature for added packing capacity. If you're prone to splurge while you're on holiday, this three-trunk set will ensure your indulgences don't get left behind.