This post contains affiliate links, which means we may receive a small commission, at no additional cost to you, if you make a purchase through these links. See our full disclosure here.
Whether you are a frequent flyer, a seasonal vacationer, or an entrepreneur always on the move, you can't go wrong with a luggage set. Designed to accommodate most travelers' needs, these matching ensembles come in a variety of styles, shapes, and price ranges, and are not just visually appealing, but extremely practical.
A luggage set can contain anywhere from 2 to 8 pieces, including a carry-on, a check-in, as well as additional bags for garments, laptops, and accessories. With various sizes to choose from, they offer a packing option for every occasion and are also ideal for sharing on a family holiday. Plus, whether you opt for a cheap luggage set or a chic designer collection, a pair of softshell suitcases or a trio of hardside spinners, buying the whole package is usually less expensive than purchasing all items separately.
Combining style, strength, and functionality, here you have the best luggage sets to buy in 2021:
Away Set of Three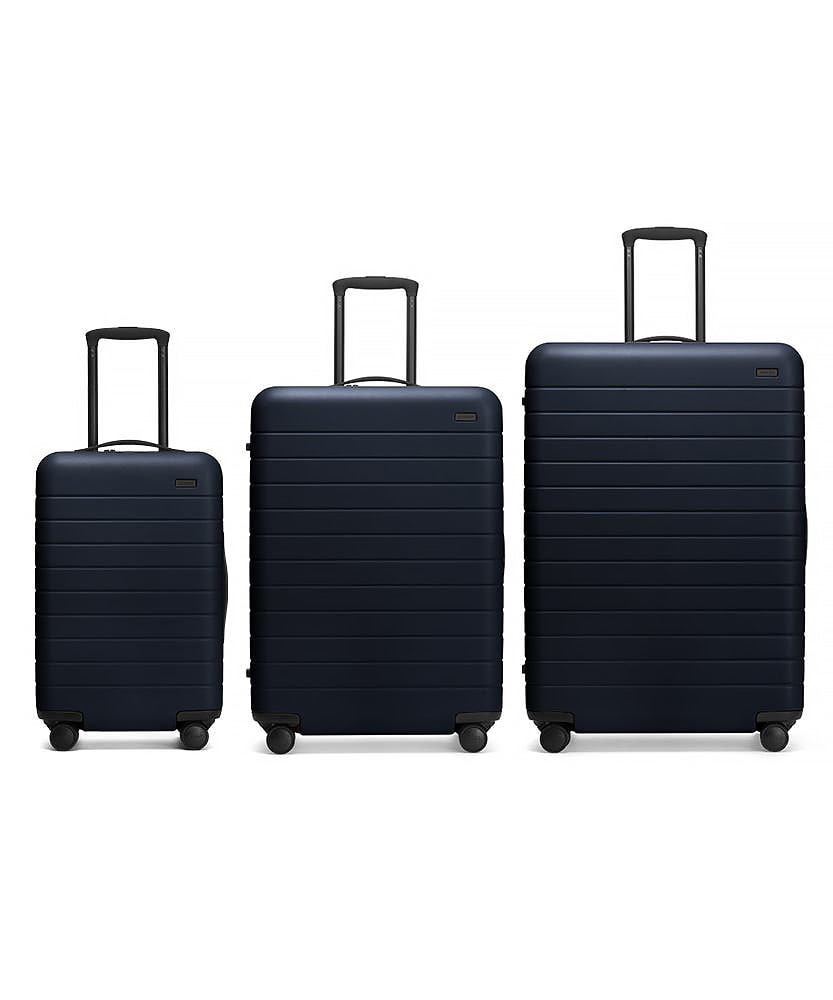 Make sure you are prepared for any type of trip with this navy Set of Three by Away. The package combines the label's beloved Carry-On (in your preferred size) with two matching check-in suitcases: The Medium and The Large.
The lightweight, unbreakable polycarbonate hardshell ensures long-lasting usage and remarkable protection against the elements, while the black leather details add an elegant touch to these good-looking unisex bags. Telescopic handles and premium 360° spinner wheels promise hassle-free transport, and hidden laundry bags inside all uprights keep dirty and clean clothes separated throughout the trip.
The Carry-On features a TSA-approved combination lock for added security, and all 3 suitcases nest inside each other to save storage space when not in use. A Set of Two is also available and only contains the Carry-On and the checked bag of your choice.
Level8 Matte Luggage Set 20″ & 24″
Level8's sleek, modern suitcases are designed for travelers with an aesthetic eye, and their Matte Luggage Set 20″ & 24″ is no exception. Made from impact-resistant Germany Bayer Makrolon, both cases are durable, lightweight, and extremely elegant, which makes them perfect for all globetrotting purposes.
TSA-approved combination locks, durable aluminum handles, and spacious fully lined interiors with handy zippered pockets add to the set's practical functionality, while business travelers will appreciate its professional looks and easy maneuverability. Both the 20″ carry-on and the 24″ check-in are fitted with a set of four anti-shock 360° spinner wheels, ensuring your luggage won't weigh you down on the way to your destination.
You can purchase these items separately, but when a set goes this well together and gives you the best value, there's practically no reason for someone to just go for one piece!
› Take 10% Off with Code TRAVELAWAY10
COOLIFE Luggage Suitcase Piece Set
One of the reasons travelers prefer luggage sets over single suitcases is practicality, and that's exactly what you'll get with the Coolife Luggage Suitcase 2-Piece Set.
Designed for the modern traveler, both spinners feature lightweight ABS+PC hard plastic shells, built-in TSA locks, and 360-degree spinner wheels for smooth gliding through airports. Roomy fully-lined interiors with zippered dividers and multi-use organizational pockets make packing effortless, and 3-step aluminum telescoping handles add extra leverage. On top of that, the carry-on comes with a convenient front pocket for storing your laptop and documents.
This hardside luggage set, which consists of one 20-inch carry-on and a spacious 28-inch check-in suitcase, is ideal for all of life's adventures, from short business trips to extended family travel.
Monos Essentials Set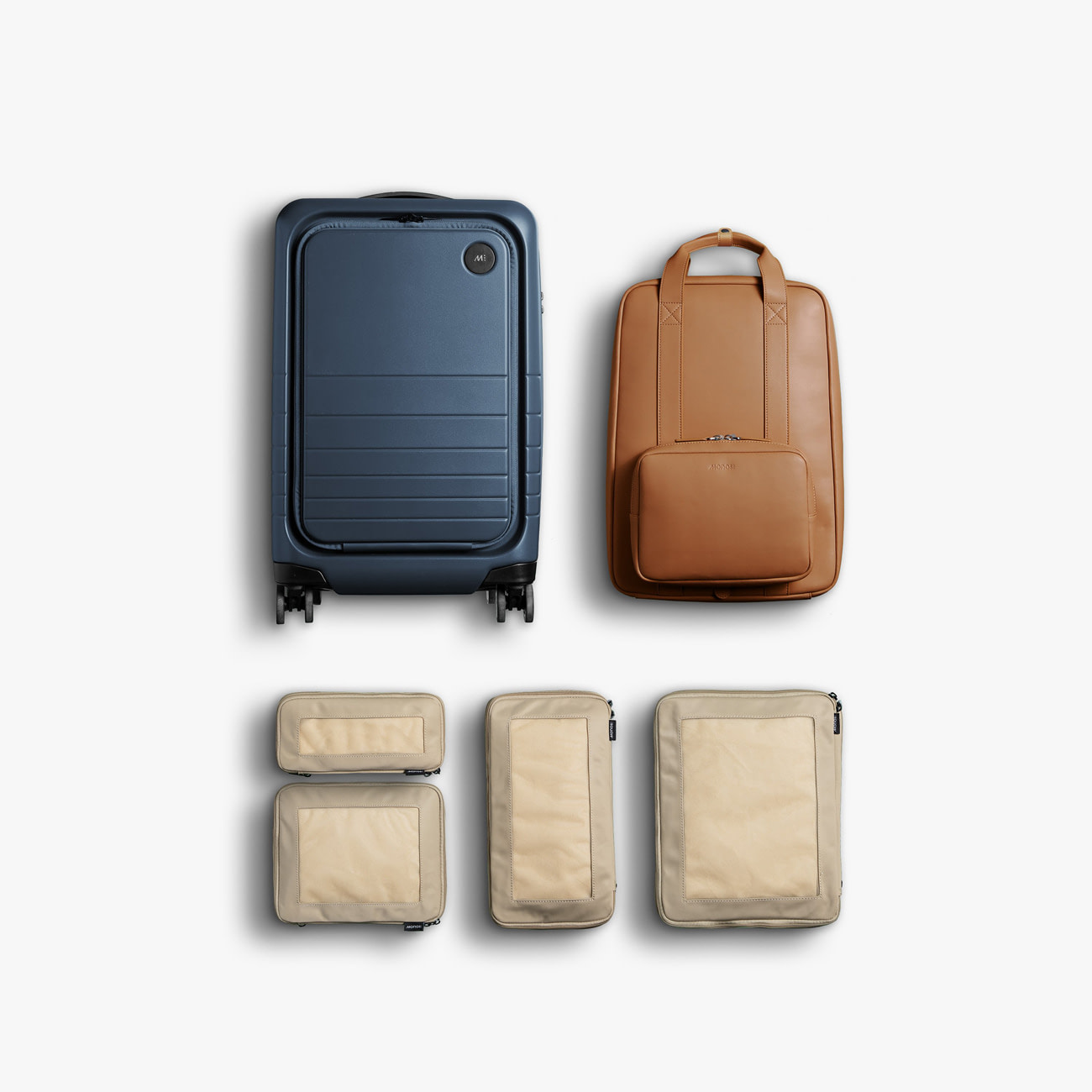 From the luggage brand of the moment, this gorgeous assembly is proof that good things come in small packages. Though ideal for shorter trips where you only need to pack the essentials, the versatility of Monos' Essentials Set is hard to match.
The bundle has a chic, contemporary vibe with an emphasis on quality and functionality. It includes the award-winning Carry-On Pro, a stylish Metro Backpack, and 4 life-saving Compressible Packing Cubes designed to fit in your Monos suitcase.
The vegan leather backpack is a stylish multitasker with its own dedicated 15″ laptop compartment, while the carry-on, made from aerospace-grade polycarbonate and adorned with a detachable front compartment for easy access to items on the go, is one of the best cabin bags you can buy right now. And, to help you plan like a pro, the set comes complete with 4 anti-microbial packing cubes designed to flatten your bulky clothes.
July 2-Piece Trunk Set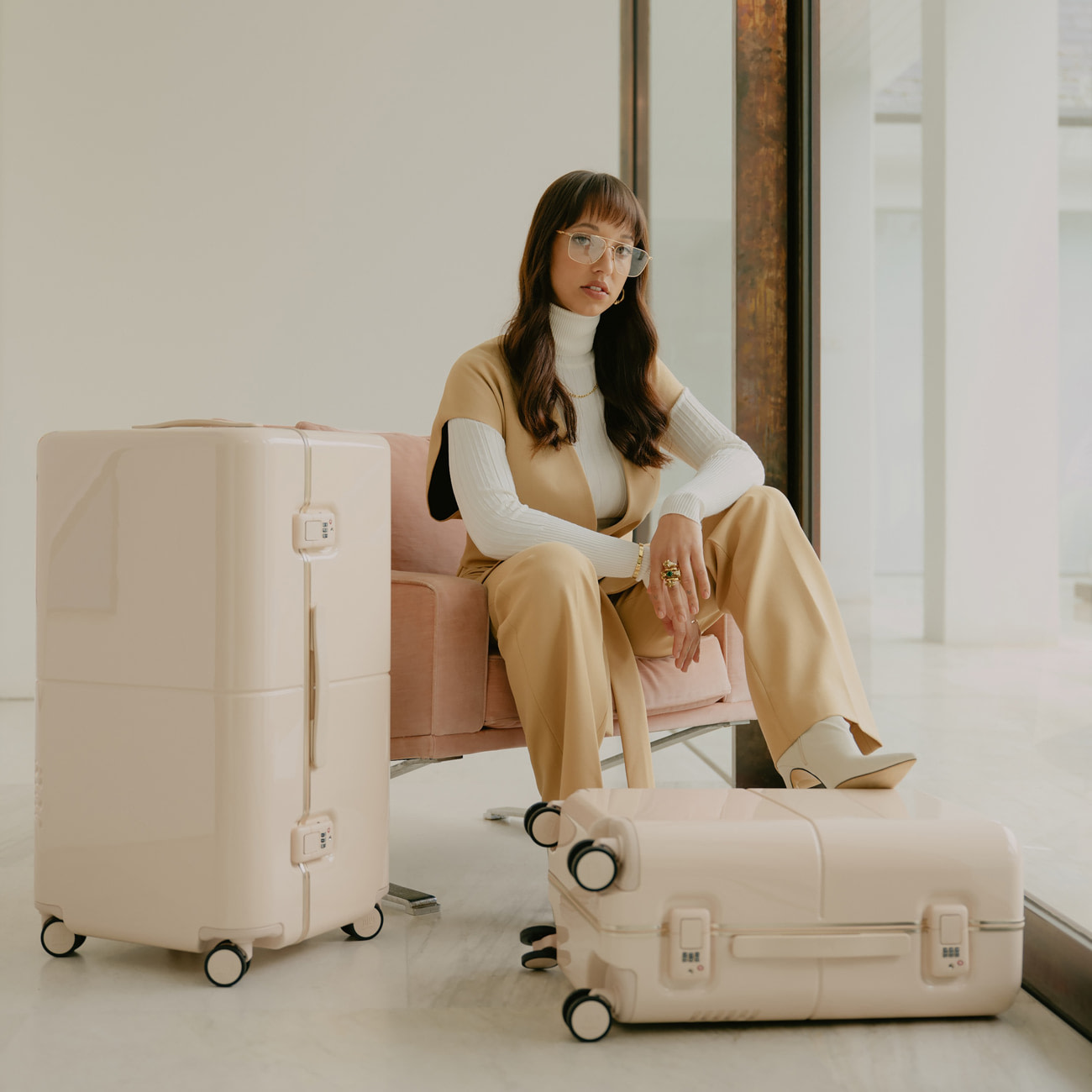 For fashion and function in a contemporary package, we can't think of a better option than the Trunk Set from July. Part of it are a Carry-On Trunk and a Checked Trunk, both impossibly chic and remarkably strong.
Made from crush-proof German polycarbonate with an anodized aluminum frame, these stunning zipperless suitcases stand out for their state-of-the-art aesthetics, with clean minimalist lines and a unique Glazed Poly finish that adds just the right amount of glam. Aside from being seriously stylish, they're packed with contemporary features like multidirectional spinner wheels, telescoping trolleys, and integrated TSA-approved combination locks.
The 80/20 case split means bulky items are easy to pack in the deep side, and the twin latches add a new layer of security while simplifying opening and closing.
Samsonite Winfield 2 Fashion 3 Piece Spinner Set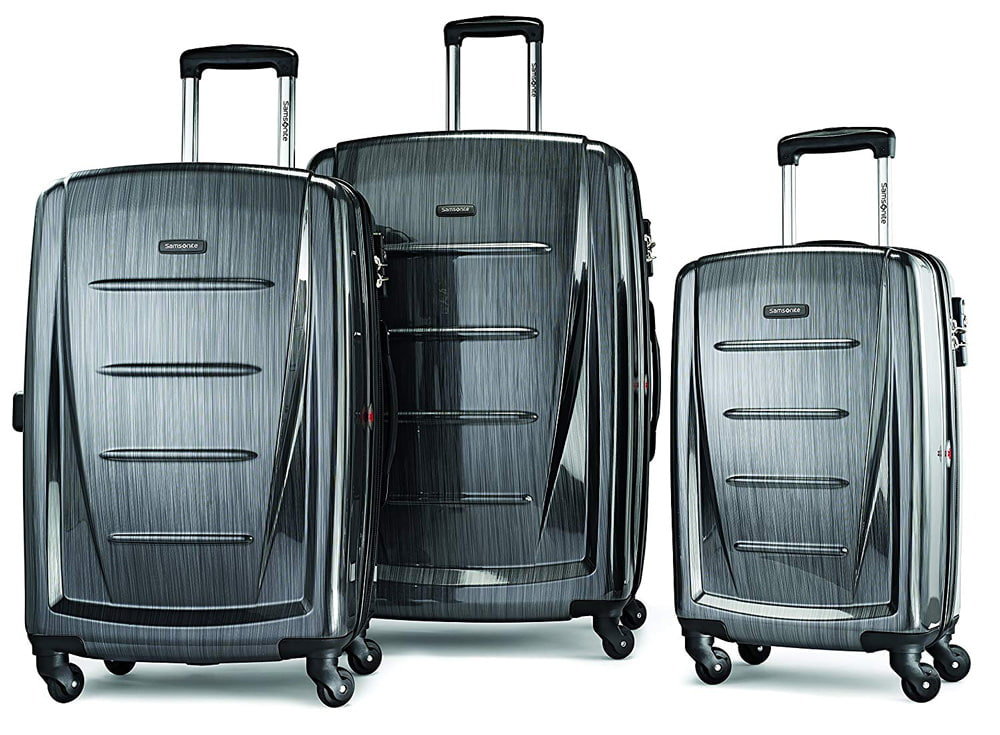 There's a good choice of top-rated luggage sets on the market, but if a combination of strength, maneuverability, and style is what you're after, this one has got you covered.
Samsonite Winfield 2 Fashion 3-Piece Spinner Set comprises three handsome upright bags sized at 20″, 24″, and 28″, each of them complete with TSA-compatible combination lock and full-zip interior divider with organization pockets.
Regardless of the color you choose, their 100% polycarbonate shells feature a sleek metallic brushed finish which helps mask any potential scratches or scuffs. They also expand up to 1.5″ for added packing capacity and are cleverly designed to absorb impact by flexing and popping back into their original shape.
Travelpro Maxlite 5 Set
For the frequent traveler, the Maxlite 5-Softside Expandable Spinner 2-piece Set from Travelpro is a dream come true. It includes one of the best checked luggage pieces in 2021, plus their equally popular Maxlite 5 Expandable Carry-on Spinner – both of which flaunt a lightweight, ultra-durable design and smart functionality.
Features like adjustable, ergonomic handles with patented Contour grip and 360° spinner wheels come as standard, as does the roomy interior with adjustable hold-down straps. A convenient exterior front pocket keeps everything organized and a tapered expandable compartment offers 2 inches of extra packing space.
Both pieces are built with stain and water-resistant Polyester fabric with DuraGuard coating, ensuring long-lasting protection over years of consistent travel.
Horizn Studios Luggage Set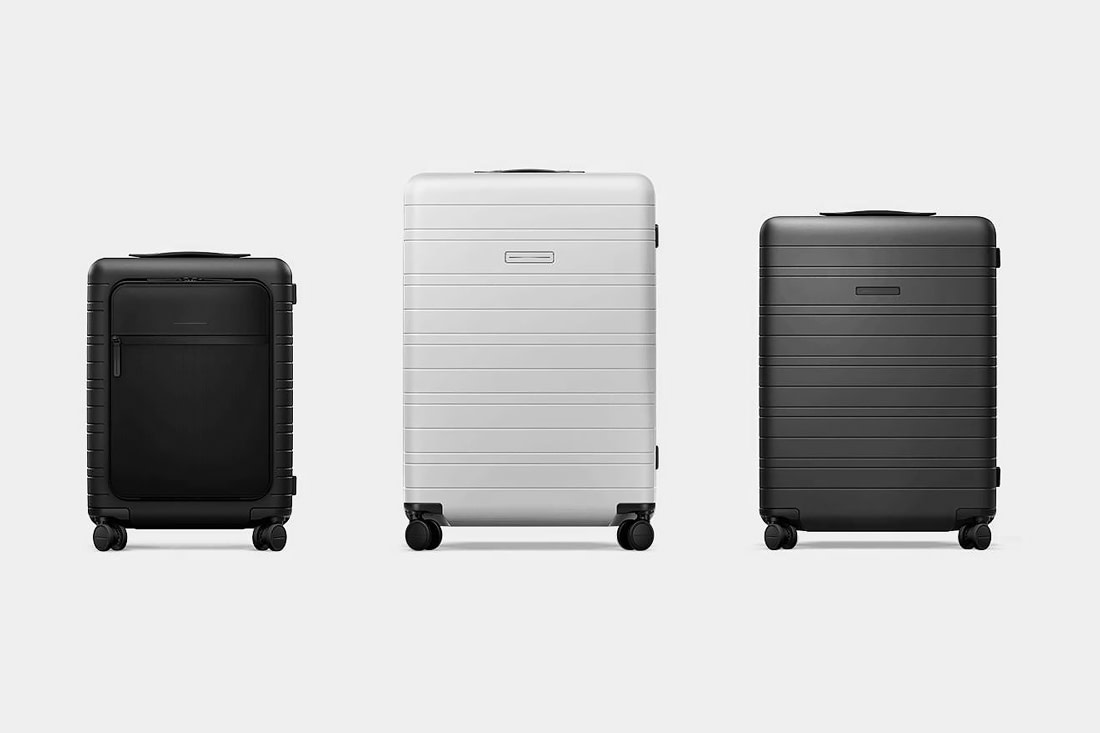 The only thing better than a luggage set is one that you can customize yourself, all while still taking advantage of the discounts that come with buying in bulk.
Horizn Studios, one of the top luggage brands on the market, offers fans the opportunity to purchase two or more pieces and save 20%. You can mix and match colors, sizes, and models to fit your needs and preferences, or you can grab multiples of your favorite bag if that makes you happy. Bonus, they have one of the best designed carry-on suitcases out there – the M5, plus some of the coolest special edition collections, made in collaboration with iconic brands, artists, and astronauts.
Nomatic Luggage Bundle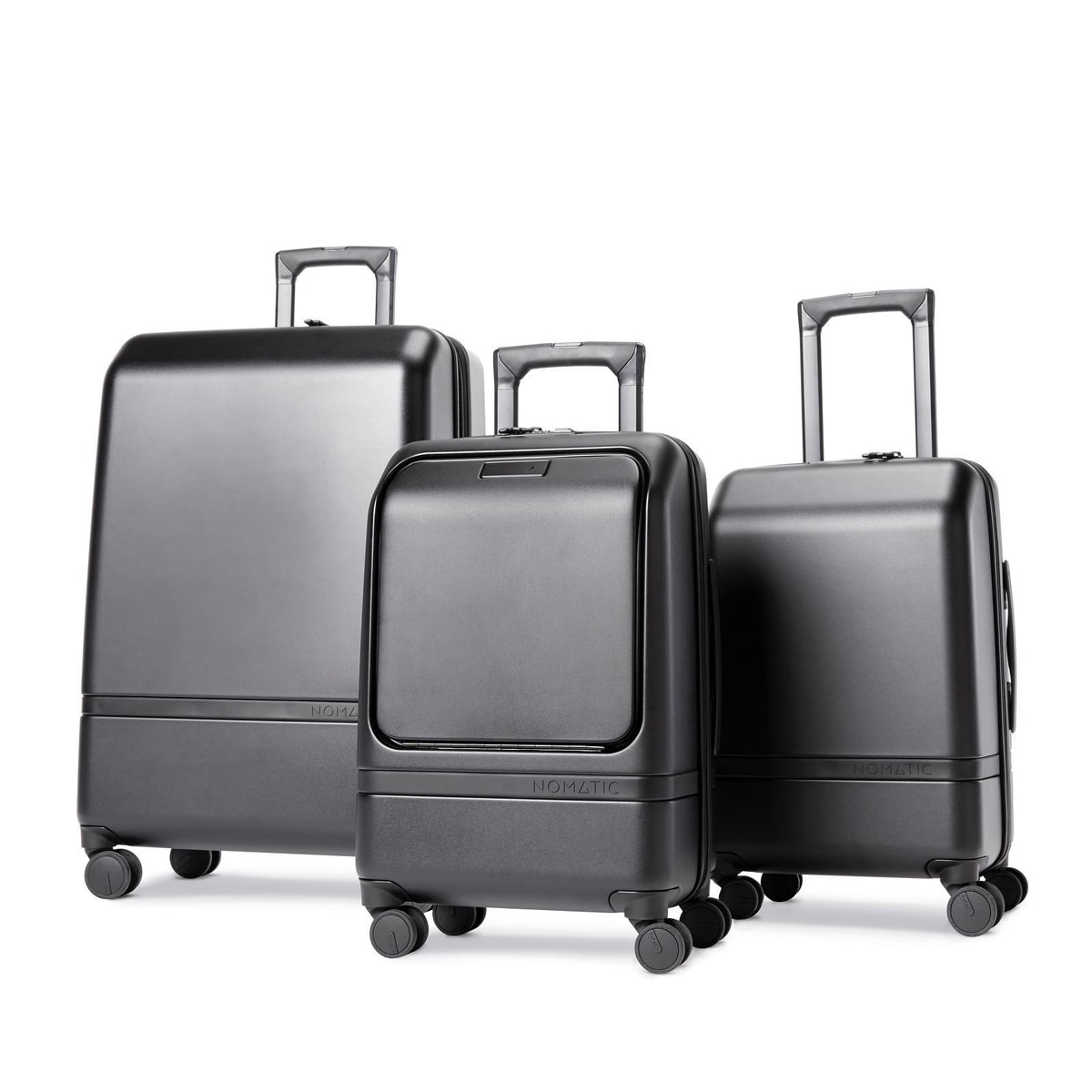 Just like Horizn Studios, Nomatic's customizable bundle builder allows you to create a one-of-a-kind travel set, containing one main piece of luggage and at least two additional accessories. First, select your favorite suitcase, backpack, or camera bag, then add two or more travel accessories from their inspired collection of packing cubes, organizers, wallets, notebooks, and more, and there you have it – a bespoke Nomatic luggage set ready to take on the world with you.
For those who are not familiar with this brand, Nomatic creates innovative luggage pieces and accessories meant to change the way you travel. They stand behind the most functional Travel Pack ever and have designed one of the best carry-on backpacks money can buy.
Bric's Bellagio 2-Piece Set in Cream
High-quality materials and flawless Italian design make this Bric's collection one of the best luggage sets in 2021. Crafted from lightweight polycarbonate, with distinctive rounded corners and refined leather accents, these retro-inspired hardside pieces are both durable and sophisticated.
Each rolling luggage relies on four enlarged Hinomoto wheels for 360 maneuverability on multiple surfaces, and they all feature multi-stage pull-up handles and integrated TSA locks. The inner compartments boast Herringbone patterned dividers and zippered sections for neat organization.
The Bellagio 2-Piece Set contains a 21″ carry-on and a roomy 30″ spinner trunk perfect for longer journeys.
Samsonite Pivot 2 3 Piece Set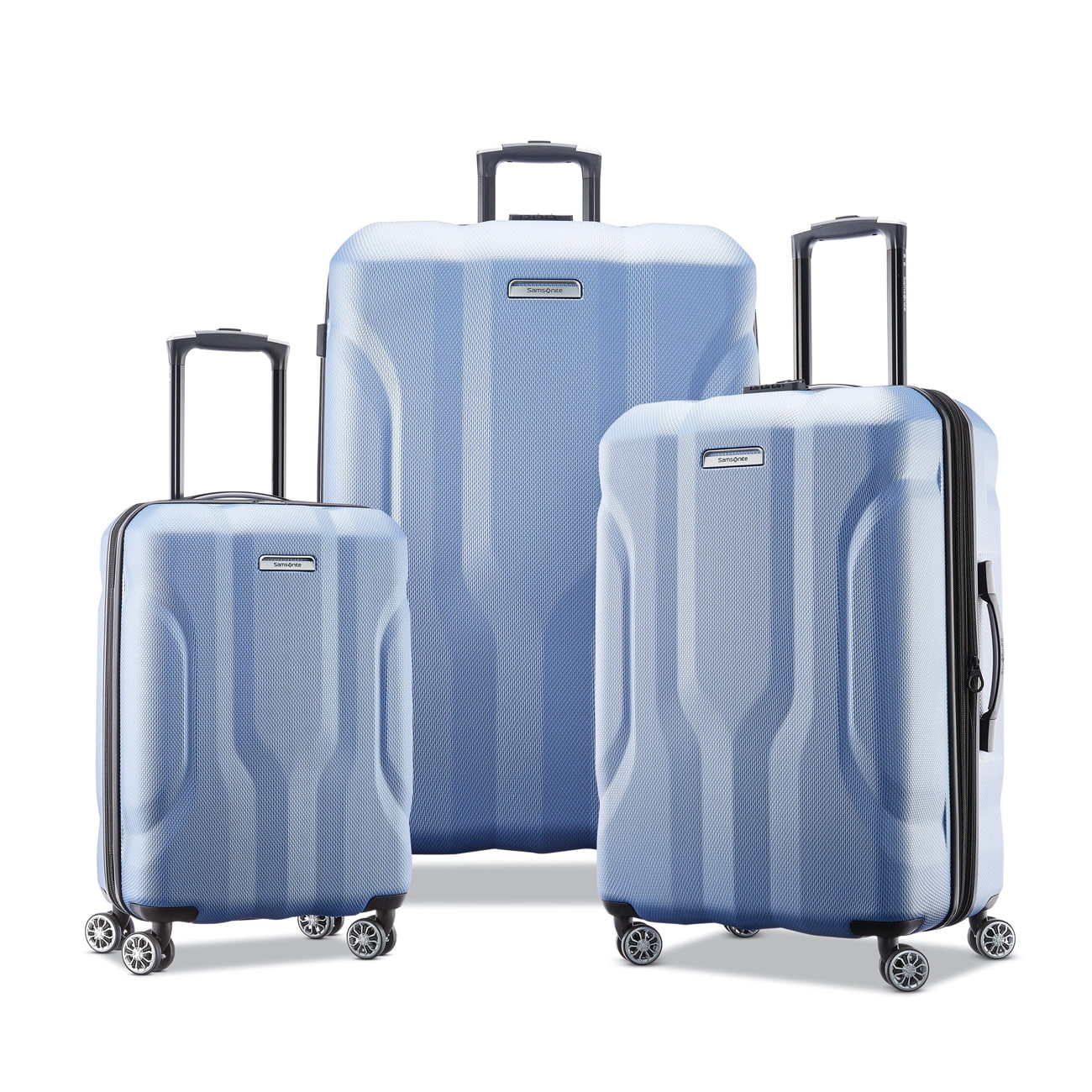 Part of Samsonite's updated Pivot 2 collection, this is a stylish, high-quality luggage set of three lightweight hardside spinners made of durable 100% polycarbonate. All shells are expandable, allowing for additional packing space, and the carry-on keeps your devices charged on the go with an integrated USB port.
Multi-stage pull handles and dual spinner wheels on all cases offer effortless maneuverability, while built-in TSA combination locks make security checks more bearable. Complementing the fabric-lined interiors are elastic cross straps and a zip-around pocket divider.
The Pivot 2 3 Piece Set includes 3 different sizes (22″, 28″, 32″) to fit any travel occasion. Use them all together for a family holiday or mix and match based on the length and purpose of your trip.
American Tourister Stack-It 3 Piece Set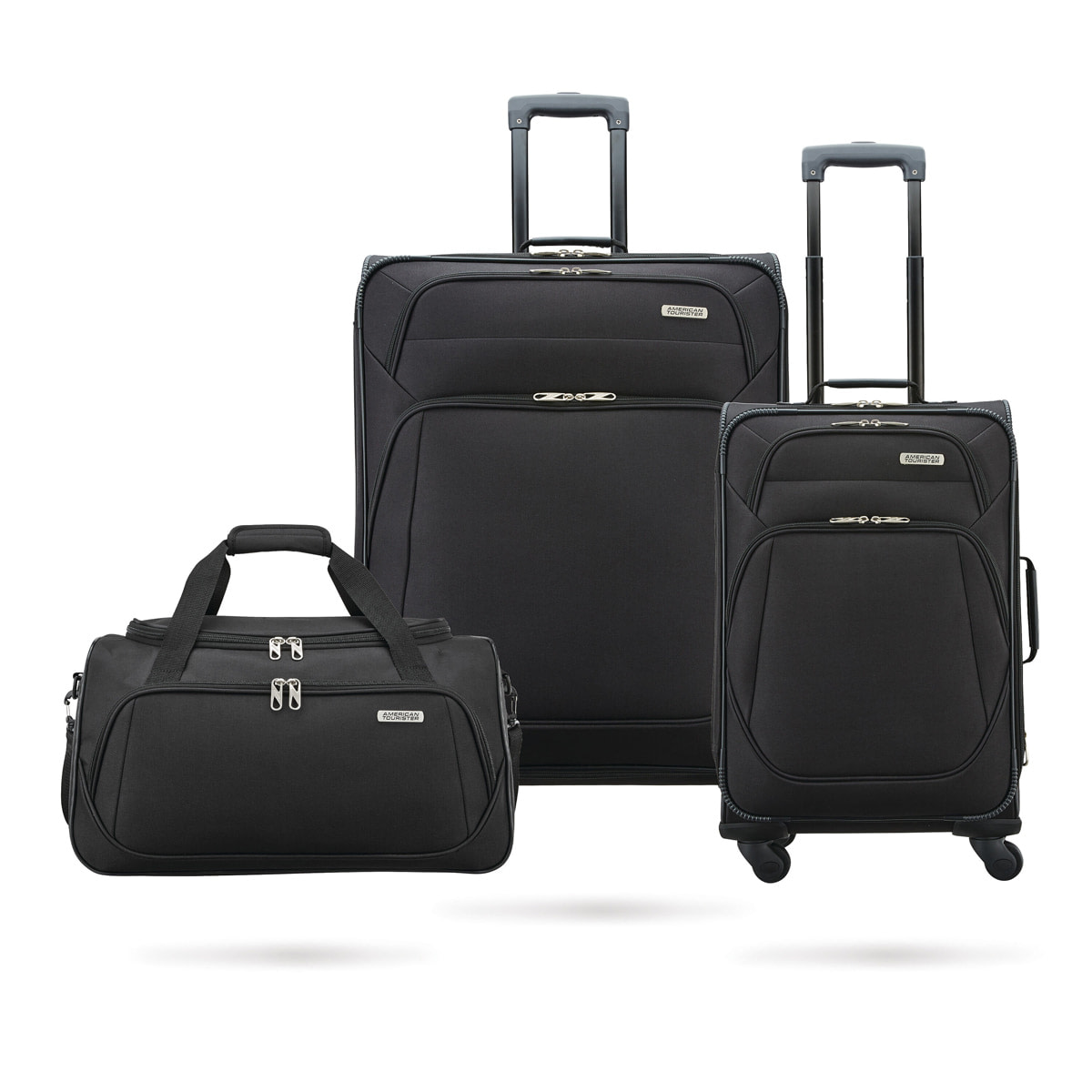 With a 20″ carry-on suitcase, a 25″ spinner, and a duffel, the versatility of this 3-piece luggage set from American Tourister is hard to match.
Constructed from rugged polyester, all soft-shell items have fully lined interiors, reinforced corners, as well as multiple interior/exterior pockets for custom organization and quick access to your essentials.
The duffel is perfect for short trips and the carry-on comes with the brand's Stack-It feature, which means you can attach it to your checked luggage and roll the two bags at once. Both rolling suitcases ride on 4 spinner wheels for effortless mobility and sport push-button locking telescoping handles.
With all that being said, there's no doubt that investing in this affordable luggage set is a smart decision that can save you a whole lot of money over the years.
Steve Madden Designer Luggage Set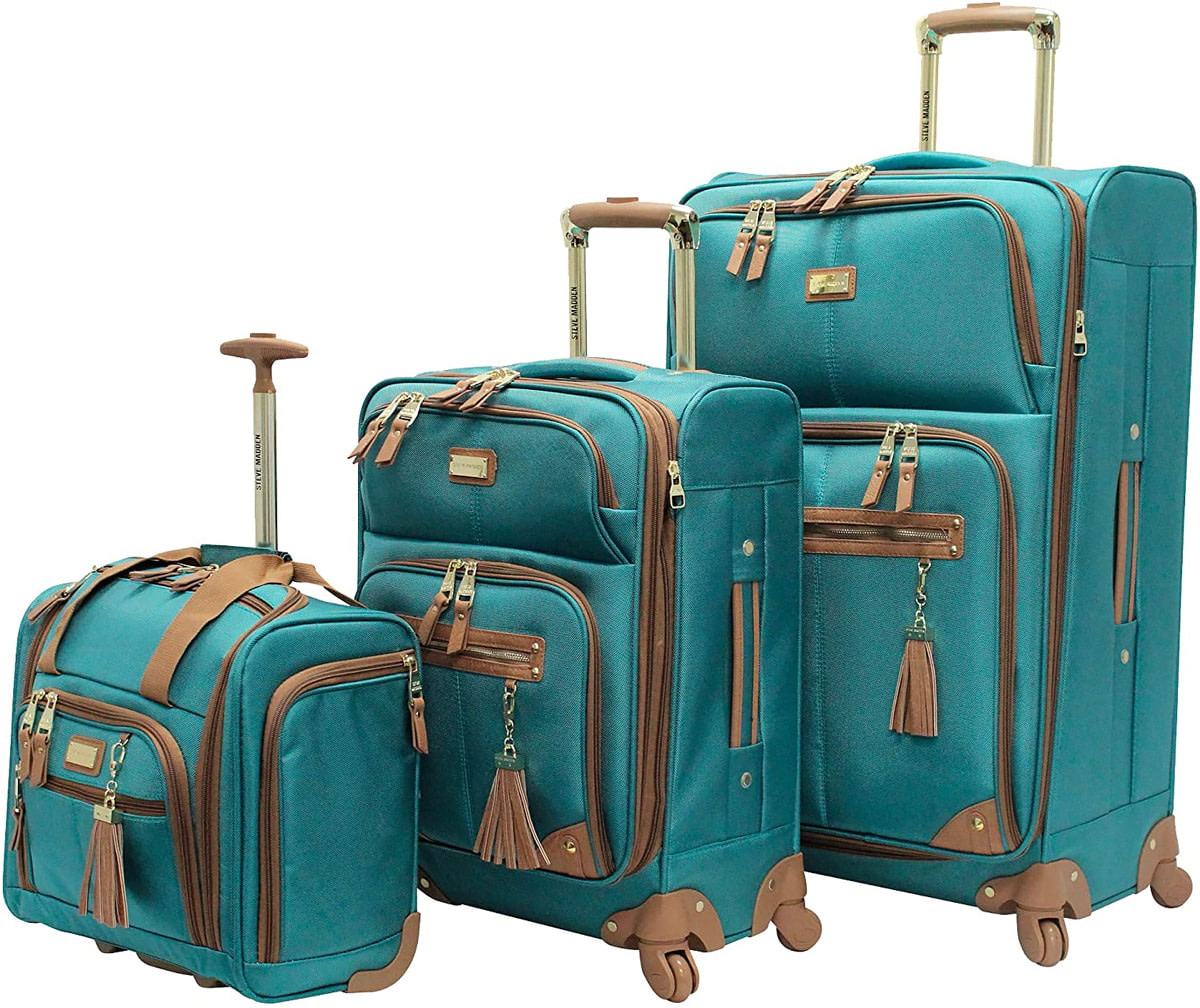 Sturdy, lightweight, and extremely practical, this Steve Madden Designer Luggage Collection is effectively tailored to satisfy all your travel needs. The modern design – with multi-directional spinner wheels and ergonomic telescoping handles – makes it a natural choice for busy business travelers, while a plethora of exterior pockets offer quick access and ample storage for all your smaller belongings.
Made of polyester, this 3-piece luggage set combines hardside durability with the convenience of softside packing and comes with a 5-year warranty. It includes a 20-inch carry-on, a 28-inch checked suitcase, and a convenient underseat bag for those impromptu work trips.
Traveler's Choice Zendy Hardside 3 Piece Luggage Set
Looking for an affordable luggage set that can withstand the harshest travel conditions? Traveler's Choice has just the right product. Strong yet sophisticated, their Zendy Hardside 3 Piece Luggage Set comes with three suitcase sizes – a 21″ carry-on, a 25″ medium checked, and a 29″ large checked, so you can combine them into the perfect ensemble.
Regardless of their capacity, every futuristic-looking case rolls on the brand's patented 360-degree dual cyclone spherical wheels and comes with a proprietary telescoping handle for comfortable maneuvering. Built with safety and durability in mind, their distinctive polyester shells sport TSA-approved combination locks and a special honeycomb texture that prevents scuffs and abrasions.
The interior is fully lined and there's a convenient zippered compartment designed to prevent items from shifting during travel. The carry-on features a built-in USB port for powering up your devices in transit and all bags provide 2″ expansion for extra packing.