This post contains affiliate links, which means we may receive a small commission, at no additional cost to you, if you make a purchase through these links. See our full disclosure here.
Savvy frequent flyers pay special attention to every little detail when booking flights, hotels, and rental cars; this same vigilance applies to buying gear. This can be doubly true of business travelers, mainly because their needs can be more stringent than leisure travelers.
Those who frequently go on work trips must keep their documents, laptops, smartphones, and other electronics safe at all times, so they need luggage that accommodates these needs and meets airline regulations in weight and size. And, ideally, without risking lost luggage by having to check a bag.
An excellent piece of luggage will not only be ideal for keeping your essentials organized and secure, but it'll also give you the peace of mind you need during your travels so you can focus on the job at hand. Below you'll find some of the best carry-on luggage for business travel on the market so you can have the peace of mind you deserve.
Monos Hybrid Carry-On
Possibly the perfect carry-on suitcase for business travelers, Monos' Hybrid Carry-On combines the best features of polycarbonate and aluminum luggage into a single premium rolling trolley. While most of the shell is crafted from lightweight thermo-plastic, the corners and latch are reinforced with aluminum to add extra protection to potential impact points and eliminate the possibility of a zipper malfunction. The result is a piece you can covet for years, and happily so, thanks to the intelligent organization features.
July Carry-On Pro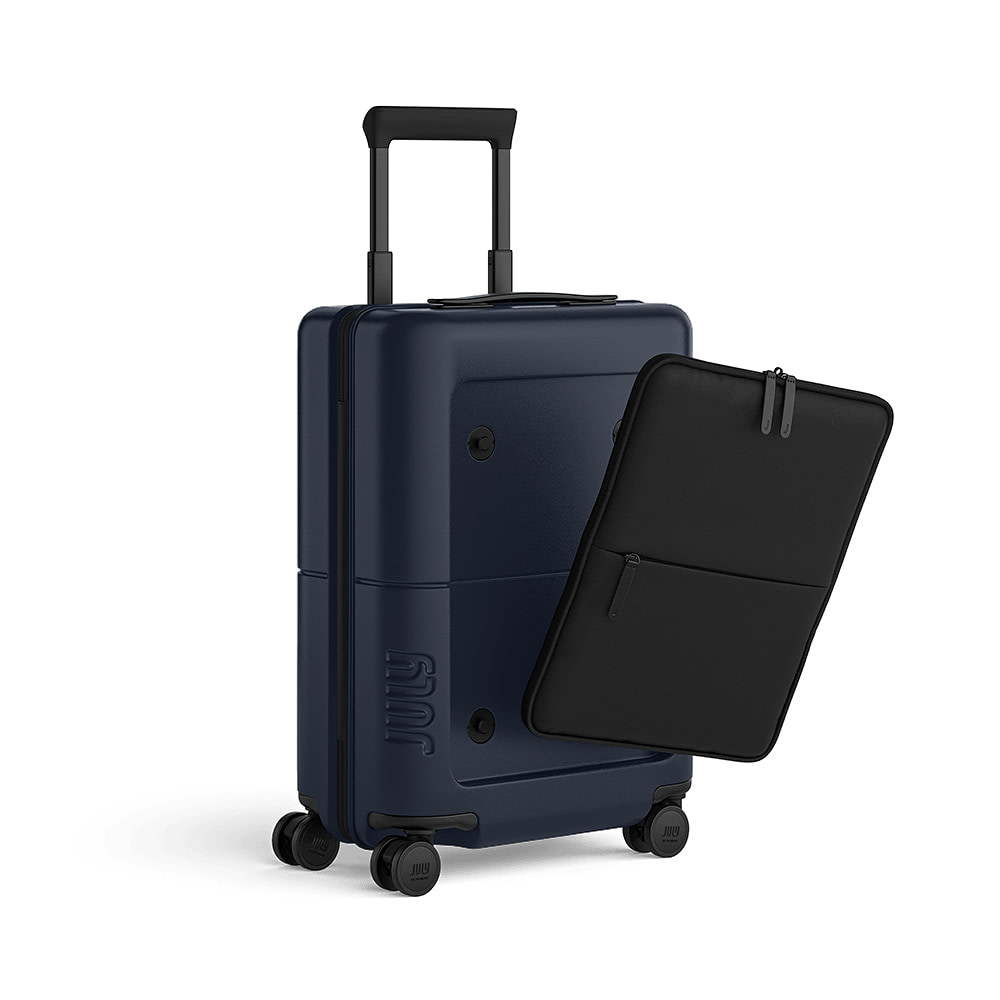 If you hate the struggle to free your laptop from your carry-on to pass through security, you'll want to consider July's Carry-On Pro seriously. Designed so that the included laptop sleeve – which has room for your passport, documents, keys, and other essentials in addition to a 16″ laptop – attaches directly to the front of the case, it's easy to snap off quickly to place through the scanner.
Like many contemporary suitcases, this one comes with an integrated power bank. However, the Carry-On Pro has a mechanism that quickly ejects the device whenever you'd like to tote it with you separately. Combined with its premium organization features, the Carry-On Pro is a strong candidate to become your new favorite travel companion.
Béis Soft-Sided Collapsible Carry-On Roller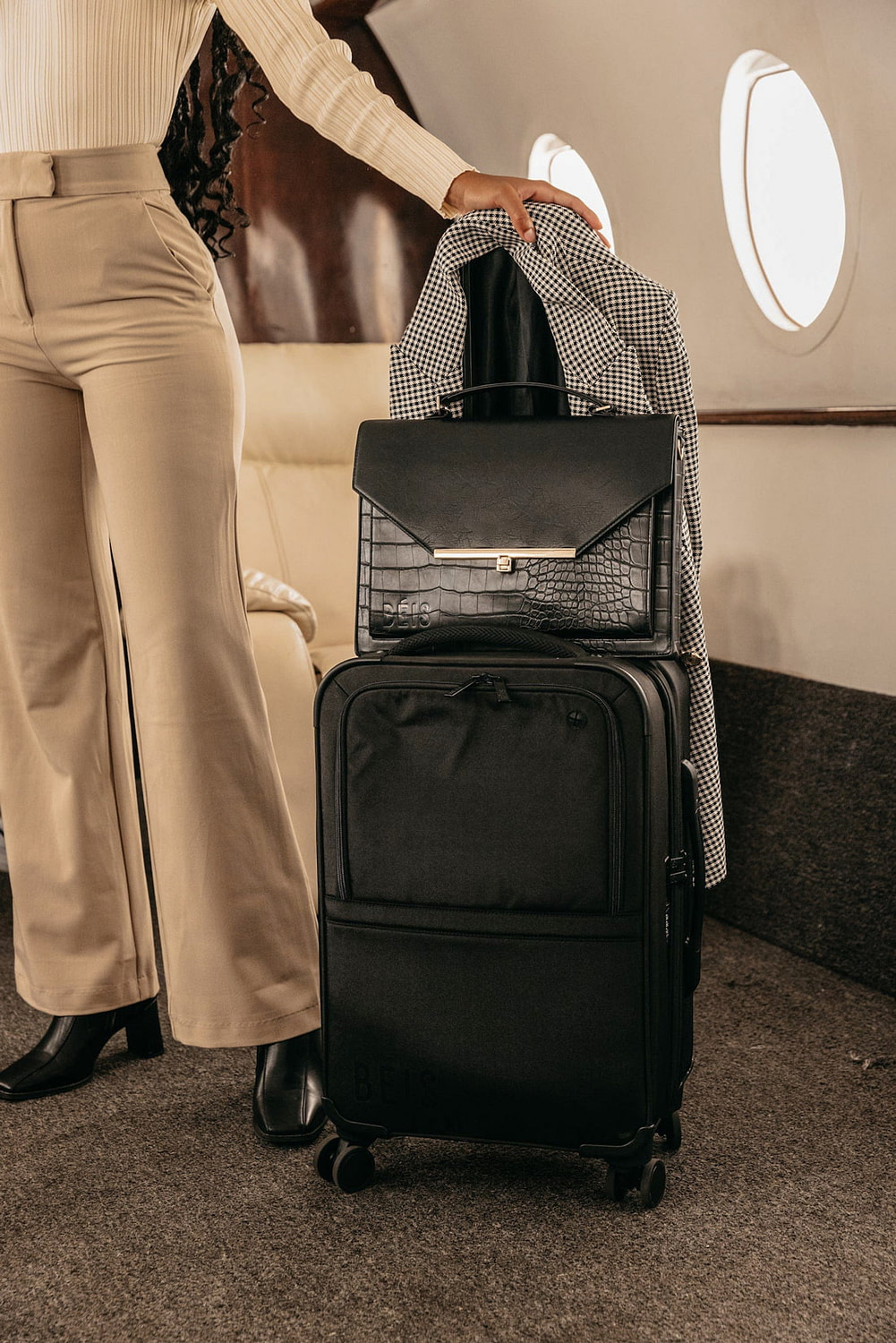 Perfect for corporate urbanites living in small spaces, the Soft-Sided Collapsible Carry-On Roller from Béis folds into a slim profile to store it away. When you're ready to travel, the integrated wall panels in the interior snap right into place, ready to pack.
The easy-access front pocket can carry your laptop and essentials you need to keep at hand and includes a cord pass-through you can use with a battery bank to charge your phone on the fly. Though it's packed with functionality, the design is far more distinguished and streamlined than your average soft-side trolly, so it's as impressive to look at as it is to use.
Briggs & Riley International 21″ Carry-On Spinner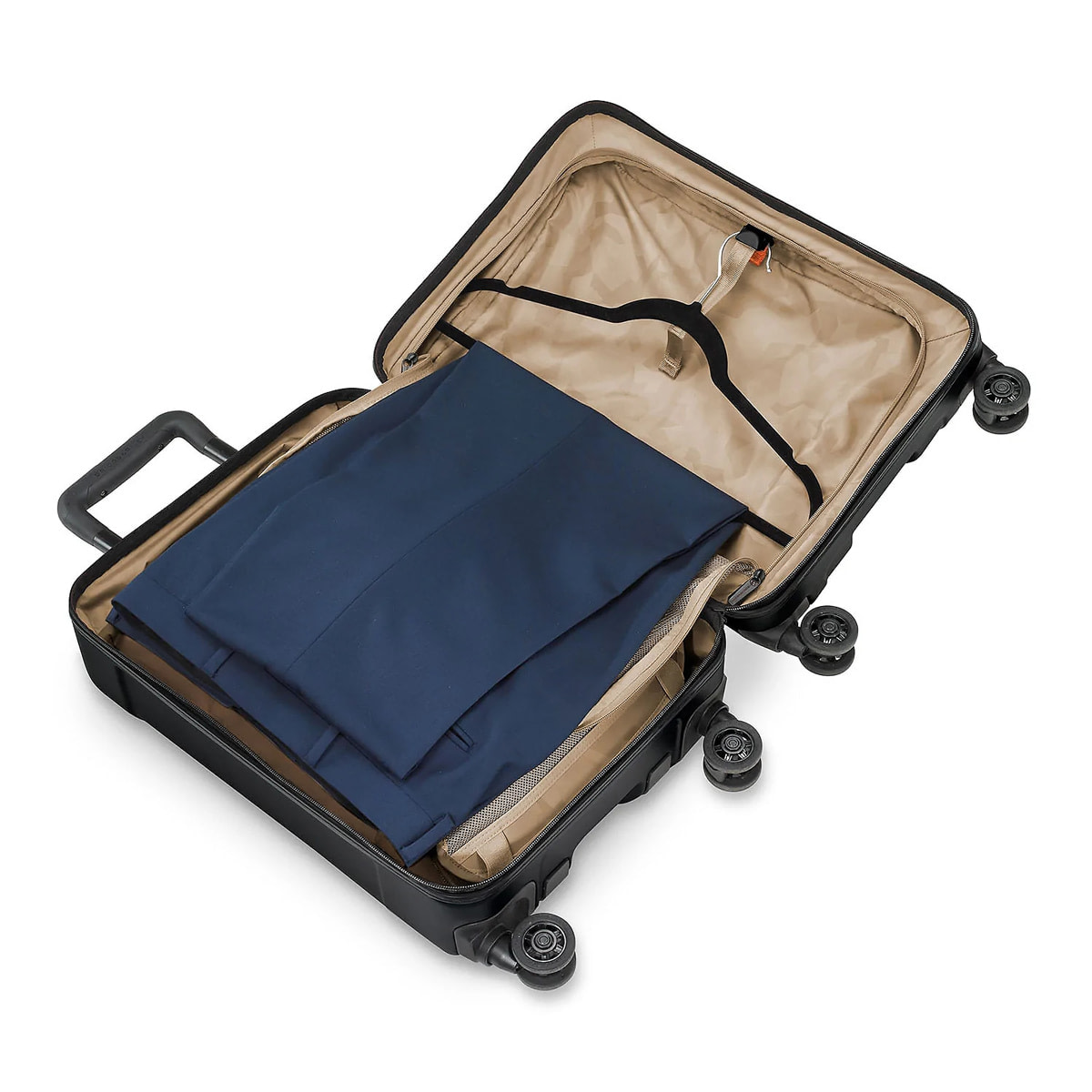 A lightweight, hard-shell suitcase that's perfect for those who travel with tech, the Briggs & Riley International 21″ Spinner has a dedicated hard-shell space for your essentials aside from the main compartment. Opening the hinged front pocket reveals several organizational dividers, with room for your laptop, hard drives, cables, and even a small drone. And its double-spinner wheels are designed to keep the bag upright even when the front panel is open.
The main compartment boasts all the amenities business travelers require: built-in mesh suiting straps, cinch-down garment dividers, and midline panels to keep your belongings organized.
Away Bigger Carry-On with Pocket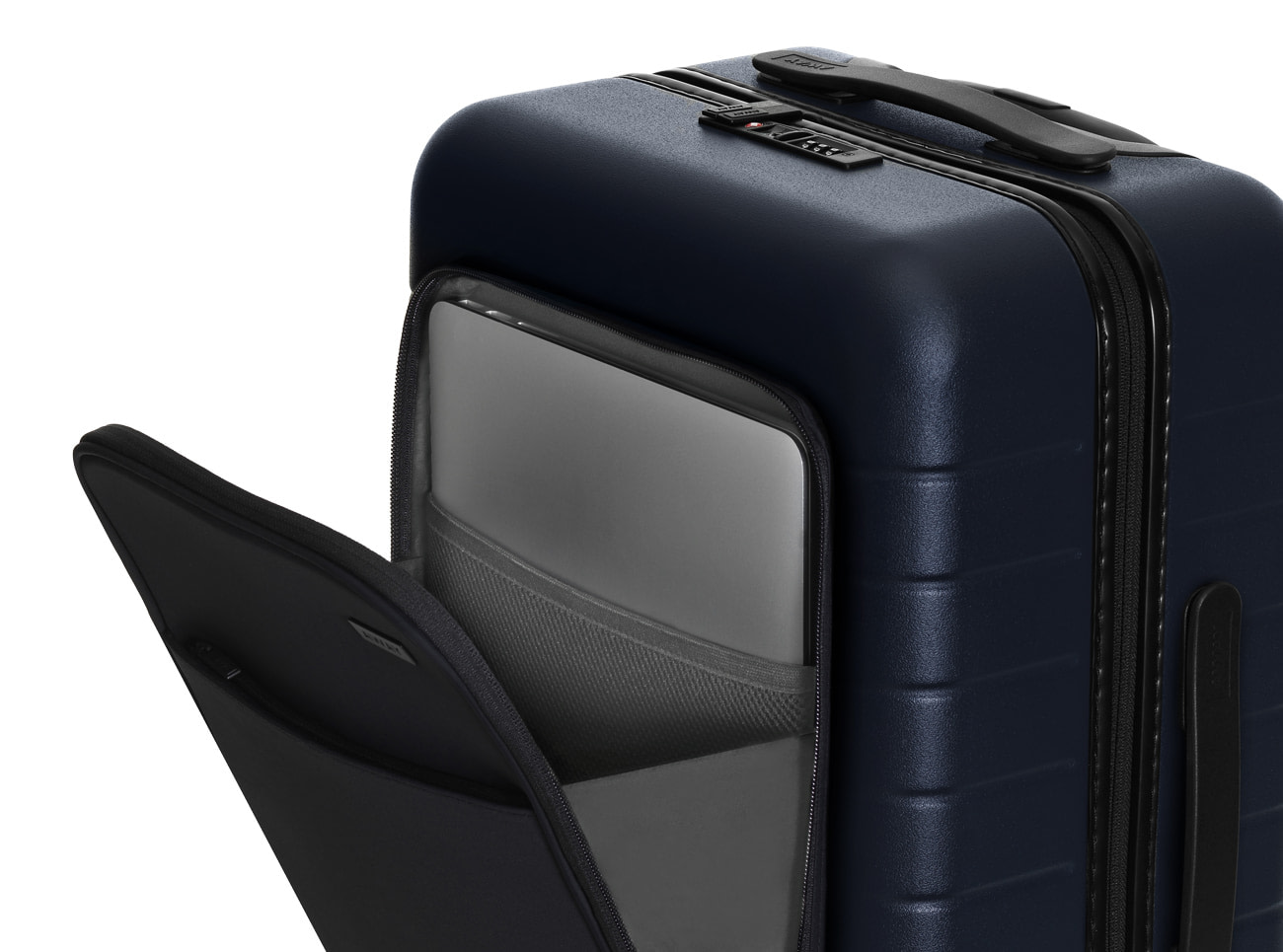 Continuing their mission to make all your journeys easier, Away's Bigger Carry-On with Pocket delivers the security of hard-sided luggage with a TSA-friendly laptop pouch of a travel pack.
If you are a true single-bag traveler, you've likely avoided hard-sided luggage in the past, but the ingenious accordion pocket on the front allows you to slip out your laptop, notebook, passport, or boarding pass when you're headed through security or settling into your airplane seat. When your flight lands, simply return your laptop to its pocket and cruise to your destination unfettered without having to open the main compartment.
Samsonite Stryde 111 Carry-On Spinner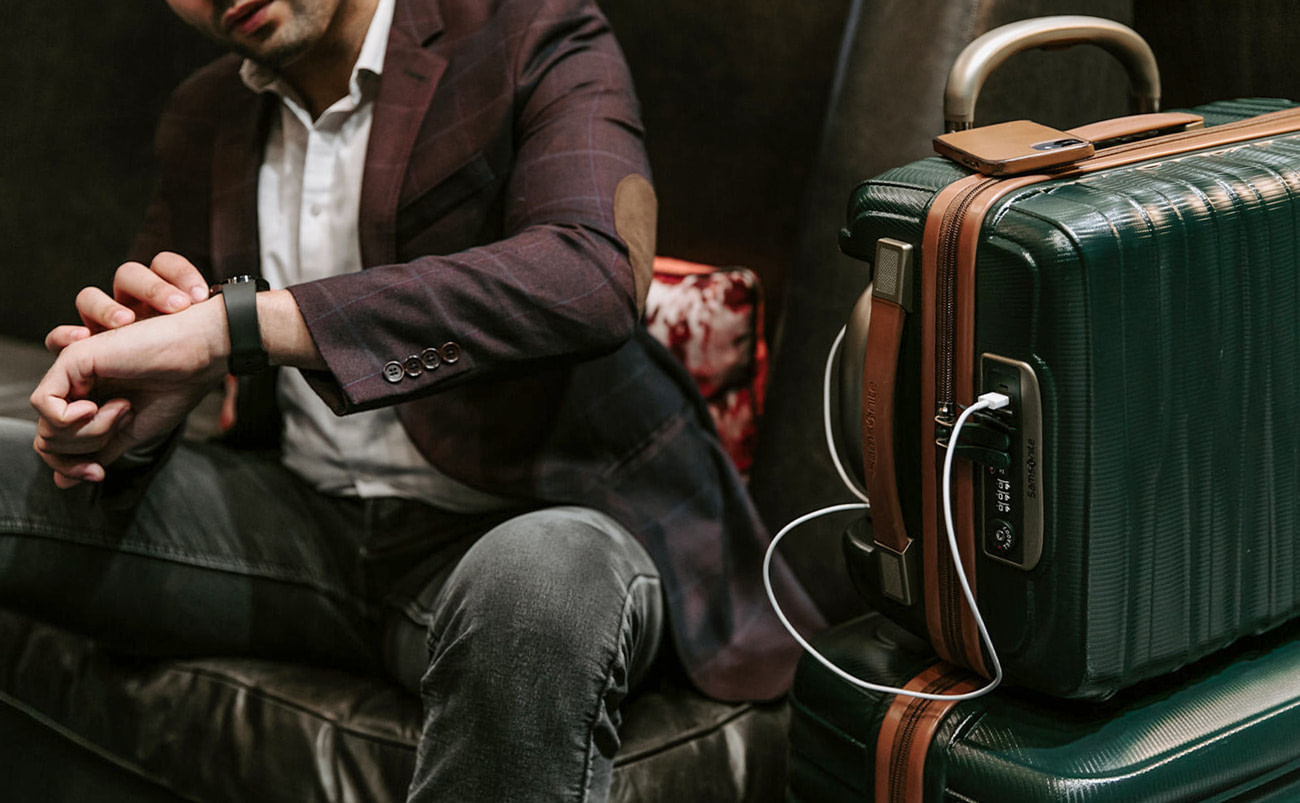 Although they're already a legacy brand, Samsonite's Stryde 111 Carry-On Spinner proves they're never done innovating. While its exterior appears deceptively simple – although beautifully designed – the back has a retractable luggage pass-through, allowing it to rest on top of a check-in bag, and the handle telescopes out to reveal LEDs that ensure you're visible, even on dark streets.
Business travelers especially will appreciate the included amenities: pocketed dividers split the bag at the midline; the matching toiletry bag and packing cube keep your essentials mobile, and dual USB charging ports power up your devices in transit.
MVST Select Space Aluminum Suitcase
With a design that hearkens to the original stars of premium luggage, the Space Aluminum Suitcase from MVST Select has retro sensibilities with updated functionality. Though it bears the ultra-secure latch closure that makes checking a bag worry-free, its TSA-approved size ensures you may never have to at all. Pocketed panels split the case at the midline to keep your things organized, whether laying it flat to rifle through your belongings or hefting it into the overhead bin.
Level 8 Pro Carry-On with Laptop Pocket 20"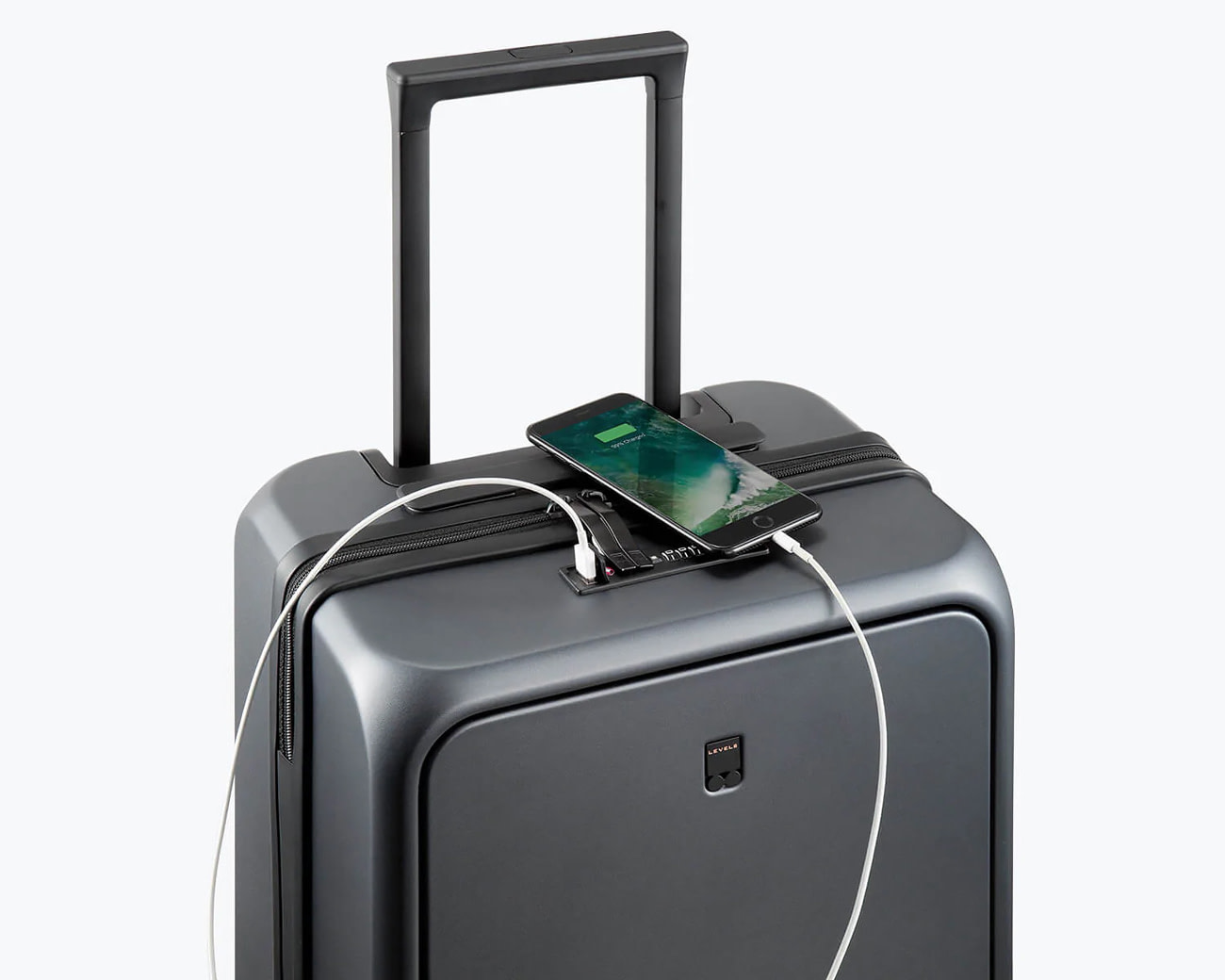 With a beautiful, minimalist profile, the 20″ Pro Carry-On With Laptop Pocket from Level 8 perfectly marries functionality with design. Inside you'll find panels and straps typical of a rolling carry-on, though it's maximized internally by the innovative placement of the handle and wheels.
The real boon is the hard-shell front pocket: though it looks incredibly slim from the exterior, opening it reveals a finely crafted organizational dock for your laptop, phone, passport, and other small essentials. While the main compartment has a three-side zipper, the front pocket is equipped with a quick-open latch to help you breeze through security even faster.
Travelpro Maxlite 5 Softside Spinner
Dynamic, ultra-lightweight, and affordable, the Maxlite 5 Softside Spinner from Travelpro is an ideal choice for both business and leisure travel. It has several smart features for the business traveler, such as organizational dividers in its front pocket. But if you occasionally jet off on vacation, it can expand 2 inches to give you extra room to tote home souvenirs. Bonus: it's crafted from durable polyester canvas fabric that's been weatherproofed to repel the elements.
Halfday Garment Duffel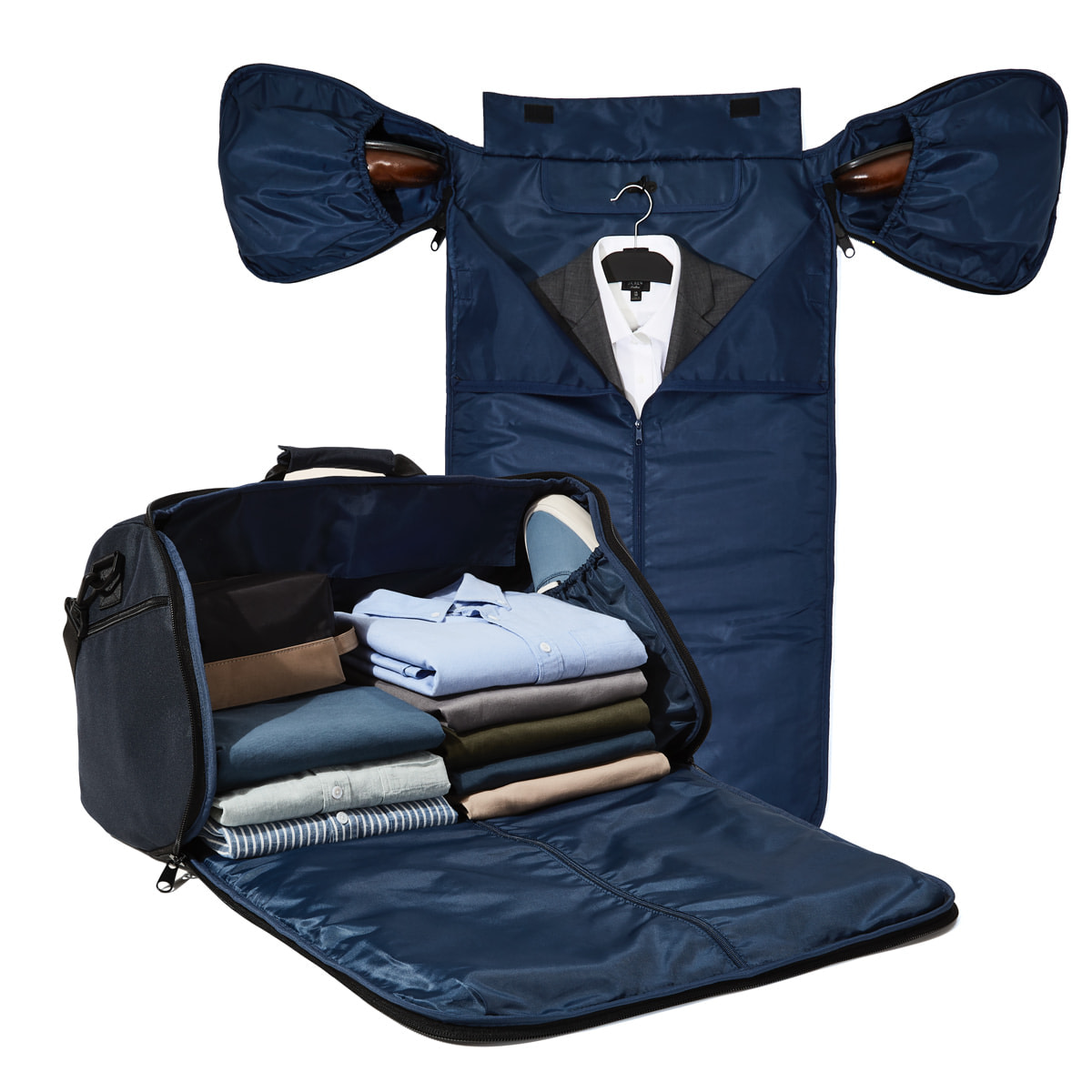 For business travelers who make frequent short trips, the Halfday Garment Duffel can be a game changer if you've struggled to keep your jackets, pants, and gowns wrinkle-free in transit. It has an ingenious design wherein the walls of the integrated garment bag zip securely around end caps to create the main compartment of the duffel, giving you room for a Dopp kit, shoes, pajamas, and more. Bonus: it fits under most airline seats, so you'll never have to worry about your suit getting crushed in the overhead bin or your dress getting wrinkled by baggage handlers.
Bric's Bellagio Business V2.0 21″ Carry-On Spinner
A fully functional rolling trolley for business professionals that still looks effortlessly elegant, the Bellagio Business V2.0 21″ Carry-On Spinner from Bric's hits the mark with the well-heeled. Though it has a fracture-resistant polycarbonate shell, it's trimmed in contrasting vegetable-tanned leather, adding a refined quality. Its hard-sided front pocket holds your laptop and other small tech, and zips closed with the same water-repellent, self-sealing zipper as the main compartment for added protection.
RIMOWA Cabin Twist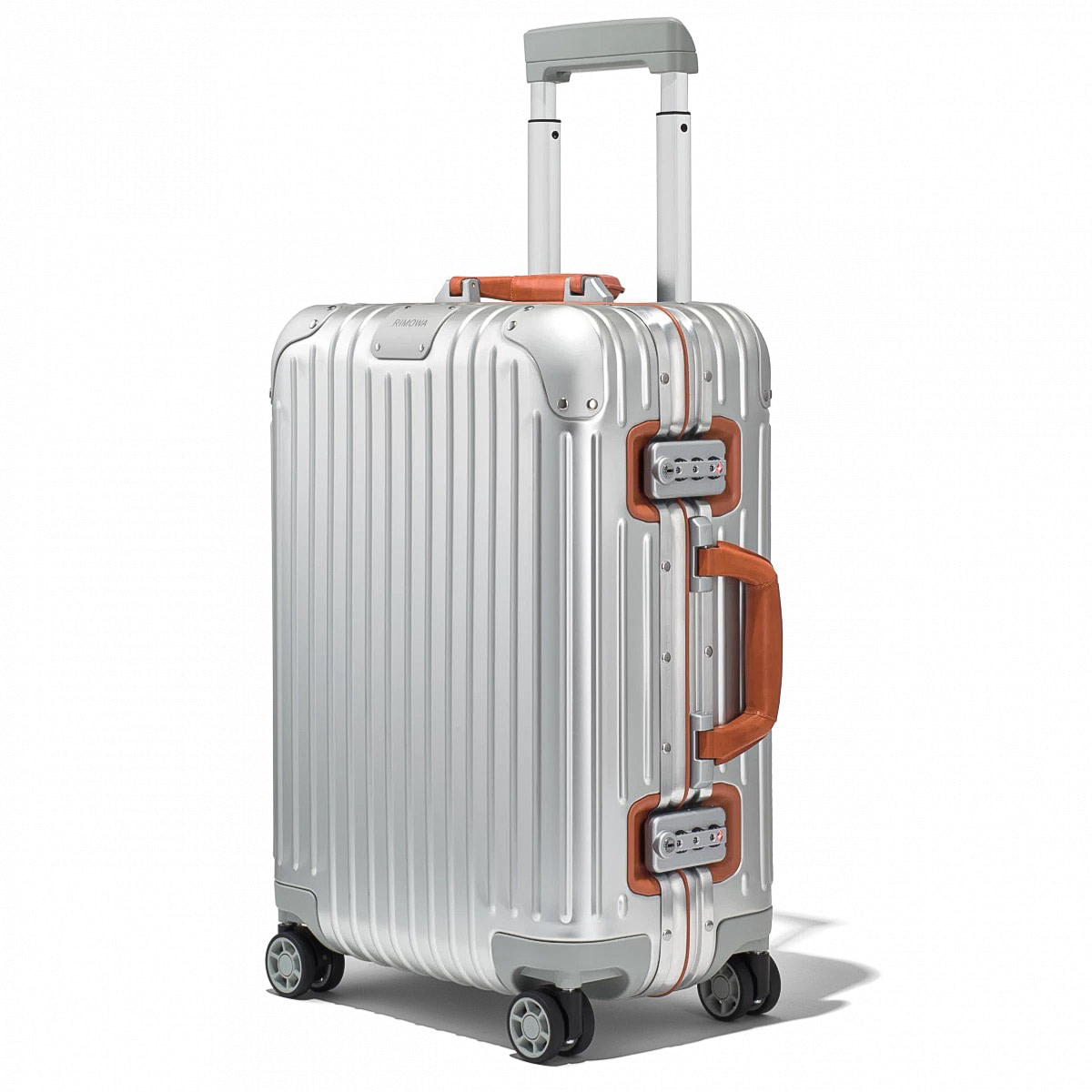 An updated version of their legacy flagship case, RIMOWA's Cabin Twist has become a clear favorite from the already iconic line. Just like their original luggage, the shell is made from corrugated anodized aluminum. But this model has been updated for the 21st century with proprietary cushioned-axel wheels and the Flex Divider system that adjusts to your needs. The twist comes in the styling: the handles, locks, and seal are all wrapped in contrast premium leather, and it comes with a matching luggage tag.
Samsonite Carrier Underseater
Compact, durable, and efficient, the Carrier Underseater is the perfect choice for travelers craving comfort and convenience during their flight. Not only does it fit perfectly under the seat in front of you, but it's brimming with practical details that place it at the top of its category.
Made from durable polyester with a water-resistant coating and matte gunmetal hardware, this Samsonite soft-sided underseater boasts a pair of skate wheels and a push-button handle for hassle-free mobility. Features like an external USB charging port and a dedicated power bank pocket make the bag ideal for short business trips, while a variety of pockets give you plenty of room to keep small items organized and easy to reach.