This post contains affiliate links, which means we may receive a small commission, at no additional cost to you, if you make a purchase through these links. See our full disclosure here.
Not all luggage brands are created equal, and that's not particularly a bad thing. Some are praised for their heritage, others for their stylish design or unbeatable price-quality ratio, some target a specific set of consumers, yet some are pioneers in redefining the way we travel. This industry is booming, with no signs of slowing down. Clearly, the world loves to travel!
But traveling should be seamless, and that starts with the right bag. If you haven't already, invest in one that has you getting from A to B in style, adapts to your needs, and makes life on the go easier. To get you started, we have shortlisted the 16 best luggage brands available on the market right now.
Monos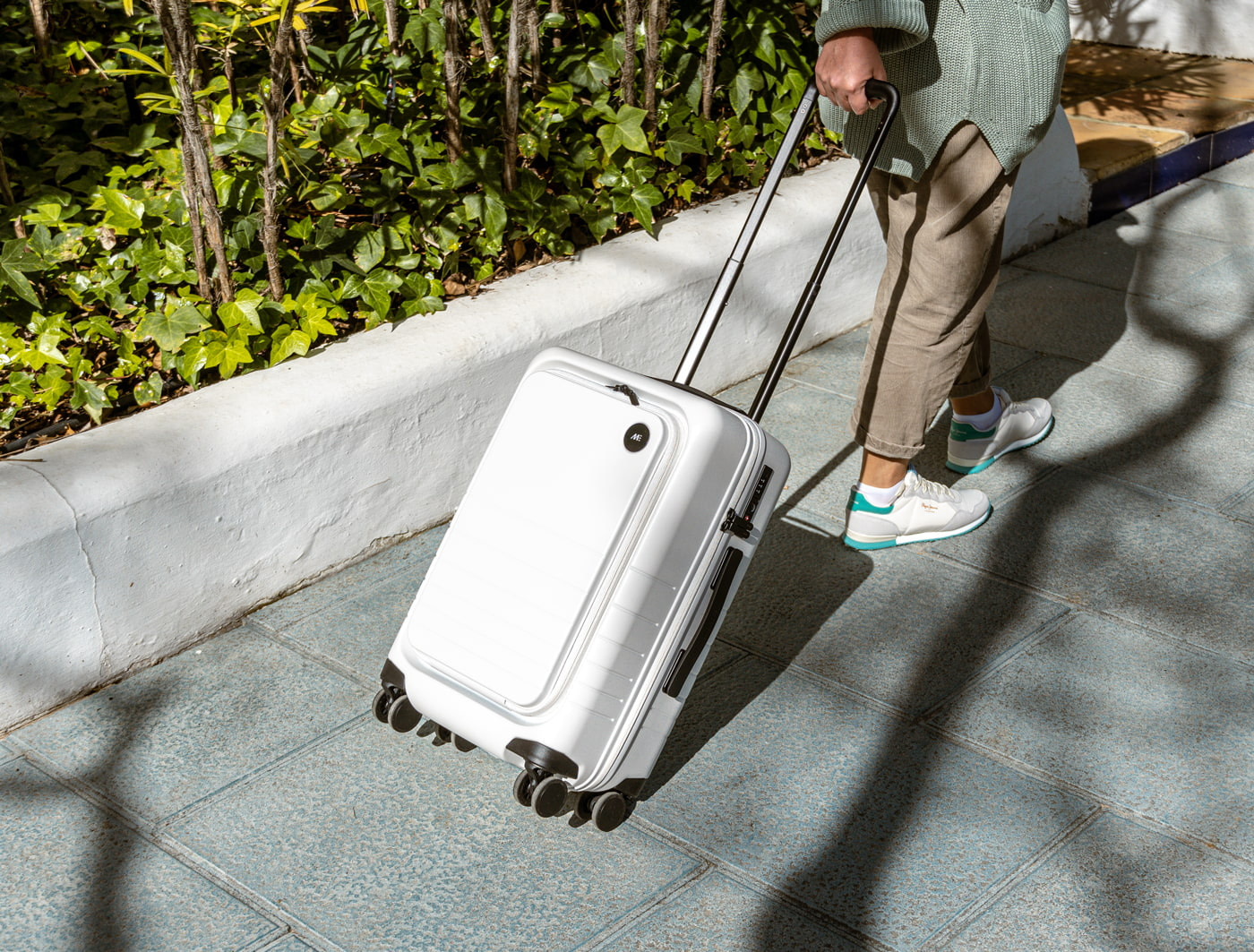 Drawing inspiration from the Japanese concept of mono no aware (appreciating the beauty of fleeting moments), it's easy to fall in love with Monos. A newcomer to the scene, this Canadian direct-to-consumer luggage brand aims to satisfy the tastes and needs of modern, mindful travelers with a product line that blends quality, aesthetics, and value.
The collection includes minimalist-looking check-ins and carry-ons in various sizes and contemporary colors, as well as chic backpacks & duffels with interchangeable pouches and inspired travel accessories like compressible packing cubes and UVC sterilizers.
Their most famous creation to date is the Carry-On, which has won a design award for its pristine, innovative architecture with asymmetric grooved lines. Nevertheless, the Monos Carry-On Pro takes innovation even further with a seamless built-in exterior compartment for easy on-the-go access to travel essentials. Sharing the same design concept, all suitcases are made from lightweight, unbreakable German Makrolon polycarbonate, with best-in-class Hinomoto wheels, reengineered handles, and luxurious anti-bacterial interior lining.
The products are fully vegan and backed by a lifetime limited warranty, and the brand's ethics extend beyond their sustainably made luggage – Monos is a climate-neutral certified brand and one of the few luggage labels out there that gives 1% of their gross revenue to non-profit organizations focused on sustainability.
MVST Select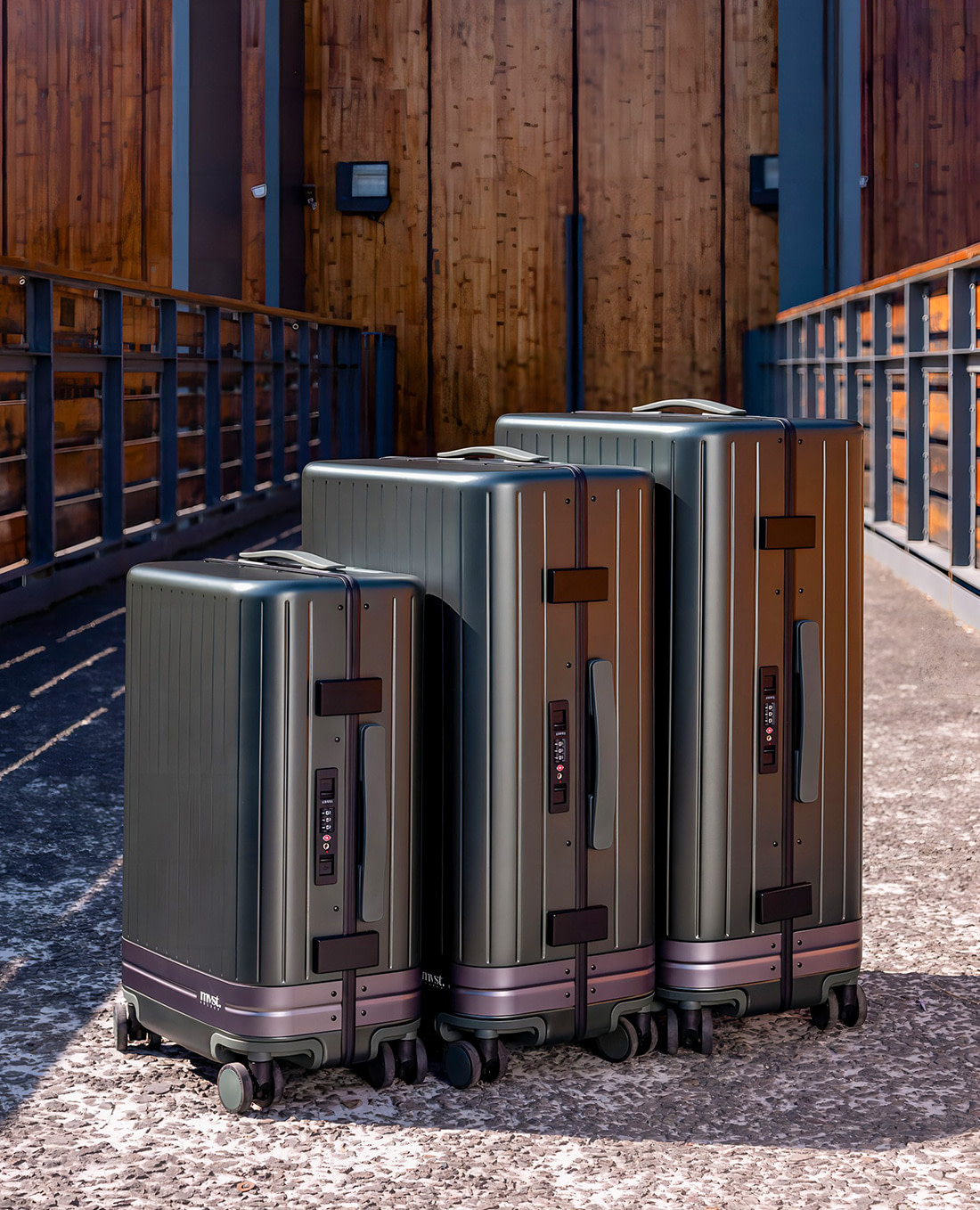 Headquartered in Los Angeles, California, MVST Select is dedicated to producing sleek, high-quality travel gear that won't break the bank. Their pieces, created with the frequent jet-setter in mind, are built to endure the rigors of modern travel and have a luxurious, futuristic look & feel, perfect for both business and leisure trips.
The direct-to-consumer brand offers a selection of tough, bad-ass-looking rolling suitcases in polycarbonate, aluminum, and carbon fiber, as well as a smartly designed weekender/garment bag to keep your dresses and suits wrinkle-free en route. Wonderfully priced, their TREK Suitcase is one of our favorite aluminum pieces, but the polycarbonate offerings are equally appealing, with strong, lightweight shells, zipperless aluminum frames, and ultra-smooth 360° spinner wheels. We haven't had a chance to try the innovative carbon fiber items, but are eager to do so.
July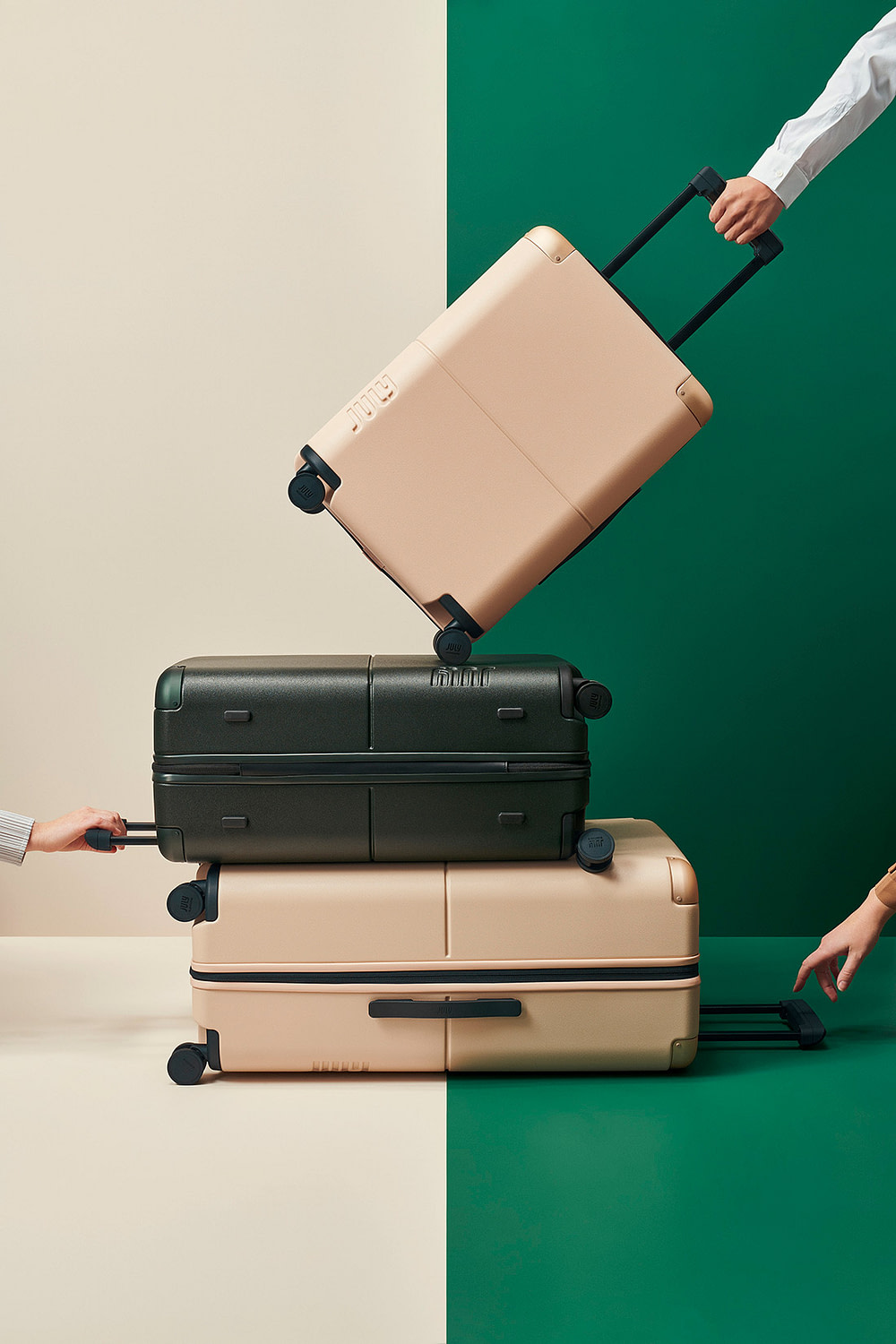 Founded in 2019 in Melbourne, Australia, July focuses on style, practicality, and durability. Designed by frequent travelers for frequent travelers, their scratch-resistant cases do bear some similarities to others in the market but also differentiate themselves in some aspects. For instance, the chic colors, minimalist lines, and multi-directional spinner wheels are a familiar sight, but what's not so familiar is the rollers' unique curved eggshell shape, which adds both sturdiness and panache. Or the extensive personalization options available.
In addition to suitcases, the company also makes and sells stylish weekenders, backpacks, totes, and a variety of smaller travel accessories. Plus, if you're not happy with your purchase, you can send it back within 100 days and get a full refund.
BÉIS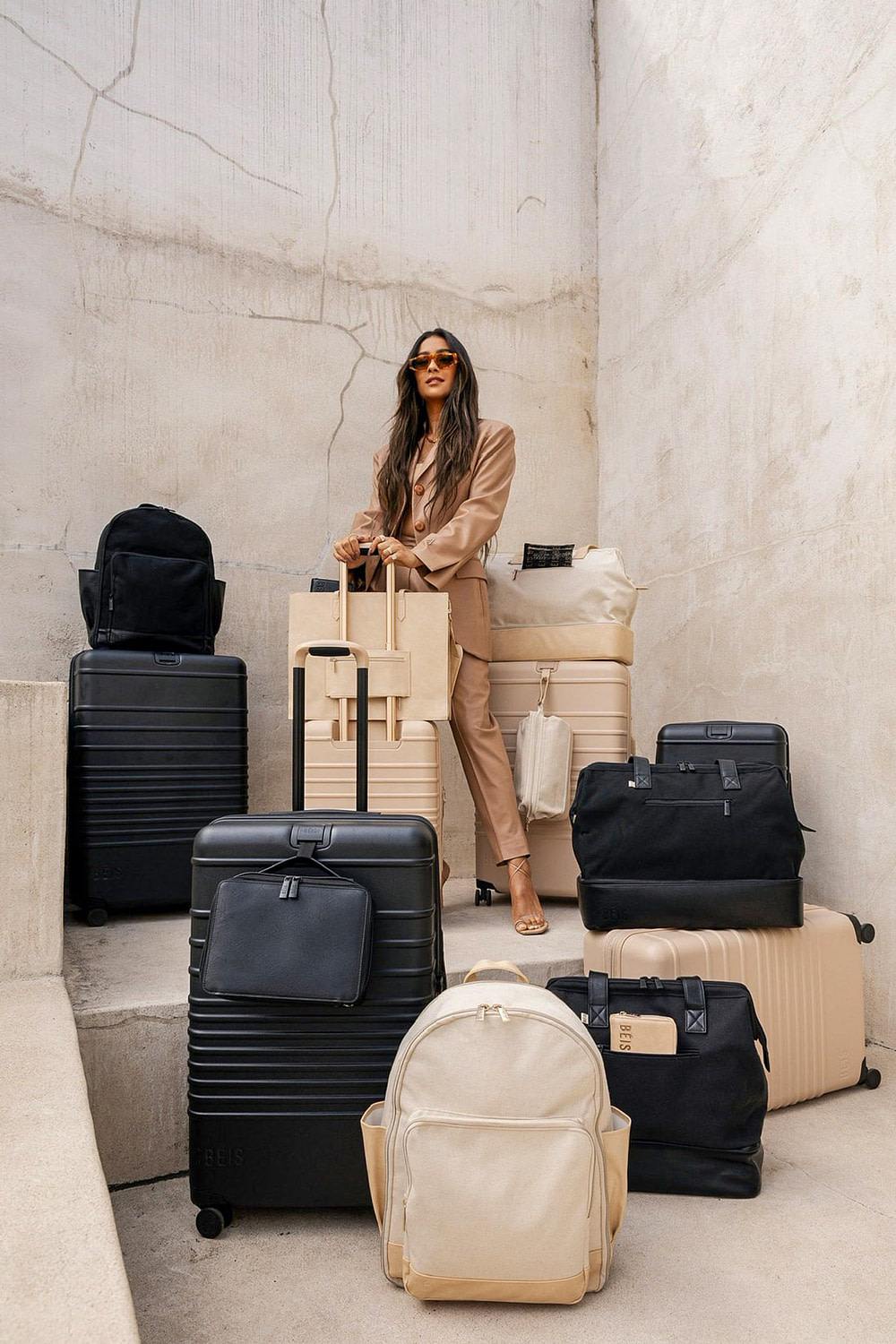 One of the best value luggage brands on the market, BÉIS specializes in good-looking, thoughtfully designed pieces aimed at making traveling easier. Created by actress Shay Mitchell in 2018, their range of products includes minimalist hardside designs that'll keep your airport style on point, collapsible softside suitcases for overpackers, as well as chic duffels and weekenders laden with smart features.
A hit among celebrities and social media influencers, the BÉIS Weekender is made from durable, water-resistant canvas and comes with an independent bottom compartment to keep shoes and dirty clothes separate, while The Carry-On Roller shows if you're over the weight limit. To further ease the travel experience, the company also offers smaller essentials like travel wallets, cosmetic clutches, packing cubes, dope kits, and even an entire pet collection of cozy totes and carry-ons.
NOMATIC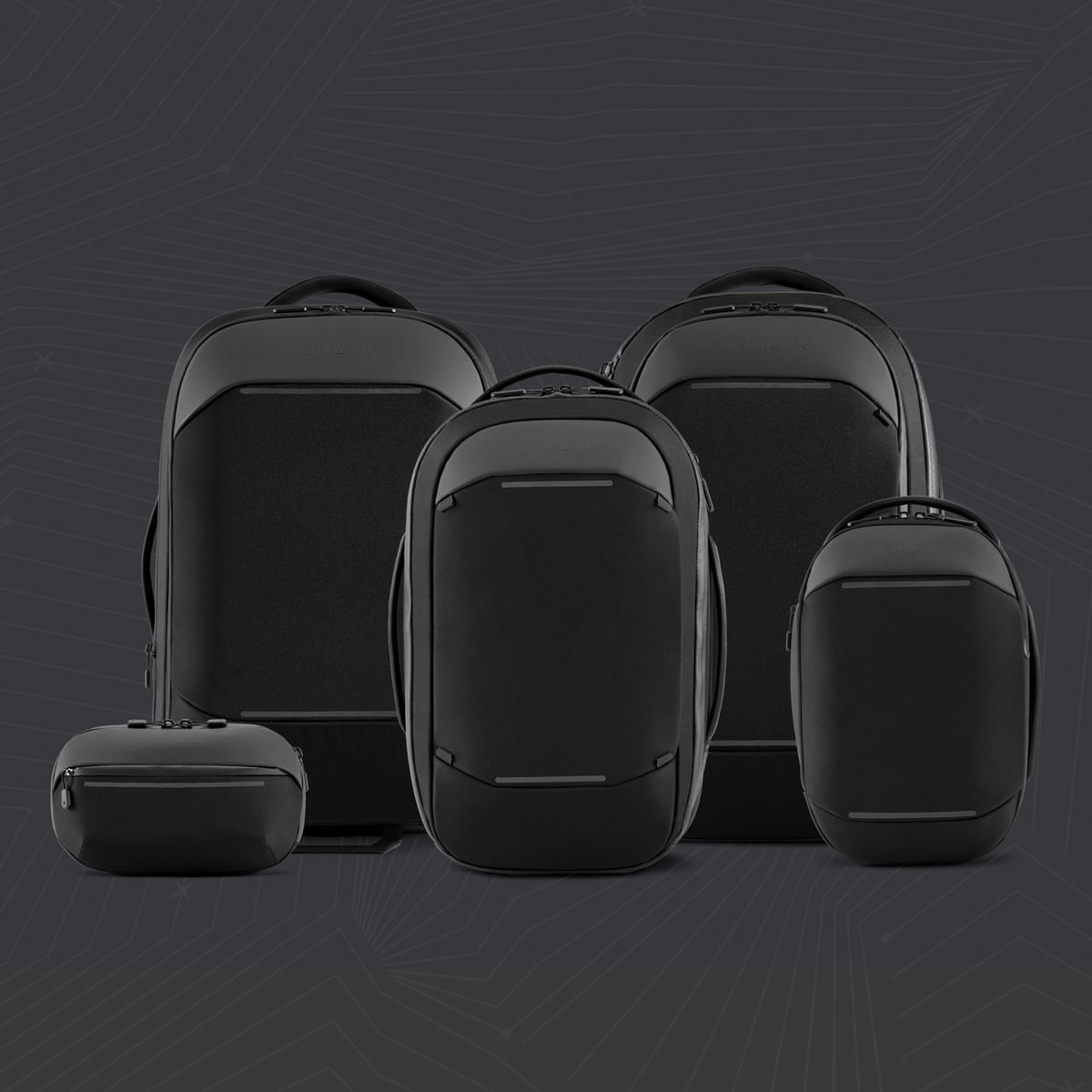 What started as a Kickstarter campaign for a clever wallet back in 2014 has led to a company that is today considered one of the leaders in work- and travel-related gear. NOMATIC excels at designing stylish, quality products that solve problems and simplify life on the move.
They are the makers of "The Most Functional Travel Bag Ever" – an epic duffel/backpack hybrid loaded with over 20 useful features, and their new NOMATIC Navigator Series promises to streamline the way we travel with versatile, minimalist-looking pieces that suit every adventure.
RIMOWA
Craftsmanship and innovation go hand in hand at RIMOWA, one of the most sought-after luxury luggage brands in the world. Established in 1898 in Cologne, Germany, the label sets itself apart through its unique heritage.
It is, first and foremost, a pioneer in the luggage industry. Aside from creating the first-ever aluminum trunk in 1937 – which is still their quintessential product, they've also revolutionized how we travel today by launching the first lightweight polycarbonate suitcase in 2000.
Solgaard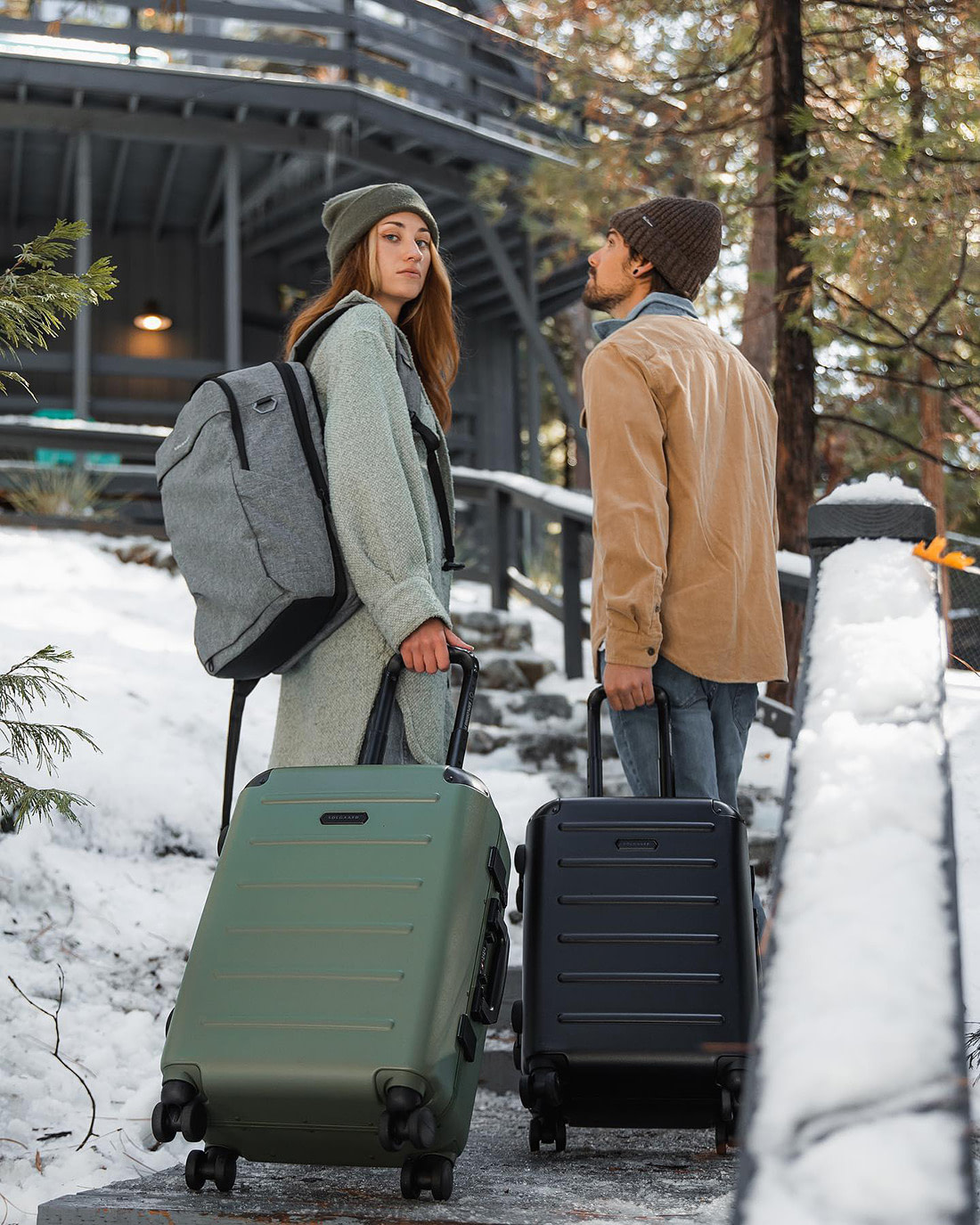 From innovation to sustainability, there's a lot to love about Solgaard. In 2016, they launched a solar-powered, anti-theft laptop backpack on Kickstarter, the world loved it, and so the forward-thinking brand became popular and expanded its range of products with more innovative designs. Nowadays, their collection includes durable, practical backpacks made of proprietary ocean-bound plastic fabric, as well as a revolutionary polycarbonate suitcase (available in different sizes) with a patented, built-in shelving system that helps travelers save space and stay organized.
All cases are backed by a lifetime warranty, and for every item sold, Solgaard pulls 5 lbs of plastic out of the ocean.
Paravel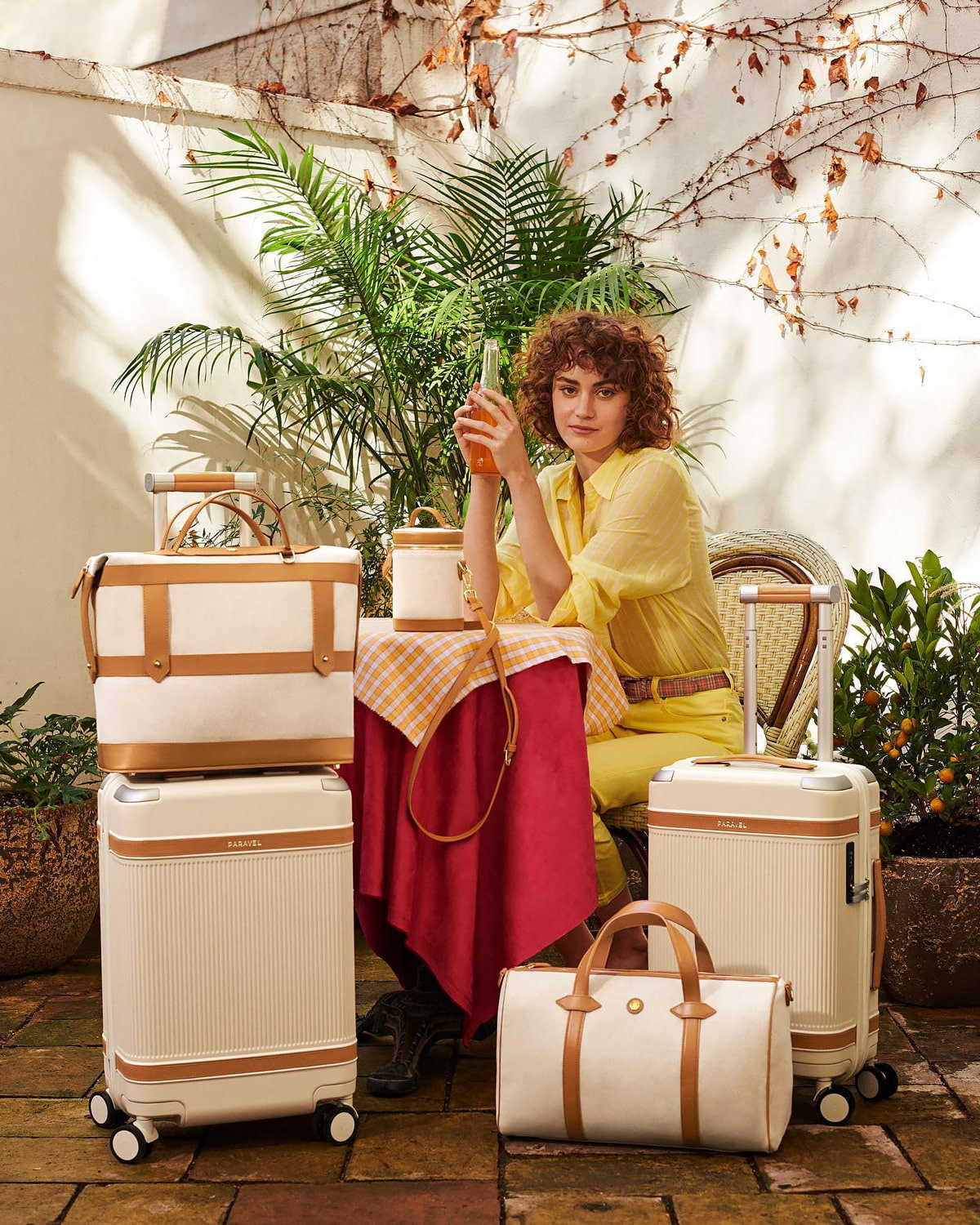 Eco-conscious travelers, meet Paravel, the most sustainable luggage brand in the world and one that has earned a cult celebrity following for their cinematic, well-organized bags at reasonable prices.
From carbon-neutral suitcases to chic totes made from upcycled plastic water bottles, everything in their collection is created with the planet in mind. Thanks to their innovative Negative Nylon and Ecocraft Canvas bags, the company managed to upcycle over 5 million plastic bottles in the last five years and is on a mission to become the first 100 percent sustainable travel brand.
Environmental ethos aside, Paravel luggage stands out for durability, performance, and a vintage-inspired design that brings to mind the glamour of a bygone travel era. Designed to stand the test of time, their stylish Aviator suitcases, available in both carry-on and check-in silhouettes, are wrapped in flexible recycled polycarbonate with elegant vegan leather accents, smooth spinner wheels, and thoughtful internal organizational features.
Horizn Studios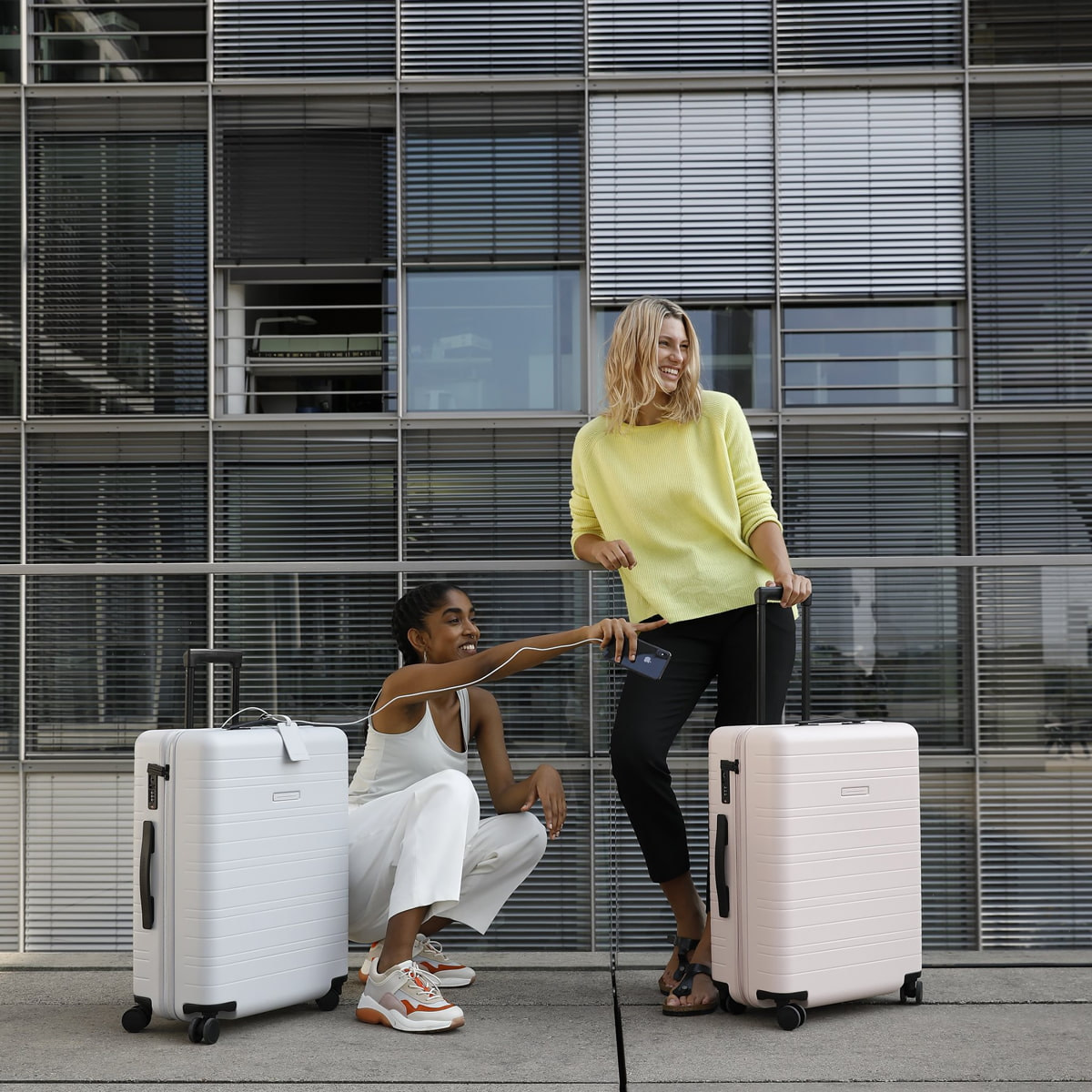 Born in Berlin in 2015, Horizn Studios makes some of the smartest, most beautiful luggage out there. Their pieces are tailored to the needs of modern travelers and digital nomads with tech-savvy features like removable USB smart chargers, optional GPS tracking, and even a personal travel assistant (Horizn GO) that takes care of every aspect of your trip. We're crazy about the M5 Cabin Luggage, which is easily one of the best cabin luggage pieces you can get your hands on.
Progressive products aside, a series of creative initiatives makes Horizn Studios one of the most exciting and original luggage brands available nowadays. To name a few, they support young emerging artists from all over the world through the annual Horizn Art Programme; they collaborate with like-minded partners like Soho House, Design Hotels, BMW, or international DJ Seth Troxler to create one-of-a-kind limited-edition bags, and they're currently working on the world's first luggage for space travel.
The brand's commitment to sustainability involves using as many recycled materials as possible, reducing CO2 emissions, and, of course, producing luggage that will last a lifetime. They're also the first luggage brand to receive the PETA-Approved Vegan certification.
Level 8 Cases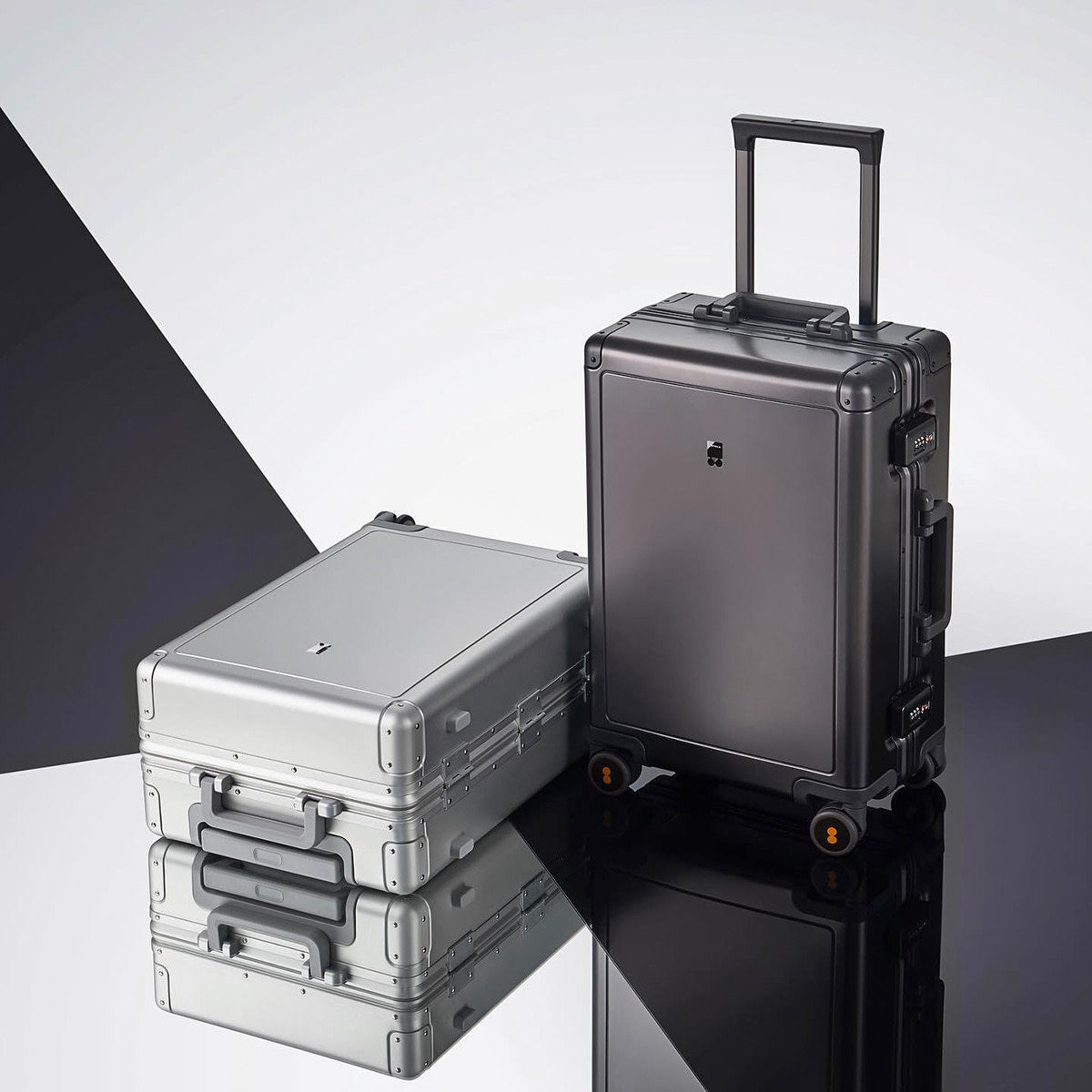 New York-based Level 8 may not be as famous as other luggage brands in our listing, but their products are excellent. The company manufactures mostly hardside luggage, but also related travel essentials like backpacks and packing cubes.
Fusing a sleek, contemporary design with quality materials, the suitcases are sturdy, modern-looking, and easy to maneuver. Some come with a special diamond-shaped texture and anti-scratch surface technology, others feature a handy front laptop compartment, and most are crafted with aerospace-grade Bayer Makrolon Polycarbonate. The only exception is their Red Dot award-winning Gibraltar Full Aluminum Carry-On, a fantastic piece of luggage at a great price.
Samsonite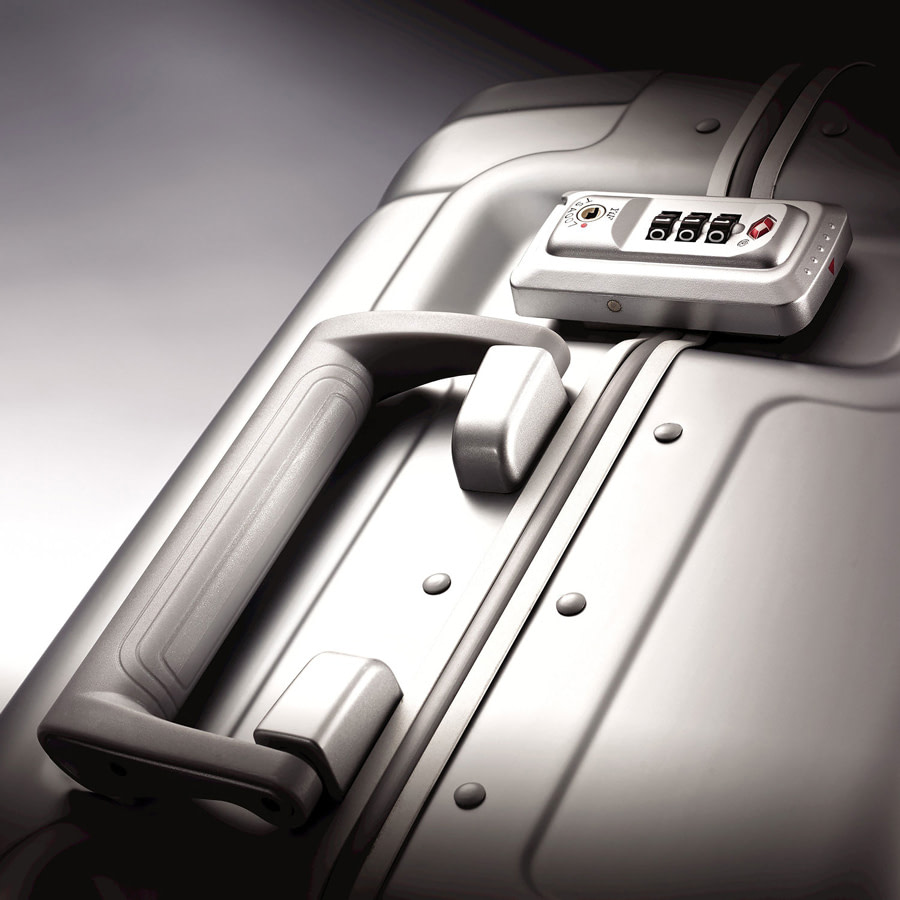 Samsonite was founded in 1910 in Denver, Colorado, and has made great luggage ever since. After all, it is the industry's leading player, with a huge range of products in a variety of designs and materials. From sturdy weekender bags and convertible backpacks to stylish hard- and soft-shell spinners, their items are designed with frequent travelers in mind, delivering the right blend of style, durability, and value.
Whether it's a business trip, a family vacation, or a quick weekend getaway, you know you can always rely on Samsonite to keep your stuff safe.
Briggs & Riley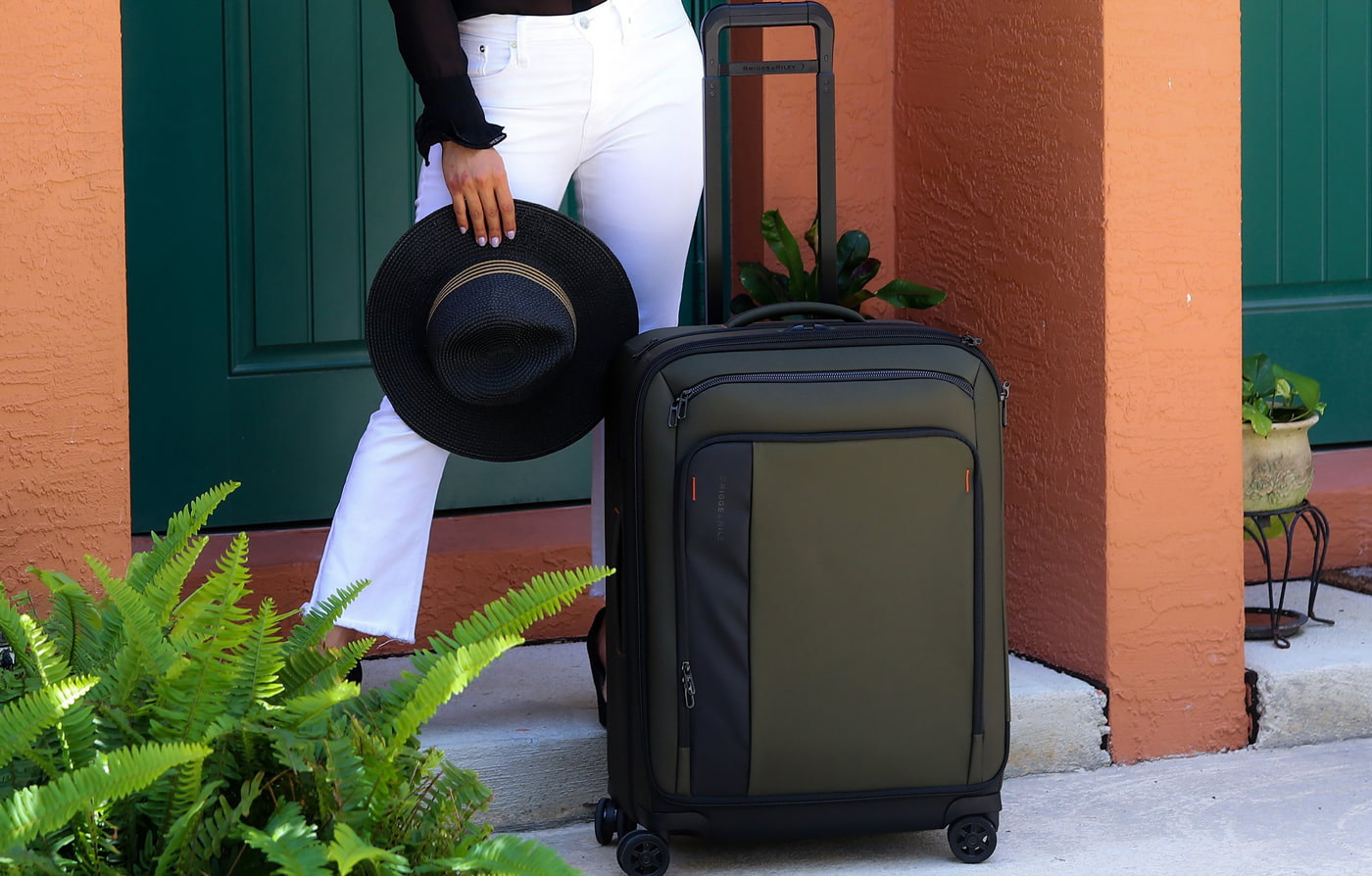 Not many luggage brands can claim to have changed the way we pack and travel quite like Briggs & Riley. Founded in 1993, the independently-owned company has pioneered and patented innovations such as the Outsider handle design, the first checkpoint-friendly SpeedThru laptop bags, and the CX expansion compression system, which allows bags to expand up to 33% and then compress down to the original size. On top of that, they pride themselves on the only unconditional lifetime guarantee in the business.
As far as products go, Briggs & Riley specializes in premium luggage designed to make travel easier. Their varied collections are suited for both business and casual occasions and include everything from sleek hardside spinners to wheeled garment bags, lightweight totes, and minimalist backpacks – all impeccably engineered and tastefully styled.
Bric's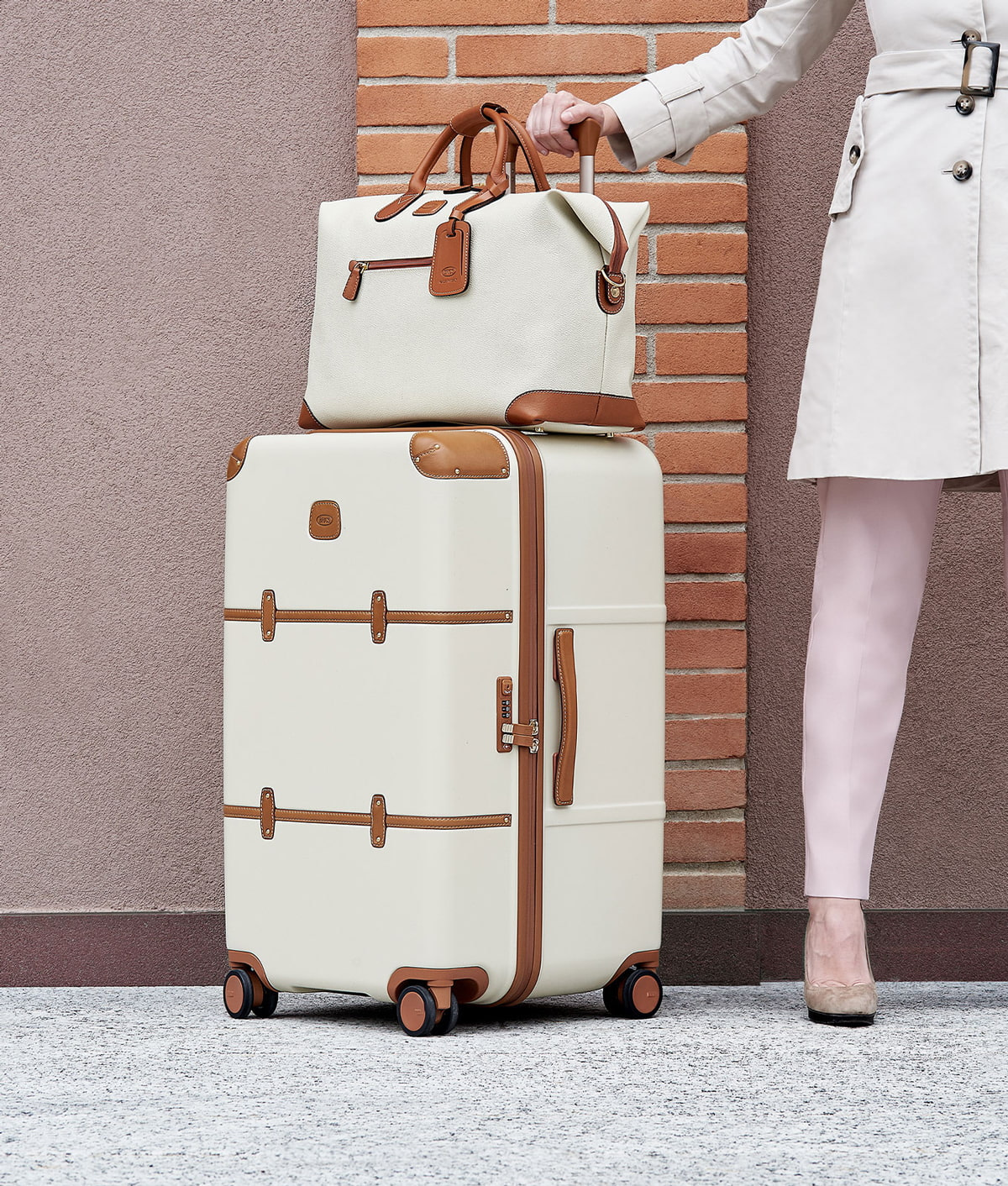 Established in 1952 on the banks of Lake Como, Bric's combines Italian heritage and craftsmanship with contemporary practicality to create timeless luggage for the discerning traveler.
Though especially famous for its leather goods, manufactured from the finest Tuscan leather, the Italian luggage label has multiple collections spanning a range of styles and purposes. Their most iconic line, Bellagio, oozes vintage romance with its classic silhouettes adorned with elegant leather trimming, while the X-Travel range stands out for comfort and practicality with sporty, lightweight duffels & spinners made of durable, easy-to-clean satin nylon.
Over the years, Bric's has teamed up with various designers to produce an array of limited-edition accessories and luxury travel bags featuring original designs. Their most recent partnership with Porsche Design honors both German engineering and Italian sophistication through a collection of functional, luxurious pieces crafted from innovative materials like carbon.
Zero Halliburton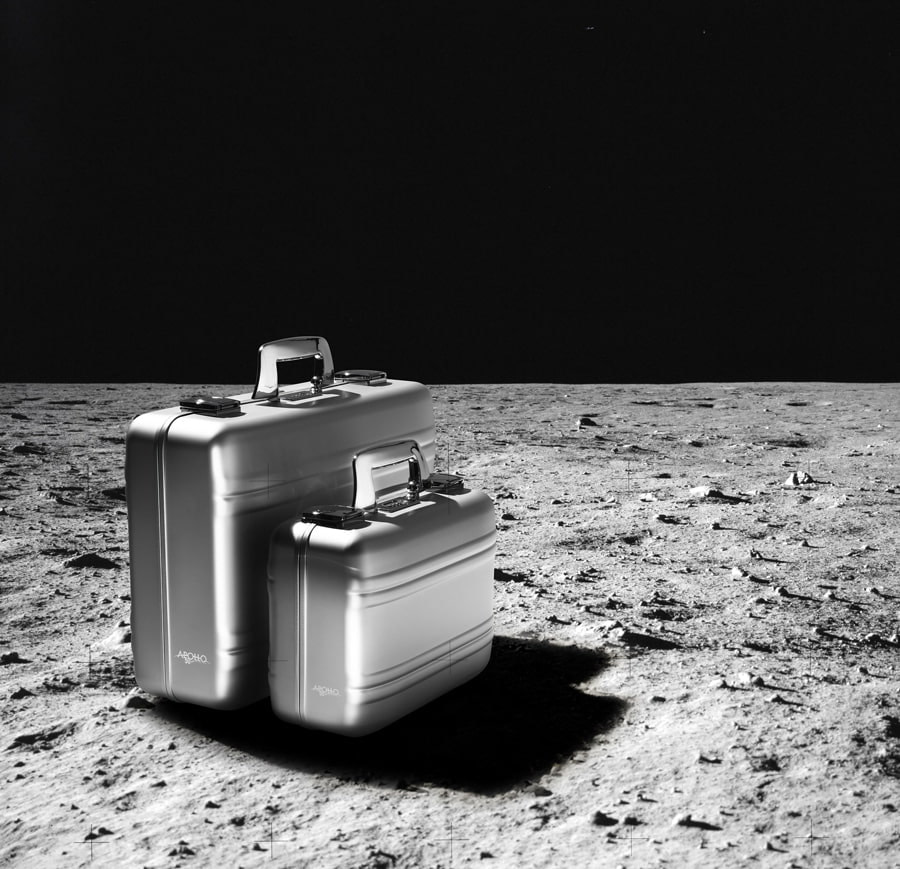 There's a reason why some of the most precious cargos – from moon rocks to the controls of the United States' nuclear artillery to the names of the Oscar winners – have been transported, or are still kept, in a Zero Halliburton case.
Founded in 1838 by industrialist Erle Halliburton, the legendary American brand has been making ultra-durable, high-quality suitcases ever since. This is basically the only luggage manufacturer in the world to have landed on the moon.
Though still synonymous with indestructible double-ribbed aluminum shells, Zero Halliburton has expanded its cutting-edge design and well-earned reputation for durability to sleek carbon fiber, lightweight polycarbonate, and durable Cordura nylon.
Peak Design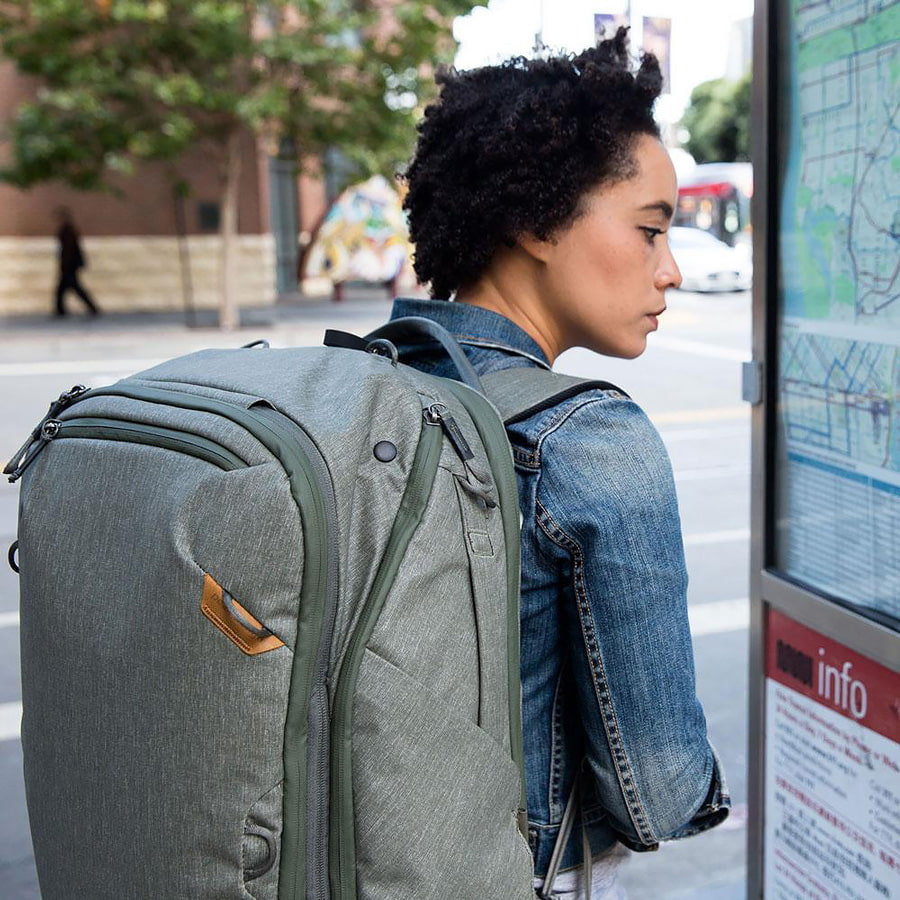 Ingenuity, versatility, and an incredible attention to detail make Peak Design one of today's coolest backpack brands. Thanks to their game-changing camera accessories and successful Kickstarter campaigns, they've become one of the most crowdfunded companies of all time.
Over the last ten years, the San Francisco-based brand has come up with some of the most innovative carrying solutions for photographers, but their thoughtfully engineered bags and backpacks are equally suited to adventurers and traveling creatives. Crafted from 400d tear-resistant nylon and appointed with a myriad of intuitive handles and pockets, they are the epitome of function meets design.
The Travel Backpack 45L is the smartest and most versatile travel bag I've ever owned. It can be worn in a number of ways, it compresses down to carry-on size, and the accompanying pouches and camera cubes help you organize your travel gear like a pro.
Away
Launched in 2015, Away has become one of the most popular luggage brands out there, and for good reason. Modern, durable, and lightweight, their signature polycarbonate suitcase has managed to balance looks and functionality quite nicely. Available in 5 sizes (including The Kids' Carry-On) and an array of cute colors, there's one to suit every taste and need.
Better yet, the brand's direct-to-consumer approach keeps prices reasonable without compromising on quality. Add a 100-day free trial, lifetime warranty, and stylish minimalist aesthetics, and it's easy to see why everyone loves Away.