This post contains affiliate links, which means we may receive a small commission, at no additional cost to you, if you make a purchase through these links. See our full disclosure here.
A garment bag is a type of luggage used for transporting business or formal attire from one destination to another. They come in a variety of sizes, shapes, and materials, but all have an integrated suiter compartment designed to keep clothing flat, clean, and wrinkle-free on the road.
Pack your fine suits or designer dresses in a carry-on garment bag with wheels if you want ease of movement while avoiding checked baggage fees, or opt for a hybrid model that converts from a fold-out garment bag to a stylish duffle for more versatility. Compact and well-organized, a tri-fold design is a smart solution for busy professionals on a two or three-day business trip, while an elegant garment weekender crafted in supple leather is the ultimate companion for out-of-town weddings and other social events.
With everything from inexpensive suiter carriers to deluxe designer overnighters, the list below is a good starting point to find the best garment bag for your needs.
The S.C Holdall by Bennett Winch
Who is it for: Men on a mission, sartorialists, and weekend adventurers.
Understated elegance and splendid functionality make this two-in-one hand luggage piece one of the best garment bags for men. Handmade in England, the S.C Holdall combines a travel bag and a suit carrier into one revolutionary product – ideal for busy, modern travelers. No wonder it completes James Bond's latest looks in No Time To Die!
Developed in collaboration with Permanent Style, this clever Bennett Winch 2-piece design is made from British waterproof cotton canvas and includes a cylindrical holdall, complete with a military-grade detachable shoulder strap, a removable waterproof shoe bag, and an external pocket for small items. The suit carrier ingeniously wraps around the central bag and accommodates one jacket and one pair of trousers safely. And the best part is that each section can be used separately.
MVST Duffle Bag Garment Bag 2 in 1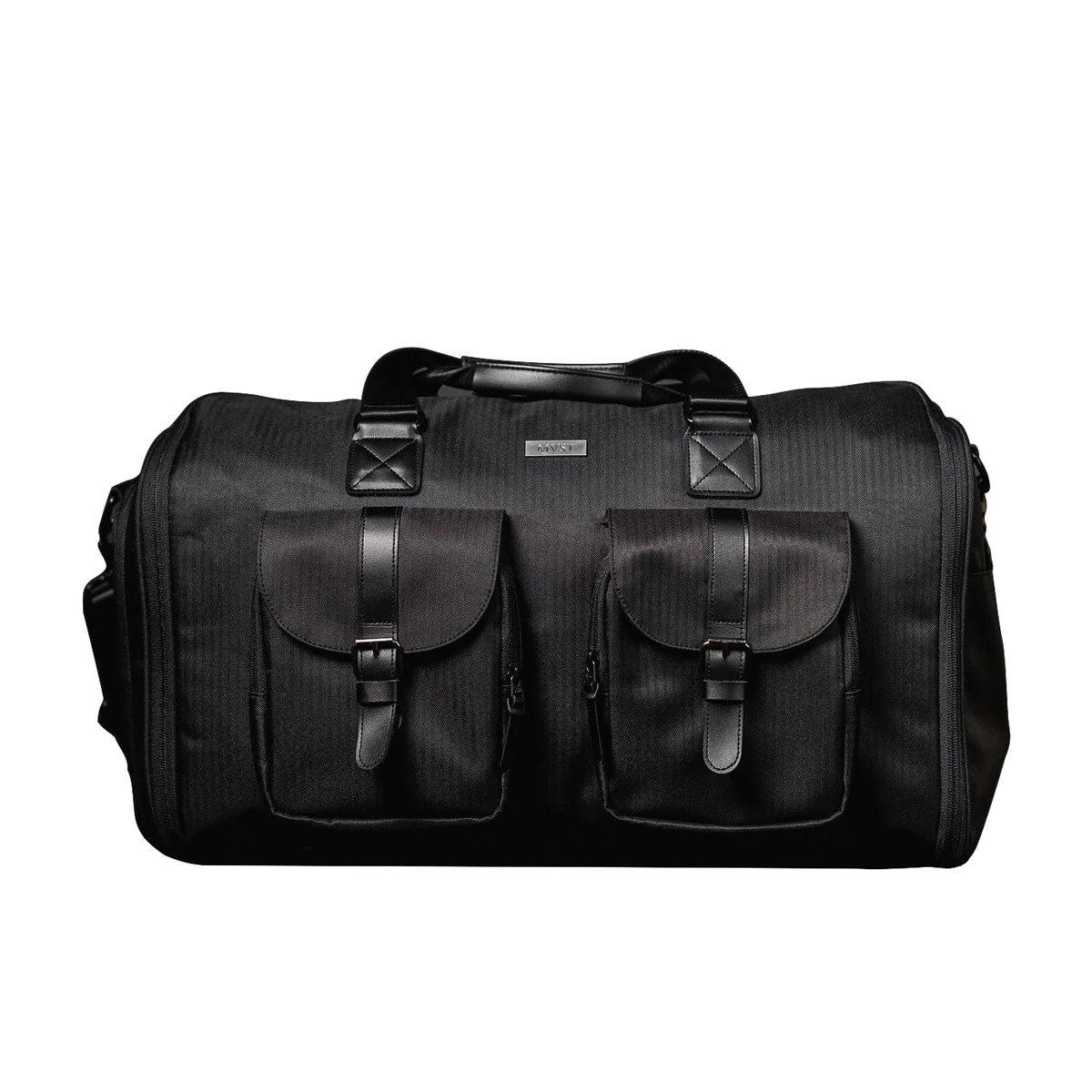 Who is it for: Business travelers that turn into weekend warriors come Friday afternoon.
A premium product at an unbeatable price, the garment weekender bag from MVST will have you traveling like a pro in no time. Designed for special occasion packing, you can neatly store two suits (and even more dresses) inside the water-resistant garment section and then zip up the sides to create a duffel roomy enough for the rest of your necessities.
Made of durable, high-quality materials, this convertible garment duffle bag comes with a dedicated shoe compartment, ergonomic shoulder strap, and a roller bag sleeve so you can slide it on top of your luggage while traveling. The versatile bag unzips at each side to fold completely flat for easy packing, and with intelligent pockets inside and out, we bet it'll quickly become your new favorite weekend companion.
Halfday The Garment Duffle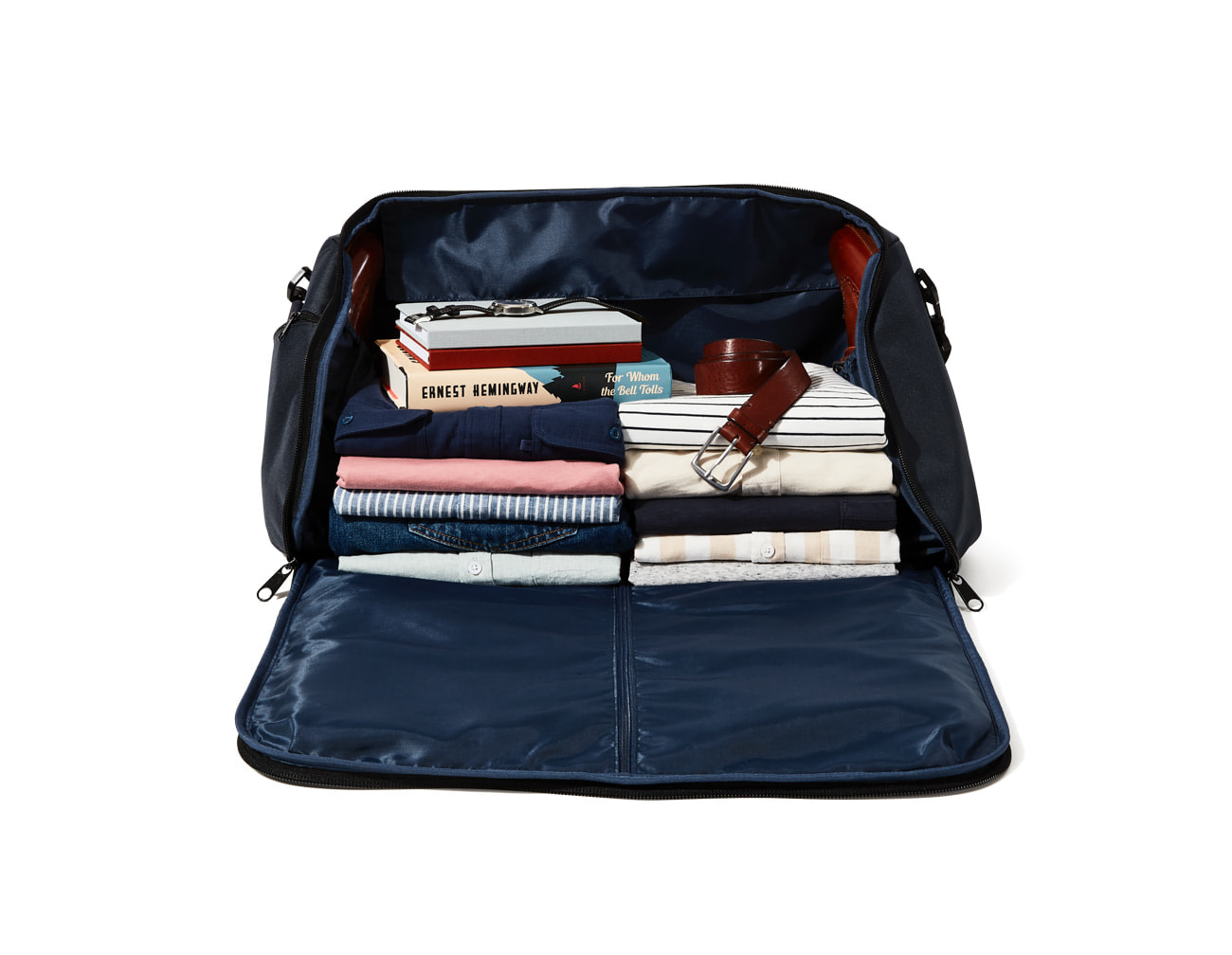 Who is it for: Efficient packers looking for a luggage piece that can do more than just carry a suit.
Carry your garments, shoes, and other personal belongings all in one place with this convertible duffle from Halfday. With a durable water-resistant 420D Oxford exterior and enough space for a few days worth of clothes, this cleverly designed bag will serve you well on work trips, destination weddings, or weekend escapades.
Just pack your suit and a handful of dress shirts in the flat garment sleeve, then zip it all up to create a spacious interior compartment for the rest of your travel essentials. The Garment Duffle is TSA-approved and comes with designated pockets to store your shoes.
Briggs & Riley 21″ Carry-On Wheeled Garment Spinner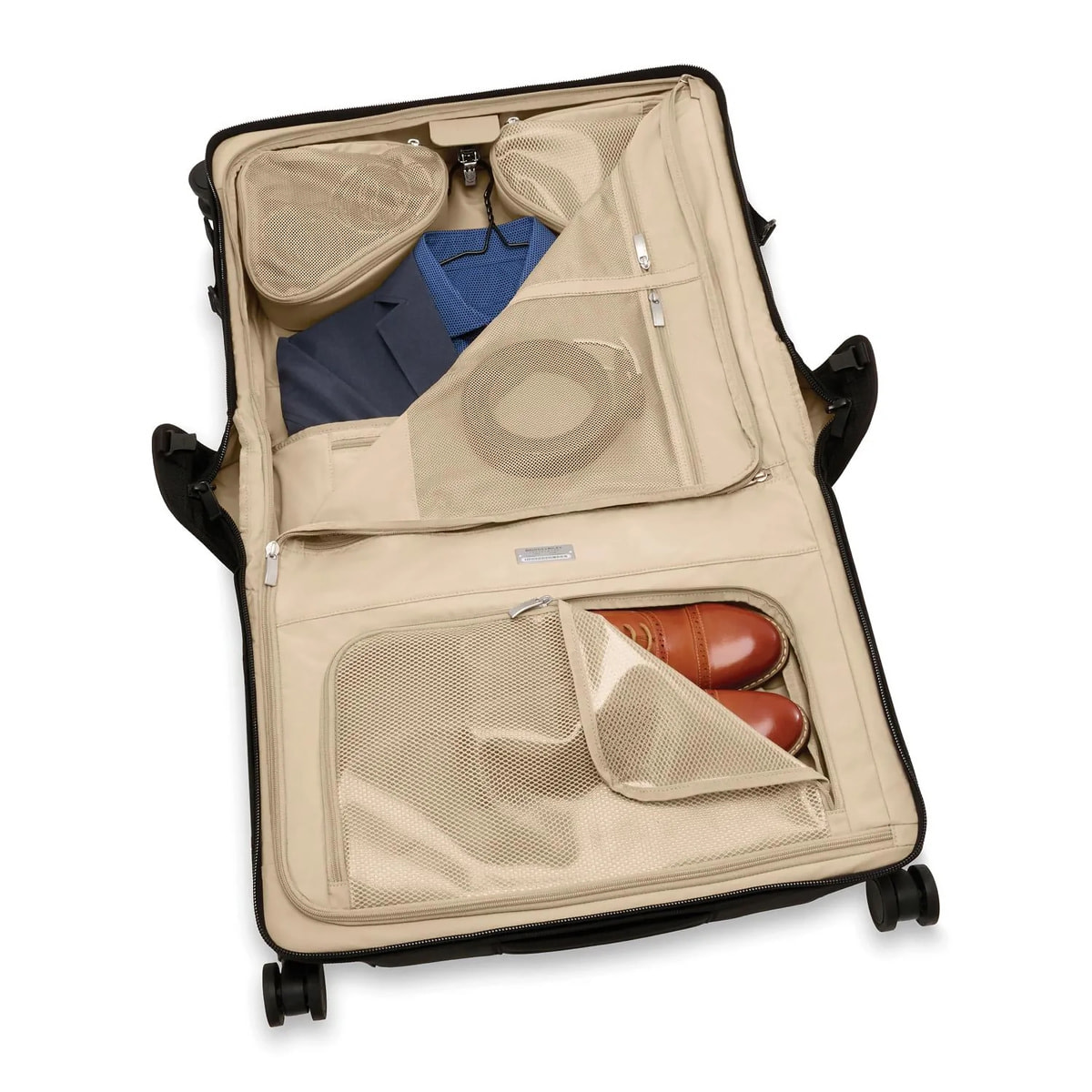 Who is it for: Frequent fliers who want a versatile garment bag that doubles as a carry-on suitcase.
Sturdy, lightweight, and well-organized, Briggs & Riley's 21″ Carry-On Wheeled Garment Spinner holds a lot more than you'd expect it to. With space for up to 3 suits, plus a myriad of clever pockets for storing all your travel necessities, this is arguably the best carry-on luggage for business travelers taking 2 to 3-day trips.
Its smooth-rolling wheels and aircraft-grade aluminum telescoping handle make it a breeze to transport your formal wear, while the foam-centered garment panels will ensure these remain presentable and protected from getting damaged en route. The interior also includes a zippered compartment for shoes or additional clothes, as well as a variety of pouches for keeping smaller items like scarves, undergarments, and belts organized.
The bag's exterior is made from rugged 1680D ballistic nylon and enhanced with a variety of smart details, from a TSA-approved combination lock to the signature SpeedThru pocket, which permits quick access to items at the security check.
NOMATIC Garment Bag
Who is it for: Organized travelers looking to keep formal wear in pristine condition while on the move.
This thoughtful piece of luggage from NOMATIC features a stylish, lightweight design with water-resistant outer fabric and custom hardware, making it one of the best garment bags on the market. The main compartment is generously sized to hold up to three suits, and a number of designated pockets protect shoes, belts, and other accessories on the go.
The functional bag meets the carry-on size requirements of most major airlines and includes a pass-through sleeve that allows it to slip onto the handle of your suitcase when navigating through the airport.
Samsonite Armage II Duet Garment Bag
Who is it for: Business travelers on their way to work conferences.
No garment bag list would be complete without a durable, high-quality product from a trusted luggage brand like Samsonite. Fitted out with innovative features, their Armage II Duet Garment Bag lets you pack directly from your closet without removing clothes from the hanger.
Constructed from solid, water-resistant nylon fabric, this rolling garment bag combines the maneuverability of a wheeled suitcase with the wrinkle-free convenience of a suit carrier. The smooth-rolling wheels and retractable handle ensure an effortless travel experience, while well-designed pockets make the most of the space inside, providing a variety of options for stowing shoes, gear, and accessories.
Rugged and reliable, this is a must-have travel bag for today's busy professionals. We also applaud Samsonite's commitment to sustainability, as both the exterior and interior lining are made from recycled PET bottles.
The Garment Bag by Béis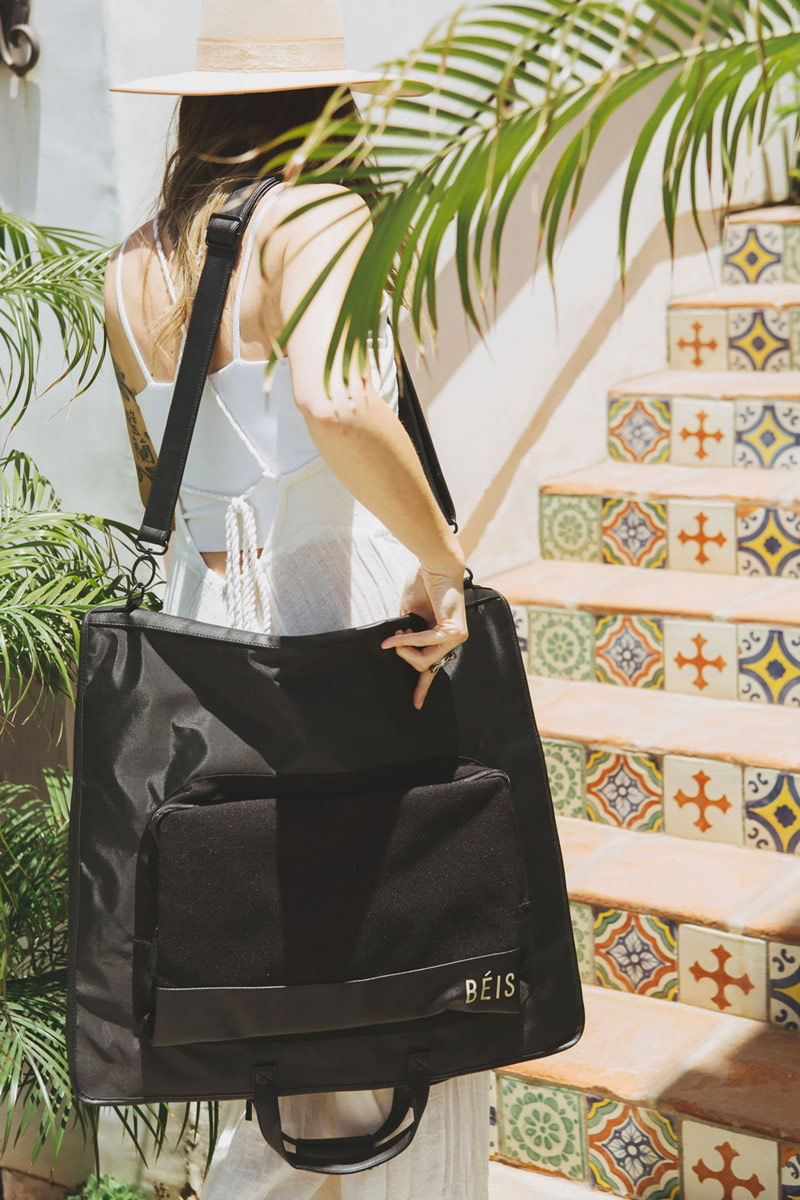 Who is it for: Instagram style stars matching clothes to locations, fashionistas carrying multiple outfits around town, and basically anyone who needs a wardrobe on the go.
The ideal garment bag for women has to be lightweight, practical, and good-looking, and that's exactly what this popular piece stands for.
Part of the trendy travel collection designed by jetsetting actress Shay Mitchell, the Béis Garment Bag sports three velvet hangers, a removable crossbody strap, and an exterior pocket for shoes and accessories. It has a flat-folding slim profile yet holds plenty of storage space and protection for your precious garbs. As a bonus, it is also one of the most affordable garment bags worth buying these days.
Modoker Carry On Garment Bag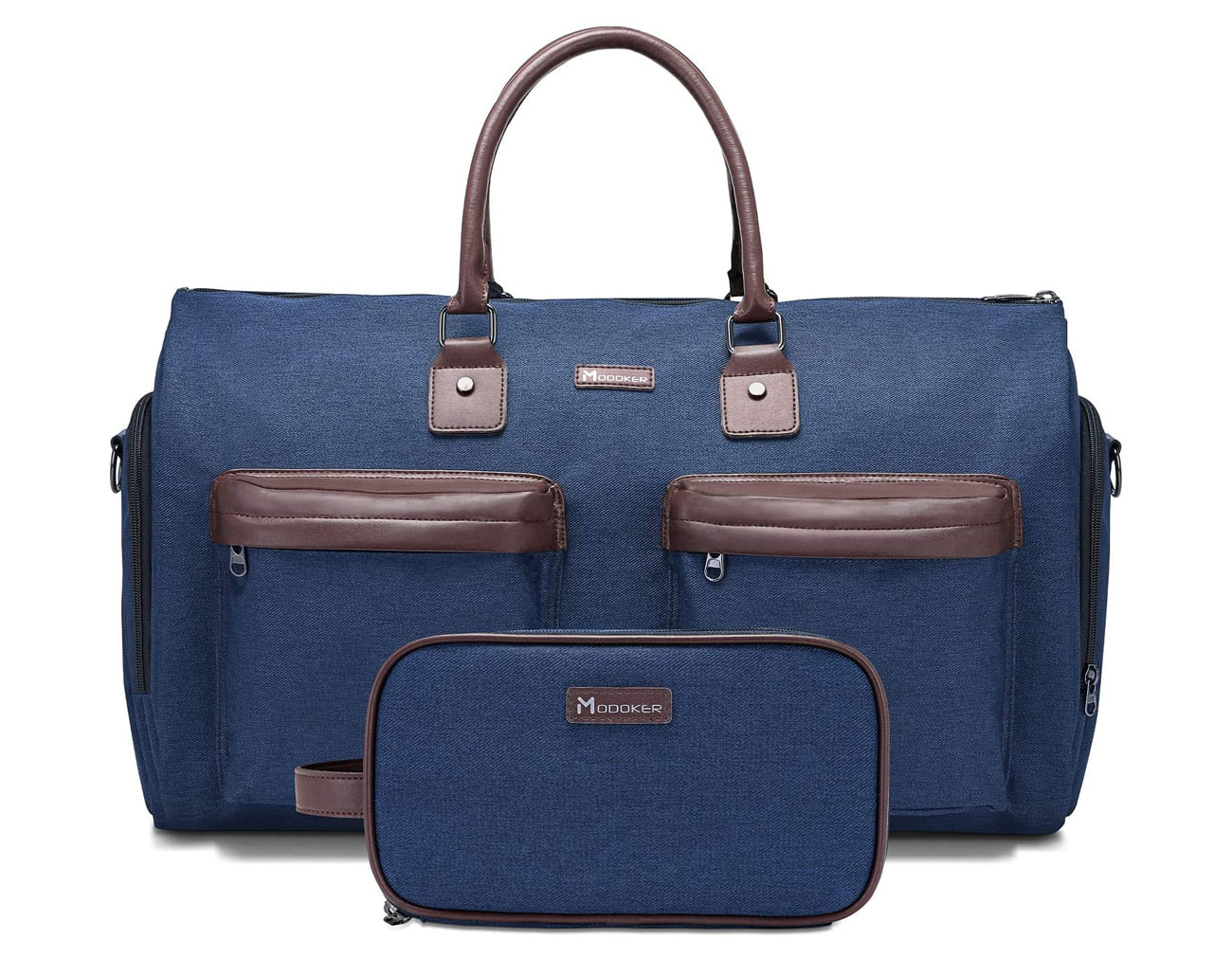 Who is it for: Style-savvy budget travelers who want an all-in-one bag solution for weekend jaunts and work trips alike.
Affordable garment bags don't come any niftier than this 2-in-1 luggage piece from Modoker. Part travel duffel, part suiter carrier, this handsome, versatile carry-on garment bag is constructed with water-resistant materials and has a detachable shoulder strap, which can be adjusted to fit your needs.
When deconstructed, the bag allows you to slide your pressed suit/dress into the garment sector. Once your formal clothes are secured, you can pack the rest of your stuff and then assemble the bag back into its duffel shape by folding up its sides and zipping everything together. The integrated garment section keeps one suit in tip-top shape, while a variety of pockets, including a shoe pouch, help you stay organized on the road.
The Modoker Carry On Garment Bag is a steal at its current price, making for an attractive, budget-friendly accompaniment to business jaunts, overnight trips, and dressier weekends away.
Hartmann Tweed Legend Voyager Spinner Garment Bag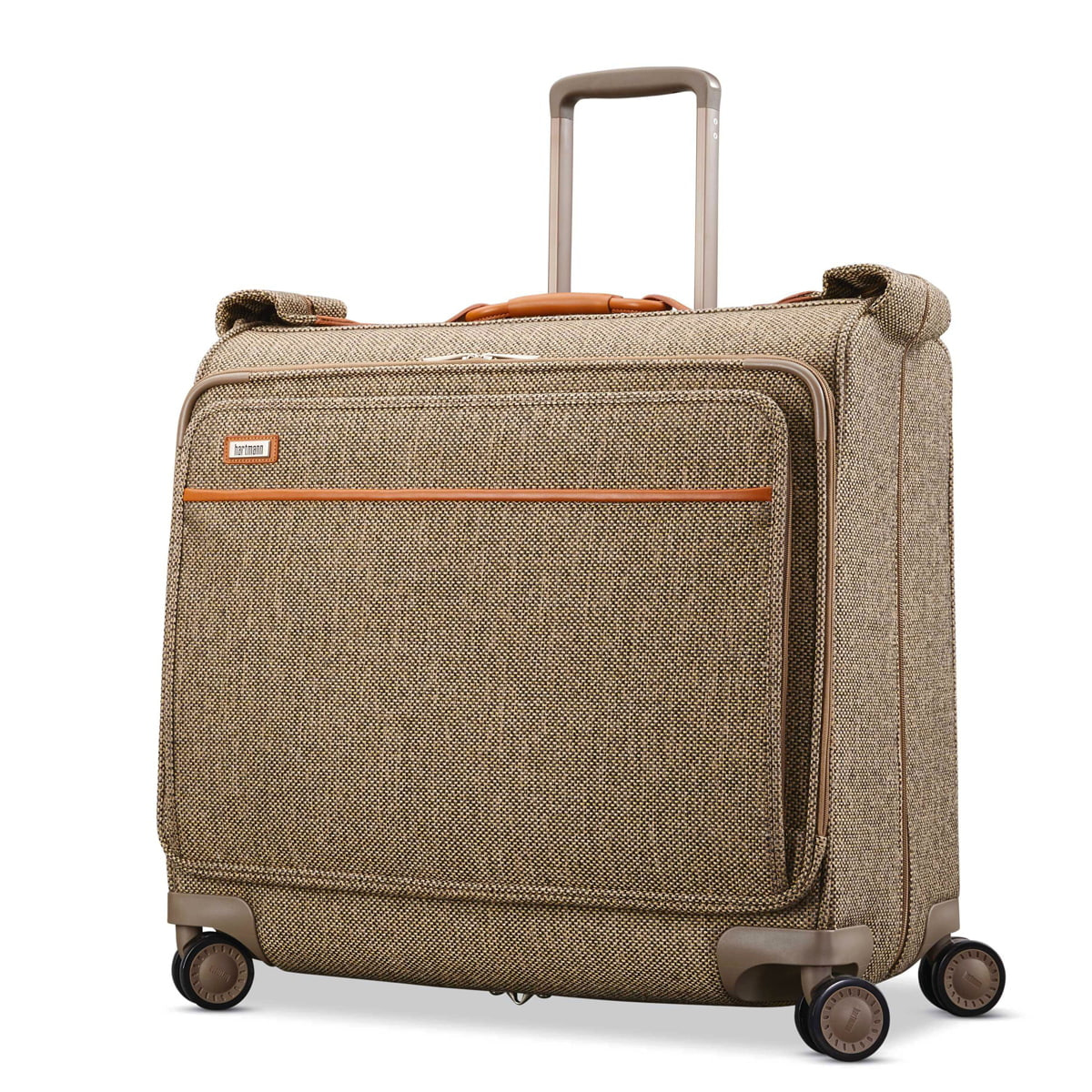 Who is it for: Discerning globetrotters who like their luggage to be as well dressed as they are.
Woven in elegant tweed fabric and adorned with rich full-grain leather trim, the Hartmann Tweed Legend Voyager Spinner Garment Bag is the ideal blend of style and practicality. Weather & stain-resistant, this beautiful piece of luggage combines old-world elegance with contemporary design details, adding a touch of sophistication to any travel ensemble.
A revolutionary hardened steel cartridge ball bearing wheel design makes it comfortable to carry, and there's also a 12-position contoured pull handle for easy maneuverability. Lined with sleek, richly embossed fabric, the luxurious interior comes complete with trifold suiters, adjustable tie tapes, a removable, padded extension panel, and all the organizational pockets you need to keep everything in its place.
RIMOWA Trifold Garment Bag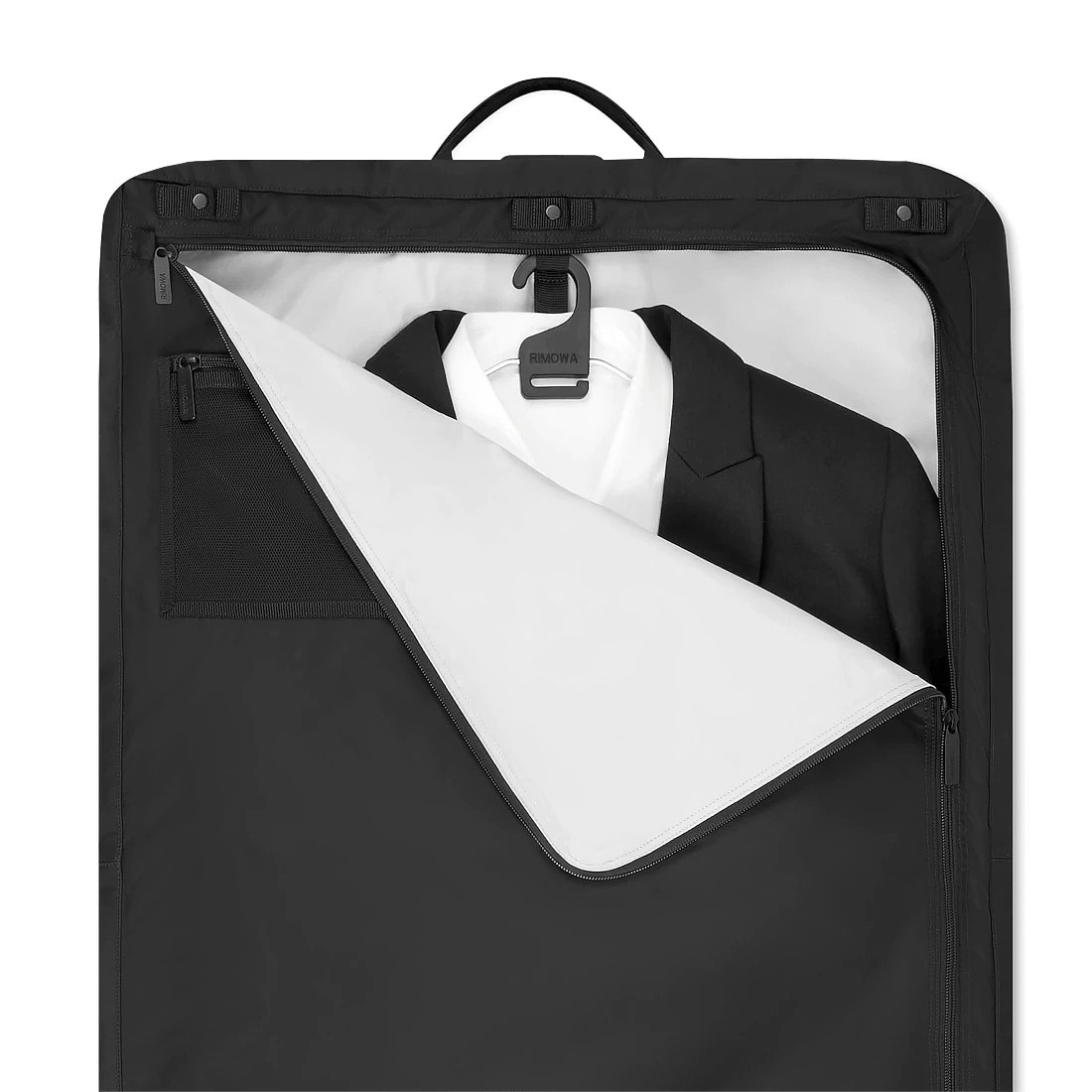 Who is it for: The business traveler set.
If you'd rather invest in a folding sleeve than a suiter duffle, then the RIMOWA Trifold Garment Bag might be right up your alley. Simple yet thoughtful, this piece was created with business meetings or formal events in mind.
The exterior is made of water-repellent, recycled nylon fabric and comes complete with a removable padded shoulder strap for easy portability. On the inside, there's a roomy compartment with three hanging loops, a custom-made hanger, and a zipped mesh pocket for smaller essentials. Its smart travel strap and hanging loop help secure the garment sleeve onto your Rimowa suitcase for convenient air travel.
Women's Leather Garment Weekender by Hook & Albert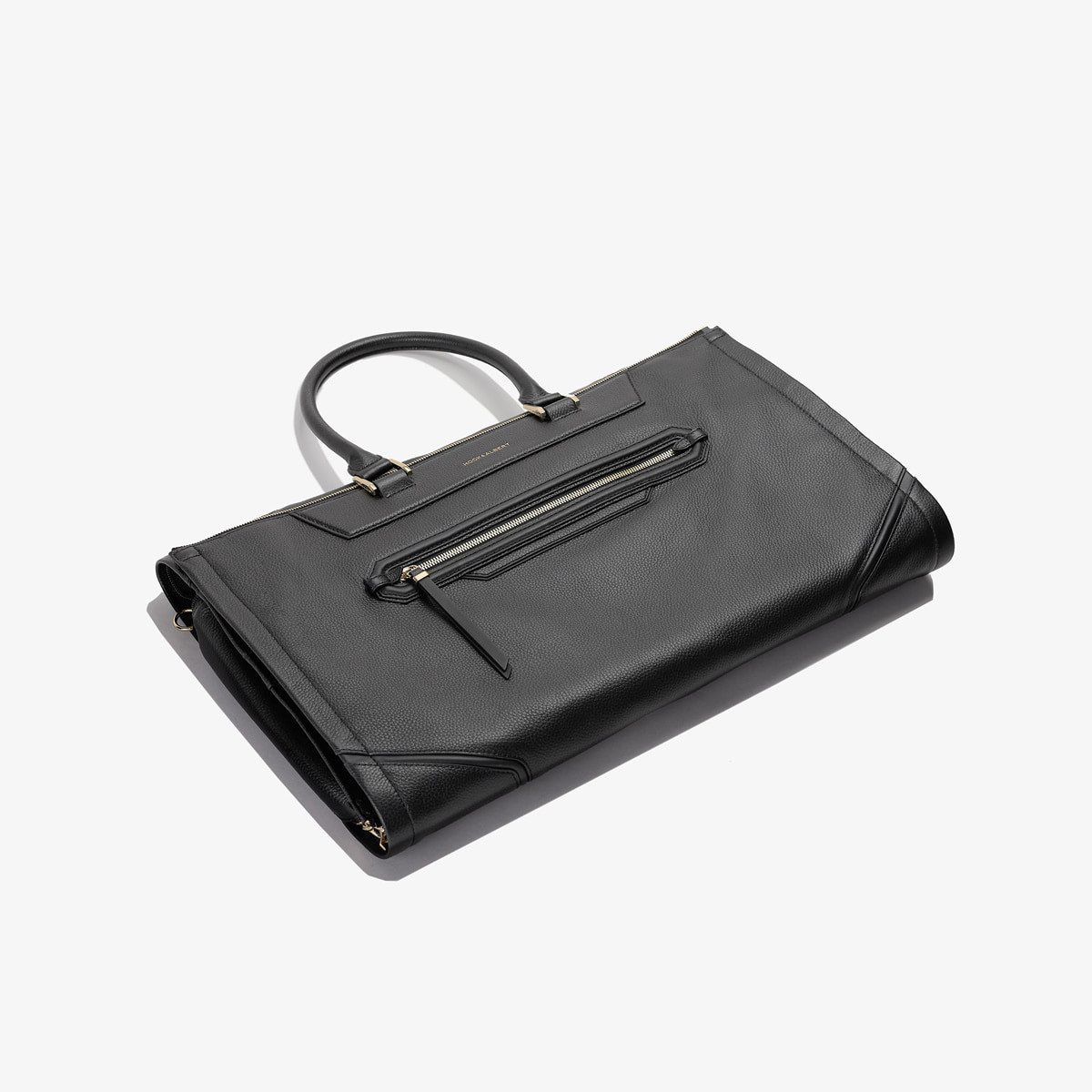 Who is it for: Smart, sophisticated ladies on the go.
Shoe pockets, accessory compartments, and an expandable built-in garment section make this chic leather duffel one of the best garment bags for women. Thanks to its clever, multifunctional design, it excels both as a garment bag for your professional attire or delicate dresses, as well as a weekend bag for your other necessities.
Made of top-grain pebbled leather and decked with gold-plated hardware accents, the Women's Leather Garment Weekender Bag from Hook & Albert is not just gloriously practical but also a classy and subtle fashion statement, complementing both formal and casual looks.
Besides, the bag meets TSA's carry-on requirements, and its extended handles and trolley strap allow for comfortable carrying in a variety of ways.
WallyBags Large Capacity Garment Bag with Pockets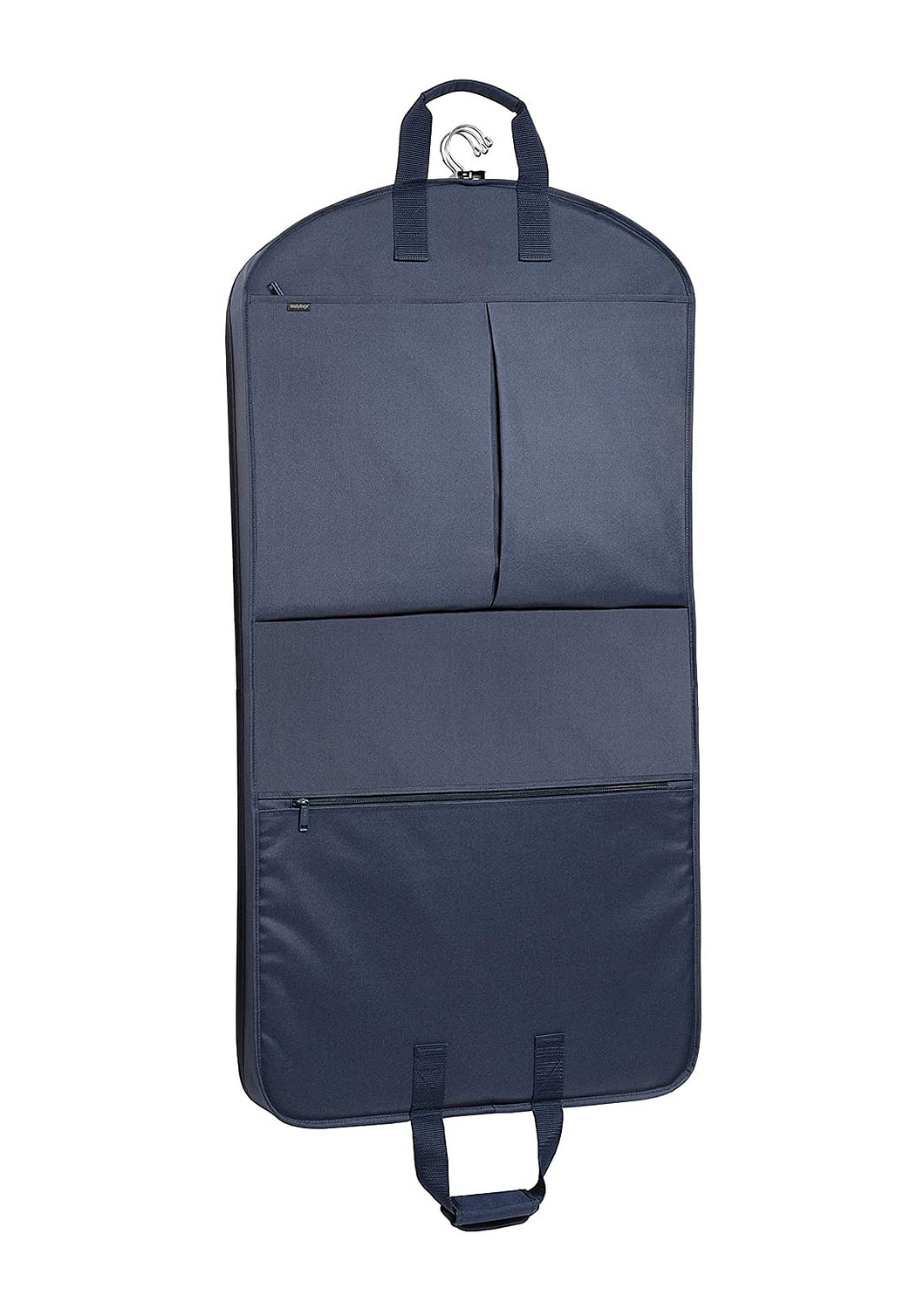 Who is it for: Mobile professionals who are often traveling with formal attire.
If you are searching for a hard-wearing and lightweight travel garment bag that won't break the bank, this product from WallyBags is tough to beat.
The Large Capacity Travel Garment Bag with Pockets is exactly what it says, a roomy and efficient storage system for carrying your suits, dresses, or other hanging garments when traveling. It's made from durable, water-repellent polyester fabric and comes with two oversized pockets for packing shoes, toiletries, and even an extra change of clothes. The trademarked WallyLock hanger clamping system holds up to 8 garments, ensuring they stay in place and wrinkle-free throughout your journey.
This carry-on garment bag folds in half and is sized to fit in any airplane cabin's overhead bin. Its double handles can be fastened together or wrapped around your suitcase for hands-free transport.
The Garment Bag by Away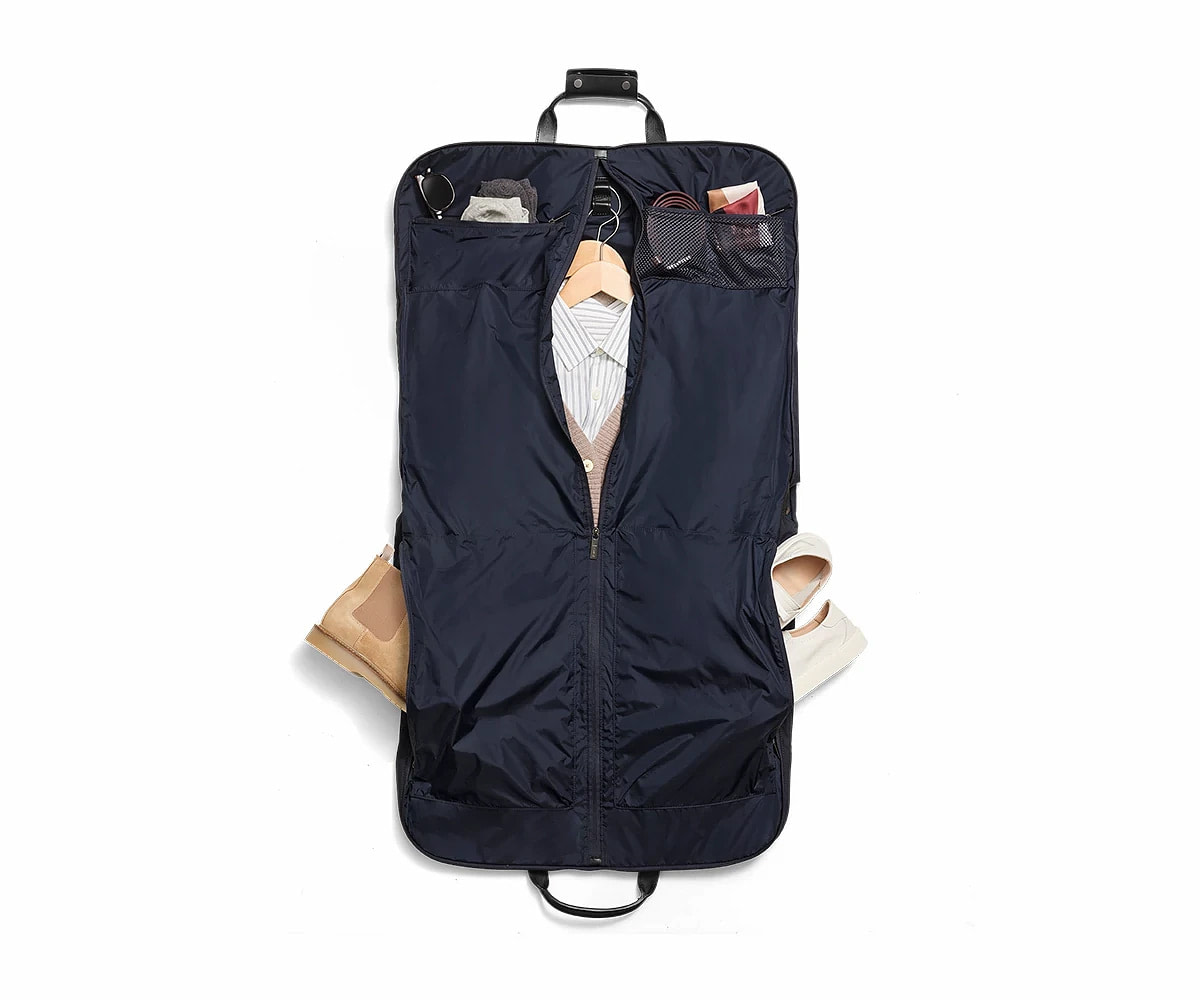 Who is it for: Traveling bridesmaids, professionals on the go, and everyone in between.
Designed to secure to your favorite Away suitcase, this foldable garment bag will keep your outfits neat, fresh, and ready to wear no matter how long you are on the road.
Made of premium water-resistant nylon, the Away Garment Bag is both practical and refined, with its slim, minimalist profile, classy leather trim, and smart packing features. It has enough space for two suits or three full-length garments and comes with a zip-out hook designed to hang in a closet or over the hotel's door for quick access. Several internal pockets house shoes and smaller essentials, while an exterior secure zip pocket allows for easy access to travel essentials.
PLIQO Compact Folding Travel Garment Bag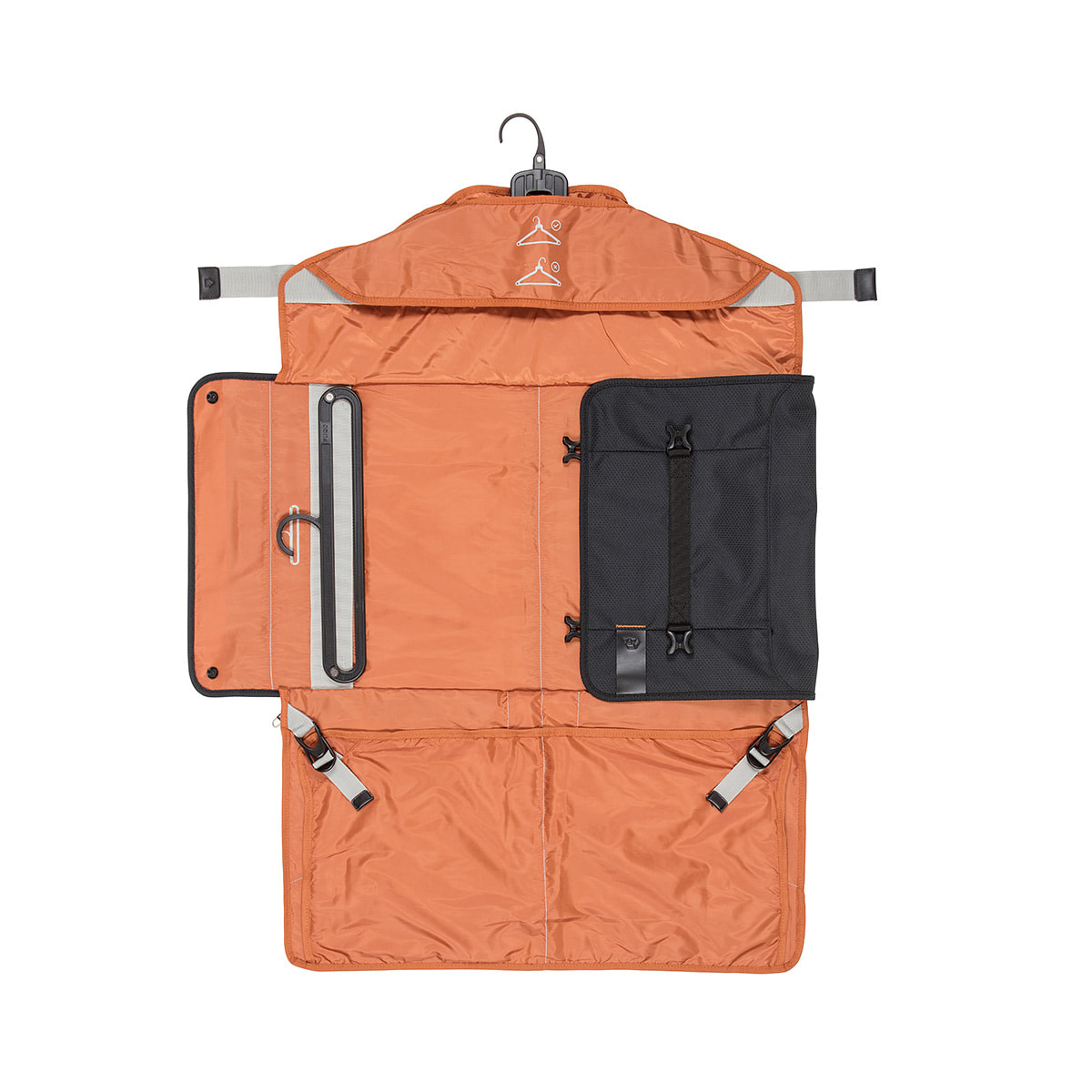 Who is it for: Savvy packers and active commuters who find a standard garment bag too big.
Whether used independently or packed inside your cabin suitcase, the PLIQO Compact Folding Travel Garment Bag will keep your most precious pieces of clothing wrinkle-free until you reach your destination.
While it packs down to the size of a laptop bag, this slim briefcase-style carrier has enough room for a suit, as well as shirts and ties, thanks to its ingenious folding hangers, built-in magnets, and compression straps. Made with hardwearing materials and leather trim, it also features a full-width external pocket, a detachable shoulder strap, and a trolley strap.
Moore & Giles Tinsley Trifold Garment Bag
Who is it for: Romantics, bon vivants, and stylish out-of-towners who want their attire impeccable and ready to wear anytime.
The Moore & Giles Tinsley Trifold Garment Bag keeps your business attire looking sharp in transit thanks to its simple and functional fold-up design. This handsome, versatile piece lays flat to accommodate two suits and has an interior leather pocket for additional accessories like watches, cuff links, and tie bars.
The combination of rugged waxwear canvas and luxurious leather gives the bag a vintage, masculine look, while a mix of handles and straps makes it easy to carry, whether by hand, over the shoulder, or attached to the handle of your rolling luggage.
Complete with brass hardware and jacquard lining, it makes an elegant choice for your next work trip or out-of-town event.
Mismo M/S Suit Carrier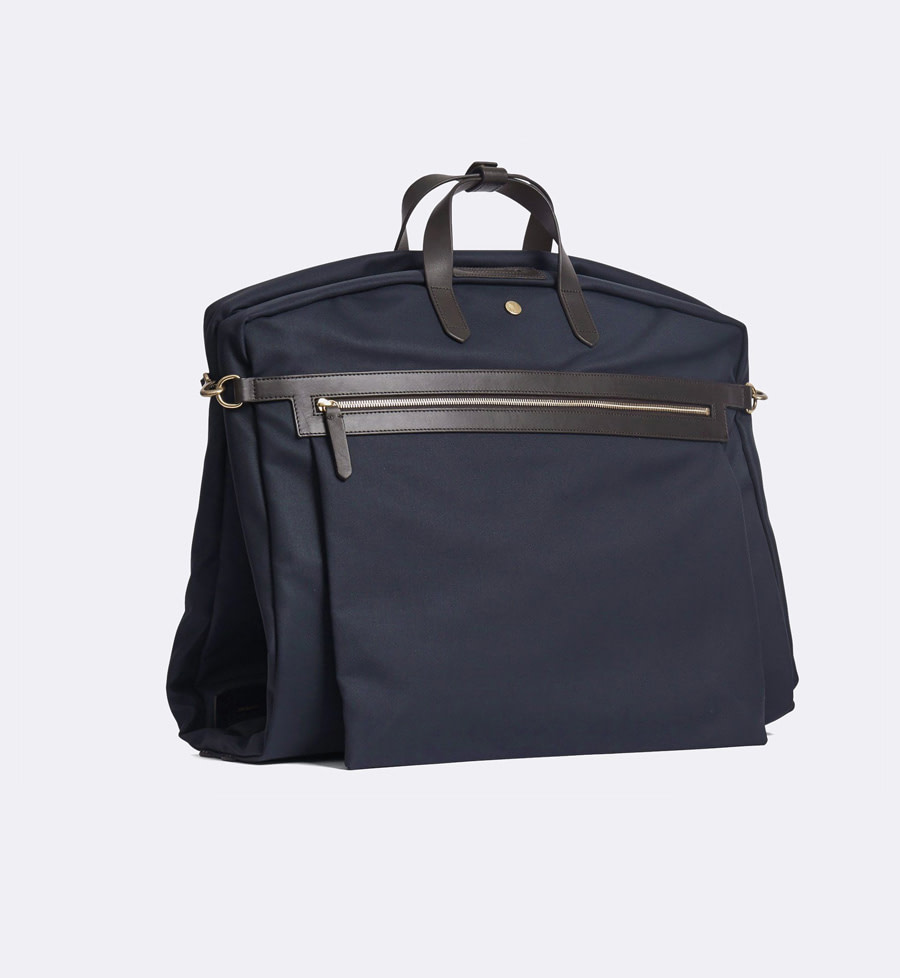 Who is it for: Sleek professionals seeking to keep formal wear in pristine condition while on the move.
Make toting your suits from city to city a breeze with this classy garment bag designed to carry up to three looks in perfect condition. Constructed of hard-woven, waterproof Italian nylon, the M/S Suit Carrier by Danish bag-maker Mismo has it all – it's durable, sophisticated, and highly efficient.
The elegant leather details and solid brass hardware add tons of style to this functional full-size garment bag, which zips fully open for effortless packing/unpacking. Two internal zip pockets secure smaller accessories like belts and ties, while the large zippered pocket on the outside easily fits an extra pair of shoes, but can also be used for storing those last-minute necessities that require quick access.