This post contains affiliate links, which means we may receive a small commission, at no additional cost to you, if you make a purchase through these links. See our full disclosure here.
If you've ever treated yourself to one, then you already know how dignified it feels to use a proper, well-made piece of luggage. But frequent travelers rarely stop there, often adding a few optimally performing luggage accessories to take their travel kit to the next level.
Even if you're only an occasional traveler, it may be time to address all those little nuisances that annoy you in transit. If you've struggled with wrinkled clothing, lost luggage, or if your airline has ever flagged you for having an overweight carry-on, you're going to find the perfect solution below.
From clever kits to endlessly practical packing cubes, our selection of luggage accessories will make your time on the go a lot more manageable.
Monos Compressible Packing Cubes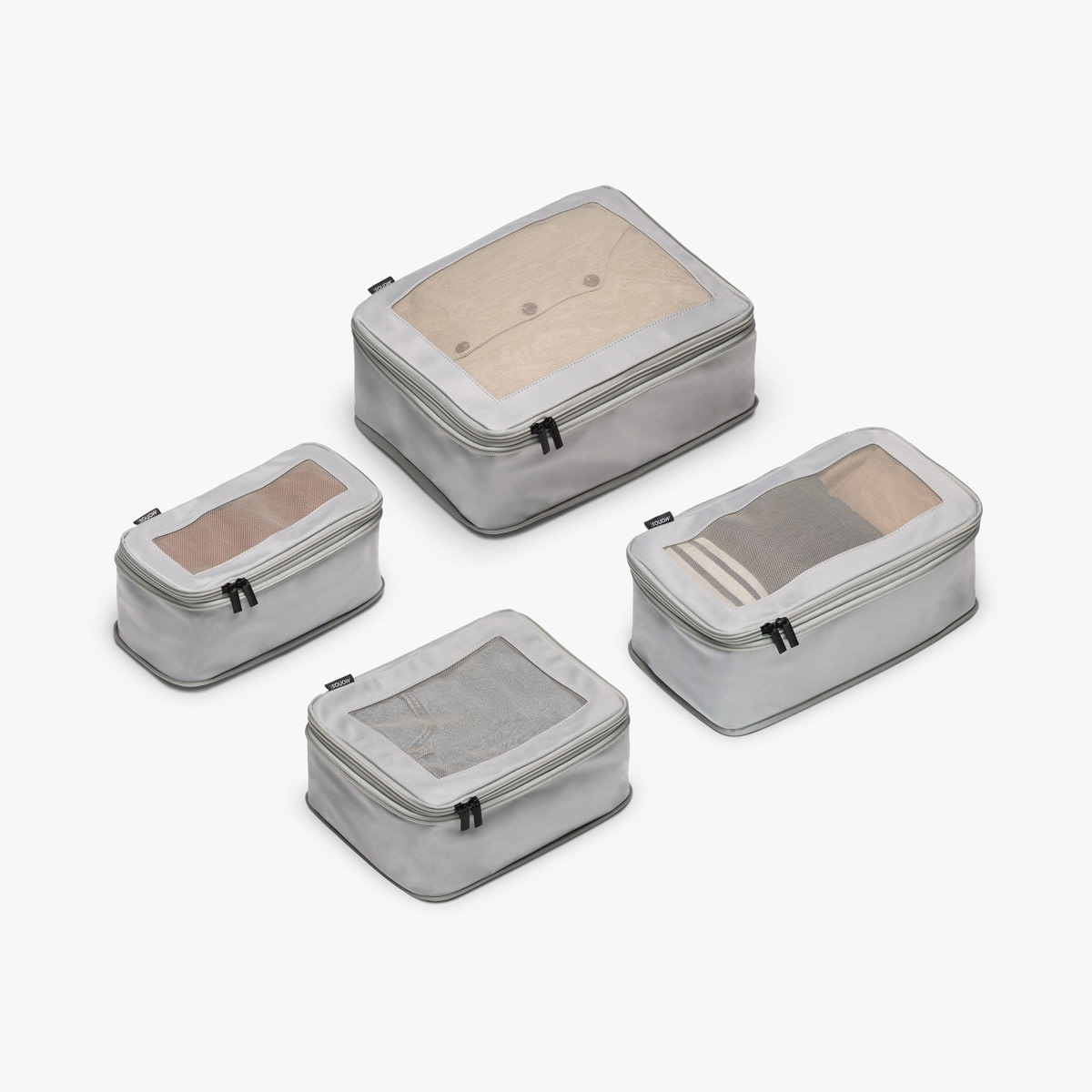 Packing cubes have become de rigueur among luggage accessories, but many of them lack the features that actually deliver any notable difference from packing your suitcase without them. Unlike its competitors, the Monos Compressible Packing Cubes not only keep your belongings neatly organized but also condense your items with an effortless zipper system to create more space in your luggage. While you're packing them, the sides stay sturdily upright so you can easily arrange your items inside.
Samsonite Electronic Scale
With airline weight requirements becoming increasingly restrictive, it's best to know how much your luggage weighs long before you've arrived at the airport. Thankfully, the Samsonite Electronic Scale can not only weigh your items at home but is portable enough to travel with you. As you flit between destinations, you can double-check how much your luggage weighs after you've collected gifts and souvenirs.
Explore Land Luggage Cover
Protect your suitcase from scuffs and scrapes with this stretchy Explore Land Luggage Cover. There are different sizes available for different-sized luggage, but each one has quite a bit of give in case yours is expandable or oddly shaped. There are slots for wheels and handles, so your suitcase won't become any less toteable when it's on. As a bonus, your bag will be easily recognizable at baggage claim.
Away Travel Wellness Kit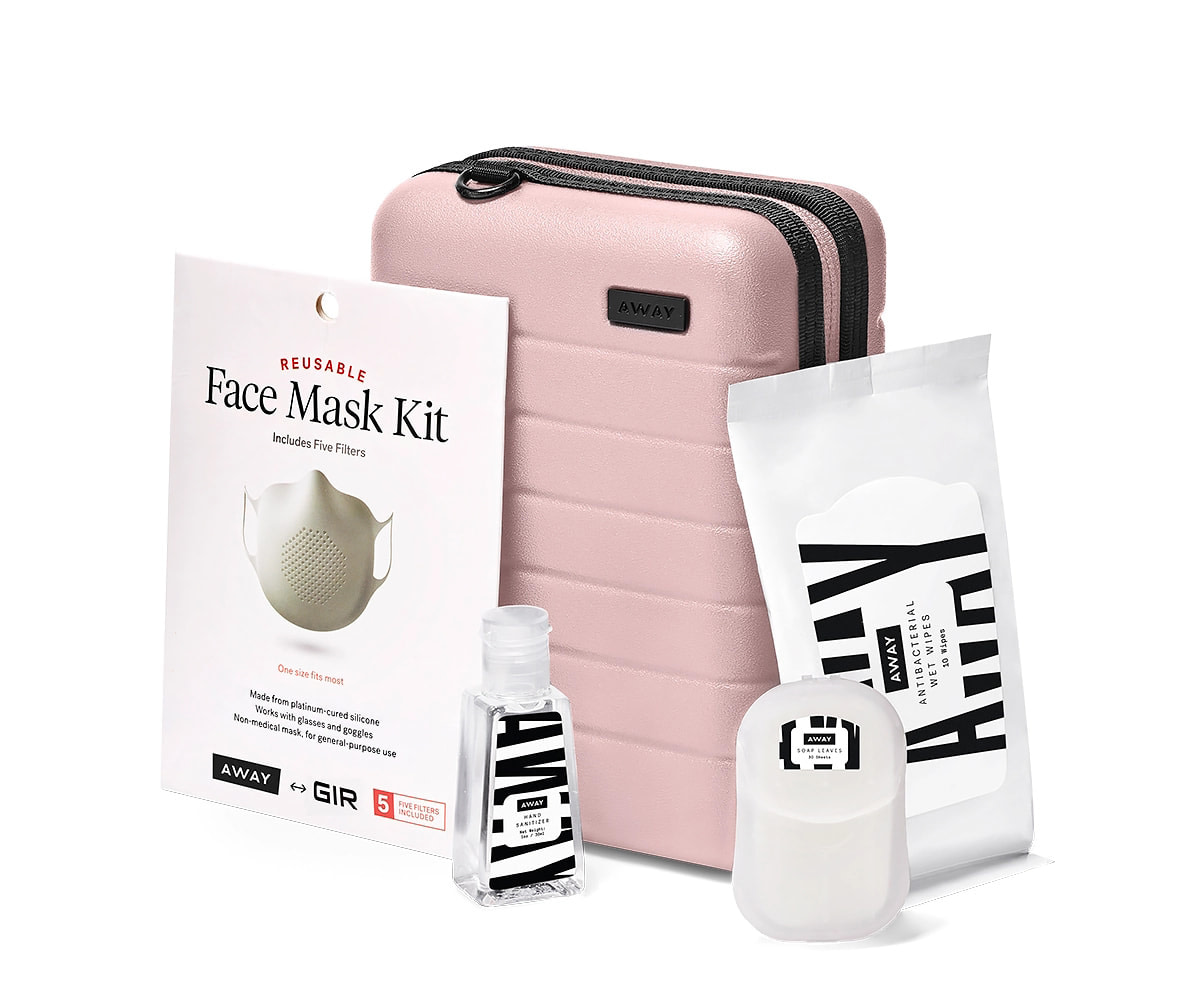 The easiest and sleekest way to stay on top of travel hygiene protocols is with the Away Travel Wellness Kit. It keeps everything you'll need all together inside one of their famous mini-suitcases, including a 1oz bottle of hand sanitizer, anti-bacterial wet wipes, 30 easy-to-dissolve soap leaves, and a reusable silicone face mask. The reusable case has an inside pocket and an elastic strap that keeps your supplies on hand, literally, and has an exterior D-ring loop that makes it easy to clip it to your luggage with a carabiner or a key ring.
Rimowa Trifold Garment Bag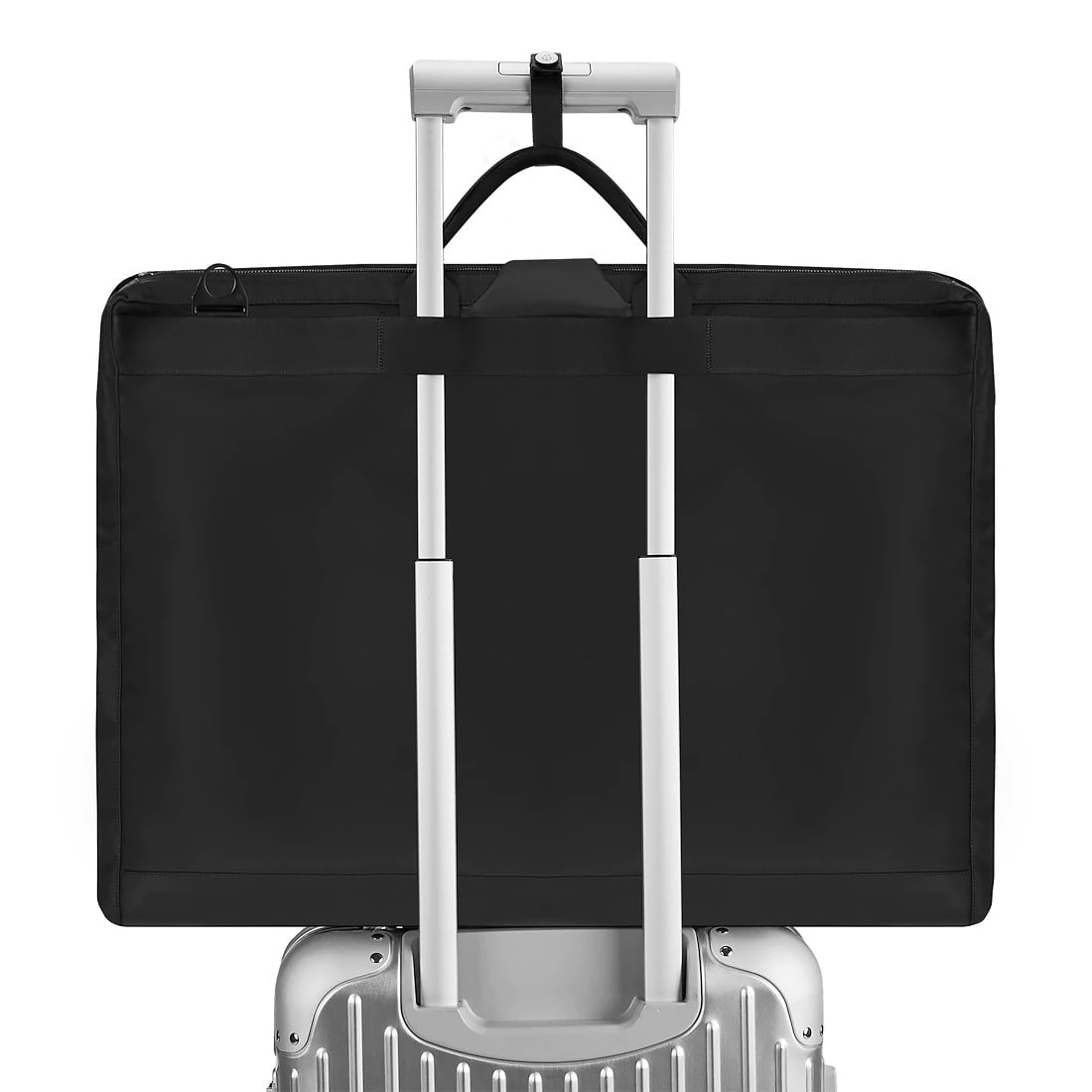 If you have to travel with a suit, you need something protective to tote it in, and the Rimowa Trifold Garment Bag is a wise investment in the care of your clothing. Not only is it made from an incredibly resilient and water-resistant recycled nylon, but it comes with some key features that make it simple to ensure your items arrive undisturbed and wrinkle-free, like the interior webbing that keeps everything in place.
Inside you'll find a custom-made RIMOWA hanger with a matte black finish to both practically and aesthetically complement the garment bag. The best part is that even when you're not traveling, you can use it to protect a suit or gown right in your own closet.
Topo Designs Dopp Kit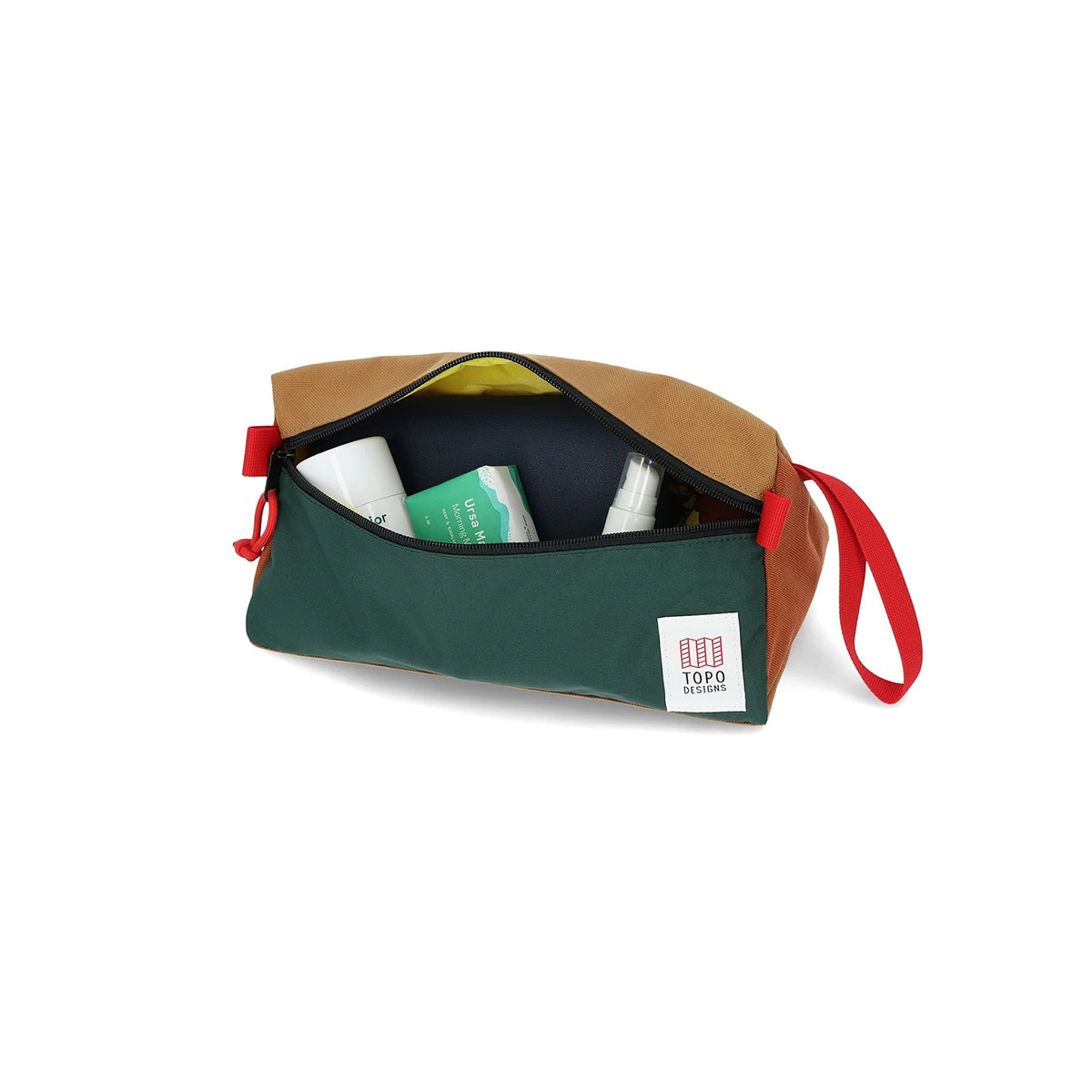 Some sort of toiletry bag is basically a must-have suitcase accessory, so it's best to invest in a quality item that will last through several adventures, like the Topo Designs Dopp Kit.
Made from a water-resistant pack cloth liner, it has a simple but ingenious triangular shape that allows it always to stand upright, making it easier to access your personal accouterments inside. It's finished with a super-smooth zipper that won't snag or catch, so it feels effortless to use.
Bellroy Tech Kit
Keep all your cords and adaptors tidy with the Bellroy Tech Kit. This simple organizing pouch has a dedicated space for all of the most commonly needed tech accessories and devices, like charging cords, power bricks, external hard drives, and more. With everything in its proper spot, you'll spend far less time worrying if you've collected all of your tech from your room when moving from place to place, and keep everything manageable and tangle-free.
RoomierLife Travel Space Saver Bags
If you're looking to fit the max amount of items into the smallest possible bag, try the RoomierLife Travel Space Saver Bags to create more space. To use them, you simply put the items inside and roll the bag to squeeze out any excess air, compressing the items within.
While it may seem trivial before you leave, you'll be extra glad you didn't splurge on the type that requires a vacuum cleaner to use when you're ready to return home. This variety is simple to use without any extra accessories, so you can easily compress your items by hand no matter where you are in the world.
Heroclip Medium
Though the Heroclip resembles a rock climbing carabiner, these aren't made for climbing at all. Rather, this compact fastener is one part hook, one part clip, and is made to securely stow your stuff anywhere. You can use it to hang backpacks and bags from trees, fences, and for those ill-equipped restrooms at the airport, the backs of bathroom stall doors. Heroclips are made in several different sizes, from mini to large, but their flagship medium is still their most popular.
Tile Pro Powerful Tracker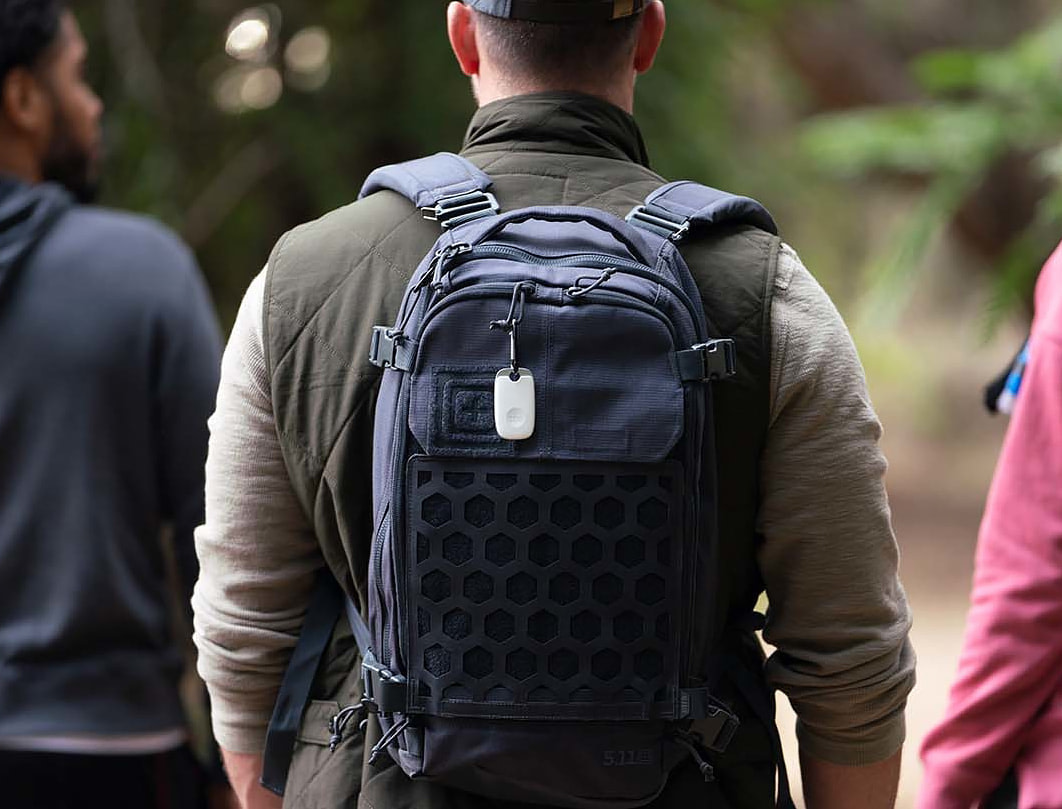 With the longest range and loudest alert of any of Tile's tracking accessories, the Pro Powerful Tracker is the best option for keeping track of suitcases and backpacks. It has a versatile loop at the top that you can use to attach it to virtually anything with a keyring, zip tie, or a variety of fasteners, and it connects to both Android and Apple phones with a free app. It comes with a free, one-year subscription to Tile Premium, which includes an annual battery replacement, alerts delivered to your phone if you leave an item behind, and up to $100 reimbursement if Tile can't find your item.
Cuyana Leather Luggage Tag
Prevent your belongings from getting lost with this chic Cuyana Leather Luggage Tag. With a deceptively practical design, it attaches your personal details to your luggage without allowing a passerby to read them on the fly. Its slim leather strap keeps the cover in place when you're on the go, but your info remains easily accessible to, say, an airline employee when the need arises to reunite you with your belongings.
Béis Cosmetics Case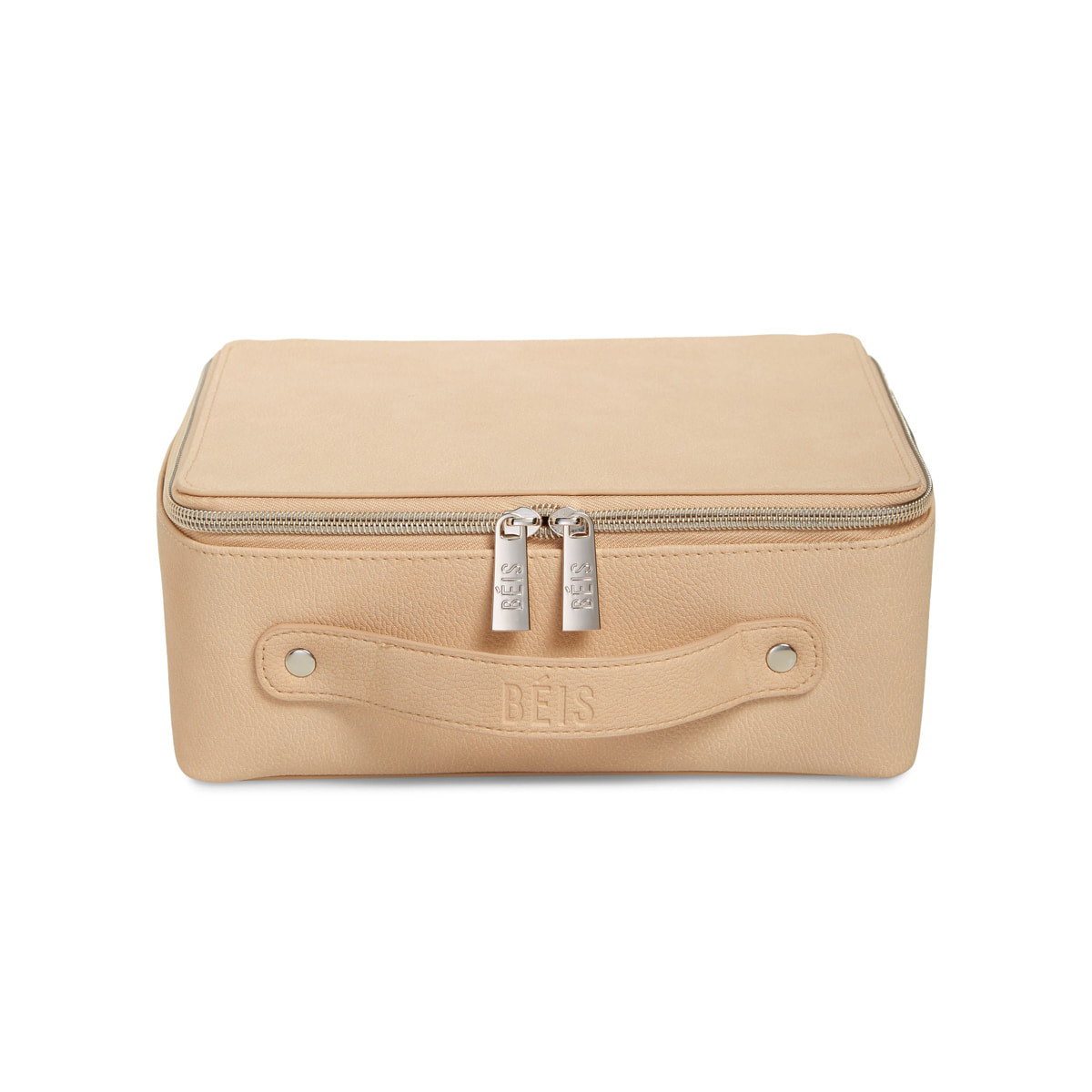 Simple, elegant, and practical, the Béis Cosmetics Case is the perfect companion to any travel kit. The durable shell hides within it a removable brush pouch, a travel mirror, and an easy-to-clean, waterproofed nylon lining that resists stains and wear. The best part is that it unzips like a suitcase, meaning the lid folds all the way back, so you can easily access everything you've stowed inside.
Peak Design Shoe Pouch
Having a dedicated shoe pouch will enhance your travel kit significantly, and this Peak Design Shoe Pouch is durable enough to endure practically a lifetime of use. Though it will vary depending on the size of your shoes, these are designed with a volume that typically holds two pairs. They are fitted with a loop on each end to attach a strap if you wish, and close with a snag-free zipper to make opening and closing it a cinch. When you're not using it, it packs up super small, snapping right into the integrated storage pouch that's sewn inside.
Paravel Fold-Up Bag
Made of lightweight, double-layer nylon, the Paravel Fold-Up Bag manages to be durable enough to power through several trips while remaining lightweight enough to fit in any travel pack.
When you're not using it, simply zip it up into an integrated pouch, which is about the same as a tablet. When you need it to tote your laundry or your stuff to the beach, the pouch unzips to release the tote and unfolds to create the bottom of the bag. If you love to shop while you're on holiday, this super-stowable extra bag is the easiest way to bring your new treasures home.
RetraProducts Retractable Luggage Strap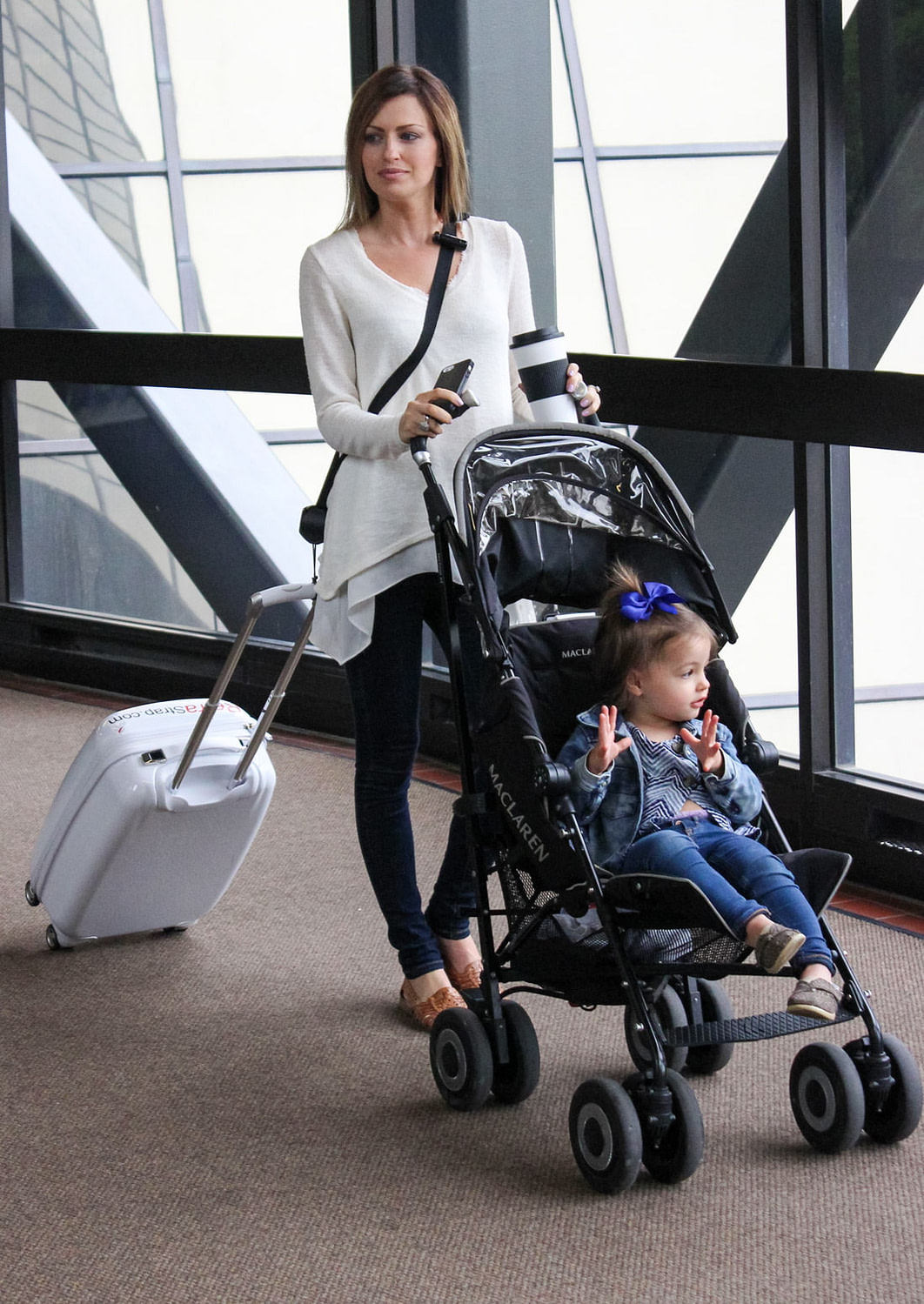 You can add hands-free functionality to virtually any rolling suitcase with the remarkable RetraStrap. Simply attach it to the handle of your suitcase and use the retractable, cross-body strap to tow your belongings behind you effortlessly. It's designed to keep your suitcase stable as it rolls behind you, so there is no need to worry about it toppling or falling during use. And when you don't need it, you can simply remove the harness and let it coil back into its housing, stowed away for the next time you need it.