This post contains affiliate links, which means we may receive a small commission, at no additional cost to you, if you make a purchase through these links. See our full disclosure here.
When it comes to bags, every woman needs a few key pieces that will serve different purposes. On occasions when carrying a purse or a tote is inconvenient and these stylish backpacks are more than you need, a sling bag is a must.
Sometimes referred to as belt bags or fanny packs, sling bags are a simple, lightweight solution to transport your essentials hands-free. Usually worn crossbody, these practical one-strap accessories stick close to your body, provide quick swing-around access to contents, and, depending on their design and features, are suitable for daily life, work, travel, and beyond.
So, whether it's a sporty style that'll take you to the trails, one that fits your camera gear for a day of shooting, or a cool, contemporary design for city trips and everyday wear, we've rounded up the 10 best sling bags for women – most of which aren't just functional, they double as chic accessories, too!
Most Stylish Sling Bag for Women: Monos Metro Sling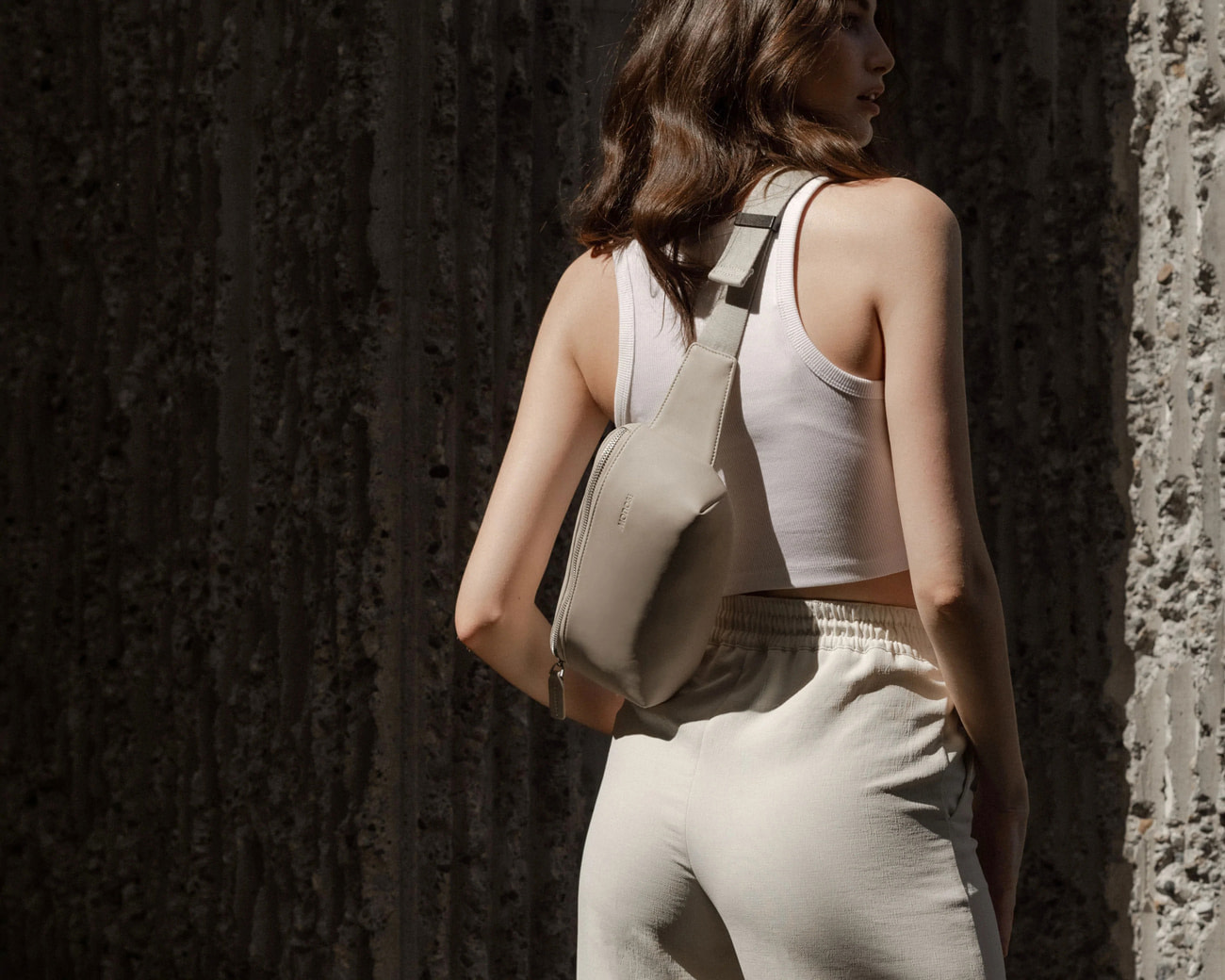 Size: 10.24″ x 5.51″ x 1.97″ (26 x 14 x 5 cm) | Volume: 1.82 L | Weight: 0.88 lbs (399.16 g)
Minimalist design meets maximal function in this stylish everyday sling bag from Monos. The size is perfect for storing your keys, phone, wallet, and other small valuables you may need for a day out and about, while the scratch, abrasion, and water-resistant qualities of its smooth, vegan leather exterior make it the perfect option for everyday use.
For easily accessible items, there is a hidden outer pocket on the back of the Metro Sling, and inside the main compartment, you'll find one interior zip pocket and three sleeve pockets – all wrapped up in anti-bacterial lining fabric made from recycled plastic bottles.
Best Everyday Sling Bag for Women: July Carry All Sling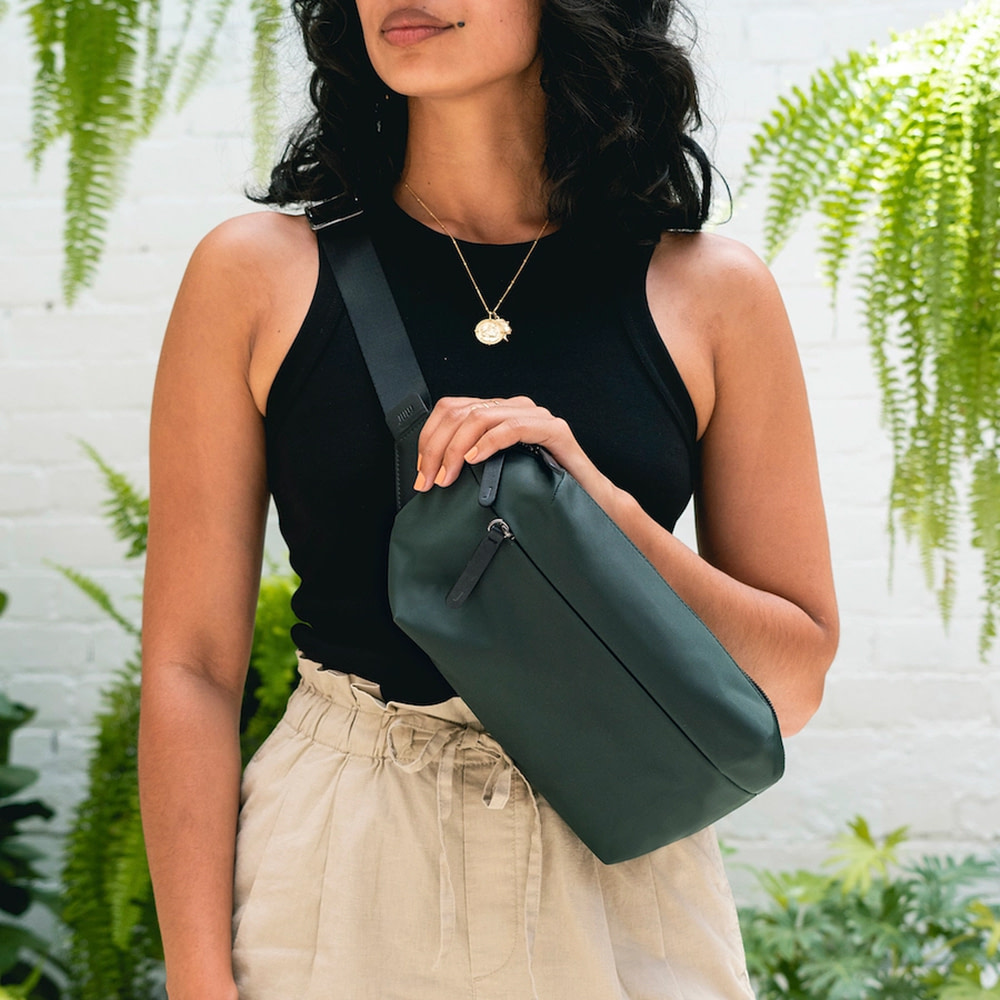 Size: 13.8″ (35 cm) long | Volume: 3L
If you want a stylish, practical bag to carry your everyday essentials, this is the one for you. Though it doesn't hold much more than your keys, sunglasses, and lipstick, the Carry All Sling still has room for a medium book/Kindle, and comes with a hidden QuickPass magnetic pocket for smart access to your phone.
Made from July's signature water-resistant twill nylon, it features a zip main compartment with two inside pockets for keeping everything organized and close at hand. Practical enough for every day, yet polished enough for the office, it's about to become the go-everywhere sling bag you've been looking for.
Best Camera Sling for Women: Bellroy Venture Sling 10L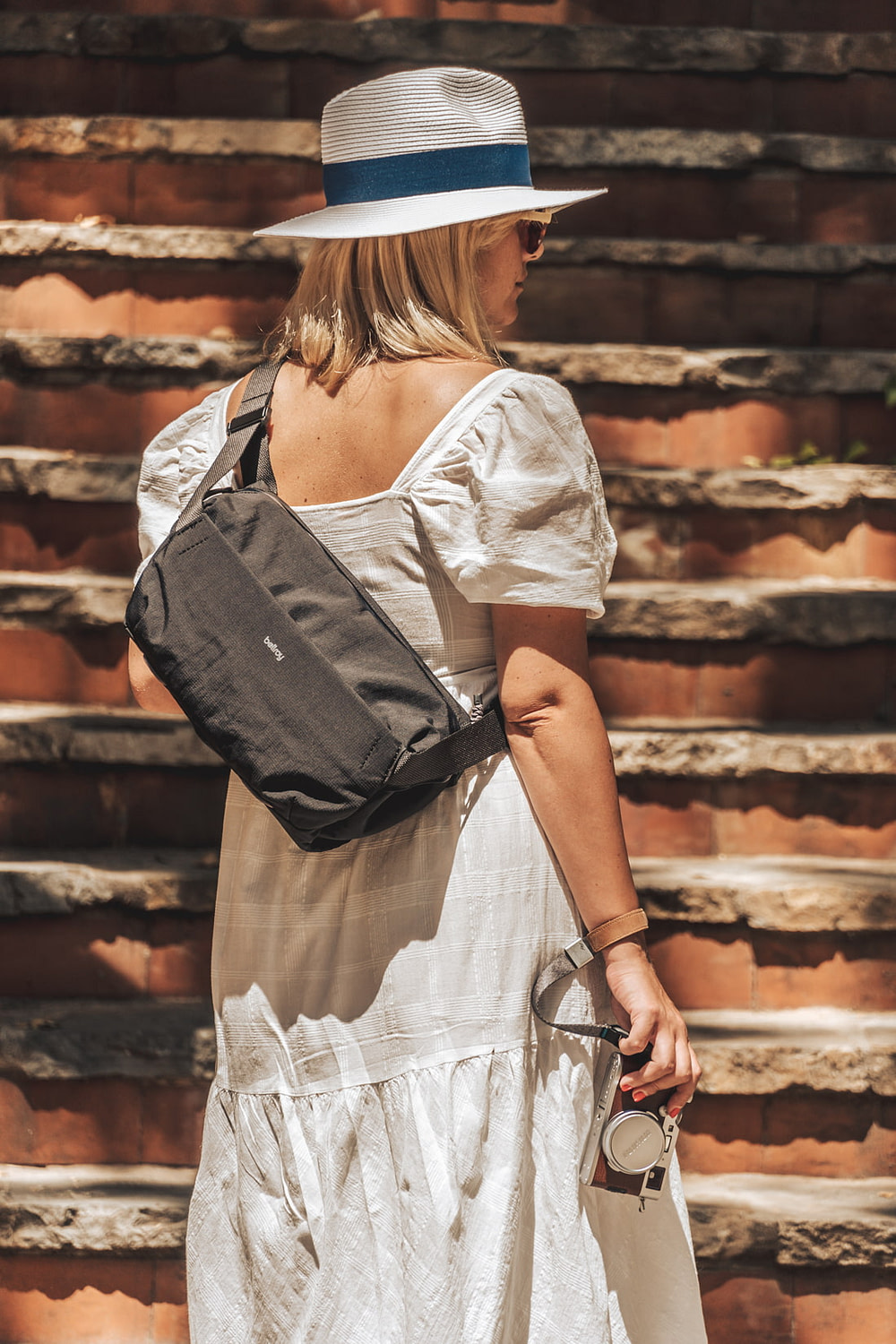 Size: 8.46″ x 14.2″ x 4.72″ (21,5 x 36 x 12 cm) | Volume: 10L | Weight: 1.1 lbs (500g)
Great camera sling bags for women are pretty hard to come by, but thankfully the design wizards at Bellroy have created one that's not only smart but streamlined enough to look right on smaller frames.
With ample pockets for organization, detachable tripod straps, and flexible, padded dividers that can be configured to suit a variety of camera and lens setups, the Venture Sling 10L Camera Edition is our favorite in this category. The durable, water-resistant ripstop fabric keeps your gear safe and dry, and pulling out your camera is easy thanks to the wide-mouth zip opening.
Best Designed Sling Bag for Women: Horizn Studios Gion Cross-Body M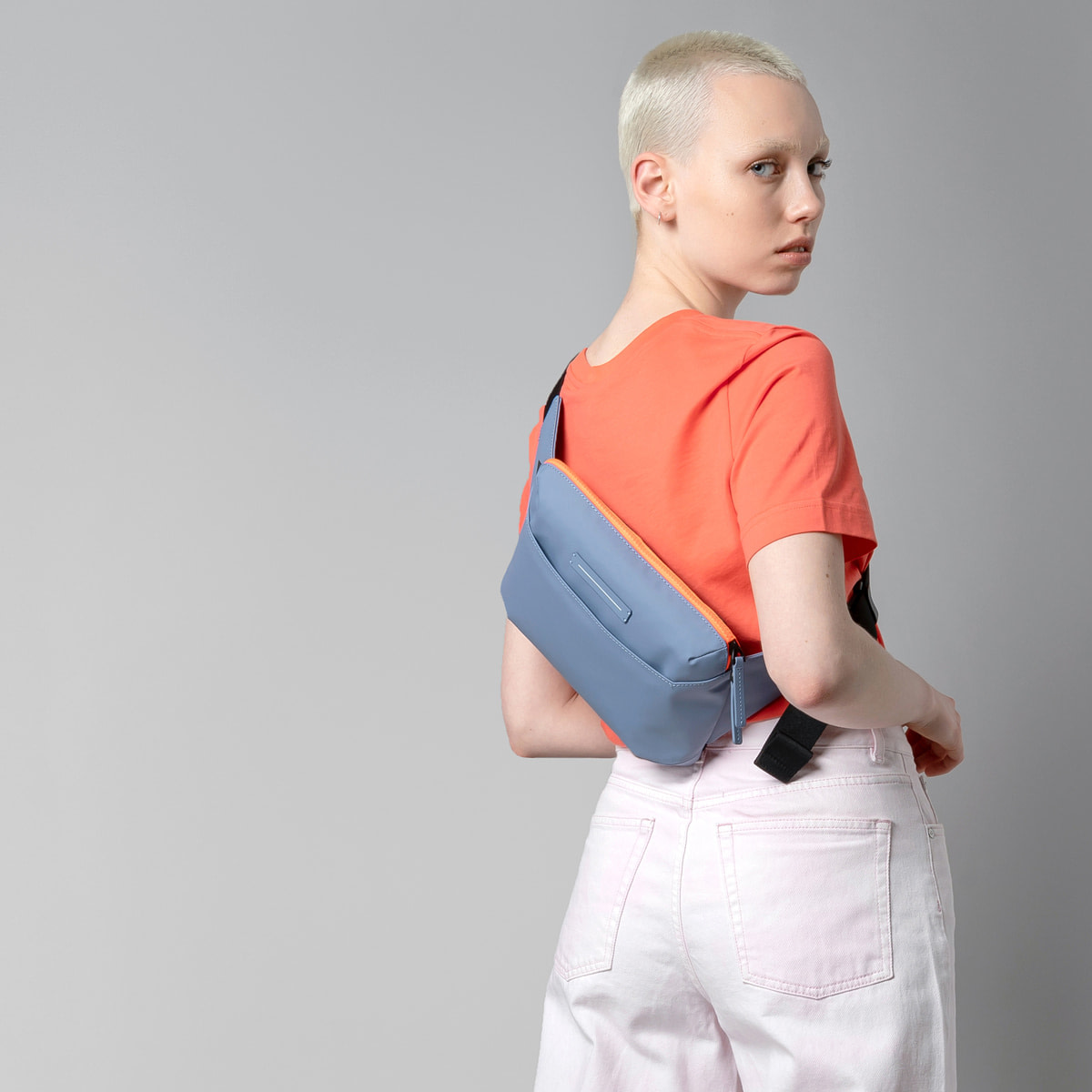 Size: 10.63″ x 7.09″ x 1.77″ (27 x 18 x 4.5 cm) | Volume: 2L | Weight: 0.66 lbs (300g)
Horizn Studios has a reputation for crafting smart, stylish luggage from ethical materials, and the Gion Cross-Body M is no exception. Made with vegan waterproof tarpaulin, this sleek crossbody companion retains its shape even when empty, and is complete with multiple pockets to keep your A5 notebook, iPad mini, and other daily essentials organized. Rear padding adds extra comfort and the two-way adjustable strap allows you to wear the bag either on your chest or on your back.
Best Versatile Sling Bag for Women: BÉIS The Survival Sling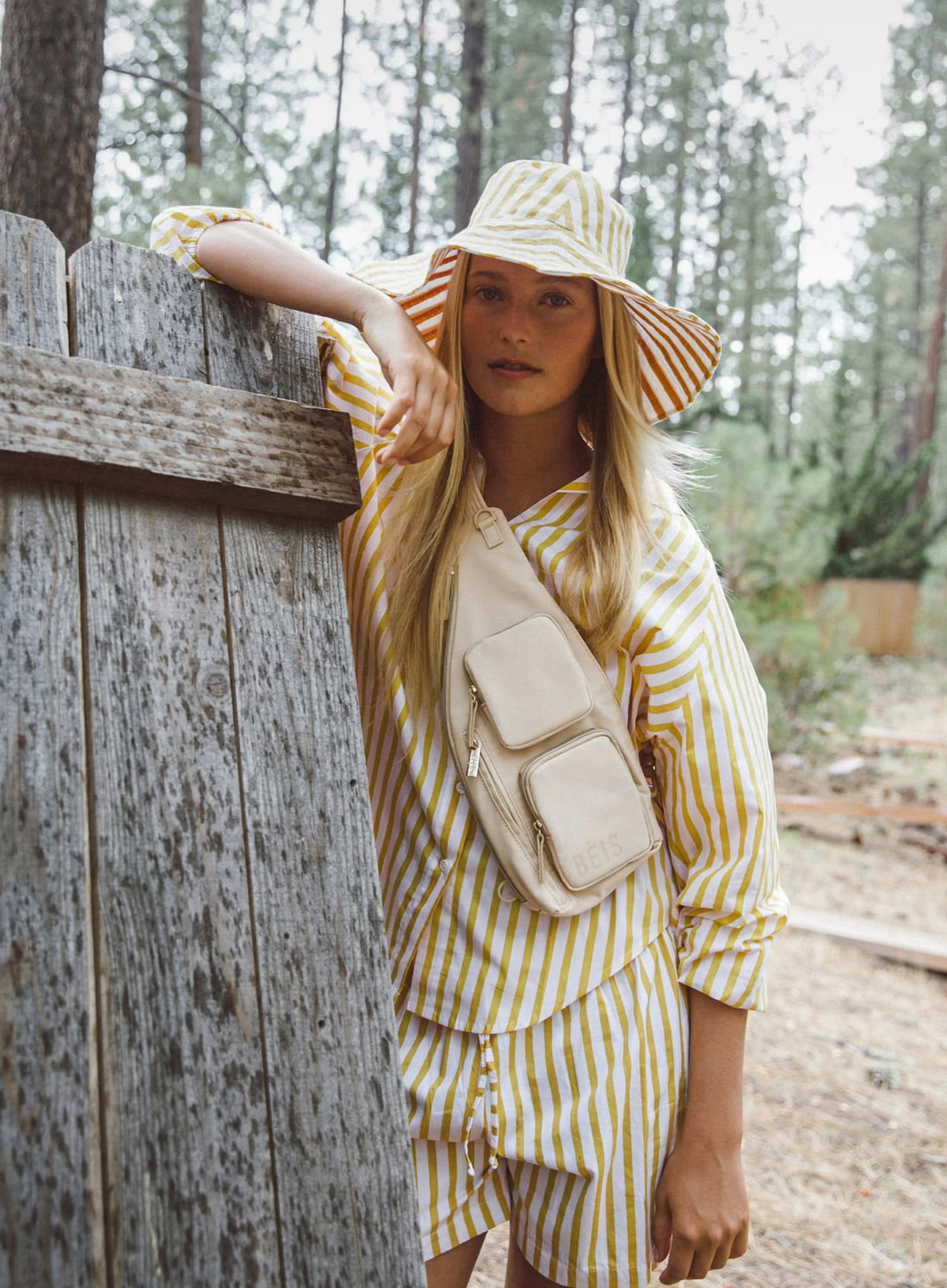 Size: 15″ x 5.5″ x 2″ (38 x 14 x 5 cm)
BÉIS' bags are just so damn practical, and this multifunctional sling is yet another fantastic addition to their line. The body-hugging design makes this option easy and comfortable to wear, while the company's signature beige will match all your outfits.
With a removable waist strap, a key clip, and a wealth of easy-access exterior pockets, The Survival Sling adapts – and adds instant style – to every travel scenario. Constructed from lightweight nylon, it's chic enough to be carried on the streets of Europe, yet durable enough to bring on hiking and camping trips.
Best High-End Sling Bag for Women: Rimowa Aluminum Sling Clutch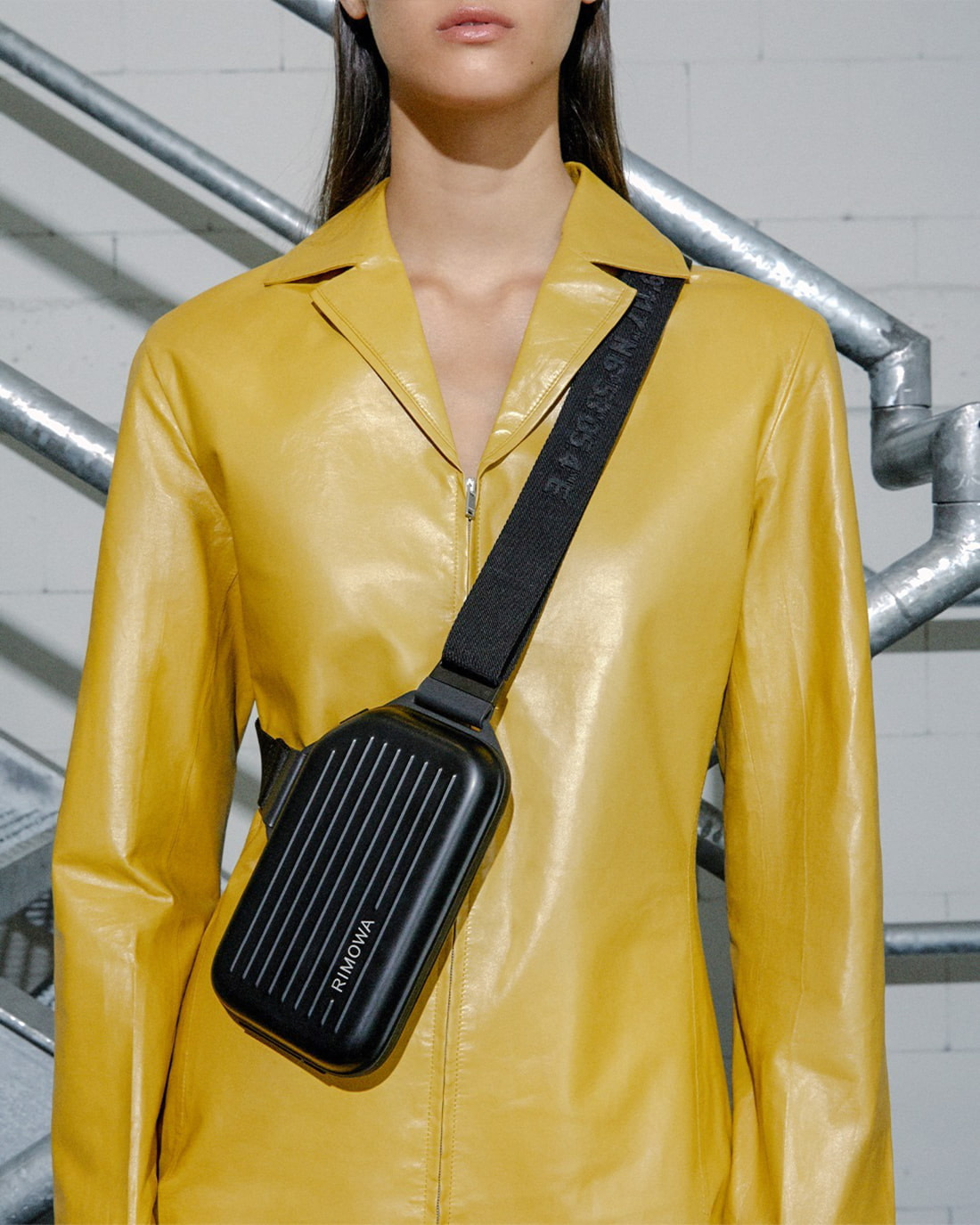 Size: 5.12″ x 8.03″ x 1.73″ (13 x 20.4 x 4.4 cm) | Volume: 0.5 L | Weight: 1.09 lbs (500g)
Count on Rimowa to make a sling bag like no other. Similar to the Original suitcase collection, this hard-sided style sports their emblematic grooved aluminum shell, only this time it's secured with a mechanic lock and complete with a versatile webbing strap engraved with the coordinates of Rimowa's historic headquarters in Cologne, Germany.
The indestructible, fashion-forward Aluminum Sling Clutch opens clamshell-style revealing one compact main compartment lined with full-grain Italian leather and two credit card slots.
Best Travel Sling Bag for Women: Away The Packable Sling Bag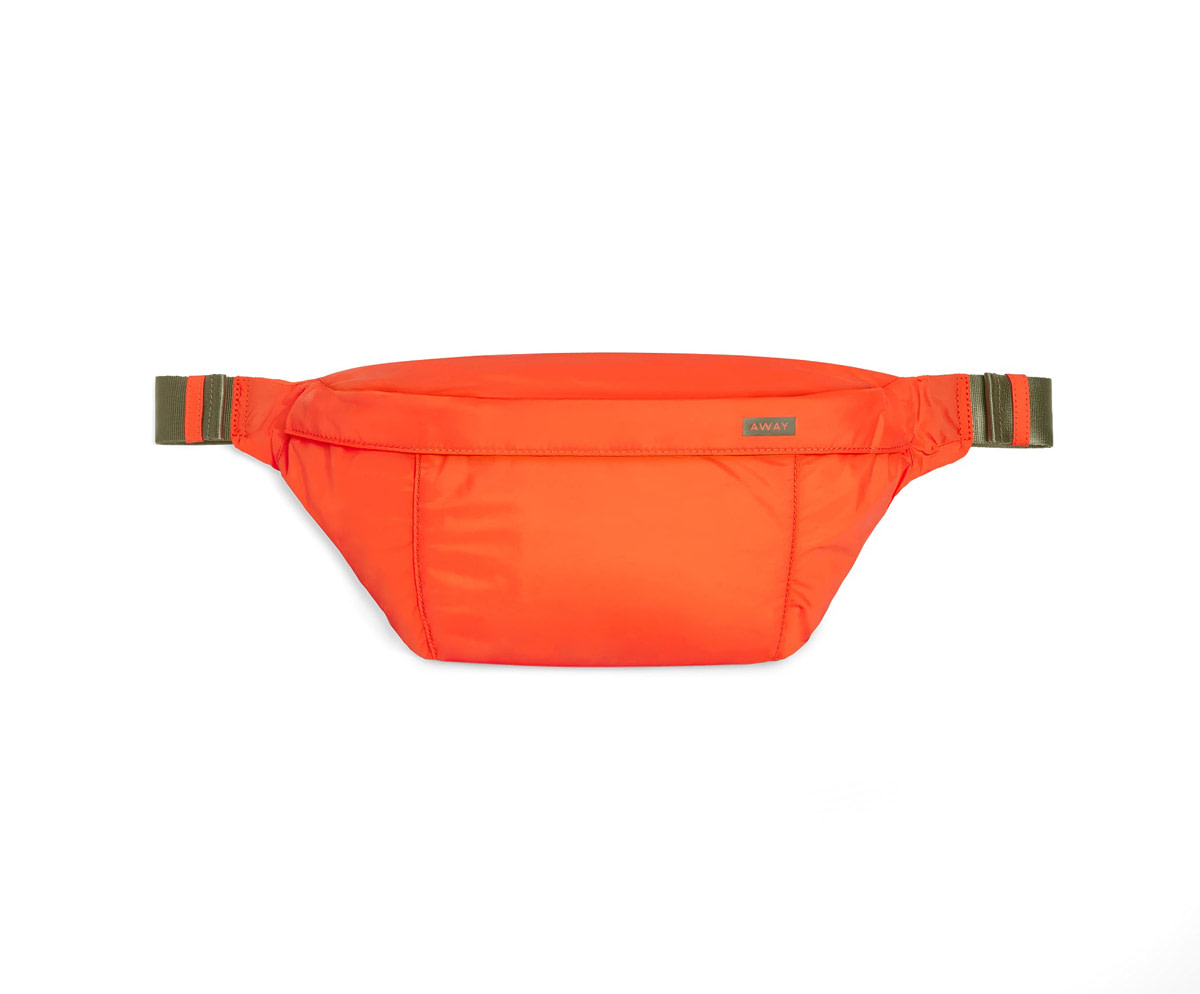 Size: 12.6″ x 5.9″ x 2.4″ (32 x 14.99 x 6.09 cm) | Volume: 2 L | Weight: 0.2 lbs (90.7 g)
Looking for something to take on your next trip? Constructed from recycled, water-resistant nylon, The Packable Sling Bag from Away folds down into a tiny pouch for easy storage in your travel bag but expands to fit all your necessities when exploring a new destination. With its two-sided adjustable strap, it can be worn around your waist or across your body and features an interior organization system that keeps essentials separated.
Best Small Sling for Women: Everlane The Cactus Leather Mini Sling Bag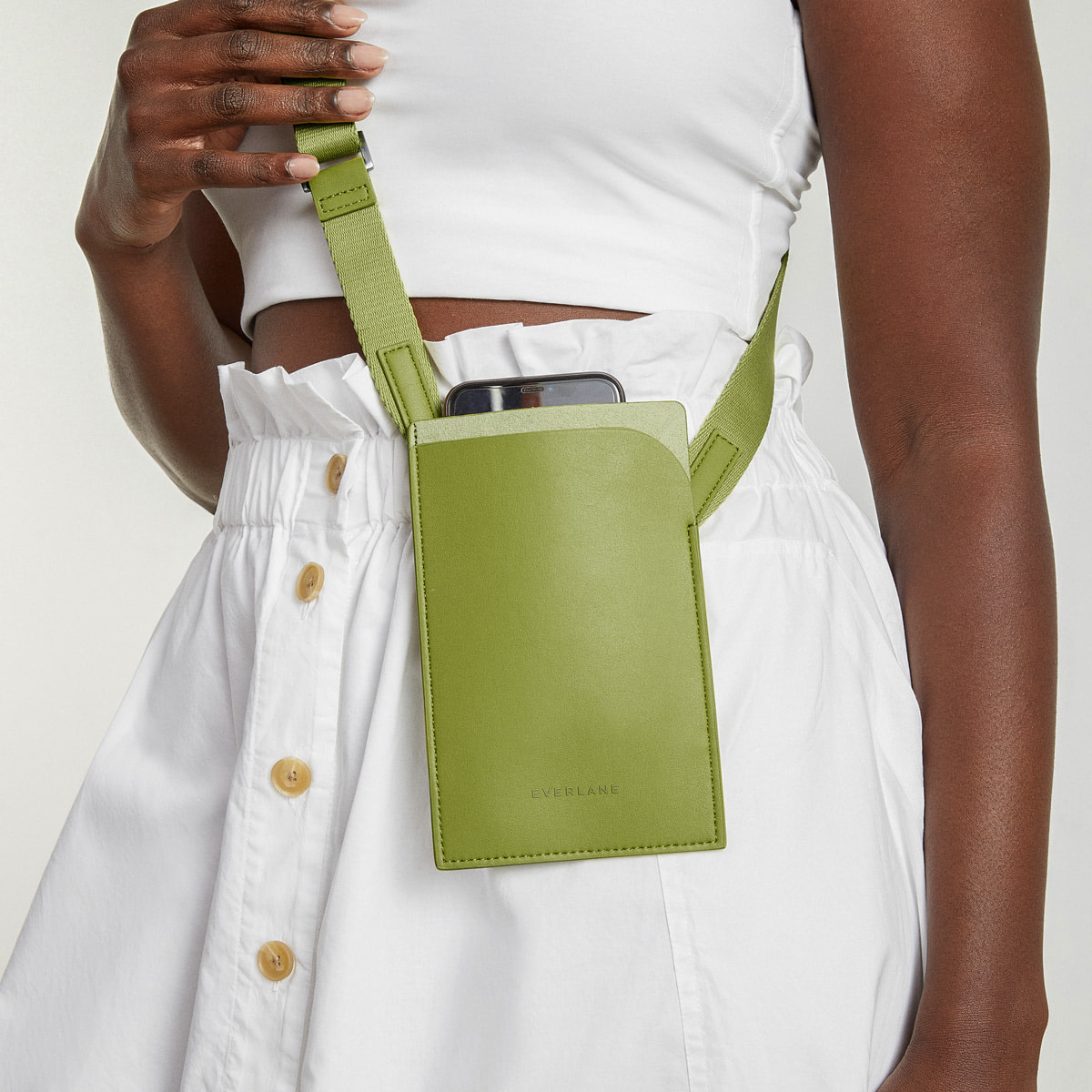 Size: 4.6″ x 7.3″ (11.8 x 18.4 cm)
On summer festivals and days when you don't need to carry anything except the essentials, Everlane's Cactus Leather Mini Sling Bag is just the ticket. Made from organic prickly pear and complete with slip pockets, this citrusy vegan leather accessory will add a pop of color to any outfit while safely storing your phone and cards when you want to be hands-free. Add an adjustable, comfortably wide strap, and you have the perfect small sling bag for minimalist ladies.
Best Convertible Sling for Women: Cuyana Small Recycled Sling Bag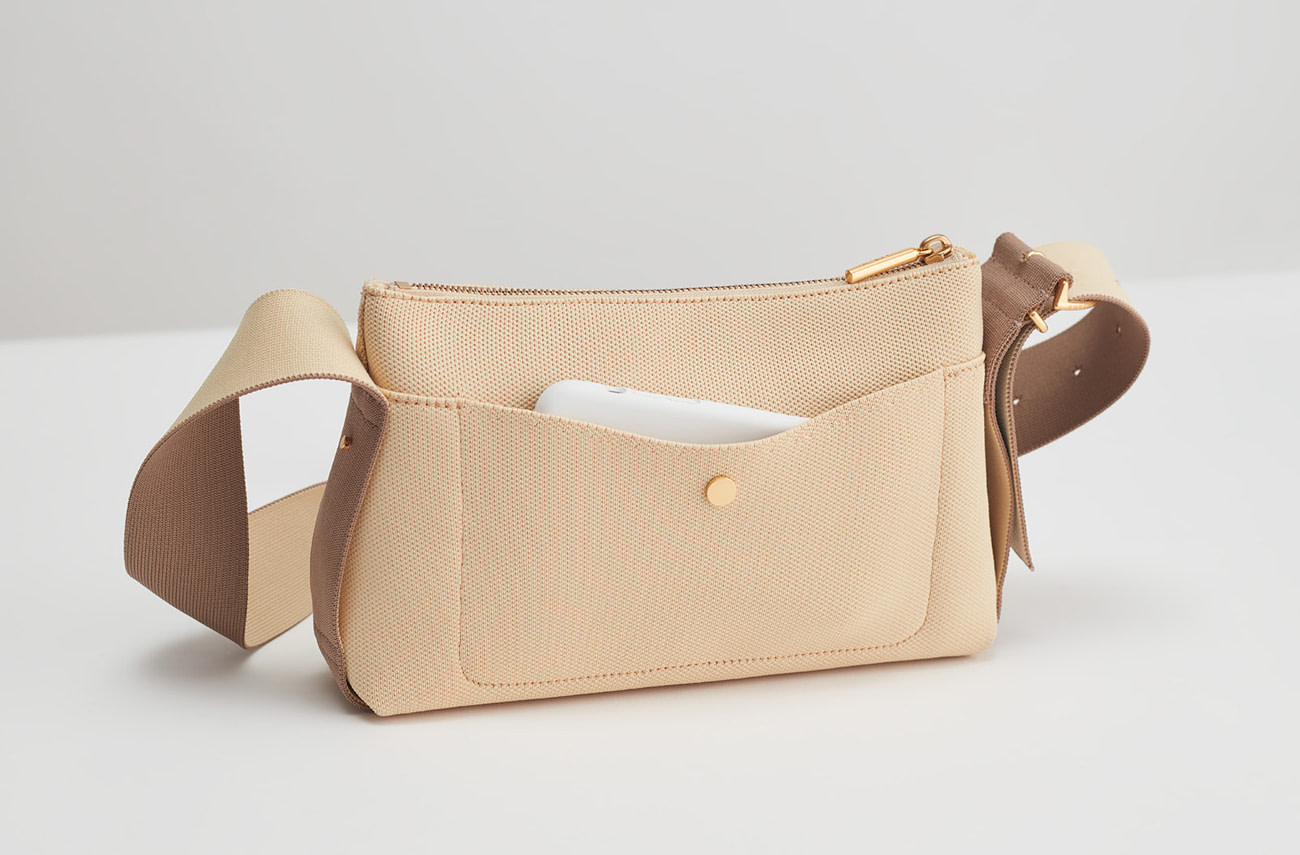 Size: 6″ x 9.5″ x 2.5″ (15.24 x 24.13 x 6.35 cm) | Weight: 0.87 lbs (394g)
A combo purse, crossbody, and shoulder bag, Cuyana's Small Recycled Sling Bag is as stylish as it is functional. An interior zip pocket and an exterior slip pocket on the front keep small goods in place, and the wide, comfortable strap in contrasting color can be adjusted for versatile use.
Knit from 100% recycled plastic taken from landfills, this chic option is both durable and machine washable. It's also one of the most feminine styles on this list, which makes it the ultimate crossbody sling bag for women on the go – whether it's errand day or a casual night out.
Best Sling Backpack for Women: Patagonia Atom Sling Bag 8L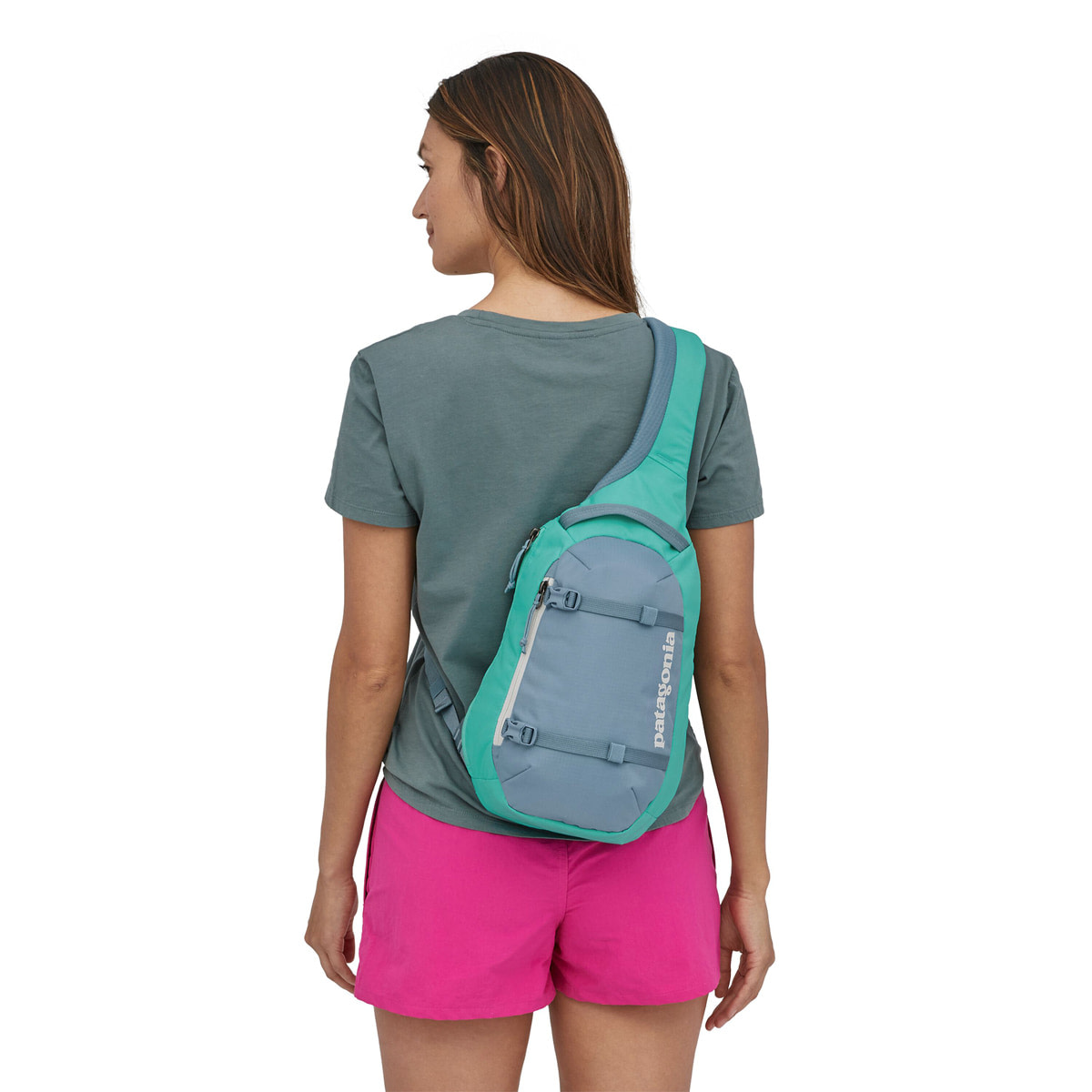 Size: 13.5″ x 9″ x 3″ (34.29 x 22.86 x 7.62 cm) | Volume: 8L | Weight: 0.75 lbs (340 g)
Ideal as a women's sling backpack, this 8-liter pack has all the storage, strength, and organization to keep you ready for whatever adventure life rolls your way.
Made with quality, recycled materials and enhanced with a water repellent (DWR) finish, the Atom Sling Bag 8L has an unmistakable outdoorsy vibe and it's extremely comfortable to carry thanks to the soft, breathable mesh that adorns both the back panel and shoulder strap. And speaking of the shoulder strap, this perfectly contours around the body and comes with a stretchy pocket that keeps essentials like phone and money within reach.
The main compartment has a padded sleeve for tablets along with plenty of room for your snacks, water bottle, and a spare jacket, and there's one more zippered quick-grab pocket for your keys and wallet.