This post contains affiliate links, which means we may receive a small commission, at no additional cost to you, if you make a purchase through these links. See our full disclosure here.
Women's backpacks are going through a renaissance and we're here for it!
The name may bring back memories of your grade school days, but today's modern designs are serving a far different market. From busy professionals to photographers to world travelers, everyone needs an efficient way to carry their stuff, so why not do it in comfort and style with the perfect backpack?
If we're talking ladies' backpacks, size really does matter. Models shaped for a woman's anatomy tend to be smaller, lighter, and narrower at the shoulders. However, don't let gender specificity get in your way – if you like a unisex backpack or even a male-specific one, and it fits, go for it!
The ideal women's backpack balances aesthetics and function – it should suit the purposes you need it for and be comfortable to wear without compromising style. Durability is important and it's also worth looking for features that will make your life easier, like organizational pockets, trolley sleeves, or expansion capabilities. You can always opt for a show-stopping piece that makes a powerful style statement, but in essence, the cleaner the design, the more adaptable it will be.
These being said, here's a round-up of our favorite ladies' backpacks this year. Whether you have in mind a sophisticated day pack for work meetings and urban exploration, an adventure-ready rucksack to conquer the world with, or an expandable backpack to use as carry-on, these smart, feminine styles will have your back, literally.
In a rush? Here's a summary of our picks for the best backpacks for women in 2021:
Best Backpack for Women Overall: Bellroy Melbourne Backpack Compact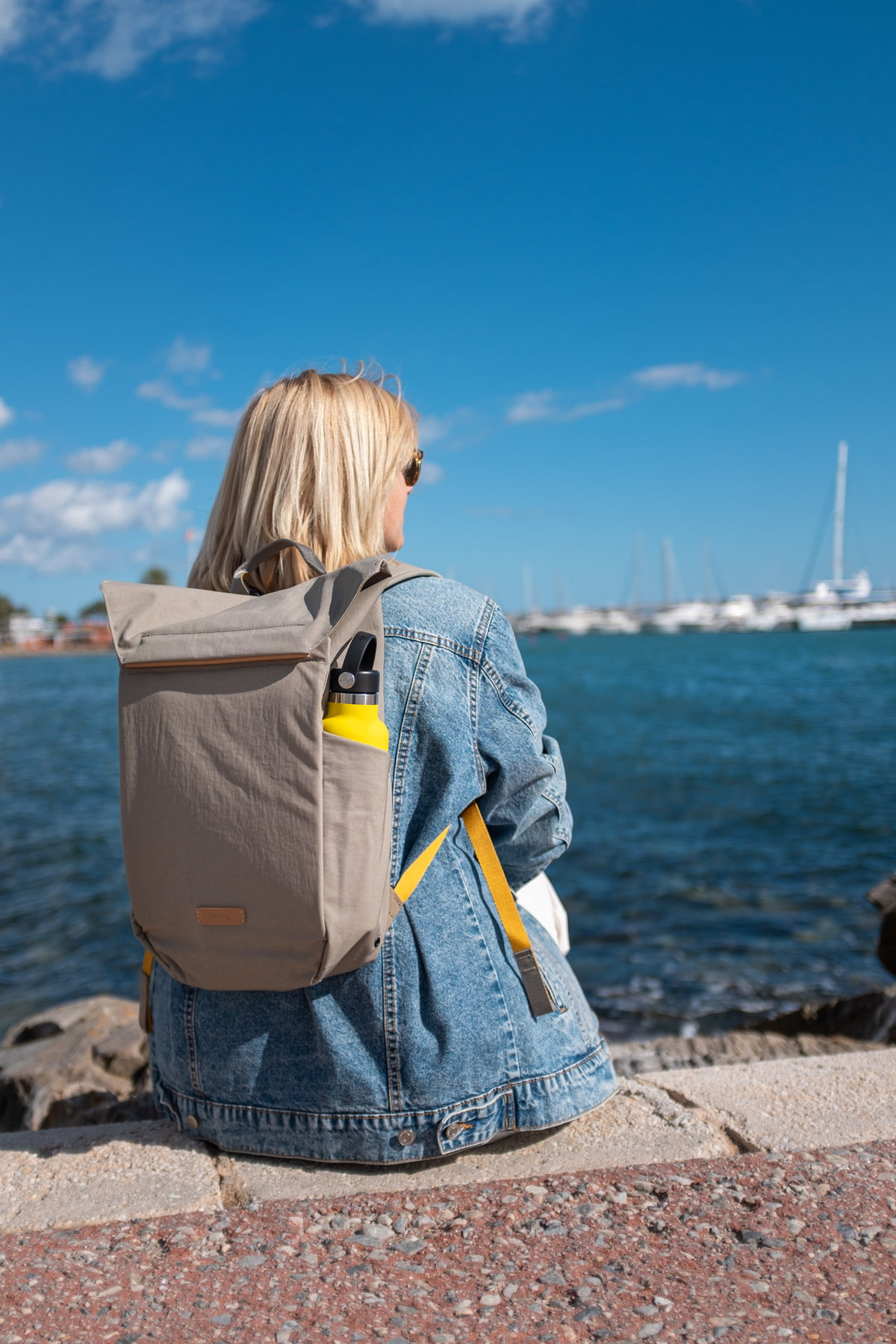 Modern, stylish, and comfortable enough to tote around all day, the Melbourne Backpack Compact is our pick for the best women's backpack in 2021.
Crafted in durable, water-resistant recycled fabric, with chic eco-tanned leather details and a discreet magnetic fold top, this slim Bellroy backpack looks at home in any environment – whether it's an office, the beach, or a busy sidewalk café.
Despite its streamlined silhouette, it can fit all your daily essentials thanks to a well-organized interior fitted with side wall pockets, a 13" laptop sleeve, and an A5 document section. A clever side zipper offers quick full access to the main compartment and subtle external side pockets keep your sunglasses and water bottle neatly tucked away.
Best EDC Backpack for Women: Peak Design Everyday Backpack Zip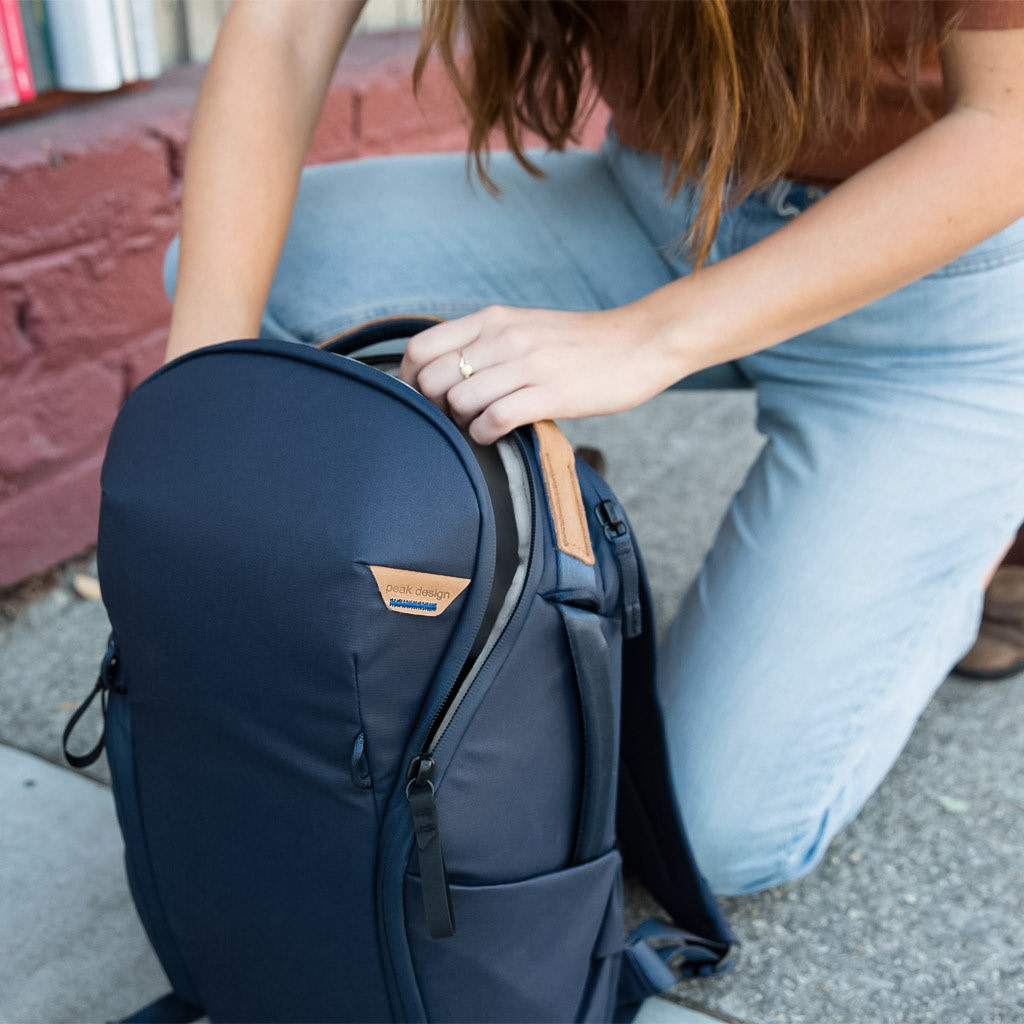 True to its name, this clean-looking, highly organized pack from Peak Design is made for everyday carry. With a 400D durable water-resistant nylon shell, pivoting shoulder straps, and breathable padding on the back, it withstands the elements without compromising on comfort.
Basically a streamlined version of Peak Design's famous Everyday Backpack, the Everyday Backpack Zip maintains the same clever features and first-class build quality in a smaller, more refined format. Highlights include endless organizational pockets, dedicated sleeves for laptop, tablet, and documents, as well as 2 easy-to-configure flex dividers for the ultimate packing versatility. And yes, it makes a great camera pack for women!
Best Women's Backpack for the Office: Troubadour Adventure Ki Backpack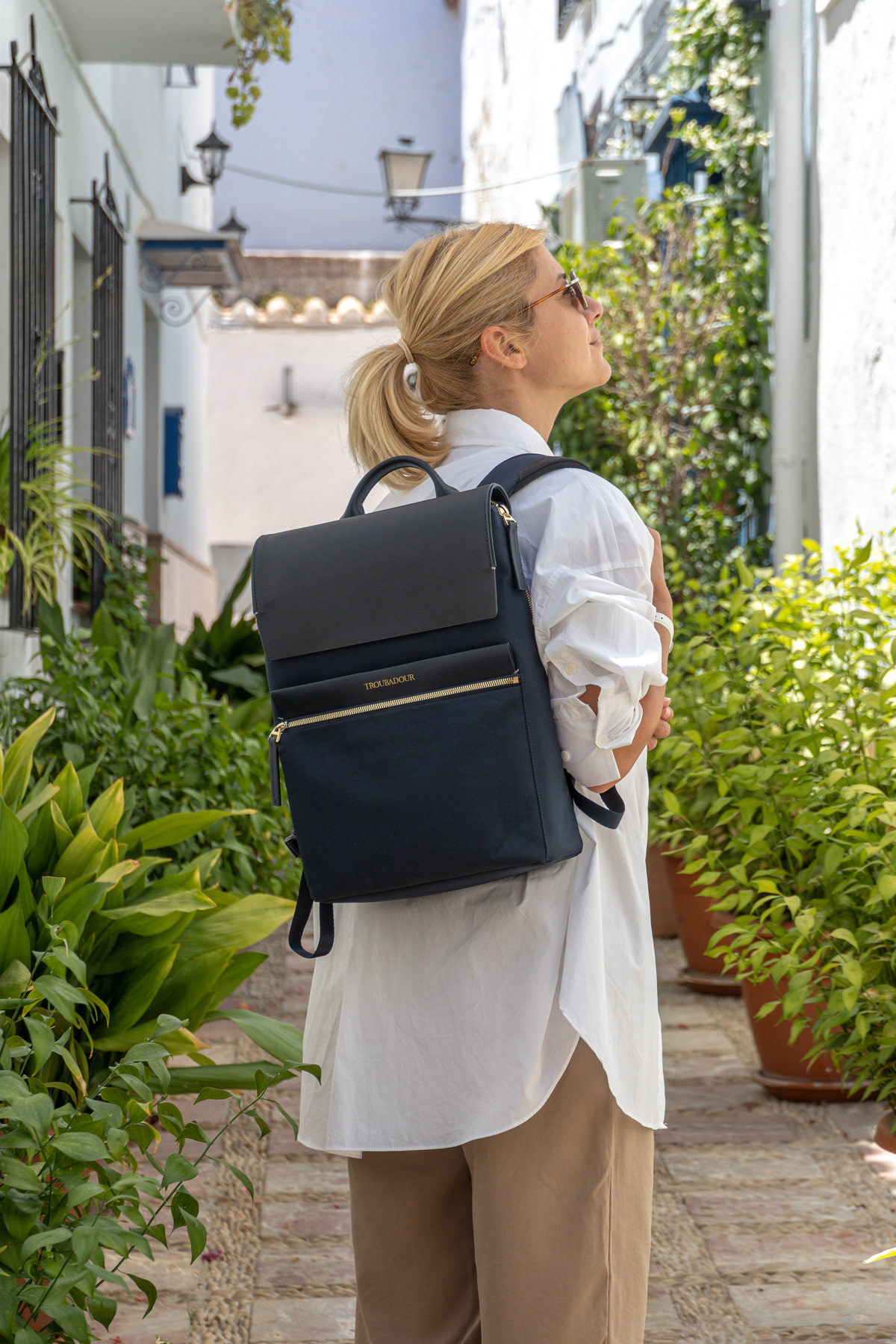 If you want a sophisticated city-going pack you can bring into the office, this is it. Made from high-spec recycled materials, with luxurious leather details and discreet organizational pockets, the Troubadour Adventure Ki Backpack is equal parts a smart office backpack and a show-piece you'll want to replace your purse with.
It has a 10L capacity – perfect for day-to-day usage – along with a slim, structured profile, complete with breathable back panel & and ergonomic straps for superior carrying comfort. And while the design is as lightweight and streamlined as possible, it still boasts enough useful organization to keep your EDC in order, including a 16-inch laptop sleeve and a couple of slip exterior pockets for storing quick-grab items.
This slim backpack is available in black and navy and comes with a handy trolley sleeve so you can easily slip it over your suitcase handles for business travel.
Best Commuting Backpack for Women: Béis The Backpack
While commuter backpacks can be as diverse as the commutes for which they're used, we're betting on this tasteful design from Béis, which can hold all of your work essentials without messing with your outfit.
The Backpack in Beige features a padded laptop sleeve, comfy shoulder straps, and several well-placed zips and pockets for organizing small necessities. The water-resistant cotton & faux leather exterior keeps contents nice and dry, and a trolley passthrough allows you to place the pack on top of a rolling suitcase when traveling. Stylish, functional, and with enough room for an overnight trip, this bag is sure to tick all your boxes.
Best Travel Backpack for Women: Away The Backpack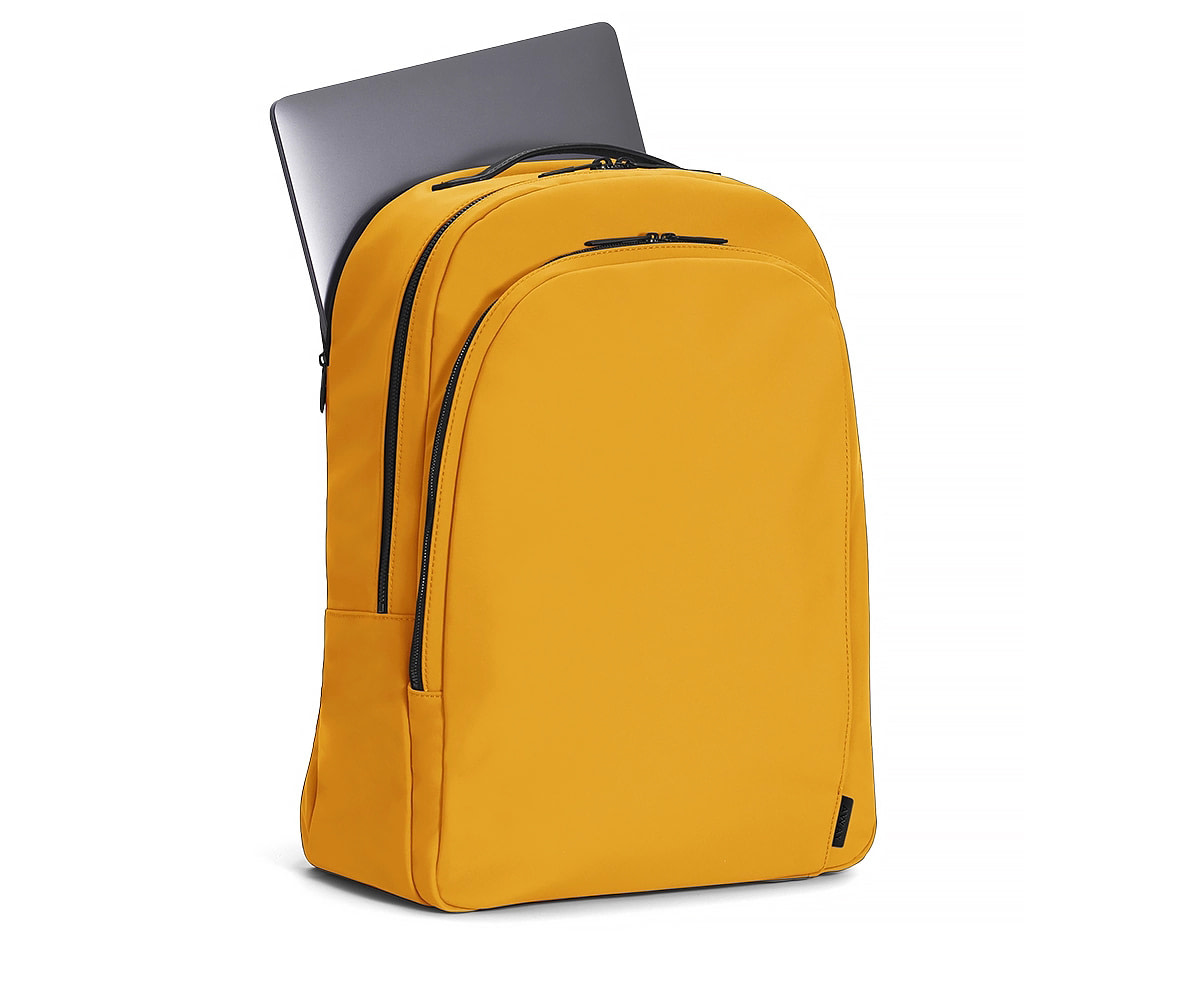 Finding the perfect travel backpack for women is no easy job, but The Backpack by Away hits all the right notes with its clean-cut style, neatly compartmentalized interior, and smart features.
Crafted from lightweight, water-resistant nylon, this beautiful bag is comfortable to carry and holds a lot while still maintaining a slim profile. It boasts an easy-access laptop pocket on the back, an adjustable side bottle pouch, and three zipper compartments. The main one is perfect for shoes, clothes, and other bulky accessories, while the others keep your documents, phones, and other flat items in place. With a capacity of 25.5 L, it easily doubles as a weekender bag or a stylish carry-on for those dressy work trips.
Best Laptop Backpack for Women: Kaya by Calpak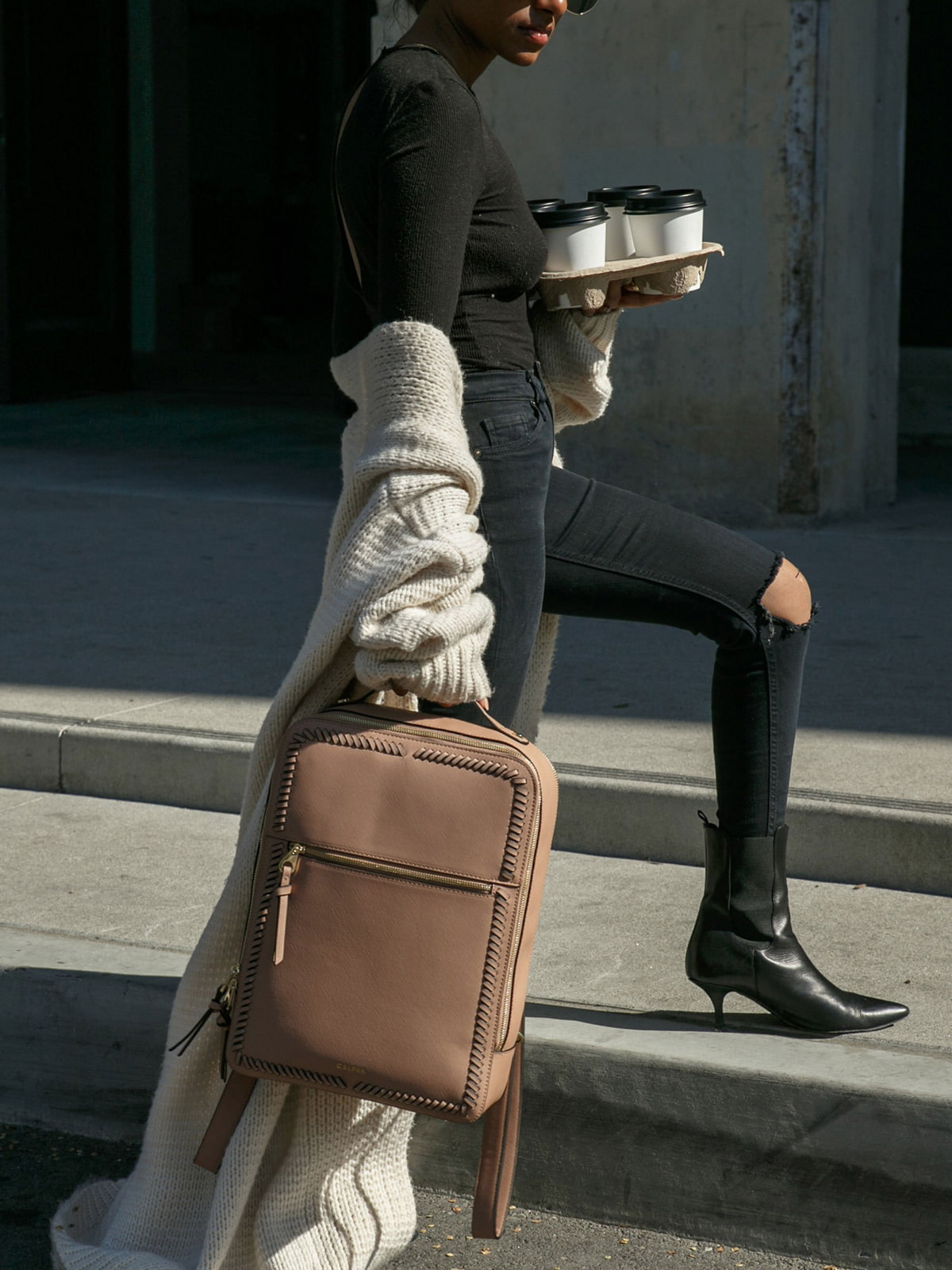 Aside from having its own zipped laptop space, this vegan leather backpack from Calpak scores major style points for its slim, structured profile and classy color options (available in 12 shades, including lavender, emerald, blush, caramel, mauve, and more).
The faux leather is scratch and water resistant and the interior is cleverly divided in two separate compartments – one for your 15-inch laptop and one for your lunch, papers, and other daily necessities. The latter features a slew of pockets for organizing belongings, and there's also a luggage trolley sleeve so you can slide it over the handle of your wheeled suitcase when traveling. Polished and practical, the Kaya Laptop Backpack will take you from work to wine and through to the weekend in style.
Best Affordable Women's Backpack: The North Face Women's Jester
To those in the market for an affordable backpack, look no further. A reinvented classic, The North Face's new Women's Jester makes the perfect accomplice to afternoon hikes, bike cruises, beach days, and any other excuse to leave the house.
Enhanced with injection-molded shoulder straps and a women-specific FlexVent suspension system certified by the American Chiropractic Association, this backpack is incredibly comfortable to carry. It also comes with a padded laptop sleeve and 360-degree reflectivity for increased safety in low light conditions.
The exterior is made of 600-denier polyester (50% recycled) with a water repellent (DWR) finish and a front bungee system for additional storage. Bonus: the adorable misty jade hue gives the rucksack a welcome refreshing touch.
Best Women's Backpack for Outdoor Adventure: Topo Designs Rover Pack Canvas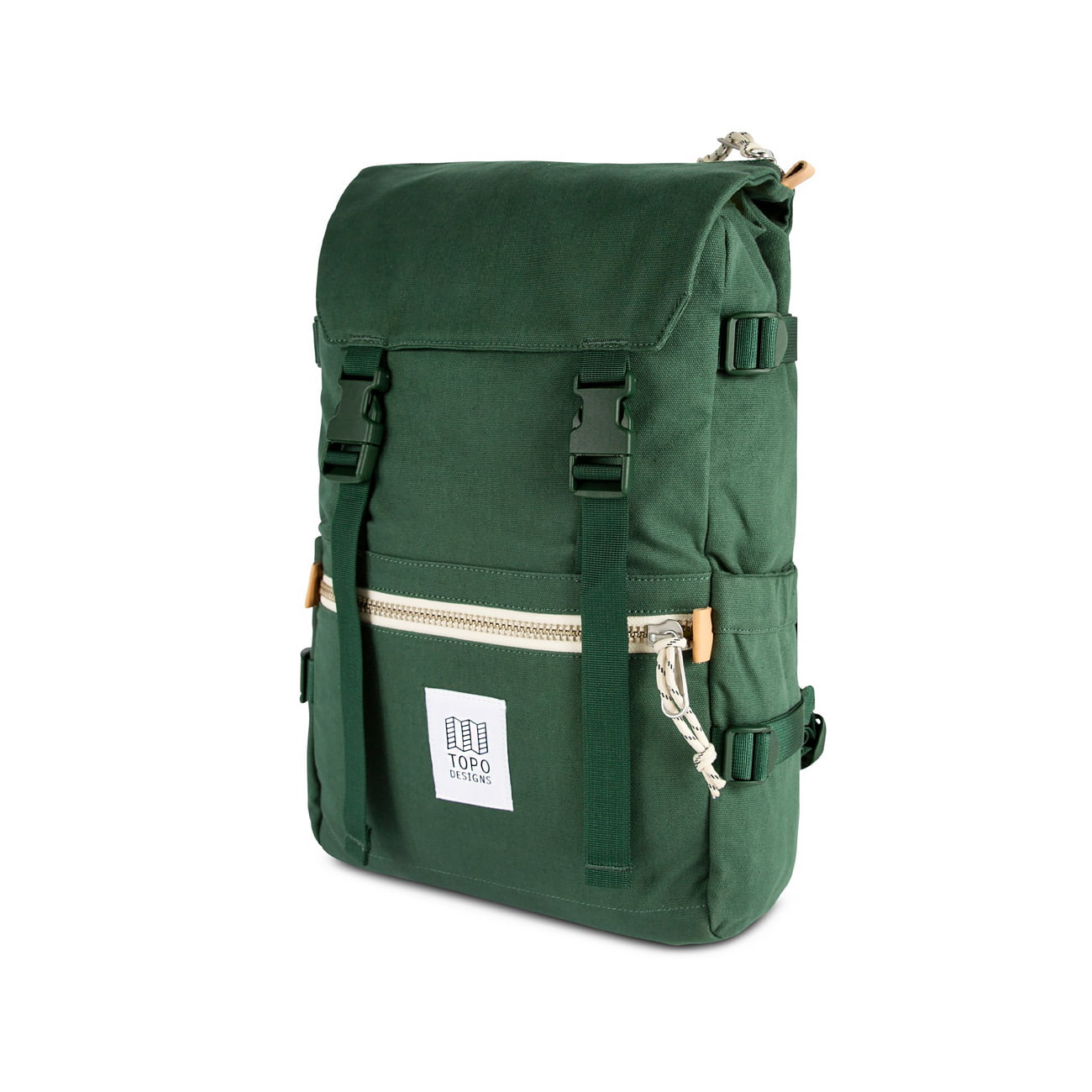 Topo Designs knows a thing or two about outdoor gear, and the Rover Pack Canvas shows it.
Wrapped in a durable cotton canvas with a water repellent finish, this handsome adventure-ready backpack is strong enough to handle your days on the trail, but also versatile enough to take on urban walkabouts or weekend trips.
It features a spacious main compartment with room for a couple of days' worth of clothes and a 15" laptop, as well as an assortment of exterior pockets for quick access to your water bottle and other smaller items. Take your pick from bold, bright colors like forest green and mustard, or go for understated chic with a natural hue reminiscent of creamy vanilla milkshakes.
Best Lightweight Backpack for Women: Paravel Fold-Up Backpack
Part of Paravel's Negative Nylon collection of soft-sided bags made from recycled water bottles, the Fold-Up Backpack is one of the most versatile travel accessories you can buy.
Designed with practicality in mind, this celebrity-loved, sustainable bag folds down completely flat for easy storage and portability when not in use. This makes it perfect to throw it in your suitcase as an extra bag for souvenirs or to use on daily excursions during your travels.
Otherwise, its sleek, lightweight design makes an easy transition from the commute to the gym to the coffee shop. It's also TSA approved as a personal item on flights and easily slides over the handles of your wheeled luggage for hands-free transit. The fabric is durable, easy to clean, and has a luxurious satin-like feel in classic colors like safari green, scuba navy, flatiron grey, and canyon yellow. For a small added fee, you can personalize the backpack with a custom embroidered monogram.
Best Minimalist Backpack for Women: Horizn Studios Gion Backpack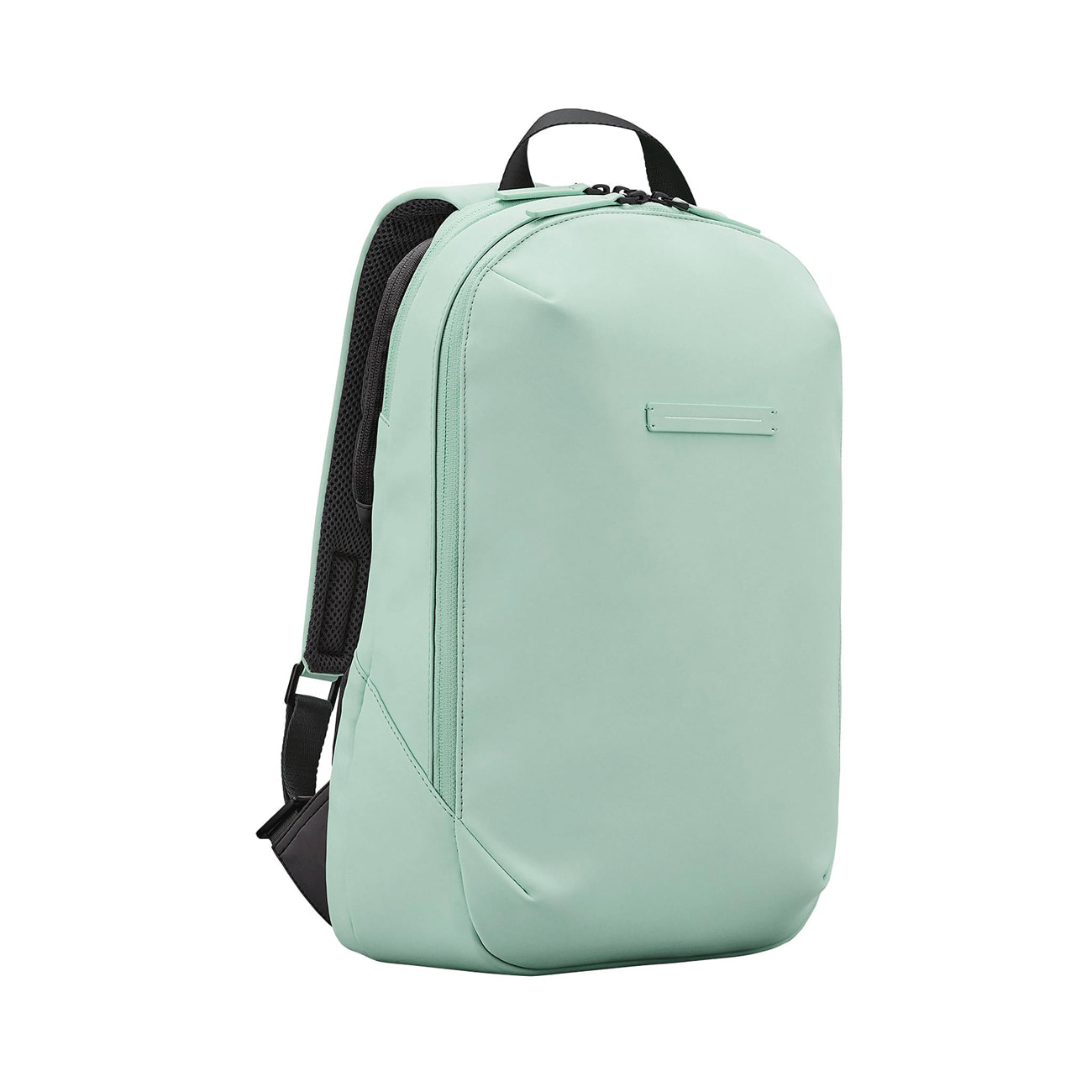 Clean Scandinavian design and smart functionality combine to create the ultimate everyday backpack for women – the Gion, a lightweight, minimalist wonder inspired by Kyoto's geisha district from smart travel brand Horizn Studios.
In line with the company's well-designed products, this super chic rucksack made from waterproof, vegan-tech materials (tarpaulin) in contemporary mint is proof that less is more. In addition to its sleek appearance, it comes with thoughtful protective compartments for storing your valuables and tech devices, including a designated 13-inch laptop sleeve and a hidden back pocket.
Add breathable padding on the back and shoulder straps, along with a nylon strap that conveniently slips on your luggage handle, and you'll want to carry the Gion Backpack with you everywhere.
Best Convertible Backpack for Women: Timbuk2 Jet Set Convertible Travel Backpack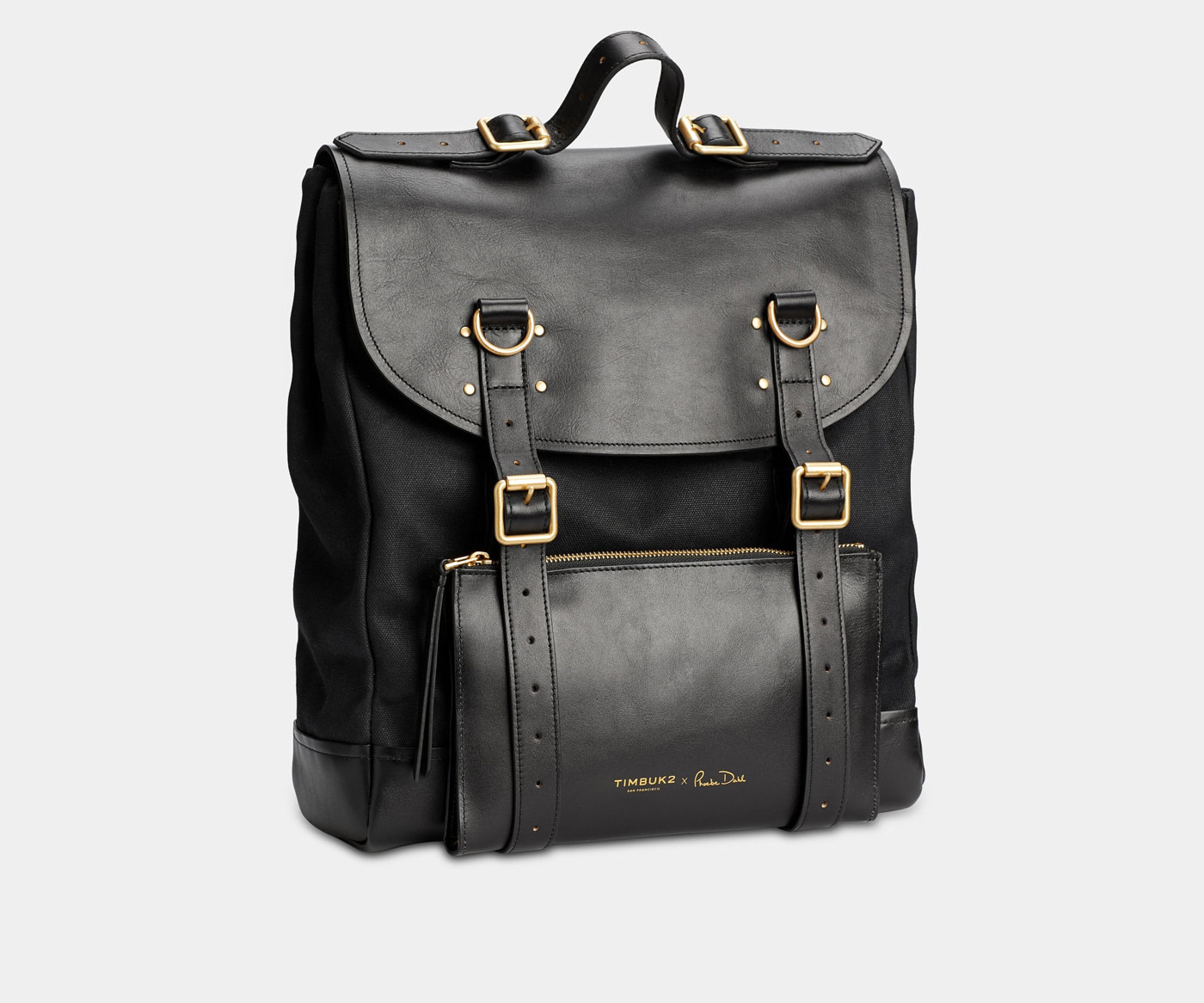 One of the most convenient items in this list, the Timbuk2 Jet Set Convertible Travel Backpack can be worn eight ways and has a cool-girl edge that we just can't get enough of.
Created in collaboration with fashion designer Phoebe Dahl, the voguish pack transforms into a shoulder bag, a tote, and even into a purse to accompany life's every occasion. Though also available in bright blue leather, we love the black version, which comes in a mix of waxed canvas and leather with exquisite golden hardware and a detachable front pouch that doubles as a crossbody bag once you arrive at your destination. Not only that, but the luxurious bag is also carry-on friendly, accommodates a 13" laptop, and features a removable passport pocket that attaches to the crossbody strap.
Best Camera Backpack for Women: Peak Design Everyday Totepack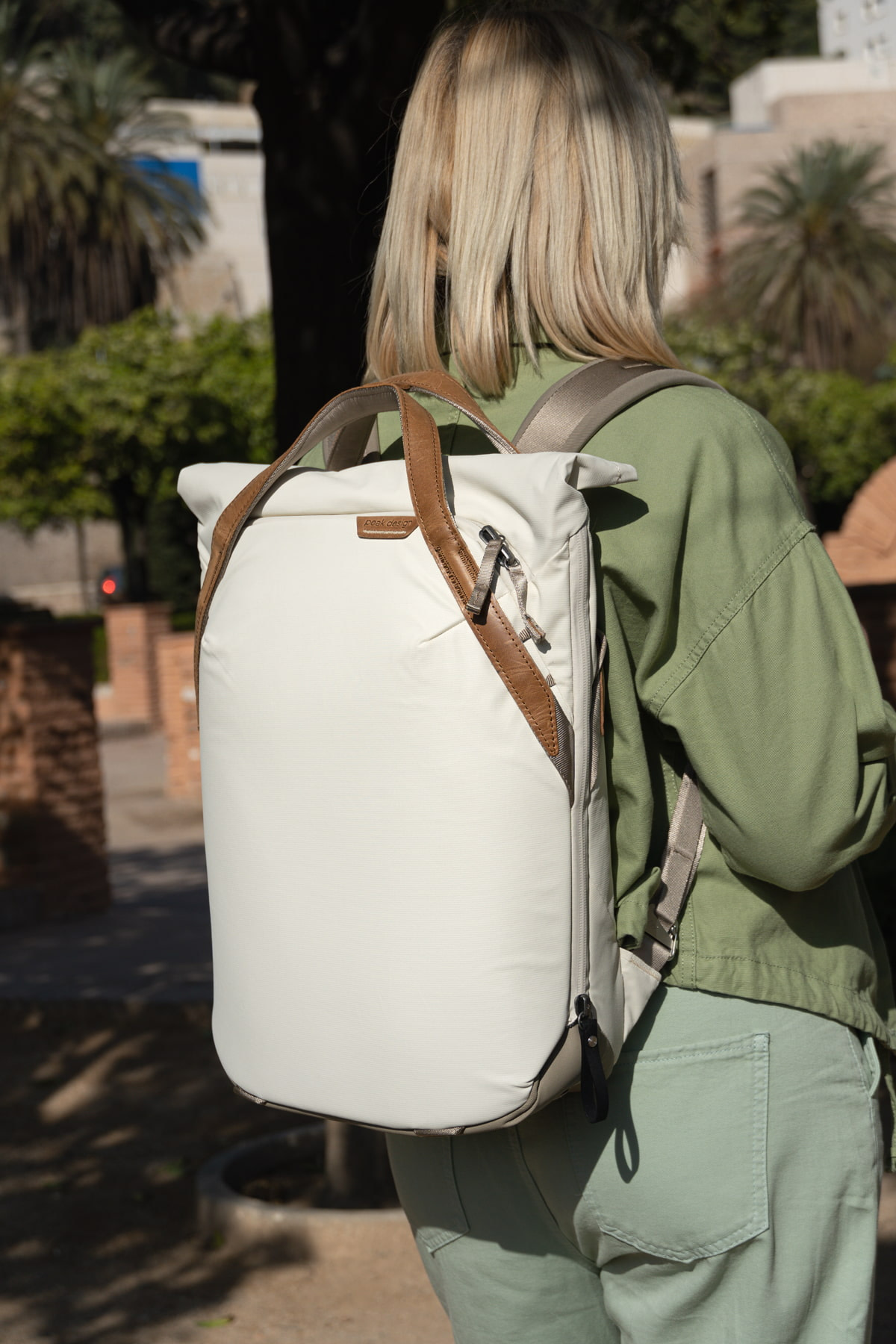 Of all the options available on the market right now, the Peak Design Everyday Totepack takes the cake as the best camera backpack for women. While it's technically unisex, its sleek, minimalist look and customizable internal organization make it a perfect fit for lady photographers with a sense of style.
Another big draw of this handsome bag is that it's convertible, which means you can turn it into a tote whenever you feel like looking less sporty by stowing the padded shoulder straps into a back compartment. The weatherproof 100% recycled 400D nylon canvas keeps contents safe, while inside, 2 FlexFold dividers, along with dedicated laptop (15") and tablet sleeves, plus a handful of small, stretchy pockets, hold everything in place.
Best Leather Backpack for Women: Cuyana Leather Backpack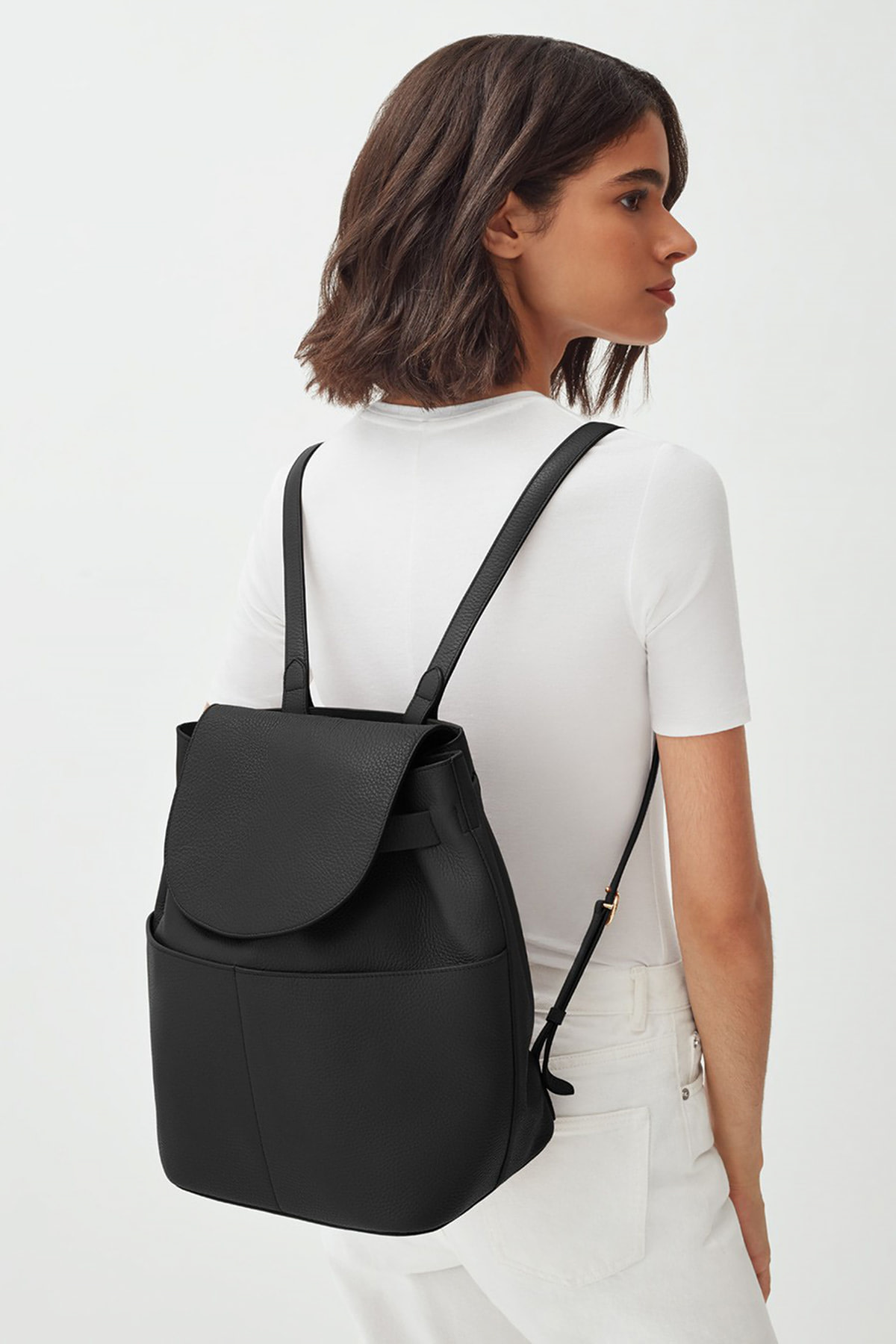 Made in a small family-owned Italian factory outside of Pisa, this beautiful leather backpack from Cuyana combines luxe fabrics with an elegant silhouette to make the perfect companion from work to weekend.
The detachable top strap offers a chic way to carry it on your shoulder, while a 13-inch laptop sleeve and two large exterior pockets keep your necessities organized and on hand. The combination of premium pebbled leather and versatile design means you're investing in a timeless bag that never goes out of style.
Best Vegan Leather Backpack for Women: Pandopando Vintage Rolltop Backpack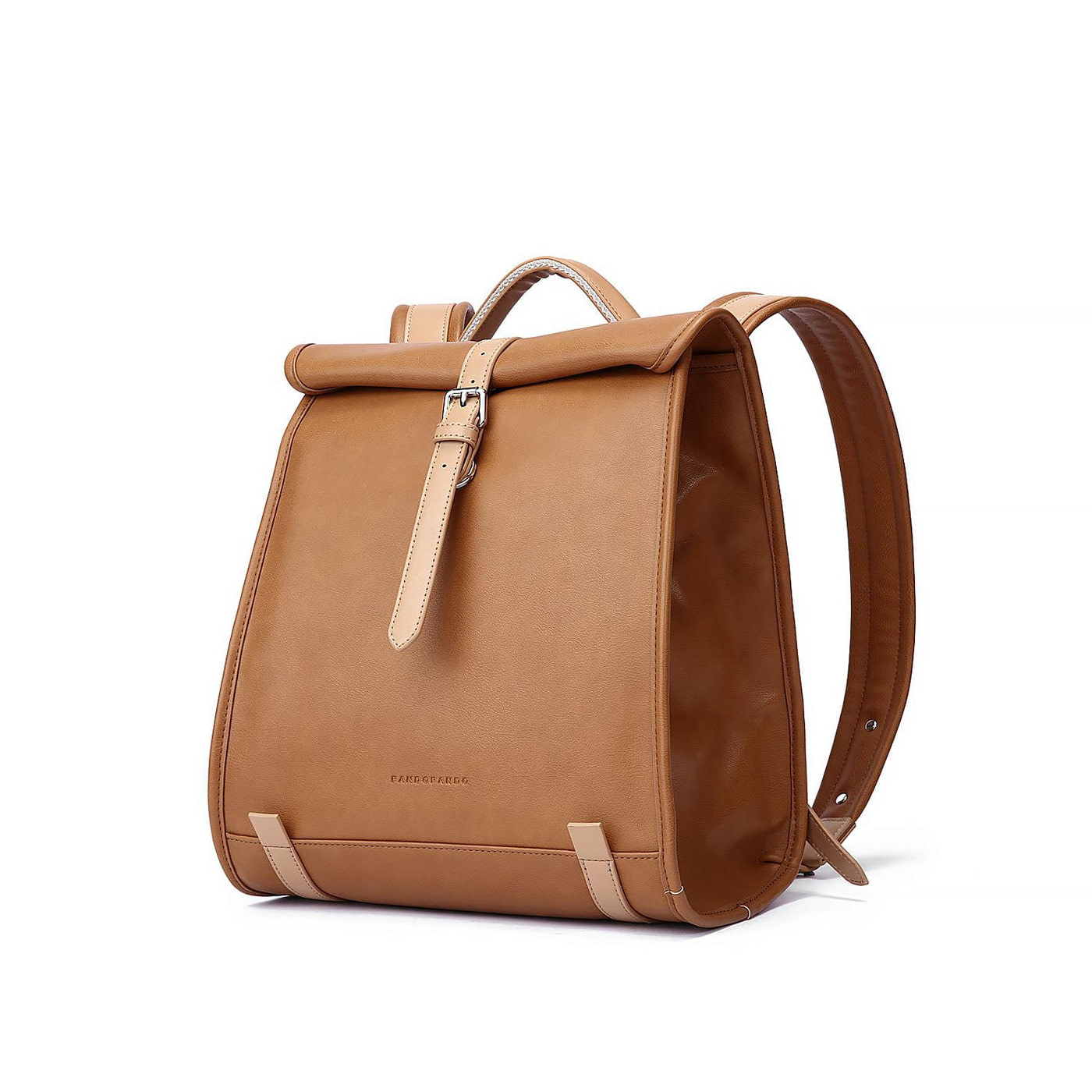 If you want the luxurious look and feel of leather in a 100% cruelty-free package, this classy vintage design is a winner.
Handmade using high-quality vegan materials and stainless steel hardware, this faux leather Etsy backpack is lightweight, tear-resistant, and Instagram-ready. Capable of holding 11 liters and detailed with practical pockets for your iPad, keys, and everything in between, it makes a magnificent alternative to your everyday bag.
Best Carry-On Backpack for Women: Tortuga Setout Divide Backpack
Designed for comfort, durability, organization, and most importantly, with a woman's physique in mind, this bag is the perfect companion for your next flight.
Tortuga makes some of the best carry-on backpacks out there, and this bag is no exception. Made of 900D polyester with Durable Water Repellent coating, and fitted with foam shoulder straps and a padded hip belt,the Setout Divide Backpack: Women's is as robust as they come. It expands from 26L to 34L for extra packing space and opens up like a suitcase, revealing two large compartments and endless organizational pockets, including dedicated sleeves for a laptop (up to 17-inch), tablet, and e-reader.
Most Luxurious Women's Backpack: RIMOWA Never Still Backpack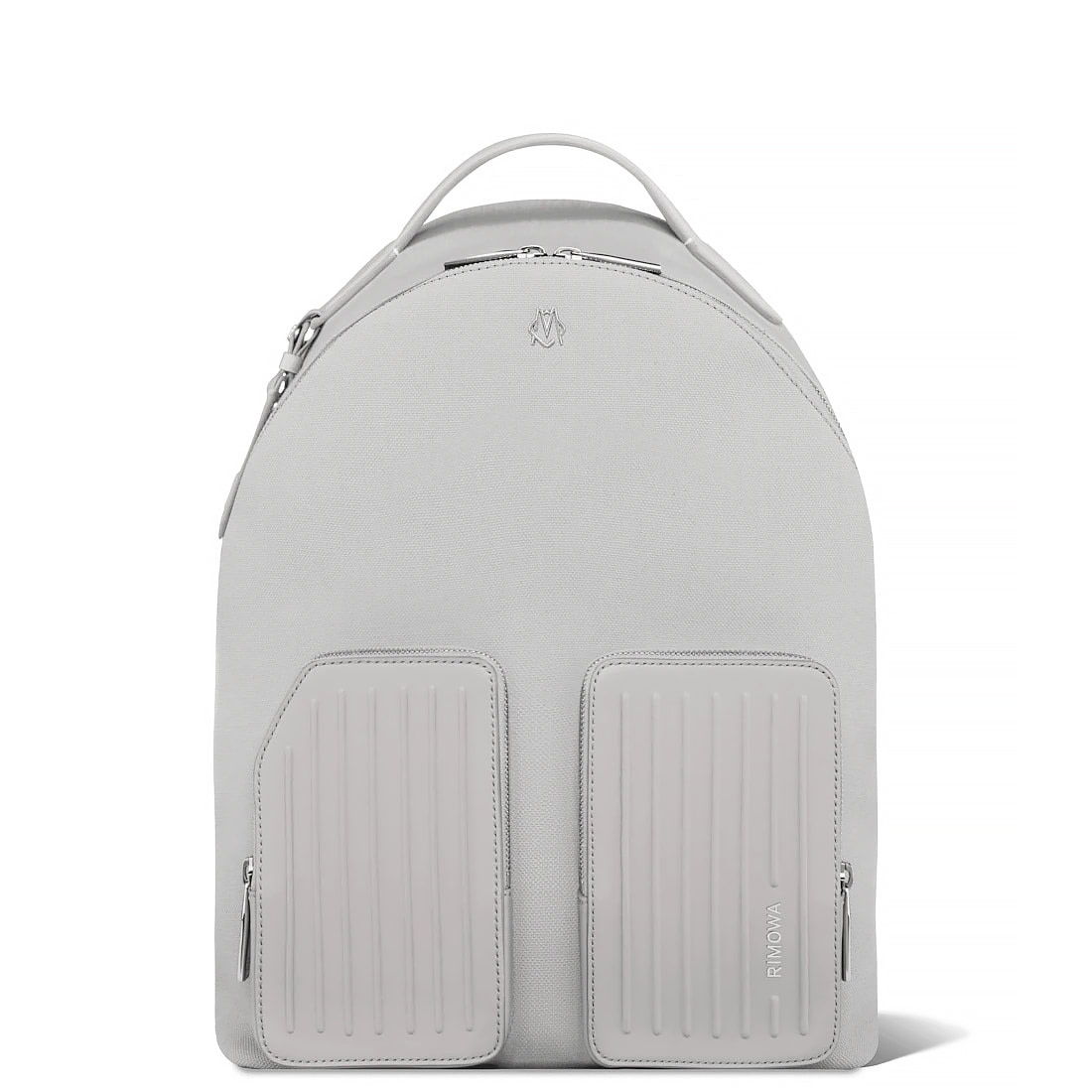 Keep your hands free and your style on point with the RIMOWA Never Still Backpack. If you can afford to splurge a little, this is the ultimate work/life accessory!
Part of the high-end luggage label's new collection of soft bags, this luxury backpack is crafted in Italy using a mix of premium water-repellent canvas and soft full-grain leather and has all the design hallmarks of a Rimowa product, including grooved detailing, a removable leather address tag, and the brand's monogram and logo embedded in the hardware.
As well as being a superb addition to your everyday ensemble, this beaut channels functional luxury with two front zipped pockets, padded shoulder straps, a laptop pocket, and a discreet strap that allows you to slip it over your suitcase's handle.
Best Women's Backpack Under 100: Everlane The Modern Snap Backpack
If your ideal backpack combines contemporary aesthetics with versatile functionality, and, most importantly, an affordable price tag, then you are going to love this elegant multitasker from Everlane.
Wrapped in water-resistant reverse denim with black leather trims and complete with a 15-inch laptop sleeve, The Modern Snap Backpack makes a stylish yet practical companion for all your everyday endeavors, be it commuting to work, hanging out with friends, or hitting the road. The 19 L capacity is small enough to slip under the seat in front of you on a plane, yet roomy enough for a change of clothes if you plan an overnight trip.
Best Waterproof Backpack for Women: Rains Buckle Rolltop Rucksack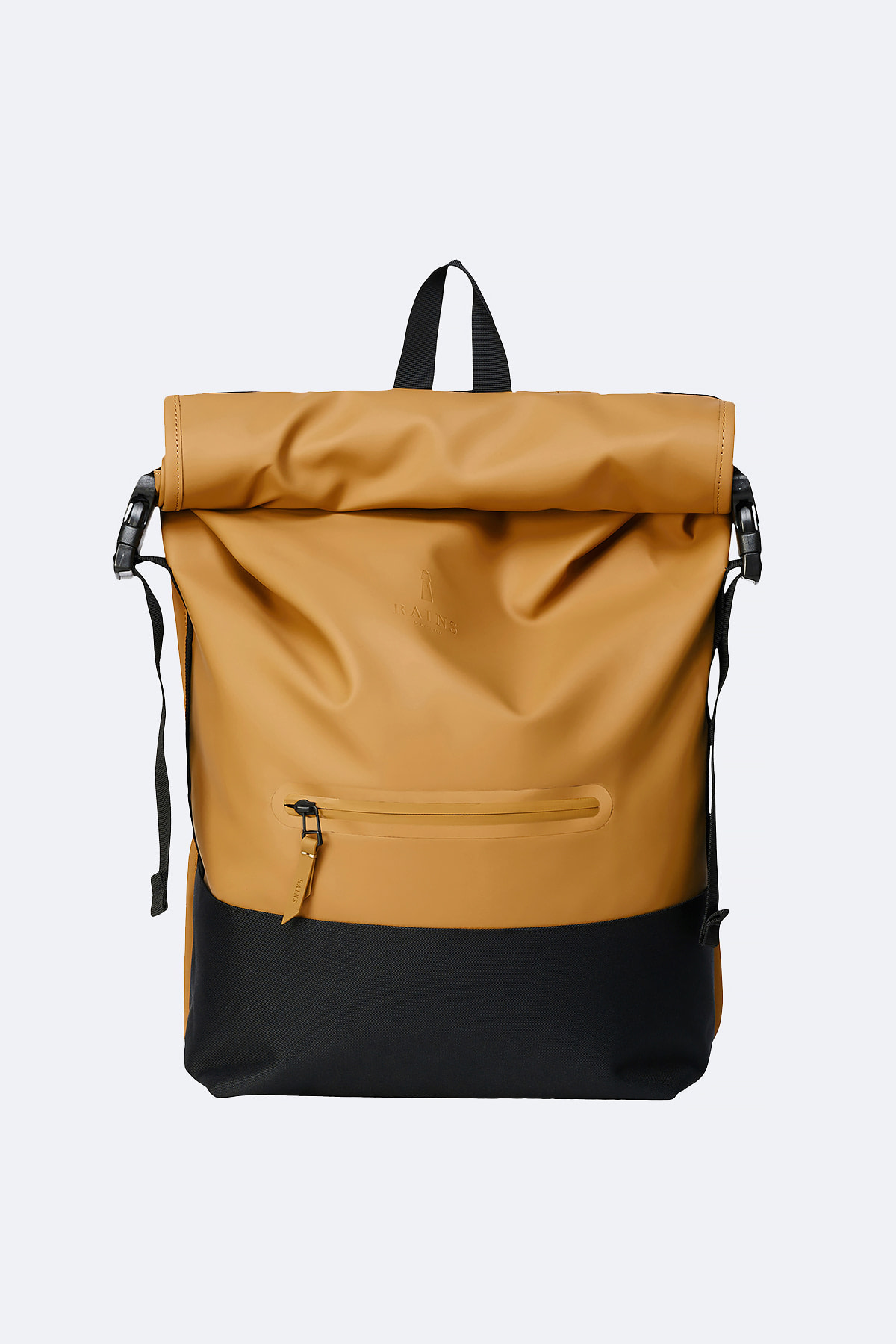 Keep your stuff away from the water with this uber cool waterproof backpack by Rains. Constructed from the brand's signature polyurethane-polyester blend, the Buckle Rolltop Rucksack comes with padded shoulder straps and backside for wearing comfort.
A roll-up top loader leads to a spacious main compartment complete with laptop sleeve, and there's also an exterior waterproof zip pocket for easy access to smaller items. The distinctive Scandinavian-style design makes it perfect for wet weather commutes, biking rides, and all kinds of urban adventures.
Most Stylish Backpack for Women: Cabana Backpack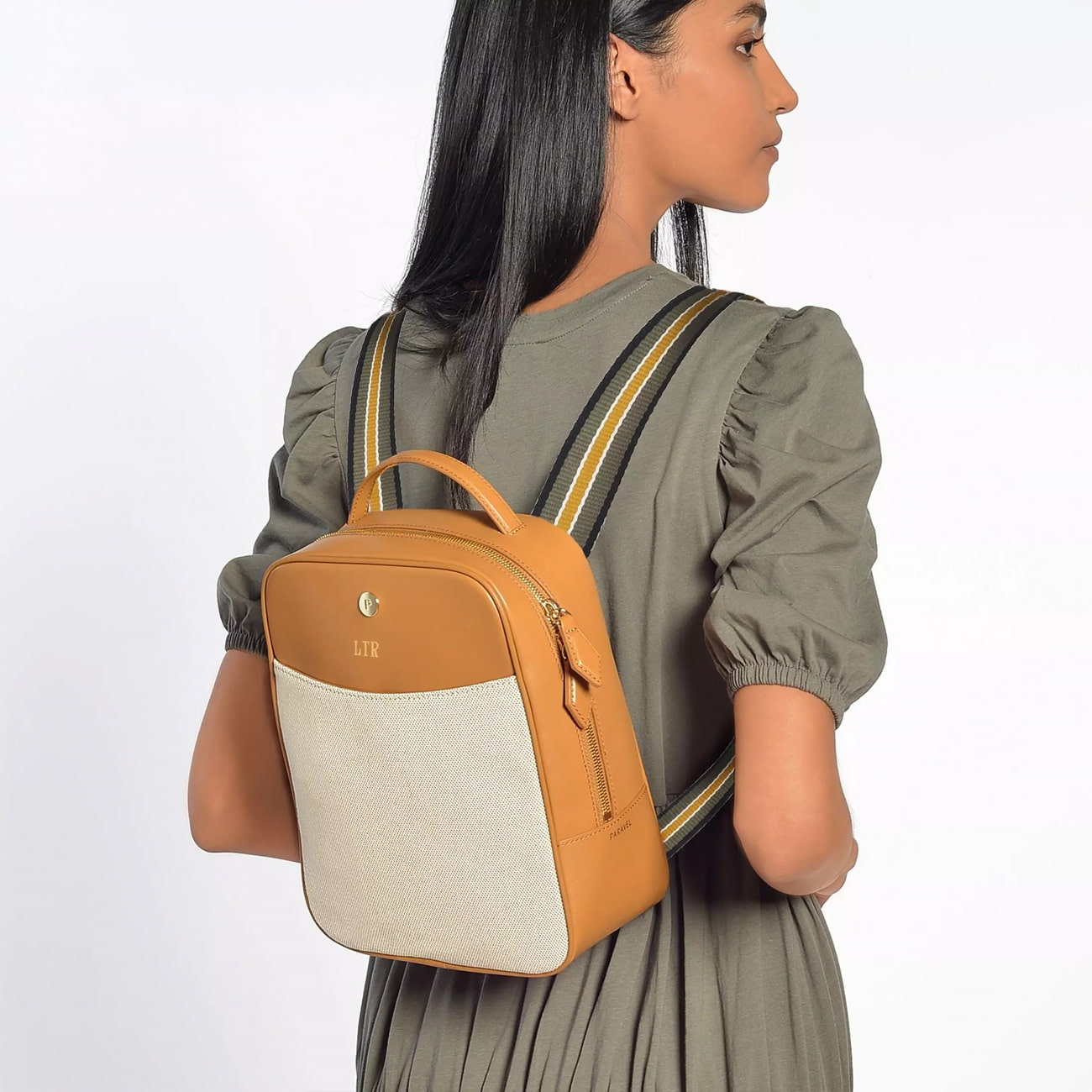 Swap your purse for this classy, monogrammable backpack that fits just what you need. Made from Paravel's signature 'Ecocraft' canvas (woven from 5 recycled water bottles) and adorned with eco-certified leather details in a contrasting tone, the Cabana Backpack will take you from morning commutes to cocktail hour with grace.
The adjustable straps in striped grosgrain fabric add visual interest and give the bag a sense of timeless sophistication, while the sustainable, water-resistant lining keeps your camera, cosmetics, and reusable water bottle luxuriously protected.
Best Small Backpack for Women: Vera Bradley Small Backpack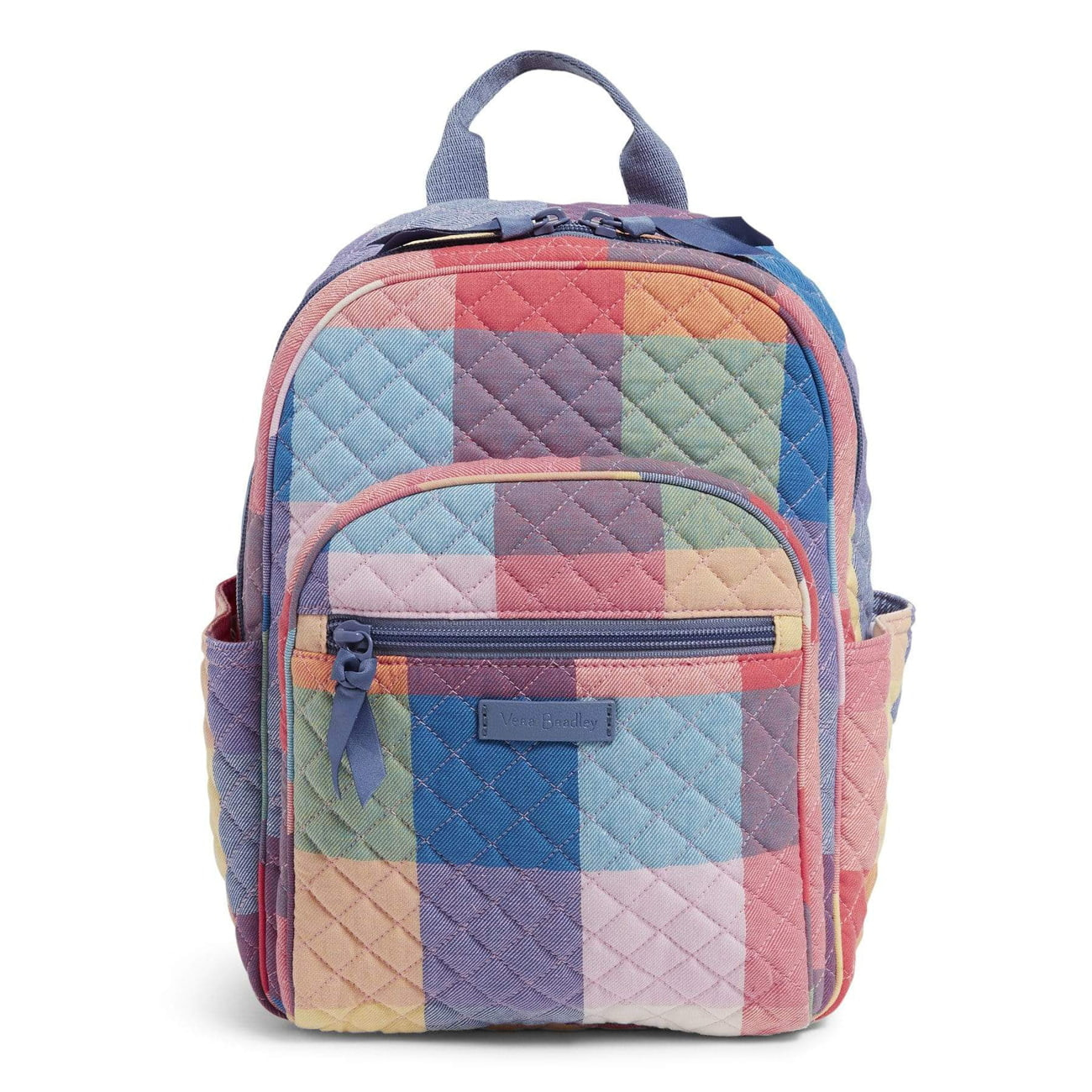 Way practical than a purse, but just as suitable for everyday use, there's no doubt a small backpack will make your life easier.
If colorful designs are your aesthetics, then look no further than the Small Backpack from Vera Bradley. This chic and compact carryall comes with adjustable straps and enough exterior and interior pockets to keep you organized. The playful quilted cotton will brighten up any outing and offer lightweight protection for your essentials as you go about your day.
Best Mini Backpack for Women: Orion Backpack Mini by Herschel Supply Co.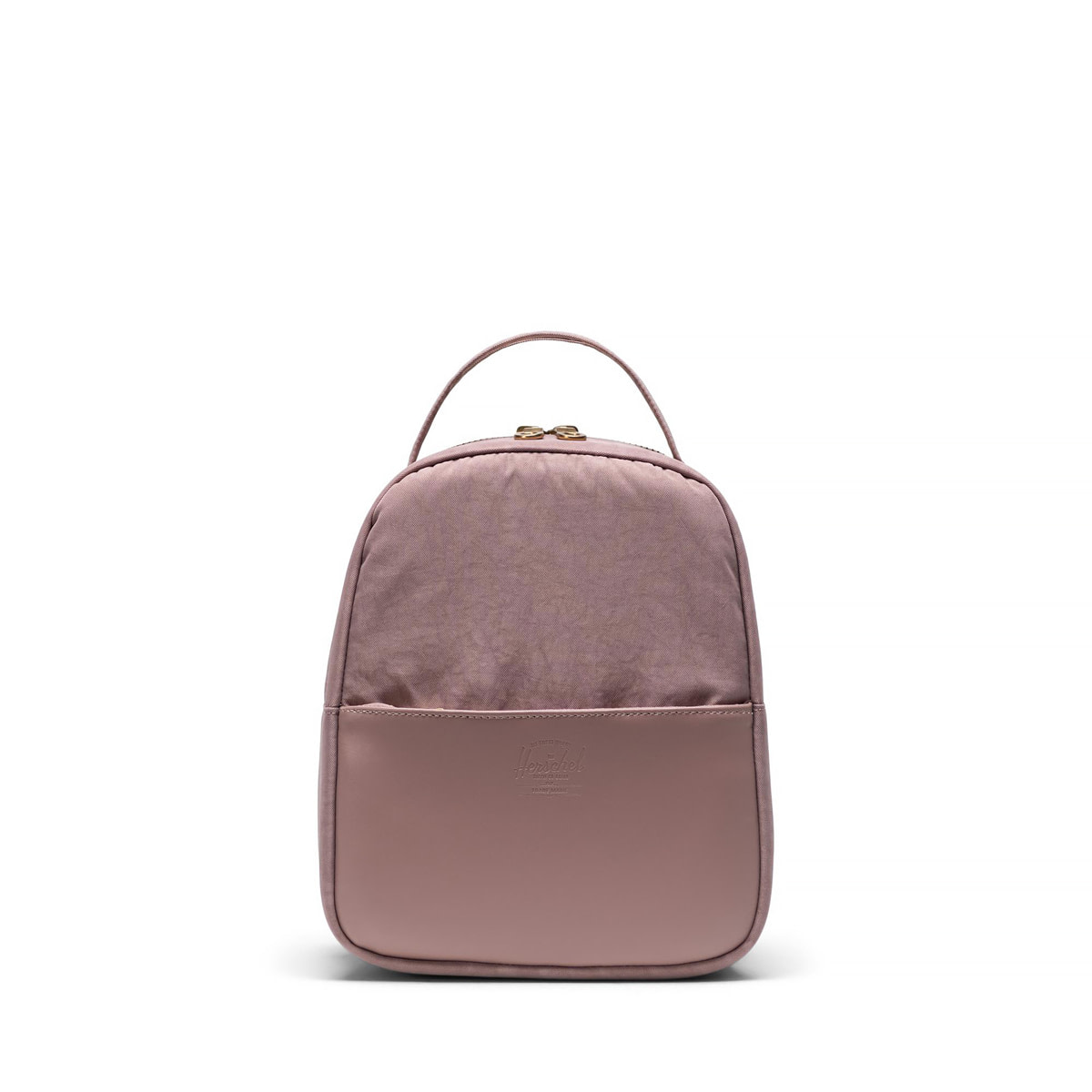 If there's something that you cannot miss this season, it's a mini backpack!
A trendy option for when your pockets can't fit all of your essentials, the Herschel Supply Co. Orion Backpack Mini sports a delicate ladylike vibe with its chic rounded shape in powder pink. Made of wrinkled nylon fabric and detailed with a smooth leather panel and slim shoulder straps, this cute miniature backpack proves that good things come in small packages!
Best Crossbody Backpack for Women: Tommy Hilfiger Julia Sling Backpack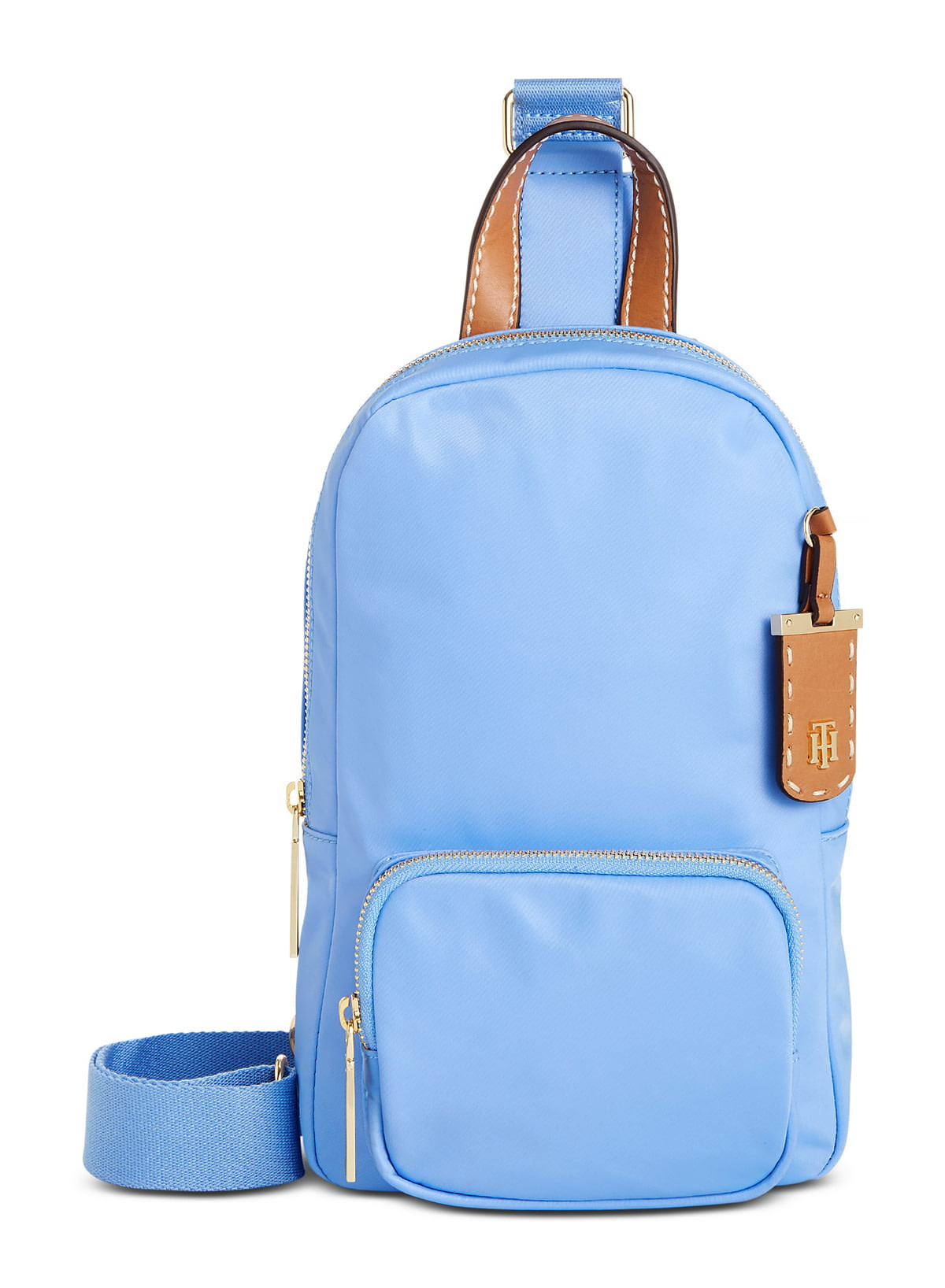 Whether for work, traveling, or everyday use, Tommy Hilfiger's Julia Sling Backpack is an elegant way to carry your essentials. The durable nylon fabric protects your belongings in wet conditions while the adjustable, padded shoulder strap helps distribute the weight evenly, making the bag comfortable to wear all day long.
Another nifty feature is the roomy exterior zipper pocket, which makes it easy to keep your important things easily accessible. Though conceived with style in mind, this sleek crossbody bag is more practical than you might think.
Best Diaper Backpack: Dagne Dover Indi Diaper Backpack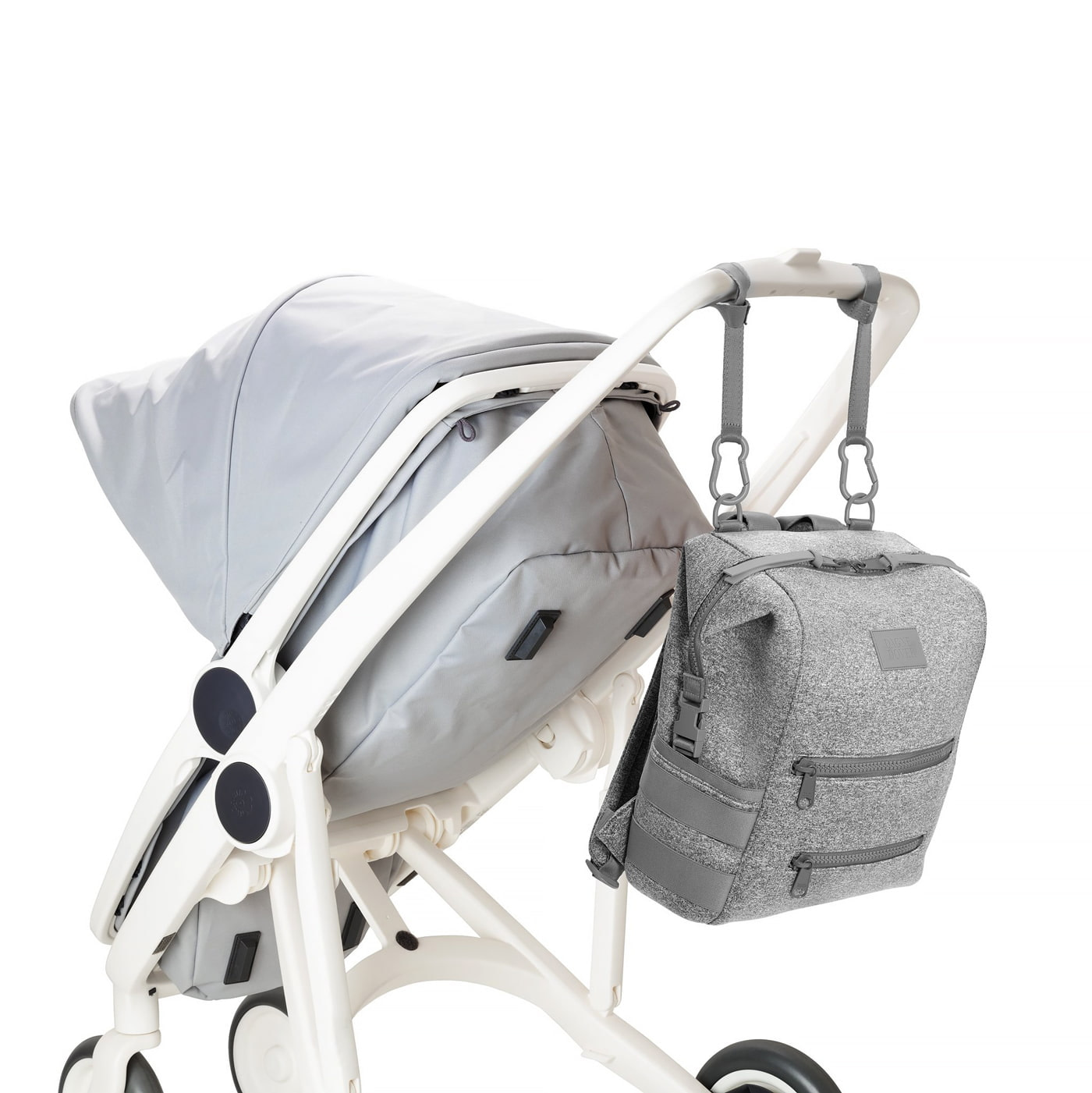 With a chic, sporty look, tons of storage space, and more organizational pockets than you can fill, the Indi Diaper Backpack is a millennial mother's dream.
Made from the same winning combination of easy to clean neoprene and breathable air mesh, the diaper bag version of Dagne Dover's signature Dakota backpack is thoughtfully designed with features like key leashes, a laptop compartment, a mini changing mat, and even a luggage sleeve for your next plane trip. It comes in three sizes and an array of tasteful, practical colors. Plus, don't let the name fool you – it can easily double as a gym bag or an everyday carryall.