This post contains affiliate links, which means we may receive a small commission, at no additional cost to you, if you make a purchase through these links. See our full disclosure here.
If you only travel with a suit every once in a while, you can get away with using the garment bag it came in for your trip. Of course, this will likely entail finding somewhere to steam it when you arrive, as that type of bag won't keep your clothes pristine in transit. But for the well-heeled who frequently travel with a suit, leveling up to a leather garment bag is a solid investment.
And they're not just for suits: gowns, blazers, and even raw denim can benefit from extra care on any journey. If you're in the market to improve the way you travel with formal wear, below you'll find our picks for the most dapper, the most luxurious, and overall the best leather garment bags you can buy.
Bennett Winch Leather Suit Carrier Holdall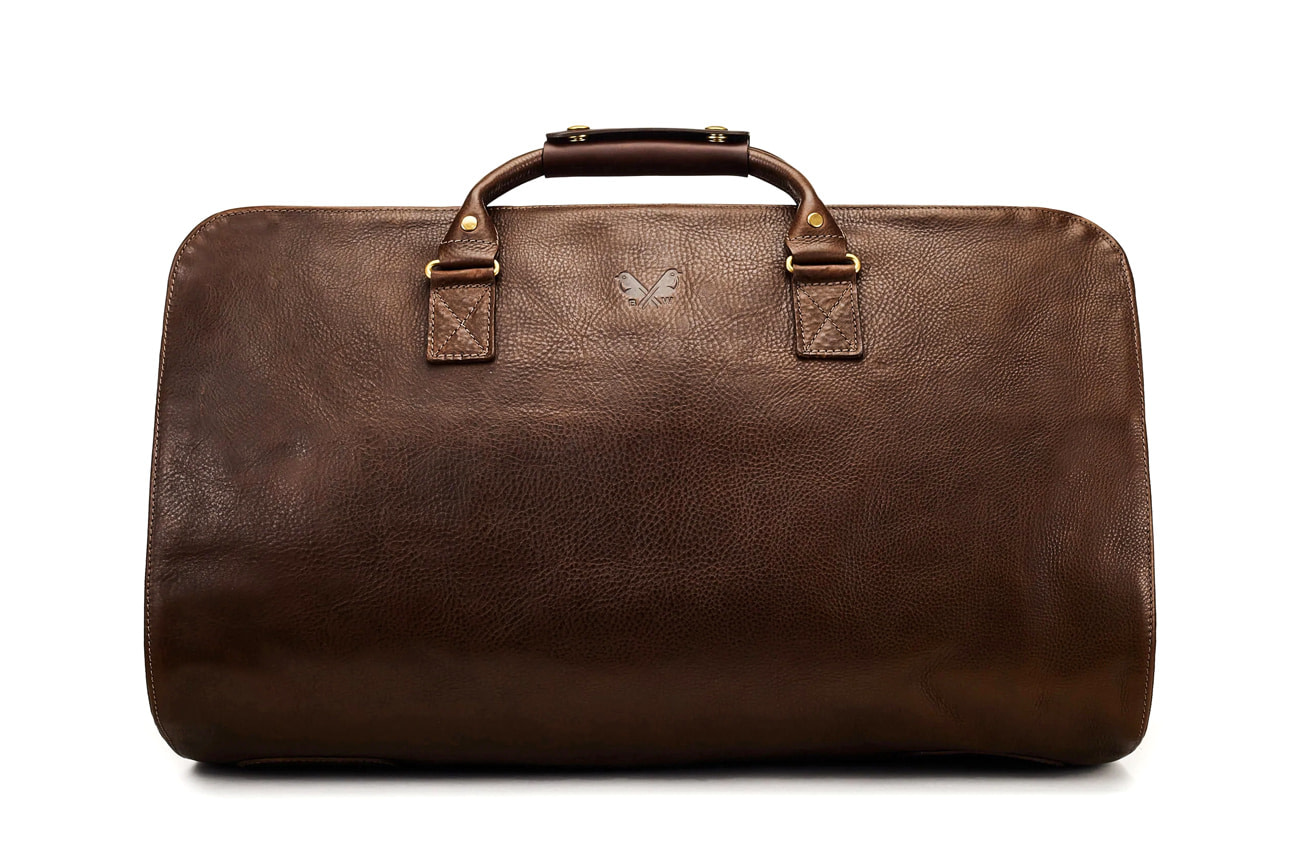 The Bennett Winch Leather S.C Holdall is actually a duffel and garment bag combo. Though it may look delicate, the included canvas twill duffel is crafted to last a lifetime. But the magic happens when you wrap the custom Tuscan leather suit carrier around it to carry them as one. Accenting the ensemble is gold-finish hardware for an extra air of refinement.
Hook & Albert Men's Black Leather Garment Weekender Pro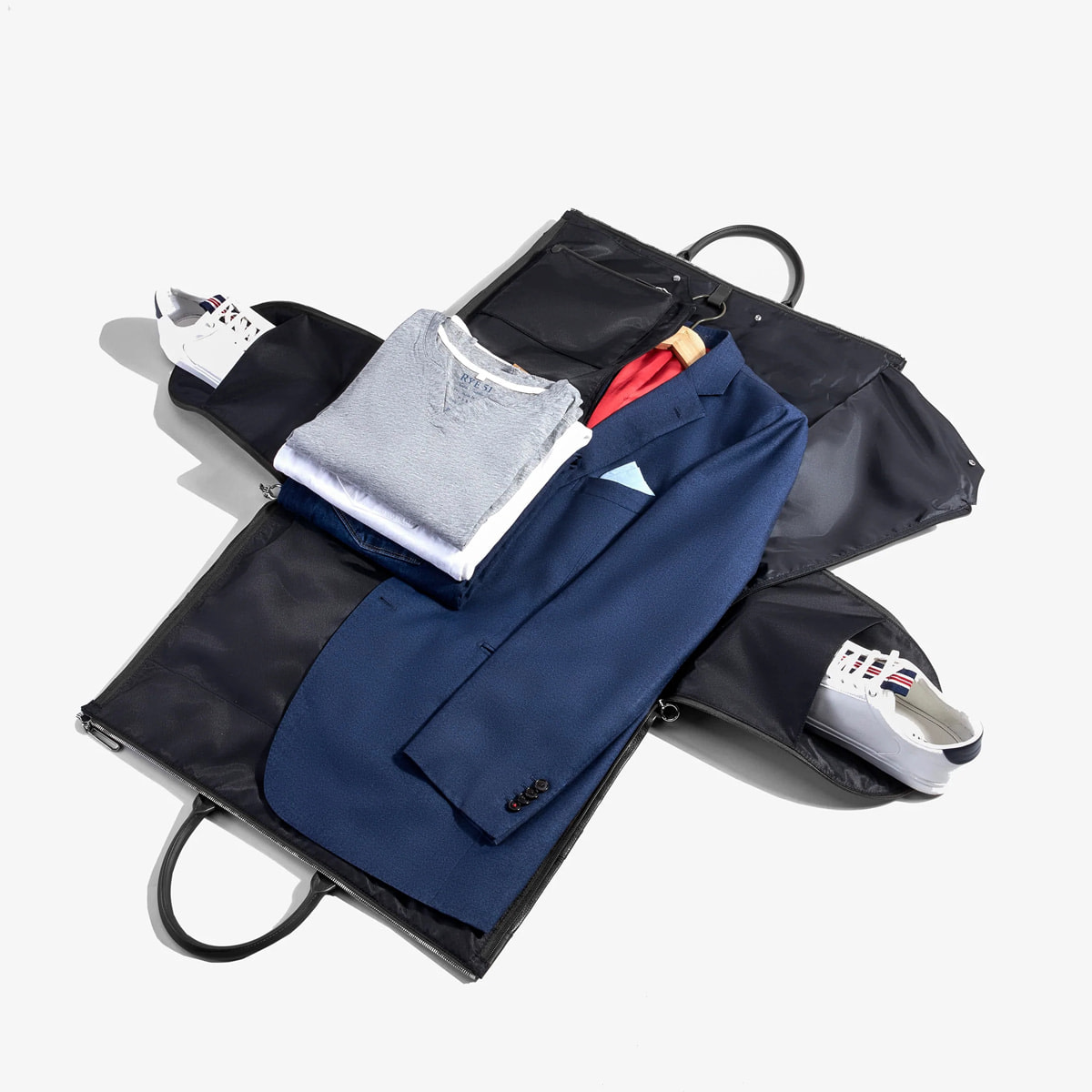 The only bag you'll need for a quick destination wedding or a business trip is the Hook & Albert Black Leather Garment Weekender Pro. Its ingenious design combines a duffel and a suit carrier into one dynamic piece. When you're ready to begin packing, simply unzip the sides, lay it flat, and place your suit inside. Then you can zip it into duffel mode to fit the rest of your essentials.
The exterior pockets of this garment duffel bag are perfect for holding your phone charger, wallet, boarding pass, and anything else you might need to keep at hand. There's even a padded sleeve for your laptop.
Kodiak Leather Yukon Garment Bag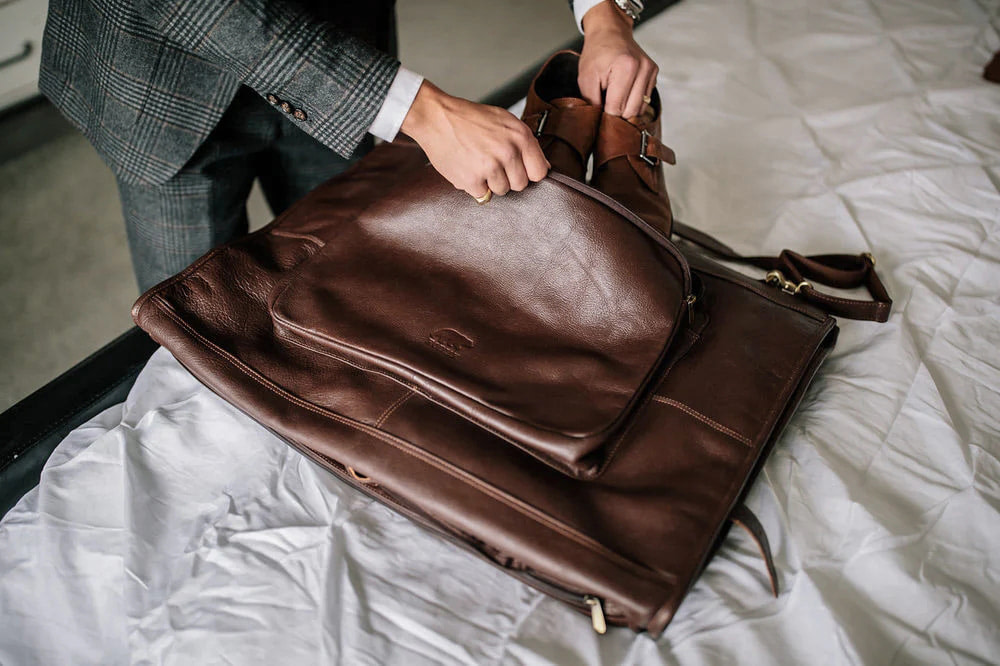 If your work keeps you out on the road for long periods, don't miss the Kodiak Leather Yukon Garment Bag. The main compartment can tote up to three suits, and there are designated exterior pockets for ties, a pair of shoes, and a Dopp kit.
Inside are three zippered pockets where you can stash undershirts, socks, and other suiting accessories. And all of this functionality is wrapped in a luxurious, full-grain leather shell lined with waterproof nylon, so your carefully stowed attire stays protected no matter what.
Piel Leather Executive Expandable Garment Bag
If you want your next garment bag to be the last you ever buy, try the Piel Leather Executive Expandable Garment Bag. These are handmade in Bogota, Colombia by experienced artisans who know precisely how best to manipulate Vachetta leather, a top-grain cowhide treated only with dyes. Because the leather is left naked, it will patinate as it ages, meaning its appearance will improve the more you use it.
This beautiful garment bag can hold up to five suits, or you can use that extra space to switch it up to include more casual looks, too. You could easily turn it into an ideal holdall for single-bag travel by utilizing the three gusseted front pockets, rear laptop pocket, and detachable interior toiletry bag. If you refuse to dress down even when you're traveling light, you'll be pleased with what this bag can offer you.
Time Resistance Leather Garment Bag
Slim and minimal, the Time Resistance Leather Garment Bag is a sophisticated suit carrier with a little extra. It has a tri-fold design that zips securely and is made from naturally water-resistant vegetable-tanned leather to ensure your garb is protected.
Stow your cufflinks, ties, and other accessories in the two small external pockets, and slip your laptop into the larger one if need be. It's only designed to hold two suits but works perfectly with a carry-on to take you anywhere you need to be. If you're purchasing this as a gift for someone special, you can rest easy knowing it has five-star reviews across the board.
Bosca Hybrid Garment Bag and Duffel
A luxe combo holdall that won't break the bank, the Bosca Hybrid Garment Bag and Duffel will quickly become your new go-to travel bag. Unzipped, it lies flat to load one or two suits on hangers securely inside.
To transform it into a duffel, simply zip the integrated end caps into place and load it as you would any bag. There are even a couple of pockets on the front where you can slip your wallet, boarding pass, or phone. Crafted from rich, soft leather with high-end construction, the Bosca Hybrid looks and feels far posher than its price would belie.
Loewe Brown Vintage Leather Garment Case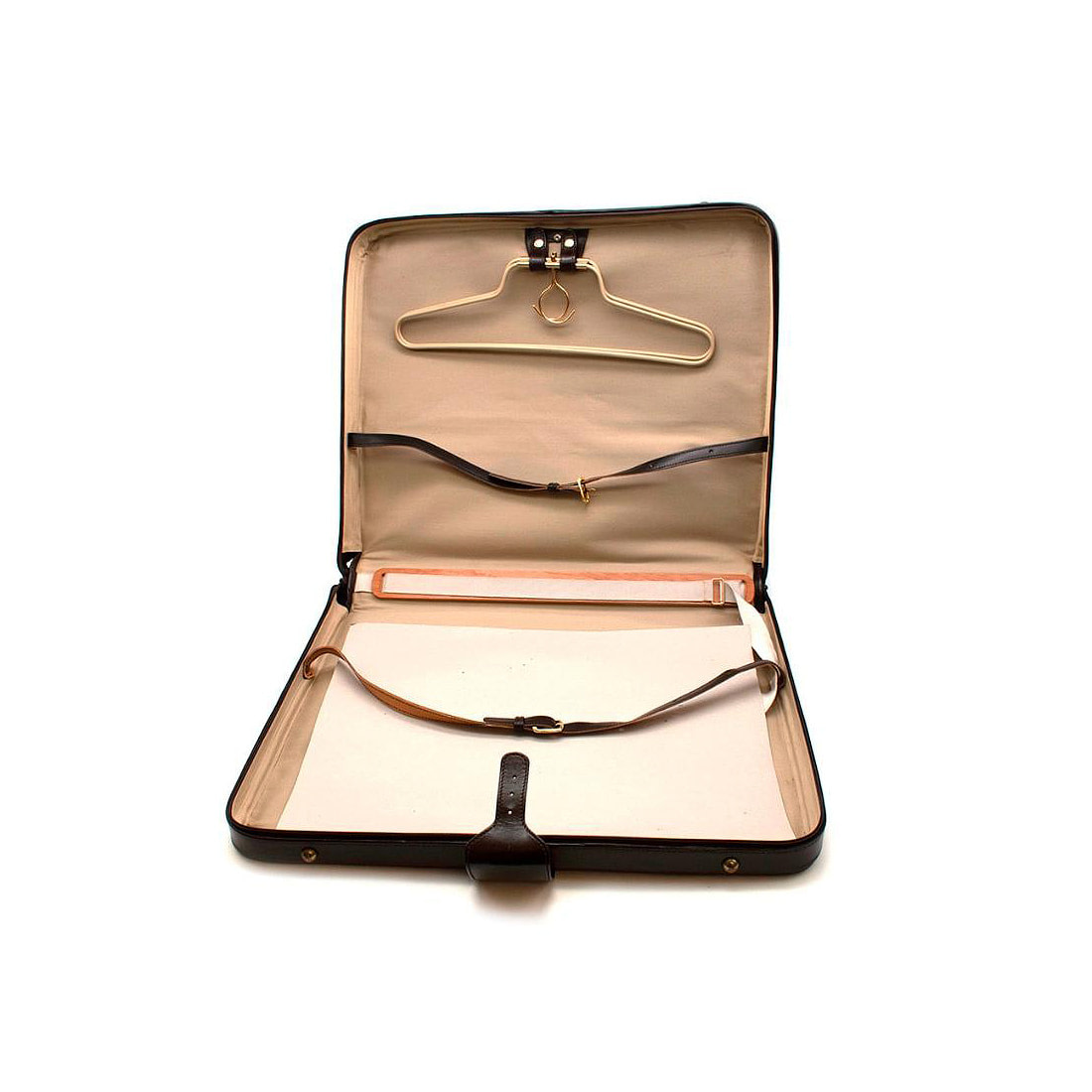 If you're looking for extra protection for your finery, the Loewe Brown Vintage Leather Garment Case has a reputation for pleasing even the most discerning travelers. The way it zips closed gives it a more rigid shape, so everything inside doesn't get squished, wrinkled, or misshapen.
But remember that this stylish case is designed to hold only your suits, so you won't find a host of storage pouches save one flat front pocket where you can tuck in your boarding pass or paperwork. This is an intentional choice to prevent your duds from being inadvertently disheveled in transit by your other accessories.