This post contains affiliate links, which means we may receive a small commission, at no additional cost to you, if you make a purchase through these links. See our full disclosure here.
Their stylish design, feather-like weight, and feminine touches make these carry-on suitcases perfect for ladies on the go.
Women have different needs than men when it comes to cabin luggage. We pack different things, value different qualities when purchasing a bag, and obviously have very different aesthetic preferences. Of course, quality is non-negotiable, nor are practical features like smooth-rolling wheels and TSA-approved locks, but that's not all we look out for before deciding which piece is worthy of our chic adventures.
As well as being able to hold a few days of essentials while still fitting in the overhead compartment, the best women's carry-on luggage should add a little somethin' extra to any journey – whether through their design, innovative features, or that special finishing touch that makes us smile, like a bold, colorful lining or a hidden wet pocket.
From head-turning retro-inspired suitcases to eco-friendly minimalist classics, read on for the best carry-on luggage for women in 2023.
Monos Hybrid Carry-On
Monos has upgraded our favorite cabin bag to make it even more functional – and slightly more luxurious – for life on the road.
Fusing the robustness of aluminum with the lightweight and durability of polycarbonate, the new Hybrid Carry-On looks gorgeous and performs like a pro. Its aerospace-grade polycarbonate shell is now reinforced with durable aluminum for ultimate strength and comes in a dreamy metallic finish that's sure to make a statement wherever it lands.
Monos' cleverly redesigned telescopic handle with the release button underneath instead of on top is still there, and so are the signature asymmetric grooves and quiet, ultra-smooth Hinomoto wheels that they use on all their suitcases. Inside you'll find a zipped panel, a built-in compression pad, as well as bags for your laundry & shoes – all wrapped up in luxurious anti-microbial fabric, while outside, two TSA-friendly latch locks provide added security and quick access to your contents.
I have used this suitcase for several trips throughout Europe (plus a photoshoot in the wild), and it was perfect! Not only did it fit all my essentials and rolled effortlessly on the sidewalks of Barcelona, but it turned everyone's heads along the way. Stylish, well built, and designed with the new-age traveler in mind, it's hard to find a flaw where there is none.
MVST Select Treck Aluminum Suitcase Red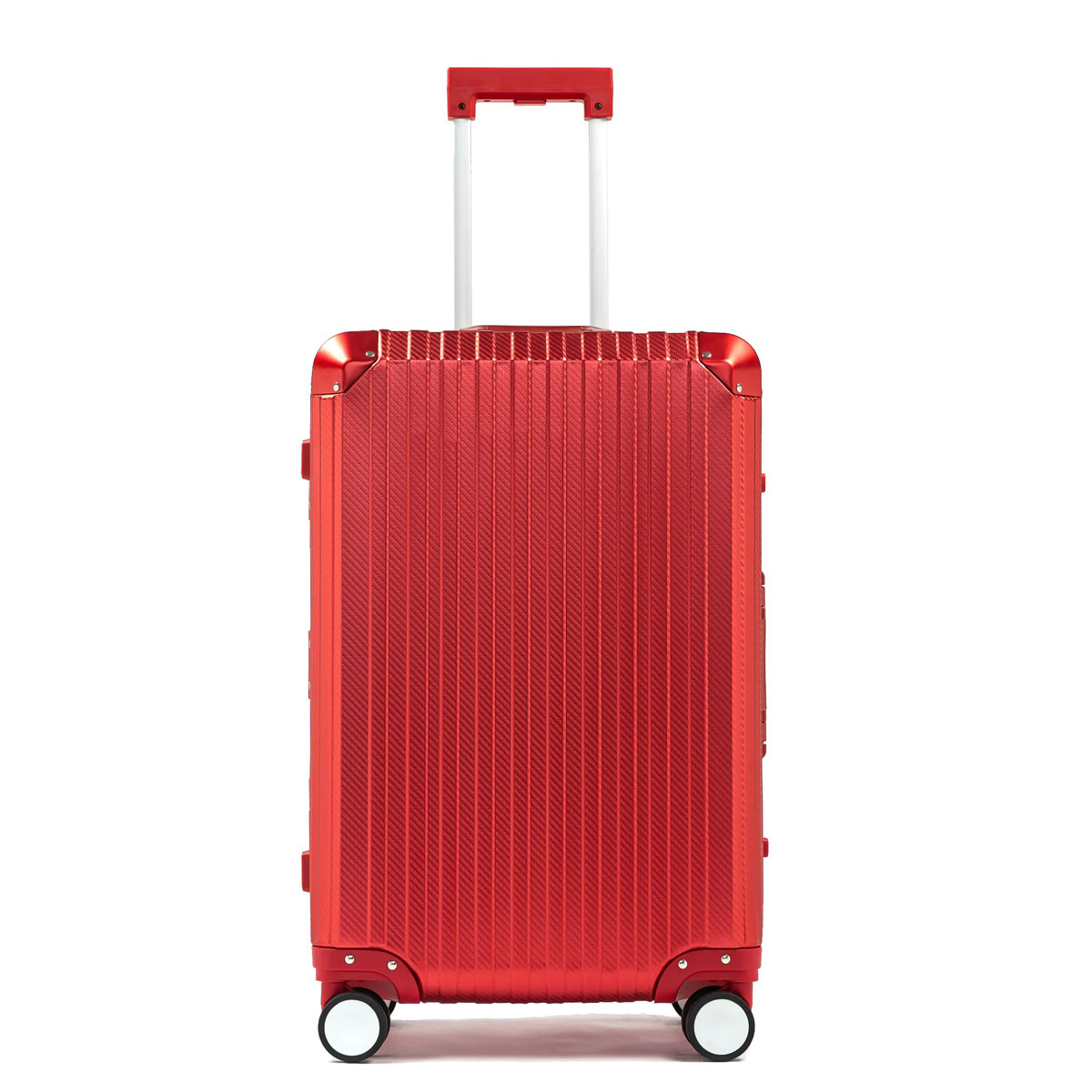 MVST Select is one of our favorite luggage brands. We have tried some of their products and came to the conclusion that you'd be hard-pressed to find a better price for the quality. This dazzling suitcase packs all the features of the best carry-on bags for women into an unbreakable aluminum-magnesium alloy shell meant to last a lifetime of travel.
On top of its premium quality build, the Treck Aluminum Suitcase Red boasts removable silent sliding wheels, slow-release handles on the top and side, and a sleek aluminum telescoping handle. The zipperless closure with TSA-approved combo locks enhances security and makes it super easy to access the contents. The interior is luxuriously lined with anti-microbial fabric and comes appointed with a compression pad and a couple of handy mesh pockets, allowing you to fit more in the same space. Lastly, we can't take our eyes off its sleek, sexy red exterior.
Bric's Bellagio V2.0 21″ Carry-On Spinner Trunk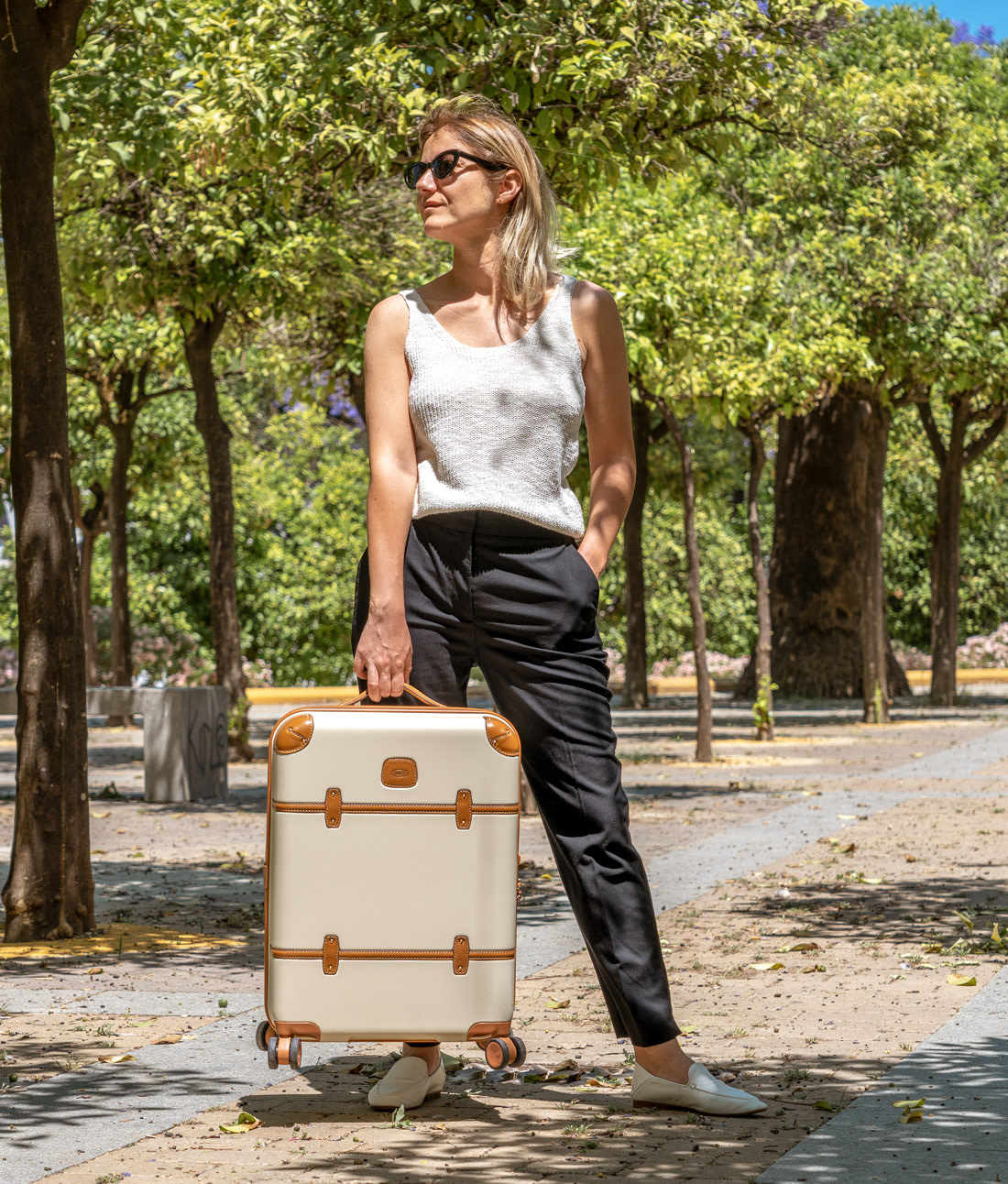 We've tried and tested lots of exceptional carry-on suitcases over the years, but the Bric's Bellagio Cabin Case has to be one of the most beautiful we have ever seen. The shell is made from lightweight Makrolon polycarbonate with vegetable-tanned leather details, and despite its eye-candy aesthetics, has held up remarkably to wear and tear during normal use. The enlarged Hinomoto wheels make the bag easy to maneuver even when fully packed, and the size is perfect for international flights. Inside there are several compartments for packing and organizing all your stuff, plus compression features to ensure you make the most of every inch of space.
Samsonite NuRoad Ladies Carry-On Spinner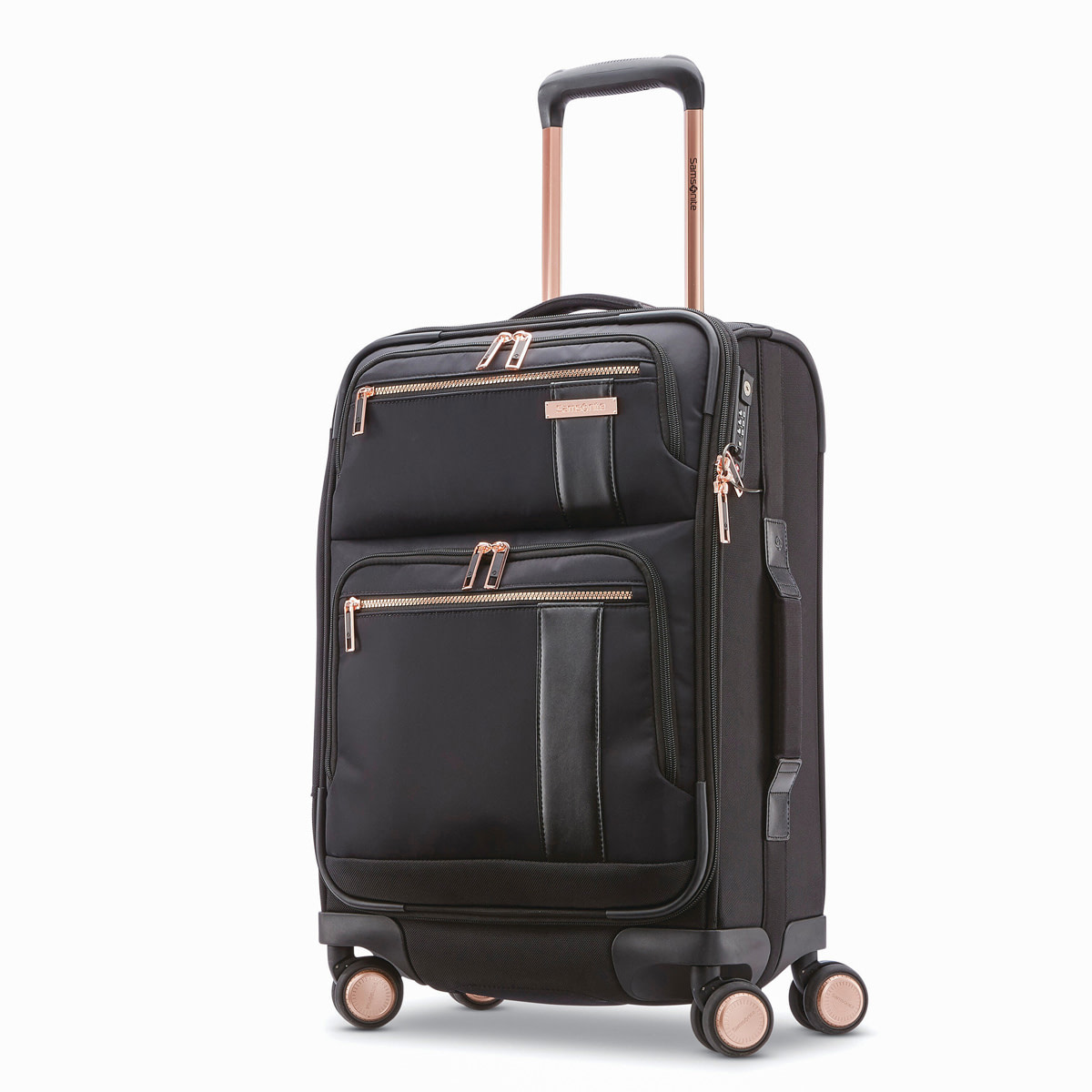 Make a statement while helping the environment with this eco-friendly suitcase for women from Samsonite. Constructed from durable water-repellent nylon fabric, with leather-like PU trim and a lining made from 100% recycled water bottles, the NuRoad Ladies Carry-On Spinner is as practical as it is sustainable.
A TSA-approved cable lock secures access to the main compartment, and the multi-stop trolley handle, coupled with a nice set of dual-spinner wheels, allows for a smooth journey. Uniquely, the soft-shell carry-on bag also includes a toiletry kit following the 3-1-1 rule and a detachable tech pouch that features an RFID-protected compartment and wireless charging functionality.
Rollink Flex Aura Carry-On Suitcase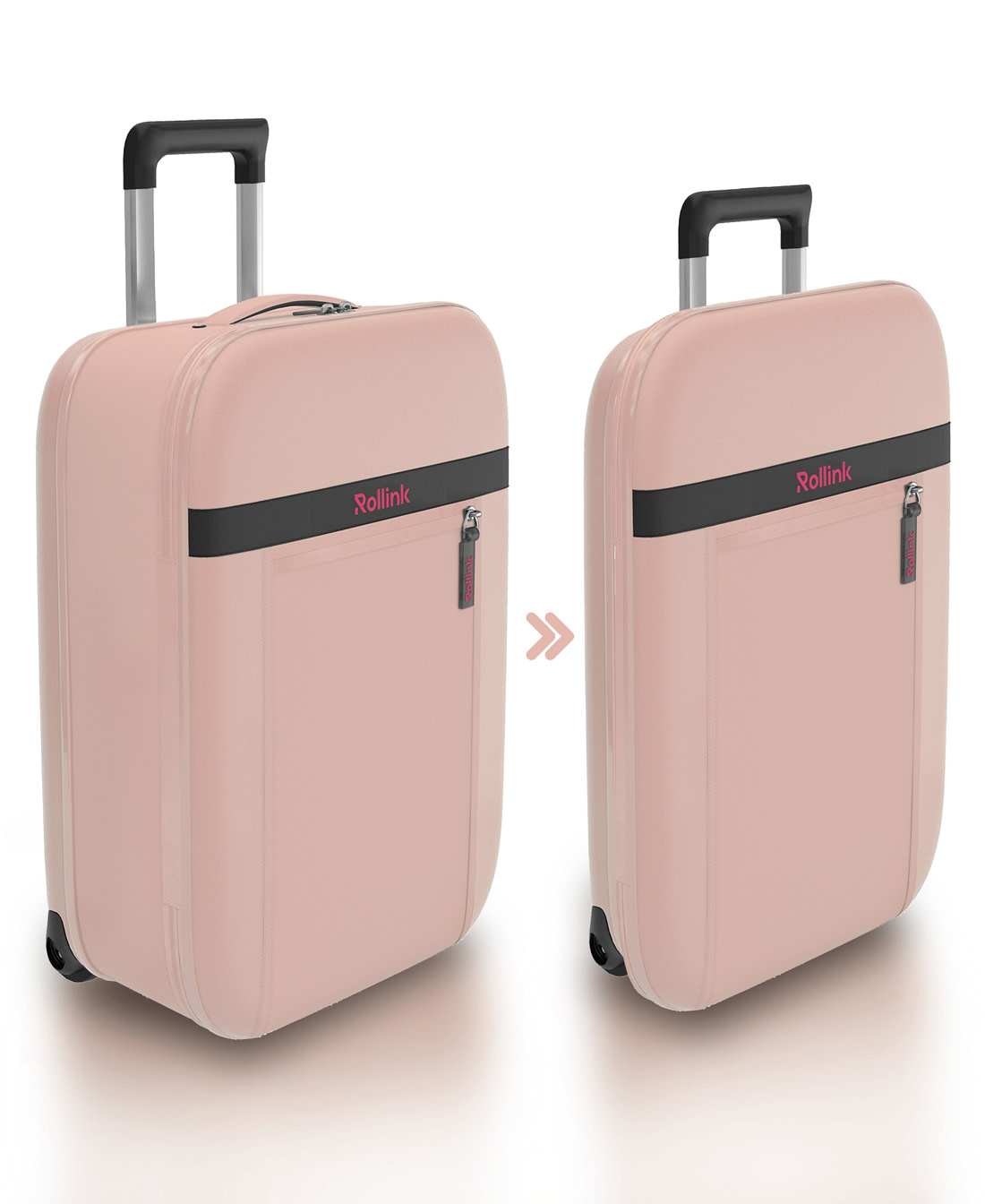 We love the lightweight, collapsible design of the Rollink Flex Aura Carry-On Suitcase. Designed with small-space dwellers in mind, this compact cabin bag will fit everything you need for a short trip while collapsing to just 2 inches thick when not in use. It features a modern-looking matte polycarbonate hard shell and a built-in front compartment for quick access to your laptop and travel documents. Inside there's room for 3-5 days' worth of clothes, and the two silent, coated wheels make it easy to pull the luggage behind you.
Horizn Studios H5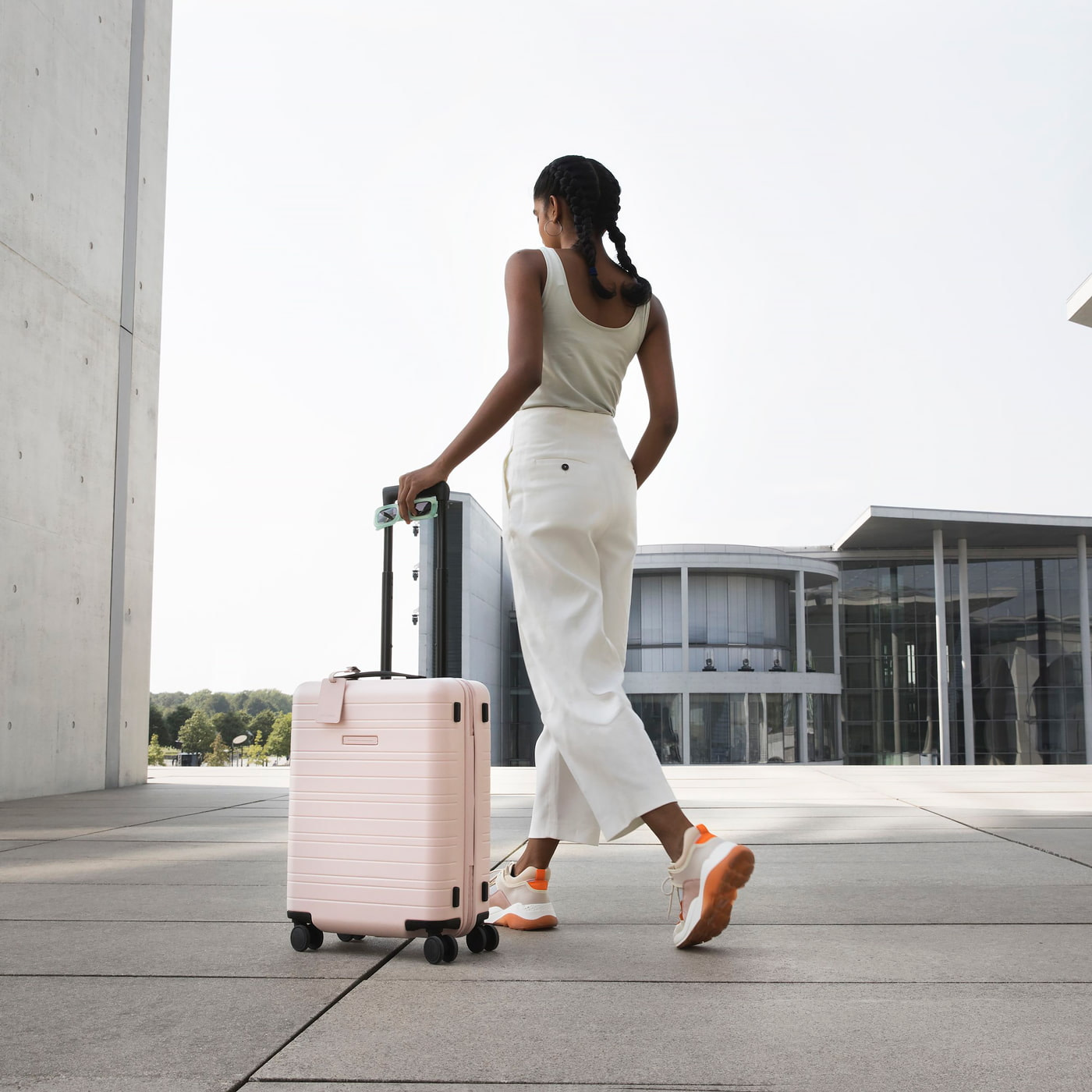 German brand Horizn Studios has been making stylish, functional luggage since 2015. Defined by a minimalist aesthetic, each design-driven piece is renowned for its exceptional attention to detail, high-end materials, and innovative touches – a combination that's on full display in the H5 Cabin Luggage.
Slightly bigger than the M5, this sustainable 35L carry-on has enough room for a few extra outfits, or maybe some much-needed retail therapy, while still fitting in most major airlines' overhead compartments. Constructed with aerospace-grade polycarbonate and fitted with best-in-class 360° Japanese spinner wheels, the bag is spectacularly strong, lightweight, and easy to maneuver over different types of surfaces. It comes in 10 luscious colors, one for every possible taste, and also has the option for a removable dock so you can charge your devices on the go.
Level8 Glitter Carry-On Luggage 20″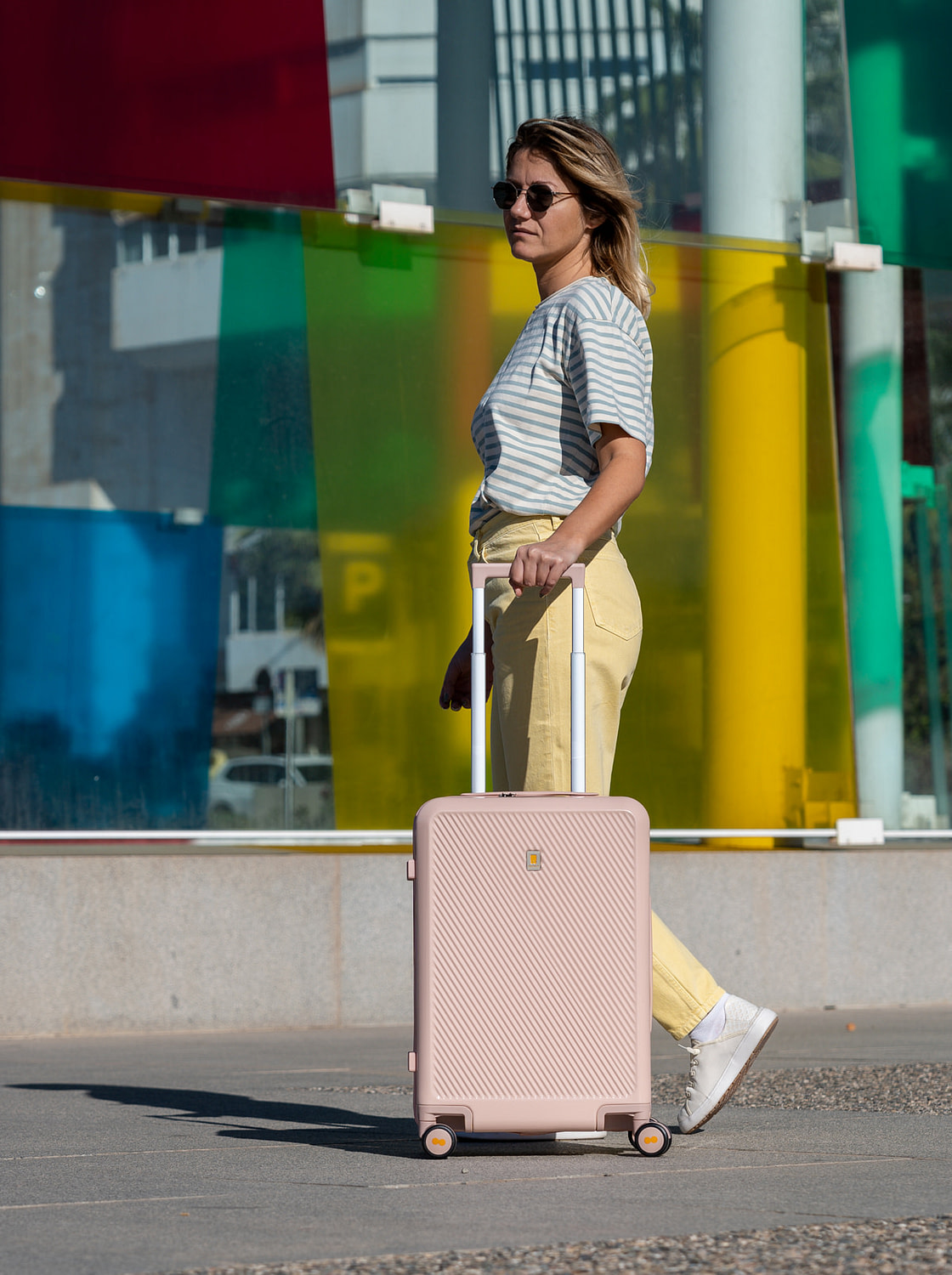 Coated in a glossy pastel pink finish, this Level8 Glitter Carry-On Luggage 20″ will add a dash of sparkle to any airport outfit.
Made from durable and lightweight Makrolon polycarbonate, this cute case has a unique texture on each side, alongside quiet 360° wheels, water-resistant YKK zippers, a 4-step aluminum telescopic handle, and a TSA lock that will keep your possessions safe. And speaking of possessions, packing them will be a breeze thanks to the sizeable, fully lined interior complete with two main zippered compartments and a couple of pockets for smaller essentials.
At 38 L, this lightweight hardside carry-on is perfect for budget European flights with size restrictions while still holding a week's worth of summer dresses and accessories.
Béis Carry-On Roller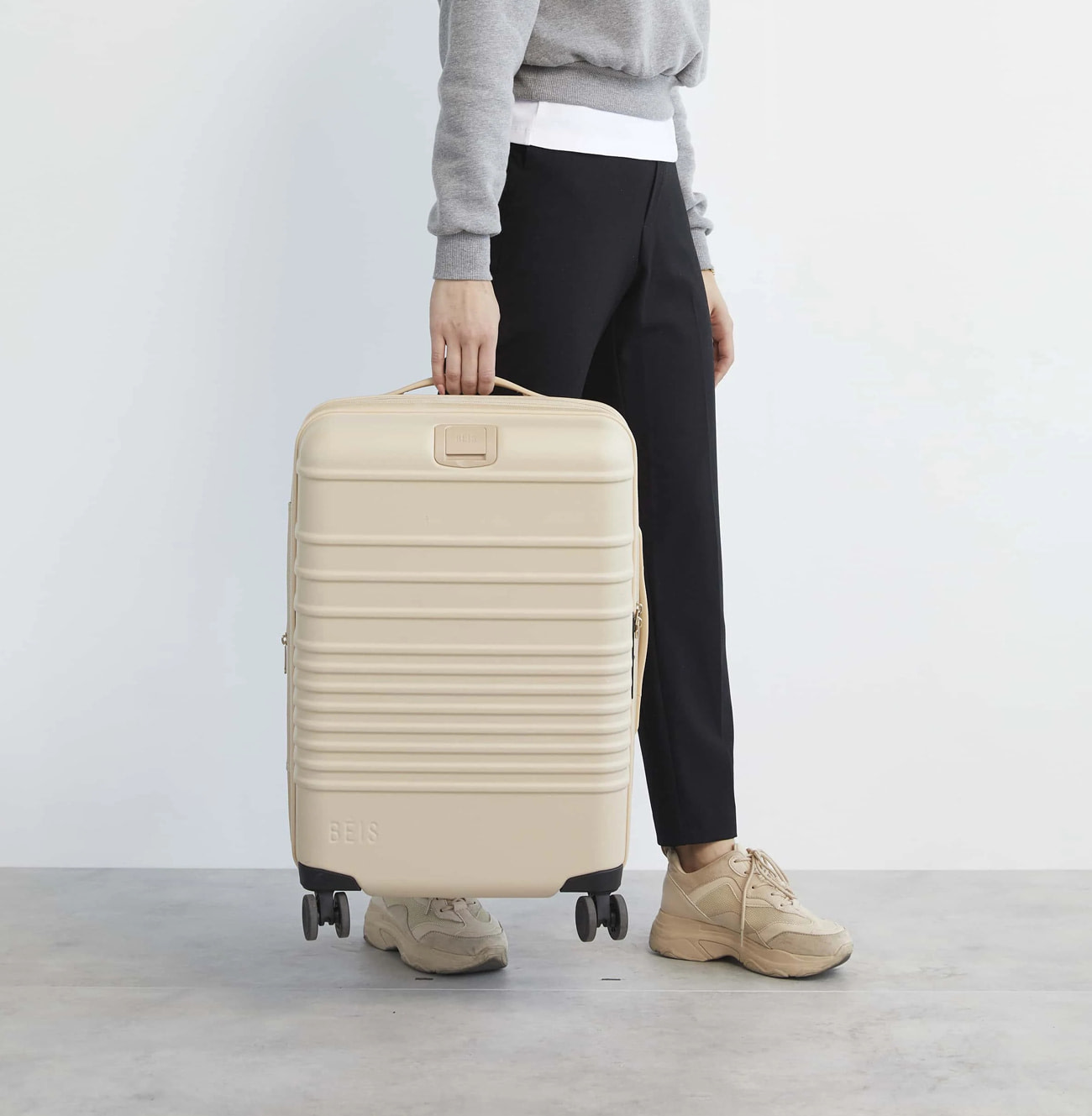 For a carry-on suitcase that's functional, effortlessly chic, and surprisingly affordable, look to Béis.
Designed by jet-setting actress Shay Mitchell, the Carry-On Roller is made of light and durable 100% virgin polycarbonate and features a weight limit indicator that turns red when you've hit 50 pounds. Equally novel and effective is the retractable bag strap, which lets you attach an extra duffel or purse to the suitcase for hands-free carry.
And to ensure your trip is as comfortable as it can be, the hard-shell bag boasts high-quality Hinomoto wheels, a TSA-approved lock, a cushioned trolley handle with silicone grip, and an expandable body that gives you up to two extra inches for last-minute additions.
Bellroy Classic Weekender 35L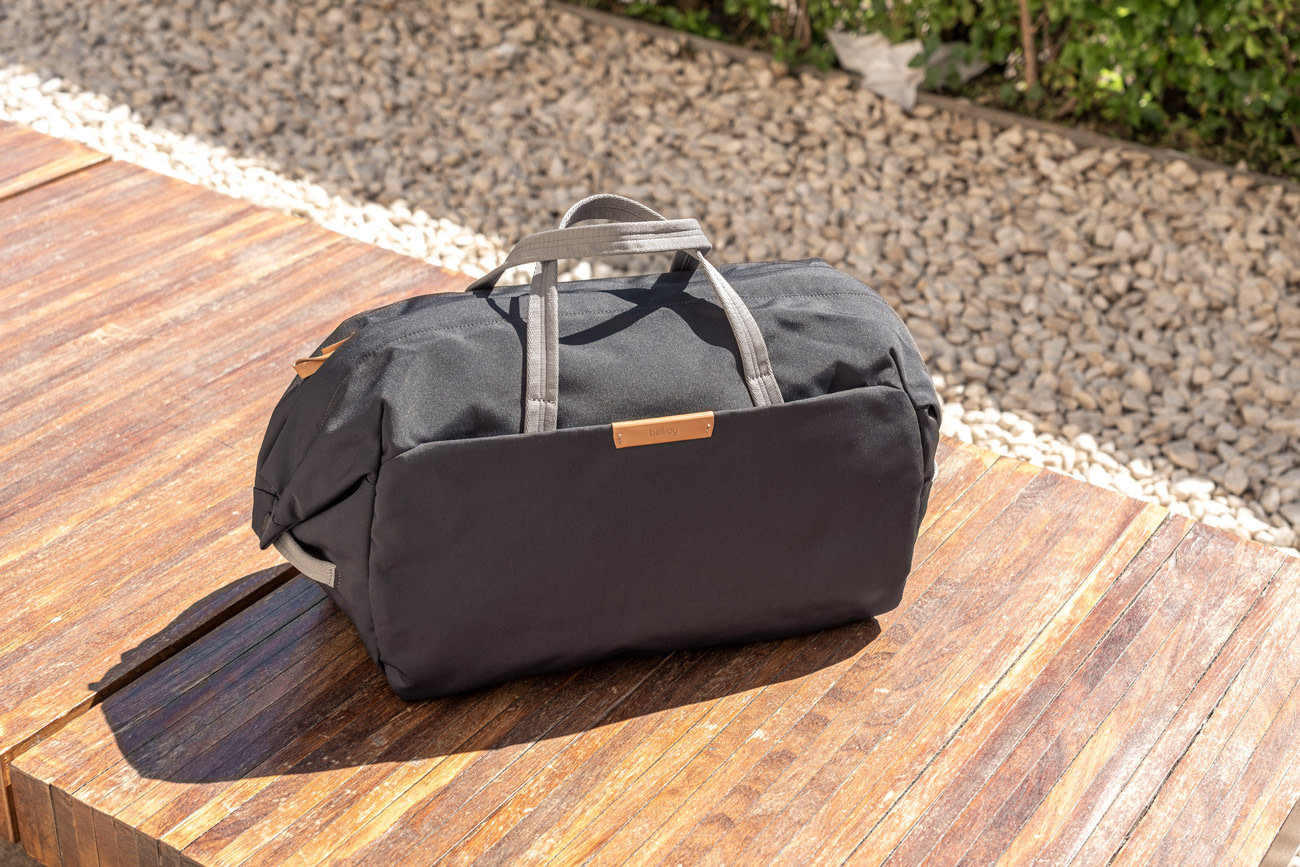 Weighing in at 1.6 lbs, this lightweight carry-on luggage piece is for minimalist packers who don't want to compromise on performance or style.
Made of recycled, water-resistant fabric and enhanced with tons of practical organizational features, the Bellroy Classic Weekender 35L looks as good as it performs. It's easy to pack, breezy to carry, and has just the right amount of space and organization. And the best part? It can be carried as a briefcase or on your shoulder – that when you don't slip it over your suitcase handle. I opted for Slate with brown leather trim, but the leather-free Saltbush color looks equally stylish.
Samsonite Freeform Carry-On Spinner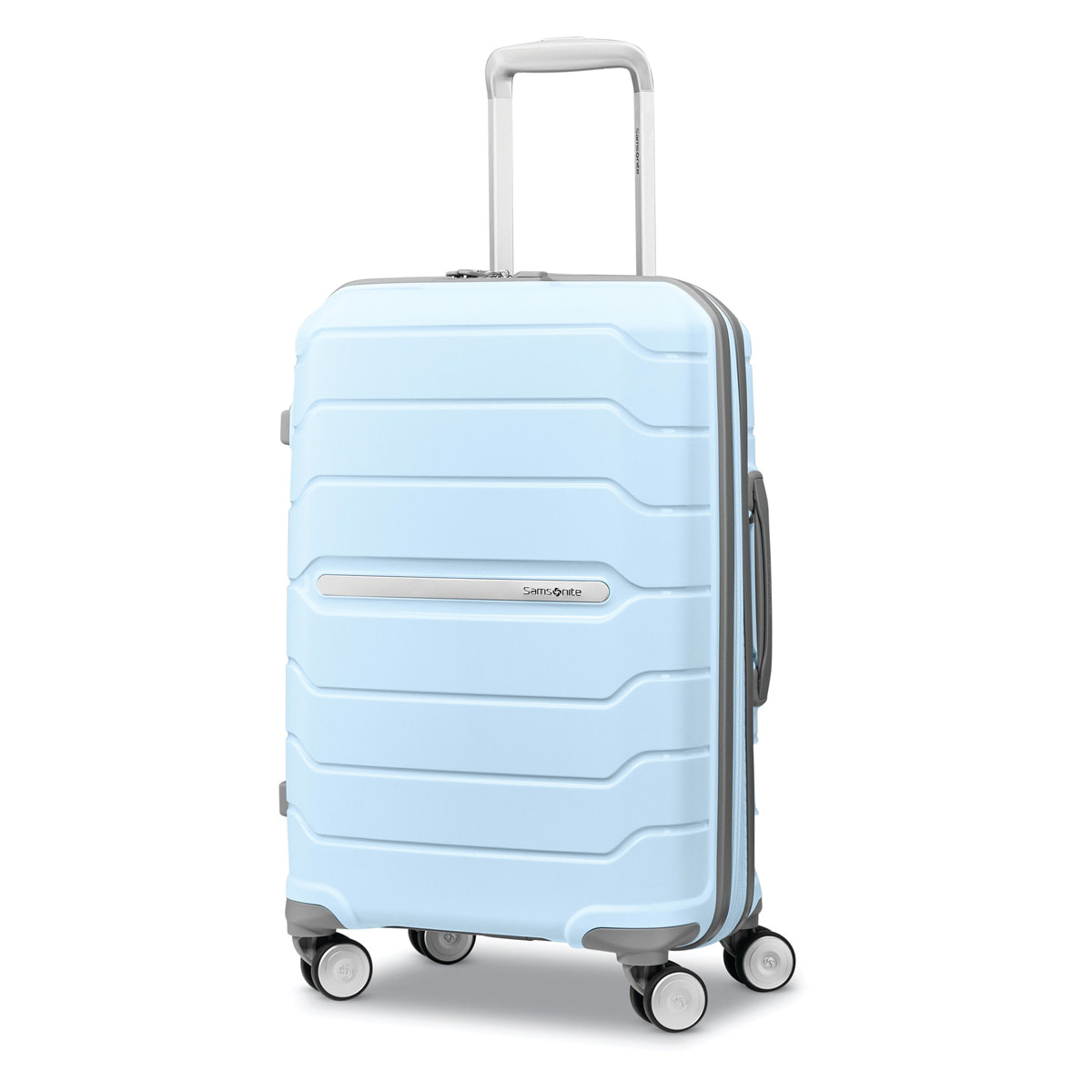 If your ideal piece of luggage combines style, strength, and lightness without breaking the bank, you'll love the Freeform Carry-On Spinner.
One of Samsonite's coolest carry-on suitcases, this ultra-lightweight 21″ hard case delivers key features like multi-directional double spinner wheels, built-in ID tag, and TSA-compatible lock in a modern, streamlined design that makes the most of the interior space.
Numerous pockets coupled with interior cross-ribbon and divider make for easy, effective packing and organizing; a folded zippered compartment provides convenient expandability for when you need that bit of extra room, while the wider multi-stage aluminum pull handle adds comfort to your journey.
And don't let that affordable price tag fool you; this sleek rolling luggage piece is made from strong, high-quality materials, ensuring long-lasting durability.
Paravel Aviator Carry-On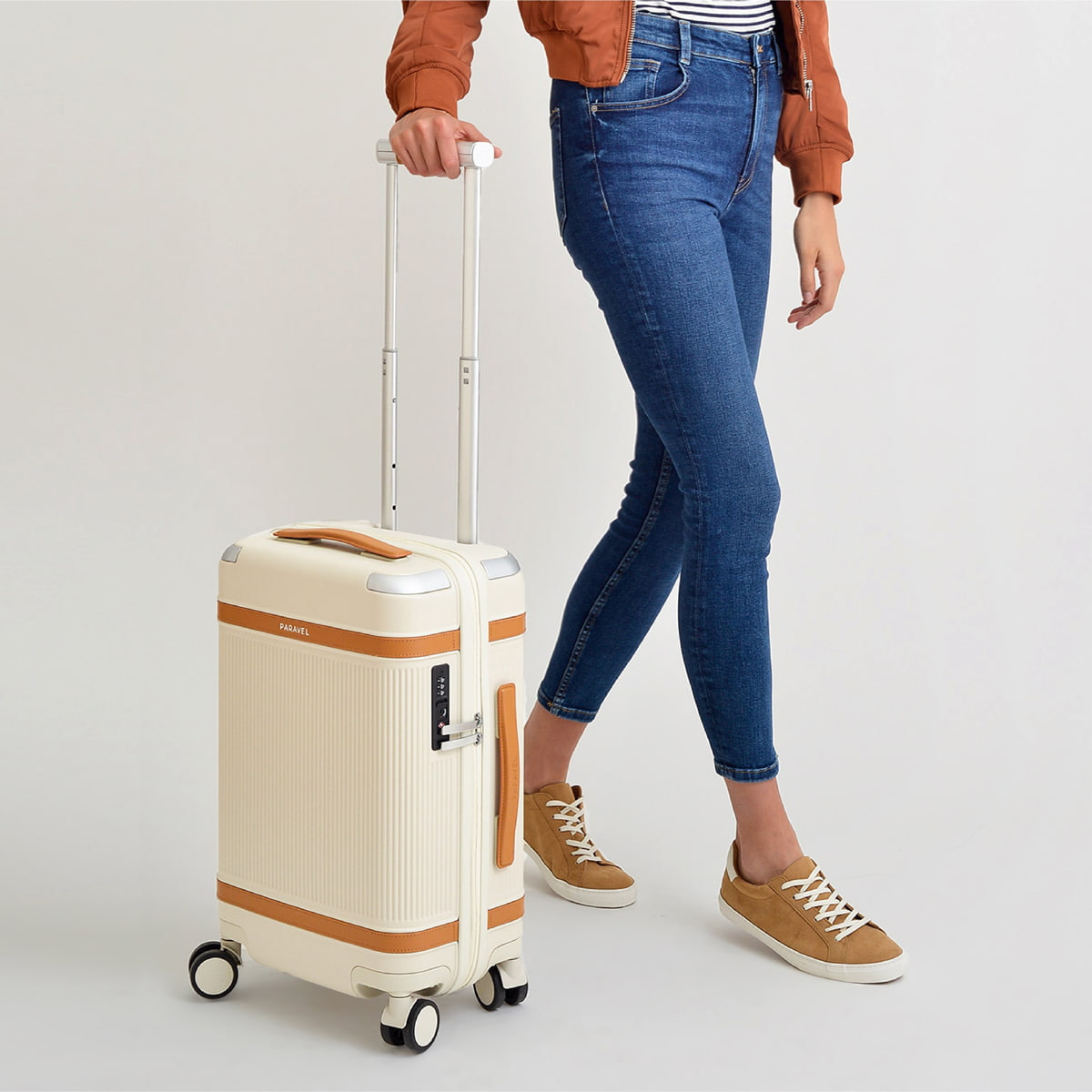 There is a lot to love about this stunning hardside carry-on from Paravel: it's durable and lightweight, comes packed with modern features, and its design is worthy of a luxe trip to Italy.
Beyond its beautiful retro-inspired look, the Aviator Carry-On is also crafted with the planet in mind. Its recycled polycarbonate shell, zippers, and aircraft-grade aluminum handle, along with the charming vegan leather details and an interior lining made from 15 upcycled plastic water bottles, make it one of the most sustainably made suitcases on the market. Oh, and did we mention that it rolls on impossibly smooth double-spinner wheels and comes with a removable accessories pouch?
Delsey Chatelet Hard
No jetsetter's summer essentials list would be complete without a chic suitcase that really gets them in the holiday mood. With the elegant, vintage-inspired Delsey Chatelet Hard, you will be the envy of the crowd around the baggage carousel!
This nostalgic French beauty brings to mind glamorous Parisian breaks and sunny French Riviera getaways, while also providing functionality and durability. Aside from 4 quiet, easy-running double wheels and an inbuilt TSA lock, the cabin trolley case has a patented integrated brake that locks your wheels, preventing it from rolling away on the steep, cobbled streets of Montmartre.
If you want a well-designed suitcase that's both sturdy and stylish, this is it!
Monos Terrazzo Carry-On
Taking inspiration from one of the first sustainably produced materials, the Terrazzo Carry-On is one of Monos' most eye-catching and sought-after suitcases. Its aerospace-grade, water-resistant, German polycarbonate hard shell sits on the finest Hinomoto wheels on the market, while inside, a luxurious, anti-microbial interior fabric, a built-in compression pad, and a couple of bags for shoes and laundry keep your items clean and neatly organized. But the best part, though? It's on sale!
For further suitcase sales, check out our Best Luggage Deals section, where we constantly add the latest offers from top brands like Monos, Briggs & Riley, Horizn Studios, Samsonite, Nomatic, Away, Travelpro, and more.
Steamline Luggage Entrepreneur Carryon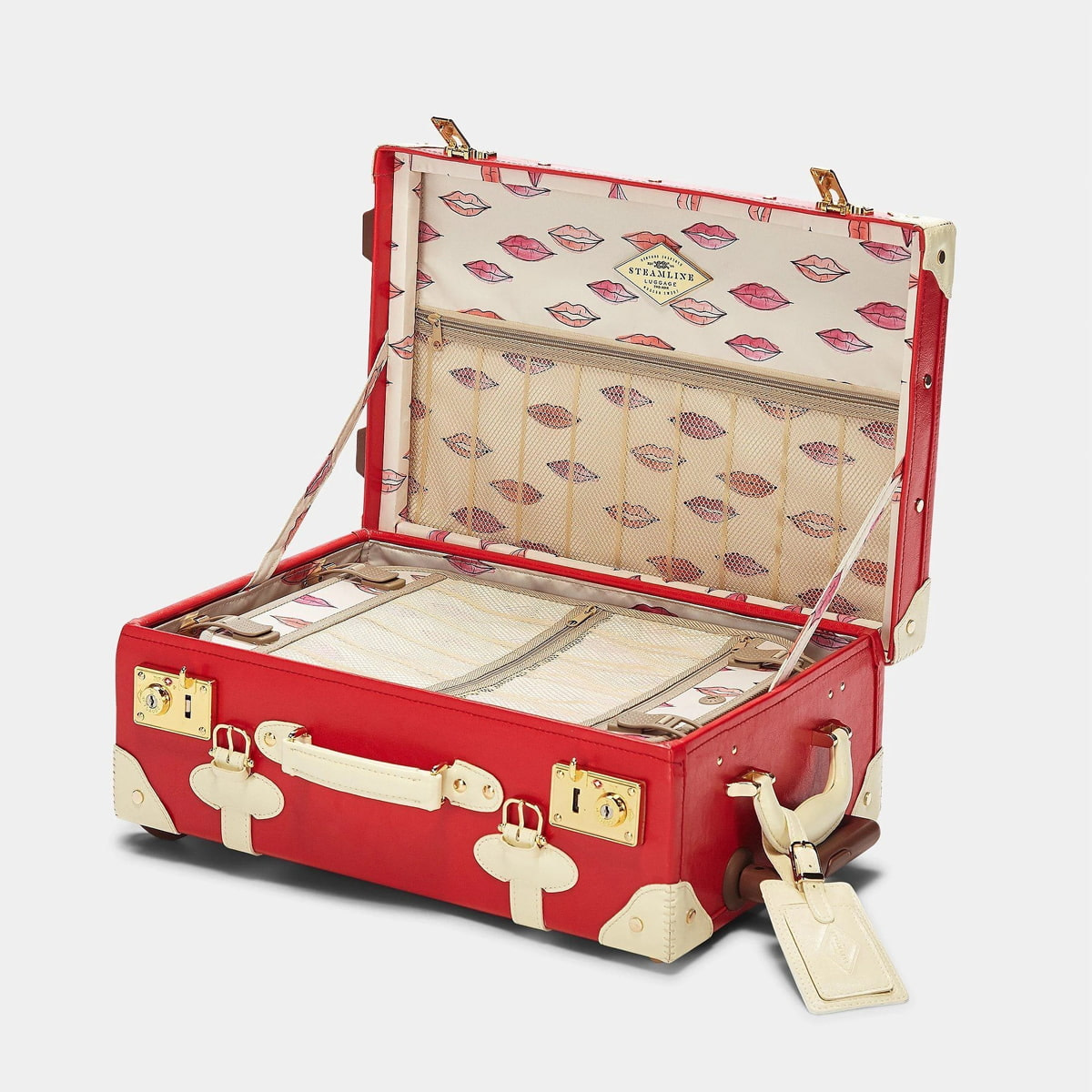 Get away in style with this vintage-inspired valise from Steamline Luggage, which has marvelous "Mrs. Maisel" vibes all over it.
The Entrepreneur Carryon features a bright red vegan leather exterior with contrasting white straps and gleaming gold latches, but open it up and further surprises are revealed: a playful lip-printed lining completes the chic girl theme of this classy retro-style suitcase, while a detachable door-hanger washbag and a couple of zippered lid pockets are sure to keep your precious contents neat and tidy.
This piece might look like it's come from the past, but has all the contemporary conveniences you need for carefree traveling, including a pair of silent-glide wheels, TSA-approved locks, and an extendable aluminum handle. We also love that it doubles as a gorgeous decor piece when not in use.
Briggs & Riley Rolling Carry-On Upright Duffle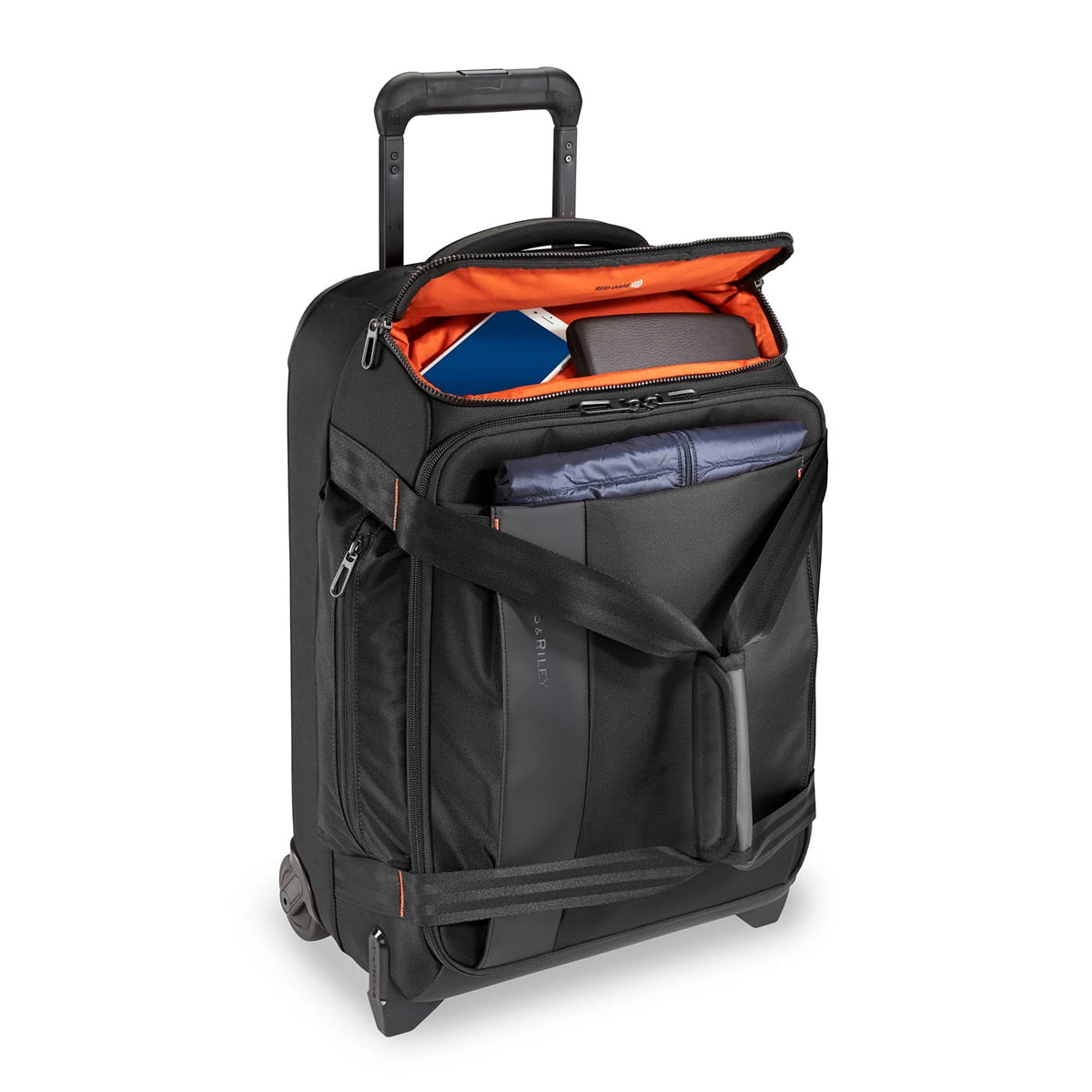 Probably the most versatile cabin bag on the list, the Rolling Carry-On Upright Duffle from Briggs & Riley pairs the mobility of a wheeled suitcase with the reliable packing capacity of a duffle. Not only that, but at 21 inches, it's a great option if you're often flying internationally, not to mention it easily folds down for convenient storage in tight spaces.
Besides an outside battery pocket for charging your phone in transit, it's equipped with smooth-rolling spinner wheels and an easy-access pocket that allows you to breeze through airport security checkpoints. The 800D ballistic nylon fabric makes the bag water, moisture, and tear-resistant, while reinforced, low-profile corner guards add to its durability.
Away The Bigger Carry-On Aluminum Edition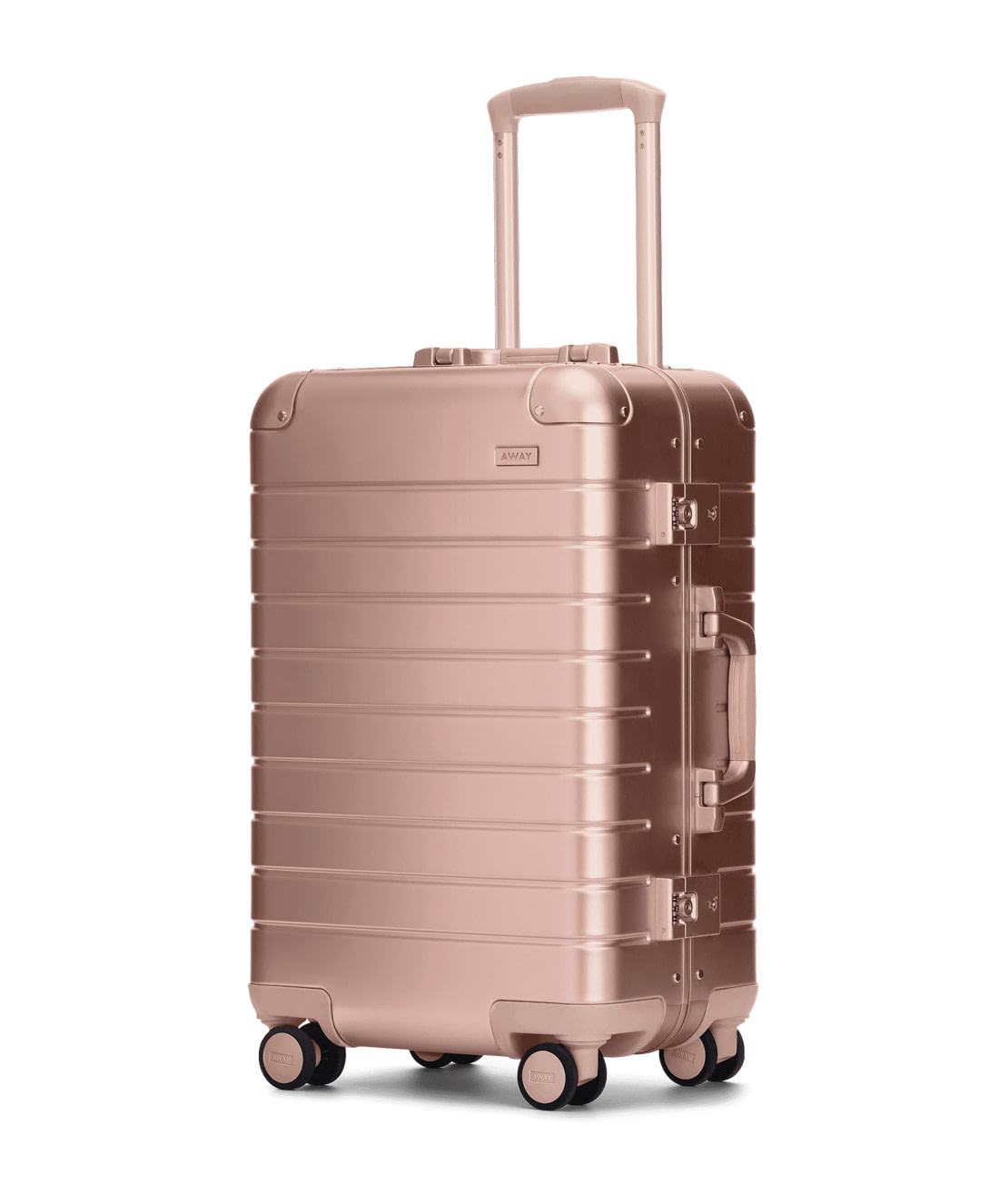 Travel the world in style with the beautiful Aluminum Bigger Carry-On from Away. This sleek, unbreakable piece of luggage has all the bells and whistles of a traditional Away carry-on but features an innovative zipperless design with TSA-approved clasp locks. As its name implies, it is also one inch taller and wider, giving you a little extra packing room without having to check it in.
Complementing its splendid, monochrome aluminum hard shell is the brand's signature interior compression system, as well as whisper-quiet 360° wheels, elegant leather accents, and a removable battery for charging your devices on the go.
And if you are not completely sold on this model, our carefully curated roundup of aluminum suitcases will surely sway you to join the metallic trend.
Ted Baker Averri Softside Cabin Trolley Case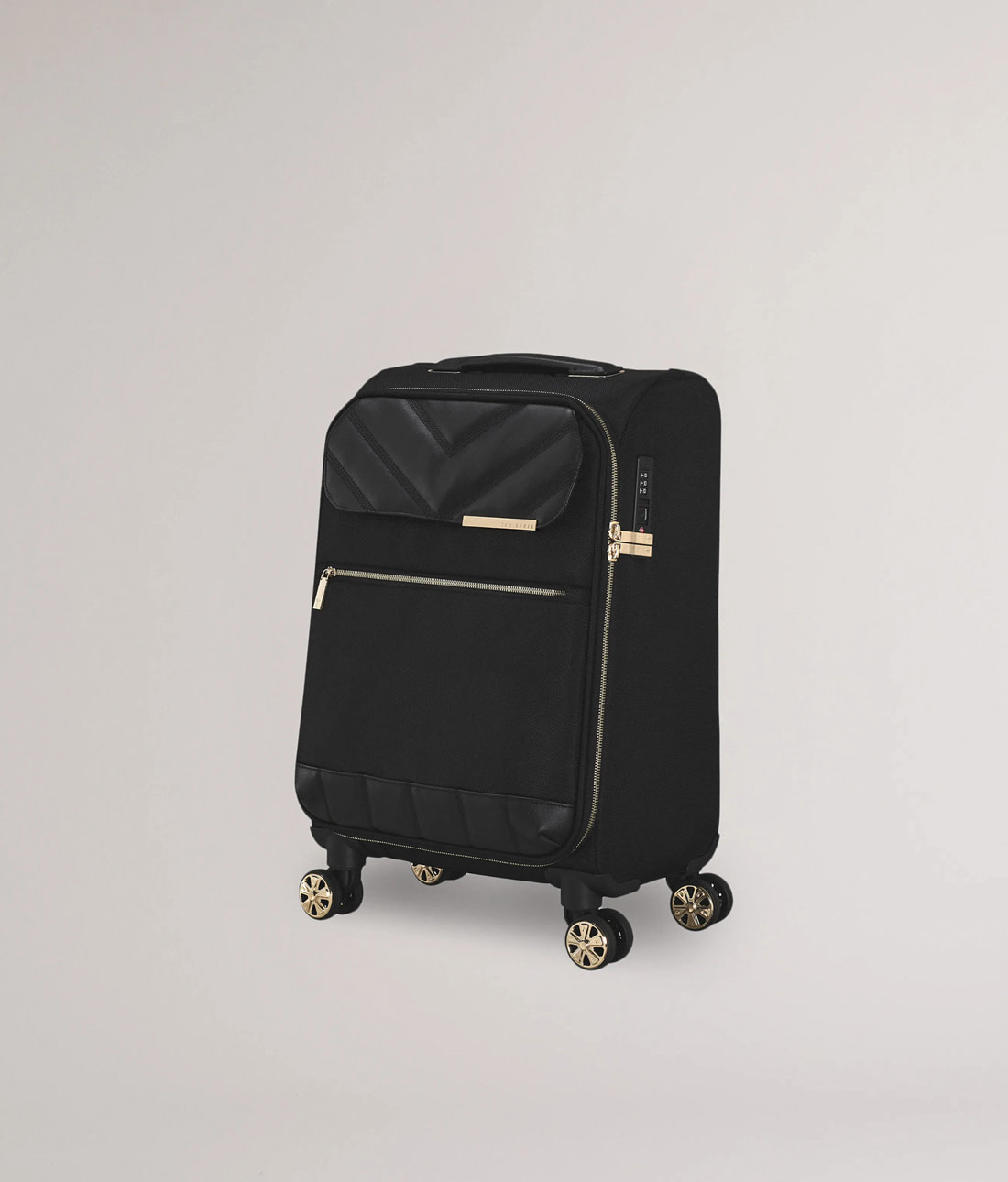 The shiny metallic trim lends an air of sophistication to this black woman's luggage piece from Ted Baker.
Equipped with four smooth button-designed wheels and an extendable aluminum handle with molded handgrip, the Averri Softside Cabin Trolley Case is made for rollin'. There are zippered pockets on the outside and inside for organizing smaller items and keeping them close, and the spacious main compartment features a sleek, beautiful lining of the brand's signature Butterfly Collective pattern. The bag even comes with corner protection, a TSA combination lock, and a buckle strap to secure your contents.
Kensie Womens 3D Gemstone Hardside Spinner Carry-On
Don't expect premium materials or innovative features, but if you're looking for a cute, functional feminine suitcase at a low price, consider this highly-rated Amazon pick available in sweet shades like Mint and Rose Gold.
Besides an attractive diamond-inspired design, the Kensie Womens 3D Gemstone Hardside Spinner Carry-On features a TSA-approved lock, smooth 360-degree wheels, and a retractable aluminum handle for ease of travel. The interior is fully lined and easy to pack thanks to considerate details like compression straps, a zip-around divider, and a waterproof accessory pocket.
Jetkids by Stokke Bedbox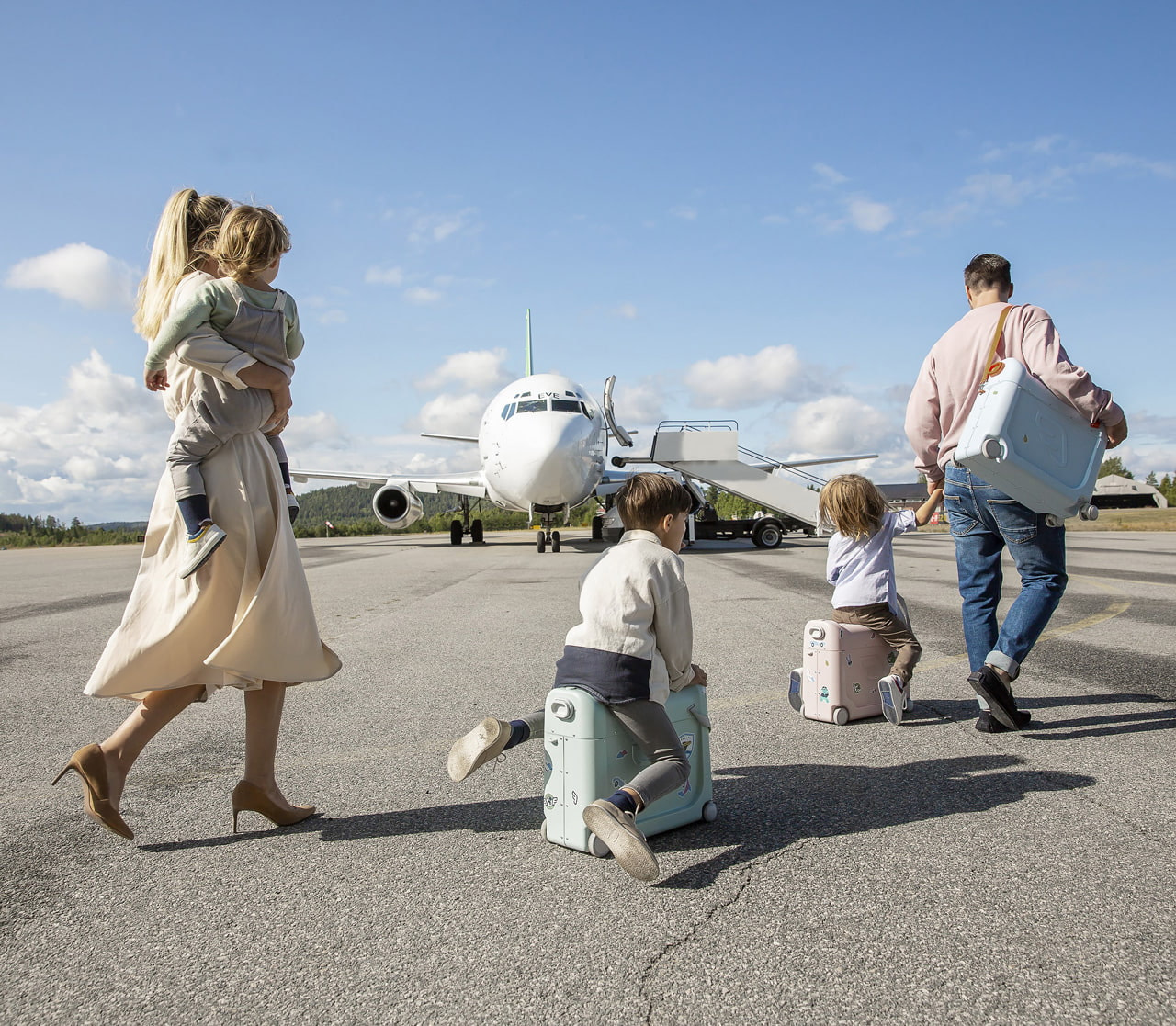 Thanks to its ingenious design, with a foot ledge, extendable lid, and a mattress, this 19″ ride-on suitcase from Stokke Bedbox converts into a leg rest or in-flight bed for children during flight.
One of the best carry-on bags for boys and girls on the go, the Jetkids can be pulled, pushed, or ridden and comes with shock-absorbing swivel wheels for easy maneuverability through the airport. The interior provides plenty of space for your child's must-haves, and there's also an adjustable strap for parents to carry it over their shoulders.
Compact, lightweight, and decidedly fashionable, this hardside kids' carry-on luggage adds a bit of fun and comfort to any family travel plan.
Away The Carry-On with Pocket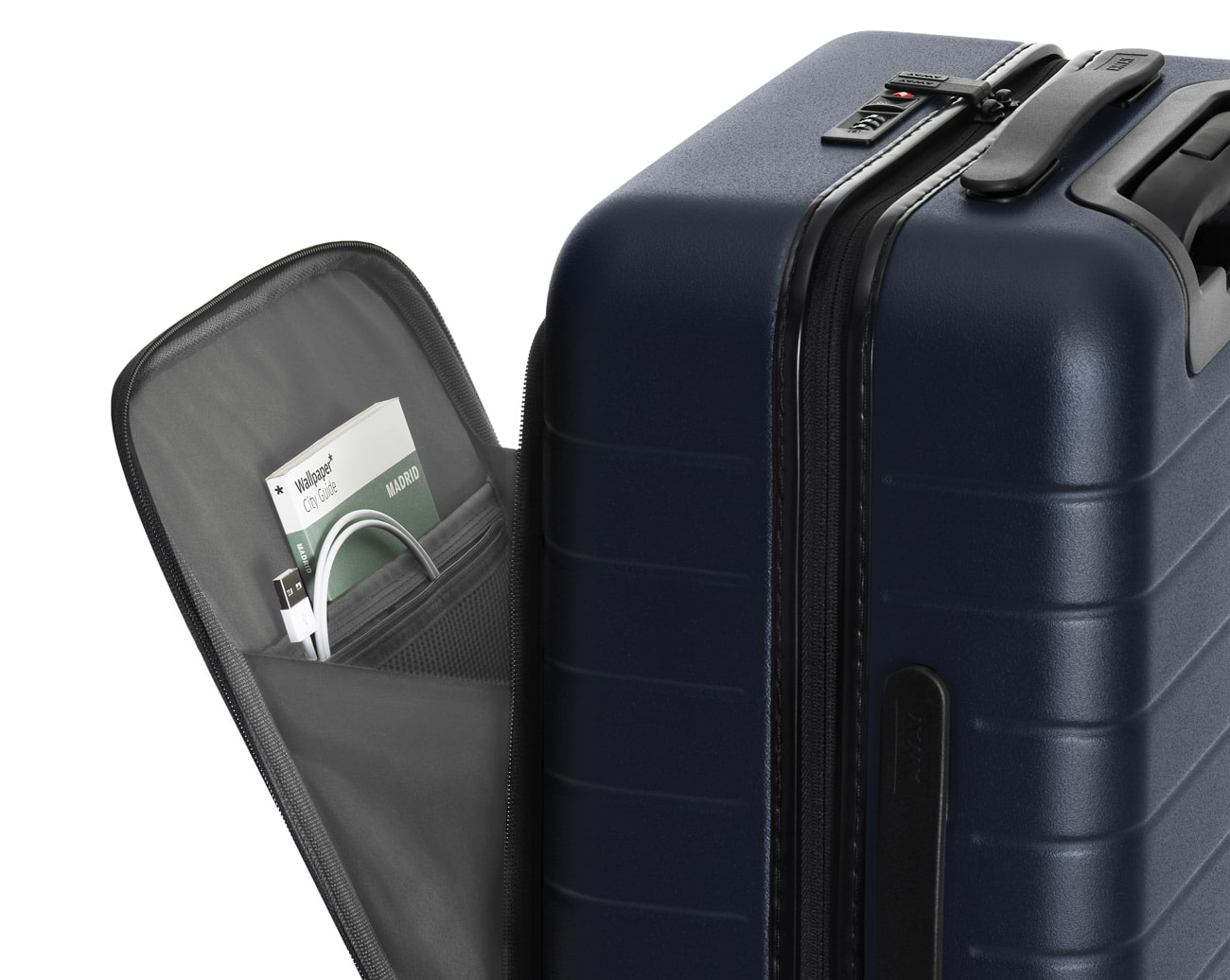 Travel smarter with this functional crowd-pleaser from Away. Crafted from durable polycarbonate with black leather details, this bag combines the brand's classic and instantly recognizable silhouette with the extra practicality of a front pocket.
Developed to make life on the go easier, it features smooth 360° spinner wheels, a complimentary laundry bag, and a TSA-approved combination lock. The inside has two compartments with an interior compression system for efficient packing, and the water-resistant external pocket comes with a lockable zipper, a padded 15″ laptop sleeve, plus several small compartments for your phone, passport, boarding passes, and magazines.