This post contains affiliate links, which means we may receive a small commission, at no additional cost to you, if you make a purchase through these links. See our full disclosure here.
Seeking the perfect gifts for friends and relatives who love to travel? You can't go wrong with these chic accessories and quirky gadgets designed to complement their adventures and make life easier on the road.
Whether it's for avid adventurers or international jetsetters, here are some of the best gifts for travelers to put under the Christmas tree these holidays:
Tinggly Experience Gift Box
There are few things that can enrich someone's life quite like the gift of travel. So, this year, spoil the globetrotter that has it all with a special Tinggly gift box tailored to his/her interests.
Filled with some of the world's best travel experiences, a package allows recipients to choose one adventure from over 500 escapades across 100 countries – whether that'd be island hopping in Thailand, whale-watching in Iceland, or a delicious Tapas & Wine tasting in Barcelona – and plan an unforgettable trip around it. This really is a unique gift that every travel enthusiast is guaranteed to love!
Stylish Tech Pouch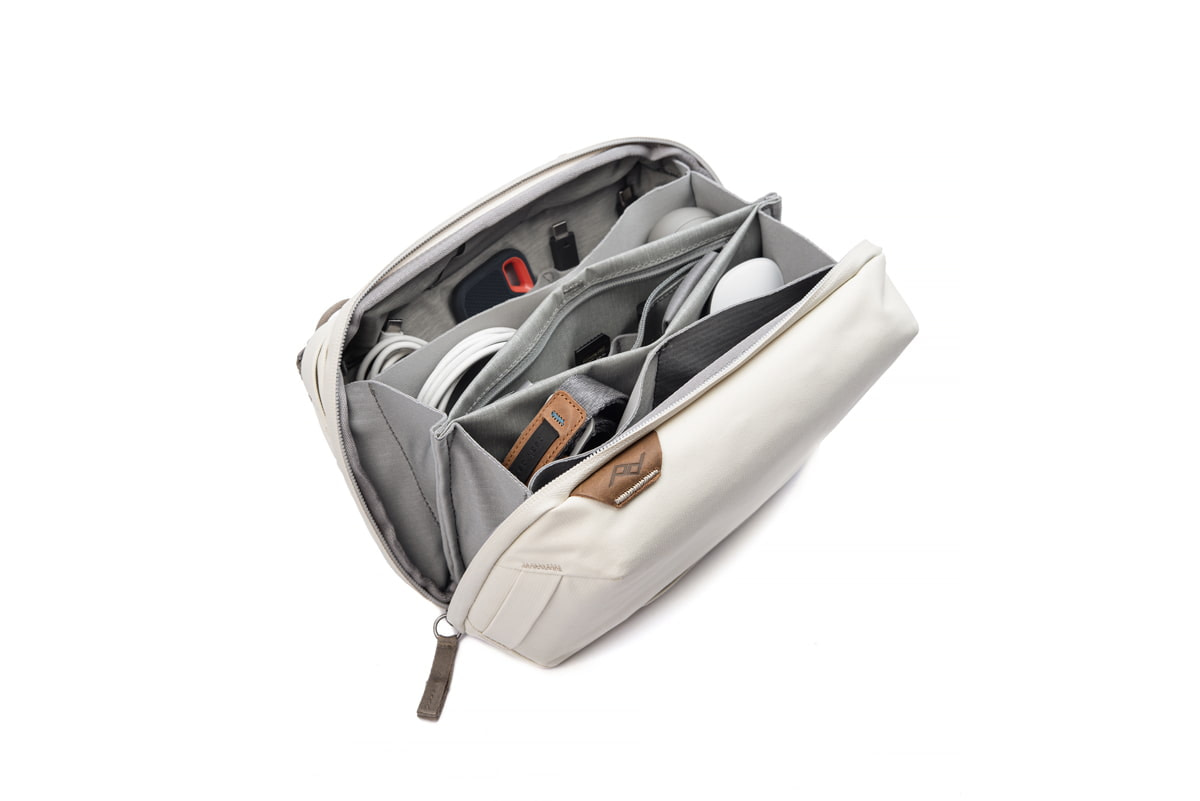 Ensure your fellow world wanderer stays organized on the go with this stylish tech pouch from Peak Design. Made from 100% recycled 200D nylon, it features a smart, space-efficient design with origami-style pockets for all your tech accessories, from cables to SD cards, batteries, camera straps, and more. There's also an external pocket for passport and documents, as well as a welcome cable pass-through for seamless device charging.
Designer Face Masks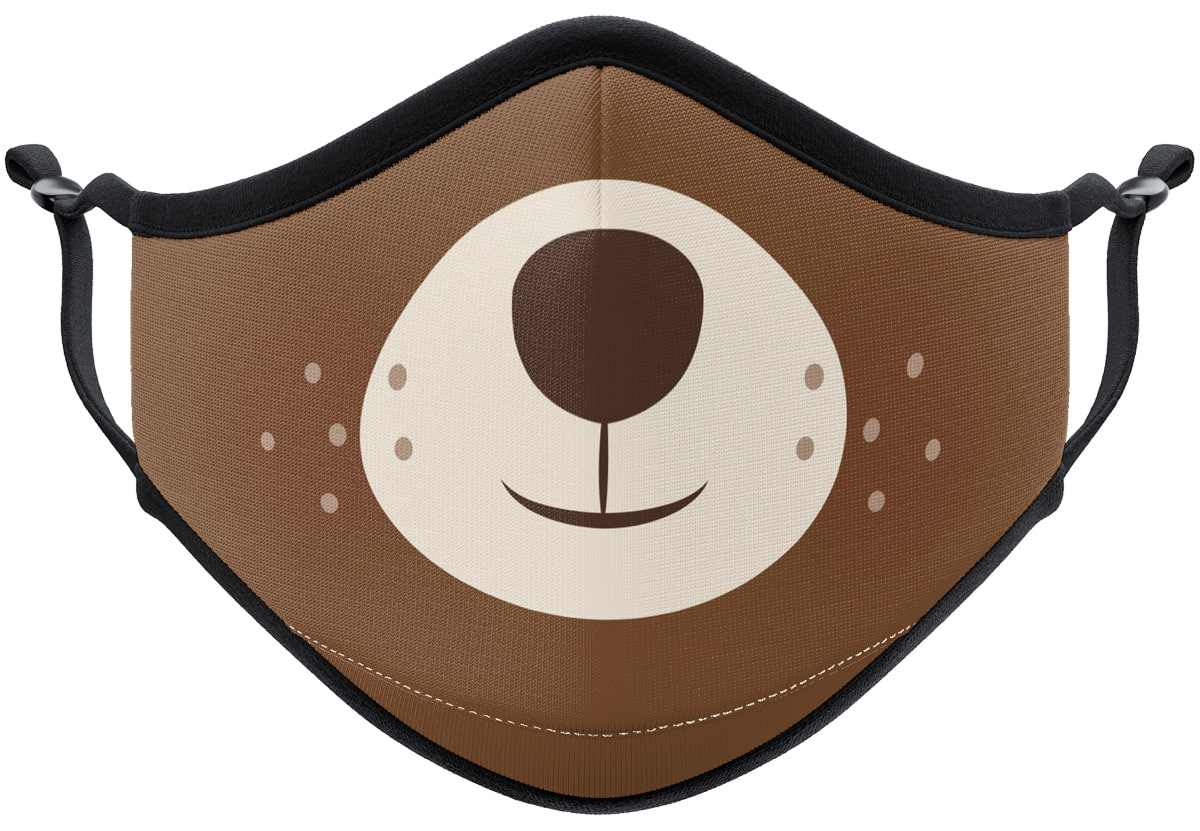 What would be Christmas 2020 without a couple of cool face masks hidden under the tree? More than just the accessory of the year, these are the new must-have travel amenity, offering both peace of mind as well as access to new experiences. Made from polyester fiber, spandex, and anti-allergenic cotton lining, Vistaprint's reusable face masks are snug, stylish, and soft on the skin. They come in a colorful array of prints and patterns from iconic NYC artists and can also be customized with a logo, text, or design of your choice.
A Timeless, Minimalist Watch
Is there any better travel companion than a good watch? Function meets style in these elegant, minimalist timepieces from Nordgreen that are equally useful during a wine country weekend or a business trip.
Whether it's a gift for a holiday or a special occasion, these beautiful, versatile accessories will make meaningful presents for world wanderers who find it easy to lose track of time while out and about. Created in Copenhagen by reputed Danish designer Jakob Wagner, each product is an embodiment of Danish values and culture, blending functionality with clean, timeless aesthetics. They offer conveniently customizable men's and women's watches, as well as the opportunity to build your own gift bundle by mixing different models with different interchangeable straps and case colors. Plus, with every purchase, the brand donates part of it to a special cause of your choice.
Tip: For the modern explorer in your life, opt for the stylish Pioneer Chronograph, winner of the 2020 Red Dot Award. We managed to get an exclusive discount for you of a 20% off in all collections when using TRAVELAWAY!
Stunning Moscow Mule Copper Mug
Most long-term travelers have their own quirks and routines when out and about. If your pal is like Uncle Si from the Duck Dynasty and loves to carry that special mug anywhere, get him/her one that will last forever. Meet the iconic Moscow mule mug, a stunning piece of copperware steeped in history and tradition, that can be used for serving everything, from the traditional vodka cocktail to cold beer and freshly brewed iced tea.
Practical Travel Backpack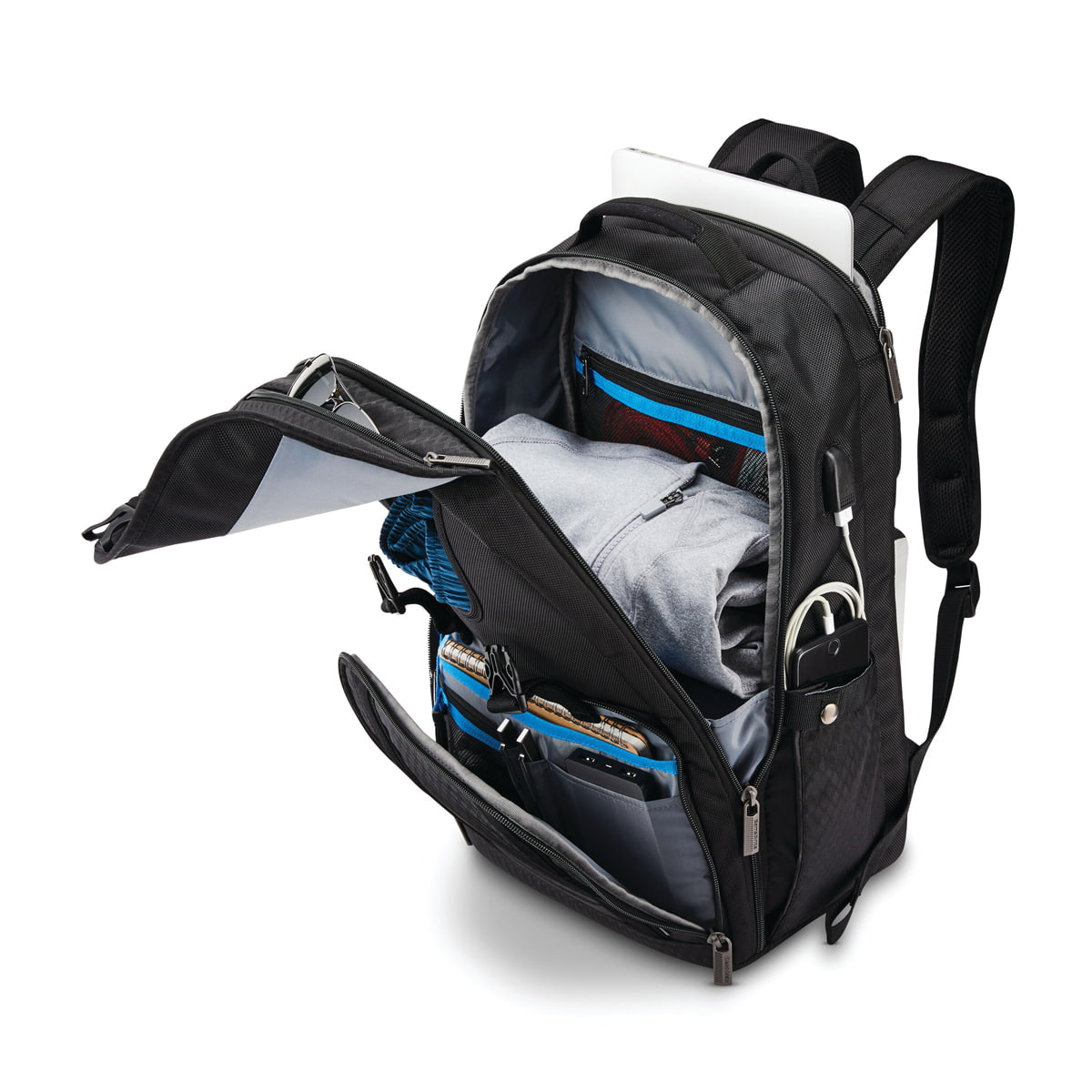 If you're really stuck on choosing the best gifts for frequent travelers, opt for a nice piece of luggage. Whether for business trips, weekends away, or as a carry-on on his/her next flight, the traveler on your holiday list will definitely love receiving this Samsonite travel backpack for Christmas.
Carry-on sized and conveniently expandable, the Carrier Tucker Backpack pairs a clean, contemporary design with thoughtful interior organization and carrying comfort to create the perfect companion.
Stylish Travel Wallet
Having trouble finding the best travel gifts for her? With its good looks and thoughtful design, CALPAK's stylish Travel Wallet will delight even the most discerning fashionista on the go. A plethora of interior/exterior pockets keep everything organized, while different adjustable straps make it every bit as versatile as the occasion calls for – be it a long-haul flight, a short business trip, or a night out in the city.
Sleek Noise-Canceling Headphones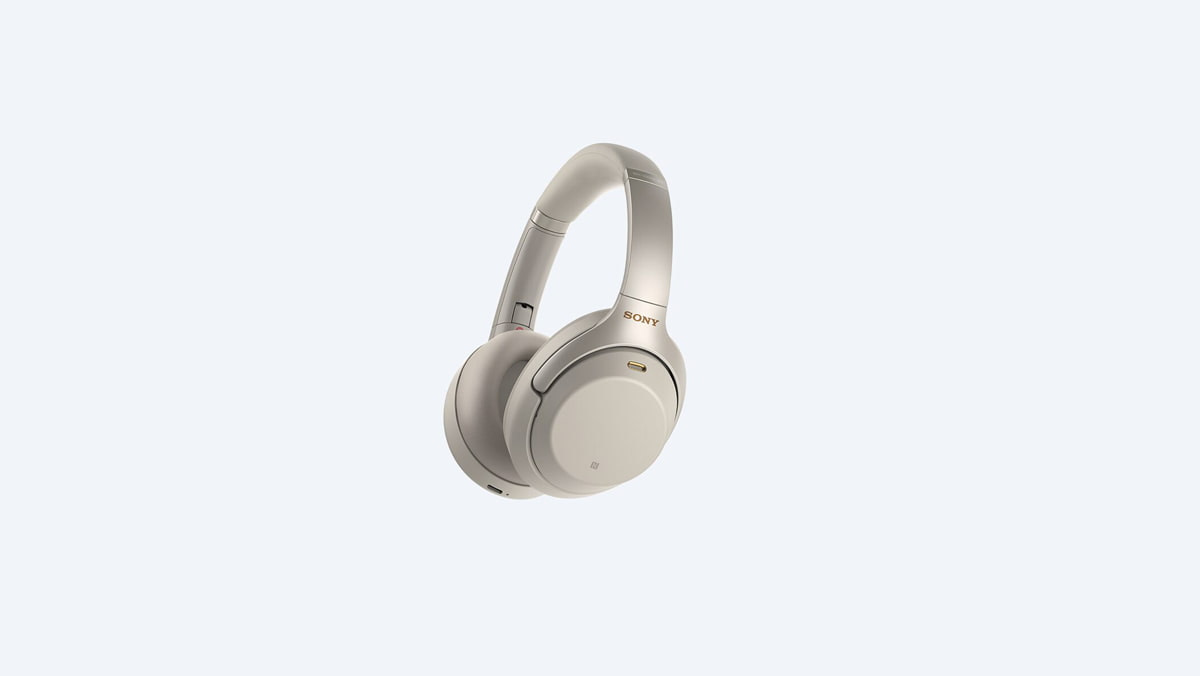 Buy the frequent flyer in your entourage the Sony WF-1000XM3s and they'll be forever grateful. Equipped with the most advanced noise-canceling technology and a host of smart features, these wireless headphones sound and look so damn good you'll want a pair for yourself, too. They offer both Google Assistant and Amazon Alexa, and feature Sony's atmospheric pressure optimization for an optimal sound at high altitude.
Leather Field Notes Wallet
Handmade leather goods make wonderful Christmas presents. Any stylish jetsetter will appreciate this handsome Lifetime Leather Co. field notes wallet crafted from authentic full grain leather.
Sized to fit everyday essentials such as notes journal/passport, pen, and cash/cards, this caddy is not only good looking, but also extremely practical, helping them stay organized while traveling. It comes with a Genuine Field Notes Journal & Zebra Pen and, best of all, it can be personalized with your recipient's name/initials for an extra special touch.
Elegant Travel Set
Designed to keep travel essentials organized on the go, this set from Bellroy is an ideal gift for the business traveler, but also for families, adventurers, and just about anyone on vacation. It comprises the handsome, cleverly designed Travel Folio RFID and a practical pouch for cables & toiletries – both made from premium, environmentally certified materials.
Classy, durable, and packed with well-thought-out pockets, the folio can hold everything from passports and boarding passes to cash, business cards, and even a full-size pen. The Travel Set is backed by a 3-year warranty and comes in three elegant color combinations to match any style.
The Ultimate Travel Pillow
A travel pillow is an essential accessory for any serious traveler, and this innovative neck wrap is one of the best options out there. Made from soft, breathable fleece, with foam padding and a built-in plastic brace, the Trtl Pillow is designed to offer the best head and neck support for a restful sleep on the move.
The product is not only better looking, less bulky, and scientifically more efficient than a regular U-shaped neck pillow, but also half its size, at only 4.8 ounces. Add machine-washable qualities and several attractive color choices and you have one of the smartest gifts for frequent travelers.
Inventive Sleeping Accessory
Help your travel-loving giftee catch some serious Zzzs on the road with ALLasleep, a double-duty eye mask designed to increase sleep quality by keeping the neck in a neutral position while in transit. Not only will this ingenious accessory help block out light, but it will also prevent head bobbing when sleeping in cars, trains, buses, or airplanes thanks to its accompanying pouch which attaches to any headrest. Plus, the pouch is perfect for storing money and documents during the trip.
A Cool, Well-Designed Piece of Luggage
Every traveler needs a good piece of luggage for their adventures around the world. While there are tons to choose from, some of our favorites are from Away, the modern luggage brand known for its minimalist hard-shell suitcases. Nevertheless, from colorful carry-on rollers to chic weekender bags and slim backpacks, there's something for every type of globetrotter in their arsenal – all thoughtfully designed to make travel easier and a lot more stylish.
If you sense that a travel bag as a gift might be too much, check out their collection of travel & luggage accessories, where you'll find equally inspired items, like a sleek leather jewelry box, an adorable miniature version of the Away suitcase which serves as toiletry case, and all sorts of smart luggage organizers.
Portable Cocktail Kit
What better way to cheer up your traveling pal who loves a well-mixed drink than with a portable cocktail kit, equipped with everything you need to craft two proper beverages in style, anywhere, anytime? Compact enough to fit in a pocket, W&P's slick Carry-On Cocktail Kit is the best bet for mixologists on the go, offering a handy recipe card, stainless steel spoon/muddler, linen coaster, and all the ingredients for two proper in-flight concoctions.
Depending on your preferences, there are a variety of travel sets to choose from, from Champagne and Bloody Marry to Gin & Tonic and the original Old Fashioned.
Sustainable Water Bottle
For the outdoor enthusiast in your life, consider this National Geographic x S'well bottle that inspires adventure and exploration while also helping the environment.
Combining triple-layered, vacuum-insulated construction with stunning images from esteemed National Geographic photographers, this reusable stainless steel bottle is both fashionable and functional, ensuring proper hydration on the go. On top of that, every purchase comes with something no self-respecting nomad would say no to – a free one-year digital subscription to National Geographic Magazine.
Mini Clothing Steamer
Looking neat on the road can be tough, but BIZOND's mini clothing steamer makes it easy to kill germs, eliminate odors, and remove wrinkles from your tightly packed clothes. This little fellow uses dry steam technology, heats up in just 25 seconds, and it's gloriously portable. Perfect for business trips, weddings abroad, and pretty much anything in between!
Airbnb Gift Card
For the person who values a truly local experience over anything else, an Airbnb gift card, which they can use on accommodations or activities wherever they choose to explore next, is a safe bet. The credits range from $25 to $500 and don't expire, which means your friends will have all the time they need to plan their next trip.
You can also personalize the voucher by adding a suggestive image or a message. The only downside is that these cards can only be purchased by, or gifted to, individuals in the United States, at least for now.
Weatherproof Binocular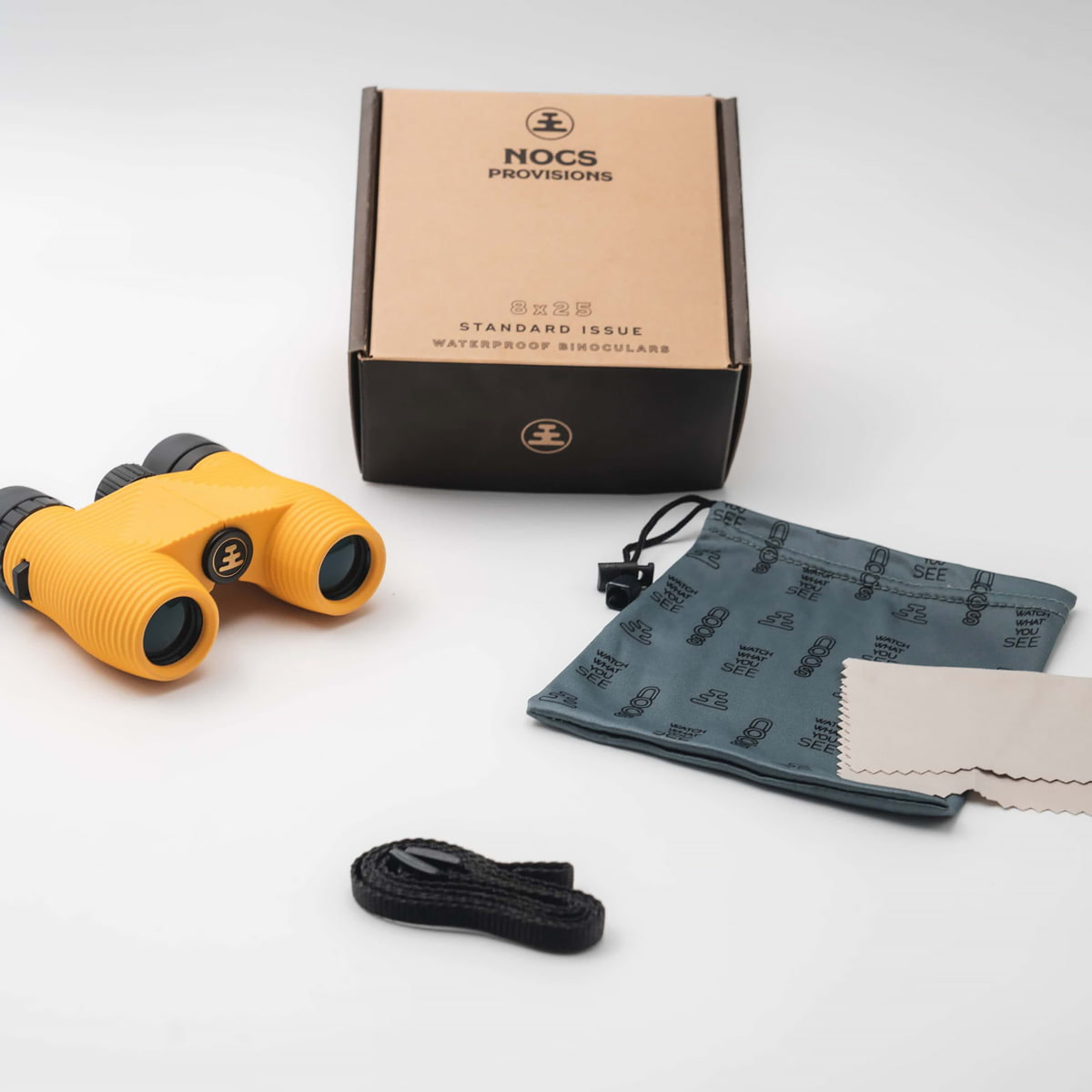 Does your dearest explorer spend more time out than in? The best gifts for outdoor lovers are those that enhance the experience, like these rugged premium-optic binoculars from Nocs Provisions. Ideal for bird watchers, safari enthusiasts, beach spotters, and anyone in between, it's compact enough to fit in your pocket, weatherproof, and serves as the equivalent of a 400mm camera lens, allowing you to shoot photos with your smartphone through the eyepiece.
Personal Emergency Alarm
Adventure types will love the B A S U eAlarm+, a tiny safety device that sounds when the pin is pulled. Small, sleek, and water-resistant, this personal travel alarm is equally effective as a deterrent against wild animals and human aggressors, or as a rescue signal for hikers, campers, and any other outdoors enthusiast caught in an emergency situation. It can also be used as a tripwire or campsite alarm, and comes with a pre-installed carabiner for easy attachment to your keys or backpack.
Exercise Bands
Your travel-loving friends and family can keep up with their workout routine anytime, anywhere with Fit Simply's world-class Resistance Loop Exercise Bands. This portable fitness kit includes 5 eco-friendly latex bands of different resistance levels, as well as a practical carry bag, an eBook full of exercises, an instruction guide, plus access to their online video workout guide. Needless to say, they're small, lightweight, and versatile, which makes them one of the most fitting gift ideas for travelers who want to stay in shape on the road.
Travel Amenity Kit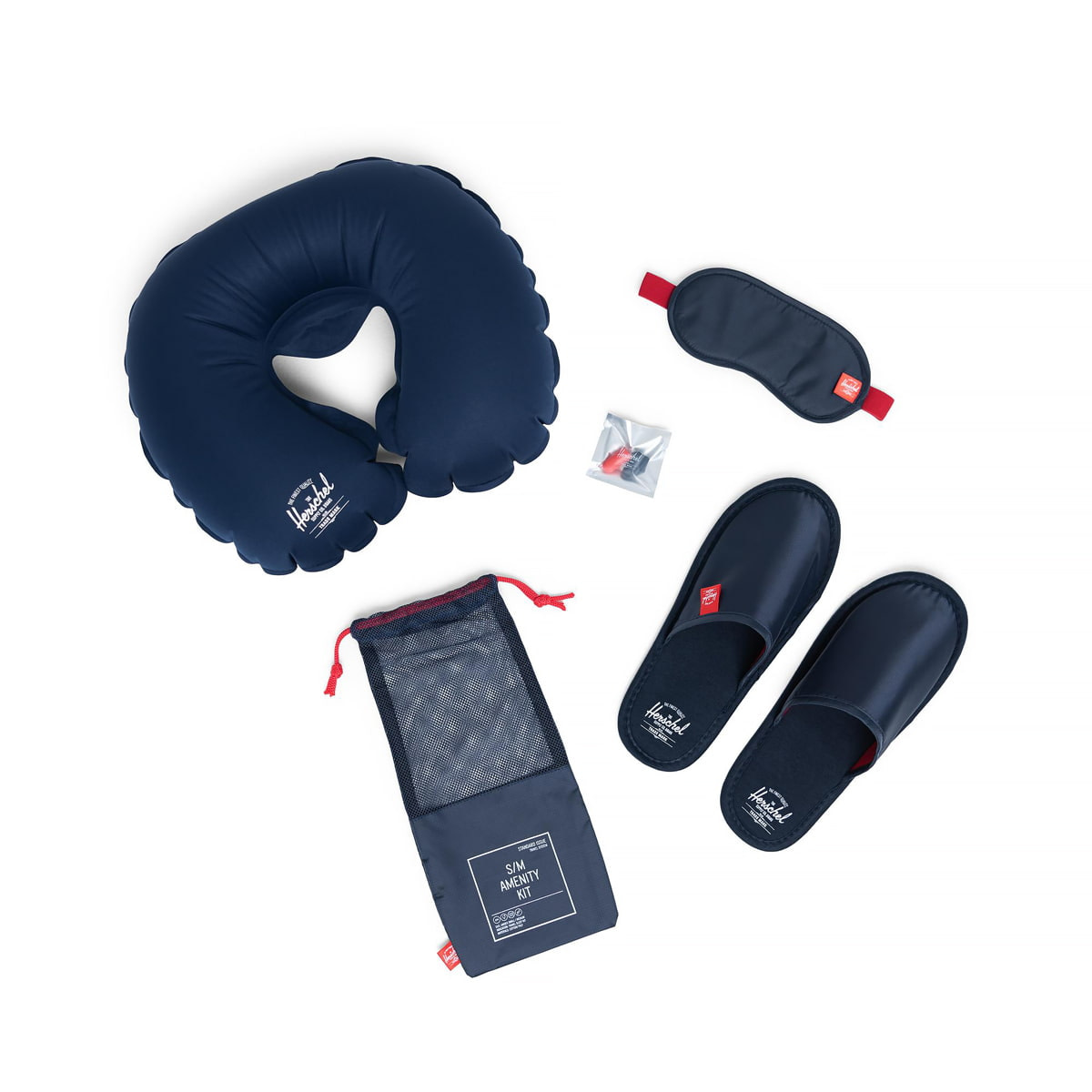 Airplane accessories are fantastic travel gift ideas if your pal is a frequent flyer. Complete with soft foam earplugs, sleeping mask, inflatable neck pillow, and cozy slippers with foam padding, this travel amenity kit from Herschel Supply Co makes a thoughtful present for jetsetters seeking in-flight comfort. A convenient storage pouch makes it easy to store and carry when not in use.
Old Fashioned Travel Notebook
When it comes to buying gifts for people who love to travel, it's easy to overlook the obvious. Every explorer needs a way to document his/her experiences on the road. And although nowadays most of us have a blog, a camera, and a couple of social media profiles to keep track of our latest adventures, nothing compares with the simple joy of writing things down in an old-fashioned notebook, with an actual pen.
With a generous Notes section and callouts for the Location, Date, and Conditions of the trip, The Adventure Log notebook by Word is the perfect gift for creative nomads.
Topnotch Skin Care Kit
This Christmas, spoil your favorite globetrotter with a limited edition Ursa Major x Topo Designs Travel Kit. From face wash and balm to hydrating wipes and a fresh stick deodorant, the set contains all the skincare essentials for the trip. Packed in a colorful Topo Designs accessory bag, all products are natural, nature-scented, and travel-sized.
Smart Self-Draining Umbrella
Whether your friend is an urban thrill-seeker or travels regularly for business, the EEZ-Y Inverted Umbrella is sure to become his/her new obsession. True to its name, this sturdy, windproof umbrella features an ingenious reversed closing mechanism, preventing rainwater from dripping all over the floor when folded.
Available in a myriad of colors and patterns, it sports a unique C SHAPE handle so you can hang it on your forearm when out and about, and can also stand on its own for easy storing in the hotel room.
Inspiring Travel & Photography Book
Filled with practical travel info and spectacular pictures of over 40 destinations around the globe, Depart makes a brilliant gift idea for those with a case of wanderlust. A successful collaboration between MENDO, Instagram-famous Sizoo brothers, and 22 photographers from all over the world, this modern travel and photography book will spark a sense of adventure in readers of all ages and interests.
Digital Luggage Scale
Whether it's your spouse, friend, colleague, or uncle, it's not always that easy to know what to buy someone who loves to travel. One thing is for sure, though, you can never go wrong with something as useful and reliable as a luggage scale.
Compact and lightweight, the Victorinox Digital Luggage Scale is a must-have for any frequent flyer seeking to avoid excess baggage fees. The device is able to accurately weigh up to 110 lbs/50 kg and its embedded LCD screen provides readings in both pounds and kilograms, which comes in handy when traveling internationally.
A Compass with a Twist
For a gift that's both practical and symbolic, consider True North Spin Coin from JL Lawson & Co. Manually machined from solid bar stock, this high-quality piece includes a small working compass and a ceramic ball bearing for long, magical spins. Its beautiful design and double function make it the best gift for business travelers whose time is split between meetings and work trips, yet it can also be a great idea for the collector in your life.