This post contains affiliate links, which means we may receive a small commission, at no additional cost to you, if you make a purchase through these links. See our full disclosure here.
You simply can't beat the versatility of a carry-on backpack. These contemporary pieces of travel are insanely practical, comfortable to carry, and, best of all, their functionality extends way beyond the airplane's cabin.
Built with travel efficiency in mind, our favorite picks seamlessly transition through a variety of terrains and circumstances. Some of them can withstand the worst wear and tear, others come with a dash of refined minimalism which makes them ideal for city breaks and business trips, and all are brilliantly engineered to magically pack a ton of stuff into a compact, streamlined design.
Here, our selection of the best carry-on backpacks in 2021, one more carefully thought-out than the other.
Peak Design Travel Backpack 45 L
Even in a market saturated with competitors, it's hard not to fall for Peak Design's fresh approach to functionality and design. This started 9 years ago with the creation of their wildly successful Capture Camera Clip and remains proudly visible in the Travel Backpack 45L.
Fitted out with a weatherproof 400D nylon canvas shell, an elegant expanding mechanism, clever tuck-away shoulder straps, and ultra-light padded foam throughout, this really is the ultimate carry-on travel backpack. It's strong, handsome, and gloriously adaptable.
As well as expanding from a 35 L cabin bag to a 45 L check-in luggage, it also compresses down to a 30 L daypack, offering creative versatility. And don't even get me started on those magical magnetic closures and smartly positioned access points, which add to both looks and functionality. Last, but not least, there are all sorts of zippered, mesh, soft-lined, and hidden pockets for organized packing, including a dividing panel that separates the backpack into two compartments.
I've now taken the Peak Design Travel Backpack on a couple of national/international flights and countless road trips and it's proved to be an invaluable companion. When paired with the brand's Camera Cubes, it also makes an excellent pick for traveling photographers.
Bellroy Transit Backpack Plus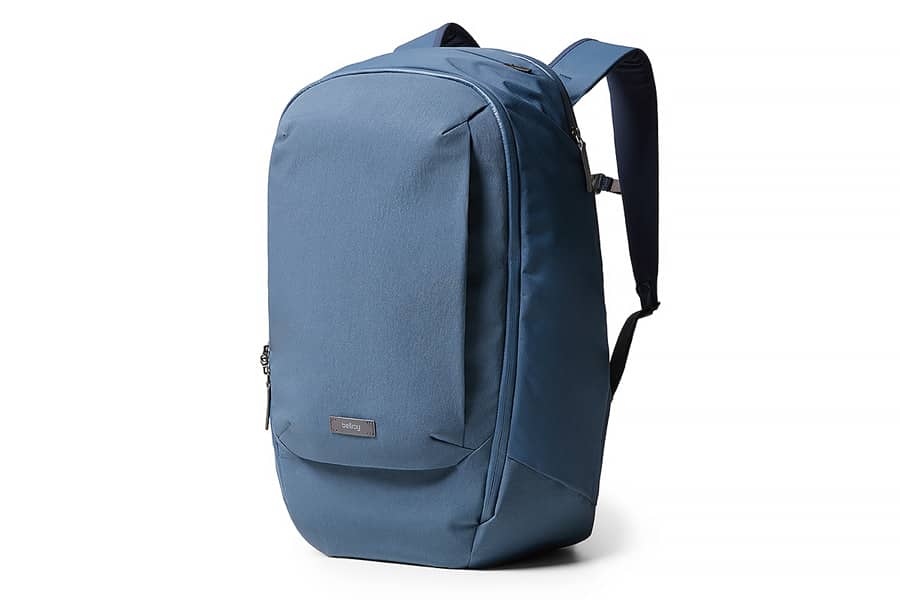 Slim aesthetics and modern functionality make this Bellroy pack an ideal choice for traveling professionals and weekend warriors alike.
Lightweight and minimal, the Transit Backpack Plus works well in urban settings, but has the robustness and weather resistance needed to deal with more demanding environments.
It's made from durable, recycled materials, with premium, environmentally certified leather accents, and its space-saving design, with thoughtfully engineered pockets and compartment, takes on-the-go organization to the next level. There's a quick access 15" laptop compartment, sleeves for all kinds of miscellaneous items, as well as a number of discreet external-access pockets for wallet, documents, and water bottle.
On top of that, contents are held securely in place with internal compression straps; a removable sternum strap and hideaway waist belt help distribute the load efficiently; and the bag's breathable contoured back panel makes it comfortable to wear all day long.
Troubadour Explorer Aero Backpack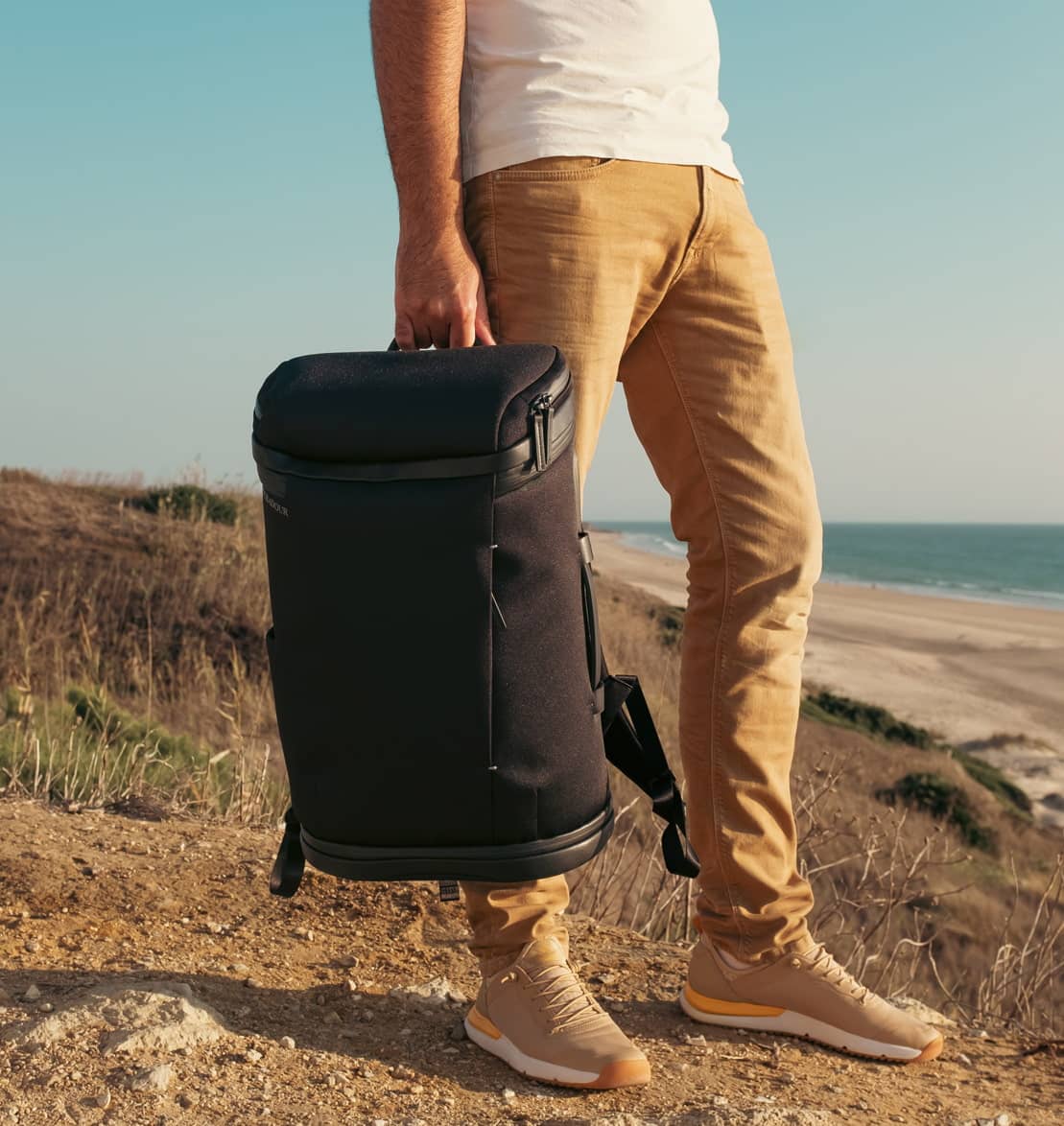 Troubadour's Explorer collection blurs the lines between work packs and adventure bags with innovative technical materials and streamlined forms. If you want the packing capacity of a duffel bag in backpack form, look no further than their luxe Aero Backpack, which features an impressive 34L capacity – perfect for traveling – alongside stellar additions like a dedicated shoe pocket, a separate laptop section, and a trolley sleeve that slides over your suitcase handle.
Made with lightweight, waterproof recycled fabrics, this carry-on-friendly backpack is designed around a spacious tube-shaped compartment for stowing everything you need on the go and sports a unique zip-top opening for easy access to your items. The breathable back panel and ergonomic memory foam shoulder straps make sure you can effortlessly carry around the bag all day, and there's also a quick-access top zippered pocket for keeping your documents and other personal items within reach.
Samsonite Silhouette 17 Backpack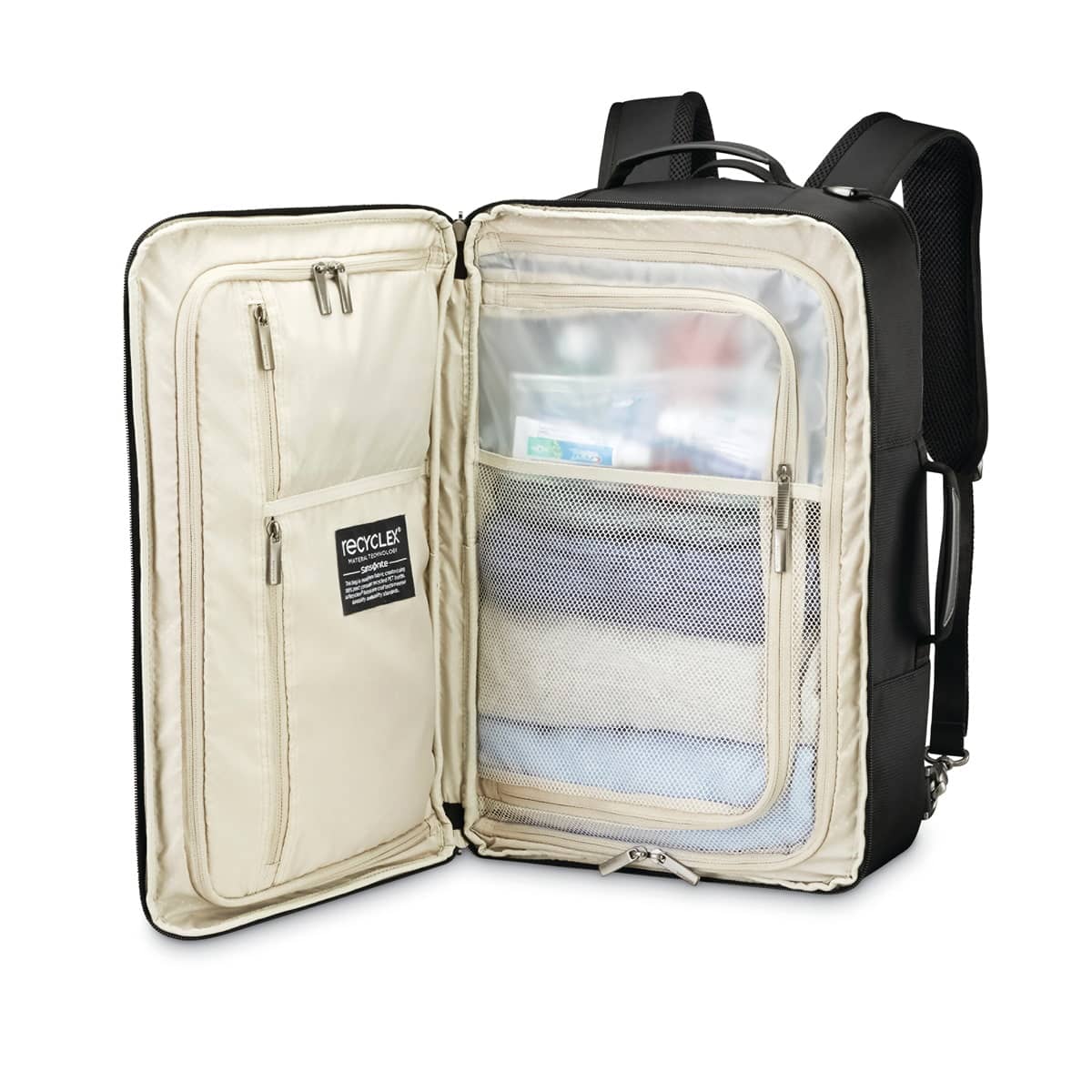 Can't decide between a suitcase and a backpack? You don't have to. Samsonite's Silhouette 17 Backpack offers the best of both worlds in a streamlined, contemporary design, ideal for modern travelers.
Made from the brand's proprietary Recyclex, a sustainable fabric created using 100% recycled PET bottles, this durable all-in-one bag makes packing a breeze thanks to its convenient split-case opening and meticulously organized interior. Unlike top opening rucksacks, this backpack opens up like a suitcase, revealing a spacious main compartment for easy, organized packing – all while meeting carry-on size requirements. An adjustable garment compression panel minimizes wrinkling and the WetPak pocket keeps wet items separate.
Additionally, business travelers will appreciate the backpack's 3-way convertible design, which enables it to be comfortably carried as a backpack, briefcase, or shoulder bag, as well as its smart tech-oriented features, including a fully padded laptop pocket and a removable TecKit complete with USB pass-through & wireless charging capabilities.
Briggs & Riley Convertible Duffle Backpack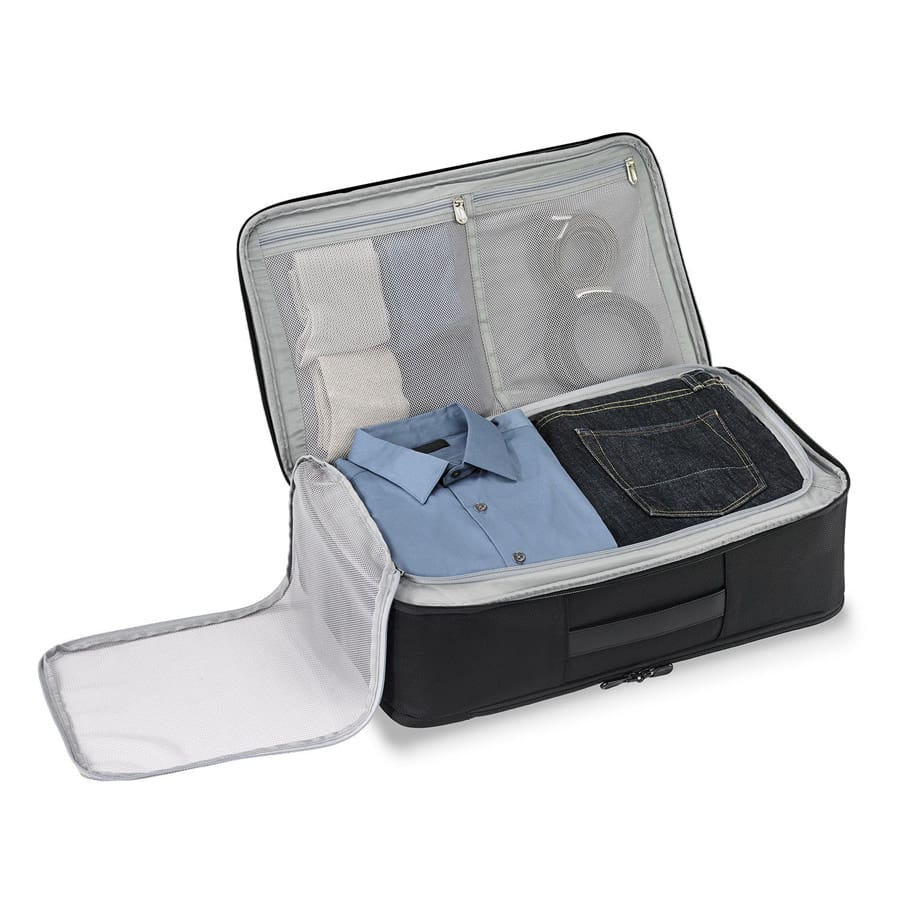 Style and practicality meet in this lightweight carry-on backpack from Briggs & Riley. Constructed from rugged moisture-resistant 1680D ballistic nylon, the Convertible Duffle Backpack withstands whatever you throw at it while still managing to look sleek.
It's a beautiful, sturdy bag with lots of room to store your essentials, but perhaps the greatest thing about it is its versatility – it morphs from a horizontal duffle to a vertical backpack thanks to a pair of adjustable, padded straps hidden in the back zippered compartment.
The three-section interior design, with quick-access laptop storage and an array of intuitive pockets, makes it easy to pack and stay organized on the go. A signature SpeedThru™ pocket keeps your valuables safe and on hand at security checkpoints, while an RFID blocking pocket protects your passport and credit cards against identity theft/electronic pickpocketing. Top it all off with Briggs and Riley's legendary lifetime warranty and you've got yourself one of the best carry-on backpacks on the market.
NOMATIC 40L Travel Bag
Durable, weatherproof, and chock-full of innovative features, it's no wonder travelers around the world are obsessed with the NOMATIC 40L Travel Bag. Designed for trips of up to 7 days, this sleek bag is the max carry-on size and transitions from backpack to duffle in a snap thanks to its patented strap system.
But probably what makes the NOMATIC backpack one of the best carry-on travel bags around is its unrivaled compartmentalization. Separate pockets for shoes, clothes, gadgets, and everything in between provide versatile, efficient organization of all your belongings while also allowing you to pack more in less space. Meanwhile, a hangable laundry bag keeps dirty clothes separate while traveling and the TSA-ready flap lets you breeze through security checkpoints without removing your tech.
Topo Designs Travel Bag Roller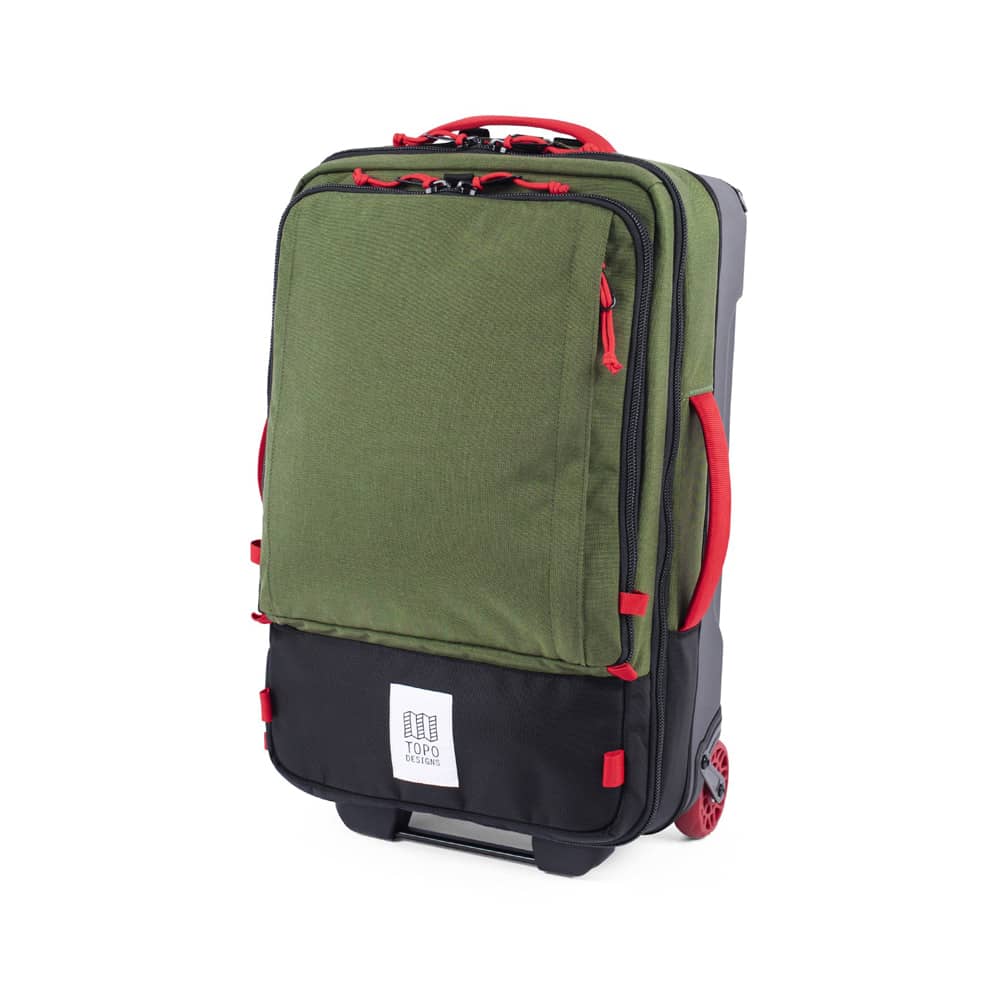 Easily the most adaptable carry-on backpack on the list, the Travel Bag Roller Premium stands out for its rugged-meets-stylish design and heavy-duty wheels, which add a whole new level of convenience to your ride.
Part backpack, part rolling suitcase, it's a clever choice for multi-taskers and one-bag adventurers alike. Complementing its 1000D nylon exterior are numerous easy-access pockets and a variety of handles so you can carry it in different ways.
Built to make traveling easier, this hybrid Topo Designs piece also scores big on organization, with two spacious internal compartments, as well as multiple mesh and zippered pockets for smaller items.
WANDRD HEXAD Access Duffle Backpack
Whether on outdoor adventures, photography trips, or flights to Europe, protect your gear on the go with this ultra-organized bag from WANDRD. Combining dedicated camera compartments with separate areas for storage of clothes and accessories, the carry-on-sized HEXAD Access Duffel Backpack leaves no desire unfulfilled.
Complete with 3 large sections and a variety of thoughtful pockets, this well-engineered backpack/duffel hybrid is loaded with utility. Not only that, but it's made from strong, weather-resistant materials and comes with a convenient clamshell opening, plus dual side access, for easy packing & retrieval of items. Inside, there's space for everything, including a padded laptop sleeve, an expandable laundry pocket, and a fleece-lined phone pocket. Internal mesh dividers make organizing a snap, while grab handles on all four sides add to the bag's versatility.
AER Travel Pack 2
Designed with smart packers in mind, the AER Travel Pack 2 offers a thoughtful aesthetic and just the right amount of organization while meeting carry-on luggage size restrictions.
Durable, lightweight, and tastefully understated, it's just as good for one-bag travel as it is for urban exploration, or as a practical cabin companion on longer trips. Actually, we'd go as far as to say it wouldn't look out of place at the office, either.
Made from heavy-duty 1680D Cordura ballistic nylon, this 33L travel pack is tough as nails and comes with a roomy quick-access laptop pocket and a separate compartment for shoes or dirty laundry. The main compartment opens up flat for effortless packing, and a variety of pockets keep all your gadgets in place during transit. Padded top and side handles provide versatile carrying options and there's also a back panel pass-through so you can slide it over the handles of your suitcase.
Tortuga Outbreaker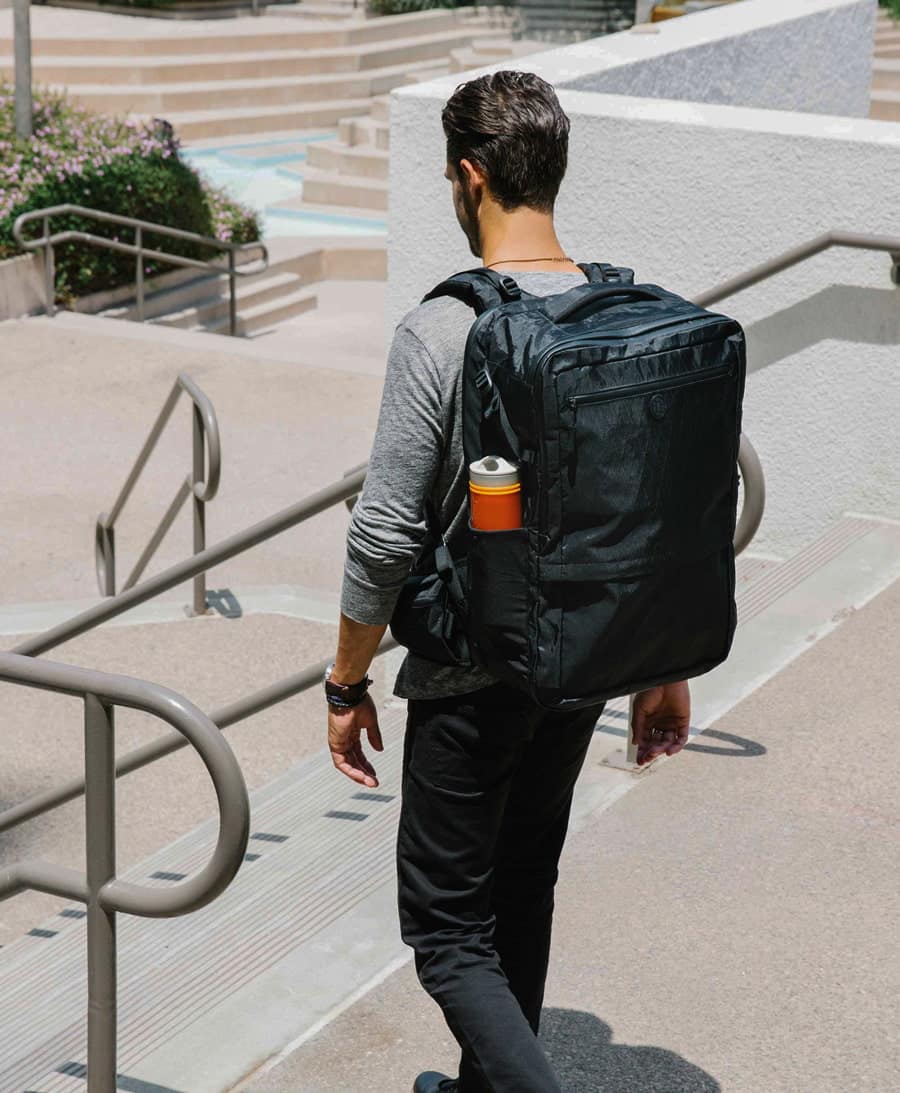 Even at 5.1 lbs (2.3 kg), the 45 L Tortuga Outbreaker is still one of the most comfortable-to-wear options around. But that's hardly its main selling point. Crafted from super-durable waterproof sailcloth and filled to the brim with organizational features, this maximum-size carry-on backpack is the perfect suitcase alternative for medium-length trips.
Its smart adjustable suspension system, along with the padded hip belt and soft, sweat-wicking foam on the back, keeps you comfortable in transit, while the well-designed front panel and lay-flat laptop compartment make sure you have all travel essentials at your fingertips.
Just as important, the pack has room for a week's worth of clothes in its huge clamshell-style main compartment and sports lockable, weather-resistant zippers for added security.
Eastpak Tranzpack Cnnct Accent Grey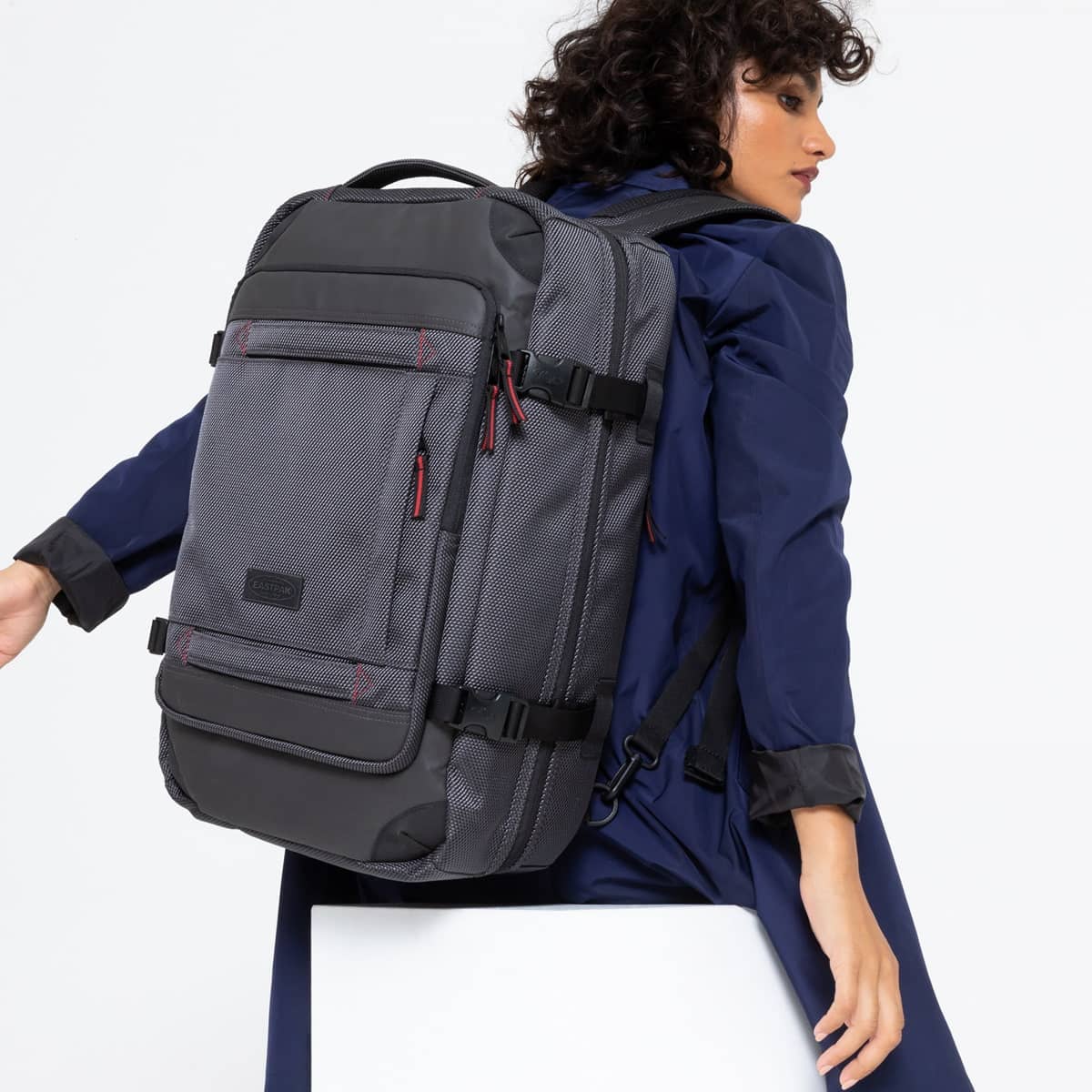 Another backpack that opens like a suitcase, the Eastpak Tranzpack CNNCT Accent Grey is a versatile pick with more than enough room for a few days worth of travel essentials.
Crafted from water-resistant 100% polyester in a subdued urban-ready grey with bright red accents, it features two main compartments and a handy front pocket housing a built-in document organizer and a padded laptop sleeve for 17″ devices. The combination of grip handles and tuck-away padded shoulder straps allows this carry-on size case to be carried multiple ways and a protective coating adds to its durability.
GORUCK GR3
If you're looking for a gigantic travel pack that fits a ton while still falling into the cabin size category, this is it. Say hello to the largest possible carry-on: the GORUCK GR3.
Featuring 45L of storage, a rugged 1000D nylon Cordura construction, and a bombproof laptop compartment, this beast is ready to go anywhere and do anything. The extra padded shoulder straps and removable hip belt are extremely practical, giving that this is a bag designed to handle over 400 pounds. Other nifty details include silent YKK zippers, MOLLE bottom attachment, and an integrated hydration system.
Inside, various pockets, two side compression straps, and a Velcro back panel for additional packing cubes, allow for optimized organization of contents during travel.
The Large Expandable Knack Pack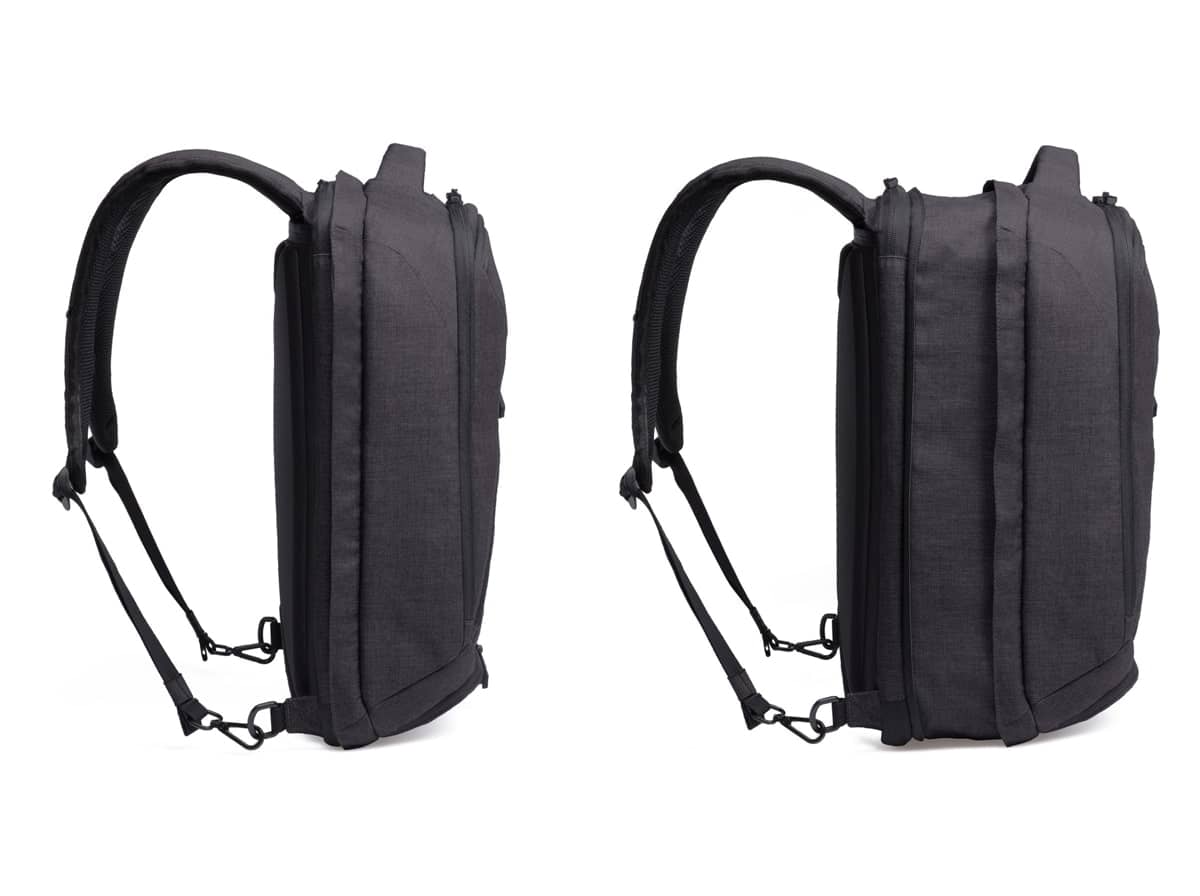 Take the versatility of an everyday bag and the convenience of a travel backpack and you get the Large Expandable Knack Pack. It's lightweight, good-looking, and can fit up to 3-4 days' worth of clothes inside a carry-on compliant size.
Wrapped in durable, water-resistant fabric, it features a separate expandable suitcase compartment, a side-zip padded, fleece-lined sleeve for 17″ laptops, and ample pockets for organizing your essentials. Your passport and business cards are best stored in the easy-access, front triangle pocket complete with RFID-blocking lining, and there's also a cleverly designed water bottle pocket hidden on the side.
By far this pack's best feature is its expandability. With a quick unzip it enlarges to almost double in size from 22 liters to a max of 37 liters, making for a handy travel accessory for frugal explorers, wandering professionals, and everyone with an appetite for the one-bag life.