This post contains affiliate links, which means we may receive a small commission, at no additional cost to you, if you make a purchase through these links. See our full disclosure here.
Coffee and travel go hand in hand. Whether it's waking up for that 4 am flight departure, dealing with jet lag when in a different time zone, or recharging your batteries after a long sightseeing tour (or a challenging hike through a national park), our days on the road are fueled by caffeine.
Coffee-loving travelers know that cuppa joe can do wonders for their energy level, focus, and mood on an action-packed day. Unfortunately, finding good coffee when visiting a new place can be a real challenge, and so can brewing your own espresso on the road. Therefore, it's essential to gear up properly and make the most of your trip with the best on-the-go coffee tools out there.
From portable, innovative espresso makers to cool travel mugs, these top 15 coffee gadgets and accessories are bound to satisfy your caffeine cravings, whether you're out on the road, enjoying the great outdoors with friends and family, or just want to escape the poor brew most hotels serve.
Some of these items are an excellent addition to anyone's list of travel gadgets, others make for unique gifts for the coffee addict in your life, but most of them have been designed to help you brew the perfect cup of coffee wherever the road may take you.
Hand-Powered Portable Espresso Maker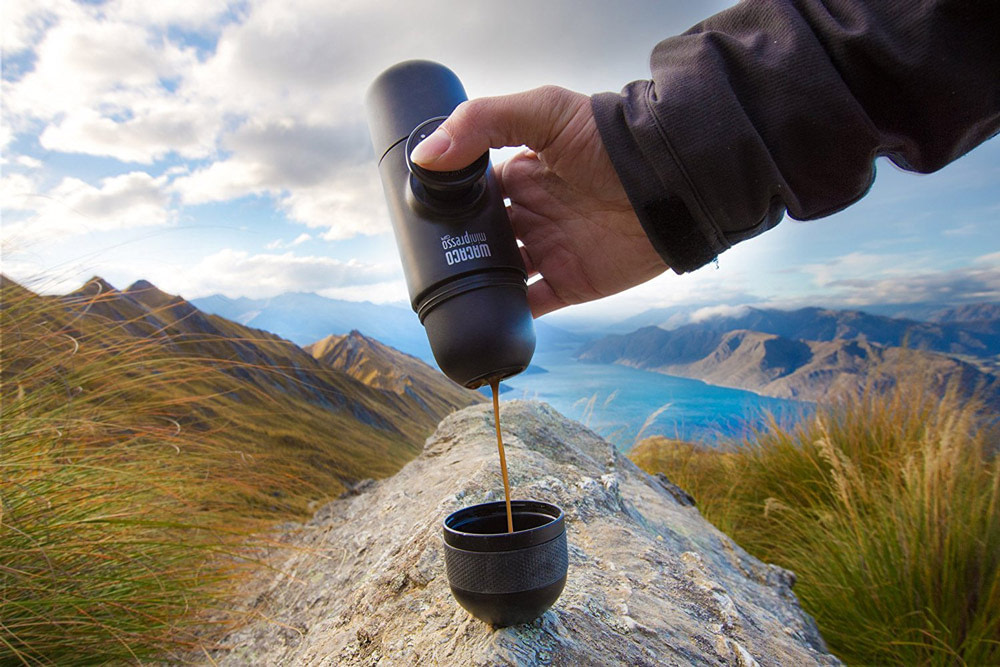 Thanks to its sleek, compact, and lightweight design, Minipresso GR is the perfect accessory for traveling coffee lovers. The device features a semi-automatic piston capable of extracting espresso at a proper pressure of 8 bars, yet it's small enough to fit in your backpack or suitcase while on the road.
As far as hand-powered portable espresso makers go, this is a tough one to beat, making it possible for you to pump out a shot of rich, foamy espresso anywhere, anytime.
Manual Coffee Grinder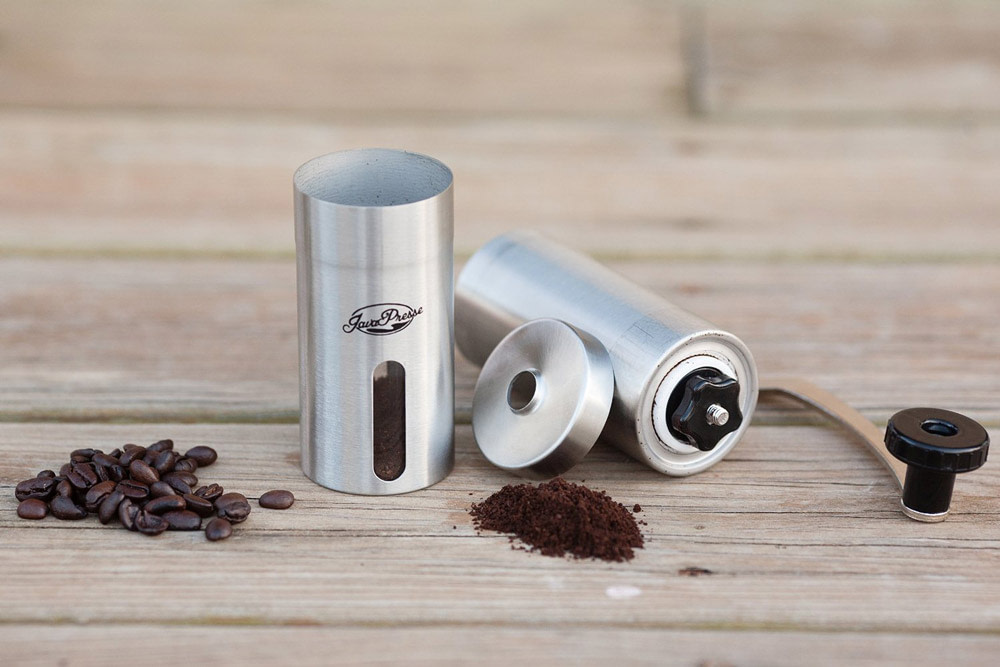 Want to combine your love for travel with your passion for coffee? Complete your coffee travel kit with a manual coffee grinder that allows you to enjoy freshly ground beans wherever you are. Who knows when you will stumble upon a coffee plantation somewhere along the way?
With over 18 grind settings, this innovative product by JavaPresse Coffee Company is ideal for both fine-ground espresso and coarse-ground french press, plus, its compact size makes it easy to carry around.
Handpresso Pump Set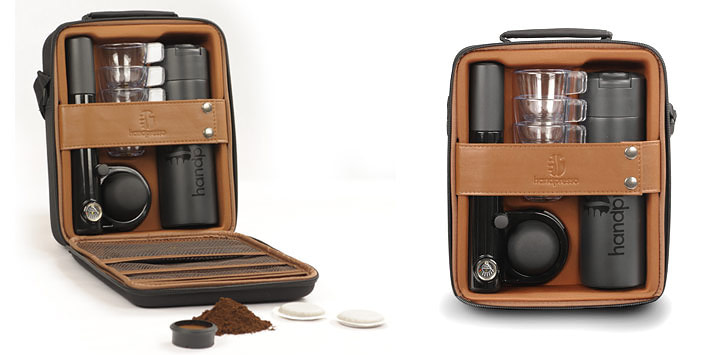 Whether you're looking for gift ideas for your coffee-obsessed friend or just want to treat yourself to some cool coffee gear for the road, the Handpresso Pump Set is sure to be a hit.
Wrapped up in a stylish, practical bag, the set contains a manual espresso maker, 4 unbreakable cups, and a pretty cool single-hand thermos-insulated flask, which keeps the water hot for more than 3 hours. And the best part is that you can use both their E.S.E. pods, as well as ground coffee of your choice.
The World Atlas of Coffee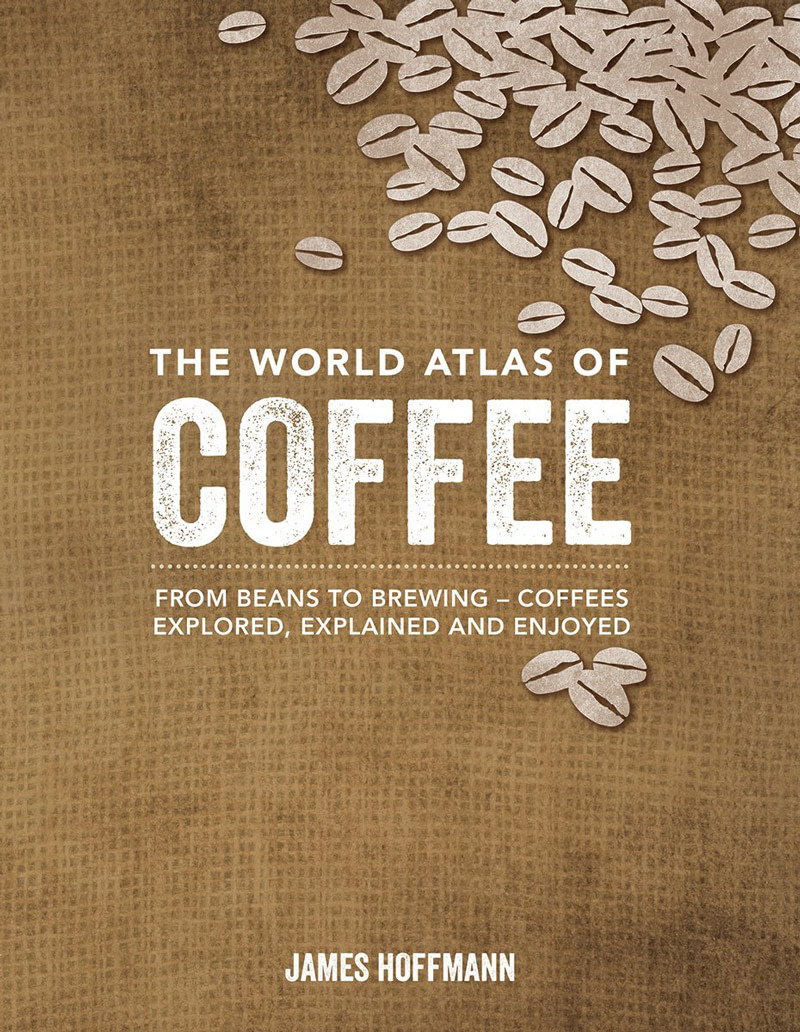 What better way to endure a long flight or a boring train ride than with a great travel read? The World Atlas of Coffee takes you on a tour of some of the most interesting coffee-growing regions across the world and immerses you in the history and aromas of this tasty, popular beverage.
The book is written by the 2007 World Barista Champion, James Hoffmann, and it's beautifully illustrated with vibrant photography.
Starbucks App

A reliable travel companion for coffee addicts on the road, the Starbucks app not only helps you find stores, but it also lets you order and pay for beverages in advance (using your smartphone) and pick them up without waiting in line. Loyal customers can also take advantage of the free reward program, which enables them to collect Stars and earn free drinks or food items.
With its clean and simple user interface, this coffee app is excellent for city breakers and business travelers seeking to use their time wisely, whether they're using an Android or iOS-based device.
Temperature Adjustable Mug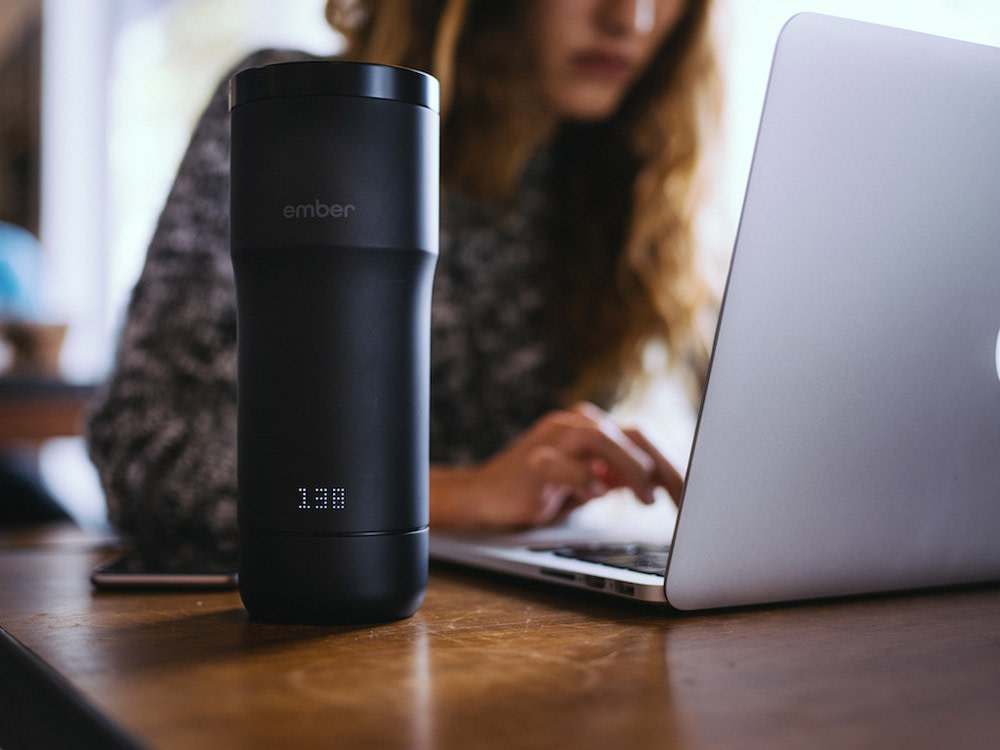 Ember bills itself as "the world's most advanced mug", and, considering its sleek, simple design and interesting features, it's hard to argue.
Designed by San Francisco-based studio Ammunition, this temperature-adjustable mug not only lets you cool down or warm up your coffee for up to two hours, but it can also be controlled remotely by an app.
The smart Ember cup fits perfectly in a traditional cup holder, which makes it a great in-car gadget for your next road trip.
Coffee Joulies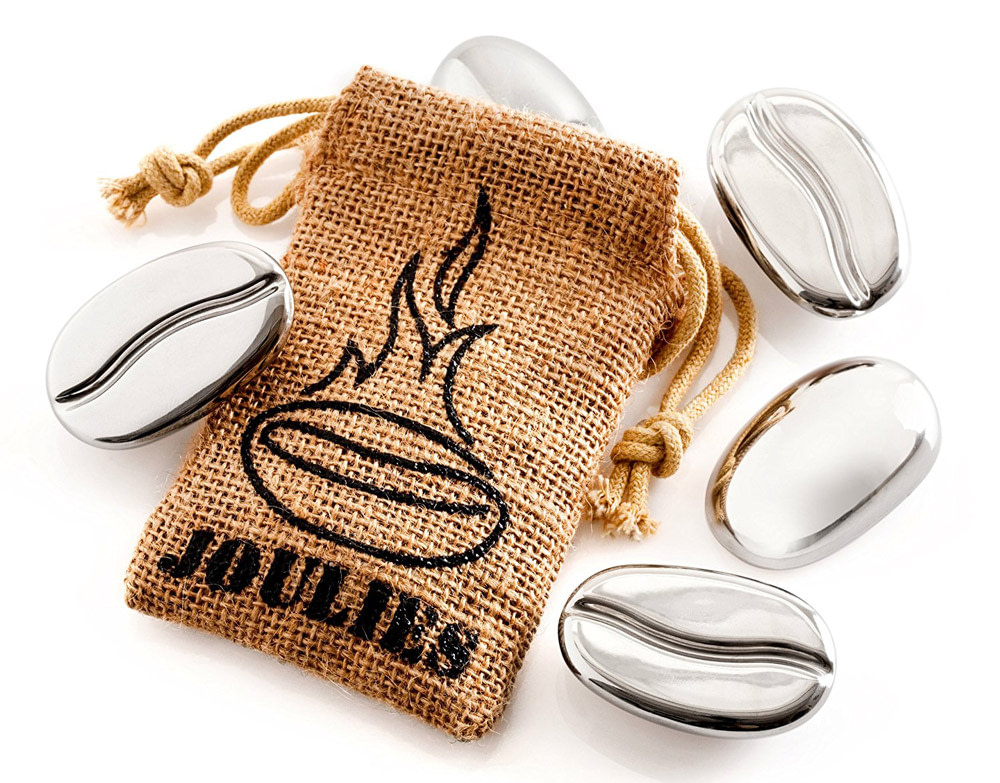 Filled with an innovative phase change material that melts at 140°F, these cute coffee joulies have been designed to cool down your coffee and keep it at the perfect temperature for a longer period of time. When put in your hot coffee, each polished capsule absorbs heat, stores it inside, and then releases it when the beverage reaches the ideal temperature in order to keep it that way for longer.
A Coffee Joulies Set of 5 includes 5 glossy stainless steel beans, an instruction card, and a lovely, rustic-style carrying pouch.
Nomad Espresso Machine
Paying tribute to the classic hand-operated lever machines, the Nomad needs no electricity or batteries to deliver authentic Italian coffee drinks with full, rich crema. Created by UniTerra, this top-notch espresso maker is friendly with the environment and can be easily taken along on camping trips, picnics, or other outdoor adventures, thanks to its small size and weight.
In other words, this is the kind of coffee gadget that can transform any traveler into a barista on the road!
Portable Cold Brew Coffee Maker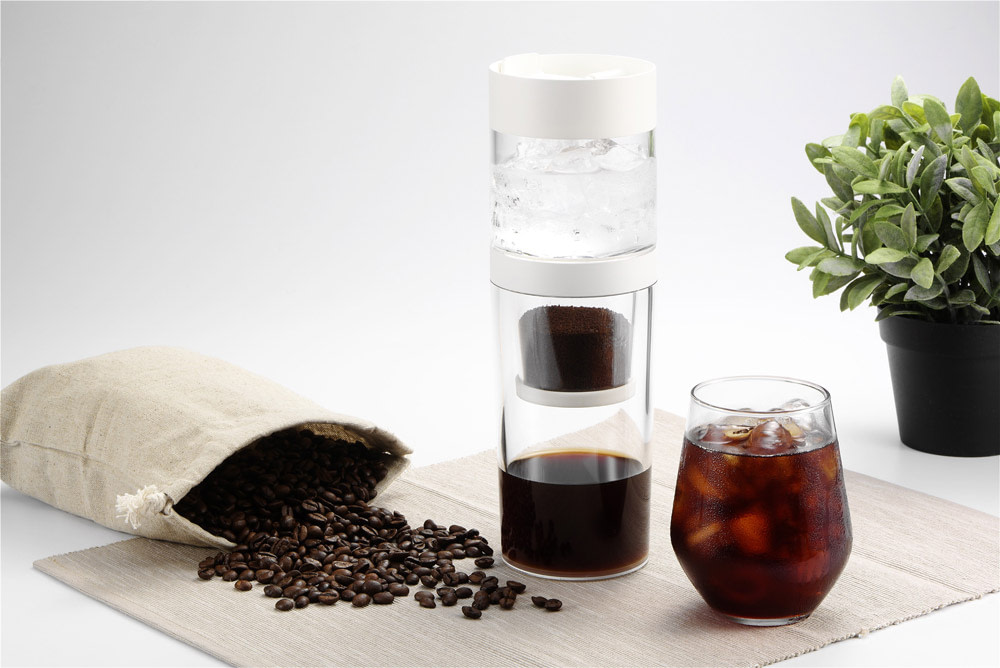 Cold brew is one of the biggest coffee trends right now, so why not give it a go? Simple, elegant, and easy to use, DRIPO follows the principles of Japanese/Dutch style Slow Drip coffee, promising smooth, flavorful, and healthier beverages without the bitter acids. Weighing in at only 1.2 pounds, it is easy to carry around and could be a great choice for cold brew coffee lovers on the go.
This all-in-one ice drip coffee maker works with any brand of coffee and comes with a built-in portable coffee cup, so you can take your java with you everywhere you go.
Stylish Stainless Steel Thermos
If you're a fan of the outdoors, a thermos is one of the best investments you can make for those trips in the wilderness. Thanks to its vacuum-seal technology and double-wall construction, coffee stays hot or cold for as long as 24 hours in the UPSTYLE Couple Thermos.
Additionally, this stainless steel travel mug is leakproof and has a stylish, compact design, which makes it easy to carry along on your daily adventures, be it a glamping trip, an outdoor music festival, or a sightseeing city tour.
Innovative Reusable Coffeebrewer
Brewing coffee on the road has never been easier! Combining the convenience of instant coffee with the quality of a french press brew, the Grower's Cup Coffeebrewer is probably one of the most ground-breaking coffee concepts out there.
The product comes with 8g of freshly ground single-estate specialty coffee, which it brews in its own bag. All you have to do is pour some hot water into the pouch, wait for 4 – 6 minutes, and you've got yourself a nice cup of gourmet coffee.
The Coffeebrewer is made from paper and can be reused a number of times.
World's First Portable All-In-One Coffee Maker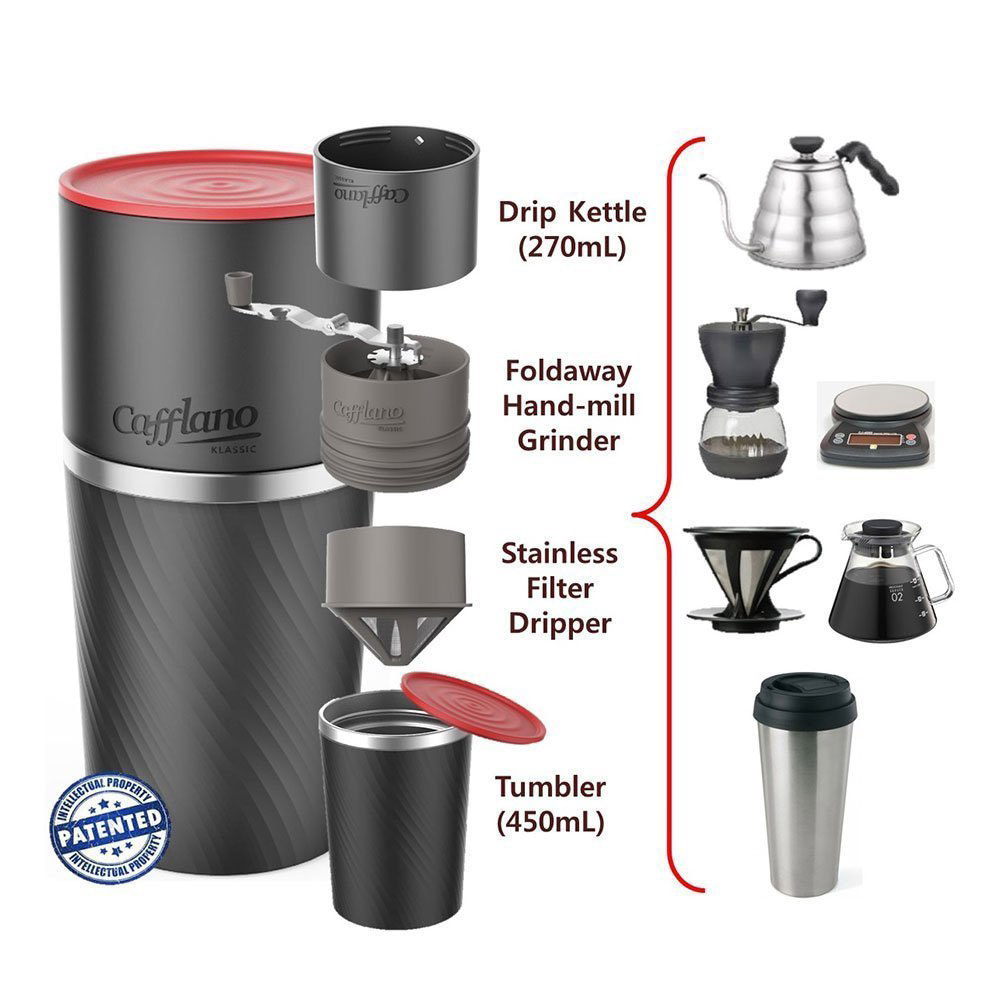 They don't call it the "world's first portable all-in-one coffee maker" for nothing. Cafflano Klassic incorporates all the required coffee brewing tools into one elegant, portable, and compact device, sure to satisfy any serious caffeine lover on the move.
Although it looks like a typical travel mug, this smart coffee gadget includes everything from hand grinder and built-in filter to water pourer and an insulated cup, ideal for outdoor use.
This really is the ultimate coffee maker for travelers.
Chewable Coffee
If you want to save space, time, and energy while traveling, but still need to get your caffeine fix in one way or another, give chewable coffee a shot. Made with cold brew coffee and other high-quality ingredients, GO CUBES promises to provide energy on the go, without the need for additional tools.
This makes them ideal for hikers, cyclists, and those who are constantly on the move and don't like to waste too much time brewing coffee on the trail. A pack contains 4 assorted gummies in flavors such as mocha, pure drip, and latte.
Handmade Cold Brew Coffee Kit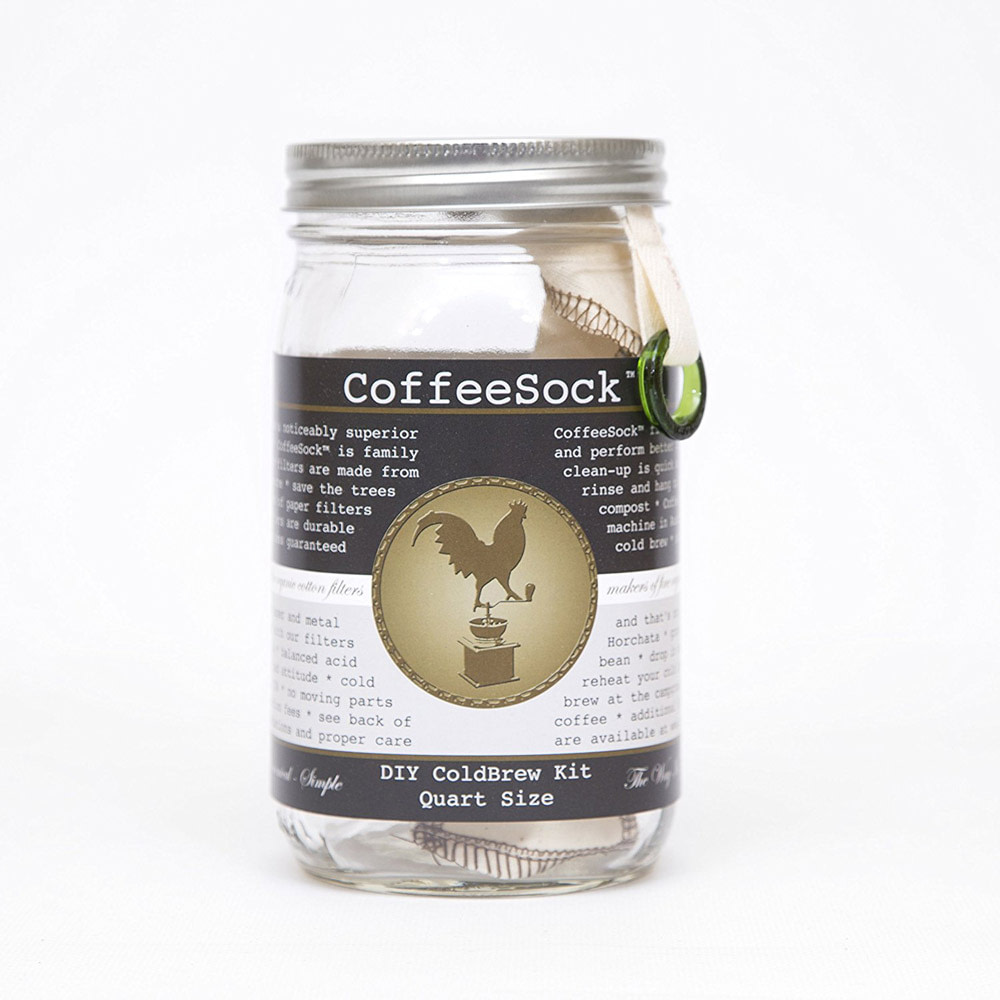 A smart alternative to complicated coffee makers, the cold brew kit by CoffeeSock can make 6 cups of smooth, delicious coffee within 6 to 20 hours.
Consisting of a mason jar and an organic cloth filter, this eco-friendly device is perfect for travel and very easy to use. Simply add coarse coffee grounds into the sock, fill the mason jar with cold water, and allow to soak for a couple of hours or overnight.
In order to remove accumulated coffee oils from the filters, you'll have to boil them in fresh water once every 4-6 weeks, but it's a small price to pay for good coffee when camping.
Exquisite Horn Shaped Coffee Mug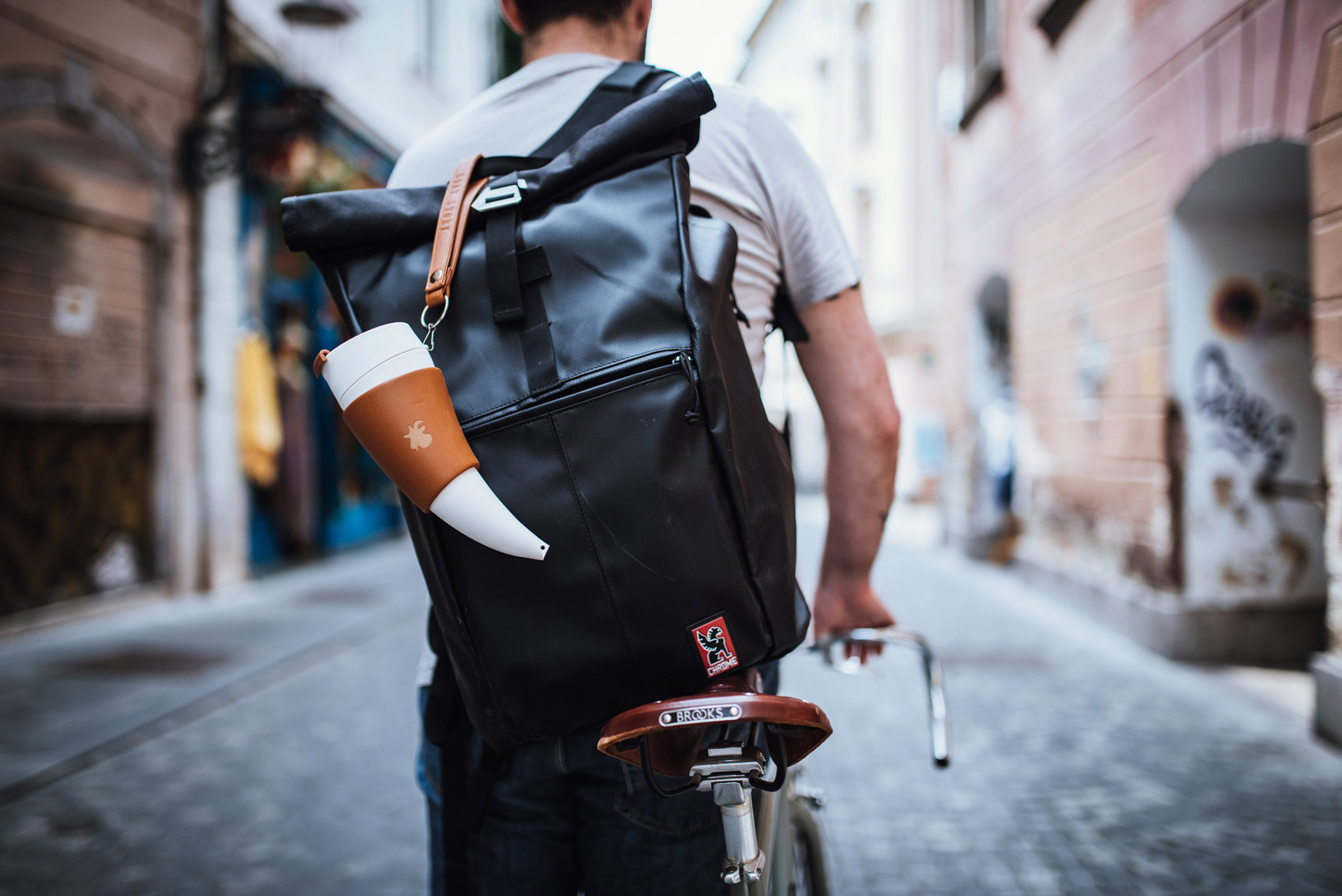 The perfect companion for all those who like to travel in style, the GOAT STORY Coffee Mug features an eye-catching, ergonomic horn-shaped design that pays tribute to the first coffee discovery.
Made of top-quality materials, this tumbler is so stylish it can also be looked at as a fashion accessory. Its sleek leather holder can be easily transformed into a stand, while the two elegant straps make it convenient to carry your coffee anywhere you go, whether across your shoulder or attached to your bag.
This horn-shaped coffee mug is 100% leakproof and BPA-free.