This post contains affiliate links, which means we may receive a small commission, at no additional cost to you, if you make a purchase through these links. See our full disclosure here.
The only thing harder than booking your next trip is picking the right carry-on luggage for the journey. Garment bags are ideal for transporting formal attire, whereas for trips that entail hiking mountains, nothing beats a well-designed carry-on backpack that you can also use once you arrive at your destination. Traveling with your laptop? Many designs these days sport padded exterior compartments, making it easy to access your device without the need to open the entire bag; some even come with removable batteries for on-the-go charging.
Then there's your personal style to consider: are you the traveler who likes a clean, minimalist suitcase, or the kind who wishes to turn heads with a show-stopping designer piece? Do you like a futuristic metallic finish, or incline towards a matte surface that minimizes scratch marks?
Whether you prefer your cabin companion stylishly functional, friendly to the environment, exceptionally durable, or all of the above, we are pretty sure you'll find exactly what you're looking for in the list below.
Here are our handpicked recommendations for the best carry-on luggage in 2022 for every travel scenario. Bon voyage!
Best Carry-On Luggage in 2022: Monos Carry-On Pro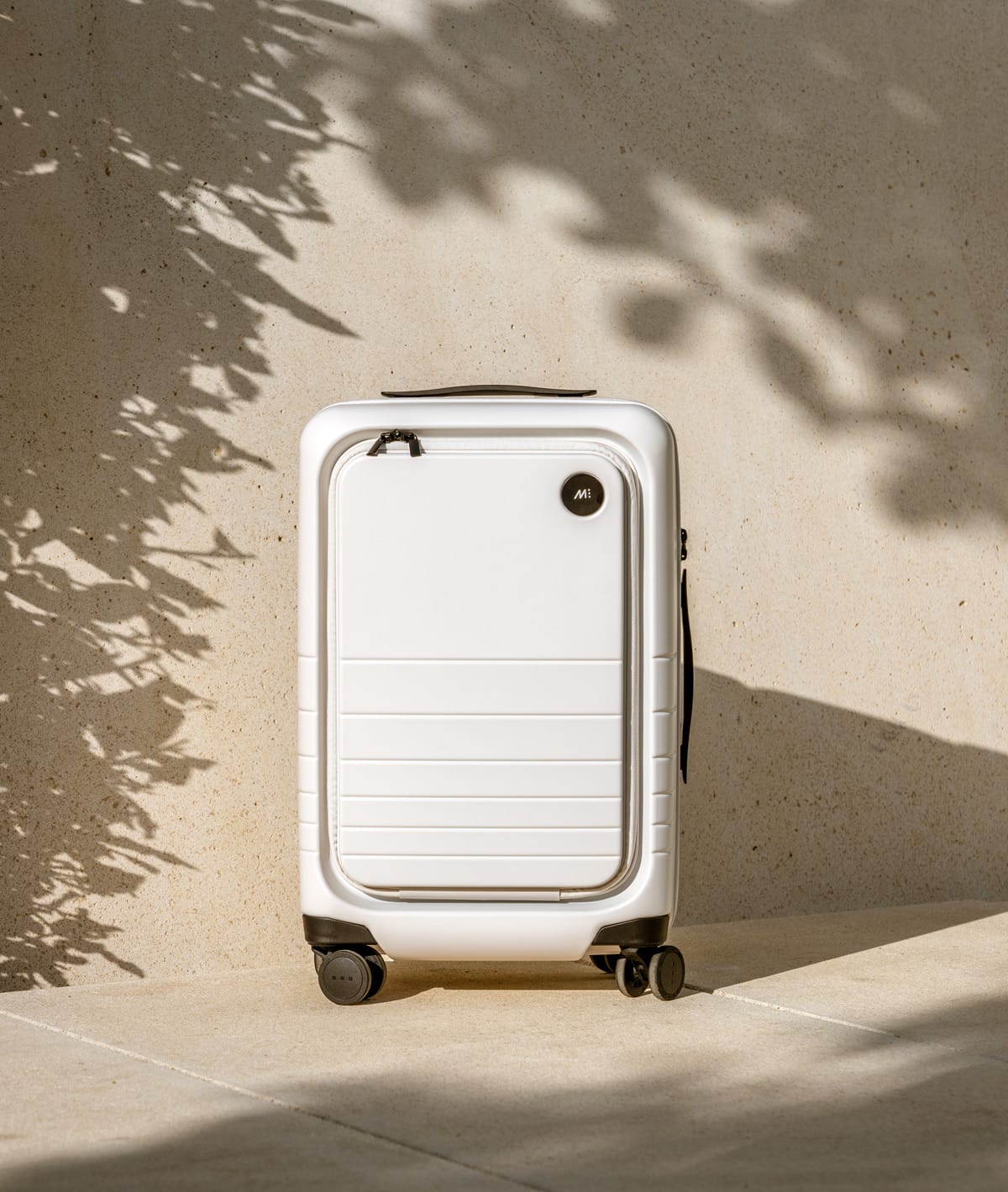 Lightweight, contemporary, and beautifully functional, the Monos Carry-On Pro is the perfect accessory for the 21st-century traveler. With an unbreakable polycarbonate shell, a padded exterior compartment for easy access to trip essentials, and the highest quality wheels (Hinomoto) in the luggage industry, this stylish piece really is the full package.
Canadian luggage brand Monos may be a newcomer to the scene, but this thoughtfully designed suitcase proves it's here to stay. Characterized by noteworthy attention to detail, its simple, minimalist aesthetic is complemented by quality materials and intuitive features like the soft, anti-microbial fabric lining its interior or the reimagined ergonomic handle with the release button on the underside.
Perhaps the bag's most brilliant detail is the uber practical exterior pocket, which can fit a 15-inch laptop, as well as documents, chargers, and other small on-the-go necessities, making it easier to get through TSA checkpoints.
Best Carry-On Luggage for Men: Navigator Carry-On 37L
While luggage is generally gender-neutral, we think the features, compartmentalization, and silhouette make the Nomatic Navigator Carry-On 37L the perfect cabin suitcase for men on the go.
This polished two-wheeled bag has room for both your clothes and tech within its neatly organized sections. A separate laptop compartment accommodates 17-inch devices in a padded sleeve, as well cables, power banks, and other small gadgets thanks to a combination of mesh and zipper pockets.
Built from water-resistant materials, with a hard Makrolon plastic shell, the bag looks like a sleek backpack on wheels but has all the strength and practicality of a suitcase. Complete with built-in compression straps and zippered pockets, the main compartment fits up to 5 days' worth of outfits and opens wide for easy packing and access to items. Another big advantage is that you can expand its capacity from 37L to 45L whenever you need some extra packing space.
Best Carry-On Luggage for Women: Béis Soft-Sided Collapsible Carry-On Roller
The perfect women's carry-on luggage must be equal parts style and substance, and this minimalist yet highly functional bag is a superb interweaving of the two.
Part of actress Shay Mitchell's new luggage line, the Soft-Sided Collapsible Carry-On Roller is outfitted with high-quality Hinomoto wheels, a padded handlebar, and a built-in weight indicator. The spacious interior keeps your belongings in order with a range of well-thought-out pockets for keys, a 15-inch laptop, and even your shoes and dirty laundry.
The most noteworthy specification, however, is its flexible body, which not only expands for extra packing capacity when you need it but also collapses to a smaller size for easy storage when not in use.
Best Carry-On Luggage for International Travel: Horizn Studios M5 Cabin Luggage
Loaded with tech features, enhanced with a personal travel assistant, and perfectly sized to comply with international carry-on size requirements, you'd be hard-pressed to find a smarter luggage piece for short trips abroad than this tough, beautiful carry-on bag from Horizn Studios.
Designed especially for frequent flyers, the M5 Cabin Luggage is crafted with premium aerospace-grade polycarbonate and features an easy-access water-resistant vegan front pocket – perfect for holding a 15" laptop and other journey essentials.
The M5 is among the best carry-on luggage in 2022 because it has it all – smart design, innovative features, and killer looks. Plus, if you want a bag that fits the carry-on size restrictions of budget airlines across Europe and beyond, this is it!
Best Hardside Carry-On Luggage: Away The Carry-On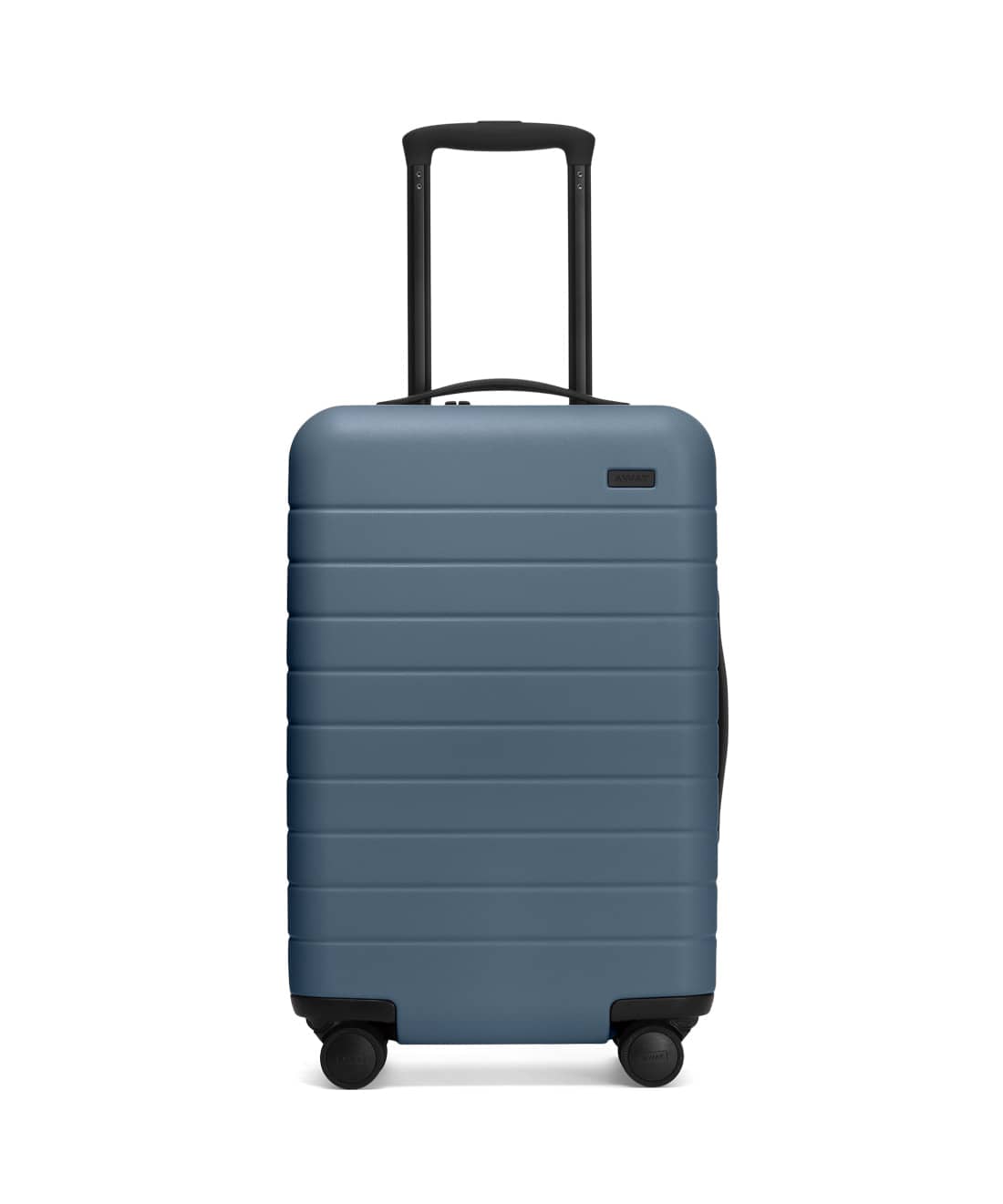 With its light and sturdy polycarbonate shell, smooth 360° spinner wheels, strong YKK zippers, and a choice of handles for easy lifting and sliding, the Away Carry-On remains our favorite hardside piece.
The flexible exterior has a matte texture that makes scruffs and scratches less visible and is designed to absorb any external pressure and spring back into shape, while the built-in TSA-approved locks give you peace of mind while flying. Equally well thought out, the inside features a clamshell design with a roomy zippered compartment and a compression system for efficient packing on the other side.
Then there's the aesthetic part: Away is the brand that has made stylish luggage available to all. With their clean lines and minimalist look in chic, contemporary colors, their bin-friendly suitcases are among the most beautiful on the market. On top of that, they come with a 100-day trial, a limited lifetime warranty that covers any functional damage to the shell, wheels, handles, and zippers, and are sized to fit in the overhead bin of most major airlines.
Best Softside Carry-On Luggage: Samsonite Eco Advance 22 x 14 x 9 Carry-On Spinner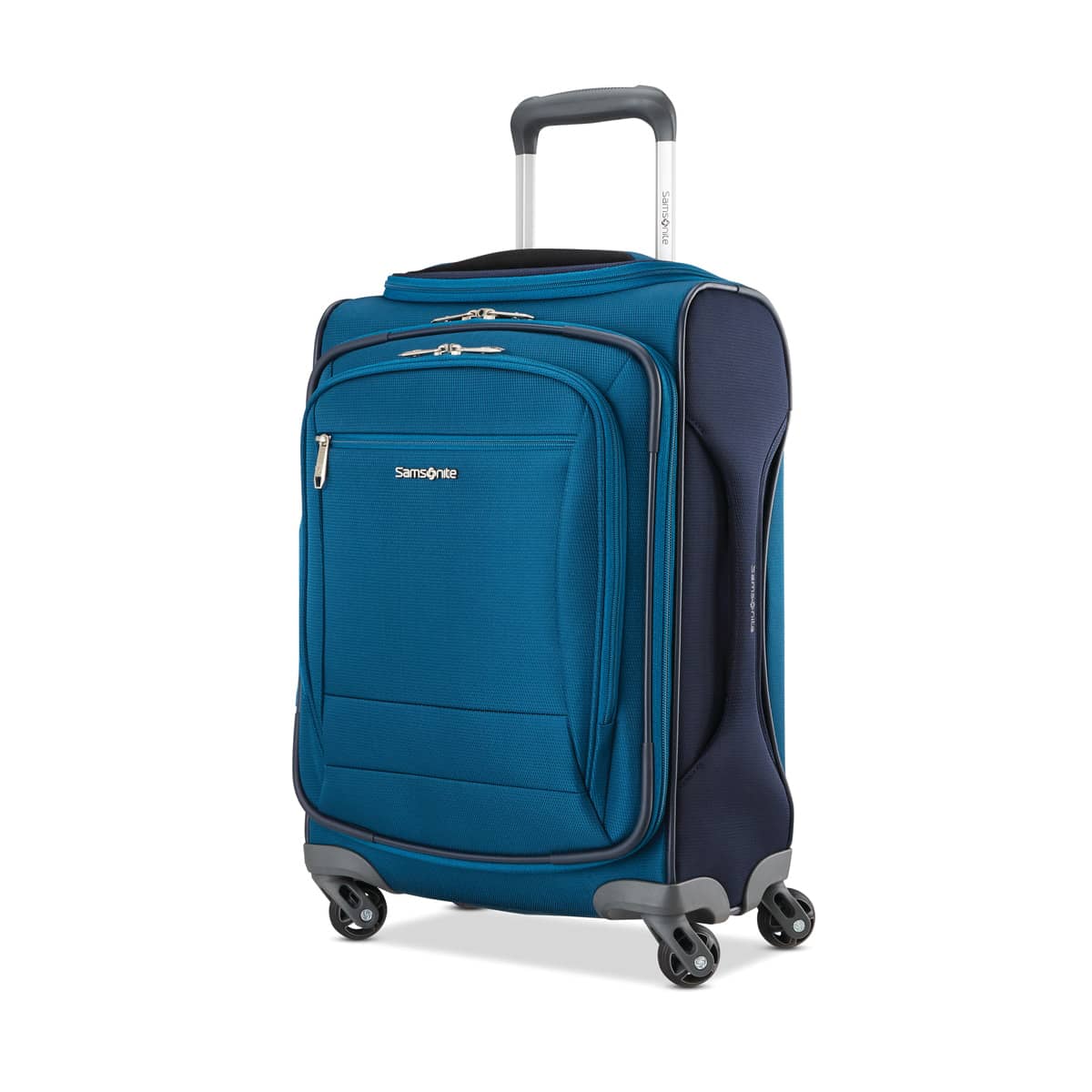 Samsonite makes some of the most reliable luggage out there, and the Eco Advance 22 x 14 x 9 Carry-On Spinner is no exception.
This durable, feature-packed suitcase is made of Recyclex, has a built-in USB Port for charging on the go, and a smart top pocket perfect for storing your phone, wallet, and toiletries. Apart from that, the comfortable handle allows the suitcase to be adjusted in 1″ increments, the interior lining is made from 100% recycled bottles, and its buttery smooth wheels make the trolley a joy to roll around.
Best Carry-On Luggage for Millennials: July Carry On Light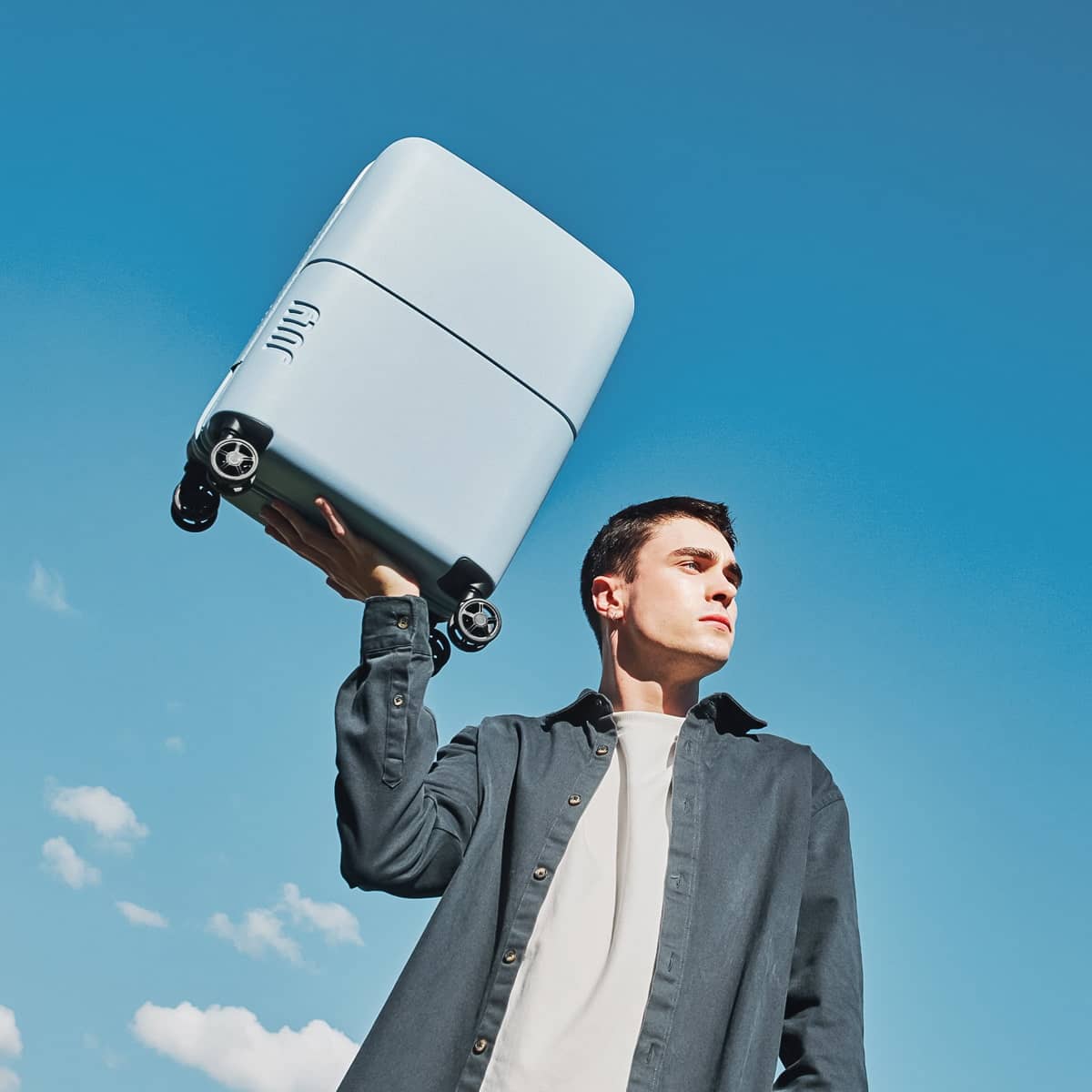 Straight from Australia's capital of cool, July's Carry On Light checks all the boxes of today's travelers. It's got a tough German polycarbonate shell, simple yet effective organization, cloud-like lightness, and a clean, contemporary design that's easy on the eyes. In fact, at just 1.8 kg (3.9 lbs), it is the lightest rolling suitcase in the world.
Available in a multitude of Millennial-inspired colors, including Sand, Forest, and Shadow Lavender, this hard-shell spinner will keep you on-trend during your next adventure. Its silent 360° double spinner wheels travel smoothly on all surfaces, and you can also personalize your case with a custom print that promises to last as long as your luggage. Last but not least, a dual-bar 3-stop telescopic handle and TSA-approved lock add to its utility.
Best Luxury Carry-On Luggage: RIMOWA Cabin Twist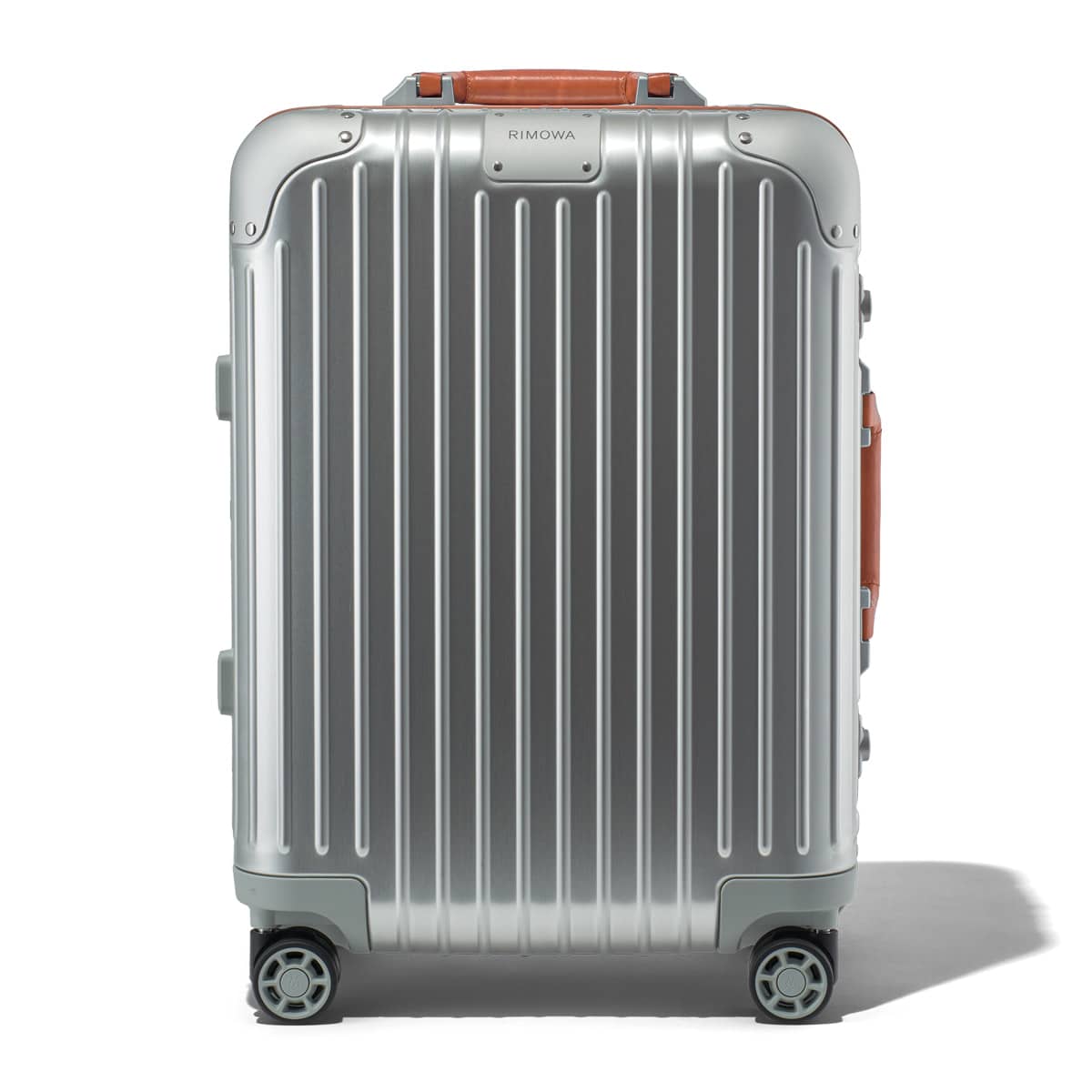 RIMOWA is synonymous with high-end, innovative hard case luggage, and this gleaming carry-on bag in anodized aluminum is no exception.
Just like their iconic Original Cabin, the RIMOWA Cabin Twist has all the makings of the perfect wheeled carry-on: a high-end multi-wheel system, stageless telescopic handle, and TSA-approved locks. Moreover, its anodized aluminum shell is engineered with German precision to offer you the ideal balance of lightness and sturdiness, the patented Flex-Divider system keeps contents organized during transit, and the refreshed color-matched leather details add a refined touch to an already beautifully-crafted piece of luggage.
Best Affordable Carry-On Luggage: Level8 Textured Carry-On 20″
Don't let the affordable price tag fool you; this handsome rolling luggage piece is made from strong, high-quality materials and comes with all your favorite features.
A textured Makrolon polycarbonate shell keeps the Level8 Textured Carry-On 20″ lightweight, waterproof, and resistant to scratches, while on the inside, two zippered compartments, complete with tie-down straps and pockets for accessories, lead to efficient packing and organizing. The durable 360° spinner wheels with an anti-shock design, coupled with an aluminum alloy telescopic handle, ensure a smooth ride, and there's also a TSA-approved combination lock for peace of mind.
Throw in a choice of seven colors, including black, gray, and olive, and you have one of the best affordable carry-on luggage pieces around.
Best Carry-On Luggage for Frequent Travelers: Travelpro Platinum Elite 21″ Softside Carry-On Spinner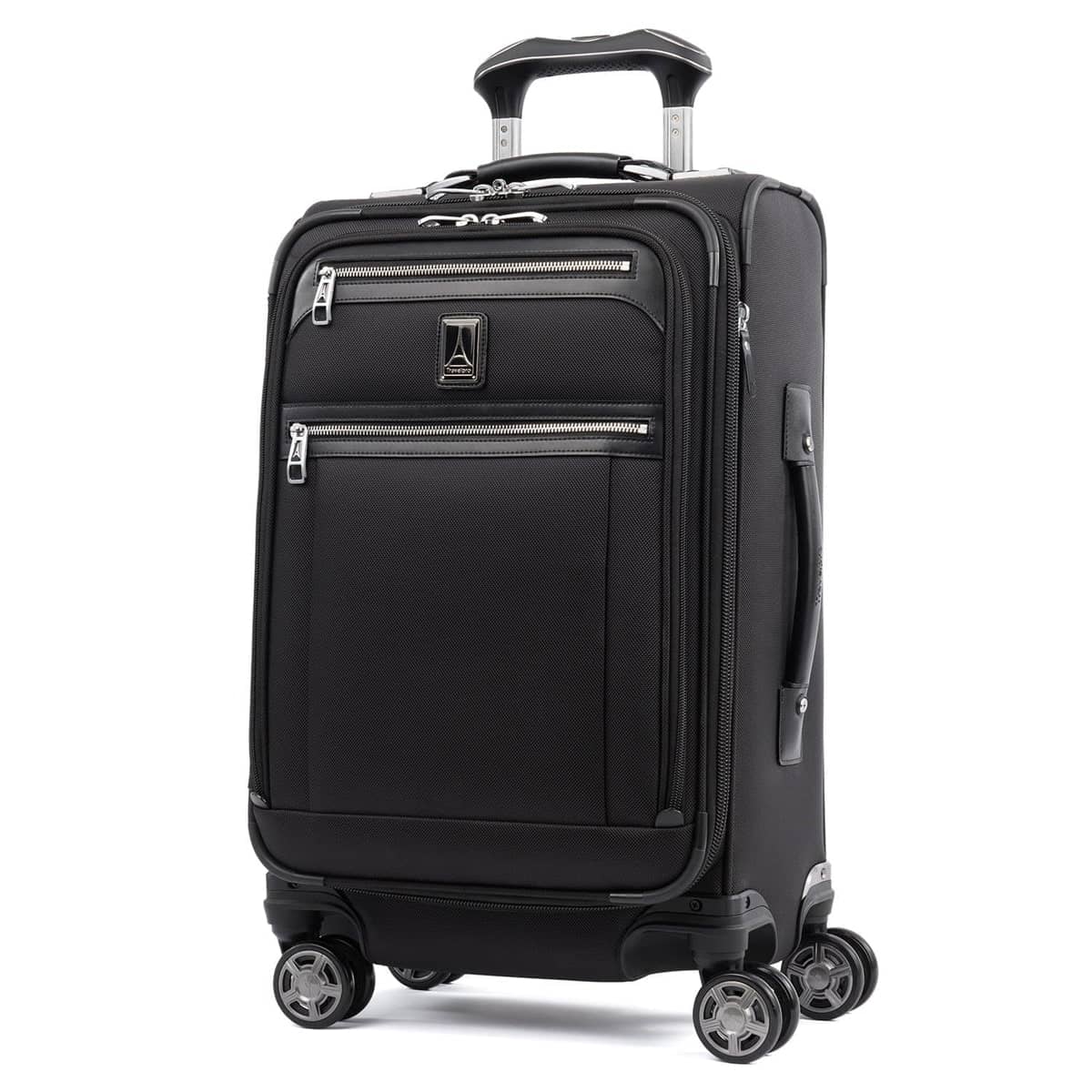 Designed with pro travelers in mind, the Platinum Elite 21″ Softside Carry-On Spinner from Travelpro is the epitome of practicality. Equipped with a fold-out suiter and a variety of pockets for fitting in all your essentials, it helps you pack like a flight attendant and stay organized while on the road.
This versatile, high-quality travel bag comes with a variety of smart features too: think patented 360-degree dual spinner wheels, a dedicated power bank pocket, and an external USB port to power up your devices on the go.
Add a rugged stain and abrasion-resistant ballistic nylon exterior, plus premium leather top & side carry handles, an expandable zipper section, and a PowerScope extension handle that adjusts to multiple heights, and you have one of the best cabin bags for frequent travelers.
Best Carry-On Luggage for Organization: The Carry-On Closet Plus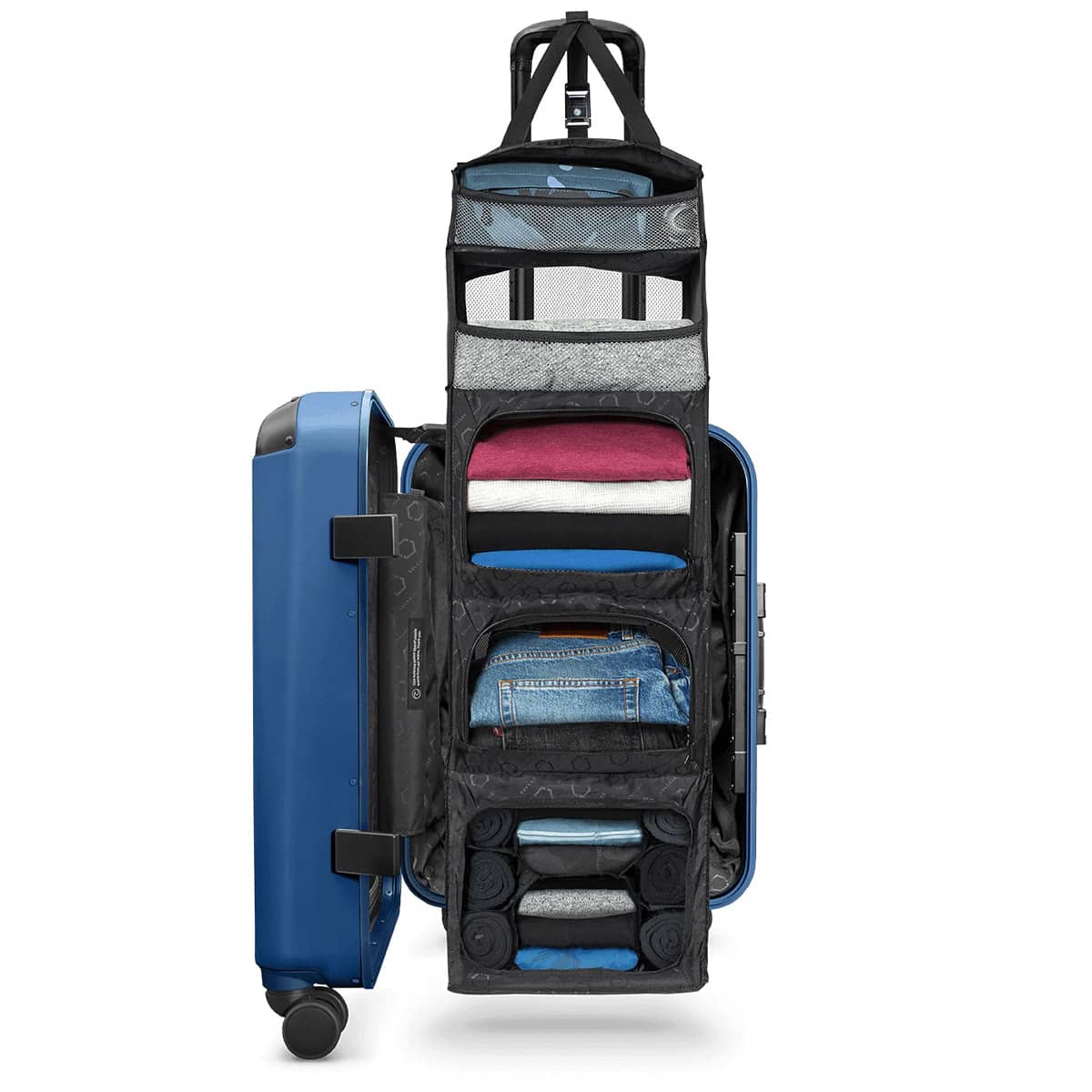 Taking proper care of your precious clothes when on the road is no easy job. But, what about a valise that doubles as a portable closet?
Aptly named The Carry-On Closet Plus, this creative, cabin-approved hardshell spinner luggage designed by Solgaard has built-in retractable shelves to keep your garments nicely separated and wrinkle-free wherever the day may take you.
Ideal for a 7-day trip, the bag is constructed from unbreakable polycarbonate and comes equipped with a TSA-approved lock, frictionless 360-degree wheels, and a USB port for charging your devices on the go. Last but not least, with this masterfully organized carry-on you will be traveling the world in eco-friendly style as each Solgaard suitcase sold saves 229 plastic bottles from the ocean.
Best Lightweight Carry-On Luggage: Bellroy Weekender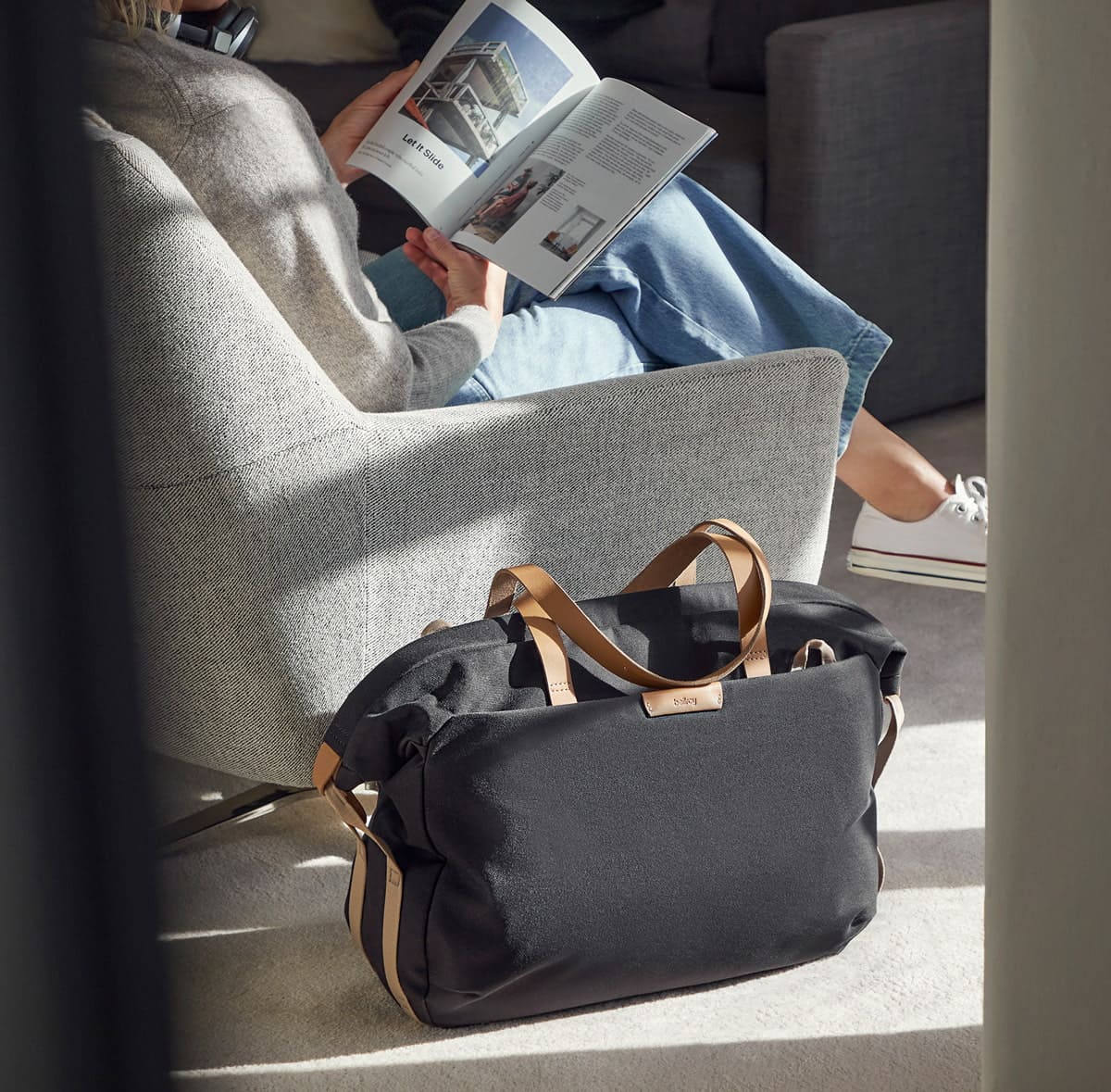 Weighing in at 2.7lbs, this lightweight carry-on luggage piece is for minimalist packers who don't want to compromise on performance or style.
Made of recycled, water-resistant fabric and enhanced with tons of practical organizational features, the Bellroy Weekender Premium Edition easily transitions from the airport to the meeting room. And the best part? It can be carried as a briefcase or on your shoulder – that when you don't slip it over your suitcase handle.
Most Stylish Carry-On Bag: Paravel Aviator Carry-On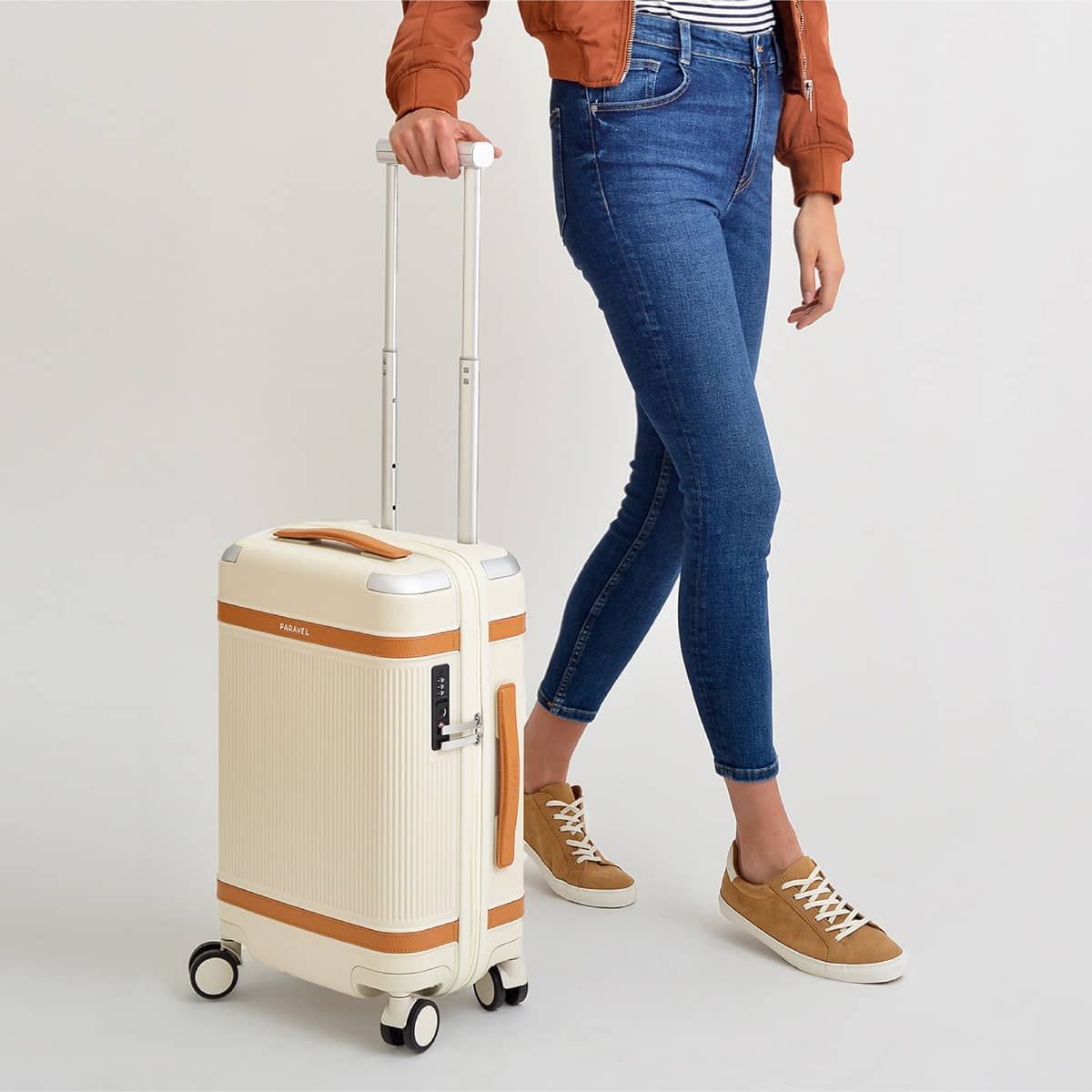 There is a lot to love about this stunning hardside carry-on from Paravel: it's durable and lightweight, comes packed with modern features, and its design is worthy of a luxe trip to Italy.
Beyond its beautiful retro-inspired look, the Aviator Carry-On is also crafted with the planet in mind. Its recycled polycarbonate shell, zippers, and aircraft-grade aluminum handle, along with the charming vegan leather details and an interior lining made from 15 upcycled plastic water bottles, make it one of the most sustainably made suitcases on the market. Oh, and did we mention that it rolls on impossibly smooth double spinner wheels and comes with a removable accessories pouch?
Best Carry-On Garment Bag: Briggs & Riley Wide Carry-on Garment Spinner
Travelers on the lookout for the best carry-on luggage for suits may stop their quest at Briggs & Riley. Pairing function with style, their high-quality Wide Carry-On Garment Spinner keeps hanging items in perfect condition thanks to its integrated hanger bracket and removable zip-in extended panel.
Crafted from durable ballistic nylon and detailed with smooth-rolling 360° wheels, a strong aircraft-grade aluminum telescoping handle system, and thoughtful interior/exterior pockets for smaller essentials, this is one of the best garment bags for traveling professionals.
Best Carry-On Backpack: Peak Design Travel Backpack 45L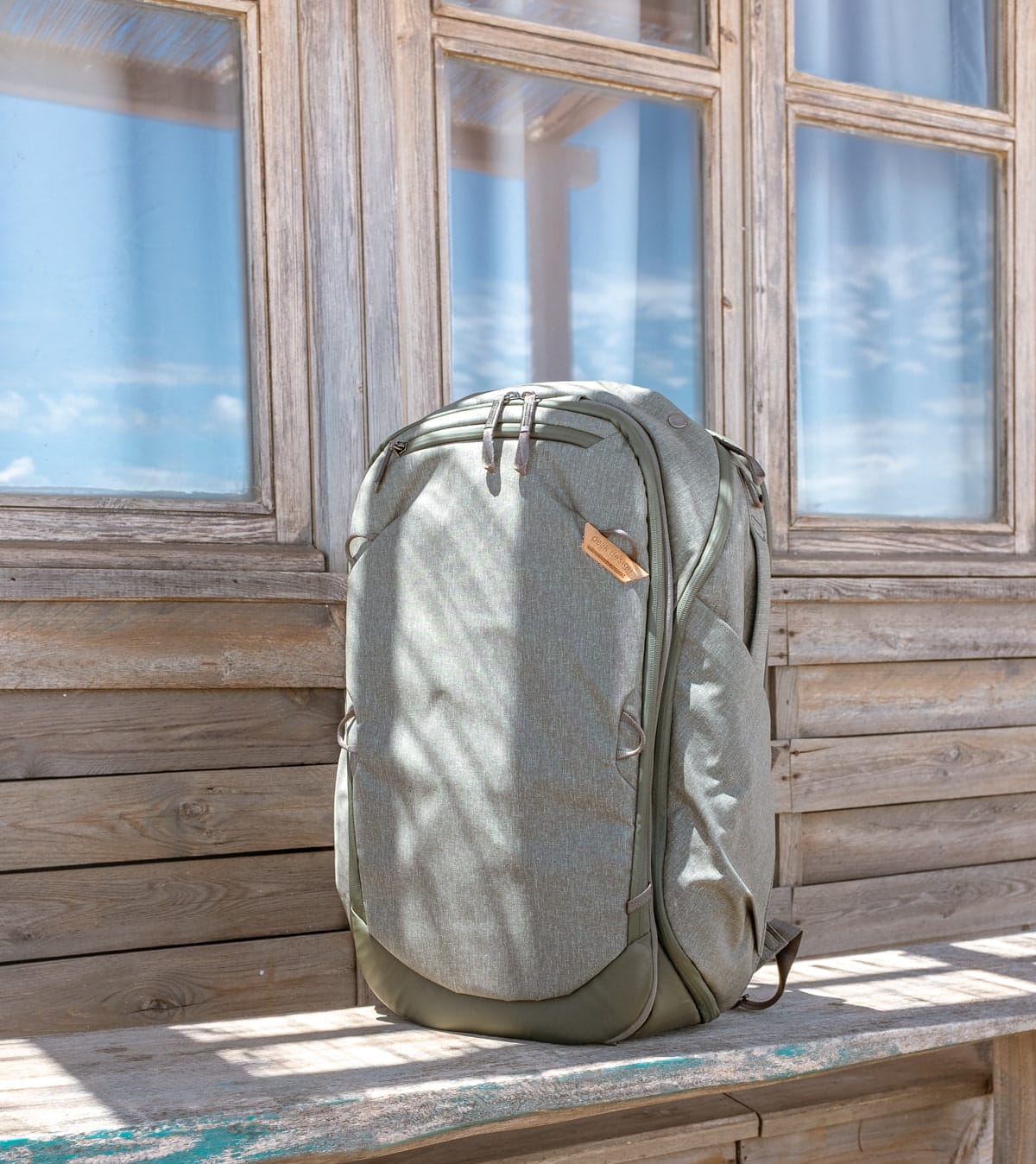 Crowning our list of the best carry-on backpacks, this versatile luggage piece fits a week's worth of clothing plus your photography equipment, all while meeting international carry-on standards. Equipped with rotating shoulder straps & hip belt, a detachable sternum strap, 360-degree grab handles, and one of the most innovative harness systems we've come across, it offers the ultimate in carrying comfort on the road.
Able to compress to 35L and even transform into a 30L day bag, Peak Design's 45L Travel Backpack is tough, stylish, and gloriously functional, which makes it an ideal companion for digital nomads, traveling photographers, weekend warriors, and pretty much anyone consistently on the move.
The recycled 400D nylon canvas exterior is durable and weatherproof, while the interior is smartly organized, with easily accessible laptop and tablet sleeves, a clever front panel perfect for grab-and-go essentials, as well as all sorts of perfectly placed pockets for gear and accessories. A full-perimeter zip enables a wide opening for easy packing and access to contents, a zippered dividing panel separates the bag into two compartments, and dual side zippers allow for instant camera and other items access.
Its sleek, urban design, expandable capacity, and thoughtful, ingenious features place it amongst the best carry-on bags on the market. It comes in two colors (Black and Sage) and is backed by a lifetime warranty. Pair that with high-density foam padding throughout and Peak Design's dedicated travel accessories & packing cubes, and you've got yourself a brilliant carry-on backpack that's as good for one-bag travel as it is for photography adventures.
Best Carry-On Luggage for Sustainable Travel: Horizn Studios Circle One
Mixing high performance with stylish design and eco-friendly practices is what German-based luggage brand Horizn Studios does best. Nevertheless, their avant-garde Circle One suitcase takes sustainability to a whole new level with its 100% plant-based, biodegradable hard shell and recycled components.
Designed to always be repaired and never replaced, the luxurious case is made from BioX, a patented fiber-composite which makes it lighter than aluminum and more durable than polycarbonate. Its handles are infused with seeds and nutshells, and both the lining and zippers are recycled. Combine these with an Extended Care option that includes a five-year warranty and a worldwide carbon-neutral pick-up and shipping service, and you have the world's most sustainable luxury luggage piece.
And to make sustainability more accessible to future generations, for every customer under the age of 30, Horizn Studio is offering a 30% discount.
Best Carry-On Luggage for Business Travel: Samsonite Stryde 111 Carry-On Spinner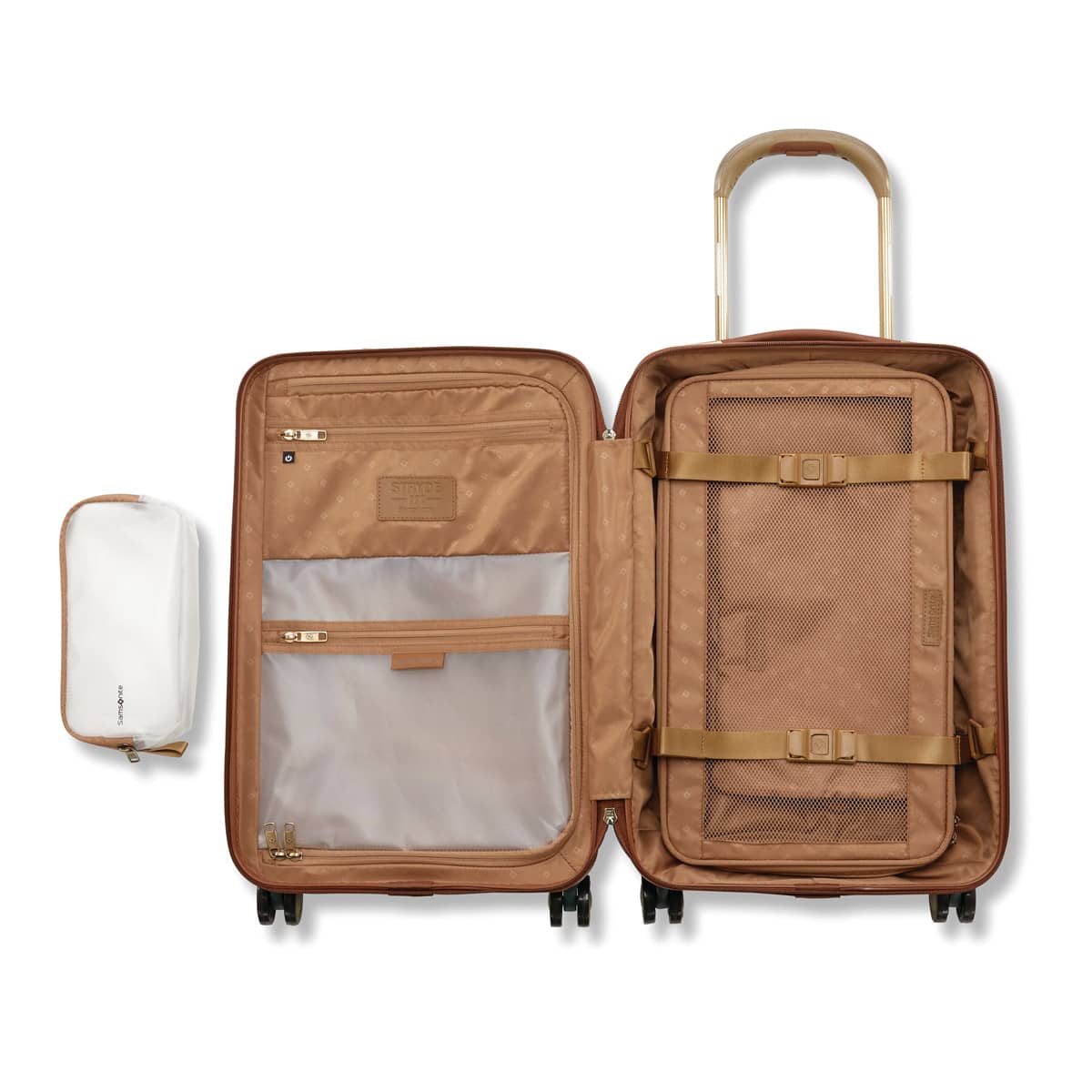 One of Samsonite's most luxurious cases, the Stryde 111 22x14x9 Carry-On Spinner answers the needs of connected, style-conscious business travelers with dual USB charging ports and a dedicated pocket for your portable battery.
The outer shell is made of 100% polycarbonate and comes accompanied by smooth-rolling, dual-spinner wheels, a unique magnetic ID tag, and a keyless TSA-friendly lock. The illuminated pull handle with countless incremental height adjustments makes traveling easier and safer both day and night, while on longer trips, a retractable strap allows travelers to fasten the bag to their bigger luggage's handle for seamless transport.
Lined with sleek, eco-friendly fabric, the interior is just as neat, with novelties like a space-savvy compression cube, a removable accessory pouch, and thoughtful compartments for wet items.
Best Carry-On Luggage for Adventure Travel: YETI Crossroads 22″ Luggage
For a carry-on bag that will survive a rugged trip and keep you organized along the way, the YETI Crossroads 22″ Luggage is hard to top.
Covered in water and abrasion-resistant 700-denier nylon and outfitted with a structured polycarbonate base, the outdoor brand's first-ever softshell suitcases are built to withstand years of abuse. The wide opening reveals a roomy main compartment and an interior divider panel with several pockets for keeping your gear separate and organized, while a pair of two impact-resistant roller wheels make it a snap to pull the bag over rough terrain.
Available in Black, Navy, and an arresting Harvest Red, the 22-inch carry-on also includes a small packing cube and removable compression straps that can be used either inside or on the outside.
Most Durable Carry-On Luggage: Zero Halliburton Pursuit International Carry-On Case
Zero Halliburton's original suitcases were used to carry rocks back from the moon during the Apollo 11 mission, so to say their International Carry-On Case is sturdy and well made would be an understatement.
Part of the new Pursuit collection, this badass travel case is crafted from premium anodized aluminum, with a matte finish that minimizes scratch marks, as well as premium ball-bearing controlled wheels and draw-bolt latches with two TSA-approved combination locks. As a novelty, the valise allows the customization of virtually every component and is enhanced by patent-pending ZH Concave Edging architecture for added strength and durability.
Best Two-Wheel Carry-On Luggage: Thule Subterra Carry On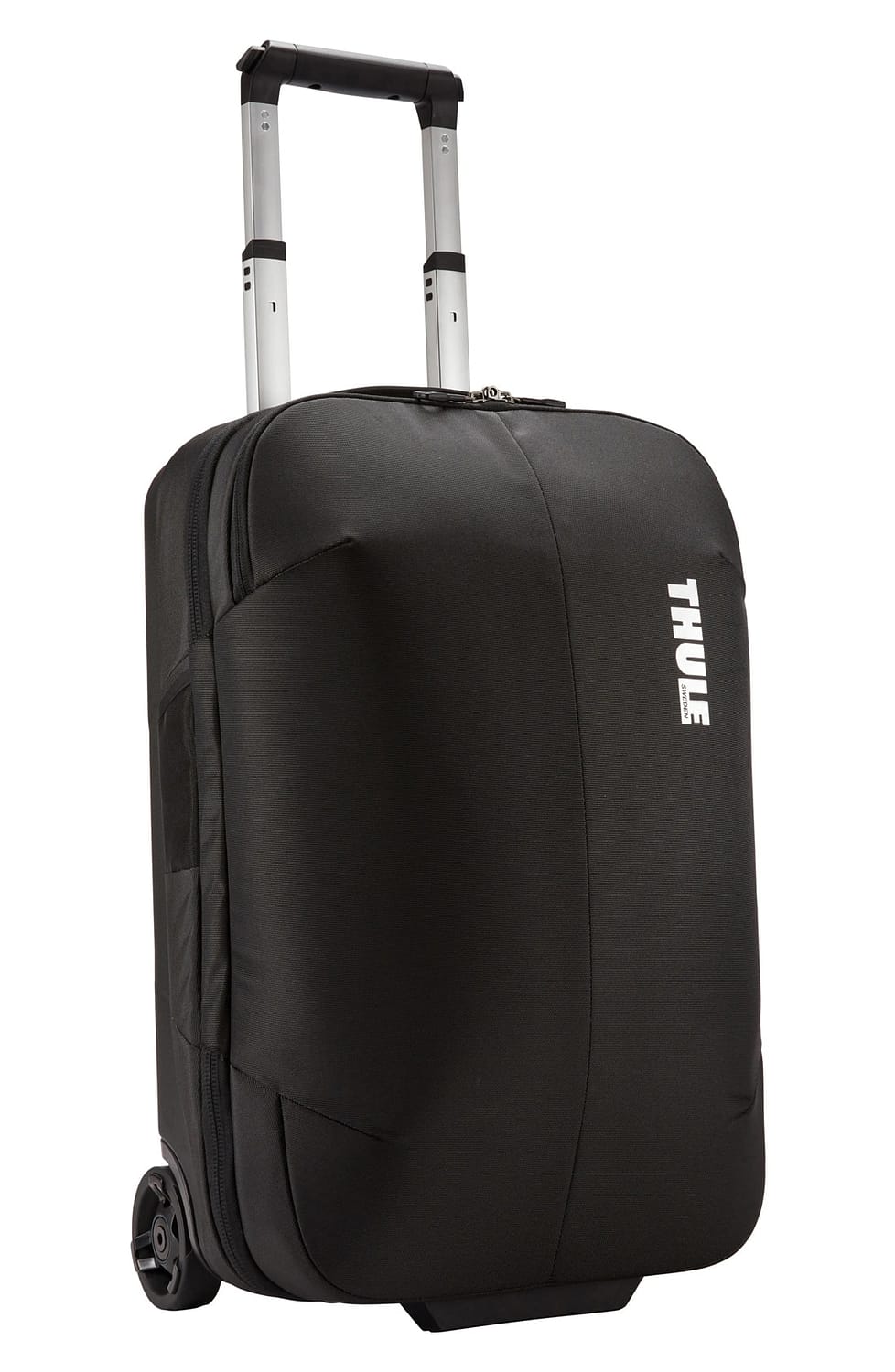 Fans of two-wheel luggage will fall in love with the Thule Subterra Carry On, an award-winning cabin bag designed to maximize packing space on short trips.
Mixing robust, water-resistant materials with a sleek, urban-inspired design, the bag is lightweight and fits in most overhead bins. Its oversize wheels and V-tubing telescoping handle provide smooth maneuverability, while grab handles on the side and top mean it can be easily moved or lifted as needed.
The wheeled duffel comes completed with a molded polycarbonate back panel for added strength and has a divided main compartment to keep clean clothes away from dirty laundry. The exterior quick-access pocket and piggyback strap attachment loop are other features you'll be thankful for.
Best Aluminum Carry-On Luggage: Away The Bigger Carry-On Aluminum Edition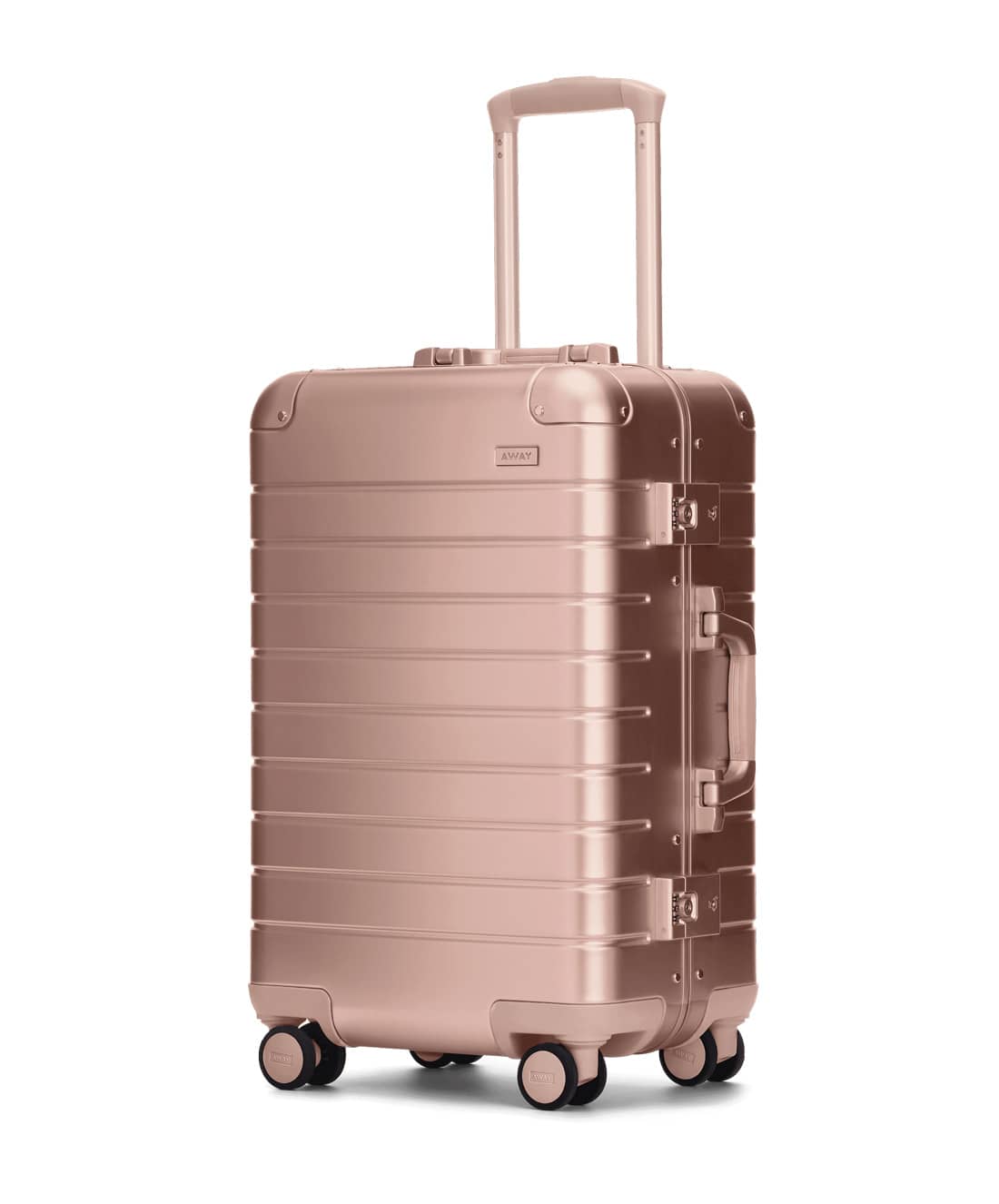 Travel the world in style with the beautiful Aluminum Bigger Carry-On from Away. This sleek, unbreakable piece of luggage has all the bells and whistles of a traditional Away carry-on but features an innovative zipperless design with TSA-approved clasp locks. As its name implies, it is also one inch taller and wider, giving you a little extra packing room without having to check it in.
Complementing its splendid, monochrome aluminum hard shell is the brand's signature interior compression system, as well as whisper-quiet 360° wheels, elegant leather accents, and a removable battery for charging your devices on the go.
And if you are not completely sold on this model, our carefully curated roundup of aluminum suitcases will surely sway you to join the metallic trend.
Best Designed Carry-On Luggage: Topo Designs Global Travel Bag Roller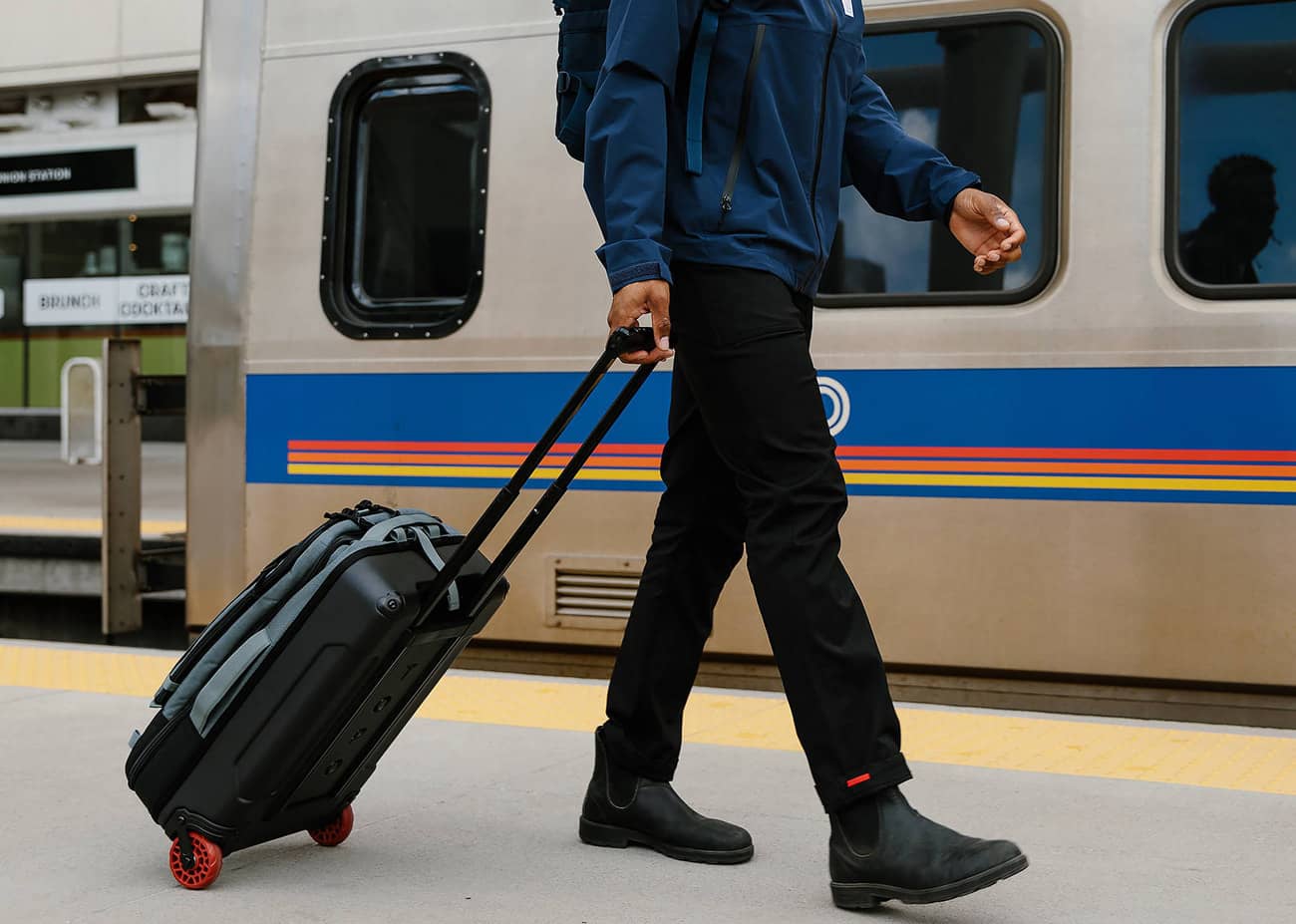 Team up Topo Designs' iconic travel bag with a pair of heavy-duty, crush-proof wheels, and you have the perfect softshell carry-on.
Made with recycled materials, the Global Travel Bag Roller has stowable backpack straps, a telescopic handle, and padded grab handles on three sides so you can carry it in whatever way feels comfortable.
With front zippered slip pockets, spacious internal compartments, and mesh pockets for small gear, this versatile hybrid suitcase will fulfill all your organizational needs. Designed with one bag travel in mind, it also features a rugged molded back and PackFast attachment clips for easily rolling two (compatible) bags at once.
Best Underseat Carry-On Luggage: Samsonite Carrier Underseater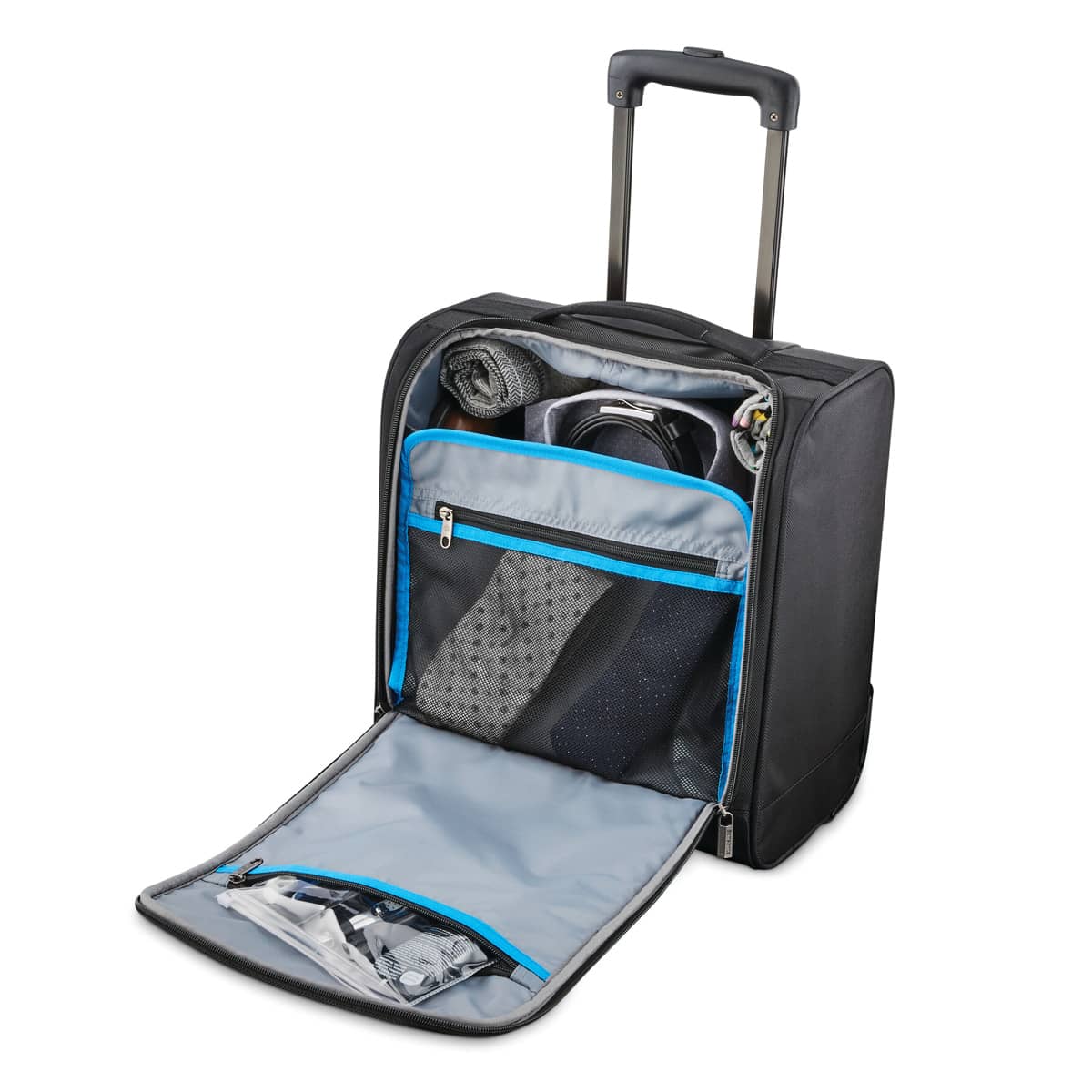 Compact, durable, and efficient, the Carrier Underseater is the perfect choice for travelers craving comfort and convenience during their flight. Not only does it fit perfectly under the seat in front of you, but it's brimming with practical details that place it at the top of its category.
Made from durable polyester with a water-resistant coating and matte gunmetal hardware, this Samsonite soft-sided underseater boasts a pair of skate wheels and a push-button handle for hassle-free mobility. Features like an external USB charging port and a dedicated power bank pocket make the bag ideal for short business trips, while a variety of pockets give you plenty of room to keep small items organized and easy to reach.
Best Carry-On Luggage for Kids: Jetkids by Stokke Bedbox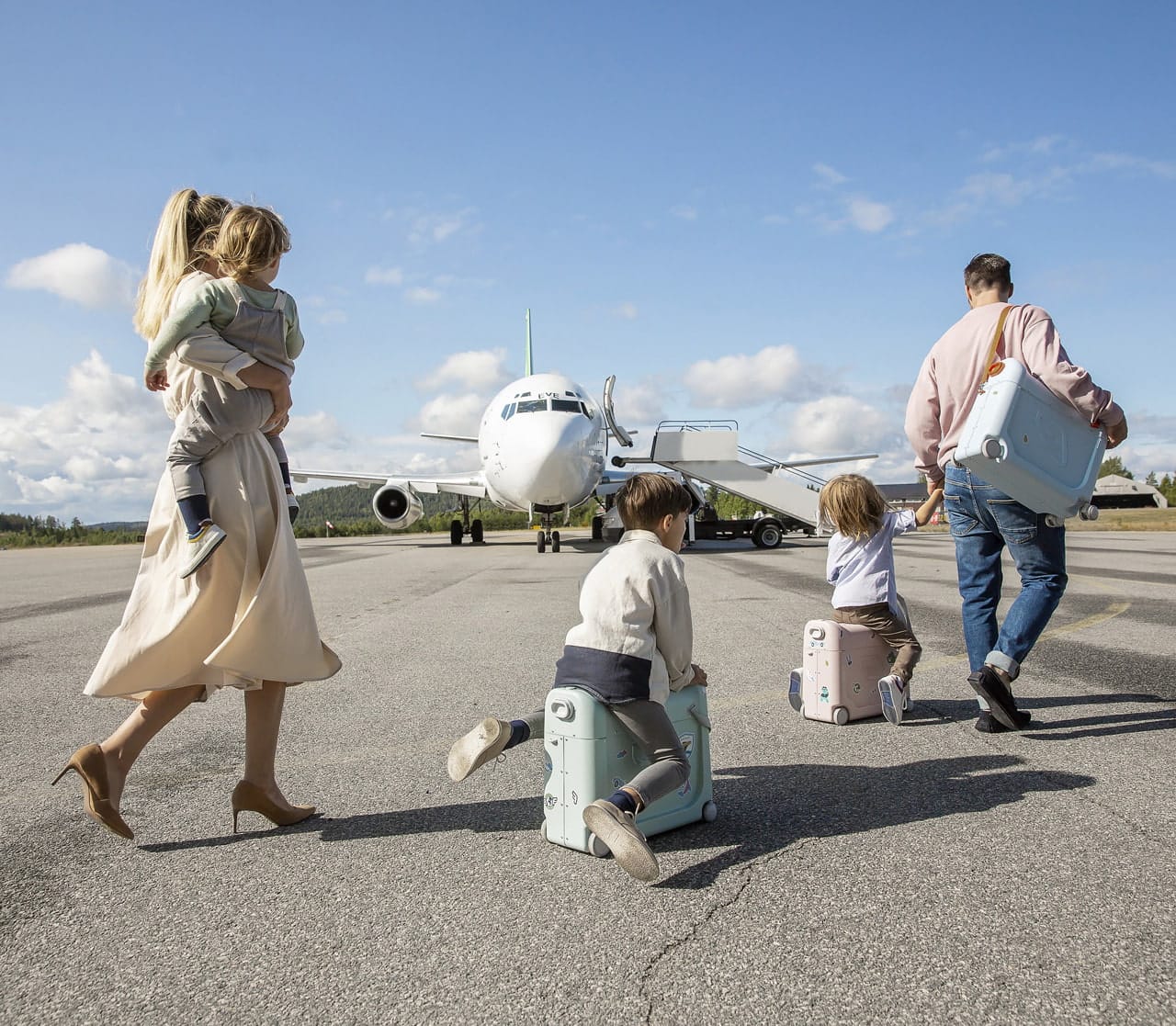 Thanks to its ingenious design, with a foot ledge, extendable lid, and a mattress, this 19″ ride-on suitcase from Stokke Bedbox converts into a leg rest or in-flight bed for children during flight.
One of the best carry-on bags for boys and girls on the go, the Jetkids can be pulled, pushed, or ridden, and comes with shock-absorbing swivel wheels for easy maneuverability through the airport. The interior provides plenty of space for your child's must-haves and there's also an adjustable strap for parents to carry it over their shoulders.
Compact, lightweight, and decidedly fashionable, this hardside kids' carry-on luggage adds a bit of fun and comfort to any family travel plan.
Best Carry-On Luggage Deal Right Now: Monos Terrazzo Carry-On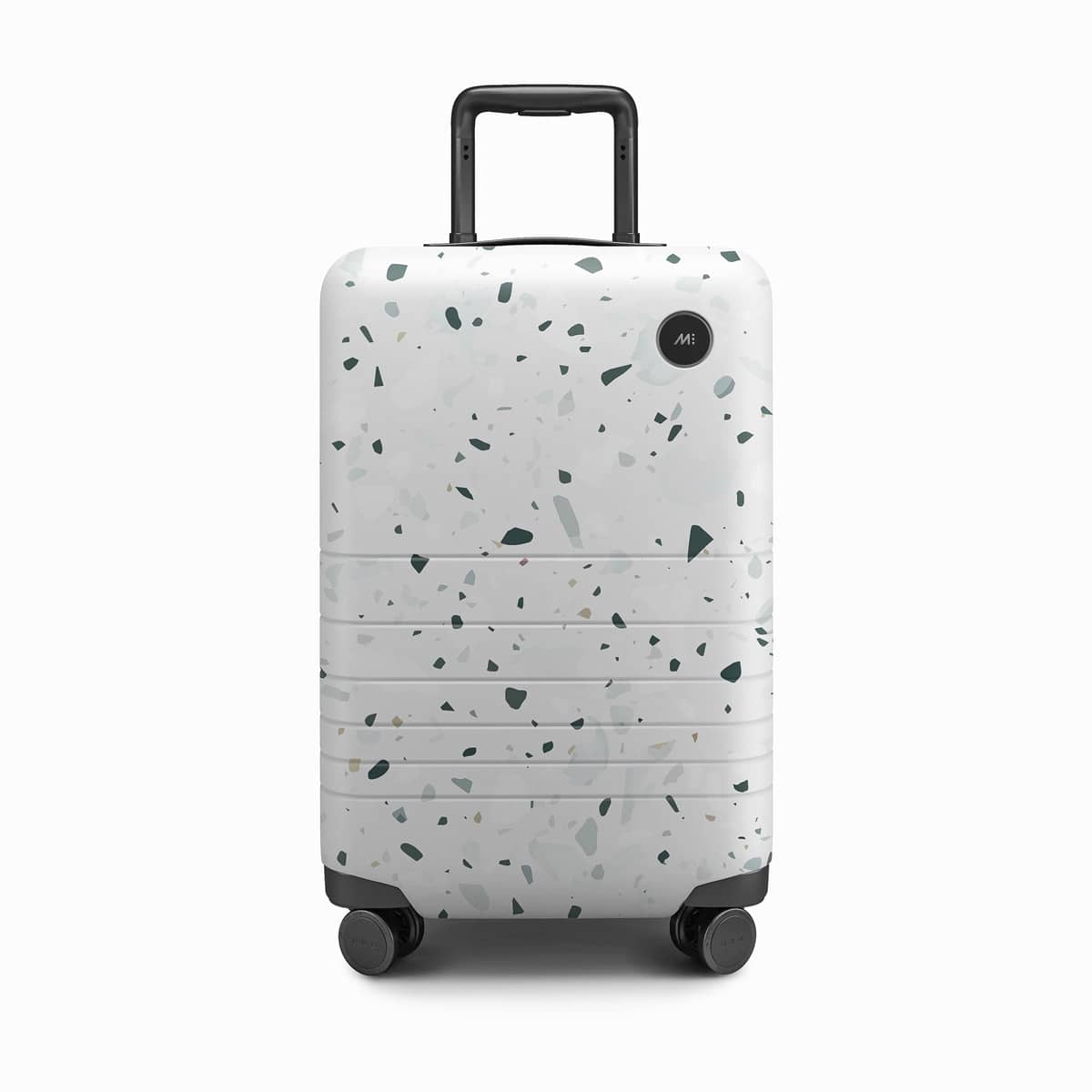 Taking inspiration from one of the first sustainably produced materials, the Terrazzo Carry-On is one Monos' most eye-catching and sough-after suitcases. Its aerospace-grade, water-resistant, German polycarbonate hard shell sits on the finest Hinomoto wheels on the market, while inside, a luxurious, anti-microbial interior fabric, a built-in compression pad, and a couple of bags for shoes and laundry keep your items clean and neatly organized. But the best part, though? It's on sale for $275.
For further suitcase sales, check out our Best Luggage Deals section, where we constantly add the latest offers from top brands like Monos, Briggs & Riley, Horizn Studios, Samsonite, Nomatic, Away, Travelpro, and more.
---
That's all, folks! These are our recommendations for the best cabin luggage in 2022. If you still haven't found your favorite bag, get in touch with us with some extra details about your request, and we will reply with personalized recommendations.