This post contains affiliate links, which means we may receive a small commission, at no additional cost to you, if you make a purchase through these links. See our full disclosure here.
The only thing harder than booking your next trip is picking the right carry-on luggage for the journey. Garment bags are ideal for transporting formal attire, whereas for trips that entail hiking mountains, nothing beats a well-designed carry-on backpack that you can also use once you arrive at your destination. Traveling with your laptop? Many designs these days sport padded exterior compartments, making it easy to access your device without the need to open the entire bag, and some even come with removable batteries for on-the-go charging.
Then there's your personal style to consider: are you the traveler who likes a clean, minimalist suitcase, or the kind who wishes to turn heads with a show-stopping designer piece? Do you like a futuristic metallic finish, or incline towards a matte surface that minimizes scratch marks?
Whether you prefer your cabin companion stylishly functional, friendly to the environment, exceptionally durable, or all of the above, we are pretty sure you'll find exactly what you're looking for in the list below.
Here you have them, our handpicked recommendations for the best carry-on luggage in 2021 for every travel scenario. Bon voyage!
Best Carry-On Luggage in 2021: Monos Carry-On Pro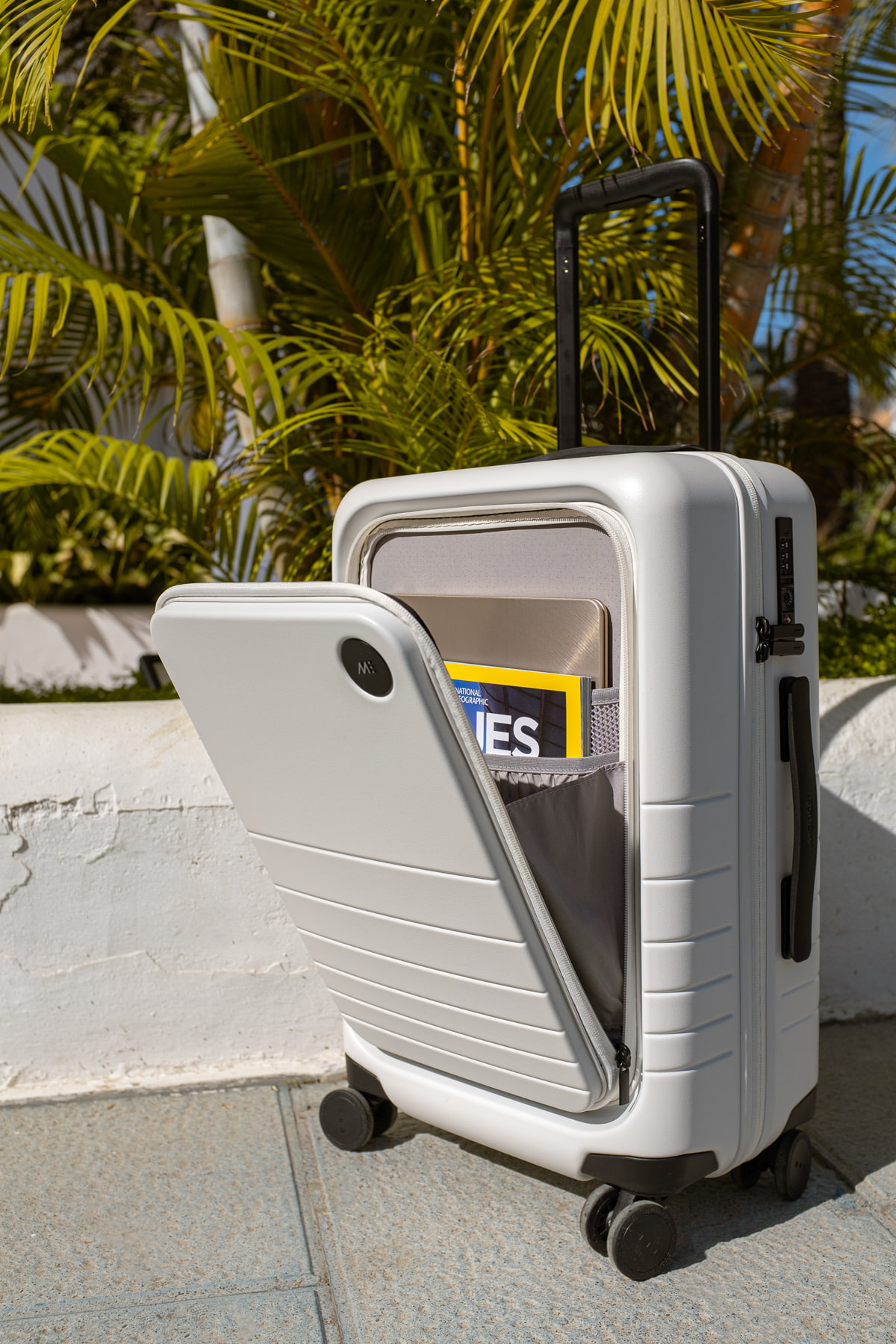 Lightweight, contemporary, and beautifully functional, the Monos Carry-On Pro is the perfect accessory for the 21st-century traveler. With an unbreakable polycarbonate shell, a padded exterior compartment for easy access to trip essentials, and the highest quality (Hinomoto) wheels in the luggage industry, this stylish piece really is the full package.
Canadian luggage brand Monos may be a newcomer to the scene, but this thoughtfully designed suitcase proves it's here to stay. Characterized by noteworthy attention to detail, its simple, minimalist aesthetic is complemented by quality materials and intuitive features like the soft, anti-microbial fabric lining its interior or the reimagined ergonomic handle with the release button on the underside. By far the bag's most brilliant detail is the uber practical exterior pocket, which can fit a 15-inch laptop, as well as documents, chargers, and other small on-the-go necessities, making it easier to get through TSA checkpoints.
› On Sale Now for $161.77 with Code BF2021
Best Carry-On Luggage for Women: Béis Carry-On Roller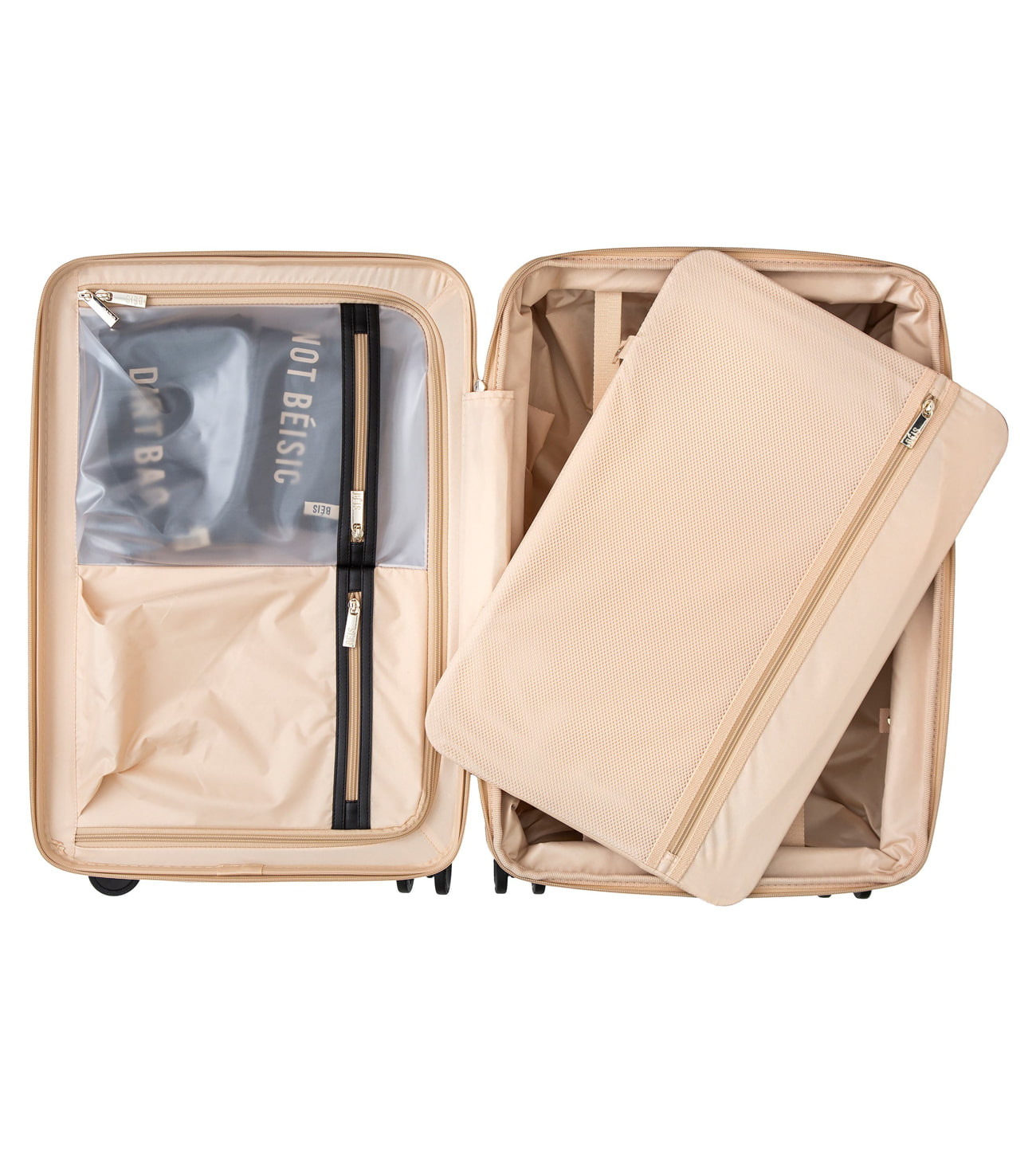 For a carry-on suitcase that's functional, effortlessly chic, and surprisingly affordable, look to Béis.
Designed by jet-setting actress Shay Mitchell, the Carry-On Roller is made of light and durable 100% virgin PolyCarbonate and features a weight limit indicator that turns red when you've hit 50 pounds. Equally novel and effective is the retractable bag strap, which lets you attach an extra duffel or purse to the suitcase for hands-free carry. And to ensure your trip is as comfortable as it can be, the hard-shell bag boasts high-quality Hinomoto wheels, a TSA-approved lock, a cushioned trolley handle with silicone grip, and an expandable body that gives you up to two extra inches for last-minute additions.
The perfect women's carry-on suitcase must be equal parts style and substance, and this clean, minimalist beige gem is a superb interweaving of the two.
Best Carry-On Luggage for Men: Navigator Carry-On 37L
While luggage is generally gender-neutral, we think the features, compartmentalization, and silhouette make the Nomatic Navigator Carry-On 37L the perfect cabin suitcase for men on the go.
Launched earlier this year, this polished two-wheeled bag has room for both your clothes and tech within its neatly organized sections. A separate laptop compartment accommodates 17-inch devices in a padded sleeve, as well cables, power banks, and other small gadgets thanks to a combination of mesh and zipper pockets.
Built from water-resistant materials, with a hard Makrolon plastic shell, the bag looks like a sleek backpack on wheels but has all the strength and practicality of a suitcase. Complete with built-in compression straps and zippered pockets, the main compartment fits up to 5 days' worth of outfits and opens wide for easy packing and access to items. Another big advantage is that you can expand its capacity from 37L to 45L whenever you need some extra packing space.
Best Hardside Carry-On Luggage: Lexicon Hardside Frequent Flyer Carry-On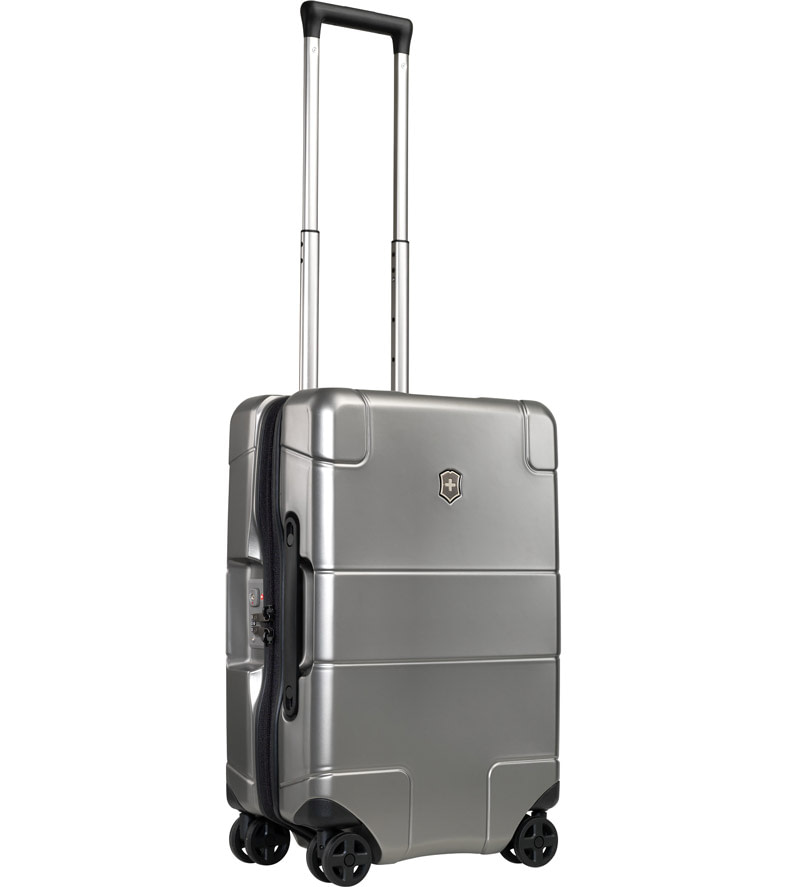 With a special integrated multi-tool containing pen, sim card replacement tool, ID tag, and USB port, the Lexicon Hardside Frequent Flyer Carry-On will impress even the most tech-savvy globetrotter.
This futuristic cabin size trolley case from Victorinox (the maker of the Swiss Army Knife) is constructed from durable 100% virgin polycarbonate with a scratch-resistant matte finish and comes with ultra-recessed wheels to maximize both maneuverability and packing capacity. Combine that with sleek, minimalist aesthetics and renowned Swiss quality and it's easy to see why this is our favorite hardside carry-on suitcase.
Best Softside Carry-On Luggage: Away The Expandable Carry-On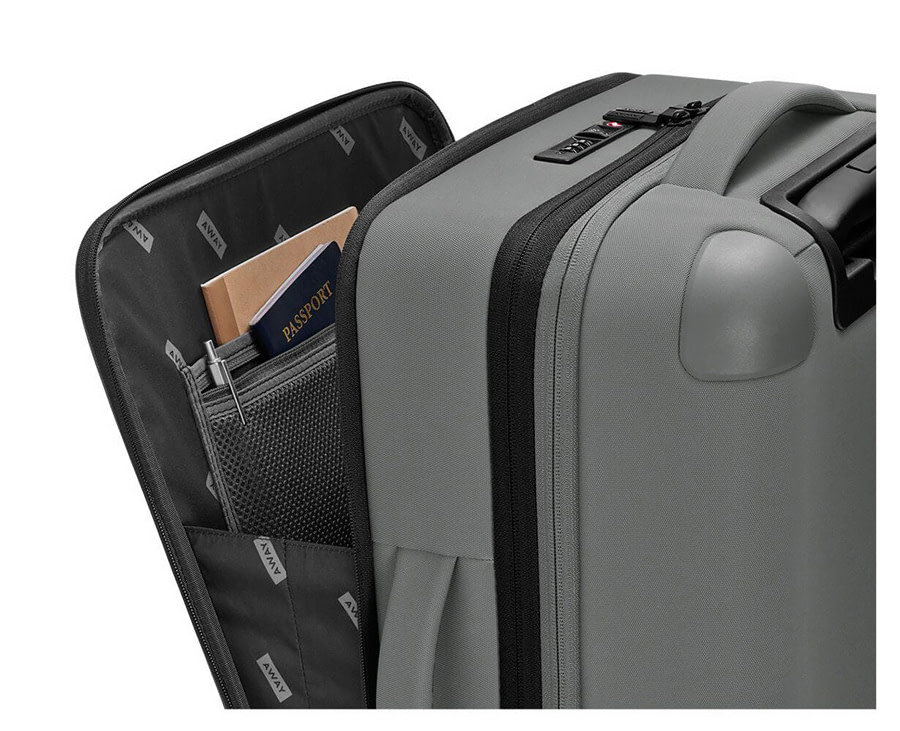 Away makes some of the best carry-on luggage out there, and this item is no exception. Part of Away's first-ever softside luggage collection, The Expandable Carry-On shares many of the same virtues as its hardside counterpart, yet it's strikingly different.
The exterior is made from durable, water-resistant nylon and features an easy-access front pocket suitable for a 15″ laptop. Also here, a built-in zipper increases the bag's capacity up to 4.5 cm., making it perfect for those who can't resist shopping when on vacation. Apart from that, Away's interior compression system and removable laundry bag are still there, along with the TSA-approved combination lock and 360-degree spinner wheels.
Best Carry-On Luggage for International Travel: Horizn Studios M5 Cabin Luggage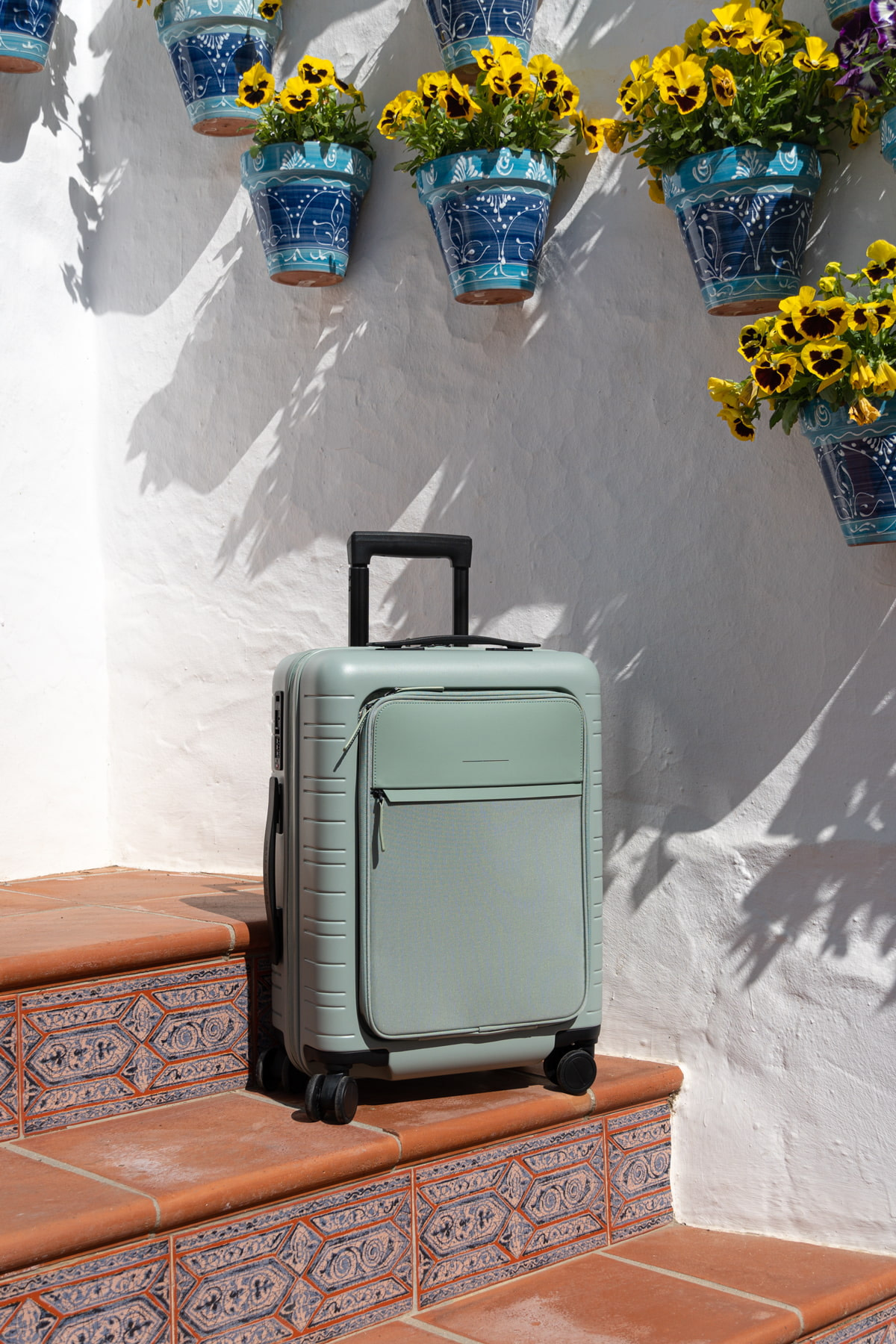 Loaded with tech features, enhanced with a personal travel assistant, and perfectly sized to comply with international carry-on size requirements, you'd be hard-pressed to find a smarter luggage piece for short trips abroad than this tough, beautiful carry-on bag from Horizn Studios.
Designed especially for frequent flyers, the M5 Cabin Luggage is crafted with premium aerospace-grade polycarbonate and features an easy-access front pocket made from Italian leather and waterproof nylon – perfect for holding a 15" laptop and other journey essentials.
Each case comes with upscale Japanese 360° spinner wheels and offers one-year access to Horizn GO – your dedicated travel agent. Tech-savvy travelers will also love the built-in/removable smart charger, which is compliant with all international flight regulations.
The M5 was our choice for the best carry-on luggage last year and continues to be a strong contender in 2021 because it has it all – smart design, innovative features, and killer looks. Plus, if you want a bag that fits the carry-on size restrictions of budget airlines across Europe and beyond, this is it!
Best Carry-On Luggage for Millennials: July Carry On Light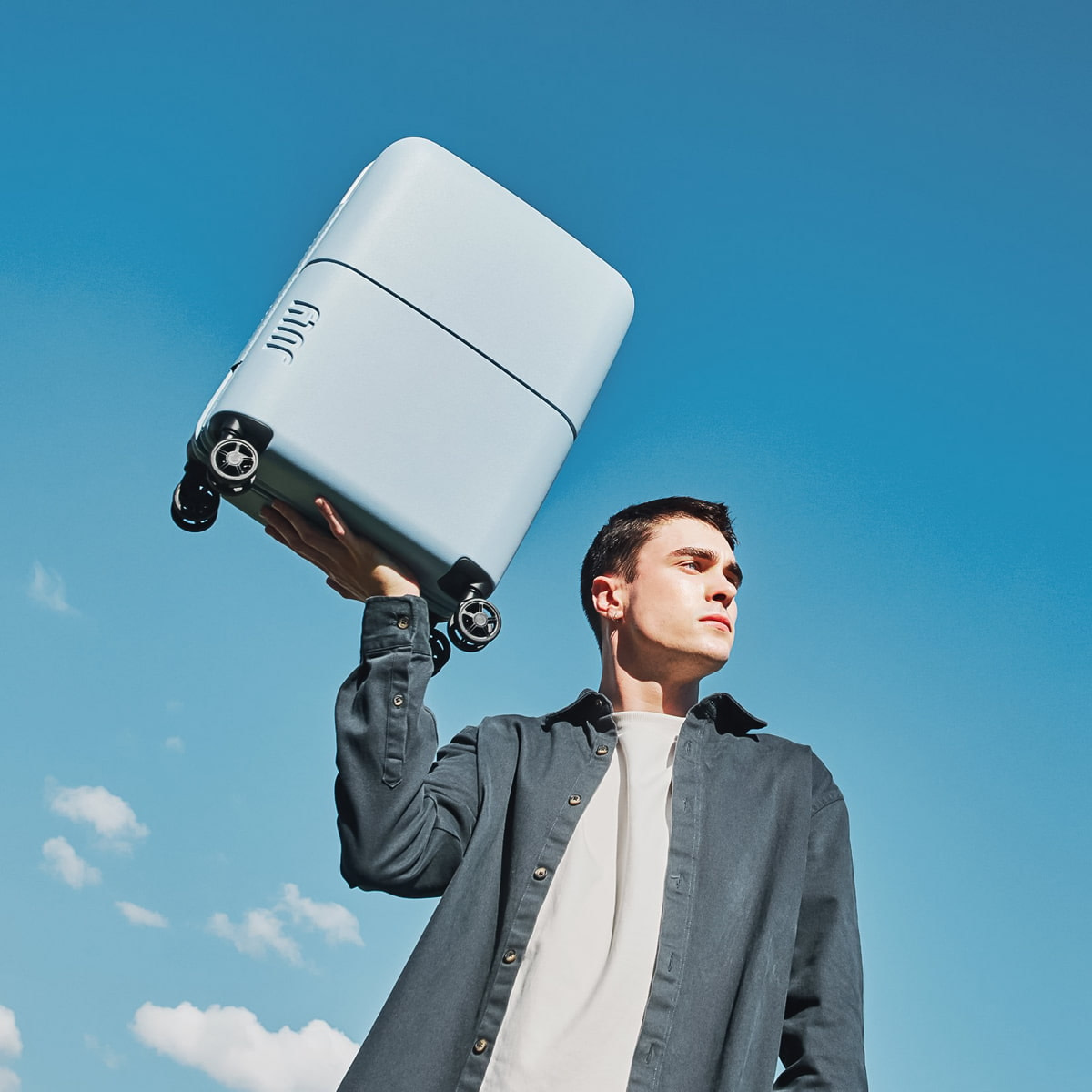 Straight from Australia's capital of cool, July's Carry On Light checks all the boxes of today's travelers. It's got a tough German polycarbonate shell, simple yet effective organization, cloud-like lightness, and a clean, contemporary design that's easy on the eyes. In fact, at just 1.8 kg (3.9 lbs), it is the lightest rolling suitcase in the world.
Available in a multitude of Millennial-inspired colors, including Sand, Forest, and Shadow Lavender, this hard-shell spinner will keep you on-trend during your next adventure. Its silent 360° double spinner wheels travel smoothly on all surfaces, and you can also personalize your case with a custom print that promises to last as long as your luggage. Last but not least, a dual-bar 3-stop telescopic handle and TSA-approved lock add to its utility.
Best Affordable Carry-On Luggage: Samsonite Freeform Carry-On Spinner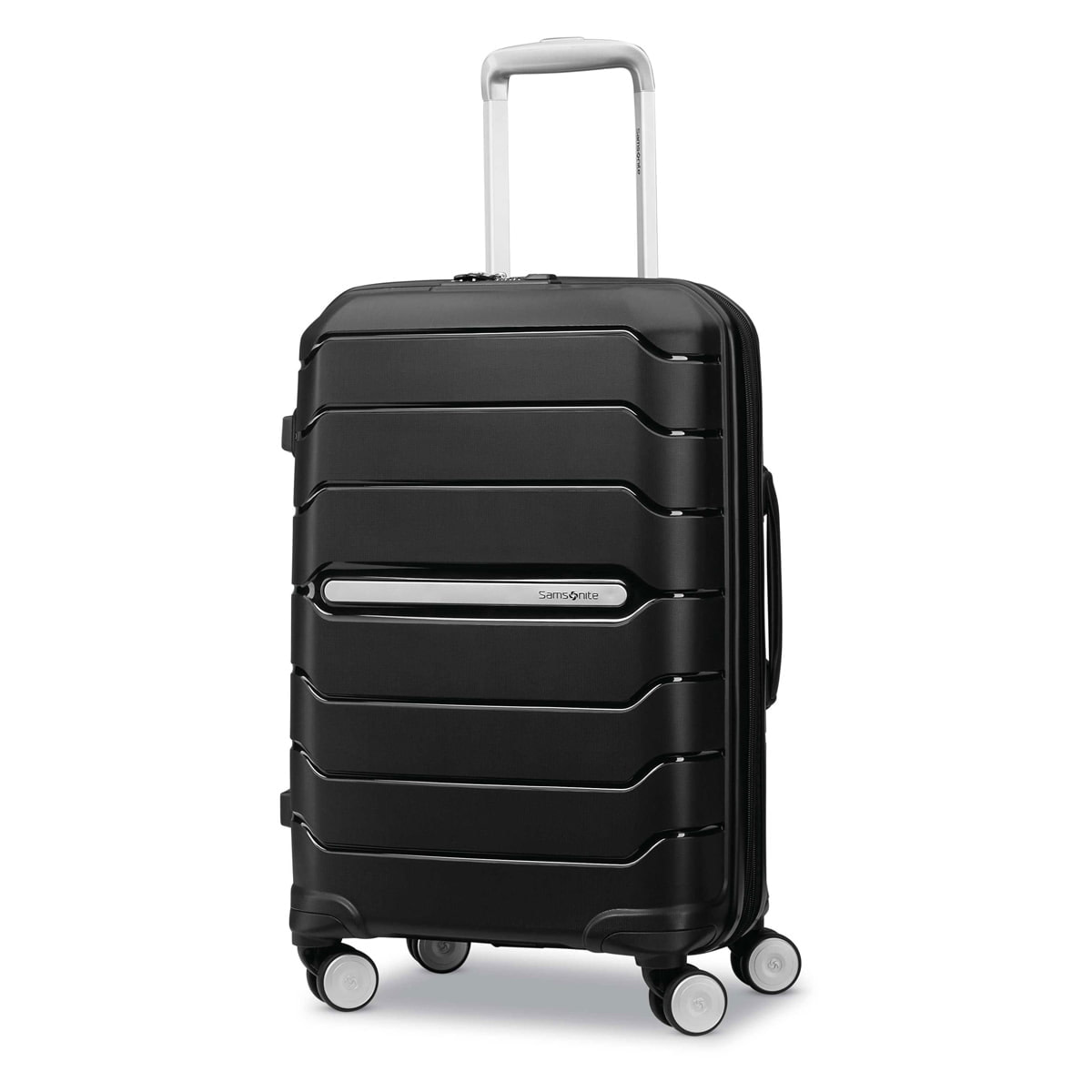 If your ideal piece of luggage combines style, strength, and lightness without breaking the bank, you'll love the Freeform Carry-On Spinner.
One of Samsonite's coolest carry-on suitcases, this ultra-lightweight 21″ hard case delivers key features like multi-directional double spinner wheels, built-in ID tag, and TSA-compatible lock in a modern, streamlined design that makes the most of the interior space.
Numerous pockets coupled with interior cross-ribbon and divider make for easy, effective packing and organizing, a folded zippered compartment provides convenient expandability for when you need that bit of extra room, while the wider multi-stage aluminum pull handle adds comfort to your journey.
And don't let that affordable price tag fool you, this sleek rolling luggage piece is made from strong, high-quality materials, ensuring long-lasting durability.
Best Carry-On Luggage for Frequent Travelers: Travelpro Platinum Elite 21″ Softside Carry-On Spinner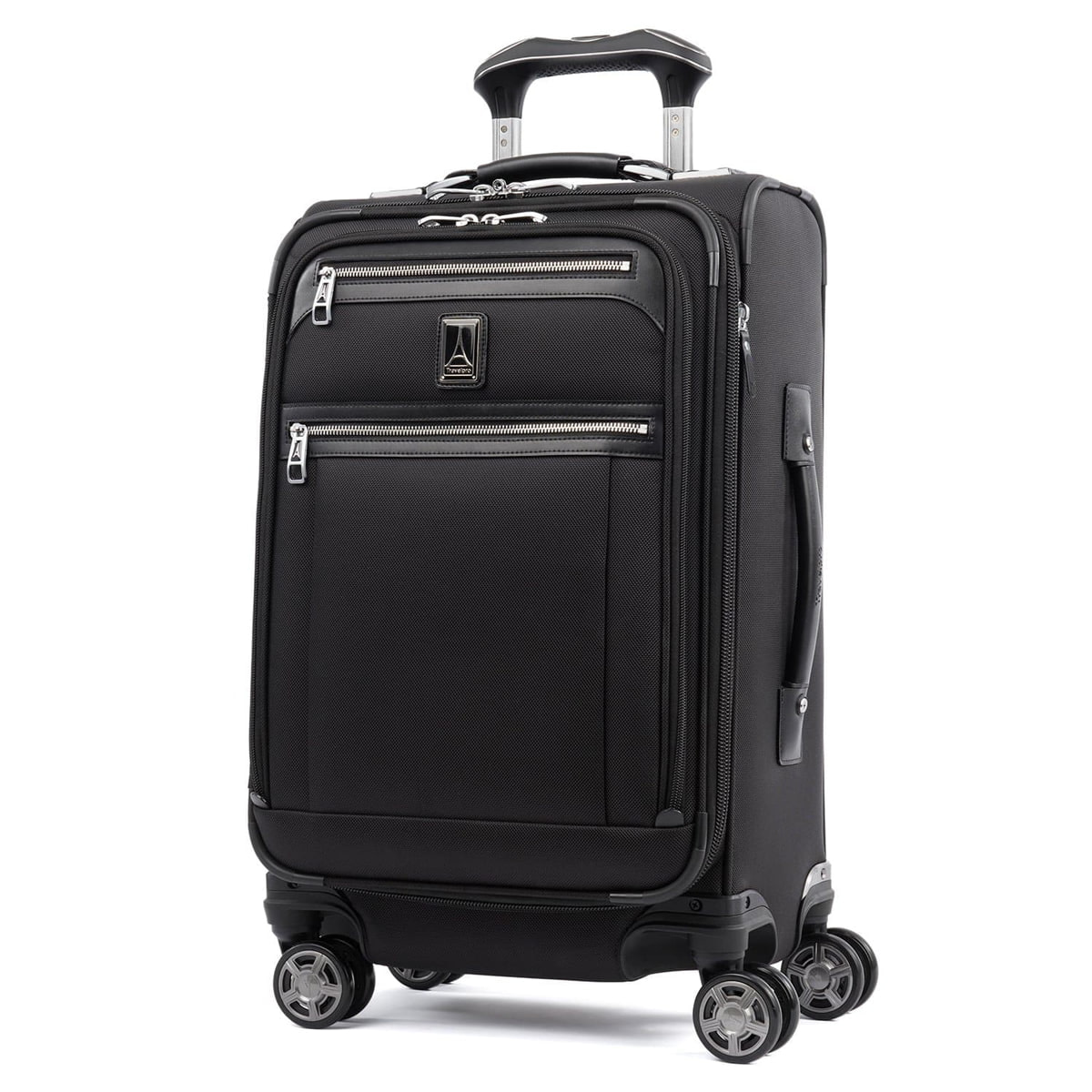 Designed with pro travelers in mind, the Platinum Elite 21″ Softside Carry-On Spinner from Travelpro is the epitome of practicality. Equipped with a fold-out suiter and a variety of pockets for fitting in all your essentials, it helps you pack like a flight attendant and stay organized while on the road.
This versatile, high-quality travel bag comes with a variety of smart features too: think patented 360-degree dual spinner wheels, a dedicated power bank pocket, and an external USB port to power up your devices on the go.
Add a rugged stain and abrasion-resistant ballistic nylon exterior, plus premium leather top & side carry handles, an expandable zipper section, and a PowerScope extension handle that adjusts to multiple heights, and you have one of the best cabin bags for frequent travelers.
Best Carry-On Luggage for Organization: The Carry-On Closet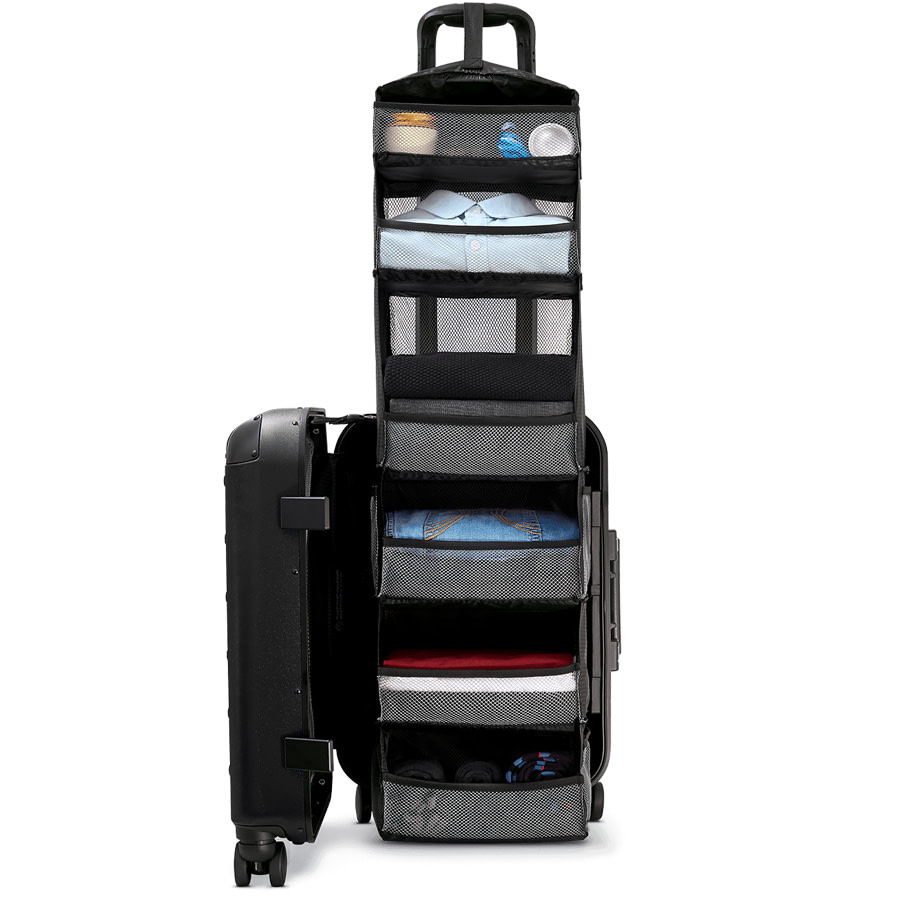 Taking proper care of your precious clothes when on the road is no easy job. But, what about a valise that doubles as a portable closet?
Aptly named The Carry-On Closet, this creative, cabin-approved hardshell spinner luggage designed by Solgaard has built-in retractable shelves to keep your garments nicely separated and wrinkle-free wherever the day may take you.
Best Carry-On Luggage with Laptop Compartment: Level8 Pro Carry-On With Laptop Pocket 20"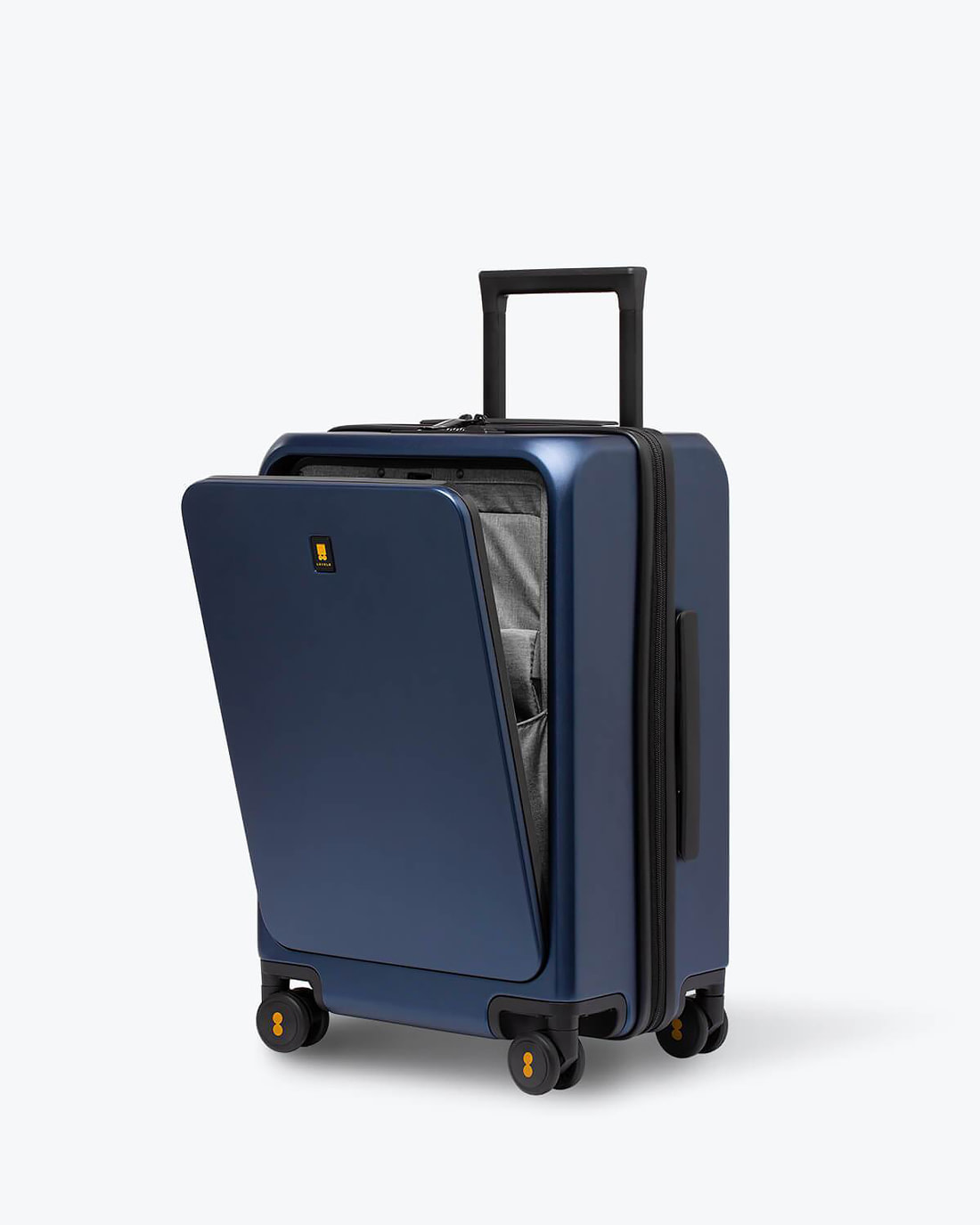 Keep your device safe while traveling with the Level8 Pro Carry-On With Laptop Pocket 20". Constructed with aerospace-grade Makrolon polycarbonate, YKK zippers, and ultra-quiet 360° wheels, this compact case is as sleek as it is strong. The TSA-approved combination lock secures your belongings in transit, while a handful of zip pockets keep things neatly organized inside.
The stand-out feature on this bag, however, is the zipperless, hardside front pocket, which allows you to easily access your electronics and other frequently used items without opening the entire carry-on. Blending seamlessly into the suitcase's minimalist design, this padded compartment holds a 15.6" laptop, as well as your tablet, magazines, and documents.
› On Sale Now for $160 with Code BF20
Best Hybrid: Monos Hybrid Carry-On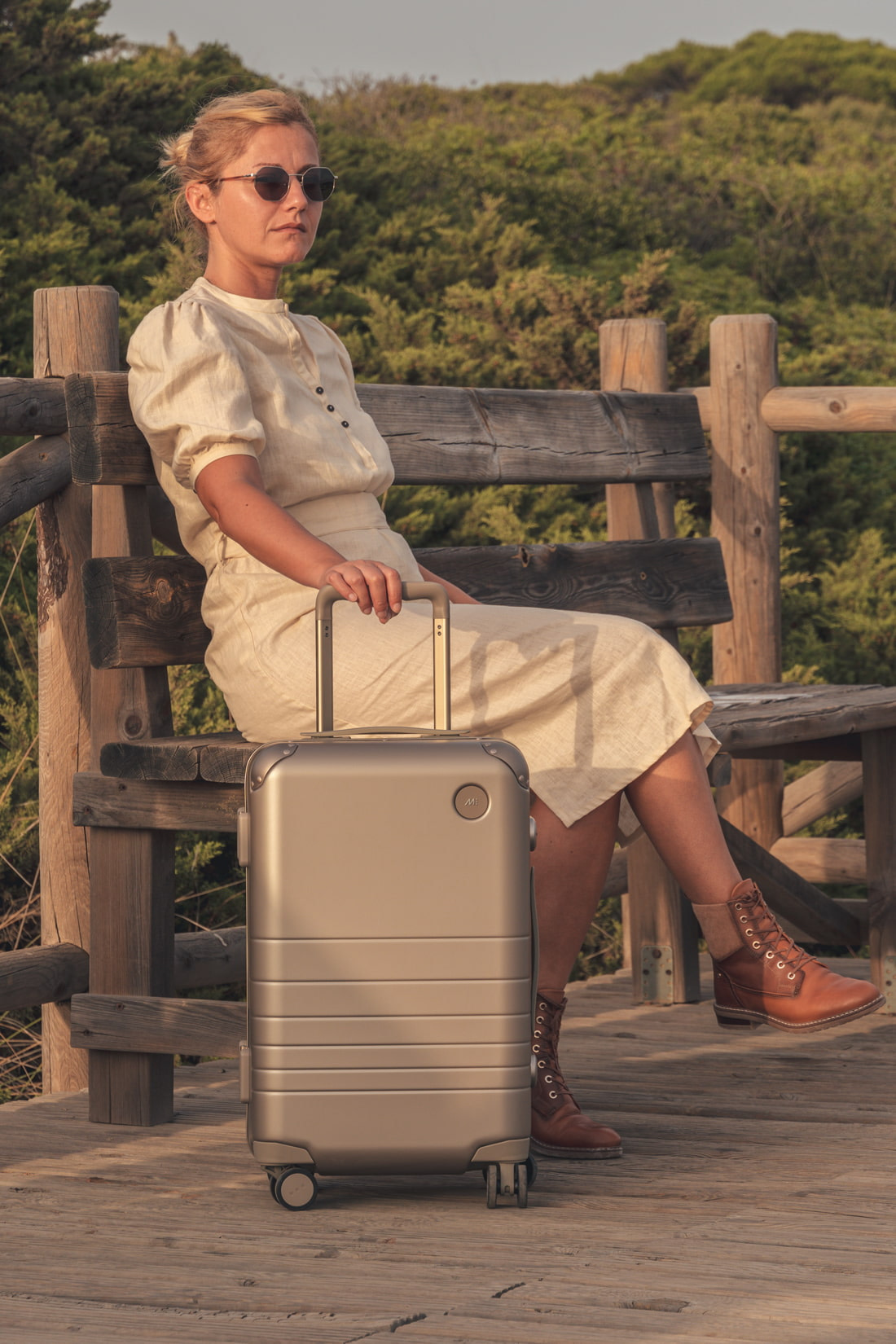 Monos just upgraded our favorite cabin bag to make it even more functional – and slightly more luxurious – for life on the road.
Fusing the robustness of aluminum with the lightweight and durability of polycarbonate, the new Hybrid Carry-On looks gorgeous and performs like a pro. Its aerospace-grade polycarbonate shell is now reinforced with durable aluminum for ultimate strength and comes in a dreamy metallic finish that's sure to make a statement wherever it lands.
Monos' cleverly redesigned telescopic handle with the release button underneath instead of on top is still there, and so are the signature asymmetric grooves and quiet, ultra-smooth Hinomoto wheels that they use on all their suitcases. Inside you'll find a zipped panel, a built-in compression pad, as well as bags for your laundry & shoes – all wrapped up in luxurious anti-microbial fabric, while outside two TSA-friendly latch locks provide added security and quick access to your contents.
I just used this suitcase for a quick 2-day trip to Málaga (plus a photoshoot in the wild), and it was perfect! Not only did it fit all my essentials and rolled effortlessly on the sidewalks, but it turned everyone's heads along the way. Stylish, well built, and designed with the new-age traveler in mind, it's hard to find a flaw where there is none.
› On Sale Now for $276.25 with Code BF2021
Best Lightweight Carry-On Luggage: Bellroy Flight Bag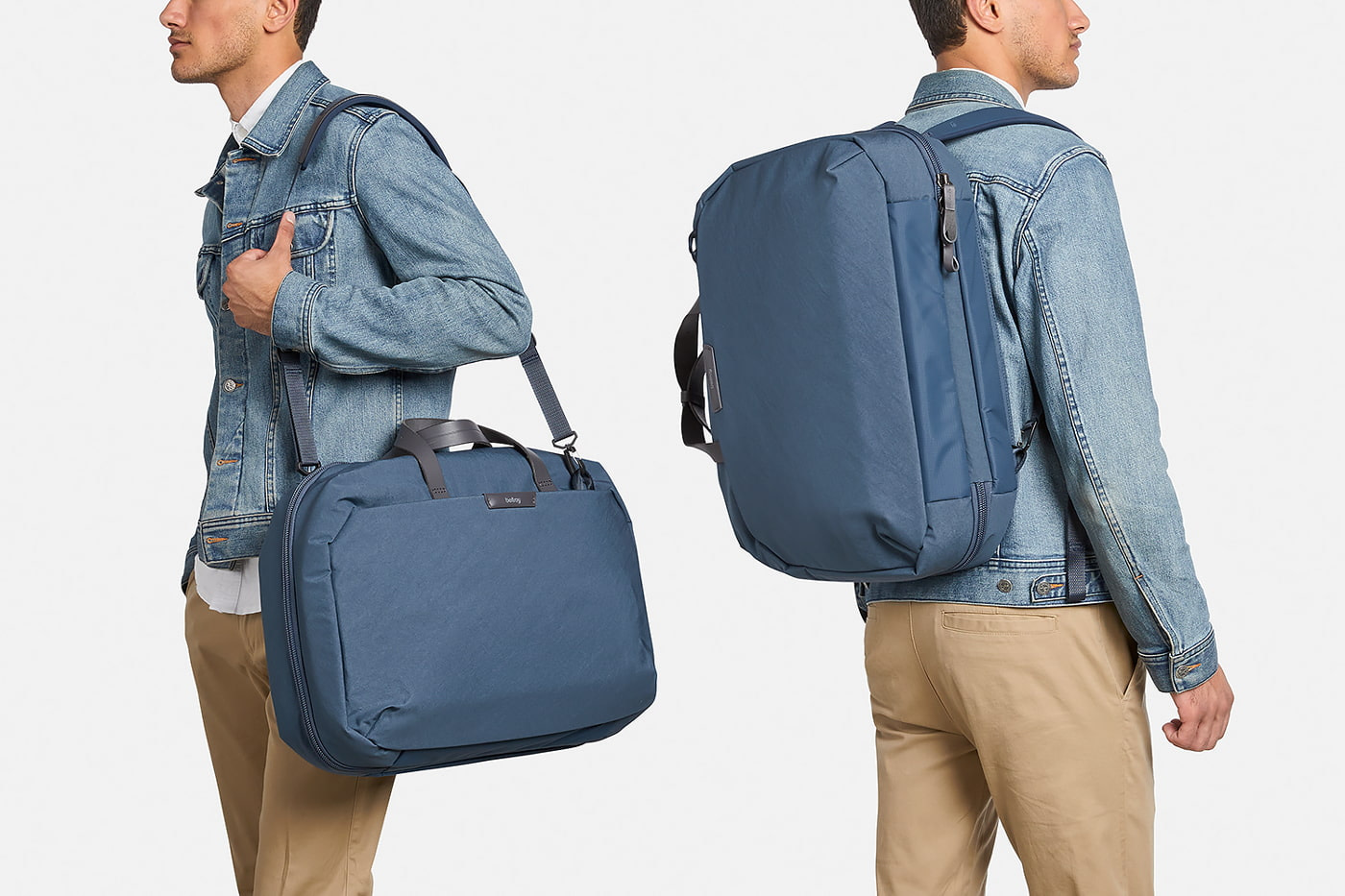 Weighing in at 1.35kg, this convertible travel companion is for light packers who don't want to compromise – neither on performance nor on style.
Made of recycled, water-resistant fabric and enhanced with tons of practical organizational features, the Bellroy Flight Bag makes an easy transition from the airport to the meeting room. And the best part? It can be carried as a briefcase, backpack, or on your shoulder – that when you don't slip it over your suitcase handle.
Most Stylish Carry-On Bag: Paravel Aviator Carry-On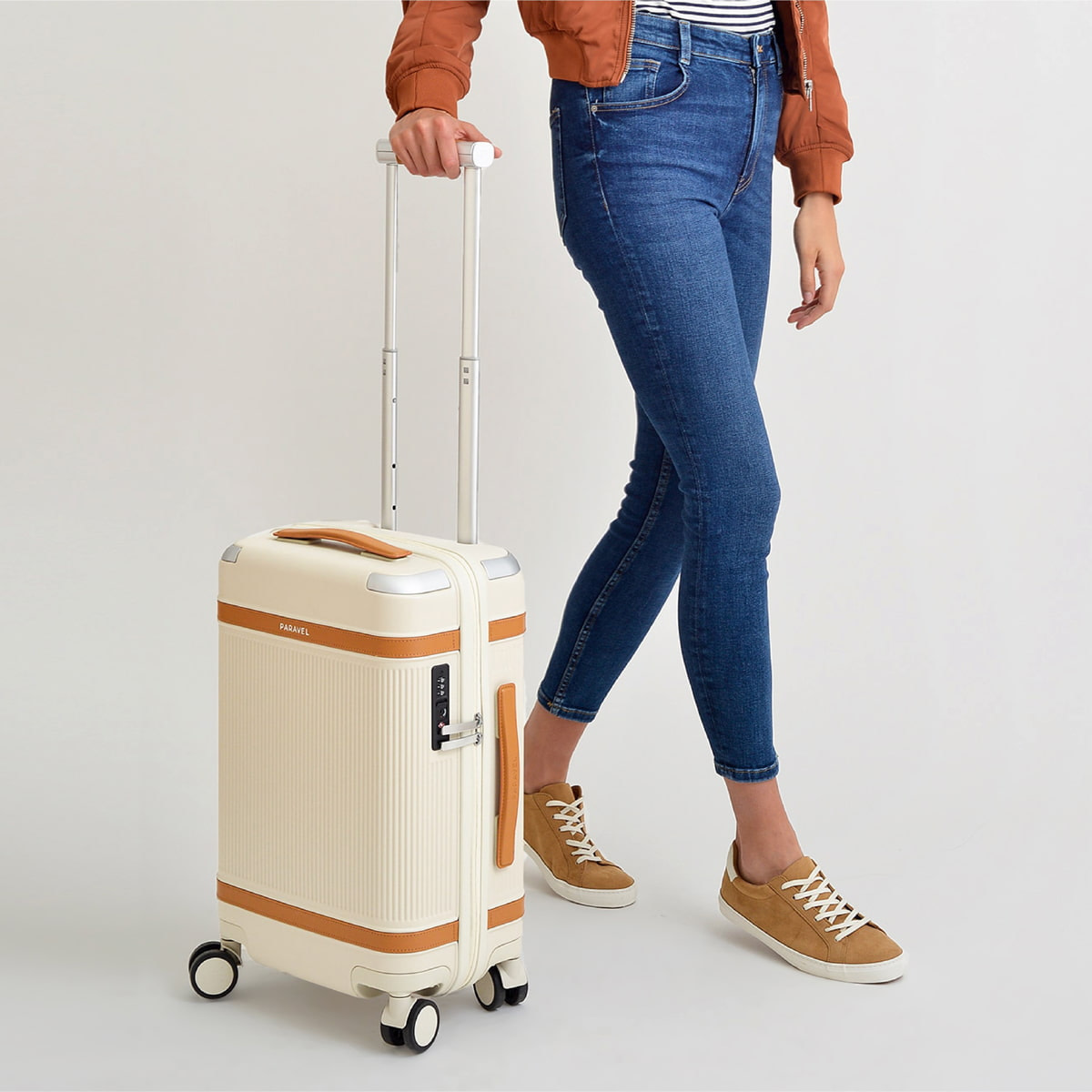 There is a lot to love about this stunning hardside carry-on from Paravel: it's durable and lightweight, comes packed with modern features, and its design is worthy of a luxe trip to Italy.
Beyond its beautiful retro-inspired look, the Aviator Carry-On is also crafted with the planet in mind. Its recycled polycarbonate shell, zippers, and aircraft-grade aluminum handle, along with the charming vegan leather details and an interior lining made from 15 upcycled plastic water bottles, make it one of the most sustainably made suitcases on the market. Oh, and did we mention that it rolls on impossibly smooth double spinner wheels and comes with a removable accessories pouch?
Best Carry-On Garment Bag: Briggs & Riley Carry-On Wheeled Garment Bag
Travelers on a lookout for the best carry-on luggage for suits may stop their quest at Briggs & Riley. Pairing function with style, their high-quality Carry-On Wheeled Garment Bag keeps hanging items in perfect condition thanks to its integrated Wally clamp and foam-centered garment panels.
Crafted from durable ballistic nylon and detailed with practical low-profile wheels, a strong aircraft-grade aluminum telescoping handle system, and thoughtful interior/exterior pockets for smaller essentials, this is one of the best garment bags for traveling professionals.
Best Carry-On Backpack: Peak Design Travel Backpack 45L
Crowning our list of the best carry-on backpacks, this versatile luggage piece fits a week's worth of clothing plus your photography equipment, all while meeting international carry-on standards. Equipped with rotating shoulder straps & hip belt, a detachable sternum strap, 360-degree grab handles, and one of the most innovative harness systems we've come across, it offers the ultimate in carrying comfort on the road.
Able to compress to 35L and even transform into a 30L day bag, Peak Design's 45L Travel Backpack is tough, stylish, and gloriously functional, which makes it an ideal companion for digital nomads, traveling photographers, weekend warriors, and pretty much anyone consistently on the move.
The recycled 400D nylon canvas exterior is durable and weatherproof, while the interior is smartly organized, with easily accessible laptop and tablet sleeves, a clever front panel perfect for grab-and-go essentials, as well as all sorts of perfectly placed pockets for gear and accessories. A full-perimeter zip enables a wide opening for easy packing and access to contents, a zippered dividing panel separates the bag into two compartments, and dual side zippers allow for instant camera and other items access.
Its sleek, urban design, expandable capacity, and thoughtful, ingenious features place it amongst the best carry-on bags on the market. It comes in two colors (Black and Sage) and is backed by a lifetime warranty. Pair that with high-density foam padding throughout and Peak Design's dedicated travel accessories & packing cubes, and you've got yourself a brilliant carry-on backpack that's as good for one-bag travel as it is for photography adventures.
Best Designed Carry-On Luggage: Topo Designs Global Travel Bag Roller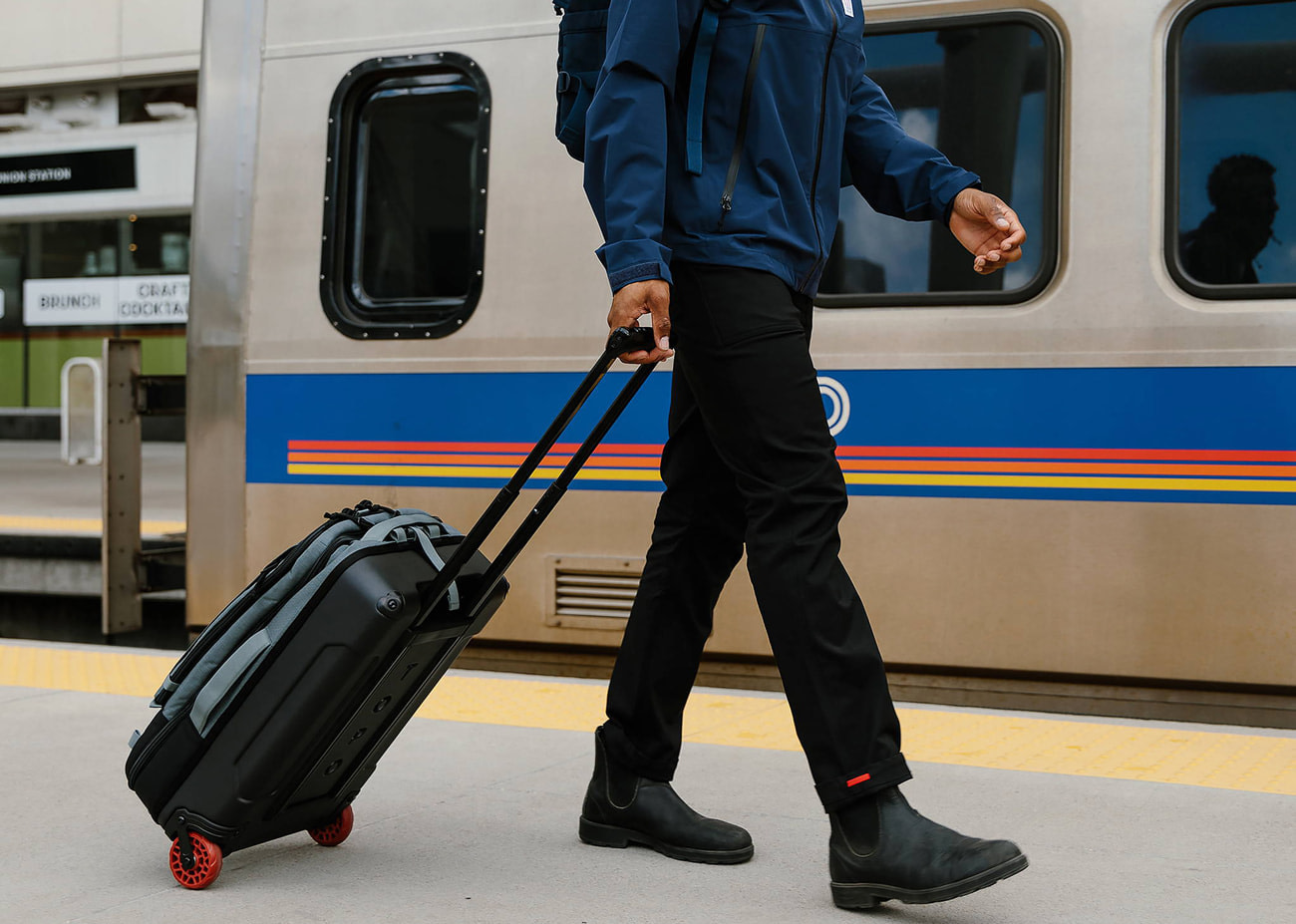 Team up Topo Designs' iconic travel bag with a pair of heavy-duty, crush-proof wheels, and you have the perfect softshell carry-on.
Made with recycled materials, the new Global Travel Bag Roller has stowable backpack straps, a telescopic handle, and padded grab handles on three sides so you can carry it in whatever way feels comfortable.
With front zippered slip pockets, spacious internal compartments, and mesh pockets for small gear, this versatile hybrid suitcase will fulfill all your organizational needs. Designed with one bag travel in mind, it also features a rugged molded back and PackFast attachment clips for easily rolling two (compatible) bags at once.
Best Carry-On Luggage for Business Travel: Nomatic Carry-On Pro
Smartly styled and sturdily constructed, the Nomatic Carry-On Pro answers the needs of connected, style-conscious business travelers with an instant access tech compartment and a padded, pocket-filled tech case that doubles as shoulder bag for your laptop and gadgets once you arrive at your destination.
The outer shell is made of 100% Makrolon polycarbonate and comes accompanied by smooth-rolling Hinomoto wheels and a strong three-stage aluminum handle. The interior is just as neat, with novelties like space-savvy compression cubes, custom magnetic compression straps, and a folding panel that can be adjusted to fit your needs.
Most Durable Carry-On Luggage: Zero Halliburton Pursuit International Carry-On Case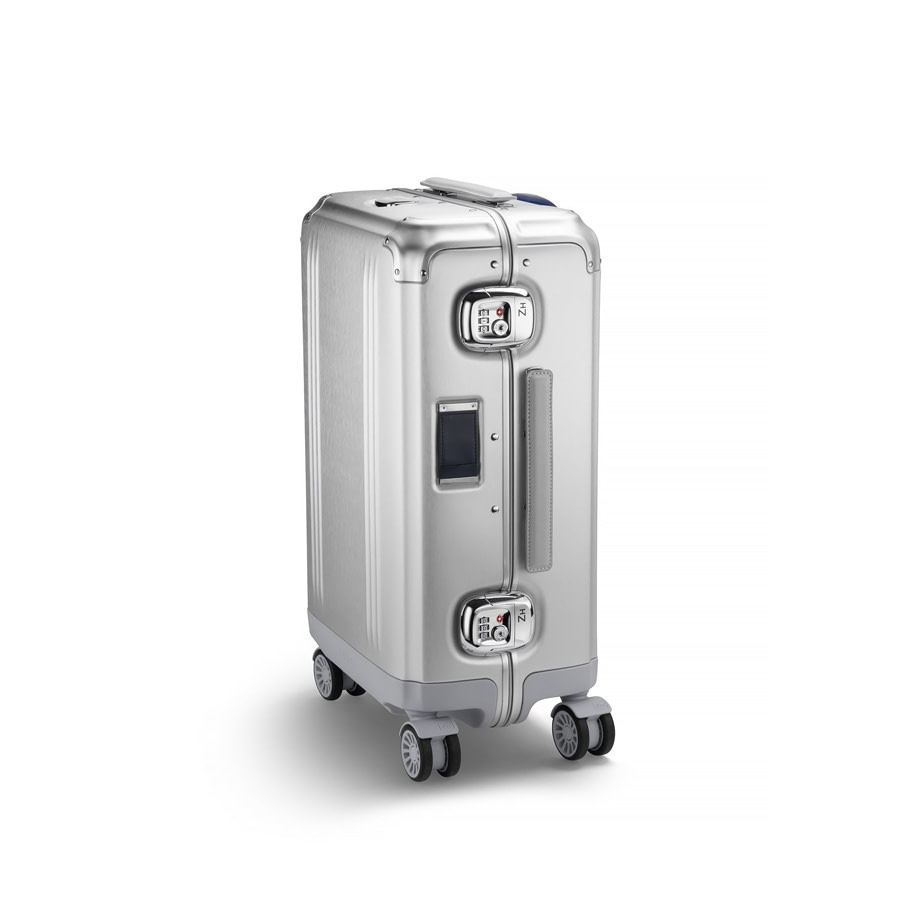 Zero Halliburton's original suitcases were used to carry rocks back from the moon during the Apollo 11 mission, so to say their International Carry-On Case is sturdy and well made would be an understatement.
Part of the new Pursuit collection, this badass travel case is crafted from premium anodized aluminum, with a matte finish that minimizes scratch marks, as well as premium ball-bearing controlled wheels and draw-bolt latches with two TSA-approved combination locks. As a novelty, the valise allows the customization of virtually every component and is enhanced by patent-pending ZH Concave Edging architecture for added strength and durability.
Most Versatile Carry-On Luggage: Briggs & Riley ZDX 21"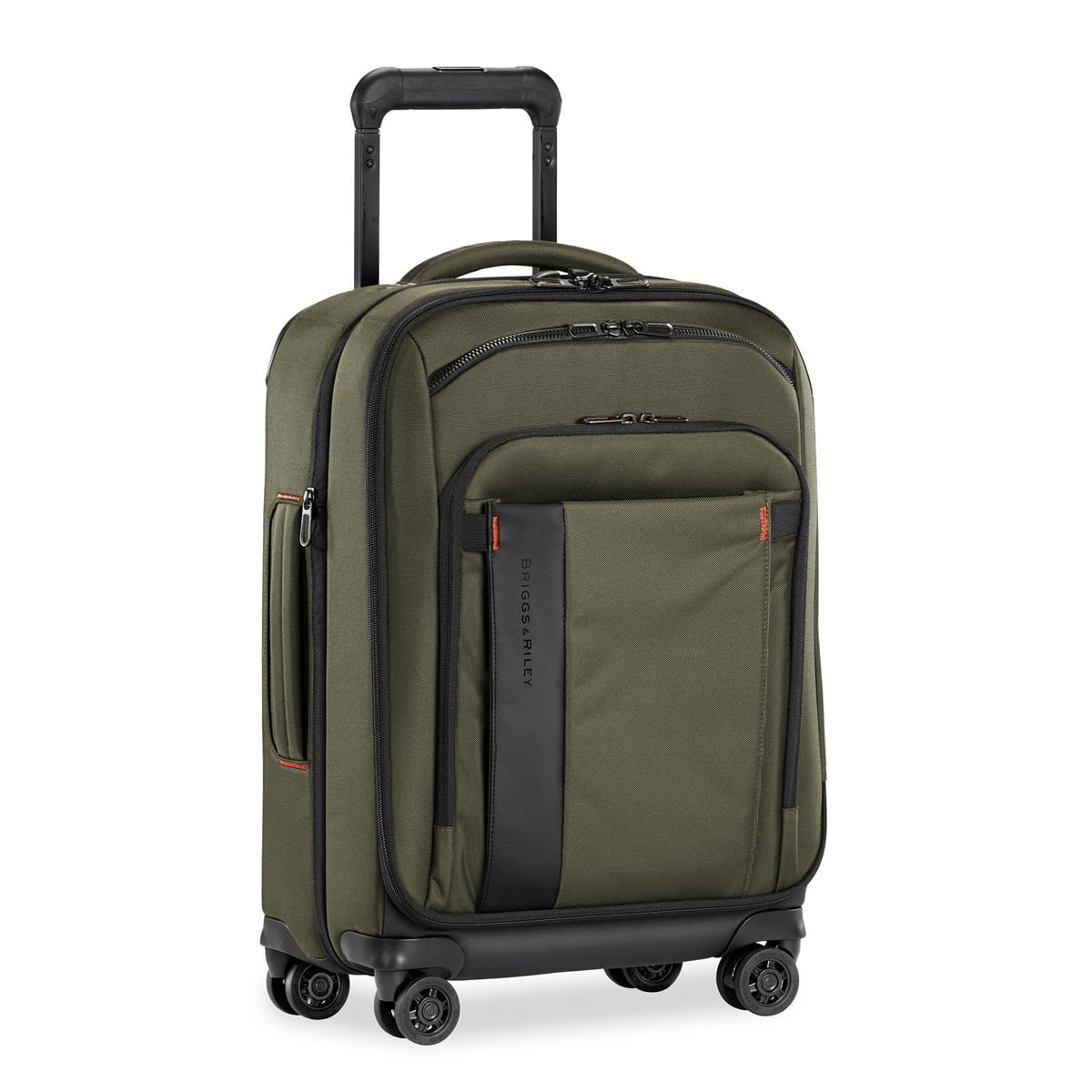 Probably the most versatile cabin bag on the list, the ZDX 21" International Carry-On Expandable Spinner from Briggs & Riley is a great option if you're often flying internationally. Not only that, but it also features a handy zip expander, which allows for 2.5" of extra packing space in case you can't resist buying those last-minute souvenirs, or maybe you're flying airlines with different size limits on carry-ons.
Besides an outside battery pocket for charging your phone in transit, it's equipped with smooth-rolling spinner wheels and an easy-access pocket that allows you to breeze through airport security checkpoints.
The 800D ballistic nylon fabric makes the bag water, moisture, and tear-resistant, while reinforced, low-profile corner guards add to its durability.
Most Customizable Carry-On Luggage: The Jaunt by ROAM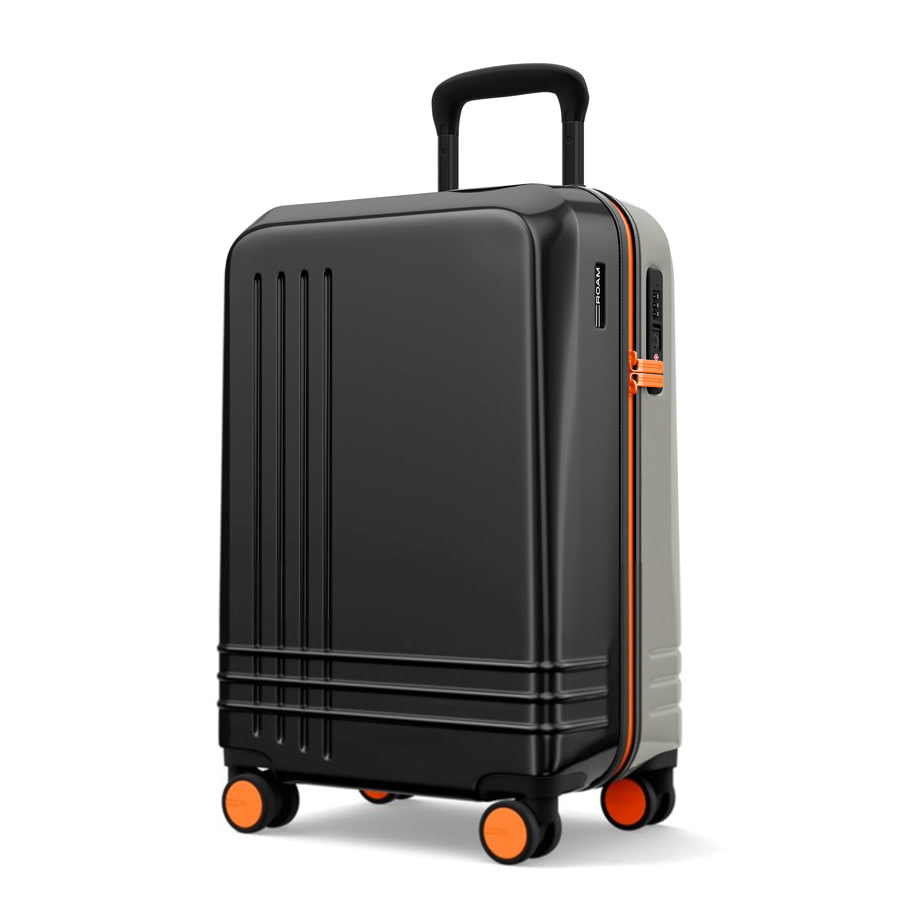 Meet the world's first fully customizable luggage! Made of 100% virgin Polycarbonate with a trademarked nano-coating finish, The Jaunt by ROAM steals the show with its sleek, sturdy design, unparalleled lightness, and personalized looks.
Thanks to a bevy of configurable components, you'll be able to design your own dream suitcase from scratch online and have it delivered right at your door. You can basically personalize everything, from outer shell colors to wheel caps, stitching, zipper/zipper pulls, binding, carry-handle, and telescoping handle rods. You can even choose a shade for the patch from the 11 options available and then add a monogram with your initials.
Bespoke aesthetics aside, this wheeled carry-on roller suitcase sports a soft mesh interior with two zip pockets, and comes appointed with TSA-approved lock, ergonomically designed handles, and top-grade Hinomoto wheels.
Best Two-Wheel Carry-On Luggage: Timbuk2 Copilot Luggage Roller
Modern road warriors will fall in love with the Timbuk2 Copilot Luggage Roller, an ultra-lightweight softside carry-on spinner with a unique clamshell design and various easy-access compartments for shoes, dirty clothes, and cosmetics. Not only that, but this cool 2-wheeled luggage roller sports removable skateboard wheels and a bike-inspired handle system; comes in two carry-on sizes; and is backed by a lifetime warranty.
Best Luxury Carry-On Luggage: RIMOWA Original Cabin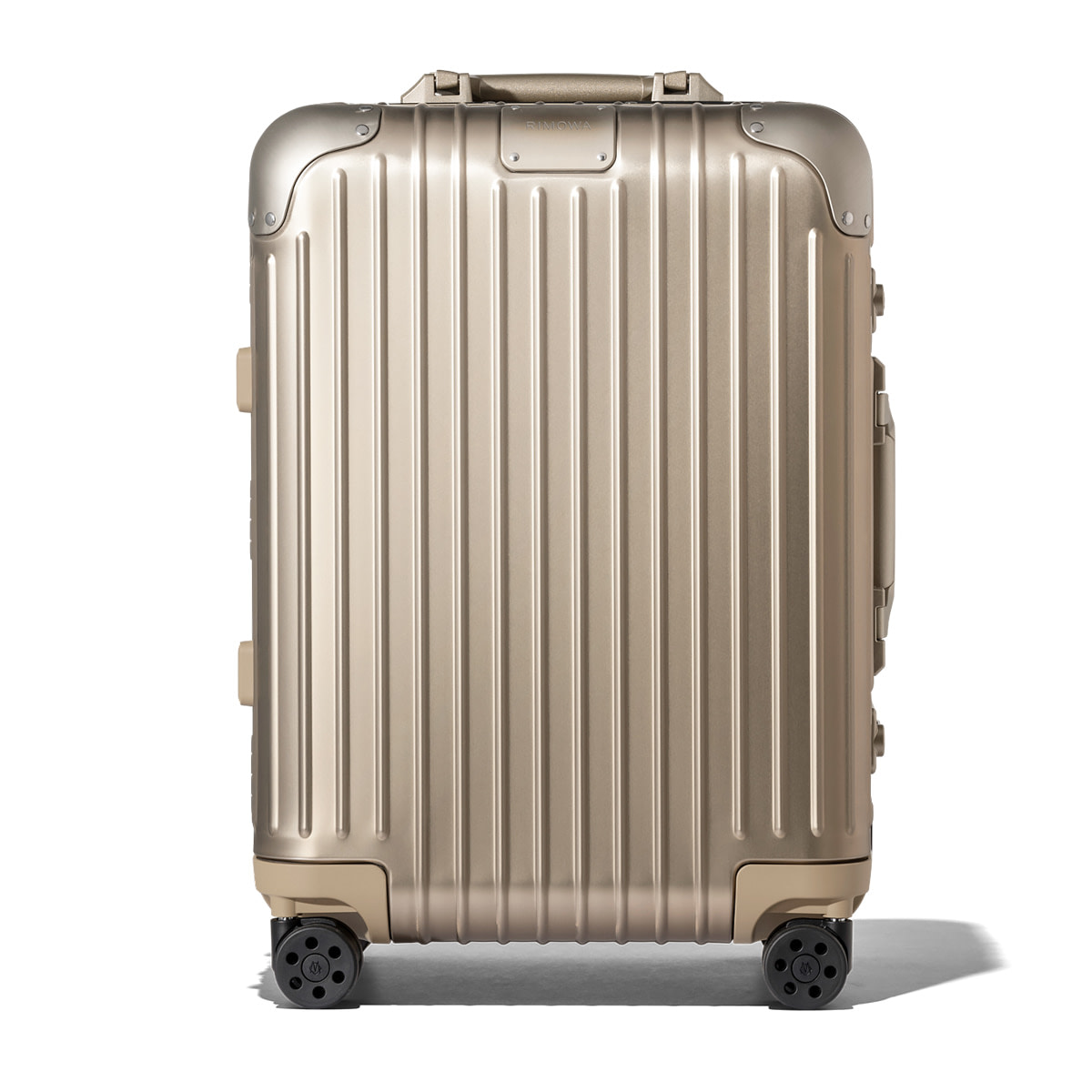 RIMOWA is synonymous with high-end, innovative hard case luggage, and this gleaming carry-on bag in Titanium is no exception.
As one of the most iconic luggage pieces of all time, the RIMOWA Original Cabin has all the makings of the perfect wheeled carry-on: a high-end multiwheel system, stageless telescopic handle, and TSA-approved locks. Moreover, its anodized aluminum shell is engineered with German precision to offer you the ideal balance of lightweight and sturdiness, while the patented Flex-Divider system keeps contents organized during transit.
Best Designer Carry-On Bag: Formula 1005 Scritto Leather Rolling Suitcase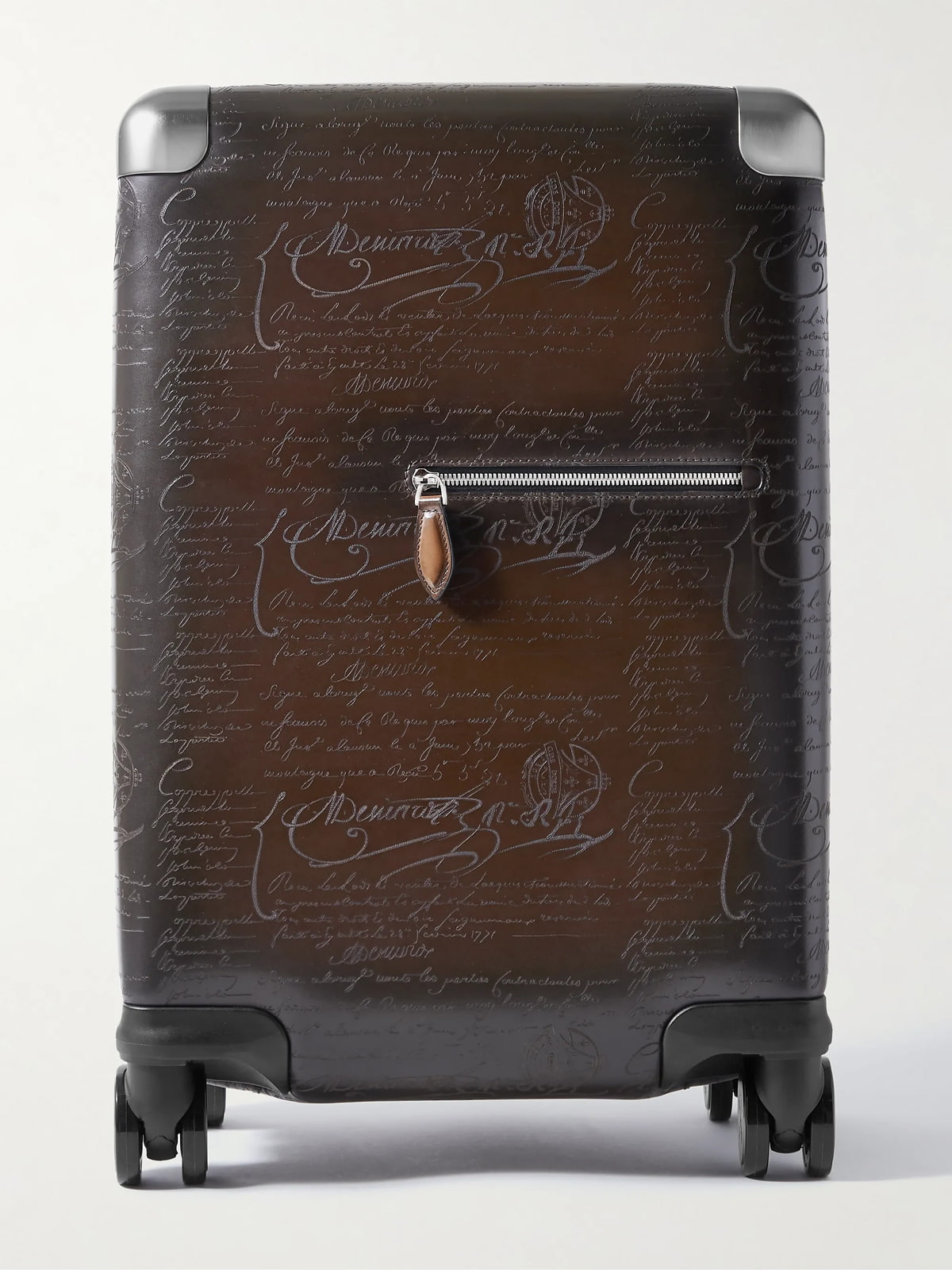 From prestigious leather maker Berluti, the Formula 1005 Scritto Leather Rolling Suitcase makes a style statement like no other.
Crafted from noble Venezia leather and engraved with the house's signature 'Scritto' calligraphy originally taken from an 18th-century manuscript bought at auction, this gorgeous cabin case brings an air of old-world sophistication to any journey. More than just a statement-maker, though, it rolls on 360-degree molded polyurethane wheels and comes with elastic straps and a host of practical pockets to keep your belongings neat and secure.
Best Carry-On Luggage for Standing Out at Baggage Claim: Delsey Chatelet Hard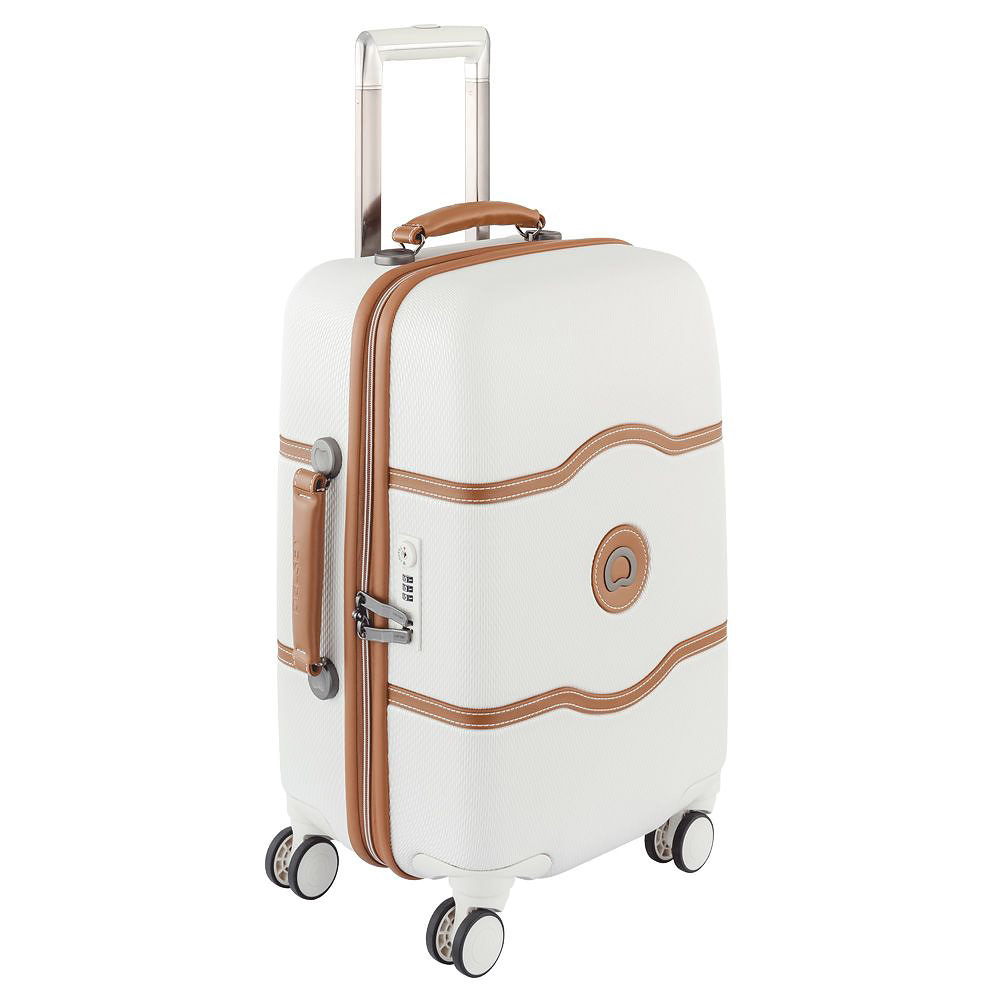 No jetsetter's summer essentials list would be complete without a chic suitcase that really gets them in the holiday mood. With the elegant, vintage-inspired Delsey Chatelet Hard, you will be the envy of the crowd around the baggage carousel!
This nostalgic French beauty brings to mind glamorous Parisian breaks and sunny French Riviera getaways, while also providing functionality and durability. Aside from 4 quiet, easy-running double wheels and an inbuilt TSA lock, the cabin trolley case has a patented integrated brake that locks your wheels, preventing it from rolling away on the steep, cobbled streets of Montmartre.
If you want a well-designed suitcase that's both sturdy and stylish, this is it!
Best Aluminum Carry-On Luggage: Away The Bigger Carry-On Aluminum Edition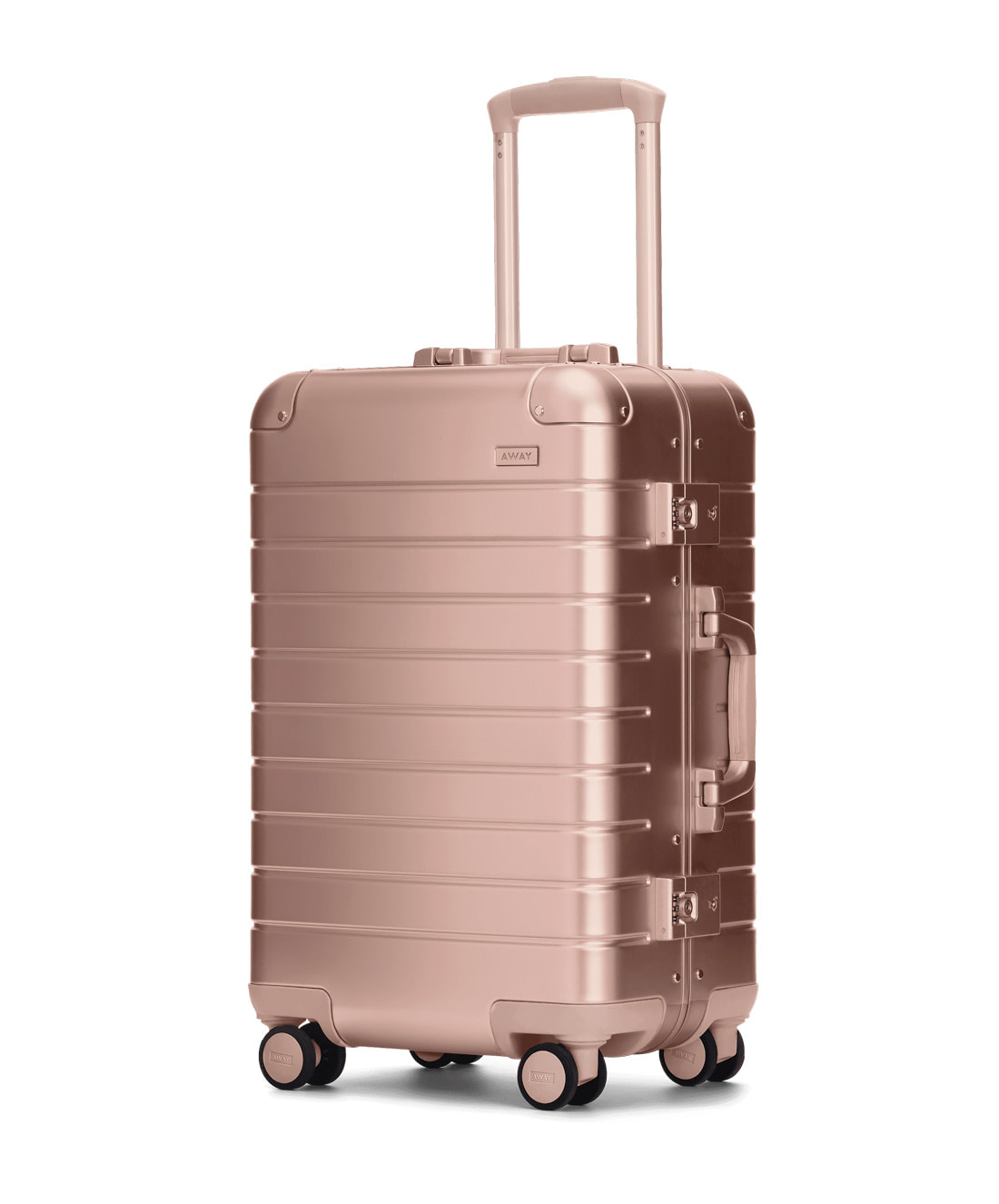 Travel the world in style with the beautiful Aluminum Bigger Carry-On from Away. This sleek, unbreakable piece of luggage has all the bells and whistles of a traditional Away carry-on but features an innovative zipperless design with TSA-approved clasp locks. As its name implies, it is also one inch taller and wider, giving you a little extra packing room without having to check it in.
Complementing its splendid, monochrome aluminum hard shell is the brand's signature interior compression system, as well as whisper-quiet 360° wheels, elegant leather accents, and a removable battery for charging your devices on the go.
And if you are not completely sold on this model, our carefully curated roundup of aluminum suitcases will surely sway you to join the metallic trend.
Best Carry-On Luggage for Kids: Jetkids by Stokke Bedbox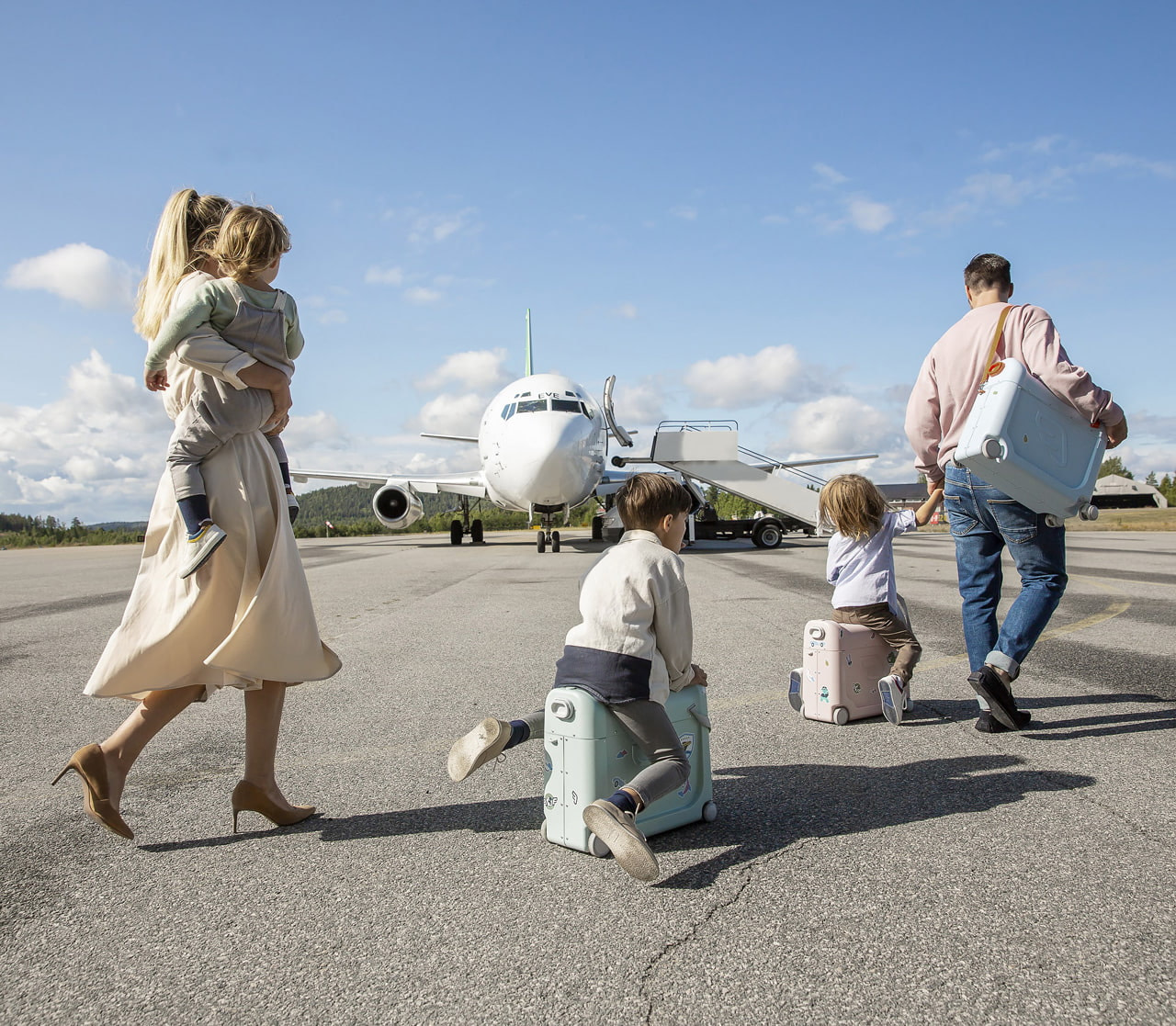 Thanks to its ingenious design, with a foot ledge, extendable lid, and a mattress, this 19″ ride-on suitcase from Stokke Bedbox converts into a leg rest or in-flight bed for children during flight.
One of the best carry-on bags for boys and girls on the go, the Jetkids can be pulled, pushed, or ridden, and comes with shock-absorbing swivel wheels for easy maneuverability through the airport. The interior provides plenty of space for your child's must-haves and there's also an adjustable strap for parents to carry it over their shoulders.
Compact, lightweight, and decidedly fashionable, this hardside kids' carry-on luggage adds a bit of fun and comfort to any family travel plan.
Best Carry-On Luggage Deal Right Now: Samsonite Xylem 2.0 Carry-On Spinner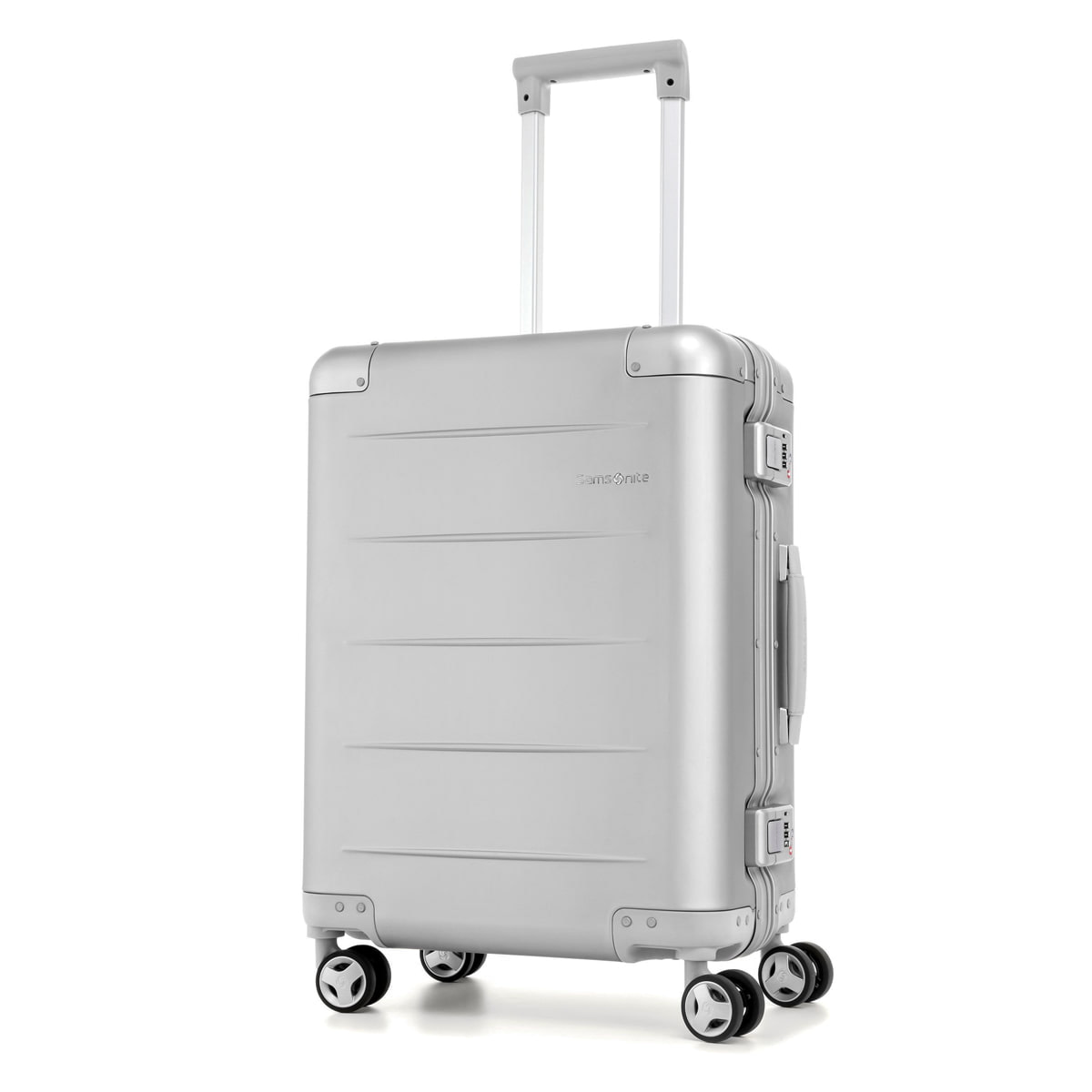 Crafted from ultra-strong, high-quality anodized aluminum and adorned with state-of-the-art details such as embossed jacquard interior lining and the patented Aero-Trac suspension wheel system, the Xylem 2.0 Carry-On Spinner is sleeker than any other Samsonite suitcase. On top of that, it's discounted right now, bringing the $420 price tag down to a spectacular $279.
For further suitcase sales, check out our Best Luggage Deals section, where we constantly add the latest offers from top brands like Monos, Briggs & Riley, Horizn Studios, Herschel Supply Co., Delsey, Travelpro, and more.
---
That's all, folks! These are our recommendations for the best cabin luggage in 2021. If you still haven't found your favorite bag, get in touch with us with some extra details about your request, and we will reply with personalized recommendations.