This post contains affiliate links, which means we may receive a small commission, at no additional cost to you, if you make a purchase through these links. See our full disclosure here.
Whether in the office, around town, or in the great outdoors, backpacks are becoming a mandatory accessory for men. They're practical, comfortable to carry, and come in an endless array of styles and materials.
However, carry styles are likely to differ widely nowadays, which means that even the best backpacks for men, when used for the wrong purposes, will become useless. As such, a compact everyday backpack is perfect for urban activities but may not be as practical as a weekend companion or a carry-on bag on flights around the world. In the same way, a stylish backpack with elaborate internal organization will look particularly smart on your work commute or business trip but may not find glory on the hiking trail.
To help you save an excruciating amount of time, we've pulled together a list of the finest, most thoughtfully designed men's backpacks around. Efficiently categorized, our roundup has everything you need to conquer mountain peaks, the campus, or the everyday chaos in style.
Best Backpack for Men in 2023: Bellroy Transit Workpack
Wherever you're headed, this versatile carryall has you covered! By far one of the most stylish men's backpacks we've got our hands on, the Bellroy Transit Workpack can take on as many tasks as you do throughout the day.
Wrapped in a special water-resistant woven fabric made from recycled materials, this clamshell design fuses durable construction with streamlined aesthetics and efficient compartmentalization. There's a separate laptop section for devices up to 16", a soft-lined sunglasses pouch, hidden spots for wallet and water bottles, and even a stretch pocket to store your gym shoes. The full zip-around access lets you open the backpack like a suitcase for lay-flat packability, while the contoured back panel and padded shoulder straps provide superb comfort on your daily outings.
Best Travel Backpack for Men: Tropicfeel Shell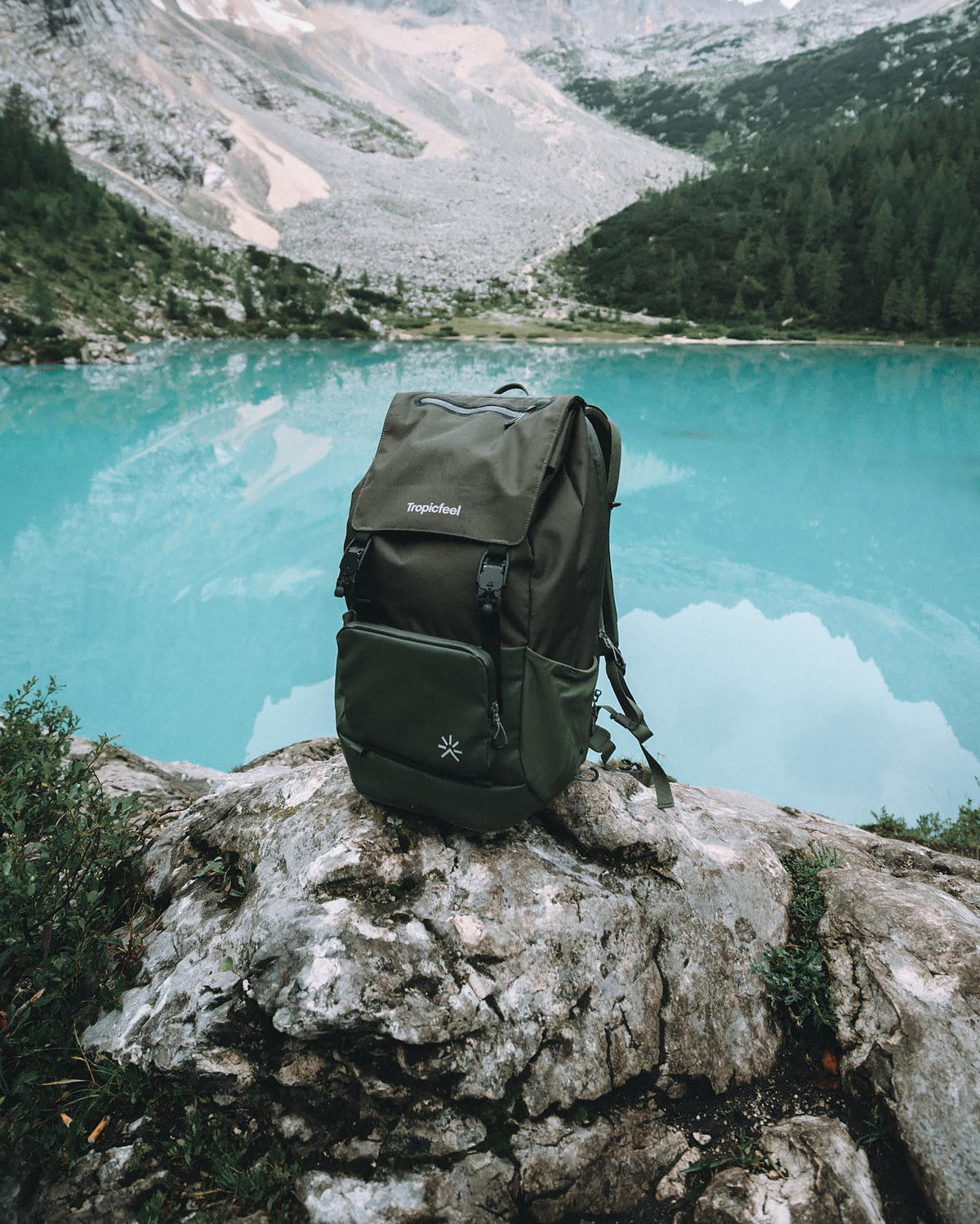 Designed in Barcelona, this savvy backpack adapts to your trip with a range of thoughtful, detachable components and a smart 3-in-1 design that converts from a commute-friendly 20L daypack to a 30L weekender to a 40L all-in-one travel bag – and that's hardly its best feature.
Dubbed the ultimate travel backpack, the Tropicfeel Shell reimagines packing with an inbuilt wardrobe system that allows you to compartmentalize all your gear like you would in your closet. Once you reach your destination, just remove and hang it from your hotel clothing rack. This easy-to-access wardrobe also acts as a compression system, helping you save up to 20% more packing space.
Crafted using sustainable, weatherproof materials and complete with a clamshell opening for easy access to contents, it easily qualifies as one of the best travel backpacks for today's time-strapped nomads. And speaking of contents, Tropicfeel also offers a toiletry bag, a magnetic tech pouch, and a camera cube with customizable dividers so you can configure the backpack to your needs every time.
Best Luxury Backpack for Men: Bennett Winch Black Leather Backpack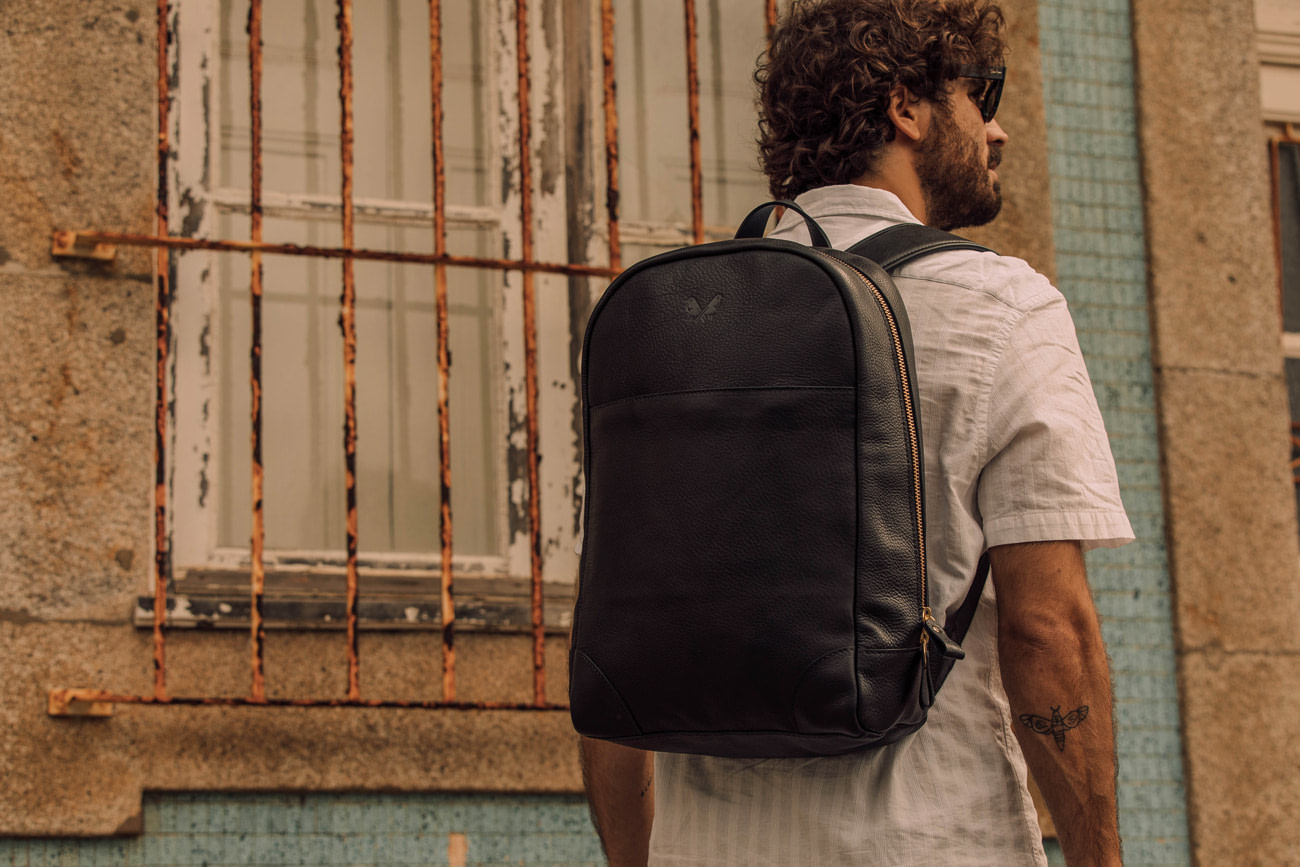 Mirroring the brand's focus on heritage quality, the Bennett Winch Black Leather Backpack is a beautiful wardrobe staple you'll rely on for years to come. Handcrafted in England from full-grain Tuscan leather, it will age beautifully over time while remaining timeless and relevant in both functionality and style.
And speaking of functionality, this luxe leather style is just the right size for daily adventures and those impromptu bits of traveling when you want to keep a few necessary items close. It can hold a 16-inch laptop in a protected sleeve inside the main compartment, plus all of your accessories in the four low-profile interior and exterior pockets. Our favorite feature is the removable nylon wet compartment, which is ideal for storing your gym kit, toiletries, or just to keep items separated and organized inside. Lastly, the black design is elevated with solid brass hardware welded in London, and there's also a pair of suede-lined leather straps for comfort.
Best Daypack for Men: Db Essential Backpack 17L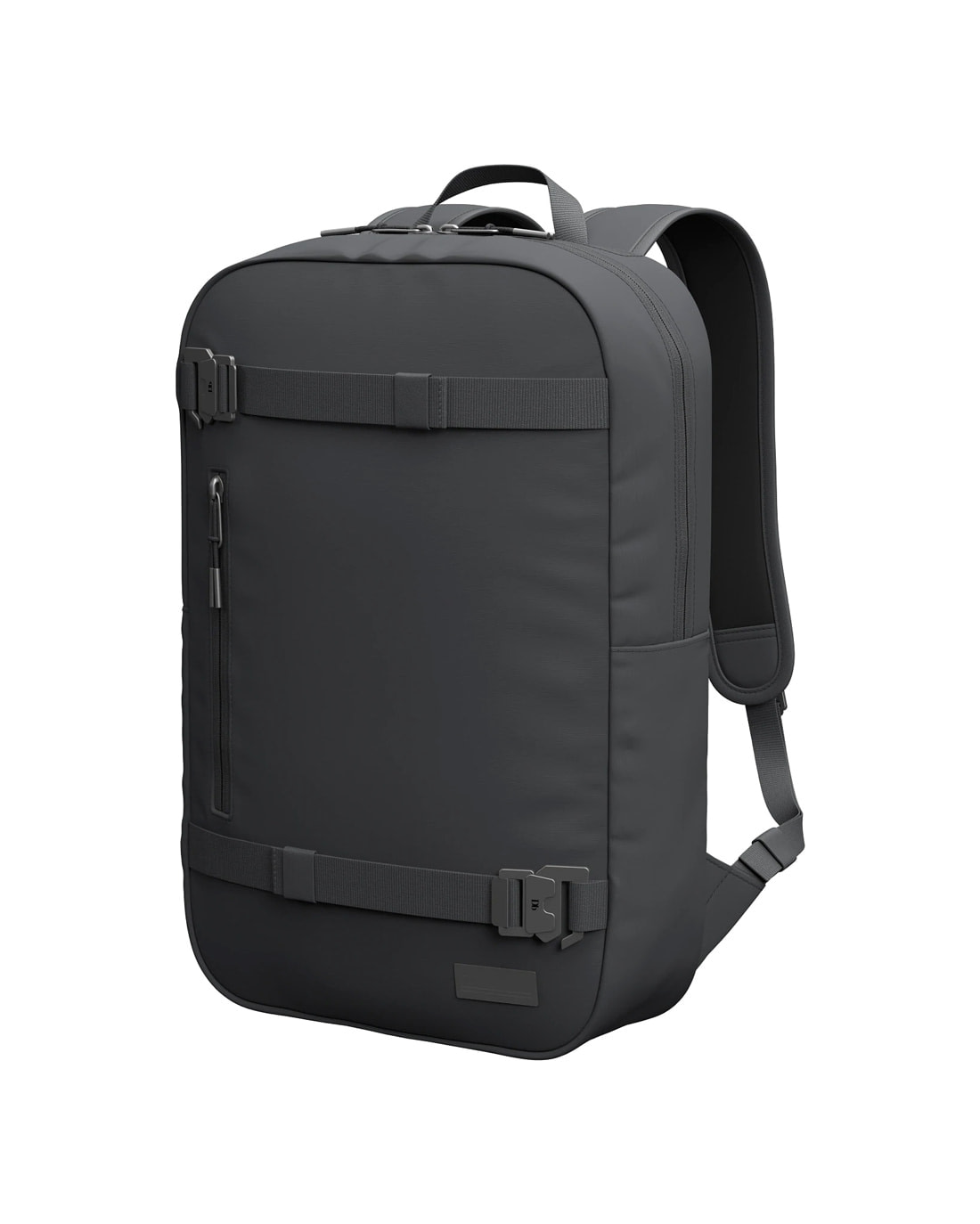 Looking for a mix of cool urban styling and everyday functionality? Scandinavian brand Db delivers with this slim, compact daypack in a ton of fresh, fun colors.
Designed with skaters, students, and city slickers in mind, the Essential Backpack 17L features three separate internal compartments, including a laptop sleeve for computers up to 16 inches. Outside there are adjustable buckled straps to secure your skateboard or yoga mat, as well as front and top pockets for convenient access to frequently used items.
Add minimalist aesthetics and comfortable padded shoulder straps to the equation, and you've got yourself a versatile pack that's equally at home on the city streets, your daily commute, or the local coffee shop.
Best Men's Backpack for the Office: Troubadour Pioneer Backpack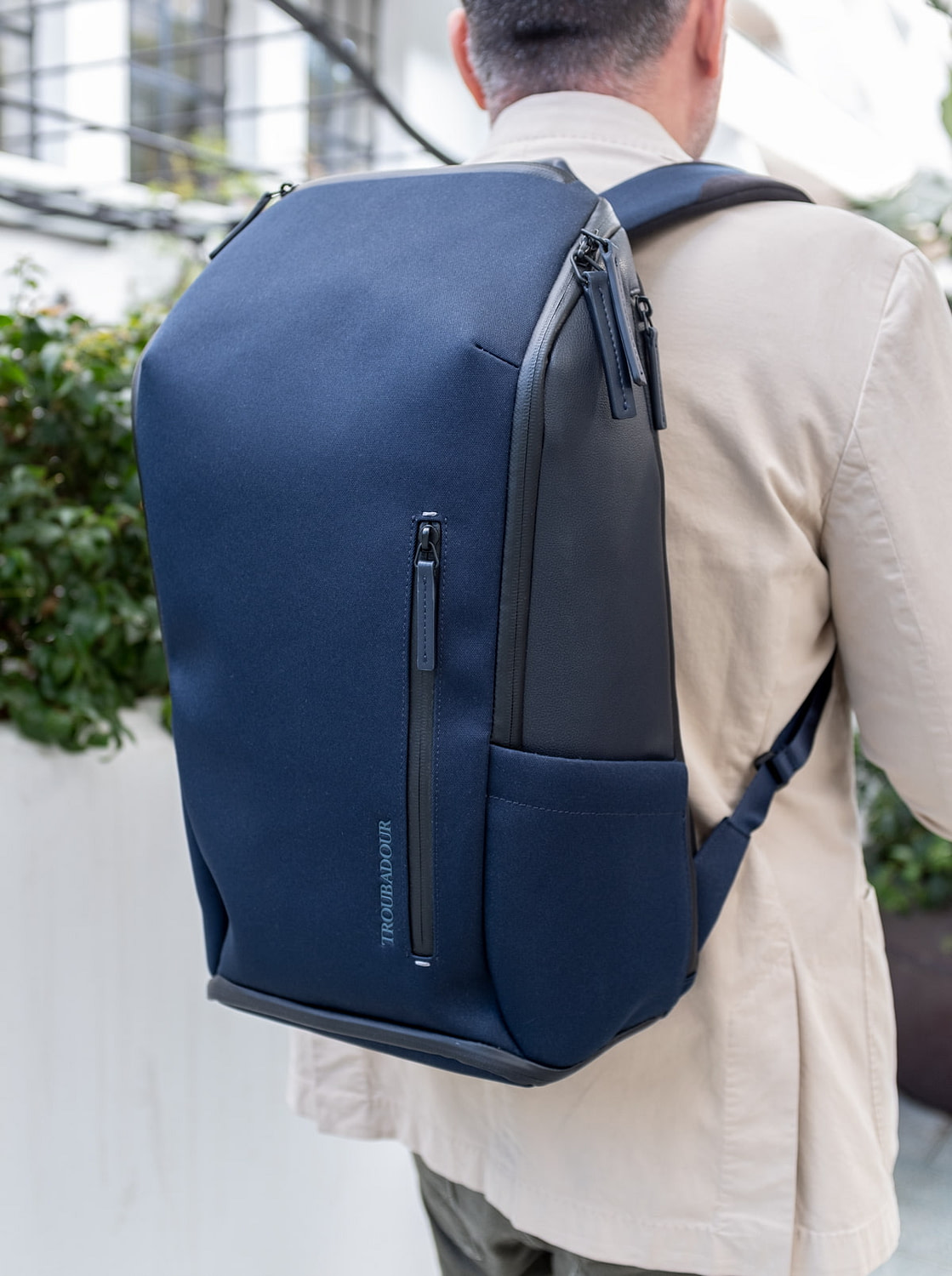 Few men's backpacks out there look like they belong in the boardroom quite like the Troubadour Pioneer Backpack. Crafted from a lightweight technical fabric with vegan leather trim, this polished, minimalist pack is strong, waterproof, and extremely lightweight.
A padded laptop sleeve accommodates devices up to 16 inches, while a separate shoe compartment with antimicrobial lining makes it ready for your work-to-gym routine or an overnight jaunt. The front panel opens up to reveal a well-organized "office" section with multiple sleeves and pockets, and its padded, curved shoulder straps and breathable back panel ensure all-day comfort.
Available in black and navy, this professional-looking bag transitions seamlessly from work to weekend and everywhere in between. It's also made sustainably from 100% recycled materials, which means it not only looks good but it does good, too!
Best Designed Backpack for Men: Bellroy Classic Backpack Premium Edition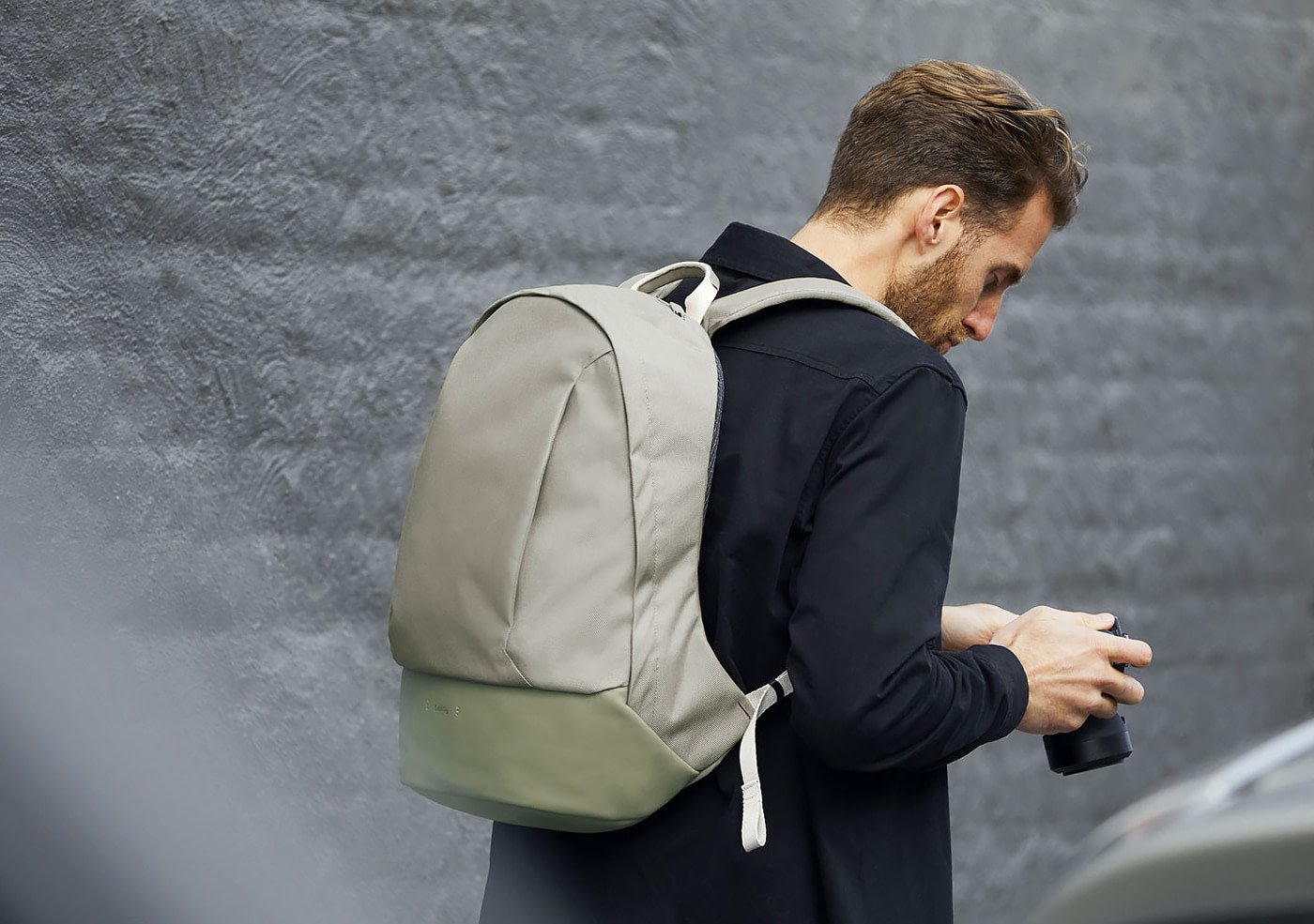 If there's one brand that understands the meaning of functional simplicity, it's Bellroy.
Wrapped in a lightweight, water-resistant fabric made from recycled plastic bottles and adorned with classy sustainable leather details, their Classic Backpack Premium Edition is one of the slickest, best-designed EDC backpacks you can buy in 2023.
Its chic, understated design is enhanced with lumbar support and contoured straps for all-day carrying comfort and packs in all your favorite organizational features, including a protective laptop sleeve, a padded iPad / A5 document pocket with pen slip, a soft-lined sunglasses pouch, and an easy-access exterior pocket for small essentials.
Best Backpack for Outdoorsmen: Filson Oil Finish Rucksack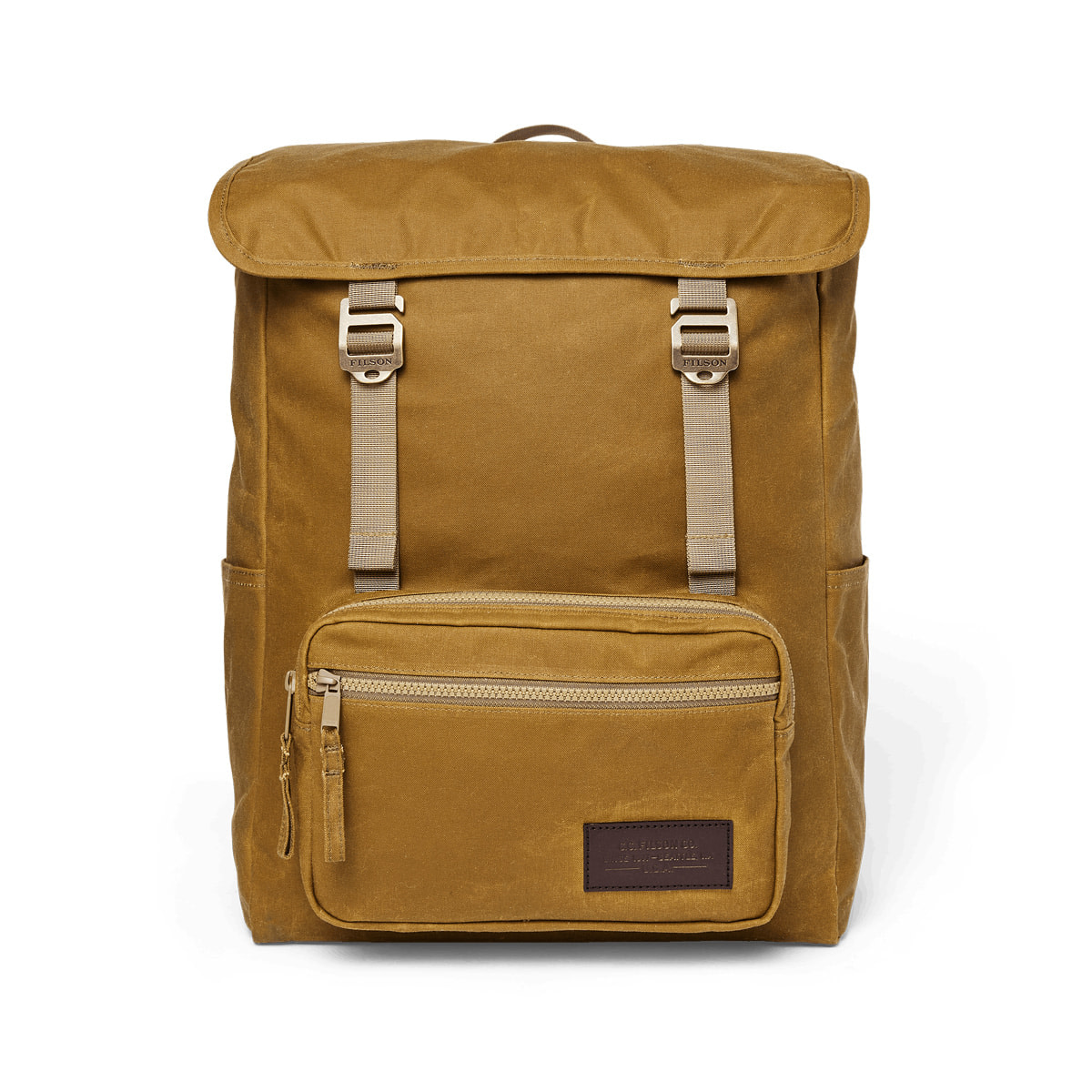 Filson has been creating rugged goods for outdoorsmen since 1897, and this durable waxed canvas backpack is no exception to the rule. Made in the USA with 14-oz. waxed 100% cotton, the Oil Finish Rucksack is backed by a lifetime guarantee and provides plenty of storage for a weekend's worth of clothing and gear.
Though designed to withstand the harshest conditions, this sturdy, weatherproof pack has enough contemporary features to cover all your daily and travel needs, including a padded back panel and shoulder straps, double-zippered front pockets, and an internal padded laptop sleeve for securely storing your electronic device when out and about.
Best Commuter Backpack for Men: Horizn Studios SoFo Backpack Travel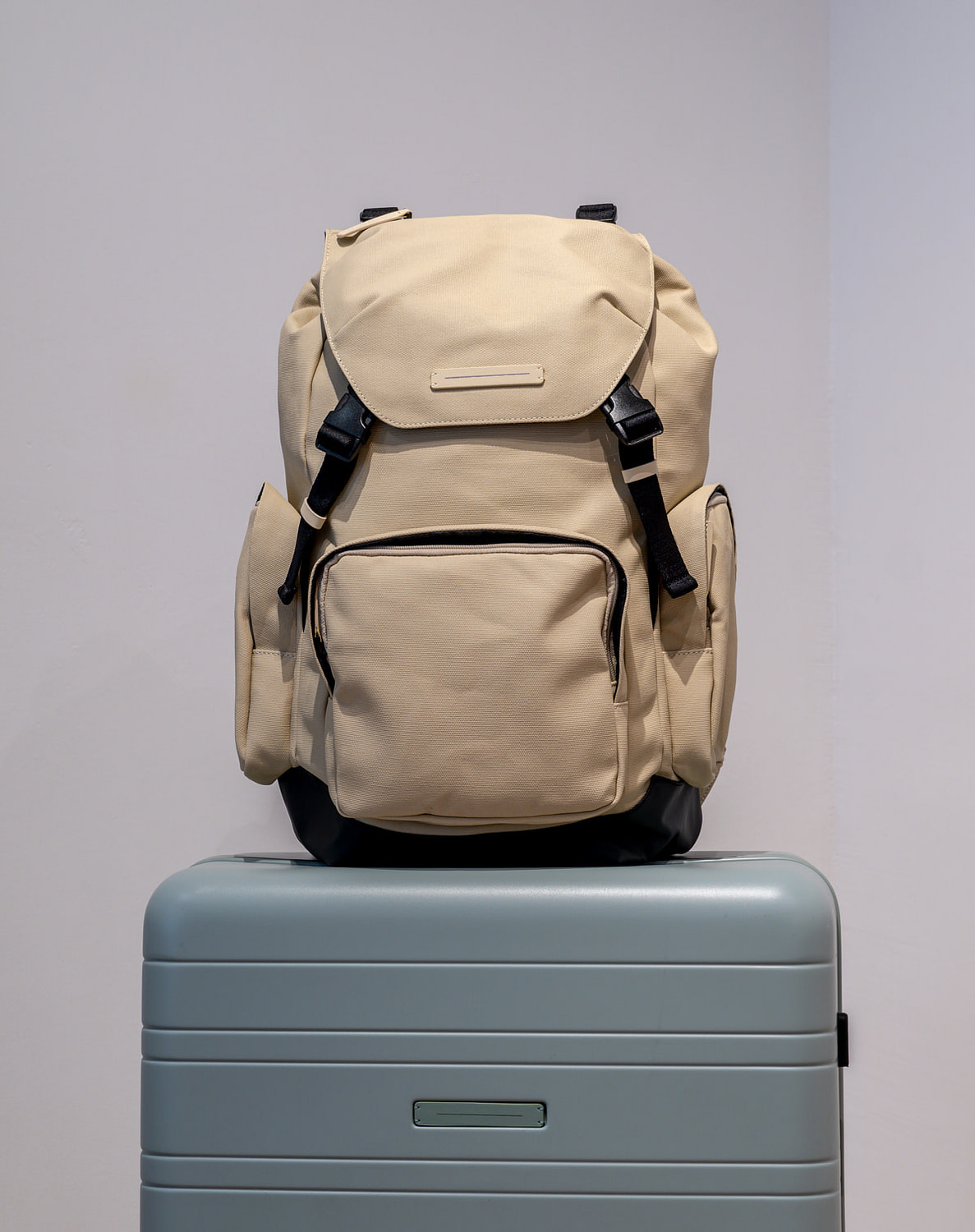 All the features you want from a commuter backpack are here, including ample storage, a padded laptop compartment, and durable construction.
Ideal for those carrying a larger load, the SoFo Backpack Travel is made from recycled water-sealed cotton canvas, so your contents won't be ruined in a sudden downpour, and has an expandable drawstring top closure for added packing capacity when you need it. Nevertheless, the breathable mesh padding on the back and shoulder straps ensure the bag is comfortable to carry, even when stuffed to the brim.
The padded rear compartment fits a 16" laptop, and the roomy zippered outer pockets (one of which has a keychain) make it easy to stash often-used items. There's even a hidden rear pocket in the back padding for storing money, documents, and other valuable items, as well as a trolly strap to secure the backpack to your suitcase when traveling.
Best Sling Backpack for Men: Boundary Supply Errant Sling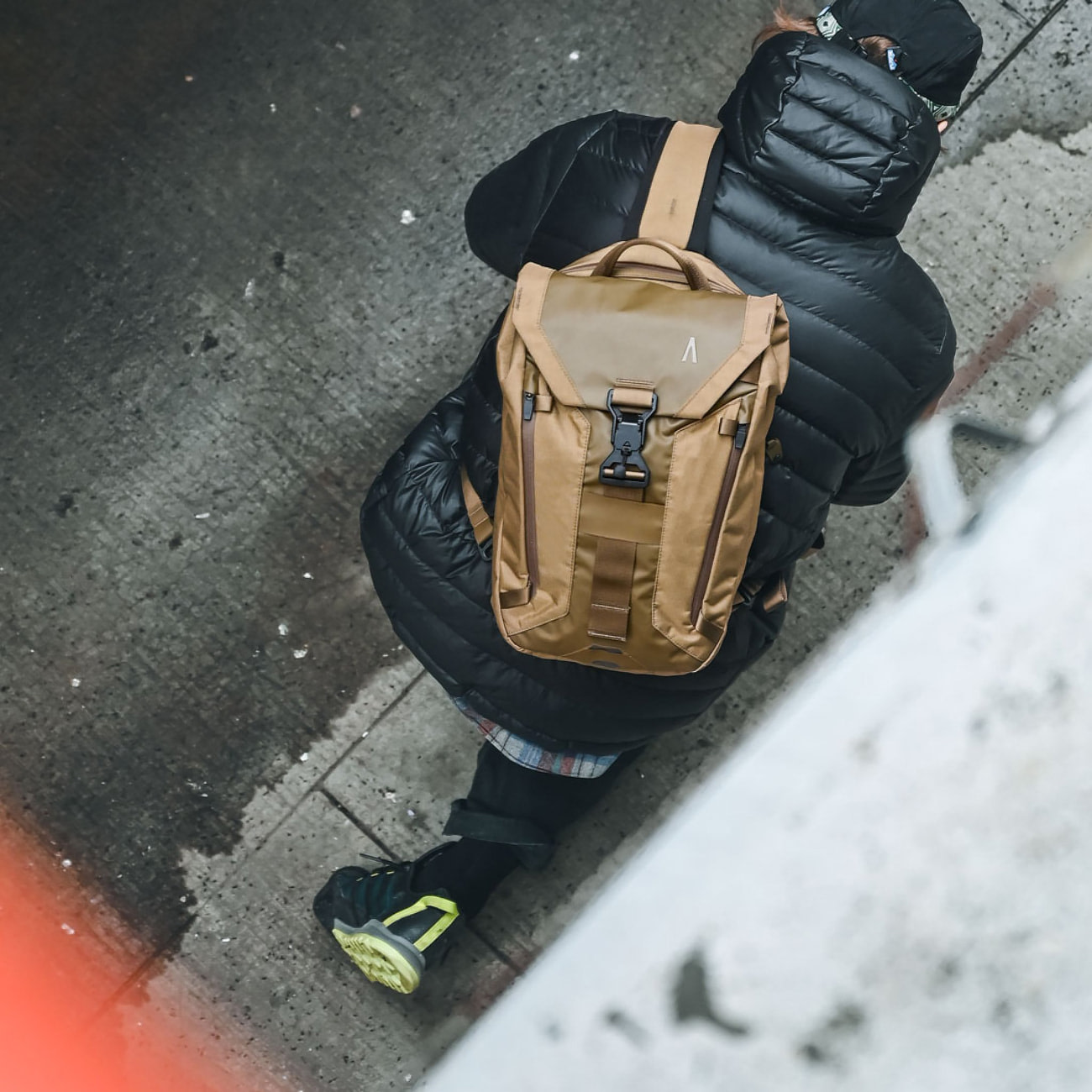 For those days when a full-blown backpack feels like too much, consider investing in a versatile sling with sufficient room to pack your essentials.
In classic Boundary Supply fashion, the Errant Sling is sustainably built using stormproof Bluesign-approved materials and comes loaded with fantastic features. Details like a stability strap, reflective lashpoints, and Secure Bike Lock lash loop particularly appeal to bike commuters, while its sleek, durable design and thoughtful organizational features, such as laptop/tablet compartments, make this compact bag suitable for almost any EDC task.
Best Everyday Backpack for Men: Nomatic Navigator Backpack 15L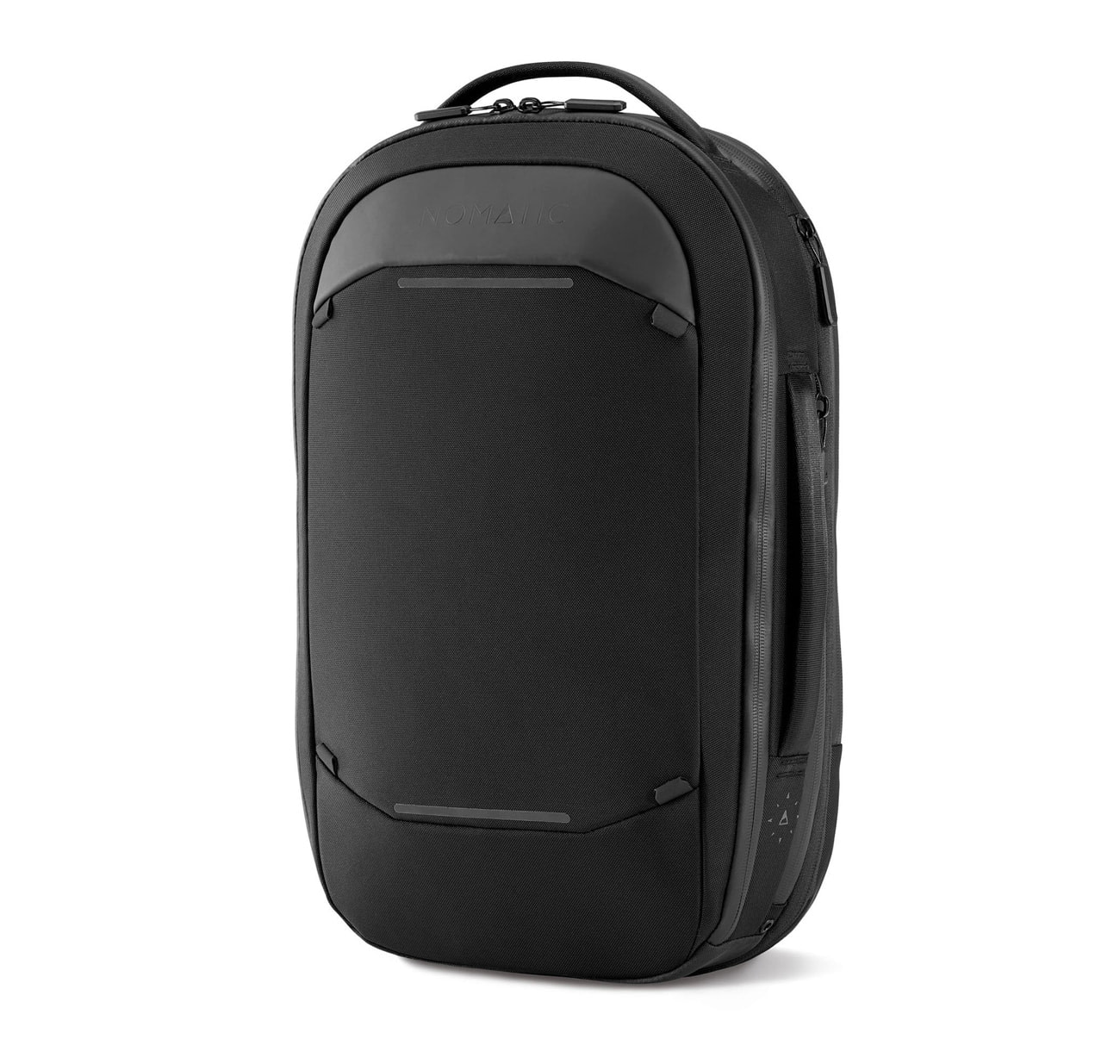 One of our favorite backpacks of 2023, this well-designed everyday carry offers superb organization in a sleek, compact package.
Made from durable, water-resistant materials, the Nomatic Navigator 15L features a streamlined, expandable design that shifts between 15L to 20L, plus a pocket for every imaginable item you might need throughout the day. The rear laptop compartment can hold up devices up to 16 inches, and there's also room for a 13-inch tablet.
Equally clever, a couple of external pockets hold the things you need within arm's reach, a breathable back panel makes carrying comfortable, while reflective details throughout the bag keep you visible in low-light conditions. One of the backpack's most unique features, however, is the water bottle compartment, which sits on the inside of the bag, maintaining its minimalist exterior intact.
Best Camera Backpack for Men: Peak Design Everyday Backpack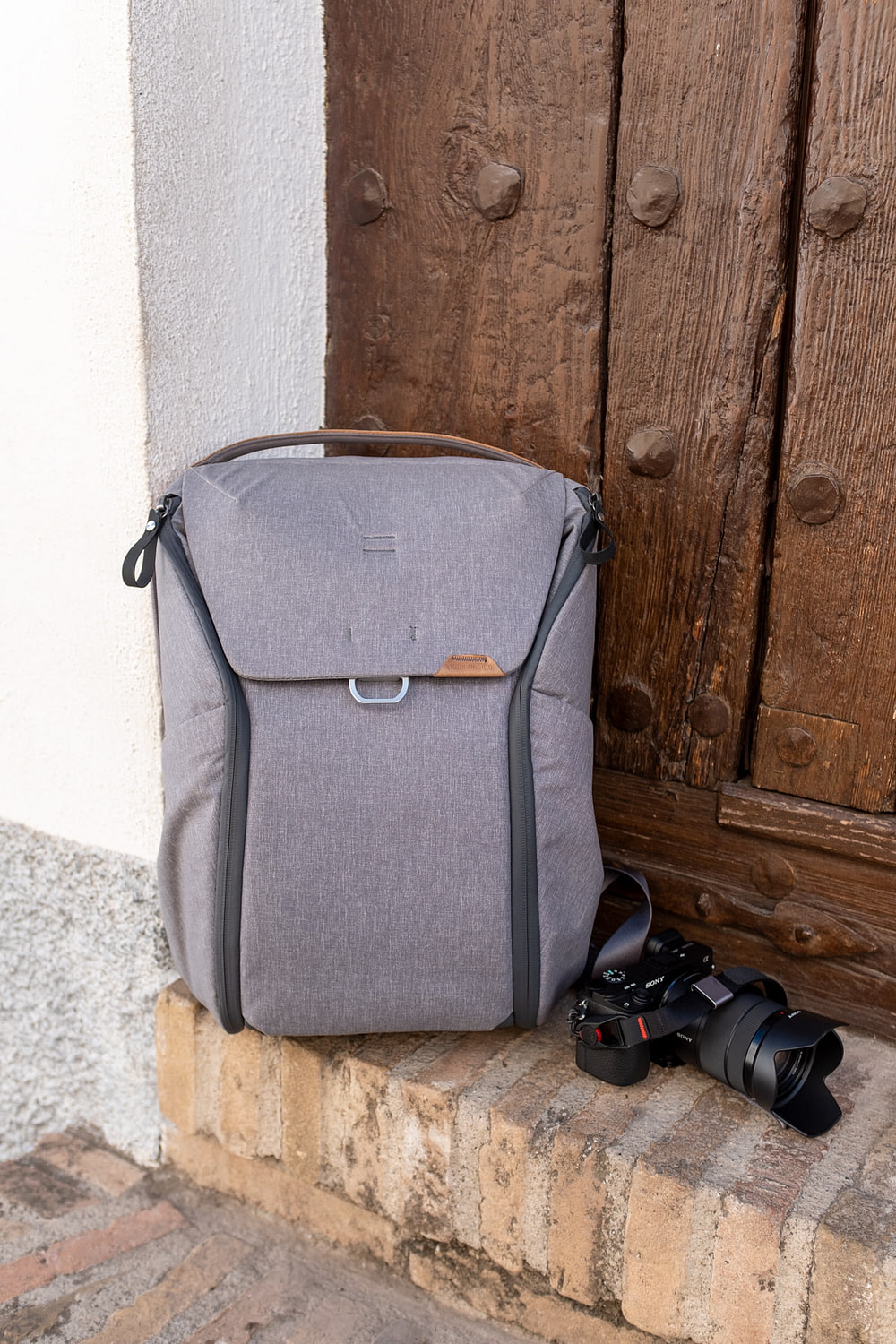 Adaptable design, convenient access, and a host of thoughtful, original touches make this structured, clean-looking bag one of the best camera backpacks on the market.
Whether you're shooting street life in the city or rare birds in the wild, you can count on Peak Design's Everyday Backpack to keep your gear protected and look on point. Built from recycled waterproof nylon canvas and loaded with convenient entry points, this bag stands out with its multiple access points and endlessly customizable organization.
Origami-inspired FlexFold dividers allow photographers to tailor the bag's interior to their specific needs, while a series of stretchy, protected pockets house everything from cords to tripods. Adding to its impressive list of features are the one-handed MagLatch closure system, which provides 3L of internal expansion, a versatile tuck-away strap system, and a dedicated laptop pocket & tablet/document sleeve accessible without opening the main compartment.
Best Backpack for Multitasking Men: Urth Norite 24L Modular Backpack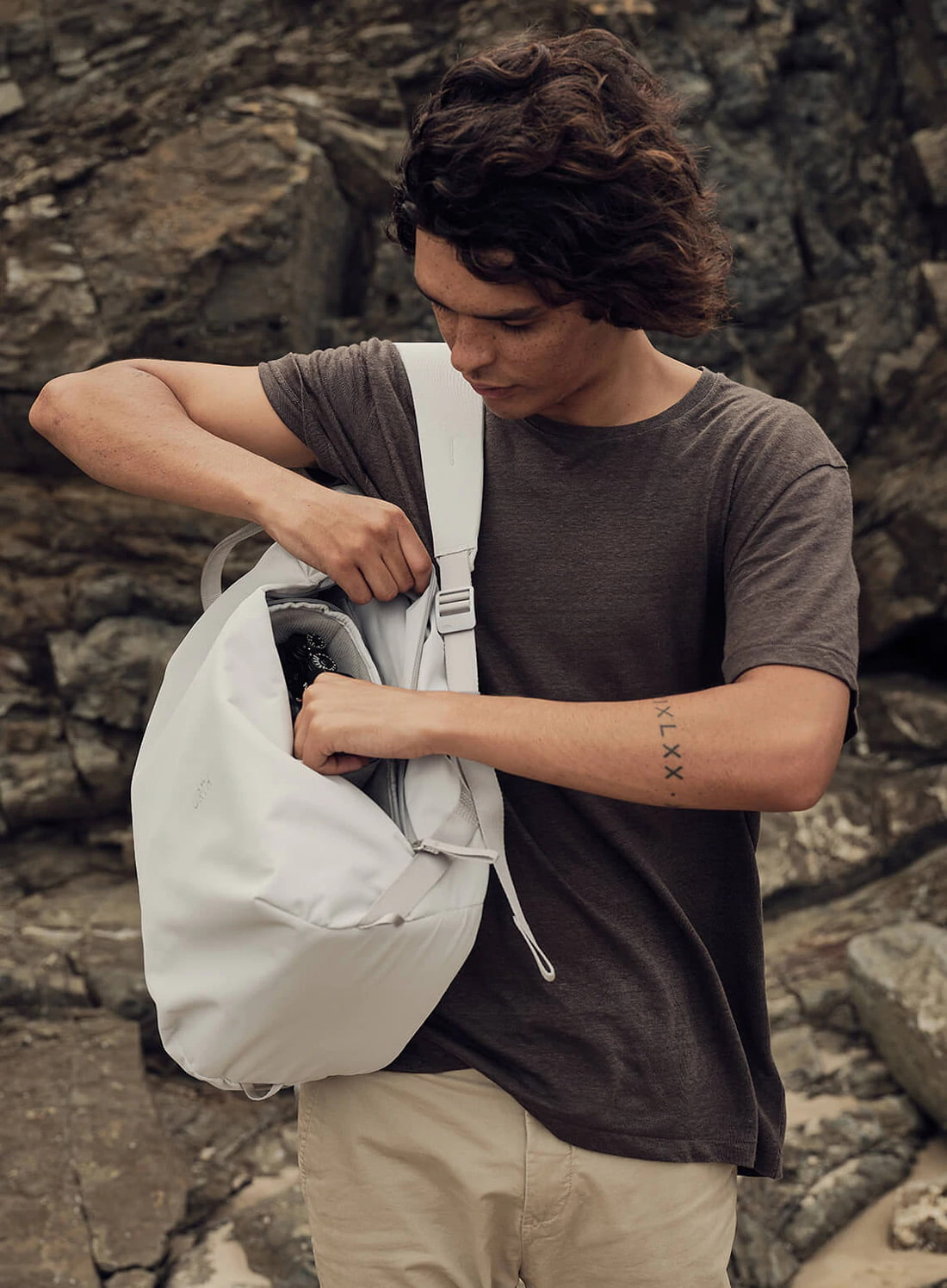 Some backpacks are better suited to multitasking than others, and this contemporary 24L all-rounder is here to prove it.
Don't let the minimalist design fool you – Urth's Norite 24L Modular Backpack is laden with exciting features designed to make life easier, such as quick side access to contents and a separate compartment for camera gear.
Crafted from weatherproof 600D recycled nylon, this pack's beauty lies in its clever compartmentalization. With 14 storage zones, there's a place for everything inside the 24L Urth backpack, from your glasses and stylus pen to your laptop, tablet, photography gear, and even a change of clothes!
While content creators will value details like external tripod straps and a dedicated camera insert section, I'm sure the bag's light weight, neat organization, and clean, understated aesthetic will appeal to commuters, flyers, weekend warriors, and everyone in between.
Best Rugged Backpack for Men: GR1 Heritage – USA – 21L
The GR1 is already one of the best backpacks ever built, especially when it comes to durability. However, for roughing it in style, we prefer Goruck's handsome Heritage version, which has all the hallmarks of the original – including buttery smooth YKK zippers, MOLLE webbing, and a bombproof laptop compartment – but it's crafted from military-grade duck canvas with a waxing process proven over 180 years. Plus, it comes in a carry-on-friendly size and its lay-flat clamshell design makes packing a breeze.
Combining military-grade construction with minimalist urban styling, this really is a grown man's backpack – ready to survive decades of abuse, yet versatile enough to travel anywhere.
Best Hiking Backpack for Men: Hyperlite Mountain Gear Junction 3400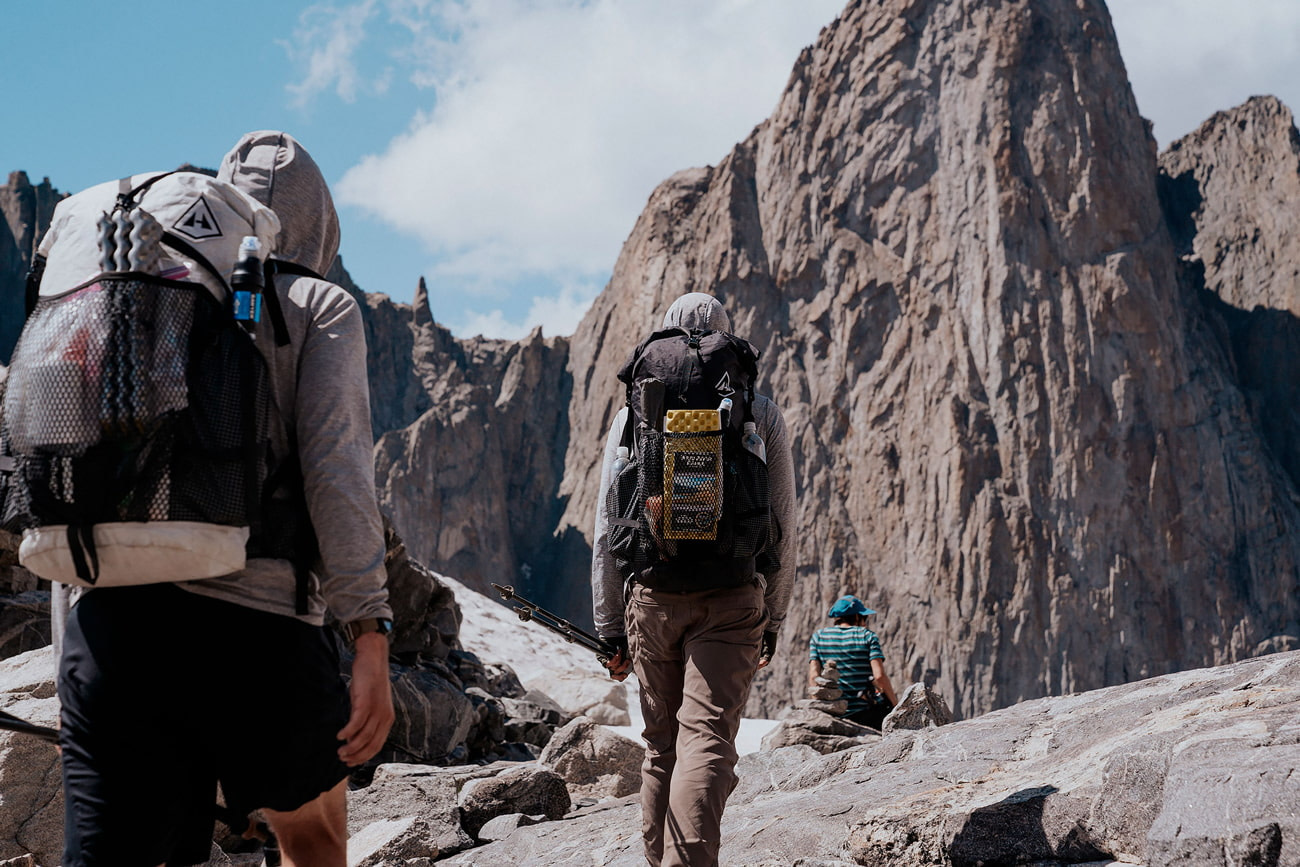 A light, weather-resistant backpack is an obvious presence on any list of hiking gear essentials, and this two-pound, 55 liters model from Hyperlite Mountain Gear, with its excellent weight-to-capacity ratio, makes an ideal candidate for any trail.
Made of tough Dyneema Composite fabric, the Junction has enough room for sleeping bags, a tent, and all your necessities while conveniently rolling down to a smaller size when the situation calls for it. It also comes with an internal hydration sleeve, sewn-on shoulder straps and hip belts, and a mesh outer pocket for easy access and drying out wet gear.
Best Designer Backpack for Men: Ted Baker Tonne Corduroy Suede Backpack
No edit of must-have men's backpacks would be complete without a luxury designer creation that will uplift their weekend outfits. Crafted from butter-soft mustard suede and trimmed with sleek leather for enhanced style and durability, this chic pack from Ted Baker is the perfect companion for a day out browsing cafés and art galleries. Spacious enough to fit all your EDC needs, it comes with adjustable shoulder straps, an interior laptop compartment, and an easy-access front pocket.
Best Laptop Backpack for Men: Timbuk2 Custom Division Laptop Backpack
There are plenty of ways to carry your laptop nowadays, but if sturdiness, practicality, and organization are high on your list of priorities, this customizable laptop backpack from Timbuk2 is hard to beat.
Aside from a rear-access padded laptop sleeve, it boasts tons of other internal/external pockets for keeping things orderly on the go. There's even a side pocket for your water bottle, as well as an organizer panel for neatly storing work supplies or other daily essentials. The adjustable compression straps are a nice touch, and so is the ventilated back panel or the reflective zipper pools & tape.
The Custom Division Laptop Backpack is conveniently lightweight and can be customized to your liking in a range of colors, which makes it an excellent choice for both the office as well as for day-to-day use.
Best Packable Backpack for Men: Matador Freerain22 Waterproof Packable Backpack
Any high-quality, water-resistant backpack will do a decent job in keeping your belongings safe and dry through rain or snow. Matador's Freerain22, however, does this and more.
At only 10.6oz (300g), it is the most packable waterproof backpack on the market, folding down from a 22-liter daypack to a ridiculously small package that fits in the palm of your hand. The ultra-light design, weight-distributing shoulder straps, detachable storage bag, and completely waterproof rolltop main compartment make it an excellent companion for most travelers, from city sightseers to festival-goers to outdoor enthusiasts.
Best Gym Backpack for Men: Aer Duffel Pack 3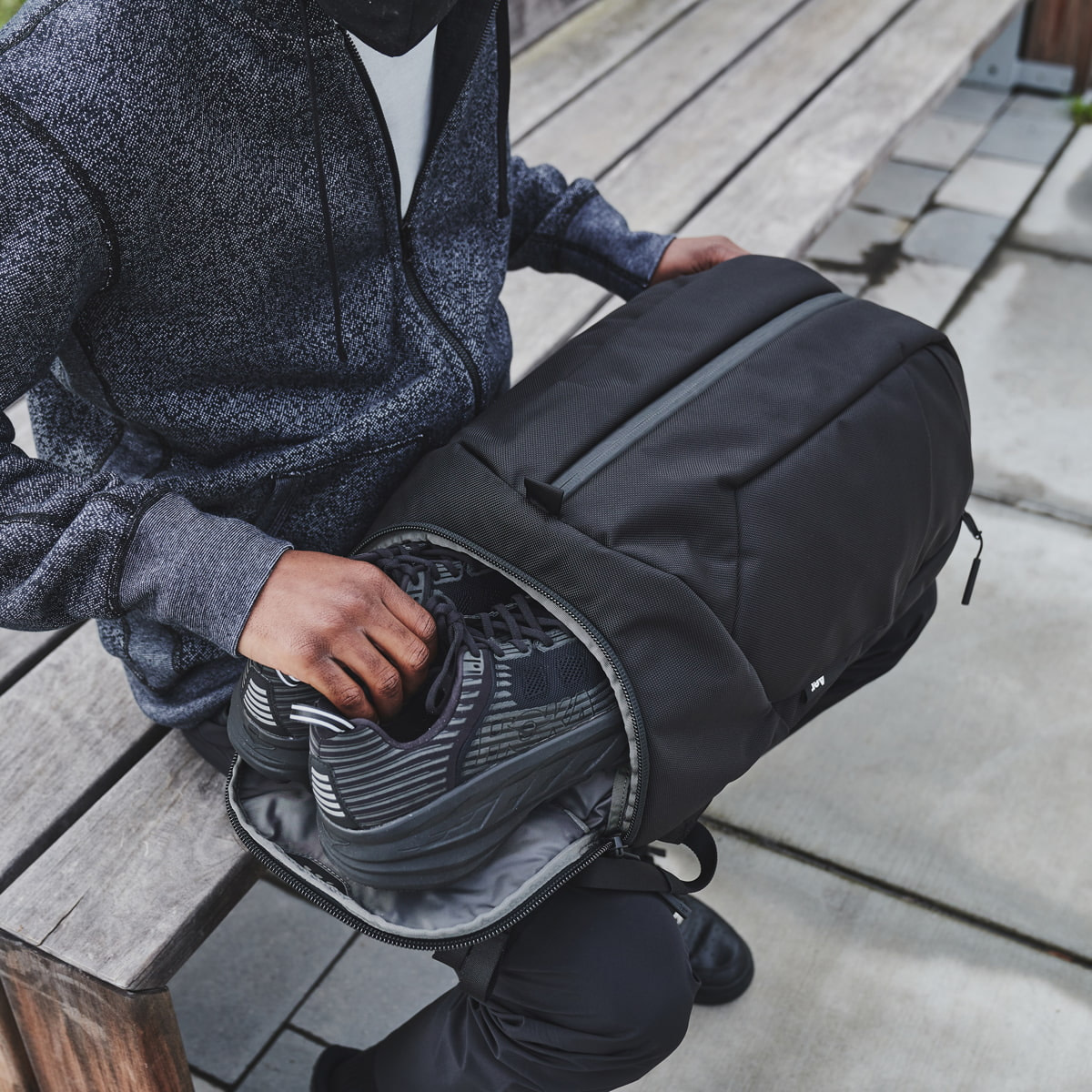 Aer makes some seriously cool backpacks for men, and this new ingenious hybrid is definitely one of them. As well as storing your dirty shoes and sweaty workout gear, the Duffle Pack 3 offers convenient organization for all your work essentials. You get a separate compartment featuring a padded laptop sleeve for up to 16″ devices, a slot for a tablet/documents, as well as a couple of handy pockets for cables and other small items.
This being a gym backpack, however, the interior lining is treated with an antimicrobial coating to minimize bacterial growth and odors, while the stowaway shoe section has laser-cut ventilation details. Otherwise, the bag comes with two fold-flat water bottle pockets, and its outer eco-friendly dyed polyester is durable and water-resistant.
Best Carry-On Backpack for Men: Briggs & Riley Convertible Duffle Bag Backpack
Are you looking for a meticulously organized carry-on bag with solid features and an unconditional lifetime warranty? Then look no further than Briggs & Riley's Convertible Backpack Duffle.
Equipped with both shoulder and backpack straps, this bag easily transitions from duffle to backpack to keep up with your on-the-go needs. The lay-flat construction makes for easy packing, and practical features like a separate organizer and a back laptop compartment ensure your belongings stay organized and in place.
At 18.5″ x 12″ x 7″ (47 x 30.5 x 17.8 cm), this cool backpack fits in the overhead compartments of most major airlines and comes with lockable zipper pulls for added security. Combine all these with durable materials and a lightweight design, and you have one of the smartest carry-on backpacks on the market.
Best Travel & Photography Backpack for Men: Wandrd All-New PRVKE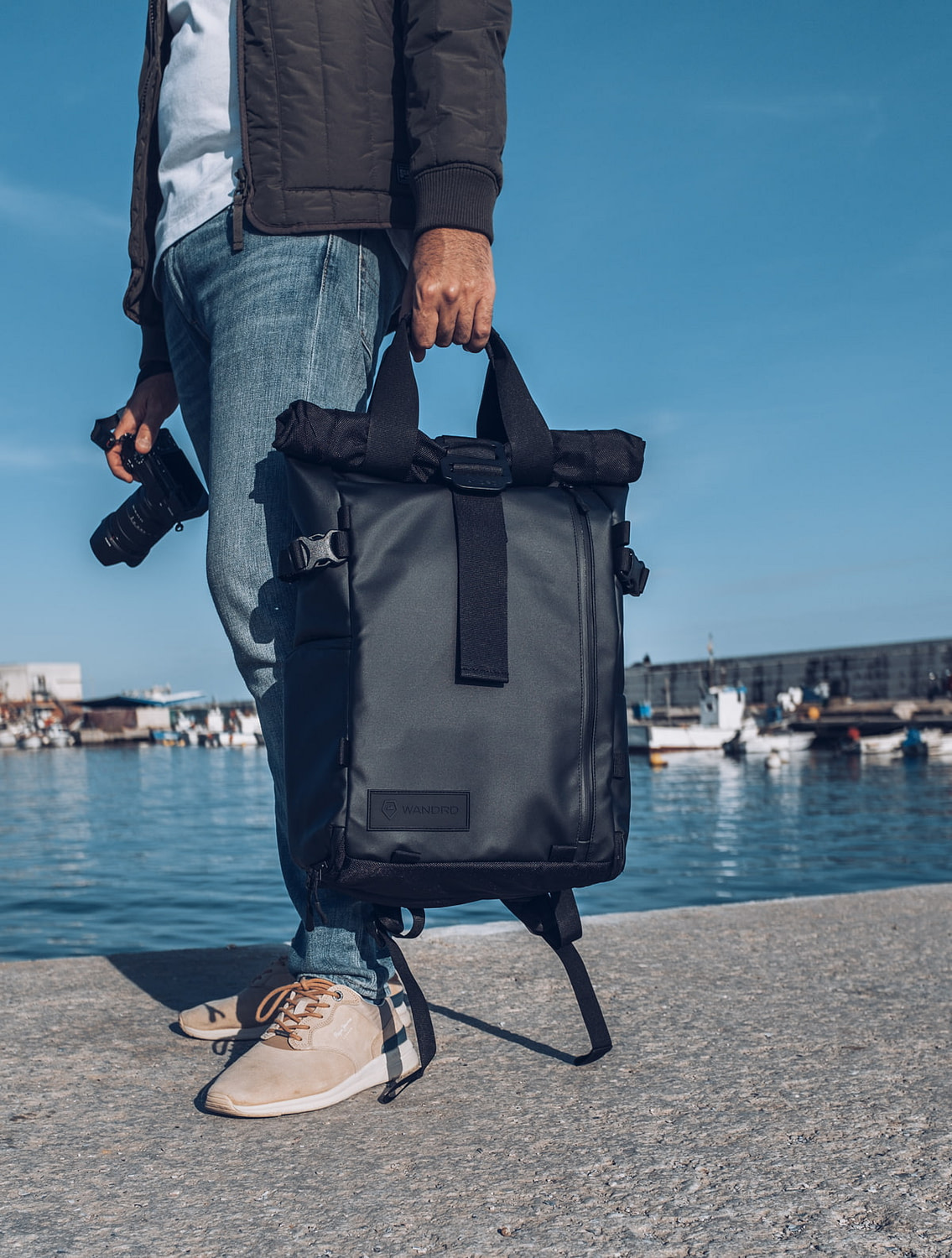 If you're after a versatile camera backpack to accompany you on your photography outings near and far, look no further than Wandrd's All-New PRVKE.
Fashioned from heavy-duty, water-resistant tarpaulin and ballistic nylon, and complete with weather-resistant zippers, quickdraw side access, and pockets for days, this pack will keep your valuable photography equipment safe, dry, and neatly organized.
The clamshell opening allows for easy packing, and the expandable rolltop design adds to the bag's water-resistant properties while also giving you an extra 5 liters of space when the situation calls for it. For comfort, you've got a padded back panel and shoulder straps, as well as an adjustable & removable sternum strap. The removable camera cube is a fantastic feature as it allows you to adapt the backpack to any loadout and travel scenario.
Best Mini Backpack for Men: Rains Backpack Micro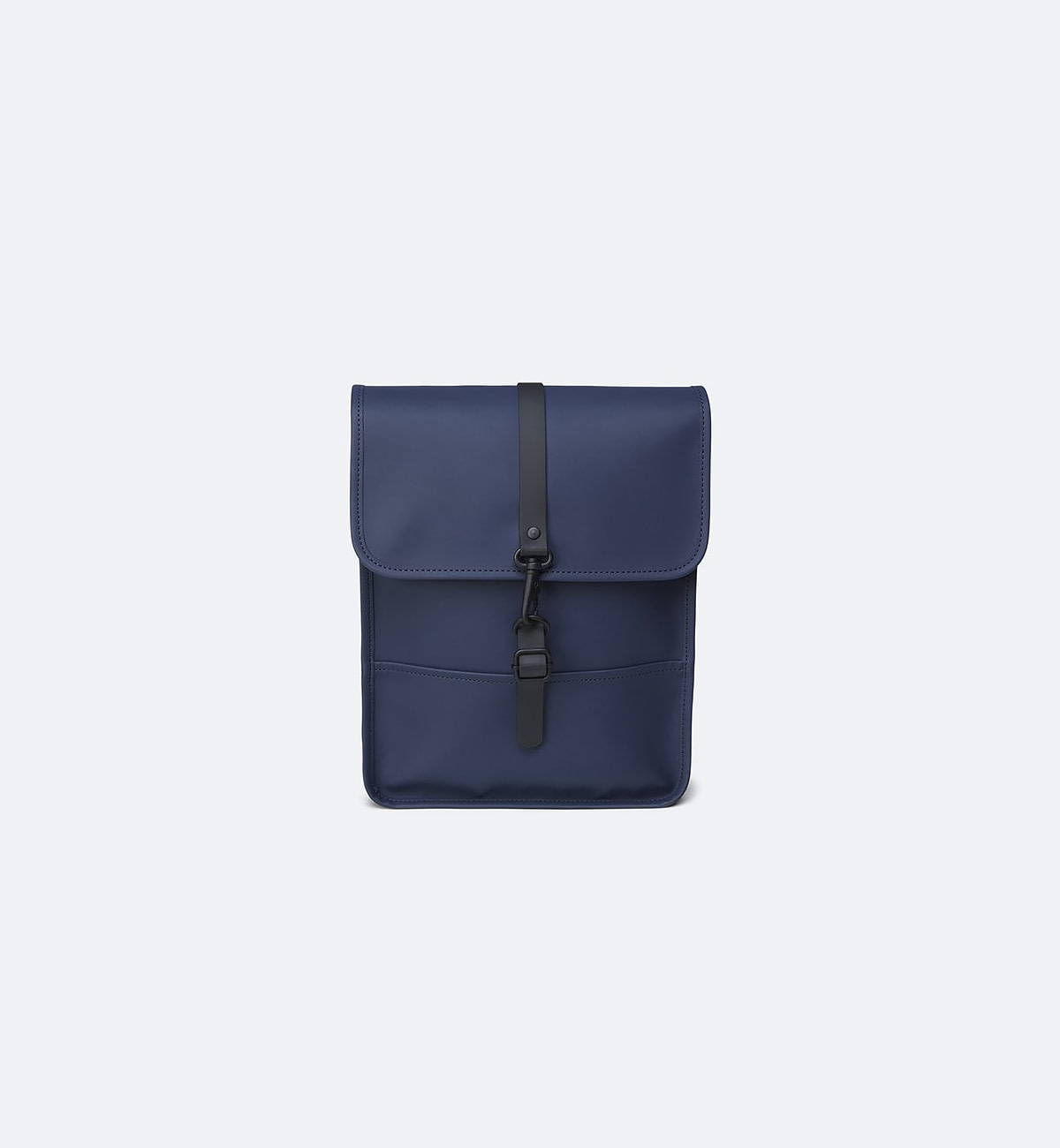 For the minimalist urban explorer who's looking for a sized-down version of their favorite backpack, this baby rucksack from Rains has everything you'll need.
Crafted from waterproof PU, the Backpack Micro is just as durable as its bigger brothers, but with a much more compact footprint. At 5L, it only has a main compartment to store your daily essentials, but its high-quality construction and perfectly streamlined design make it the perfect EDC backpack for men who want to carry less and do more. It comes in 4 colors and is completed with a top flap, adjustable TPU backstraps, and a maritime carabiner lock.
Best College Backpack for Guys: Topo Designs Light Pack Canvas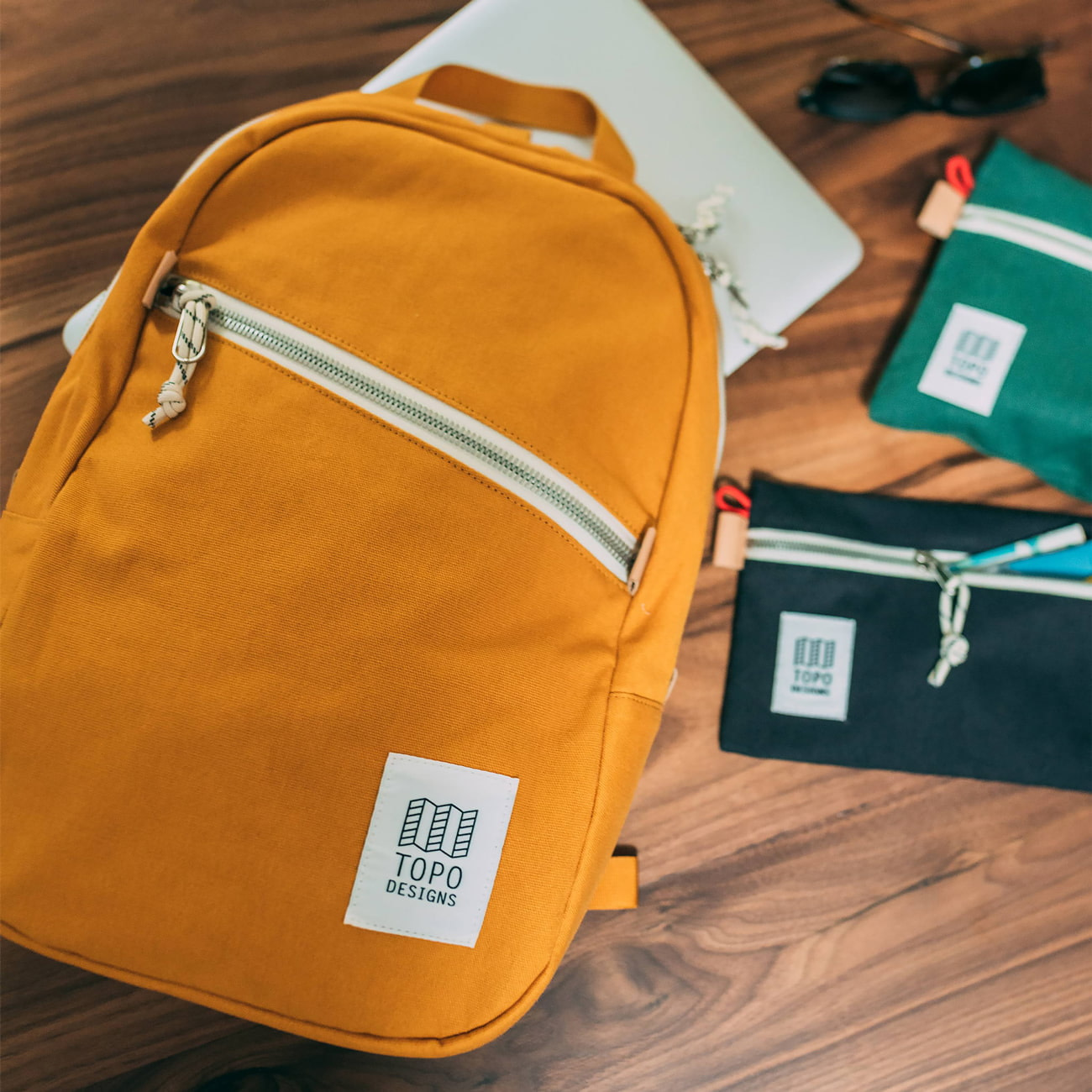 Lightweight, durable, and tastefully understated, Topo Designs Light Pack Canvas makes a brilliant college backpack for guys who value modern features in a classic silhouette.
Built from cotton canvas with water repellent finish, it boasts a separate 15-inch laptop sleeve plus a large diagonal exterior zippered pocket for grab-and-go essentials. The large main compartment, padded shoulder straps, and PackFast attachment points make it as suitable for the campus as for hiking or traveling. It also comes in a range of cool colors to suit any style.
Best Leather Backpack for Men: Time Resistance Full Grain Leather Backpack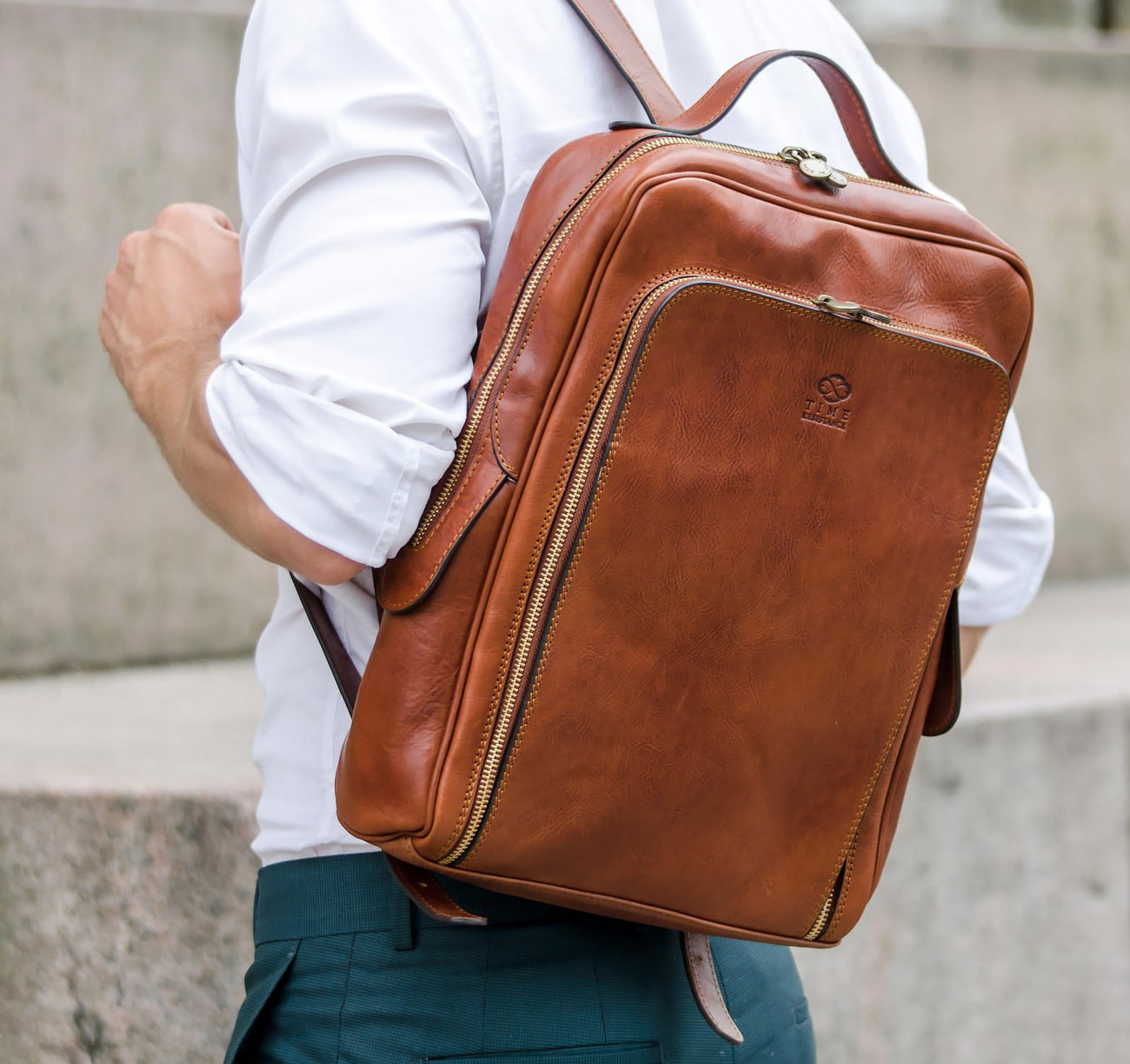 Carry your belongings in style with this luxe leather option reminiscent of the '70s. Built to fit a 14″ laptop, the Time Resistance Full Grain Leather Backpack features a timeless, minimalist silhouette in full-grain Vachetta leather detailed with smooth YKK zippers, which makes it a classy option for guys of all ages and professions.
A grab handle and adjustable shoulder straps make carrying comfortable, and there's also a hidden zippered pocket at the back of the bag for safely storing those items you want to keep close. Meanwhile, the fully lined interior is easy to clean and includes an organizer panel and two pockets for keeping your cell phone, keys, notebooks, and pens in order. As a bonus, you can personalize the backpack with your initials to make it one-of-a-kind, or turn it into a unique gift by engraving something special.