This post contains affiliate links, which means we may receive a small commission, at no additional cost to you, if you make a purchase through these links. See our full disclosure here.
The weekender bag is a practical, versatile piece of luggage designed for short trips. Large enough to fit a few days' worth of clothing, yet compact enough to stow in the overhead compartment, these smart accessories deserve a special place in any traveler's arsenal. They are easy to carry around and come in all styles, colors, and materials to suit everyone's needs.
Pack like a pro for your next wedding/business trip with a sleek garment weekender from Hook & Albert, or head to Paris in style with a sophisticated getaway duffle from Paravel. For those who want to rough it in style, there's hardly a better option than Filson's kick-ass dry duffel, while for everyone else, there's always a sublimely versatile leather travel bag that screams both cozy countryside affair and luxurious city escape.
Wherever your whirlwind trip may take you, make sure you stand out with one of these handsome weekender bags that blend style and functionality into the ultimate travel companion.
For those who like to read the last page of a book first, here's a brief overview of our picks for the best weekender bags in 2021 in a number of categories:
Best Weekender Bag in 2021: Monos Metro Duffel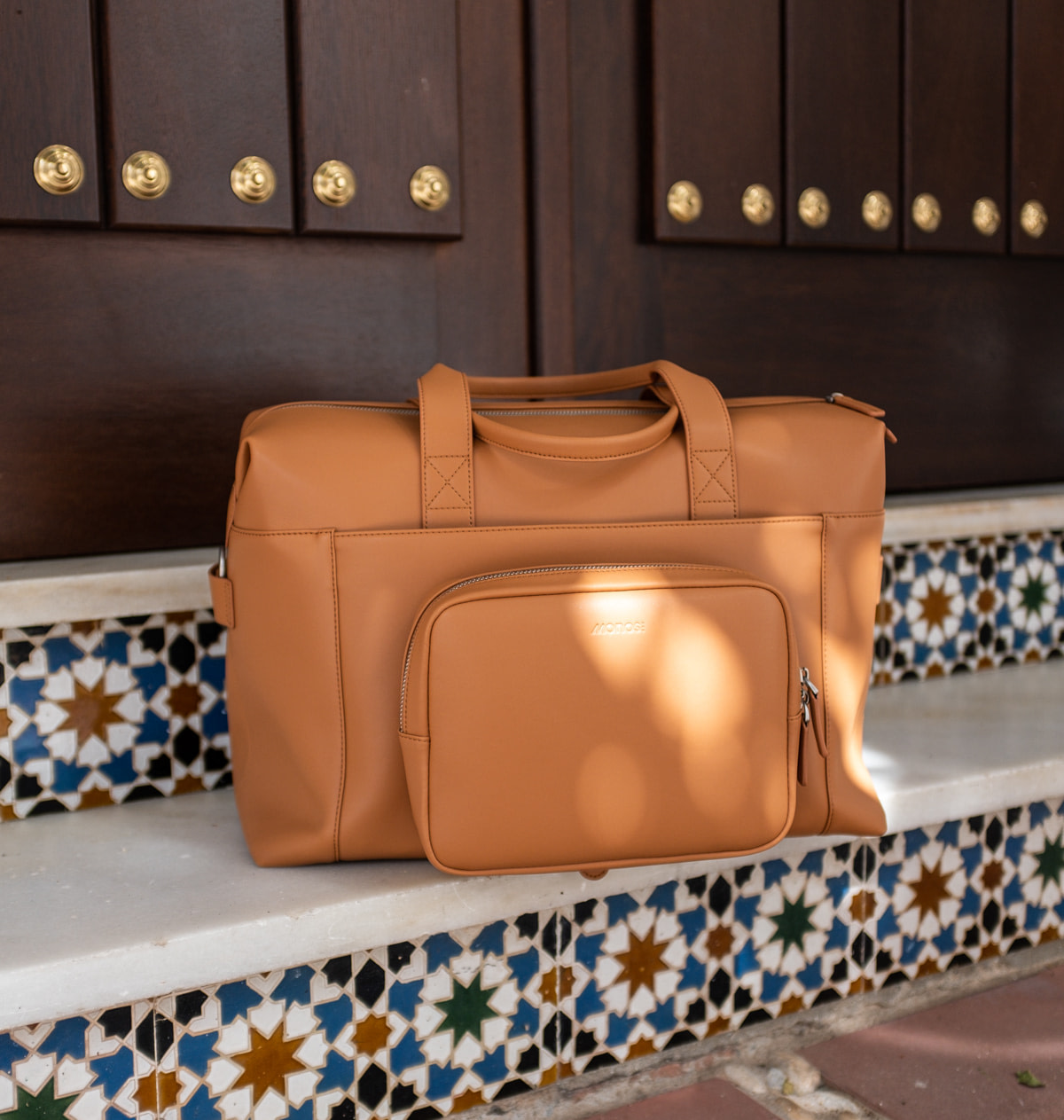 While there are many wonderful options in this list, for us, the Monos Metro Duffel is the best weekender bag in 2021, for all the right reasons. It's compact but roomy, strong but delicate, smart enough for business travel, yet stylish enough for European city breaks. Made from buttery vegan leather, it's also good for the Earth, lightweight, and endlessly versatile.
A 15" laptop compartment, a built-in trolley sleeve that converts into a pocket, and an assortment of inner pockets are here to fulfill all your organizational needs. And as if that wasn't enough, each duffel comes with the collection's signature Metro Classic Kit, an insanely convenient matching pouch that snaps on and off the bag magnetically, so it can be easily removed, used separately, and even attached to the equally chic Metro Backpack.
This Monos bag is water and scratch resistant, and although there may be more durable weekenders out there, right now, none of them inspires me more to pack away and go places than this one!
› Take 6% Off with Code TRAVELAWAY
Best Runner-Up: Peak Design 35L Duffel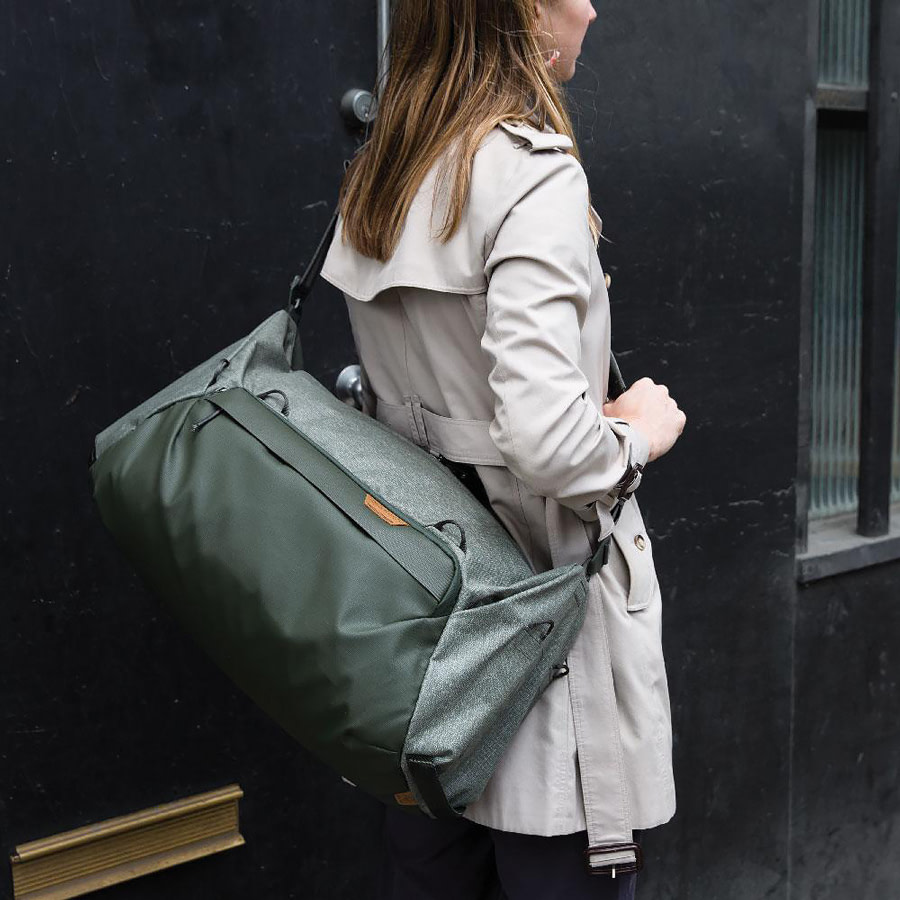 If a tough, versatile weekender bag is what your heart desires, Peak Design has the perfect product for you. Wrapped in 100% recycled 400d nylon canvas and adorned with aluminum hardware, their Travel Duffle 35L is not only good looking, but also lightweight, weatherproof, and insanely practical.
What sets this bag apart from competitors is its smart design. With a wide opening main compartment for easy packing/unpacking and just the right amount of pockets inside and out, it fits in almost any situation. Conceived with comfort and portability in mind, it comes with a melange of straps – all padded and removable, allowing you to carry it by hand, over the shoulder, or like a backpack.
Whether used as a weekender, overnighter, gym bag, or companion carry-on for longer trips, this cabin-sized duffel makes a wonderful addition to your luggage collection.
We've been using this bag for a couple of years, on all kinds of trips, and it's still one of our favorites. A remarkably well-made carryall with lots of storage space!
Best Weekender Bag for Men: Adventure Troubadour Weekender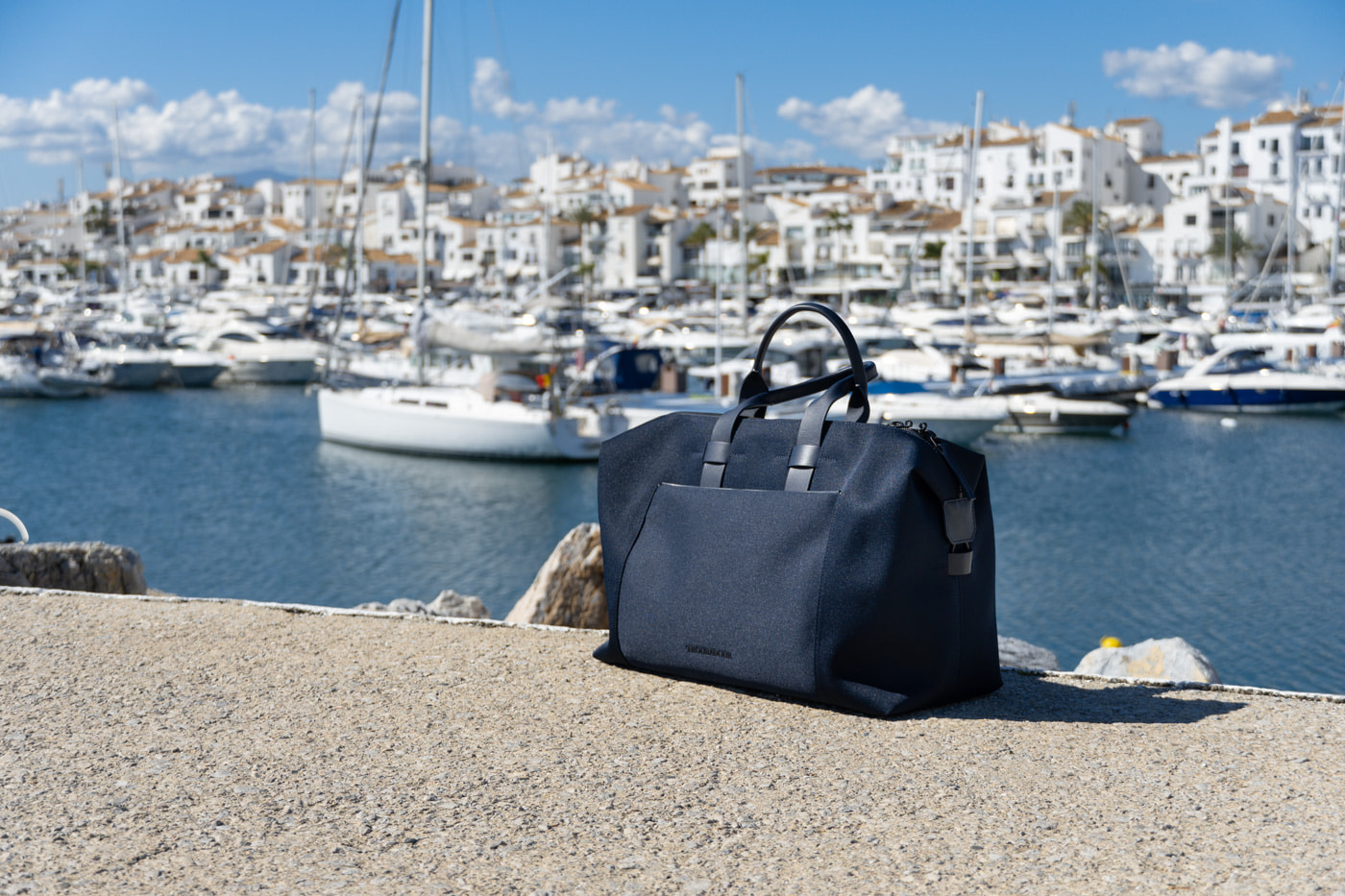 Exceptional functionality, innovative materials, and clean, contemporary aesthetics come together to create the best weekender bag for men. Crafted from environmentally friendly high-spec fabric, with vegetable-tanned Italian leather accents, the Adventure Troubadour Weekender makes no compromises neither on performance, nor on quality or design. In fact, no other bag in this list manages to draw such a fine line between elegance and performance, formality and casualness, strength and finesse.
The waterproof canvas keeps your gear safe from the elements in the great outdoors, multiple pockets provide smart storage for your work and tech essentials, while its modern, minimalist looks are adaptable to all styles and travel scenarios, which makes it the perfect companion for the contemporary gentleman on the go. Don't let that label frighten you, though, Troubadour's Adventure Weekender is gloriously unisex, so, ladies, you can enjoy it just as much.
And yes, the bag is carry-on friendly and fitted out with all the modern bells and whistles, including a trolly sleeve that doubles as a pocket when zipped up, internal laptop compartment, and a detachable non-slip shoulder strap for hands-free carrying.
Best Weekender Bag for Women: BÉIS Weekender Bag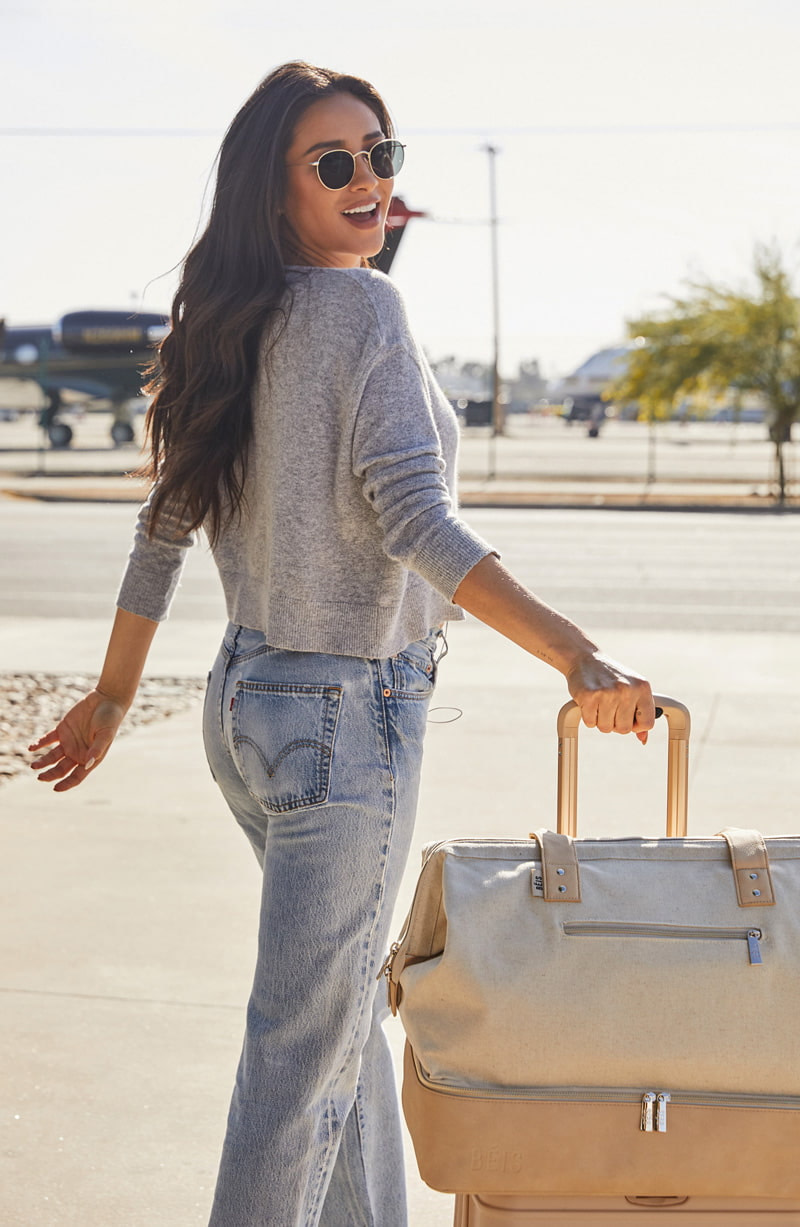 Ladies, if what you're seeking is a chic carryall to take with you anywhere – from staycations and city breaks to road trips and beach escapes – you've found it!
Envisioned by actress Shay Mitchell, the BÉIS Weekender Bag is blissfully adaptable to your vacation needs and packed with features you'll love, like the zip bottom compartment designed to keep your shoes and other travel essentials separate, or the smart back pocket which converts into a trolley sleeve for easy navigation through the airport. Its spacious interior is lined with water-resistant fabric and filled with pockets, and the wide opening enables smooth access to the items inside.
The size, the looks, the price, everything about this tote just seems right!
Best Weekender Bag with Laptop Compartment: The Large Everywhere Bag by Away
Perfectly sized for a short getaway, Away's Large Everywhere Bag pairs form and function beautifully. Crafted from water-resistant nylon, it features an exterior padded 15" laptop sleeve and comes in colors that complement its beautiful classic look (moss, cobalt, and black), with tasteful leather accents.
Though similar to the smaller Everywhere Bag, this new baby stands out for its updated design, with a clever clamshell opening that enables efficient suitcase-style packing and easy access to the main compartment. A detachable shoulder strap paired with long top handles adds flexibility in carrying, while a thoughtful internal organization system, complete with water bottle pocket and detachable key clip, keeps travel necessities in order. And if you thought it couldn't get better, the bag is also carry-on size and designed to secure to any Away suitcase for a smooth roll through the airport terminal.
Best Luxury Weekender Bag: RIMOWA Never Still Weekender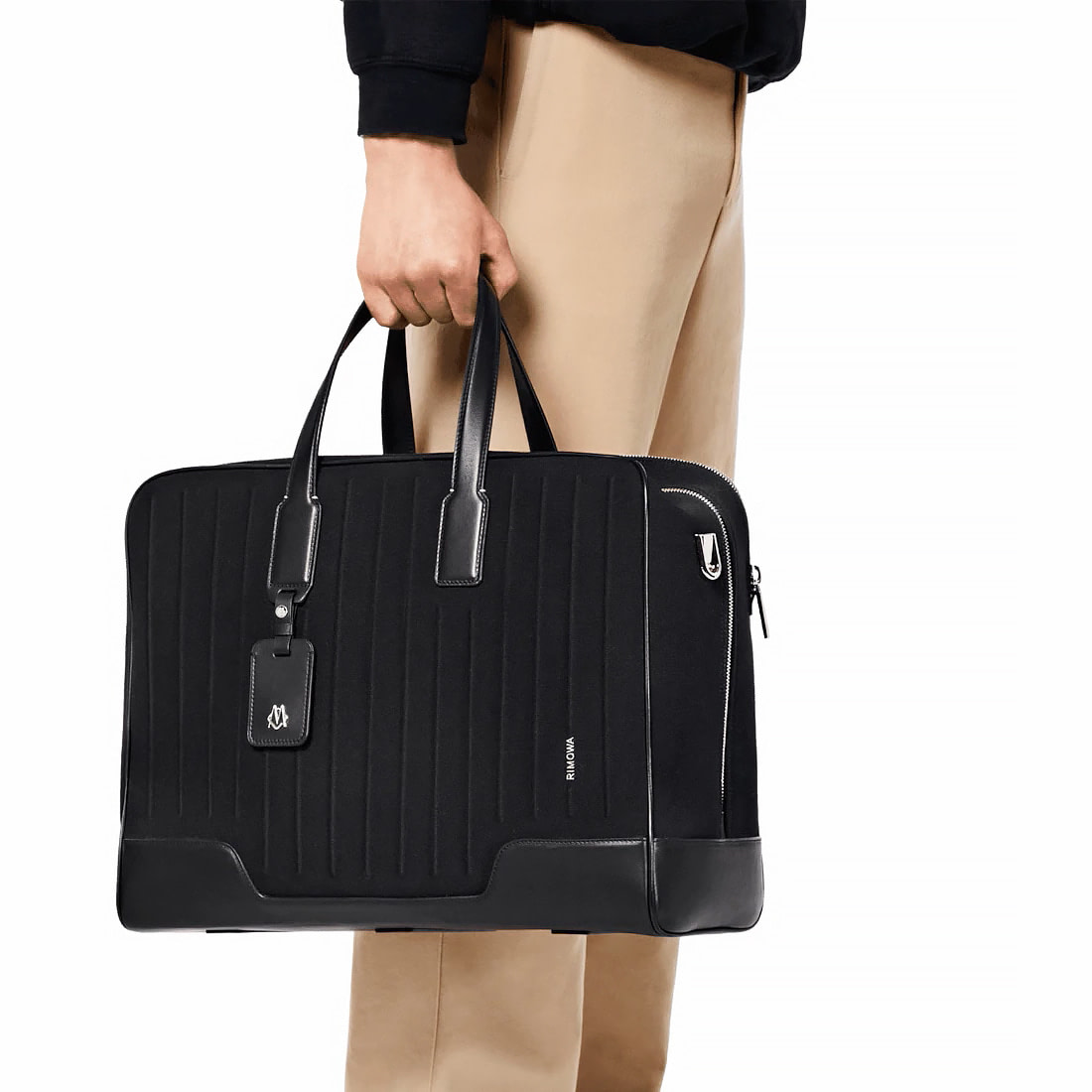 Part of RIMOWA's first-ever soft bag collection, the Never Still Weekender is refined, sophisticated, and sized just right so that you can carry it on a plane or take it on a short two-day trip.
Made in Italy using only premium materials, it sports the brand's signature groove pattern in durable, water repellent canvas and is accented with full grain leather details for an extra touch of class. Inside, two spacious zipped compartments and a series of clever pockets accommodate everything needed for a short getaway or business trip, including your laptop and smartphone.
Pair all these with a removable shoulder strap, a convenient luggage sleeve, and a complimentary leather address tag, and Rimowa's luxury weekender becomes a no-brainer investment for your stylish weekend escape.
Best Weekend Travel Tote Under 100: The ReNew Transit Weekender by Everlane
Although designed to go into any overhead compartment, Everlane's ReNew Transit Weekender can fit more than you might think. Made from water-resistant recycled canvas, this dapper travel tote features practical water bottle holders, a padded laptop sleeve, plus one external zip pocket for grab and go essentials.
The simple, practical shape and minimalist design give this woman's weekender bag a stylish, sporty touch. Its clean interior compartment is the perfect size for about two changes of clothes, an iPad, and other travel necessities, while the combination of top handles and an adjustable shoulder strap only adds to this piece's versatility. If you want a great weekender under $100, look no further!
Best Carry-On Weekender Bag: Grand Tour by Paravel
Made from 17 upcycled plastic water bottles, the Grand Tour is all at once practical, elegant, and eco-friendly. Built from Paravel's signature Ecocraft Canvas and adorned with stylish eco-certified leather detailing and premium hardware, it's as suitable for a quick fall escape in the Catskills as it is for an epic 7-day trip to Barcelona.
At 20″ x 10″ x 11″, the sophisticated duffel is roomy enough to handle extended trips without having to check it in at the airport, and could easily compete with any item in our best carry-on bags list. Two zip interior pockets and two roomy exterior pockets will keep your small essentials organized on the go, and there's also a removable shoulder strap for easy carrying. Each lightweight getaway bag is protected by a silicone coating to prevent stains and increase durability.
Best Weekender Bag for Longer Trips: Bellroy Weekender Plus
If both practicality and aesthetics are important to you, then look no further than the Weekender Plus. Meant for the modern explorer, this brilliantly functional weekend bag by Bellroy is crafted from durable, water-resistant woven fabric and finished with environmentally certified leather accents for a chic, refined look.
Its casual, harmonious design will definitely complement many looks, and the spacious interior, which includes a padded laptop sleeve and a pair of pop pockets for shoes/water bottles, will ensure you can fit everything you need for a few days away.
And the bag's clever features don't stop here: an organizational 'tool belt' facilitates access by keeping internal pockets and zips at the same height, a spacious front zip pocket holds toiletries and travel documents, while a luggage pass-through slides over the handle of your wheeled suitcase for easy mobility.
Best Weekender for Millenials: SoFo Weekender by Horizn Studios
Clean lines, classic form, and an impeccable construction give this luggage piece a versatility that's hard to match. With a water-resistant waxed canvas outer shell and ample room for outfit changes through the trip, Horizn Studios' SoFo Weekender is ready for any adventure without compromising your look.
Inspired by (and named after) Stockholm's hippest and most creative neighborhood, it boasts a simple, savvy design with separate pockets inside and out, including one that allows you to secure it to larger Horizn Studios rolling luggage. The padded carrying handles and removable adjustable shoulder strap make this lightweight cabin bag easy to transport even over long distances.
Most Durable Weekender Bag: Filson Medium Dry Duffle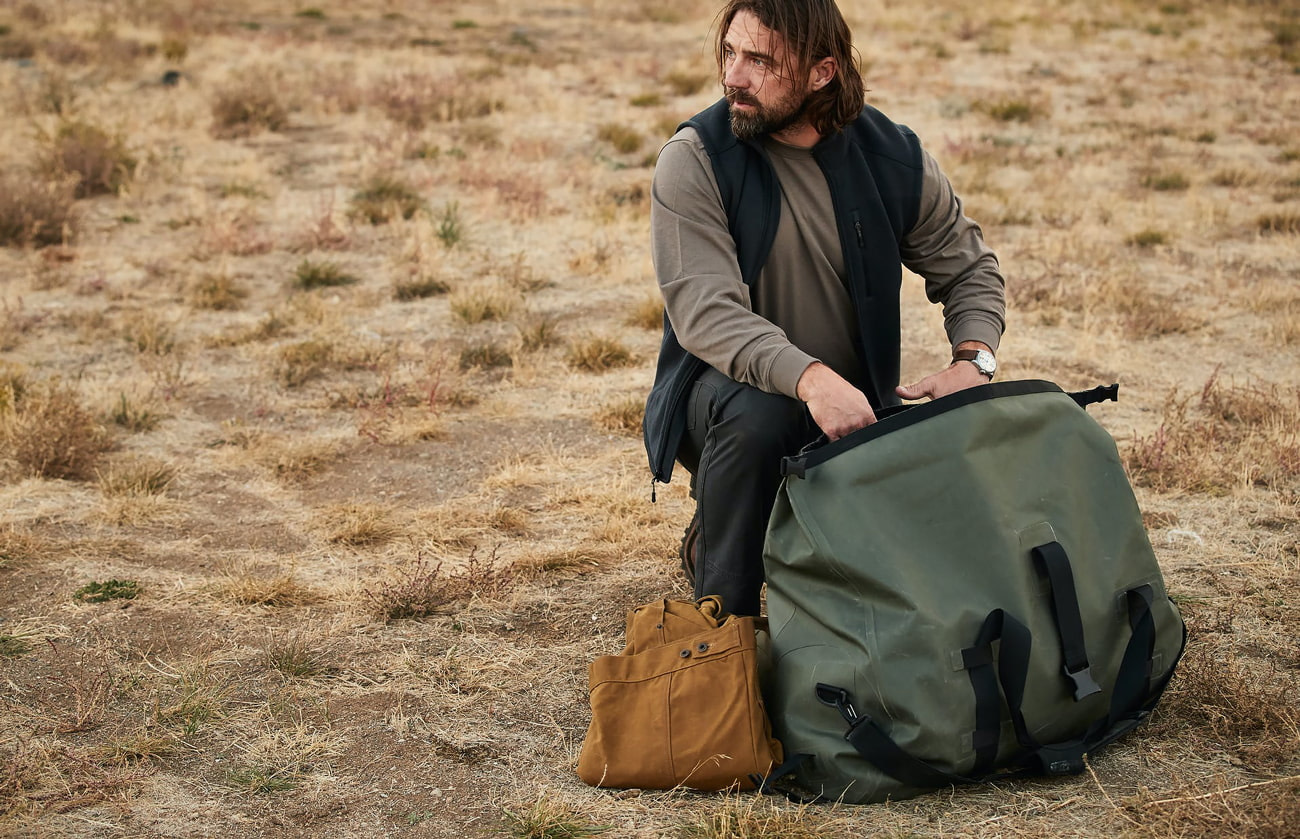 Created with outdoor expeditions in mind, Filson's Medium Dry Duffle is no doubt one of the best adventure duffels on the market. Extremely durable, weatherproof, abrasion-resistant, and easy to carry, this rugged cylinder travel bag is in a league of its own. You can wear it on your shoulder, tie it to the back of your truck, and even drag it down the road.
The 54-liter volume provides ideal storage for any wild weekend adventure you may embark on, while the watertight roll-and-cinch closure means your contents remain dry and protected even when the bag is fully submerged.
Best Value Weekender Bag: Bric's X-Bag 18″ Boarding Duffle Bag With Pockets
Italian luggage brand Bric's has been making chic, reasonably priced travel bags since 1952, and this pink weekender bag from their lightweight X-Collection continues the tradition admirably.
With a padded ipad compartment, trolley pass-through sleeve, and lots of organizational features throughout, the 18″ Boarding Duffle Bag With Pockets is as functional as it is stylish. Made from durable satin nylon with stylish Tuscan leather trim and available in a palette of cool, contemporary colors to suit any taste, it is one versatile accessory for all life's adventures, from urban exploration to job interviews to trips overseas.
Best Canvas Weekender Bag: Cuyana Triple Zipper Weekender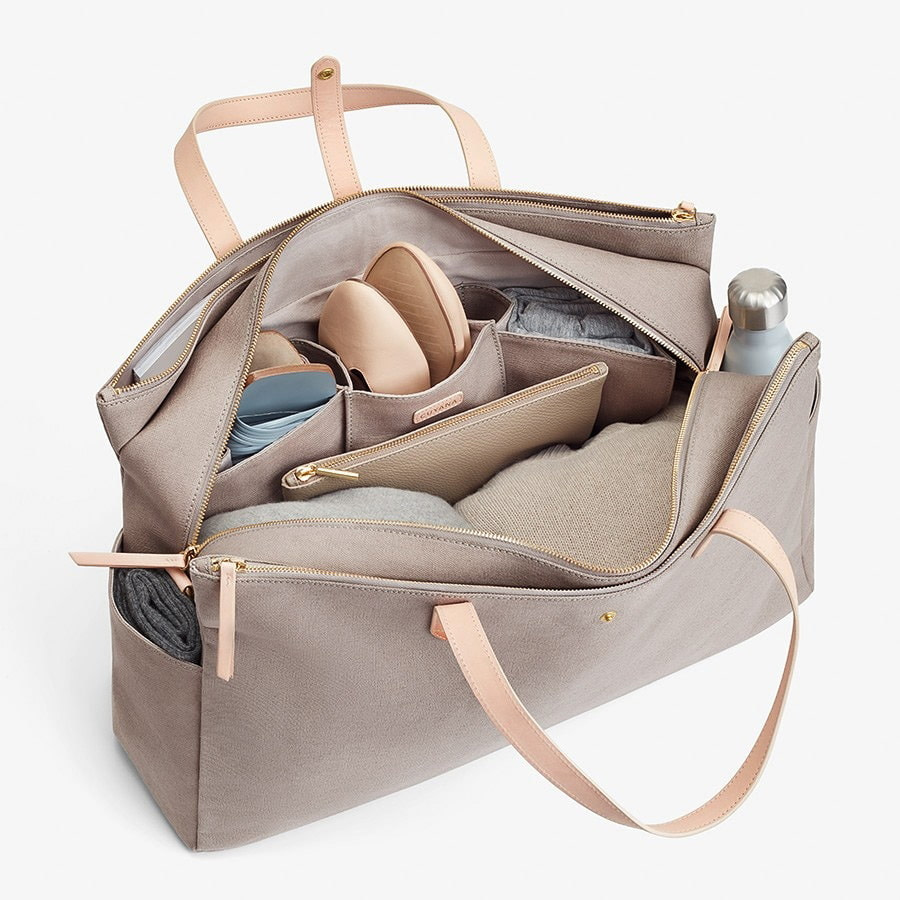 A timeless, feminine design makes Cuyana's Triple Zipper Weekender a stylish pick for quick jaunts out of town. Its generous 3-compartment interior, along with a variety of internal/external pockets, allows you to store clothes, cosmetics, and accessories for a three-day getaway, while the delicate Soft Grey/Natural color scheme pairs well with just about anything in your wardrobe.
This chic weekender bag for women is handcrafted in Turkey from durable, textured native canvas and decked out with sleek gold metal hardware and top handles in premium Vachetta leather. A detachable leather crossbody strap facilitates carrying, and there's also room for a few pairs of shoes in the large slip pockets inside.
Best Lightweight Weekender: Samsonite Quadrion 20″ Duffel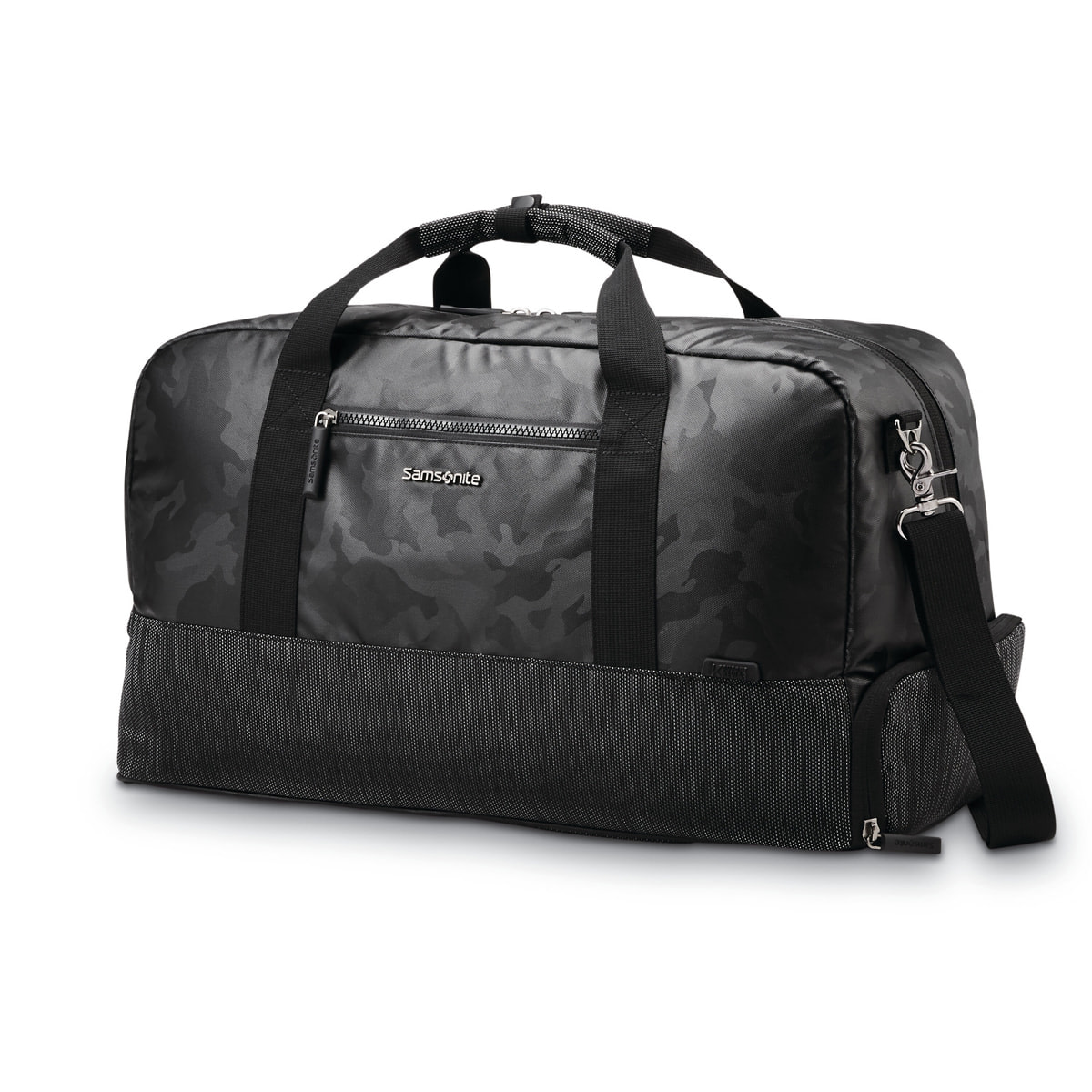 Make the most of your next spontaneous getaway with Samsonite's latest travel duffel. Made from water-resistant 600D polyester fabric and reinforced with Kevlar fibers, the Quadrion 20″ Duffel is gloriously sturdy, lightweight, and big enough to fit a few days' worth of outfits.
Multiple pockets and dedicated compartments help you keep your clothes, shoes, and electronics organized, while its detachable padded strap adds hands-free convenience. With an integrated side shoe pocket and a price tag that won't break the bank, this all-purpose travel bag is a real steal!
› Take 20% Off with Code JOY20
Best Weekender Backpack: Topo Designs 40L Travel Bag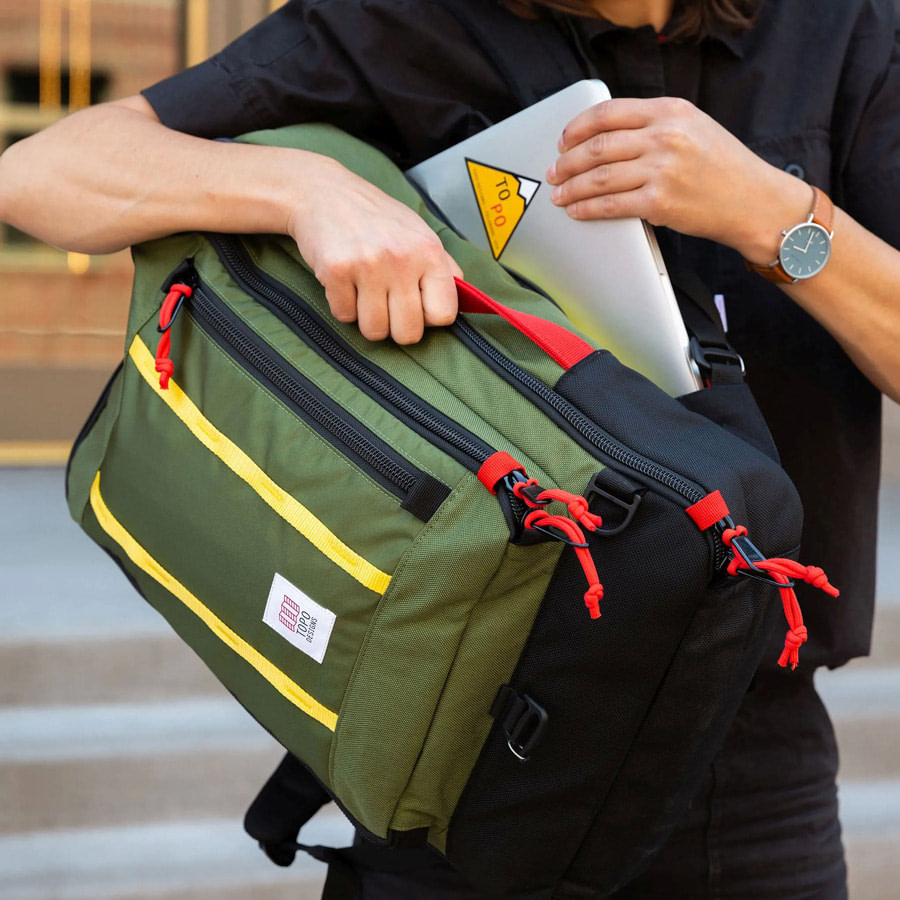 Whether you're off on a business trip or a city break, the 40L Travel Bag is sure to fit all your traveling needs. Its durability alone makes this Topo Designs creation one of the best weekender bags on the market, but add in an abundance of thoughtful features, plus tons of versatility, and you know it's a really exceptional piece of luggage.
Crafted from 100D Cordura nylon, this practical backpack is small enough to pass as a carry-on, yet large enough to hold all your on-the-move essentials. Accompanying its roomy, divided main compartment are a wealth of internal/external pockets for keeping your stuff in order, as well as an easy-access laptop sleeve. Further special details include padded ballistic nylon back panels and a flexible strap design that lets you hold the bag like a duffel, wear it like a backpack, or carry it as a briefcase.
Best Faux Leather Weekender: Mollie Large Vegan Leather Overnight Duffle Bag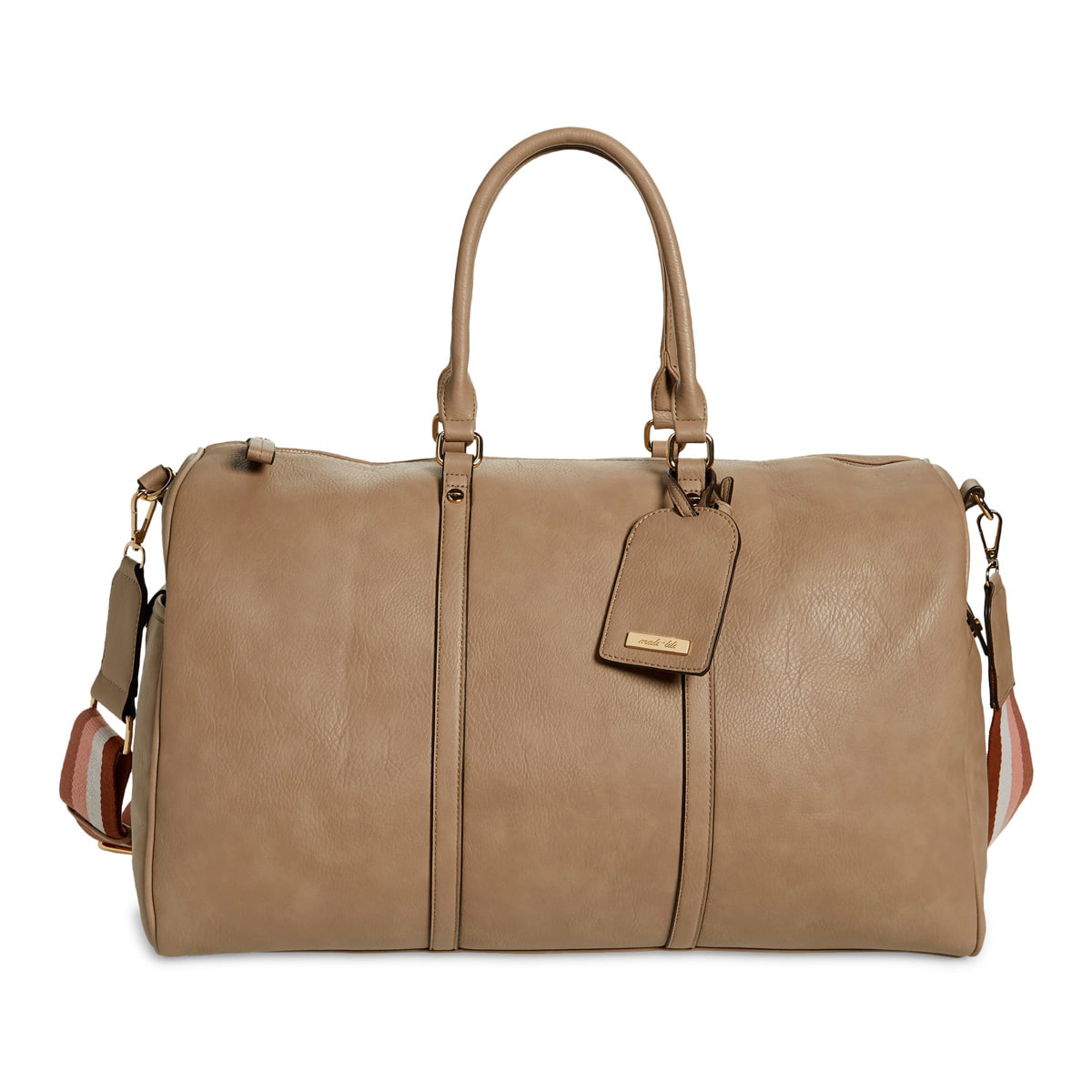 If you're looking for a first-class faux leather weekender bag that won't break the bank, then this lovely carrier from Mali+lili is the one for you. Made from premium quality vegan leather and adorned with classy gold hardware, it can easily hold all of your weekend essentials in the spacious zipped inner compartment, and has a classic silhouette that will go well with just about anything.
The interchangeable striped web strap allows for breezy, comfortable transportation, while the chic chevron interior lining keeps contents protected. No matter the outfit, season, or destination, you can never go wrong with this timeless faux leather duffle bag!
Best Garment Weekender Bag: Hook & Albert Women's Fine Twill Garment Weekender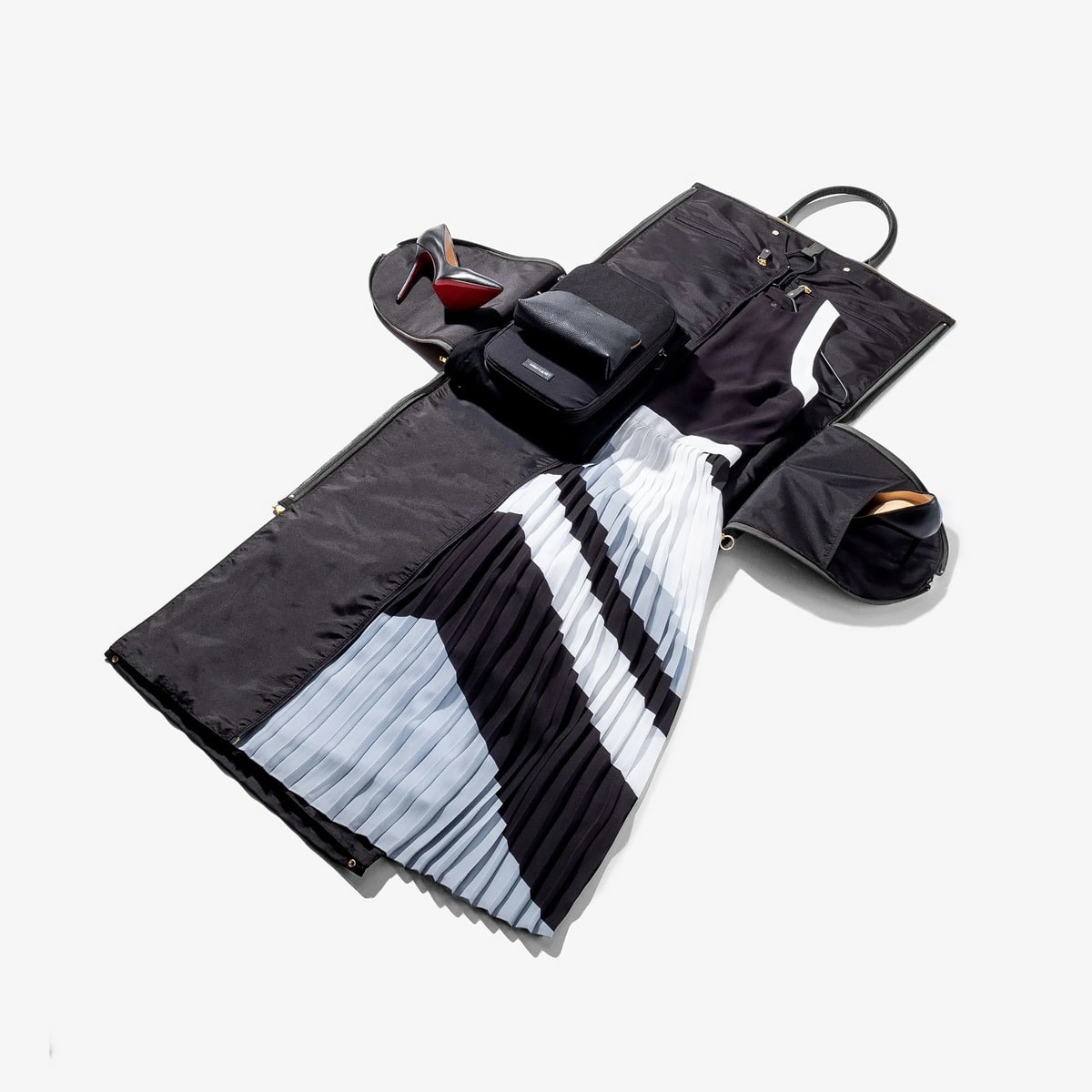 If you're looking to splurge, the Women's Fine Twill Garment Weekender from Hook & Albert is totally worth the investment.
An excellent choice for traveling professionals, this practical, lightweight bag exudes subtle luxury and sports an ingenious garment section that accommodates long dresses and a pair of shoes in perfect condition. With a sliding shoulder strap designed for carrying comfort and zip exterior pockets for storing your accessories, it can easily pass as one of the best garment bags for travel. At 20 x 13 x 9.5, the smart duffel meets all major airline carry-on requirements, and, when not in use, folds flat for easy storage.
With its durable yet refined nylon exterior and premium gold hardware accents, this piece will add a touch of class to any trip, business or pleasure.
Best Handcrafted Weekender Bag: Somerset Holdall Leather by Forbes & Lewis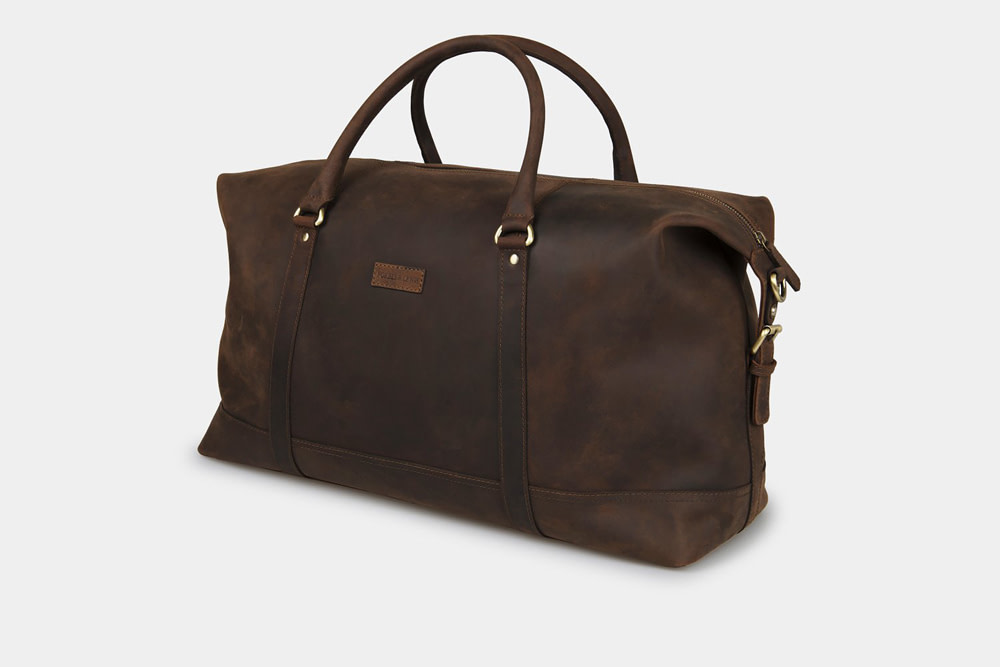 Artistry and convenience combine in this spectacular leather weekender by Forbes & Lewis. Crafted by hand from smooth and strong buffalo leather and treated with a water-repellent wax finish, the Somerset Holdall calls for luxurious countryside retreats and cultured city breaks alike.
From cutting to stitching, every aspect of the bag is superbly executed. With its classic shape and antique brass hardware, it has a sophisticated vintage vibe, in the true British style. An adjustable/removable shoulder strap and pockets for all necessities add to the functionality of the design, making it perfect to take along, whether on a quick overnight business trip or an epic week-long adventure.
Best Weekender Bag with Shoe Compartment: Vintage Leather Weekender with Shoe Compartment
Add a dash of organization to your weekend travels with this splendid leather duffle with shoe compartment we found on Etsy. Handmade using distressed full-grain leather, solid anti-rust hardware, and soft cotton fabric lining, it has a beautiful vintage feel and is as strong and durable as they come.
Along with the bottom shoe compartment, this bag has a large front pocket, as well as a couple of zipped exterior compartments to stash your bits and pieces. It comes in carry-on friendly size and offers excellent value for money, plus free shipping.
Best Designer Weekender: Spade Flower Jacquard Stripe Large Weekender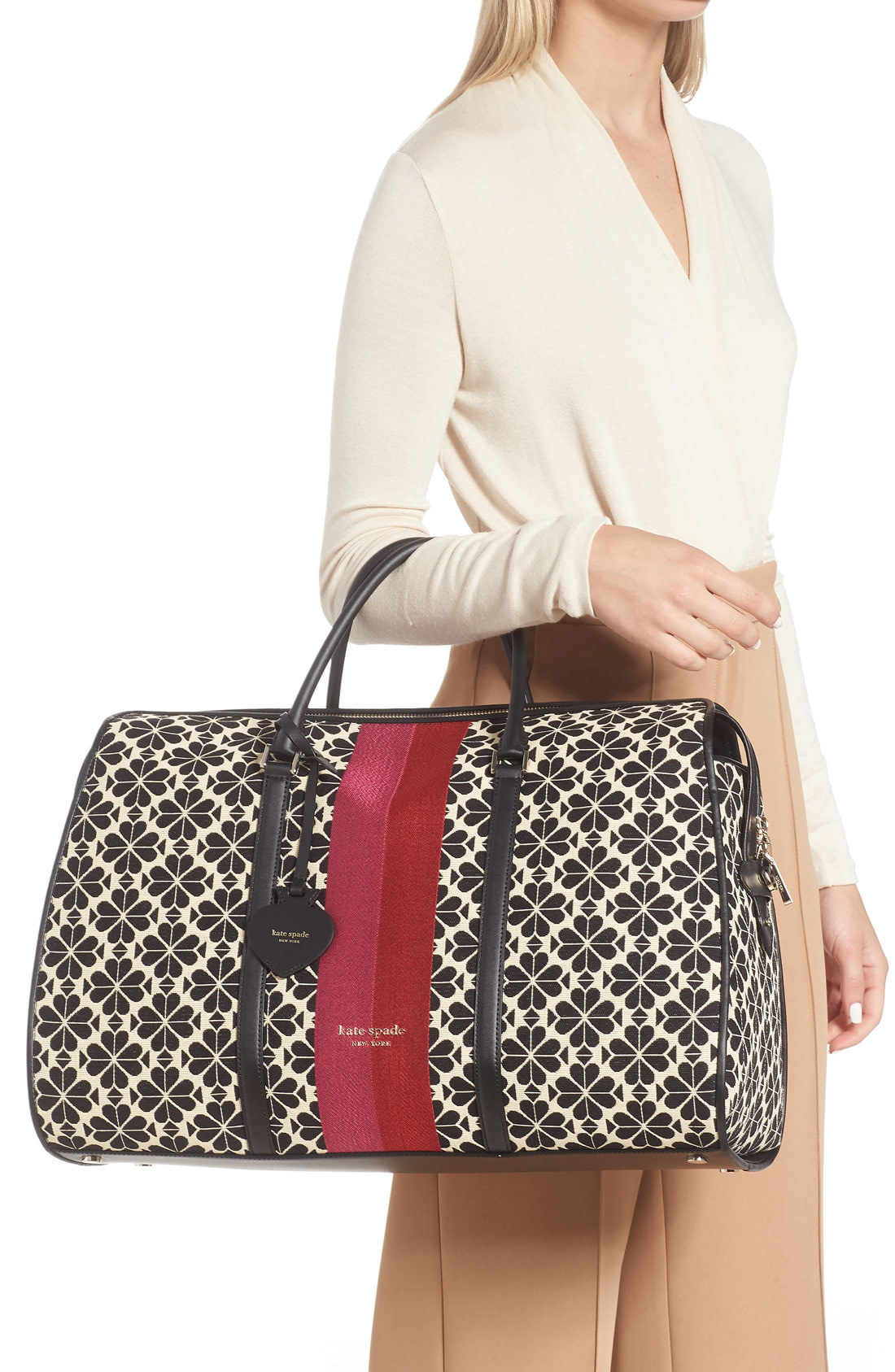 If you want a refined designer weekender bag to level up your style when traveling, this is it! Crafted from textured jacquard fabric in the brand's signature spade flower pattern and adorned with smooth leather details, the Spade Flower Jacquard Stripe Large Weekender from Kate Spade New York has sophistication written all over it.
This Italian-designed holdall is versatile, cabin size, and will have you traveling in style, whether it's commuting to work, a business overnighter, an impromptu weekend away, or a journey to the other side of the world. It fits most 15″ laptops, keeps your phone and documents neatly organized in interior zip and wall pockets, and comes with gleaming metal feet for extra protection.
Best Sustainable Weekender Bag: United by Blue 55L Carry-On Duffle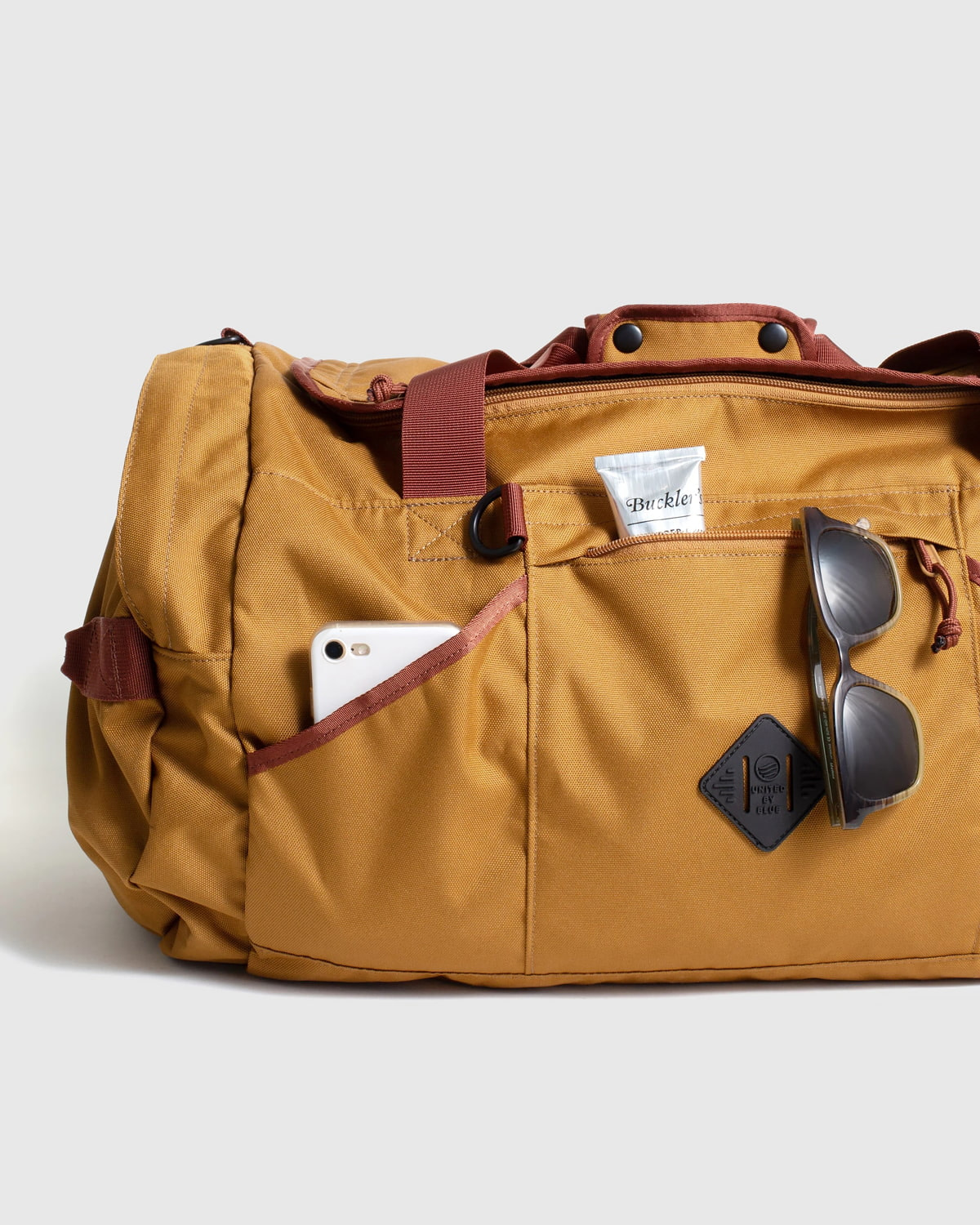 Made from 100% recycled polyester, United By Blue's 55L Carry-On Duffle is a must-have for the weekend warrior who cares for the environment. This sturdy water and stain resistant bag includes a padded, removable shoulder strap and is compact enough to fall under the carry-on size limit.
Understated, well executed, and loaded with convenient pockets, it adapts to just about any weekend scenario, whether that involves a short plane flight, a family road trip, or an outdoor adventure with your friends. And best of all, is made from recycled water bottles and equipped with a lifetime guarantee.
Best Weekender Bag for Adventure: Patagonia Black Hole Duffel 55L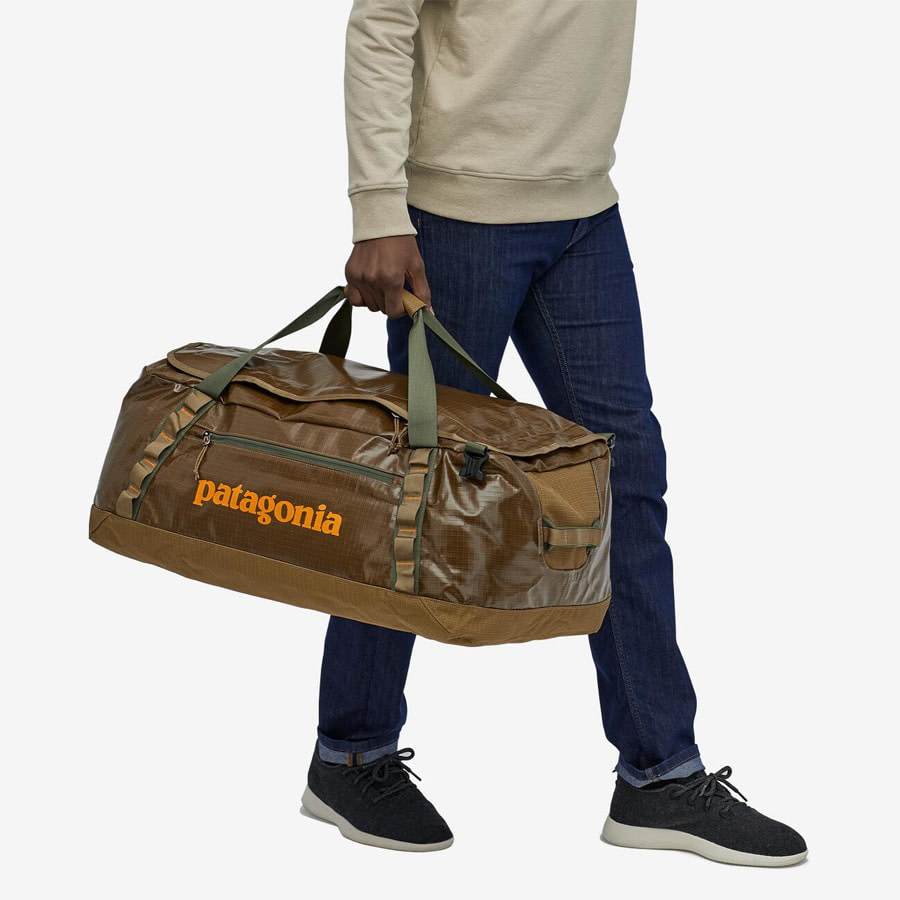 This weather-resistant getaway bag from Patagonia is a perfect selection for when you want a hardwearing weekend tote that's both lightweight and versatile. Constructed from ultra-durable 100% recycled polyester ripstop with a TPU-film laminate, the 55-liter Black Hole Duffel fits a couple of days' worth of essentials while lending a fun, sporty touch to your weekends away.
With cleverly designed padded straps, the bag can be carried by hand, across the shoulder, or as a backpack. It comes with a zippered side pocket and an internal mesh compartment for safe storage and easy access to small, necessary items.
Best Designed Weekender Bag: Ted Baker SOPHIAZ Holdall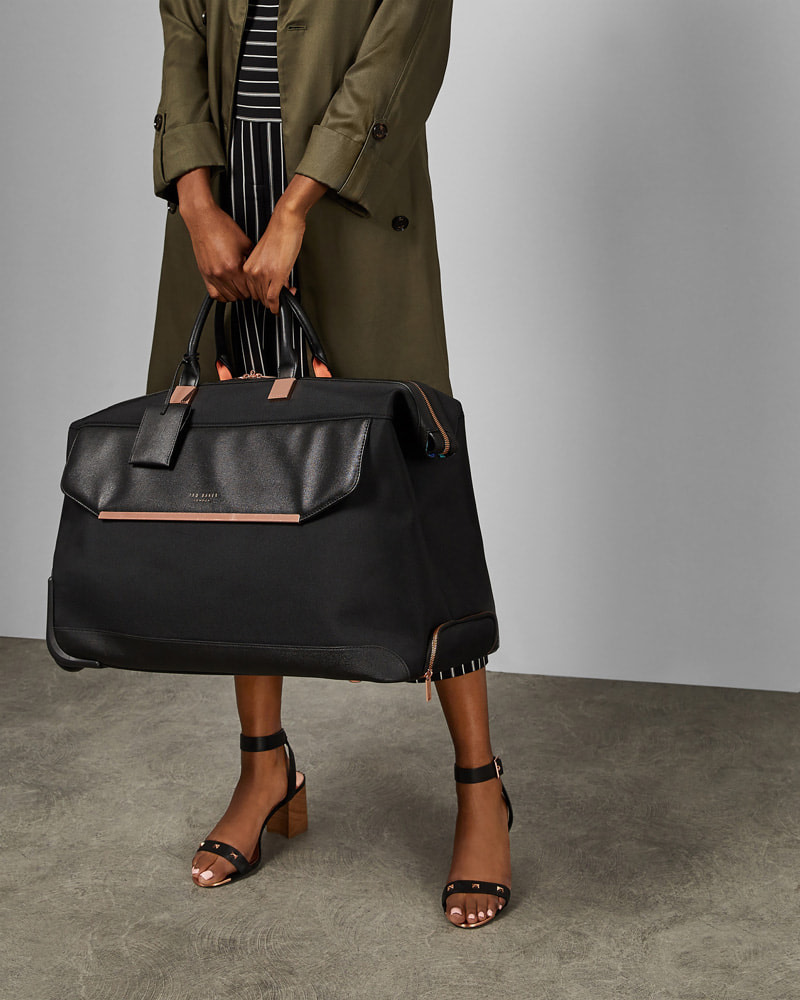 Detailed with rose gold-toned hardware, this wheeled holdall bag from Ted Baker makes the perfect weekend accessory for globetrotters with a sense of style.
A practical and refined women's weekender, it comes with various handles, a handy front pocket, and offers the ideal amount of storage for a city break. Its two roller wheels allow for smooth, effortless maneuverability, while the TSA-approved combination lock protects your belongings.
Best Minimalist Weekender Bag: VANOOK Rolltop Weekender
Good luck finding a more versatile way to carry your belongings than this tasteful, minimalist Rolltop Weekender from German label VANOOK. Handmade in Munich using super lightweight coated cotton, not only does it sport a modern and clean unisex design, but it takes you from the gym to the shopping mall to the departure lounge seamlessly.
The vegetable-tanned leather straps add to both its functionality and its aesthetic appeal, and so does the clever roll-top closure, which lets you elegantly adjust the measurements of the bag to your current needs. Two open exterior pockets, three inner pockets, and a big outside zipper pocket provide additional storage and convenience.
Best Versatile Weekend Duffle: Briggs & Riley ZDX Cargo Satchel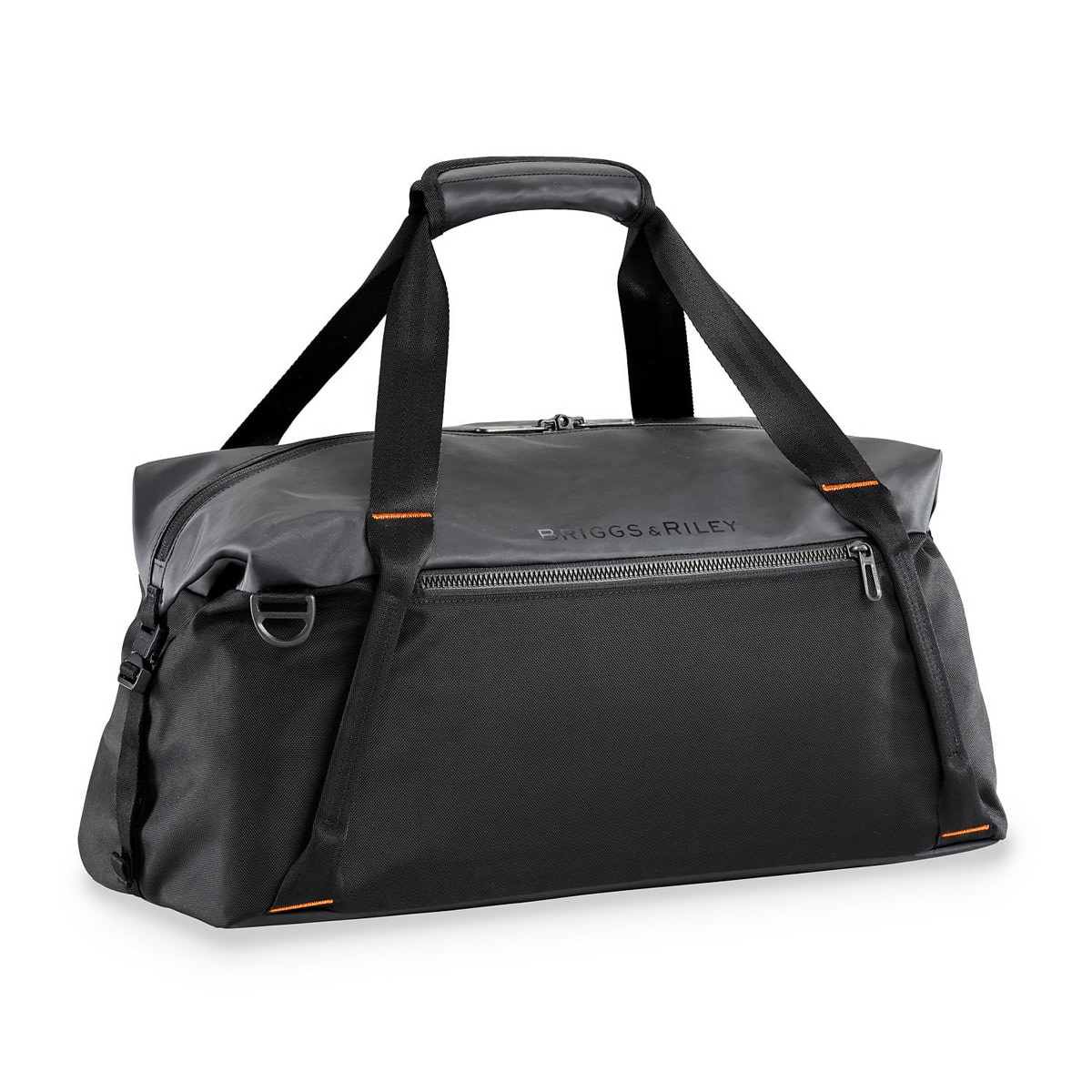 Whether attached to your Briggs & Riley rolling suitcase or used separately, the ZDX Cargo Satchel gives frequent travelers exceptional convenience without compromising on style. Built from abrasion-resistant ballistic nylon and complete with cinch-down sides for a lower profile, this versatile weekender has room for all of your travel items while fitting under the airline seat in front of you.
It comes with the brand's signature SpeedThru pocket for quick access to items at security checkpoints, plus built-in RFID technology, heavy-duty YKK zippers, as well as comfortable top handles & shoulder strap for custom carrying. Its water-resistant material can easily handle a downpour, while the reinforced PVC-coated base protects the bag on wet and dirty surfaces. The carry-on size and streamlined silhouette mean you can bring it on business trips, at the gym, or wherever your travels may take you.
Best Leather Weekender Bag: Carl Friedrik Palissy Weekend
Carry your short trip essentials in style with the stunning Palissy Weekend by Carl Friedrik. This bag gives you the best of both worlds, timeless elegance fused into a modern shape.
Handcrafted from premium Italian Vachetta leather in a chic cognac hue, it makes an inspired accessory for a weekend away in the English countryside, but it's sure to steal looks wherever you go.
The interior is lined with soft nylon canvas and equipped with pockets for your valuables, and there's also a removable shoulder strap for added versatility. The quality and craftsmanship are outstanding and, if leather weekender bags are your thing, you'd be hard pushed to find a sturdier, better-looking piece than this one.
The Sexiest Weekend Bag: Otis Weekender by O My Bag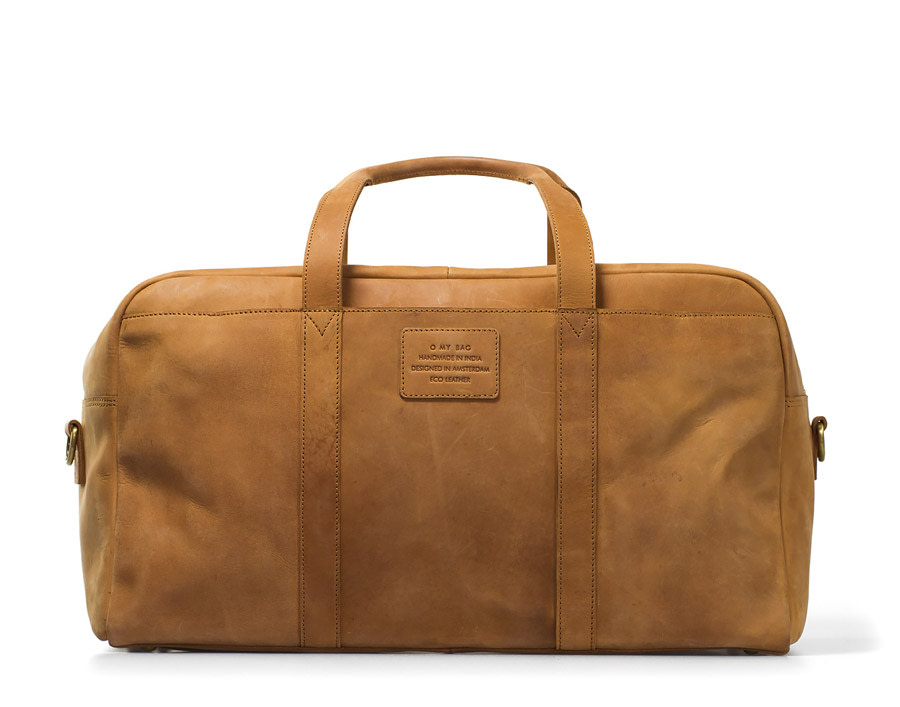 One of the most beautiful weekenders on the list, this eco-friendly leather stunner from O My Bag hits all the right notes. Fashioned from luxurious, vegetable-tanned leather in camel, one can expect to use it for a lifetime, whether for overnight stays, weekend-long events, or spur-of-the-moment road trips.
Multiple interior storage options help jetsetters stay organized, while an exterior zipper pocket provides quick access to items on the go. Other thoughtful details include twill cotton lining and a detachable canvas shoulder strap. At L55 x W22 x H35 cm, the Otis Weekender is accepted as hand luggage for all airlines.
Best Overnight Bag: Vera Bradley Weekender Travel Bag
The romantic flower patterns give this lightweight overnight bag from Vera Bradley a charming vintage look. Ideal for last-minute travel, this colorful cotton weekender bag features a spacious main compartment along with an assortment of interior and exterior pockets for keeping smaller items organized, as well as a removable strap so you can also wear it as a crossbody when needed.
Its compact size is ideal for short trips and overnight stays, and it also conveniently fits into the overhead bin of a plane when flying. On top of that, the bag's innovative ReActive material is durable, water-repellent, and sourced from recycled water bottles.
Best Weekender Bag for Stylish Jetsetters: The S.C Holdall by Bennett Winch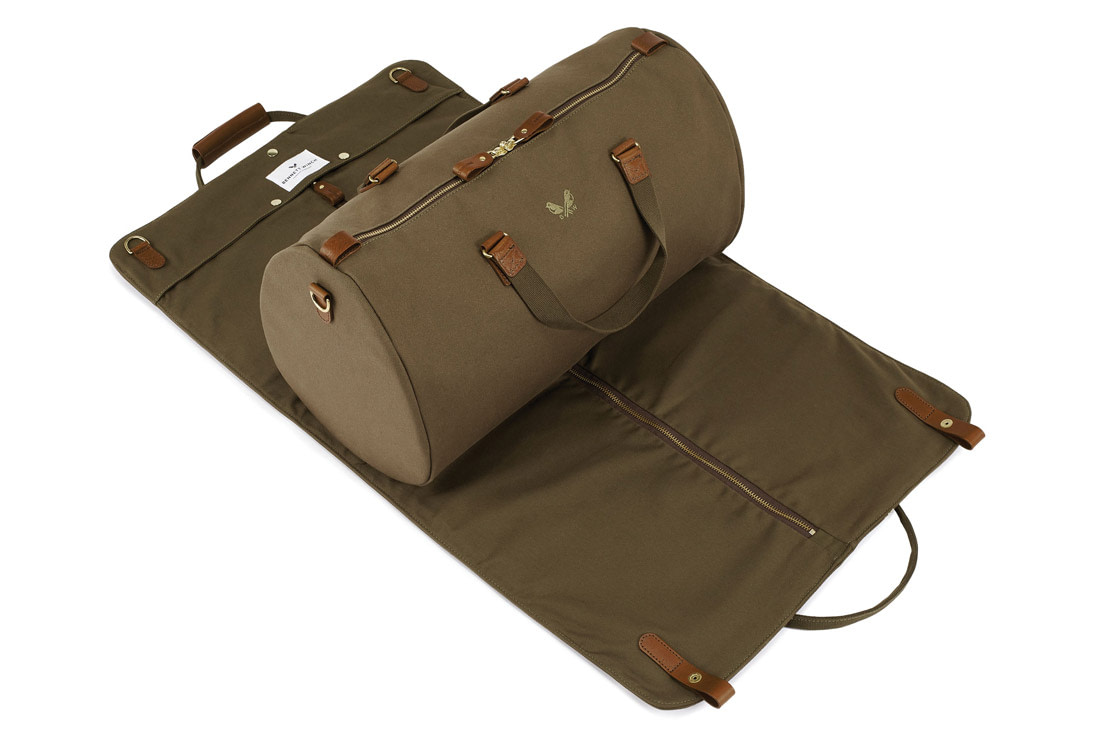 Understated elegance and splendid functionality make this two-in-one hand luggage one of the best bags for men. Handmade in England, the S.C Holdall combines a travel bag and a suit carrier into one revolutionary product – ideal for busy, modern travelers. No wonder it completes James Bond's latest looks in No Time To Die!
Developed in collaboration with Permanent Style, this clever Bennett Winch 2-piece design is made from British waterproof cotton canvas and includes a cylindrical holdall, complete with military-grade detachable shoulder strap, a removable waterproof shoe bag, and an external pocket for small items. The suit carrier ingeniously wraps around the central bag and accommodates one jacket and one pair of trousers safely. And the best part is that each section can be used separately.
Best Weekender Bag for Business Travel: Lundi 36-Hour Travel Bag
Business travel bags don't come more exquisite than this timeless leather valise from Parisian accessories brand Lundi. Nevertheless, its main selling point is the novel and highly functional briefcase-inspired design, which makes it the perfect partner on short, work-related trips.
Rendered in full-grain, vegetable-tanned leather, the aptly named 36-hour Travel Bag is ideally compartmentalized in two separate sections: one for storing office items and the other for clothes and toiletries. Complementing its streamlined, professionally-looking silhouette are specific pockets for your laptop, iPad, pens, and documents.