This post contains affiliate links, which means we may receive a small commission, at no additional cost to you, if you make a purchase through these links. See our full disclosure here.
Whether you're looking to upgrade your diving gear, impress your friends with a brand new water toy, or capture perfect photos and videos of sea life, these hip underwater devices and accessories are sure to enrich your next subaquatic adventure.
If you've ever wanted to swim like a mermaid, snorkel without getting wet, or experience the ocean from the comfort of your own personal submarine, you'll definitely want to check out my picks for the best underwater gadgets.
From innovative diving equipment and fun snorkeling gear to topnotch waterproof cameras and clever life-saving tools, you'll find all sorts of cool goodies to make the most of your time beneath the sea.
GoPro HERO7 White Underwater Camera
With its 4K video, user-friendly touchscreen interface, and built-in waterproofing (up to 33 feet/10 meters without housing), GoPro HERO7 White is no doubt one of the best underwater cameras out there. Just like its predecessor, this new model is packed with tons of innovative features – including voice control, electronic image stabilization, and simple one-button control – making it perfect for your next snorkeling or scuba diving adventure.
Suunto D4i Novo Dive Computer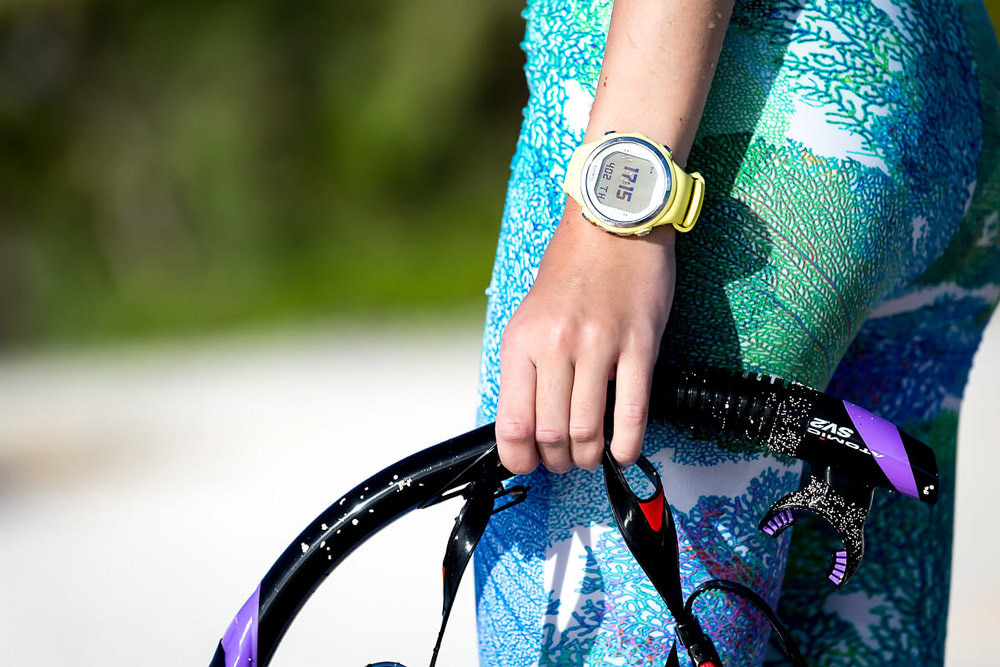 A stylish lightweight design and a bunch of cool new features make Suunto D4i Novo an excellent all-around dive computer for all levels of adventure. This updated version of the popular Suunto D4i comes with a slick and soft silicone strap, optional wireless air integration, and four dive modes: Air, Nitrox, Freedive, and Gauge.
FIFISH V6 Underwater Robot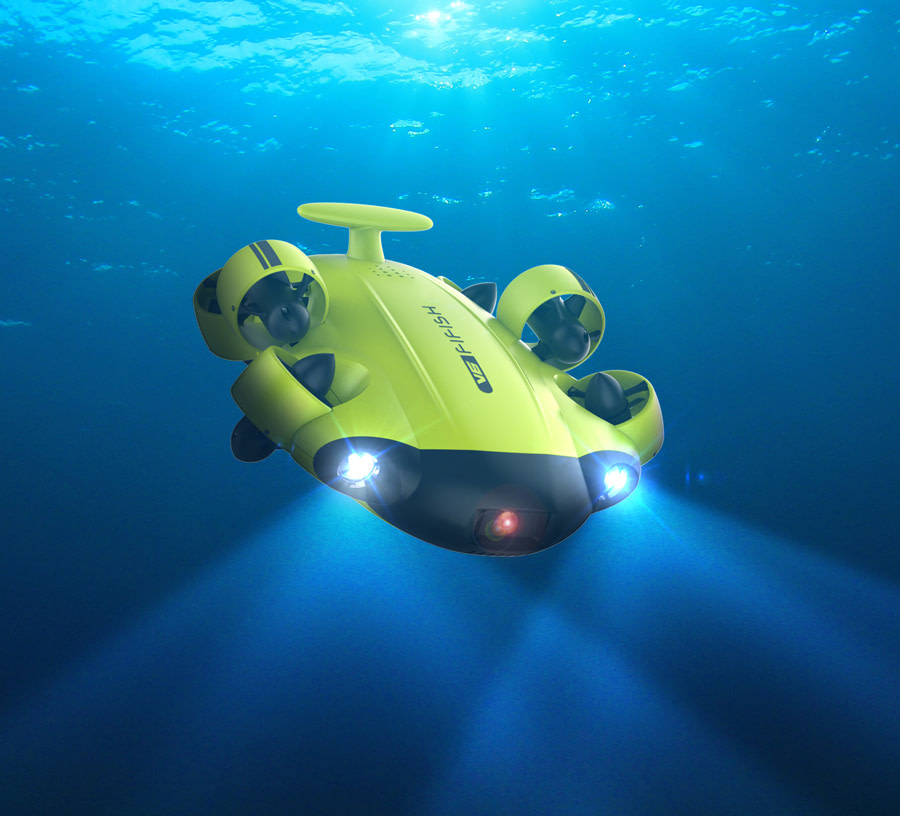 Powered with 6 patented thrusters, the world's first OMNI 4K underwater drone lets you explore and capture the depth of the ocean like never before. Its most powerful feature is the ability to move like a fish (lip, tilt, and pan 360 degrees), which along with video sharing, powerful lighting, and the exceptional 4K quality with 30 frames per second make the FIFISH V6 your perfect underwater photographer.
GoPole Dome Pro for GoPro HERO7/6/5 Black, White & Silver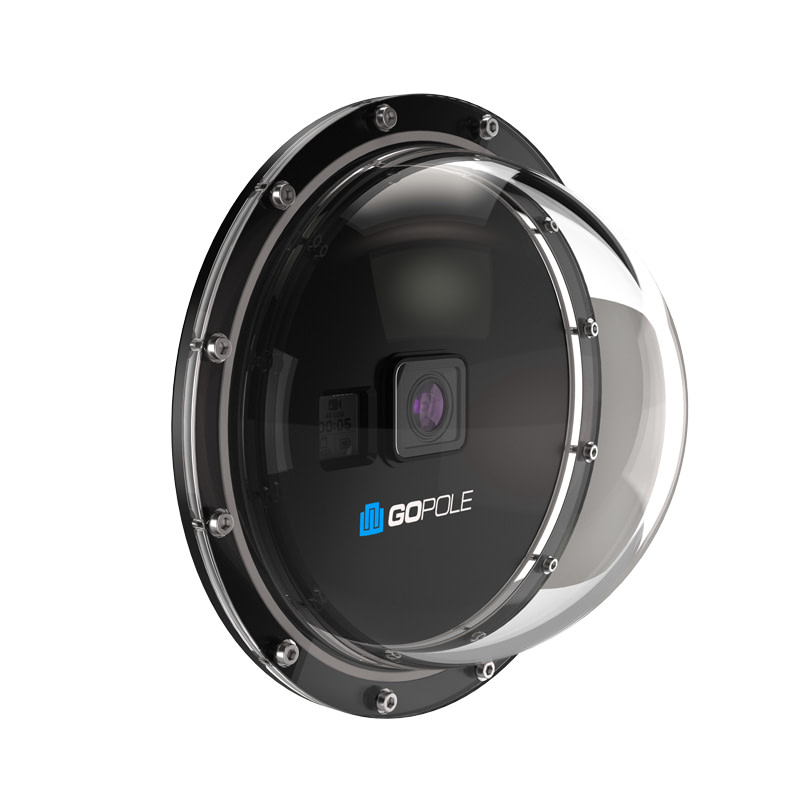 Take your split-level (over-under) pictures to the next level with Dome Pro. Designed to work with all modern GoPro cameras and equipped with 6" optically correct lens shape, this lightweight camera accessory from GoPole (the original GoPro accessory brand) allows you to capture epic images/videos both above and below the water simultaneously.
H2O Ninja Mask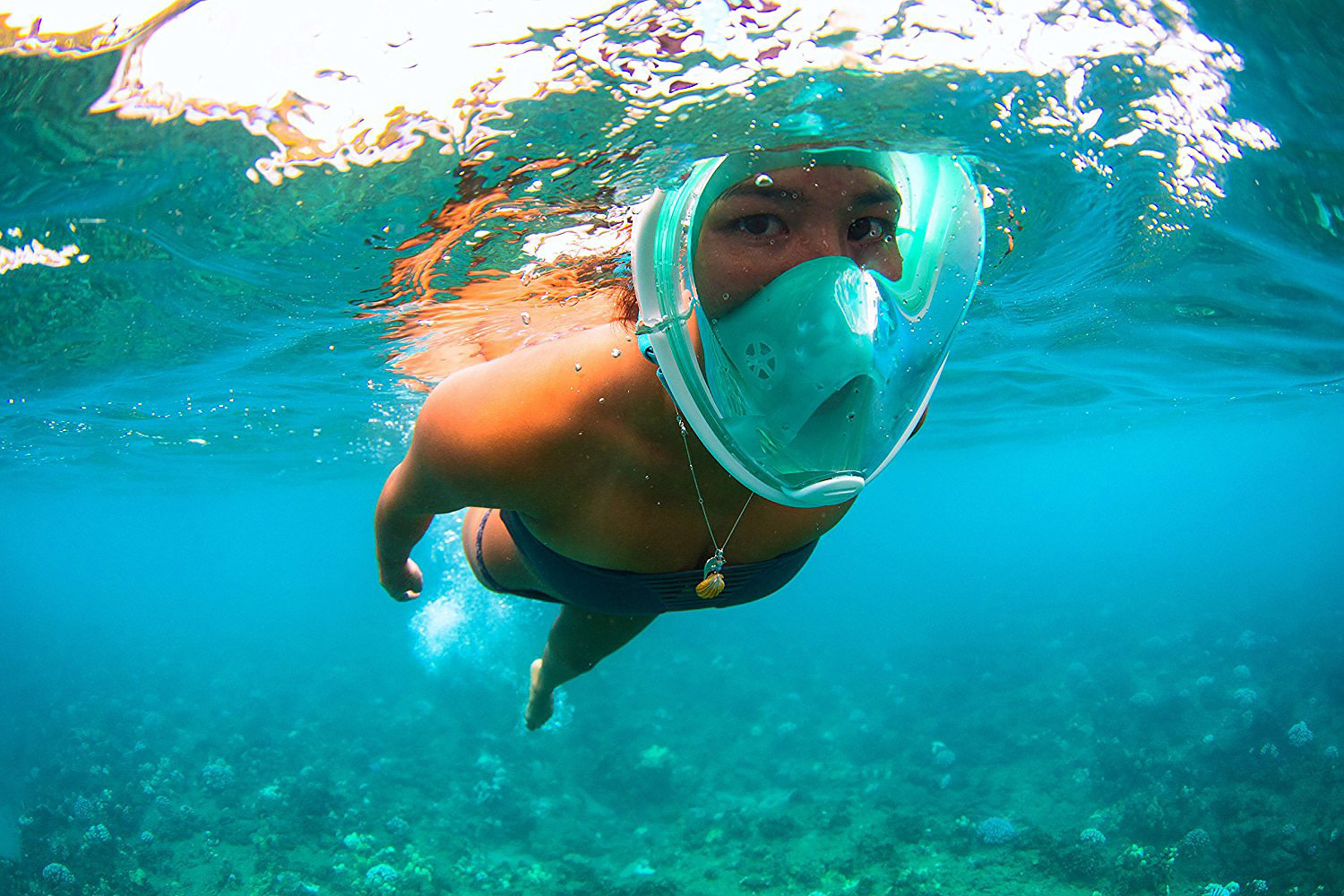 If you can only buy one piece of snorkeling gear, make it the H2O Ninja Mask. Unlike the traditional mouthpiece, this revolutionary device covers your entire face, allowing you to breathe normally underwater. Thanks to its shatterproof polycarbonate lens designed to resist fogging, the high-quality full-face snorkel mask affords unobstructed 180-degree views of the sea life around you.
Mahina Mermaid MerFin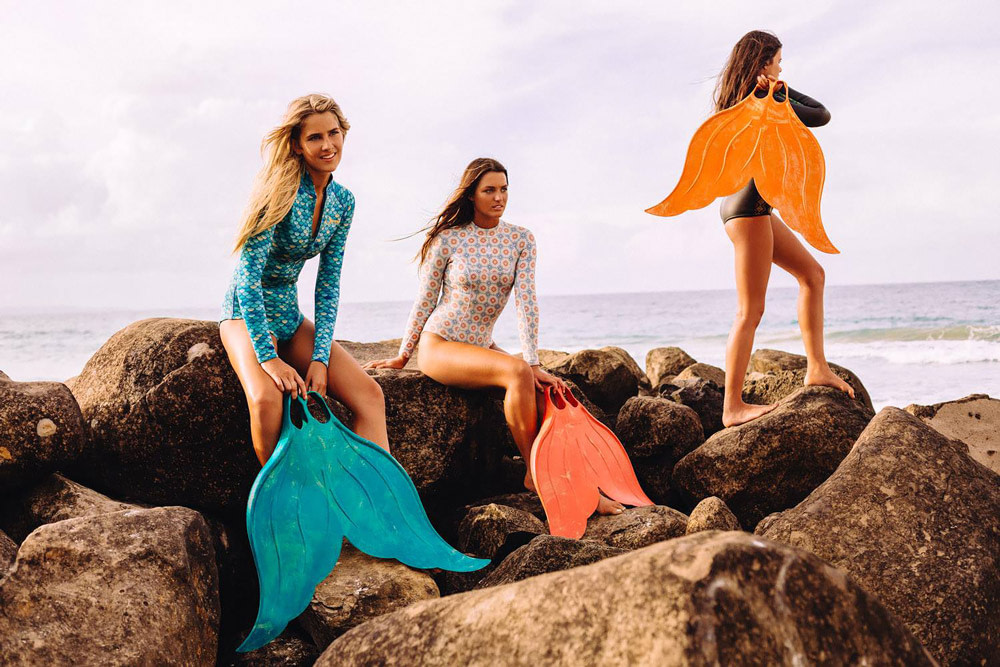 Made from natural & recycled rubber, Mahina MerFins are not only friendly with the environment, but also functional and fashionable, providing a genuine mermaid swimming experience.
Whether used as a snorkeling fin, pool toy, or aquatic fitness equipment, the Mermaid mono fin ensures speed and easy propulsion when gliding through the water, and is widely considered the safest and highest performing device of its kind.
Seaseeker Underwater Scuba Mask for Snapchat Spectacles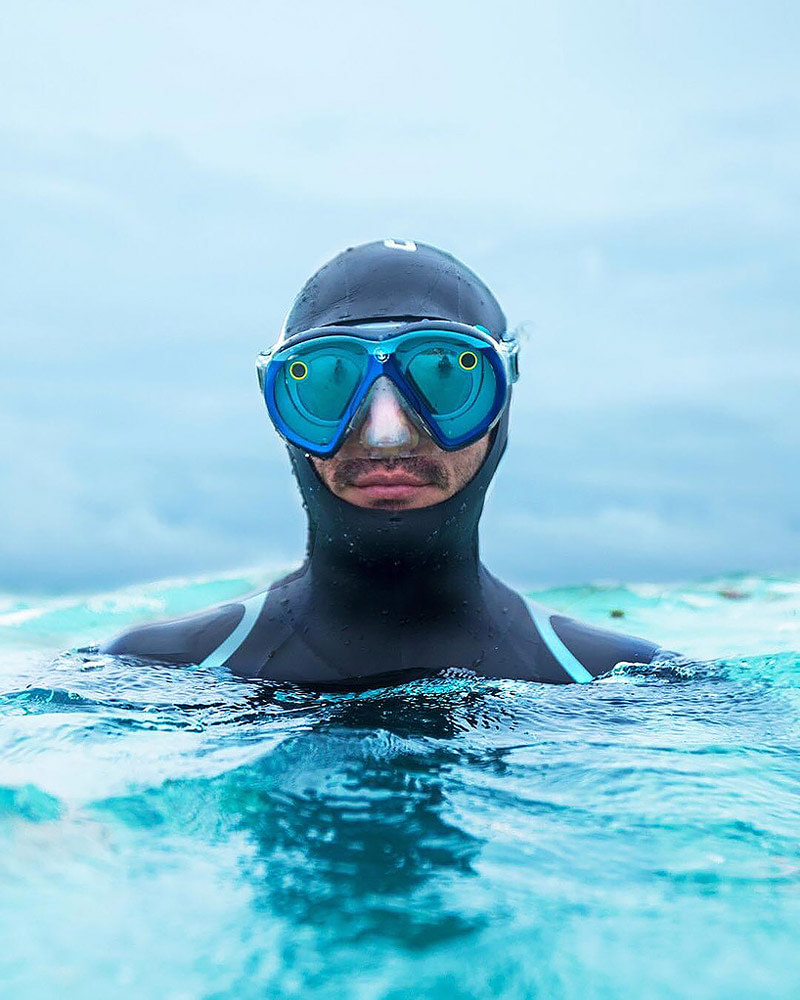 Turn your Snapchat Spectacles into underwater goggles with SeaSeeker. Created by Royal Caribbean, this cool waterproof scuba mask lets divers snapchat their experience deep below the ocean's surface and showcase it directly on their Snapchat account.
The stylish goggles allow for 30 minutes of underwater filming at depths of up to 150 feet (46m), but if you want to try them, you'll have to embark on a cruise, as for now, they are only available for Royal Caribbean guests.
C-Researcher 3-1100 Personal Submarine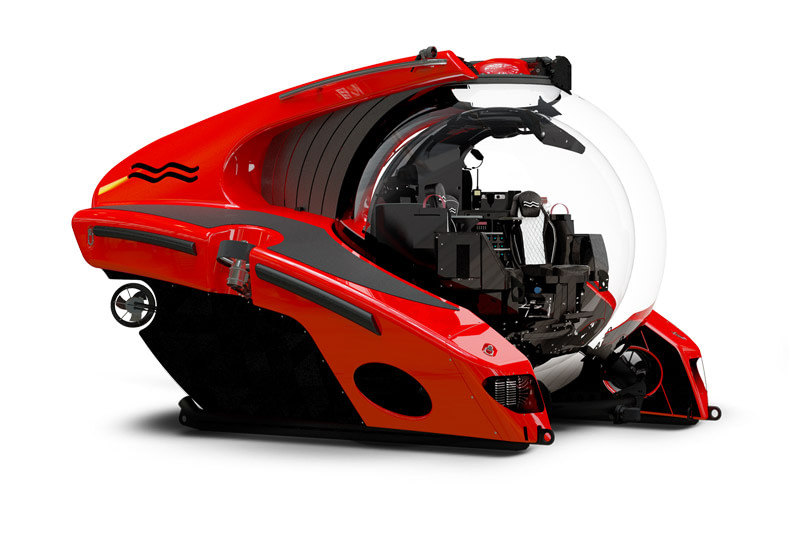 Whether you're an avid undersea explorer or just looking to upgrade your yacht toys collection, U-Boat Worx has the perfect solution for you – a personal submarine.
Featuring a large acrylic sphere that provides unbeatable marine views, their state-of-the-art C-Researcher 3-1100 can take you and two passengers beneath the ocean to depths up to 1,100 meters, making for an outstanding deep diving experience. Underwater gear can't get more luxurious than this!
Skorpion Dive Knife
A strong tempered blade, an easy one-handed release system, and an unbeatable price make Skorpion an essential tool for scuba divers and spearfishermen. This medium-sized dive knife by Cressi sports a clever design with one side of the blade straight-edged and the other one serrated, which makes it extremely handy and versatile.
AirBuddy Tankless Dive System
Billed the smallest and lightest diving gear in the world, AirBuddy combines the thrill of diving with the ease and simplicity of snorkeling for an unrivaled subaquatic adventure. The system features a unique tankless design with a floating air compressor and a rechargeable battery, letting users dive at depths up to 12 meters for up to 45 minutes.
Sea Doo Pro SeaScooter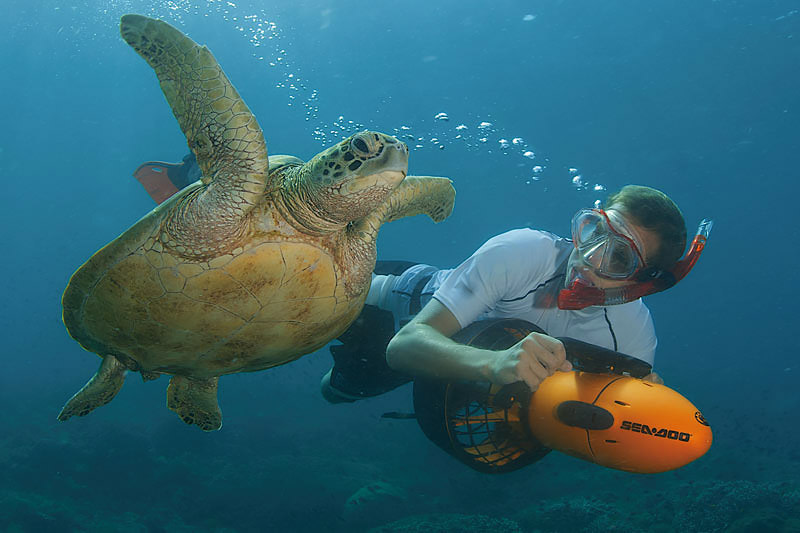 Thanks to its compact, ergonomic design and convenient built-in buoyancy regulation, the Sea Doo Seascooter PRO is a dream come true for any water lover out there.
Weighing just 13 lbs., the lightweight underwater propulsion unit can run at a speed of 2mph / 3.2km/h at a depth of up to 65ft / 20m, allowing users to dive easier and enjoy the underwater world for up to one hour. All these coupled with a rechargeable battery and an unbeatable price make it one of the most efficient personal propellers on the market. A wonderful accessory for snorkeling and shallow scuba diving!
ReefBoard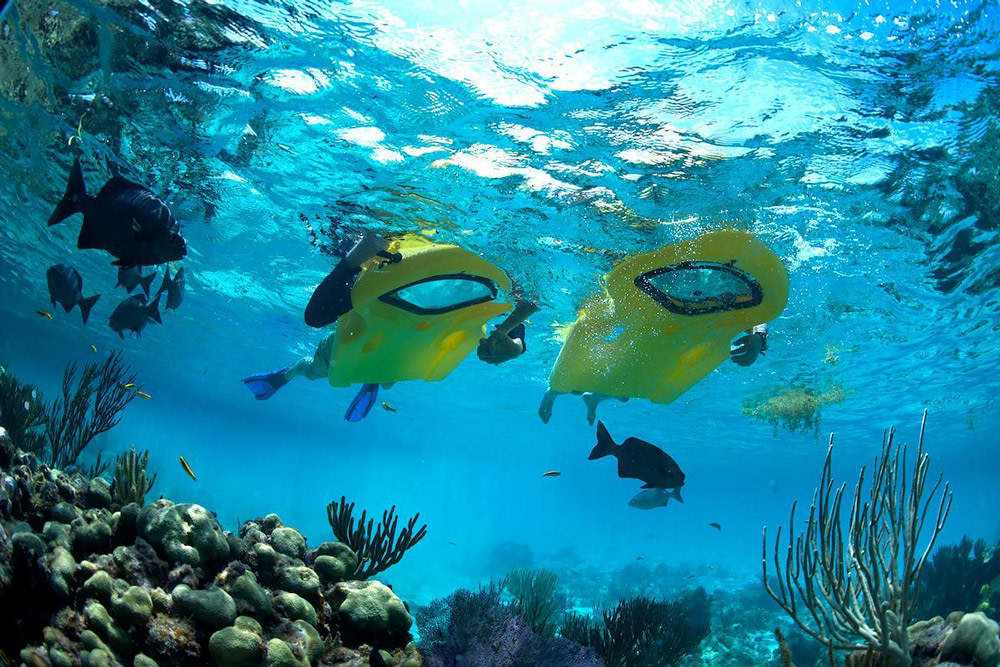 A dry alternative to snorkeling, ReefBoard lets you observe and photograph the sea life without the need to stay semi-submerged in the water or breathe through a snorkel. Similar to a glass bottom boat, the boogie board comes complete with a big clear window, offering a full 14" wide view of the colorful fish and marine plants below. Needless to say, this ingenious flotation device is safe, easy to carry around, and fun for all ages.