Already in its 13th edition, Sibiu Christmas Market (Targul de Craciun) is the liveliest and most colorful in Romania.
This year, the fair – organized by Sibiu City Council in partnership with the Embassy of Austria – kicks off on November 15 and lasts more than a month (until January 3, 2020), offering visitors a wonderful shopping experience full of magic and culture.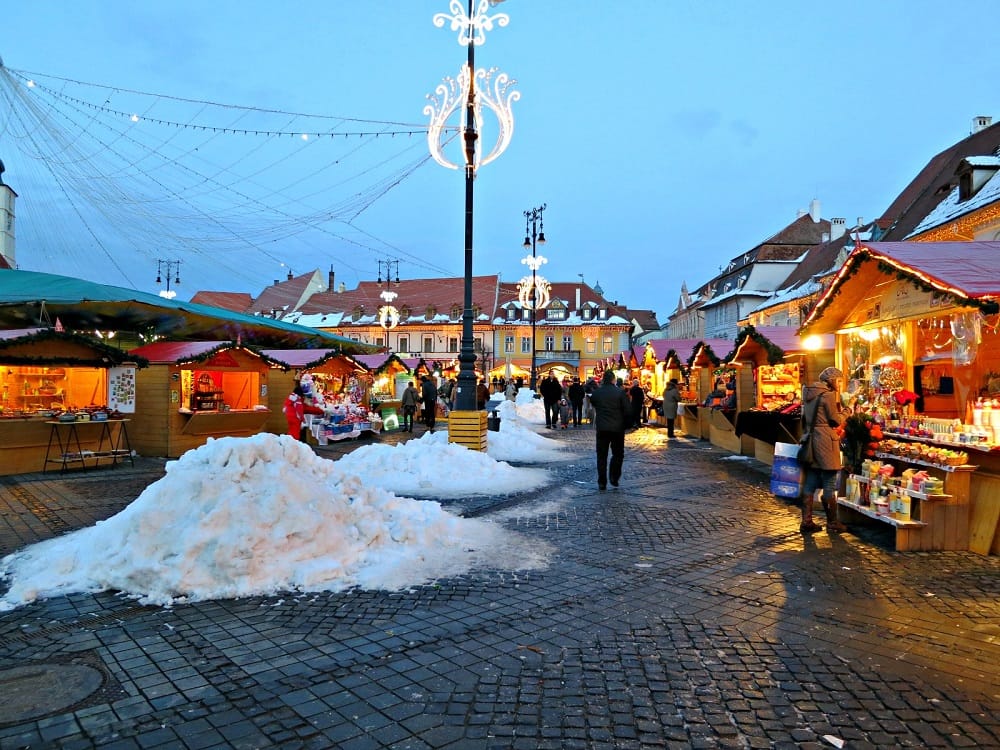 As always, the Christmas market is set in Sibiu's awe-inspiring Grand Square (Piata Mare), in the heart of the city, and that's probably a big part of its charm. Being surrounded by such magnificent Baroque architecture makes you feel like you've stepped back in time into a smaller, cozier Vienna.
Cheerful and full of color, the stalls present a variety of merchandise, from Christmas decorations, roasted almonds, and mulled wine to traditional handmade products such as leather goods, jewelry, fur hats, and much more.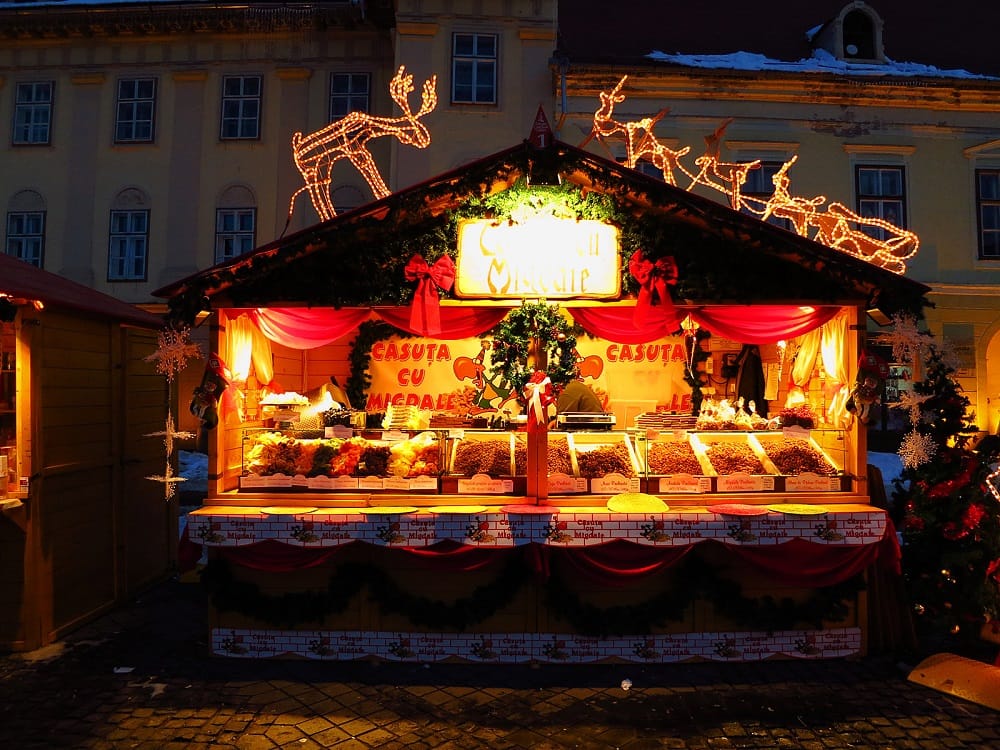 The atmosphere is particularly special at night when the stalls and the beautiful Christmas lights are twinkling all around Sibiu Old Town, creating a lovely winter scene straight out of a Dickens novel. Moreover, Sibiu is cuddled right in the heart of Transylvania, between three groups of mountains, which means snowfall is a common occurrence during this time of year, giving the city a truly festive, Christmassy feel.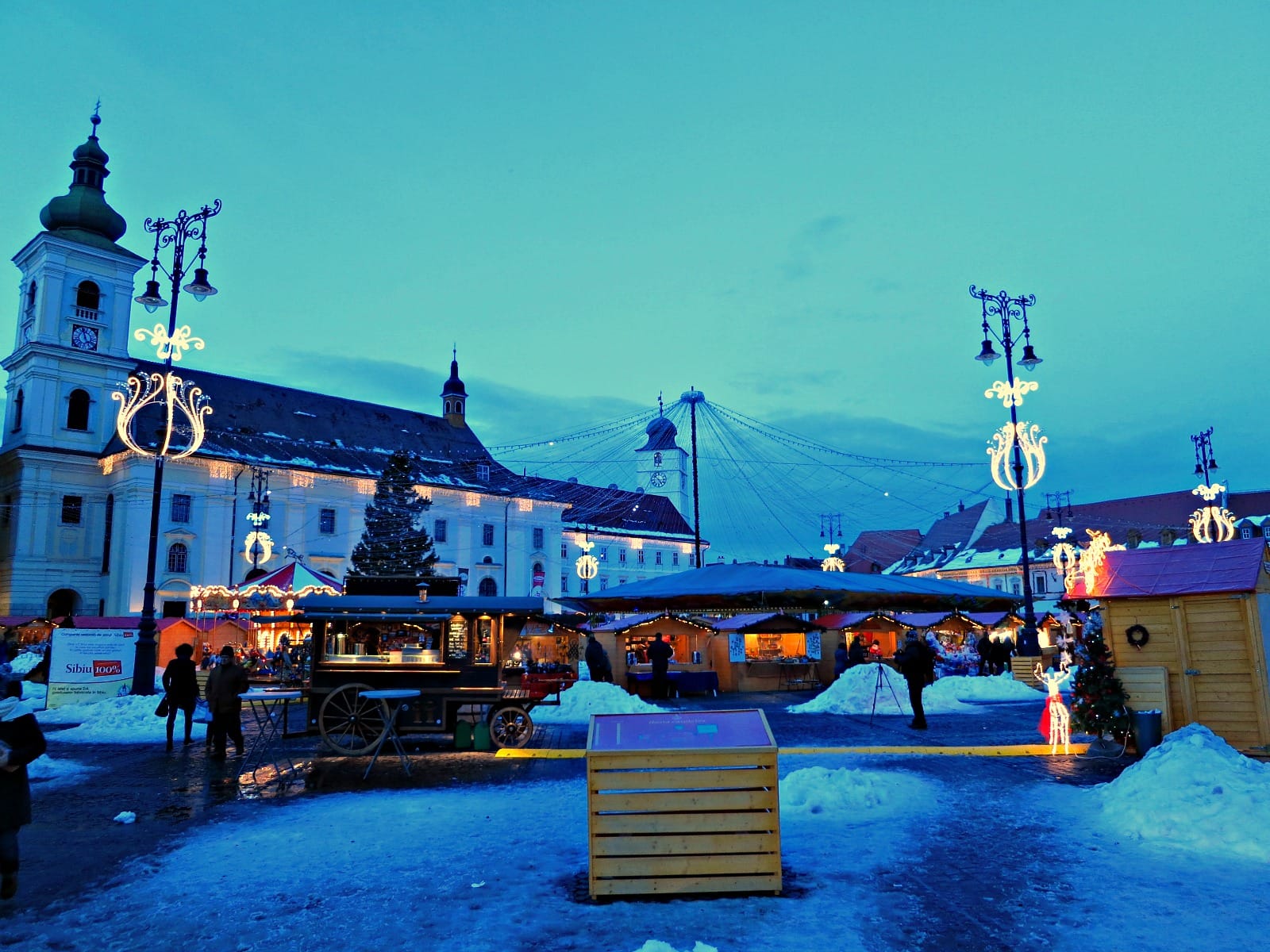 In addition to its gorgeous setting and sparkling stalls, Sibiu Christmas Market is enlivened by various forms of family entertainment. A beautiful skating rink, a small amusement park, and a couple of nativity scenes are set up in close proximity, adding further charm and atmosphere.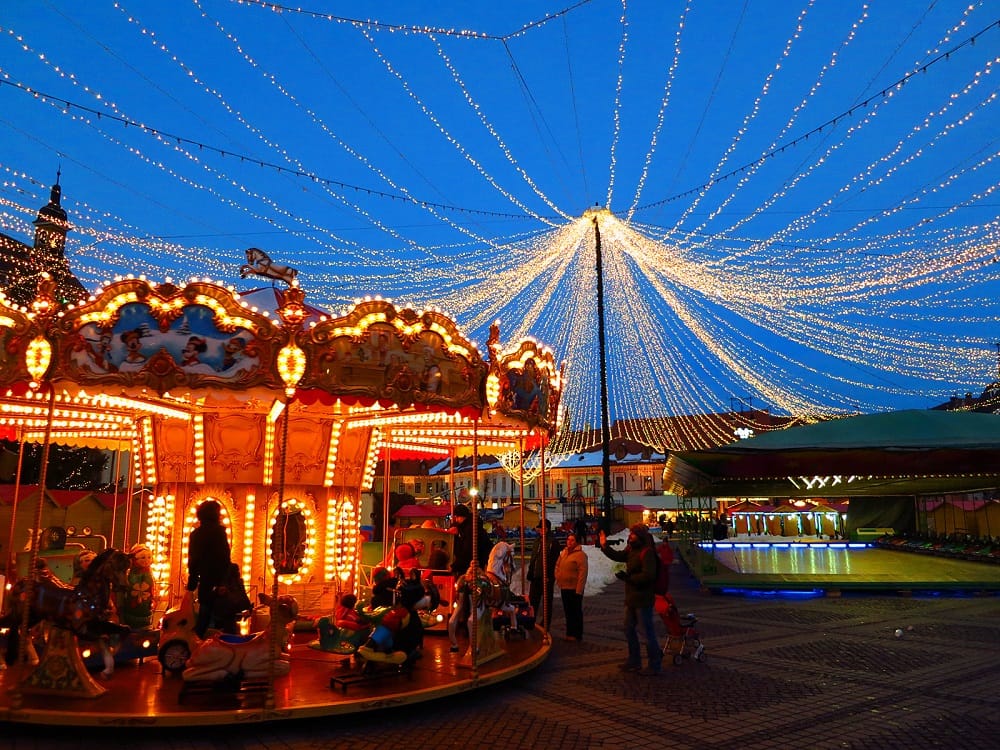 When night falls, locals and tourists alike gather here to admire the fabulous projections and try the local culinary specialties, whose tantalizing flavors shroud the square and the adjacent narrow medieval streets. And speaking of food, make sure you check out my guide to the best restaurants in Sibiu on your next visit, as this small, cozy city is brimming with tasty surprises.
A large open-air stage is always built in front of the market for music concerts, spectacles, and other interesting cultural activities organized here throughout the holiday season.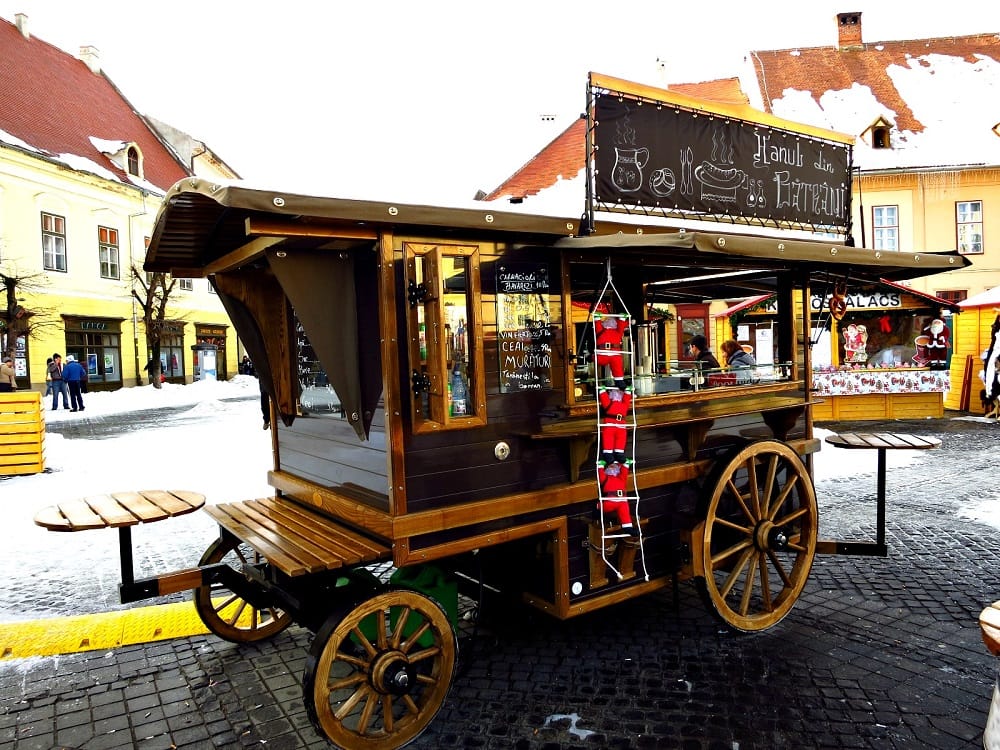 The 2019 edition of Sibiu Christmas Market brings together over 100 exhibitors from around the country and abroad. Further attractions include the Street Food zone and the spectacular Christmas projection show, which brings the Grand Square's elegant buildings to life with bright, colorful animations, every evening.
Sibiu Christmas Market (15.11.2019 – 03.01.2020) is open daily from 10 AM to 10 PM.