Sibiu is a pretty unique Romanian city – charming, compact, and filled to the brim with wonderful things to do. It is, no doubt, one of Transylvania's top attractions and probably the most beautiful and culturally rich town in Romania. But, aside from its robust year-round calendar of events and handsomely preserved Old Town dripping with Baroque architecture, the former European Capital of Culture prides itself with an impressive dining scene, too.
Welcoming, diverse, and full of character, its restaurants serve everything from high-quality Black Angus beef to raw vegan cheesecakes. So, whether you're looking for fine dining or casual fare, for traditional Romanian food or gourmet specialties from various corners of the world, you'll be spoilt for choice with the variety of venues and cuisines available.
On my latest trip here, I spent most of my time perusing menus at fine dining establishments and experiencing all that the local food scene has to offer. And out of the many, many fancy restaurants I tried and tested, these are my top recommendations on where to eat in Sibiu.
Jules Bistro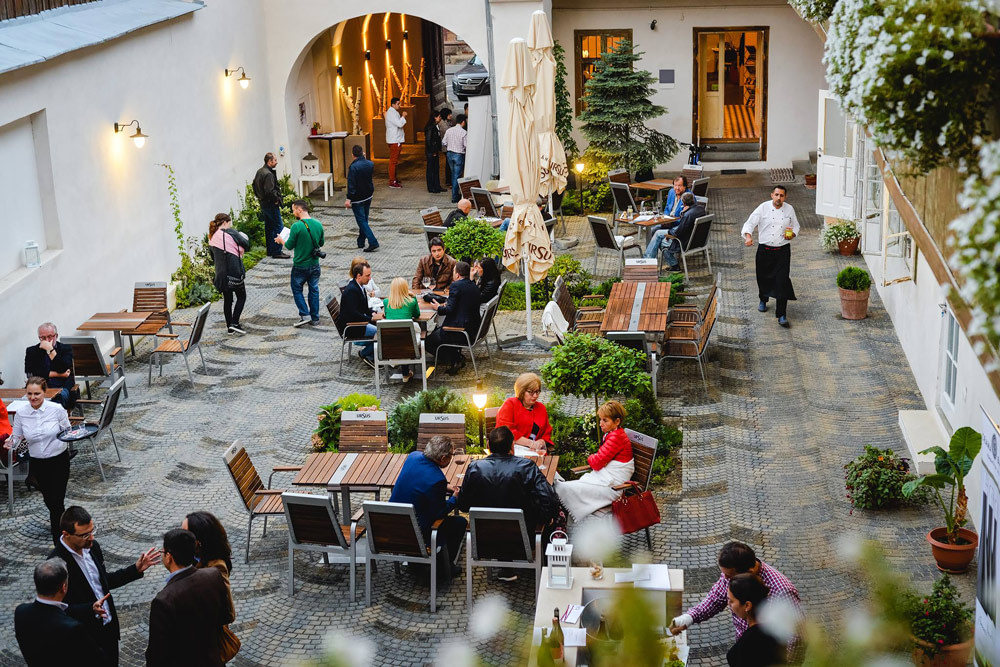 A refined and relaxed bistro in the historic center of Sibiu, Jules stands out for its excellent food, lovely selection of wines, and gorgeous summer terrace surrounded by Gothic architecture. The menu is eclectic, but has a French twist, with delicious dishes like Salmon Quiche, Duck Leg Confit, and Chèvre Chaud salad.
Must try from the menu: Fish of the day – tuna/salmon cooked en Papillote with roasted vegetables; Colette – a tasty and filling salad with grilled shrimps and grapefruit; and the Tarte Maison, which was an enchanting mascarpone cake topped with fresh strawberries.
Max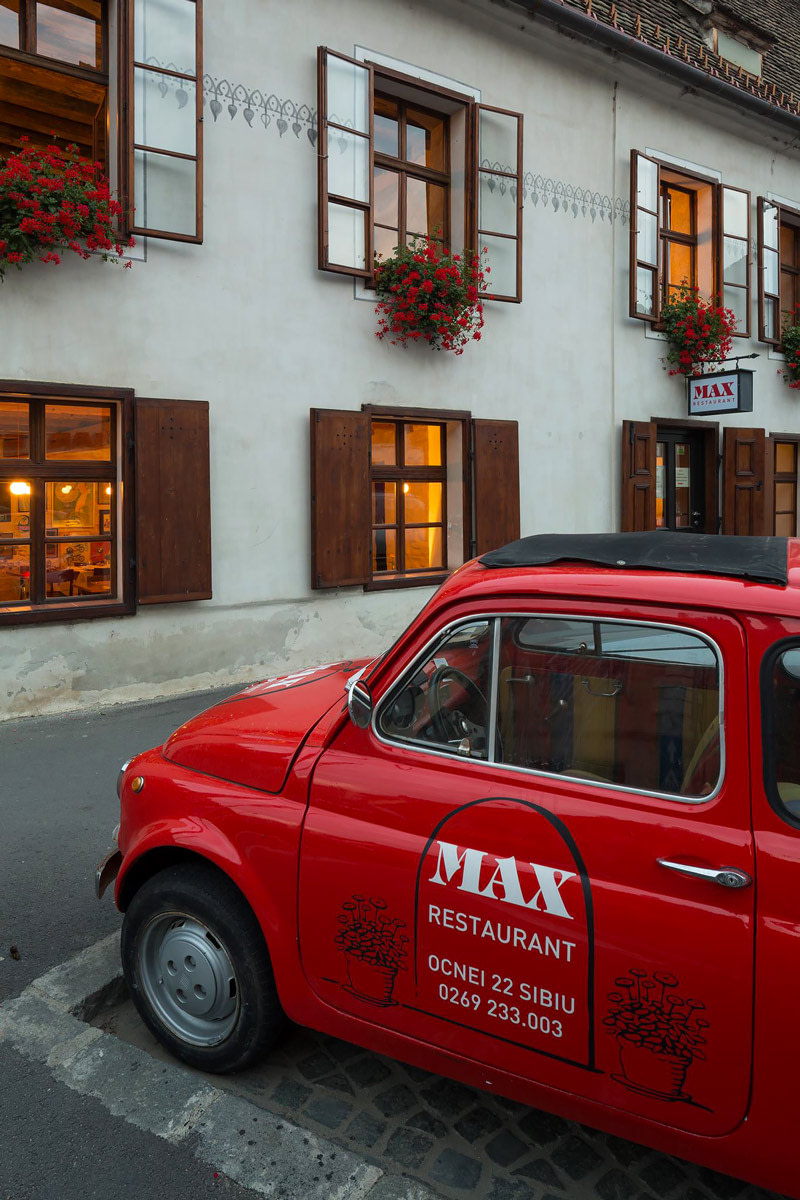 With its impressive wine list, tasteful decor, and exquisite Italian cuisine, Max is certainly one of the best places to eat in Sibiu. The restaurant is housed in a lovingly restored 14th-century mansion in the charming Old Town and has an atmospheric outdoor garden, perfect for dining alfresco in the warm summer evenings. As expected, you'll find a tremendous variety of seafood and pasta dishes, including homemade lasagna and ravioli stuffed with creamy ricotta, as well as delicious pizzas, grills, and custom-made salads.
Must try from the menu: Petto di pollo sulla pietra – chicken breast on hot stone with aromatic butter; Penne al pesto; and the divine chicken soup with parmesan pancakes. For dessert, try their irresistible Dolce della grazia (with biscuits, coffee, and Nutella) or opt for something special such as the refreshing Sorbetto di limone – lemon sorbet with vodka and sparkling wine.
Pardon Cafe & Bistro Sibiu
One of Sibiu's most beloved restaurants, Pardon serves creative European fare in a unique, welcoming ambience resembling an old-fashioned craftsman's atelier. The museum-like establishment is nestled along the old city walls, on the most beautiful street in Sibiu, and each of its individually decorated dining rooms is teeming with antiques and collectibles – old paintings and 20th-century newspapers adorn the walls, time-worn books line the shelves, and ancient sewing machines serve as tables.
With musical instruments, ancient writing machines, and all kinds of flea market finds scattered everywhere, eating here is like traveling back in time. Nevertheless, the vibe is refreshingly hip and creative, with friendly staff, excellent Jazz on the background, and a lively open-air terrace overlooking the city's medieval watchtowers.
As for the food, there's a tempting selection of pasta, soups, and steak to choose from, as well as lots of German beers, whiskeys, and delightful cakes to cheer up your day.
Must try from the menu: The duck confit and a slice of their indulgent chocolate cake.
Benjamin Steakhouse & Bar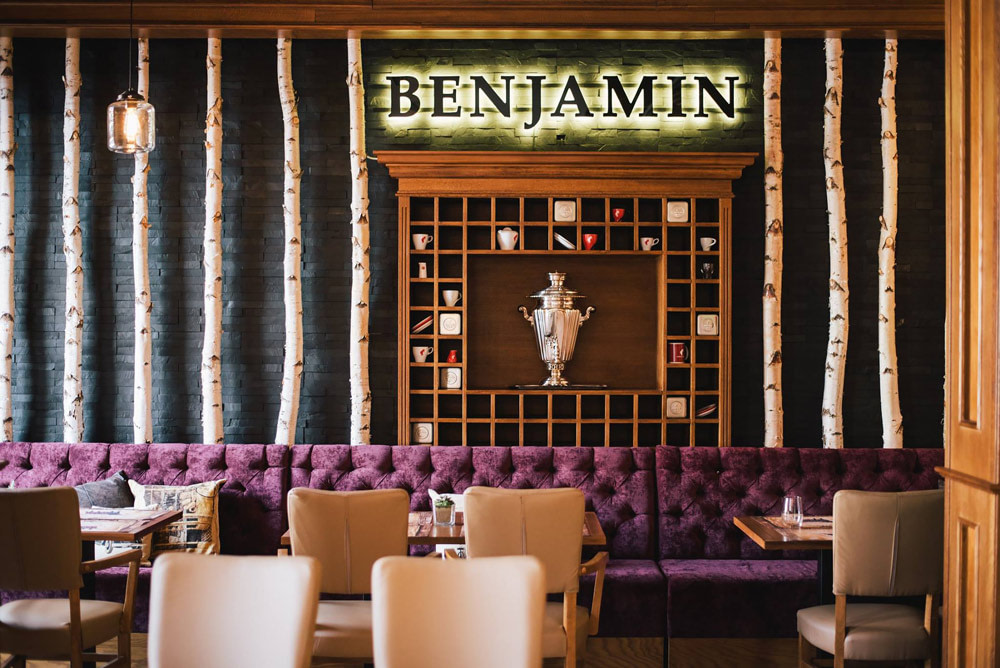 Widely renowned for its topnotch meats cooked in a special Josper oven-grill on wood charcoal, it's no surprise Benjamin Steakhouse & Bar ranks 1st on TripAdvisor's Top Sibiu Restaurants. Located in the very heart of the city, the elegant American-style steakhouse uses only Black Angus beef of the highest quality and boasts a generous selection of premium Romanian wines.
Must try from the menu: The Premium Cheeseburger, made with home minced Black Angus beef and gorgonzola, is simply divine!
She's Green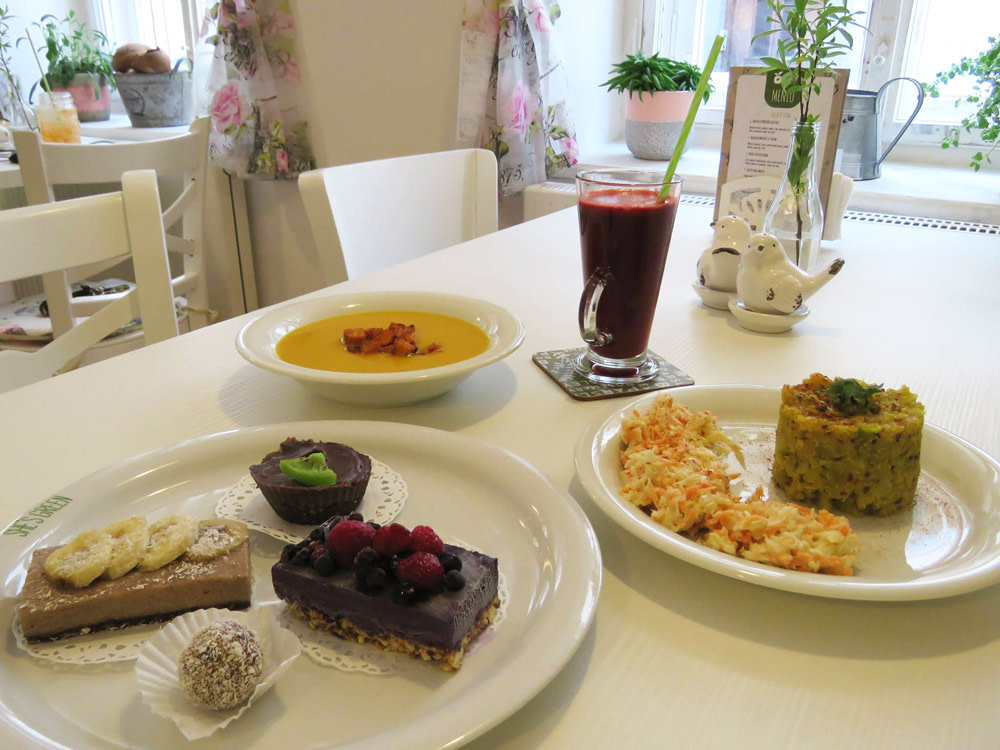 A chic little bistro just a short stroll away from Piata Mare (Sibiu's main square), She's Green serves delicious vegan dishes in cozy, serene surroundings. Prepared from fresh, natural ingredients, the menu of the day consists of cream soup and a main dish, but there are plenty of wonderful salads, yummy smoothies, and appetizing raw vegan sweets to choose from. Prices are quite high, but if you want to eat healthy in Sibiu, this is the place to be.
Must try from the menu: Their Ajoblanco, a raw vegan cold Spanish soup with garlic and almonds, tastes heavenly.
Syndicat Gourmet
Tucked away on a tiny street, just off Sibiu's Little Square (Piata Mica), Syndicat Gourmet spices up the local dining scene with aromatic curries, tikkas, and biryanis. The cuisine is a fusion of natural, locally sourced ingredients and bold Indian flavors, with some interesting choices such as Glazed Lamb Leg (slowly cooked) with Wild Garlic Crumble, or Duck Breast with Beetroot, Pink Grapefruit, and Sour Cherry Sauce.
Must try from the menu: Samosas with yogurt-mint dipping sauce.
Hochmeister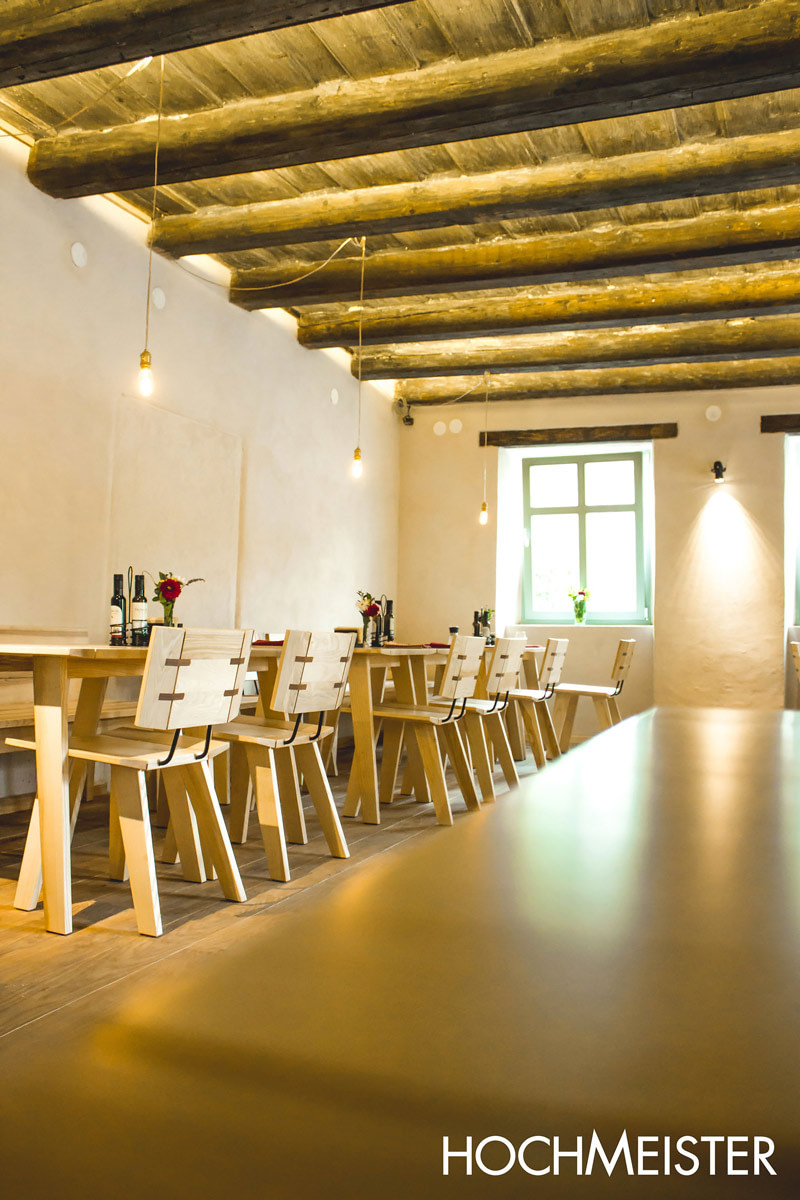 With Flammkuchen, Chilli con carne, and Argentinian beef starring on the menu, dining at Hochmeister is like taking a culinary trip around the world. The restaurant is peacefully located in Schiller Piazzetta, not far from Piata Mare (Large Square) and serves lunch, dinner, and drinks both inside as well as alfresco, at the romantic sidewalk tables.
Must try from the menu: The quinoa balls with yogurt dip were a nice alternative to the usual meat dishes. A healthy and satisfying main course meal! I've heard the desserts are amazing, too, but haven't tried them myself.
Atrium Classic Cafe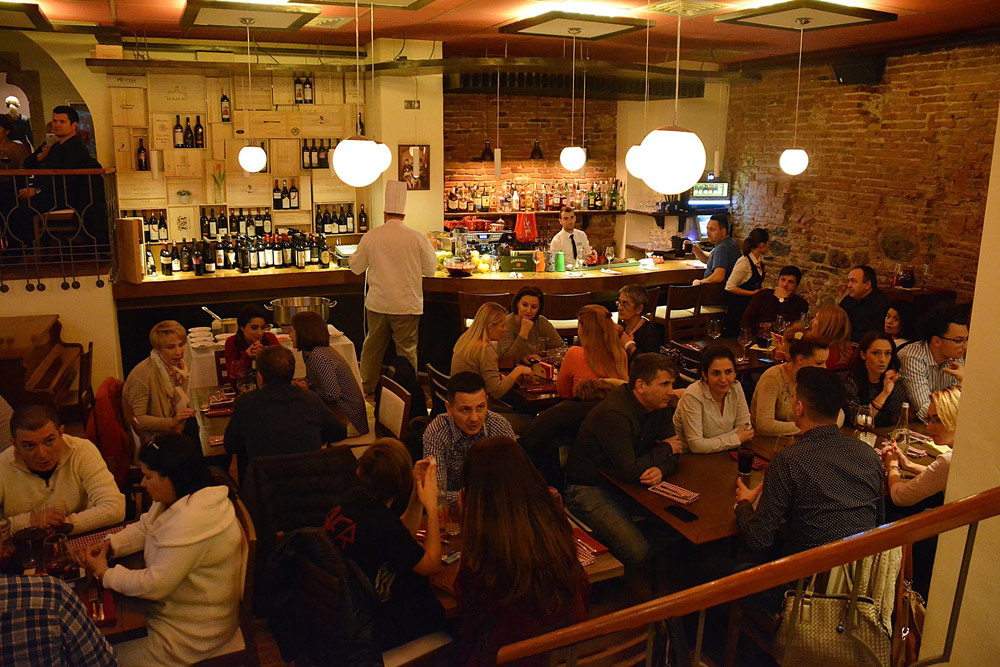 For an evening filled with good music, good food, and great atmosphere, look no further than Atrium Classic Cafe. Housed inside a beautiful heritage building in Sibiu's Small Square (Piata Mica), right next to the famous Bridge of Lies (Podul Minciunilor), this stylish lounge welcomes its guests with internationally (mostly Italian) inspired delicacies, live piano music, theater, and photography projections. During summer, the seating spills onto the storied bridge outside, making for a truly idyllic experience.
Must try from the menu: The pizza is fantastic!
Teatro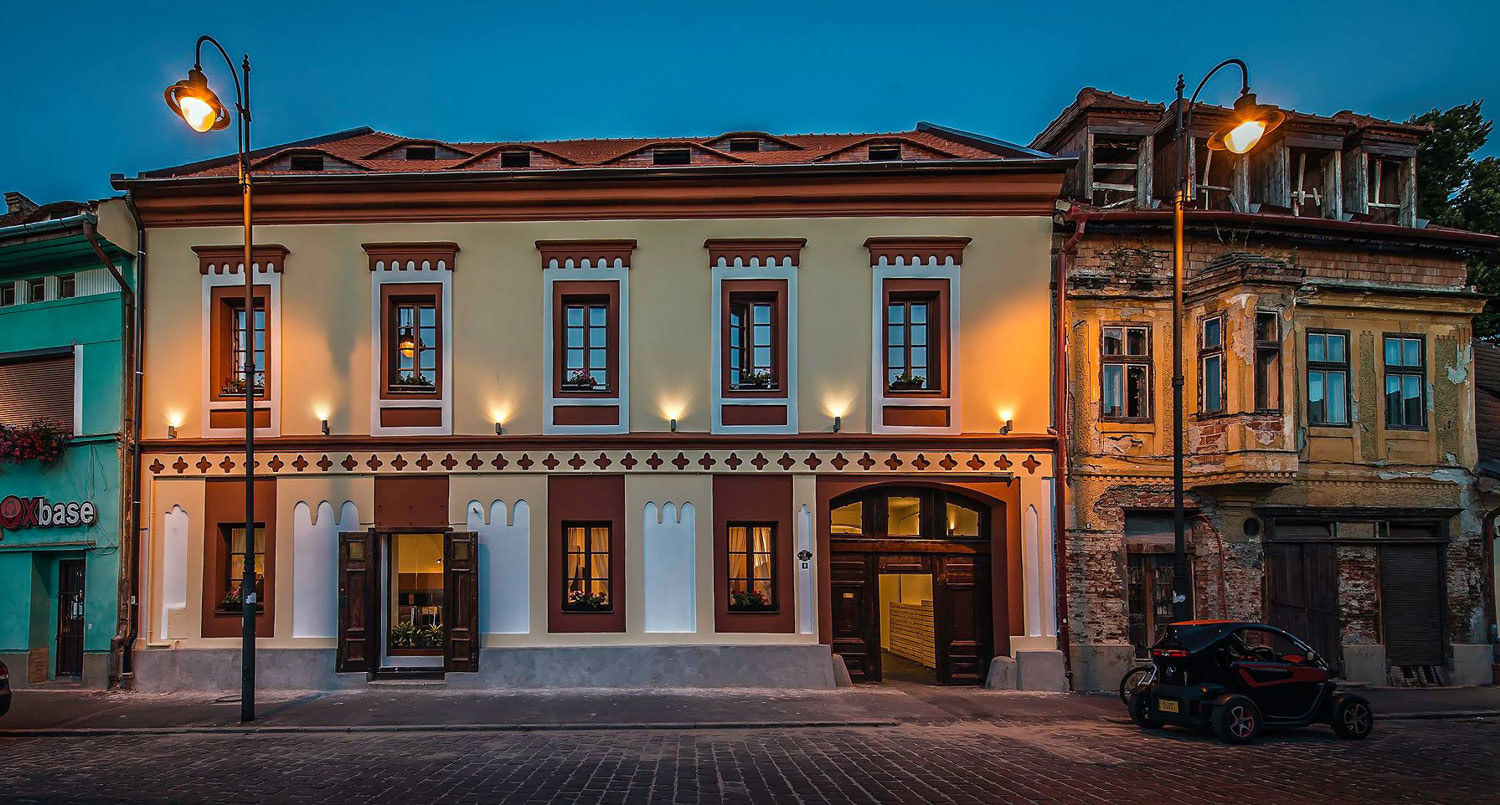 A lovely gourmet restaurant with a dreamy outdoor terrace, Teatro attracts locals and tourists alike with its impeccable food, excellent service, and careful attention to detail. Located in Sibiu Old Town, the refined restaurant is attached to the hotel with the same name and serves exquisite international cuisine along with fine wines and traditional Romanian plates consisting of premium homemade products. Highlights include decadent Wagyu steaks, Black Angus burgers, as well as flavorsome Hungarian and Transylvanian soups.
Must try from the menu: The Pancake Pudding, with sweet cream cheese and caramel sauce, is out of this world!
Old Lisbon
Right next to Teatro, in the Lower Town of Sibiu, lies Old Lisbon, the city's only Portuguese restaurant and definitely one of its best. Focusing on traditional Portuguese gastronomy, the menu is bursting with delicious fish and seafood dishes, but it also includes regional creations such as Caldo Verde (a potato, kale, and chorizo soup from northern Portugal) and Lombo de Porco com molho de Vinho do Porto e sumo de laranja (Pork Loin with orange and Port wine sauce, typical to the Algarve).
Must try from the menu: Cod (or bacalhau) in any form you can find it. Oh, and finish your meal with a charming chocolate soufflé!
Kulinarium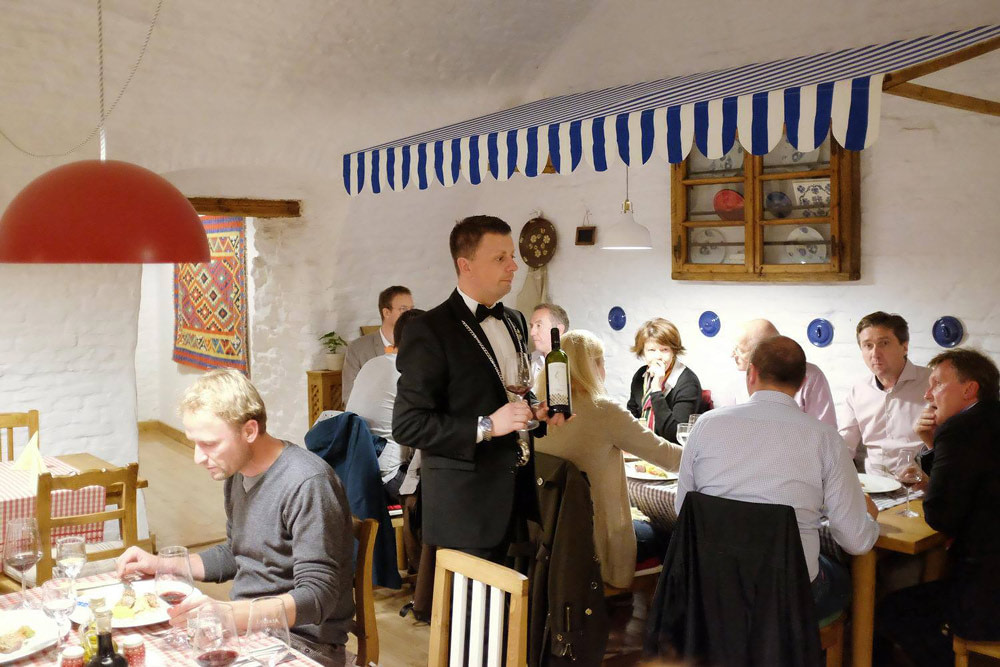 Kulinarium's central location in Sibiu's Little Square makes it perfect for combining delectable Romanian specialties with some colorful people watching. Expect traditional dishes with a creative international twist, but also a generous selection of pizzas, pastas, and salads. For an authentic local experience, opt for one of their traditional plates/pans, filled with Transylvanian smoked meats and cheeses.
Must try from the menu: The traditional bean soup, served in bread bowl, is an experience in itself. I would also recommend an ice-cold glass of socata (a sparkling, probiotic-rich elderflower drink).