Italy is home to some of the most spectacular, art-filled cities out there, but the country's true charm lies in the countryside, where life revolves around the piazza and the sweetness of doing nothing reigns supreme.
Overflowing with old-world romance and handsome medieval architecture, these delightful little spots seem made for meandering along time-worn cobbled lanes framed by blushing bougainvillea, feasting on sublime pasta and local wine in tiny, unpretentious trattorias, and watching the world go by in picturesque wisteria-shaded squares.
From hilltop medieval borghi frozen in time to gelato-toned fishing hamlets spilling down to the sea, these are the most beautiful villages in Italy:
Marzamemi, Sicily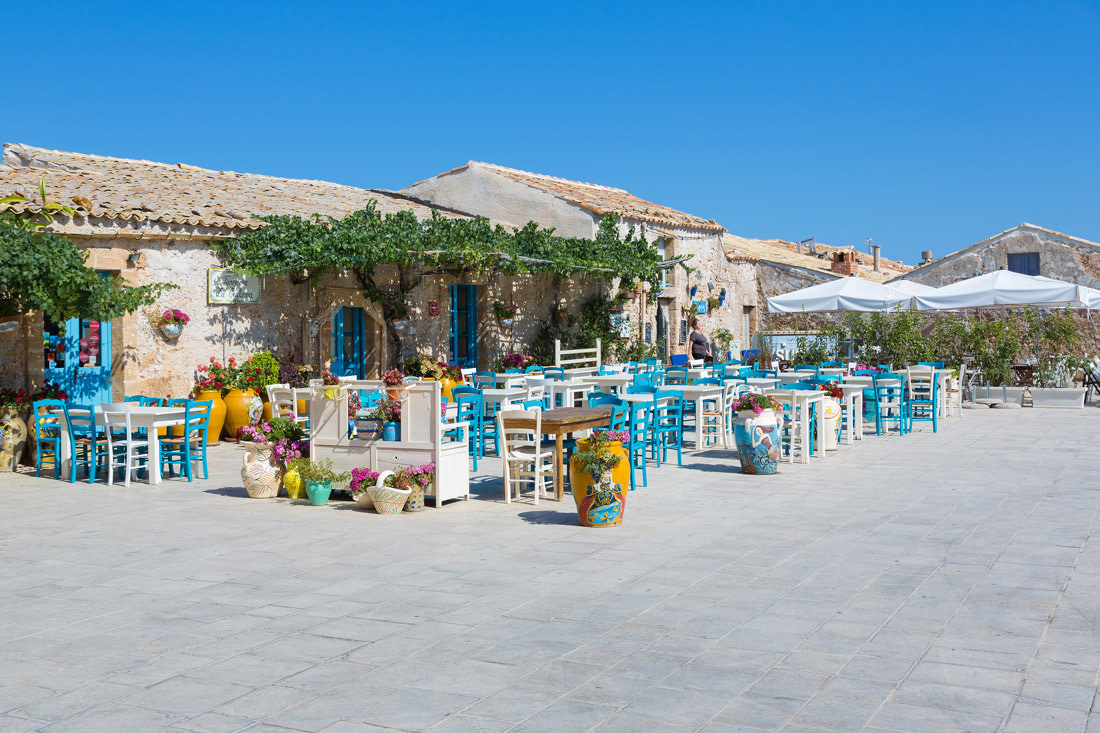 A Sicilian fishing village with an exotic flair, Marzamemi centers around an ancient tonnara (tuna production factory) built by the Arabs around 1,000 A.D. Located on the island's southernmost tip, the hamlet is a cluster of old fishermen's cottages and crumbling low-roofed sandstone buildings, with narrow cobblestone streets and sunny piazzas opening out to the bright blue sea.
Stilo, Calabria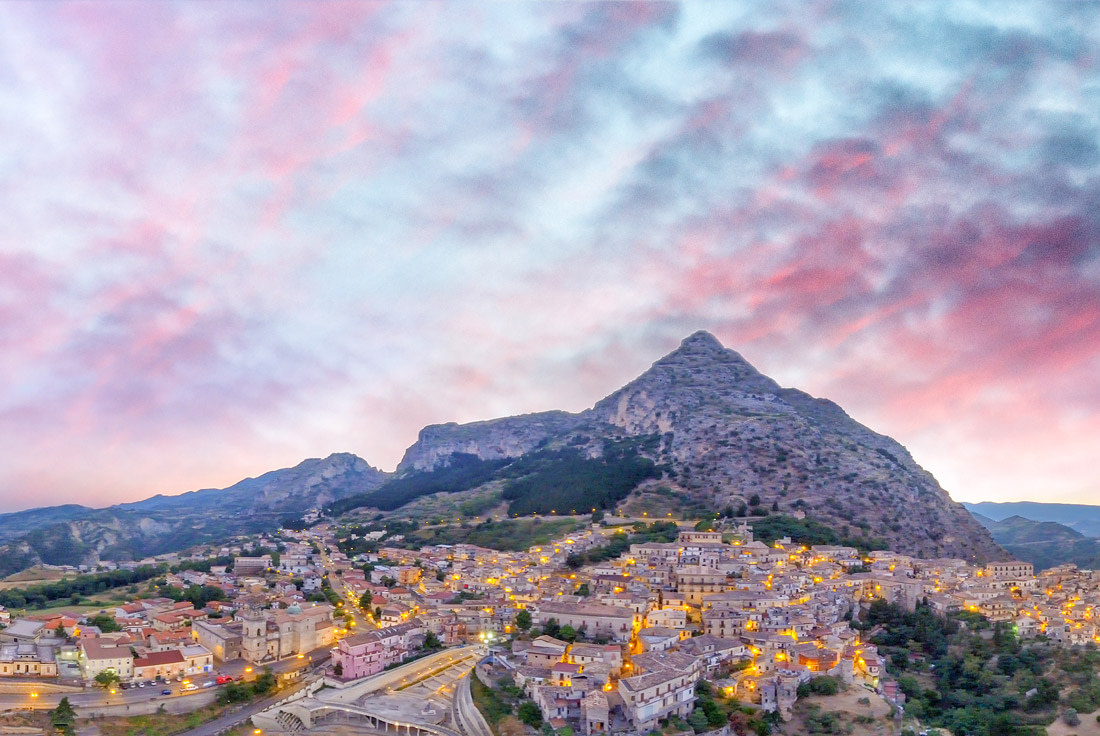 Part of I Borghi più belli d'Italia list, Stilo is Calabria's Byzantine jewel. Terraced on the slopes of Mount Consolino, a few km inland from the Ionian coast, the small town is full to the brim of wonderful monuments, centuries-old churches, and castle ruins overlooking the sea. Its main attraction is La Catolica, a striking Byzantine church with tile-covered domes dating back to the 9th century.
Manarola, Cinque Terre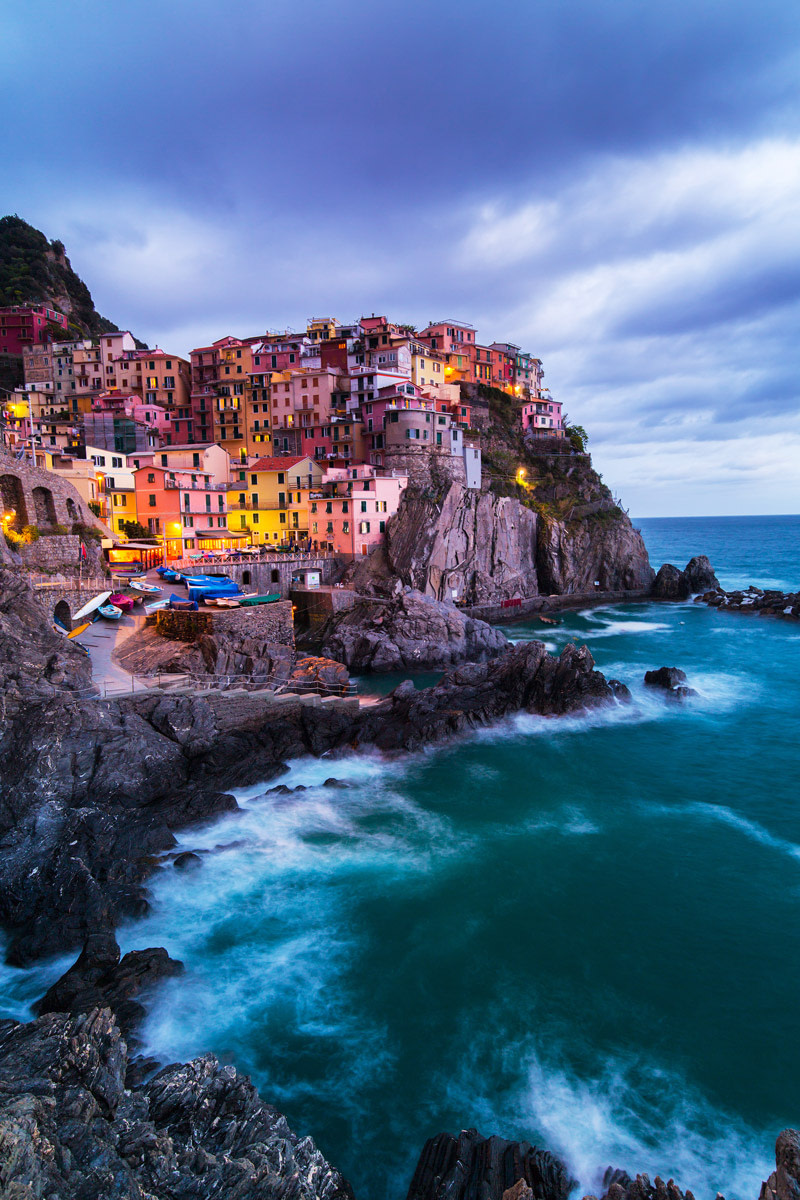 One of the tiniest of Italy's Cinque Terre, Manarola is a rainbow of brightly colored homes piled one on top of another above the indigo Ligurian Sea. Perched precariously on a rocky promontory and surrounded by steep terraced vineyards, the seaside village looks straight out of an old Italian movie, with postcard-perfect sights at every turn.
Santa Maria di Leuca, Puglia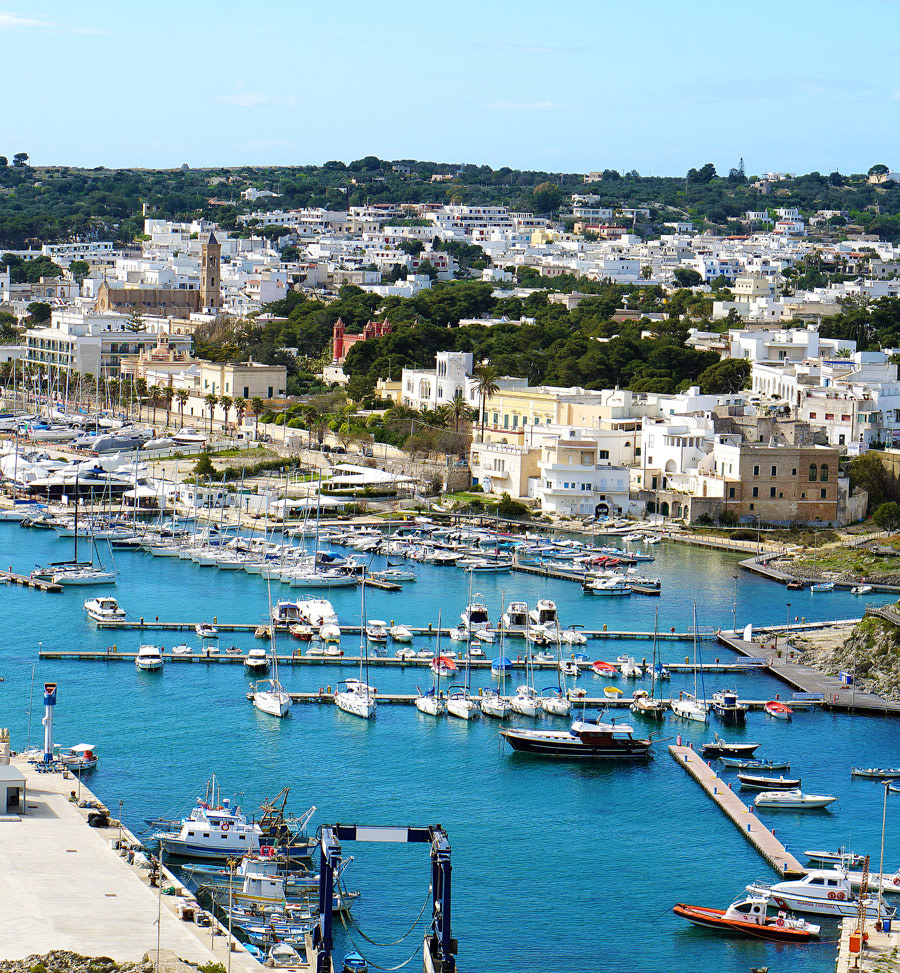 At the southernmost tip of the Salento peninsula, on a promontory washed by two seas, lies Santa Maria de Leuca – an elegant port town frequented by Puglia's elite for over e century. Palm trees and noble Art Nouveau villas frame the seafront promenade, and its emerald stretch of coastline is interspersed with dramatic grottoes and hidden sandy coves.
The panoramic drive from Leuca to Otranto, one of Puglia's most wonderful towns, is among Italy's best.
Orta San Giulio, Piedmont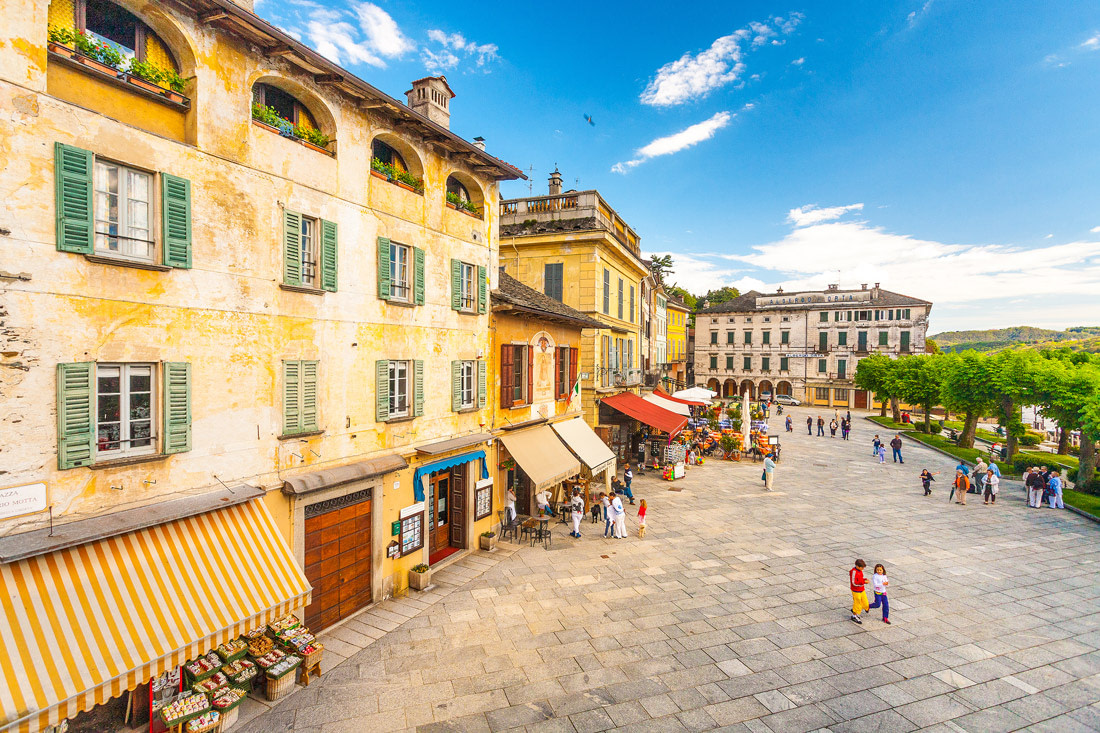 With its quaint narrow lanes, graceful arcaded piazzas, and ancient façades bursting in sunny pastels, Orta San Giulio is one of Italy's prettiest lakeside towns. Stretching along the eastern shores of Lago di Orta, this pedestrian-only enclave faces the magical Isola San Giulio – a tiny island rimmed with remarkable church buildings in the middle of the lake.
Sovana, Tuscany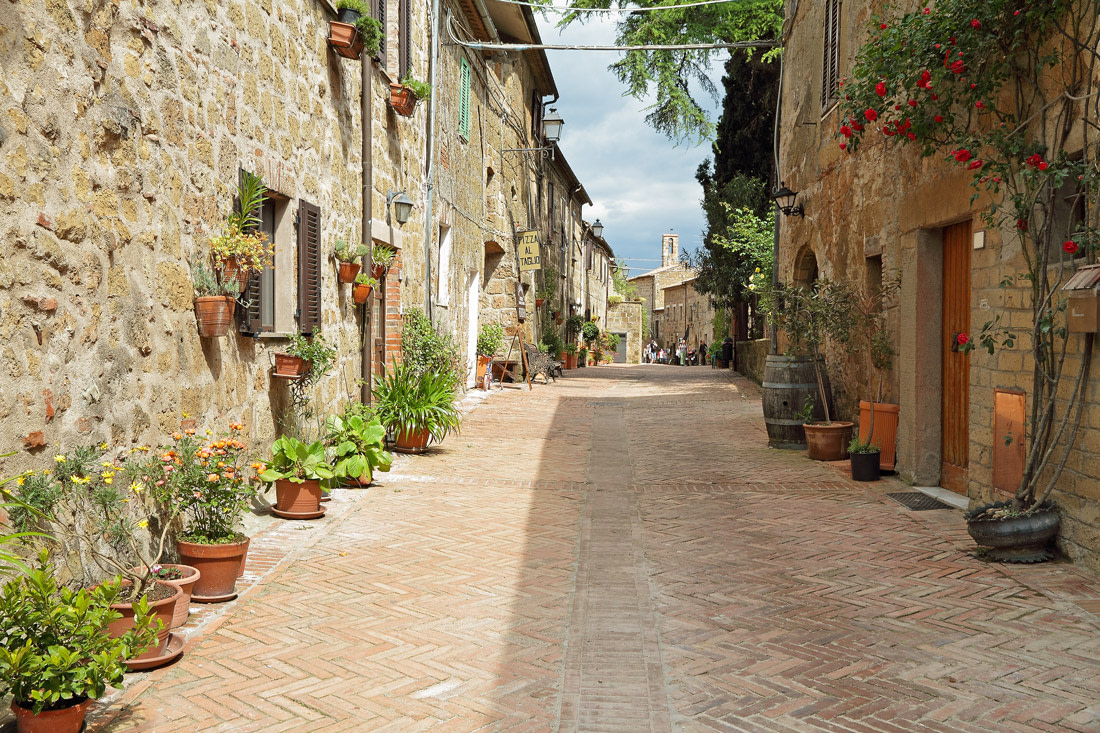 Impossibly picturesque and perfectly preserved, it's easy to fall for the quaint charms of Sovana. Though consisting of little more than a single street, this off-the-radar Tuscan village in Maremma is a showcase of period sandy stone architecture and remarkable historical monuments, with everything from art-filled Romanesque churches to fabulous Etruscan tombs.
Savoca, Sicily
Although used as a backdrop for some evocative scenes in Francis Ford Coppola's The Godfather, Savoca remains blissfully unspoiled. The Sicilian hill village is filled with beautiful ancient churches and crisscrossed by panoramic cobblestone lanes overlooking fertile valleys and the Ionian Sea beyond.
Atrani, Amalfi Coast
Visitors seeking an authentic slice of Italy's Amalfi Coast are likely to find it in Atrani, a coastal idyll of steep streets and pretty pastel houses, clustered around a charming medieval plaza. Snuggled between two cliffs, the village opens out to the Tyrrhenian Sea like a natural amphitheater.
Civita di Bagnoregio, Lazio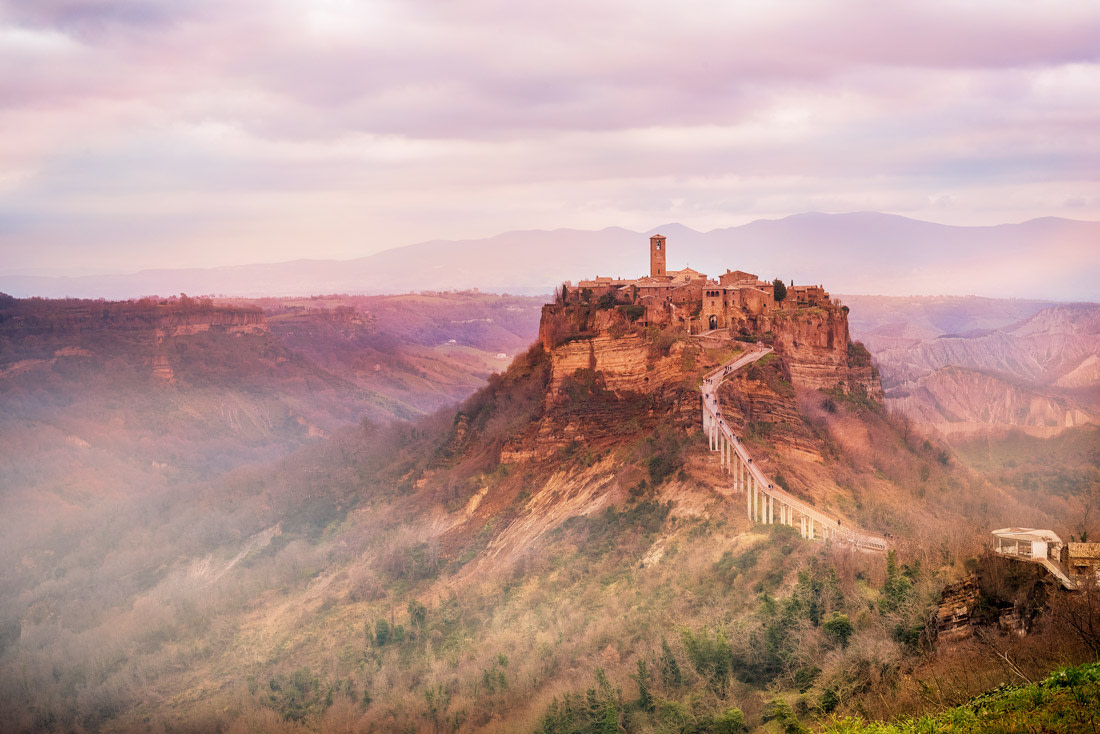 A visit to Civita di Bagnoregio, a remote hilltop village of only 16 souls in Lazio, takes travelers back in time to medieval Italy. The striking hamlet sits precariously atop a hill of volcanic tufa, and its quaint, cobbled streets, stone passageways, and ancient houses decked with flower pots seem straight out of a fairytale.
Corricella, Procida Island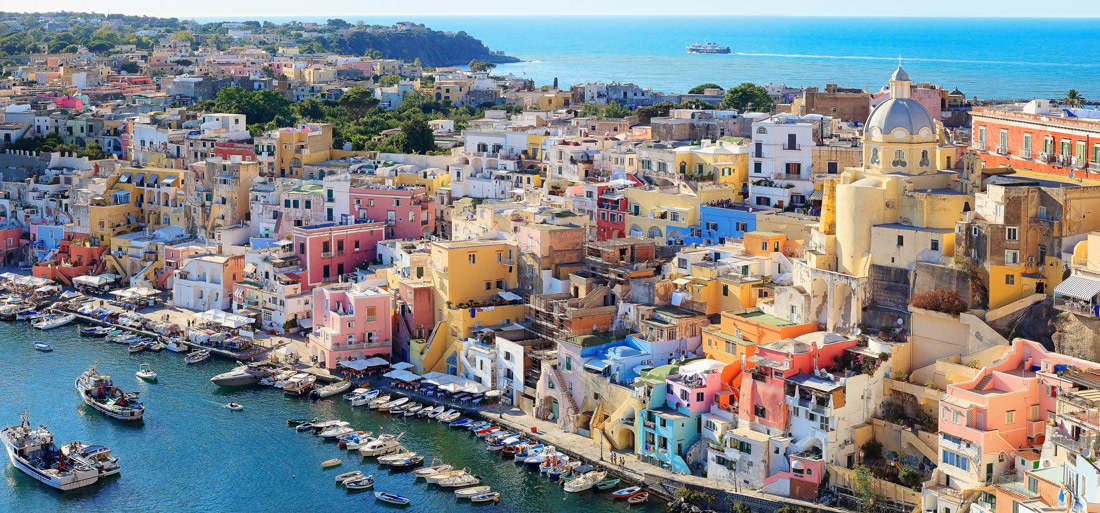 This rainbow-like fishermen's village on the island of Procida is a vision in pastels, with its pretty cubic buildings in sun-bleached sorbet hues tumbling down towards a cobalt sea. Corricella is by far one of the most colorful places you will ever discover, and, drenched in old-school Southern-Italian charm, it's no wonder it served as the setting for memorable films like Il Postino (The Postman) or The Talented Mr. Ripley.
Monteriggioni, Tuscany
Encircled by thick 13th-century walls and imposing towers, visiting Monteriggioni feels like stepping into a medieval time warp. The fortified citadel rests on a gentle hill only 20 km from Siena and captivates visitors with its intact age-old architecture, magical atmosphere, and gorgeous Tuscan countryside vistas.
Neive, Piedmont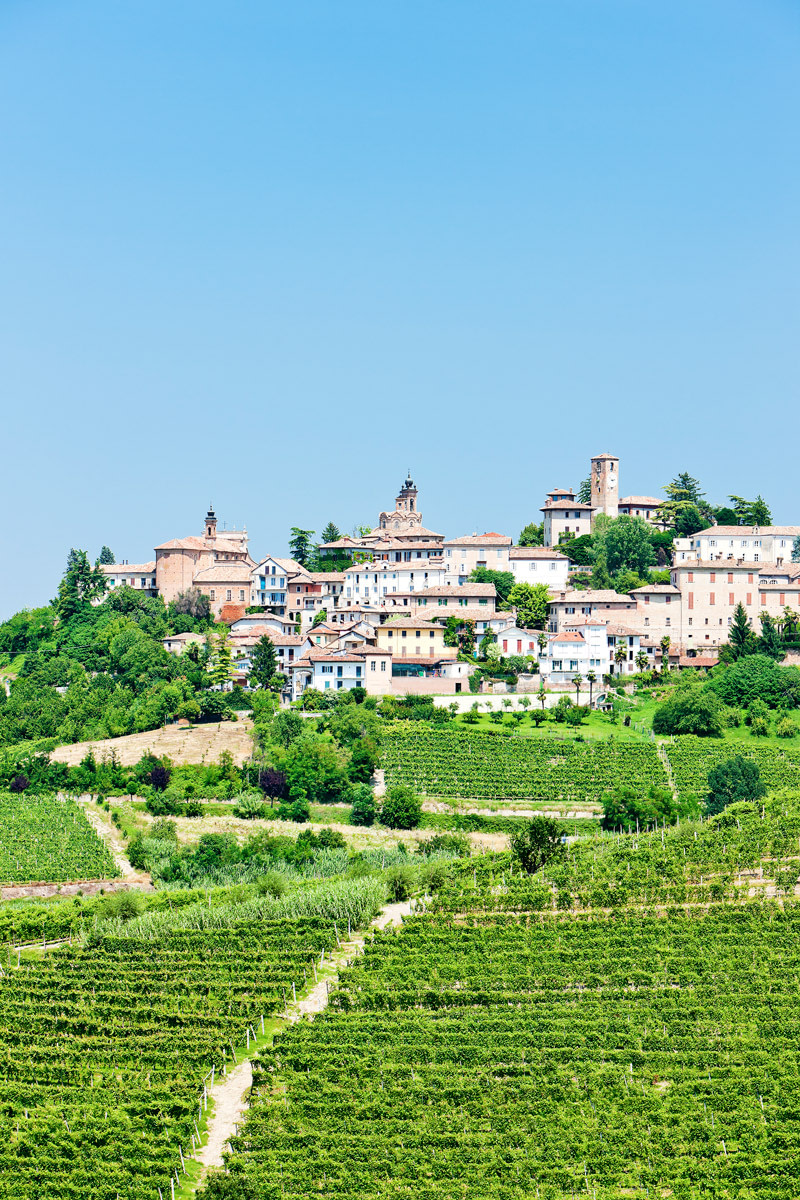 Neive is a lovely wine town in Piedmont, surrounded by Langhe's rolling vine-clad hills and dominated by a magnificent medieval clock tower. In its historical center, romantic cobbled lanes wind their way between red-roofed stone houses, elegant old palazzi, and small Baroque churches adorned with eye-catching frescoes.
Castelluccio, Umbria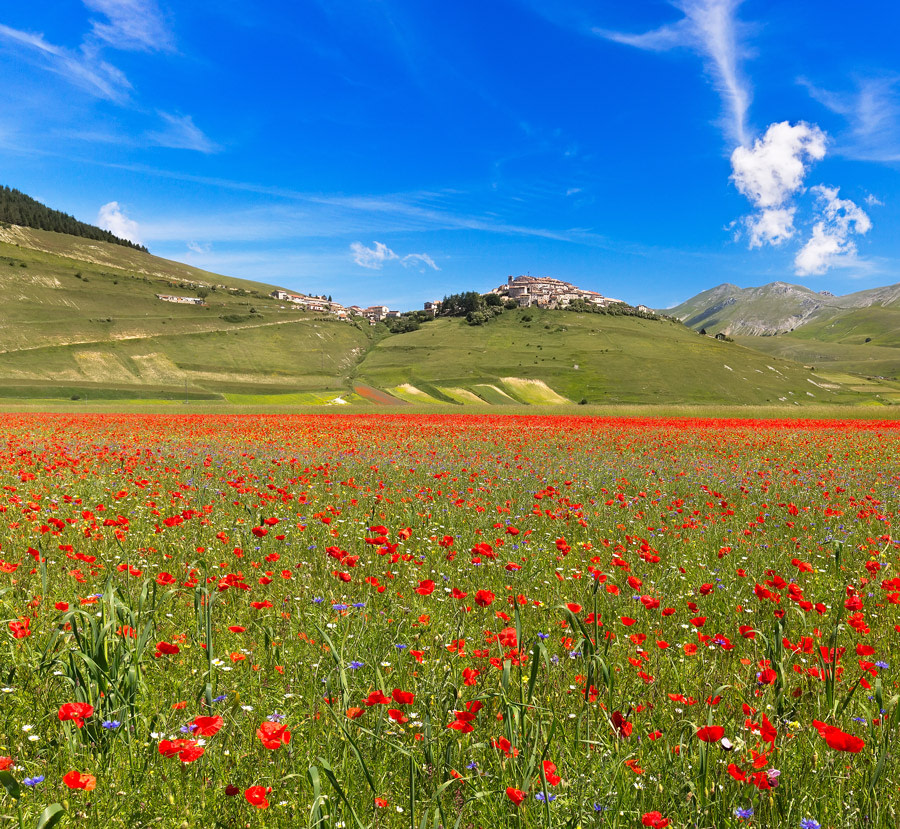 Towering above the fantastic Piano Grande, in the Apennine Mountains, Castelluccio is one of Italy's highest and most charming villages. The sight of this historic Umbrian hamlet in spring, when La Fioritura (The Flowering) turns the surrounding plains into a carpet of red, yellow, and blue, is a feast for the eyes.
Pitigliano, Tuscany
If this is not one of the prettiest small towns in Tuscany, we don't know what is! Despite its uniform medieval appearance, with tightly packed houses carved in tuff stone, Pitigliano is a veritable architectural kaleidoscope, revealing layer upon layer of history – think enigmatic Etruscan caves, a fascinating maze-like Jewish Ghetto, a Medicean aqueduct, as well as lots of twisting stone stairways and splendid churches dating back to the Middle Ages.
The town enjoys a dramatic position on a volcanic rocky promontory bounded by lush green valleys, in the Maremma region of Southern Tuscany.
Castel Gandolfo, Lazio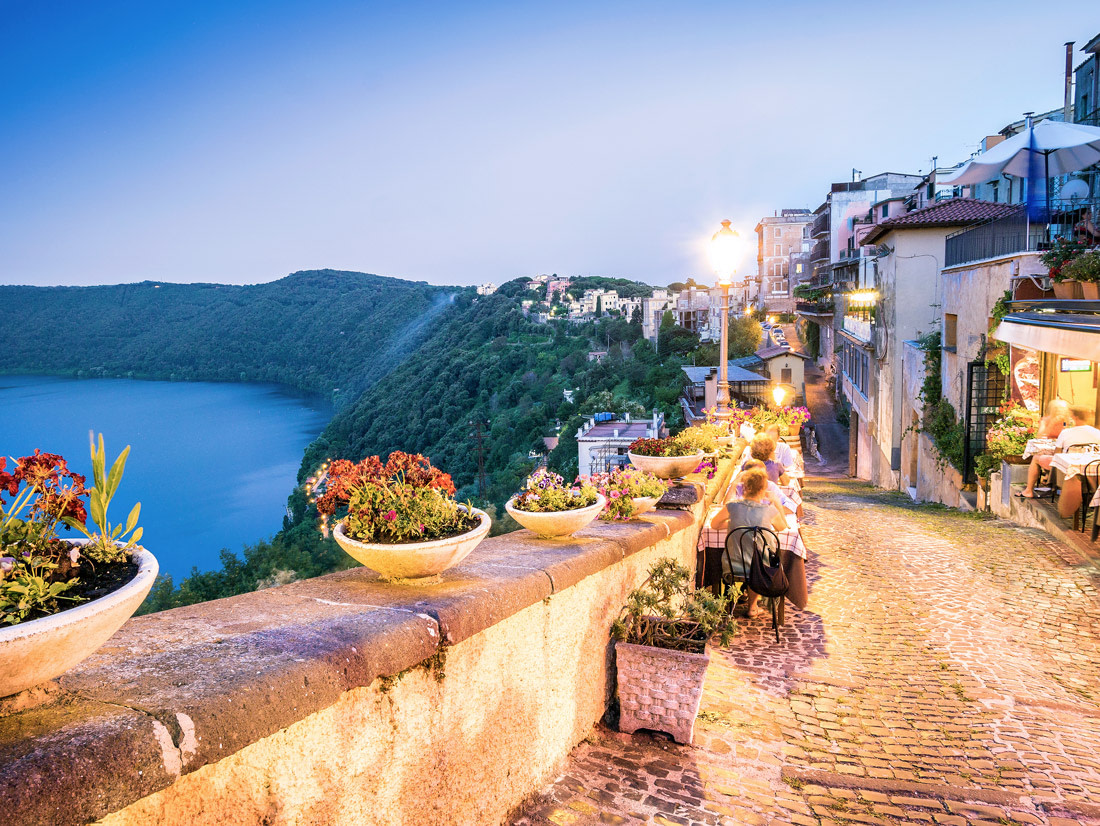 Known as the Pope's summer residence, Castel Gandolfo is an elegant stretch of pastel-painted buildings, grand villas, and flower-decked cliffside restaurants overlooking the pristine blue waters of Lake Albano. Its biggest draw is the sumptuous 17th-century Palazzo Apostolico (Papal Palace) with its splendid Barberini Gardens.
Montefollonico, Siena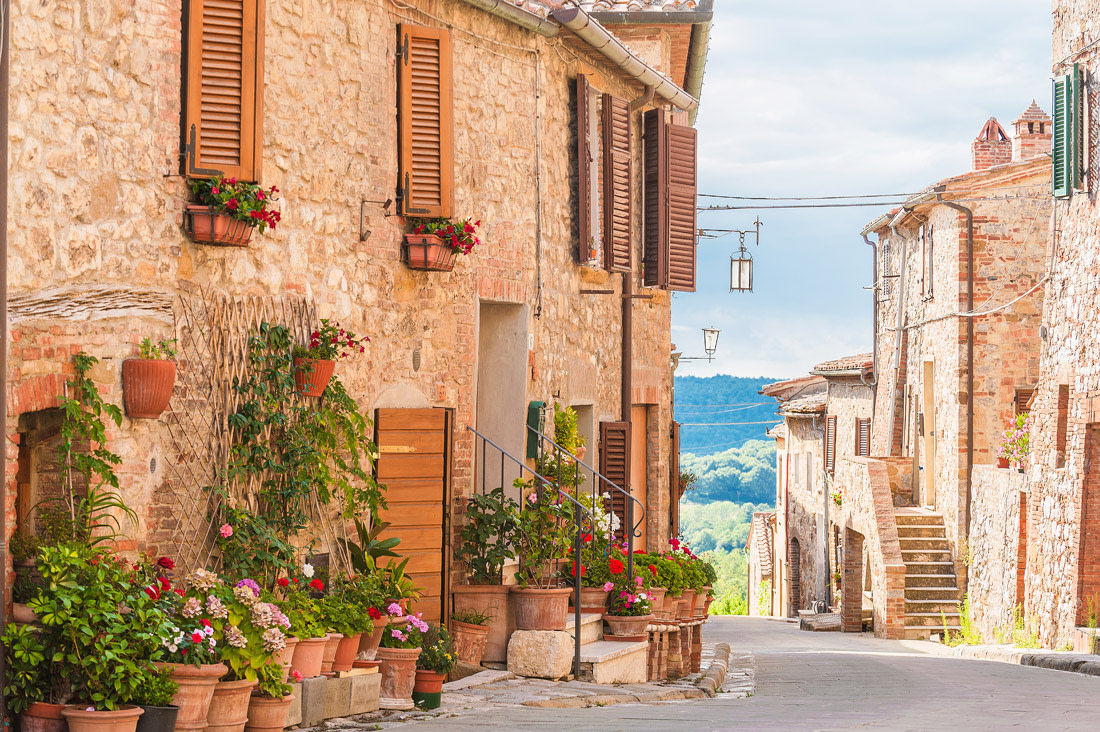 Right across the valley from the more famous Montepulciano, in the province of Siena, Montefollonico is delightfully serene, authentic, and off the beaten tourist trail. Enclosed by 13th-century walls, this is the quintessential Tuscan hilltop village, with enchanting twisting narrow alleys snaking around ancient cappuccino-dipped houses decorated with potted geraniums.
Vipiteno, Trentino-Alto Adige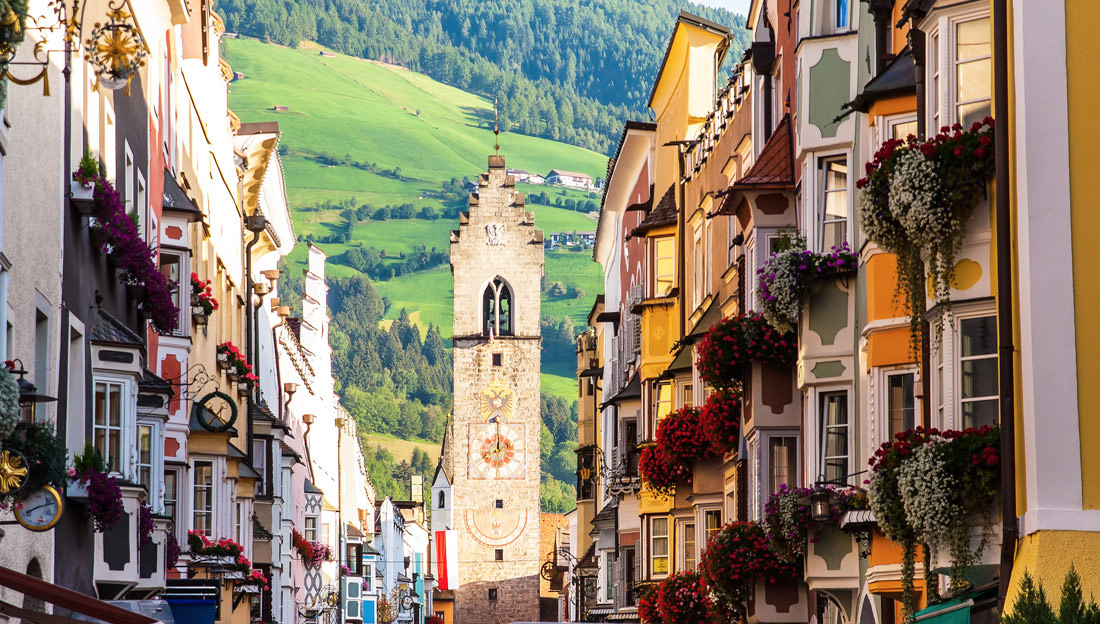 Tucked away in South Tyrol, amidst the breathtaking mountain scenery of the Dolomites, the nation's northernmost town feels more Austrian than Italian. Steeped in culture, history, and alpine charm, it offers something for everyone, from wonderful shopping along the atmospheric main street adorned with Renaissance villas and brightly colored townhouses to wonderful walks and fantastic ski slopes in the nearby Monte Cavallo.
Altomonte, Calabria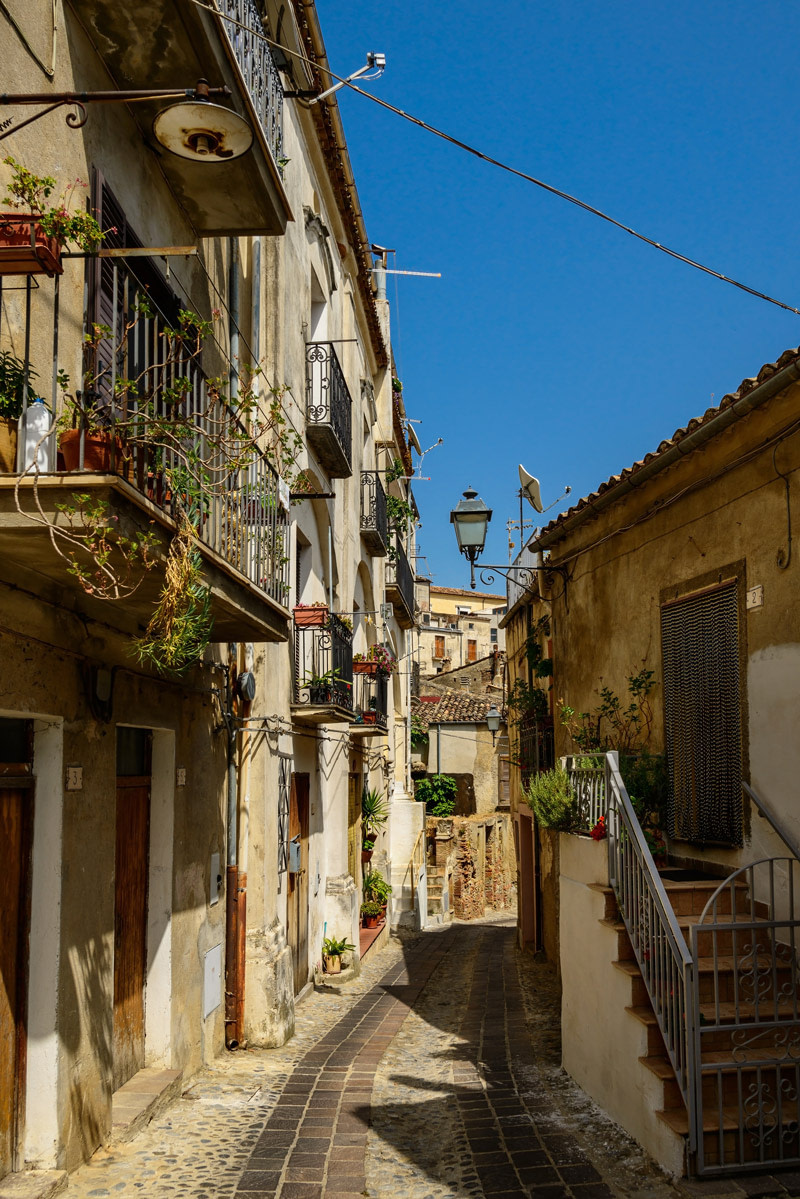 Dubbed the Wedding City of Calabria, Altomonte is a romantic tangle of medieval buildings and narrow stone alleys wrapping around a hill above the lush Esaro valley. Adding to the village's charming atmosphere are piles of artistic treasures and atmospheric festivals, all crowned by pristine panoramic views.
Borghetto, Veneto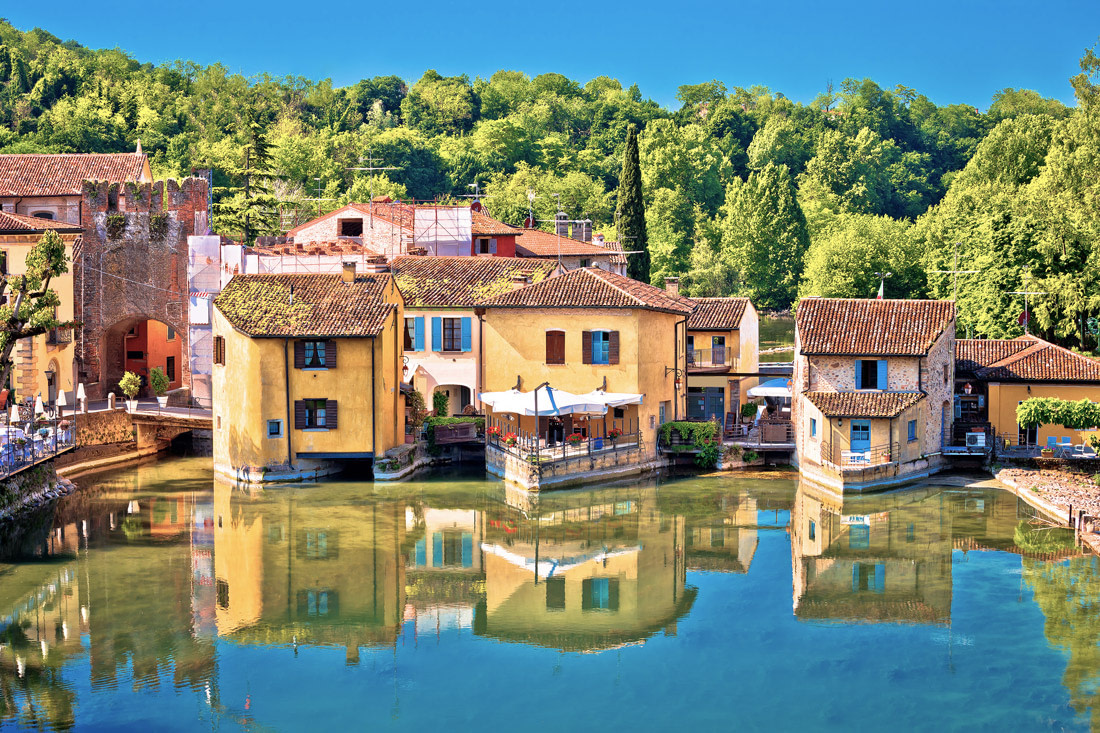 A handful of houses and watermills that seem to float on the Mincio River, Borghetto is insanely picturesque. Located in the province of Verona, just a few kilometers south of Garda Lake, the small fortified village lures visitors with its romantic atmosphere and famous handmade tortellini served in the many welcoming restaurants dotting the riverfront.
Pacentro, Abruzzo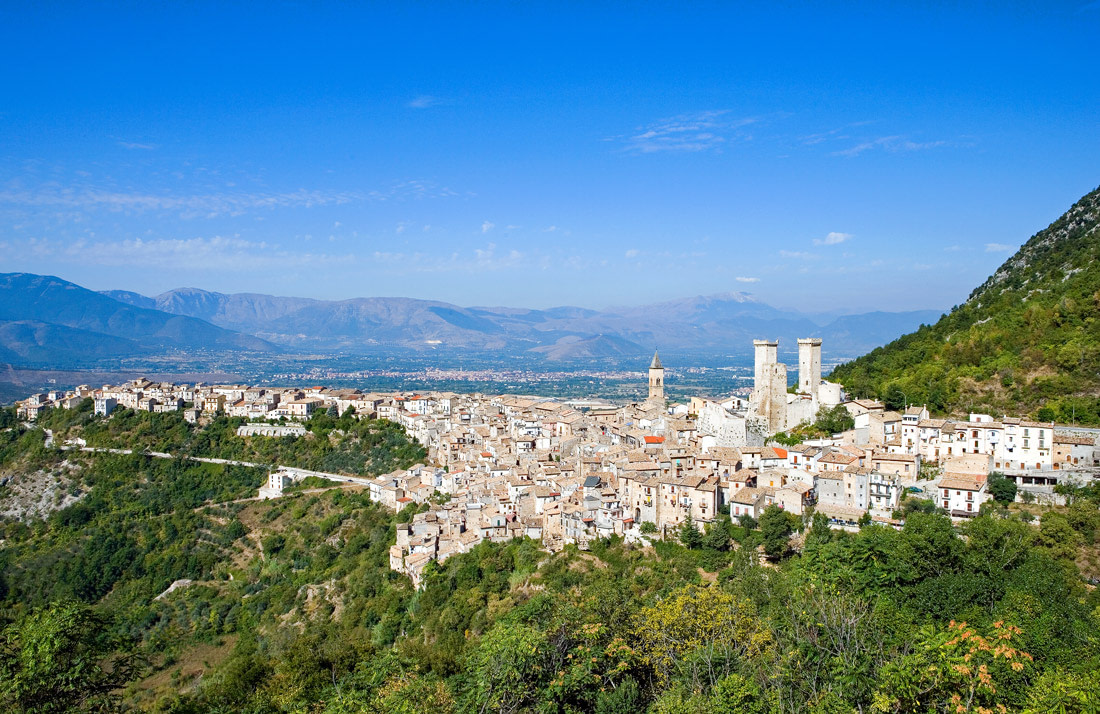 Set within Majella National Park, Pacentro is one of Abruzzo's most charismatic medieval villages – a place of narrow, atmospheric lanes zigzagging through age-old stone buildings, of lively piazzas wrapping around art-filled Baroque churches, and soaring Renaissance castle towers looming on the horizon.
St. Magdalena, Dolomites
St. Magdalena is an idyllic cluster of old timber houses gravitating around the most photographed church in the Dolomites. Nestled amidst lush green alpine meadows in the Val di Funes, the small mountain hamlet boasts magnificent panoramas over the surrounding peaks and provides wonderful hiking opportunities.
Varenna, Lake Como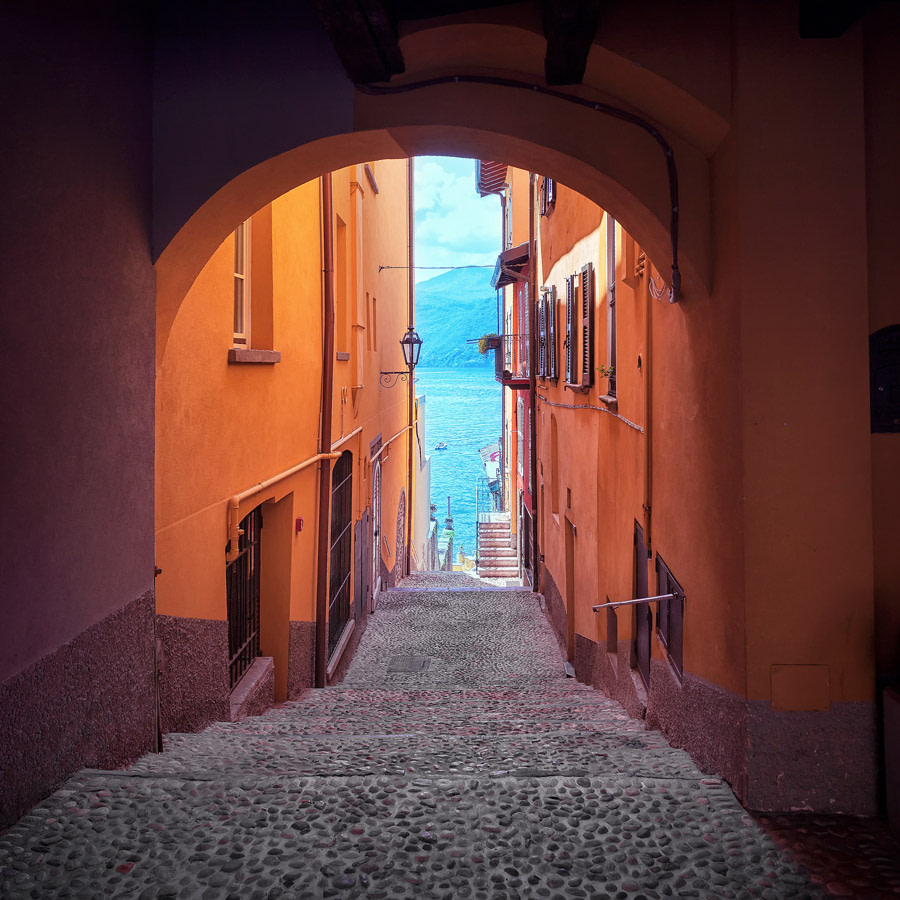 Spilling down a steep hill on the eastern shore of Lake Como, Verenna's mesmerizing terraced gardens and pastel-colored fishermen's houses provide a dreamy backdrop for a passeggiata. Otherwise, the serene village – with its narrow steep walkways and scenic, café-lined waterfront – perfectly captures the essence of dolce far niente.
Corinaldo, Ancona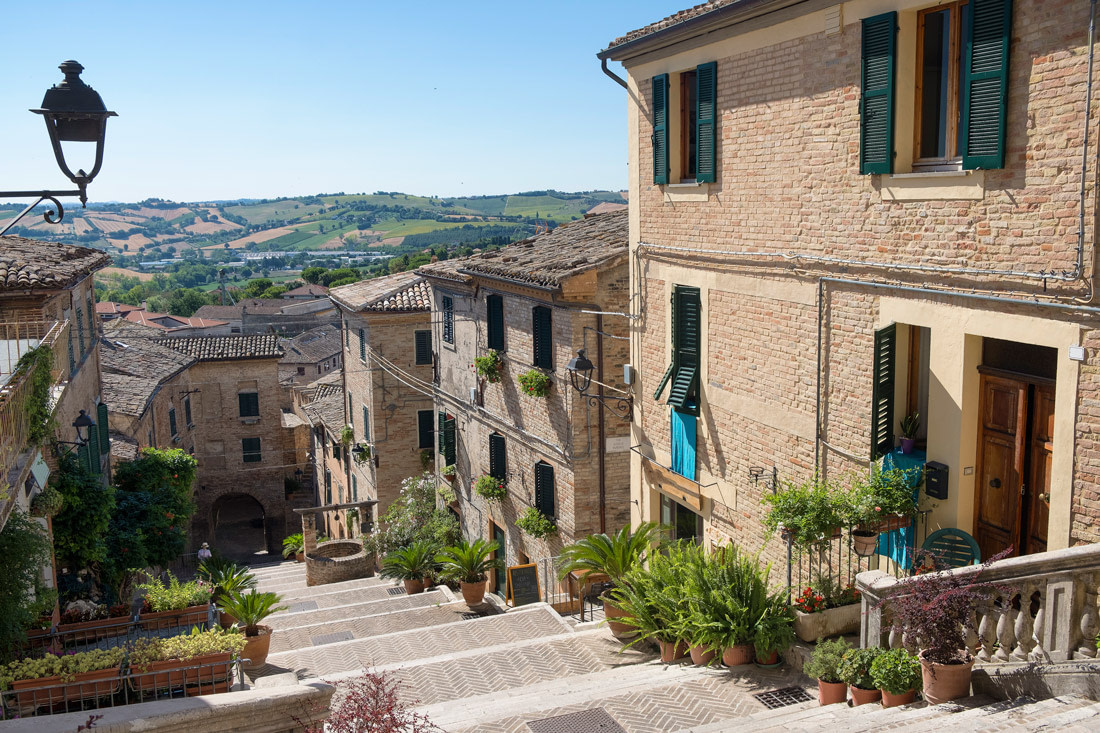 Secret stone alleyways, pretty squares dominated by ancient churches, and one of the most beautiful staircases in all of Italy give Corinaldo a cozy storybook feel. Framed by 14th-century defense walls, filled with striking Neoclassical monuments, and shrouded in bizarre legends, this is one of the most spectacularly preserved medieval settlements in the Marche region of central Italy.
Portofino, Italian Riviera
Every summer, the rich and famous flock to sunny, seductive Portofino on the Italian Riviera for a slice of la dolce vita. From the romance of its winding pebbled streets to the candy-colored fishermen's homes turned glitzy boutiques along the harbor, this village is dripping in old-world Italian glamour.
Join the beau monde for an aperitivo in the famed Piazzetta, take in the splendid scenery with nature walks in the verdant hills around town, or hop on a boat to explore the dramatic Ligurian coast.
Spello, Umbria
Umbria is a treasure trove of charming hilltop villages, and Spello – in the foothills of Mount Subasio – is as adorable as they come. The borgo affords majestic vistas of rolling green hills, and its centro storico – a walled enclave of skinny brick-paved streets and rose-hued stone houses bejeweled with vibrant flower pots – is a delight to wander around.
What's your favorite village in Italy? Let us know in the comment section below.