With its mighty capitals, vibrant coastal towns, and villages so charming that need to be seen to be believed, Europe is colorful in every possible sense of the word.
Cities aside, there are tons of other intensely hued places on this wonderful continent, from postcard-perfect islands and culture-packed medieval plazas to hotels, flower gardens, and exuberant markets.
Twenty of the most spectacular are listed below. The rest…well, you'll have to imagine or come and see for yourself.
1. Burano Island, Italy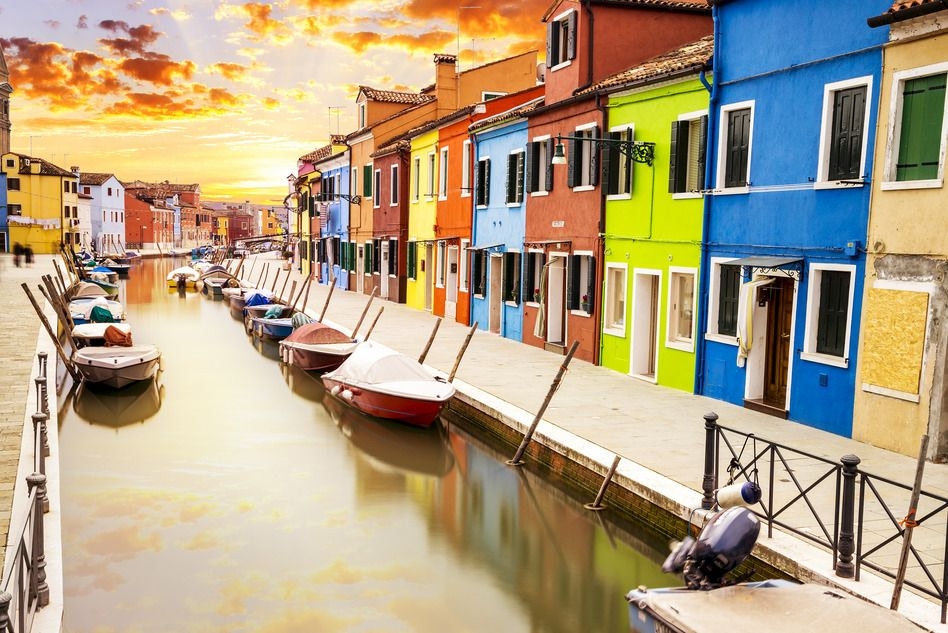 Embraced by the emerald waters of the Venetian Lagoon, Burano Island is widely famous for two things: its lace making tradition and the vividly painted houses that line the pretty canals. Regarding the latter, it is said that local fishermen used to paint their homes in bright colors in order to delimit properties and make them more visible from the sea.
2. Juzcar, Spain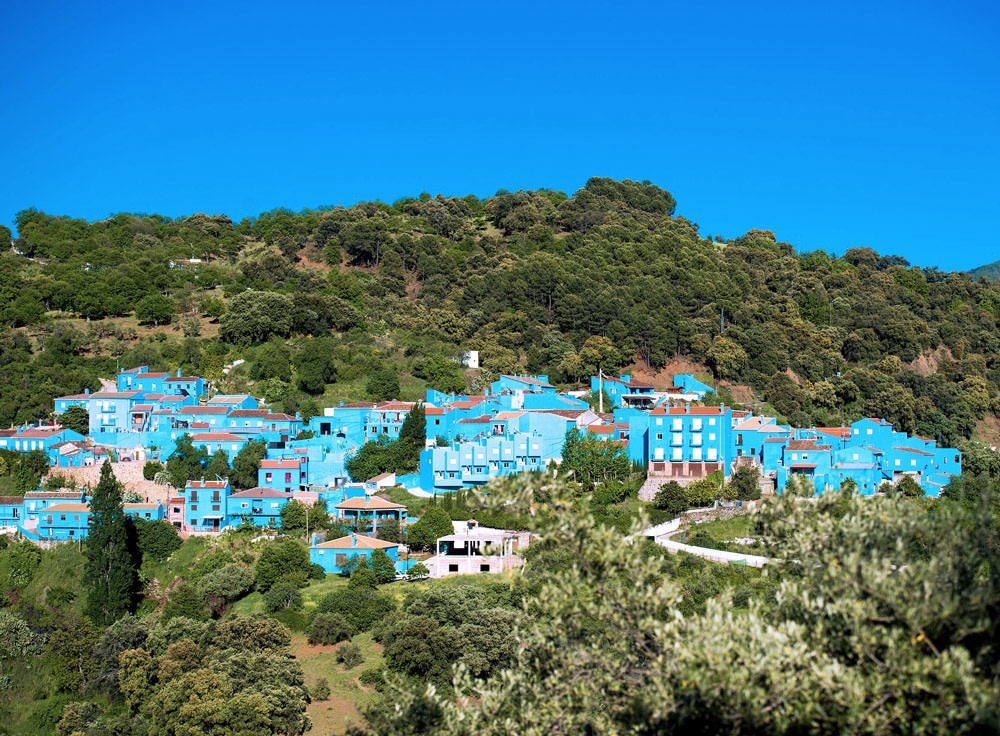 With its radiant blue houses surrounded by picturesque hills, Juzcar – Andalusia's pueblo blanco turned into Smurf Village – is definitely a sight that dazzles the eye and cheers everyone up. In brief, the story began in the summer of 2011, when Sony Pictures decided to paint one of Spain's traditional white villages in bright blue as part of a marketing campaign for The Smurfs 3D film.
3. Reykjavik, Iceland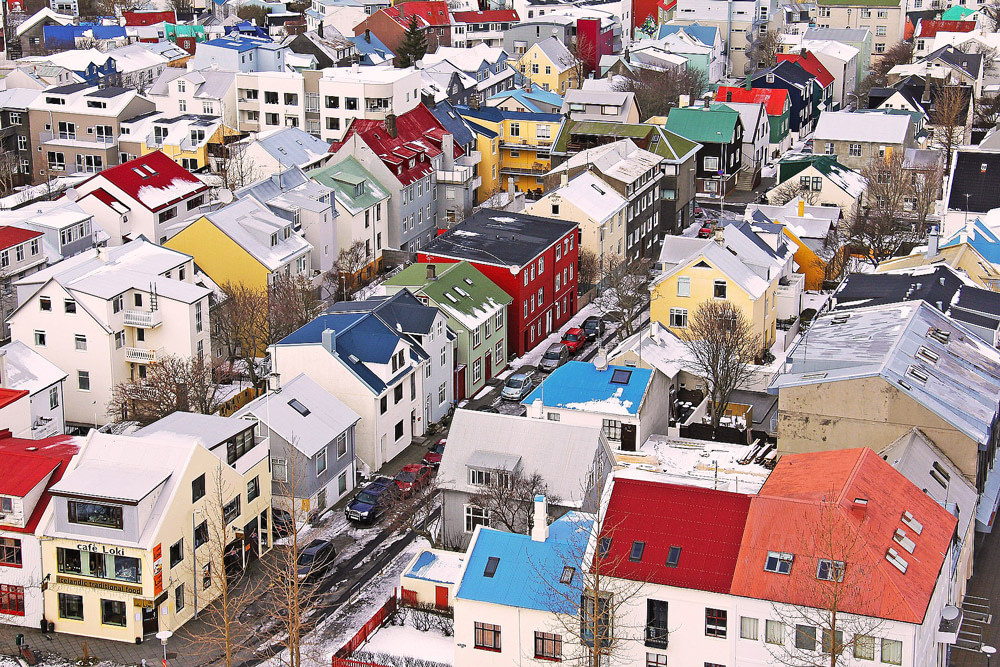 Europe's smallest and northernmost capital city may be cold, isolated, and surrounded by a barren countryside, but there's nothing cold or dreary about the Icelanders and their lively spirit. And this can be first observed in the colorful cityscape of Reykjavik, dotted with low-rise multicolored houses clad in corrugated iron that seem to come straight from a box of Lego. Definitely one of the most photogenic destinations in Europe!
4. Cinque Terre, Italy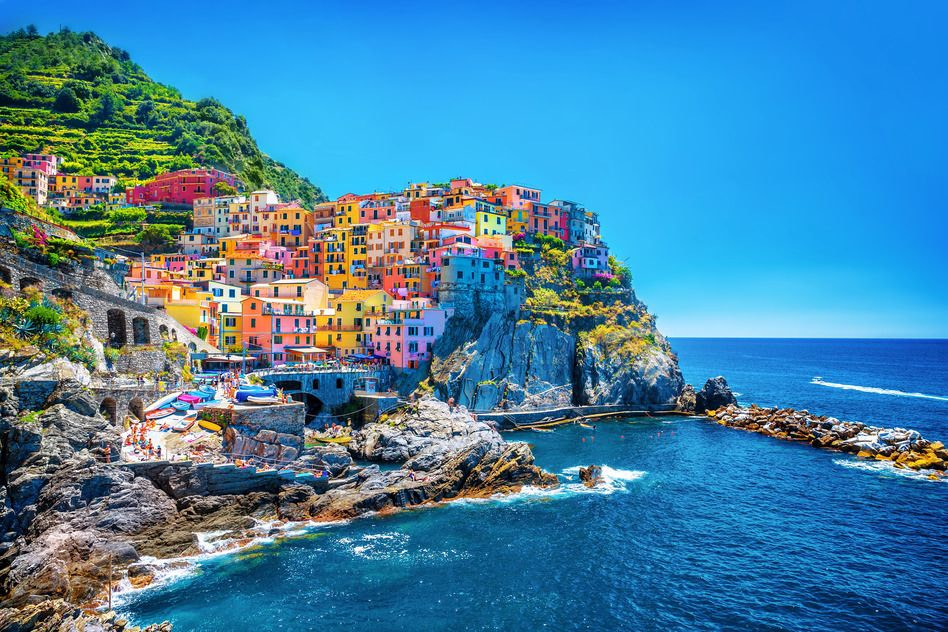 An astounding collection of 5 villages cascading down the most rugged cliffs of the Italian Riviera, Cinque Terre captures the eye, softens the soul, and releases the mind of all who visit. When seen from the water, the rainbow-colored terraced houses of Monterosso al Mare, Vernazza, Corniglia, Manarola, and Riomaggiore shine out like precious gems along one of the world's most spectacular stretches of coastline.
5. Nyhavn Canal, Copenhagen, Denmark
Once a debauched playground for sailors, Copenhagen's picturesque Nyhavn Canal, with its exuberant stretch of colorful, narrow townhouses, is now one of the trendiest and most animated areas in town.
Built in the 17th and 18th centuries, these vibrantly colored houses that line the sunny northern side of Nyhavn were originally meant to be rented by the city's poor and middle-class residents, while the imposing mansions on the canal's shaded side were designed to serve as residences for the wealthy elite.
6. Wroclaw Old Town, Poland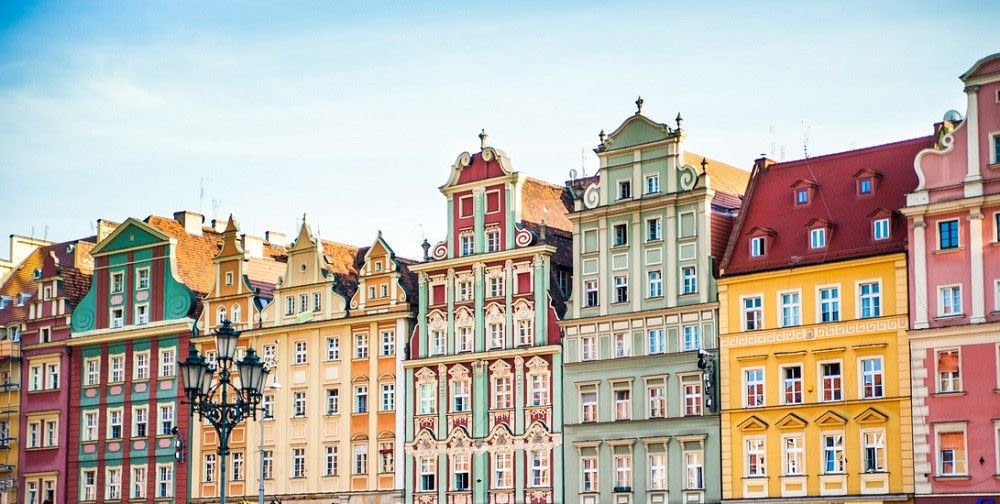 For the first-time visitor, Wroclaw can throw up a number of surprises. The fourth largest city in Poland offers a pretty unique mix of history, culture, old-world charm, and young, cosmopolitan vibe. As a reflection of its identity, the architecture of its well-preserved Old Town is both eye-candy and mind-bending.
Ranging from Gothic and Baroque to Art Nouveau, the pastel-hued historic buildings that frame the medieval Market Square (Rynek) make Wroclaw one of Europe's most colorful cities.
7. Longyearbyen, Norway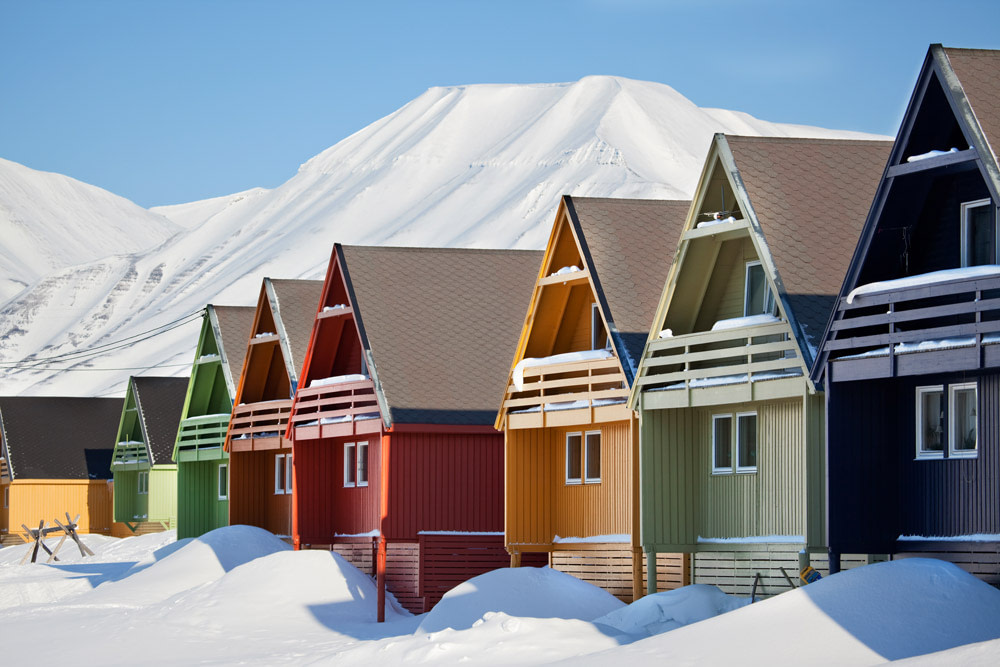 With its spectacular neighboring glaciers, free-roaming reindeers, and streets without names, the small mining town of Longyearbyen – tucked away in Norway's Svalbard archipelago – is the world's northernmost settlement and one of its most remote.
However, that doesn't mean this isolated city, where the sun does not rise for 4 months, lacks in color or appeal. On the contrary, its kaleidoscopic wooden houses create a rainbow of joyous hues, brightening up the harsh, achromatic arctic environment where it lies.
8. Menton, France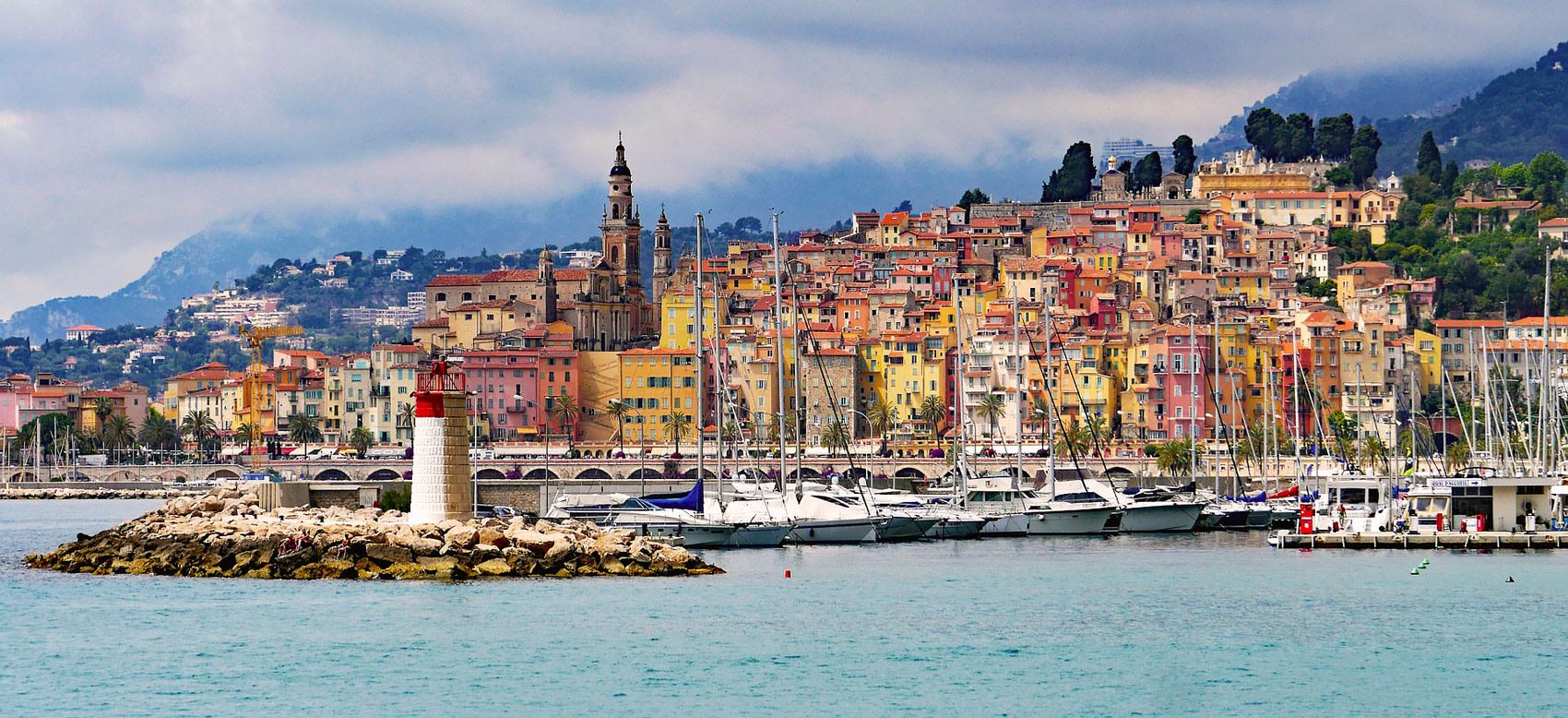 Where France meets Italy and the majestic Alps form a scenic backdrop for the sparkling Med, lies Menton, a particularly alluring seaside town that melds the best of all Mediterranean worlds: a mild and sunny climate, an Italianate old town, and a bohemian flair that's quintessentially French.
Apart from its sumptuous Belle Époque mansions and magnificent tropical gardens, this adorable resort stands out for its old buildings mottled in ochre, yellow, and terracotta tones, which, when seen from the water, seem layered one on top of another like tiles on a roof.
9. Procida Island, Italy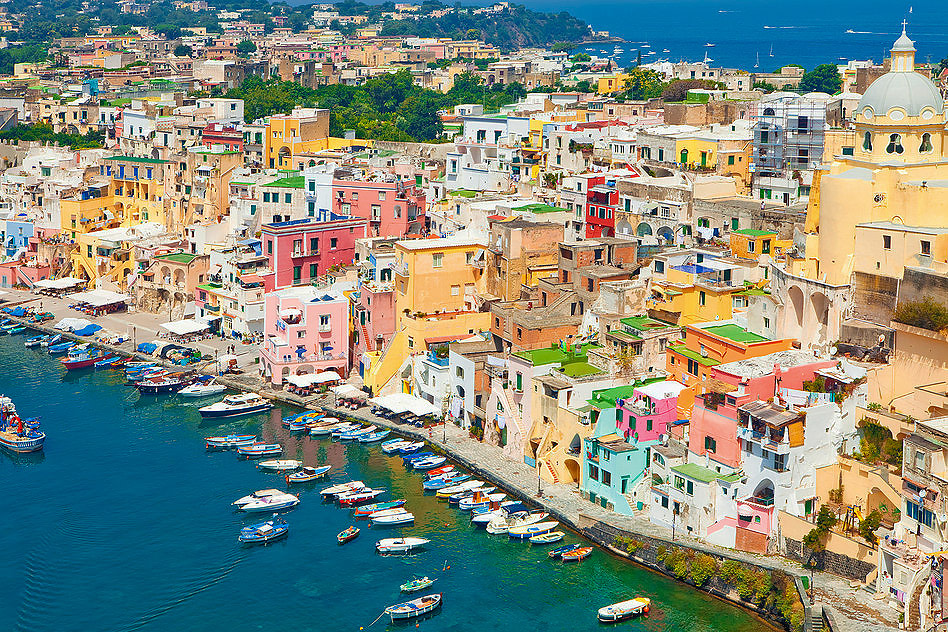 Layers of pastel-colored houses line the beautiful waterfront of Procida, a jewel of an island in the Gulf of Naples. In fact, it's hard to find something else that looks that good in so many colors. But this small volcanic island, with its idyllic harbor and ancient buildings in pretty blues, pinks, and yellows, looks like it came straight out of a glossy postcard.
10. Whitby Beach Huts, North Yorkshire, England
Painted in bold, crayon-like shades of red, blue, green, and yellow, the scenic beach huts queued along the promenade above West Cliff Beach in Whitby make for an iconic North Yorkshire sight. These traditional coastal chalets, still going strong today, were a hot trend in the 50's, when sunbathing became a popular family leisure activity.
11. Grand Bazaar, Istanbul, Turkey
An explosion of colors, flavors, and energy, Istanbul's sprawling Grand Bazaar is no doubt one of the most colorful destinations in Europe, and maybe the world.
From the glittering mosaic lanterns hanging over rolls and rolls of kilim and soumak (traditional carpets) to the sparkling jewels, sumptuous Oriental silks, and the bins of colorful spices that fill the storefronts and add magic to this nation's fabulous cuisine, everything seems to be spinning madly in a wonderful frenzy of excitement and Turkish coffee aroma in this bustling, chaotic market.
12. Notting Hill, London, England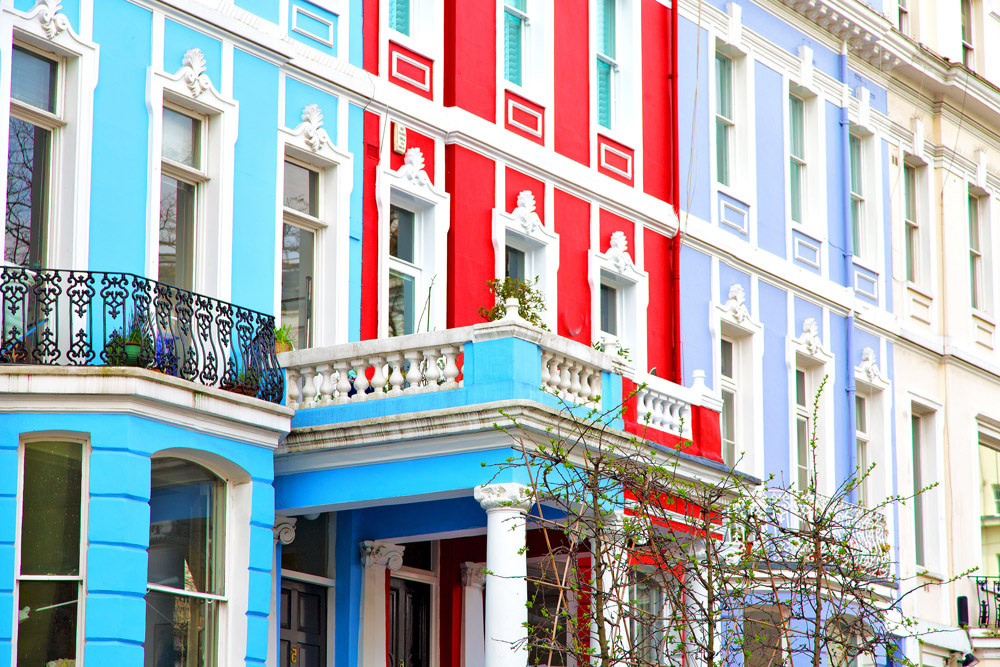 You might not spot Hugh Grant or Julia Roberts, but roaming the pastel streets of London's Notting Hill is clearly a feast for the eye. Framing the streets just off Portobello Road are clumps of handsome houses painted in lively colors such as red, blue, and pale lavender.
The area is especially famous for the Notting Hill Carnival and the weekly Portobello Road Market, but it also plays host to a great selection of bookstores, cafes, and independent boutiques.
13. Costa Nova, Portugal
Situated only a short drive from Aveiro, often dubbed the Portuguese Venice, Costa Nova became a popular beach destination in the mid-19th century, when artists and intellectuals began flocking to the area, attracted by the wide stretch of sand and the wonderful Aveiro Lagoon.
The most striking particularity of Costa Nova is its unusual collection of palheiros – traditional wooden houses painted in colorful stripes. Also known as haystacks, these peculiar buildings, once used by local fishermen as storage spaces, are reminiscent of Aveiro's elaborately decorated moliceiros (boats used to gather the seaweed from the lagoon).
14. Keukenhof, Lisse, The Netherlands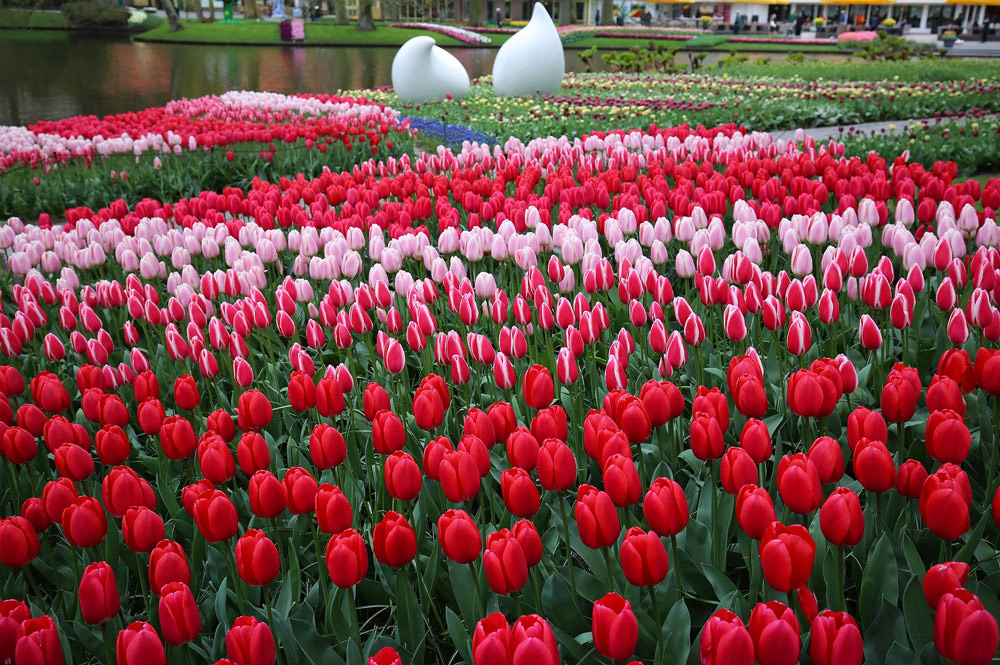 One would be hard pressed to find a place more colorful than Keukenhof in the spring. Also known as the Garden of Europe, this magnificent park in Lisse, Netherlands is swathed in red, orange, yellow, pink, and purple blossoms every year, from March to May.
With its various types of landscaped gardens (including English and Japanese), magical greenhouses, and grounds covered with carpets of delicate tulips and other stunning floral displays, Keukenhof is one of the world's most spectacular natural flower gardens and the second largest after Dubai Miracle Garden.
15. Colmar, France
Situated near the border with Germany, the adorable Alsatian town of Colmar, with its pretty cobblestone streets and quaint canals crossed by bridges, is the kind of place that brings to mind childhood fairytales. Probably the most charming of all the city's treasures, its gorgeously preserved old core boasts the most peculiar collection of medieval half-timbered houses, all colored in chalk pastels and decorated with small pots of fresh flowers.
16. Teror, Spain
One of Gran Canaria's cutest towns, Teror greets visitors with beautiful, colonial-style architecture, the Canary Islands' most important basilica, and the tastiest sweet chorizo. Clustered along the city's main plaza and adjacent streets are many handsome old houses adorned with wooden balconies and painted in striking colors.
17. Torbole, Italy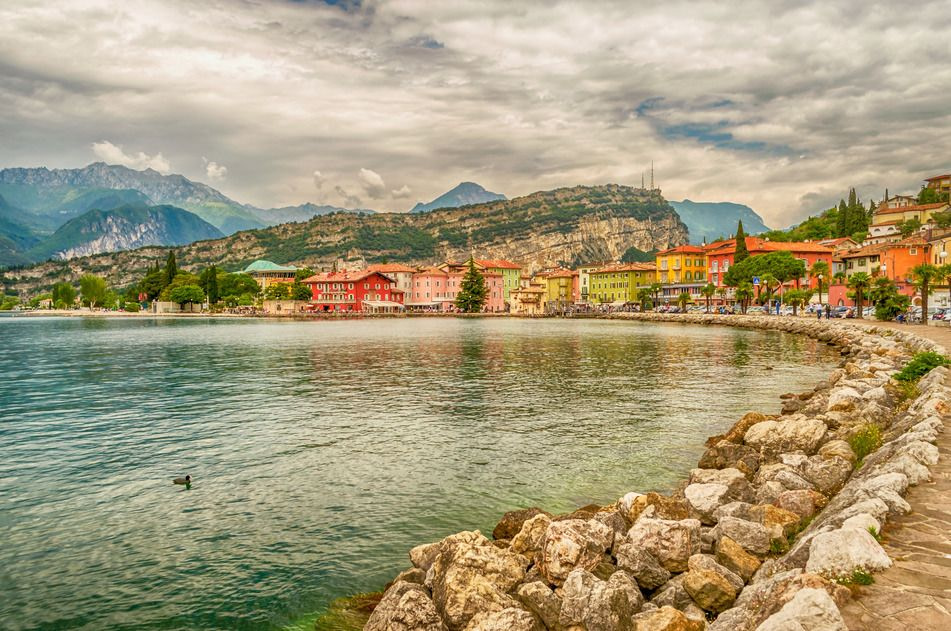 Perched on the slopes of Mount Baldo, on the picturesque northern shores of Lake Garda, Torbole is half alpine, half Mediterranean, in both atmosphere and appearance. A sailing and windsurfing mecca, this gem of a town with its jaw-dropping harbor basked in sunshine and lined with brightly colored houses has been described by Goethe as a "marvel of nature, an enchanting place", and who can blame him.
18. Girona Riverfront, Spain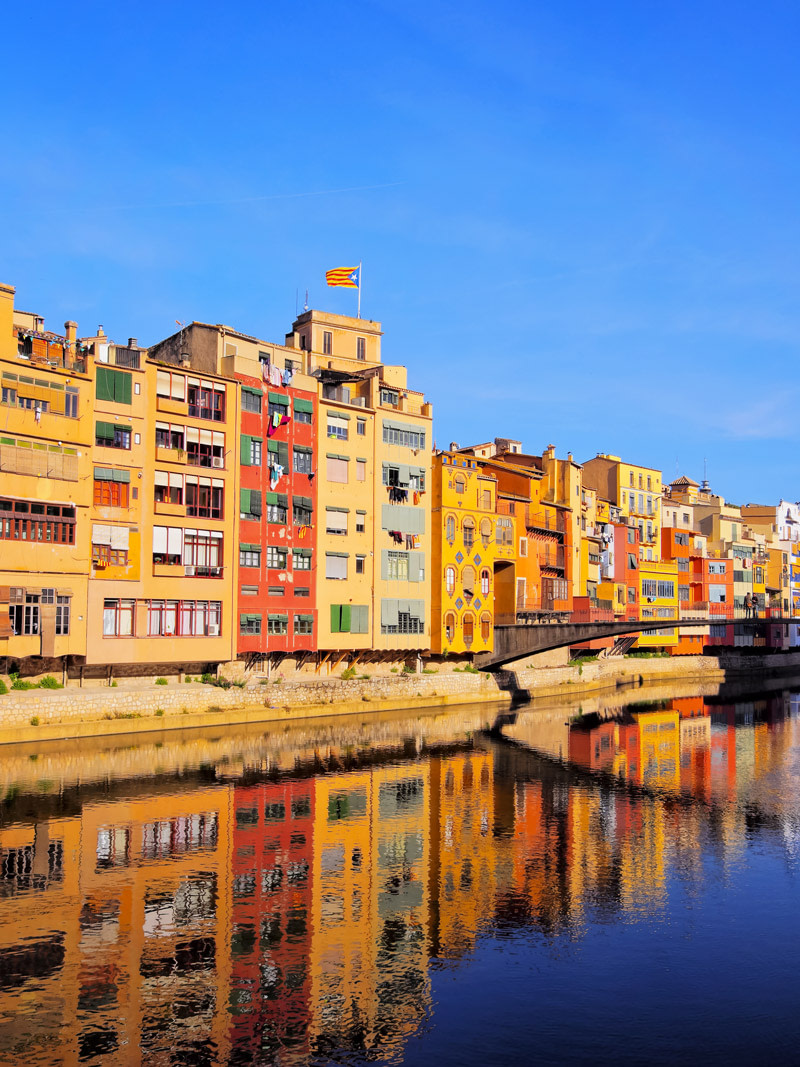 Although less famous than neighboring Barcelona, the Catalan city of Girona has a host of marvelous attractions, from one of Spain's best preserved Jewish quarters to the second best restaurant in the world (El Celler de Can Roca), a bridge constructed by Gustave Eiffel, and a myriad of places made for beautiful strolls. One of these is the city's good-looking riverfront, with its cases penjades painted in a sweet color palette of pinks, yellows, and oranges.
19. Sighisoara, Romania
Sighisoara, Romania's most colorful town and the only one listed in the UNESCO World Heritage list, is a fascinating, well-crafted mix of Saxon architecture and medieval legends, with intriguing Gothic details here and there.
Notable among the citadel's sights are the distinctive, rainbow-colored houses that line the thin, meandering streets. And it's not just the striking spectrum of color that captures the eye, but also their architectural particularities. Some of them are abnormally narrow, others boast curious vaulted entrances, yet others are embellished with intricate Baroque-style facades.
20. Pantone Hotel, Brussels, Belgium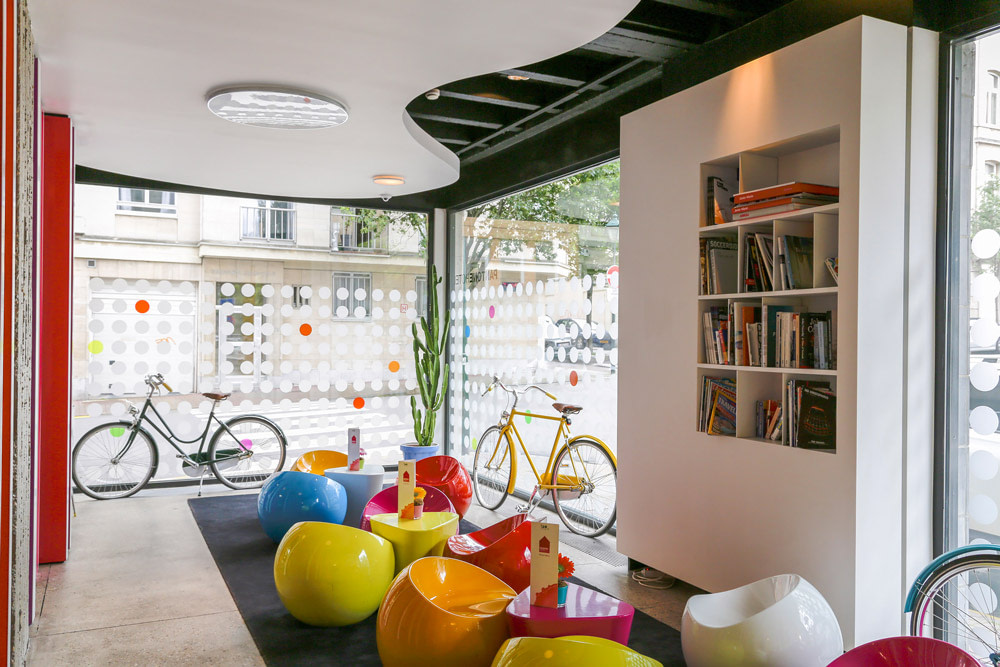 Dubbed the "Hotel of Colors", Pantone, in the heart of Brussels, greets visitors with 59 contemporary, mood-changing rooms spread over individually colored floors.
A work of architect Michel Penneman in collaboration with interior designer Olivier Hannaert, this innovative place stands apart from the other boutique hotels by using colors not just as a key design element, but also as a positive mood-inducing stimulus. Accordingly, guests will have the opportunity to stay in a hi-tech, spotlessly designed unit with white-on-white minimalist décor accented with bold pops of their favorite color.