This post contains affiliate links, which means we may receive a small commission, at no additional cost to you, if you make a purchase through these links. See our full disclosure here.
It takes all five senses to fully enjoy Italy, and that's exactly what staying in a borgo involves. From vistas of timeless hilly landscapes to delicate scents of lavender wafting through the air, you're in for a real treat. Let alone the uncompromised taste of their rustic cuisine or the romance and tranquility of it all.
A borgo is a small Italian village or an assemblage of old farmhouses built around a castle, usually dating back to medieval times and deeply rooted in the local history, culture, and landscape. Nowadays, there are 260 borgos or borghi (Italian) spread across the country, some of which have been gloriously brought to life and styled into captivating hotels where guests can experience the authentic Italian life.
The tradition of rehabilitating derelict Italian villages and transforming them into lodgings started about 30 years ago, when hotel marketing consultant Giancarlo Dall'Ara patented the concept of albergo diffuso (scattered hotel).
Designed to celebrate the simple, serene lifestyle in rural Italy, these projects are devoted to hospitality and creating remarkable guest experiences through honest rustic cuisine, fine wines, and relaxing nature activities. Whether you're looking to sleep in a typical trullo in Puglia, get married at a castle in the quaint Sienese countryside, or live the Tuscan dream in a centuries-old medieval village surrounded by rolling hills, borgos are the ultimate Italian retreats.
From luxury village hotels to entire borgos for rent, the masterfully restored medieval hamlets below ensure an utterly immersive Italian countryside experience:
Borgo Canonica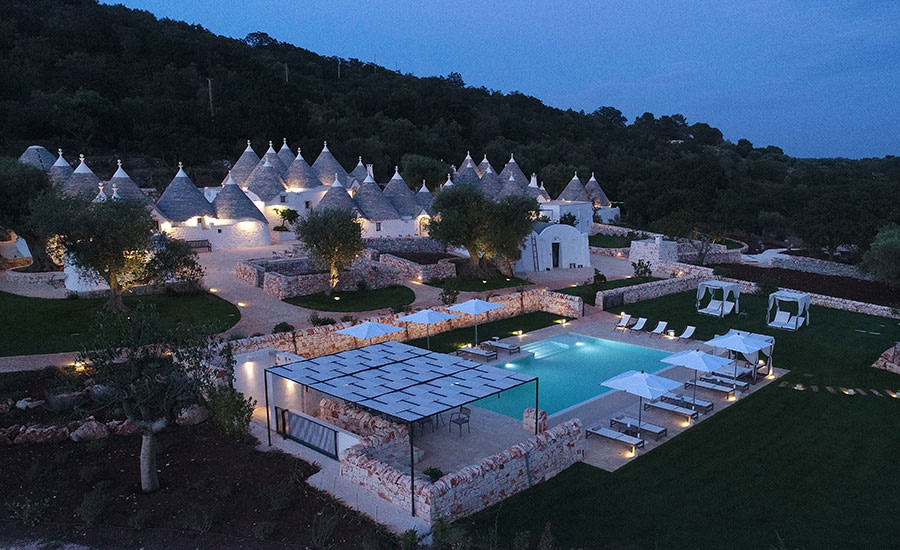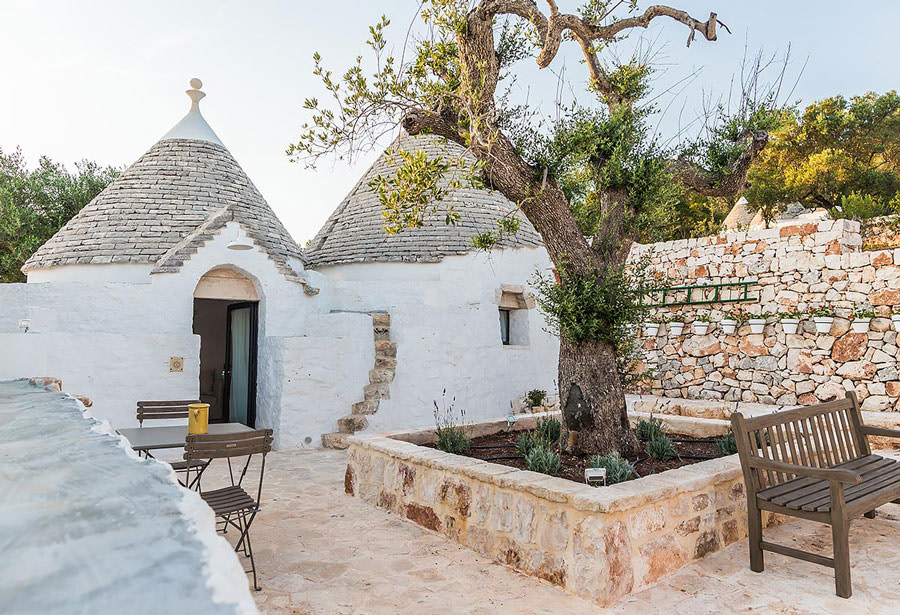 Live like a local in Puglia with a stay at Borgo Canonica. Designed to revive an ancient hamlet from the 1800s, this striking hotel sleeps guests in 42 charming trulli, complete with plush beds, Smart TVs, and hydromassage showers. Each typical structure has been carefully restored to preserve its unique character and architectural elements while integrating modern-day comforts for an exceptional rural experience.
A sleek and serene outdoor pool surrounded by secular olive trees invites to long, lazy days under the Apulian sun, while activities such as hiking, boating, and paragliding keep guests busy and fit during their stay.
Toscana Resort Castelfalfi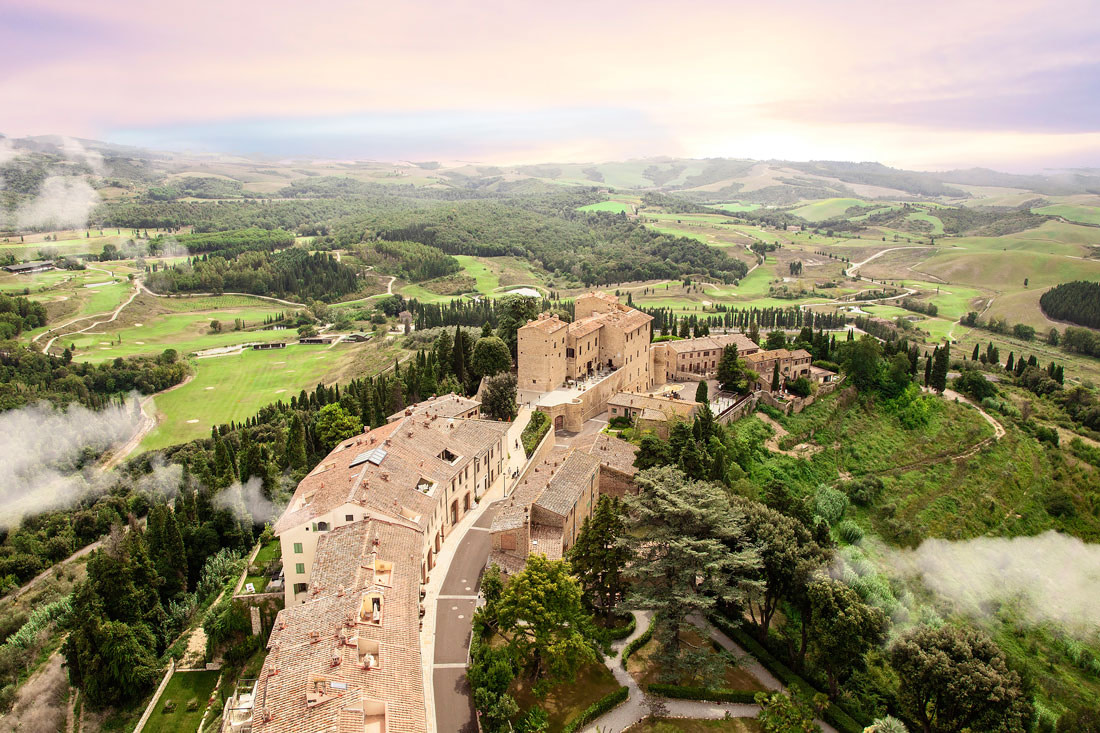 Surrounded by scenic vineyards and centuries-old olive groves, Castelfalfi in Montaione is a stunning Italian borgo where art, history, and nature intertwine over rolling green hills, and life slows to the pace of days gone by.
Once owned by the Medici, the lovingly restored 800-year-old medieval village is now a gorgeous resort offering refined Italian cuisine, a state-of-the-art spa, and stylish accommodation overlooking the glorious Tuscan countryside. The borgo is also home to the largest golf course in the region, a castle, a cooking school, as well as a handful of restored apartments and country houses available for rent/sale.
Nestled between Florence and Volterra, Toscana Resort Castelfalfi provides guests with an authentic Tuscan experience away from the main tourist drag.
Borgo Bernardini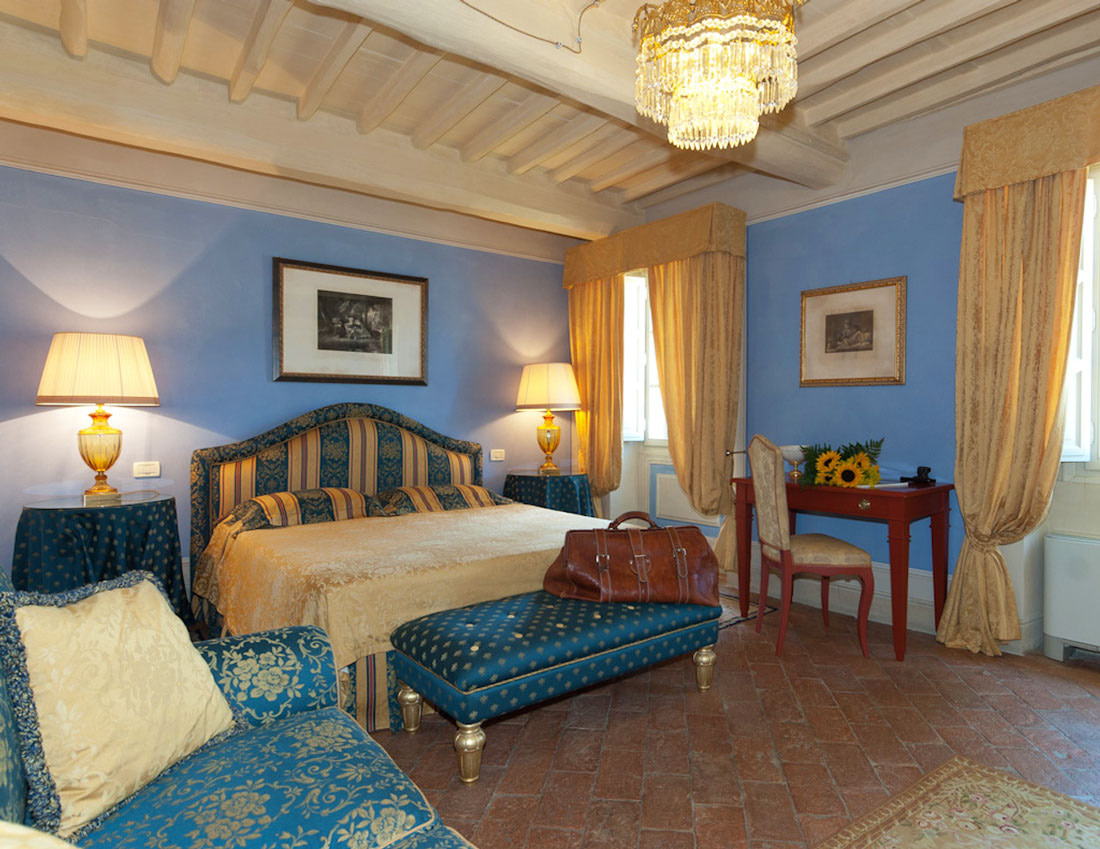 Tucked away amidst the gentle, verdant hills surrounding the walled town of Lucca, Borgo Bernardini makes for a delightful Tuscan hideaway. Once the hunting lodge retreat of Count Cosimo Bernardini, the domain was later expanded into a hamlet for the workers of the estate and now offers luxurious accommodation and experiences in a gracious Under the Tuscan Sun-like setting.
Its 12 individually styled bedrooms combine original frescoes, terracotta floors, and wood-beamed ceilings with grand period decor and sumptuous Jacuzzi baths, while the splendid grounds – with their antique fountains and courtyards, ornamental ponds, and tranquil landscaped gardens – provide the perfect backdrop for weddings, alfresco dinners, and relaxing strolls.
Borgo Pignano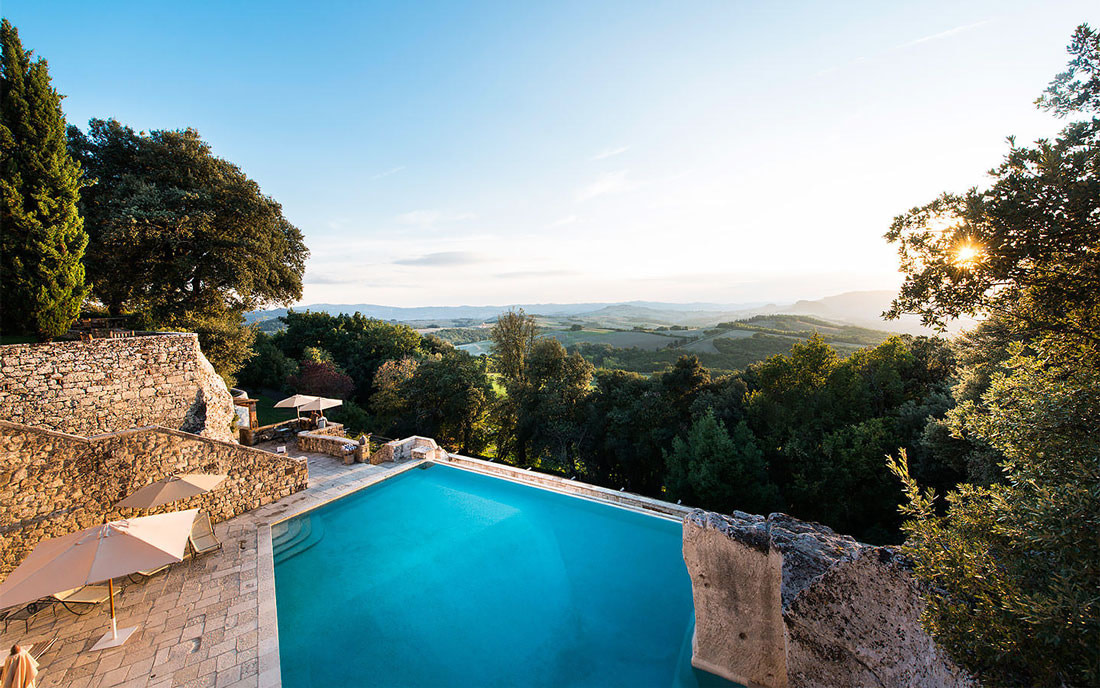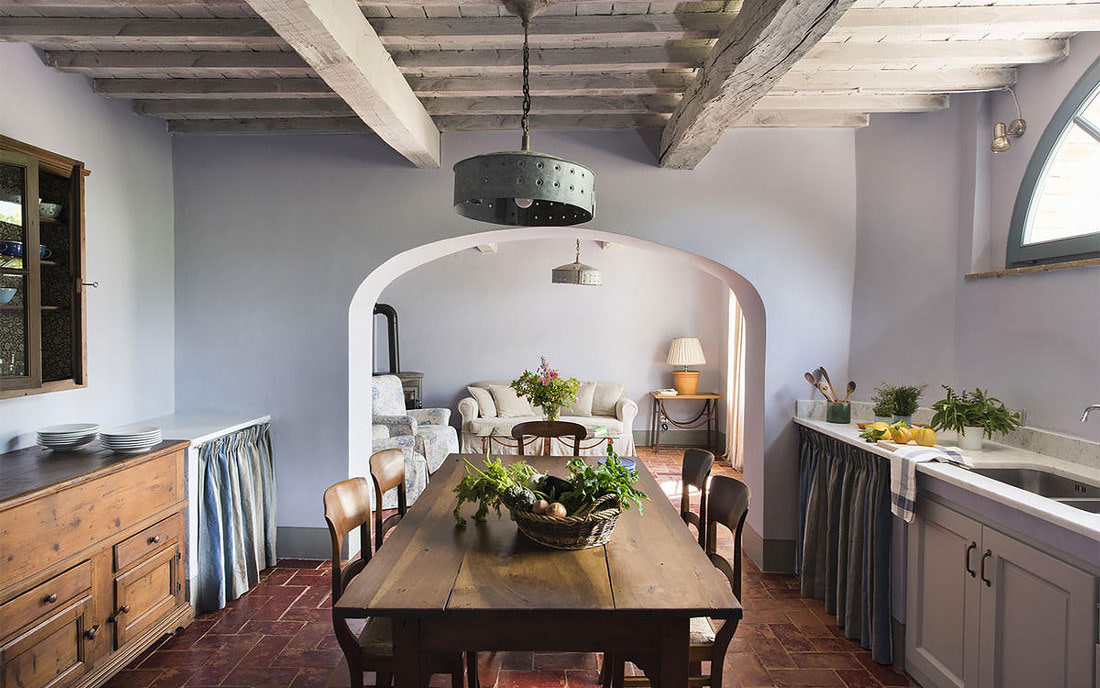 A historical country estate in rural Tuscany, Borgo Pignano oozes Italian class and charm from every corner. Set on the site of an Etruscan-era hamlet near the medieval hilltop town of San Gimignano, the eco-friendly retreat revolves around a 750-acre organic farm and a grand 18th-century villa but hides many treasures – from barns, stables, and gardens to beautifully restored cottages and stylish swimming pools.
The elegant restaurant serves creative Italian dishes prepared with organic home-grown ingredients, while the exquisite spa offers treatments based on local flowers, herbs, and honey.
The villa's luxurious, classically decorated rooms and suites overlook storybook Tuscan landscapes, and activities range from cooking and painting classes to wine tasting, horseback riding, and mountain biking through the nearby nature reserves.
Borgo della Meliana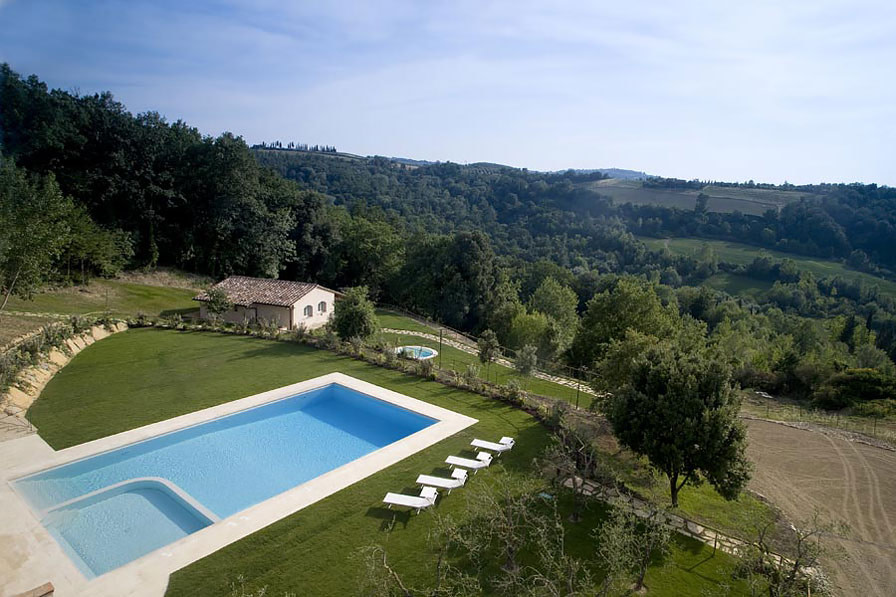 Set along the ancient route of Via Francigena, right in the geographic heart of Tuscany, Borgo della Meliana is one of the few properties in the area protected by the Artist and Cultural Heritage Council.
A major conservation and restoration project has been carried out in order to preserve the complex' old buildings, which nowadays house tastefully appointed rooms, suites, and rental apartments. In total harmony with the local style, all units are decorated with traditional materials and carefully selected antiques, and the self-catered villas and cottages come with private outdoor gardens and swimming pools.
Bike rentals, Ayurvedic spa treatments, and glistening hilltop pools complete the farmhouse's list of amenities, and idyllic countryside views add to the tranquil ambience of this elegant Tuscan retreat in Chianti.
Borgo Santo Pietro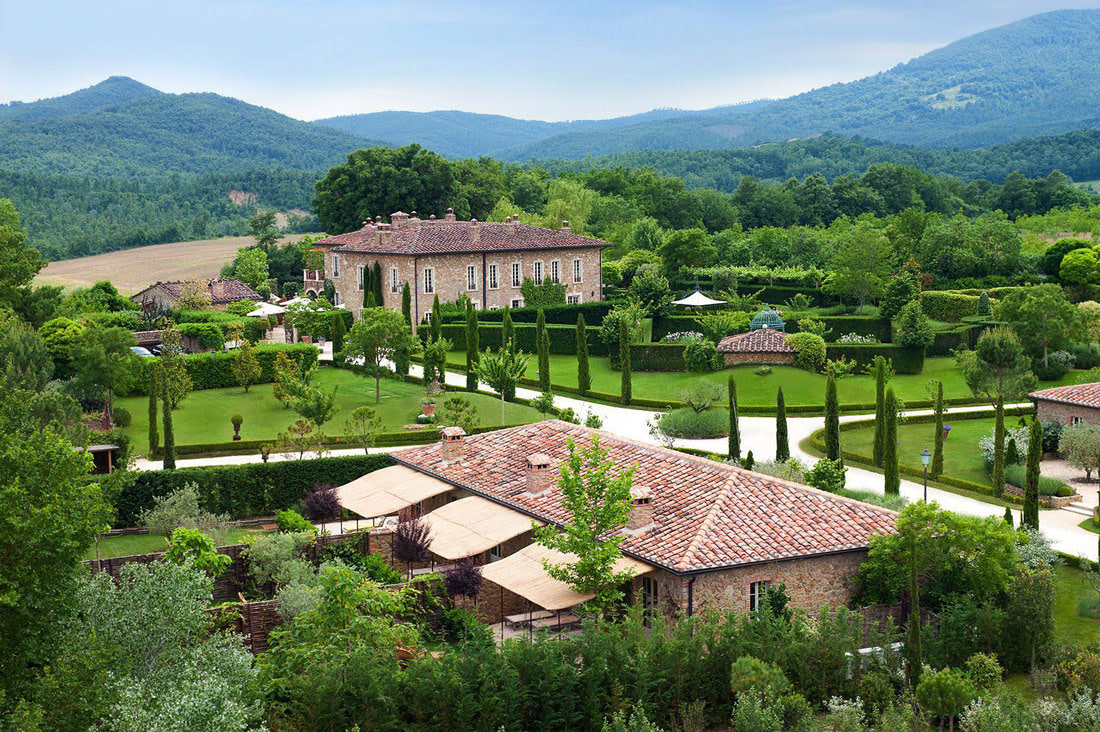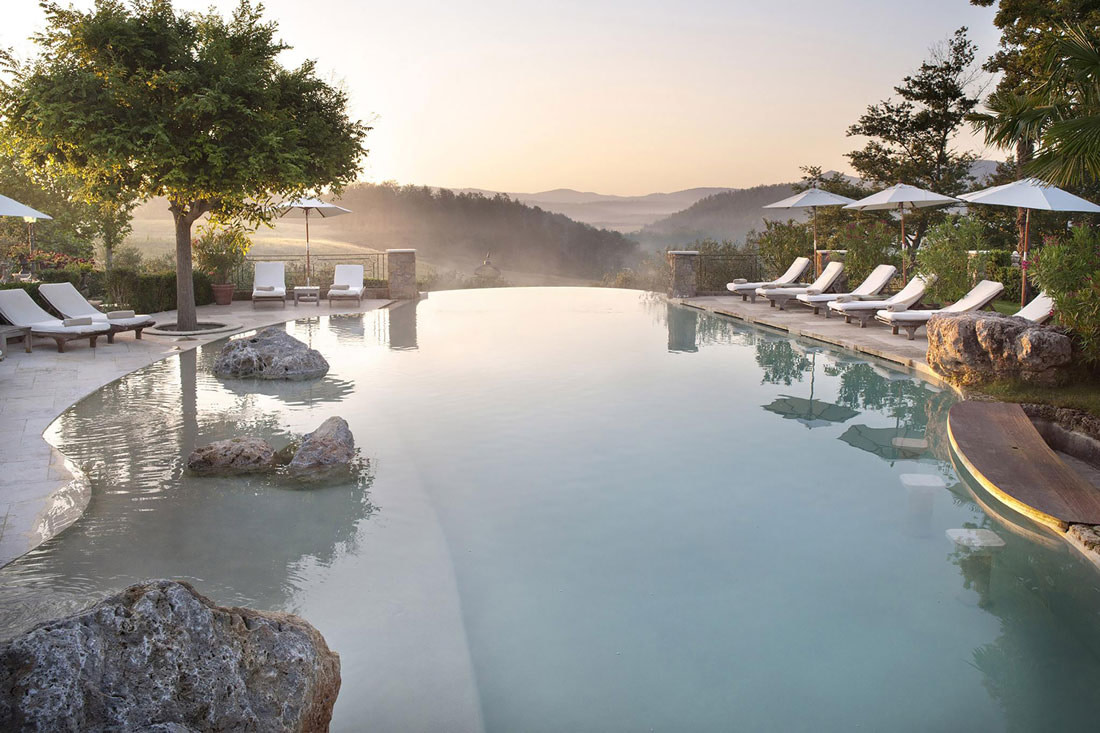 Mixing classic with contemporary, Borgo Santo Pietro is the perfect destination for that quintessential Tuscan experience. The property is set within a stunning 200-acre estate in the countryside around Siena and has a lovely 13th-century villa at its heart. Decorated with hand-painted frescoes, rich fabrics, and exquisite antiques, each room is a luxurious retreat steeped in historic splendor.
The 13 acres of landscaped grounds outside house organic fruit and vegetable orchards, blooming rose gardens, a freeform infinity pool, and lots of beautiful, secluded corners to relax in peace. Add a gorgeous stone-clad spa, a Michelin-starred restaurant, and a wealth of activities that range from wine tasting to art classes, and you've got the recipe for a dreamy Tuscan getaway.
Borgo Egnazia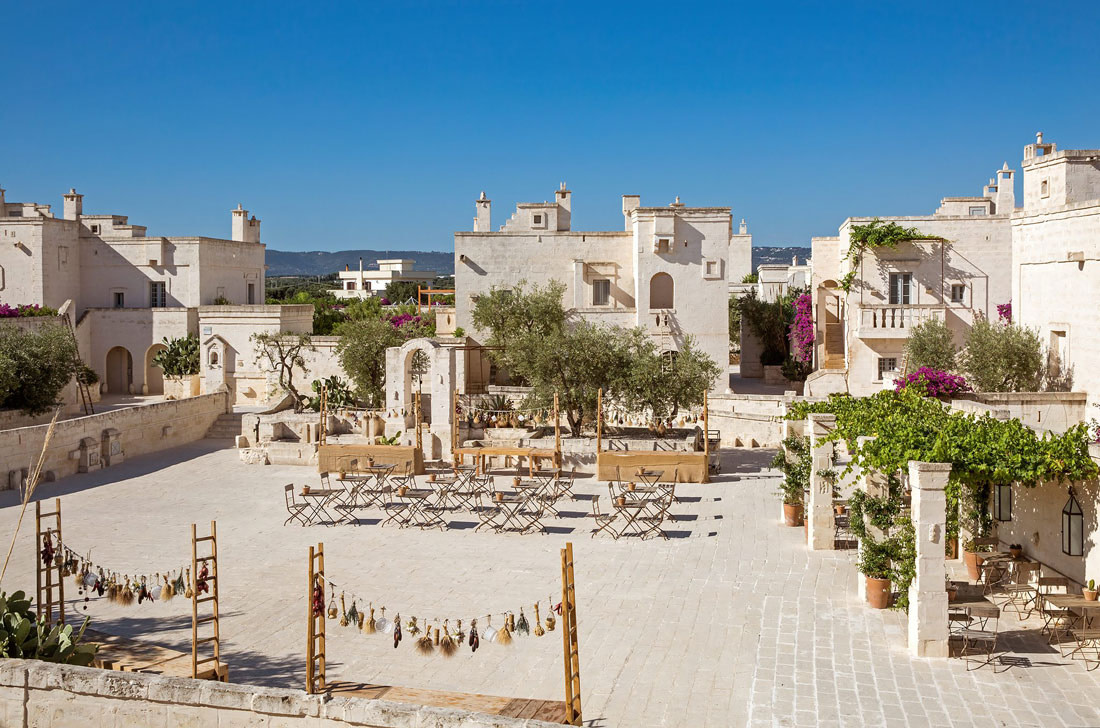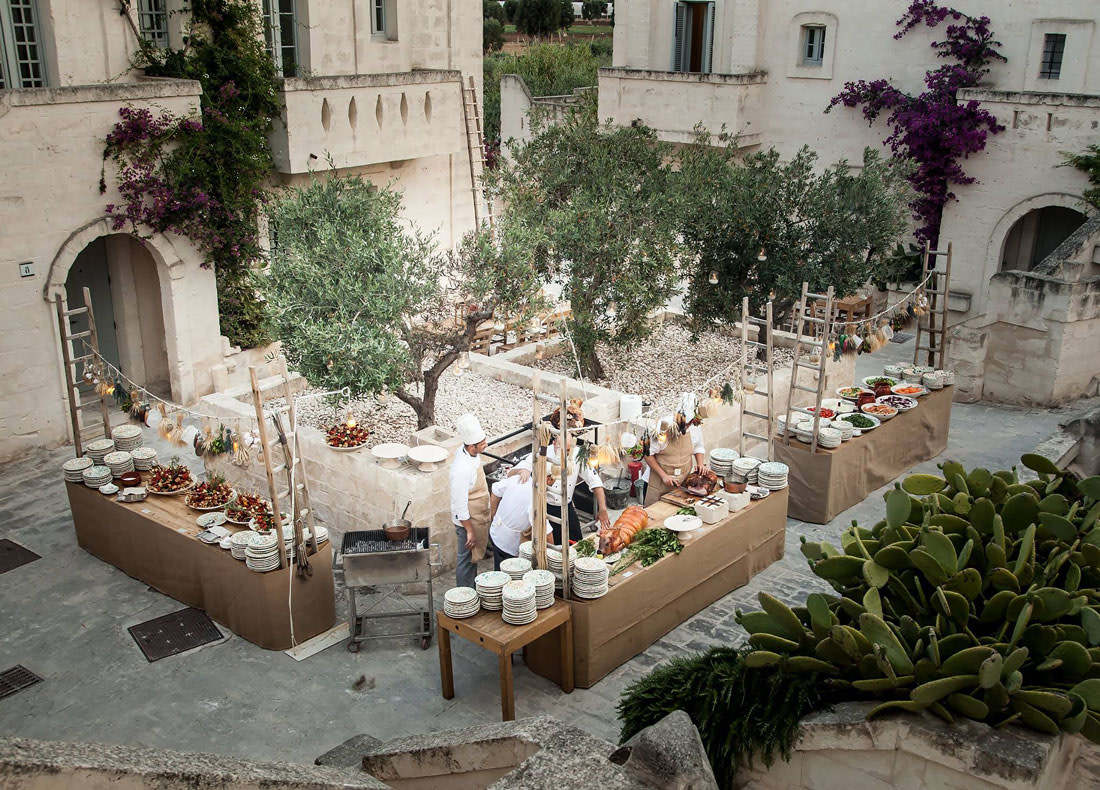 Nestled amidst ancient olive groves along Puglia's shimmering Adriatic coast, Borgo Egnazia welcomes guests with an amazing 200 sq m spa, an 18-hole championship golf course, Michelin-awarded cuisine, and two private beach clubs.
Modeled after a traditional Apulian village, the property consists of an assembly of tufa stone buildings grouped into 3 sections: La Corte – where the spa, restaurant, and stylish rooms are located; Il Borgo, with its own charming piazza and traditionally inspired houses; and Le Ville – a collection of luxurious private villas complete with private pools and beautiful gardens.
Though overflowing with rustic romance, interiors are chic, creative, and appointed to please even the most sophisticated celebrities (Justin Timberlake and Jessica Biel got married here). As for experiences, these span the gamut from cooking and photography lessons to traditional dinners and stand-up comedy in the main piazza.
Borgo Finocchieto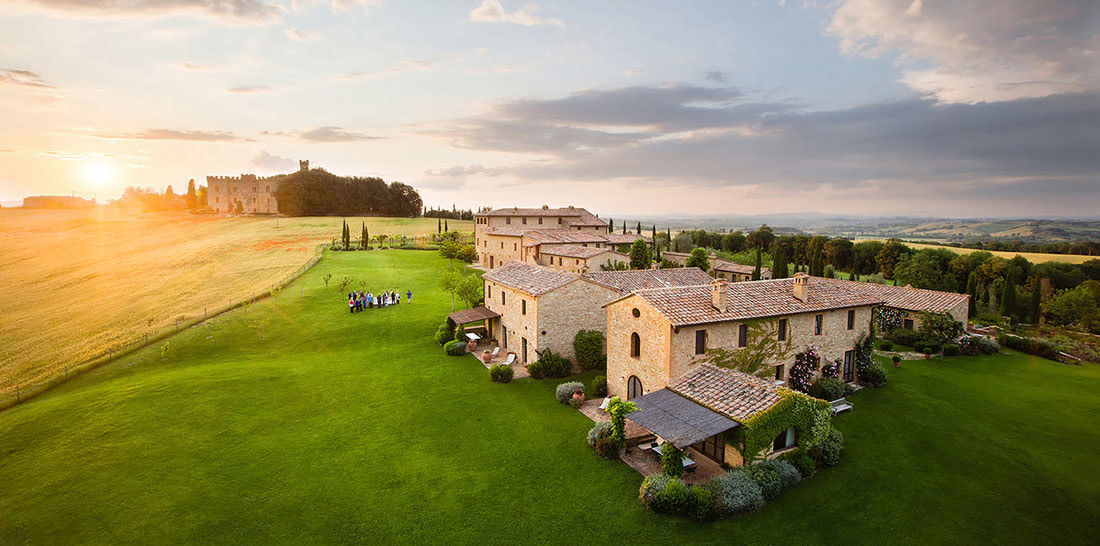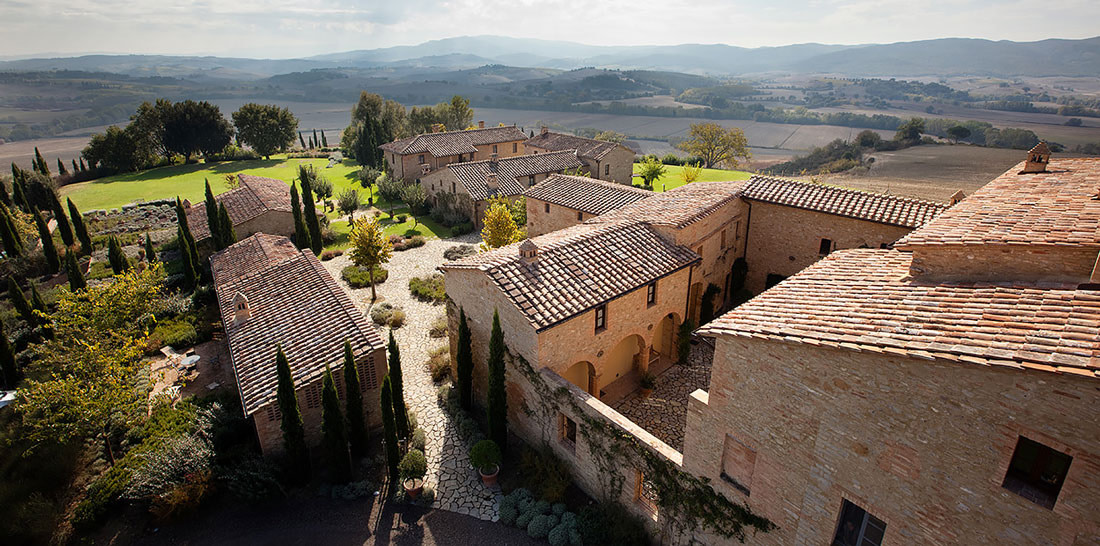 An elegantly renovated private village in the hills of Siena, Borgo Finocchieto consists of 5 houses arranged around a central piazza and connected by cobblestone paths lined with cypress trees and lavender. Owned by former US Ambassador to Italy, John Phillips, the hamlet has been restored to its former glory and now accommodates up to 44 guests in 22 gracious bedrooms and suites that blend period charm with luxurious comfort.
Meals at the borgo celebrate the region's seasons, bounty, and rich heritage, while recreation comes in many forms, from tennis, traditional bocce, and cocktails by the pool to in-room spa treatments, bike rides in the surrounding hills, wine tasting in nearby Montalcino, and sightseeing trips to Florence.
With its spectacular Tuscan setting and top-of-the-line amenities, it's no wonder the Obamas spent a six-day vacation here in the spring of 2017.
Borgo di Castelvecchio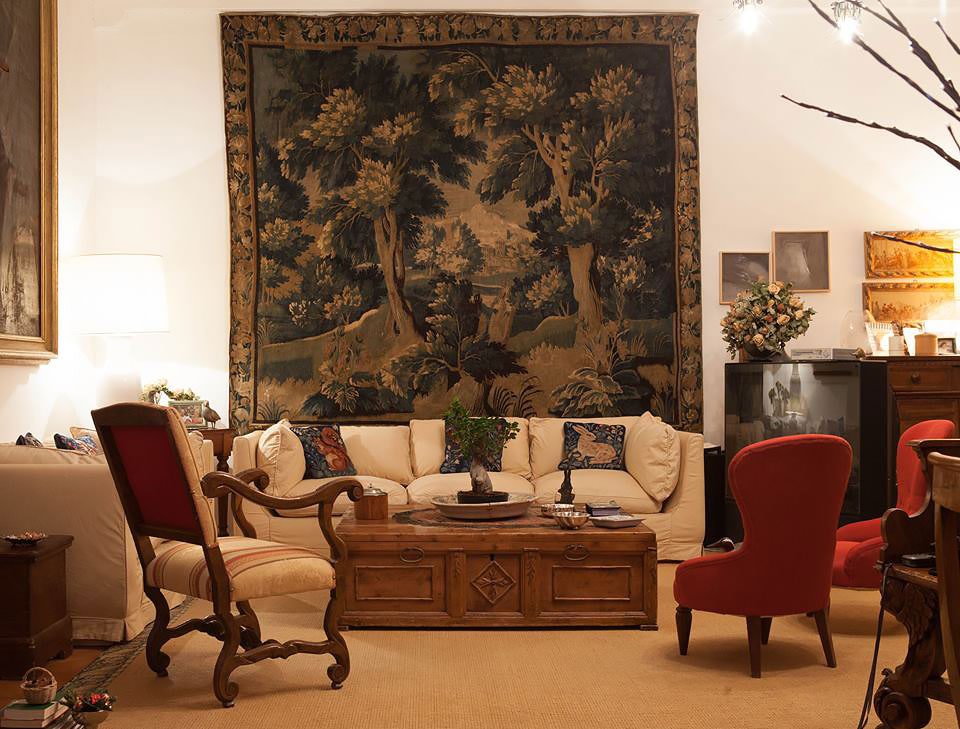 A cluster of lovingly restored ancient farmhouses overlooking the emerald, undulating hills of Val d'Orcia, Borgo di Castelvecchio has its own small church, working farm, and equestrian center.
Whether located inside the main 11th-century villa or spread over the hamlet's stone country houses, the 32 bedrooms are furnished in authentic traditional style, with lots of characterful old-world features such as four-poster beds, fireplaces, and antique furnishings.
Even more impressive, the property's outdoor spaces stretch as far as the eye can see, encompassing postcard-perfect gardens, natural ponds, panoramic swimming pools, and romantic wisteria-clad terraces for alfresco meals. Wildlife and bird-watching opportunities abound in the nearby faunistic preserve, home to pheasants, woodcocks, wild boars, and dears.
Castello Banfi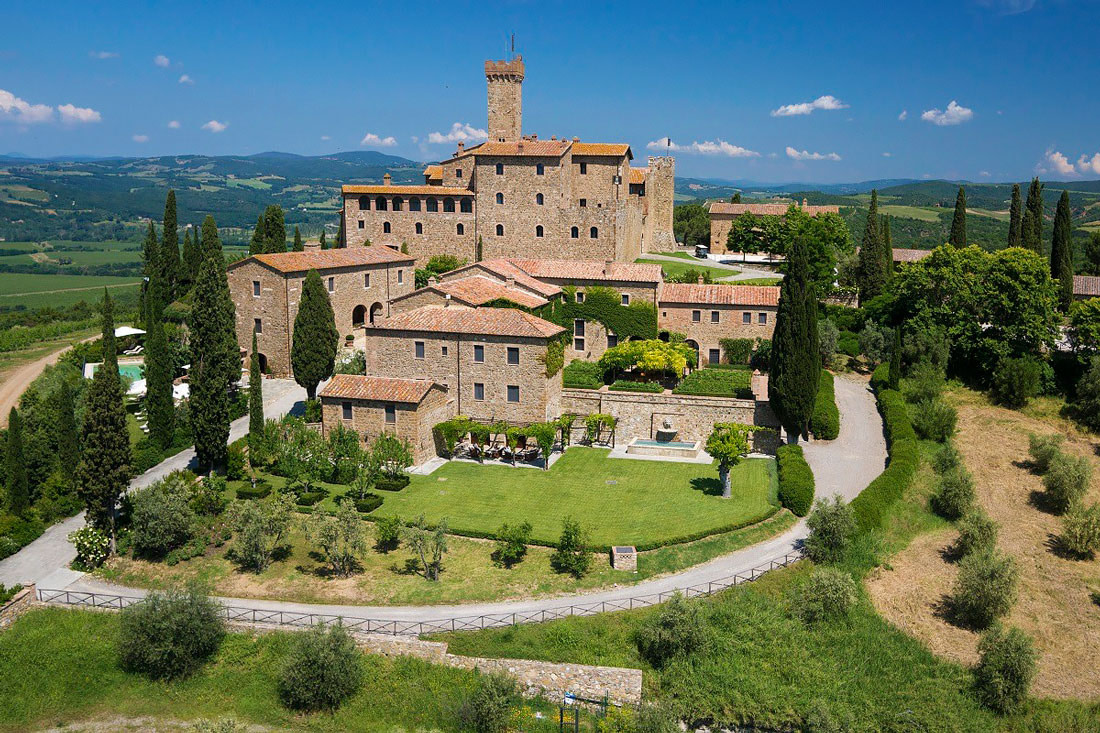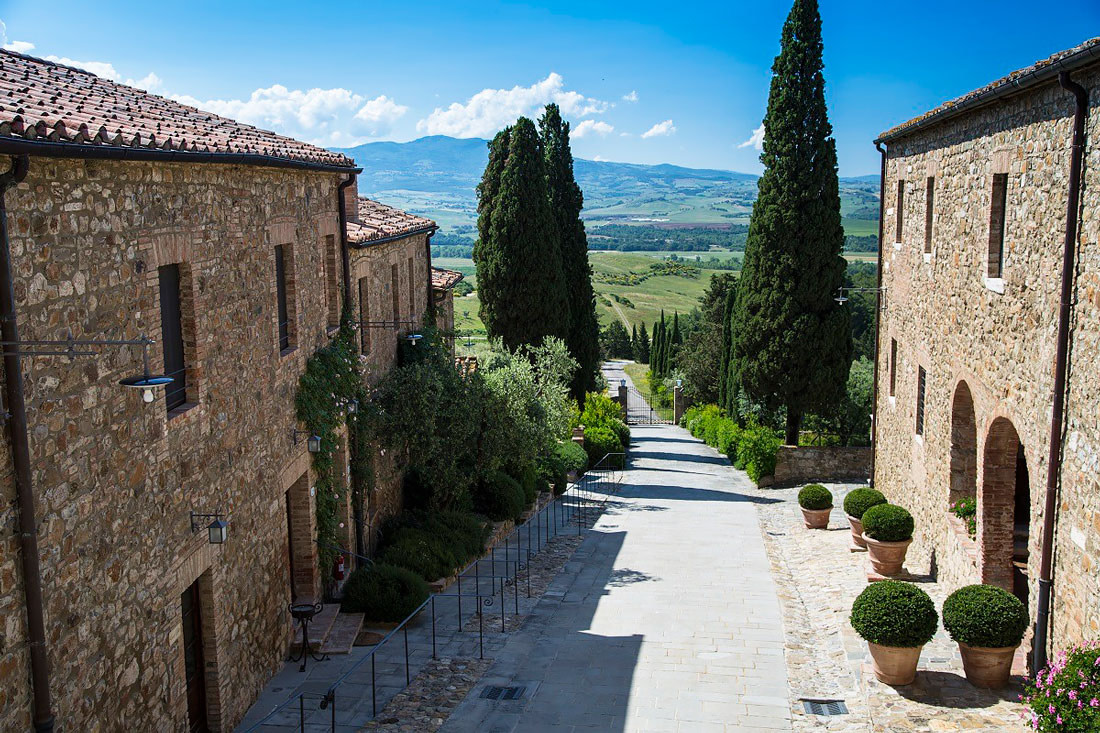 With its state-of-the-art winery, luxurious rooms, and serene, manicured gardens, the wonderful Castello Banfi immerses guests in the beauty and tranquility of the Tuscan countryside. Established in the 1700s, this ancient stone hamlet in rural Siena combines the region's historic architectural style with lavish amenities and cultured, refined interiors designed by Italian couturier and decorator Federico Forquet.
Visit the onsite Museum of Bottle and Glass, shop for local artisan food and crafts at the Enoteca, and indulge in haute Tuscan cuisine and exceptional Brunello wine at the borgo's two lovely restaurants. Cooking classes, picnics in the vineyard, and wine tastings can be set up by the concierge.
Borgo San Felice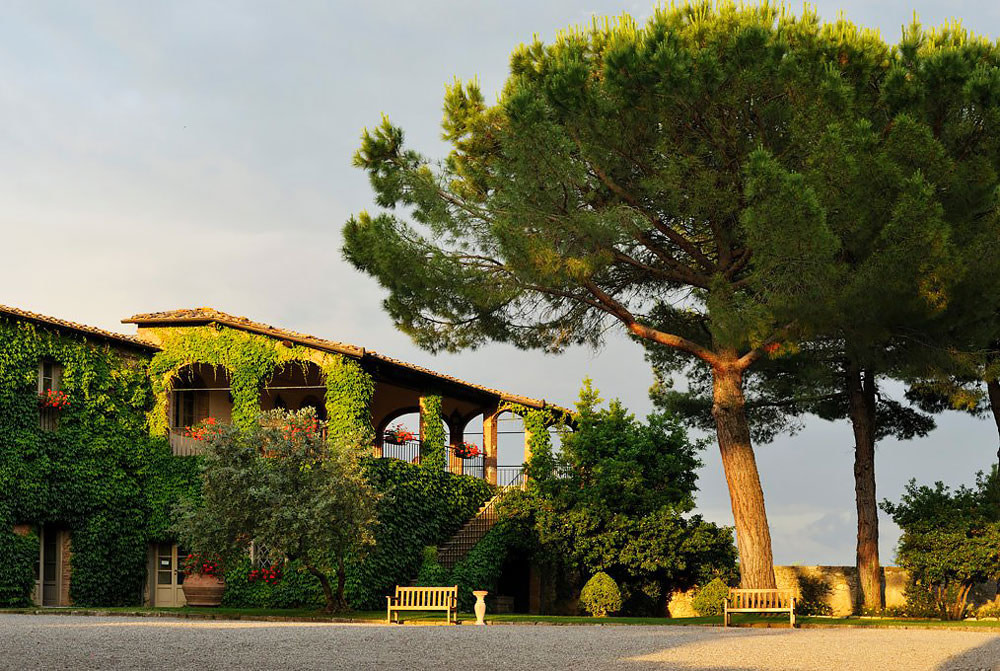 A former Chianti village turned luxury Relais & Chateaux hotel, Borgo San Felice offers delightful accommodation and upscale facilities while immersing guests in the alluring atmosphere of medieval Tuscany. Scattered across its skillfully restored cottages and honey-colored stone houses are 53 rooms and suites, all dressed in rich Tuscan fabrics and furnishings.
Typical narrow streets, picturesque squares, and a Romanesque chapel add to the property's genuine historical charm, whereas traditional gourmet cuisine and a cutting-edge wellness center offering bio saunas, ampelotherapy, and bespoke treatments, enrich the experience.
Borgo di Carpiano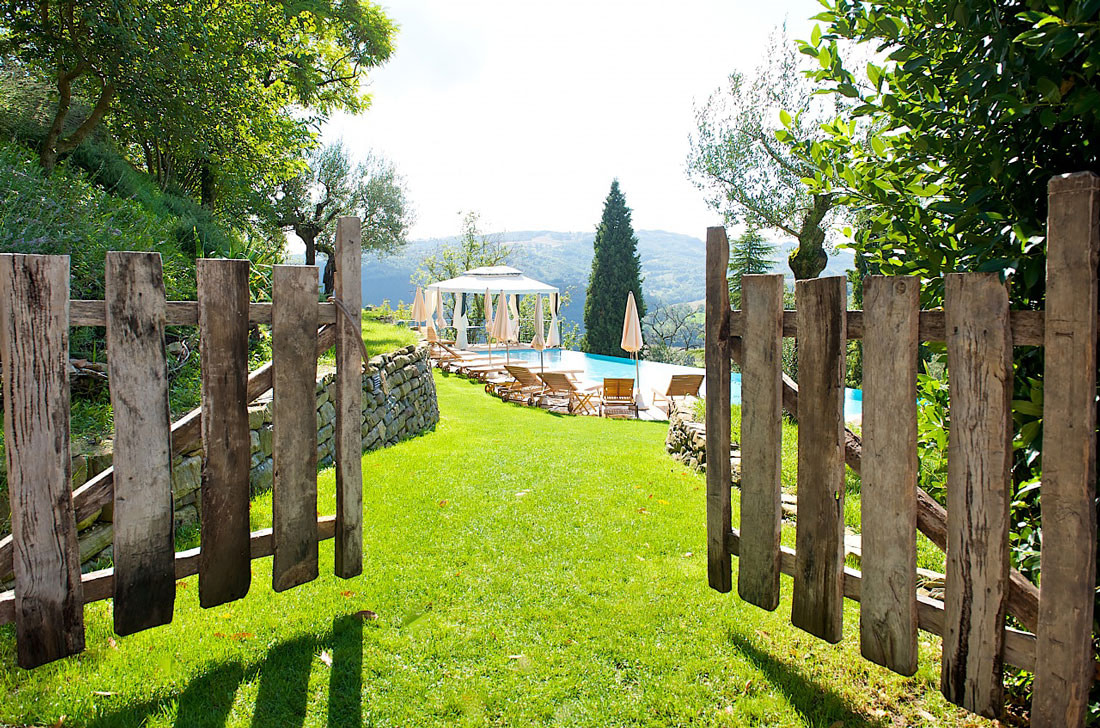 It's all about rural Tuscan romance and great food at Borgo di Carpiano – a tiny secluded hamlet brought back to life in the Umbrian hills. The village's ancient architecture, with narrow pathways, thick medieval walls, and rustic shaded terraces overlooking dense, green forests and rolling hillsides, has been handsomely preserved, and there are charming little details for guests to discover at every turn.
The scent of lavender permeates the rooms, and meals make the most of the local produce, featuring delicious homemade pasta, truffles from Norcia, and local Sagrantino di Montefalco wine, in addition to fresh organic vegetables and extra virgin olive oil from the onsite garden.
Borgo Bastia Creti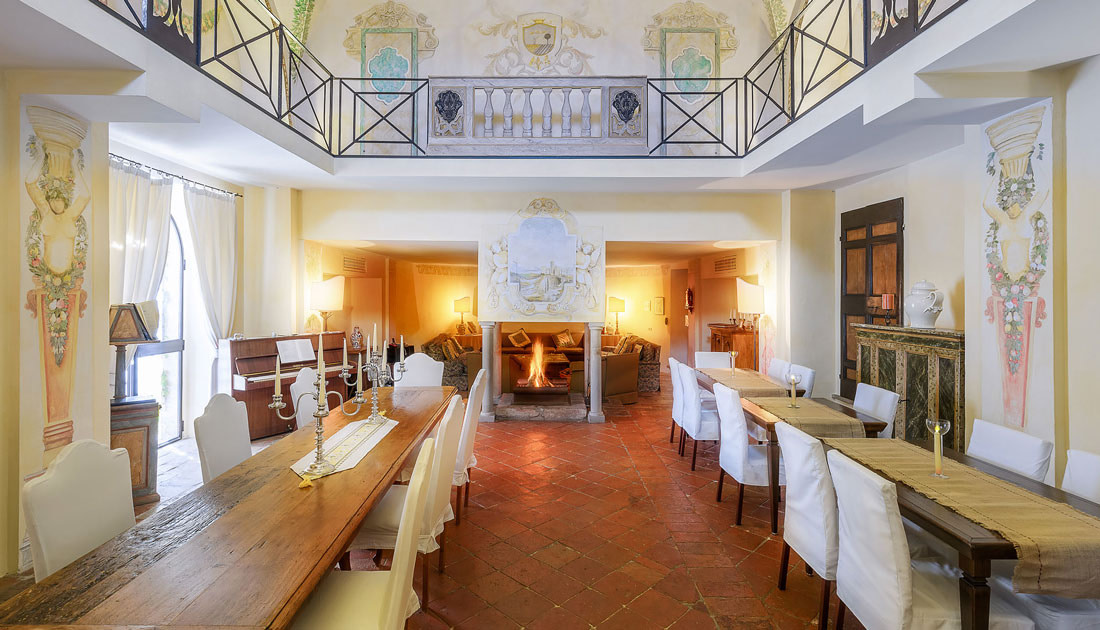 Enjoying a gorgeous natural setting in a pristine verdant valley where Umbria and Tuscany meet, Borgo Bastia Creti provides a tranquil and refined country retreat for those who value the finer things in life.
The hamlet offers impeccable service and luxury self-catered accommodation in 5 graciously restyled buildings, complete with fully-equipped kitchens, elegant living areas with fireplaces, and characterful bedrooms.
Equally idyllic, outdoor spaces stretch across miles of immaculate grounds and include a stunning ivy-covered courtyard, tennis court, an elegant swimming pool with panoramic views of the spellbinding landscape, as well as lots of lovely aromatic gardens and private furnished terraces. Cooking classes, wine tours, and truffle hunting are all available on request.
Borgo Stomennano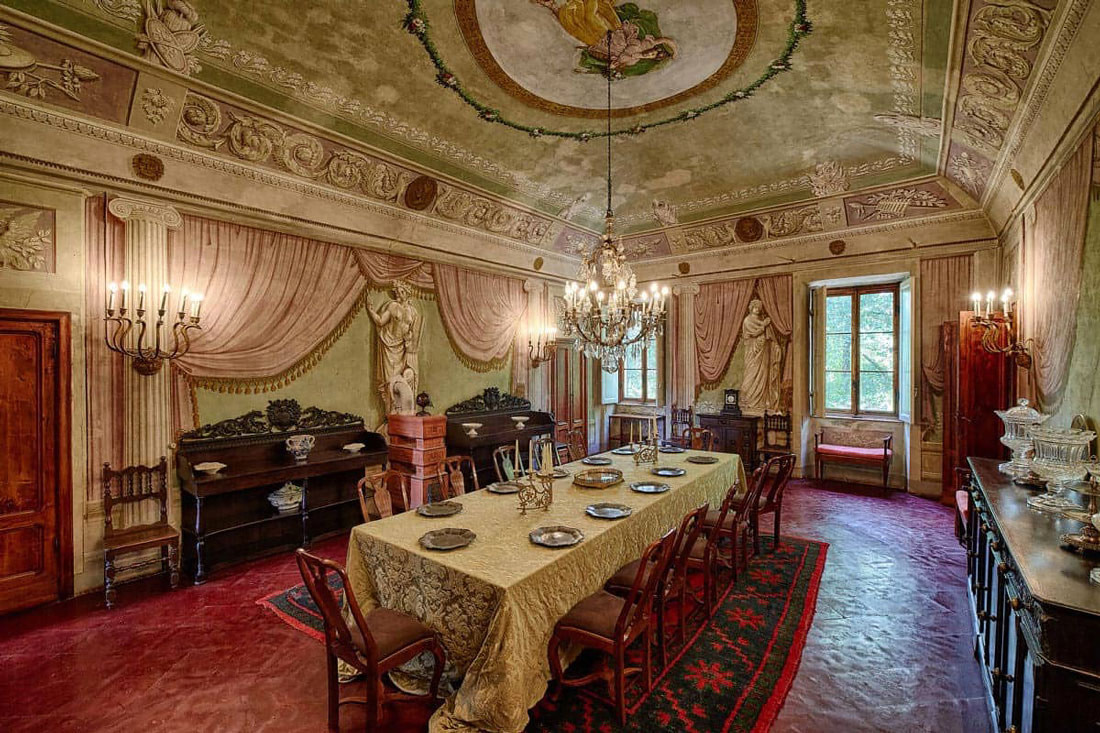 Surrounded by lush woods, picturesque vineyards, and centuries-old olive groves, the tiny borgo of Stomennano near Monteriggioni embodies all that is quintessentially Tuscan: old stone farmhouses, dazzling Italian-style gardens, and wine cellars producing superb Chianti Classico.
At the core of this exclusive family estate is a fabulous 17th-century villa decorated with majestic frescoes, romantic fireplaces, and original historic furnishings. Needless to say, couples looking for a dreamy, intimate wedding venue in Tuscany will irremediably fall in love with Stomennano's magical setting and facilities.
Borgo Cisterna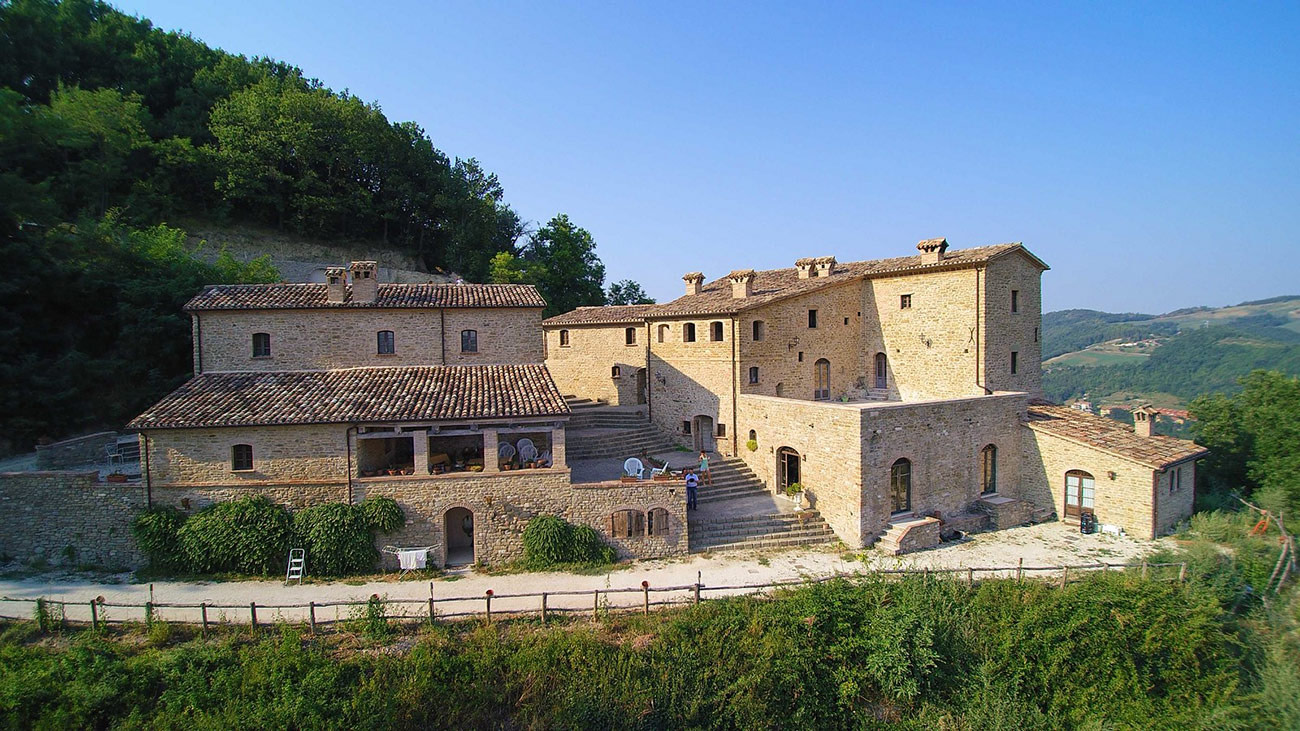 Perched on a rocky promontory overlooking the gentle hills of Montefeltro, Borgo Cisterna invites guests to experience the Tuscany of yesteryear in a fortified medieval village made of typical stone structures and towers. Rooms are comfortable and steeped in old-world charm, and the menu emphasizes regional cooking and local ingredients.
The charismatic agriturismo comes complete with a panoramic swimming pool and offers a host of activities, from cooking classes to horseback riding.
Borgo Storico Seghetti Panichi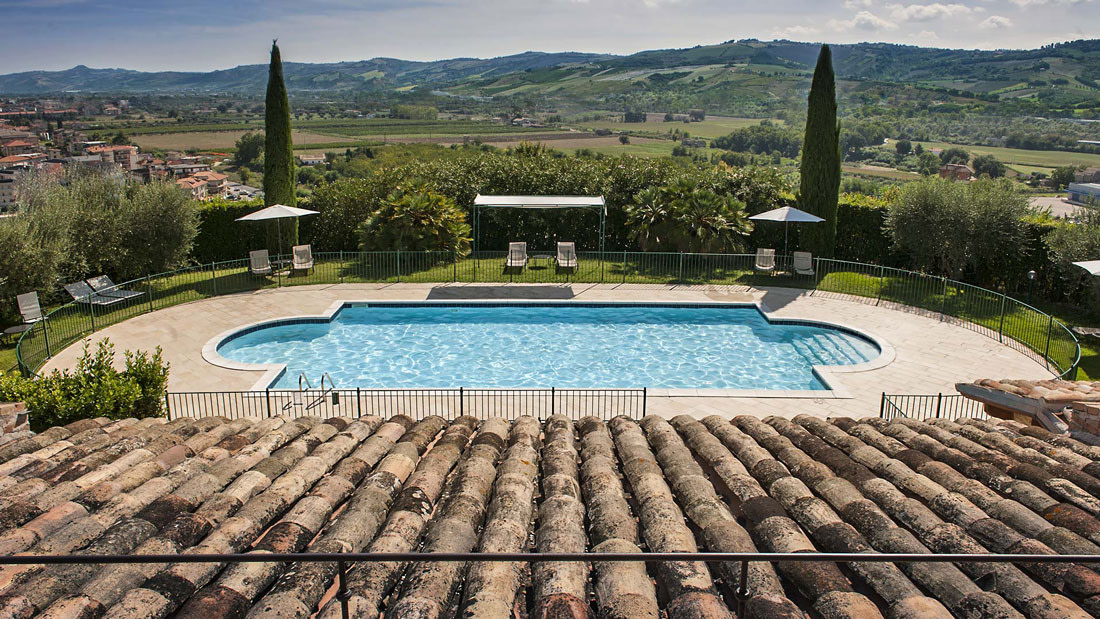 From the striking manicured gardens to the lavishly appointed interiors to the top-notch service, you'll feel like royalty at Borgo Storico Seghetti Panichi. Located in the southern Italian province of Le Marche and run by Princess Giulia Panichi Pignatelli, this medieval fortress converted into a boutique hotel accommodates guests in luxurious themed apartments and richly decorated suites teeming with noble materials, artwork, and collectibles.
Every meal is a unique experience at Ristorante del Borgo, which serves dishes that fuse tradition and originality along with fine Italian wines.
Designed by German landscape architect and botanist Ludwig Winter, the property's 5-hectare historic park – filled with rare plants from around the world – is a real highlight, and so is the tempting swimming pool with its sweeping vistas of the Piceno hills.