This post contains affiliate links, which means we may receive a small commission, at no additional cost to you, if you make a purchase through these links. See our full disclosure here.
An insanely beautiful rugged stretch of coastline winding its way from Salerno to Sorrento, the Amalfi Coast is like nowhere else in the world. Spilling down the hillside to an azure champagne-like sea, its colorful UNESCO-protected villages hemmed by soaring cliffs and intertwined with fragrant lemon groves sparkle like charms on a bracelet.
Steep, narrow lanes zigzagging up and down the stunning vertical landscape offer spine-tingling glimpses of the Mediterranean down below, while tiny, sun-kissed piazzettas beckon you to linger awhile and soak in the ravishing beauty of it all while sipping fresh, ice-cold limoncello.
But the Costiera is much more than just dazzling blue bays, soul-stirring views, and picturesque pastel-hued villages embedded into the cliffs – it's also culture, art, history, and fabulous food, all wrapped up in dolce vita idleness.
Over the decades, illustrious artists, writers, and musicians have found inspiration in the jewel-like towns and villages along the Amalfi Coast; now it's your turn to get lost in the magic of its haunting geography and let yourself be seduced by its irresistible allure.
From famous towns to small, off-the-beaten-path villages, these are the most beautiful places on the Amalfi Coast.
Atrani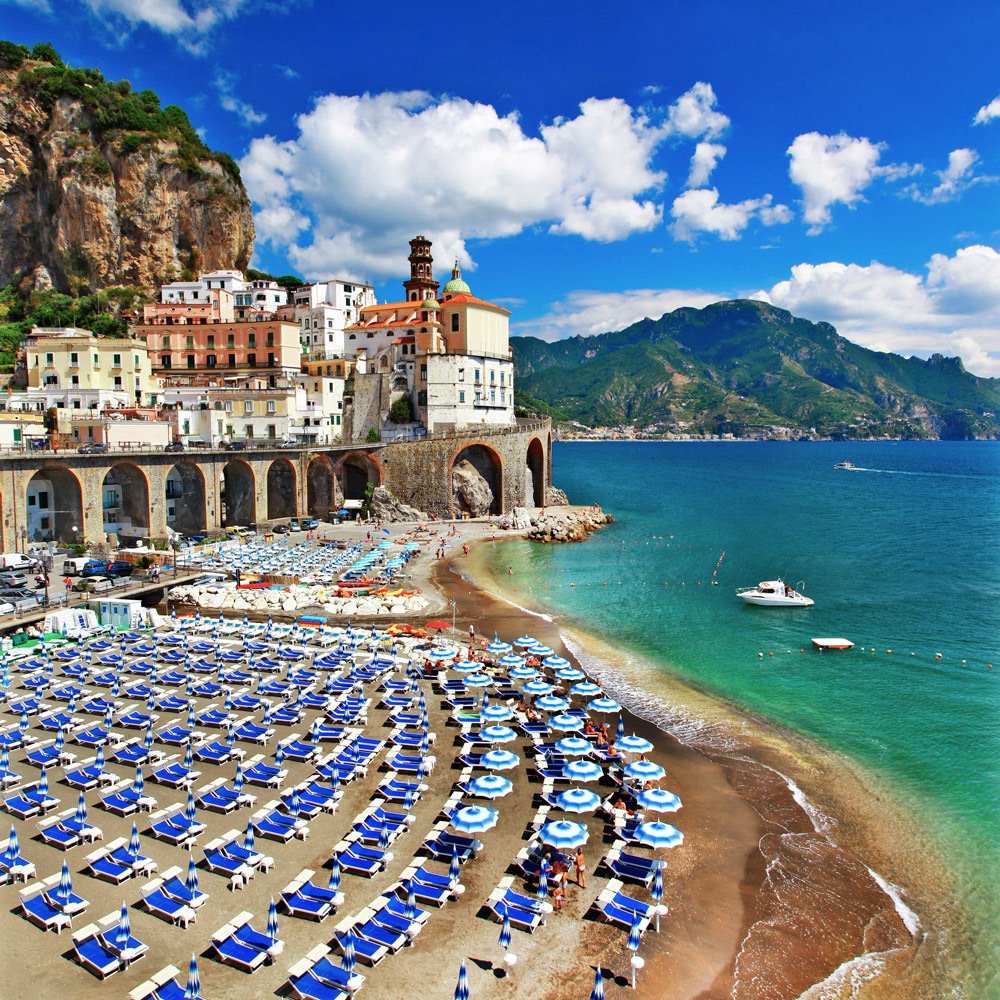 Squeezed between two sheer cliffs overlooking the Tyrrhenian Sea, Atrani is one of the coastline's smallest and most enchanting villages. While just around the corner from Amalfi town, it feels miles away from the swirling buzz nearby, with its friendly locals, intimate trattorias, and quaint fishing hamlet feel.
Village life here revolves around Piazza Umberto I, the pretty central square, and its perfectly preserved medieval architecture – with colorful old houses, flowered balconies, ancient churches, and atmospheric passageways – provides a picturesque backdrop for whatever brings you to Southern Italy.
For a couple of relaxing hours in the warm Italian sunshine, head to Atrani's tiny black sand beach in front of the square, or sit down for an Aperol Spritz and a delicious alfresco seafood lunch at one of the sidewalk cafés.
Where to stay in Atrani: With its own mosaic-lined wellness center, cinema-themed rooms, and romantic terrace overlooking the beach, 19th-century Palazzo Ferraioli offers a pleasantly modern respite after a fun-filled day exploring the Amalfi coast.
Amalfi
An exquisitely ornate 9th-century cathedral dominates Amalfi, the coast's main town. In the shadow of its striped marble facade and wide, steep steps, Piazza del Duomo is buzzing with activity. Elsewhere, shops selling handmade paper and limoncello line picturesque cobblestone alleys, and sunny piazzettas entice passersby with buzzing alfresco cafés serving traditional homemade cakes and frothy espressos.
Once the capital of a powerful maritime republic, this lovely port town with a distinctly Moorish feel pairs its historical and cultural treasures with stunning coastal views and an animated beach scene. Lined with colorful sun loungers and umbrellas, the wide and pebbly Marina Grande is the liveliest and most famous beach in the area, while the tiny, secluded cove of Santa Croce has some of the clearest blue waters along the coast.
Situated midway between Sorrento and Salerno, Amalfi town may be touristy, but its glorious setting – between sea and terraced lemon groves – will never cease to seduce.
Where to stay in Amalfi: An elegantly restored 13th-century monastery, Anantara Convento di Amalfi Grand Hotel boasts minimalist rooms facing the aquamarine sea, an infinity pool cut into the rock face, and two stylish restaurants overlooking the Costiera.
Positano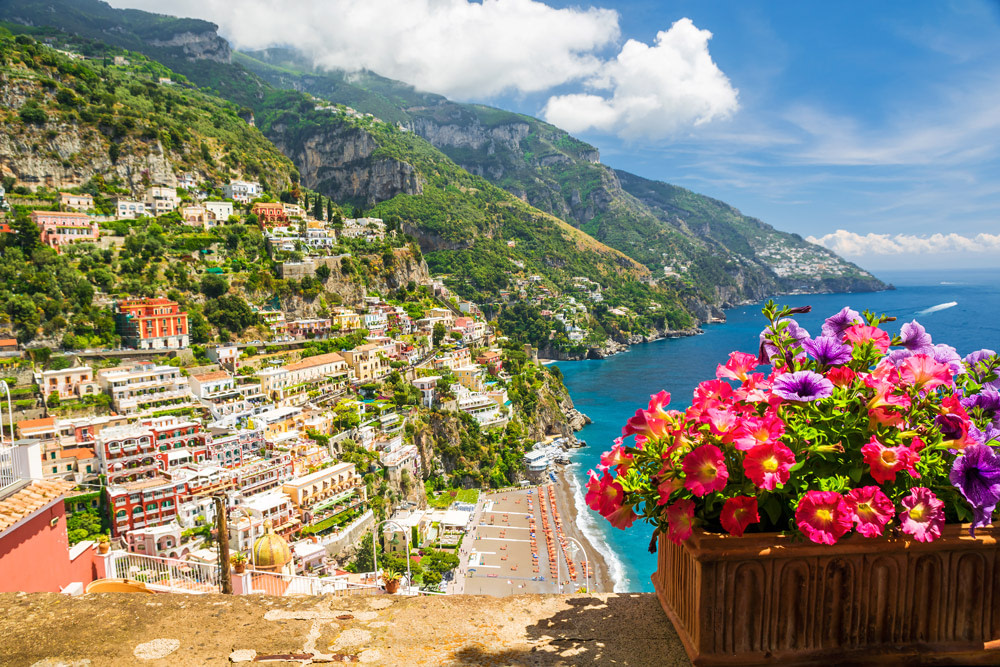 Despite its popularity, Positano remains utterly fascinating. Dangling off the edge of a cliff, midway between Sorrento and Amalfi town, this former sleepy village turned swanky resort lures travelers with its ravishing views and sweet dolce vita atmosphere. This is the coast's most striking and enchanting town, and no amount of tourists can spoil its charm.
Perusing the voguish boutiques or lounging on the beach with a glass of rosé are favorite pastimes in Positano, but the town's real magic lies in its surreally steep topography, with thousands of stairs and tiny vertical streets winding tightly through a clutter of sunny peach, blush pink, and terracotta-colored houses, and eventually down to the shimmering sea.
Half-public, half-private, Positano's main beach (Spiaggia Grande), with its black sand, clear blue Tyrrhenian waters, and tight rows of loungers & umbrellas where beautiful sun worshippers make the most of Italy's glittering sun and dolce far niente, looks like a glamorous 50's postcard come to life.
Where to stay in Positano: For an ultra-chic home away from home, try this intimate guest house tucked away up the steps of Positano. Casa Buonocore's 8 charming rooms are lovingly decorated with ethnic-inspired furnishings, soft pastel fabrics, and Vietri ceramic tiles, and some feature panoramic terraces with views over the town and the Mediterranean sea.
Nerano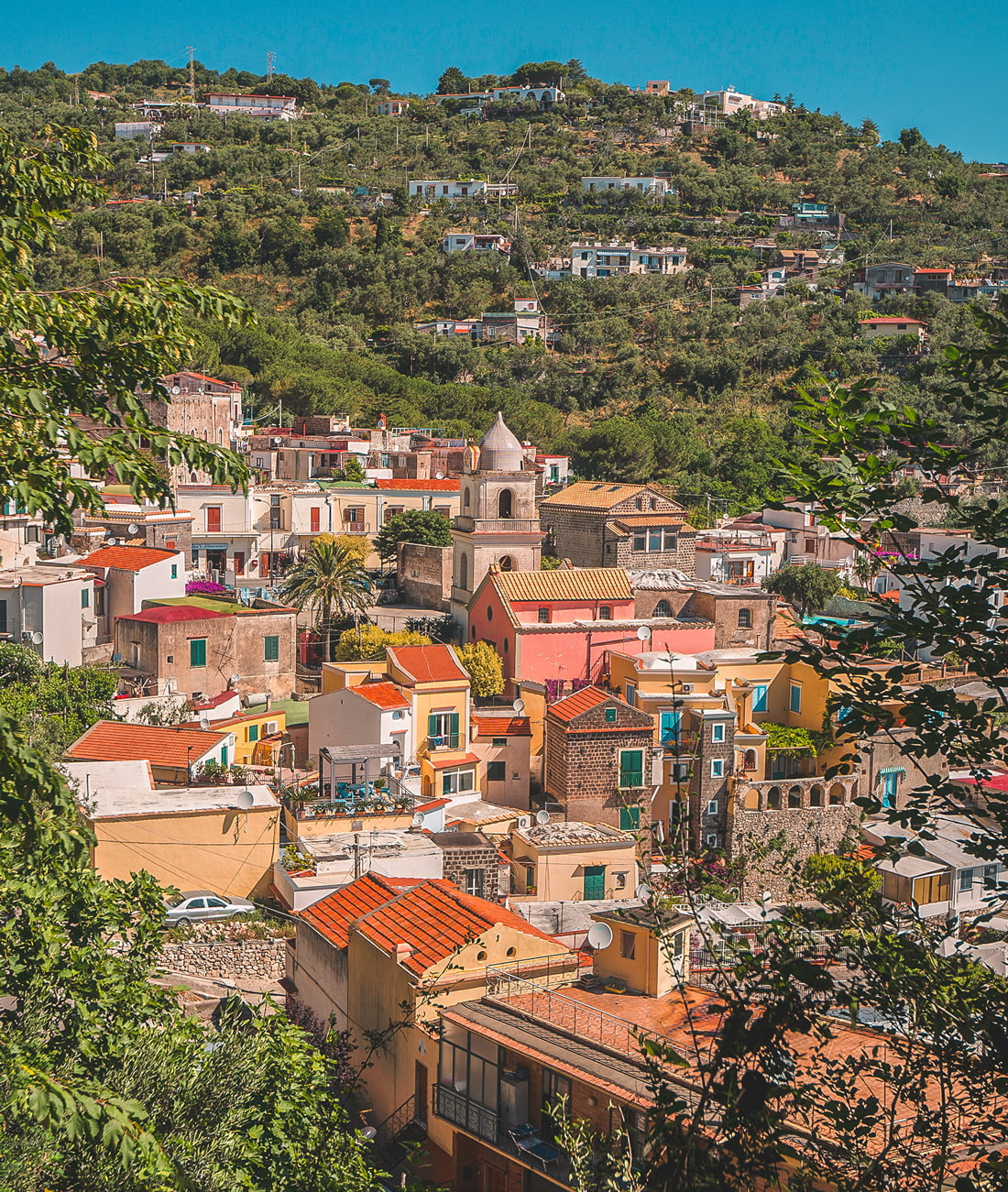 A pretty historic center, lots of natural beauty, and a string of waterfront seafood restaurants make Nerano an idyllic, tranquil alternative to buzzing Amalfi Coast towns like Positano, Atrani, or Praiano.
Located halfway between Sorrento and Amalfi on the tip of the Sorrento Peninsula, this cute fishing village tucked into lush mountains attracts mainly Italians, as well as scuba divers and snorkeling enthusiasts drawn to its rocky seabed and clear waters.
Rustic outdoor terraces and brightly colored umbrellas line the pebbly beach of Marina del Cantone, while the nearby Recommone Bay, accessed via a scenic footpath, is home to picturesque caves and a renowned beach club (Conca del Sogno). Another beautiful, albeit longer, trail takes nature lovers from Nerano's main square to Baia di Ieranto, one of the few protected areas on the Sorrentine Peninsula, where a small, dazzling cove and spectacular views of Capri's famous Faraglioni rocks await.
While in town, don't miss the local specialty, Spaghetti alla Nerano, a delicious pasta dish with fried zucchini, basil, and provolone del Monaco.
Where to stay in Nerano: If renting a private villa on the Amalfi Coast is your dream trip, this contemporary 3-bedroom retreat within walking distance to Marina del Cantone beach will certainly tick every box – think modern, fully equipped interiors, idyllic outdoor spaces, and striking panoramas of the Bay of Nerano.
Ravello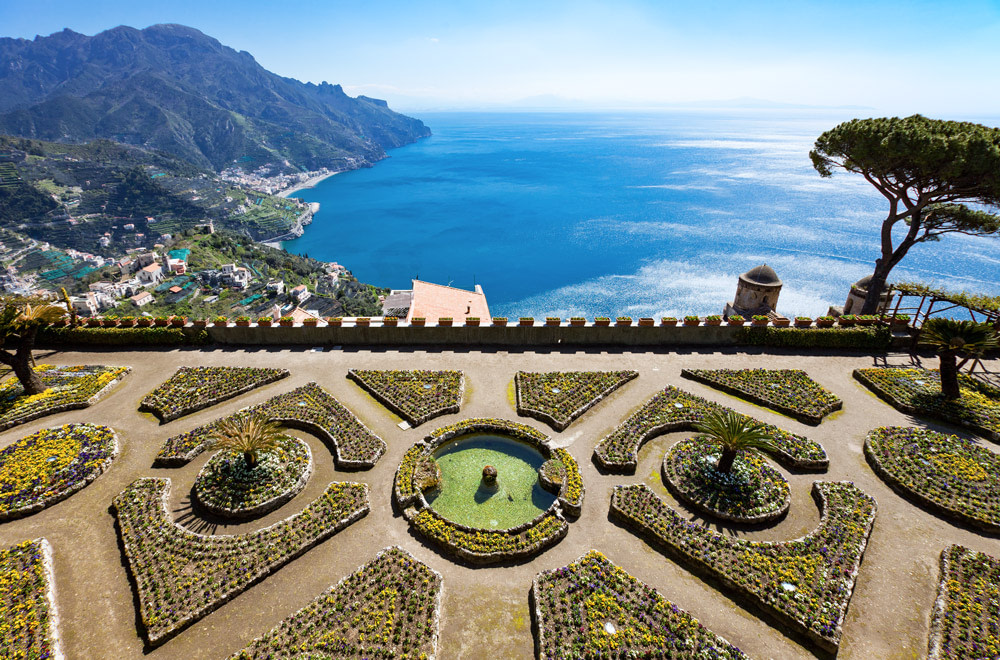 Of all the wonderful towns and villages along the Amalfi Coast, perhaps none is as cultured, refined, and romantic as Ravello. An oasis of calm and beauty nestled high in the hills above the Bay of Salerno, the town is replete with art, marvelous gardens, and heart-stopping views of the dazzling landscape below.
Once a favorite summer retreat for the likes of Jacqueline Kennedy, Giovanni Boccaccio, Richard Wagner, and Greta Garbo, Ravello still attracts the beau monde today with its fabulous hotels, world-class music festivals, and timeless, quiet elegance.
Stroll through the palatial gardens of Villa Cimbrone and admire some of the world's most breathtaking views from its marble busts-lined Terrace of Infinity; catch an open-air concert at stupendous Villa Rufolo, which inspired Wagner to compose Parsifal; and soak up the atmosphere in Piazza del Vescovado, dominated by one of the most beautiful cathedrals along the coast – Duomo di Ravello.
Where to stay in Ravello: Housed in a pink-hued Italianate villa dating back to the 12th century, Palazzo Avino is Ravello's most luxurious hotel – a dreamy retreat with flower-filled gardens hovering above the cinematic Amalfi coastline, Michelin-starred cuisine, and grand, beautiful rooms decked out in fine fabrics and 19th-century antiques.
Sorrento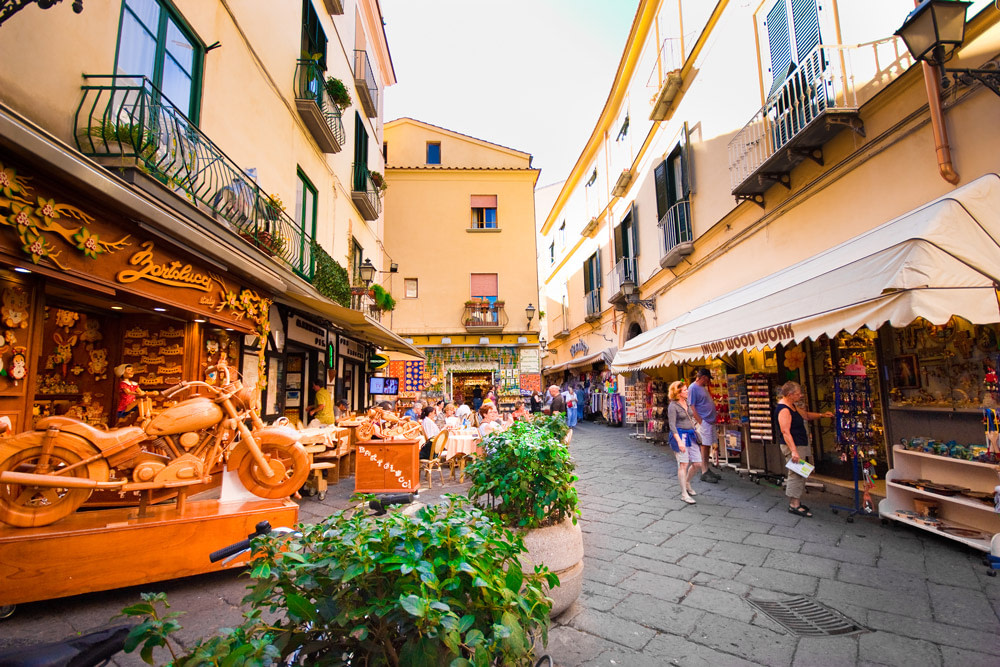 Perched above the Bay of Naples, Sorrento is the gateway to the Amalfi Coast, though not technically part of it. Even so, this beautiful, culturally rich town, which makes a good base for exploring the likes of Positano, Pompeii, and the island of Capri, is worthy of a longer stay all on its own.
Soak up Sorrento's southern Italian charm in the Renaissance/Baroque centro storico – an alluring maze of narrow alleyways and quaint piazzas animated by pretty sidewalk cafés; take a passegiata along Marina Grande and enjoy fresh seafood in one of the many waterfront restaurants; or stop by the romantic Villa Comunale park for the most astonishing views of Mount Vesuvius. And, of course, don't leave town without visiting I Giardini di Cataldo, one of Italy's most esteemed lemon groves.
The city is also home to elegant palazzos, a couple of petite volcanic sand beaches, and oodles of workshops and galleries specializing in handcrafted marquetry.
Where to stay in Sorento: ​The Gulf of Naples creates the perfect backdrop for a stay at Sorrento Dream Resort. A refreshing pool and a smart wellbeing area complement the tastefully appointed rooms, and a complimentary breakfast of delicious homemade treats is served daily on the terrace overlooking the bay.
Minori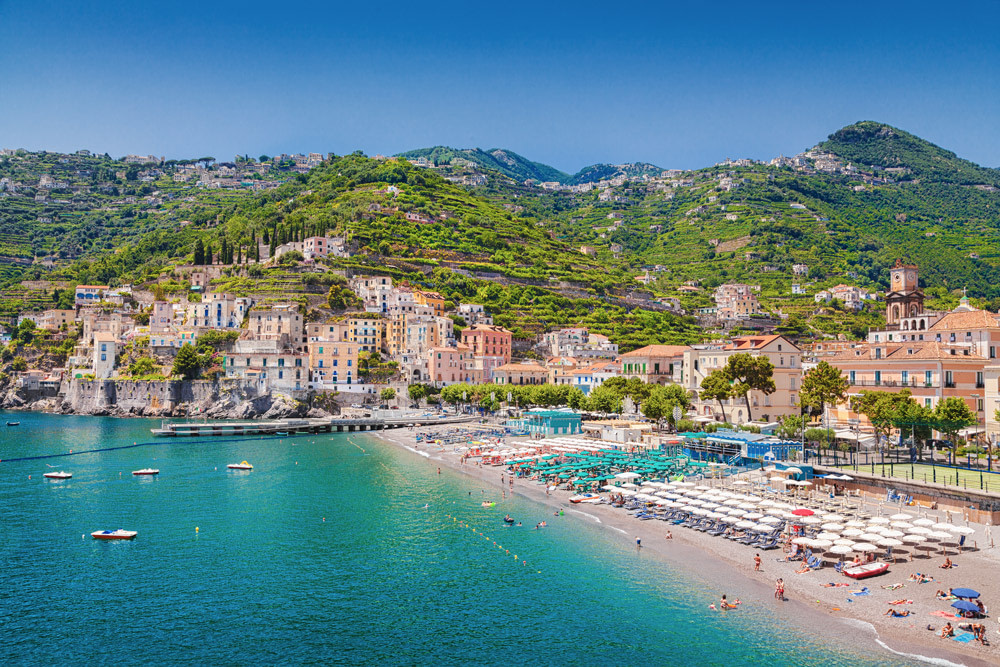 Curving around a small bay right in the heart of the Costiera, Minori is an eye-catching little town with a sunny stretch of sand, a proud pasta-making tradition, and the relics of a Roman villa dating back to the I century A.D.
Its vigorous cultural scene is worth tucking into, but Minori is best enjoyed at a leisurely pace, with time to explore delightful nooks and crannies through its narrow pedestrian streets, breathe in the fresh sea air along the lively seafront promenade, or indulge in a perfect Delizia al Limone at Pasticceria Sal De Riso, arguably the best pastry shop in Campania.
Where to stay in Minori: You can walk to everything from this sunny apartment rental in the heart of Minori. Ready to accommodate 6 guests, the unit comes with a spacious outdoor terrace and three elegant bedrooms.
Maiori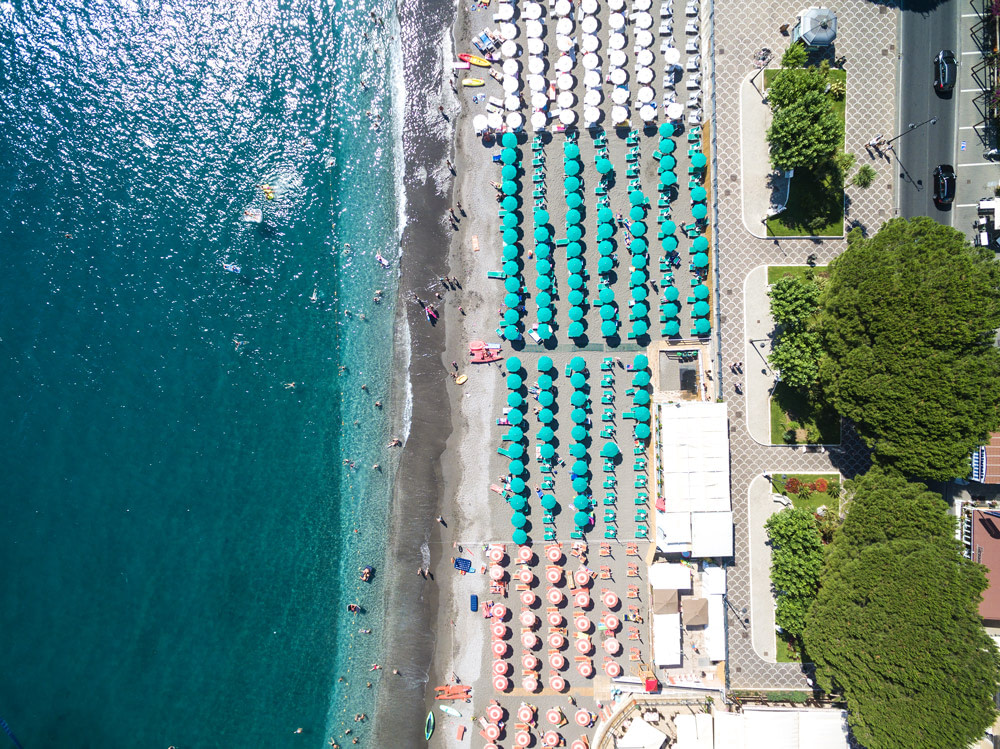 Maiori is an elegant historic town of ancient towers, crumbling castles, and stunning art-filled churches. No wonder Rossellini shot four of his films here.
Its one-km-long stretch of sand lapped by bright blue waters is Amalfi Coast's longest beach, and Lungomare Amendola – the scenic seaside esplanade, provides a perfect place to sip a prosecco and enjoy the freshest catch of the day while taking in the sweeping sea vistas. If shopping is on your radar, Corso Reginna, Maiori's main street, is moments away from the waterfront and offers a delightful selection of boutiques selling ceramics, high-quality Italian shoes, and lots of delicious local produce.
Where to stay in Maiori: Decked out in harmonious Mediterranean shades, luxurious modern finishes, and typical Vietri ceramics, Hotel Club Due Torri makes for a refined stay by the coast. Large windows and private sea-view terraces flood every room with beauty and light, and the onsite restaurant reinterprets local recipes using seasonal, km 0 ingredients.
Cetara
If you thought the only way to get an authentic taste of this Italian paradise was to travel back in time, you couldn't be more wrong. About 15 km from Amalfi, Cetara is a delightfully calm fishing village with a characterful little beach, an old Norman tower, a busy historic harbor, and far more marine supply stores than tourists.
The tumble-down hamlet sits at the foot of Mount Falerzio, surrounded by vineyards and citrus groves, and has a gastronomic reputation worthy of its picturesque setting. Despite its small size, it is one of Italy's main fishing centers, renowned worldwide for its tuna, anchovies, and exclusive colatura di alici (anchovy essence).
Needless to say, lining Cetara's atmospheric streets and marina are a handful of remarkable restaurants serving traditional fish and seafood dishes of outstanding quality.
Where to stay in Cetara: Looking for good value with an even better view? Embedded in the cliffs above its own private beach, Hotel Cetus offers both, with its charming tiled-floor rooms, sea-view terraces, and panoramic seafood restaurant.
Erchie
Tucked in a secluded valley bounded by the Lattari Mountains, Erchie is a tiny fishing hamlet of less than 100 souls. Its laid-back atmosphere, idyllic bays, and twisting, minuscule alleys basked in citrus flavors provide a quaint backdrop to your Amalfi Coast vacation.
The village is part of the municipality of Maiori, and its two adorable, eatery-clad beaches are separated by an imposing 13th-century Norman tower jutting into the sea.
Where to stay in Erchie: For a tranquil yet affordable vacation rental within walking distance of downtown attractions, check out Il Limoneto di Ercole, a collection of cozy rooms and apartments complete with kitchenettes, Wi-Fi, air conditioning, and classic vistas of the Tyrrhenian Sea.
Vietri sul Mare
Visiting Vietri sul Mare is like walking through an open-air museum. Famous worldwide for its stunning handmade ceramics painted in sunny seaside colors, the town's eye-candy centro storico is a treasure trove of colorful boutiques and workshops displaying pottery in every pattern and style you could think of.
However, shopping for ceramics is not the only reason to visit this distinctive seaside town near Salerno. A picturesque seashore, an exquisite majolica domed church, and six charming hilltop hamlets complete the charm of Vietri sul Mare. Additionally, its coastal views are among the best in the area, and its summers are jam-packed with spirited festivals and events.
Where to stay in Vietri sul Mare: What Hotel Vietri Coast lacks in luxury and opulence, it makes up for in location, convenience, and price. Nestled in the center of Vietri Sul Mare, its simple rooms are graced with vistas of the Amalfi Coast, and there's also a private elevator to the historic center.
Praiano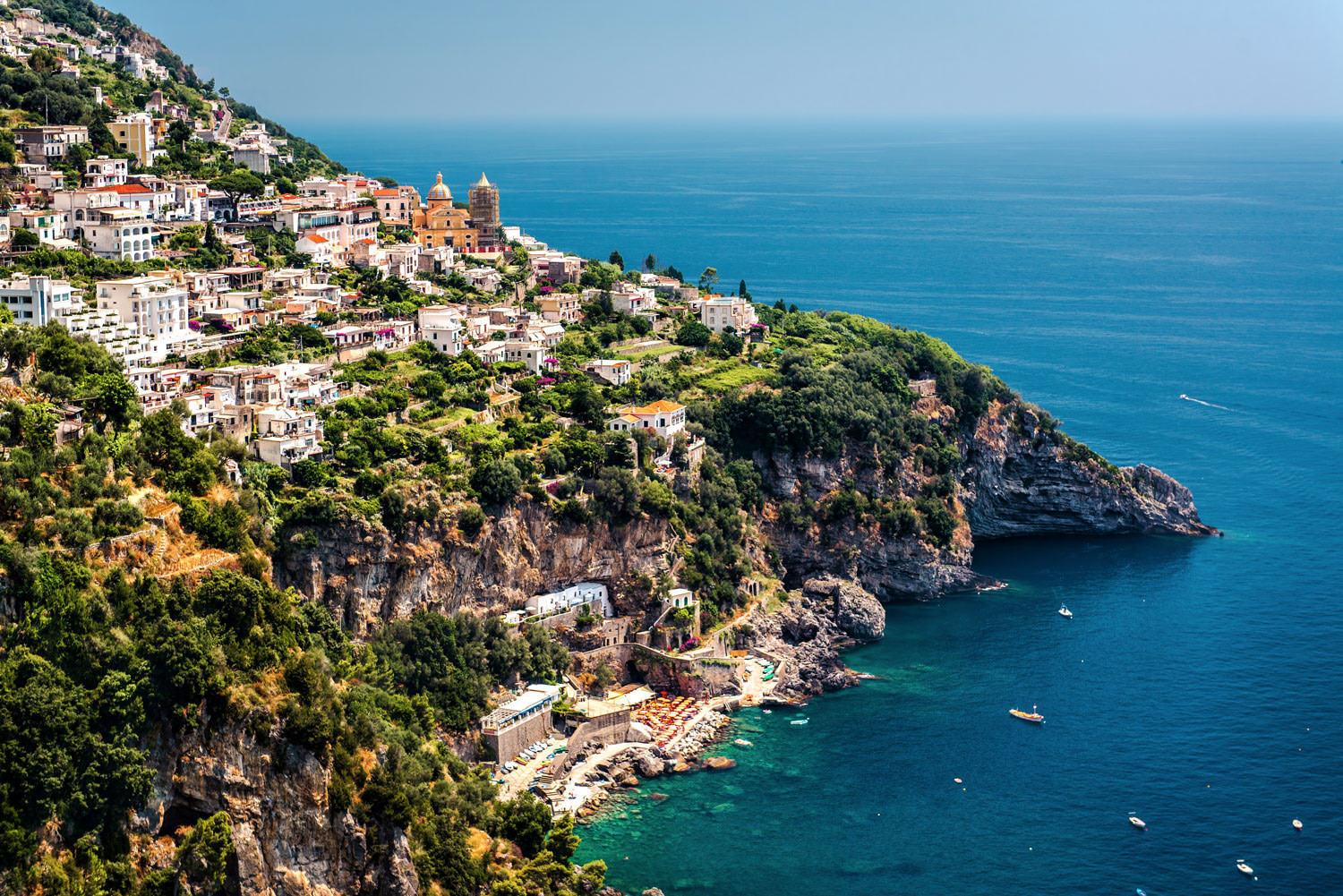 A cascade of whitewashed houses tumbling down verdant slopes to a cobalt sea – this is Praiano, the town with the most dramatic sunsets on the Amalfi Coast.
While away the day lazing on Marina di Praia beach – a lovely crystalline cove wedged between soaring cliffs, and spend the evening dining in the shade of lemon trees at one of the pretty restaurants in town.
Praiano is also an ideal destination for art lovers, who will appreciate Chiesa di San Luca Evangelista's splendid majolica tiled floor and Paolo Sandulli's unique terracotta artworks inside the emblematic Torre a Mare. Otherwise, the town's scenic surroundings are excellent for outdoor exploration, while its strategic position – midway between Positano and Amalfi, makes it an excellent jumping-off point for day trips to neighboring villages and other major points of interest along the coast.
Where to stay in Praiano: Steeped in modern Mediterranean minimalism, this stylish boutique hotel carved in the cliffs of Praiano has gleaming white-on-white rooms fronting the bright blue sea below, along with a lively beach club and a highly regarded rooftop restaurant serving creative Campanian cuisine.
Furore
Known as the paese che non c'è, or the village that doesn't exist, Furore is one of the Amalfi Coast's most unusual destinations – a rugged little settlement scattered across the slopes of the Lattari Mountains, amid olive groves, vineyards, and lemon trees overlooking the iridescent Mediterranean Sea.
Its most spectacular feature is the narrow gorge (Fiordo Di Furore) created by the ancient Schiano river and surrounded by soaring cliffs rising from the sea. Moreover, the town's houses and walls are adorned with colorful murals by local and international artists, earning it the nickname "painted town".
Where to stay in Furore: For an unspoiled slice of the Amalfi Coast, book a stay at La Casa del Melograno, a remote bed & breakfast with quaint air-conditioned rooms and a splendid terrace looking out onto the cerulean sea.
Conca dei Marini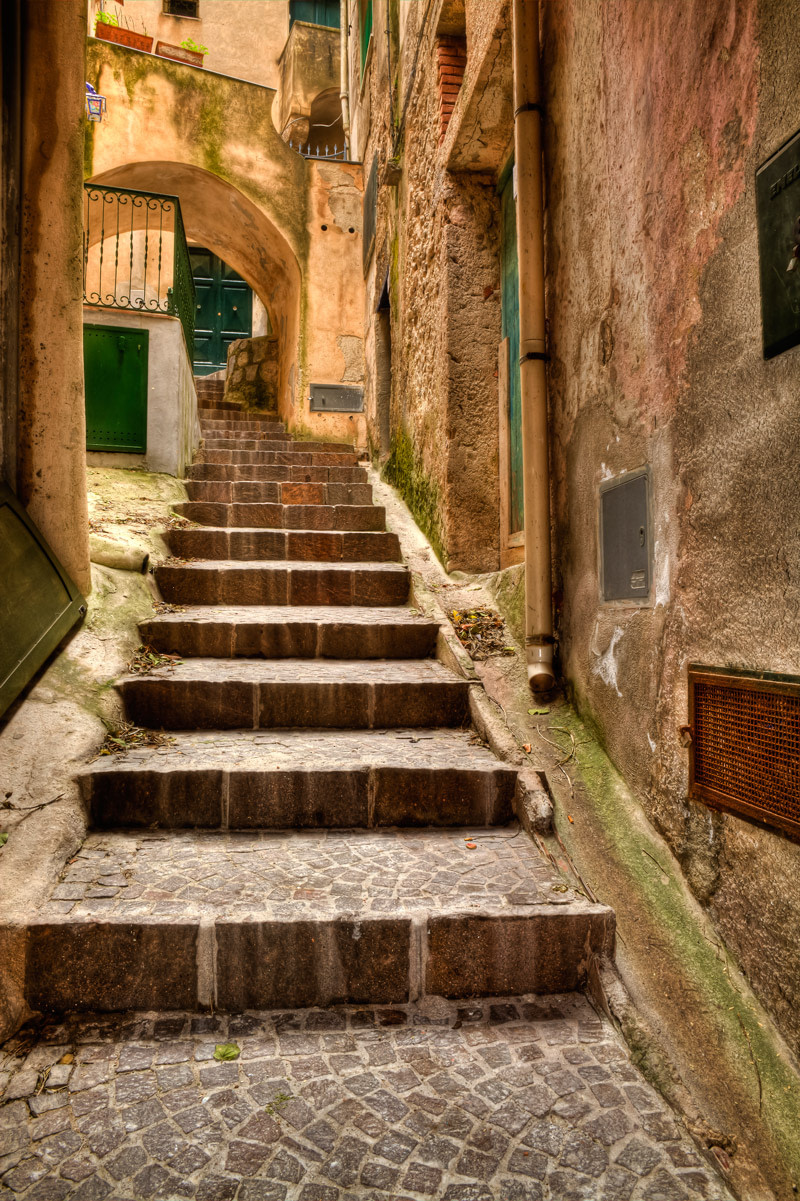 A cluster of old Mediterranean-style houses grouped on a dramatic promontory 400 meters above sea level, Conca dei Marini has long been a romantic destination for the well-heeled in search of a discreet escape. Jacqueline Kennedy, Princess Margaret of England, Caroline of Monaco, and the Queen of Holland have all vacationed here in the past, yet the village still feels surprisingly quiet and traditional.
Its beautifully preserved Mediterranean architecture, with Moorish and Greek influences, recalls the town's past, and the beach – a picture-perfect patch of pebbles crowning one of the coast's most magnificent clear blue coves – is virtually tourists-free.
Conca dei Marini's most arresting sight is Grotta dello Smeraldo (Emerald Grotto), a splendid sea cave famous for its surreal shades of green and underwater ceramic nativity scene, which becomes a pilgrimage site for divers each Christmas.
Where to stay in Conca dei Marni: Jutting out of a cliff above Conca Dei Marini, Borgo Santandrea is the ultimate Dolce Vita escape. Each impeccably designed room is a luxurious oasis of calm amidst beautifully landscaped gardens and the endless blue of the sea and sky, and the three restaurants on site are overseen by Michelin-starred chef Crescenzo Scotti.
Agerola
Also known as Little Switzerland, thanks to its fresh mountain air and scenic lofty setting among the Lattari Mountains, Agerola is a paradise for outdoor lovers.
Though not technically part of Costa Amalfitana, it is the ideal starting point of the famous Path of the Gods (Sentiero degli Dei). This stunning coastal trail takes hikers through forests, towering limestone mountains, and wildflower meadows all the way down to Positano, with some fantastic views en route.
Elsewhere in Agerola, splendid panoramic terraces overlook the enchanting Amalfi Coast and the blue bay of Salerno beyond, ancient churches overflow with Baroque art, and agriturismi (farmhouses) offer hands-on cooking classes featuring unique local products like fior di latte, Provolone del Monaco, Pennata pear, or Limoncella apple.
Where to stay in Agerola: Nestled high above the hustle and bustle of the Almafi Coast, Hotel Le Rocce is the ideal base for those who want to explore the famed Sentiero degli Dei. Between hikes, while away the afternoons with drinks by the pool and take in the fabulous coastal views from the comfort of your suite.