This post contains affiliate links, which means we may receive a small commission, at no additional cost to you, if you make a purchase through these links. See our full disclosure here.
Famed for its white-sand beaches, picturesque Cycladic architecture, and relentless party scene, Mykonos is by far the chicest and most cosmopolitan of the Greek islands. And with its hip boutique hotels, chic local tavernas, and delightful modern-meets-rustic vibe, it's no surprise it attracts such a varied mix of visitors.
From hedonistic backpackers and cruise ship passengers to jetsetters and celebrities, everyone flocks to the sunny Aegean island to soak up some Greek culture and experience the legendary Mykonian nights.
Covering an area of 85.5 square kilometers, Mykonos is one of the smallest of the Cycladic islands, yet it has a wealth of activities to immerse yourself in. You'll find excellent watersports on Kalafatis beach, priceless archaeological sites on nearby Delos, and over 400 churches scattered across the countryside.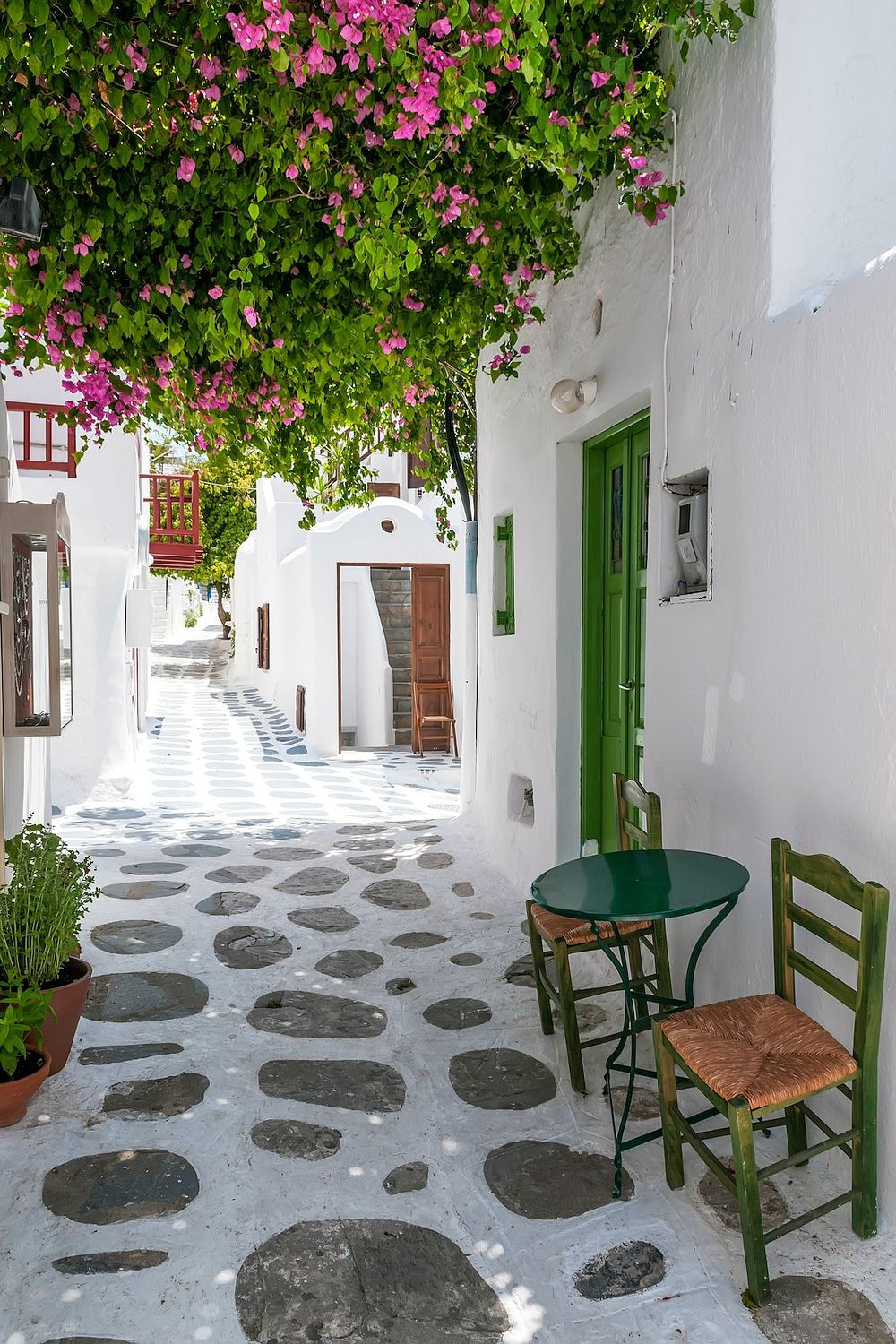 Also known as Chora, Mykonos town is a Cycladic architectural jewel crisscrossed by narrow marble streets lined with fancy boutiques, art galleries, and charming outdoor cafés. Its most prominent feature, however, is the glittering whitewashed houses with their vividly painted doors and windows decked out in bougainvillea. Needless to say, this is where the island's most exquisite shopping resides.
Hopefully, my Mykonos travel guide below will help you discover this fashionable island in all its white and blue glory.
WHERE TO STAY
Hotels in Mykonos are notoriously stylish, most of them featuring uber-cool designer interiors, fashionable bars, and classy gourmet restaurants.
Boheme Mykonos
Steps away from Little Venice and the island's famous white windmills, Boheme Mykonos sports a stylish hilltop pool area with unobstructed Aegean views, an exquisite Mediterranean restaurant, and a sunset bar serving mixologist-prepared cocktails along with inspiring tunes. Blending crisp white Cycladic architecture with delightful boho-chic interiors, the boutique hotel welcomes guests in 20 suites, complete with jazzy décor, dazzling sea vistas, and the latest tech gear.
Casa del Mar Mykonos Seaside Resort
If a stylish Cycladic-inspired villa is more to your taste, you can't go wrong with Casa Del Mar Mykonos Seaside Resort, where 9 gorgeous seafront abodes offer the ultimate in privacy and Greek island sophistication. All units are tastefully decorated in a chic Mykonian color palette and boast sun-kissed terraces overlooking the azure sea. Selected units come with a private butler, Jacuzzis, and turquoise swimming pools.
Kivotos Luxury Boutique Hotel
Mykonos boutique hotels don't come more unique than Kivotos, an art-filled 5-star property with visually stunning interiors, spectacular dining options, and a luxury spa. Decorated with bold artwork, sensual marble bathrooms, and furnished verandas, its glamorous, gleaming-white rooms could please even the ancient Greek gods.
WHERE & WHAT TO EAT
Based on the highly-praised Mediterranean diet, the cuisine of Mykonos is a healthy, delicious blend of fresh fish and seafood, locally-sourced ingredients, and, of course, high-quality olive oil.
The island's most iconic specialties are kopanisti (a spicy, aromatic goat cheese); louza (air-dried pork ham prepared with spices and locally-grown herbs); and amygdalota, a traditional almond sweet. Fresh urchins (achinoi), fish soups (kakavia), and homemade onion pies (kremmidopita) are also extremely popular in Mykonos, and favorite beverages include Greek ouzo and soumada, a non-alcoholic almond drink flavored with rosewater.
From delightfully rustic tavernas to upmarket gourmet restaurants, these are the best places to eat in Mykonos:
Hippie Fish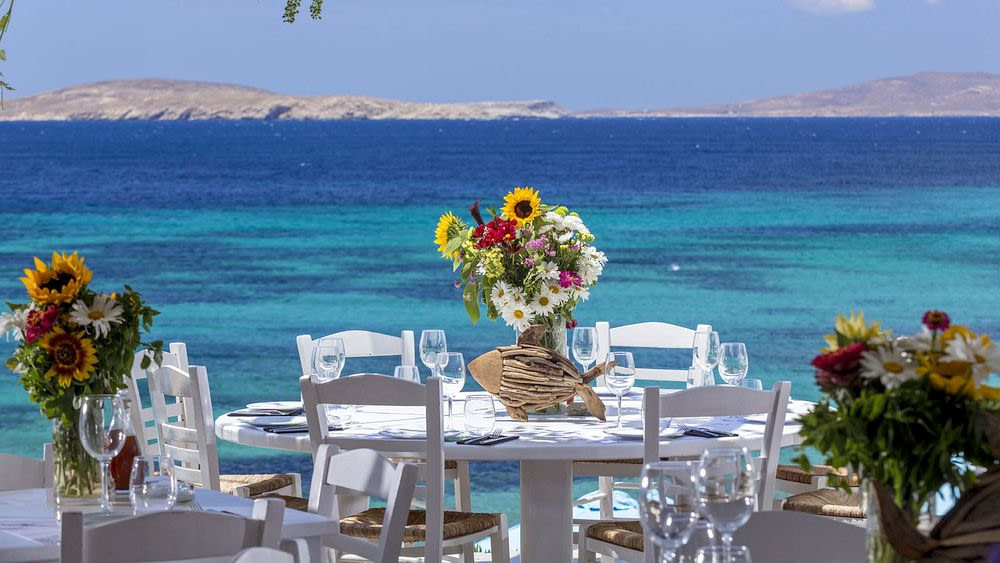 One of Mykonos' most celebrated seafood restaurants, Hippie Fish sits right on the beach of Agios Ioannis, offering glorious Aegean views that stretch all the way to the island of Delos. Just like its hip décor, the cooking combines tradition with innovation and creativity.
Matsuhisa Mykonos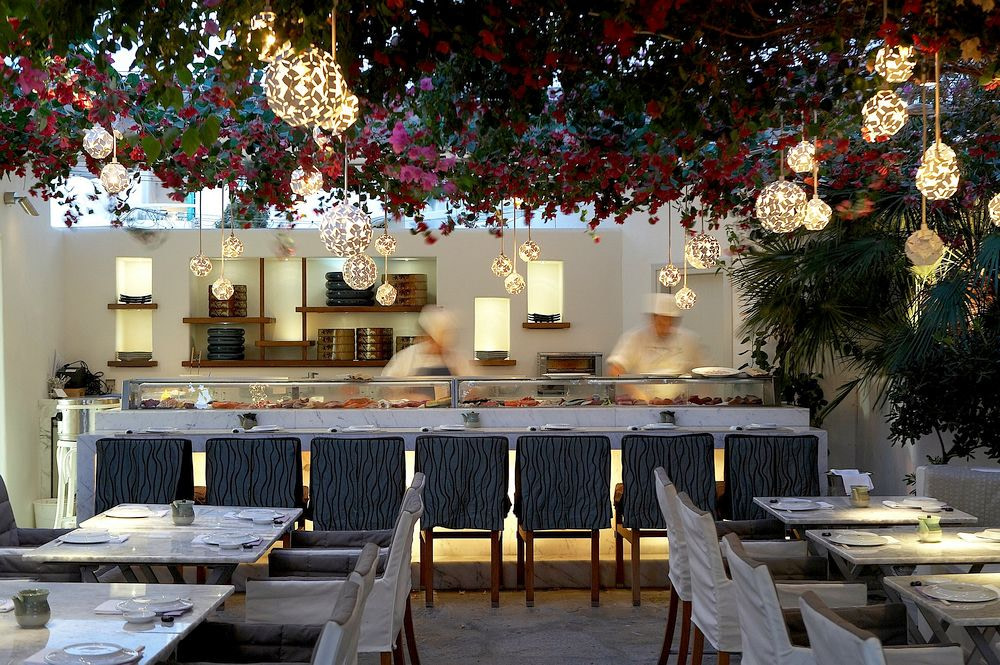 If Japanese fine dining is what you're looking for, head to Matsuhisa Mykonos at the Belvedere Hotel, where Chef Nobu's impeccable creations are served in a fairytale outdoor setting.
Tasos Taverna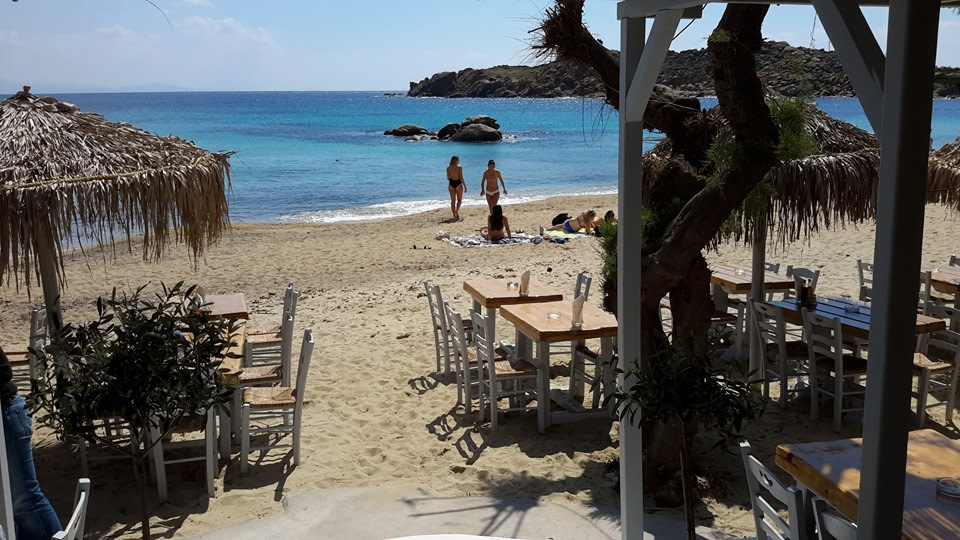 With its lively atmosphere, high-quality Greek cuisine, and enviable beachside location on the popular sands of Paranga, it's no wonder Tasos is one of the island's most sought-after tavernas. Expect lots of fresh seafood dishes and excellent local wine.
WHERE & WHAT TO SHOP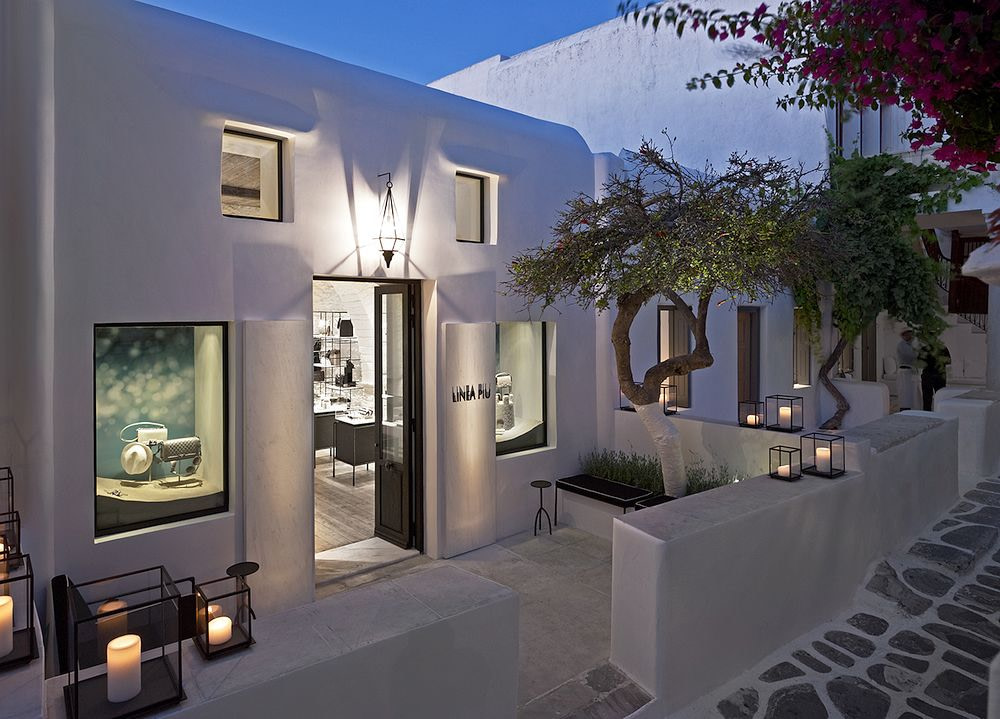 The cute boutiques lining Chora's narrow, whitewashed alleys sell everything, from handmade jewelry and cool (albeit overpriced) souvenirs to colorful art and swanky designer fashion. And the best part is that all of them stay open late into the night so that you don't have to interrupt your beach time to treat yourself to a few hours of retail therapy.
In addition to famous brand names such as Christian Dior, Chopard, or Roberto Cavalli, you'll find plenty of independent boutiques brimming with hand-woven scarves, traditional rugs, and original Byzantine jewelry. Nevertheless, Mykonos is especially famous for its high-quality organic goods and handmade leather sandals, perfect for strolling the island's cobbled streets. Liquor and home deco stores are also in abundance, and so are wonderful art galleries, which open their doors every summer.
A good starting point for your shopping experience in Mykonos is Matoyianni Street, the island's main commercial strip, but Little Venice is worth checking out, too. The first plays host to the illustrious Scala Gallery, the upscale concept store Sotris, and the famous clothing boutique Soho-Soho, whose A-list clientele includes actors Tom Hanks and Sarah Jessica Parker.
Otherwise, Eccentrics by Design on Zouganelis Street has the most stunning collection of Greek sandals; Elixir Timeless Gallery is the place to go for some kick-ass, avant-garde menswear; LINEA PIU Boutique impresses with its stunning design by Kois Associated Architects; and the most exclusive pieces of jewelry can be found at Lalaounis on Polikandrioti Street.
WHERE TO PARTY
Chic beach clubs, legendary sunset bars, glamorous hotel lounges, and world-renowned nightlife institutions – they all find a home in Mykonos, the Aegean's party island.
By day, the bohemian bars and lively clubs lining the sands at Paradise, Super Paradise, and Psarou attract revelers of all kinds with their animated beach parties and joyful atmosphere, while evenings are reserved for magical sunsets and cocktails in Little Venice or live jazz in the trendy music bars of Mykonos town.
The epic Mykonian nights can be spent either dancing to the hottest DJ's tunes under the star-filled sky in the island's impressive open-air clubs or lingering over champagne in ultra-chic hotel bars with sleek design, soft music, and sophisticated ambiance.
Last but not least, Mykonos is one of Europe's most famous gay-friendly destinations, so expect plenty of cool venues hosting live cabaret entertainment and drag shows. Most popular locations include Babylon, JACKIE 'O, and Montparnasse/The Piano Bar.
Caprice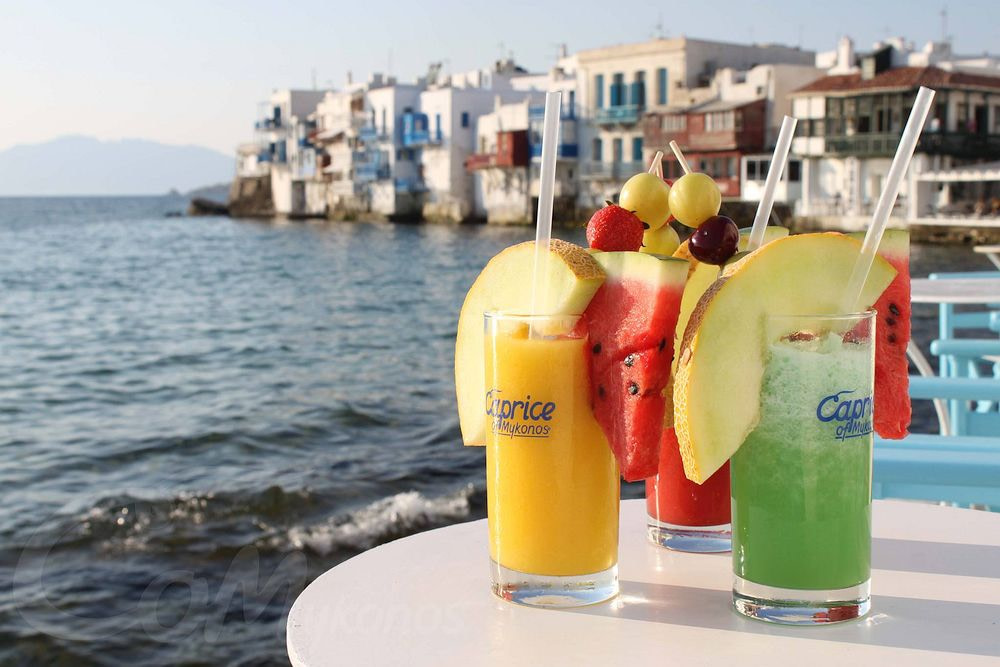 From all the charming sunset bars lining the waterfront in Little Venice, Caprice is no doubt the most talked about. The historic bar has been serving sunset cocktails to enthusiastic Mykonos visitors since the '80s, and nowadays has the same lovely, welcoming atmosphere. The traditional architecture, bohemian décor, and glorious sunsets are a huge part of its charm. So are the views, including the bright blue sea, the island's iconic windmills, and the picturesque houses of Little Venice.
Cavo Paradiso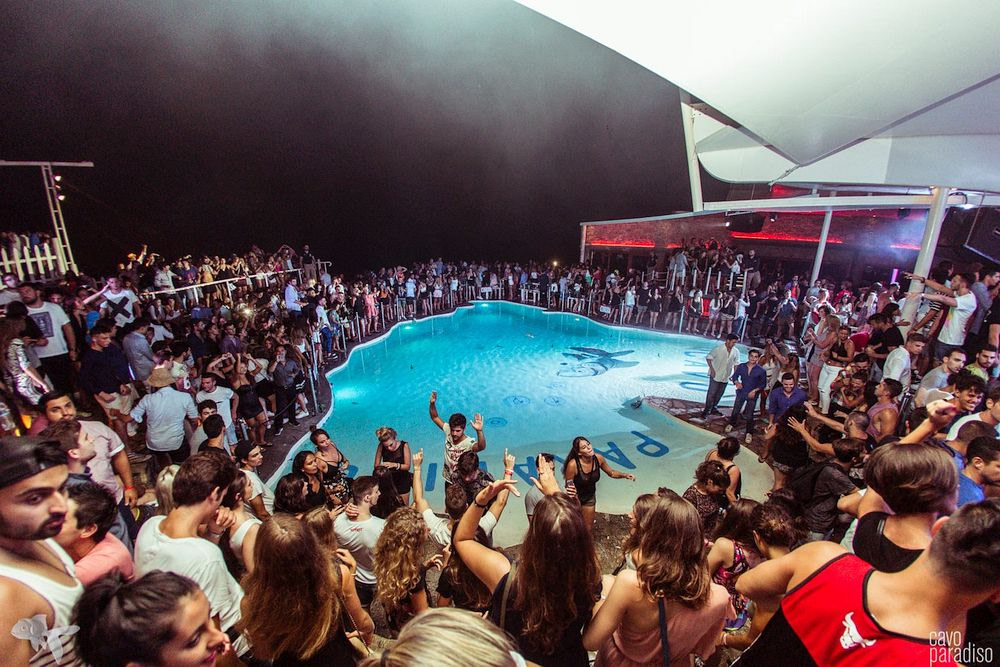 For late-night clubbing, the internationally acclaimed Cavo Paradiso on Paradise Beach it's hard to beat. Regarded as one of Europe's best summer clubs, this hilltop nightlife venue established in 1993 impresses with big-name international DJs, a huge swimming pool, and fab sea views.
Astra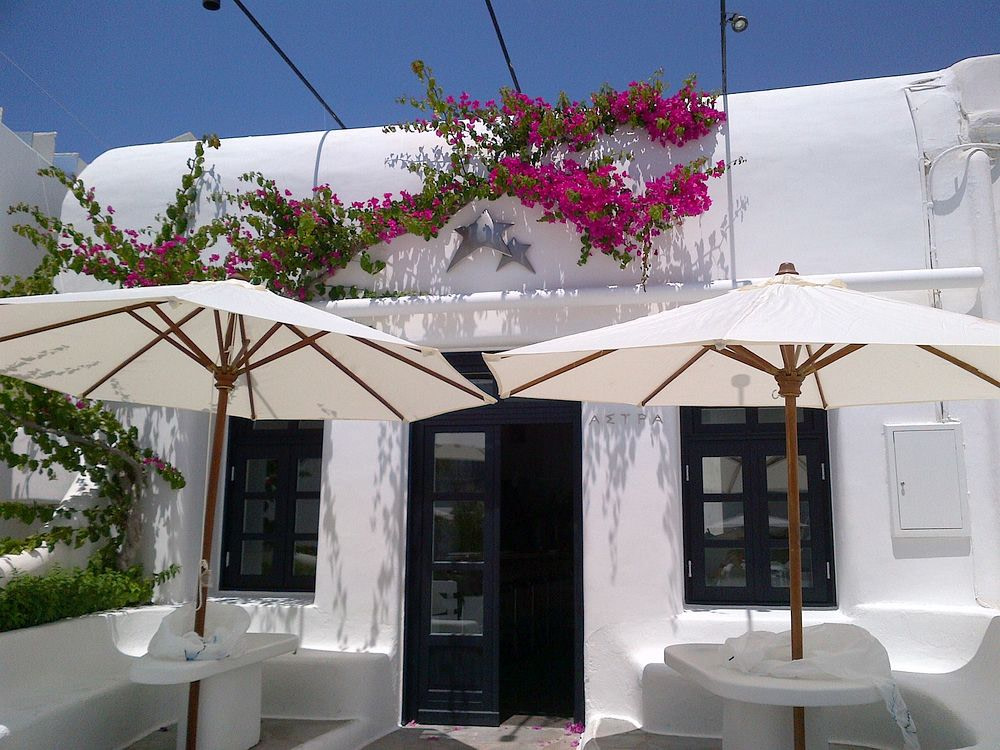 The young and beautiful mingle with well-heeled celebrities and wealthy Athenians at Astra, the island's hippest hangout. A laid-back lounge and terrace bar by evening, the upscale locale morphs into a happening nightclub with live DJ music as the night goes on.
WHAT NOT TO MISS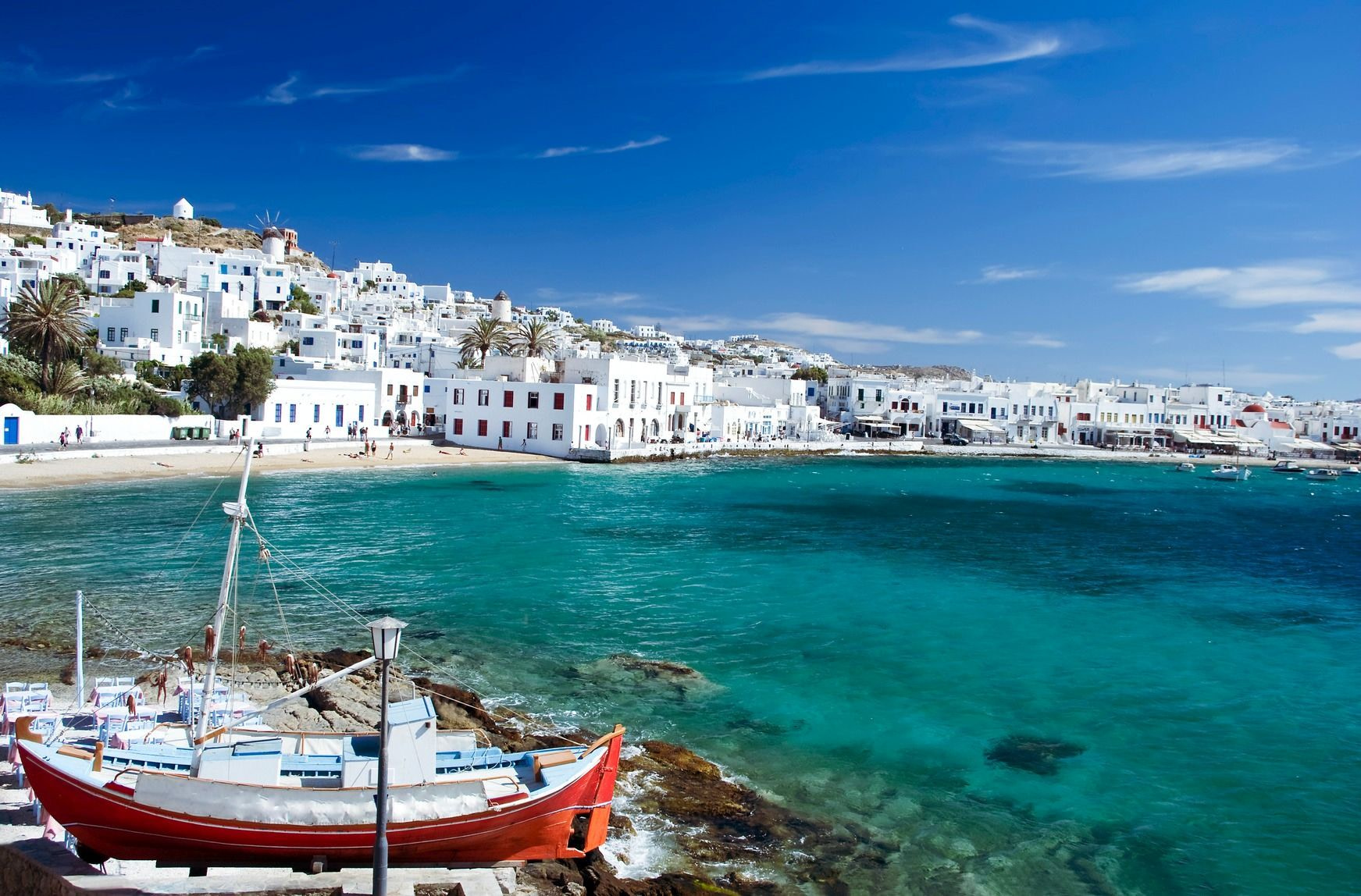 A day trip to nearby Delos is a must when visiting Mykonos, as this small, rocky island is a treasure trove of archaeological finds.
For a welcoming change of scene, head to Cine Manto, a lovely garden and open-air cinema in the heart of Chora.
Nestled by the sea in the Kastro neighborhood of Chora, Panagia Paraportiani is the most famous church in Mykonos. It is worth your time, at least for its striking sea views and gorgeous whitewashed architecture.
Mykonos prides itself on some of the best beaches in the Cyclades, if not Greece. Paradise and Super Paradise beaches have soft sands, azure waters, and a party scene that would put Ibiza to shame. Further options include clothes-optional Paranga, picturesque Elia, as well as Psarou, which has the same powdery sands and clear blue waves, but a more laid-back atmosphere, plus some excellent windsurfing and waterskiing conditions.
Consisting of three distinct historical houses, including the House of Kastro (Chora), the nearby Lena's House, and the Agricultural Museum (next to the Windmills), Mykonos Folk Museum offers a vivid insight into the traditions and culture of the island and its inhabitants.
A stroll through the labyrinthine streets of Mykonos town, a romantic dinner or cocktail in postcard-perfect Little Venice, or watching the sun set over the island from the windmills are what really make a trip to Mykonos complete. But remember, you're here to enjoy the simpler pleasures of the Aegean way of life, so you'd better make every second count.