Looking for the perfect spot to rest and refresh on the most cosmopolitan Greek island? Check out our picks for Mykonos' best designed hotel rooms (some with their own infinity pools and outdoor Jacuzzis) and get ready for an experience that's both soothingly luxurious as well as delightful to the eye.
Paying inspired tribute to the Cycladic landscape and style, these breezy hotel abodes will dazzle your eyes with their wonderful aesthetics and spellbinding Aegean views.
Grand Mystique Suite at Myconian Avaton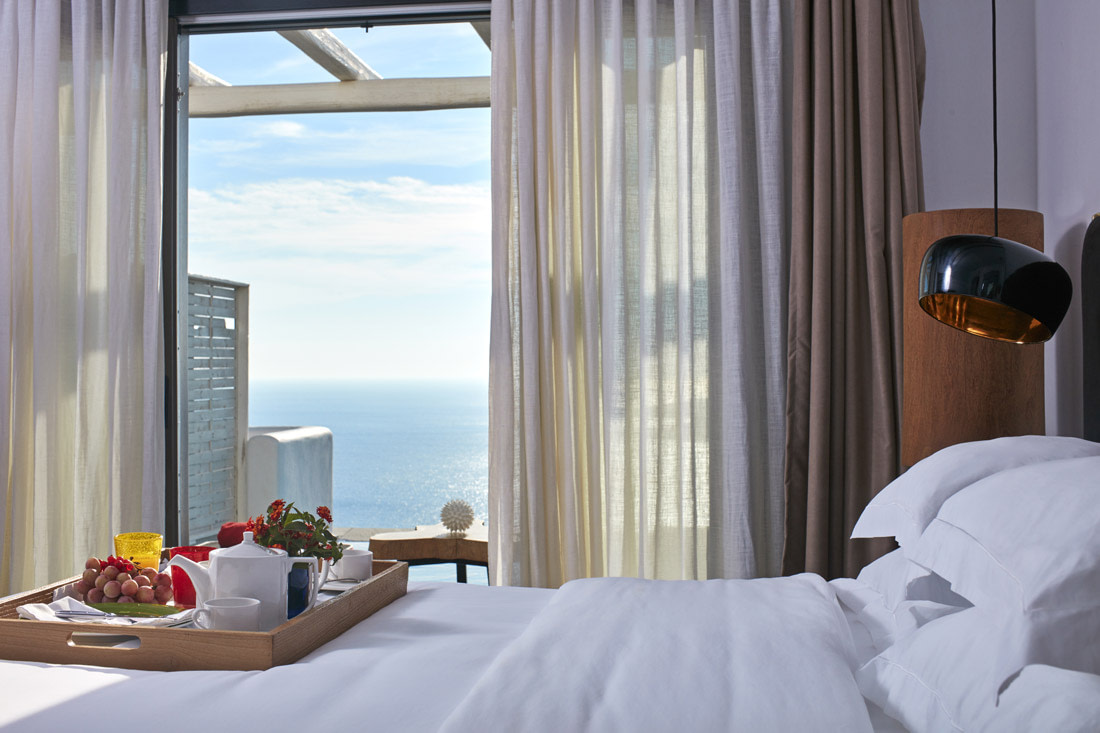 Exquisite decor, stylish amenities, and breathtaking sea panoramas from every angle make the Grand Mystique Suite at Myconian Avaton one of the island's most spectacular dwellings. Add a chic designer bathroom and a fully furnished terrace with private infinity pool melting into the Aegean Sea, and you couldn't wish for a more perfect place to call home while in Mykonos.
Private Pool Deluxe Suite at Kouros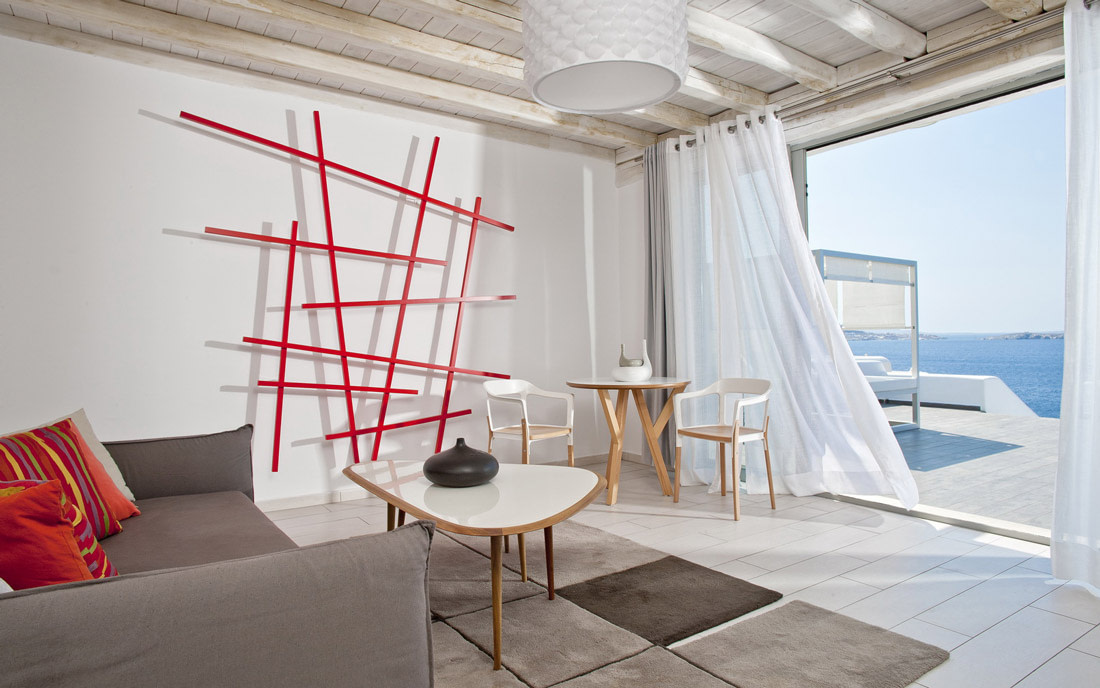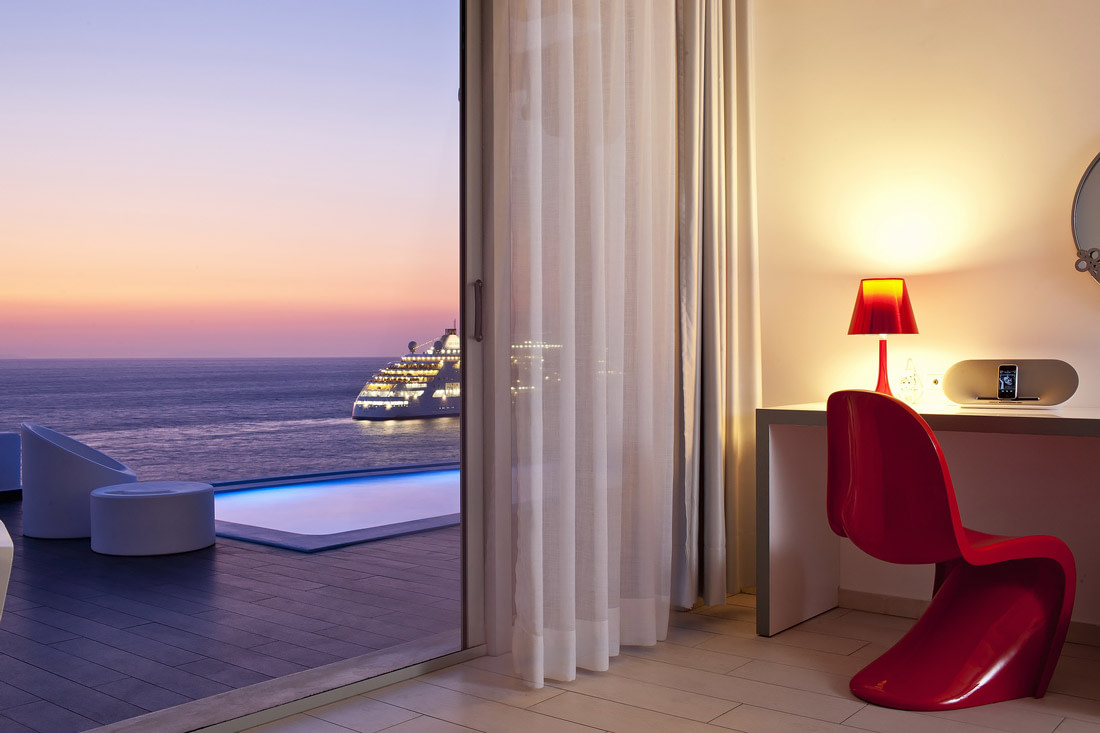 Drenched in contemporary minimalism, Kouros' Private Pool Deluxe Suite is a heaven for design lovers. Fiery red decor elements contrast sharply with the generous whitewashed surfaces evocative of the Cyclades as astonishing blue vistas unfold through glass sliding doors and from the seductive infinity-edge pool outside.
Luxury One Bedroom Maisonette at Almyra Guest Houses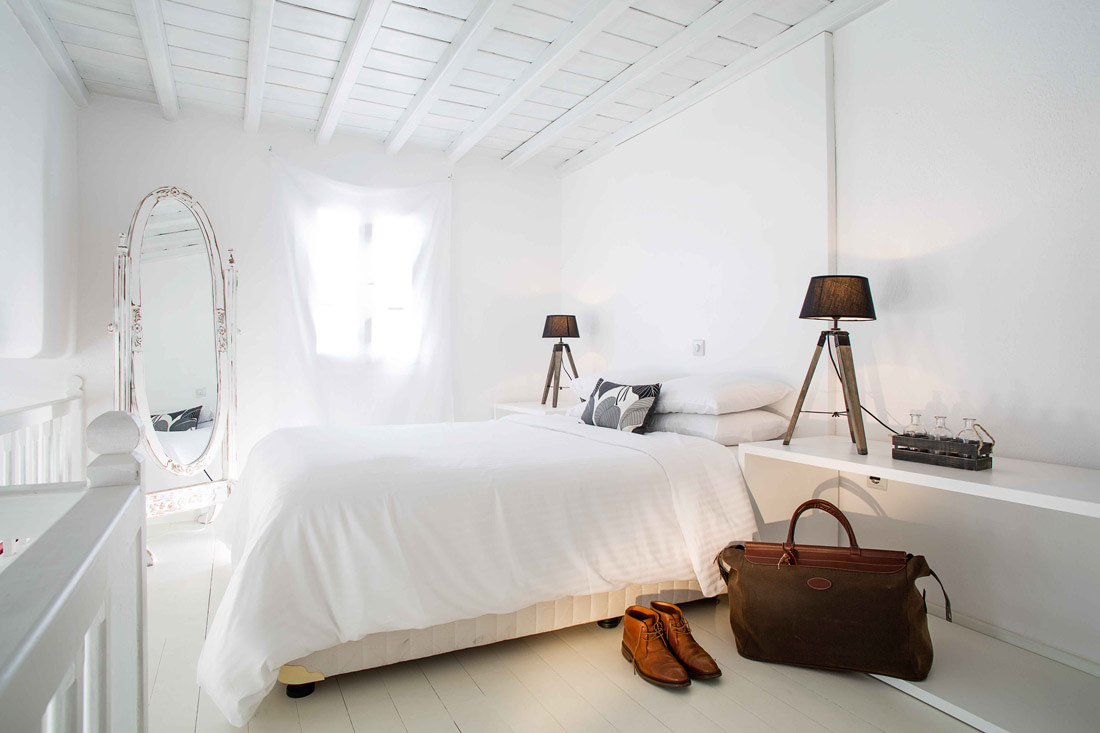 Typical built-in furnishings, quirky antiques, and tons of rustic charm – the maisonette at Almyra Guest Houses is all about bohemian Mykonos chic. The cherry on top is a private veranda with unobstructed, bucolic views reaching out into the twinkling blue sea.
Majestic Beachfront Infinity Pool Villa at Casa del Mar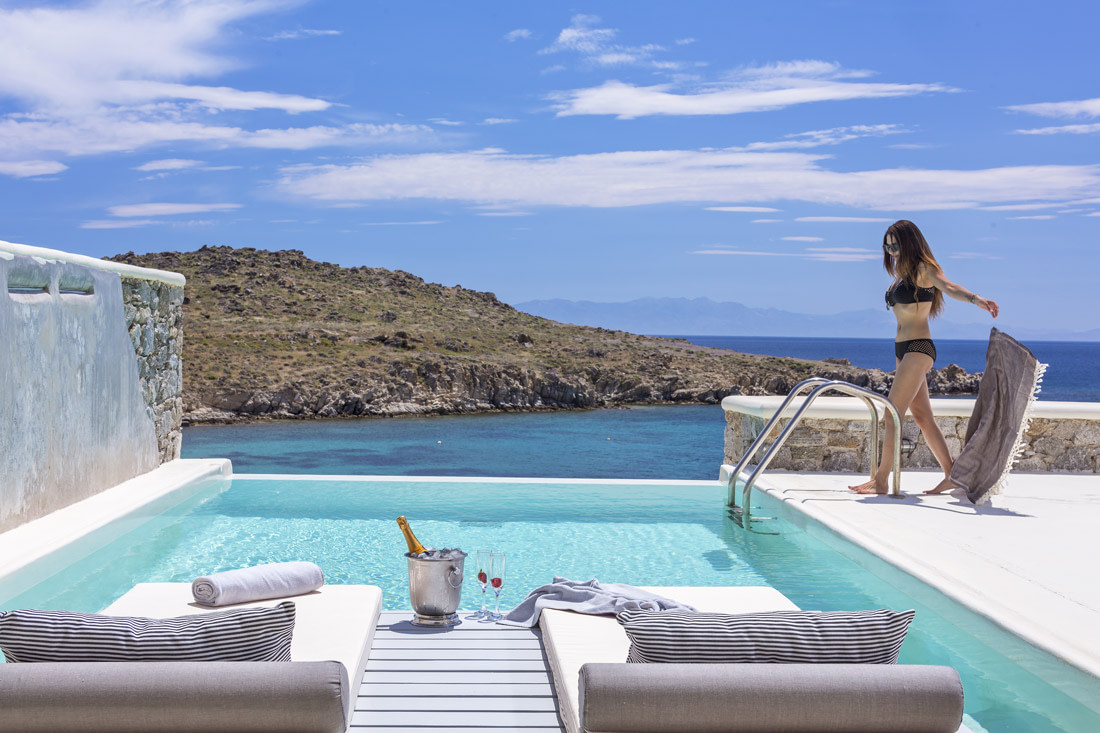 With its delicate interiors and gracious outdoor patio & pool opening onto the Aegean Sea, this pure-white abode at Casa del Mar offers the ultimate in calm, understated luxury.
The villa sleeps 5 guests in sheer comfort, thanks to two pristine ensuite bedrooms, a fully-equipped kitchen, and elegant indoor/outdoor areas for island style dining and entertainment.
Prince Pool Villa at Petasos Beach Resort & Spa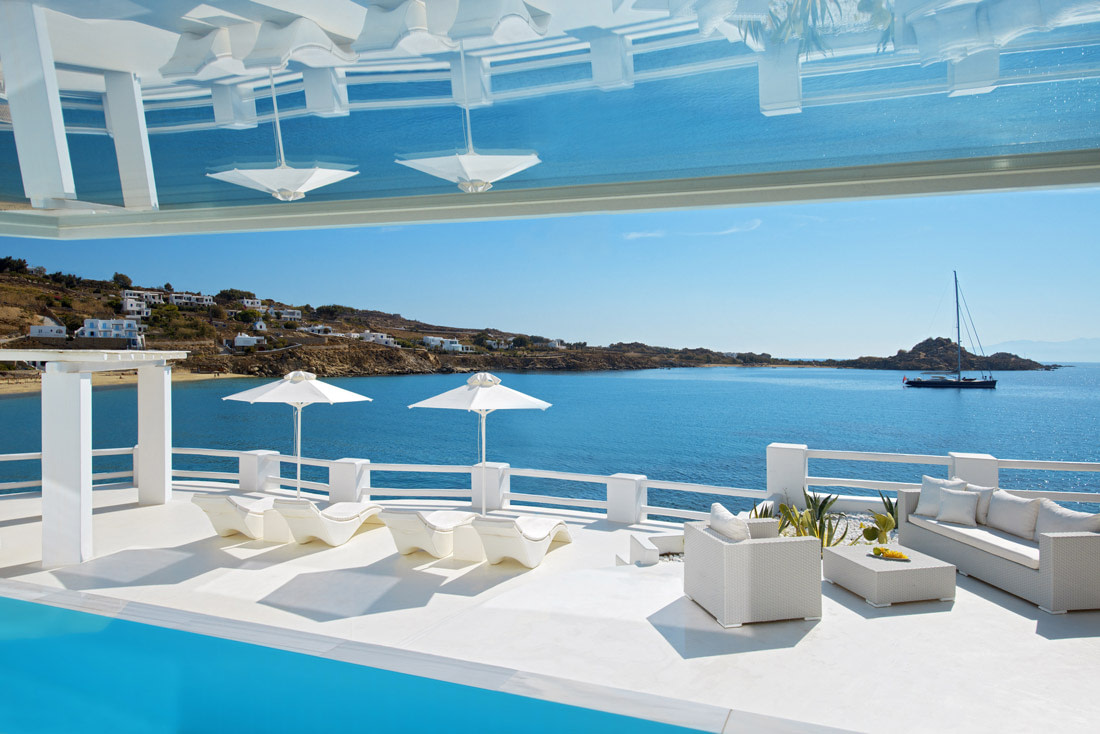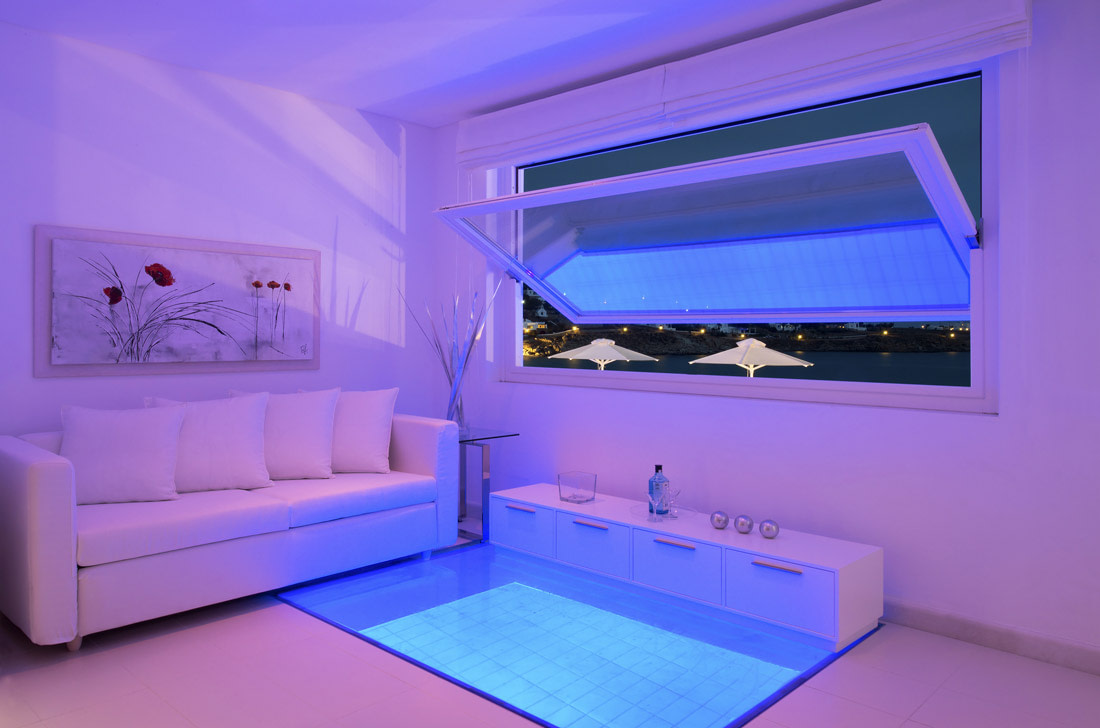 Petasos' striking Prince Pool Villa celebrates the true essence of Mediterranean alfresco living with a 35 sq.m private swimming pool and a sensational roof terrace – both offering epic vistas of the deep blue Aegean Sea. Interiors are all white with sweet color splashes and include stylish bedrooms, large living rooms, and spa-like baths complete with Jacuzzis & shower steam rooms.
Grand Majestic Villa at Mykonian Utopia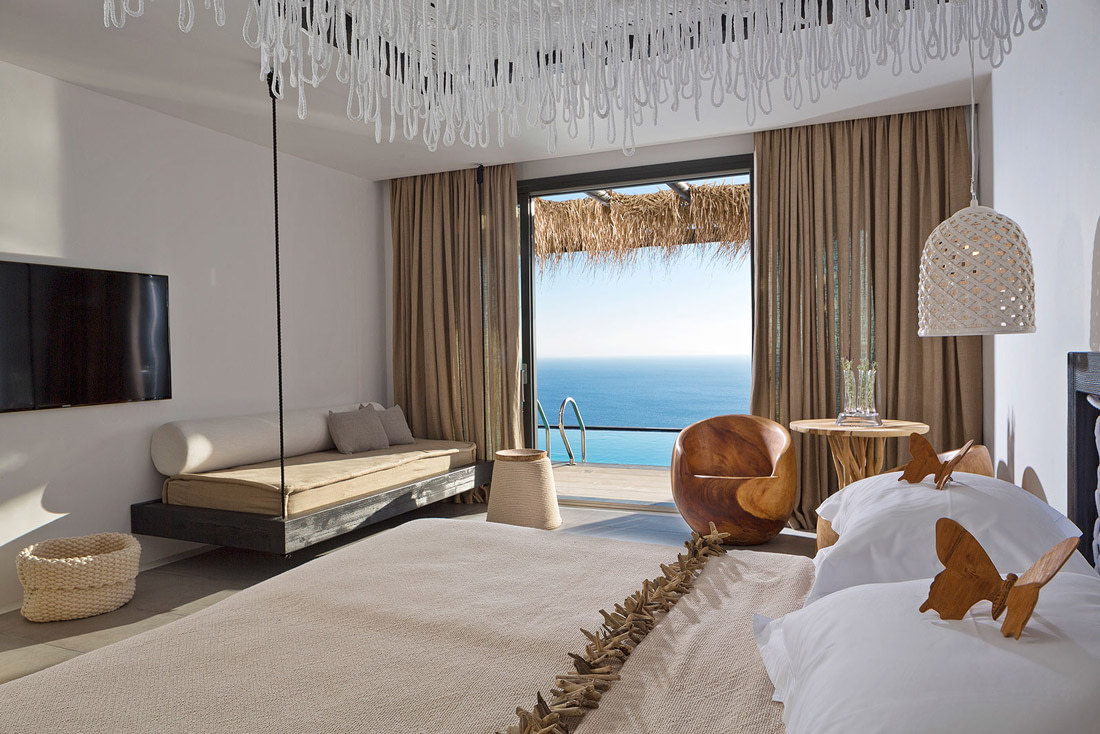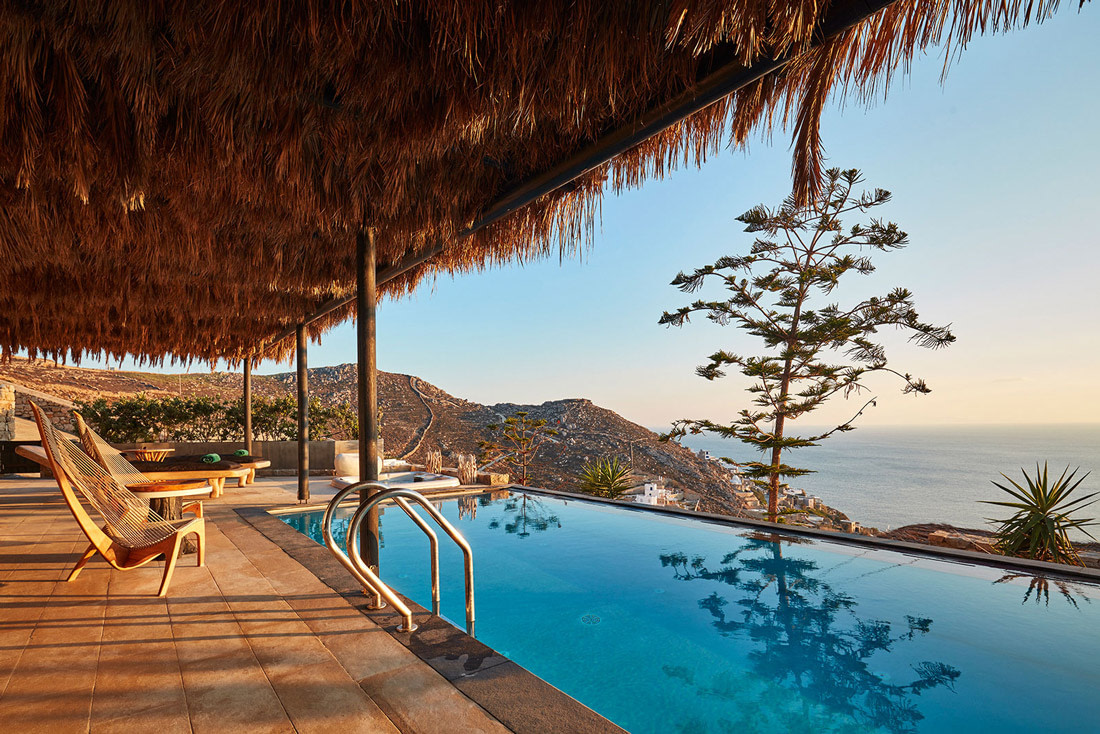 The 5-bedroom Grand Majestic Villa at Mykonian Utopia is a classy, sophisticated sanctuary blending traditional craftsmanship and contemporary design with the irresistible allures of Mykonos. Expect in-room freestanding stone baths, alfresco Jacuzzi, and a gorgeous infinity pool overlooking Elia Beach and the endless blue of the Aegean.
Signature Suite 130 at Kivotos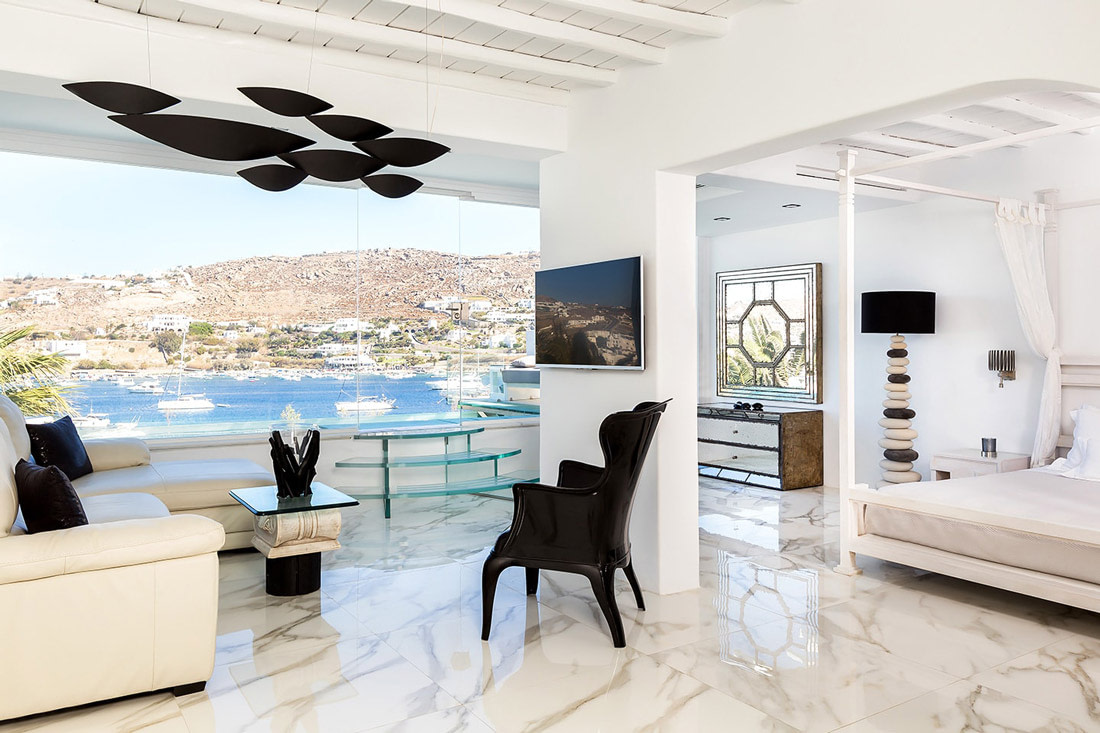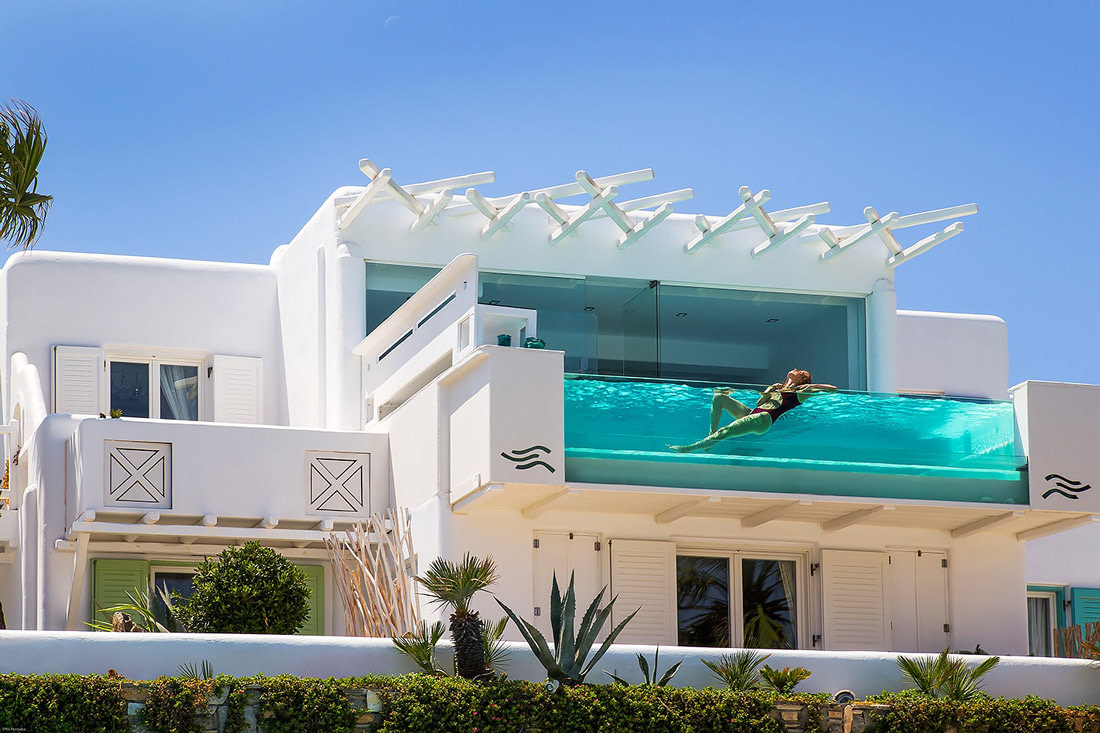 A room unique in Mykonos, the Signature Suite 130 at Kivotos boasts an outstanding private glass pool worthy of a glossy design magazine.
Alfresco delights aside, the handsome light-filled accommodation is scattered with eye-catching artwork, wonderful antique pieces, and cool high-tech touches, providing a soothing, sophisticated environment to rest and recharge.
Cocoon Room at Andronikos Hotel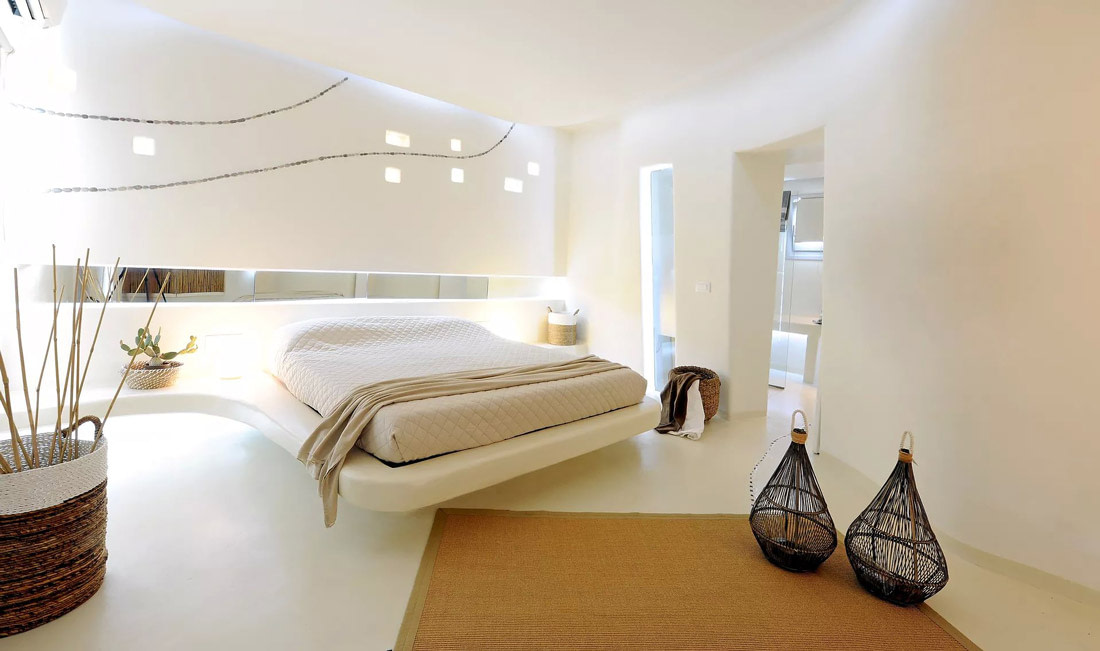 For a sensual take on traditional Cycladic style, head to Andronikos Hotel where each Cocoon Room is a therapeutically minimalist realm of elegance and fluidity. Their unique, slightly futuristic design is all liquid forms and gently curving silhouettes enhanced by warm, natural accents, and each unit comes with an outdoor Jacuzzi starting 2018.
Grand Suite with Private Pool at Mykonos Grand Hotel & Resort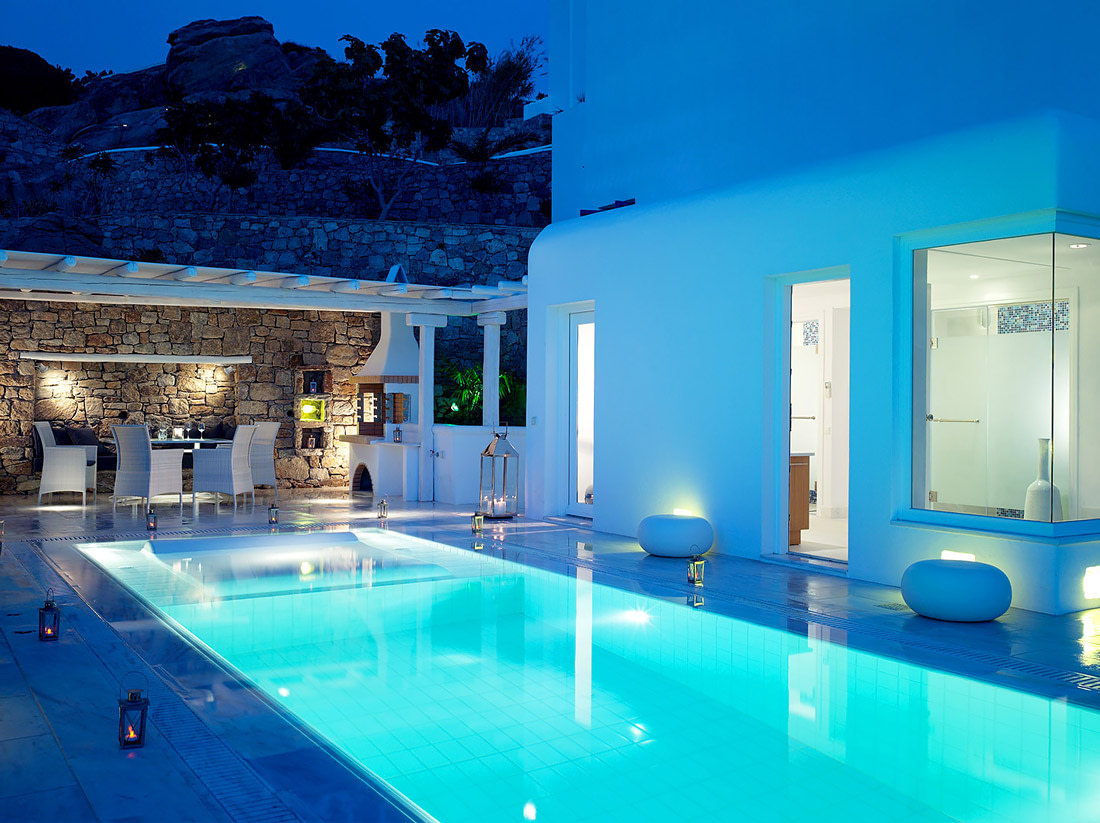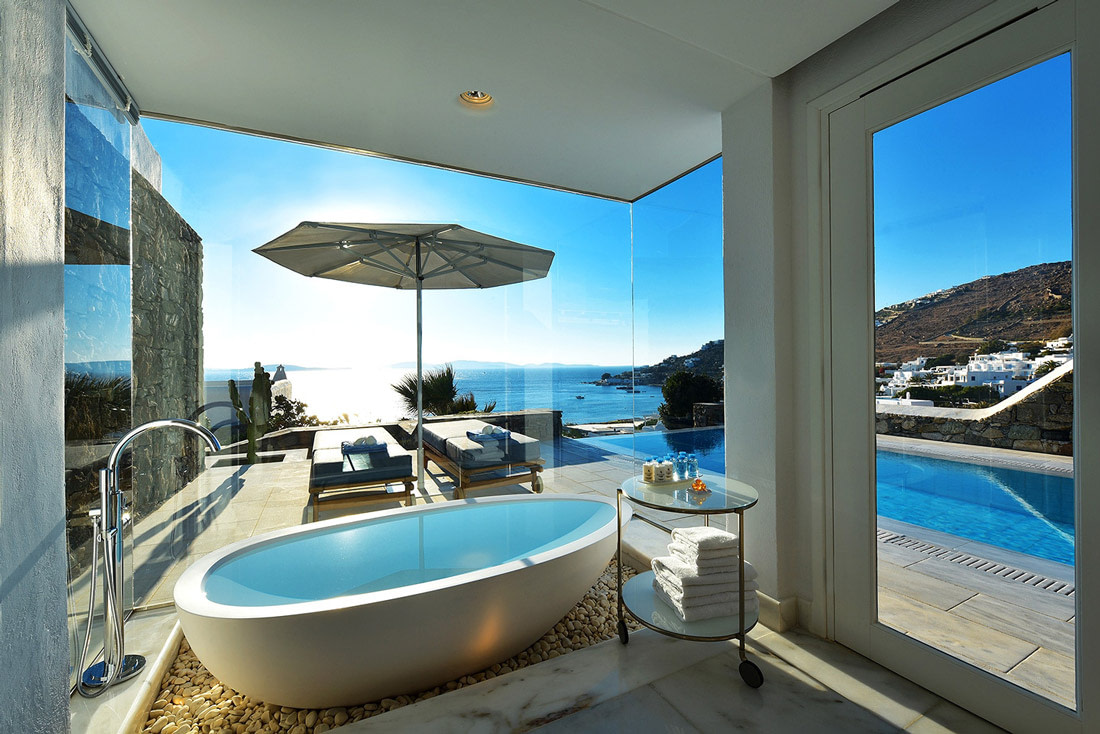 Styled in a Greek-inspired color palette of whites, blues, and neutral earth tones, Mykonos Grand Hotel and Resort's most impressive suite pampers guests with a sleek infinity swimming pool, large furnished terrace, and splendid sea views all the way to Delos island. Inside, Jacuzzi bathtubs, steam cabins, and L'Occitane toiletries set the tone for a truly indulgent stay.
Golden Villa at CAVOTAGOO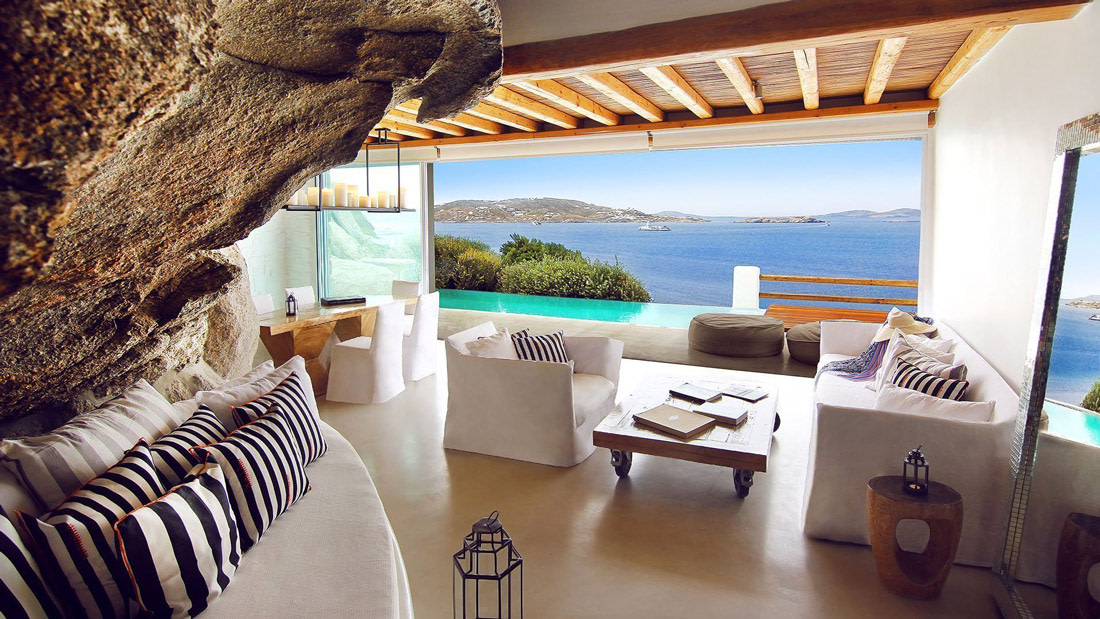 A stylish & secluded infinity pool with a mesmerizing view of the sea is just the beginning of Golden Villa's charms.
Part of CAVOTAGOO – one of the Mykonos most remarkable hotels, this luxurious sanctuary captivates with its stunning interior design mingling elegant indigenous minimalism with cosmopolitan influences. Rooms come with marble bathrooms and indoor Jacuzzi, and the chic living room opens to a timeless island panorama.
Junior Suite with Outdoor Jacuzzi at Kenshō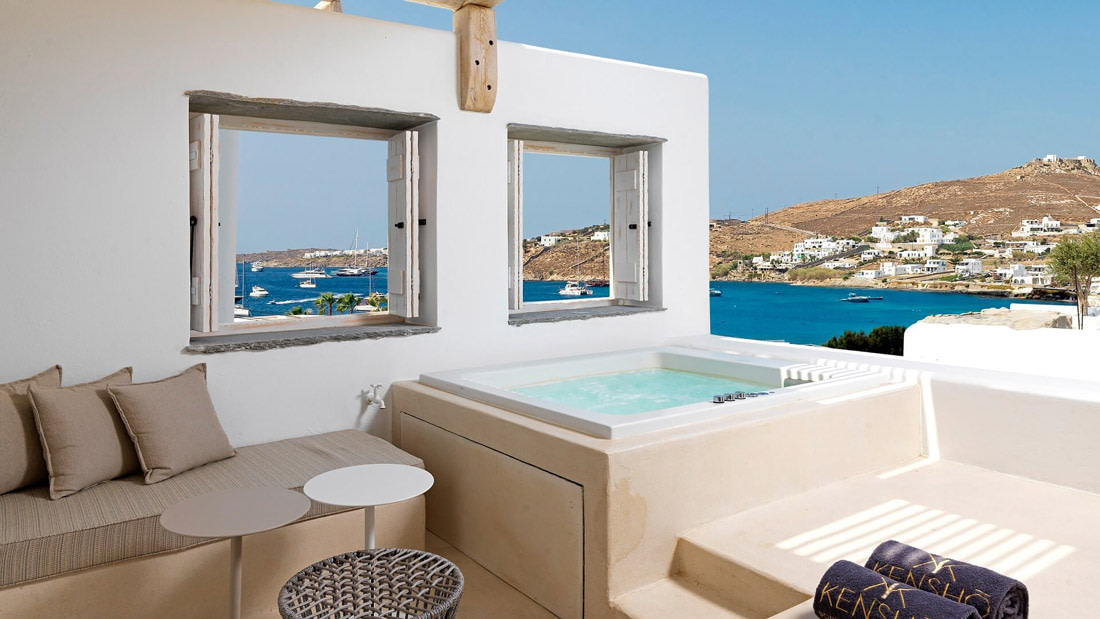 Cycladic chic meets edgy modernism in this fabulous Kenshō suite, furnished with unique designer pieces and innovative technology. Slick fittings and warm woods stand against rough stone & whitewashed walls inside, while a spacious open-air terrace, adorned with hot tub and glorious vistas, entices guests outside.
Famosa Suite at San Giorgio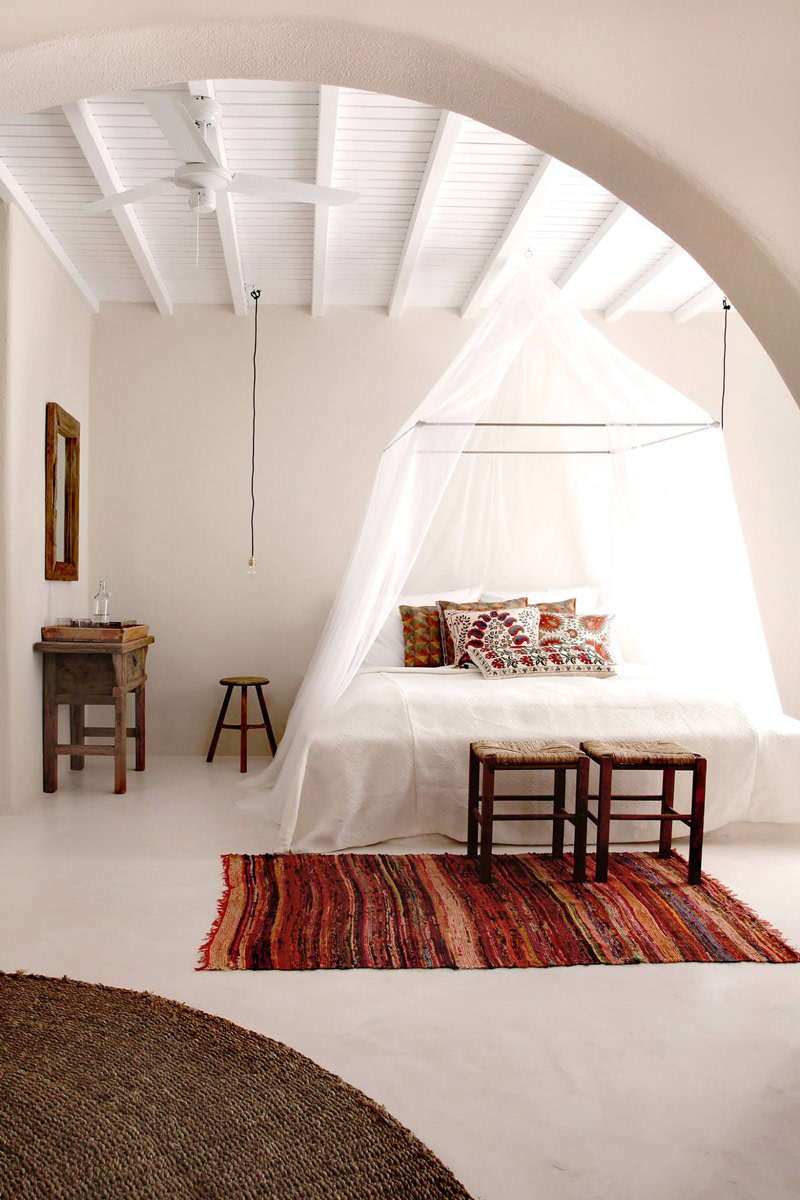 A sleek boho retreat with divine Aegean views, Famosa Suite at San Giorgio Mykonos envelops guests in charming, sunny surroundings, reflective of the island's creative spirit.
The decor is an effortless mix of organic forms and materials, with authentic handcrafted pieces, raw wood & wicker details, and beautiful ethnic prints. Complementing the dreamy space there's a sumptuous bed draped in ethereal mosquito nets and a lovely sun-dappled gazebo with hammock.
Jacuzzi Suite Sea View at LYO Boutique Hotel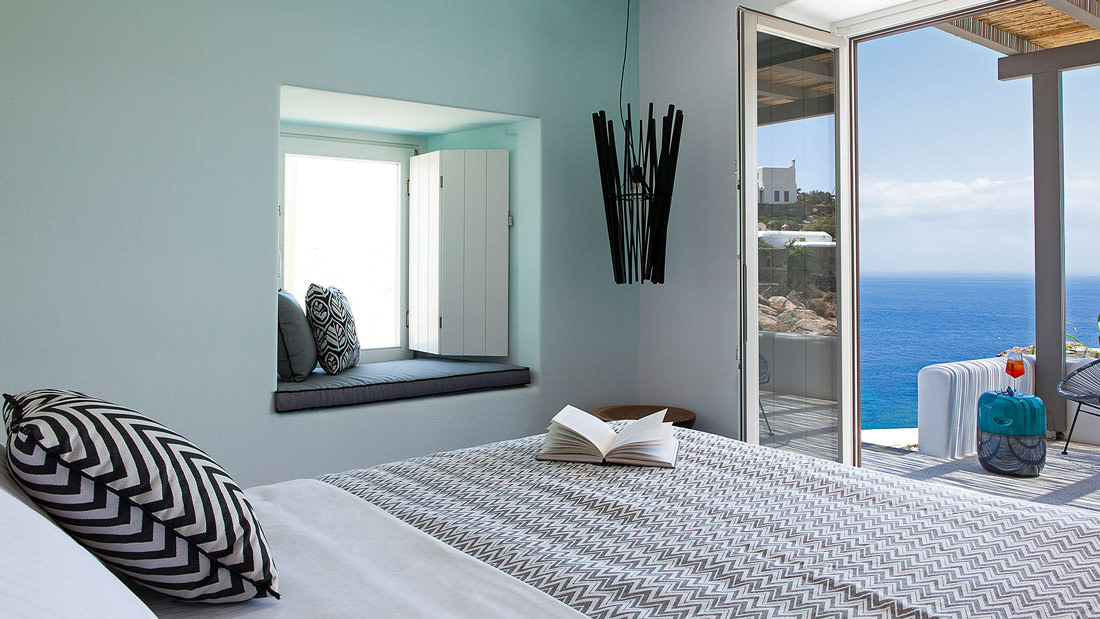 Fashioned in a serene Cycladic color scheme, with unique furniture pieces and vibrant patterned textiles, this tasteful Jacuzzi Suite at LYO Boutique Hotel immerses guests in rustic seaside sophistication. Naturally, the generous crisp-white balcony, armed with an outdoor Jacuzzi and sparkling sea views, is the best spot for sundowners.