This post contains affiliate links, which means we may receive a small commission, at no additional cost to you, if you make a purchase through these links. See our full disclosure here.
The Greek island of Mykonos is one of the most striking and lively destinations in the Aegean Sea. Beautiful beaches, spirited nightlife, and pristine white Cycladic architecture are what the island is best known for, but it's also a place of nature, history, and brilliant accommodation options that masterfully blend contemporary style with distinct island sensibilities.
From traditional whitewashed hillside villas to uber-chic hotel suites graced by sweeping Aegean views, these are the coolest places to stay in Mykonos.
NOMAD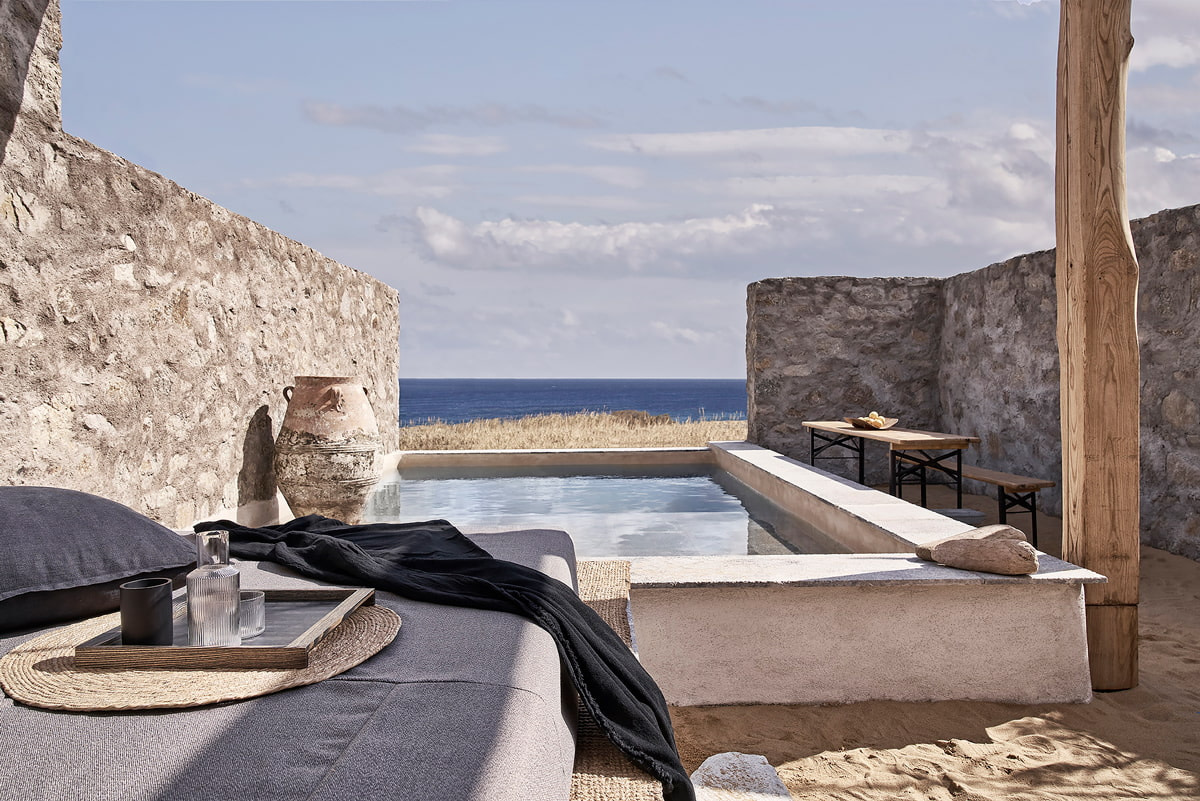 For a gentle hideaway where you can rest and recharge on Mykonos, look no further than the collection of suites offered by NOMAD. Even though it's a short walk from the stunning beach of Kalo Livadi, this bohemian retreat offers guests a serene space to unwind away from everything.
Each of NOMAD's 14 suites has something different to offer, but all share warm earthy tones and a rustic aesthetic. By ensuring each element of the rooms is of the highest quality, they show how a minimalist design can feel luxurious. Suites come with either a private pool or jacuzzi, as well as enchanting views of the Aegean sea and the rugged landscape along it.
Genesis Villa
Space is definitely not going to be a problem with a stay at the luxurious Genesis Villa. This recently renovated villa boasts a huge amount of room, both indoors and out. But what really makes Genesis such a special place to experience is its bold, modern design that contrasts a monochromatic color palette with clever wood accents.
No one wants to spend their time in Mykonos cooped up indoors, and you won't have to with the villa's generous outdoor area. There you can lay out in the sun, soak in the infinity pool or jacuzzi, and feast on dishes created by a private chef, all while watching the sun set over the water.
The Townhouse Mykonos
A designer hotel that puts you right in the heart of Mykonos town (Chora), Townhouse Mykonos offers a chic range of villas, suites, and rooms. The hotel is set within an 18th-century manor house and balances its traditional architecture with clever contemporary touches to create inviting and dazzling accommodations.
While Townhouse Mykonos provides a convenient location for exploring the town and its many bars and clubs, there's no need to step out the door as it boasts the fantastic rooftop 54 Cocktail Bar & Sunset Lounge. It helps that rooms have been carefully curated with both comfort and elegance in mind, from the thoughtful use of hand-crafted textures to the big soaking tubs that you'll never want to leave.
Villa Kampani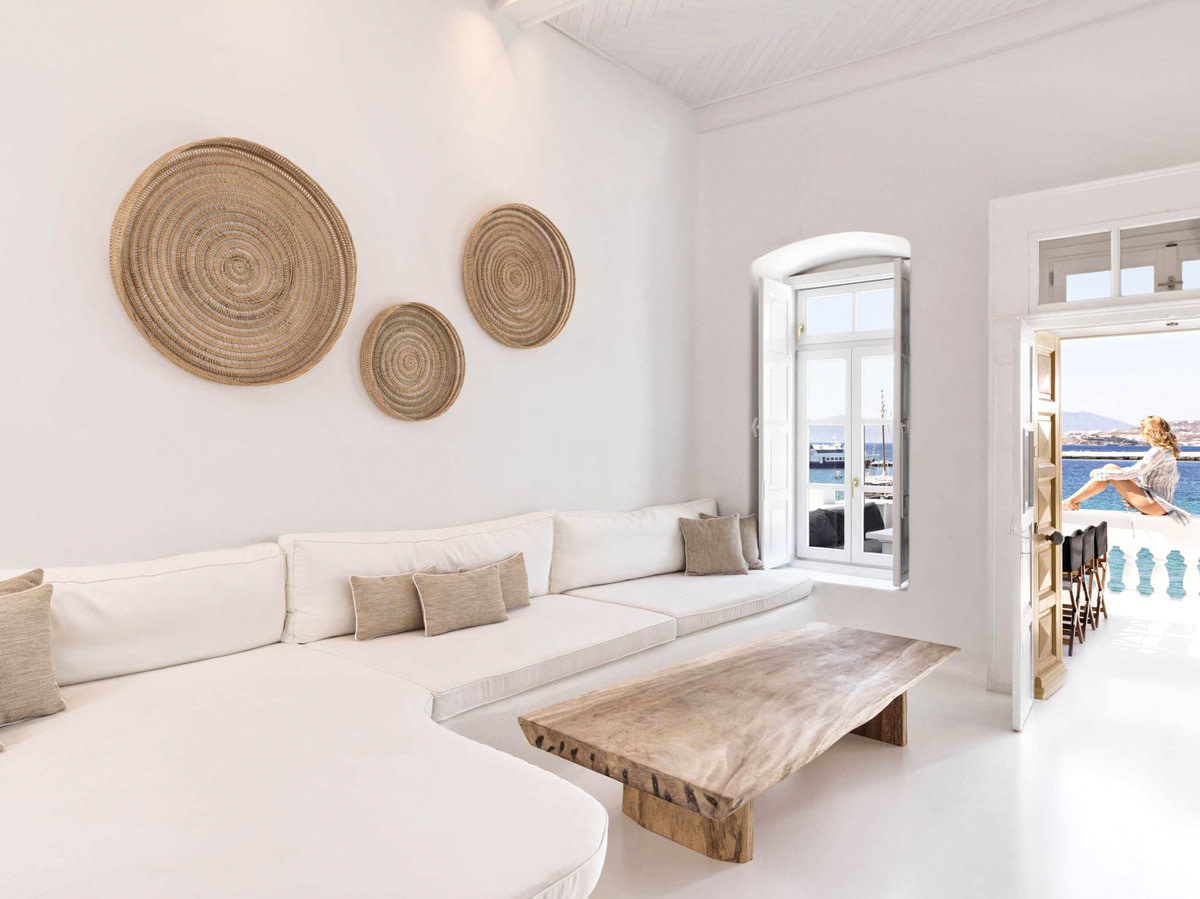 Sitting right along the waterfront of the Mykonos Old Port, you couldn't dream of a better view location than that offered by Villa Kampani. This exceptional beachfront villa enjoys perfect views of the Old Port and its quaint waterfront from its own private terrace.
But there's much more to love about Villa Kampani when you look inward, as this spacious retreat is set within a traditional Myconian home, combining hints of its storied past – like the gorgeous wooden beam ceiling – with modern elements such as the long sculpted dining table and fresh white interior.
Katikies Mykonos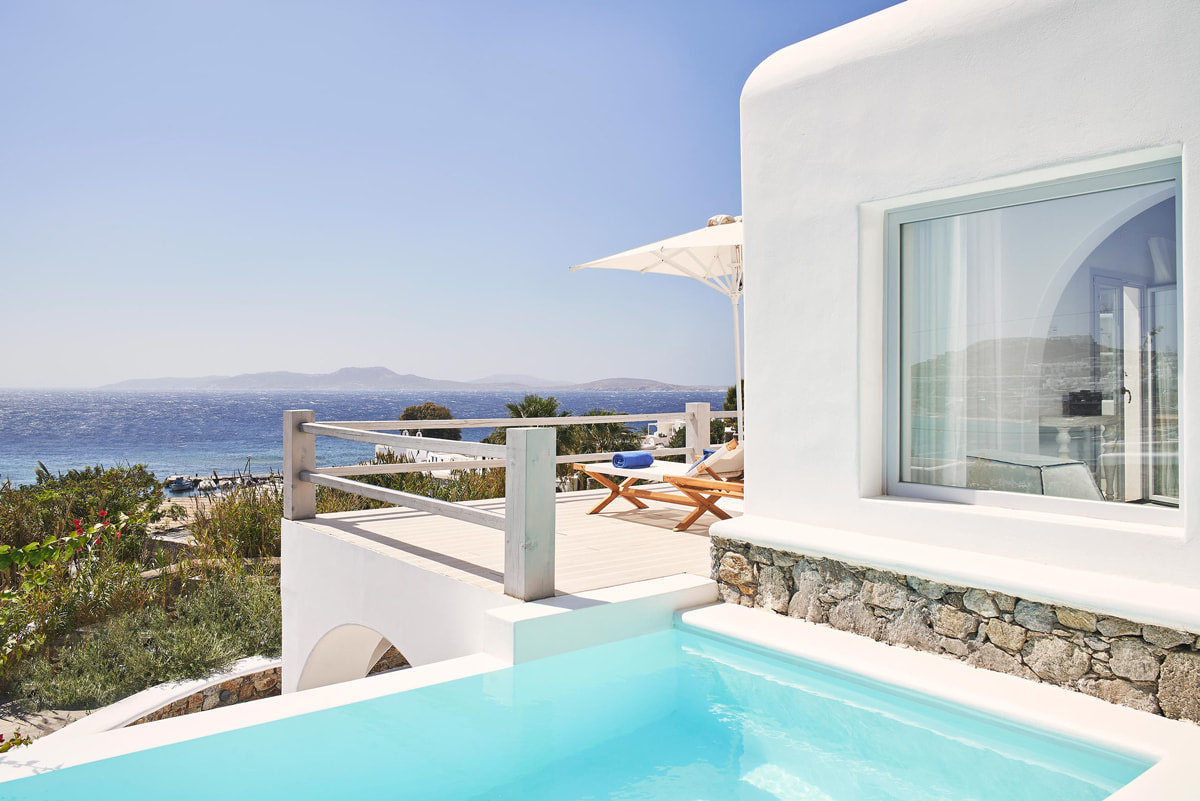 Those seeking somewhere romantic and special for their Mykonos vacation will be delighted when they set their eyes on Katikies Mykonos and its elegant selection of luxury suites. Set just back from the beach at Agios Ioannis in a quiet corner of the island, this sophisticated boutique hotel is ideal for couples after some one-on-one time.
Suites at Katikies Mykonos embrace the iconic white and blue color scheme for which the Cyclades are known. But rooms here also incorporate modern flourishes that give these Mykonos suites a real sense of splendor. Privacy is also paramount here, with each room featuring its own terrace, many with a private hot tub or pool.
Myconian Panoptis Escape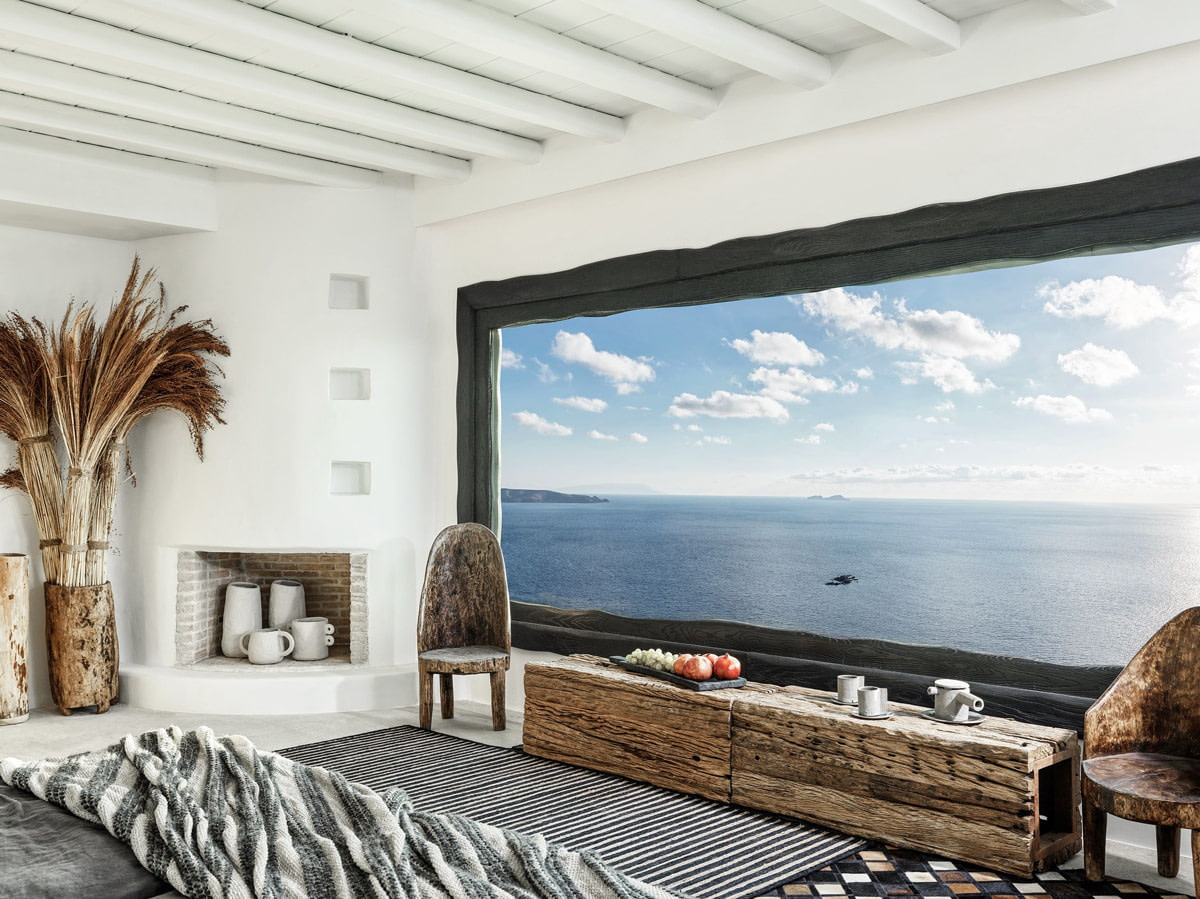 Say goodbye to stress with a stay at Myconian Panoptis Escape, a complex of luxury villas in the hills above Elia Beach. This divine retreat on the south coast is a sanctuary for guests hoping to get away from it all, a task made easy with its laid-back island vibe and concerted efforts to incorporate plenty of natural elements.
The property operates around a philosophy of pure relaxation but also aims to ensure that every moment here feels special by organizing experiences and activities such as private in-room yoga sessions or cooking classes out on a private sailing trip.
Papyrella
Rather than offering another sophisticated contemporary place to stay in Mykonos, Papyrella villa celebrates its traditional Cycladic character in true style.
This newly renovated home from the 1980s combines an air of authenticity with an understated approach to luxury to create a unique vacation getaway. And yet, there's nothing understated about the exceptional terraces and balconies surrounding the property, boasting not only a private pool, day beds, and hammocks, but also a 180-degree panoramic view of the coast down to Mykonos town.
Pnoe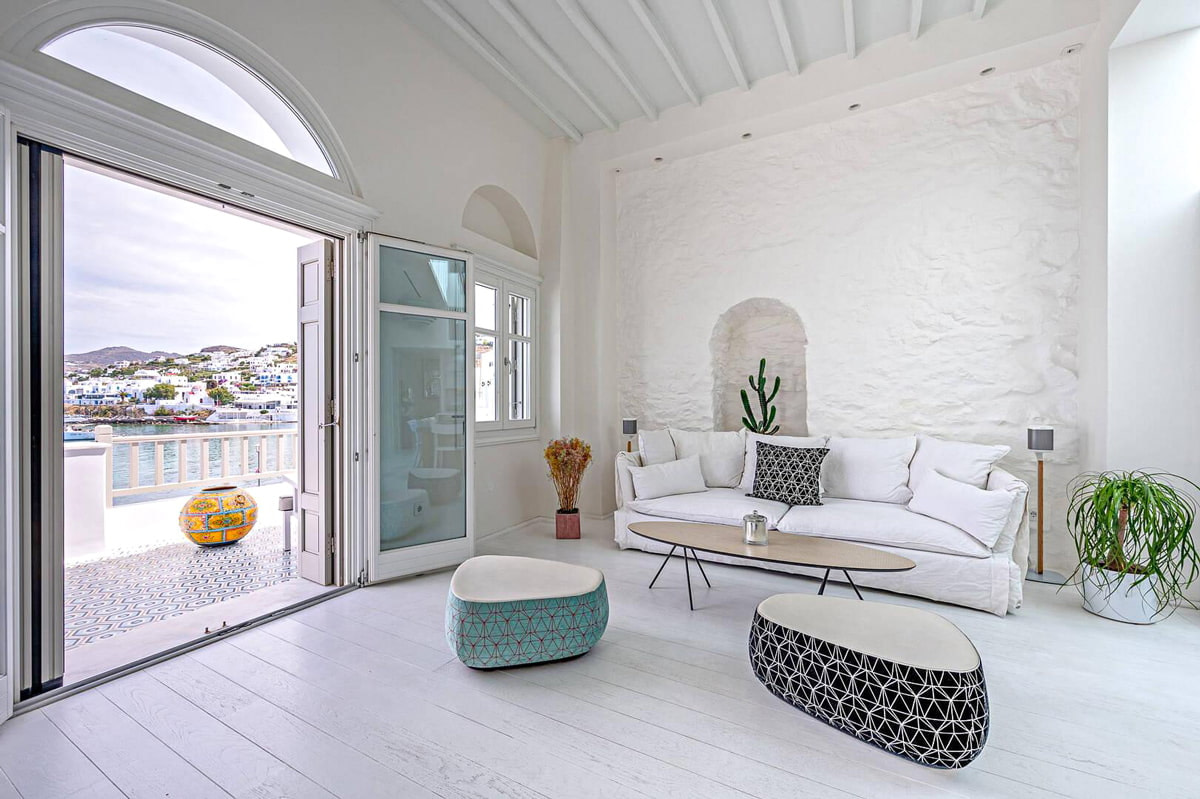 The Pnoe seaside residence positions guests right in the heart of the action with its convenient location along the waterfront of Mykonos Old Port. In fact, you don't even need to leave the villa to see Mykonos town, thanks to the lovely views from the home's terrace.
But there's much more to Pnoe than its surroundings. The high-end villa boasts a bright and open feel, especially in the wonderful living space with its high ceilings and skylight. And let's not forget the state-of-the-art kitchen that will actually tempt you into cooking on your vacation.
Villa Vida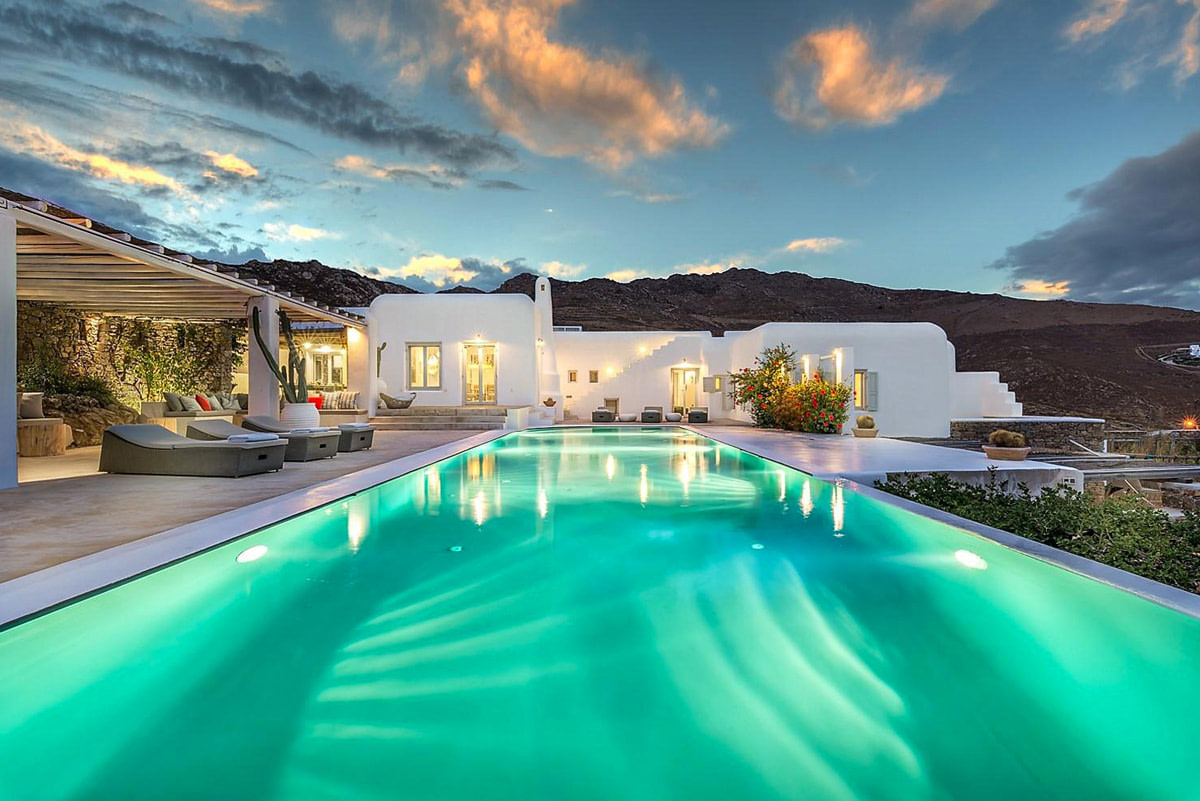 Walking around the joyous Villa Vida, with its expansive indoor and outdoor spaces, you'll have a hard time believing that this entire property is all just for you.
With enough room for 18 guests, this massive villa close to Panormos Beach is ideal for large groups looking to spend time together. The liberal use of stone and wood throughout shows that traditional Cycladic character is central to the concept behind the property. Outdoor living is also a clear priority here, with an outdoor kitchen nicely complimenting the sprawling poolside terrace and outdoor dining area.
Villa Ftelia Boheme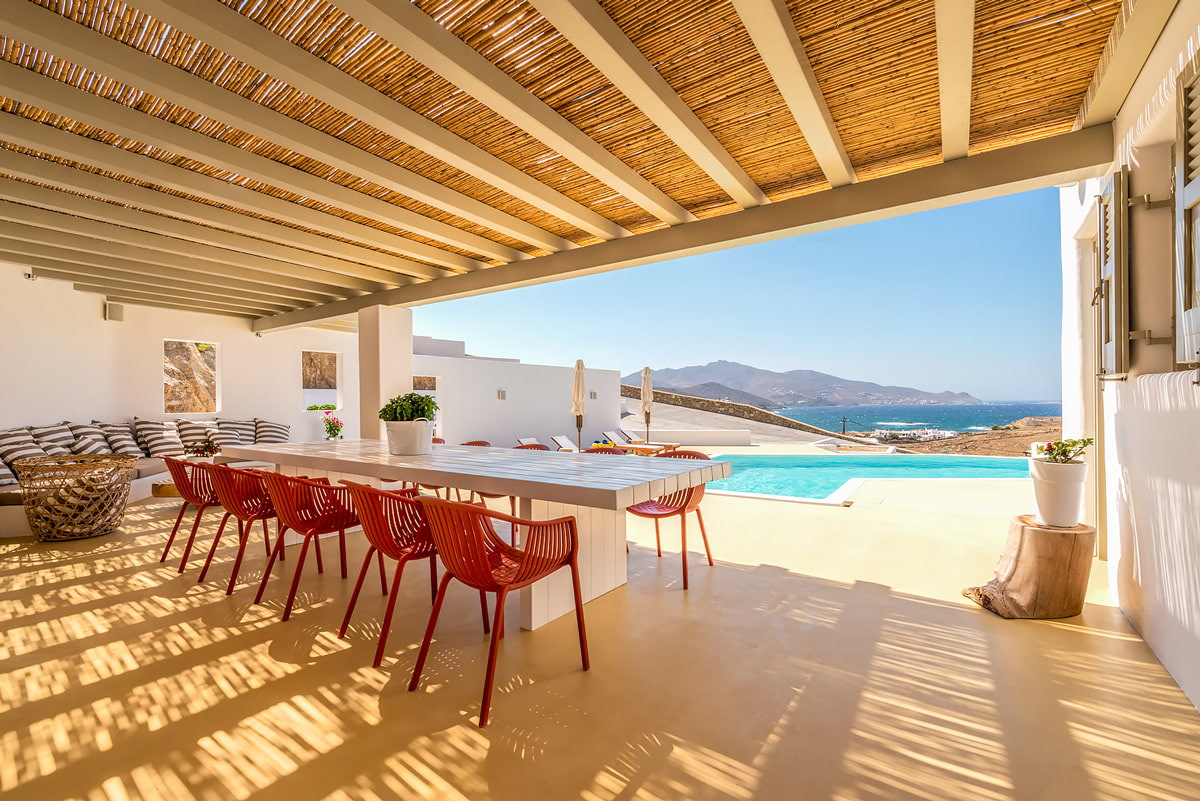 Overlooking the beautiful bay of Ftelia and its popular sand beach, Villa Ftelia Boheme is a tranquil retreat that delivers the quintessential island experience. Although only recently built, it seems like it's been around much longer, thanks to its typical Cycladic design.
A minimalist approach inside and crisp whitewashed walls make each of the villa's many rooms feel even larger than they already are. That's especially the case with the welcoming lounge and separate sitting room, where you can chat the night away with your travel companions around the open fireplace.
Myconian Kyma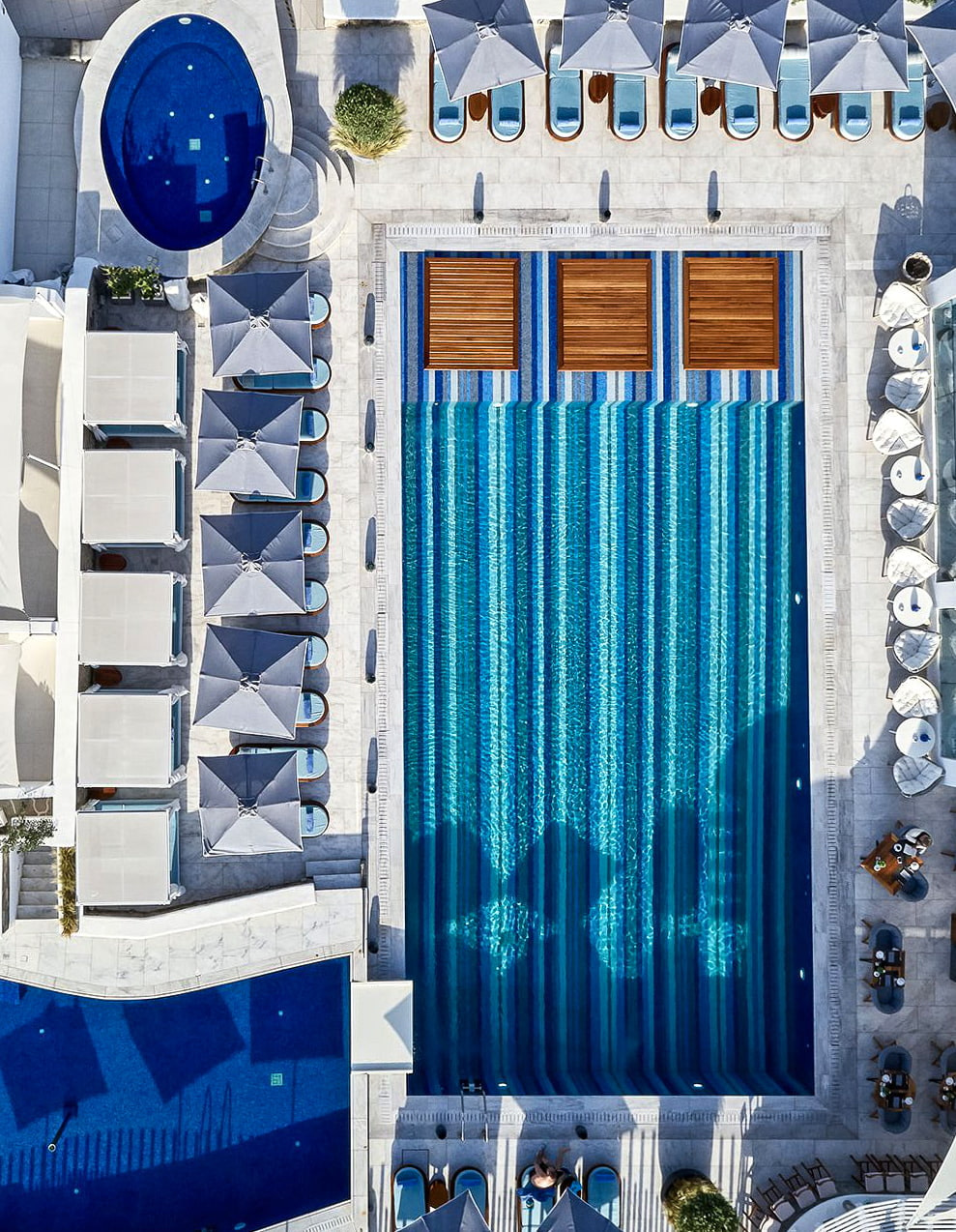 Perched high above Mykonos town on a hilltop, few places can compete with the sweeping views of Myconian Kyma. Rooms and suites at this 5-star hotel tread the line between trendy and traditional, but there's a definite 60s chic undercurrent to their design.
At the heart of this designer hotel is the dazzling pool deck, lined with countless sunbeds and the prominent outdoor lounge and bar. For those who don't find swimming and drinks therapeutic enough, Myconian Kyma also features a superb onsite spa offering full-service treatments to help you rest and recharge.
Cavo Tagoo Mykonos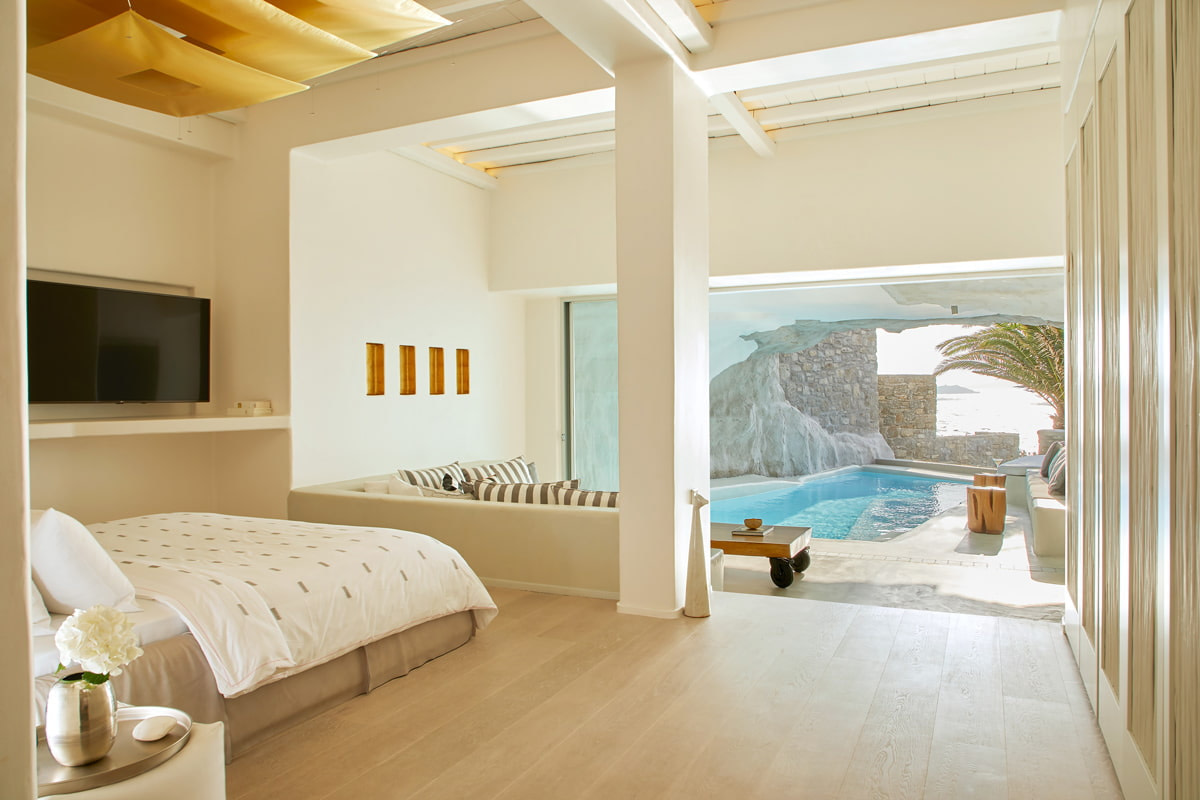 While all the villas and suites at the exclusive Cavo Tagoo Mykonos are masterfully designed to ensure a comfortable stay, there's no going past the hotel's iconic Cave Pool Suite. With this stylish, unique enclave, it's a matter of steps from the comfort of your bed to a private pool set within rugged cave-like surroundings and swim-up views of the Aegean Sea in the distance.
Guests at Cavo Tagoo Mykonos not content to just sit by the pool can also spend time in the decadent Cavo Tagoo Golden Spa or indulge in contemporary Mediterranean cuisine at the 5-star hotel's onsite restaurant.
Villa Carmina
If you're seeking full-service treatment during your trip to Mykonos, Villa Carmina is the way to go.
Staying at this palatial villa outside Psarou Beach, you won't need to lift a finger, thanks to the wide-ranging services its staff provides. Get the VIP treatment from start to finish, with everything from concierge services to a private chef and in-home spa treatments. As for the villa itself, there's enough room inside to easily sleep 15 guests within exposed stone walls, as well as plenty of space to lounge around outside by the pool and jacuzzi.