This post contains affiliate links, which means we may receive a small commission, at no additional cost to you, if you make a purchase through these links. See our full disclosure here.
If you have never considered traveling in November, maybe it's time to rethink! The penultimate month of the year is a wonderful time to take in the famous sights of Europe without the crowds, experience spring in the Southern Hemisphere, swim in the warm turquoise waters of the Indian Ocean, or witness the majestic fall foliage in Japan.
From Mallorca to Mauritius, these are the best places to visit this November:
New York City, USA
If you have an opportunity to visit New York City in November, by all means, do so. From the world's largest marathon to the legendary Rockefeller Center Tree Lighting Ceremony, this transitional month is packed with amazing events. Central Park glows in beautiful fall colors, the theater season is in full swing on and off Broadway, and the annual Macy's Thanksgiving Day Parade takes over Manhattan.
By the end of November, it begins to look a lot like Christmas in New York. Days are getting shorter and chillier, Midtown's department stores unveil their fabulous holiday window displays, and ice rinks and festive markets start to pop up all over the city.
If you can, extend your trip to experience New York in December, as that, my friends, is the stuff of cinematic legend.
Where to Stay in New York City: The spellbinding Empire State Building views from the Spyglass rooftop bar are worth the stay alone, but Archer also wows with industrial-chic interiors, curated art, and a hip & happening bar/eatery perfect for lingering over signature cocktails and creative shareable plates.
Bangkok, Thailand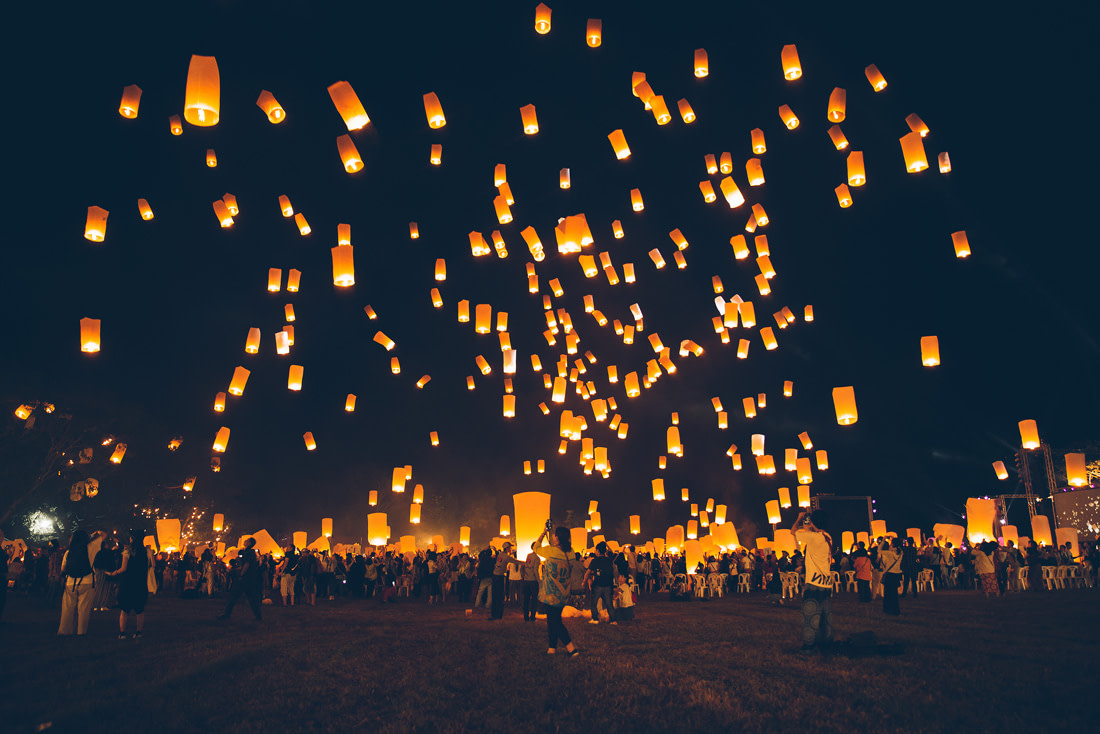 There's no better time to visit Bangkok than in November when the city is drying out from the rainy season, temperatures are cool enough (around mid-20s Celsius) to allow comfortable sightseeing, and the holiday crowds have yet to arrive.
A dizzying, delirious spectacle, the Thai capital rewards urban explorers of all kinds with its amazing foodscape, vibrant street life, and growing art scene, with serene Buddhist temples, sumptuous royal palaces, and wonderfully chaotic floating markets.
November is also the month when the city celebrates Loi Krathong, one of Thailand's most popular festivals, when locals gather around lakes, rivers, and canals to release beautifully decorated floating vessels in a sumptuous ceremony meant to worship the goddess of the river, Pra Mae Khongkha, and to wash away misfortune.
Where to Stay in Bangkok: Housed in a uniquely narrow structure in the upscale Sathorn area, the Banyan Tree is home to 7 restaurants, including Moon Bar, one of Bangkok's most spectacular sky bars. Rooms feature dark woods, silk paintings, and scenic city views.
Mauritius
With sapphire waters, powder-white beaches, and warm, sunny weather all year round, it's hard to find a bad time to visit Mauritius.
Located about 2,400 km east of mainland Africa, this remote, multicultural paradise is one of the most spectacular islands in the Indian Ocean – an adventurer's playground with world-class diving and snorkeling, excellent golf courses, delicious fusion cuisine, and wonderful wildlife-watching opportunities.
November marks the beginning of summer in Mauritius, which means long sunny days, less humidity, and average temperatures between 22°C and 28°C. The water is warm and clear – perfect for scuba diving and deep-sea fishing, Humpback whales can still be spotted off the west coast (the season lasts from July to November), and Diwali – the ancient Hindu festival of lights – is celebrated with great enthusiasm throughout the island.
Where to Stay in Mauritius: The ozone-purified infinity pool overlooking the sea, the deserted white-sand beach, and a torch-lit dinner on the sand are just a few reasons to stay at Anantara Iko Mauritius Resort & Villas, on the pristine southeastern coast of Mauritius. Glass-bottom boat trips, mountain biking, and guided tours to Mahébourg are also available.
Buenos Aires, Argentina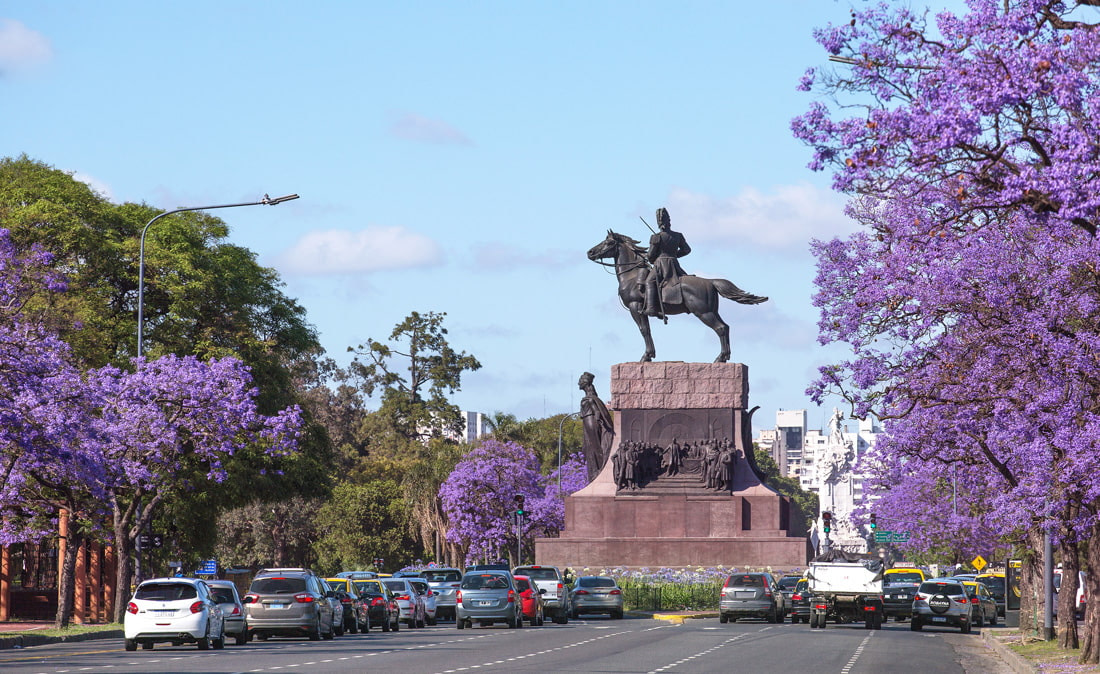 Buenos Aires is at its best in November when spring is in full swing and the city is awash in purple blooms from the myriad of jacaranda trees lining the streets.
Argentina's cosmopolitan capital has a stylish European flair streaming from its handsome Belle Époque architecture, elegant avenues, and atmospheric cobblestone alleys filled with pretty cafés and boutiques. The booming art scene, vibrant nightlife, and wonderful gastronomy all contribute to the city's undisputed charm, and so do its two great passions – football and tango. If you can, try to catch a match between local rival teams, River Plate and Boca, or put on your dancing shoes and head to a milonga for free tango lessons.
November is also the month when BA celebrates the International Jazz Festival, the Argentine Open Polo Tournament, the Gay Pride Parade, and Creamfields Buenos Aires.
Where to Stay in Buenos Aires: For modern, elegant rooms at affordable prices in downtown Buenos Aires, head to Palacio Paz Hotel near Plaza San Martin. The ground-floor restaurant serves a modern take on traditional regional cuisine, along with signature cocktails, in a convivial atmosphere.
Istanbul, Turkey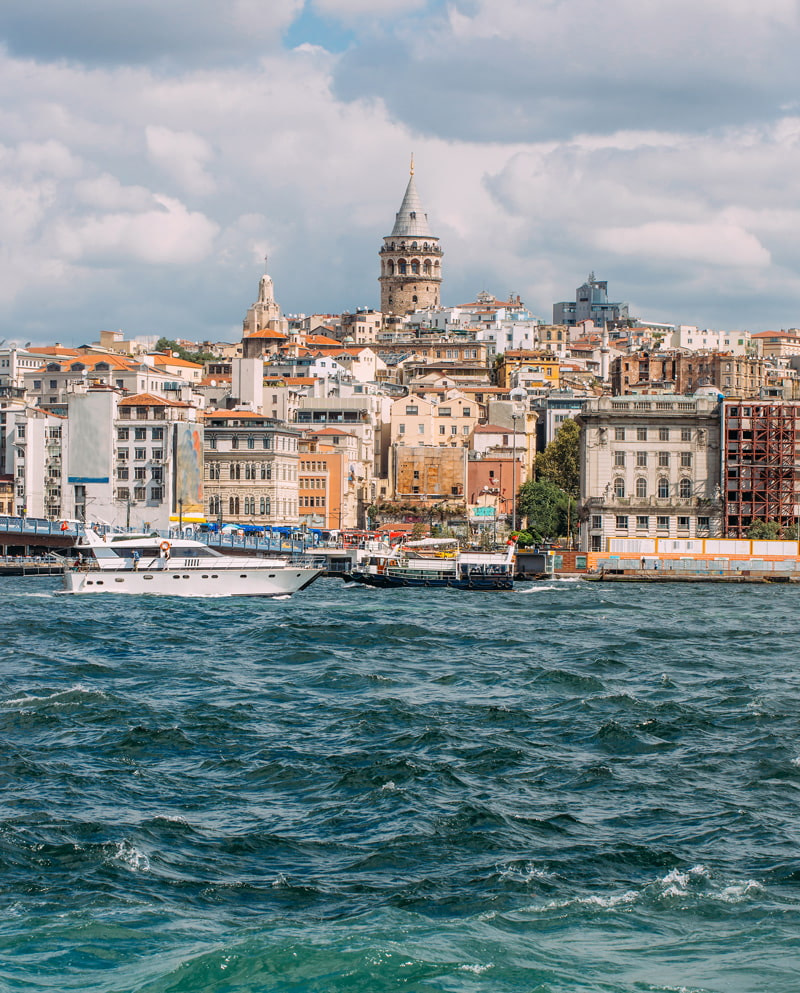 Grandiose mosques, medieval towers, and ultra-modern skyscrapers dominate its skyline. Underneath, steamy hammams, exotic teahouses, and buzzing bazaars fuse with high-end shopping venues, hip restaurants, and contemporary art galleries in a sophisticated mix of old and new. And there it is, the mighty strait of Bosphorus determined to tear them apart forever. This is Istanbul, one of the world's greatest and most dramatic cities, and the place where, beyond any cliché, East really meets West.
Comfortable daytime temperatures (around 15°C), affordable prices on hotels and airfare, and shorter lines at the stunning Hagia Sophia make November one of the best months to explore Istanbul. During this time of year, Turkey's largest city is neither too busy nor too cold, allowing visitors ample space and time to admire its magnificent art and architecture.
Where to Stay in Istanbul: A grand, historic hotel with modern amenities, the Crowne Plaza Istanbul Old City is within walking distance from the Grand Bazaar and the 16th-century Suleymaniye Mosque. Complementing its elegantly appointed rooms is a spa, a heated indoor pool, and a sprawling restaurant serving Turkish and international specialties.
Piedmont, Italy
Alba's revered White Truffle Festival is reason enough to visit Piedmont in November, but the charms of Italy's second-largest region in autumn go far beyond these prized culinary delicacies.
There are award-winning wines (Barolo and Barbaresco) and postcard-perfect autumnal landscapes in the hills of Langhe, wonderfully preserved medieval fortifications in Candelo, curative thermal waters in the spa town of Acqui Terme, and marvelously authentic food in Bra – the birthplace and headquarters of the Slow Food movement.
Turin, the elegant, Alps-fringed capital of Piedmont, is an architectural feast of Baroque palaces, porticoed piazzas, and tree-lined Parisian boulevards, with a progressive cultural scene and some of the finest cooking in Italy.
The 93rd edition of the International Alba White Truffle Fair runs from 7th October to 3rd December 2023, and the entire region will be alive with twinkling Christmas markets and delicious slow-food fairs celebrating everything from wine and cheese to chestnuts and chocolate.
Where to Stay in Piedmont: Perfectly located for exploring historic Turin, the NH Collection Torino Piazza Carlina's contemporary rooms come complete with hardwood floors, pillow menus, and Lavazza coffee machines. Taking over a beautiful 17th-century building, it houses an excellent restaurant, an atmospheric bar, and a lovely courtyard terrace where breakfast is served.
Mexico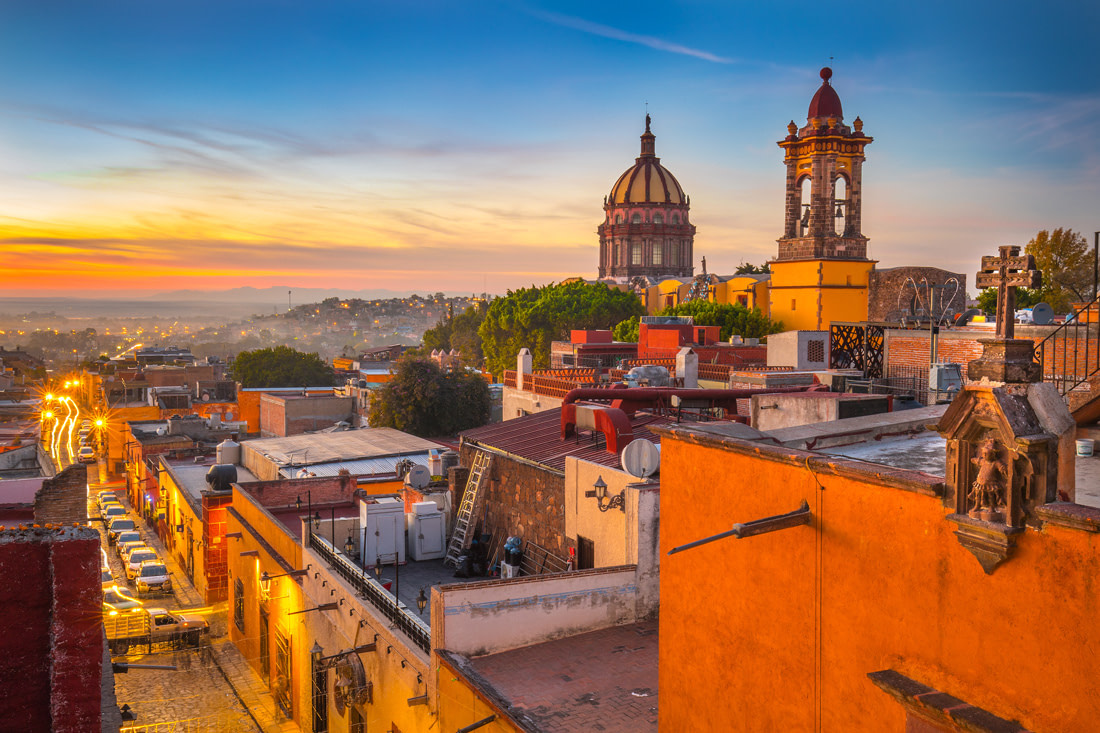 Mexico is a country with many different landscapes and microclimates, and the best time to visit depends mainly on the region and the type of travel experience you're seeking. November, however, is an ideal month to visit whatever the destination. Not only is the weather pleasant, but there are fewer tourists, lower fares, and a plethora of cultural attractions.
Hurricane season is over in the Yucatan, giving way to brighter, sunnier days spent lounging on less-crowded beaches and swimming in the warm sea. In Baja, too, the nights are getting cooler, but there is still wonderful swimming weather during the daytime.
If you are more inclined towards culture and heritage, striking Day of the Dead celebrations await in Oaxaca and Mexico City from October 31 to November 2. Also, the charming colonial town of San Miguel de Allende comes alive with music, art, and colorful traditions during the annual Calaca Festival. Otherwise, head to Leon, Guanajuato for the biggest hot air balloon festival in Latin America.
Where to Stay in Mexico: As charming and colorful as the city that surrounds it, Selina San Miguel de Allende offers an authentic stay in eclectic rooms adorned with locally-sourced art and textiles. Amenities like a shared kitchen, a yoga terrace, and coworking spaces make it a great option for digital nomads.
Kyoto, Japan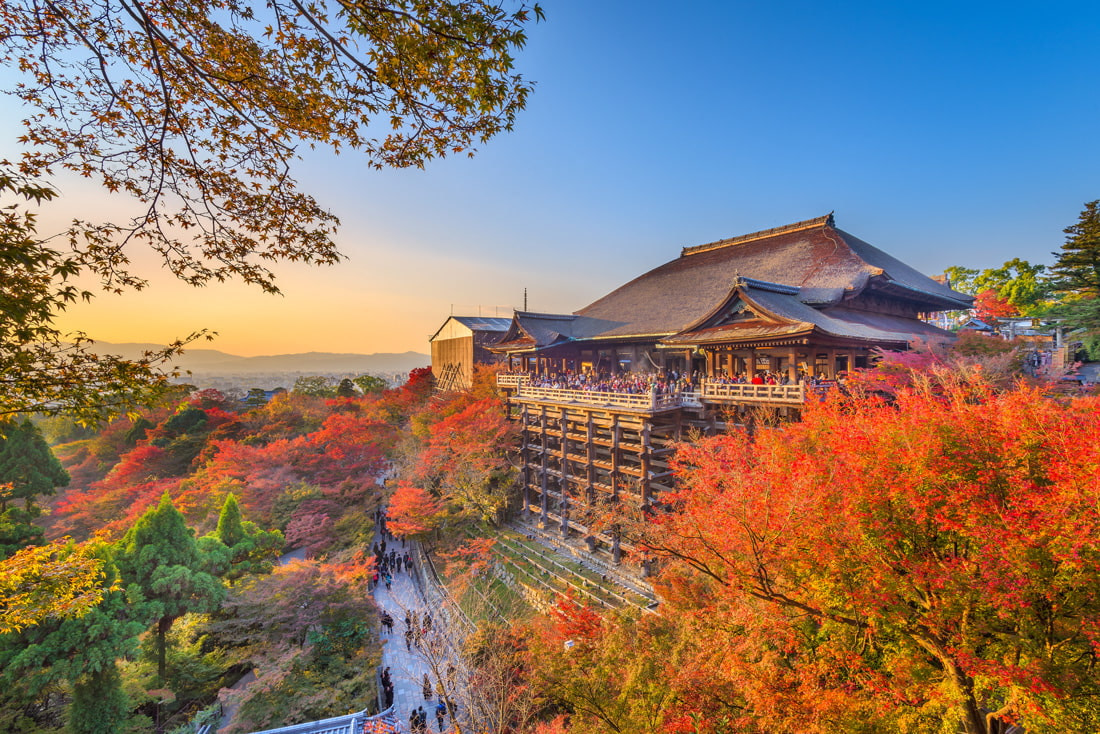 Every year, during the sakura season, people from all over come in droves to marvel at the spectacular cherry blossoms in Kyoto, but the city's fall foliage is just as sublime.
Come November, Japan's old capital, as magical as it already is, turns into a mysterious land of ornate temples and zen-inducing gardens – all draped in fiery maple trees. The landscape is carpeted in a blaze of autumnal colors, complemented by mild temps and sunny blue skies.
On top of that, temples and shrines around the city hold seasonal illumination events at night, making the experience even more mesmerizing. Among them are Kodaiji Temple, which also offers a unique projection mapping show, and Kiyomizudera, famous for its wooden veranda overlooking Kyoto rising out from a sea of red and orange trees.
Where to Stay in Kyoto: Surround yourself in Japanese warmth and elegance at Hotel Kanra Kyoto, a stylish design property with modern ryokan style rooms, a small ZEN spa, and a traditional teppanyaki restaurant with a refined focus on seasonal, locally sourced ingredients.
Iceland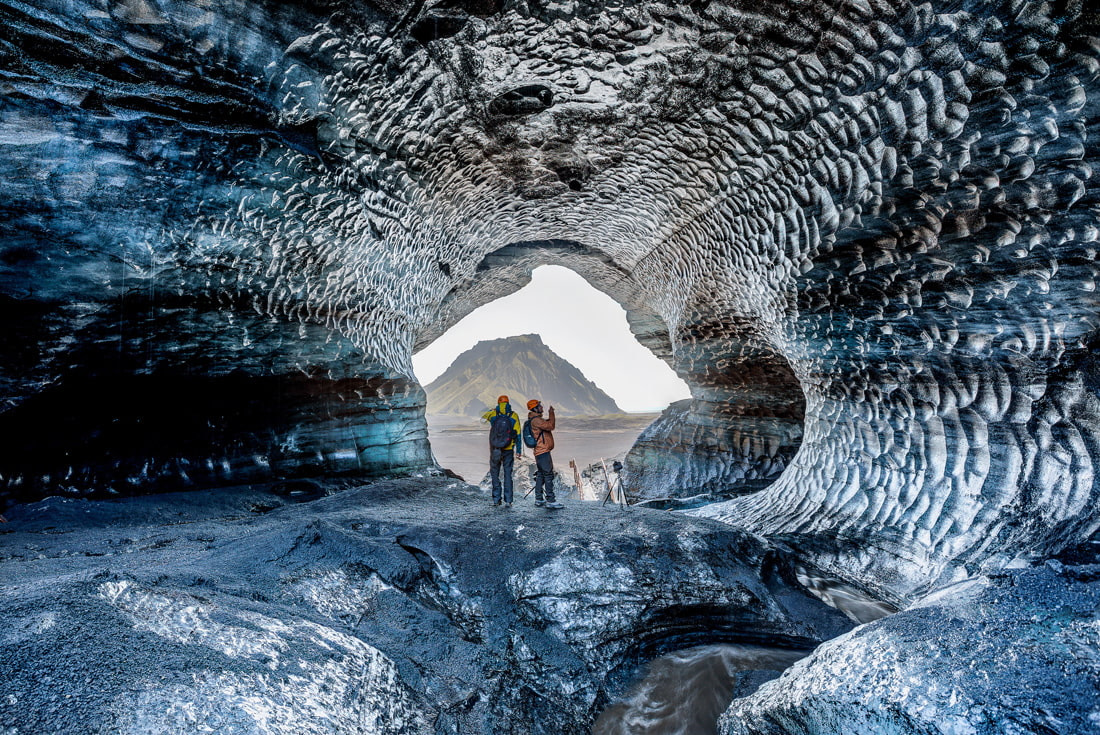 If you prefer icy glaciers over sunny beaches and licorice over pumpkin spice lattes, then a trip to Iceland in November might be the change of scenery you need.
The country is beautiful year-round, but there are a number of unique advantages that set this month apart from the rest of the year. A blend of fall and winter, it's the ideal time to search for the elusive Northern Lights, party at the beloved Iceland Airwaves music festival, and engage in ice- and snow-related activities without the crowds.
November offers the perfect conditions to explore dazzling blue caves, hike on glaciers, and bathe in natural hot springs while surrounded by a snowy wonderland. The brave can also embark on an arctic surfing adventure off the Reykjanes Peninsula, or enjoy the unique chance to snorkel/dive in between tectonic plates at Silfra fissure.
Meanwhile, in Reykjavik, the nation's quirky capital, bar hopping – accompanied by some delicious Icelandic comfort food – is just the right antidote to the short, dark days and cold weather outside.
Where to Stay in Iceland: For the ultimate Icelandic experience, book a room at the splendid Ion Adventure Hotel. Carved into the side of a mountain, amid the long-dormant lava fields of Thingvellir National Park, this luxurious eco-conscious oasis combines adventure with relaxation – think glacier trekking, horseback riding, fissure-diving, and ice carving.
Mallorca, Spain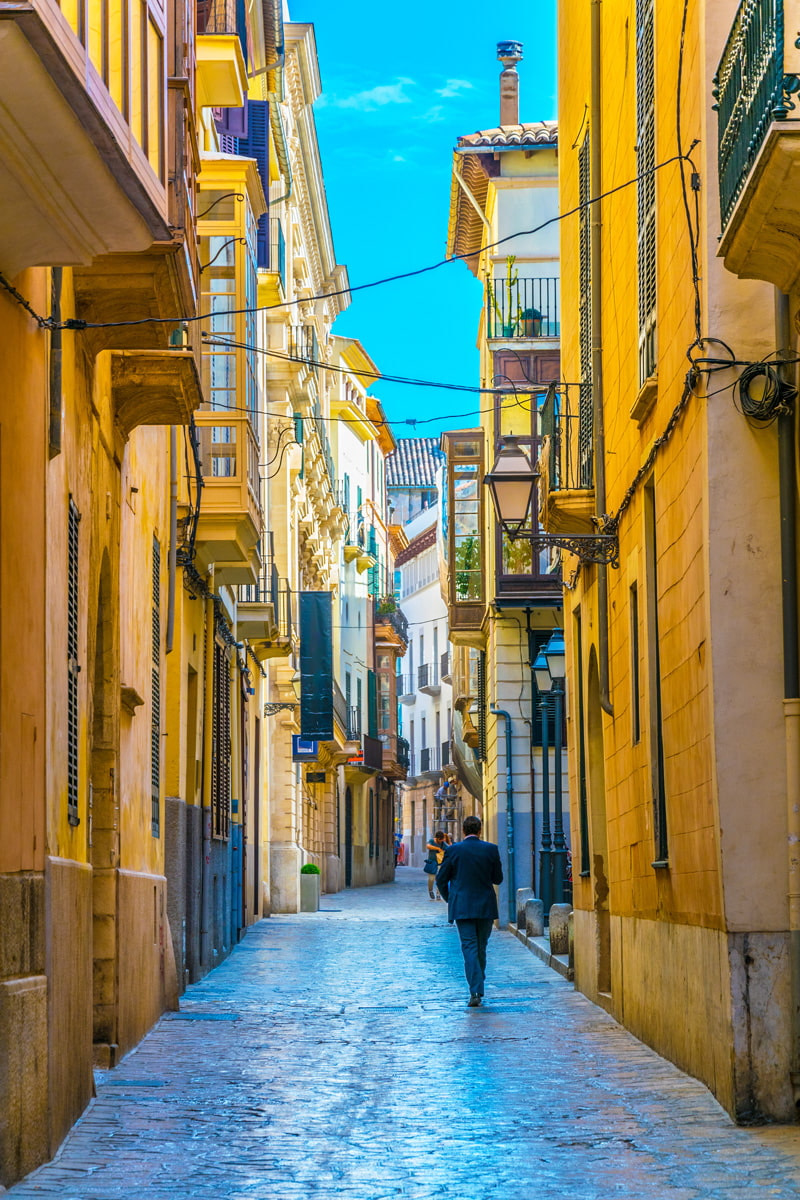 Mallorca in November is for foodies, culture lovers, and nature enthusiasts.
With the summer crowds gone and the pace slowing down, late autumn visitors have a unique opportunity to discover a calmer, more authentic side of Spain's largest Balearic island. The average temperature is around 15°C, but neither snowy mountains nor warm sunny beaches are unusual sights during this time of year.
November's changing colors, along with a plethora of local fairs, make the countryside a joy to explore. The Dijous Bo in Inca is the island's largest agricultural fair and includes everything from live music and art exhibitions to an annual Mallorcan black pig contest and auction.
Mushrooms take center stage at the annual Fira de l'esclata-sang i de la Muntanya in Mancor de la Vall, and the new wine is properly celebrated with wine tastings, winery tours, and lots of tapas at Santa María del Camí's Festa del Vi Novell. There's also a popular olive fair in the picturesque village of Caimari, a festival celebrating Mallorcan honey in Llubi, and a lively fun-filled pumpkin fair in the typical rural town of Muro.
Moreover, you can wander around beautiful Palma in peace, sample its increasingly sophisticated food scene without fighting for a table, and admire its awe-inspiring architecture stepping into fabulous Gothic churches and art galleries along the way.
Where to Stay in Mallorca: Nestled in Palma Old Town, the four-star Hotel Ca N'Alexandre offers excellent value with contemporary, tastefully decorated rooms, delicious local cuisine, and an unbeatable location close to shopping, dining, and major attractions.