This post contains affiliate links, which means we may receive a small commission, at no additional cost to you, if you make a purchase through these links. See our full disclosure here.
December in New York City means sumptuous Christmas trees, fabulous light displays, and fun-filled holiday markets. It also means gliding on the ice under the twinkling sky, staring at the glamorous window displays along Fifth Avenue, and ringing in the New Year along with millions of people from around the world in Times Square.
Though rules have changed a bit (masks are still recommended in all public indoor settings and around crowds outside), there are plenty of holiday displays and activities to put you in a Christmas state of mind in 2022's NYC.
To unwrap the Christmas magic of New York City, start with these festive things to do that will get you in the holiday mood in no time.
Attend the Tree Lighting Ceremony at Rockefeller Center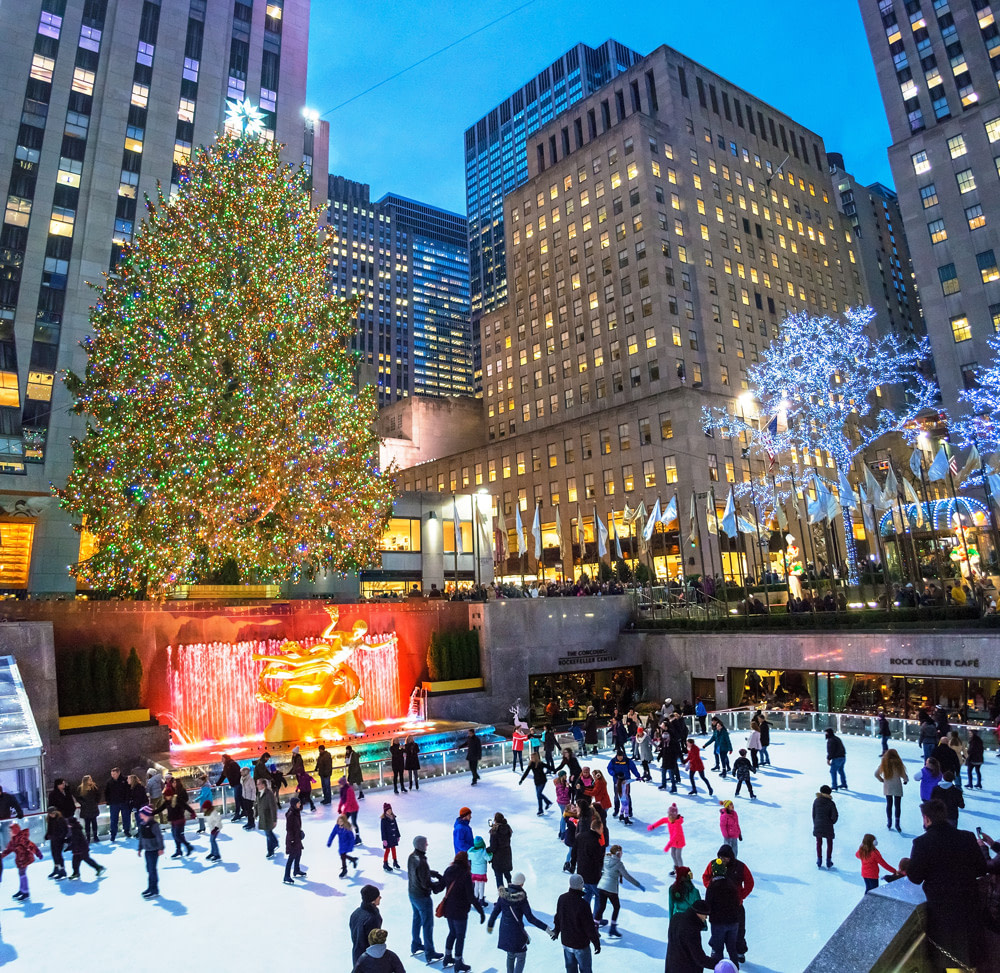 Home to spectacular ornaments, an iconic ice skating rink, and the city's most famous Christmas tree, it's no wonder December is a magical time to visit the Rockefeller Center.
A tradition that dates back over 88 years ago, the Tree Lighting Ceremony here is a highlight of the holiday season in New York. In addition to the lighting ceremony, the event usually features the iconic Radio City Rockettes, as well as dozens of live performances by top singers and bands. The Rink will open for the season in November 2022.
Ice Skate in Central Park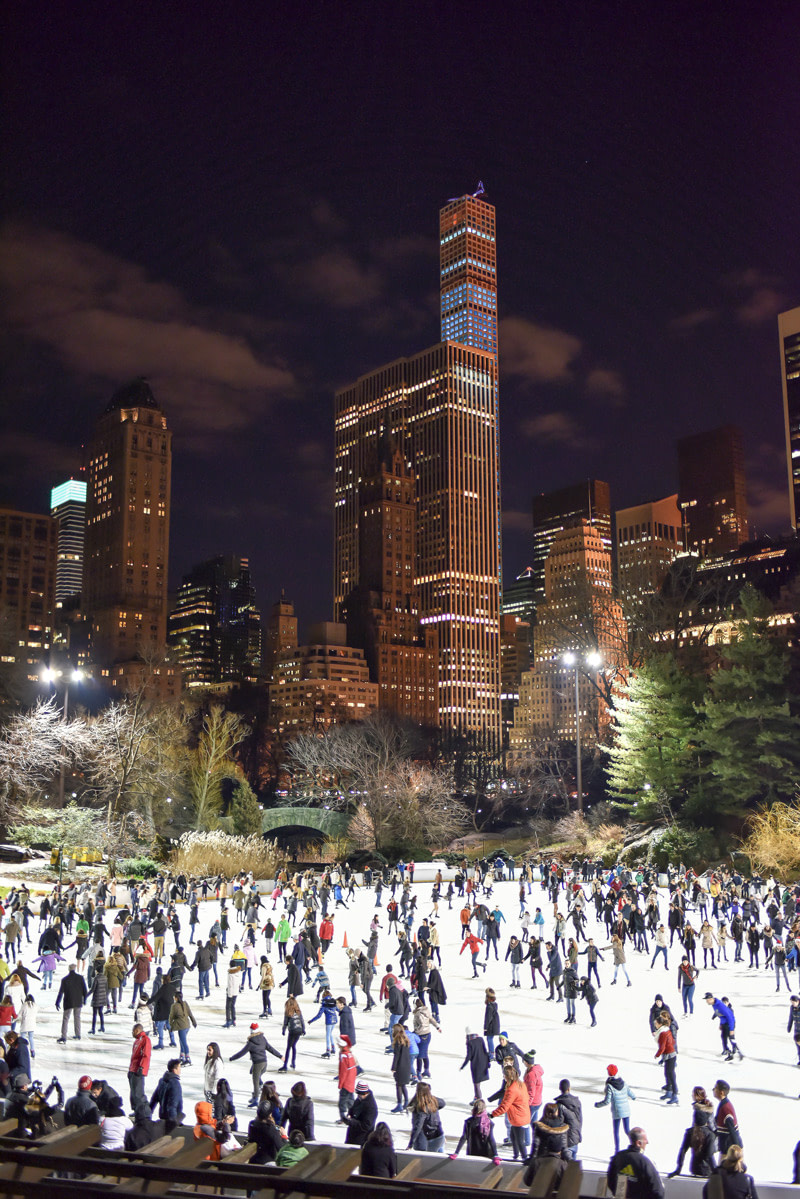 Step into cinematic New York with a visit to Wollman Rink. Featured in movies such as Love Story and Serendipity, this icy oasis in the heart of Central Park is one of the city's most romantic and beloved winter attractions. A lovely place to skate under the stars with your special someone as you take in the dazzling skyline views framing the rink!
Window Shop on 5th Avenue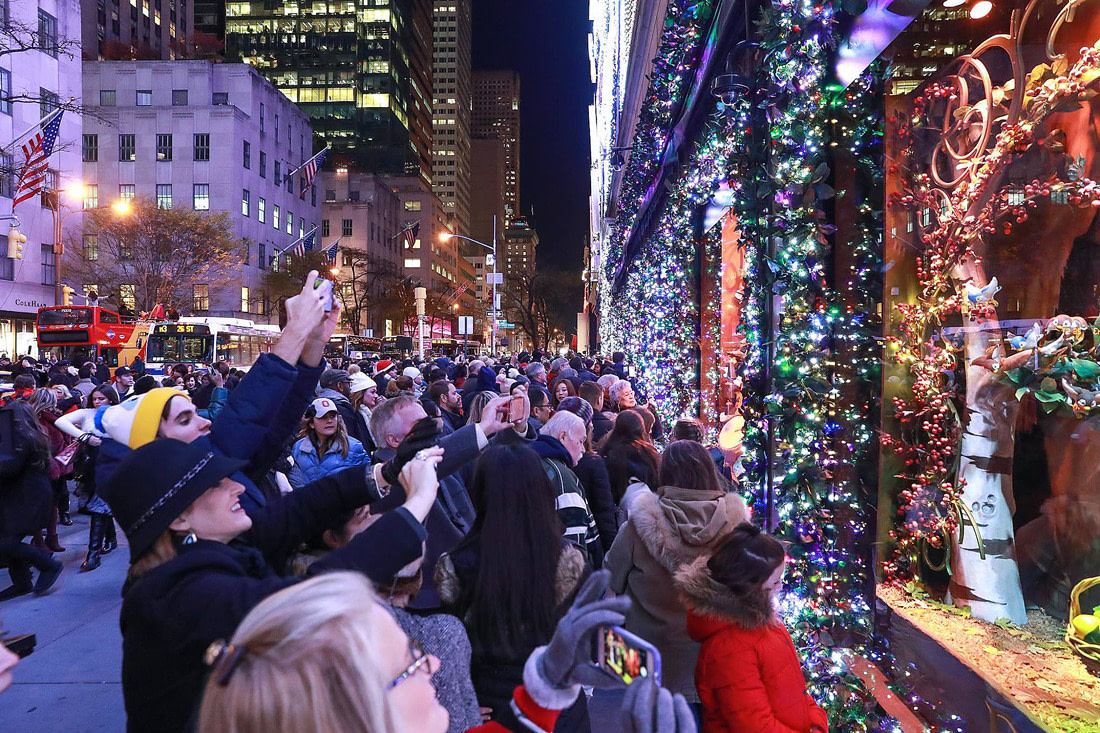 From Bloomingdale's to Macy's, a walk down Fifth Avenue in December is sure to get you in the holiday spirit. Every year, Manhattan's flagship department stores put on a big show to reveal their elaborately designed windows, which usually remain on display until January 1st.
Each storefront is beautifully decorated with stunning lights and garlands, and has its own unique theme. Some of them depict whimsical wintry scenes, others tell fascinating stories, yet all look like genuine art installations, attracting visitors from far and wide.
With glittery wreaths, charming characters, and high-end fashion at every step, Christmas window shopping doesn't get more glamorous than this!
Live The FRIENDS Experience: The One in NYC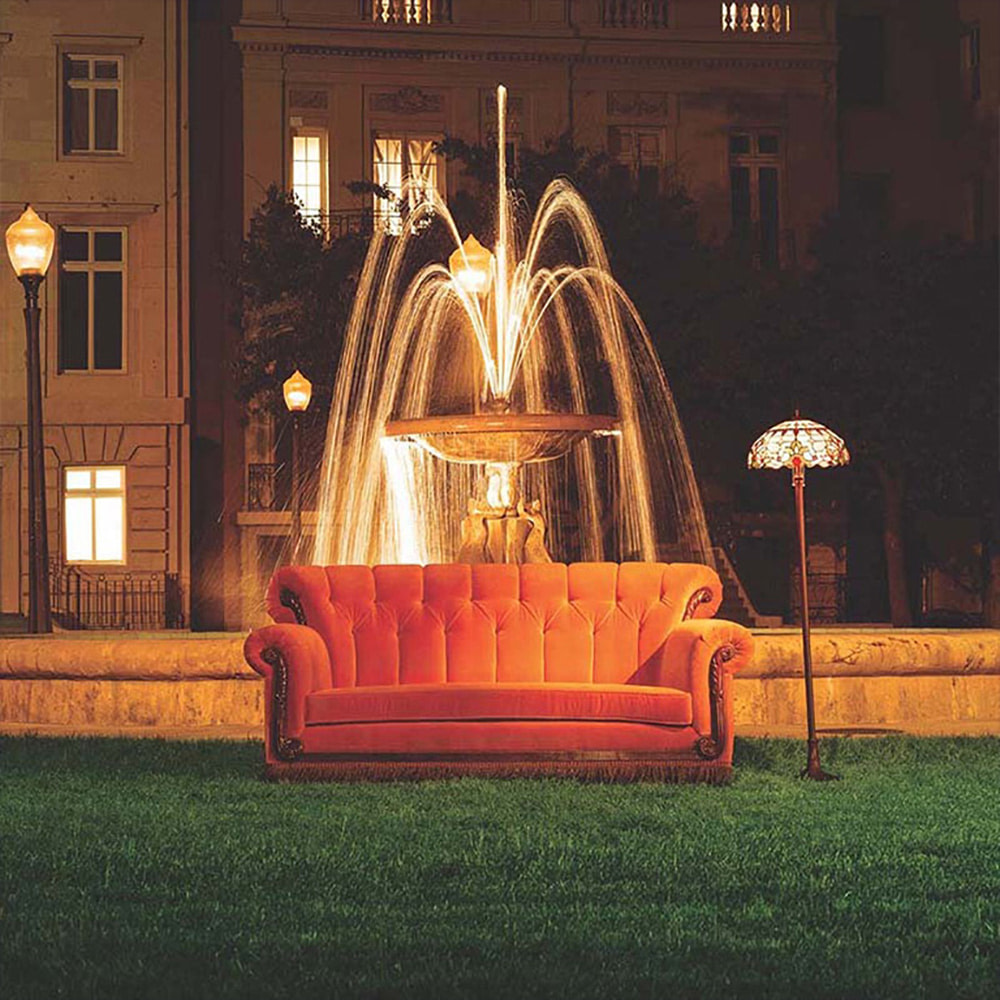 If you're the kind of person who smiles whenever they hear Pheobe singing "Please tell Joey / Christmas will be snowwwwwwwwwy", you won't want to miss this immersive, nostalgia-filled adventure that plunges you directly into the heart of the iconic TV show.
A project by Warner Bros. and Superfly X, The FRIENDS Experience: The One in NYC invites you to sit at Monica & Rachel's kitchen table, have a coffee at Central Perk, or relax in Joey and Chandler's famous chairs. With two floors of set recreations, the photo ops are endless, and so is the fun.
See the City from Above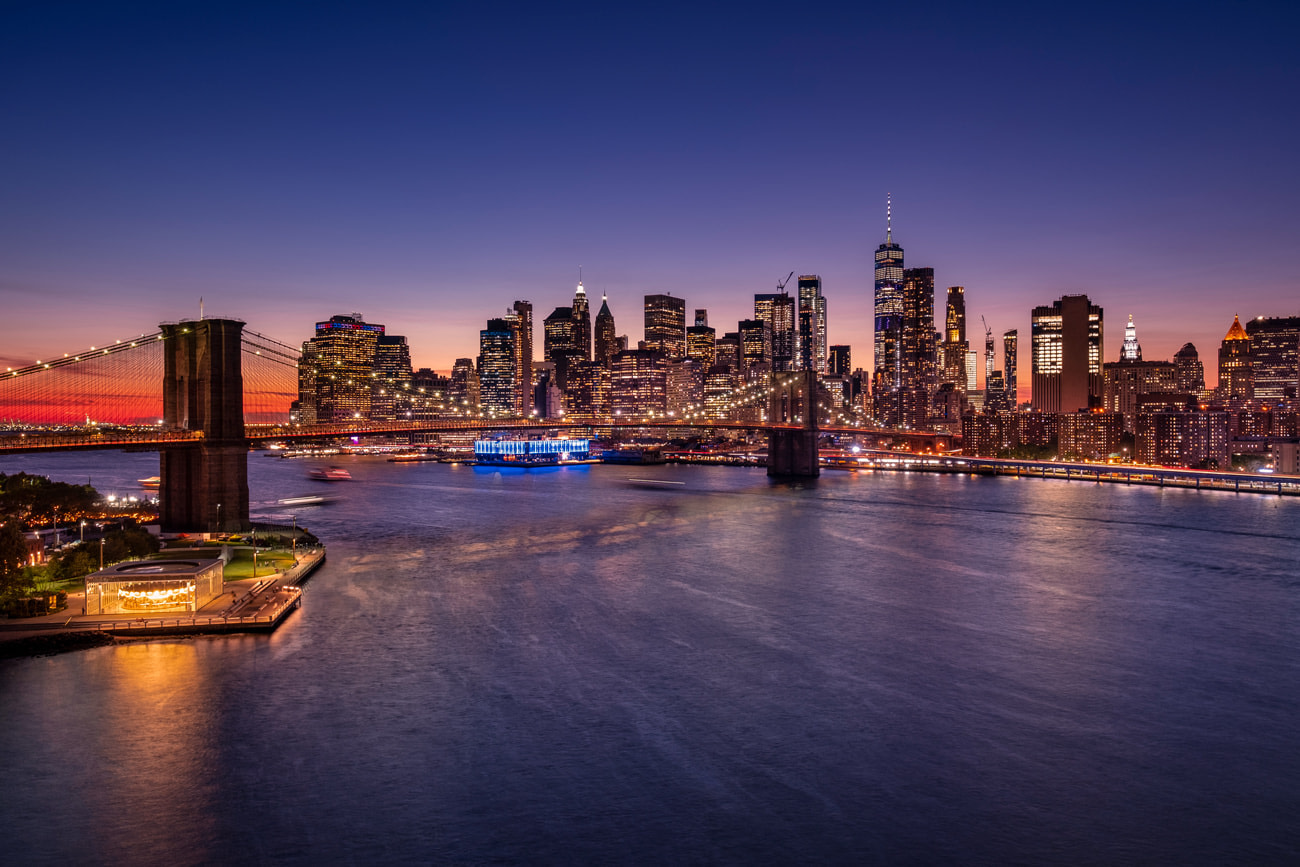 Seeing iconic sights like the Statue of Liberty, Brooklyn Bridge, or Central Park from the air is an experience unlike any other. Thankfully, there are lots of amazing NYC helicopter tours to choose from – some of them starting as low as $160, others offering spectacular nighttime flights over the city skyline, as well as a bird's eye view of Rockefeller Center and Times Square all lit up. Tour times range anywhere between 15 minutes to 3 hours, and the most luxurious of them include perks like in-flight champagne and round-trip transit from the heliport.
Set Sail on a Festive Holiday Cruise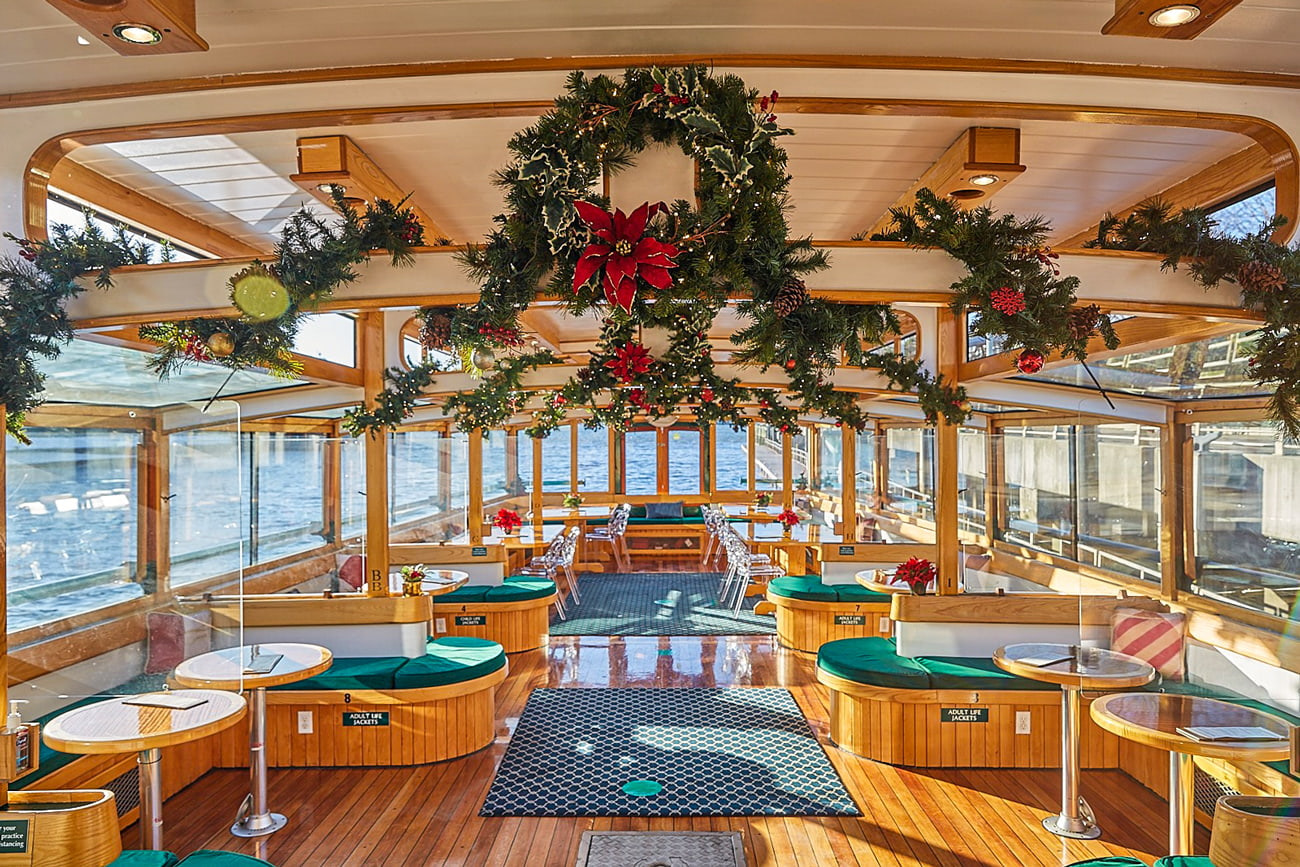 Afraid of heights? Perhaps a holiday-themed sail might be a better fit for you. With New York City Cocoa and Carols Holiday Cruise, you'll get to see the Statue of Liberty, Brooklyn Bridge, and the majestic Manhattan skyline from the water while surrounded by festive decorations and the sound of Christmas carols. Alongside great vistas, the experience also includes complimentary hot cocoa and homemade cookies, live jazz music, and fun sing-along sections.
Get Your Dose of German Christmas Magic at Rolf's
If hearty Bavarian cuisine and over-the-top Christmas decorations are your thing, then Rolf's German Restaurant is the place to be this December in New York. Adorned with sparkling ornaments, cute antique dolls, and over 100,000 lights, this famed establishment in Gramercy Park becomes an attraction in and of itself during the holidays. Yes, the food is pricey and there may be a long line outside, but the magical, picture-perfect experience you get is more than worth the effort.
Marvel at the Epic Decorations in Dyker Heights, Brooklyn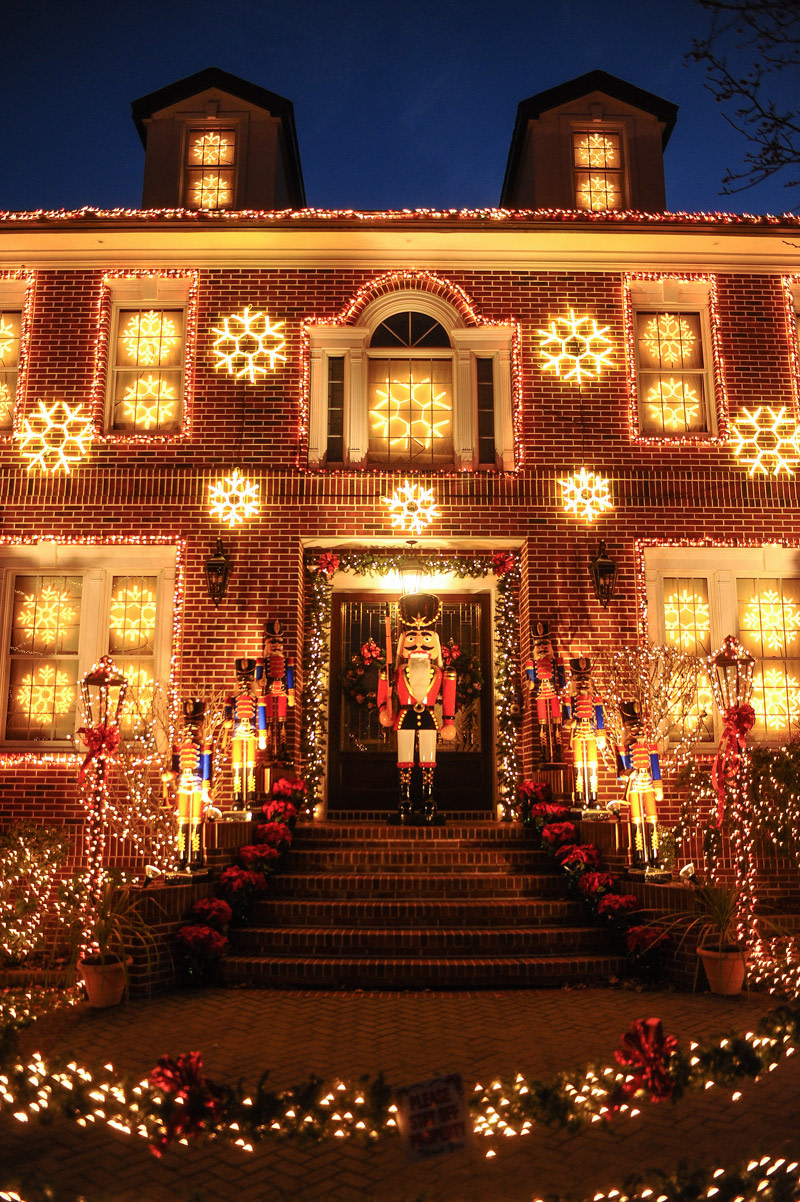 No December trip to NYC would be complete without a stroll around Dyker Heights, the city's most Christmassy neighborhood. Every season, over 100,000 people visit this Italian-American enclave in southwest Brooklyn to admire the vibrant, colorful spectacle, as each house is decked out in extravagant Christmas lights and decorations. Expect life-size nativity scenes, toy soldiers, huge inflatable Santas, and even joyous holiday tunes complementing the lavish displays.
To explore the area, there are lots of guided tours to choose from, whether you prefer to take in the splendor of it all from the comfort of your bus seat or simply walk past the stunningly decorated houses, hot cocoa in hand.
Get into the Holiday Spirit at the Bank of America Winter Village in Bryant Park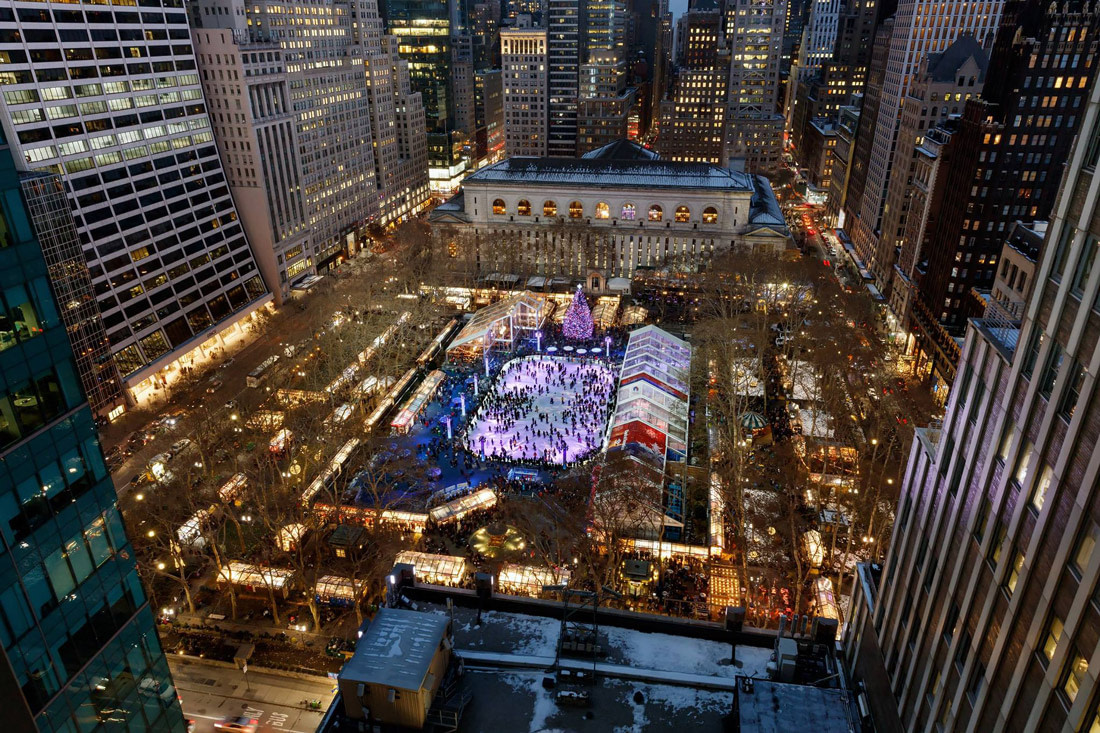 One of New York's most sought-after Christmas addresses, the Bank of America Winter Village at Bryant Park is brimming with festive fun all day long. From a spin on the ice to seasonal shopping and rinkside dining, there's nothing you can't do in this winter wonderland in Midtown Manhattan. A holiday market filled with food and artisanal boutiques keeps visitors happy and entertained, while carol singing and a grandiose Christmas tree add to the jolly atmosphere.
The Bank of America Winter Village opens on October 28, 2022.
Watch the New Year's Eve Ball Drop in Times Square
Times Square is a constant spectacle, and even more so in December when its bright neon lights combine with seasonal magic to put passersby in a festive mood.
The season culminates with the world-famous New Year's Eve ball drop when over 1 million people gather in Times Square to watch the spectacle and have a good time. Add a prevalence of live music and cultural performances along with balloons, confetti, and a stunning pyrotechnic display, and you have one of the best free things to do in New York City.
Otherwise, the area's bars and restaurants host various concerts and events throughout this time of year, and some of them even offer a view of the ball drop. Reservations are mandatory, though.
Stay at The Peninsula New York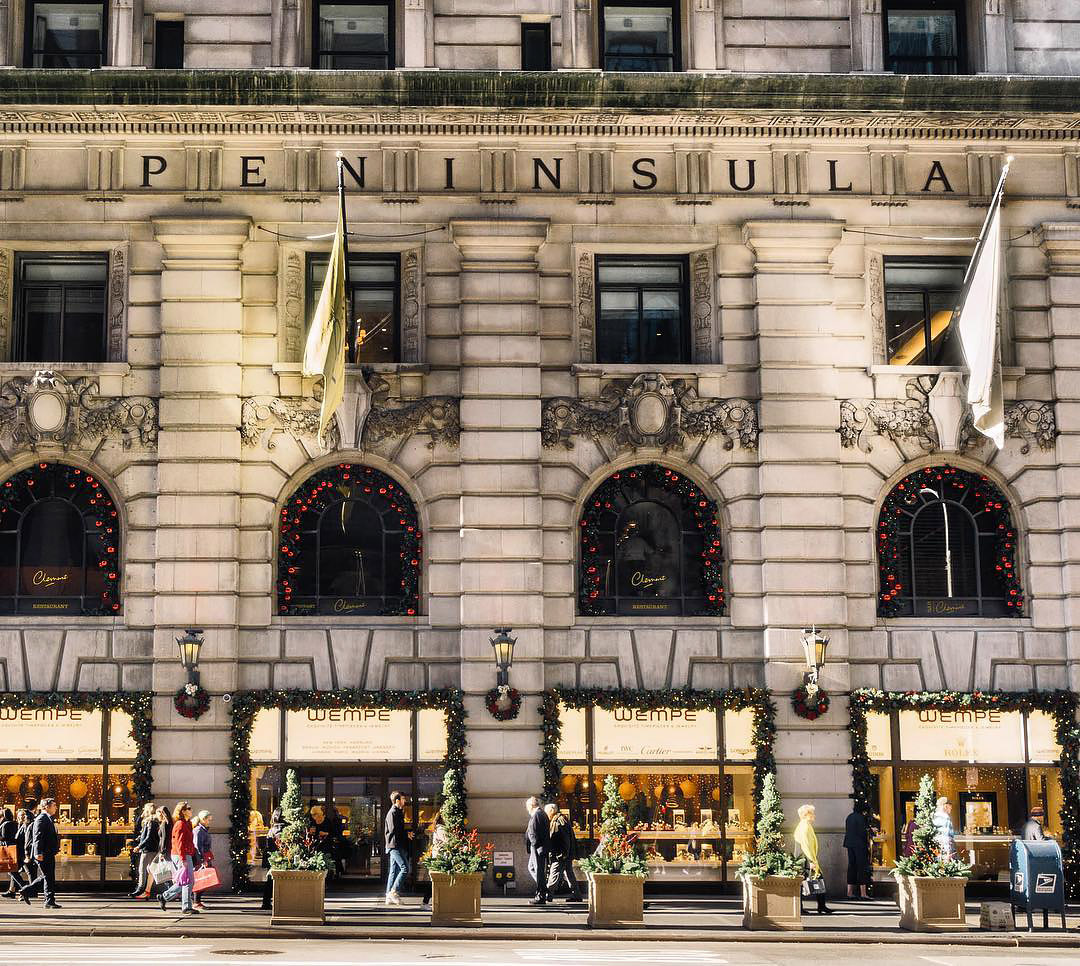 The Big Apple is filled to the brim with fantastic hotels, but if you're looking to capture the true magic of New York City at Christmas, go to The Peninsula New York. Its enviable location right on Fifth Avenue and exquisitely decorated Neo-classical facade along with the tempting seasonal packages on offer make this 5-star establishment one of NYC's best Christmas hotels.
Stop at the elegant Gotham Lounge for a holiday-themed afternoon tea, feast on a four-course Christmas dinner accompanied by Victorian carolers at the onsite Clement Restaurant, and sleep in one of the festively decorated rooms, complete with gingerbread playhouses and Christmas movie libraries.
Tour the Christmas Markets
With everything from independent boutiques to fashion outlets to fabulous department stores, there's no doubt NYC is a year-round shopper's paradise. For the ultimate Christmas shopping session, however, make sure you check out the city's charming holiday fairs and markets.
Some of the biggest and most famous NYC Christmas markets include Bryant Park's Winter Village, Grand Central Holiday Fair, and the one at Union Square Park, all brimming with unique artisan gifts, winter accessories, Christmas tree decorations, and gourmet food & drink.
For some truly authentic American-made products, head to the Grand Central Holiday Fair. Held in the marvelous Vanderbilt Hall, this is the finest and longest-running indoor Christmas market in New York.
With locations in both Manhattan and Brooklyn, the Holiday Handmade Cavalcade is the go-to place for all things DIY, including handbags, jewelry, clothing, home goods, artwork, and all sorts of creative locally crafted gifts.
If you are more into antiques, collectibles, and vintage clothing, Brooklyn Flea + Smorgasburg Winter Market in Atlantic Center is the place to shop. Open every weekend from November through March, it also offers a taste of Brooklyn's artisanal food scene, with a variety of Smorgasburg stands catering to every palate out there.
Gaze Upon the City's Splendid Christmas Trees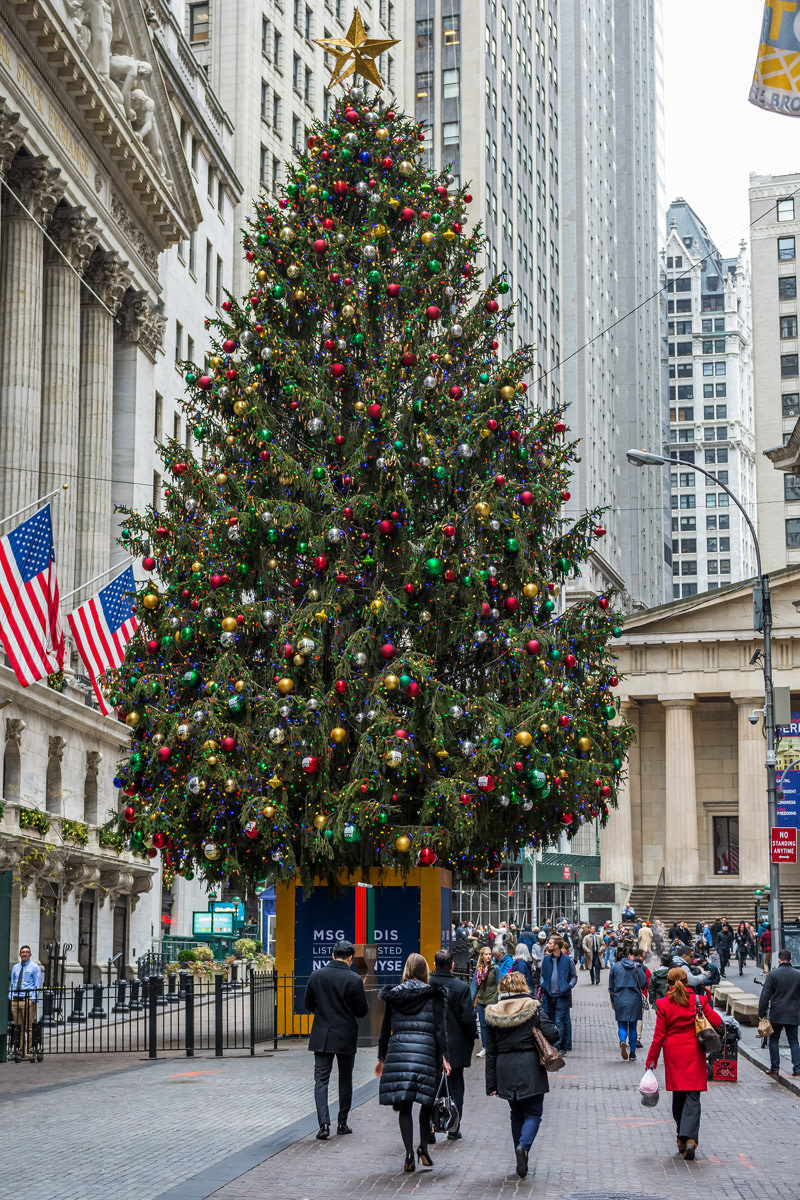 Dozens of twinkling Christmas trees brighten up New York City in December. You'll find them set up in parks, on the streets, within grand hotel lobbies, and even tucked inside major museums.
Nevertheless, it doesn't feel like the holiday season in the Big Apple until the Rockefeller Center Christmas tree is all lit up. A colossal Norway spruce, at least 75 feet tall, this is, no doubt, the city's most iconic and spectacular Christmas tree.
An annual tradition for more than 40 years, the Origami Holiday Tree at the American Museum of Natural History is another sight to behold. Over 1,000 original paper crafts adorn this unique 13-foot tree, and there's a new theme – inspired by the museum's exhibitions – each year.
Further must-see festive trees in NYC include the New York Stock Exchange Christmas Tree at 11 Wall Street, the stunning conifer display at the New York Botanical Garden, the tastefully illuminated holiday tree at the Washington Square Arch, as well as the magical nativity scene and the 20-foot blue spruce at the Metropolitan Museum of Art, which is festooned with 18th-century Neapolitan angels.
As far as hotels go, Lotte New York Palace, The Plaza, Waldorf Astoria, and The Peninsula New York usually play host to some of the most glamorous tree displays in town.
Check out the Holiday Train Show in the Bronx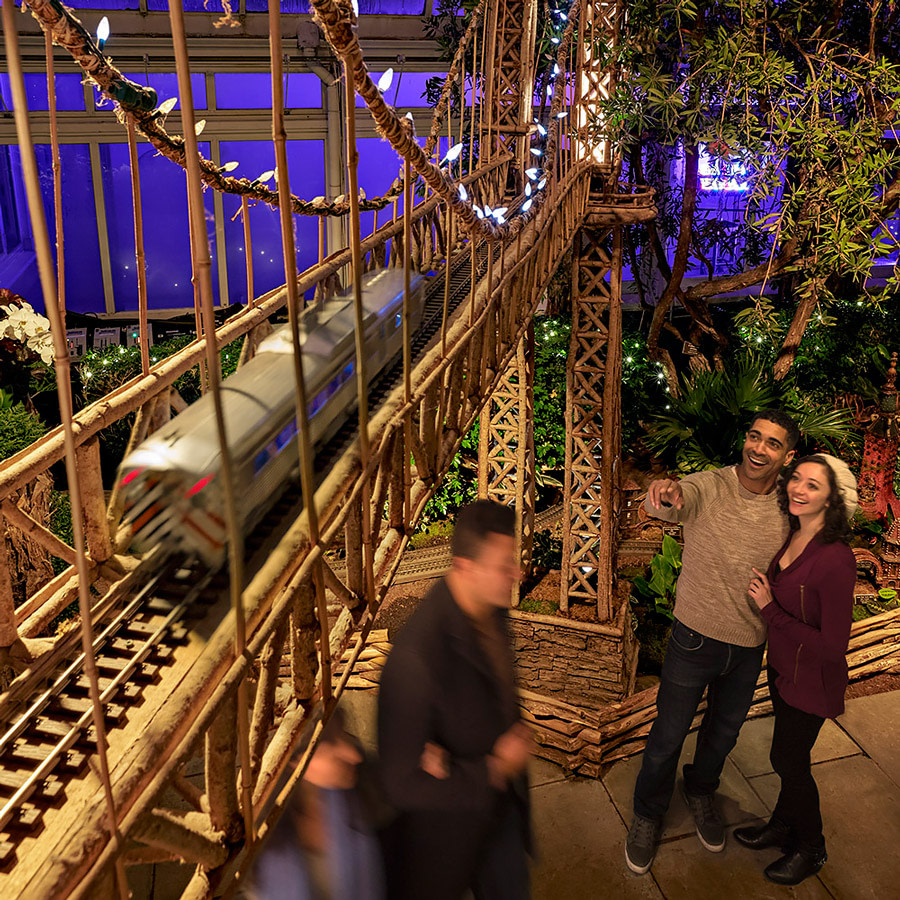 A beloved Christmas tradition for the whole family, New York Botanical Garden's Holiday Train Show showcases over a dozen toy trains cruising past the city's iconic buildings. On display are more than 175 miniature landmarks made of plant-based materials, including Brooklyn Bridge, Rockefeller Center, and the Statue of Liberty.
Running from November 19, 2022 to January 16, 2023, novelties include a replica of the beautiful LuEsther T. Mertz Library Building in New York Botanical Garden.
Accompanying the show this year is GLOW, an outdoor color & light experience centered around Enid A. Haupt Conservatory and the surrounding grounds, and complete with fabulous ice carving displays, music, and the Bronx Night Market Holiday Pop-Up.
See The Nutcracker
Seeing The Nutcracker is a classic holiday experience for New Yorkers, young and old, and there are countless variations of it playing in the city throughout the season.
An enchanting 2-hour show featuring glorious dancing, sumptuous costumes, and elaborate visual effects – all wrapped in Tschaikovsky's sensational music, George Balanchine's outstanding production performed annually by the New York City Ballet at Lincoln Center is widely regarded as one of the best Christmas events in NYC.
Alternatively, The Hip Hop Nutcracker is a contemporary urban take on this timeless holiday classic, complete with creative digital scenery, on-stage DJ, an electric violinist, and explosive hip-hop choreography courtesy of Jennifer Weber, while the one-hour version of The Nutcracker by renowned New York Theatre Ballet choreographer Keith Michael is perfect for ages 3 and up. Set in Art Nouveau style, the latter is held at the intimate Florence Gould Hall and comes with clockwork elves, mice dressed in polka dots, and an owl that flies over the audience.
Embark on a Christmas Movie Tour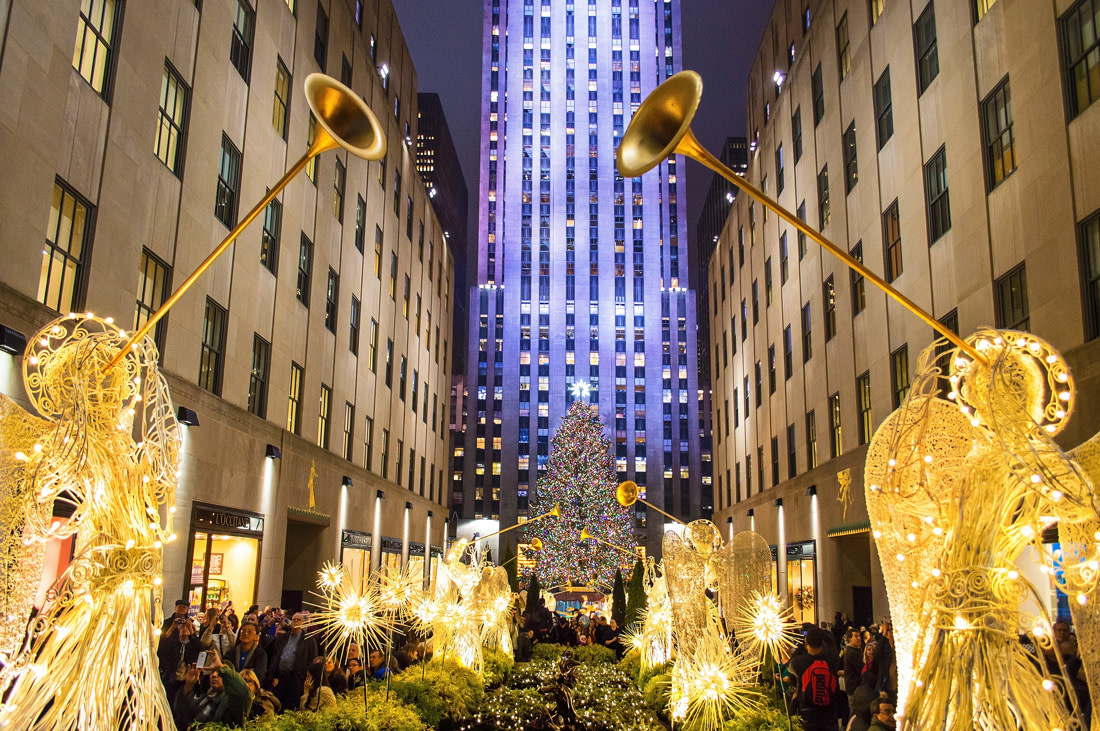 There are countless fun things to do in NYC in December, but no Christmas enthusiast's trip would be complete without visiting a couple of iconic spots from his/her favorite holiday films. And the easiest way to do so is with a Christmas film tour.
For a complete NYC holiday sightseeing adventure, opt for the Holiday Lights & Movie Sites Tour. Complete with clips from holiday films and insider secrets from a local actor, this guided bus tour offers you the chance to see Manhattan's spectacular lights and holiday window displays while hopping between famous locations featured in Miracle on 34th Street, Home Alone 2, Elf, and Scrooged.
…
Our top travel tip: To make the most of your December in NYC, save your precious time and money with one or more of the city's amazing passes: