An intimidating metropolis for many and a blast for others, New York City has everything you could ever hope for, from world-class art and culture to a vibrant food scene and boundless entertaining options.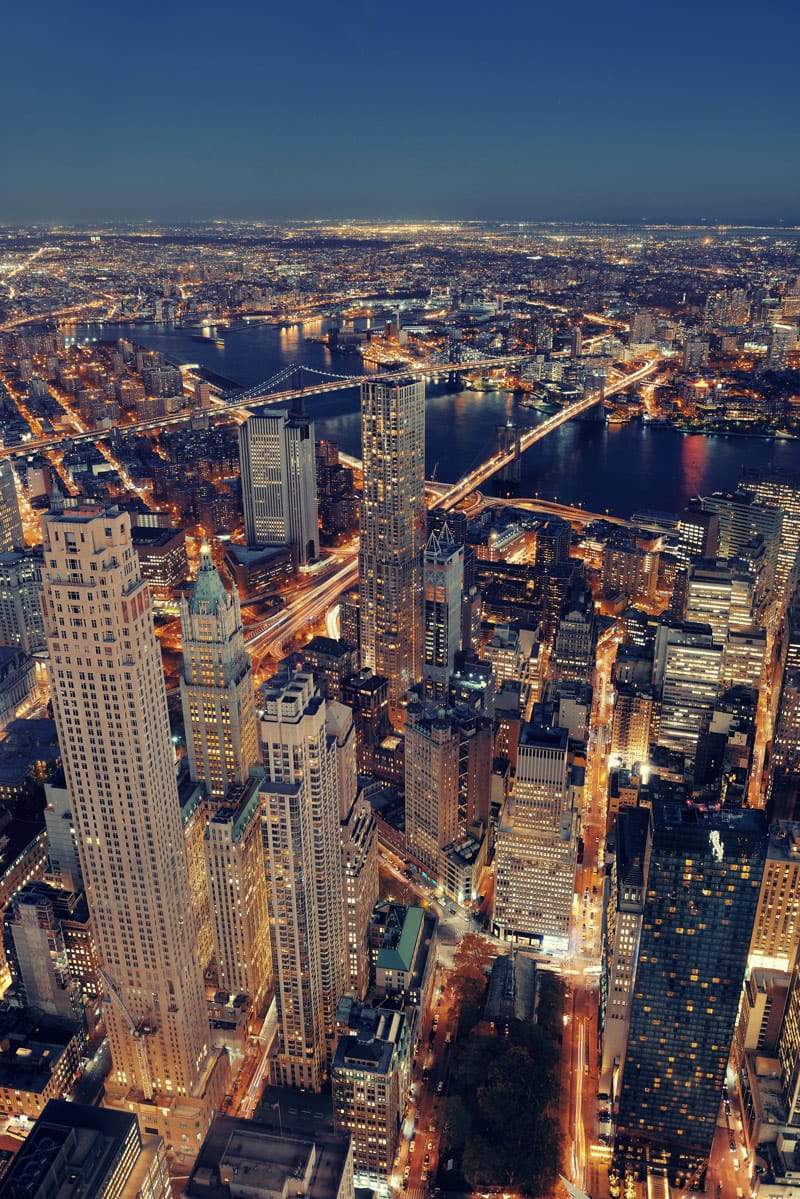 This is a big, bustling, crazily expensive city we're talking about, but with smart planning and a bit of local knowledge, you can actually have the experience you've always dreamed of without spending a fortune. Here are 50 free things to do in NYC to get you started:
1. Take in the art, walk along the East River, and get a nice view of Manhattan's skyline in Socrates Sculpture Park, in Astoria, Queens. During the summer months, the park plays host to a series of events, all of them free of charge.
2. Admire the stunning American Gothic Revival architecture of St. Patrick's Cathedral, on the 5th Avenue. All tours are free of charge, though contributions are appreciated.
3. Get lost in the world's leading institution dedicated to photography and visual culture. The International Center of Photography (ICP) has several locations throughout New York City, (including Bowery and School & Library in Midtown), and offers pay what you wish on Thursdays starting at 6 PM.
4. Relax and soak up the natural beauty at the Brooklyn Botanic Garden. It is free to visit all day on Tuesdays, Sundays from 10 AM to 12 AM, and in winter weekdays (November–February).
5. Walk the spectacular grounds of New York Botanical Garden (Bronx) all day on Wednesdays, and Saturdays from 9 AM to 10 AM.
6. Discover the culture of Native American peoples at the National Museum of the American Indian – New York. The museum is located in the historic part of Lower Manhattan and it's totally free.
7. Stroll the Central Park. Besides being the most famous park in the world and one of New York City's major attractions, this huge oasis of greenery in the heart of Manhattan boasts an amazing array of things to see and do.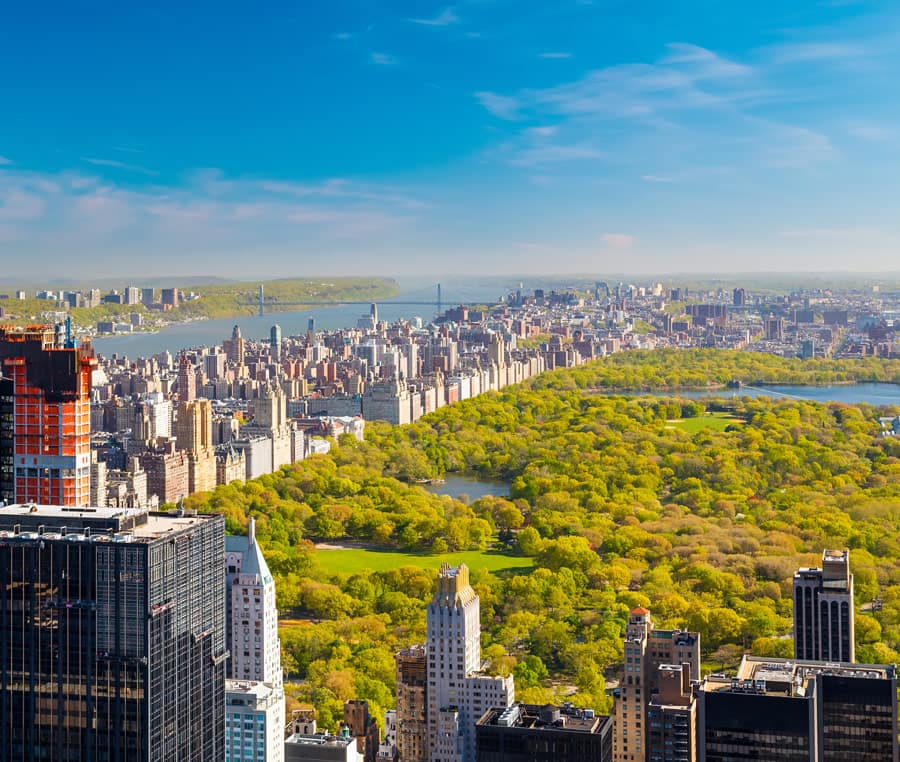 8. Hop on the Staten Island Ferry. The 25-minute ride is completely free and will take you from St. George Ferry Terminal on Staten Island to the Whitehall Terminal in Lower Manhattan, offering lovely views of the Statue of Liberty and the Manhattan skyline. For other interesting transportation options around the city, including some really affordable ones, read my latest article on the best ways to explore New York City.
9. Wonder the Riverside Park, one of Manhattan's most remarkable waterfront grounds. The park is a wonderful place to walk, bike, and take in the beautiful surroundings. Moreover, it plays host to numerous free events from May to October, as well as interesting monuments such as Joan of Arc statue, Eleanor Roosevelt Monument, or Grant's Tomb.
10. There is an amazing variety of tours in New York City, but none of them compares with the Big Apple Greeter's tours. Ever since 1992, their kind volunteers have provided visitors to the city with free, personalized excursions along with tons of useful tips. Make sure you book well in advance and visit their website for more info.
11. Go see the Green-Wood Cemetery in Sunset Park, Brooklyn. A designated National Historic Landmark, this quaint, green oasis in the heart of the city is home to beautiful landscaped gardens, picturesque lakes and ponds, as well as fabulous sculptures and monuments at every turn.
12. Step into the world-famous Grand Central Terminal and admire the impressive Beaux-Arts architecture of this NYC historical landmark. For a one-of-a-kind experience, though, check out Grand Central Partnership's free 90-minute guided walking tour. This takes place each Friday and leads you through some of the most notable sights of Grand Central neighborhood, including the Grand Central Terminal, Chrysler Building, Pershing Square, and many more.
13. Take a free tour of the renowned New York Public Library.
14. Visit the Federal Reserve Bank of New York. All bank's exhibits are free, but if you want to see the famous gold vault, booking several months in advance is mandatory.
15. Soak up the Times Square's intoxicating energy. No trip to New York is complete without a visit to the iconic Times Square, and although there's plenty to pay for around here (from fast-food to dazzling Broadway shows), starring at the giant electric billboards, admiring the street performers, and feeling the heartbeat of the world's most vibrant city won't cost you a penny. Visit in winter to see the fabulous New Year's Eve ball drop – it's one of the best things to do in NYC in December.
16. Visit the beautiful ceiling mural in the lobby of the Chrysler Building at no charge. Just make sure you'll be there during the normal business hours.
17. See the largest Gothic cathedral in the world, Cathedral of St. John the Divine. Although admiring its magnificent exterior it's free of charge, admission is made by donation.
18. Learn about Spain, Portugal, and Latin America at the Hispanic Society of America, on Broadway. The museum is free to the public and plays host to the largest collection of 19th-century Spanish art and manuscripts outside of Spain, including notable works by El Greco, Goya, and Velázquez.
19. Walk the iconic Brooklyn Bridge. Don't forget your camera as you'll have the opportunity to capture some awesome views of the Manhattan skyline.
20. Attend a free Juilliard performance. The country's most prestigious performing arts school holds almost 700 free concerts each year.
21. Visit the Swiss Institute of Contemporary Art, on Wooster Street, and browse the great collection of Swiss and European contemporary art on display in an innovative, Scandinavian-style environment.
22. "Pay What You Wish" at the Guggenheim each Saturday between 5:45 PM and 7:45 PM. Housed in an eye-catching building designed by famous American architect Frank Lloyd Wright, the Guggenheim boasts a wonderful collection of contemporary art, including modern sculptures and paintings by such artists as Wassily Kandinsky, Pablo Picasso, Paul Klee, or Joan Miró.
23. Admire one of the richest collections of garments, textiles, and accessories in the world at the Museum at Fashion Institute of Technology.
24. Explore South Bronx Cultural Corridor with the free Bronx Culture Trolley. Tours are available on the first Wednesday evening of the month (except January and September) and feature attractions such as art exhibits, poetry readings, film screenings, comedy shows, as well as various live theatrical, musical, and dance performances. Visit the website for updates.
25. Take a glimpse into the history of beer making at the Brooklyn Brewery. Free tours are available on Saturdays (1-5 PM) and Sundays (1-4 PM).
26. Visit the Museum of Modern Art (MoMA) in Midtown Manhattan. Although it hosts some of the most prestigious collections of contemporary art in the world, MoMA can be visited for free each Friday from 4 to 8 PM. Highlights include The Starry Night by Vincent van Gogh, Claude Monet's Water Lilies, and many other works of art by illustrious artists like Picasso, Paul Cézanne, Paul Gauguin, Matisse, Rousseau, or Salvador Dali, to name but a few.
27. Stare at the mindblowing Art-Deco architecture at the Rockefeller Center.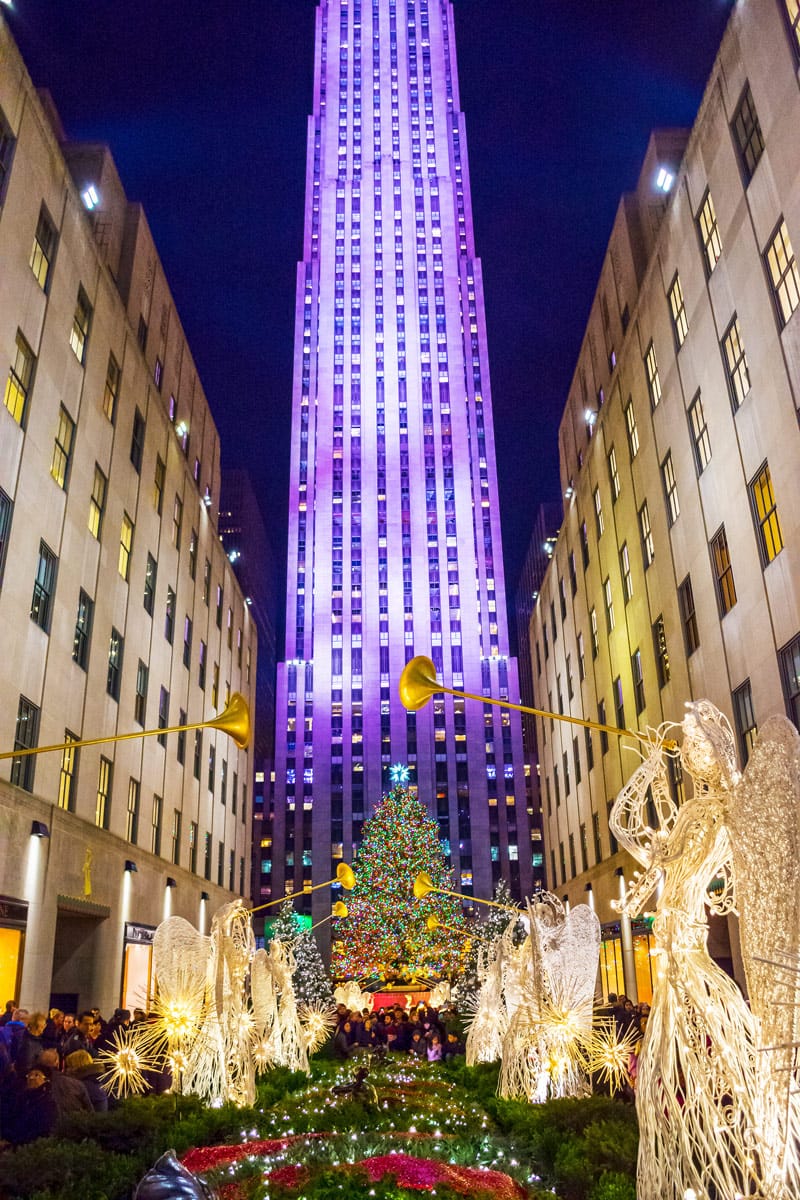 28. Attend a popular TV Show. The Daily Show with Trevor Noah, The Colbert Report, Dr. Oz Show, Good Morning America, or Late Show with David Letterman – all offer free tickets for those who want to be part of the studio audience. Make sure you check out their websites and book well in advance.
29. Explore the memorial and visitors center at the African Burial Ground in the Civic Center, and learn about the history of African slaves in New York City.
30. Stop by the Bronx Museum of the Arts, an excellent cultural center designed to reflect Bronx' multicultural identity through an interesting collection of artworks by African, Asian, and Latin American artists.
31. Learn interesting things about the American history with a free tour at the Federal Hall National Memorial, on Wall Street. This is the first US Capitol Building and the place where the Bill of Rights was officially passed.
32. Visit the first LGBTQ art museum in the world. The Leslie-Lohman Museum of Gay and Lesbian Art can be found in SoHo and displays art related to various LGBT themes.
33. Take in visual art at the Museum of American Illustration in the Society of Illustrators, in Upper East Side. Admission is free on Tuesdays from 5-8 PM.
34. Walk along the delightful Battery Park Esplanade, an award-winning walkway that runs along the Hudson River's edge of Lower Manhattan, providing stunning views of the Statue of Liberty, Ellis Island, and the Jersey skyline.
35. Visit the stunning Frick Collection, on the Upper East Side. It's free every first Friday of the month, and pay what you wish all Wednesdays.
36. Spend a relaxing day at the farm. The Queens County Farm Museum in the neighborhood of Glen Oaks, Queens offers plenty of free attractions.
37. Visit the birthplace of Theodore Roosevelt in the quiet Gramercy neighborhood of Manhattan.
38. Enjoy free Mondays at the Museum at Eldrige Street. Situated in Chinatown, this is the first great house of worship built by Eastern European immigrants in America.
39. If it's Wednesday or Thursday, go to the Museum of Jewish Heritage and discover some interesting aspects of the Jewish history and culture, before, after, and during the Holocaust. Free admission from 4 PM to 8 PM.
40. Get your dose of Japanese culture at New York's Japan Society. Admission is free on Friday nights, 6 PM–9 PM.
41. Take a stroll along the Brooklyn Heights Promenade. Arguably the most romantic and picturesque place in New York City, this third-of-a-mile stretch lined with grandiose mansions and pretty landscaped gardens offers some of the most incredible vistas of Lower Manhattan, the historic South Street Seaport, the East River, Staten Island, Governor's Island, the Statue of Liberty, and the mighty Brooklyn Bridge.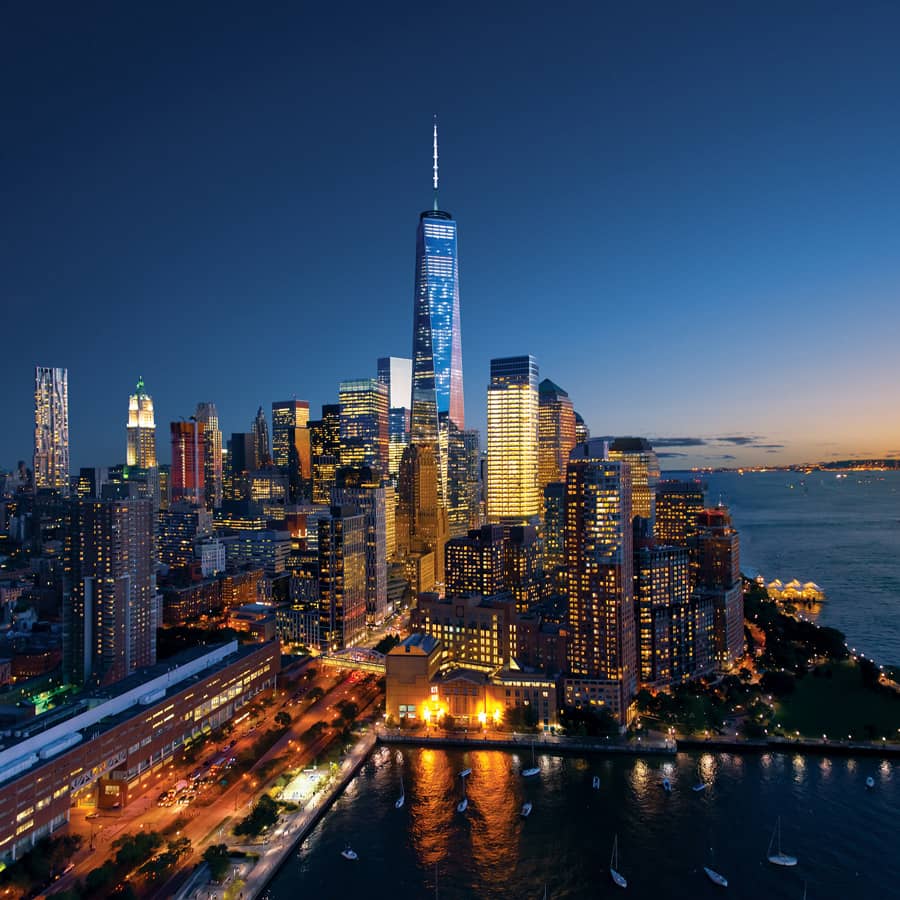 42. Explore the Historic Richmond Town, a charming museum village on Staten Island. On Fridays, admission is free from 1 PM to 5 PM.
43. If you plan your visit during summer, take advantage of NYC's free outdoor pools.
44. Immerse yourself into the fascinating black culture at the Studio Museum in Harlem (admission free every Sunday).
45. Soak up the vibrant atmosphere and indulge in farmers' regional goods at the Union Square Greenmarket. The market is held each Monday, and most vendors are eager to offer samples of their organically grown produce, be it homemade bread, garden-fresh fruits, artisan cheese, wine, or artisanal meats.
46. Check out Chelsea's free galleries. This elegant neighborhood on Manhattan's West Side has been converted into a cultural mecca thanks to the hundreds of renowned and talented up-and-coming artists who decided to open galleries in the area's industrial spaces. Among the most impressive are The Pace Gallery, Cheim & Read, Sean Kelly Gallery, Matthew Marks Gallery, Gladstone Gallery, Luhring Augustine, Tanya Bonakdar Gallery, and David Zwirner – all of them located between Tenth and Eleventh Avenues.
47. Keep in shape with Shape Up NYC, a free fitness program held each week in numerous locations throughout the city.
48. Walk the High Line. The gorgeous elevated park runs 30 feet above the busy streets of Manhattan's West Side, providing a plethora of free attractions, including works of art, lovely views of the Hudson River, as well as the High Line Art's wonderful programs and video projections that enliven the buildings' facades from time to time.
49. Have some fun at the Upright Citizens Brigade Theater in Chelsea. Excellent improvisational and sketch comedy shows are held every night, and although prices are always low, they also offer two free spectacles each week.
50. Eat for free at Blind Tiger Ale House, a legendary craft beer bar in West Village. Every Wednesday, they offer a rotating selection of delicious cheeses from Murray's Cheese, plus fresh baguettes, for free. Just be there at 6:00pm!
What's your favorite free thing to do in NYC?