Like a smaller version of Barcelona, the Balearic capital is filled with twisting medieval streets, awe-inspiring historical sites, and more than a few striking Modernista jewels. Imposing baroque churches loom above buzzy palm-lined squares and elegant old mansions house cutting-edge art galleries and swish hotels.
Most mornings, Palma's centuries-old pastry shops flood the sidewalks with the scent of freshly baked empanadas and in late afternoons, the soothing Mediterranean sun sets its honey-colored stone palaces aglow. It truly is a perfectly sliced piece of Mediterranean life, with stylish city dwellers enjoying lunch and unhurried conversations at tree-shaded outdoor cafés all year long, or cycling peacefully along a crisp and clean Paseo Maritimo fringed by glimmering yachts.
Yes, Mallorca's urban heartbeat is a classic Mediterranean city, but one with contemporary tastes and creative energy aplenty. Its eye for style, quality, and craftsmanship is evident everywhere, from the alluring architecture to the aesthetically pleasing interiors of its hotels, restaurants, boutiques, and galleries.
We've explored the city's meandering alleys, grand boulevards, and palm-shaded squares to find the best stops for a design-centric trip to Palma.
EXPLORE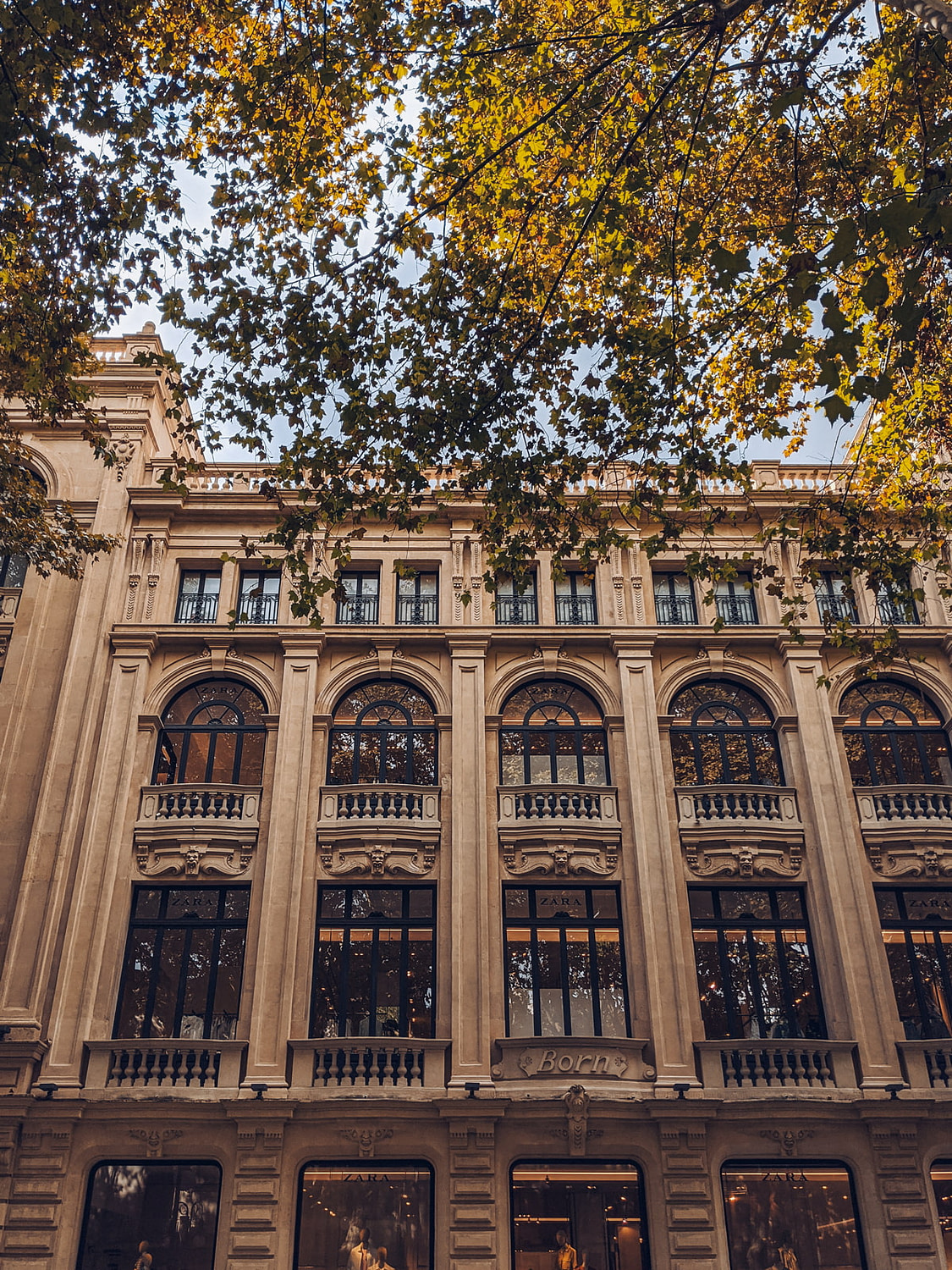 Palma's labyrinthine old town is made for walking. Intertwined with graceful architecture, peaceful palm-lined plazas, mysterious courtyards, and backstreets covered in edgy graffiti, every stroll you take here is rife with discovery and enchantment.
However, the first stop on any design-lover's list should be Passeig del Born, the city's most elegant street. Fringed by stylish aristocratic palaces, this is a veritable catwalk where some of the most luxurious fashion boutiques mingle with refined galleries and alfresco dining options in the shade of tall, leafy trees. Chances are your stroll will culminate with glimpses of Palma's majestic La Seu cathedral, which greets passersby at the lower end of the Passeig del Born.
For those interested in cutting-edge design, Es Baluard, Palma's Museum of Contemporary Art is well worth a visit. Carved into the old Renaissance-era walls of the city, the building masterfully blends ancient stonework with striking concrete and glass surfaces, and shelters an important collection of 20th-century art, including works by Joan Miró, Picasso, Magritte, and Rusiñol. There are also wonderful views over the Bay of Palma from its restaurant and terraces.
Another of Mallorca's cultural treasures, Museu Fundación Juan March occupies a splendid 17th century noble manor house and holds notable works by avant-garde 20th-century Spanish artists like Picasso, Dali, Miró, and Juan Gris.
If time allows you to squeeze in a little more gallery hopping, head over to Carrer de Can Verí, a charming narrow alley, where you'll find two more art spaces – Pelaires (Palma's foremost private art gallery) and Galeria K (a treasure trove of Pop Art and photography), along with stylish interior design shops and beautiful stately buildings to marvel at.
SHOP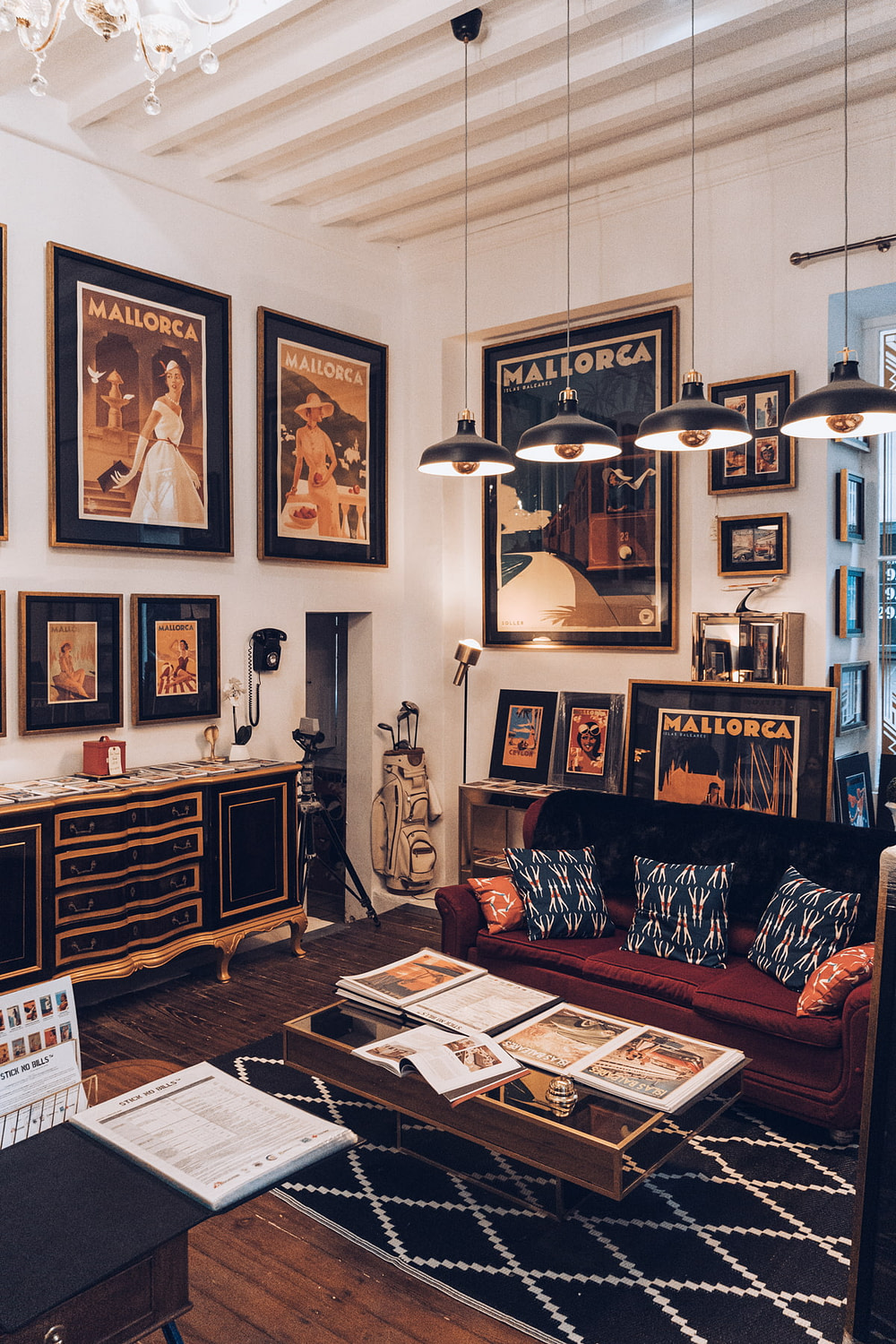 Browsing the chic local boutiques is one of the highlights of visiting Palma. Of course, the Mallorcan capital is laden with excellent shopping streets and world-famous fashion brands, but where it really excels is its offering of original concept stores, beautifully curated design shops, and inspiring outlets that promote the craftsmanship and gastronomy of Mallorca.
One such address is Oma Project Mallorca in the trendy neighbourhood of Santa Catalina, where Algerian designer Naïl Mani curates artisan decor and fashion items crafted on the island and beyond. Another one is La Pecera, a stylish showcase of pieces handmade in Mallorca exclusively from natural materials, from unique palmito chairs and mid-century furnishings to chic straw hats and espadrilles.
Fans of bold, colorful designs will be well served at Gallery RED, a multi-functional space where art, fashion, and lifestyle come hand in hand. Founded by one of the world's richest art collectors, this eclectic emporium in Plaça Frederic Chopin is filled with cool retro decorative objects, contemporary furniture pieces, rare designer bags, as well as sought-after artworks by the likes of Warhol, Banksy, Murakami, and David LaChapelle, thus offering a one-of-a-kind shopping experience.
Housed in Palma's former baroque movie theatre, on a small street just off the elegant Passeig del Born, Rialto Living is a delightful concept store combining fashion and interior design pieces with temporary art exhibitions and an elegant plant-filled café.
One of the most outstanding shops in Palma to buy classy souvenirs is Stick No Bills. Tucked away amid the entangled lanes of the old town, here you'll find a brilliant collection of retro-style poster art. Their vivid, original designs, printed on the world's finest paper, are highly-stylized miniature stories that capture life in the Balearics, or Ceylon, through a nostalgic mid-century modern filter.
A few steps away, on the same narrow Costa d'en Brossa street, AMANCAY Rural Hands – a pretty little boutique with a soft spot for nature and sustainability – sells the dreamiest dried flower bouquets, along with soft, eco-friendly knitwear, natural candles handcrafted in Barcelona, Mallorcan ceramics, organic beauty products, and a scatter of artisanal household items.
EAT
Artful tapas bars, surprisingly affordable Michelin-starred restaurants, and a new wave of modern ethnic eateries prove Palma is increasingly becoming a gastronomic haven.
The perfect spot for a bite to eat between two shopping sessions is Bocafina, a beautifully designed gourmet shop & café, where you can take your pick from dozens of exquisite preserves, cheeses, wines, and teas, and have them served at your table. Alternatively, pop into the understatedly chic Lluis Perez Pastisser pastry shop on Carrer de Bonaire 14, where haute couture creations by one of Spain's best confectioners beg to be tasted.
An excellent choice for lunch is El Camino, which serves decadent tapas at its long marble counter, in beautifully tiled designer surroundings. Equally appealing, but with a totally different vibe, is Fabiola Gastronomic Garden at Boutique Hotel Sant Jaume, where playful Meditteranean plates made for sharing come accompanied by stylish tropical-inspired decor and a funky jazz soundtrack.
For a marvelous Michelin-starred dinner in a relaxed, contemporary setting, nowhere can quite match Marc Fosh. Located inside the fashionable 17th-century Hotel Convent de la Missió, the restaurant focuses on seasonal local ingredients, masterfully combined by its esteemed British chef into innovative, artfully presented dishes. The lunch menu, priced from €29.50, is an absolute steal, but it is definitely worth splurging on an elaborate dinner designed to take you on a true gastronomic voyage across the Mediterranean.
STAY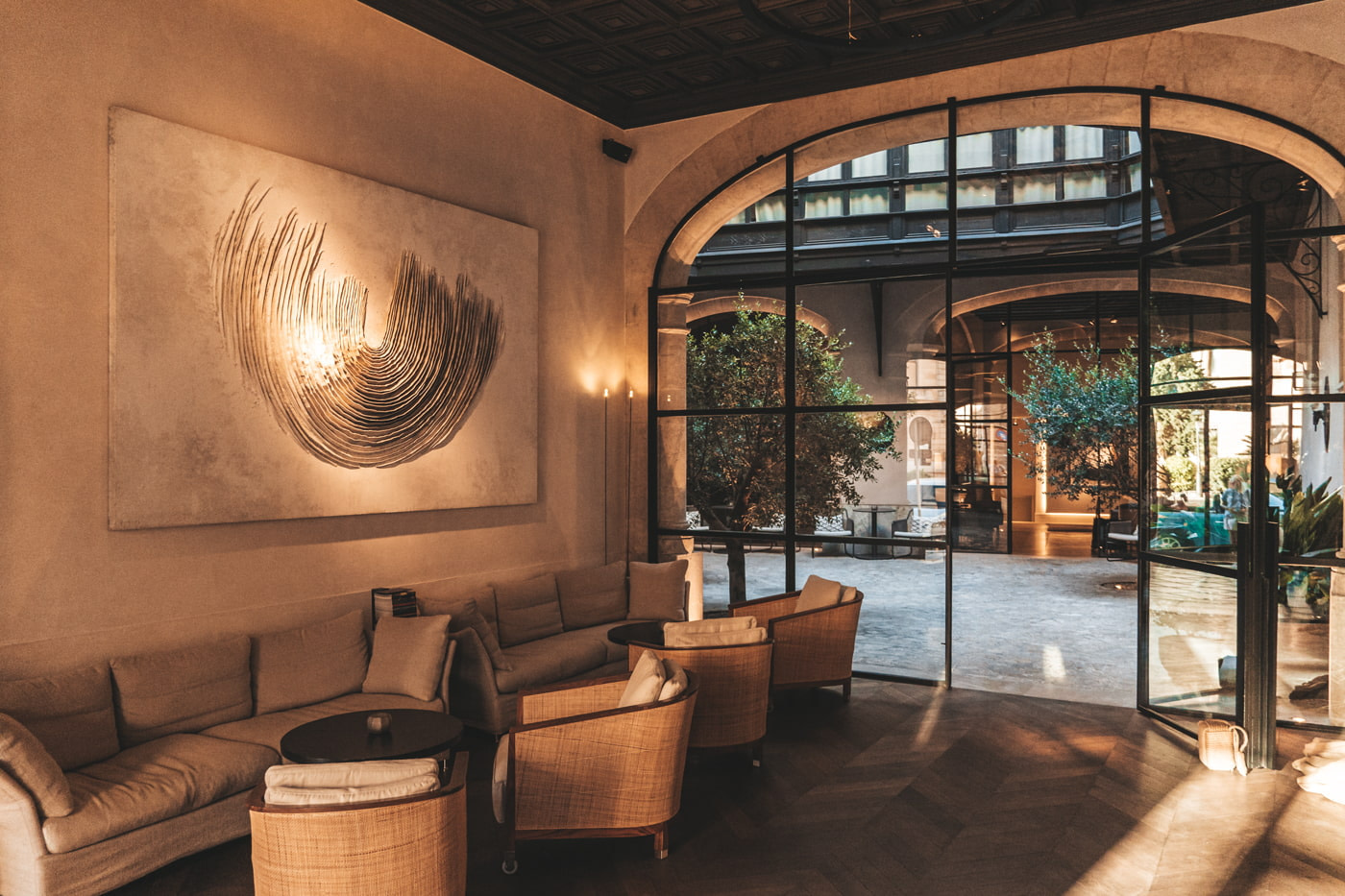 There's something utterly inspiring about the hotels in Mallorca, and Palma is no exception. Their understated elegance and the way they fuse ingenious design with contemporary aesthetics is simply sublime.
For one of the classiest stays in town, check into Sant Francesc Hotel Singular, a 19th-century mansion-turned-five-star-boutique on a quiet square in Palma's historic quarter. The grand lobby and ancient olive-tree-dotted courtyard give way to serene, sophisticated guest rooms, and exquisite designer pieces adorn the premises. Upstairs, a hip rooftop bar welcomes patrons for a swim and cocktails overlooking the Sant Francesc Basilica.
Another wonderful place to wind down in style after a day of sightseeing would be Hotel Cort, whose maritime-flavored interiors bear the distinctive mark of contemporary Barcelona designer Lázaro Rosa-Violán (think Moorish tiled floors, shelves filled with books, wooden floors, fireplaces, and lots of chic mahogany cladding).
Meanwhile, budget-savvy design enthusiasts in Palma will feel right at home at HM Balanguera. Hidden behind a striking white Gaudi-esque facade punctuated by square windows in various sizes, you'll find small, minimalist rooms awash in natural materials and contemporary mod-cons, a pretty reading area complete with fireplace, and a rooftop pool rimmed by stylish cabanas.