When thinking of Thailand, images of shimmering white sand beaches, lush tropical jungles, and golden Buddhist temples usually spring to mind, but this friendly, exotic country is also home to a fascinating culture, deeply influenced by religion and spirituality.
There's no better way to experience Thailand in all its fabulous ethnic diversity than through its spectacular festivals. Brimming with color, sacred rituals, and one-of-a-kind ancient traditions, these glorious events will make you want to grab your passport and book yourself a flight to witness them first hand.
Phuket Vegetarian Festival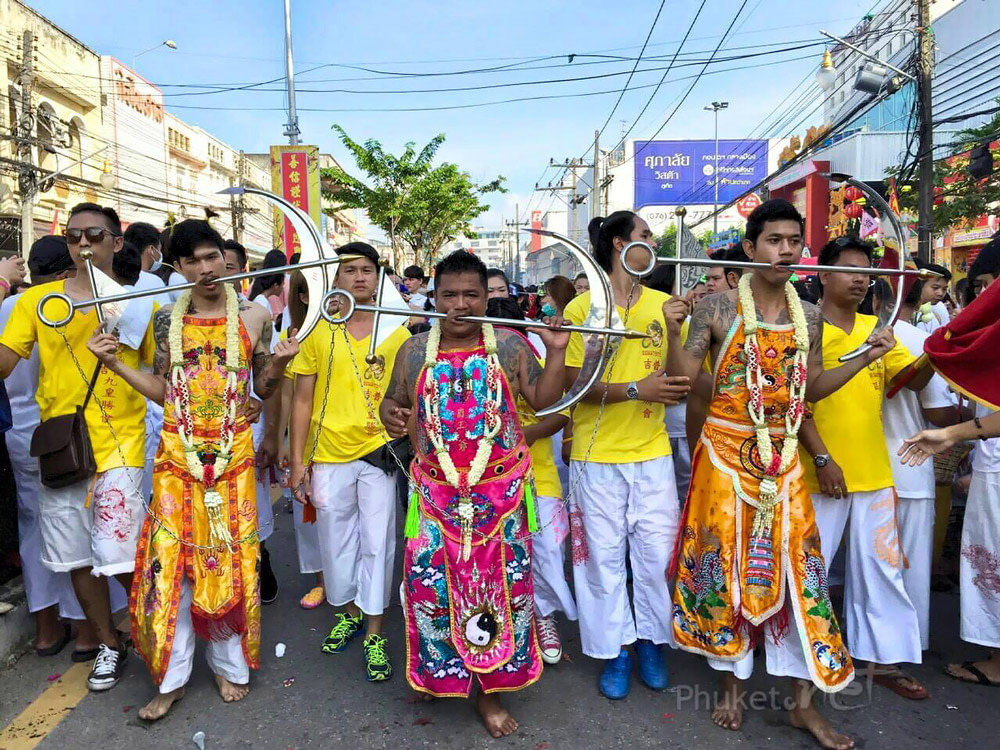 Contrary to what its name may suggest, Phuket Vegetarian Festival is one of the most shocking and bizarre festivals in Thailand. During this time, some locals, especially those of Chinese origin, abstain for eating meat, walk barefoot on hot coals, and voluntarily pierce their faces and bodies with all sorts of weird objects in order to purify their souls.
The ceremonies honor Lam Tao and Pak Tao – two Taoism's gods, and are accompanied by fireworks, drums, and, of course, delicious vegetarian cuisine. Street processions with participants walking in a trance can be observed all over the island, but the most dramatic rituals usually take place in the vicinity of Chinese temples.
While definitely a unique spectacle, this insane 9-day event, also known as the Nine Emperor Gods Festival, is not for the faint-hearted.
Chinese New Year
One of the most colorful and vibrant annual events across the globe, the Chinese New Year (or Spring Festival) is celebrated with great enthusiasm in Chinese communities worldwide. Thailand, whose 14% of the population is Chinese, is no exception.
One of the most flamboyant festivities takes place in Yaowarat – Bangkok's Chinatown, where streets come to life with theatrical dragon parades, lion dances, food stalls, firecrackers, and iconic red Chinese lanterns. Otherwise, temple celebrations and traditional cultural and musical performances can be seen in various destinations throughout the country, including Phuket, Koh Samui, Chiang Mai, or the province of Nakhon Sawan.
Chiang Mai Flower Festival
Dazzling floral displays and a spectacular floats parade make the Flower Festival in Chiang Mai one of the most unique experiences one can have in The Land of Smiles.
Every year on the first weekend of February, this alluring northern Thai city, also known as the Rose of the North, is bursting with sweet fragrance and vivid blooms in every imaginable hue.
The wonderful Suan Buak Hat Park in the old town is carpeted in splendid orchids, multi-colored chrysanthemums, and the native Damask Rose. Also here, the most talented landscape specialists gather to showcase their elaborate creations, featuring everything from brilliant flower arrangements and waterfalls to fabulous miniature gardens.
A highlight of Chiang Mai Flower Festival is the wonderful flower parade held along Charoen Muang Road. This consists of more than 25 flamboyant floats decorated with flowers, which process through the city accompanied by local drumming groups, dancers in traditional costumes, and beautiful girls who later compete for the Miss Chiang Mai Flower Festival title.
Songkran (Water Festival, New Year)
https://vimeo.com/93302574
Marking the traditional Thai New Year (13 April) and the end of the dry season, Songkran is the nation's longest and most important public holiday. Often referred to as Thailand's Water Festival, this unique fair is celebrated all over the country and stands out for its giant, peculiar water fights.
Deep rooted in the local culture, the throwing of water is meant to wash away troubles and bring good luck for the coming year. In addition to this fun-packed tradition, locals celebrate the Songkran New Year Water Festival by cleaning their houses and Buddha statues, visiting local temples, and bringing food to the monks.
You will find the greatest water fights in Bangkok, Chiang Mai, and Pattaya, but there's plenty of partying on the popular Thai islands of Ko Samui, Ko Tao, Phi Phi, and Phuket, as well.
Loi Krathong (The Festival of Light)
Held each year on the evening of the full moon of the 12th month in the traditional Thai lunar calendar, Loi Krathong is one of Thailand's most beautiful festivals.
Also known as the Lantern Festival or the Festival of Lights, this ancient, spiritual event honors Buddha and the goddess of the river, and it's celebrated all over the country with colorful festivities, parades, and concerts. The most important tradition, however, is the launching of krathongs.
A krathong is a small lotus-shaped vessel usually made from a banana tree stalk or even bread and adorned with flowers, candles, and incense sticks. On the night of the full moon, people gather around lakes, rivers, or canals to release these ornate baskets onto the water.
Loi Krathong coincides with the Yi Peng festival in Chiang Mai, where thousands of paper lanterns (Khom Loi) are lit and let off into the sky, creating a magical sight.