This post contains affiliate links, which means we may receive a small commission, at no additional cost to you, if you make a purchase through these links. See our full disclosure here.
Though it has long lived in the shadow of neighboring tourist powerhouses like London, Paris, and Barcelona, Lisbon is entering a renaissance of sorts, attracting visitors in droves. For the past few years, fueled in part by reasonably priced flights and excellent weather, a weekender in Lisbon has never been more enticing.
A city of picturesque cobblestone streets, hilltop vistas, and world-class dining, there are countless reasons to visit Lisbon, yet the city's real appeal is the lifestyle. People here are relaxed, friendly, and frequently bi-lingual, if not fluent in three or more languages. Typically, residents of Lisbon eschew the hustle and bustle mentality of typical large European cities, so if you're ready for a break from the rat-race, Lisboetas are ready to show you the light.
The best way to join them is to forgo the hotel while you're there and live like a local might in a short-term rental instead. To get you headed in the right direction, here are 10 Lisbon rental apartments for your perfect Portuguese vacation.
Historic Baixa Flat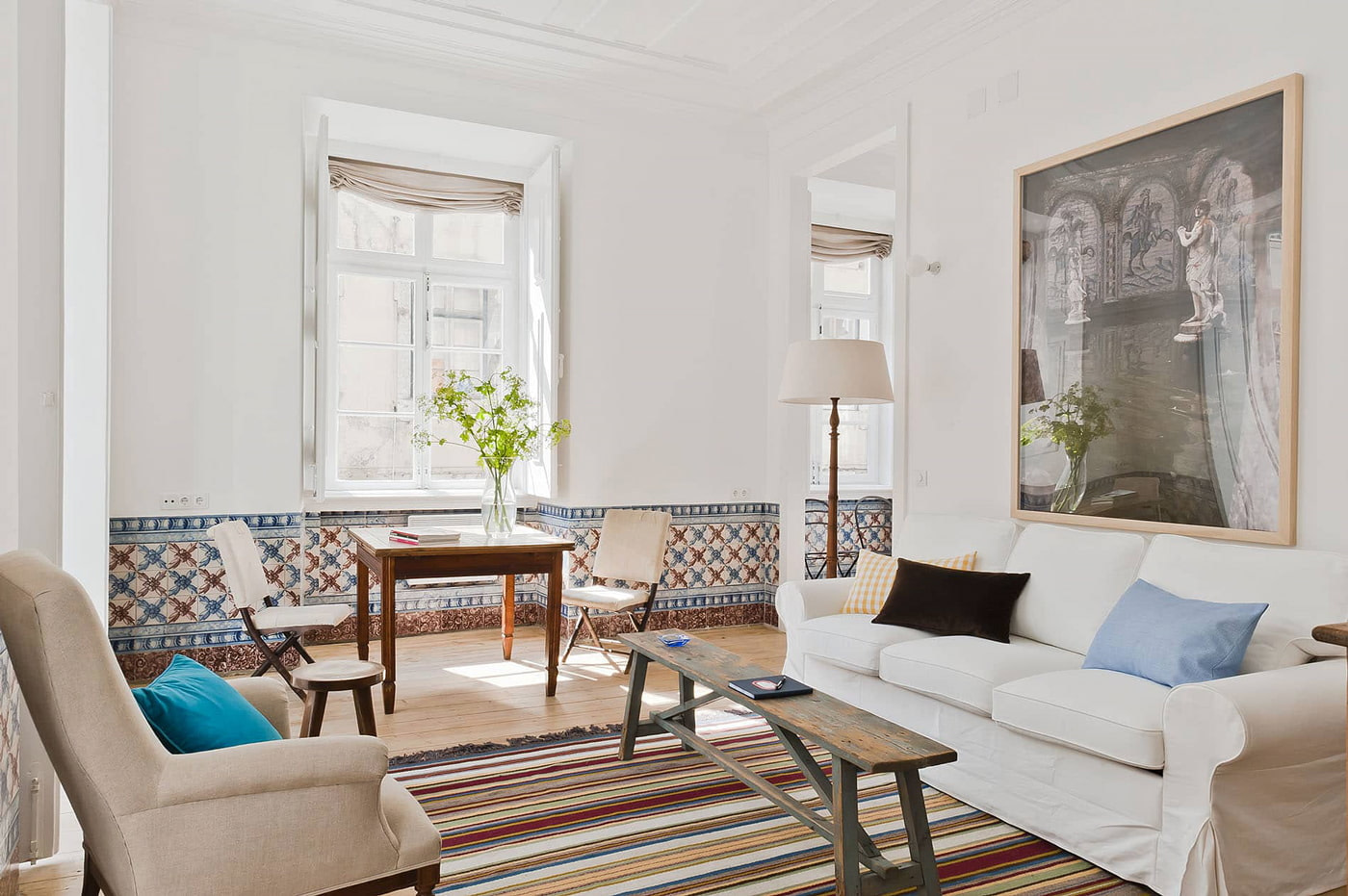 Housed in a classic Baixa tenement, this lovingly restored apartment is designed with the details in mind. With bright white walls and tall ceilings, it's airy, sunny, and spacious enough not to be overwhelmed by the warm, hand-hewn wood details.
In lieu of wainscoting, you'll find hand-laid Portuguese tiles from the 19th century and the original wood floors throughout. Though the building is historic, the amenities here are not – in the kitchen alone you'll find a contemporary range and oven, washer/dryer machine, and an espresso machine. The original windows have been replaced throughout the apartment with double-paned glass to block street noise, and there is, of course, WiFi.
Tagus River View Sanctuary
Incredibly modernized and peppered with thoughtful details, this 2 bedroom apartment is perfectly located in Lisbon's famous Ajuda neighborhood. While just nearby are pastoral parks and incredible museums, inside you'll find everything you could possibly need to recover in style from a day of exploring.
With its fully-equipped kitchen and gorgeously renovated bathroom – that contains a proper bathtub – you may want to consider trading a night on the town with some rest and relaxation indoors. But the highlight of this contemporary apartment is the gorgeous terrace, from which you'll have incredible views of the Tagus River.
Figueira Square Stunner
Perfect for a trip with the whole family or a gaggle of friends, this enormous central-Lisbon apartment has three separate bedrooms, each with its own bathroom and a double bed. Partitioned with exposed beams and accented with industrial metal details, the space combines rustic and sleek elements beautifully.
Surrounding the apartment you'll find pastry shops, gourmet grocers, and quaint restaurants to fulfill your every culinary desire, and the tram stop is only a minute's walk away so you can easily explore the town.
Petit Downtown Hideaway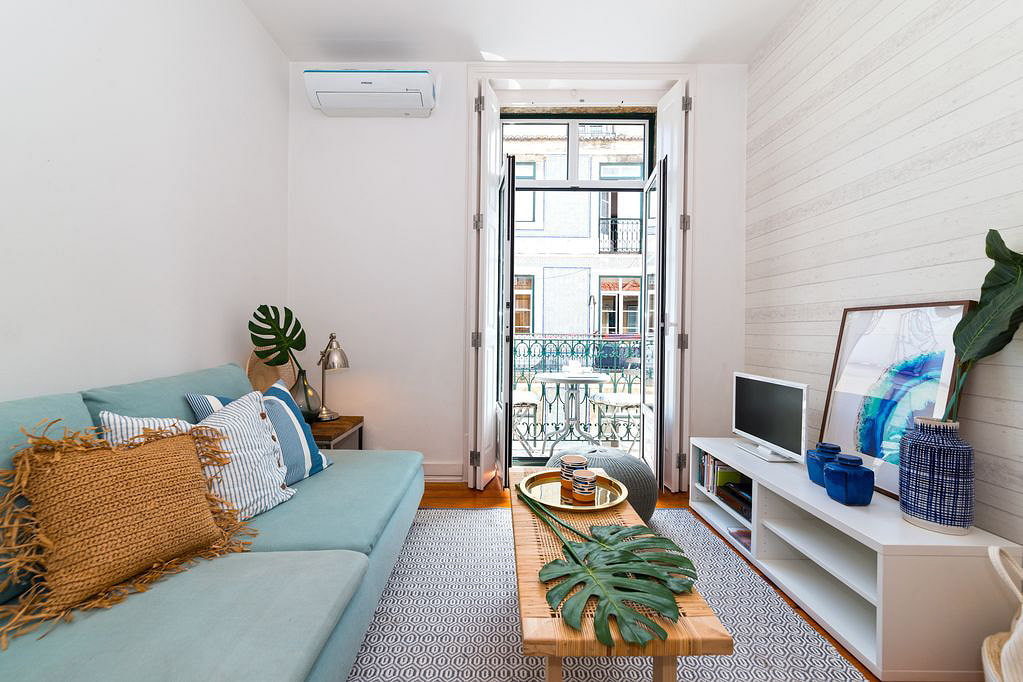 Created to be an "Urban Retreat," this cozy but elegant flat is in a perfect location: right on a quiet pedestrian street in Lisbon's historic downtown. On the fourth floor of an 18th-century building, this is the perfect place if you're a sucker for old-world charm, though, for all its history, it has been fastidiously renovated with modern accouterments.
A perfect place to relax, you'll still be a stone's throw from much of what Lisbon has to offer, but if you're not feeling up to going out, you can watch life pass you by from your perch on the attached French balcony.
Bucolic Retreat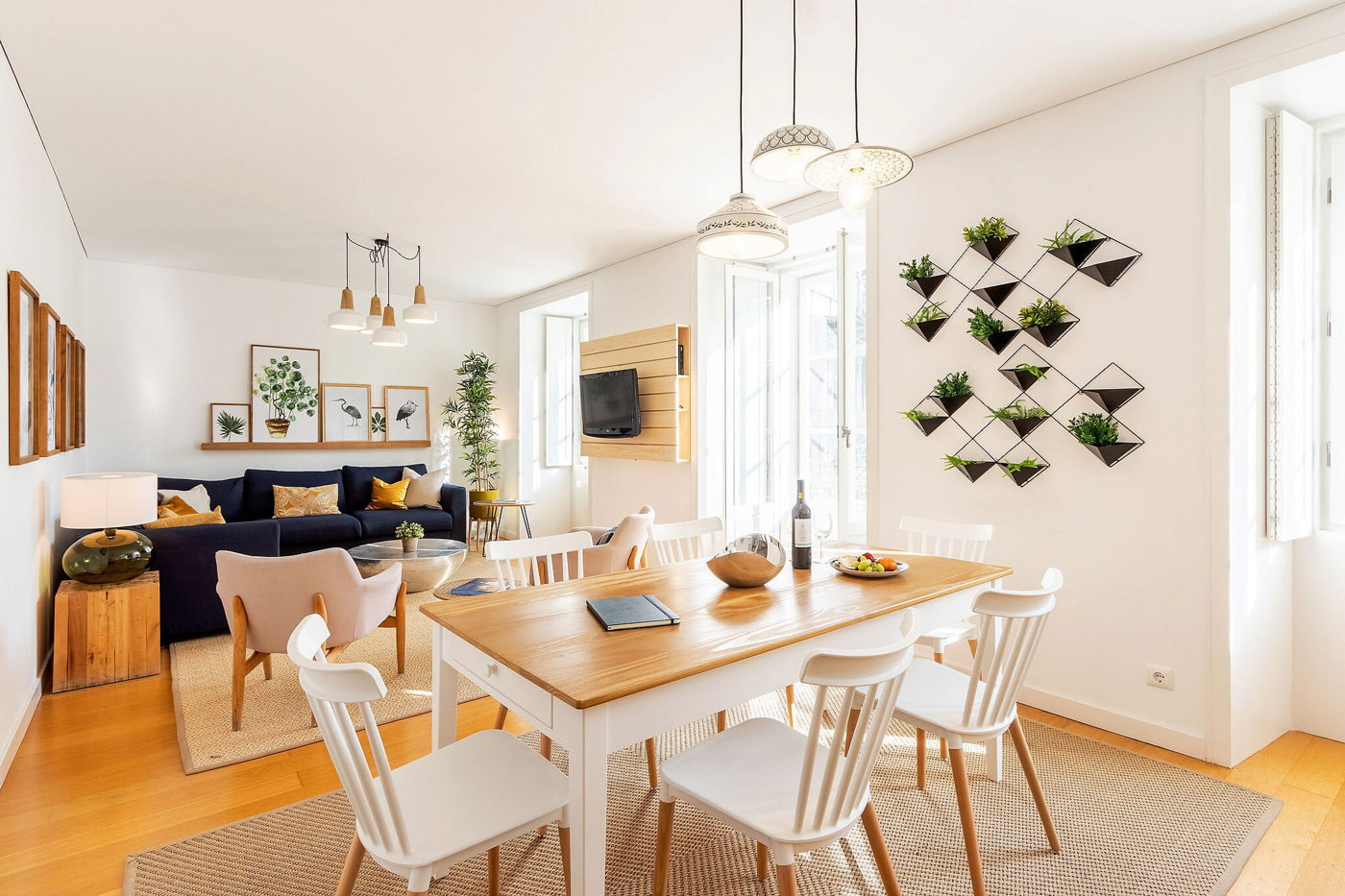 This breezy, beachy flat is perfect for lounging. If your idea of the perfect weekend jaunt includes a bit of adventure with plenty of relaxing, you'll love the giant, plush sectional and huge dining table perfect for a brunch buffet.
Each of the two sun-dappled bedrooms has its own ensuite bathroom, and one of them has its own terrace. The unique striped wallpaper is particularly striking, as are all of the quaint botanical touches like hanging plants and framed prints of intriguing flora. Placed just so within the clean, bright-white interior, the natural wood touches add a bit of warmth and comfort that will make you feel right at home.
Alfama Alfresco Living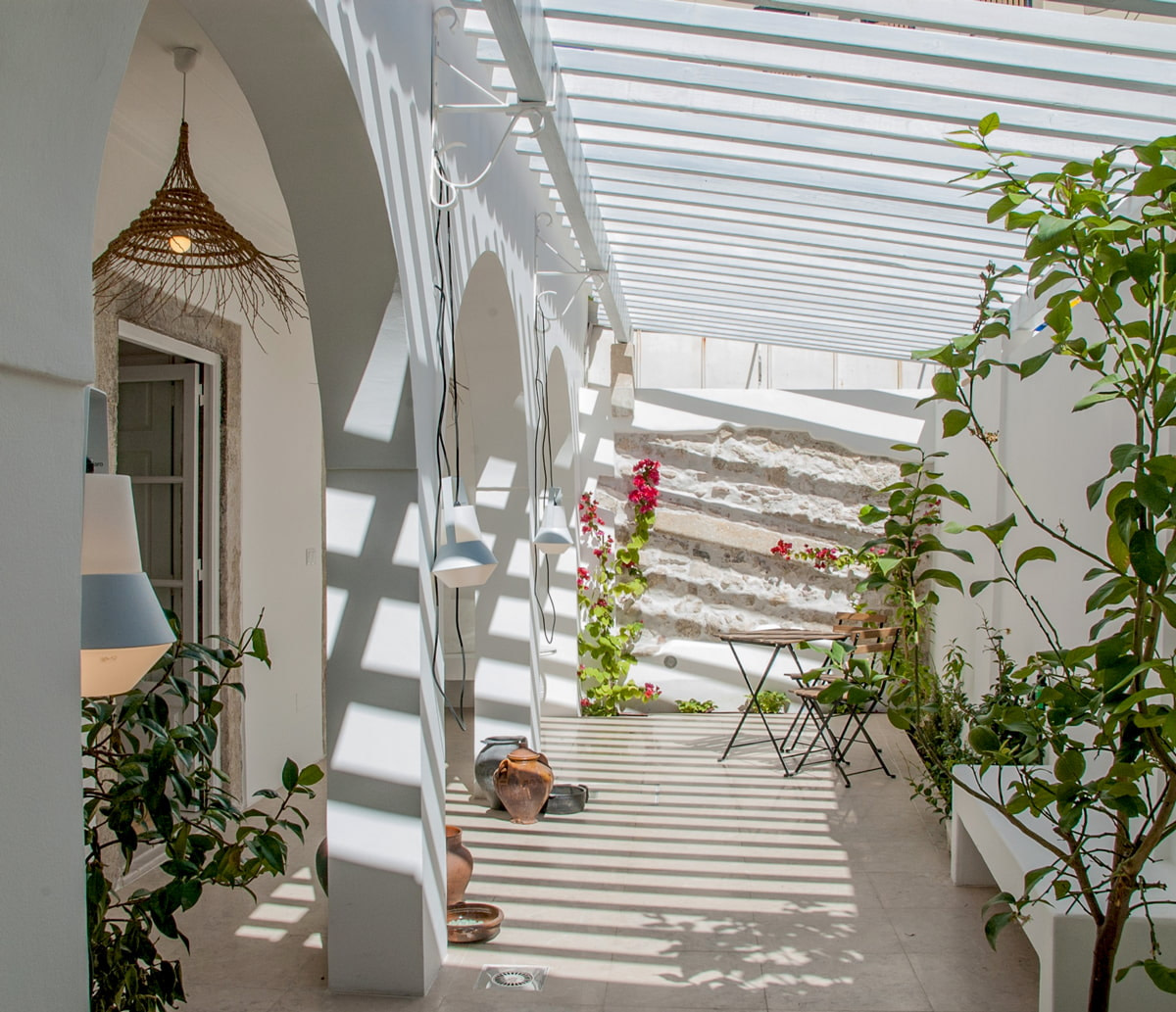 Calming and idyllic, this cleverly designed apartment has been carefully curated to include international objects to bring the world to you right in central Lisbon. Though the entire apartment was refurbished in 2016, you'll still find the original exposed brick and wooden beams throughout, which add to the historic feel.
Perfect for a romantic getaway, the ensuite bathroom has a huge soaking tub – large enough to fit two – that sits in front of a picture window. Each room has a door that opens to the massive, plant-filled private courtyard: the perfect spot for a romantic dinner for two or a shared bottle of wine at twilight.
Modern Hilltop Refuge
Set atop one of Lisbon's seven hills and offering remarkable panoramic views of the Tagus river is this sensational apartment big enough for the whole gang. With 3 spacious bedrooms and two full-sized bathrooms, it would equally suit the family looking for a city break or a group of friends on an adventure.
Expertly furnished in unique and modern pieces – some of which are one-of-a-kind – the space is as beautiful as it is comfortable. Functionally, it has everything you need for a weekend away, like the fully equipped kitchen with just enough stocked for you to get cooking. And whether you've made the meal yourself or ordered in, you'll likely be tempted to dine on the terrace with the red-tiled roofs of Lisbon spread out below you.
Airy Minimalist Loft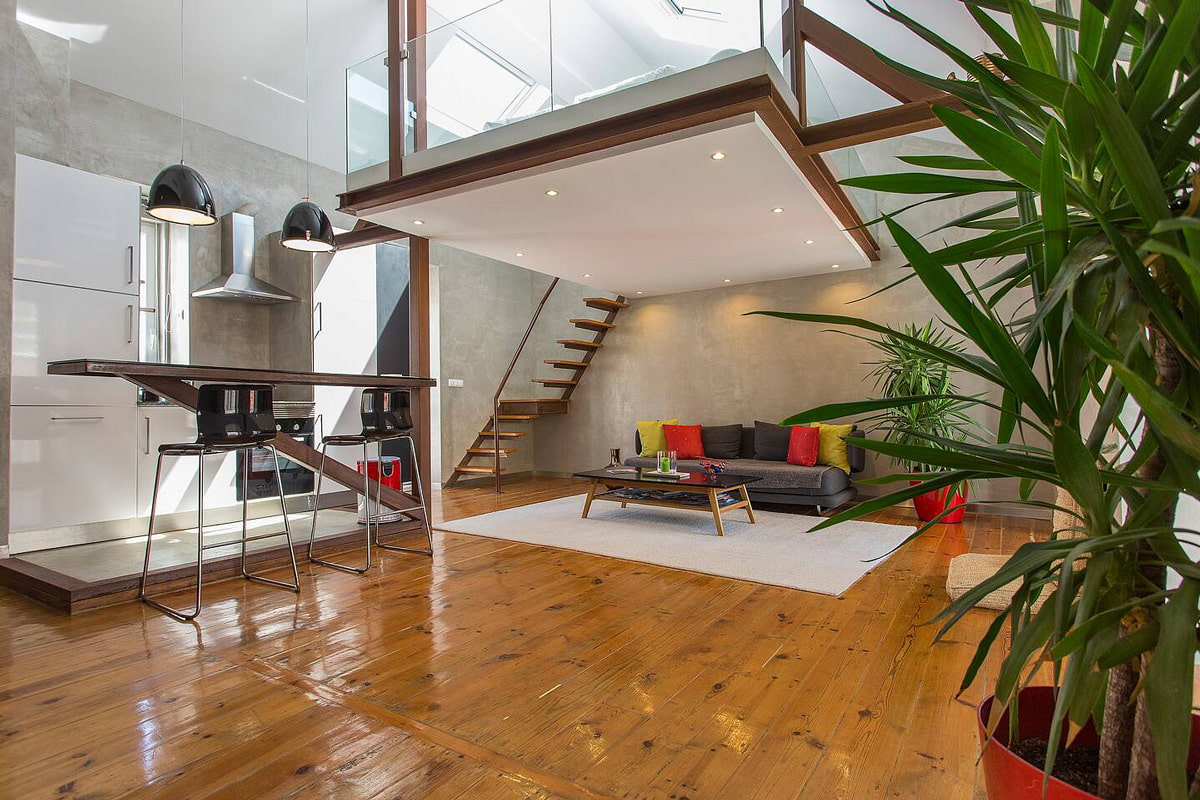 Housed in a deceivingly charming vintage building, this hyper-contemporary, minimalistic, and sleek loft is perfect for those with ultra-refined tastes. Everything in the unit is placed deliberately and has just a few pops of color to maintain its warmth.
The hardwood floors have been buffed to a bright sheen, and the crisp, white bed linens are as inviting as any hotel. The architectural spaces are the perfect backdrop for photos; you're going to want to snap a few pics before you leave, so be sure to pack your camera.
Cozy Retro Nook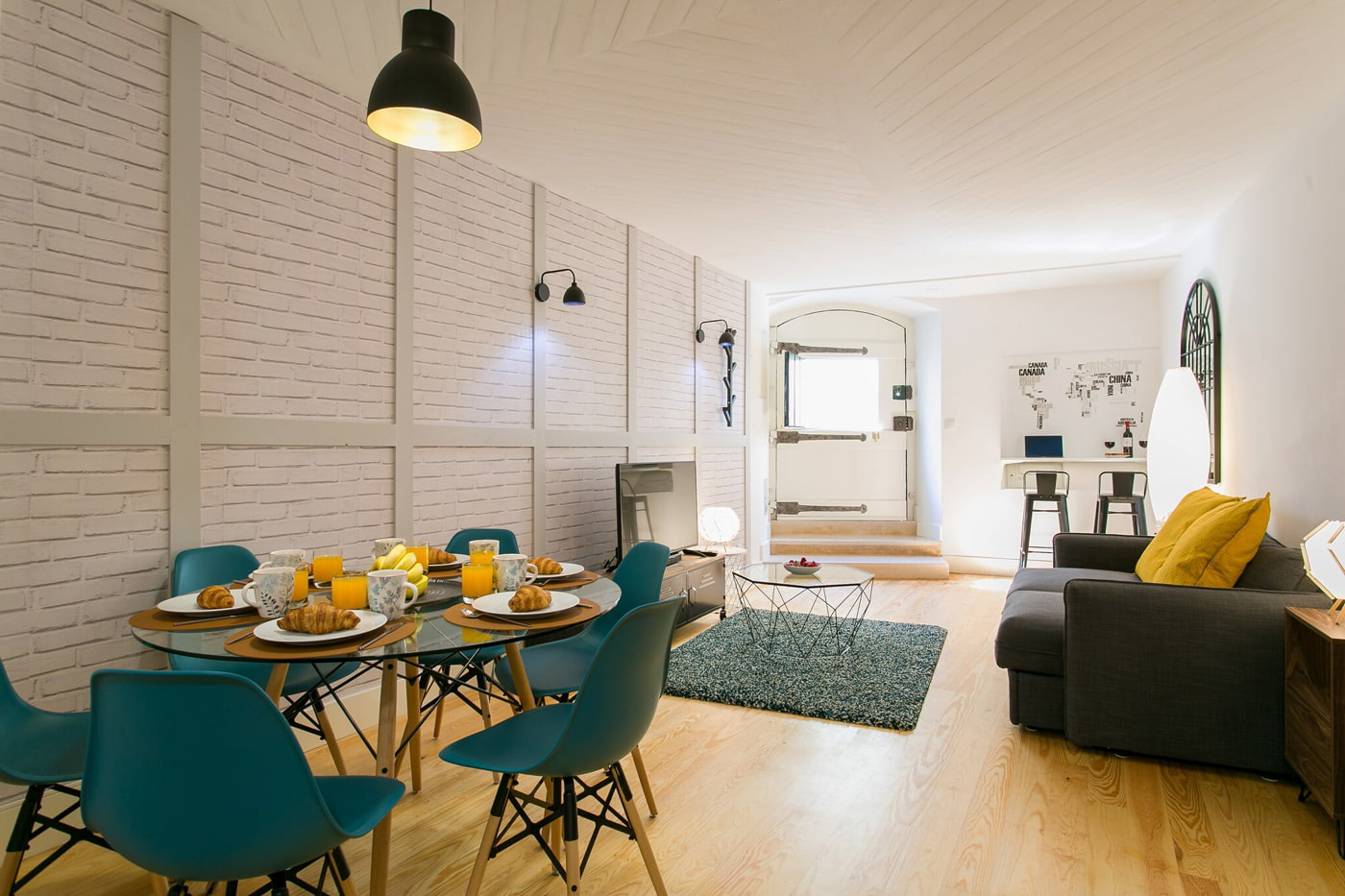 While cozy and diminutive, what this apartment lacks in space, it makes up for in sheer charm. Arranged like a railroad flat, the bright-white walls open it up, but the detailing of painted brick under crisscrossed beams adds a texture that keeps it inviting.
The post-war style details have been arranged to create separate living, dining, and kitchen areas, so you'll be able to enjoy the space to the fullest. It might just be the perfect place to book for a weekend with a friend, but just in case you need more than the two bedrooms, there's a sofa bed in the living room.
Sunlit Terraced Villa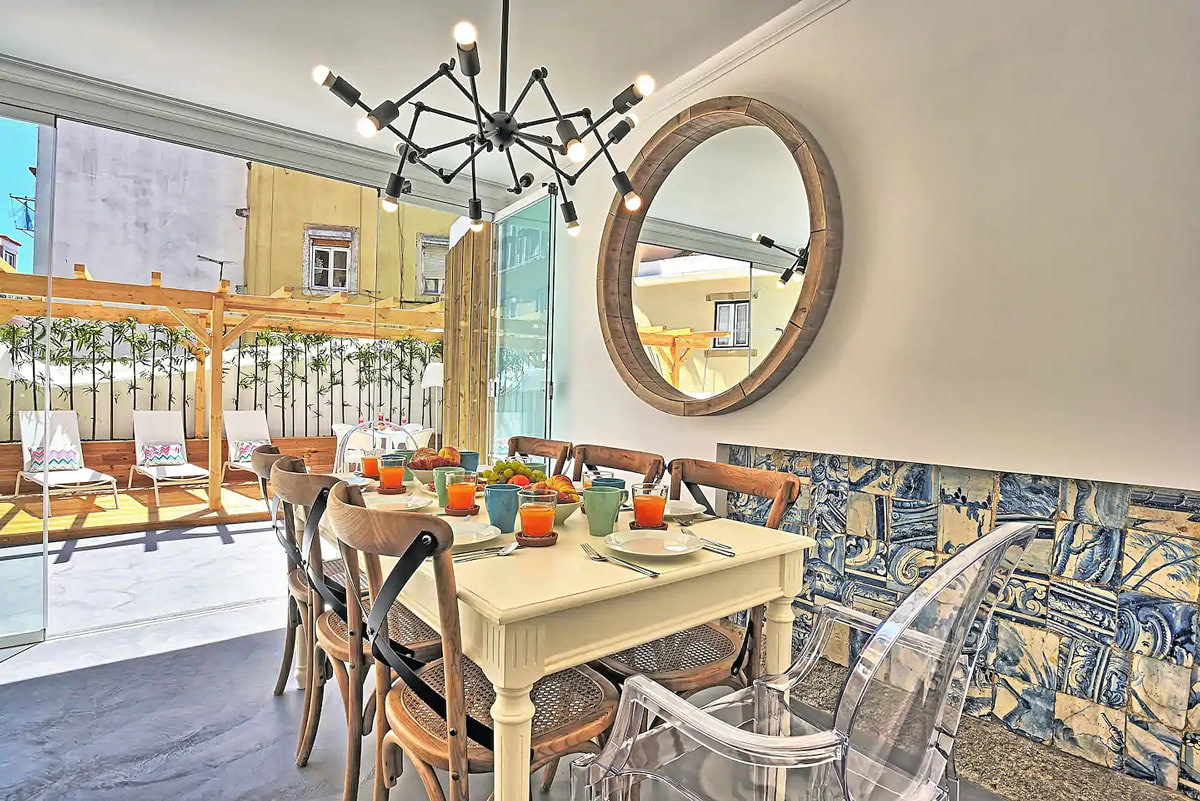 You'll find major beach cabana vibes on the terrace of this massive 4 bedroom, 3.5 bath villa-style apartment, so you may want to bring a group. Completely refurbished inside and out, this entire home was designed so that every individual space is unique.
Decked in a mix of textures, tiles, and woodwork, the house as a whole remains enticingly cohesive and invites you to utilize the space. Though no doubt good weather may find you in repose on the veranda, you will be equally enticed to cook a meal in the farmhouse kitchen or read a book in one of the window nooks.